Sims 4 Maxis Match Cottagecore CC: The Ultimate List
This post may contain affiliate links. If you buy something we may get a small commission at no extra cost to you. (Learn more).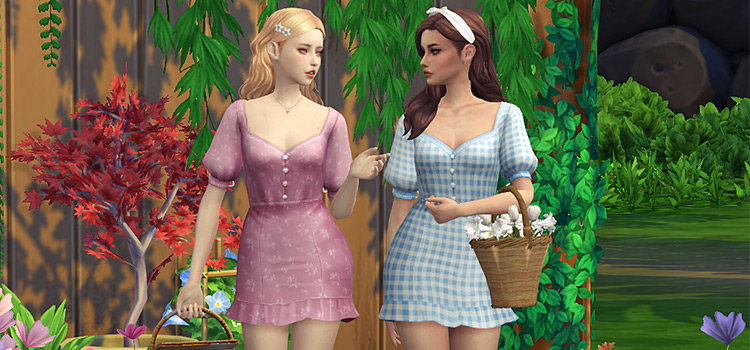 As someone who's not into cottagecore, understanding the concept of it was a bit of a struggle. According to Wikipedia, it's a fashion aesthetic typically enjoyed by teenagers and young adults.
According to everything else I quickly skimmed, it's an uber-romanticized vision of rural, agricultural life.
People who are into cottagecore wear outfits that are super fresh, super feminine… and wouldn't last two seconds on an actual farm.
So, pretty but impractical. Got it.
That being said, let's check some truly Maxis-matched CC items that would fit right into a cottagecore build in TS4.
---
CAS Items
---
1.

Cottage Core Collection (6 items) by Serenity
We're starting out strong with this gorgeous set from Serenity.
Long peasant skirt, sweet checkered dress, a ruffled blouse, and simple heirloom accessories. This CAS pack literally checks all the boxes.
2.

Baieyu's Briar Hat by baieyu
This hat is fresh, sweet, and overflowing with Southern charm.
This is exactly the type of accessory I imagine someone would use to soften their cottagecore look. So far, so good.
3.

Ricci-Beee Followers Gift by ricci-bee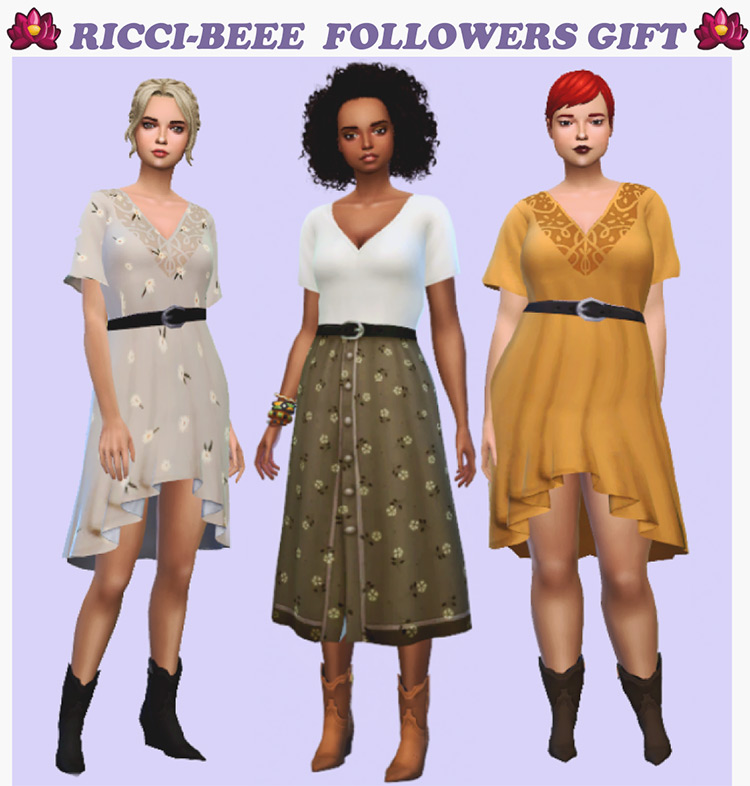 CAS packs give us Simmers a lot of options in one go.
Even if there are just two or three items in them, you're at least getting more out of one download page.
This set, for example, offers two dresses and two pairs of boots.
I'm not a hundred percent sure about the boots, but I'm certain both dresses perfectly fulfill the hyper-feminine farming aesthetic.
4.

Bianca Cottagecore Set by Miiko
This cottagecore set by Miiko contains two variations of a summery straw hat and a gorgeous ruffled dress.
Both are pretty, fresh, and feminine beyond a shadow of a doubt.
The Bianca dress is a frilly, off-breeze number that comes in 21 soft pastel swatches.
The hat accessory has two versions: one ties around your Sim's neck and hangs off their back. The second one (that you can download here) goes on top of their head.
5.

Sam & Judith Hair by Aladdin-The-Simmer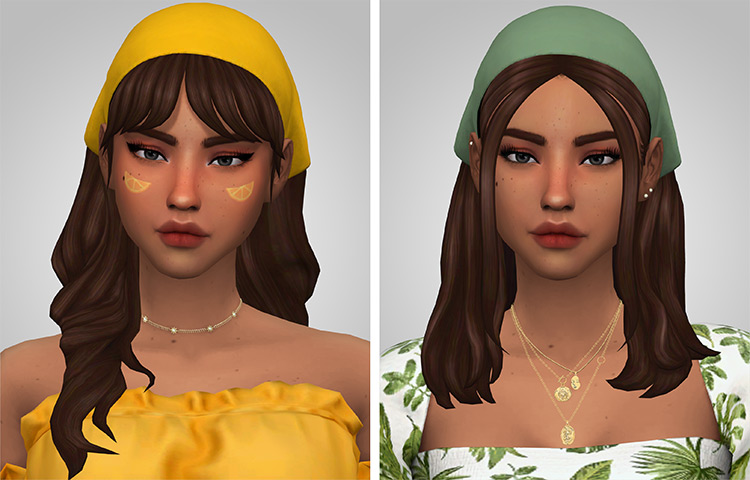 These two hairs look so good paired with bandanas, I couldn't pick just one.
Since they give off the same sweet country vibe – and they're from the same creator – I'm recommending both.
They're available in EA's standard 24-color palette, too!
6.

Sibel Rolled Updo by mlys_simblr
Is this not one of the most perfect "prairie girl" hairstyles you ever did see?
I say this as a compliment in every sense of the word; this hair is the definition of prim, pretty, and proper.
And, as if it couldn't fit the "romanticized country vibes" theme any further, it comes with two accessories: a flower headband and a plain, practical bow.
7.

Connie's Flower Crowns by candysims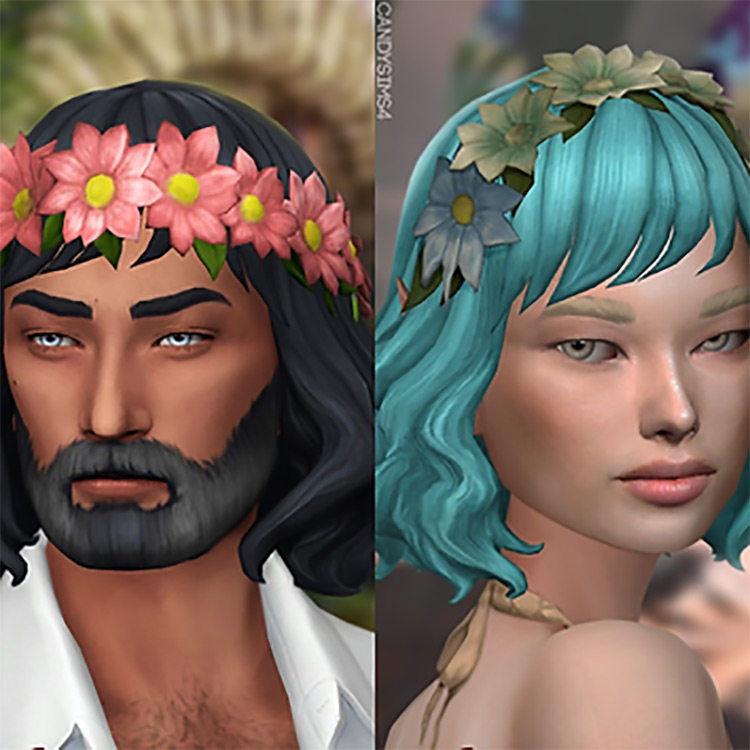 Flower crowns are, indeed, a staple of cottagecore fashion. What could be more charmingly country than a headful of fresh blossoms?
Answer: very little.
Candysims' Connie's Flower Crowns come in two versions — one that perches on the crown of the head and another that rests on the forehead. If you have trouble with the download links on the site (they're a bit fiddly), you can download version 1 here and version 2 here.
8.

Wicker Wedges by Nolan-Sims
As explained earlier, cottagecore outfits look good and photograph well. They are also utterly impractical for doing any sort of farm work.
Which means these wedges are perfect.
Would they look great with a full skirt, ruffled blouse, and large straw hat? Yes.
But could you, in theory, wear these on unpaved farmland soil without stumbling several times? Probably not.
They look great, though! And they come in eight natural earthy swatches.
9.

Slavic Allure by clumsyalien & joliebean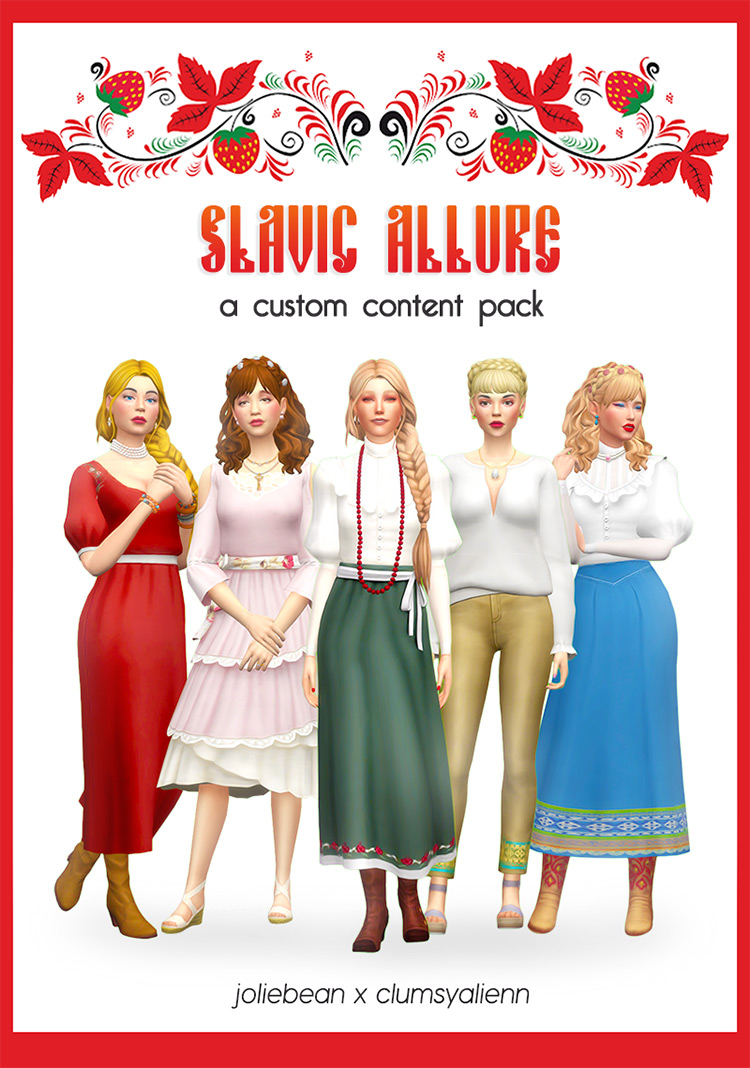 This pack feels like another cottagecore starter pack.
Loose white tunic top? Check.
Long, blonde, slightly messy braid? Check.
Full, simple maxi skirt? Double-check.
I know the creator said this was inspired by Slavic fashion and design, but if you squint just a little, you can easily imagine these outfits on a sweet country lass.
10.

Ruffle Shirt by simcelebrity00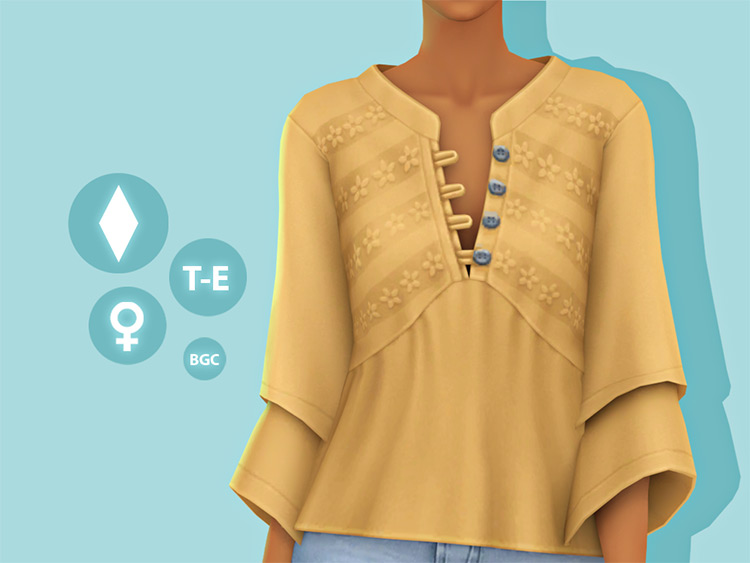 In cream and light-hued colors, this Ruffle shirt definitely fits the wardrobe of someone living a hyper-romanticized homestead life.
It's loose, breathable, and far too pretty to do heavy labor in. That more than qualifies it for this list.
11.

Primrose Hair by Feral Poodles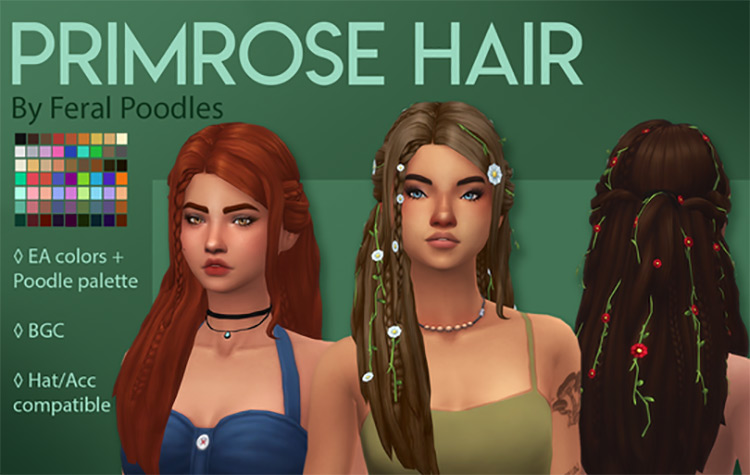 Loosely braiding flowers into your hair is impractical, yes. But is it aesthetic?
Also yes. Totally Instagram-worthy.
Pair Feral Poodles' Primrose Hair with a lacey white sundress or a loose Bohemian outfit, and your Sim is more than ready to take artistic, sun-kissed photos amidst cornstalks.
12.

Manito Skirt Retextured & Recolored by auroraplumbum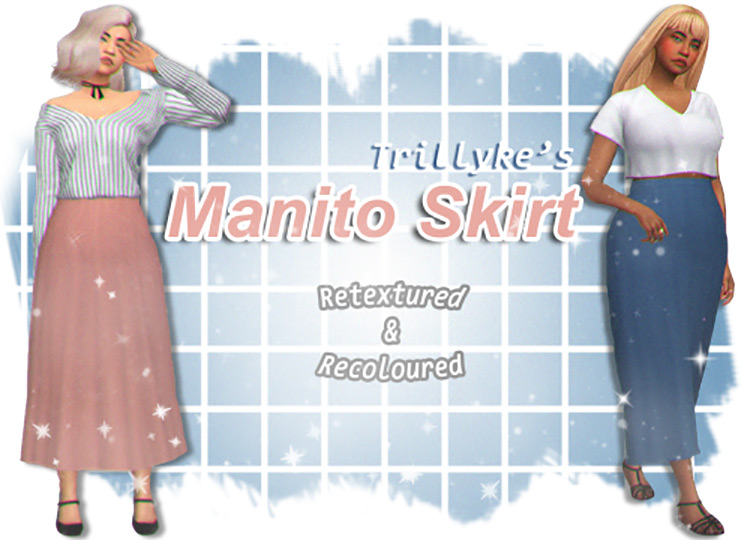 Auroraplumbum takes a bold, artistic skirt and turns it into a quiet, unassuming country ensemble. The wide, flared edge and rough cotton-like texture all exude that distinct country charm.
P.S. Don't forget to download the mesh!
13.

Blue Anemone Collection by anessasims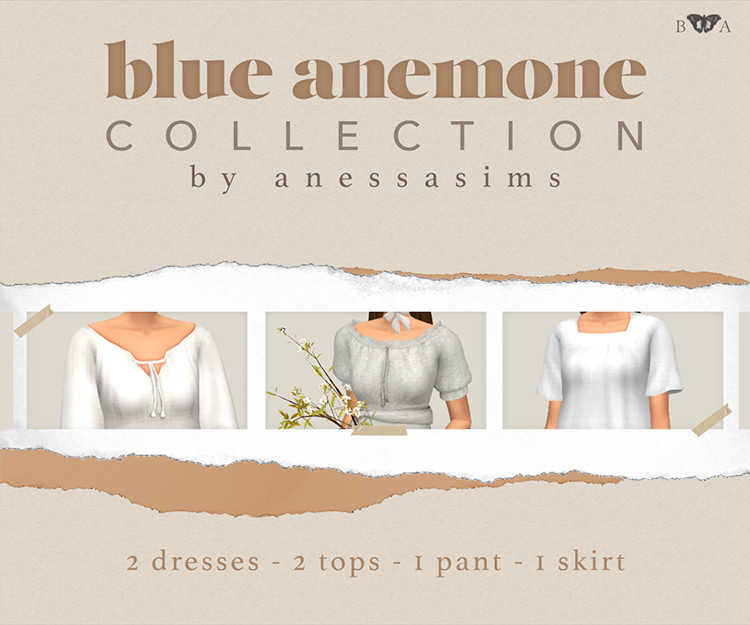 Anessasims' Blue Anemone Collection is apparently inspired by an actual clothing brand with the same name.
A quick look at their page tells you that the creator pretty much captured the actual brand's 60s and 70s capsule wardrobe style; solid colors, simple patterns, white and earthy tones.
It's a little more minimalist-vintage than it is cottagecore, but the modest cuts and natural colors are definitely in-line with the romanticized rural aesthetic.
14.

Breath of Youth Collection by anessasims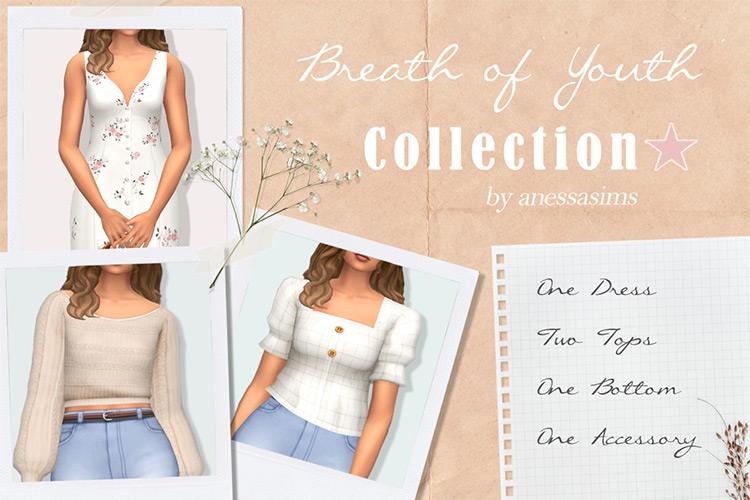 This CAS pack – still by anessasims – is also based on an actual clothing brand called Breath of Youth.
You can probably guess why this set is on this list based on the preview photos. Flowery sundress? Woven bag? Gingham blouse with ruffles?
'nuff said.
15.

Honey Freckles by hollowsprings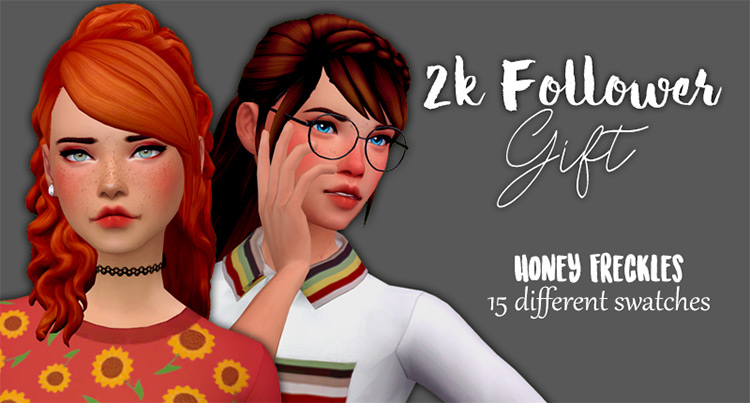 Working out in the field all day is bound to give your Sim freckles — especially if they've got skin that burns or marks easily.
Hollowsprings' Honey Freckles offers a fair number of options for this skin detail, ranging from natural smattering to all-over, full-coverage flecks.
16.

Puanani Hair by Feral Poodles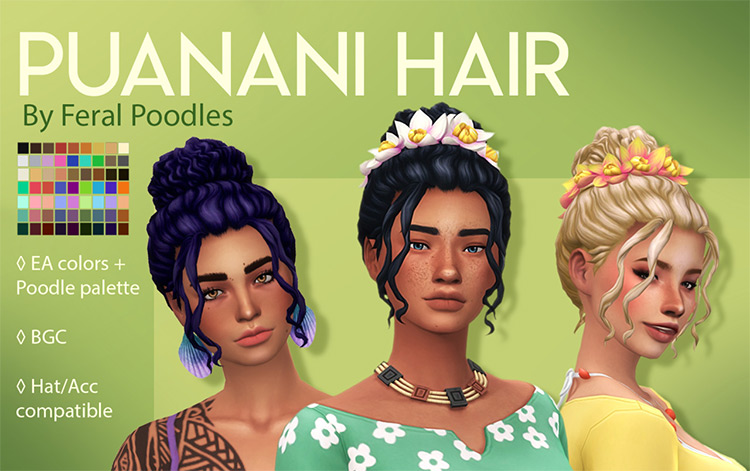 I genuinely love updos with errant wavy strands that frame the face.
I'm no cottagecore child, but I would wear my hair that way every day if I could even remotely pull it off.
If you want to up the country gal ante for your Sim, pair this hair with the bonus flower crown accessory.
17.

Cottage Living EP Add Ons by simcelebrity00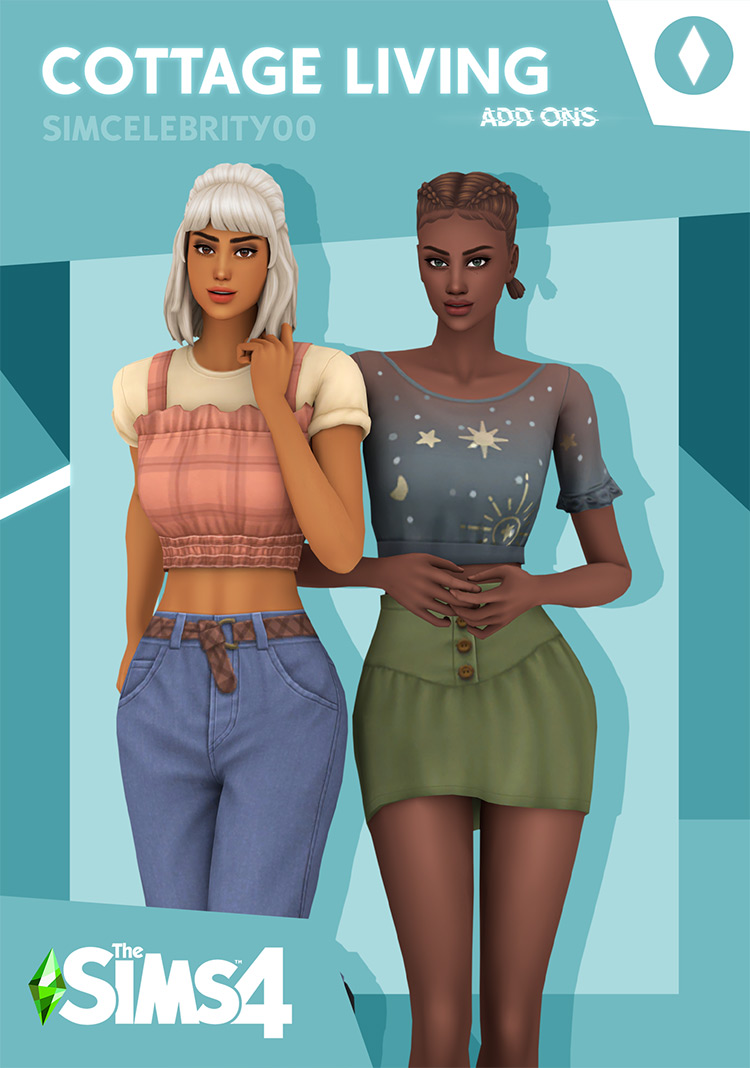 If you were able to grab a copy of The Sims 4: Cottage Living, simcelebrity00's CC set might interest you.
It adds a couple new colors, new patterns, and slightly new looks to three existing clothing items—and one of the new hairs!
18.

Cottage Living Add-Ons by oakiyo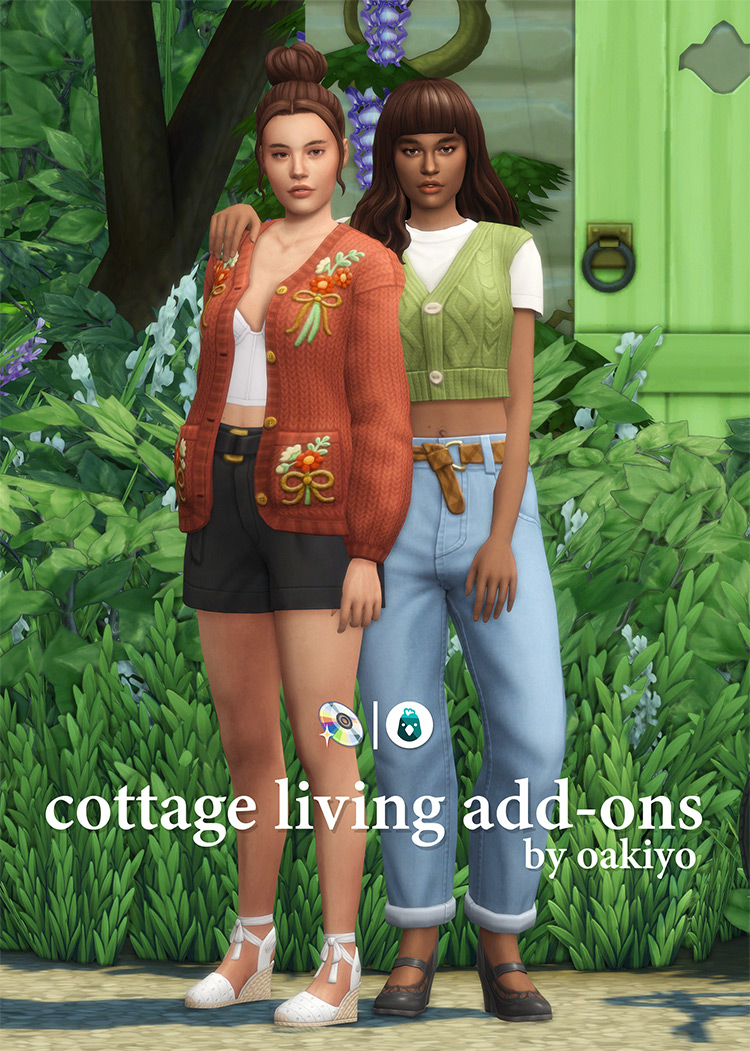 Just like simcelebrity00, oakiyo builds off of the existing new CAS stuff in The Sims 4: Cottage Living to bring us seven new-ish meshes:
Two hairs, three tops, a ruched dress, and cute candy shorts.
These items are a little less romanticized and a lot more practical in terms of dressing for the homestead, but they're still pretty aesthetically inclined.
19.

Eleanor Dress by candysims
This is a sweet, practical, old-style-ish dress that one can definitely wear frolicking through fields of wildflowers.
Add a wide straw hat – maybe one decorated with fresh summer flowers – and there you go; a typical cottagecore photoshoot summed up.
The creator deserves extra credit, by the way, because they included a whopping 40 swatch options for the dress; 25 solid colors and fifteen patterns.
20.

Bay-Bee Earring by alexaarr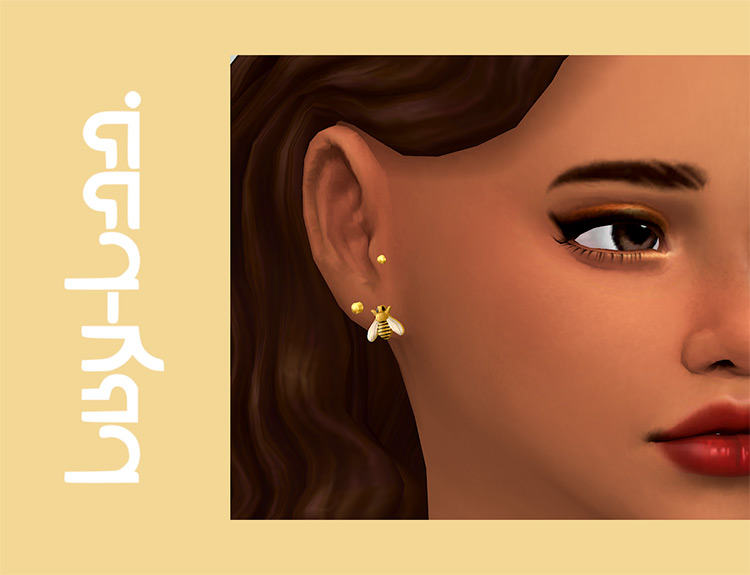 Bees aren't necessarily equated to the modest country life, but the simplicity of the jewelry in this set plus the use of natural shapes and elements made me think, "cottagecore."
21.

Cottagecore Maid Dress by cloudcat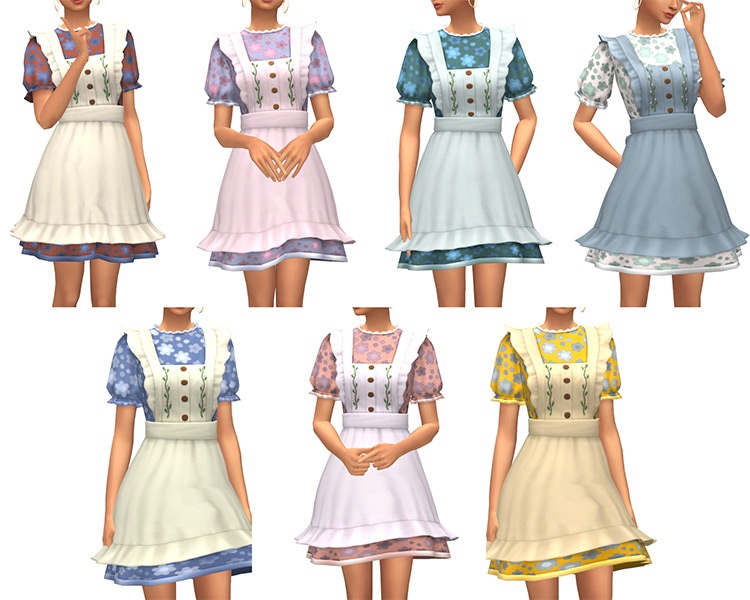 This charming ruffled apron dress is definitely a romanticized interpretation of agricultural life.
The outfit has too many frills, snaps, buttons, and layers to be even remotely practical for farm work.
But, as always, it's really pretty.
22.

Woodland Dress by Trillyke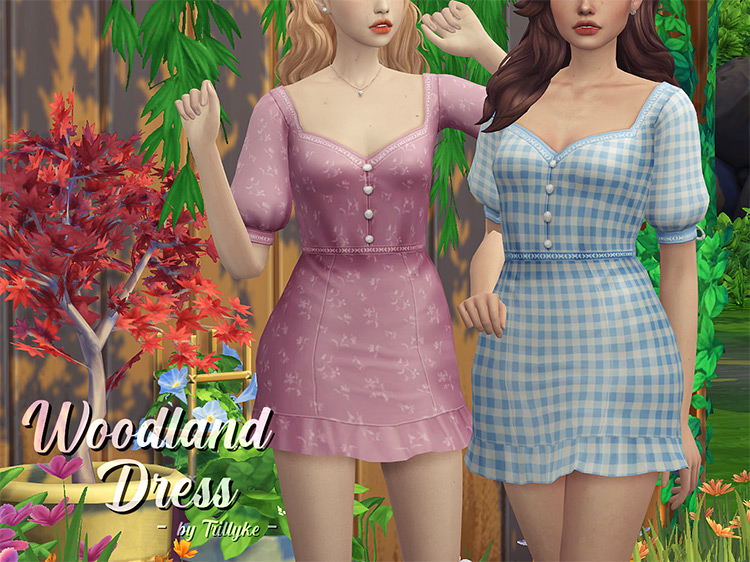 Speaking of impractical – but gorgeous! – dresses, these gingham ensembles by Trillyke are sure to make your Sim feel like a gorgeous Georgia peach.
Just don't expect them to harvest actual peaches in them. You'll need breathable cotton and a sturdy pair of pants for that.
23.

Cottagecore Pack by AdresteaMoon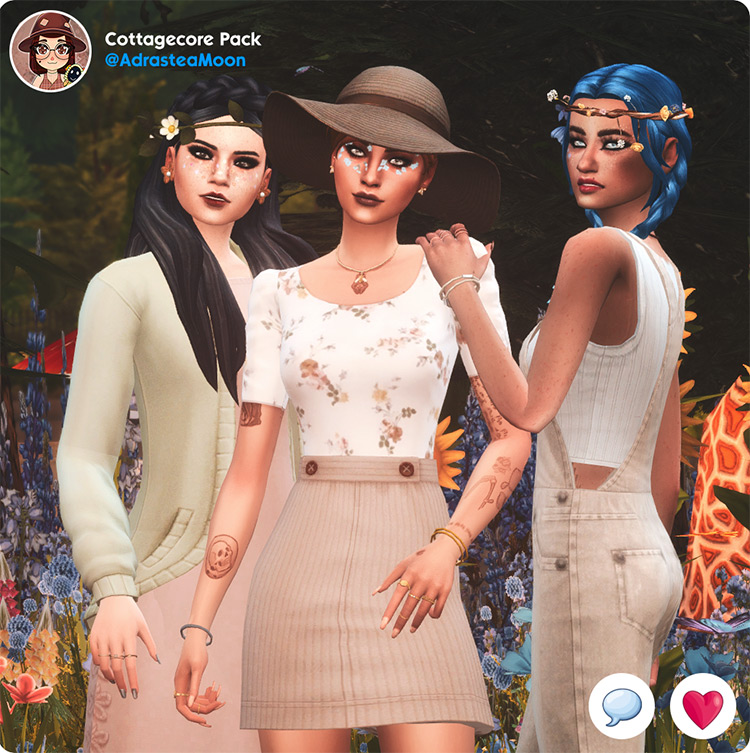 Here's another quick starter pack for curious cottagecore dabblers.
It contains a modest top, slightly chunky overalls, loose maxi dress, and a corduroy skirt.
The variety's pretty good!
And on top of that, each CAS item comes with – I quote the creator – a "metric ton of swatches."
24.

Cottagecore Grandpa Sweater by TulipSniper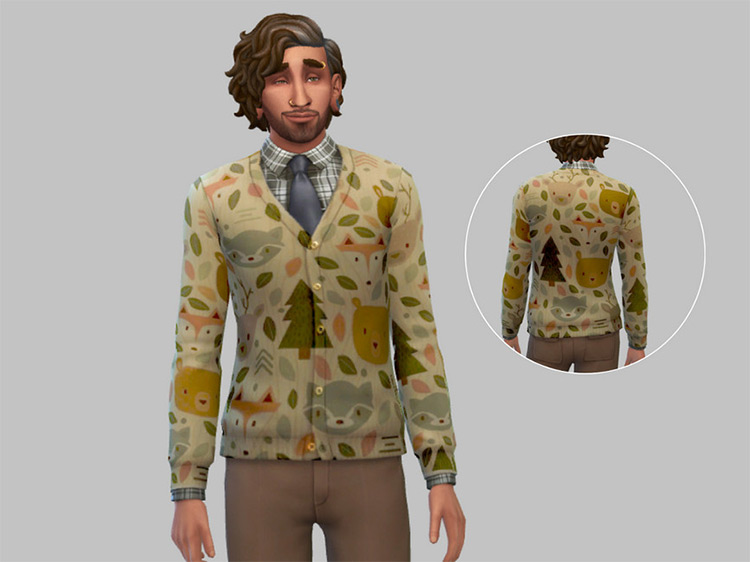 I've filled this list with summer dresses. Where are the exclusive Male-frame-only items?
Sadly, there aren't a lot.
But I did stumble across this neat Cottagecore Grandpa Sweater by TulipSniper. It doesn't look like a highly romanticized interpretation of agricultural life, but it definitely nails the warm, cozy, quiet-town comforts vibe.
Plus, the animal print is everything.
25.

Wildflowers CAS CC by Aretha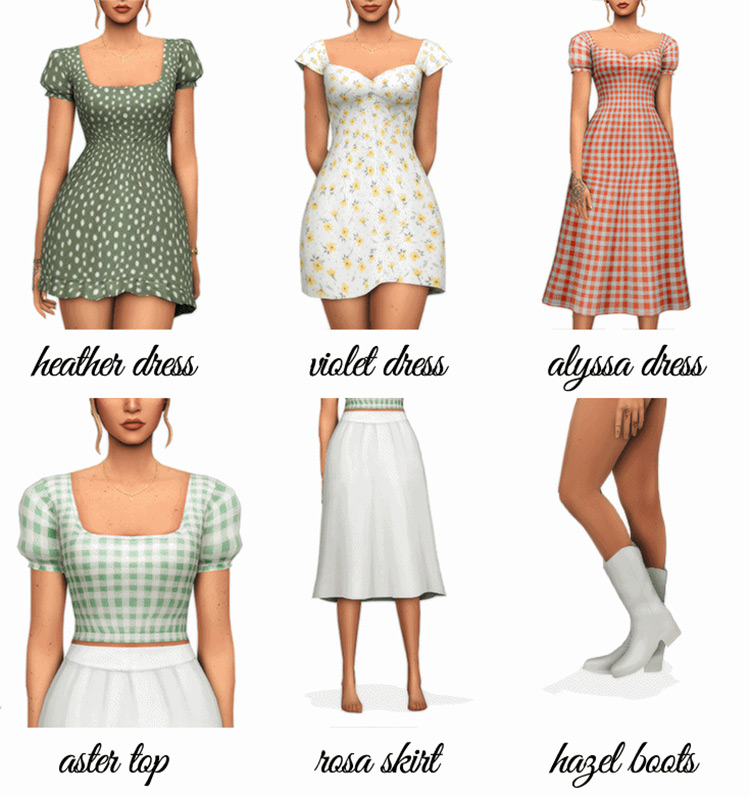 Don't be misled; these are all clothing items — not decorative wildflowers.
And, staying true to the feminine country theme, the dresses, tops, bottoms, and shoes in this pack are all flow-y, frilly, puffed, cottony, and/or gingham-patterned.
26.

Redoute Dress by Miiko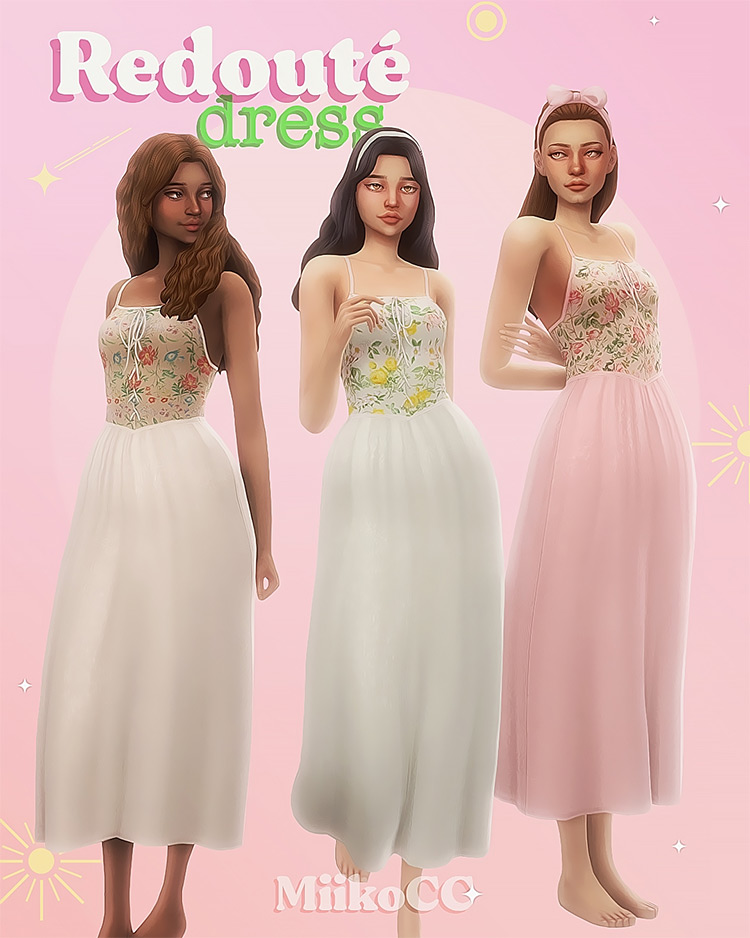 Sweet, summery, and fresh as a daisy, this dress is pretty much the definition of romantic country.
Thin straps to let the shoulders breathe, full, ankle-length skirt to keep things modest, and faux-corset lacing at the front, because we might as well go full "old-fashioned homestead fashion," here.
27.

Bohemian Rhapsody by Saurus
These outfits may be a little more boho than cottagecore, but I'm looking at the straw hats decorated with the flowers and ribbons.
That's a cottagecore staple if I ever did see one.
28.

Elena Dress by Nicole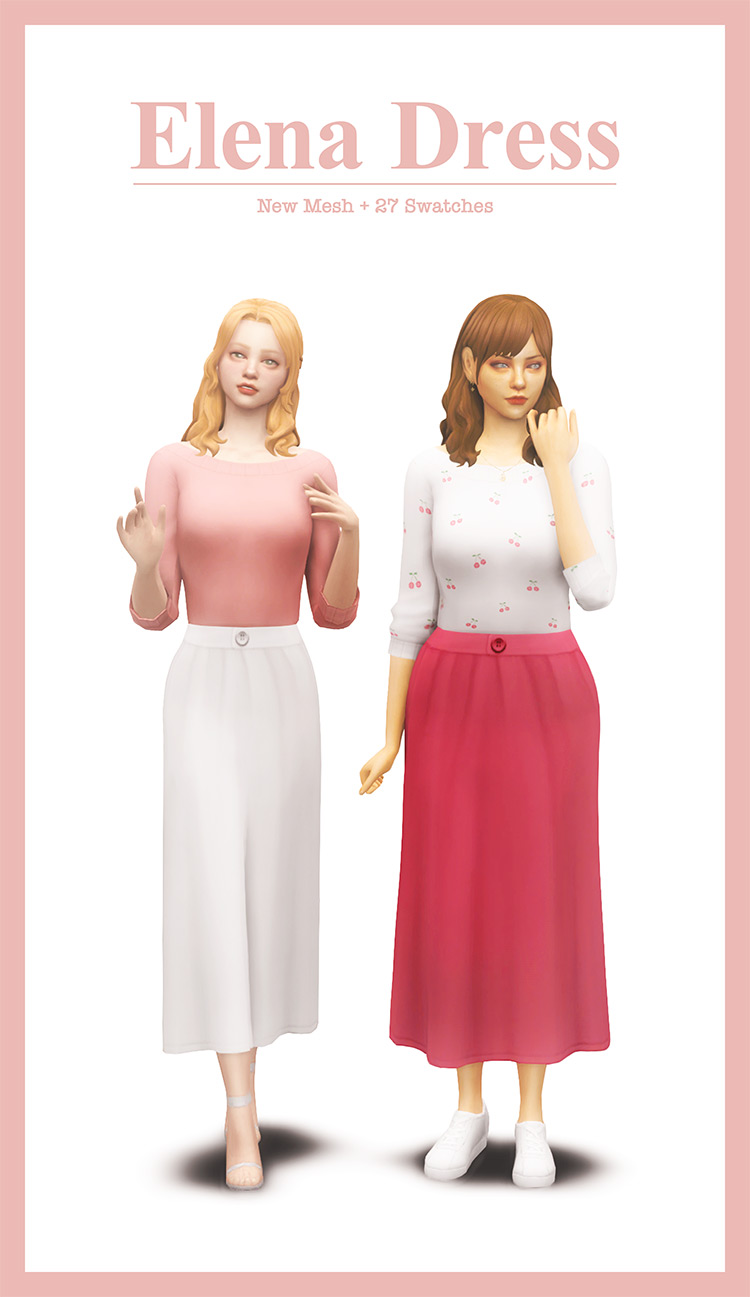 If it wasn't clear by now, a majority of cottagecore outfits often involve full, ankle-length skirts. It's the ultra-feminine silhouette that sells it.
Again, not sure how practical this is for feeding chickens, tending to cows, and reaping crops, but hey. We're just after the pretty pictures.
29.

Julienne Skirt & Sweater by Solistair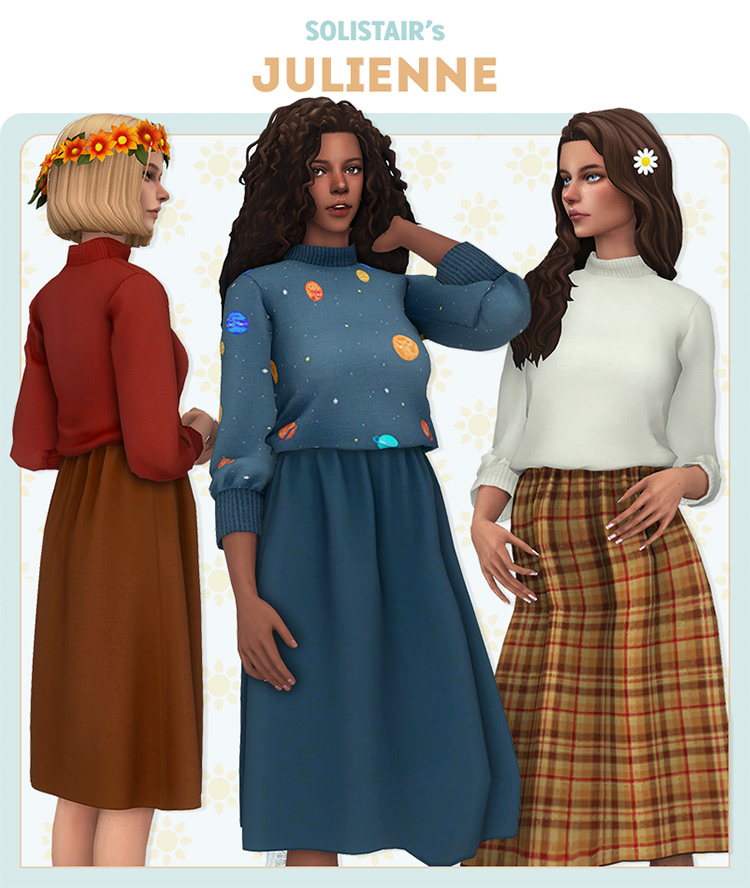 The Julienne skirt's patterns still fit the whole charming countryside aesthetic, what with the checkers and the gingham.
The sweaters, on the other hand, can turn the outfit into a Christmas ensemble.
Seriously; some of the patterns are fairly festive.
Keep your Sim purely apple-picking-ready by pairing the skirts with only the solid-colored sweater swatches.
30.

Illusions CC Pack by clumsyalien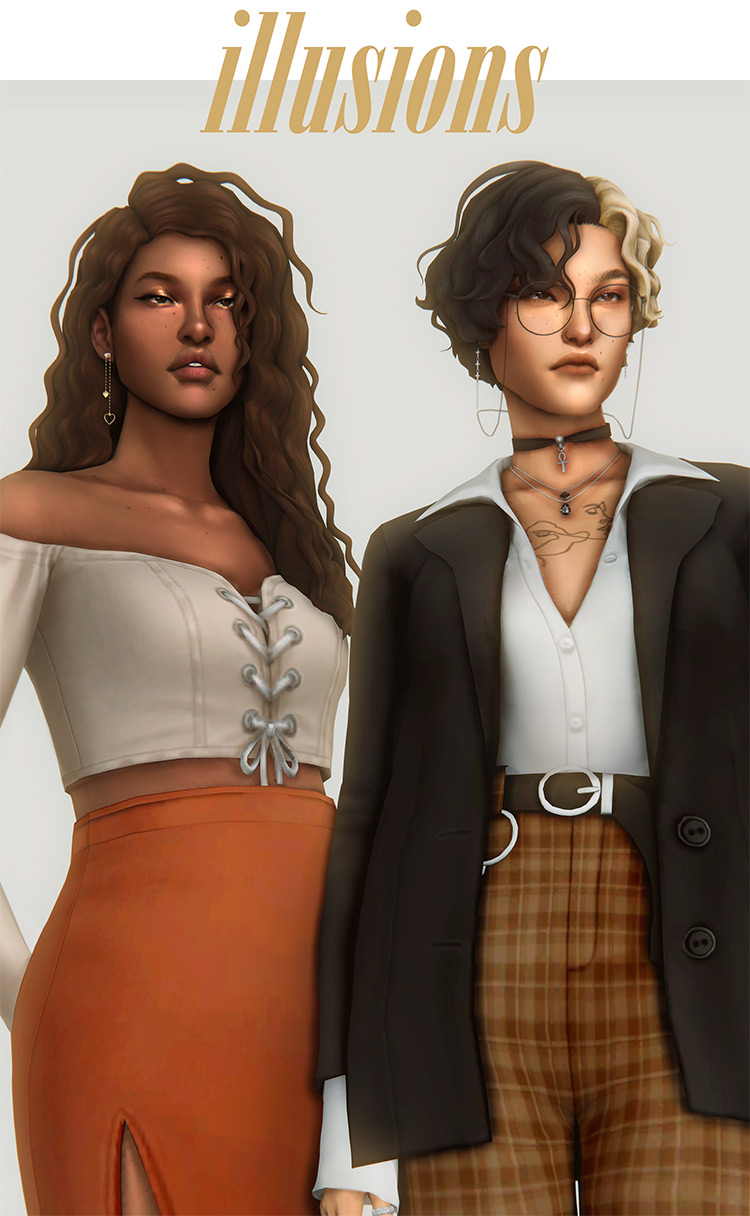 The main item in this pack that caught my attention is the Sabine blouse.
It's a gorgeous off-shoulder top with long sleeves and corset lacing at the front.
Pair with a full gathered skirt (preferably in a white, cream, or light yellow color) and a fresh flower crown for the full cottagecore effect.
---
Build & Buy Items
---
31.

Mini Greenhouse by bramblefinch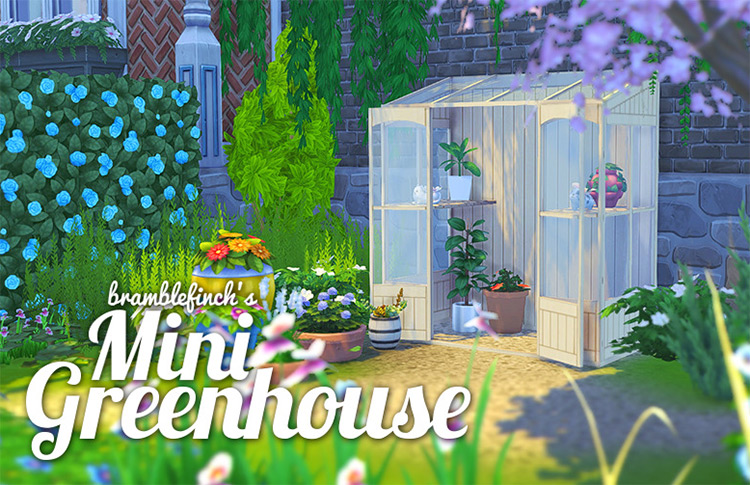 If your Sim's quaint country cottage doesn't have the space for a full garden, install this mini greenhouse in the backyard to save space and maximize curb appeal.
Is curb appeal even a thing for rural lots? No clue.
All I know is, this cute little plant house is a thing of beauty.
32.

Rustic Chicken Coop (Functional) by AggressiveKitty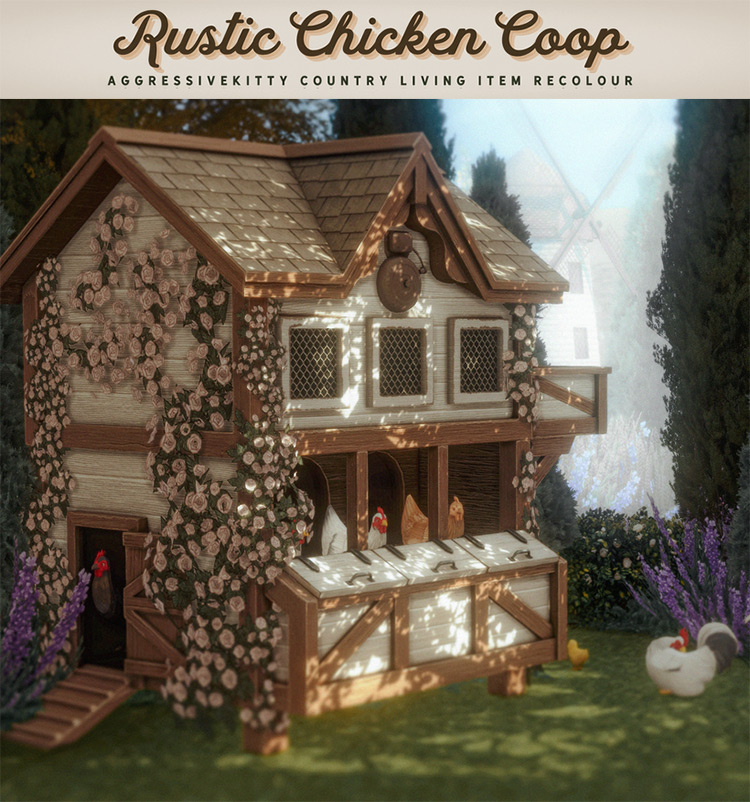 This Rustic Chicken Coop recolor by AggressiveKitty adds a realistic touch to the in-game chicken coops.
They're cute and whimsical, no doubt, but my eyes are drawn to the swatch with the flowers.
It looks like it belongs in the background of a dreamy country photoshoot. The soft wood and cream colors definitely amplify the effect, too.
33.

Whimsical Animal Portraits by hamburgercakes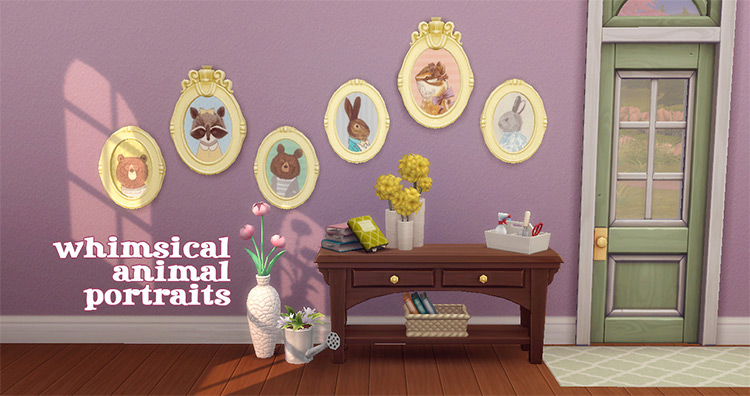 If your Sim is fond of the outdoorsy homestead life, then they probably love animals. What better way to get an instant serotonin boost than by hanging up hand-painted pictures of adorable woodland creatures?
I'd do it in a heartbeat if I had the wall space for it.
34.

Vintage Curtains by xxmercury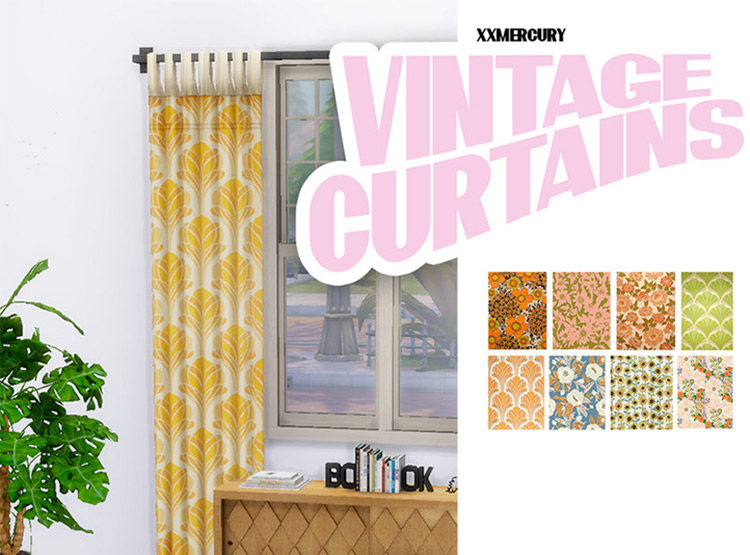 Not all vintage patterns are cottagecore, and not all cottagecore styles are vintage.
But oftentimes, the two designs do overlap.
When they do, you get this: some warm, whimsical curtains with nature-inspired prints.
35.

Cottage Kitchen CC Stuff Pack by S-imagination
This custom stuff pack by S-imagination isn't just for cottagecore addicts.
It's for any TS4 Simmer who loves to create builds.
Modern builds, rural builds, blue suburbans… whatever your default style is, this pack of 53 new objects definitely provides more than enough options.
And in the context of this article, what could be more perfect for a cottagecore setting than a pack of cozy cottage kitchen items?
36.

Hanging Plant Rack by simsinatra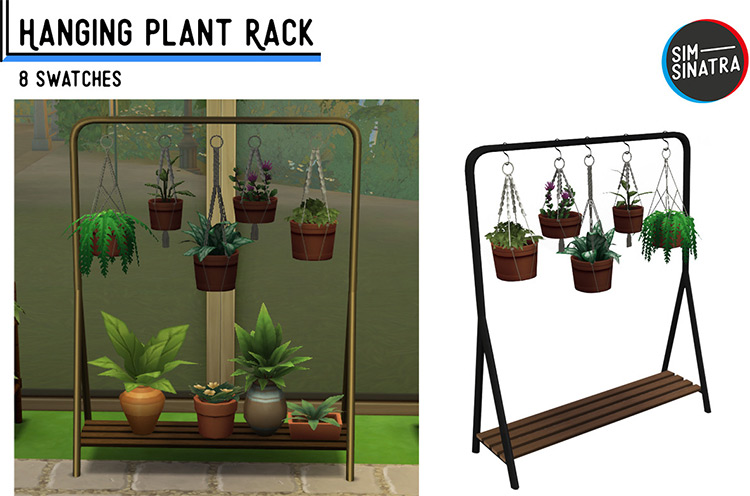 There are a lot of hanging plant decorations out there.
But I like the unique spin of this mesh.
Instead of hanging from the ceiling or the wall, this planter comes with its own convenient rack!
37.

The Big Granny Pack #2 by Miss Ruby Bird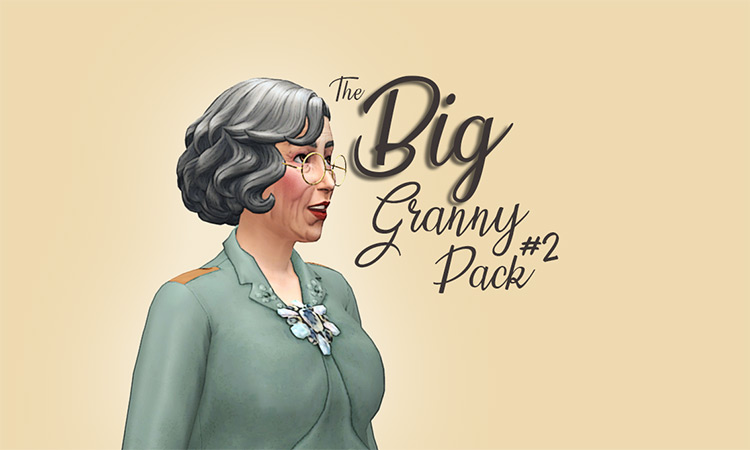 I didn't expect this, but the colorful prints, designs, and color schemes that grandmothers are so fond of can actually suit a cottagecore build!
Maybe it's because they evoke a feeling of old comfort and simple warmth.
Whatever it is, Miss Ruby Bird's big Granny Pack of stuff can be used to decorate a fairly modern homestead cottage!
38.

Floret Grove CC Set by leaf-motif
Genuinely wish I could just copy the creator's description and paste it here, because it perfectly sums up what you get in this pack in just a few lines.
Long story short; it's a full, flourishing ecosystem in bright, colorful containers.
Bees are optional and sold separately.
39.

Orjanic Stuff Pack – Part 1 & 2 by House of Harlix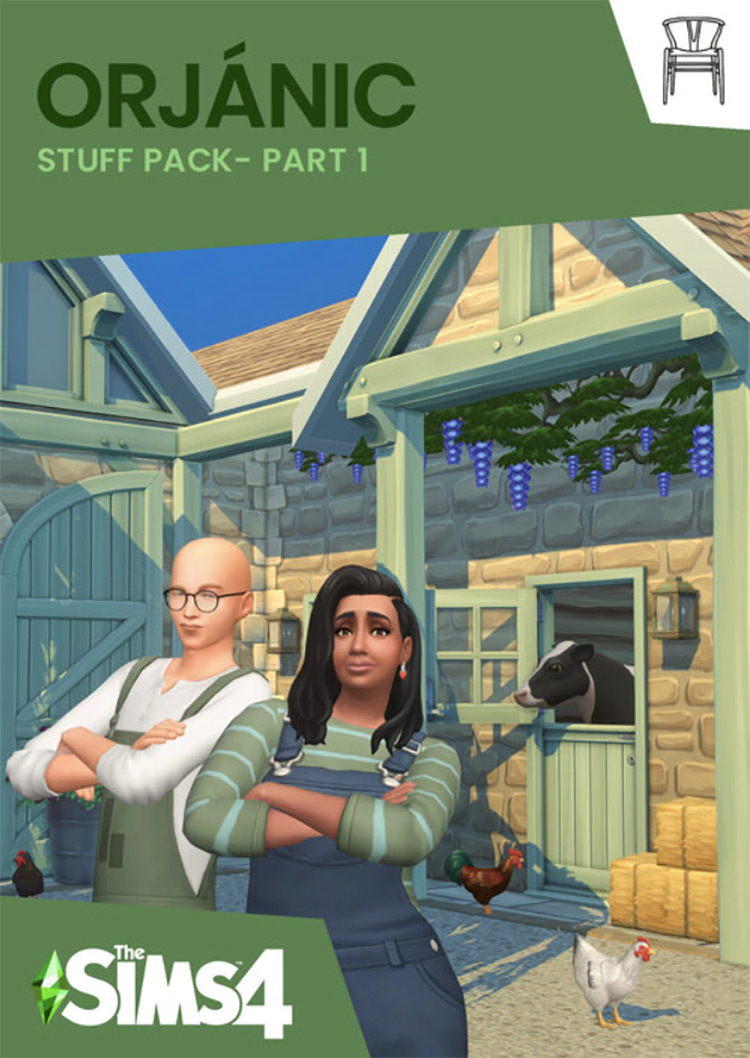 Bear in mind; this stuff pack by House of Harlix's Orjanic stuff pack contains 78 new Build and Buy pieces.
And it's free.
They're not just decorative meshes either, no.
Part 1 of the set includes functional doors, windows, arches, wallpaper—literally a full suite of country-living-inspired build items, guaranteed to help you achieve that worn-wood, sturdy-stone aesthetic that most farmhouses have.
Once you've built the floor plan, use Part 2 (which you can download here) to furnish it. 51 pieces of functional shelves, tables, chairs, settees, and counters in soft wooden textures and earthy hues.
It is as impressive as it is mesmerizing.
40.

Flower Pots Tray by Simlish Designs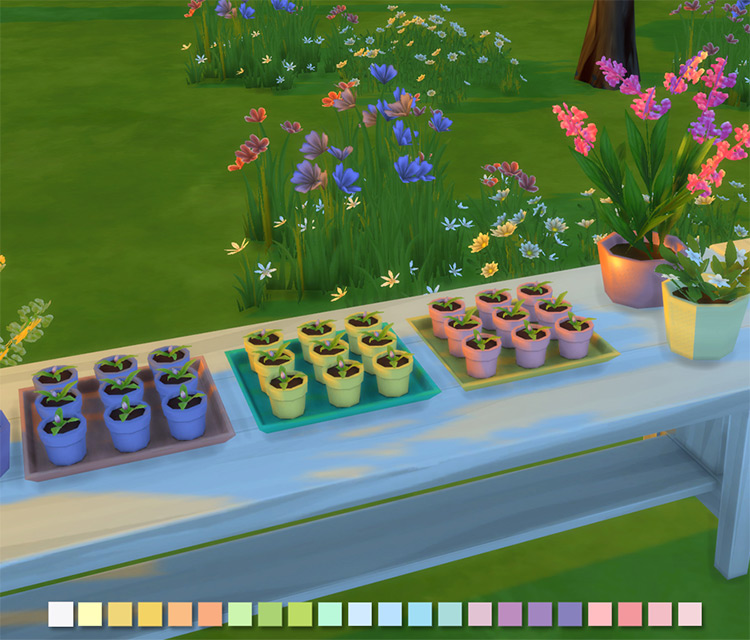 Tiny potted plants in pastel-colored pots.
Both that sentence and the actual items? Adorable.
Just look at the preview photos; those would look absolutely perfect in a small greenhouse or quaint forest cottage. They literally add a pop of color that would work with any interior color scheme.
41.

Cottage Garden Stuff by The Plumbob Tea Society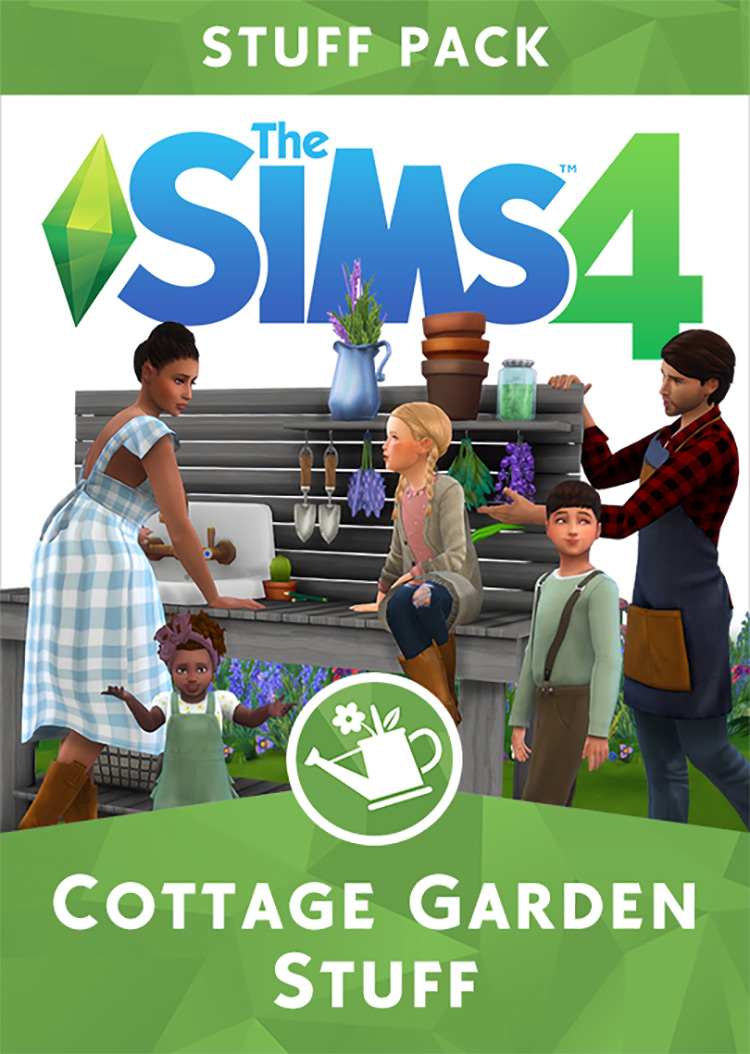 Here's another custom stuff pack by The Plumbob Tea Society that's, quite literally, stuffed.
It's like when you fill a suitcase with too many. There are CAS and Build & Buy items spilling over the edges.
I'm not even going to count how many new meshes this pack introduces to the game. You can check their twelve-page item catalog to see for yourself.
It boggles my mind that this stuff is free.
42.

Cottage Cor Blimey! Kitchen in Image Spectra by amoebae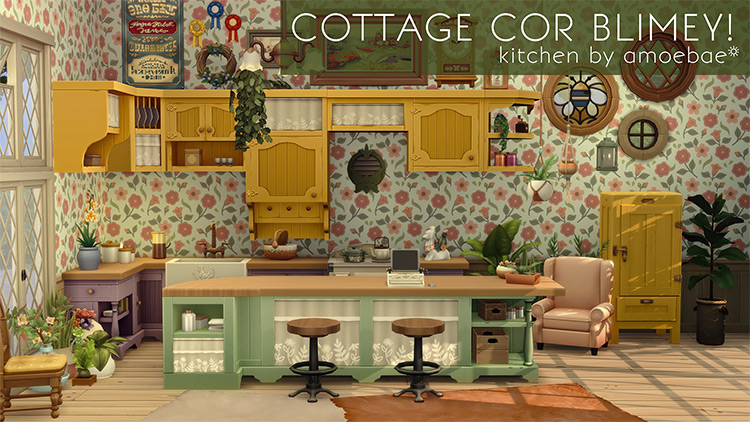 Points for the pun, amoebae. Points for the pun.
If your Sim's tiny homestead cottage needs a makeover – especially in the kitchen area – this small stuff pack can give them some new design options that are quaint and charmingly rustic.
43.

Garden Stories by myshunosun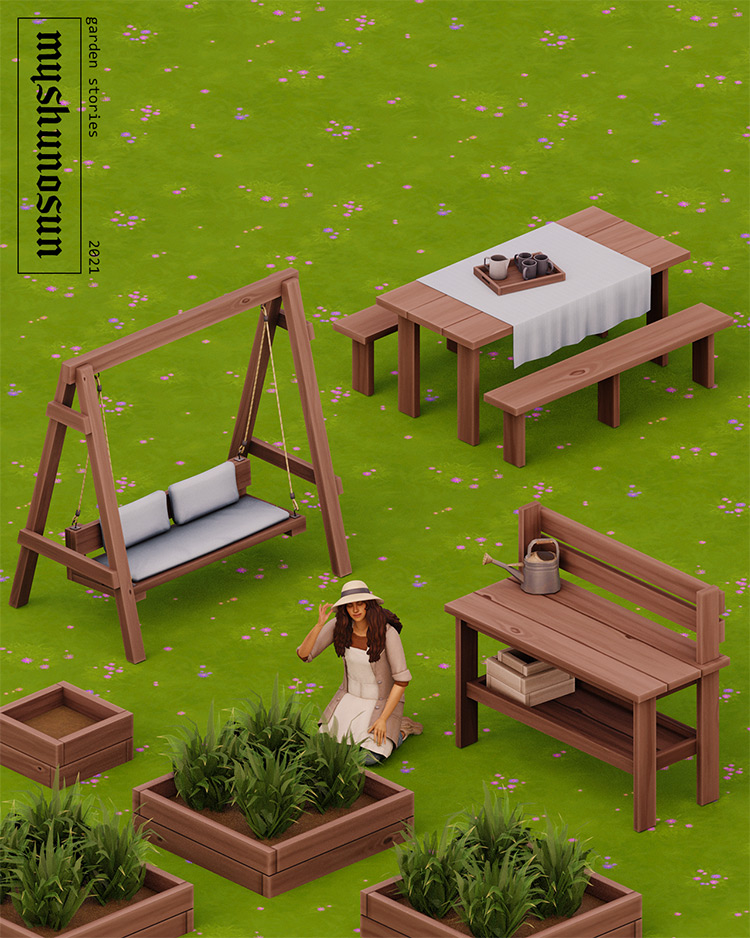 It's not unusual for small cottages to be on large plots of land.
Sims who prefer to live on the homestead typically spend more time outdoors, after all.
Fill up your Sim's extra frolicking space with beautiful wooden furniture and decorative gardening pieces to add a bit of homebody warmth.
44.

Base Game Cottage Living Décor by tartiish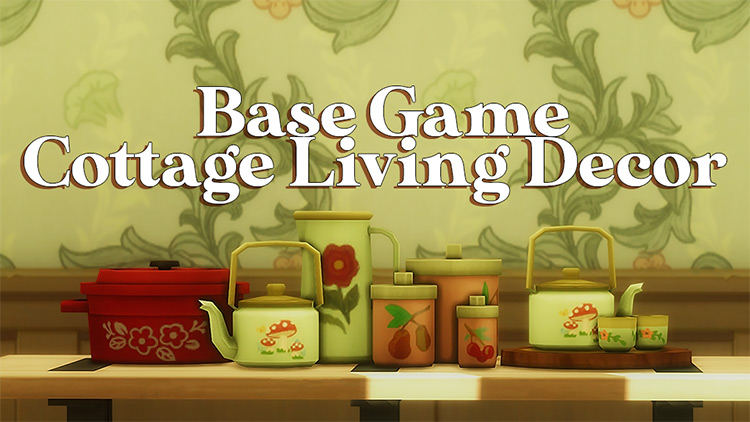 Don't have The Sims 4: Cottage Living installed?
Don't worry; tartiish's got you covered.
This CC set offers five decorative items with a distinctly sweet "Southern-living" charm. Earthy colors, vintage vibes, simple prints — the works.
And since they're original meshes, they're all base-game compatible.
45.

Folklore Set Off the Grid Living by Lili's Palace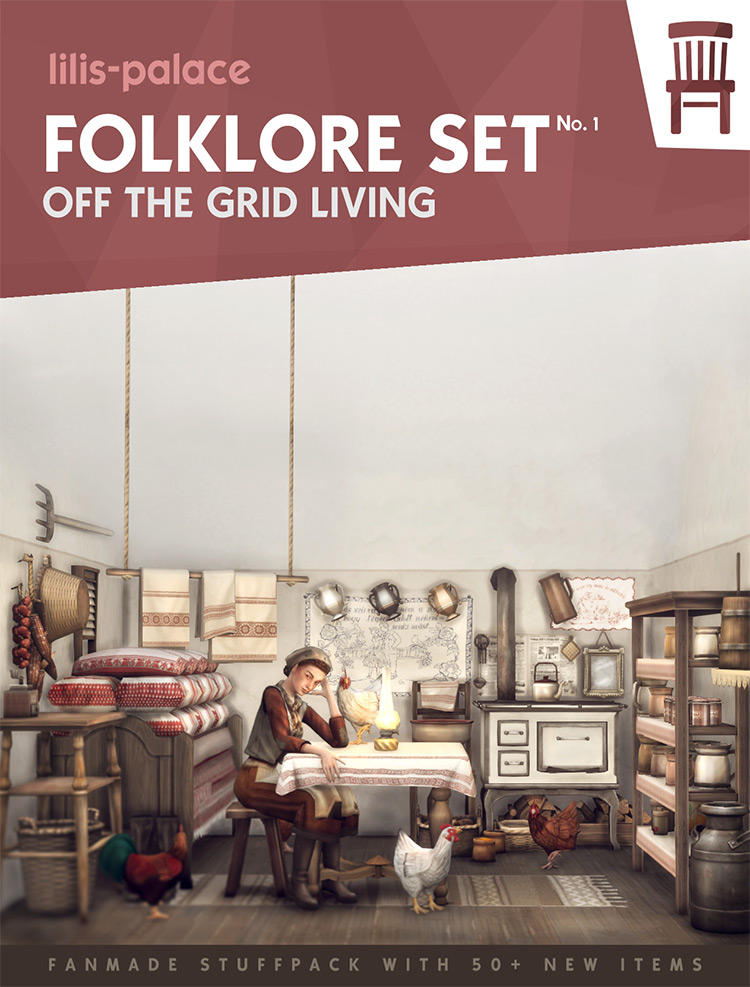 Living deep in the woods, down in the country, or far out on the prairie means you're pretty much on your own.
Whatever running water, electricity, or tech signal can reach you probably isn't very stable due to the distance.
So your Sim had better be prepared to live off the land — and off the grid!
This custom furniture pack by Lili's place contains all the items your Sim will need (and then some) to live a comfortable country life.
Browse:
Lists
Maxis Match
The Sims 4
Video Games