30 Best Maxis Match Curly Hair CC For The Sims 4 (All Free)
This post may contain affiliate links. If you buy something we may get a small commission at no extra cost to you. (Learn more).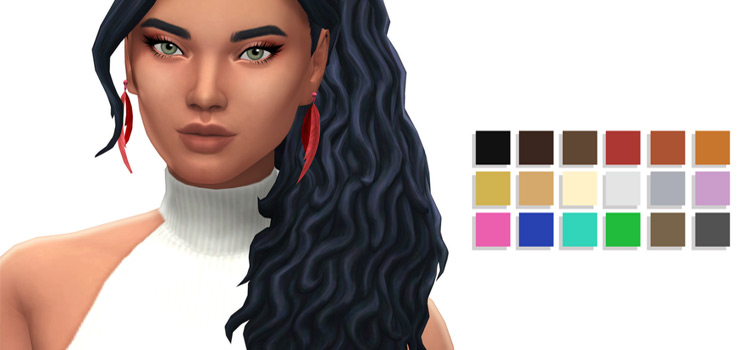 The Sims 4 runs on hair.
It's fun to do crazy challenges or try to get your Sim to reach their goals, but let's be real: a ton of players spend most of their time in CAS essentially playing dress up with their Sims.
Okay, yes, I'm included. Guilty as charged!
The game already offers a little bit of everything. But that's like a sampler compared to the amount of custom content out there for free, made by other Simmers.
And one area of CAS that's kinda lacking is curly hair. But thankfully there's an insane amount of fan-made styles available.
So we've curated a huge collection of Maxis Match curly hairdos right here, offering tons new options for all of your lovely Sims.
1.

Zazie Hair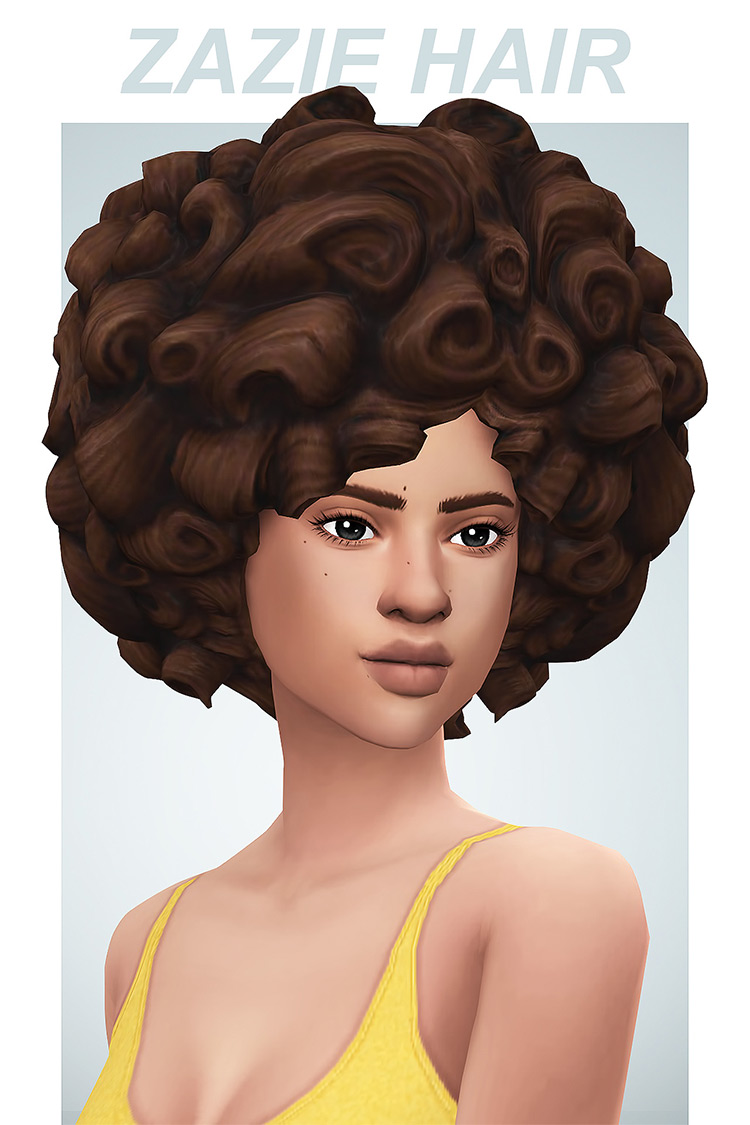 Big is beautiful in nearly all instances, but especially when it comes to curls. It's amazing that what some people are naturally born with, others have to work for with plastic rollers or rods.
Well there should be no shame in either.
Hair is part of who we are and how we express ourselves, whether we love it or hate it. And I have nothing but love for this creation from Grimcookies.
It's big in both volume and size of the curls. They're tight, and there are plenty of them, giving this hair its somewhat round shape.
The texture is also perfect for Maxis Match. Not too detailed, not too clayified… it's just right!
I don't mean to sound like Goldilocks. But if there's any area where it's okay to be pedantic, it's with hair.
You're gonna be seeing that every second you play – so it's best to have CC like this that never gets old.
2.

Dawn Hair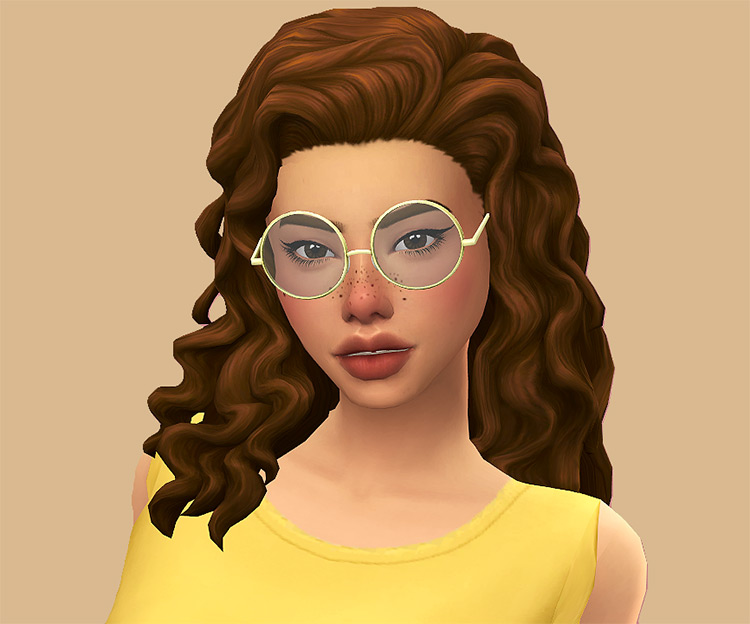 The depth and detail people manage to give Sim's hair is genuinely astonishing.
You'd think creators generally don't have much to work with.
I have no idea how it works, so maybe that's why it is so impressive. But the fact that creators can flawlessly portray all of the real life diversity that comes with hair is part of why CC is so beloved.
Accuracy this good just wasn't possible with past games and their outdated graphics.
Looking at this Dawn Hair set, I have to say it's so needed.
These long thick curls are slightly parted on the side, and I feel like I've seen hundreds of girls with this style. It's simple – but it's a natural hairstyle at its best.
3.

Jude Hair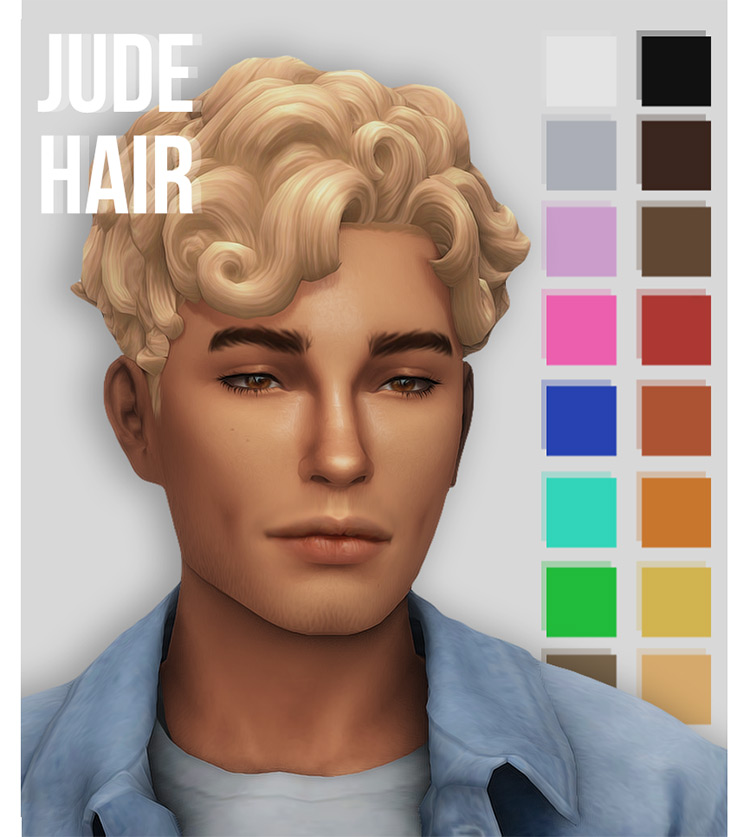 Short and curly is one heck of a combination.
Here's a fluffy and cute option for your male Sims from Okruee.
Just as expected, the curls are very defined all the way around. It looks super thick, and I'd imagine to touch it would be like running your fingers through the clouds.
And here's more good news: your Sim can even wear hats with this hair.
Understandably, not all are made to do that… but it's always nice to have that option.
4.

Tay Hair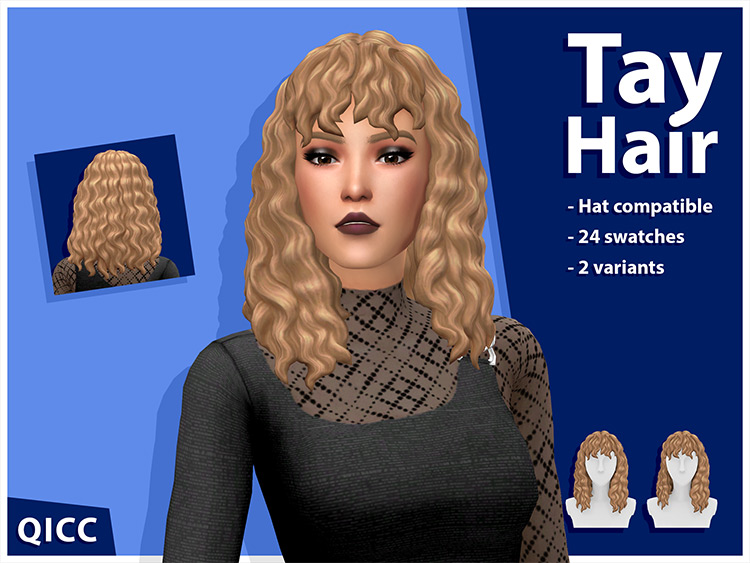 Sometimes you're only able to see a hairstyle's texture from a certain angle. But that's not the case here.
There's absolutely no mistaking that this Tay Hair CC is a wonder of curliness.
Each strand is tight, creating the perfect look right down to the bangs. Or up, as the case may be.
Bangs aren't always easy to find with CC, for whatever reason, but I absolutely love them. And they're cute as can be here.
They're a little choppy and it works so well with this cut, which reminds me of '80s rock stars in the best way.
5.

Joanne Hairstyle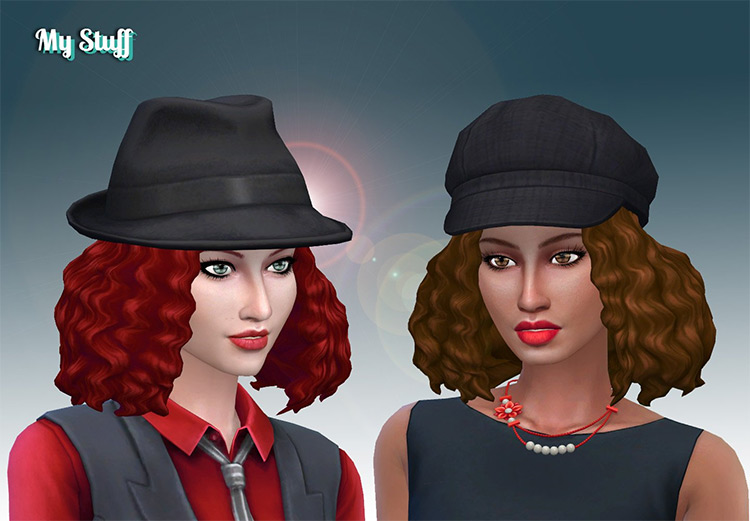 This middle-parted mane is curly from the roots to the ends in equal measure.
KiaraZurk did a great job here, giving a relatively short haircut so much volume.
There are no better words to describe this CC than "luxurious" and "beautiful", which are two goals everyone has with haircare.
Your Sims are the lucky buggers who can have that look with no maintenance, so go wild. Bad hair days and wind can't touch this 'do.
And the way this frames a Sim's face is really nice – it makes the hair seem even thicker.
6.

Trip Hair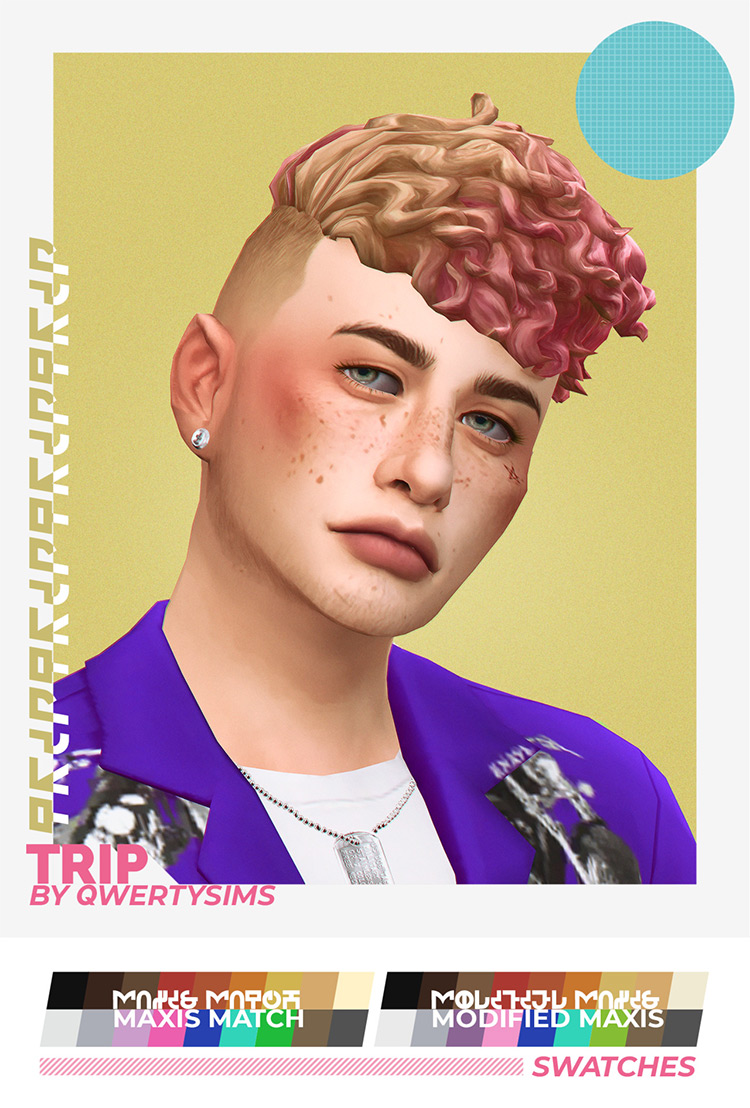 Qwertysims describes this as a "curly undercut". And those are two of my favorite words to see together when I'm CC hunting.
Undercuts were popular in the '40s and are having their biggest resurgence – but with all kinds of modern twists. People get designs shaved in, super sharp edges and lines, or go fully shaved.
The length of the hair on both portions plays a pretty big role in the end result – and this is one of the most awesome versions I've ever seen.
The cropped mop of curls has a very youthful feel. And the shaved part compliments it brilliantly.
It comes ready for males & females, teens to elders, plus the Maxis Match aesthetic fits so well.
7.

Gabbie Hair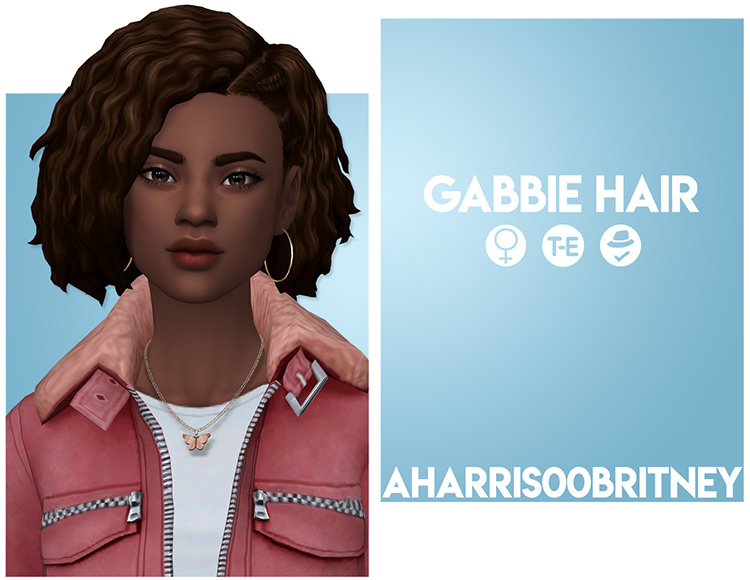 Simple hairstyles generally make for an easier time in real life.
If you love hair and styling your own then sure, taking the time to keep it just right is probably for no big deal.
But for others (such as myself) the only way we're ever gonna enjoy hair with little complexities is through The Sims, where we don't actually have to put any work into it.
Shoutout to creators like AHarris00Britney for making that possible!
At first glance, this may seem like a standard curly bob. But actually, the left side is partially pulled back and braided. A lovely personal touch.
It's also tucked behind the Sim's ear, which is another way to make her appearance more dynamic.
All this stuff is what makes one cut different from the other, and it really pays off.
8.

Jort Hair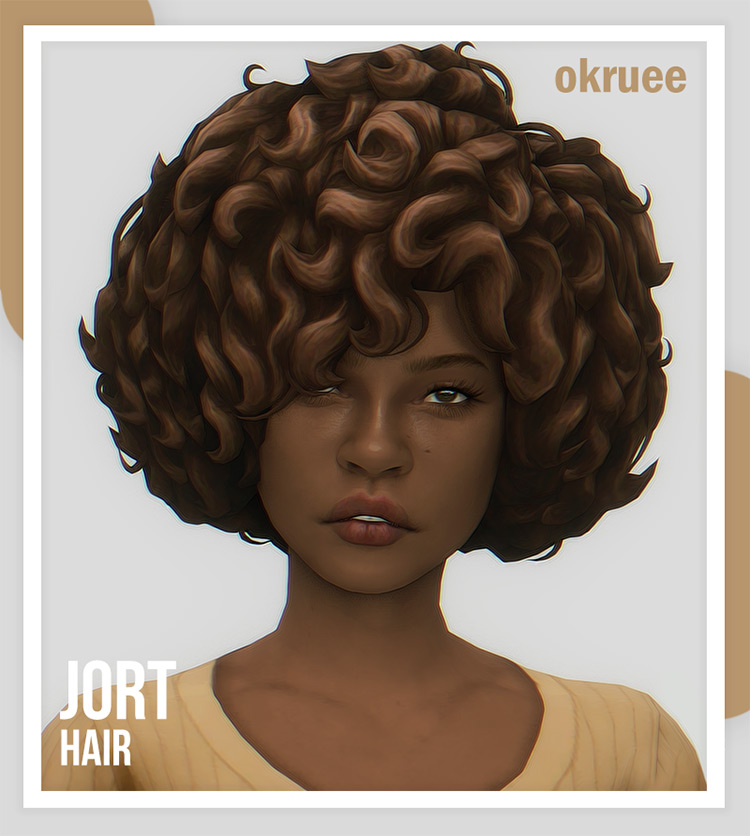 Here we have another big hairdo where the curls are really appreciated at their fullest – this time coming to us from creator Okruee.
If you're a big fan of CC hair then you've probably come across this Simmer a lot. And their creations are synonymous with creativity and quality.
My Mods folder is full of her stuff, and this CC is the latest addition.
Those magnificent curls are just impossible to pass up. No strand is left behind.
But just in case you aren't a fan of those little wisps around the edges, you can even choose the No Strands version to remove them.
Either way, this rounded cut is gorgeous through and through.
9.

Shea Hair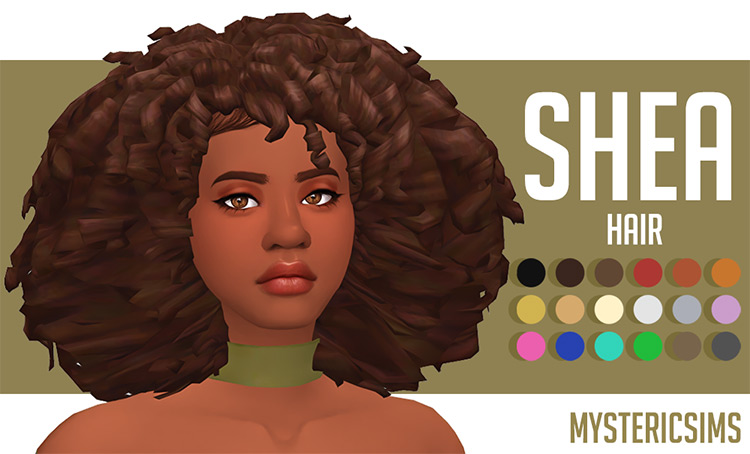 Kinks and curls make this voluminous afro a truly beautiful sight to behold.
It's super thick all the way around, and the front especially has some nicely detailed ringlets.
I think a lot of people assume big hairstyles like this won't be hat compatible.
We've all come across CC that just doesn't work with any hat, and even some official hairs that are questionable.
That sorcery just can't be possible from a fan made object, right?
No, ya silly gooses!
Where there's a will, there's a way.
Mystericsims enlisted the help of Synthsims, who created the hat chops here. So you'll have as much freedom with the glorious Shea Hair as you could want.
10.

Ana Hair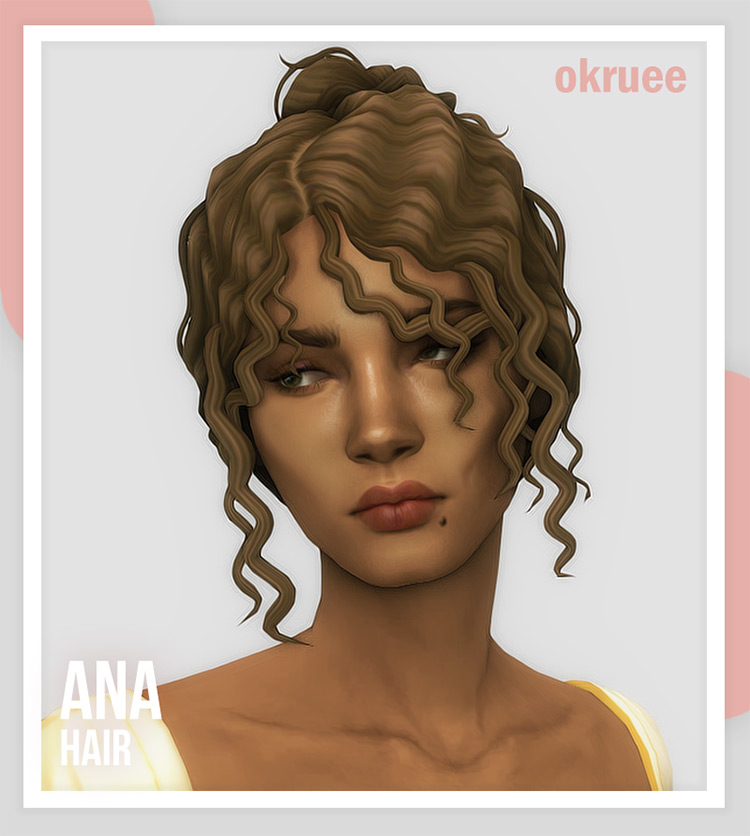 Okruee is back at it again, this time with an updo.
Now I don't know if all Simmers are as picky as me, but I like there to be some consistency and realism to my Sim's hairstyles (even with the Maxis Match look).
If I'm gonna give them an updo, I like to have a "down" hair that would match in length and type.
That's not always possible, especially with official hairs. Probably because they figure most players aren't as crazy as I am… but hey, there are several of us! Dozens even!
With that in mind, I really treasure this CC.
It's still abundantly clear that this Sim has curly hair, even though it's pulled into a loose bun. The wavy texture remains, and the strands of bangs are as curly as it gets.
And just like the Jort Hair CC mentioned earlier, Okruee leaves it up to you whether you want to include those strands or not.
11.

Curlys Curlys Hair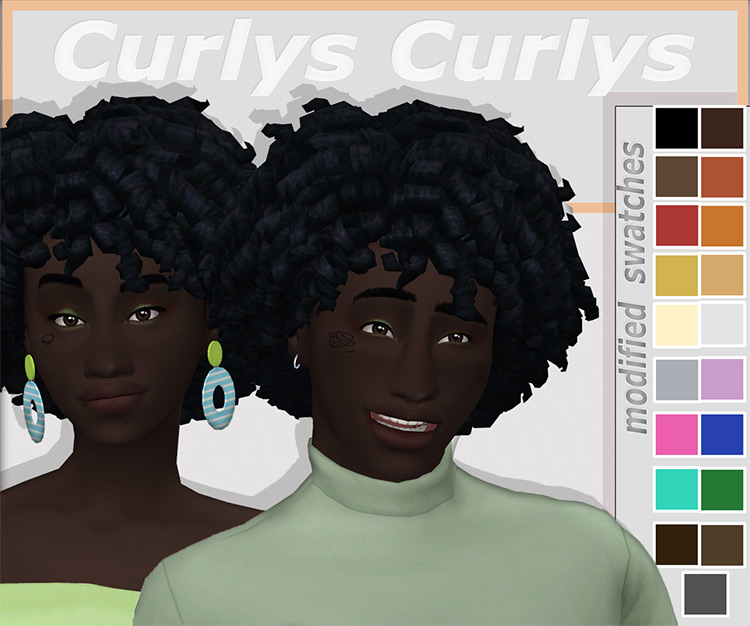 "Retexture" is generally an exciting word in The Sims community.
It means someone has taken the time to tweak an existing hair model (usually tweaking EA's stuff). And the idea is that the creator's are giving it a little makeover.
Someone could do this to make Alpha hair appear more "Maxis Match", or just try to make it a bit more detailed.
The end result is something everyone can appreciate.
Here, the creator (or retexture-er in this case) took the simple curly mop from the base game and just made it a little fuller and nicer.
The shape isn't as awkward anymore, and it seems like even some of the shadowing is different.
12.

Amber Hairstyle + Clips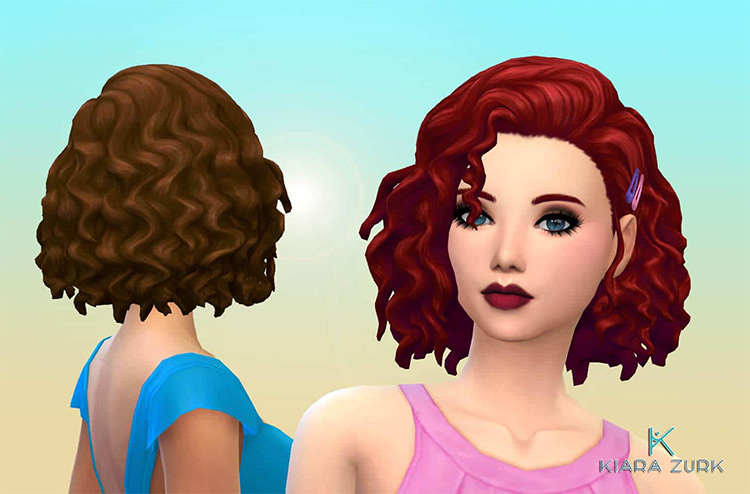 Here's another adorable option from KiaraZurk, this time complete with some accessory clips!
There are all sorts of fun things we can add to our hair. But our Sims unfortunately don't often have that same opportunity.
This curly bob looks lovely, from the side swept part to the very ends. The clips are totally optional too – but they really add an even cuter element to this hairdo, in my opinion.
They're small, but look quite realistic, and will sit on the left side of your Sim's hair just above her ear.
And this CC also has something many hairs lack, which is an effective layered look.
It's clear that a lot of time went into this. And even the small curly lock in front of the Sim's ear provides some more depth.
13.

Keke Hair
I don't know why, but "Keke" is the perfect name for this hair.
It's just as endearing as it sounds!
This is a longer cut that'll go a good length past your Sim's shoulders. Front or back, you can clearly see how thick and elegant this is.
Legit like the hair of a Disney Princess.
There's this untamed vibe that's very charming to this look – and any Sim will definitely make it her own.
You can also choose a pushed back version, which leaves most of the hair behind the shoulders except for a few pieces of bangs, or the" Standard Keke Hair", which basically leaves it equal in both the front and back.
14.

Long Tight Curls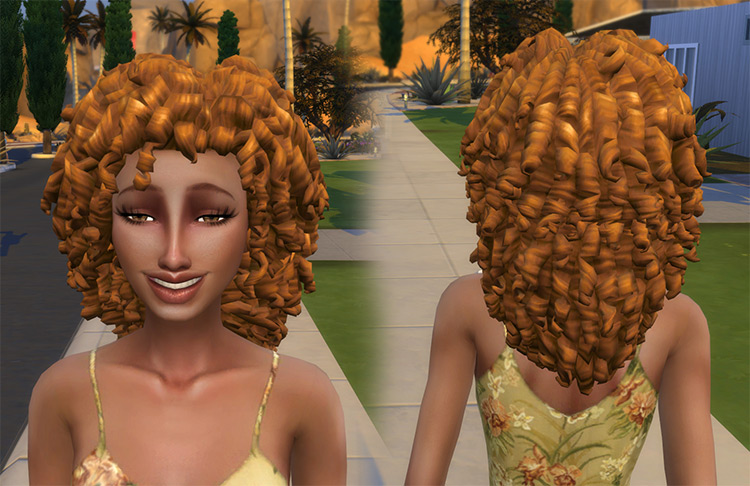 Eagle-eyed Simmers will note that this is another edit of the base game hair.
Only this CC goes a little farther than a retexture.
The fun of having tight curls goes on and on here, all the way to a tapered point near the middle of your Sim's back.
KiaraZurk did a brilliant job of keeping the hair consistent.
It's completely full of corkscrew curls that undoubtedly nail the game's Maxis Match style, just cooler.
15.

Curly Bun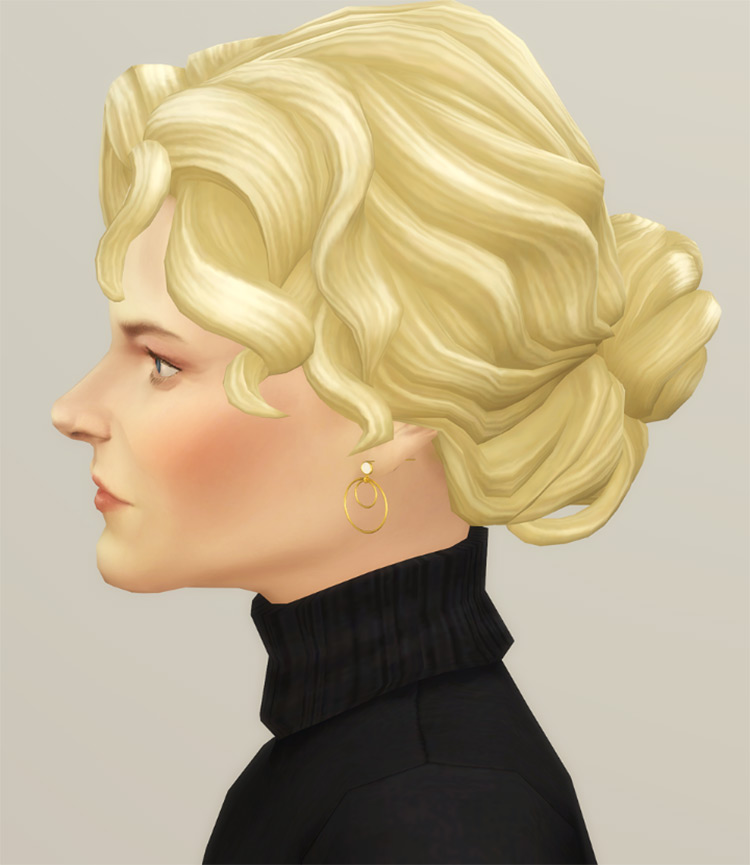 Rusty is another one of those CC creators I find myself going back to again and again.
This gorgeous bun is the perfect example why that's the case.
The bun itself is a casual but sophisticated low-twisted style. But you can tell it contains some righteous curls that are just barely being restrained!
Then up front, we have a very natural middle-parted look with some of the most stunning, kinky, and choppy side bangs ever.
They're breathtakingly gorgeous by themselves, or with hats.
It's like what Nancy Landgraab would wear if she actually had any style, that poor old bird.
16.

Hari Hair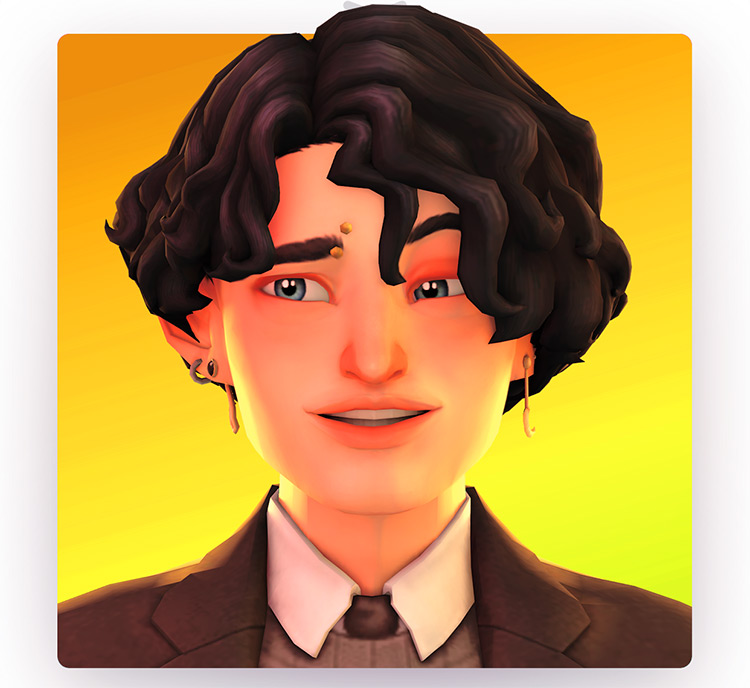 I'm not sure which came first, the abundance of content for female Sims, or the mass realization that it's just easier to make them aesthetically pleasing.
There's definitely a connection, but does anyone know? Does anyone care?
In any case, this doesn't mean your male Sims can't have the same level of quality hairstyles. There are a lot of creators out there who are killing it – and Marso is among them.
This messy & cropped curly male cut looks very natural.
These curls are thick and give the hair a ton of dimension.
Any Sim will look youthful and handsome with this on their head – it's impossible not to!
17.

Carousel Hairstyle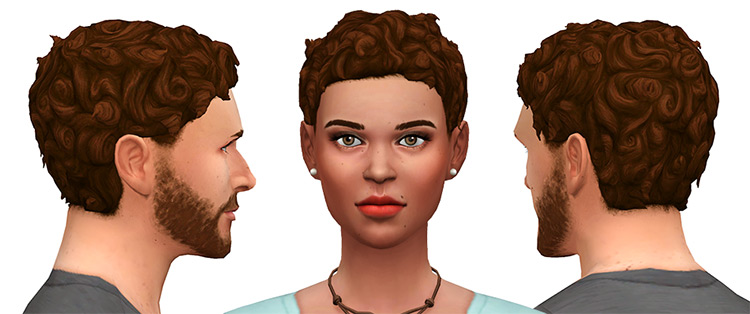 Rope is among the best male-centric content creators out there.
His downloads catalog covers quite a range, including everything from lots and furniture, to stuff for nearly every category of CAS.
I've used almost all of Rope's hairstyles, and they really become part of my Sim.
Not just their look, but who they are as well. That's how a really good haircut should feel. And it's no different for our beloved pixel people.
This CC is a bit milder than many hairs we've seen, and that's great. There's actually a scale out there for the curliness, so I'm glad much of that has been represented here already.
It's still intensely curly, no doubt, just in a more compact way.
18.

Up & Out Hair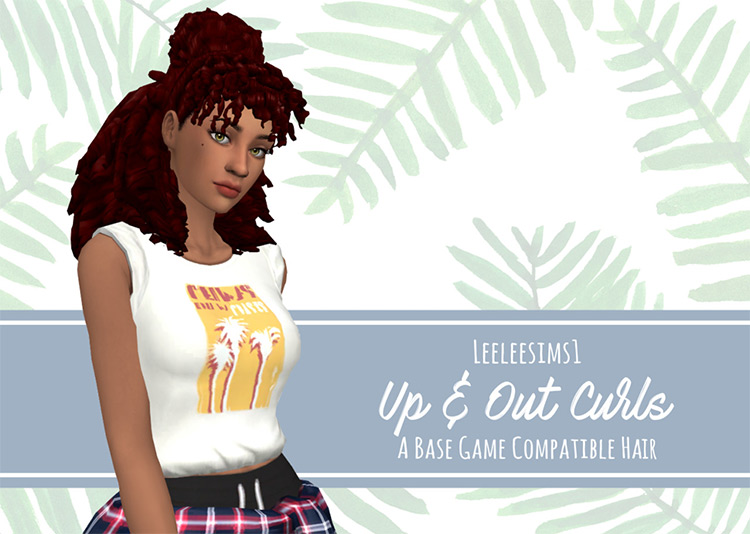 Curly hair is honestly the only texture that can look fashionably messy and inexplicably neat at the same time.
That's the most ridiculous oxymoron, I know, but let me explain.
This half updo is wild and voluminous at each and every portion. Even the bun is clearly chock full of curls! There's no taming it, and yet, everything about this feels very deliberate.
What we have here is not the bun of a girl who just rolled out of bed and pulled her hair up.
It's tidy, which makes this perfect for all of the things a messy bun is not.
Your Sim can wear this hairdo morning, noon, and night, to work and the bar alike.
And although there's not a hair out of place (pun intended), I am obsessed with the bangs. They have this floppy realistic look that can't be beat.
19.

Short And Curly Hairstyle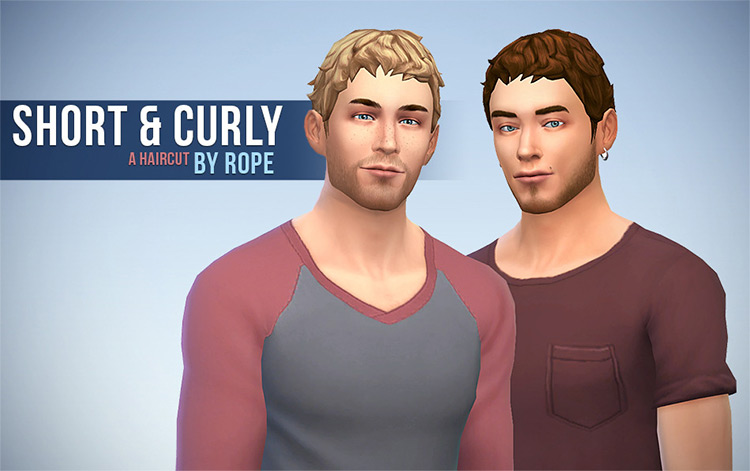 Here's another creation from Rope that has about the shortest version of curls you'll find.
He trimmed down the shaggier version from the base game, and the result is this cute laidback look.
Yes, I'm going with "cute". This may have been intended for manly men, but there's just no better way to describe it.
And Rope also made it available for females, too! (both download links can be found on the CC page)
It's interesting that while this model comes from the base game, it's super similar to one of the hairs that came with Outdoor Retreat.
I love that pack, don't get me wrong, but this CC is like a million times more flattering while still nailing that same slightly rugged vibe.
20.

Melodie Hair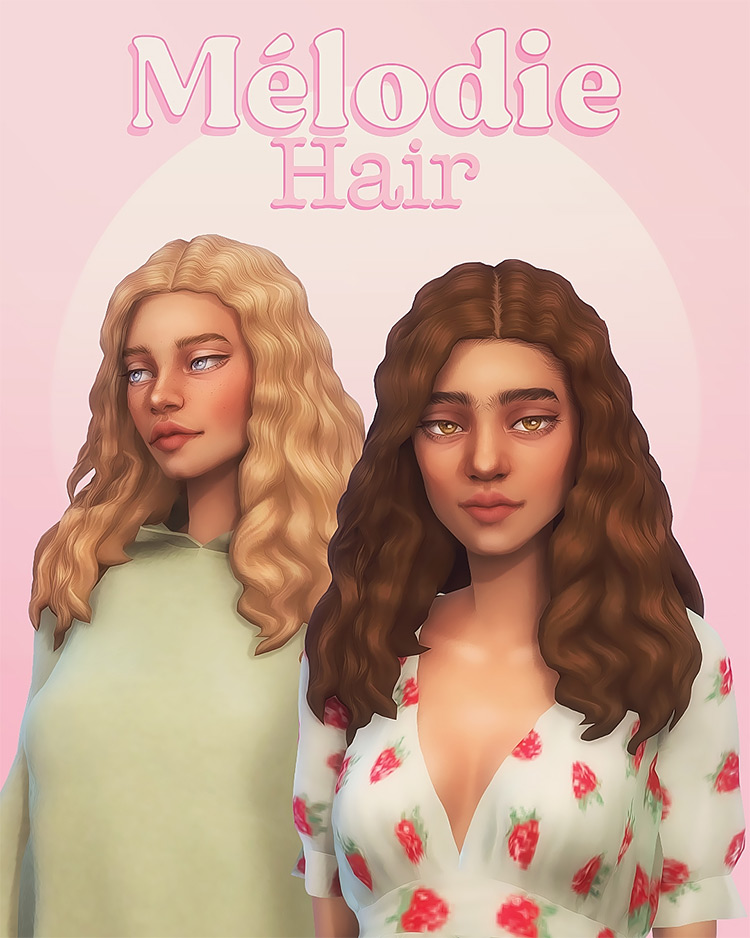 There are so many different types of curls in the real world that it's hard to keep track.
We've seen tight coils, loose rolls, messy ones, and everything in-between.
Here, Miiko has created a great softly waved look. Seriously, this is hair worthy of a shampoo commercial or magazine cover.
It's parted in the middle, and the feathery rippled waves are in no short supply.
They'll frame your Sim's face better than a picture frame.
In addition to the standard 18 Maxis Match swatches, there are 3 more added here too. Those gorgeous shades of silver, pink, and purple will really add to this dreamy hair!
21.

Joshua Hair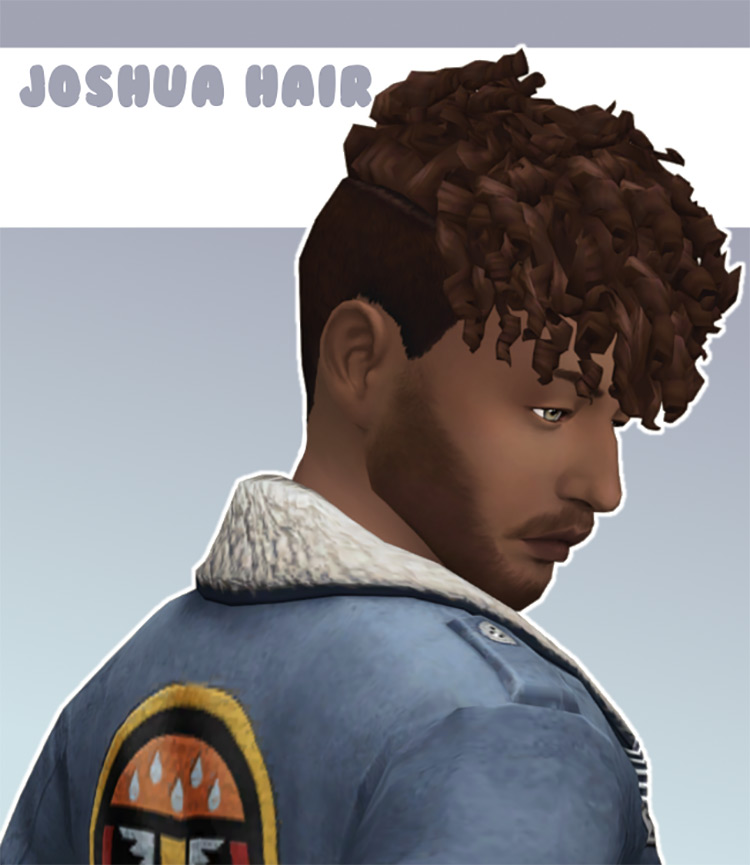 Nobody can repurpose things quite like The Sims community.
Amazingly, this CC uses part of another hair from this list.
It's so unique in its own right that I never would've known unless Stephanine specified – but this has the fringe from the Up & Out Hair!
That just goes to show how far something like "fluffy fringe" can go.
This is one of my favorite modern TS4 hairstyles for guys.
The shaved sides and curls on top seem to offset each other very nicely.
And this has an edgier masculine feel that Sims of all ages Teen and up can make their own.
22.

LENA By Simstrouble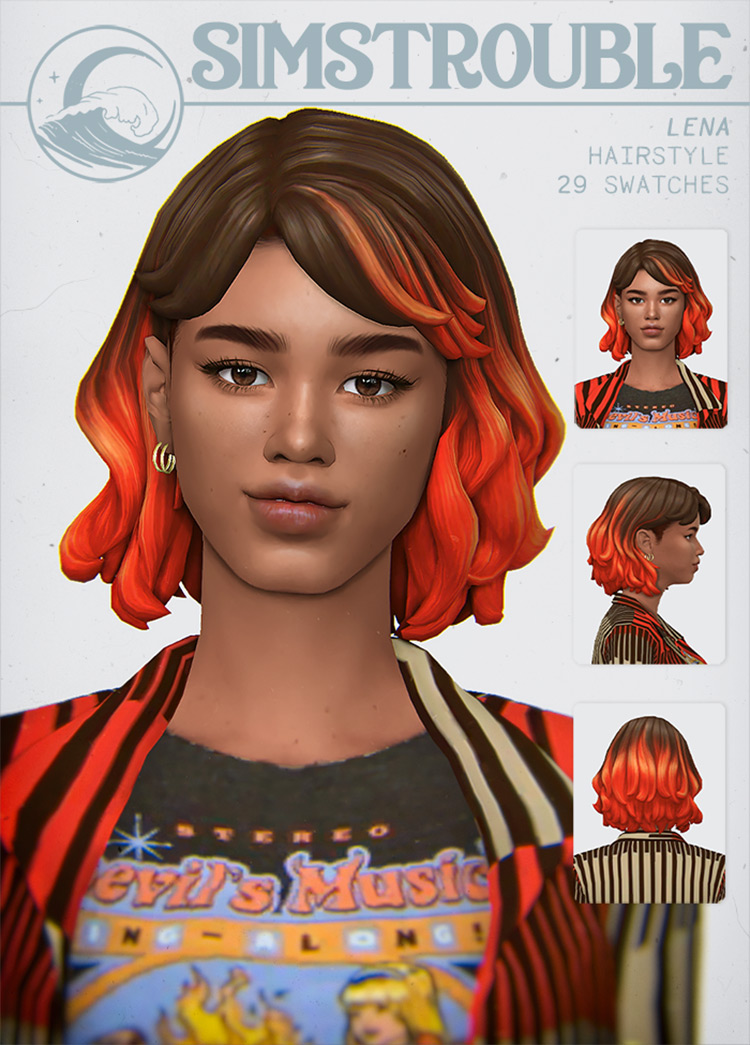 Despite how cutting-edge CAS is (especially compared to past Sims games), hair color is still a bit of an outlier.
We've actually gone backwards a little, since adding highlights or switching up the color was possible in past games. But with The Sims 4, you kind of get what you get.
If a hairstyle is a solid color, it's gonna stay that way unless you find CC.
But why not add some more variety? Highlights are a great outlet for self-expression, not to mention just plain cool.
This LENA Hair from Simstrouble is really like a two-for-one style.
The combination of colorful highlights and short curly hair is one that's way overdue.
So many girls in real-life rock this style –so it's high time we were able to have Sims like this too!
23.

Chanel Hair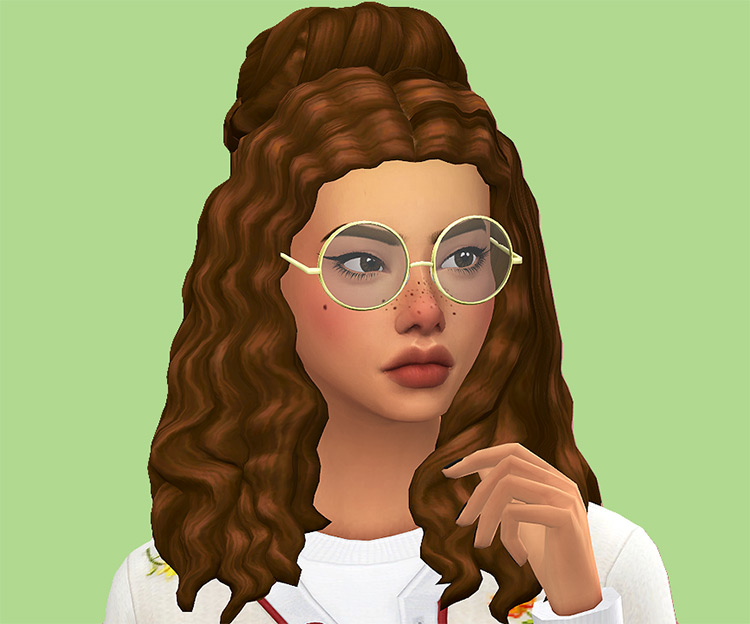 Here's another double hitter, this time in the form of a fantastic half updo.
It's down, it's up, and all at once to boot. What more could you want?!
There's nothing left unless someone comes up with sideways hairstyles! Technically that'd be pigtails, but whatever.
The point is, since our Sims can't just try new things on the fly, styles like this are so fun to incorporate into your game.
It's casual but classy, and an all-new look, while still keeping that Maxis Match design.
The bun part is one of those lovely bulky types, and the rest will go just past your Sim's shoulders. The creator ImVikai warns that this was their first time texturing – but you'd never guess it by looking at this hair.
24.

Long Curly Ponytail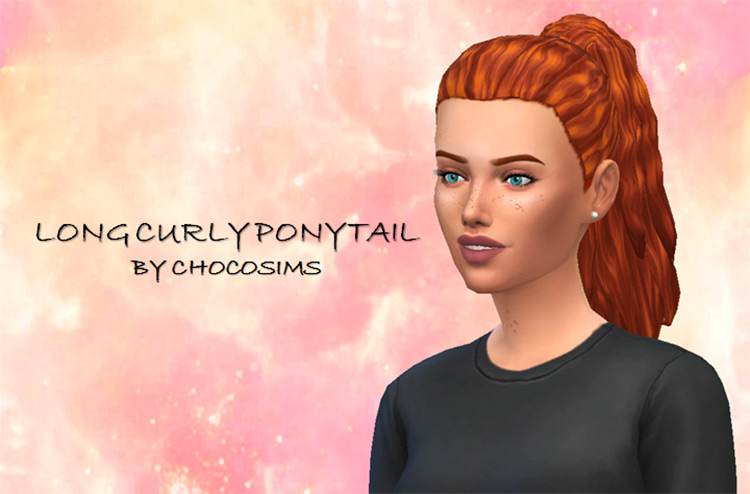 Ponytails have been the most popular updo for probably 30 years now.
There's no way to mess 'em up.
Leave out some wispies and bangs, and a ponytail can be part of a well-put together ensemble. Pull it up tight, and there's no better hairstyle for exercises.
And of course, the low pony is a beloved quick 'do that's good for formal parties and beach days alike.
This CC combines all of the best aspects of all those ponytails for one long & detailed style.
After all, people with curly hair usually don't lose their curls when they switch up how they wear their hair, which is kind of what happens when you try to give your Sim multiple hairstyles in The Sims 4.
Unless you go out of your way to make sure they match up, they probably won't.
But you'll love the look of this CC, day or night, no matter the outfit.
Chocosims has made the ideal Maxis Match curly ponytail.
25.

Zaid Tiny Living Hair Edit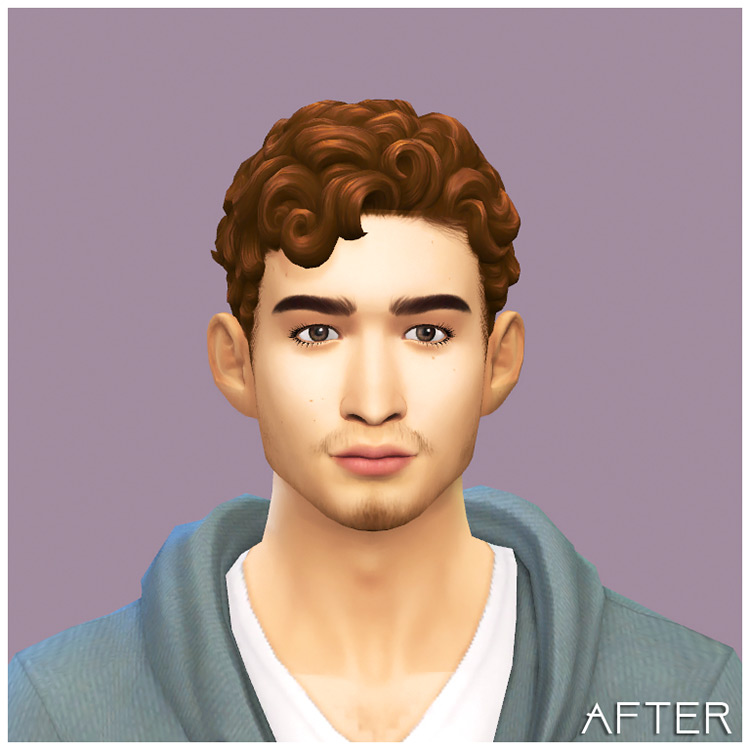 I generally can't say enough good things about Tiny Living Stuff.
You get a whole lot of new gameplay and features in a small package. And the additions to CAS are part of what makes it so great.
However, the tiniest tweaks can change the entire look of a haircut, transforming it into something completely different.
That's the case with this edit.
These curls were already some of the best the game has seen, but they were a tad too tall.
Sure, they're fluffy and a little untamed. But I like ice-creamforbreakfast's version, which tones it down.
Now they even seem more realistic.
26.

Tufty Top Curls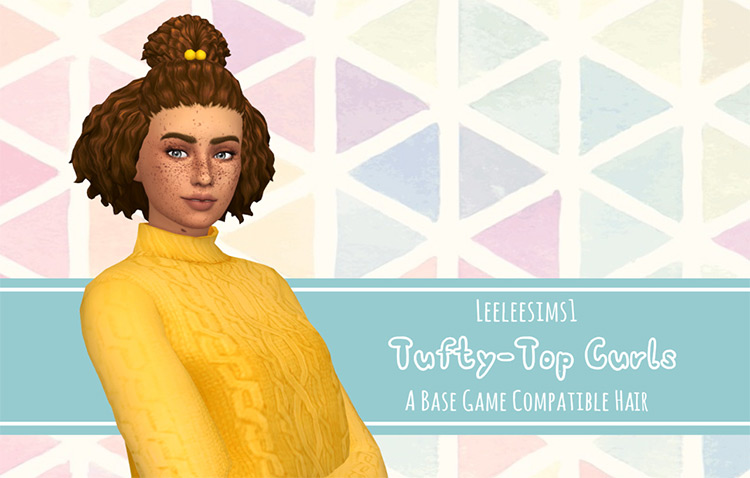 Everything about this hair style is purely adorable.
And not in a childish way as some people worry about. Just very fun and fluffy, plus there are accessories!
But before we get into that, let's focus on the style itself.
This one is short. Short enough that I can't quite call it a half updo. More accurately, it's like a bob with a bun.
The texture is amazing, and for a semi-complex hairdo, I'm surprised by how natural it looks. This doesn't have that "overly round" thing going on that you'll sometimes find in the base game.
And yes, we can't forget about the accessories!
By default, the hair comes with a black clip.
You can download additional bobbles in various colors as well, and it'll be a cuteness overload if you match them to your Sim's clothes. Just an idea!
27.

Daffodil Hair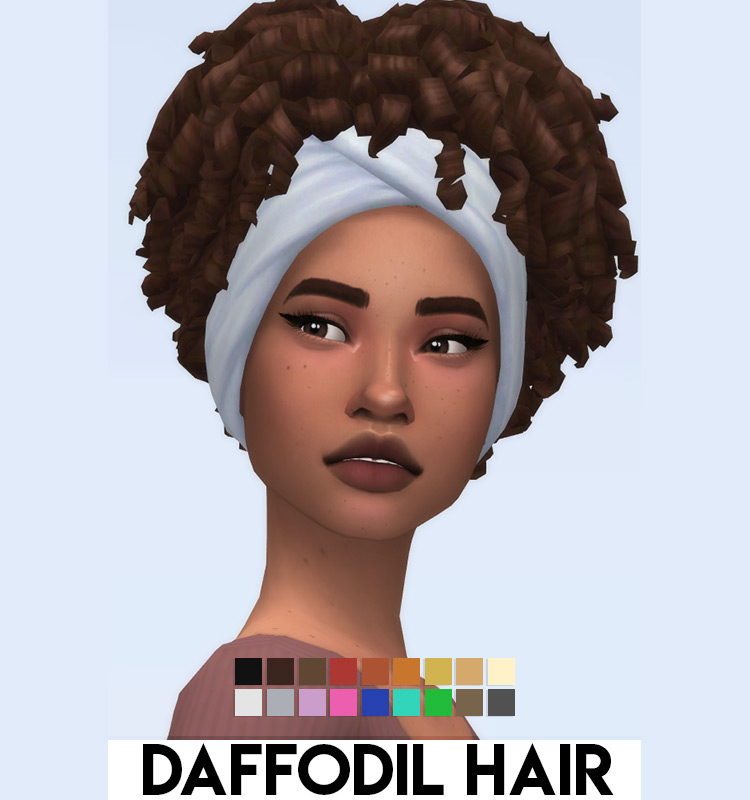 The short & tight curls from the base game are back at it again, this time courtesy of ImVikai!
For the most part, not much has changed here… oh, except there's a gorgeous headband included.
It's a wonderful accessory that goes nicely with such thick curls.
The headband will keep them in place and out of your Sim's face, and… I wish that didn't rhyme.
But I love that The Sims 4 community has people talented enough to add things like this to existing hairs.
Because now this is another way you can switch up your Sim's appearance without a drastic change.
This CC can be used along with the base game version, or one of the edits, and it'll just seem like your Sim takes pride in their appearance.
28.

Talia Hair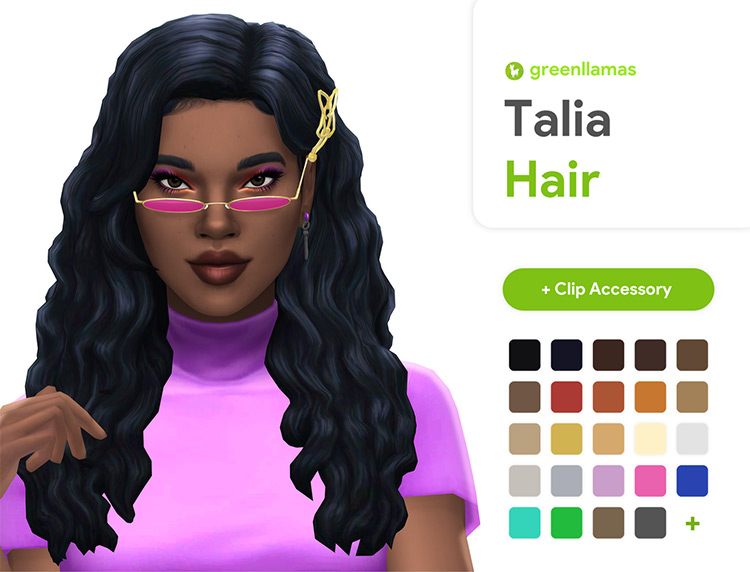 On a day-to-day basis, most people have a standard way they style their hair. And it's usually not too outlandish.
So something simple and pretty is always a good way to play it safe.
Greenllamas' Talia Hair feels like something we've been missing all along in The Sims 4.
None of the hairs on this list are particularly retro – but this one is especially trendy for modern times. It's the hair nearly everyone would be happy to have, with subtle curls and a soft-looking texture.
Plus no split ends.
A clip accessory is also included here, and you can find it in the Piercings category of CAS.
29.

Xavi Hair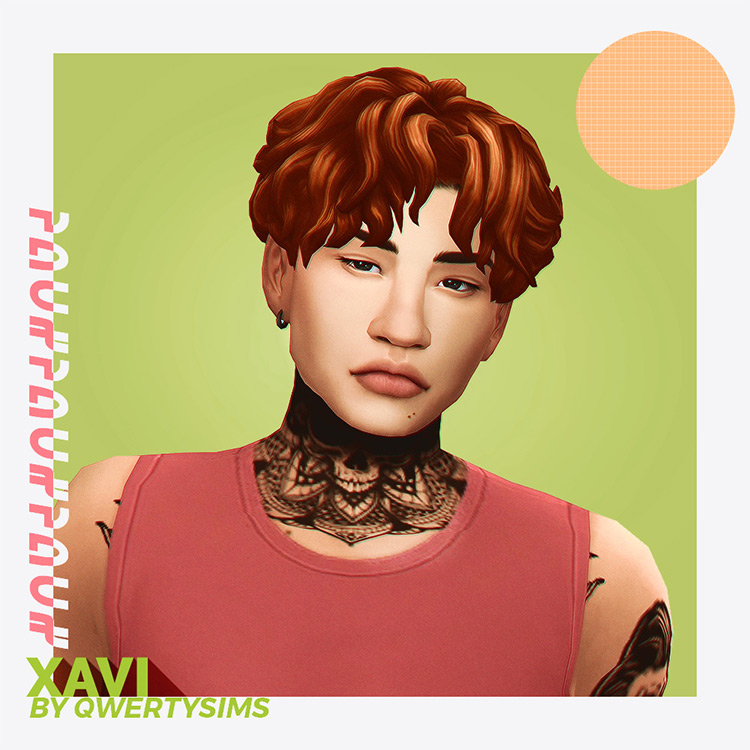 K-Pop stars have an influence that reaches way beyond their native country of Korea, and way beyond the pop music as well.
We've all seen them.
We all know that the K-pop guys and girls always have the most killer haircuts and outfits. They're on another level in basically all areas, which is why they've become beloved around the world.
That influence has now reached The Sims 4.
Well, it did quite a while ago… but I'm behind the times and just starting to realize how many Simmers have made K-pop content.
What Qwertysims has here is a great example of a K-Pop inspired hair for men.
It's got the middle part, so you know it's authentic. And it falls in line with a clean Maxis Match look.
This really is a youthful cut, complete with some gorgeous loose curls.
30.

Corline Hair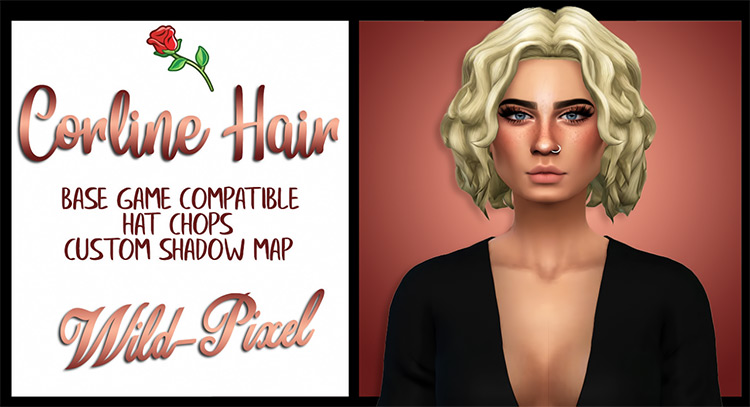 StrangerVille is one of my favorite packs.
I know, how could I say something so controversial yet so brave?
It's just really fun because of the town's atmosphere and aesthetic. And the stuff we get in CAS falls right in line with that.
Except… none of the haircuts are particularly flattering. And it's okay.
The residents of StrangerVille are hardworking folks who we can assume don't have much time for fancy hairdos.
But as Simmers, we've got to have hair options.
This edit fixes the bob that came with StrangerVille, updating the hair so it's at a nicer length, just past your Sim's jaw.
That hairdo always had some wild curls, and those remain – just longer.
And the really cool part is this CC is even base game compatible, so now all players are free from unattractive bob haircuts.
Browse:
Lists
Maxis Match
The Sims 4
Video Games