Sims 4 Maxis Match Denim Jacket CC (Guys + Girls)
This post may contain affiliate links. If you buy something we may get a small commission at no extra cost to you. (Learn more).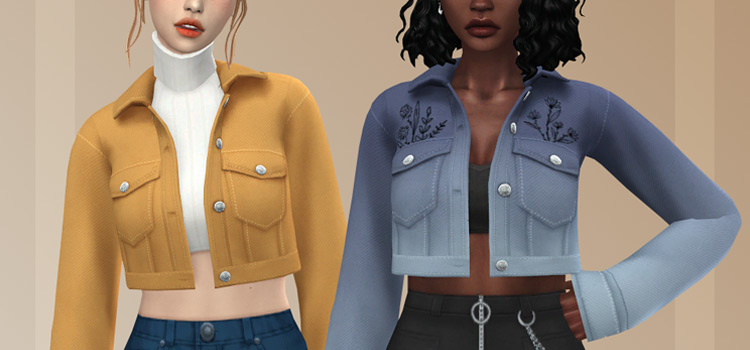 The winds are picking up and the weather's getting nippier. Now's the perfect time to add layers for warmth!
So let's get your Sims ready for beanie season with some stylish denim jackets.
I've listed a handful of unique CC designs here, and there are even some options for the kiddos, too!
1.

Denim Jacket by pixelunivairse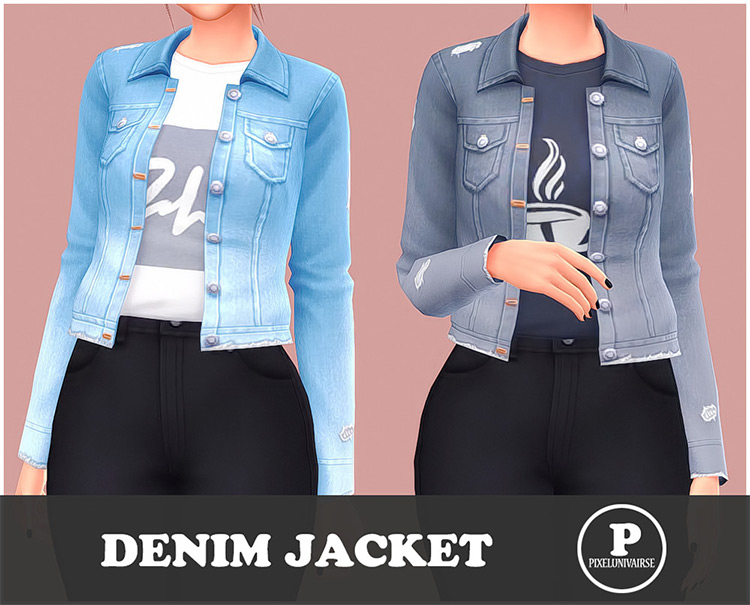 Pixelunivairse's mesh edit of the EA denim jacket is a visual treat.
It's all smooth neat edges and soft, thick detailing.
The slight wrinkling and folds adds so much texture, too. Even the shirt underneath (that comes attached with the jacket) looks crisp and clean!
This comes in eleven denim swatches and is 100% Base-Game Compatible.
2.

Denim Jacket by Rope
Rope's Denim Jacket has all the makings of a casual, effortlessly-cool getup: rolled sleeves, open front, and no-nonsense detailing.
It's the kind of denim that doesn't look too thick or too heavy either, so your Sim isn't in danger of overheating!
It can't be used with necklaces (since it's technically an accessory), but I hear bracelets are alright!
3.

Ripped Jacket Jeans by buckgrunt
Even though I will never quite understand it, I will also never deny the appeal of ripped denim.
There's just something about the contrast of colors and textures that makes it look so cool.
This Ripped Jacket Jeans by buckgrunt? No exception. It looks great in CAS and in-game.
4.

Golden Days: Ronnie Denim Jacket by clumsyalien
Hands-down one of my favorite TS4 CC creators, clumsyalien puts out a lot of high-quality CAS packs.
I feel like I recommend their stuff a lot but, you know. Can you really blame me? Just look at the stuff they put out!
This Ronnie denim jacket from their Golden Days pack is a stunning custom piece that is equal parts denim jacket and oversized hoodie.
And the combination looks surprisingly fantastic.
5.

Rebound Jacket by Trillyke
Short, sweet, and super spunky, Trillyke's Rebound Jacket has the most gorgeous cut and satisfying texture.
It's a cropped jacket with bold buttons and raised detailing.
Trendy, I know, but here's the fun part: it's an Accessory mesh.
Which means you can wear it over any top of your choosing—like an actual jacket!
Plus the design options include patterns, ombres, and customizable duo-tone add-ons (which you can find in Bracelets). Hand's down one of the prettiest, most versatile denim jackets your Sims could ask for!
6.

August Jacket by MysteriousDane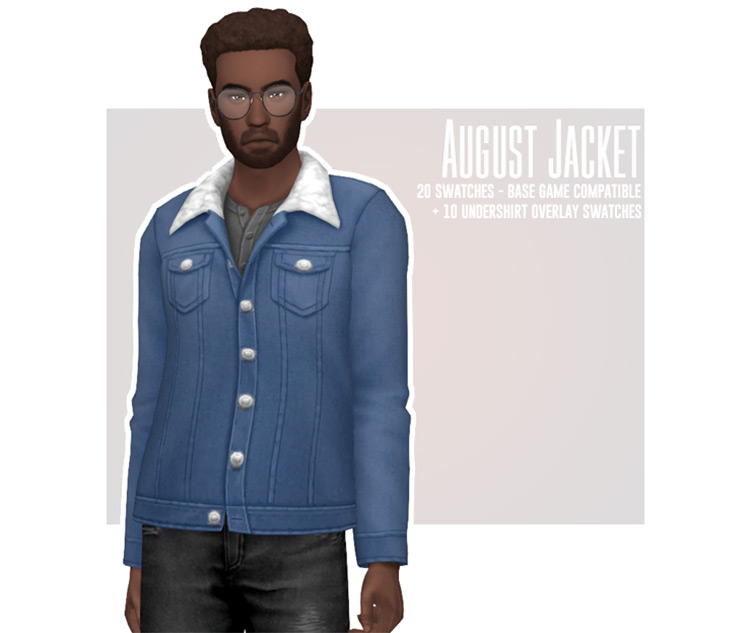 Yes, this is base game compatible. And yes, your Sim can wear it outside of August.
But MysteriousDane's August Jacket's got plenty of character.
Its simple no-nonsense cut is enhanced by the faux fur collar. Plus it makes any Sim wearing it look like a cool, casual king.
7.

Mind Reader Jacket by applezing
Sleek, simple, and non-nonsense, applezing's Mind Reader Jacket has the vibes of a soft, dependable closet staple.
It's got smooth edges, subtle texture, and clean detailing.
Definitely feels like a jacket you'd wear for fall—maybe that's why it comes in @javabeanandreams' modified autumn palette!
Note: the main download link no longer seems to be supported, but the alternative download link still works. (You can find it below the bold text on the Tumblr page, labeled "(ALT)" in parentheses and tiny font).
8.

Denim Jacket by casteru
Here's a snazzy denim jacket for the kiddos.
It follows the classic cut with the simple collar, single row of buttons, and non-functional breast pockets.
It's a basic but beautiful fashion item that makes little Child Sims look sharp and smart.
It's got twenty color variations, too. Definitely a must-have!
9.

Patch Jeans Jacket by mana-tea-sims
Mana-tea-sims' Patch Jeans Jacket is a striking piece of fashion.
It blends casual, modest, and modish in the best possible way.
And this simmer liked their original take so much that they also made a recolor for the original mesh! They added several other swatches (18, total) of different colors to sit alongside the jacket's existing denim palette of eight blue shades.
10.

Popped Collar Denim Jacket by waekey
Colorful, artful, and full of character, waekey's Popped Collar Denim Jacket is a true fashion statement.
It follows the characteristic denim jacket cut but, as pictured, it's peppered with brightly-colored (and brightly-patterned) cloth patches.
It also, as the name suggests, has a popped collar.
If you want to lose the patches but keep the collar, don't worry! This jacket has four other solid-colored, non-patchy swatches.
11.

Denim Jacket Accessories by crazycupcake
It's a tidy, slightly baggy denim jacket with fur cuffs and a collar. What's not to love about it?
Plus it's programmed as a CAS accessory, so you can wear it over any top, outfit, or dress that you want!
A+ for versatility.
The nine color options it comes in works with a wide range of palettes, too.
12.

Vancouver Jacket by Simblob
Simblob gives us a lovely denim jacket that you can wear two ways; one that you can wear with an accessory shirt and one that you can wear as an accessory!
That should give you plenty of options in terms of mixing and matching, which I'm sure many of us Simmers can appreciate.
13.

Ward Jacket by divinecap
Divinecap's Ward Jacket is casually, effortlessly cool.
It's got the fashionably-slouchy look going for it and a solid, no-nonsense undershirt to complete the vibe. Choose between a classic crewneck as the inner shirt or a turtleneck. Both look great; just a matter of the weather, I guess!
14.

SP32 Denim Jacket Recolors by Julie J
Who says denim jackets have to stay in classic shades of blue? Julie J certainly doesn't!
Their recolor adds several bright colors for the SP32 Denim Jacket, including a lovely muted green and a fetching, saturated red. There's even a camouflage-print version, for the truly outdoorsy!
15.

SP32 Denim Jacket Edit & Retexture by Julie J
Know anyone who wears a stylish denim jacket, ripped jeans, and nothing else?
I personally don't.
But I also know this is a style that exists, so. Maybe your Sims can pull it off?
Julie J's new mesh doesn't include the ripped jeans, but the bare-chested denim? Yup! It has new custom colors and patterns, too!
16.

Denim Jacket by ShakeProductions
I know I find a lot of things cute but, come on; this denim jacket is totally cute!
I can't be the only one who thinks so.
It's a stylishly cropped jacket with rolled-up sleeves, and classic, casual detailing.
Your Sims will wear it like an accessory, too—meaning you can layer it over any top like you would an actual jacket. Watch out for clipping!
17.

Denim Jacket: Recolored by Double Plumbob
Double Plumbob's recolor of the Baby Ariel top (available with the 2019 update) introduces 45 trendy new swatches.
Because there's only so much you can do with shades of denim blue, you know?
Besides, the jacket's smooth & clean texture looks great with a variety of shades.
18.

Jodie Jacket by GalaxySuede
Another Baby Ariel recolor (yeah; this denim jacket top made waves in the community), GalaxySuede's Jodie Jacket comes with nine new patterned designs.
They're mostly solid colors (that look great on the jacket, by the way!) with extra patches and logos for visual texture. They give off a cool-and-casual vibe.
19.

Baby Ariel: Recolored by prismaie
Told you; this Baby Ariel top was a thing! Maybe it's the fur cuffs and collar. Maybe it's just the effortlessly cool fit.
Either way, this is another recolor of the base game top. This time, with rips!
The creator included two variations – one with rips and patches, and one with just rips – so you can choose whichever suits your Sims' style more.
20.

Jean Jacket Recolour by amethyc
Yep; another recolor!
No rips, patches, or NASA logos this time.
Just 15 beautiful new shades that look fantastic on a variety of skintones and palettes.
They're all muted and softly-saturated shades, which I think look fantastic with the jacket's simple, minimalist detailing. Further proof that denim can look great in brighter colors, too.
Browse:
Lists
Maxis Match
The Sims 4
Video Games