Sims 4 CC: Maxis Match Designer Clothes & Accessories
This post may contain affiliate links. If you buy something we may get a small commission at no extra cost to you. (Learn more).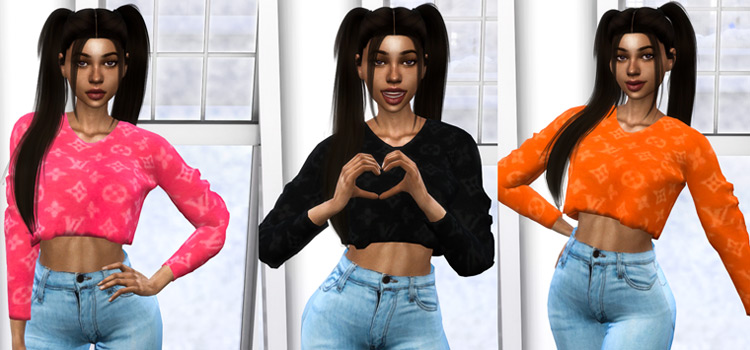 Not to sound threatening in any way shape or form, but you guys are lucky this article isn't full of The Devil Wears Prada movie references.
The amount of designer brands that I could relate to a piece of dialog in the movie is ridiculous.
That being said, I did find a fair amount of branded Sims 4 CC for this list. If I missed your favorite designer, I apologize. But if you're fine with anything designer, I guarantee there are at least half a dozen designers to choose from here.
1.

Tommy Hilfinger Polo Shirts v1 by Dzoki95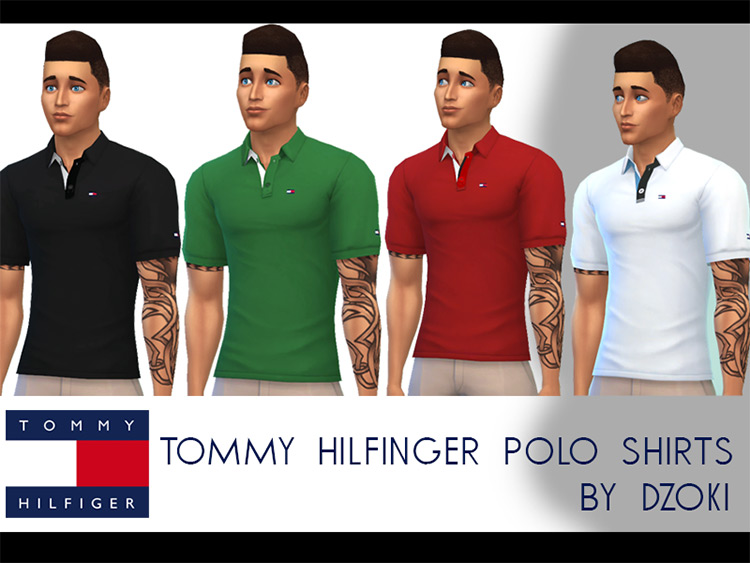 There's no mistaking a Hilfiger polo shirt.
The collar, the cut, the buttons… all iconic.
But what really sells these solid-colored shirts is the telltale red, white, and blue rectangle.
Sure, maybe this CC says "Hilfinger," but I think it's easy to see the designer brand inspo in the overall look.
2.

Cartier Halo Tiara by Glitterberry Sims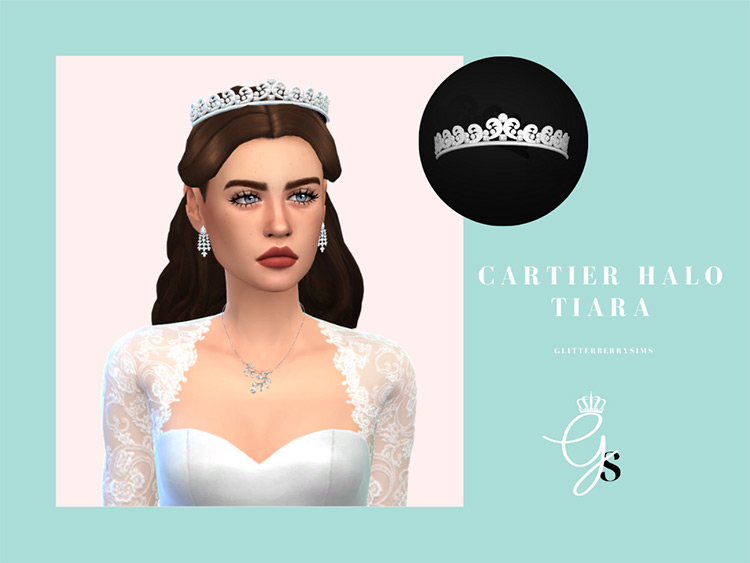 If your Sim is a queen (literally or figuratively), then only silver fit for royalty can grace their closet. Or, in this case, their head.
This beautifully delicate Cartier Halo Tiara makes for a gorgeous statement piece for powerful Sims with classy, timeless taste.
3.

Grimcookies x Gucci: Off the Grid by grimcookies
Imagine actually pairing with a designer brand to create Sims 4 custom content. Grimcookies doesn't have to; they've already done it!
This unexpected "Off the Grid" collection is the result of a collaboration between grimcookies and Gucci (the actual brand).
It contains eleven Buy items and four branded CAS items: a bucket hat, a baseball cap, and two types of sneakers—all proudly bearing the Gucci logo.
4.

Moschino Tee Crop by akalukery
If you have The Sims 4: Moschino Stuff pack installed, then your Sims already have a couple Moschino items in their closet.
Why not add to the collection with this simple – but still so fashionable – Moschino crop top?
It's cool, it's breezy, and it comes in fifteen swatches.
5.

Moschino Mini Collection by Marvell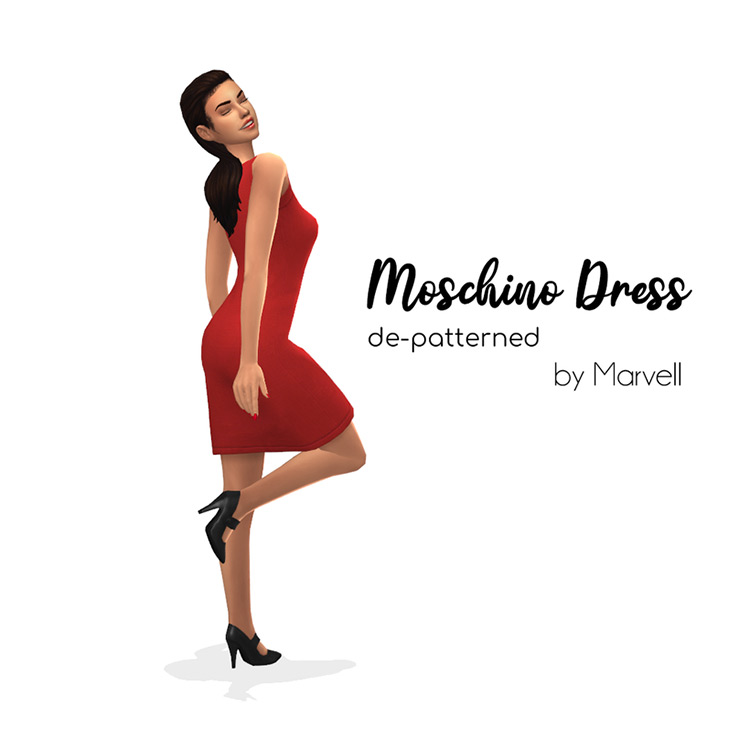 More Moschino goodies!
A simple, sleeveless dress in fifteen rich, velvety colors and a pair of pointed, patented high heels.
These CAS items may not have any visible designer brand logos on them, but they still somehow manage to look effortlessly expensive. Perfect for Sims who exude subtle elegance!
6.

Chanel Spring Set by elfdor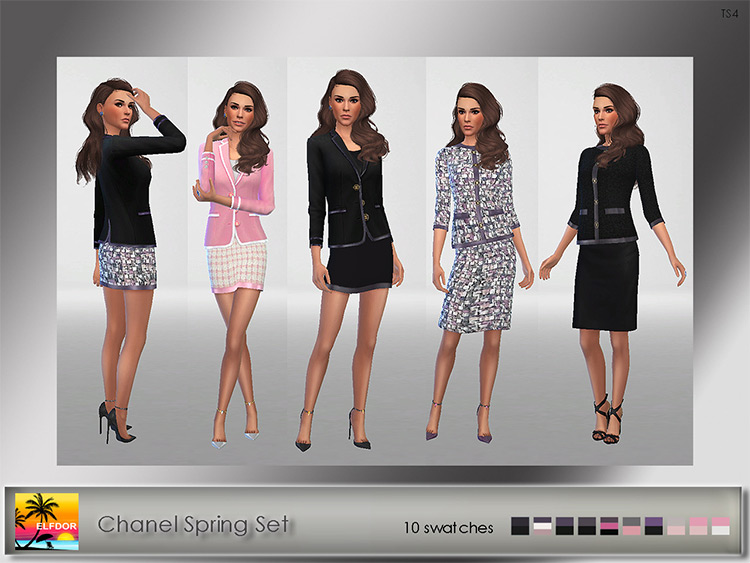 No florals for spring, since Chanel knows what's up.
Just some beautifully tailored business formal suits, for boss babe Sims who've got their life all figured out.
There are two styles and five colors per style, for a total of ten swatches.
7.

Dolce & Gabbana Pumps Recolors by sens-felipa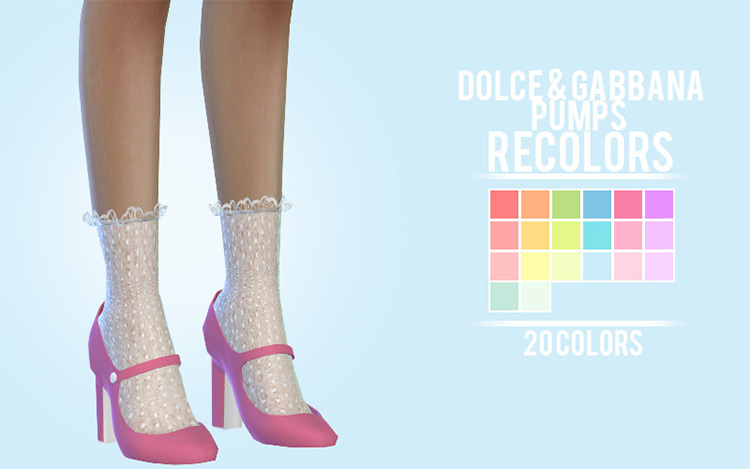 Every Sim deserves a pair of designer pumps, regardless of their personal fashion style.
They're one of those closet essentials that are great to have on-hand for dress code emergencies.
Formal, business formal, business casual, black tie… you name it, a solid pair of Dolce & Gabbana pumps can save your Sim's outfit.
This recolor by sens-felipa makes the original mesh Maxis match and adds 20 pastel colors!
8.

Emporio Armani Briefs by Jade Scorpion/JS-Sims
If even your underwear is branded, does that make you a total hypebeast?
Or does that term only apply for certain brands?
Whatever the answer is, one thing's for sure; these custom briefs are actually high-quality.
Call me crazy, but they definitely look luxurious! How is that possible, when they're literally just a quarter yard of fabric? Beats me.
9.

Hollister Underwear by littledica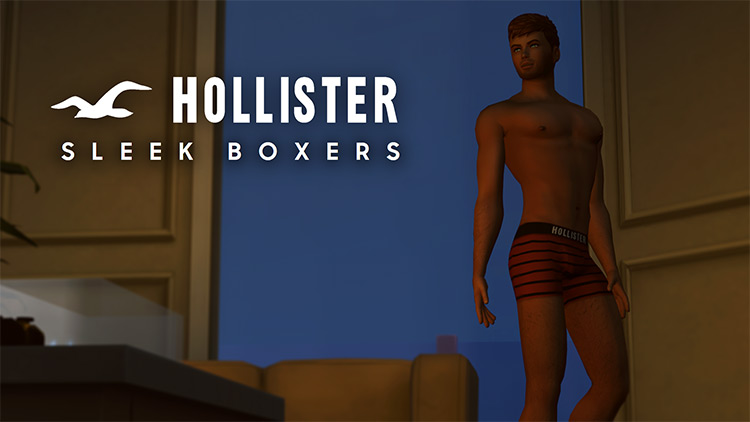 Same hypebeast question for this CC. It's another swath of fabric that's just slightly bigger than the Emporio Armani briefs, and it's got Hollister proudly emblazoned along the garter.
It comes in fourteen style options: seven solid colors, seven prints.
And, for the record? The prints? Pretty fun, not gonna lie.
10.

Fendi Prints On (Collection #1) by Quen2n
Nicki Minaj collaborated with Fendi to release a 127-piece collection named Fendi Prints On.
Quen2n took five pieces from that collection and turned it into this gorgeous CAS pack you see before you.
All the items are bold, bright, and beautiful.
11.

Slyd's Chanel Slingback in Noodle Sorbets by SweetBerryTurtle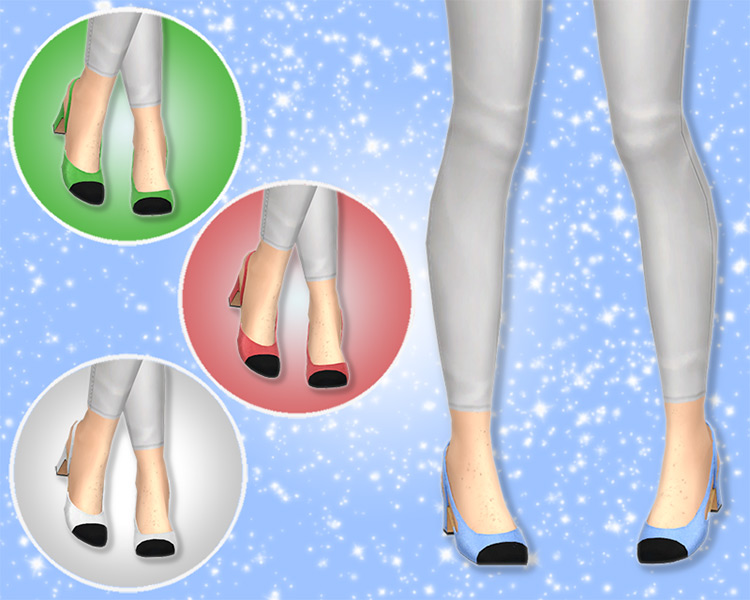 Sexy Chanel slingbacks in 65 beautiful colors?
Who wouldn't want a pair (or two) of these babies?
SweetBerryTurtle's recolor doesn't just add more color options, either. It turns the original mesh's Alpha CC texture (which you'll need, by the way, for this recolor to work) into a lovely Maxis Match.
12.

Chanel CC Set by Baddiesims
If your Sim can pull off the cropped denim jacket with stylishly short miniskirt look, then this lavish-looking Chanel set probably belongs in their wardrobe.
The texture of the clothing items fascinates me.
They look like some sort of faux leather + shiny spandex combo that I've never seen IRL.
But based on the preview photos, I think the material's growing on me.
13.

Jennie Chanel Shirt + Belt Shorts Set by Laluna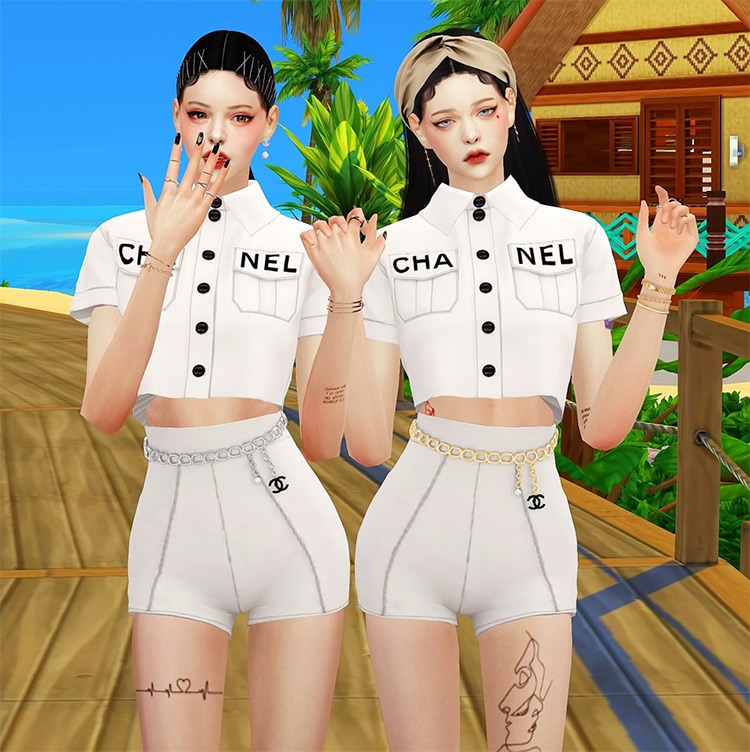 Calling all K-pop fans:
Your Sim can now rock Kim Jennie's (of Blackpink) look! I don't quite follow K-pop girl groups, but even I had this outfit pop up on my Twitter timeline multiple times.
It looks great on her!
And, based on how it performs in CAS, it'll look great on your Sim, too.
14.

Black Off White Marker Arrows Long Sleeve by fatebyblank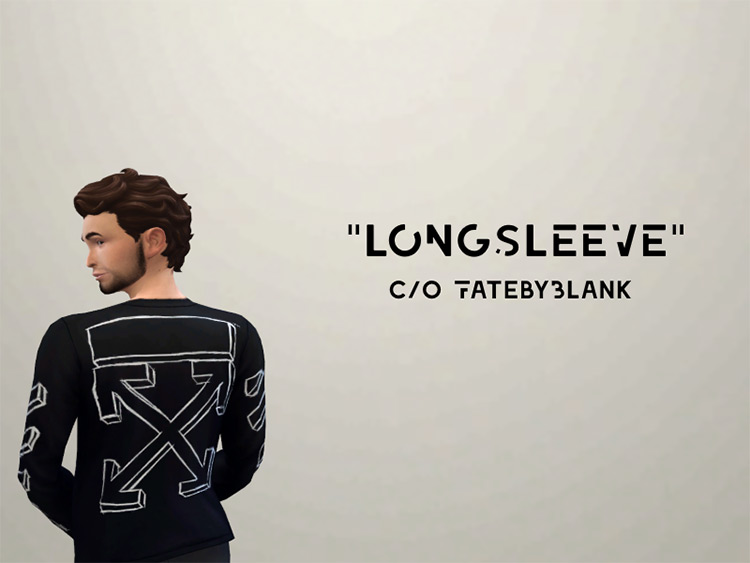 Off-White is a designer brand with designs that I actually find really wearable!
I mean, don't get me wrong, all fashion is wearable.
But Off-White's iconic arrows, black-and-white stripes, and black-text-on-yellow-background labels are understated and simple enough that one could wear them every day without looking like a glitzy cast member of The Devil Wears Prada.
And speaking of Prada…
15.

Prada Cleo Bags v2 by Baddiesims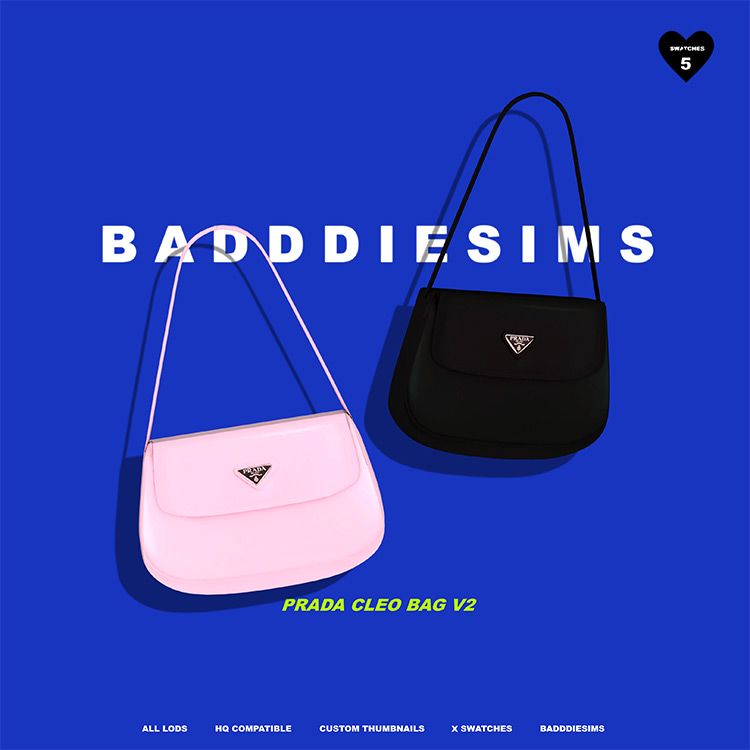 The perfect little handbag to complete any look.
Beautiful detailing, gorgeous texture (it's like a mix of matte and glossy), and a stylishly simple design. Topped off, of course, with the golden embossed triangle.
To let people know your Sim runs the show.
16.

Prada Block Heels & Casadei Sandals by DallasGirl
Check out the top picks from Miranda Priestley's closet.
For Sims Fashion Week 2020, DallasGirl gives us these gorgeous chunky-heeled pumps from Prada and some elegant-as-heck strappy-heeled sandals from Casadei.
Both come in five color swatches, but I've got to do a special mention for the Prada heels in nude.
I never knew beige could look so good!
17.

Celine Peep Toes & Louboutin Fifi's by DallasGirl
More designer goodies from DallasGirl!
This time, Celine graces us with their presence in the form of elegant peep-toe stilettos. Louboutin, on the other hand, shows up in an elegantly intimidating pair of three-inch dagger pumps.
Depending on which one your Sim chooses to wear, their look could range from dangerously fashionable to stylishly unapproachable.
18.

Michael Kors Zip Sandals & DIESEL Ankle Boots by DallasGirl
Last entry for Sims Fashion Week 2020!
The heels are still high, but the rest of the shoe? This creator mixed it up a little with some candy-colored zippered sandals and gorgeous ankle boots with buckle accents.
Both come in seven soft & slightly muted colors.
19.

Dior CC Set by Serenity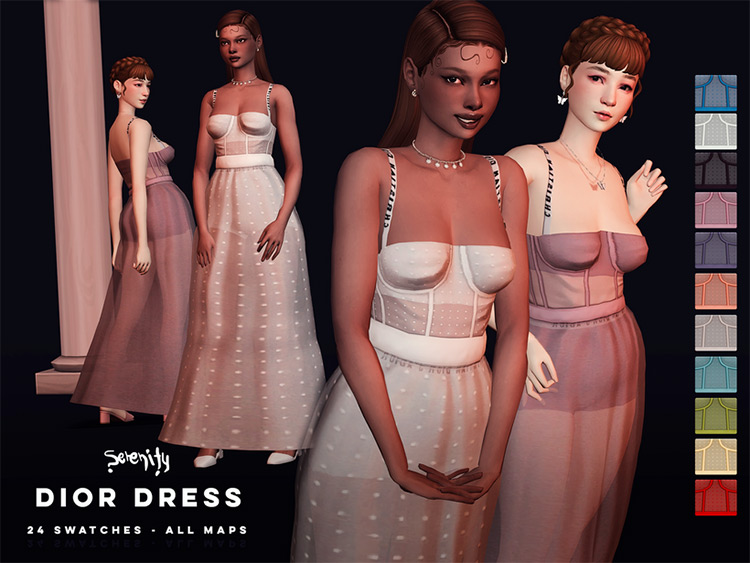 Now that I think I've filled your quota for shoes, here's a sheer dress from Dior. And some matching lingerie pieces!
The dress comes in two styles – dotted and plain – and both styles have 24 swatches. The colors range from beautiful, sheer nude to attractive, basic neutrals.
As for the bras and bottoms, there are twelve solid, natural colors for both.
20.

Mario Dior Dress (1940s)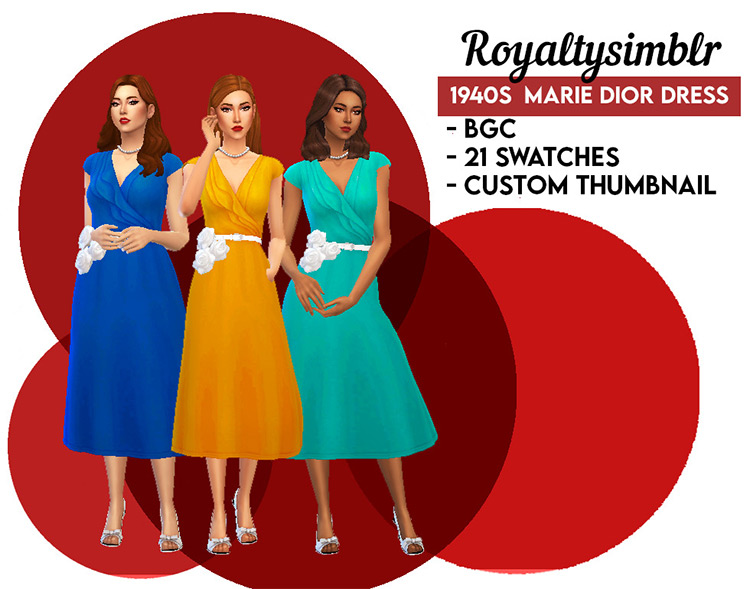 Dior, but make it vintage.
Seriously, this 1940s dress is the definition of casual elegance.
Cap sleeves, neckline ruffles, and a trio of white roses 'round the waist? It's sophisticated simplicity, and I'm living for it.
Browse:
Lists
Maxis Match
The Sims 4
Video Games