Sims 4 CC: Best Maxis Match Dimples (Guys + Girls)
This post may contain affiliate links. If you buy something we may get a small commission at no extra cost to you. (Learn more).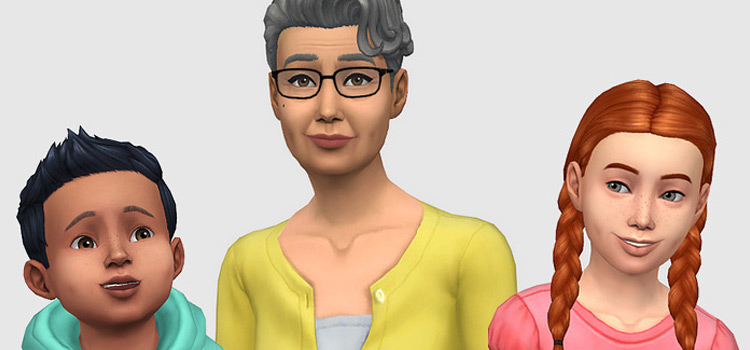 Anything that adds more depth, definition, and/or distinction to a Sims' face, I can appreciate.
Yes, this is a life simulator. Ergo we shouldn't expect a hundred percent realism.
However the smoothness and doll-skin-like quality of default Sims faces can get pretty bland and boring overtime. No one is that perfect IRL. This is why there are so many custom skin details bouncing around the community.
For this article, I've got some great CC dimples that work with Maxis Match texture.
1.

Dimples N04 by Pralinesims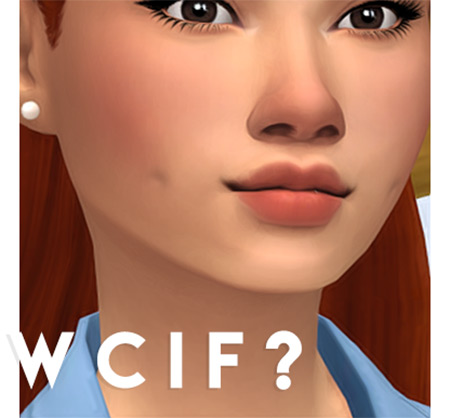 Pralinesims' creations are always alpha CC, but I noticed that their custom dimples can be used with Maxis Match skinblends (as well as EA default skin, of course).
Take a look at Dimples N04 as an example. The model in the preview photo is definitely an alpha CC, photoskinned goddess. But check out this Sim by ImVikai (named Jewel).
She's a Maxis Match cutie with (according to the creator) Pralinesims' Dimples N04.
And they don't look warped or mismatched at all.
2.

Dimples N02 by Pralinesims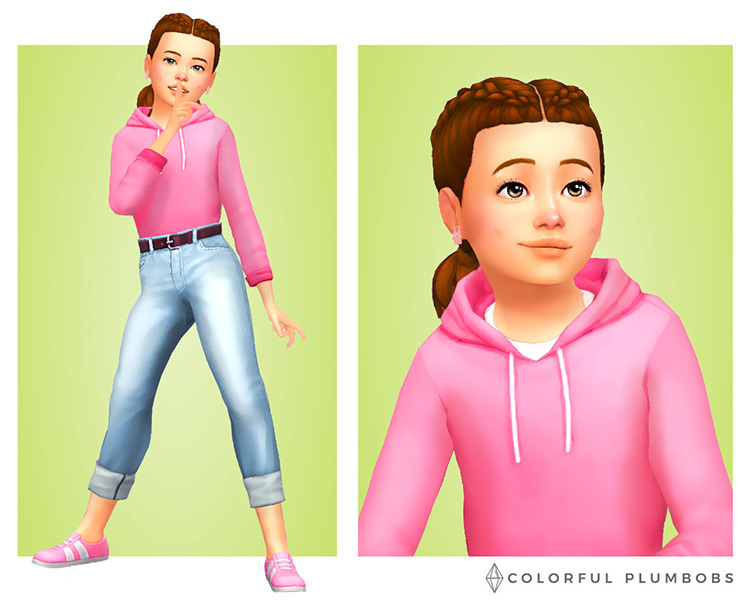 Pralinesims' Dimples N02 are on the same boat as their Dimples N04.
Alpha CC on the model, bit fits just fine with clayified EA-like skinblends.
Case in point: this colorful little Maxis Match sweetheart by colorful plumbombs. Check at the teeny dimples she's got going on.
According to the creator, those are Dimples N02. It sits on her face flawlessly.
3.

LamingtonSims Skin Details by lamingtonsims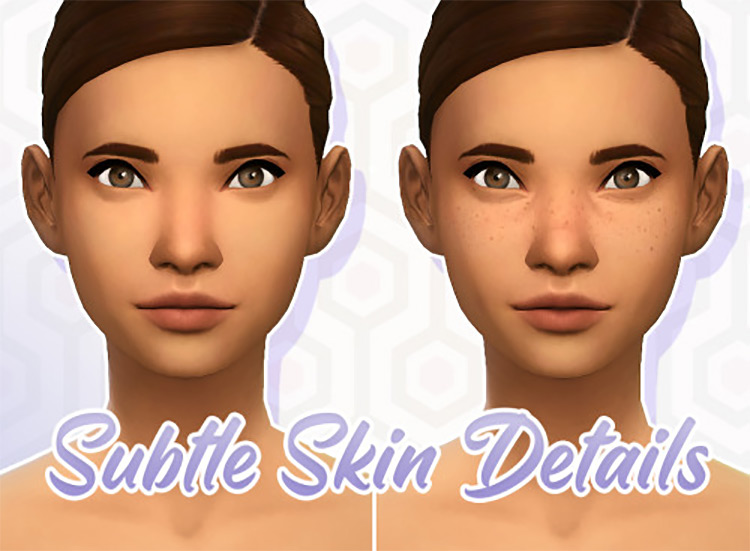 This is a grab bag of fun skin bits n' things (i.e. skin details) from lamingtonsims, and I love how it's just a variety of Maxis Match stuff that can add more depth and texture to a Sim's face.
Seriously; you'd be surprised to see how different (and interesting) a Sim can look with just a couple minor tweaks.
Freckles, slight eyebags, some nose contour, and (of course) dimples!
You can download the dimples .package file separately via the first link in the description, or get it combined with all the other skin CC in a merged .package file via the second link.
4.

Dimples v2 by sims4nexus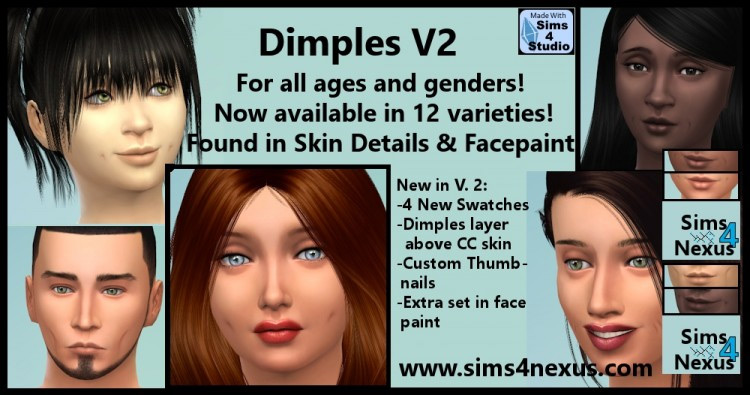 The preview photo is a little confusing, but you can clearly see the dimples, so. Just give it a pass.
There's a lot of detail in the creator's notes, which I always appreciate, because it lets you know what to expect before you download and install the .package file.
This updated V2 (version 2) of the dimples comes with custom thumbnails for easy CAS combing, a separate set under Face Paint (so you can combine it with other custom skin details), and the ability to layer over custom skin.
Good news for Simmers who prefer custom skinblends over EA defaults.
5.

Chin Dimples by aprisims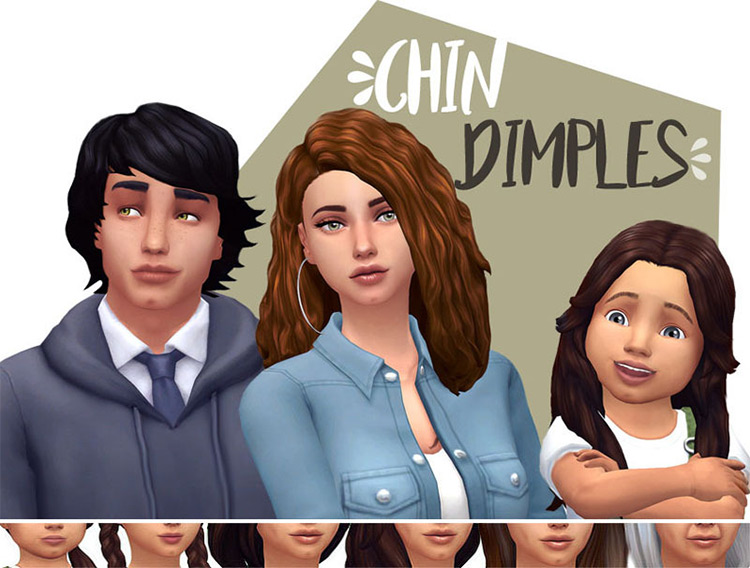 The creator apparently loves dimples.
Not just cheeks, but the ones on chins as well!
I never knew cleft chins could be referred to as chin dimples, but there you go. You learn something new every day.
Regardless, these custom dimples are adorable. And they definitely work with the default EA skin.
As far as CC skinblends, I will say that they worked with my current default replacements. I'm not sure if that means they'll work for all custom skinblends, but you can definitely play around to test it out.
6.

Upper Cheek Dimples by MahoCreations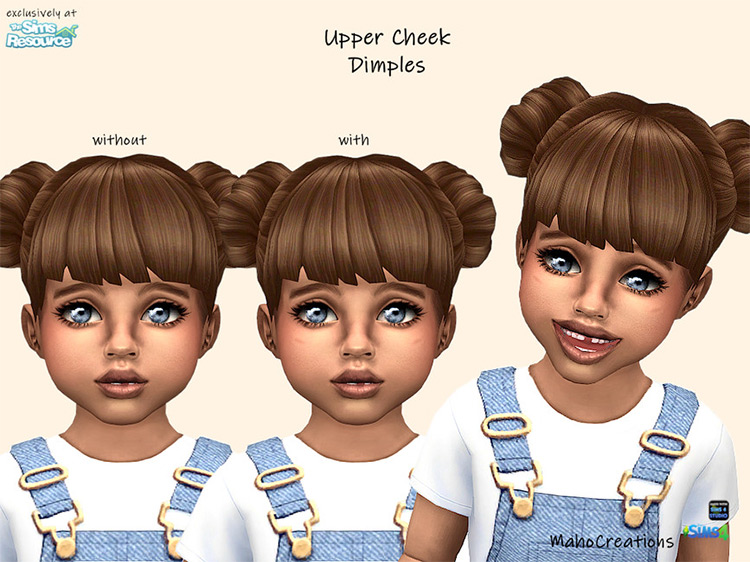 This is also my first time learning that you can have dimples on your upper cheeks. Again, new things. They are learnt.
Looking at the Sims in the preview photos, they're kind of an artistic & creative blend of Maxis Match and alpha CC textures. So I'm not sure how to categorize this CC.
However, for the most part, the dimples do look like they work on non-photoskinned skinblends (because I use Maxis Match default replacements for skin) so I'd say these dimples still count.
7.

Cheek Masks by kismetsims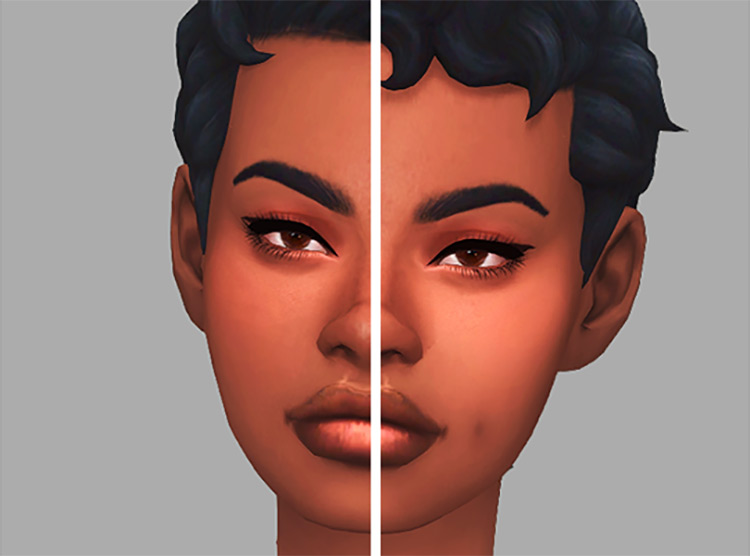 These cheek masks by kismetsims are basically similar to lamingtonsims's Skin Details set.
The .package file works as an overlay that you can place on top of your default skin (whether they're EA defaults, Maxis Match default replacements, or alpha CC skinblends) to achieve different shading, lighting, definition, and texture on your Sims's faces. You can find it in Skin Details.
All different masks are in one merged .package folder, so just keep exploring the CAS options until you find the one with dimples.
8.

Oh So Sweet Dimples by Shinasims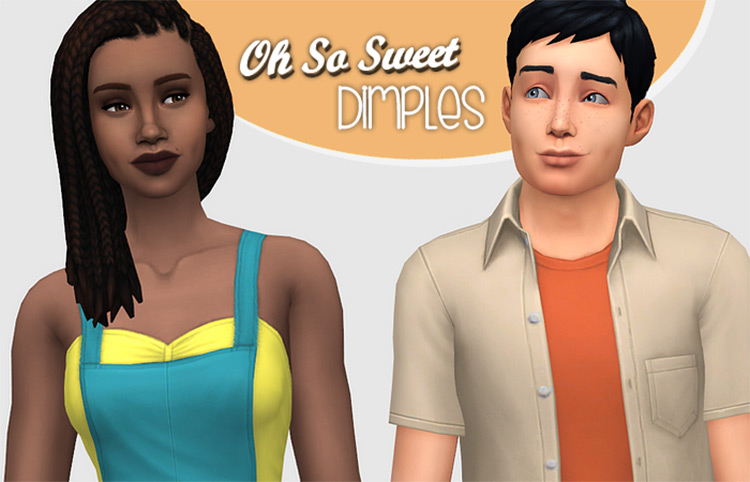 These are the literal definition of "Maxis Match Dimples".
They're simple, straightforward, and they don't need any explanation.
Just download the file, install the .package, and enjoy. Works for all ages, all genders, and all skin tones.
It comes with five swatches, but those are simply opacity variations – not texture, placement, depth, or color variations.
9.

Dimples by sevenhills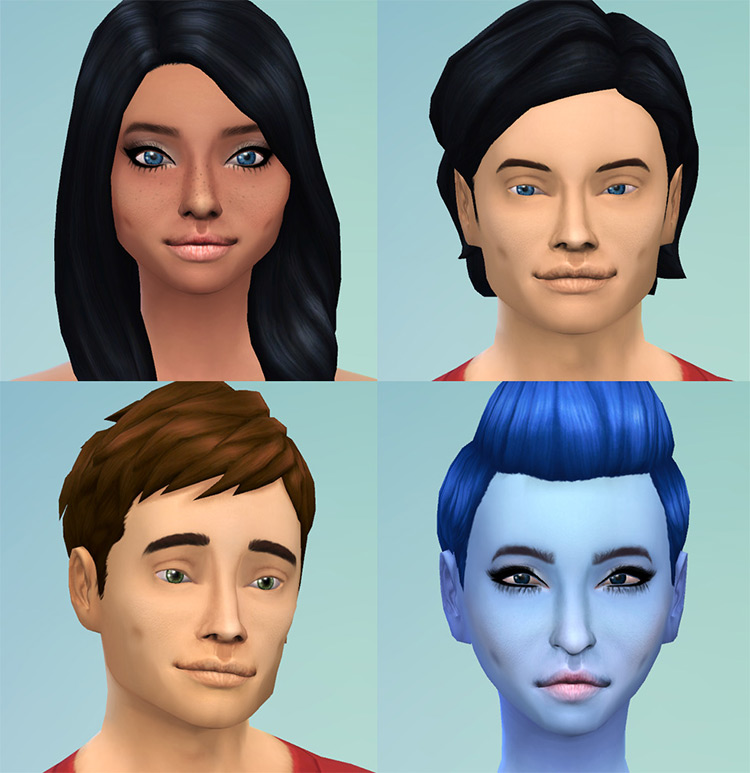 Sevenhills' dimples have the same quality as MahoCreations' Upper Cheek Dimples.
They seem to have been made with alpha CC models in mind, but the models end up being a blend of both textures. Ergo, it's a little confusing.
However, like Pralinesims' Dimples N02 and N04, these dimples work with Maxis Match skins.
10.

ChinDimple by birksche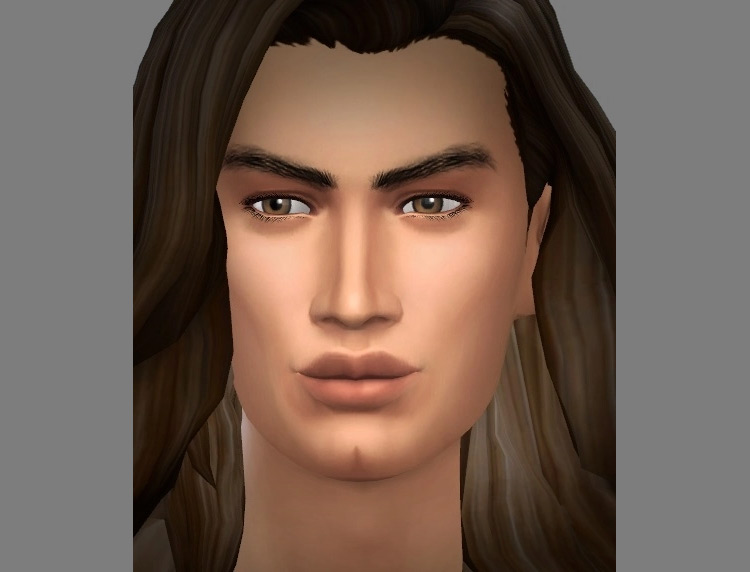 More chin dimples? Yup!
Give your Sims a strong, defined chin using birksche's CC.
It's base game compatible, works for Toddlers to Elders, and can easily be found under Skin Details.
And as you can see, the models in the preview photos are clearly Maxis Match.
In fact, I think they're vanilla EA defaults i.e., no mods or CCs were used in their creation. Even the freckles look like vanilla TS4 skin details.
If that isn't the biggest proof that these are Maxis Match, I don't know what is.
11.

Dimples 02 by soloriya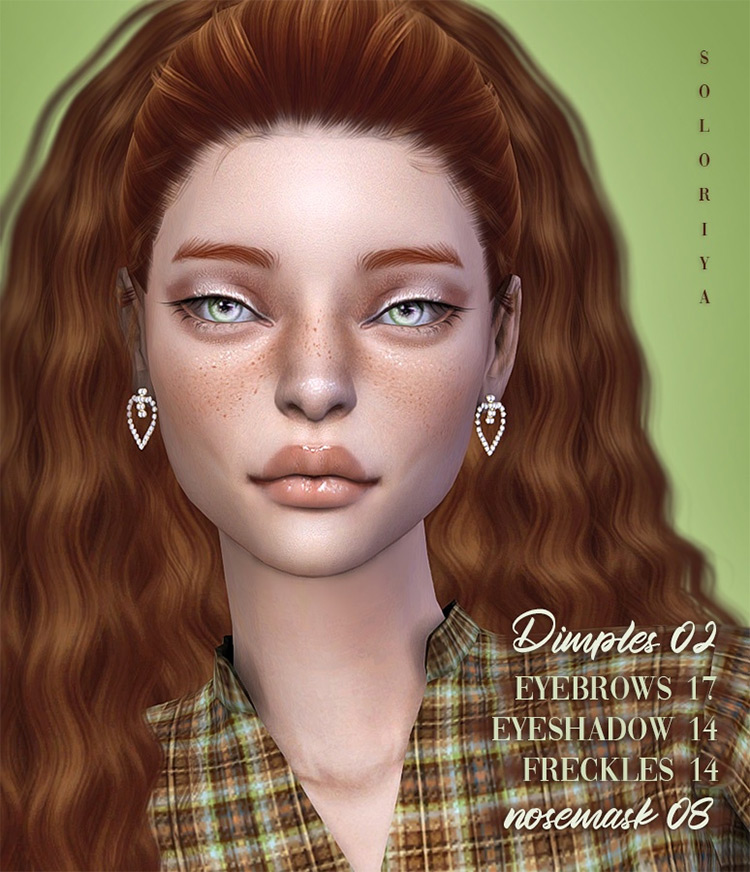 Just like Pralinesims, soloriya is well-known for their alpha CC content.
Them releasing Maxis Match CC seems pretty unheard of. But! Just like Pralinesims' Dimples N02 and N04 (again), these Dimples 02 work just fine with clayified, non-photoskinned texture.
Aside from the fact that I tried them out in CAS using my Sims with custom MM skinblends, check out the preview photos.
The model is largely made up in alpha CC, but the skin could kind of pass for Maxis Match.
12.

Unisex Dimple Piercings by weepingsimmer
These aren't custom dimples in the "skin details" sense, but they do give your Sim a nice pair of dimples!
In this case, the dimples are pierced.
I've personally never met anyone with dimple piercings, but I figure they exist.
You can pierce literally any part of your body (within reason). Who says you can't pierce your dimples, you know? Dress them up in a bit of bling.
Browse:
Lists
Maxis Match
The Sims 4
Video Games