Sims 4 Maxis Match Doors CC: The Ultimate Collection
This post may contain affiliate links. If you buy something we may get a small commission at no extra cost to you. (Learn more).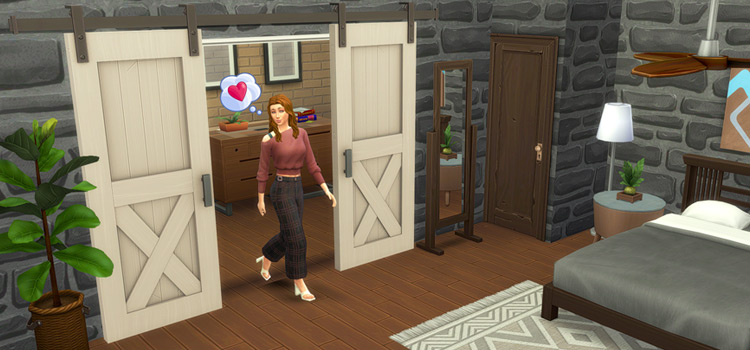 Build Mode is something I've never really gotten good at.
It's much easier in TS4, don't get me wrong — especially given my TS3 origins. But I usually stick to downloading houses from other more talented Simmers via the gallery so my Sims can live somewhere pretty.
But because I download a lot of houses, I usually end up downloading a lot of custom content to make the builds work.
One of the most prevalent CC items? Doors.
So if you like building in TS4 and the limited options are starting to bore you, here's our collection of Maxis Match doors to spice your gallery up.
1.

No More Dingy Doors! (White Doors & Archest Set) by simplistic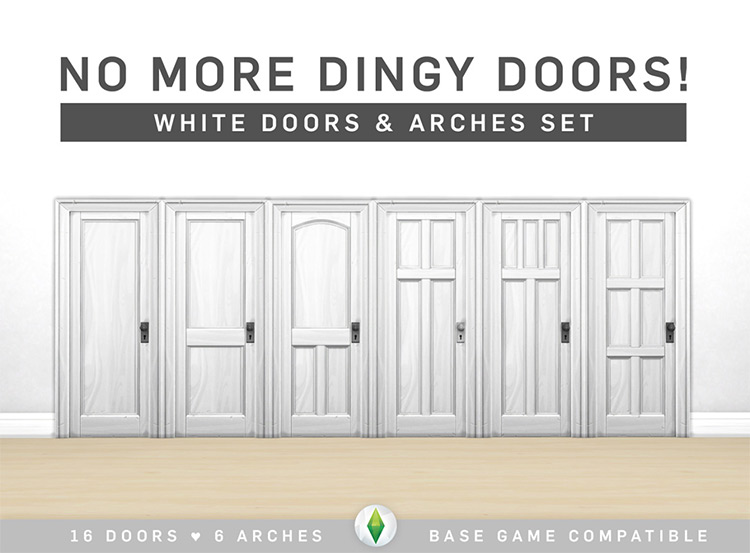 These custom doors came into existence because TS4 "white" doors – as per simplistic's words – are more "dingy grey" than they are actually white.
Looking at the original doors versus these base-game compatible recolors, I have to agree. Nothing like a little perspective!
2.

A-door-able Double Door Style D2SW (Recolor) by Ravasheen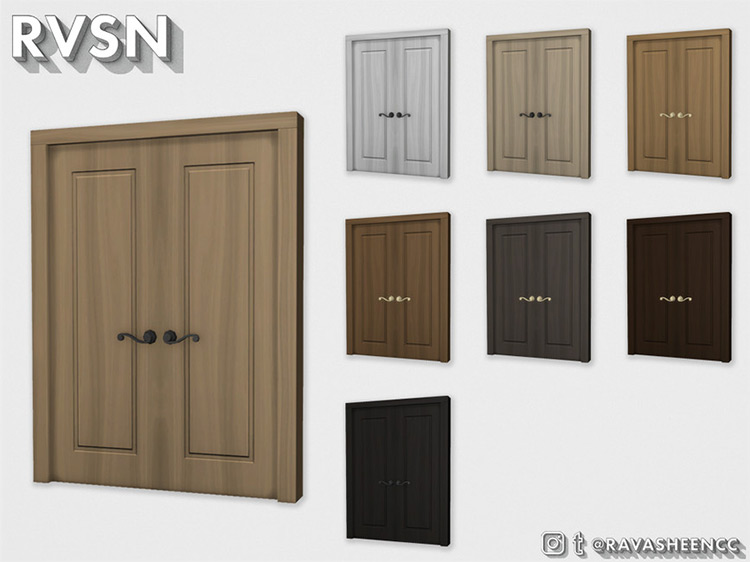 I'm going to preface this by saying that this A-door-able Double Door by Ravasheen (in the style D2SW) is part of a set.
Specifically, a set with 12 doors: six double doors and six single doors.
I'm just going to recommend the four that I like (two doubles and two singles) but I suggest checking out the whole set if you have the time!
This D2SW door is a simple, elegant number with a fairly minimalist design. Just symmetrical carved rectangles on each door and a subtle wood grain texture.
It comes in eight swatches, and each swatch is paired with either gold or black door handles (depending on whichever complements the color best).
3.

A-door-able Double Door Style D2MC by Ravasheen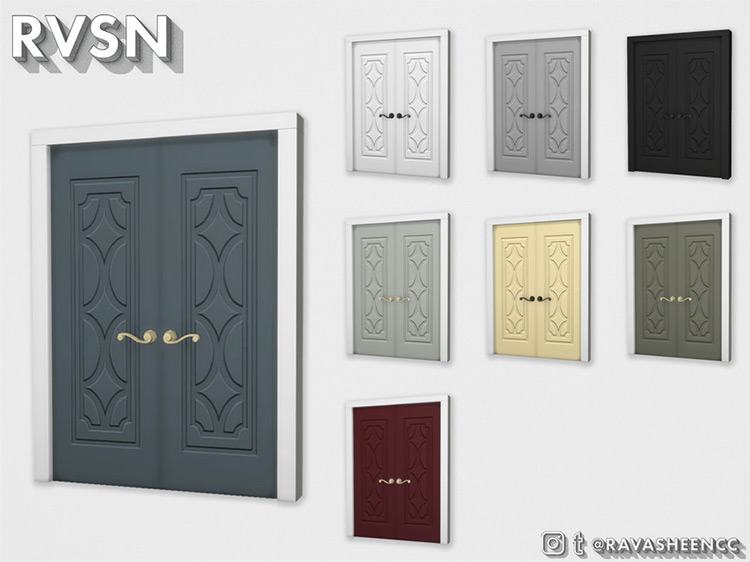 This version of Ravasheen's A-door-able door set is a double door with the same elegant feel as the D2CC. Biggest difference is the carved design.
This one has a very sophisticated-looking symmetrical pattern of three curved diamonds enclosed in fancy boxes.
Like the D2SW CC, this one also has eight color swatches.
4.

A-door-able Single Door Style S1CC (Recolor) by Ravasheen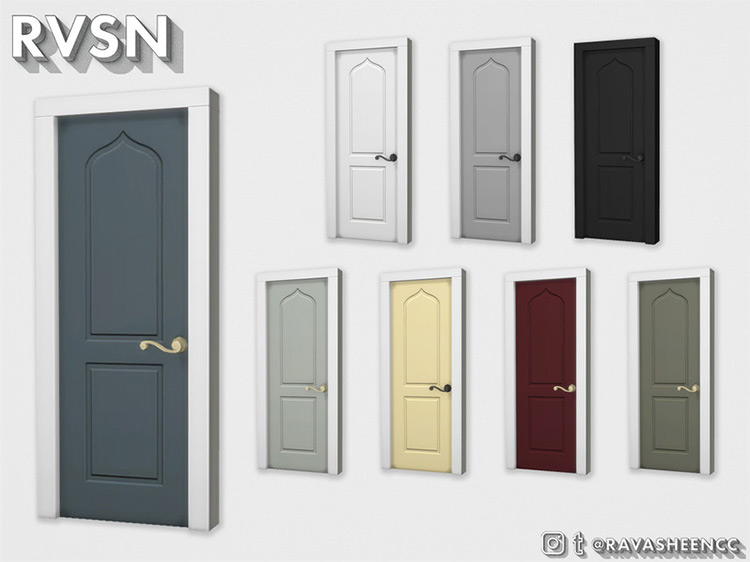 I love the color options for this door.
They make for a very colorful, modern build. Like, as much as I love contemporary and minimalist interiors, these colors are so fun and eye-catching in the best way.
Maybe it's the matte wood texture.
Maybe it's the way the white border just helps the colors pop.
Either way, they look so good!
5.

Bae Window & Door Set by ThingsByDean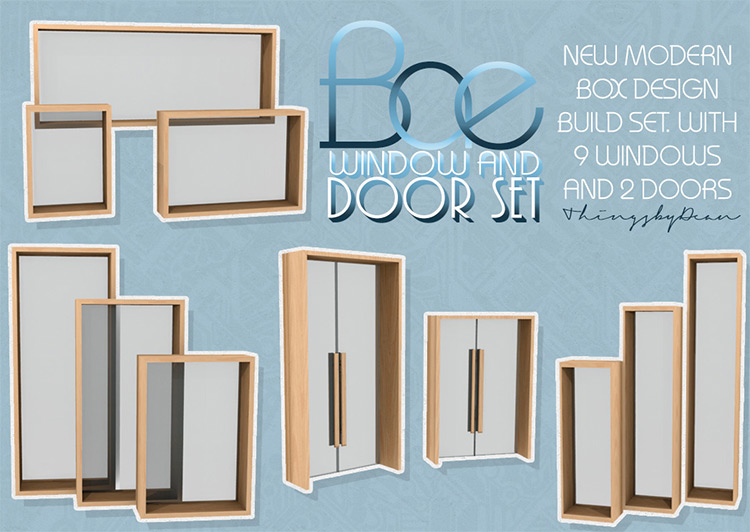 How about some big, bold, modern boxed doors with bold, boxed bay windows to match?
ThingsByDean created a gorgeous (and quite original!) build set with nine new windows and the new doors.
They're both double doors with protruding wooden frames. One's tall and quite skinny, the other's shorter and more square.
The whole set uses original meshes, which means it's 100% base-game compatible!
6.

Love for Barn Doors – Mini CC Kit by SIXAM CC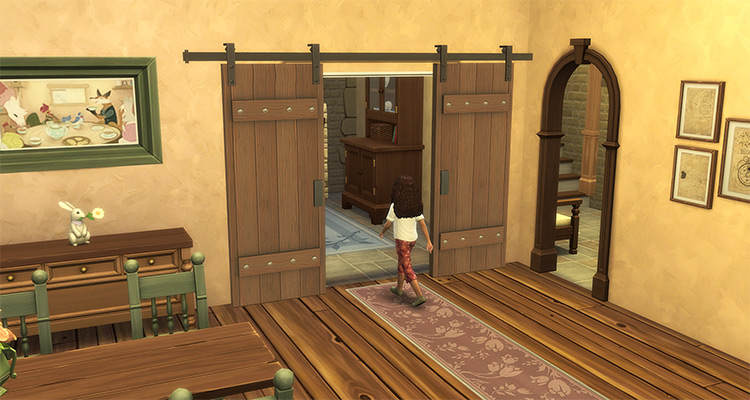 Fans of modern farm houses, rejoice.
SIXAM CC makes a pretty good point about the distinct lack of repurposed, functional barn doors in The Sims 4: Cottage Living.
But, of course, this is why Sims CC exists.
This extensive Mini CC kit contains nine new doors: five single, four double, and all in that distinct barn door style.
Note: you'll need The Sims 4: Island Living to use the double doors. The single doors are, thankfully, base game compatible.
7.

Get Together Doors/Windows for Short Walls by jaydub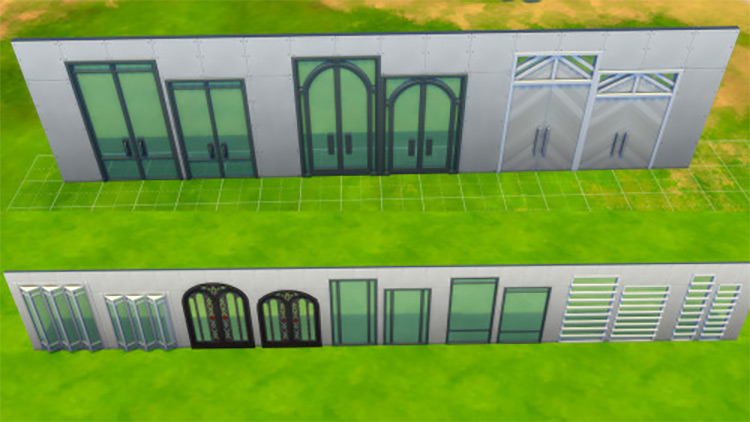 Jaydub really said wall equality, and I agree.
As someone who can't stand second or third wall height (aka medium and tall walls), I need my EA doors and windows to be as short and squat as possible.
High, cavernous ceilings give me the creeps, okay? So, much thanks to the creator for shrinking the unnecessarily tall doors from The Sims 4: Get Together pack. This is a godsend.
8.

The Classic Door by hamburgercakes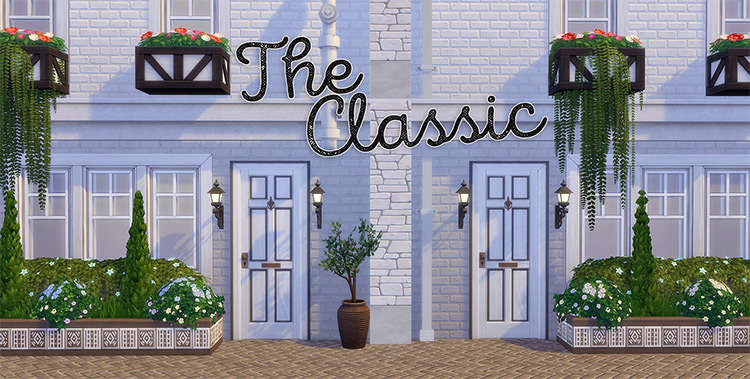 So, here's a fun fact about TS4 doors that I didn't know.
Apparently, prior to The Sims 4: Strangerville, none of the doors in the game (base game or otherwise) had normal door knockers.
Also, only one door had a letter slot (from TS4 Get to Work).
What EA has against classic doors, I have no idea. But at least hamburgercakes has gifted us with this sweet, classic creation.
9.

Twist on a Classic Door by hamburgercakes
The twist here is that it's The Classic Door (from the same creator), only it's got white trim 'round the edges. Plus a brighter, more cheerful, and more pastel color options palette.
Still cutely classic, though!
10.

Basic Wood Panel Door by simly-sparkle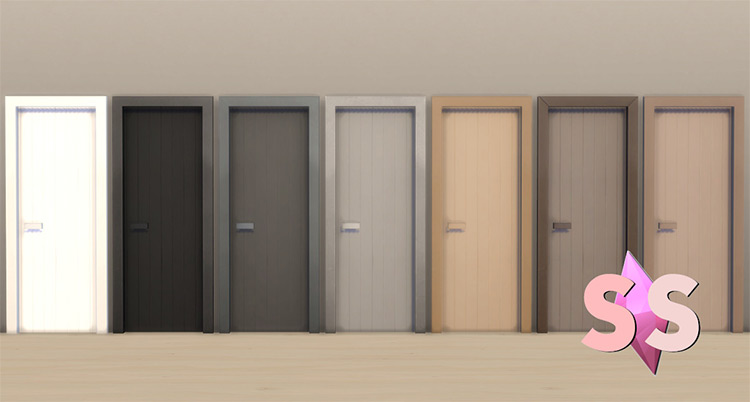 Nothing beats a basic – but dependable! – wooden door.
Simly-sparkle proves that with this beautiful collection of single doors in seven neutral wood swatches.
It also happens to be a recolor of a base game item (one of the glass doors, apparently) so no need to install any extra packs.
11.

Queen Anne Arch Open Doors 2×1 by mutske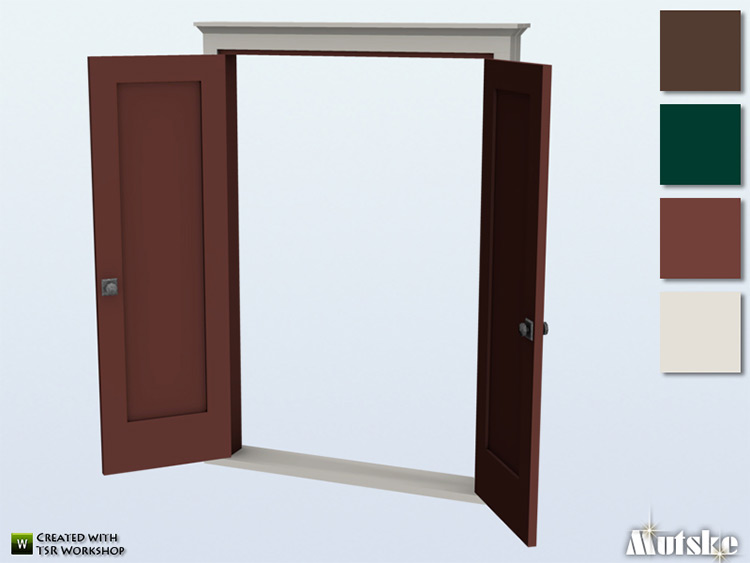 Okay, this? Is a really cool concept.
Technically speaking, the Queen Anne Arch Open Doors item functions as an archway in-game.
It doesn't have any of the typical Door interactions (i.e., "Set as Front Door," and all that good stuff). But visually speaking? It's a double door left open.
Absolutely love the idea, and I wish we had more of it.
P.S. You can click here to get the "closed" version of this open door archway!
12.

Queen Anne Door Glass 2×1 by mutske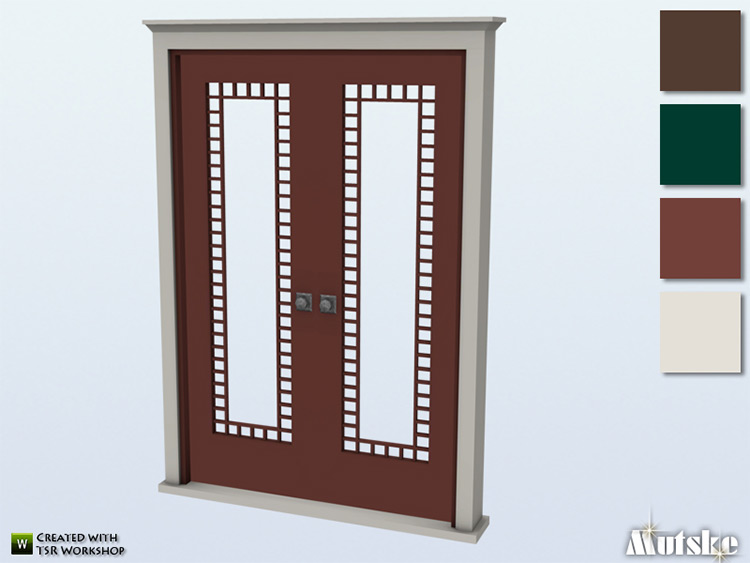 This is from the same set as the Queen Anne Arch Open Doors, and it definitely shows.
Same smooth, matte texture of the door and same light-colored border all around.
Biggest difference is the design on the panels. Instead of a regular carved rectangle, both doors are decorated with a tall glass pane surrounded by little glass squares.
13.

Shut the Front Door by hambuergercakes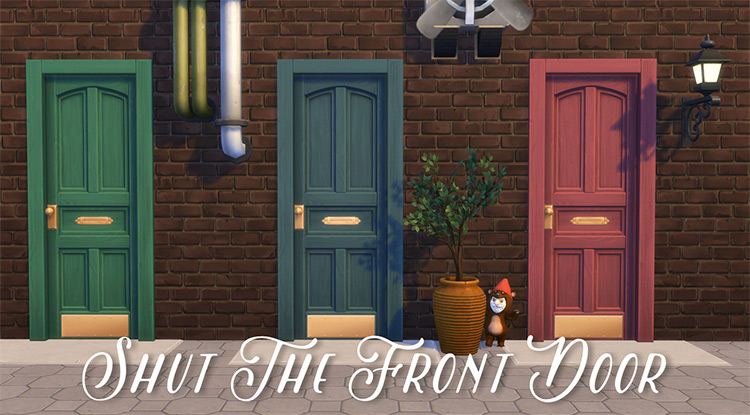 This is sort of the like the creator's own The Classic Door CC, in the sense that it's a door with a classic, simple paneled design. And a letter slot.
There's no door knocker, however, and the vibes it gives off is less "old expensive 1800s penthouse" and more "renovated suburban townhouse."
Comes in fifteen fun colors too!
14.

Solid Craftsmanship Door by hamburgercakes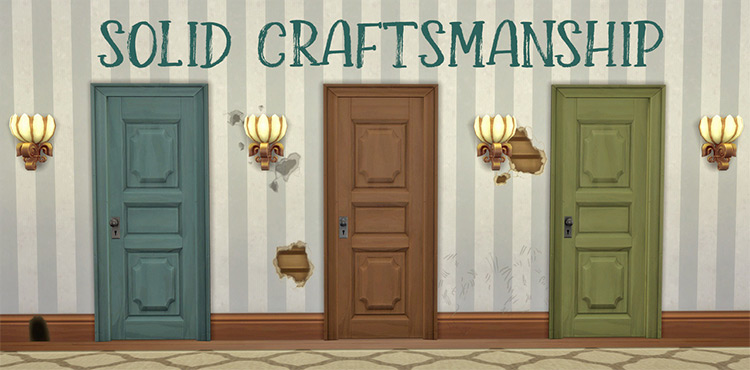 According to the creator notes here, this uniquely-carved little number combines the "solid woodwork" of a door from Sims 4: Jungle Adventure and the "base game goodness" of a plain one-tile door.
I'm not sure which ones they're referring to, exactly.
But I do know that the result is this dependable-looking, no-frills door that's fairly elegant in its straightforwardness.
15.

Yogurt Doors & Windows Set by yumiaplace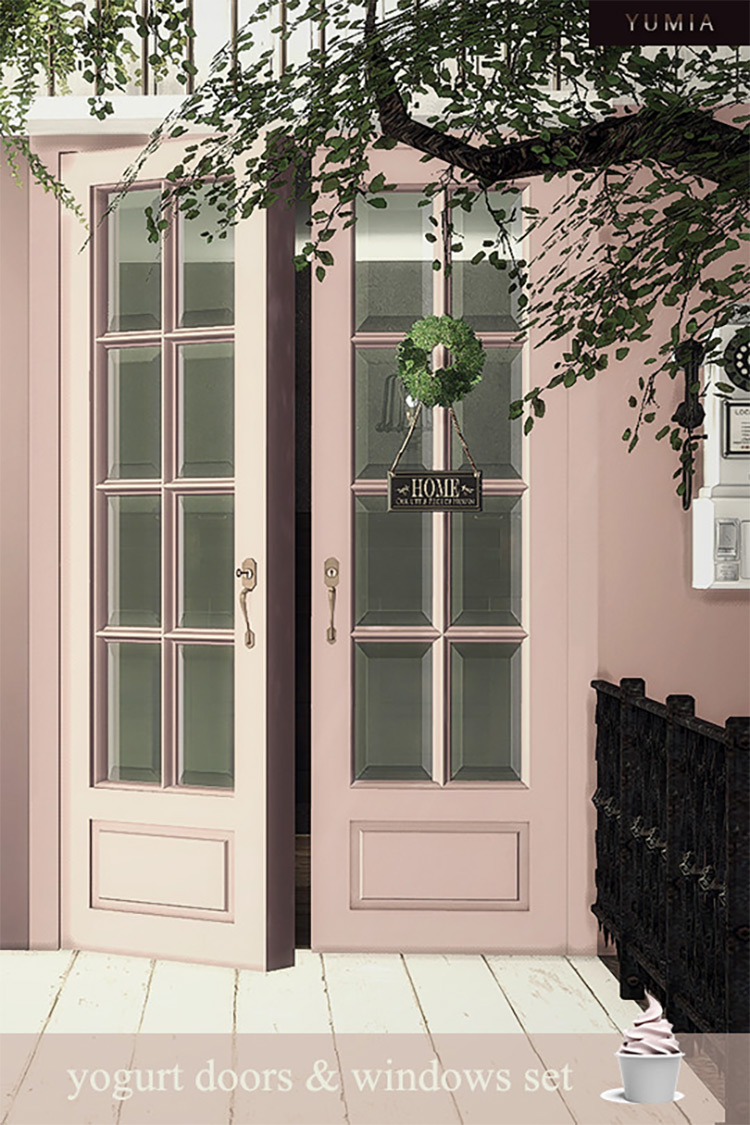 The creator doesn't explain why the set is called Yogurt, but I suspect it has to do with the color palette — specifically the lighter shades.
Personally, the light pink, mint green, and soft white swatches are making me think of frozen desserts.
Overall, it's a pretty sweet build set to have (no pun intended!)
16.

Simple Toilet Stall Door by Menaceman44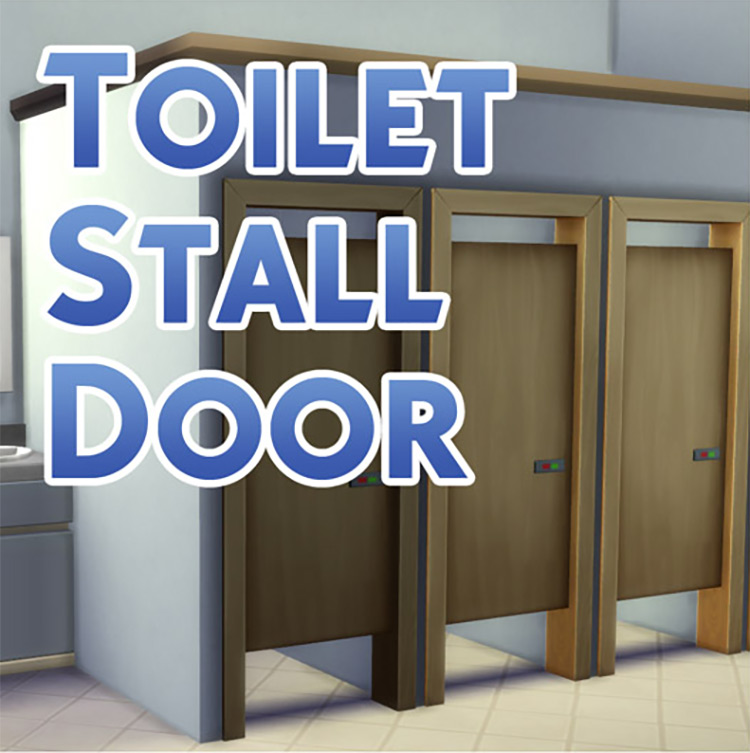 The Sims 4: Discover University heralded the return of the toilet stall, and every Simmer breathed a sigh of relief.
Seriously; they're sort of quintessential for creating high school and university sets. For those who don't have the pack, Menaceman44's Simple Toilet Stall door is an awesome (and free!) alternative.
It's basically the same, only it's got that cute tri-colored lock (to signal occupancy) and it comes in 14 sweet colors.
17.

Vibe Door by NynaeveDesign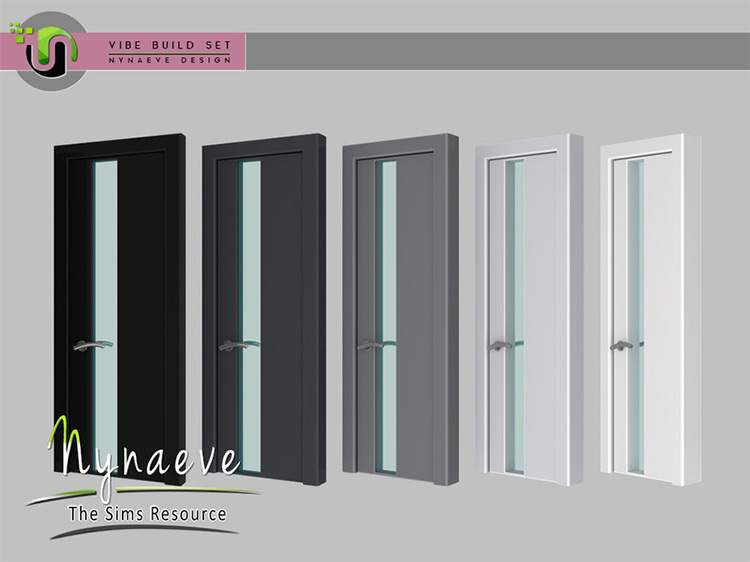 True to its name, this door gives off a vibe.
A classy modern-minimalist vibe.
Sims that use these doors probably have expensive tastes and particular preferences. They also probably live in high-rise condominiums that look like they belong on the cover of some luxury architecture magazine.
And just like this Vibe door's color palette, those condominiums probably follow a strict color code of black, white, and gray only.
18.

Prestine Pastoral Door and Arch by AdonisPluto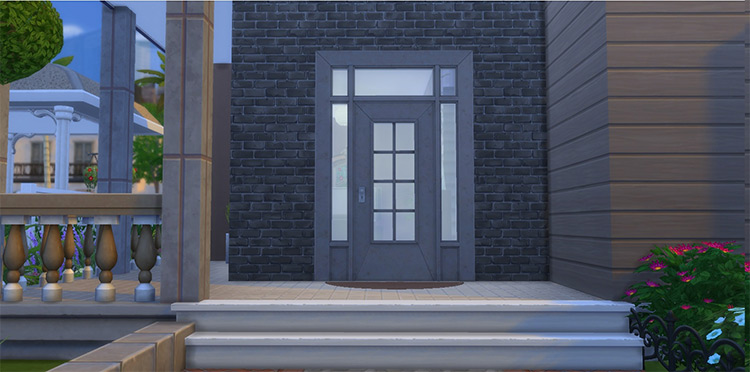 Originally from The Sims 3, these brand-new TS4-compatible Prestine Pastoral doors and arches make quite a unique statement.
They're technically single doors with a lovely nine-sectioned panel of frosted glass in the middle. But they take up almost the same space as that of an EA double door due to the chunky glass-and-wood border around it. And! The border is designed in such a way that if you take the door away from it (visually speaking), it becomes a fetching glass arch.
19.

The Notjustador Collection by hamburgercakes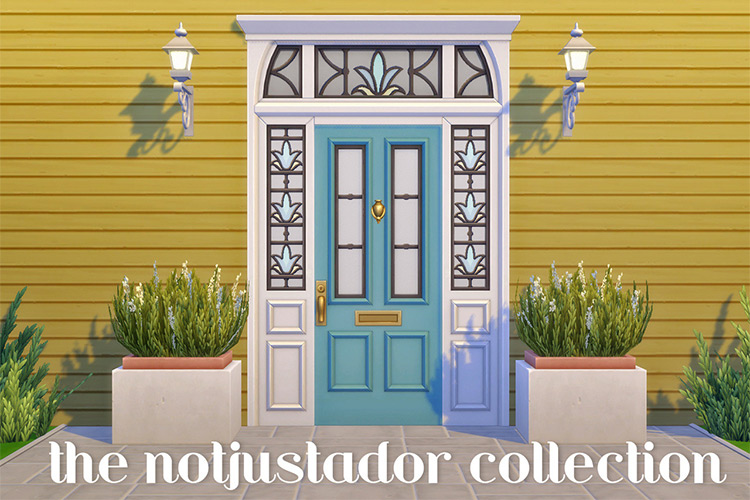 The Sims 4: Strangerville gave us some pretty interesting Build and Buy items, not gonna lie.
Sure, the "prepping-for-doomsday" vibes clashed with the "picturesque suburban townhouse" aesthetic, but it did so in a way that made sense with the lore.
This recolor by hamburgercakes takes six doors from Strangerville and reintroduces them in sixteen brighter, cheerier shades.
20.

[Recolor] Strangerville Windows/Doors – Pitch Black Edition by DreadfulSims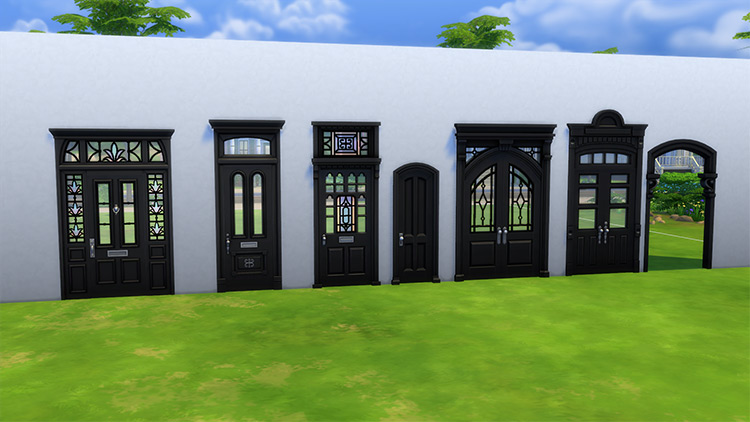 See, Strangerville doors. What'd I tell you?
There's something so interesting about them that they're worth recoloring multiple times.
DreadfulSims's download adds a deep, matte black swatch to seven doors and seven windows from The Sims 4: Strangerville pack.
While the creator jokes that they added this because "black is the ultimate color," I think it is good adding neutral shades to more doors.
Plus, black goes with anything, so. If you're having trouble color-coordinating your build, this could potentially be a lifesaver.
21.

Wood Door Recolors x21 (Build'n Doors – True Wood) by Blackgryffin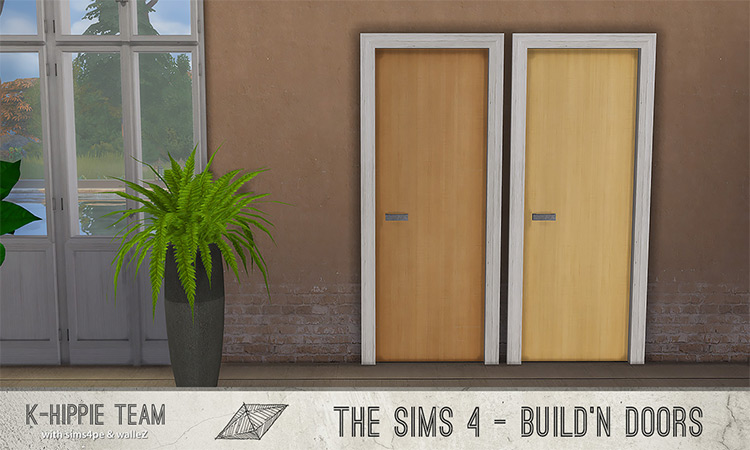 The K-Hippie Team proudly presents three styles of single doors, with seven swatches for each style.
This is a grand total of 21 new doors that look so simple, but so ridiculously striking.
Can't put my finger on why that is.
Maybe it's the quality of the texture (especially the simple matte finish of Volume 3). Maybe it's the execution.
Either way, these would look excellent in any build.
22.

Doors Set by descargassims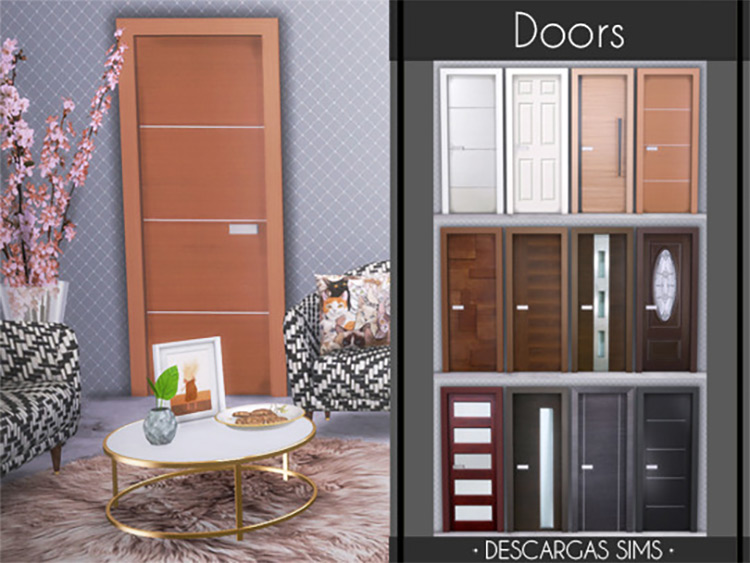 The name is deceptively simple for a set of doors with a lot of style. Or styles, to be more accurate.
Unlike most Build items, this door doesn't have color variations; it has design variations.
Each swatch of its palette gives you a different door style rather than a different color.
It's a fairly unique design approach that honestly worked great!
There are a total of twelve style options, ranging from simple horizontal panels to more intricate tiled patterns.
The download page is, unfortunately, not as straightforward as most would like it to be. If you have trouble navigating the creator's website, try this link.
23.

Basic Doors Set by descargassims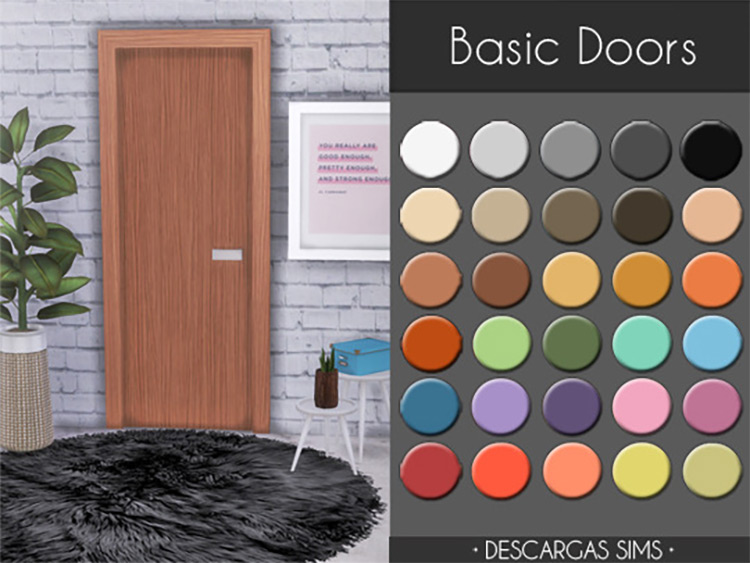 Same creator, different custom door.
This door – that works basic and beautiful really well, in my opinion – comes with a color palette this time (instead of style swatches).
There are 30 solid color options that range from pastels and muted brights to soft earth tones and neutrals. It's a pretty good spread!
Again, creator's site navigation isn't the most user-friendly. Try this link if you're having trouble finding the Basic Doors item.
24.

Mega (Budget) Doors, One-Tile and Two-Tile by plasticbox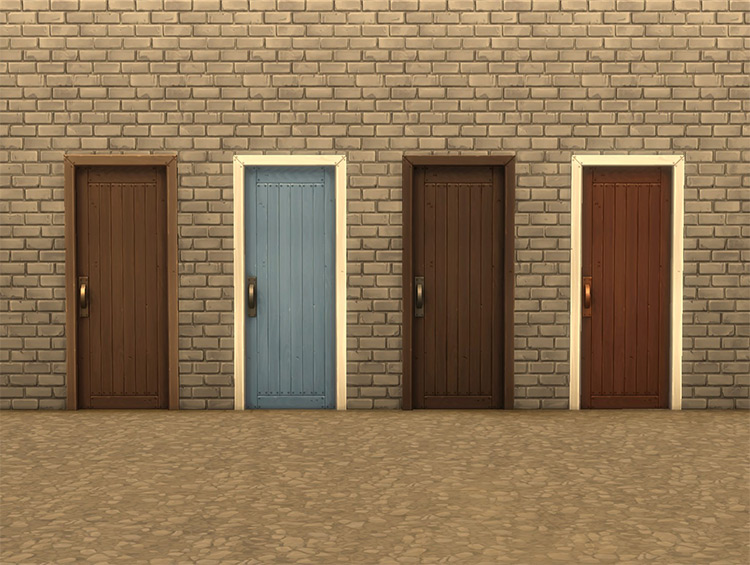 This download adds a one- and two-tile version of EA's own Mega (Budget DeLite) door.
And I'll be honest: I never realized how striking this door was until I found this.
The lovely little details – like the seams, the paneling, and the slight scuff marks – never really stood out to me before this!
And you can also add 16 more colors to the door's original palette by downloading the creator's recolor here.
25.

Seasons Buildmode Expanded – 40 New Items by Simsational Designs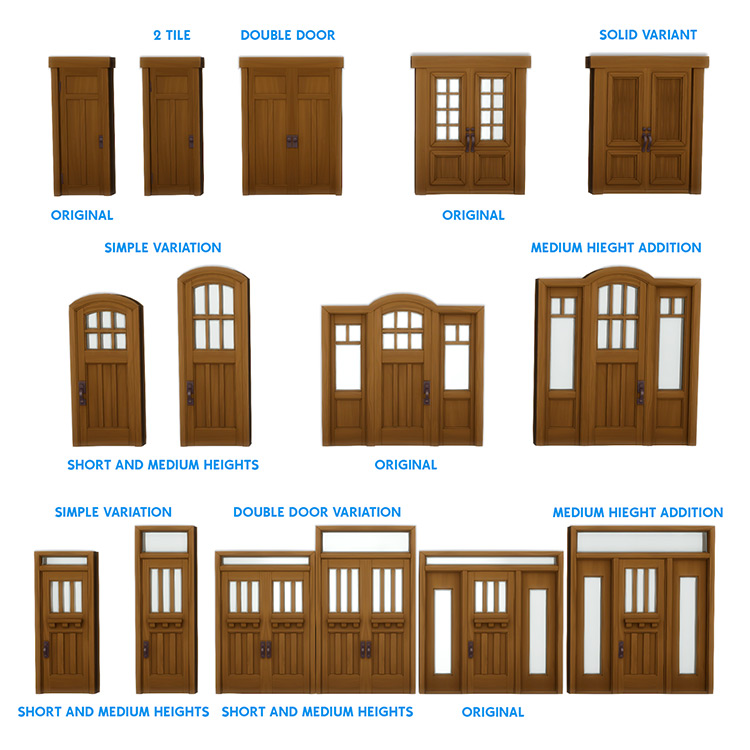 Yes, you read that right. 40 new items.
It's a whole expansion pack's worth of new content for free. So if you've got the time, please leave the creator a nice comment.
Anyway!
This expanded Build Mode set adds several variations of existing doors from The Sims 4: Seasons.
For instance: a two-tile option and a double-door option for single doors. Or short and medium height variations so that the doors can be used on all wall heights.
It's pretty extensive and really cool.
If you have TS4 Seasons installed, I highly recommend adding this Build Mode expansion for more varied builds!
26.

Scania Door – Estate – Single by Kriss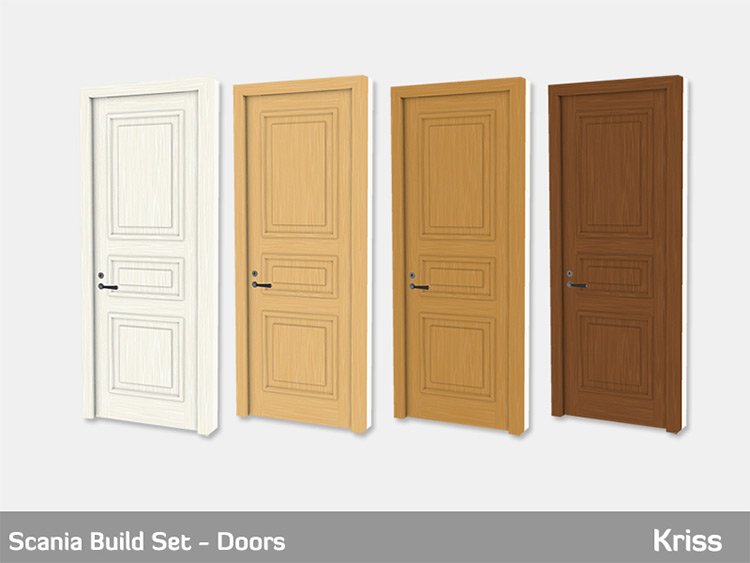 Here's a door that, according to the creator, can "make a statement everywhere from a simple country cottage or an upscale mansion."
Not sure how true that is since I lack the ability to make either builds (I'm more of a "small, irregularly-shaped modern home/apartment" builder), but I do agree that this door could make a statement.
It's pretty simple, but the carved squares-in-squares (or rectangles-in-rectangles?) design does make for a visual treat.
27.

Retro Door Motel Collection by LEOLOLAsims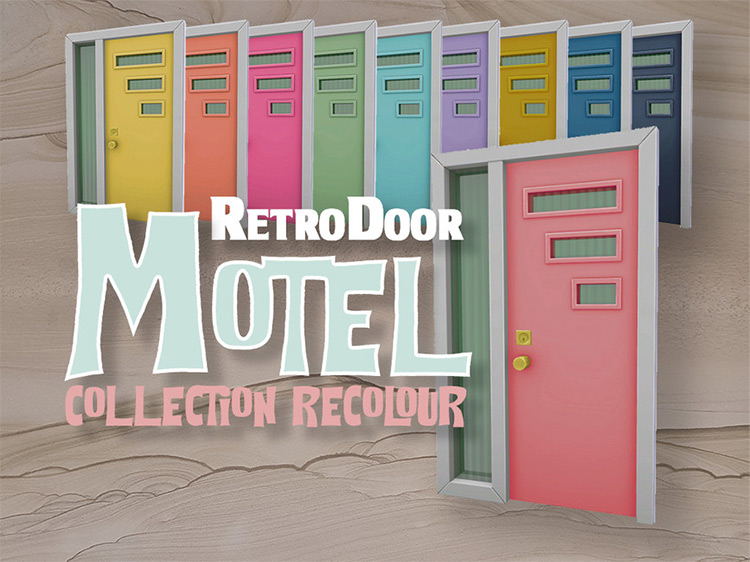 Full disclosure: this might be my favorite door of the whole set. I'm serious.
It's colorful, it's sufficiently Clayified, and the design is unlike any other I've seen. Seriously; descending glass panels and a big ole glass pane set to the side?
I do love me a classic wooden door.
But this is so left field, it's stunning.
28.

Kansas Door Glass Top 1×1 by mutske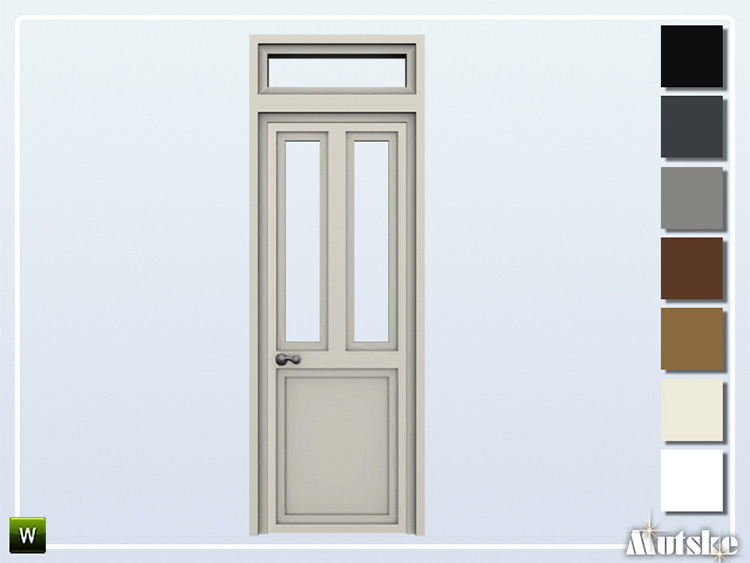 This build item is fifty percent glass panels, fifty percent wooden door, and one hundred percent sophisticated as heck.
It looks like it belongs in an uber-contemporary high-rise condo unit full of deceptively simple but timelessly tasteful décor.
So if that's your build, by all means. This belongs in your Mods folder.
29.

Set Alanis by Maman Gateau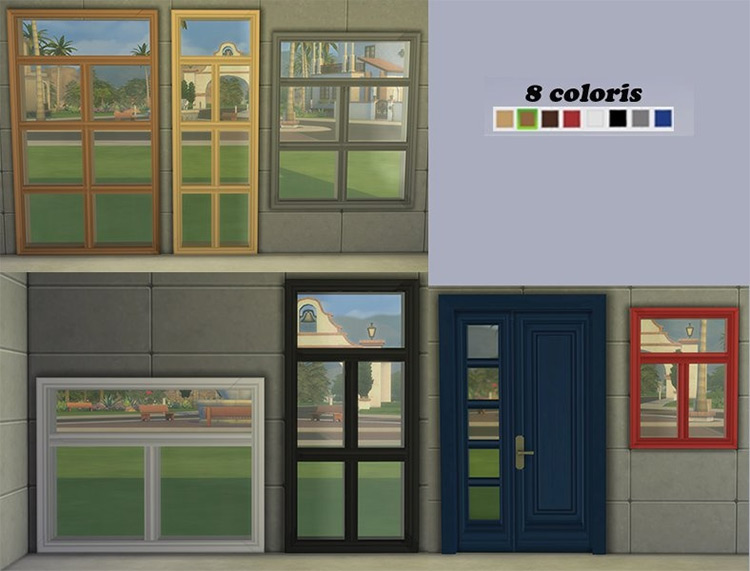 This Alanis set gives off a mix of Scandinavian and contemporary, modern-minimalist vibes.
It utilizes clean lines, sharp corners, and simple, geometric designs to stand out.
Case in point; who knew the combination of square glass panels and so many carved rectangles would actually look good?
Or that the illusion of a double-door would work so well in-game?
30.

Railed Sliding Door – Functional Sliding Door by AshenSeaced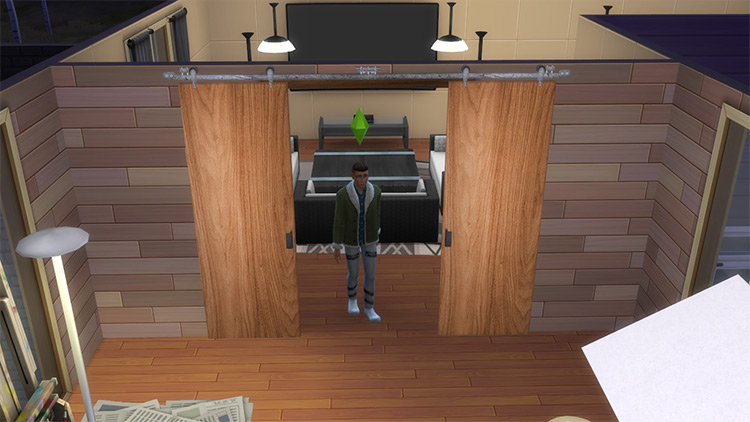 AshenSeaced gets kudos for making a door that looks good and actually functions as promised.
Yes, folks; the door slides open.
It's pretty darn mesmerizing to see in-game, if I'm being honest.
Plus, all five of its wood swatch options look amazing.
Browse:
Lists
Maxis Match
The Sims 4
Video Games