Sims 4 Maxis Match Earrings CC: The Ultimate List
This post may contain affiliate links. If you buy something we may get a small commission at no extra cost to you. (Learn more).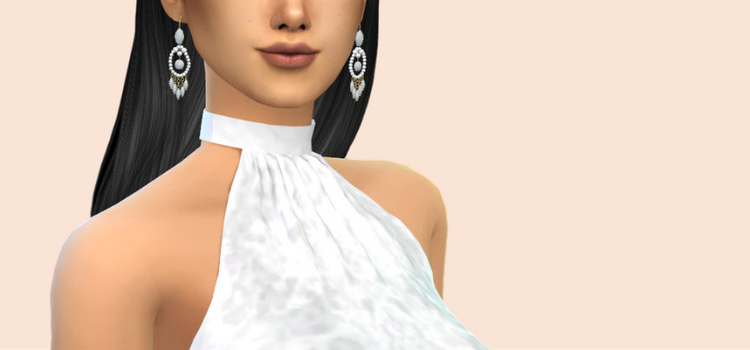 If the accessories section of Create-A-Sim was a physical jewelry box, it'd be rather empty.
And I mean, we can't expect the same variety we have in real life, with hundreds of options at our disposal… but that's kind of exactly what CC gives us.
Chances are, if you like earrings, then you have a lot of them. Cheap cute ones, expensive diamonds, seasonal pairs you'll only wear once a year…they all have their rightful place.
Choosing the right earrings to compliment an outfit is fun when you have more to browse through.
And Simmers who have logged hundreds of hours are probably eager for more – so here's our selection of Maxis Match earrings that truly stand out.
1.

Sul Sul! Earrings
Simlish isn't just the chosen language for this game – it has also become a little bit like a secret code among players.
Nobody but a Simmer will just nod along in solidarity when someone says, "oh feebee lay!"
This gibberish is not only recognizable to dedicated players, but a very familiar, fun reminder of our favorite game.
The same thing can kind of be said for society, right? I know, pretty deep.
Jewelry, clothes, and tattoos have all used words to their advantage.
I'm sure we all remember the horrendous days of sweatpants with words on the butt, and earrings are clearly a superior stylistic choice as far as that goes.
This CC is a Sim's version of that trend.
Combined, these earrings say "sul sul", meaning hello.
They come with some really bright colors as well as the basics like white, brown, and gray.
2.

Heart In The Clouds
Great things come in generally small packages, and all you need is an ear lobe.
These are really cute, using the classic and lovely heart shape to its fullest.
The pastel colors fit them well and the tiny cloud details almost feel ethereal.
Alexaarr did a great job of coming up with something that's modern and trendy. I'm sure there's something just like these on Etsy.
Sim's jewelry probably takes about the same amount of skill and effort. Everything about these are perfect, from the size to the vaguely glossy finish.
3.

Bumblebee Earrings & Necklace
Bees have been getting a bad rap for years. They can terrorize you with their stingers, but fuel the planet with their pollinating abilities.
But they are kind of sweet with their fuzzy little bodies.
This set may not have the fuzz, but it does capture their charm.
And these earrings are simple studs, complete with stripe outlines and wings. They're quite small, so it won't seem like your Sim has an over-the-top love for bees or anything.
Plus, just in case you're a Simmer who likes to get matchy-matchy, there's a necklace with the exact same little bumblebee on a chain!
4.

Hoops/Leaves Earrings
Here's another set of minimalist piercings, this time from Nords.
This Simmer has a ton of excellent custom content that fills in the gaps of the game, so to speak.
Sims can't go beyond the most basic of earrings without certain packs (or CC).
Finding something that suits your Sim and the vision you have for their appearance isn't always easy, as we all know.
But these vibrant hoops go beyond your typical lobe piercings. These involve the helix of the ear as well, for a look that's almost regal.
5.

Smaller Hoops
The word "hoops" carries a different connotation for everyone.
Some may immediately think of basketball, and those particularly obsessed with Cottage Living probably go straight to cross-stitch.
For jewelry lovers, it's all about earrings.
Hoops have been one of the simplest options for decades.
When you just want something to throw on with an everyday outfit, there's no better earring for the job.
But the only ones we have in The Sims 4 base game aren't super subtle.
Veranka's smaller hoops are great for a more understated touch when accessorizing. They still have the standard metallic swatches you'd expect, which is another reason they're so versatile.
Silver, black, and gold never clash against anything, it's impossible!
6.

Barbie Earrings
This is some of the funniest and most bizarre CC ever.
Unique things like this are why unofficial content is so important. I pity the console players who have to miss out on this type of brilliance… those poor souls.
No, your eyes do not deceive you – this creator really made a Barbie head into an earring.
This project (or work of art if you will) was inspired by IRL earrings found on Pinterest.
So while it's not totally a product of QwertySims' imagination, I must say it's admirable that they saw these and decided Sims needed them. They were right.
What's so amazing about this is that it's absolutely flawless. You'd think at the very least, an earring based on a Barbie head would be a little rough to create…if it was, there's no way to tell.
The doll head is smooth, detailed, and comes with an impressive variety. There are several skin tones and hair colors and it really does look like the Sim's version of a Barbie.
On the other ear will not be another head, but an eyeball.
The fun just never ends here.
Being Maxis Match, it's exactly like the game's graphics style so it'll look just like your Sim's own eyes in terms of detail.
A great choice whether you just want something for Spooky Day, or some quirky accessories for your eccentric Sims (who may also want some Barbie-themed CC too).
7.

Pride Popsicles
In the USA and beyond, it's not hard to spot a participant of Pride Month.
It doesn't just have to be one month out of the year, either.
Pride is infinite – and the rainbow flag reflects that sentiment well.
There's a lot more content with that same sentiment available for your Sims – and these popsicle earrings are an awesome way to incorporate Pride into your game.
There's no mistaking those rainbow stripes!
14 additional swatches are available here, and these are usable by masculine and femine Sims alike.
8.

Goldfish Earrings
How can you not adore goldfish?
That "lights are on but nobody's home" look in their eyes is so endearing, plus their orange appearance is stunning.
I'm not sure why they aren't called orangefish, come to think of it…
In any case, these earrings are worth their weight in gold… or however that phrase goes.
There's a pun in there somewhere but to keep things simple – the point is these are epic.
They don't look cartoony, so they're surprisingly realistic while maintaining the Maxis Match appearance.
9.

Pearl Hoops
As cool as these wacky accessories are, most of the time you'll probably be scouring CAS for something a little more, well… normal.
Pearls are the ultimate embodiment of sophistication.
In some families, pieces have been handed down through generations and they can be worn today just as they were in the 1940s. For the most part, anyway.
What's considered formalwear today is often more like everyday outfits back then.
So you can find a balance of using "fancy" jewelry with your Sim's outfits without having them look like they have a formal dinner party every night, unless that's what you want.
Even if these do only make an appearance when your Sim has an important engagement, it'll be well worth it. However you use these mid-sized hoops, adorned with perfect pearls, it's a win-win situation.
10.

Ugh! Earrings
"Ugh" sometimes that says it all.
Sims aren't immune to the apathetic feeling brought on by the stressors of everyday life.
In fact, they're often burning the candle at both ends with so many whims, goals, and obligations to keep up with in their fairly short lives.
And it generally takes work for them to have positive moodlets more frequently than negative… yep, "ugh" is accurate.
This is technically like three earrings per ear, since each letter has its own hook.
That has resulted in a really cool structure, and the word itself is clear as a bell.
11.

Solar Earrings
As amazing and wondrous as the solar system is, it's no surprise that some of its most iconic imagery has become an aesthetic to a lot of people.
Who doesn't love a starry night or beautiful sunset?
Those little moments really put things into perspective.
But beyond all that philosophical stuff, the moon, sun, and stars make for awesome jewelry.
Like so many other creations, this set was inspired by real earrings and Ilkup definitely did them justice.
They're medium sized cutouts in 6 swatches, including a great gold tone.
12.

Gingerbread Man Earrings
Holidays have brought us tons of adorable clothes and jewelry.
You can express your festive spirit more than ever before with piercings… particularly earrings, as you might have guessed.
I mean, I've never seen a Christmas navel or eyebrow piercing. But maybe I just haven't looked hard enough.
The ears seem like a reasonable place to add a little holiday cheer in without getting weird, though.
These tiny studs feature gingerbread cookies, also known as the ideal holly jolly junk food.
They're charming, delicious, and fun to decorate.
Unless they're earrings, of course.
Then only the "charming" part applies, as you can see here. Those little smiles are enough to get your Sims through holiday mayhem!
13.

Plastic Palm Earrings
Beaches are suspiciously absent from The Sims 4 for the most part. Yet they were part of every single world in The Sims 3 and provided a lot of fun.
It's good we have options beyond coastal towns now – but the sunny beaches are sorely missed in all worlds except Sulani.
Seeing these earrings might take you back there if you, too, spent countless hours having your Sims wade in the water and down drinks at the bar rather than eat.
Alexaarr's plastic, pixel-y palm earrings capture the essence of a beach day.
They'll be a fantastic addition to any summer outfit, or even added to your Sim's swimwear.
14.

Stellar Earrings
Simmers are back at it again with more solar earrings.
Natural things somehow always make the best accessories and decals. Flowers have been popular for quite a while, and lately celestial objects have been in the spotlight.
Anessasims keeps it lowkey here with these small star studs.
They may be small, but they'll definitely have a big impact on your Sim's appearance.
Planets or asteroids may seem more exciting – but stars are actually a great neutral piece.
You'll have a hard time finding an outfit where they aren't appropriate!
On the contrary, I think these are a classic in the making just like hearts.
15.

Strawberry Earrings
Here's another hyper-realistic design, and this time they look good enough to eat.
With all the CC out there, Simmers have developed certain expectations.
Maxis Match content is generally supposed to be as close to the real thing as possible.
Basically, it should look professionally done. That's a pretty high bar and a lot to ask.
Yet creators surpass it all of the time.
One look at this is all it will take to blow your mind. These strawberries really do like they're fresh from the market and dipped in a fondue pot of chocolate, then placed on hooks.
16.

Bolt Earrings (Male)
Earrings intended just for the guys aren't too common…
But Onyx Sims has a great masculine option in this CC.
For something typically masculine, you can't beat tools and hardware. These bolts are surprisingly stylish and even though they're small, they'll easily stand out when your Sim wears them.
Black, silver, as brass swatches are available here, which are nice neutral tones for any appearance.
They're regular studs too – just hexagon shaped and with a hole through the middle.
Oh, and as if it's not already cool enough… child Sims can wear them as well!
Only the coolest kids get to rock piercings. So I'm glad in a way we don't have a ton of child earrings in the game.
17.

Macramé Earrings
I'm constantly reminded by how diverse and intelligent Sims players are when I see them use proper names for obscure objects.
I would've just described this as a "dangly dream catcher-looking thing", but apparently the proper term is macramé, which is a textile.
So now we're all on the same page.
These earrings may indeed be dangly, but they're actually based on a cool and complicated art.
And although the creator adapted these from a piece of wall art included in the Paranormal Stuff Pack, they're available to the base game.
If only making real jewelry was as simple as repurposing old decor!
These have a fun bohemian vibe with the combination of the hoops and the textured, detailed fringe.
Plus the original swatches are still included too.
18.

Daisy Earring Set
Two-for-one offers are pretty much always wonderful – but they're particularly special when it's custom content for our Sims.
Once you find a Simmer whose stuff you like, there's nothing better than "CC shopping" through their entire catalogue.
Well since Ghostputty released these two pairs of earrings at once as part of an advent calendar, it's like a shortcut.
They have a lot in common.
Both pairs are really well done, gorgeous, and perfect. Not that I'm biased or anything.
First, there are the hoops.
There's a bit of a vintage feel and the white daisies against the colorful, solid background are very striking. With 25 swatches, you're bound to find something you like.
Then we have the daisy earrings themselves, which are composed almost entirely of a flower.
They have a lovely design, and the size is ideal.
You won't miss them, but they're not so big as to look gaudy either.
19.

In One Ear
Perhaps one of the biggest flaws with the accessorizing system of The Sims 4 is that you don't get a lot of say as to where things go.
It's predetermined which finger and hand rings go on, as well as that when you choose earrings, your Sim will wear them in both ears.
That's a shame, since people have chosen to wear just one piercing since… well, forever.
Brohilda has made it so that four of the base game earrings can be worn on just the left ear, for guys and gals alike.
It's amazing what a difference this makes.
Somehow the absence of an earring on one ear provides a fresh look.
20.

Sword Dangle Earrings
Creator ZiachiSims made these with Halloween in mind – but I know I can't be the only one who thinks sword earrings are good enough to wear year-round.
Think of all the history that has been made with those trusty steel blades.
From the days of rugged plundering vikings to the noble knights in medieval Europe… they've done a lot.
Well this is your standard sword turned into an earring, with a tiny gemstone on the hilt.
You'll have 30 whole swatches to choose from, which all seem to vastly change the appearance.
Some versions even change the metal, with silver, gold, and rose gold all being options.
Browse:
Lists
Maxis Match
The Sims 4
Video Games