Best Maxis Match Eyebrows For The Sims 4 (Male + Female)
This post may contain affiliate links. If you buy something we may get a small commission at no extra cost to you. (Learn more).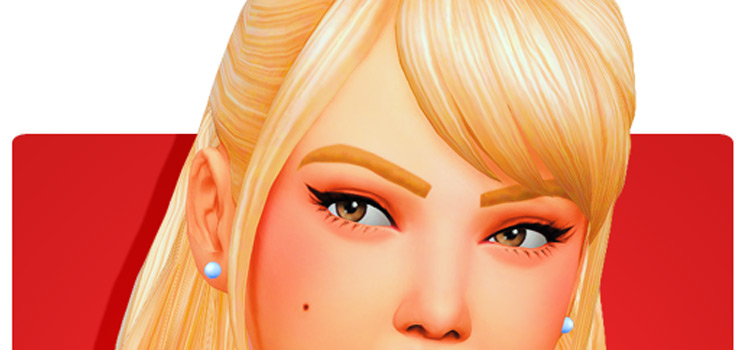 Eyes may be the window to the soul, but eyebrows frame the face.
If you are into makeup, illustration, photography, or any other hobby that has you studying faces for long stretches of time, then you know.
A person's eyebrows can seriously change how they look.
It's crazy how the arch, tilt, and shape of what is essentially a line of hair above your eyes can make you look sweet and innocent one day, then bored and cold the next.
And now that I'm done with my little rant, here ya go: some awesome Maxis match eyebrows for your Sims.
1.

Taiga Eyebrows by opium-honey
Accidents happen. Sometimes you cut your finger while chopping veggies. Sometimes you spill a bit of water while pouring a tall glass. And sometimes you nick yourself while shaving your eyebrows.
It happens.
At least the shape is still gorgeous. A nice, shallow arch defined with full, fluffy brows. Available in 16 EA colors!
2.

Female T-E Maxis Eyebrows Redone – Non-Default and Default Versions by Simmiller
Simmiller took the time to painstakingly redo all TS4 eyebrows so that there's a little more variation.
From individual hair strands poking out to very refined tails, these eyebrows are pretty much "base game, but better."
They look beautiful in CAS and in-game.
However, only the default replacement is currently available.
Apparently, the creator's run into some trouble with the non-default files. Best be aware before you download!
3.

Lavinia Eyebrows by PeachyFaerie
Part of the creator's Carnival CC pack (to celebrate 200+ followers!), these custom eyebrows are a real treat to look at.
They're a bit straight and tilted inwards, giving a bold look that's not too strong.
They're also a lot thinner – and neater – than the vanilla base game options! They come in a 32 swatch set courtesy of the same creator!
4.

Marianna Eyebrows by PeachyFaerie
Need some gorgeously fluffy (but light) soap brows?
These feathery facial features look great when paired with both subtle and semi-bold makeup looks!
They're edging towards Alpha CC waters (as admitted by PeachyFaerie), but I think the hand-painted texture keeps it safely within MM borders.
Available in 32 colors!
5.

Maxis Match Eyebrows #02 by crazycupcakefr13
These are very neat, very groomed brows for Female Sims who want not a hair out of place.
Seriously check out the neat lines and perfect edges. These brows are the product of very skilled hands or unfairly good genes. They come in EA's standard 18-color palette, too!
6.

Peppermint & Ginger Eyebrows by pepper-ginger
These are TS4 Maxis match recolors of crystdollhouse's Maxis brows edits (for The Sims 2) and io's louhi brows (also for TS2).
They all tilt downwards and have very sharp tails, but the rest of the features vary (arch, length, thickness, neatness, etc.)
I like that you can see the individual hairs here despite the Maxis match texture.
Each style comes in 5 natural colors.
7.

Faaeish Eyebrow Recolors in Sorbets Remix by gladly
Hold on to your butts, because this isn't just a grab bag of recolored eyebrows.
It's a whole production.
17 custom Maxis match eyebrows multiplied by 76 custom colors (aka the ever-popular Sorbets Remix Palette) equals enough eyebrow variations to keep even the pickiest Simmer occupied.
All the eyebrows are so beautiful and so different, I'm not going to even try to describe them all.
I'll just shout out my personal faves: Spaniel and Gentle. Absolute keepers, those two.
8.

Come to Mama Eyebrows by Cubersims
Thick, soft, and pretty intense, these Come to Mama brows by Cubersims can definitely grab attention!
I like how the thickness of it is complemented by the shallow arch and gentle inner curve.
There's a softness to it that works really well with almond and doe eyes!
9.

MM Eyebrows N18 – Dolce by Pralinesims
Pralinesims is well known for their Alpha CC content. So seeing these Maxis match eyebrows on their TSR page was a little jarring at first.
Nevertheless, their creation is beautiful—as per usual.
This Dolce Brows set contains a variation for Female frames (longer, neater, more curved) and Male frames (blockier, less groomed, subtler arch).
And they come in EA's standard 18-color palette.
10.

MM Eyebrows N03 – Supreme by Pralinesims
Another set of Maxis match brows (it's even in the name!) from Pralinesims!
These have more visible individual brow hairs and less of a perfect, tightly groomed outline. They're definitely on the softer, subtler style (like soap brows!) of eyebrow that I prefer.
11.

MM Eyebrows N19 – Anastasia by Pralinesims
Here are some thicker, groomed, Instagram-worthy brows.
They're full, they're fluffy, and they've got that nice fade in the middle (where you can start to sort of see the individual hairs).
The arch on these are quite sharp, but the cut is definitely more pronounced on the Female version than on the Male.
The Male version has those same sort of slightly uneven edges like in the creator's Dolce set, but the curve for these brows is definitely more pronounced.
12.

Maxis Match Eyebrow Pack N02 by Pralinesims
So this set is an amalgamation of five different Maxis match eyebrow packs from Pralinesims.
Their Supreme eyebrows aren't here, but the Dolce set (for Male and Female) and the Anastasia set are—alongside Velvet, Sharp, and Muse.
Very handy if you want to just download all (or most) of Pralinesims's Maxis brows in one go.
All sets have a Female and Male variation of the brow, and both variations come in EA's default 18-color palette.
13.

Ronnie Brows V1 & V2 by ht0
These brows are pretty different from the ones I've listed so far.
They're thick, they're dramatic, and they're pretty darn bushy.
Maybe not as thick as some brows can be, but I definitely wouldn't call them sparse. I like the hand-painted look of them.
And for ungroomed brows, they translate pretty well in CAS (which was a bit of a surprise for me, not gonna lie)!
14.

Cupid Eyebrows by peachyfaerie
A fun little set of six base game-compatible eyebrows, all for your Male and Female Sims to try on! They've all got a fairly shallow arch and neat-ish tails.
One is very much just a straight, teardrop shape tilted downwards, but the rest are of varying & interesting styles!
They come in 24 EA hair colors and work for Teens all the way up to Elders.
15.

Rhythm Eyebrows Set by vanila Sims
More nicked eyebrows!
Female frames get away with one nick, but the Male models have to deal with two.
Be careful with razors, guys.
Good thing the curve and shape makes the overall picture look strangely stylish. Kind of intentional, even. Plus they can match all EA hair swatches.
16.

Eyebrows N3 by vibrantpixels
A single set of simple brows for the simple Sim who prefers a thicker, fluffier, soap-brow-esque shape.
These Eyebrows N3 by vibrantpixels have a unique enough shape and fuzzy edges, which is why I knew I had to include them.
I personally prefer blunter, shorter eyebrows, but I know plenty of people IRL who could rock this look!
On top of the 18 EA colors, these brows also have a pitch black swatch—just in case your Sim ever box dyes them for the sake of a look!
17.

Eyebrow Packs 3 & 4 by rheallsim
This double-pack brow giveaway contains a total of ten totally unique eyebrow styles (five per pack).
I genuinely didn't know you could shape your brows so many ways, but I guess you learn something new every day.
For those who love seeing how different brows can frame faces differently, you're in luck. When I tell you that none of the styles in this set look even remotely similar, I mean it.
18.

Eyebrows Set N1 by Prichalnaya
So even though the name says N1, this set actually contains three new custom eyebrows (up to N3).
N1 is a soft, subtle, soap brow with visible hair strands and a very neat tail
N2 is a stronger, thicker version with very rounded edges
N3 is a sort-of ungroomed brow with uneven edges and a shallow arch
They're all super gorgeous though, and look great in-game.
19.

Stretchskeleton Eyebrow Packs 01 + 02 by stretchskeleton
These are twelve "Maxis-Match-y" eyebrows (as the creator puts it) for Sims needing a new look.
Most of them are actually pretty close in style to the base game brows, only there's a little more variation with the lengths and widths.
The edges also range from soft and faded, to strong and highlighted. Lots of variation to be found here – which is always a great thing!
20.

Rabbit Brows by simulationcowboy
How's about a very strong, pretty thick, and natural-looking brow?
No fuss, no muss, and minimal makeup.
I love the attention to detail here, because you can see the wispy eyebrow hairs poking out—basically letting you know that the Sim probably didn't groom them.
If your Sim doesn't feel like trimming, taming, or combing their brows for the day, let all other Sims know with these custom brows.
(It also helps that I find the name adorable)
Browse:
Lists
Maxis Match
The Sims 4
Video Games