Sims 4 Maxis Match Eyes CC: The Ultimate Collection
This post may contain affiliate links. If you buy something we may get a small commission at no extra cost to you. (Learn more).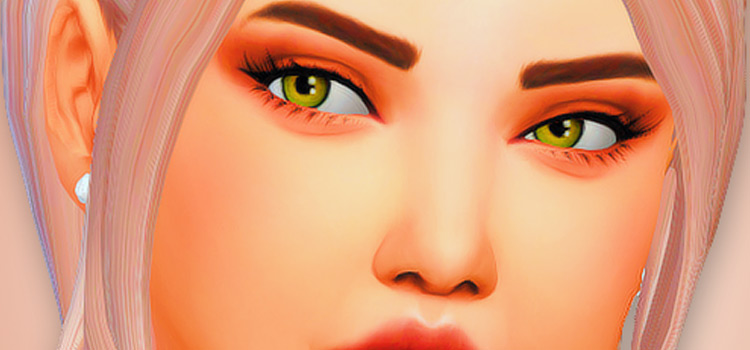 Honestly, one of the best things about The Sims in general is how customizable the game can be.
The fact that this franchise is a platform for arguably one of the largest communities with consumer-generated content speaks volumes. I mean, think about it: custom content has been around (and has been working) since The Sims 2. That was way back 2004!
So I'm here giving you new options to customize your TS4 Sims. Or, at least, their eyes. Enjoy!
1.

Dawn Default Eyes by Gerbitshi
You can get these beautifully clear eyes in the standard 18 EA colors (which I'm sure we're all familiar with) plus 9 extra shades of the creator's own crafting.
These new shades include a couple extra browns, some hazels (and hazel greens), and an extra pair of dark blue.
Since Sims 4 sadly does not have Create a Style in CAS (where it would make the most sense, honestly), there's no such thing as too many options.
And with eyes as pretty as these ones are, you'll definitely want as many color variations as possible!
2.

Moony Eyes by Miiko
Look at how soft and crystalline these eyes are. I'm never going to be able to pick a favorite from this list (because I'm weak against beautiful Maxis Match eyes), so I'll just stick to singing the praises of each and every item.
These Moony Eyes by Miiko are honestly a work of art.
They look like a painting. A fully-detailed, interactive, 3D-modeled painting.
I love how the smudged look of the highlights softens the whole eye. And the other details are so flattering. Like how the pupil just sort of smudges and blends into the iris, and then fades into the outer ring? Or how the shadow version gives the whole thing so much more depth?
Honestly, there's a lot of unpack with this. So I'll leave you to explore the options yourself. Trust me; you won't be disappointed!
3.

LUZ Eyes by simandy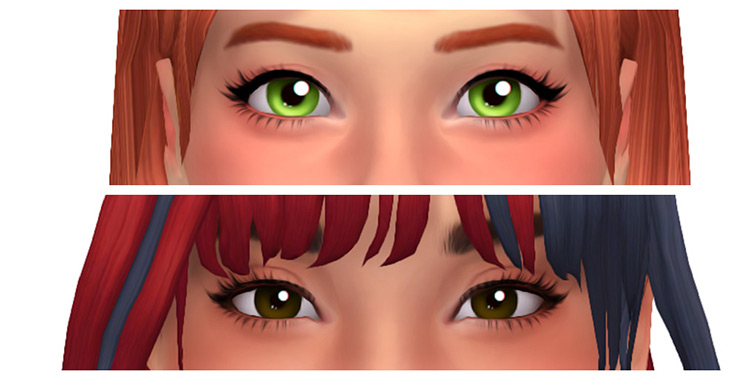 Simandy is hands down one of my favorite TS4 CC creators.
I love their hair, I love their makeup kits, and I love their eyes.
These Luz eyes from simandy are actually what I currently have installed in my game, and they work a treat!
They come in two versions; big pupils and small pupils.
And although I'm a huge fan of the cutesy, cartoon-y look, I actually use V2. I dunno, I like the piercing, quasi-realistic look more.
But with the way simandy designed the eyes, both look so good that it's really just a matter of preference.
You could technically have both versions installed, but take note that you'll need to choose one to be your default replacement (i.e., all Sims in your game will automatically have that version).
The other has to be a Face Paint installation, else you risk ruining your mods folder.
4.

Aqua Trigger Eyes Unnaturals by Miss Ruby Bird
For mermaids, mermen, and other mysterious creatures of the deep, Miss Ruby Bird's Aqua Trigger Eyes can add that mesmerizing element of strange, unusual, and otherworldly.
The Central Heterochromia swatches, for instance, have a different-colored ring in the center, 'round the pupil. The effect is subtle, but mesmerizing.
The Unnatural Contacts swatches come in 38 options, and they're all mostly colors that – as you might guess – are far from natural.
I like how there's a distinct edge to the shadows in the upper part of the iris, too. It really makes the color pop.
5.

Whisper Eyes by DangerouslyFreeJellyfishCC
The name totally fits how the eyes look. Light, whisper-soft, and airy.
Even the darker swatches look weightless and porcelain, if that makes sense.
It's pretty hard to accurately describe just how soft these eyes look in-game and in CAS. All's I know is, there's something about these eyes that make the colors stand out.
I don't know if it's the subtly darker-colored ring around the iris (separating it from the sclera) or if it's the lack of the specular flare (that lets you see the color more).
Whatever the reason, these Whisper eyes are beautiful, and no one can convince me otherwise.
6.

Dog Days Default & Nondefault Eyes by simulationcowboy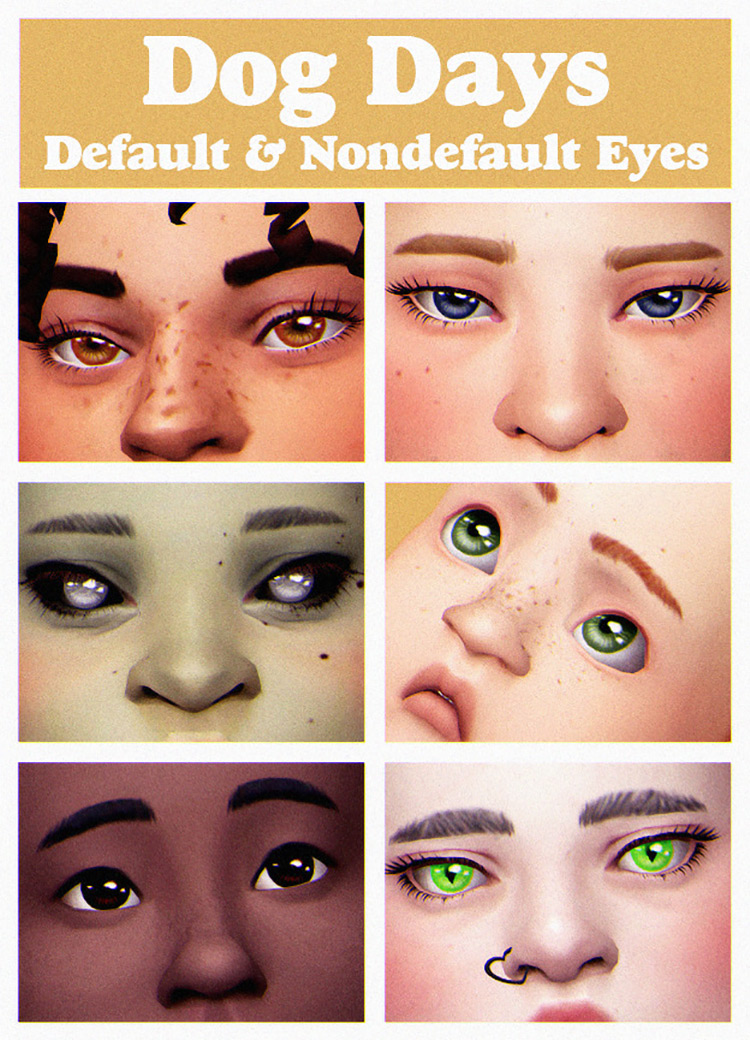 This stuffed grab bag of revamped TS4 eyes is perfect if you want to initiate a complete visual overhaul.
There are custom eyes for all life stages (from Toddler to Elderly) and all types of Sims (basically Regular and Occult), and they're stunning.
The creator included small, dainty, barely-noticeable details in the designs, and they make them pretty darn alluring. Like the lighter-colored "rays" in the iris of the regular eyes, or the striking, vertical cat-eye-like pupil for the Occult swatches.
You can install these as default replacements or as cosmetic add-ons.
7.

Dazzle Eyes by Eva Zetta
Yeah, gonna have to agree with the name. They're pretty dazzling.
The coloring style used for these eyes is a very smooth, very subtle gradient that forms a sort of light-colored ellipse spreading out from the pupil. It gives it that very "2D animated cartoon" feel that is definitely right on the nose for Sims 4 style.
I love the smattering of light reflected in the center.
It's visible enough to make the eyes look bright and clear, but subtle enough that it doesn't draw attention away from the eye color and design.
There are a total of 27 eye colors to choose from here, and they're all largely in the green, blue, brown, and black color family. Also perfect for any Maxis Match build.
8.

Eyes_02 by stretchskeleton
I originally saw these eyes used in a Not So Berry challenge lookbook, so I decided to check them out.
Mind you, I saw the "with pupils" version (which I thought looked really neat and really piercing).
But when I saw the "without pupils," I fell in love and never looked back.
There's just something so satisfying about them. They make my Sim look cool, detached, and extra intimidating.
There are 35 swatches with pupils and 25 swatches without, for a grand total of 60 colors.
9.

Crybabies' Crystal Eyes Recolor by solstice-sims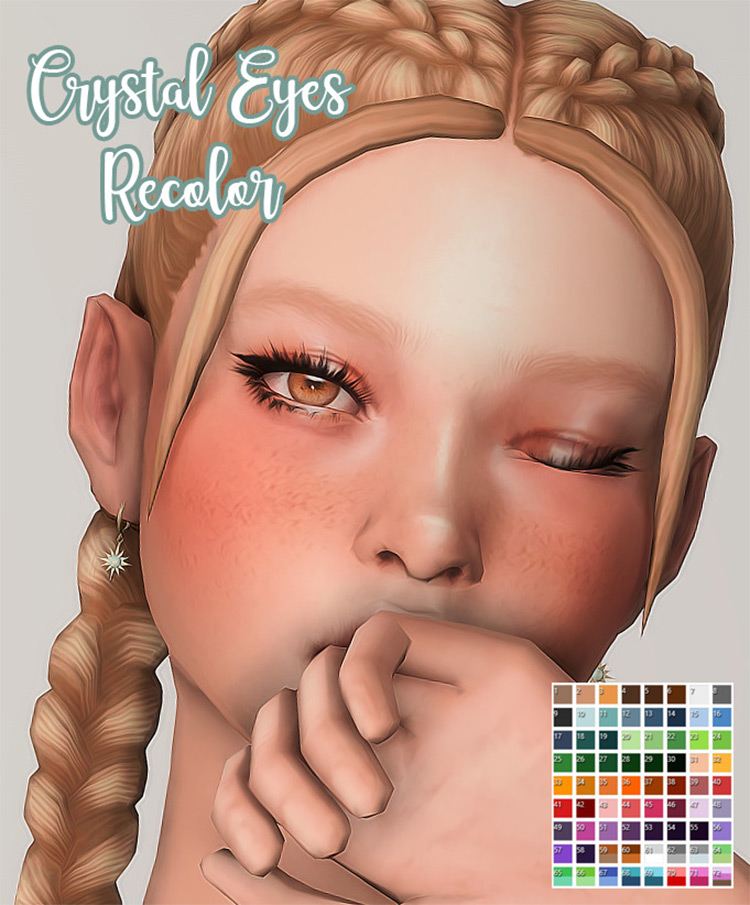 "Crystal" eyes is very much the correct description for these eyes.
They're clear, they're shiny, and they come in literally the prettiest shades.
This is why I decided to post the recolor and not the original version, as much as the original version absolutely knocked me off my feet. Because the recolor added 72 swatches to choose from, including some stunning ombre combinations and plenty of striking unnatural shades.
But drop by the original page anyway, since you still need to download crybabies's Crystal Eyes for this recolor to work.
10.

Agate Eyes by emmibouquet
If eyes truly are the windows to the soul, then these eyes are hiding some pretty interesting souls.
These are probably some of the most detailed eyes on the list, in my opinion.
There's just something about the subtle lines across the iris, the different-colored ring around the pupil (in some swatches), and the shooting-star-like light reflections up top. Kinda looks like a muted galaxy.
Total of fifteen swatches (some have surprise color combinations!) and you can find them in Face Paint.
11.

Quartz Re-Sclera'd as Contacts by noodlesims
This is what happens when you combine pyxiidis's sclera (also a pretty amazing Maxis Match CC creator, by the way) with cupidjuice's Quartz V2 eyes.
I love the default replacements made by cupidjuice because they look brighter and way more expressive than EA defaults.
However, I think noodlesims made a good call by combining it with the new sclera. It looks a little more muted, but not drastically so.
I also think that the two together give the eye more depth and texture, which is always a visual treat.
12.

Yume Eyes V2 by simandy
These eyes feel very anime. In, like, the best possible way.
They're wide, they're shiny, and there are more lens flares in them than in a dramatic Instagram filter.
And the attractive doe-eyed aesthetic is completely in-line with simandy's style, so it's totally expected.
These come in 18 EA colors and are only available for Human Sims (sorry, Occult babies!). They can be installed as cosmetic overlays or default replacements.
By the way; if you read the creator's notes, you'll find a small head's up about how black the black swatch is. Can confirm. The swatch is so completely dark, it's freaking mesmerizing.
13.

In Your Element: The Sequel by LaruLaro
This is part two of the creator's original In Your Element series (which you can find here).
I strongly suggest checking out part one as there are some freaking awesome eye replacements for Occult Sims in there. However, that set also contained teeth and other CAS bits.
And since I'm trying to stay organized and true-to-theme, I'm recommending part two instead – which is purely eyes.
Eyes that, by the way, can make any Sim look unfairly attractive. I spent a solid five minutes randomizing different Sims, and the eyes always worked.
There are 72 eye colors available for this version, categorized according to palettes. My favorite is the Historian palette.
What can I say? I love muted neutrals.
14.

Felicity Eyes by Aveira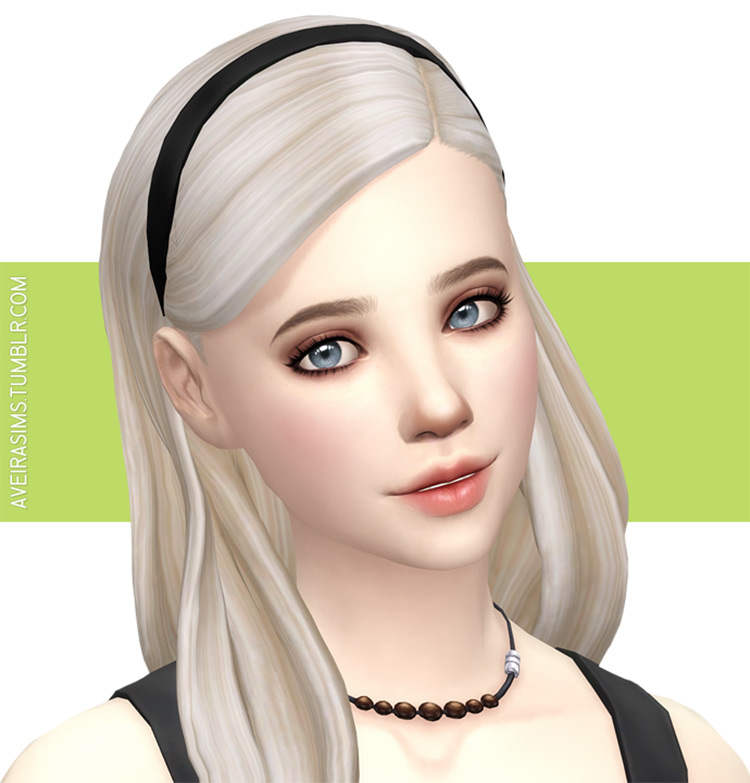 Okay, seriously; these eyes are brighter than my future.
These Felicity eyes are the updated version of Aveira's Eyes N15. You can find the original set here, but you don't need it for Felicity to work.
These eyes are apparently Aveira's most downloaded custom content item of all time, and it's not very hard to see why.
Like, even in the retired N15 version, you can see how gorgeous they are. Everything, from the specular reflection to the color gradient, is so incredibly striking.
There are 18 colors to choose from, and I gotta say, you'll be hard pressed to pick a favorite.
All the shades are capital-G-gorgeous.
15.

Impact Eyes by ratboysims
Impact is actually the perfect words to use here, yes. One hundred percent accurate.
I'm not even going to wax poetic about what a stunner the Sim model in the preview photo is (but seriously, how??)
I'm just going to focus on the eyes.
According to the creator, these eyes are a Maxis Match version of pralinesims's Euphoria Eyes. I know they look relatively simple and straightforward in the photos on the download page but, trust me; they are so much more striking in-game.
The difference between the EA default eyes and these Impact eyes is astonishing. The hazel and violet shades in particular are a personal favorite!
16.

Halo Eyes by Miiko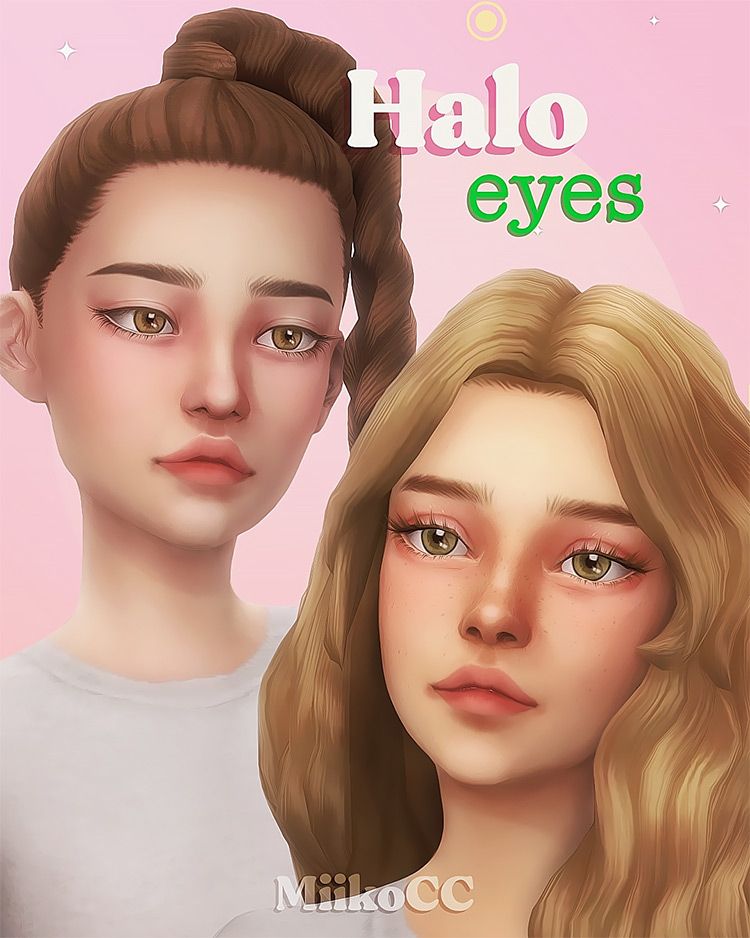 These eyes genuinely look like paintings come to life. Or, at least, come to 3D render? They take "hand-drawn texture" to a whole new level, and I am living for it.
Do keep in mind that these eyes will look a little different in CAS than in the preview photos since the creator may have used different mods and CC items for their Sims (i.e., eyelashes, skin replacements/overlays, eyebrows, etc.).
But I promise, they still look absolutely stunning even with the base game defaults.
17.

Elche Eyes V2 by Solistair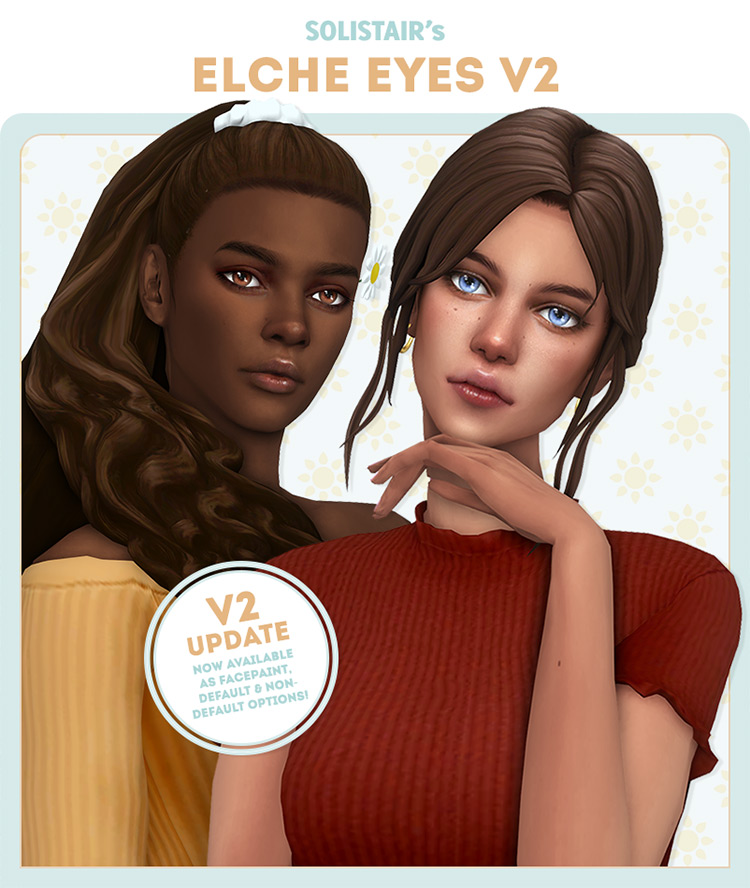 These Elche Eyes V2 are an updated version of the creator's original Solistair eyes (that you can see here).
Aside from updating them to work with the latest patch, the biggest difference between the two versions is that the eyes are now available as standalone contacts (under Face Paint), default, and non-default replacements!
Other than that, they are still strikingly appealing.
The three main colors are still blue, brown, and green. Each main color has eight different shade/tone variations, giving us a grand total of 24 swatches to choose from.
Highly recommend you watch the GIF preview on the download page of the first version. It is so satisfying to watch.
18.

Still Feel Eyes by baieyu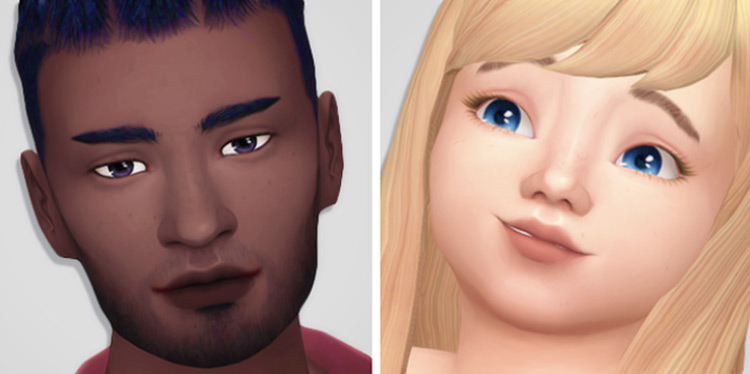 According to the creator, these eyes were inspired by some of pyxiidis's custom pieces.
I can see the similarities, but as a whole, I think baieyu did a good job of creating a Maxis Match eye set that's uniquely their own.
The eyes are light, clear, pretty, and plenty charming on their own accord.
I love the slightly larger pupil and the tiny little dashes of specular light. It's overall very neat and very clean, and it nails the animated cartoon-y feel of Maxis Match in The Sims 4!
19.

Soft Eyes by squeamishsims
So, here's the thing with preview photos for CAS items like clothes, skin, hair, and (of course) eyes.
Oftentimes, the Sim used to model the item being marketed is not a vanilla, default Sim.
When CC creators showcase their content using a Sim, chances are that the Sim is already decked to the nines in other mods, default replacements, and miscellaneous custom cosmetic content.
So players who aren't in the know (especially new players) will download a custom CAS item, expect it to look exactly like in the preview photos, and then feel summarily disappointed when expectations don't meet reality.
I'm saying this because I need to set expectations with this one: squeamishsims's Soft Eyes really are soft.
I mean, even in-game.
All of the outlines and edges look like they're just blurred and blended together, creating the illusion of a soft, seamless, feather-like look.
But don't expect them to look exactly like the creator's preview photos! For that you'll need to download the same:
Eyelashes
Skin
Skin details
Eyebrows
And maybe even eye presets
All just to mimic the look in the previews.
Aesthetics aside, this CC eye set also happens to be jam-packed with a lot of cosmetic goodies.
On top of the 18 default replacement eyes for humans (in EA's standard palette), the creator added 38 natural add-on swatches.
The eyes are also available for Occult Sims (vampires, mermaids, etc.) and for Pets. Plus there are heterochromia swatches for very distinctive looks, too!
20.

Beetle Eyes 2 by squea
These Beetle eyes by squea are perhaps one of the closest in look, feel, and overall design to the default TS4 eyes.
They have that distinct 2D animation look, the colors stand out very clearly against the sclera, and the details are kept to a bare minimum.
Just a drop of specular reflection, a nice gradient for the lighter shades, and that's it.
It's simple, it's straightforward, and it's still pretty freaking striking.
Plus, the creator added 54 swatches on top of the 18 EA standard default colors. 28 of those are from serendipitysims's Historian Palette. The other 12 swatches are duotones of the creator's own design.
Browse:
Lists
The Sims 4
Video Games