Sims 4 Maxis Match Fall Clothes CC (Guys + Girls)
This post may contain affiliate links. If you buy something we may get a small commission at no extra cost to you. (Learn more).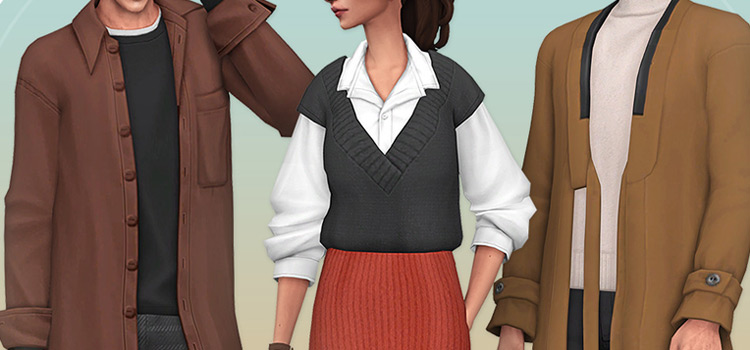 Winter might be known as the most wonderful time of the year, but fall is undoubtedly the coziest.
It's that sweet spot between blistering summer heat and freezing cold, which makes it perfect not just for all sorts of fun activities, but some of the best fashion too.
For the best Maxis-matched Sims fall wardrobe collection, look no further!
1.

Mocked Mulberry Sweater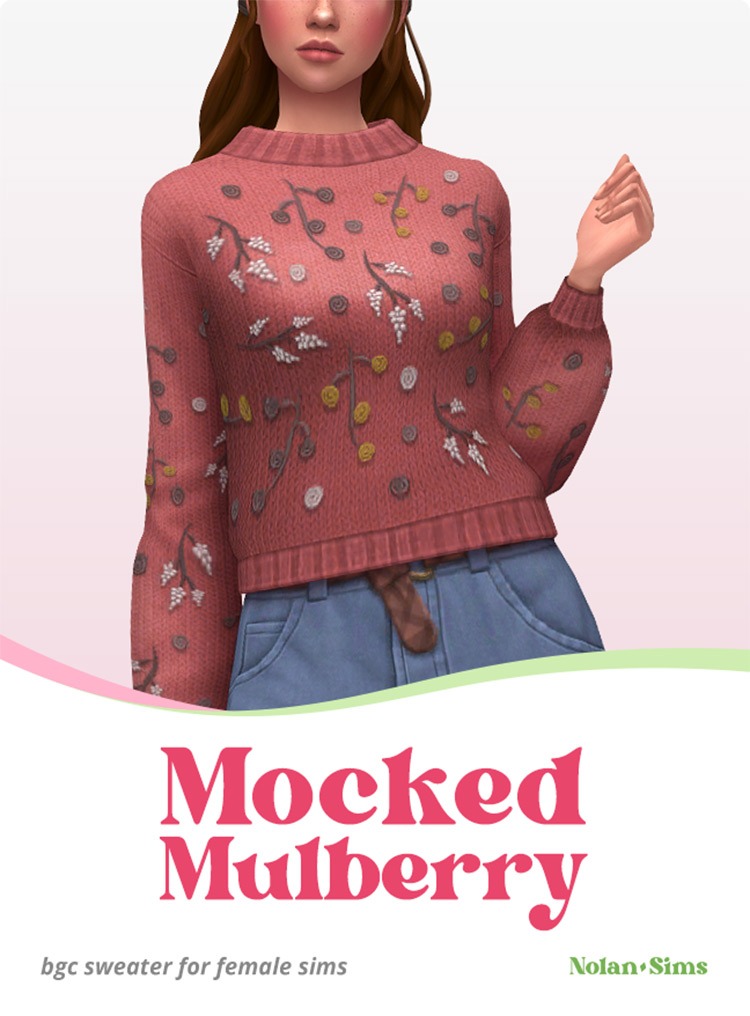 It would literally be a crime to not include sweaters when talking about autumn fashion.
Bulky and comfy, this top has a fantastic knit texture that helps bring out all of the colors. Besides the 13 awesome solid options, there are an equal number available with the cutest embroidered flowers.
2.

Olga Sweater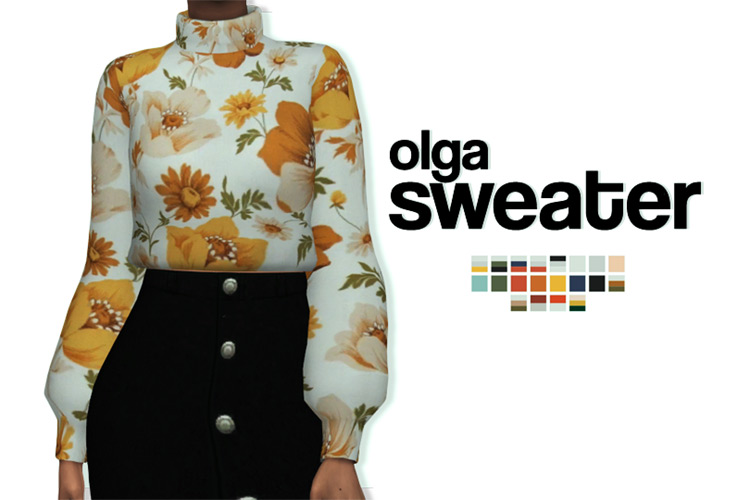 Here's one that automatically brings something special to the game, since it's one of the few women's tops that will automatically tuck in.
Skirts, pants or even shorts, it doesn't matter!
As long as they're high waisted, your Sim's outfit will take on a neater feel.
3.

Simple Sweater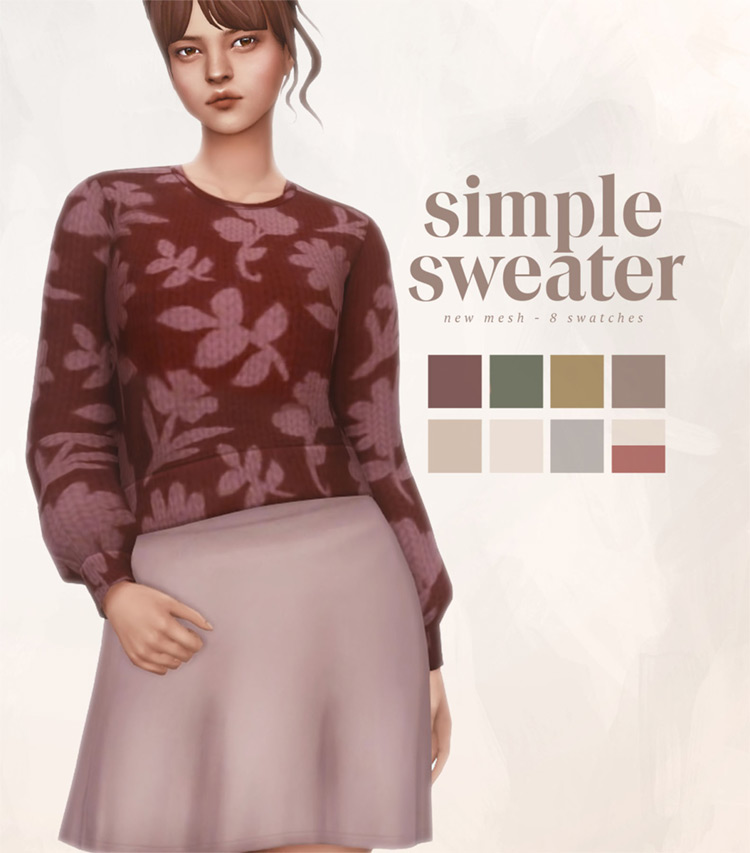 Littlecakes really brings a perfect balance to this sweater.
The swatches have a lovely vintage look but the semi-cropped length makes it decidedly modern.
It is just slightly oversized, which is something Sims don't have nearly enough of. Everyone needs a big ol' sweater, and the 8 swatches offer lots of variety.
4.

November Sweater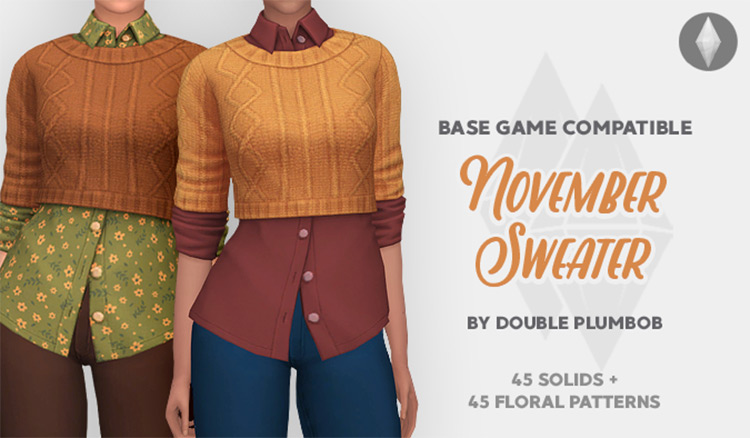 This CC is nothing short of brilliant.
Double Plumbob separated the cable knit sweater and button-up shirt combo from Cats & Dogs and made it a BGC top.
Even better, it has been given the best makeover ever. Now there are tons of mixed and matched fall colors and floral prints.
5.

Riley Sweater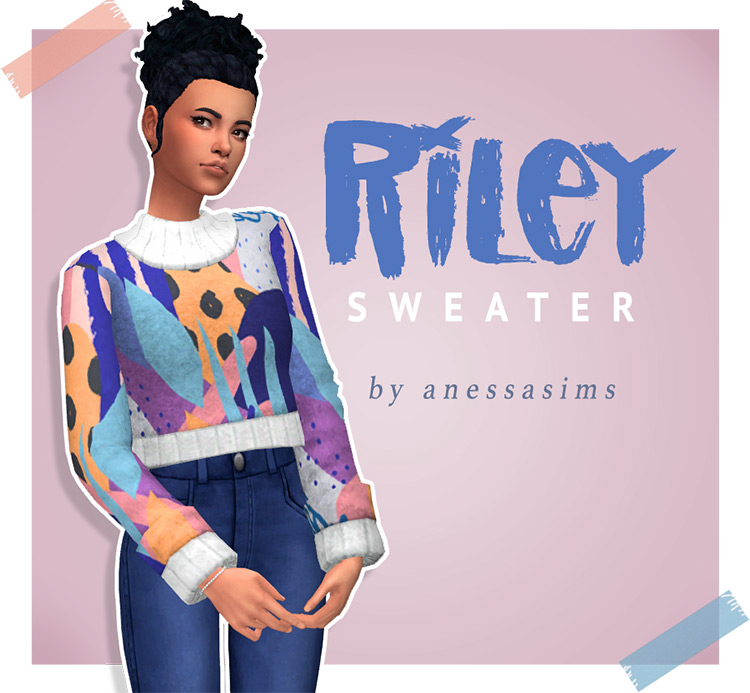 The Riley Sweater is easy to appreciate for its flawless, soft-looking design and wide assortment of swatches.
Seriously, there are 56 of them! That's years' worth of fall outfits.
This assortment has it all, from designs with a thrifted vibe to more trendy color palettes.
6.

Layered Sweaters
Sometimes a Sim needs something that's both a little casual, and a little formal. It's a delicate balance, no matter the occasion!
Here's a great blend of both.
Whether it's time for a fall photoshoot or HarvestFest dinner, this is a great basic top for all male Sims.
7.

MarvinSims' Male Sweaters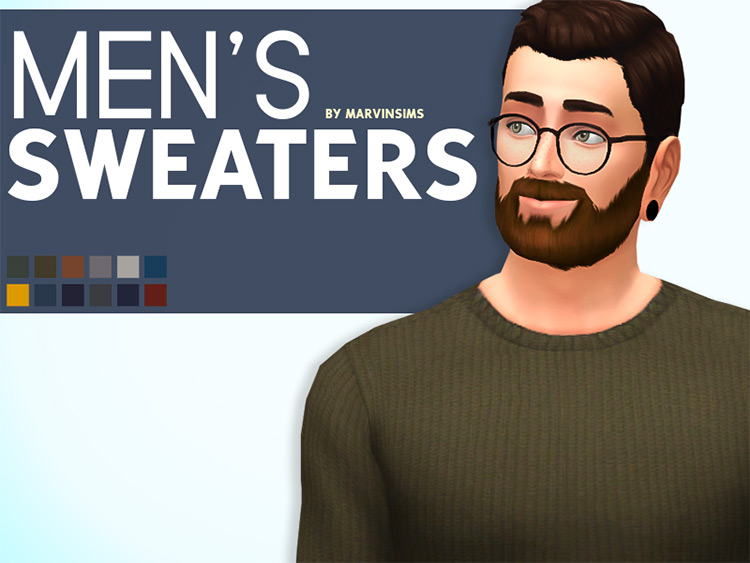 A fun fact about this collection is that any Sim will look super handsome in every single sweater.
It's a theory yours truly has tested, and why these have been in my mods folder for years.
They're a great staple to have thanks to the swatches of gold, brown, blue, and more.
8.

Grandpa Sweater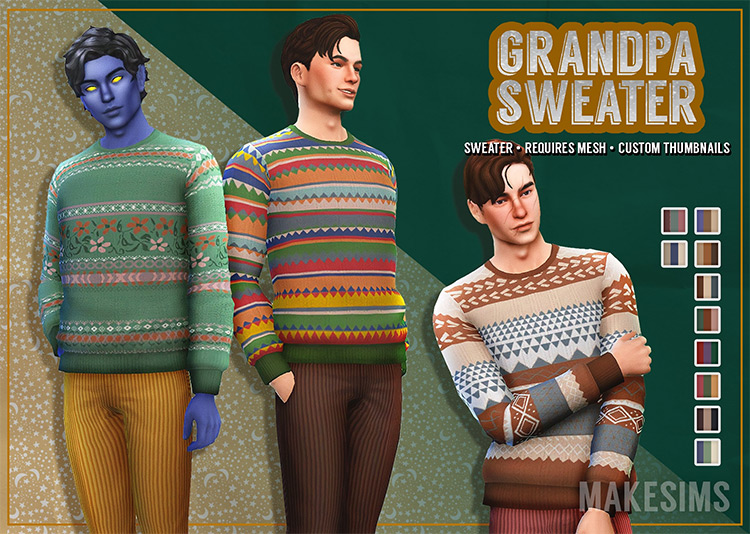 The simple design of this sweater is really kicked up a notch with all of Mal's nifty, thrifty recolors.
Various geometric, floral, and abstract patterns make up these 10 swatches. Each one is very unique, making these an awesome stylish addition to the game.
9.

Male Turtleneck Sweater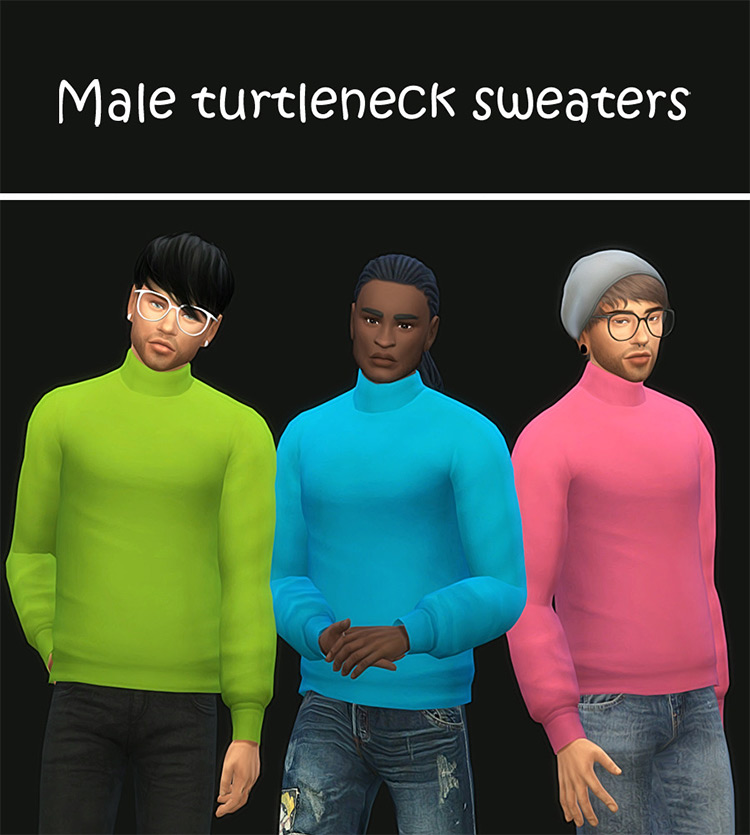 Some minor tweaks to this top from the Holiday Celebration Pack have resulted in something basically brand new.
There's no better time of year to rock a turtleneck and with 77 total swatches, you can easily stick with the typical fall palette or branch out with some bolder, brighter colors.
10.

Warm Cardigan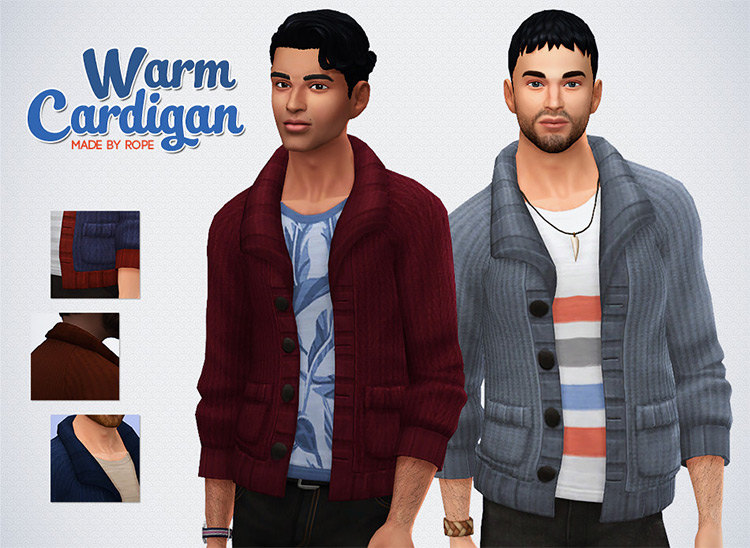 What's the difference between a sweater and a cardigan?
The world may never know.
But just like any other sweater, it's got a thick knitted look. Right away, one thing that stands out is that Rope added some colors you don't often see, like burgundy or lavender.
11.

Simblreen & Autumn Pattern Tights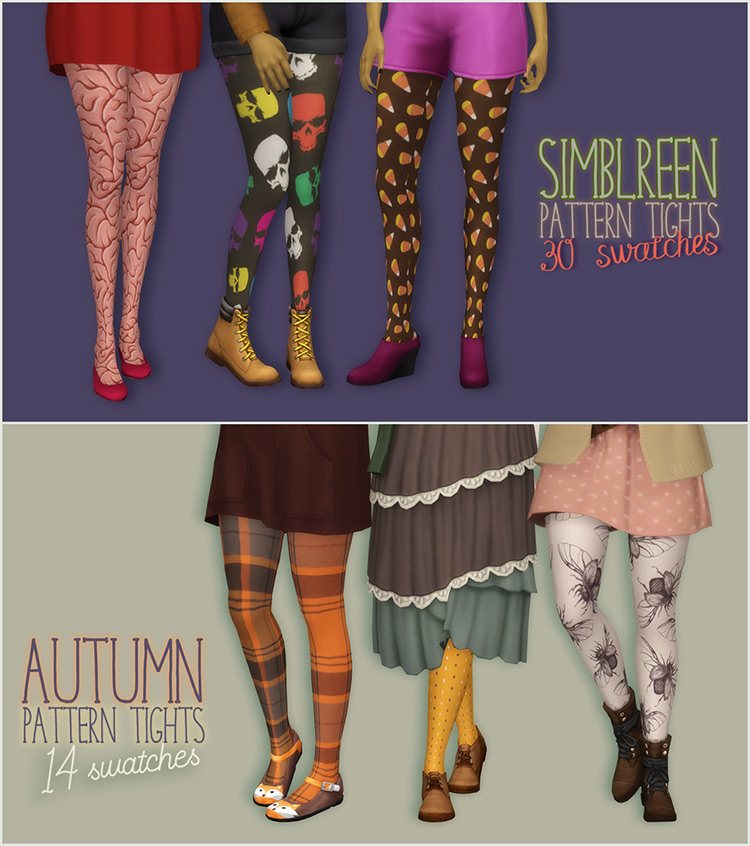 We all know that the holidays are part of what makes this season so fun.
Here's a great selection of original tights with almost four dozen swatches to choose from. Each one of them uses fitting colors of yellow, orange, and brown or some festive spooky patterns.
12.

Millennium Pants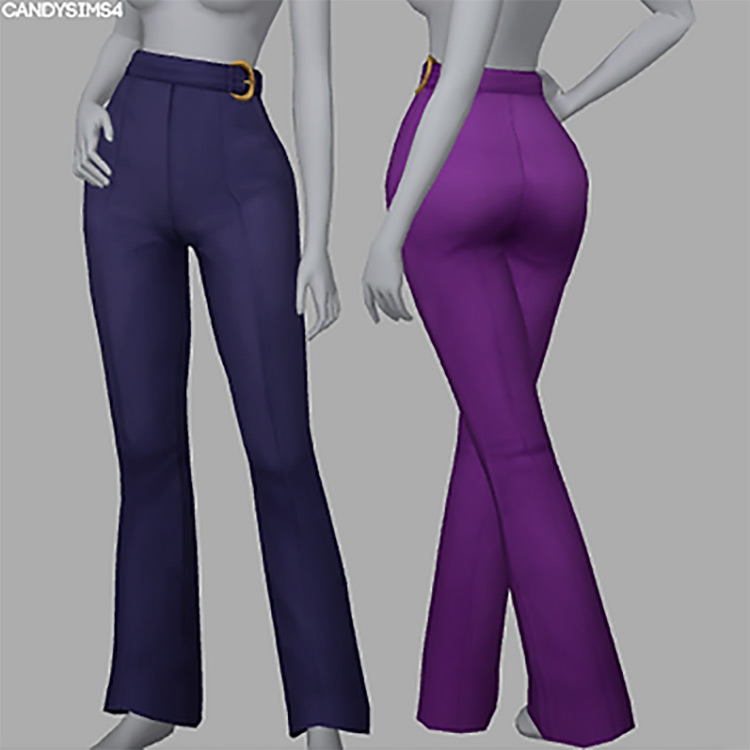 Some new pants can really broaden your Sim's fashion horizons.
These incredibly stylish bottoms are high waisted, belted, and wide-legged. If you're someone who usually sticks to jeans when creating outfits, this is a good way to step out of your comfort zone!
13.

Bad Dream Skirt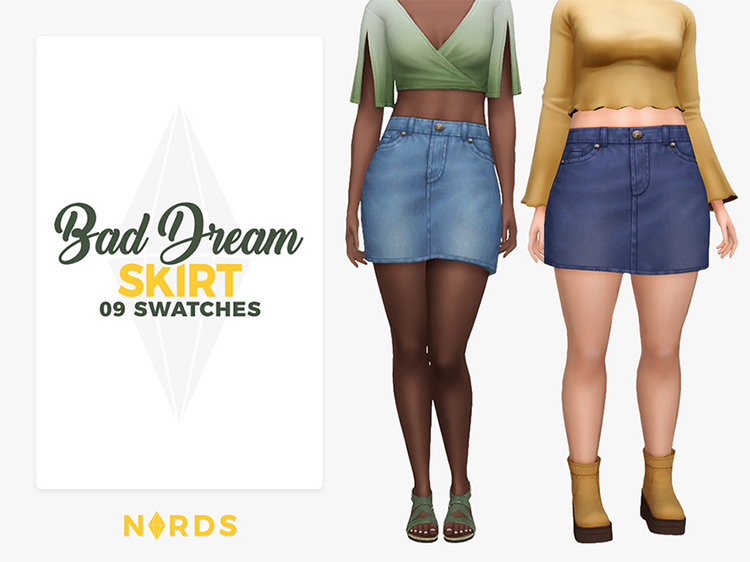 Denim is always a great foundation for an outfit.
On chilly fall days, this should be super easy to base your Sim's attire on. Just add on a nice jacket, some tights, and a cute pair of boots and you've got a classic look.
14.

Base Game Untucked Shirt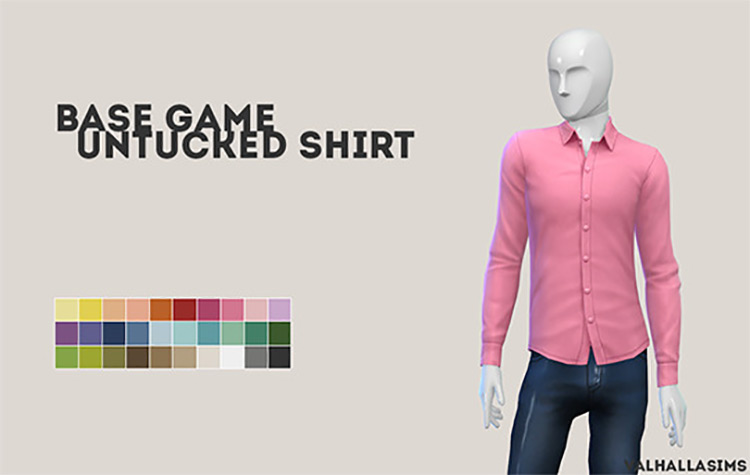 The base game has some great stuff but after having the same few swatches for so long, it's easy to want something fresh.
Well, that's what recolors are for! Now this standard button-up has a total of 30 solid colors, any of which work for fall.
15.

Raincoat With Long Sleeves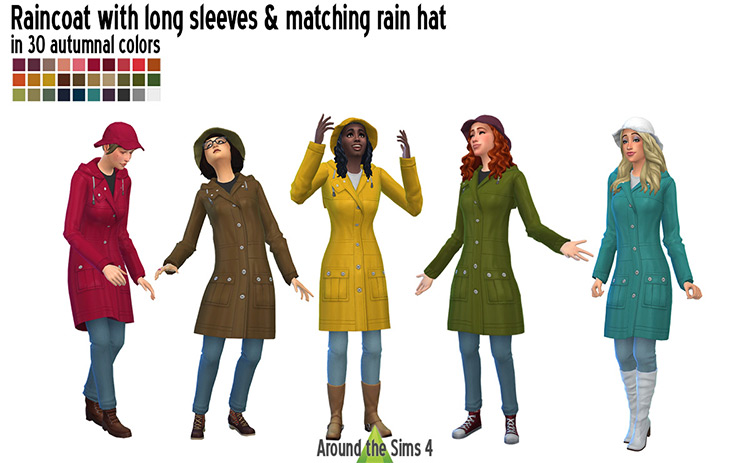 We all probably grew up hearing "April showers bring May flowers" which implies spring is the rainiest time of year, but it seems fall holds that title in TS4.
Here's a more practical take on the Seasons raincoat. The sleeves have been unrolled, so Sims will be fully protected and kept dry.
16.

Honey Bee Jumpsuit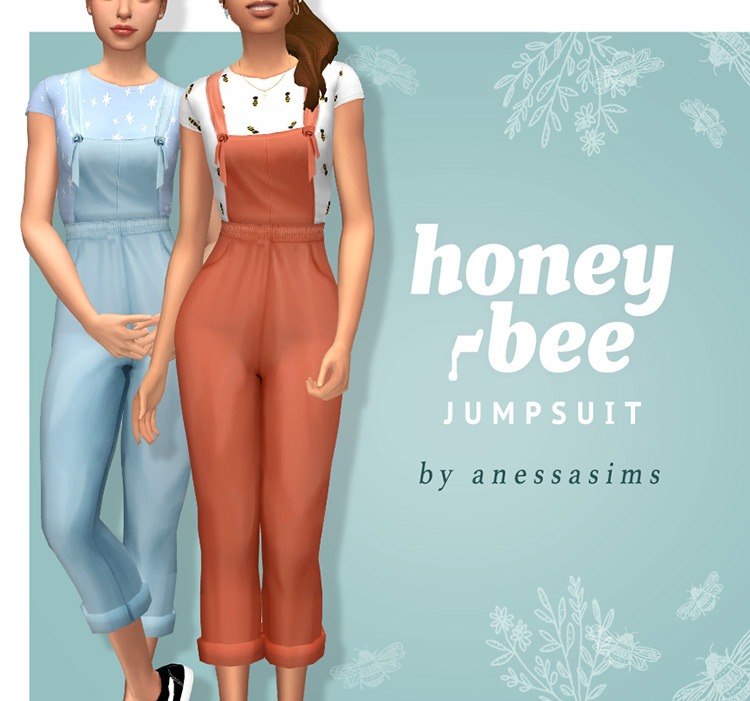 You won't believe the mix-and-match possibilities here, guys.
This jumpsuit is already completely adorable, but with the accessory tee, you can put together some great looks for your Sims.
Both patterned and solid swatches are available for the tee, so it's really easy to experiment with the jumpsuit.
17.

Floppy Wool Hat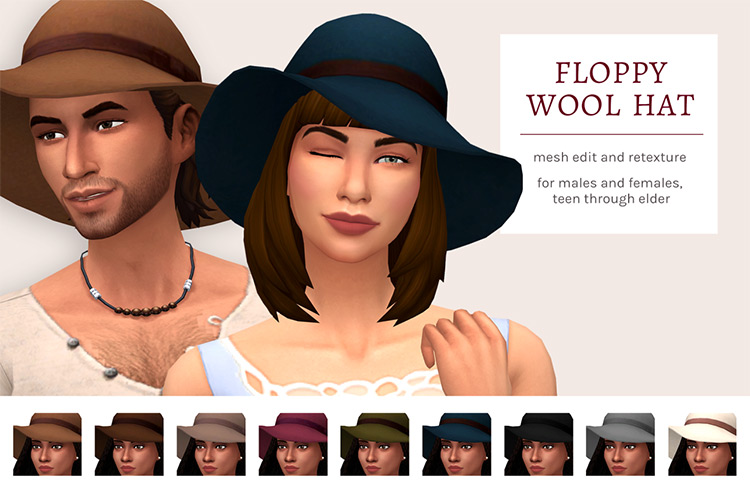 Brimmed hats have become a very chic accessory in recent years, and floppy hats like this dominate the trend.
The neutral color palette makes it the perfect way to top off an autumn ensemble. Even more amazing, it's unisex! So male and female Sims alike can be stylin' with this accessory.
18.

Nathan Top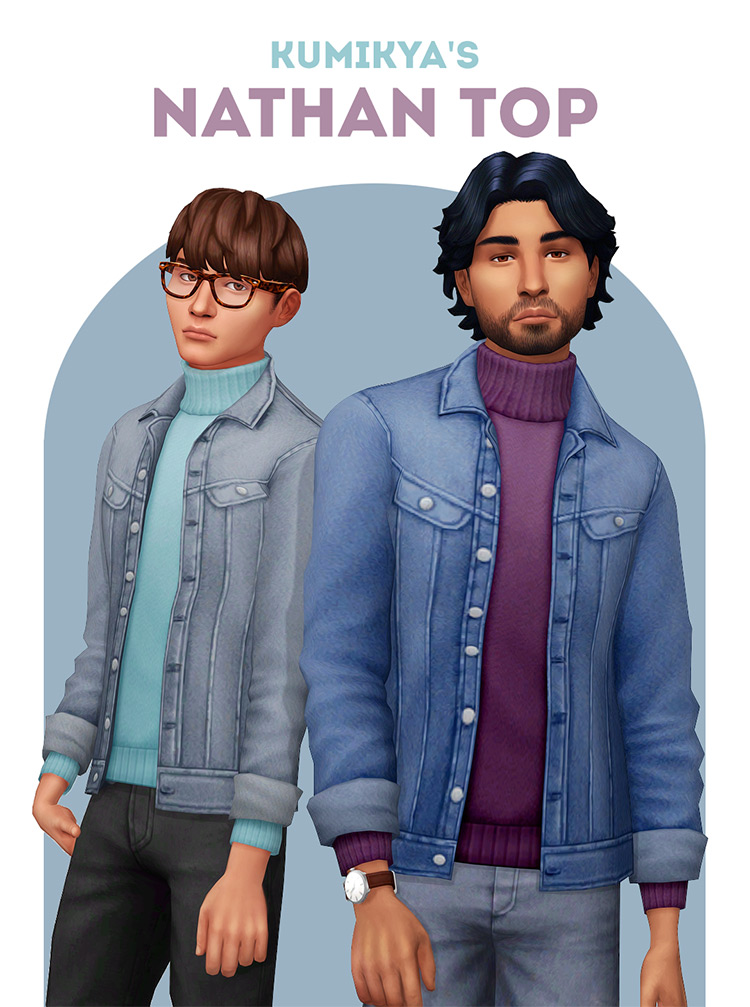 Um, a denim jacket with rolled sleeves and a sweater?
This right here is basically the peak of male attire.
Kumikya's wonderfully versatile top has it all, whether you intend to use this for your Sim's casual outfit or for outerwear. It works for everything!
19.

Lazy Day Sweatpants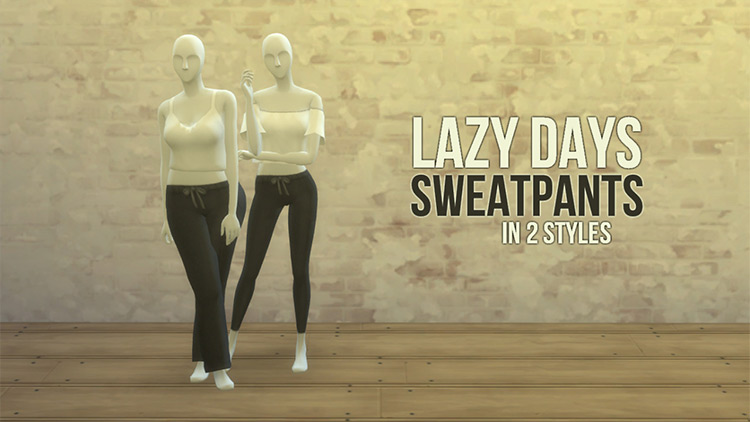 In this two-for-one creation, all your Sim's sweatpant needs are covered. There's a fashionable slim version, as well as a standard baggy type.
Either way, they are like the new jeans. Everything goes with them. It's hard to find something more laidback and comfy.
20.

Everest Boots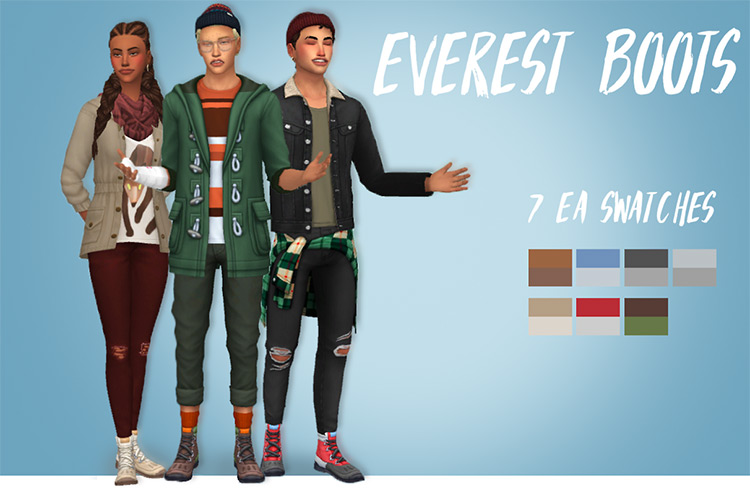 Anyone who's ever played an outdoorsy Sim will know fall is the ideal time of year for them. The fair temps and generally mild weather are the best for camping, fishing, hiking, and whatever else.
These edited boots are a bit more stylish, and still very practical looking.
21.

NFL Tops & Bottoms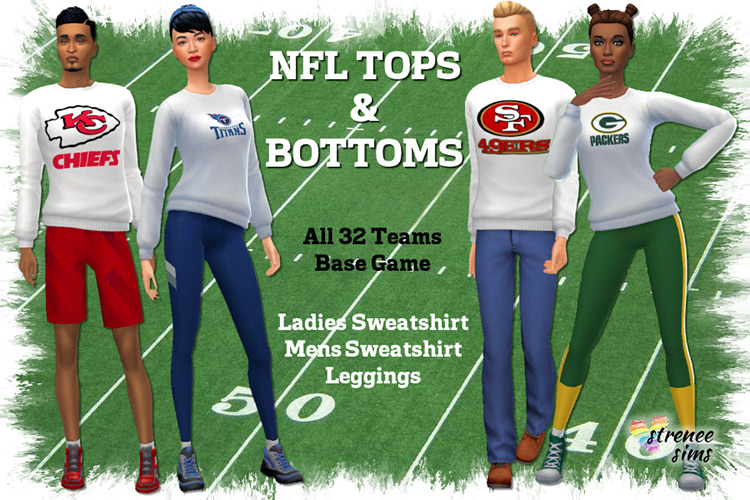 Sports seem to be almost nonexistent for Sims.
But it goes without saying that football is pretty strongly tied with autumn in our own world.
For a bit of realism, or just if you're a football fan yourself, you can't beat this NFL set. All teams are included!
22.

Buttoned Flannels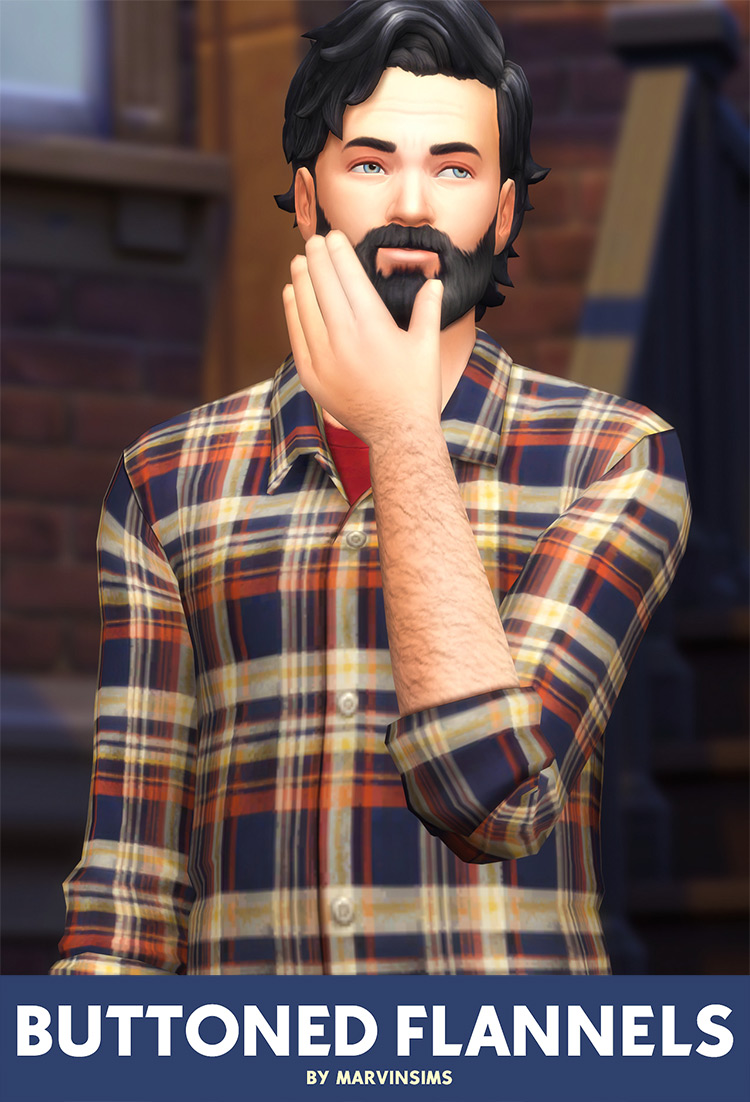 Fall and flannels go together like pumpkin and pie.
They're cozy, and they sure look nice, too.
You get a really good variety with these 16 swatches. Various colors and patterns are available, and even a few solids.
Additionally, you can mix and match the separate undershirts to your heart's content.
23.

Sticker Jacket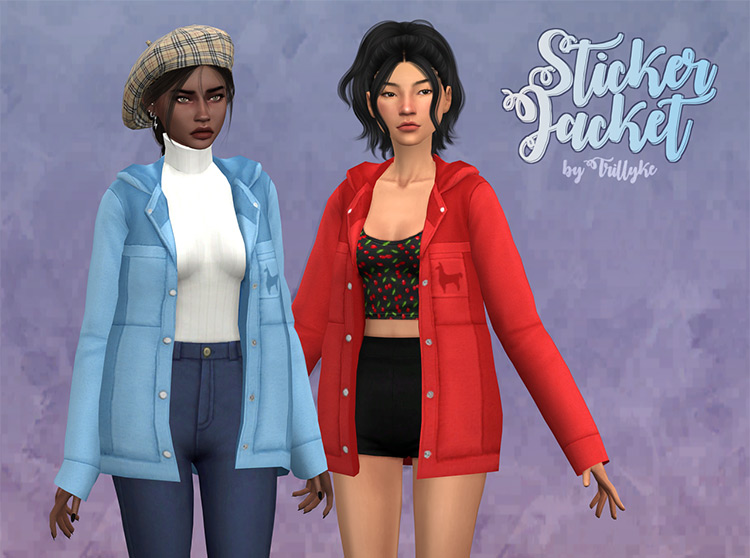 Once the cold weather hits, you've really got to up your Sim's jacket game. We can't have our own beloved characters blending in with townies!
This epicly stylish jacket comes as a solo top, so you'll need to grab some accessory shirts to go with it.
24.

Turtleneck Dress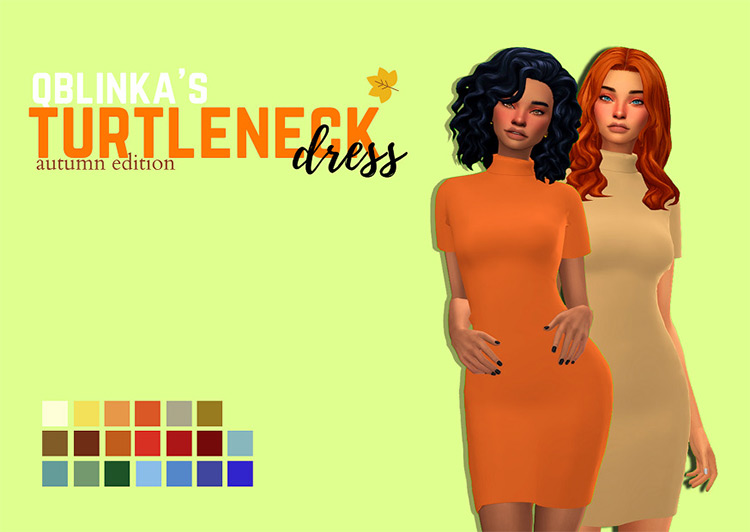 Turtlenecks are already a fall staple for many, so a whole dress? That's genius.
It just looks so good no matter the swatch, although the palette is specifically geared towards this time of year.
With the form-fitting design and short sleeves, it's super easy to accessorize.
25.

Autumn Sweaters & Leggings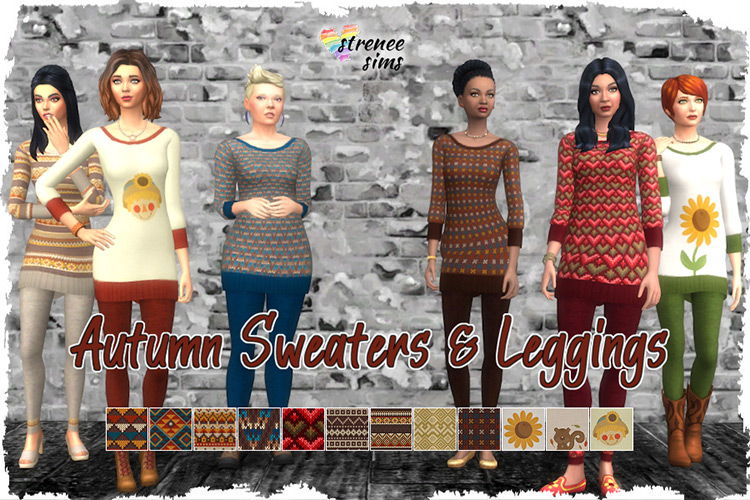 Here's another tried and true pairing that brings maximum comfort.
As for the sweaters, they come in some great vintage-inspired prints.
The leggings follow a similar theme, and while they were made to match, you can switch things up and still have a great outfit.
26.

Autumn Sweater Dress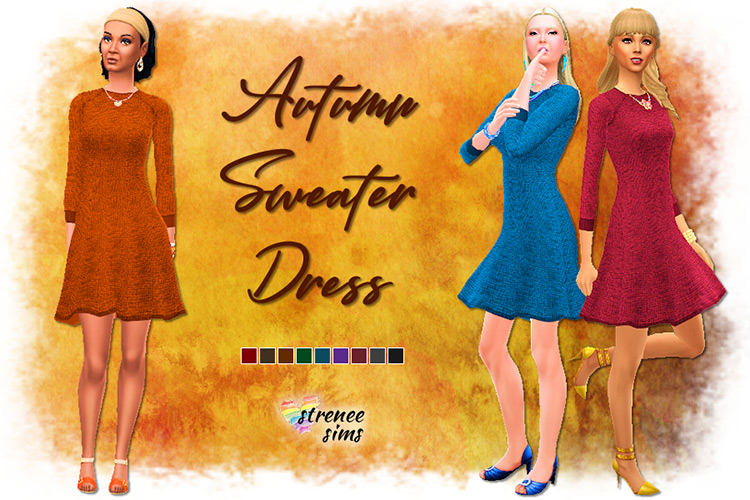 The pattern of this dress is honestly one-of-a-kind.
You just won't find texture like this outside of CC!
The long sleeves make it plenty warm for those blustery autumn days, while the versatile color palette is great for any occasion. It's a great blend of both formal and casual.
27.

Long Length Sweater Dress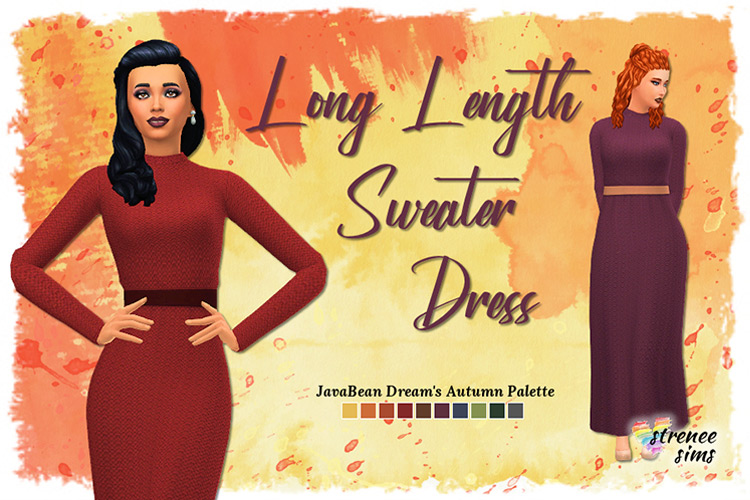 Streenee may just be the queen of fall attire for women, since this is her fourth creation to make the list.
This time, we've got a stunningly classy long, belted dress, again with a fantastic knit texture.
You can do whatever you want, of course… but does this not just scream HarvestFest?!
28.

Pumpkin Latte Coat & Men's Lumberjack Jacket
For the ladies, Joliebean brings us a super chic coat and sweater combo. The new guy's top is equally awesome, consisting of a flannel shirt and a puffer vest.
Classic fall wardrobe and bold colors are all around in this set, and it's all BGC.
29.

Sarah Top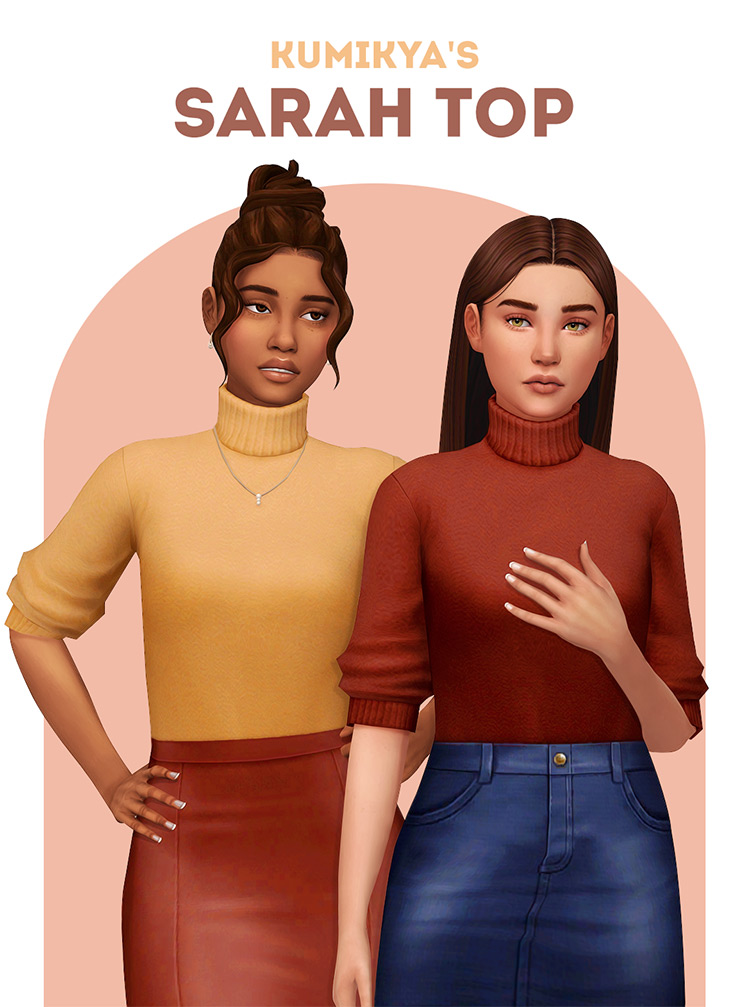 It's hard to not start thinking of all the possibilities as soon as you see this top.
Since the sleeves are rolled and it'll automatically tuck into most bottoms, this is one of the most versatile sweaters around.
Just pair it with any high-waisted skirt or pants, and you're all set!
30.

Slapdash Outfit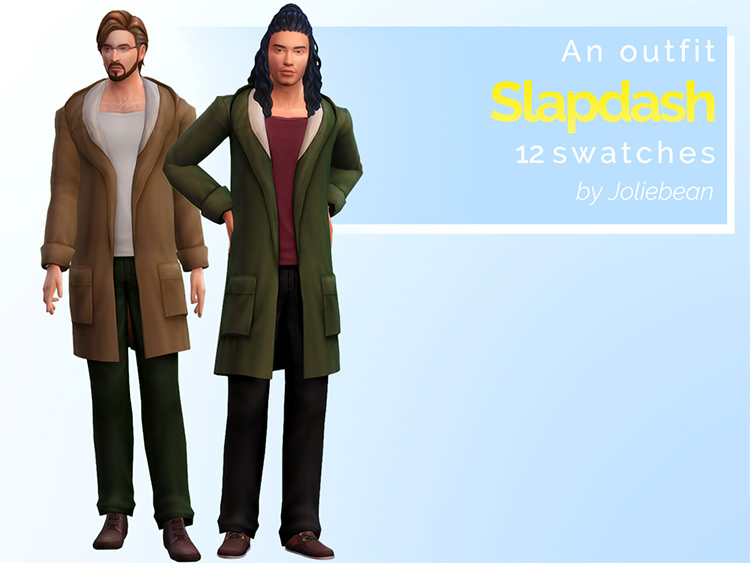 If you're a Simmer who would like to have a new premade outfit in your arsenal, the Slapdash has got you covered.
A heavy overcoat, simple tee, and pants round out this look. The 12 swatches feature lots of basic, neutral colors
31.

Longline Button Skirt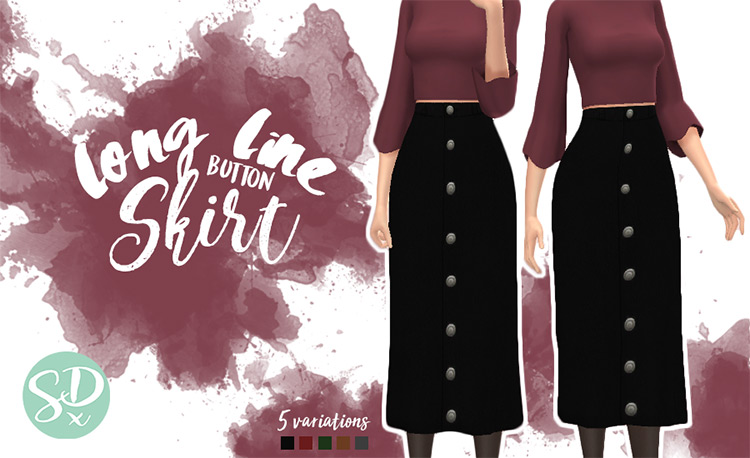 Sondescent's simple, high-waisted skirt will go very well with dozens of tops.
Although there are just 5 variations, black, red, tan, green, and blue really offer all of the foundation needed. From sweaters and shirts to blouses or jackets, such a timeless skirt can do it all.
32.

Hoodie Bomber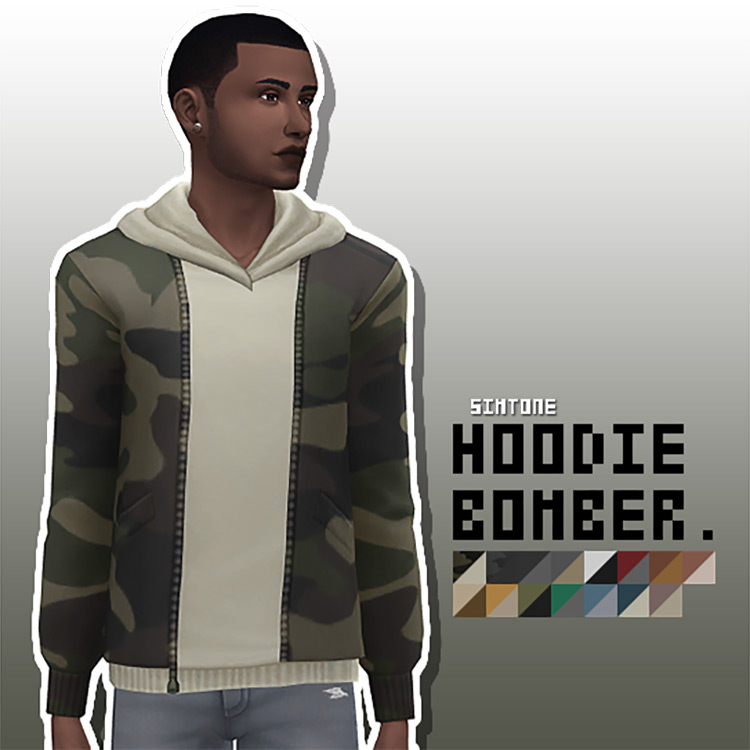 In some ways, fall is all about layers.
There is no shortage of them in this combined hoodie and bomber jacket top.
The swatches mostly have muted tones we don't see much of, plus two equally original camo patterns.
Thanks to the hoodie, this is the epitome of casual.
33.

Base Game Chino Pants Recolored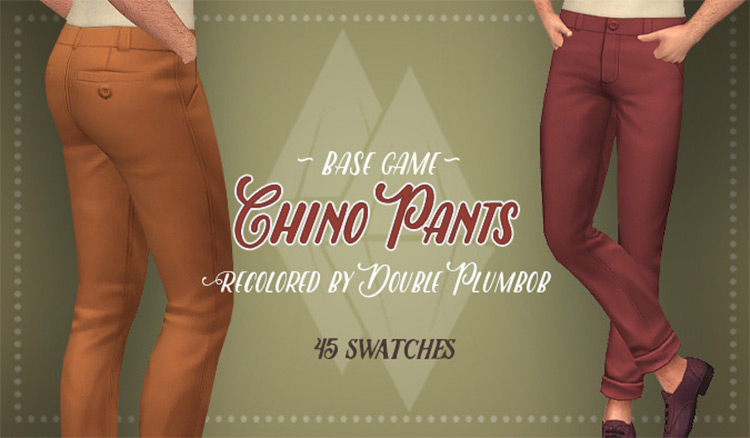 These recolors make the base game men's chinos completely unrecognizable, in a good way.
This expansive new color palette makes the way more stylish. But just as before, the rolled ankles keep them modern and flattering for all body types.
34.

Fall Dress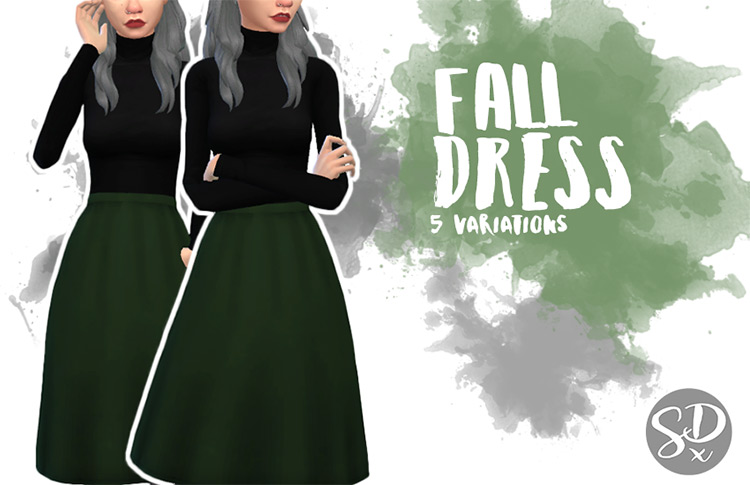 Turtlenecks and skirts are another example of a timeless, pretty combo.
Sondescent has got 5 variations of this classic set right here.
The skirt is on the longer side and provides the perfect template to really show off the bold, limited selection of colors.
35.

Snuggly Socks & Leaf Crushers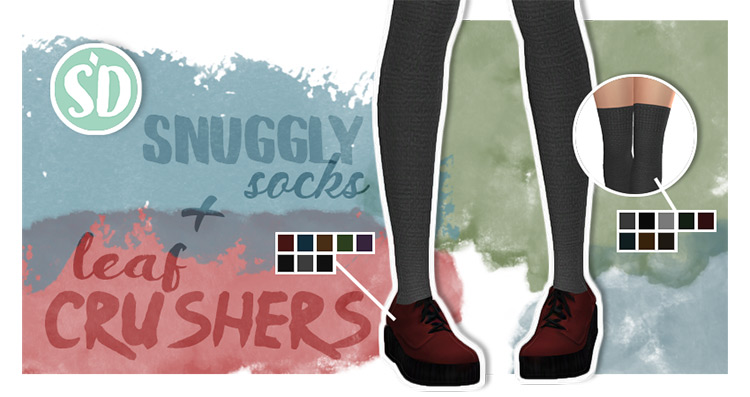 Since so many awesome skirts and dresses have already been featured, we can all use some new accessories.
These knit, knee-high socks are the perfect way to complement any fall outfit. Throw in the durable Leaf Crusher shoes, and your Sim has got a new unique, seasonal ensemble.
36.

Lilith Top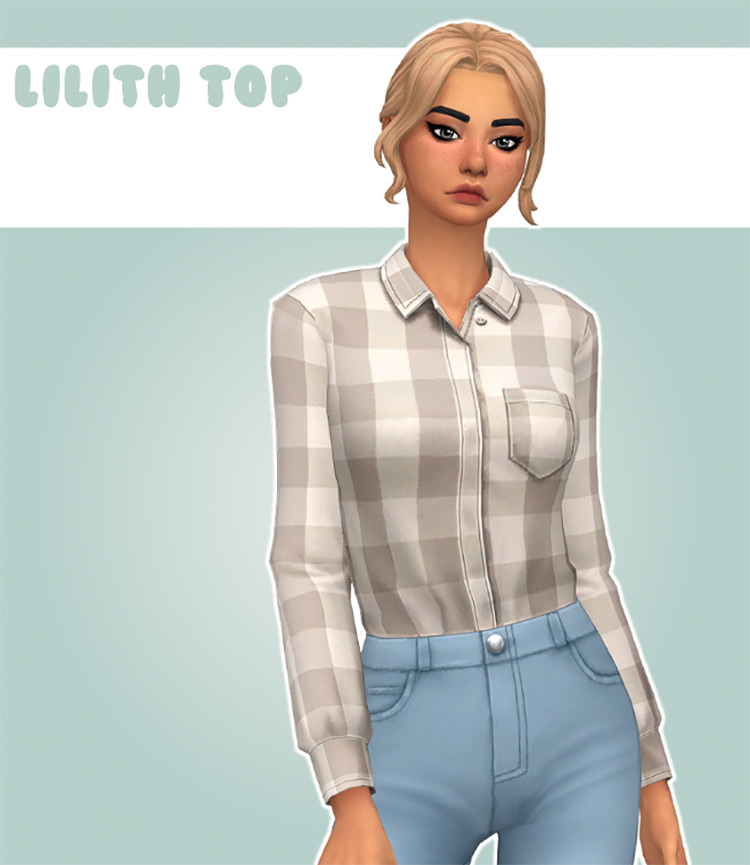 We've seen a few flannel shirts for guys, but this is one style that knows no gender.
The Lilith Top does bring a feminine touch with the slight form-fitted design. By turning the Discover University dress into a BGC, it's totally original.
37.

Jammin' Jacket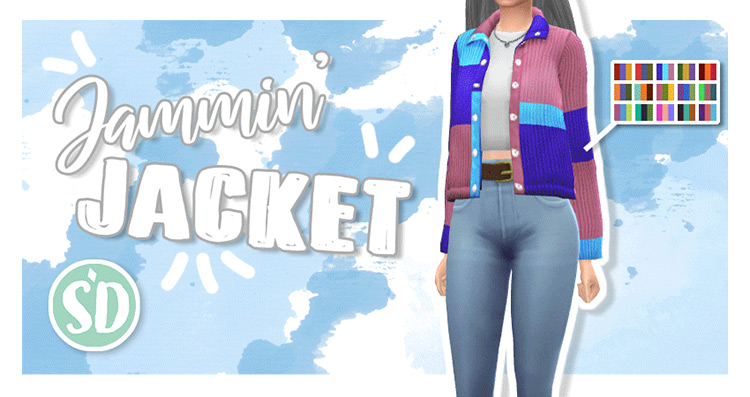 At the tail end of fall, when the cooler temperatures prevail, it's good to have multiple options for outerwear.
With the knit texture and various fun swatches, the Jammin' Jacket is a unique and very versatile new top. The waist length just makes it even more fashionable.
38.

Reggie Top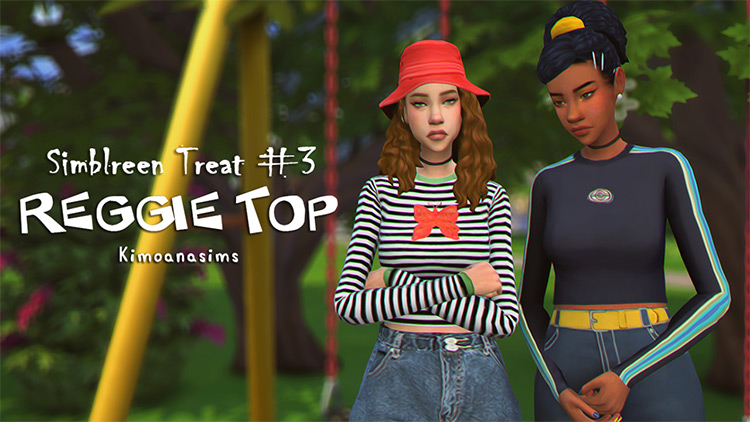 You actually get about 30 shirts in one here thanks to all the swatches. Each one puts a new spin on this otherwise simple, long sleeved top.
The collar varies sometimes too, and the slightly cropped design is great to pair with high-waisted pants or skirts.
39.

Dorky Varsity Jacket (Base Game Recolor)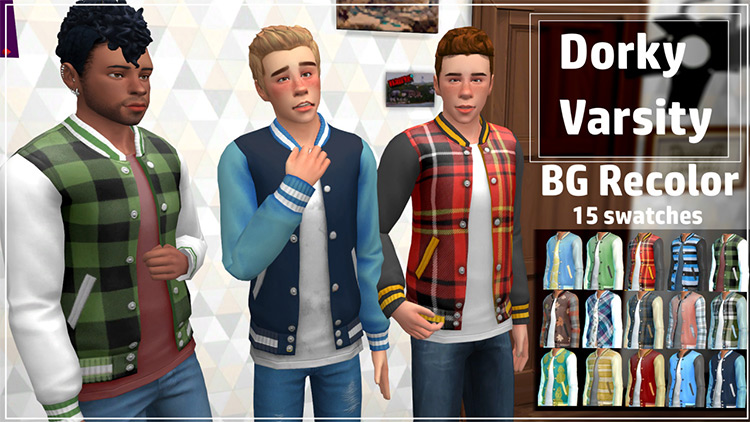 It's no secret that recoloring items can basically make them brand new.
We're all familiar with the base game varsity jacket and the standard swatches that come with them. However, the 15 additional colors and patterns included here make it almost hard to believe it's the same jacket.
40.

Comfy Fall Scarf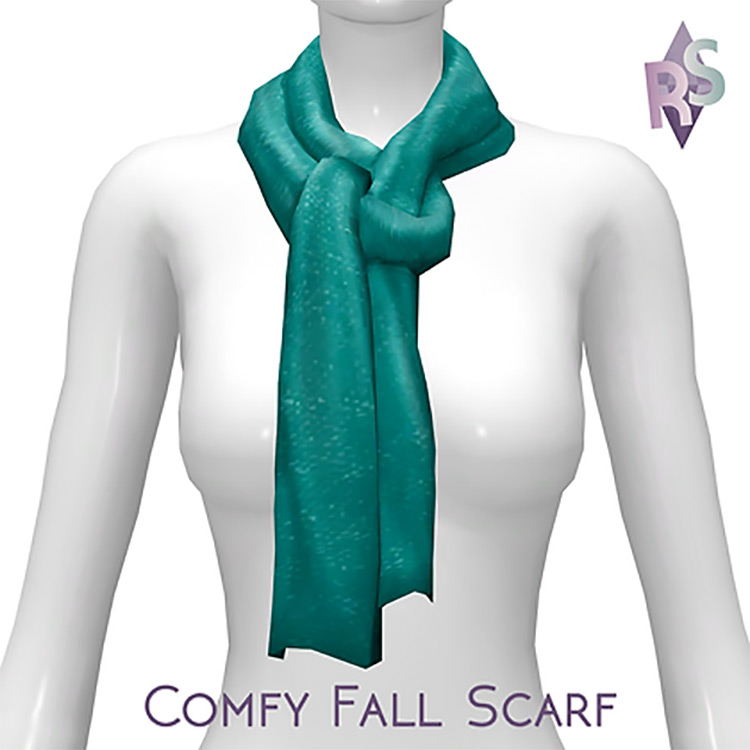 Sims just don't have enough accessories and it's really tragic. Scarves are a beloved part of fall attire, and in TS4, we don't have any standalone options that aren't built into another outfit…until now!
RenoraSims' 21 swatches for this simple, tied scarf design offer all the variety you'll need.
41.

Spoopy Skirt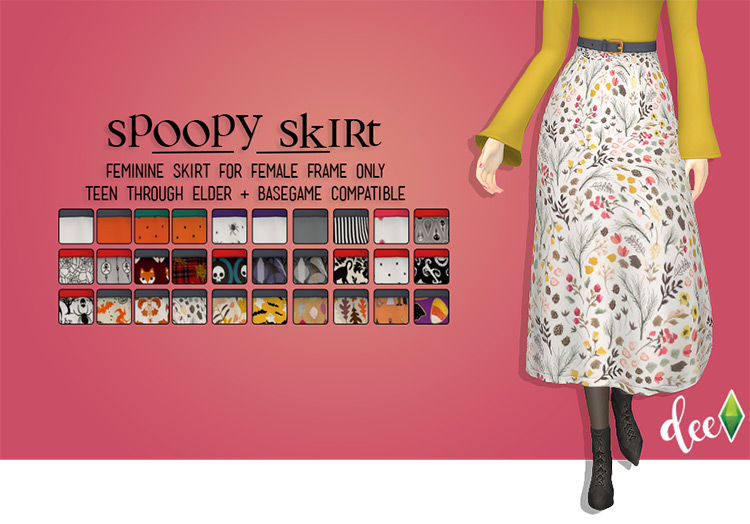 All 30 of these swatches are brimming with spooky Halloween goodness. Skeletons and spiders and black cats, oh my!
From the patterns to the color schemes, this is a must-have if you love Spooky Day and want to give your Sim something festive.
42.

Liberated Combat Boots (StrangerVille Required)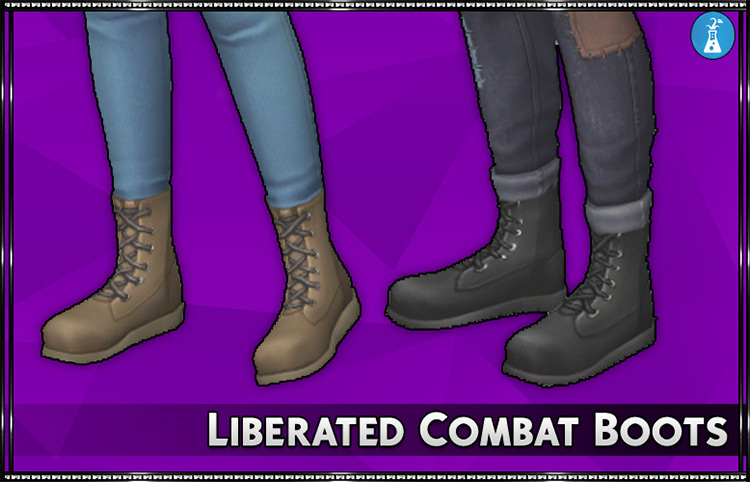 It may seem strange to even consider StrangerVille in regards to autumn since that place is always hot as Hades, but bear with me.
These are some of the most authentic combat boots you'll find since they're separated from the actual military uniform. They'll definitely add a rugged edge to any outfit.
43.

Base Game Denim Jacket Recolored
This is another prime example of some basic recolors turning long-time content into something completely different.
I mean, this jacket is infinitely more modern thanks to Double Plumbob. These colors are very much on trend, and bring out the shearling trim.
44.

Pumpkin Patch Overalls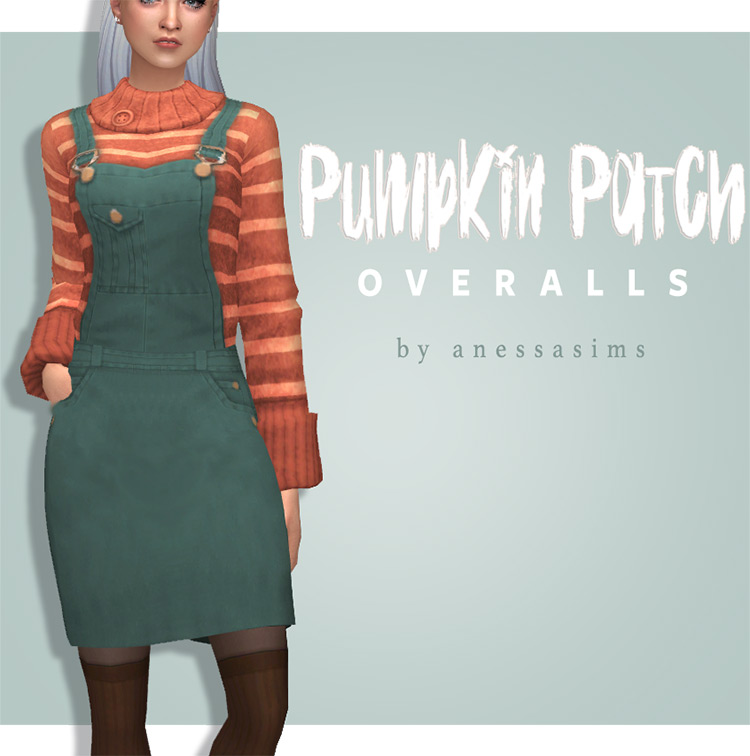 What's not to love about overalls?
They're cute and they're practical, it's a two-for-one bonus!
We've got an overall dress combined with a big, cozy sweater. There's also a huge range of styles offered by the swatches, which include solid colors and stripes plus several different denim options.
45.

Stephanie Pants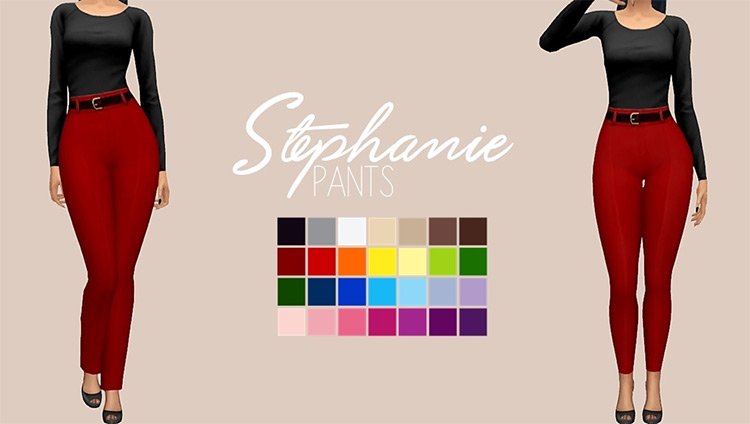 Purrsephone's Stephanie Pants come with two equally classy variations.
In either case, they're high waisted, belted, and come with the same expansive palette.
The main difference is that one version is super duper skinny, and the other are straight legged. They'll both have many uses for Sims of all ages!
46.

Coco Jeans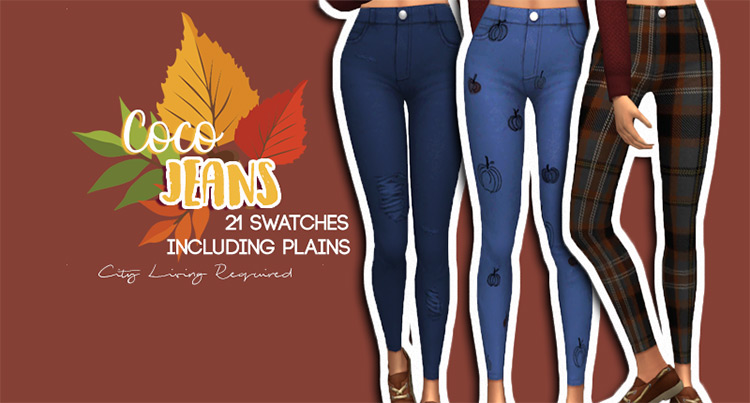 You won't find many pants that were made just for fall, but these will blow your mind.
There are little embroidered pumpkins! Ahh!
It's okay to freak out, that's pretty special.
The plaid swatches feel equally festive, and there are some solids as well if you want to keep things low key.
47.

Spooky Movie T-Shirts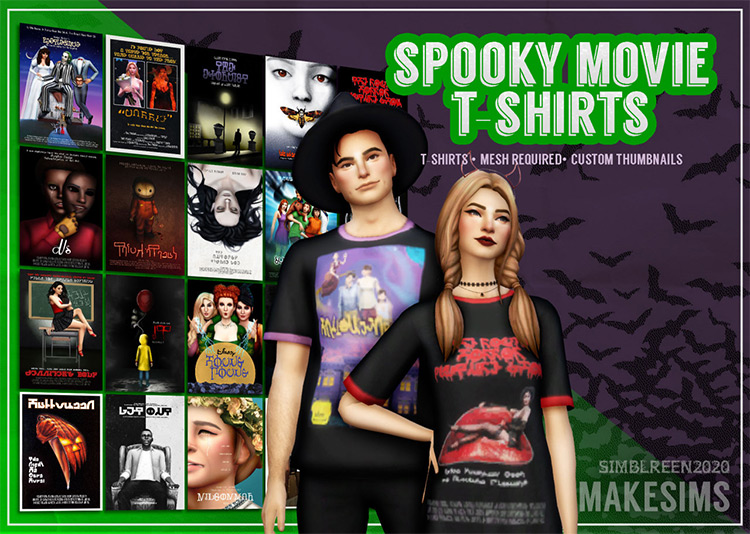 Horror movies are good to watch all year round. But something about watching them in autumn just feels right.
Tons of classic tees with horror movies on them are featured here, both old and new. The design is perfectly Maxis Match too, and comes with Simlish text.
Best of all, male and female Sims both can wear them.
48.

SE Puffer – Tucked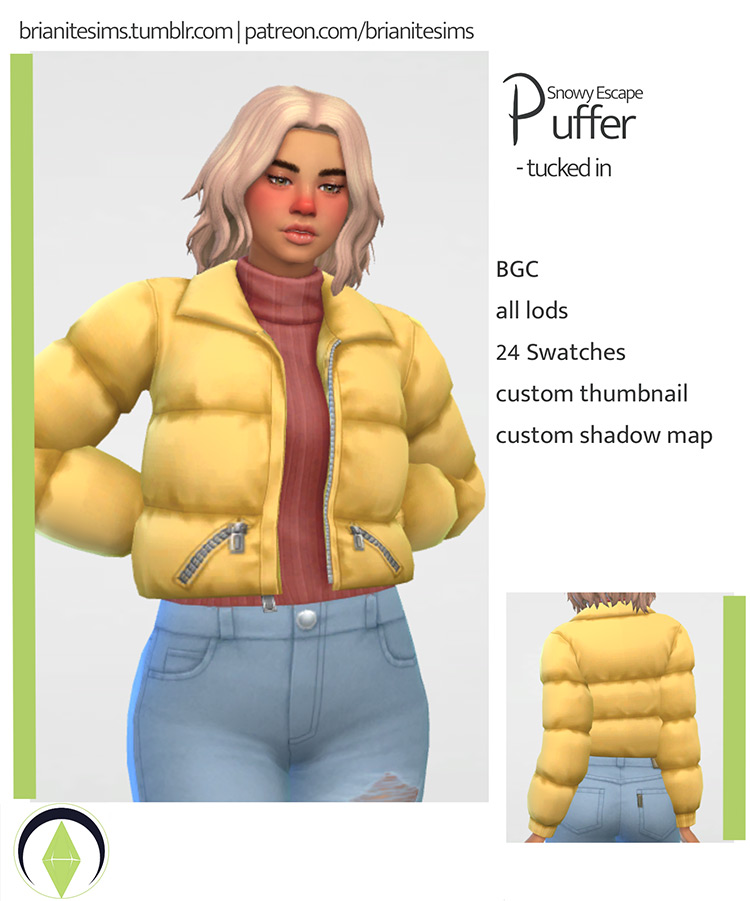 What makes puffer jackets so popular, and when they basically became a wardrobe staple, remains a mystery.
It's just a fact of life, they're very cute.
This edit makes the Snowy Escape coat BGC and the neatest it's ever been, due to how it'll now tuck into your Sim's pants.
49.

Less Chunky Knit Beanie (Seasons Required)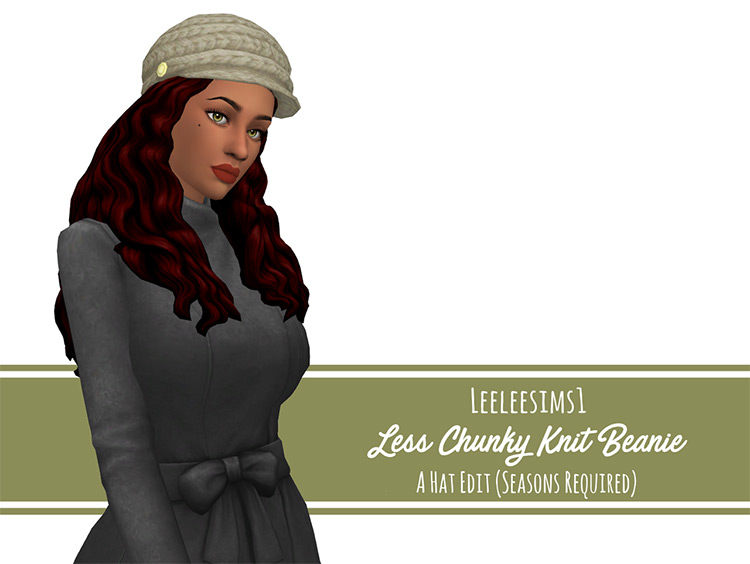 I think every player has noticed by now that hats in TS4 are strangely tall, as if our Sims are hiding a chef rat up there.
Toning it down a bit is definitely necessary. At last, the beanie from Seasons has reached its full potential thanks to this minor edit.
50.

Autumn Mornings Socks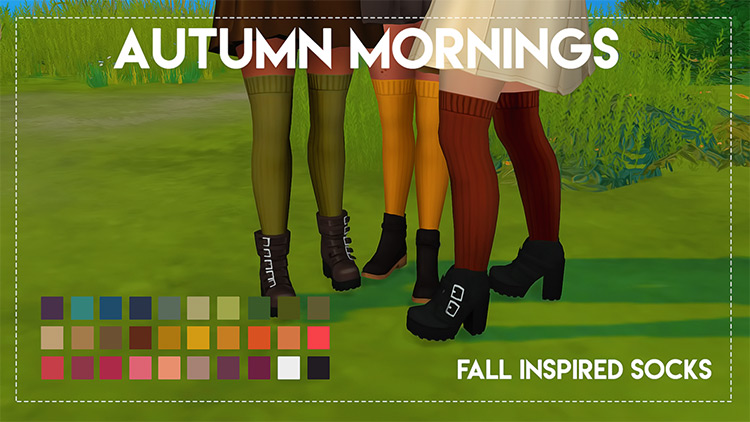 Yep, more socks.
Because there's no better way to add a personalized seasonal touch to an outfit.
These thick, knit knee-highs were made specifically with fall in mind and it definitely shows. Beyond the wonderfully fitting swatches, they just look comfy.
Browse:
Lists
Maxis Match
The Sims 4
Video Games