Sims 4 Maxis Match Farmhouse CC (All Free)
This post may contain affiliate links. If you buy something we may get a small commission at no extra cost to you. (Learn more).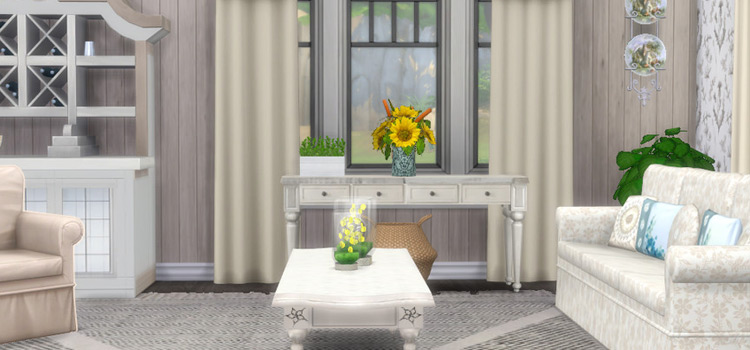 Modern farmhouse builds have a unique aesthetic.
Renovated farmhouses also retain a lot of their country charm. So I get why "farmhouse" is such a sought-after design concept. It's pretty to pull off successfully, but it's also incredibly rewarding when you do.
And I found this huge collection farmhouse-themed TS4 CC to get you started!
1.

Rustic Romance Stuff by The Plumbob Tea Society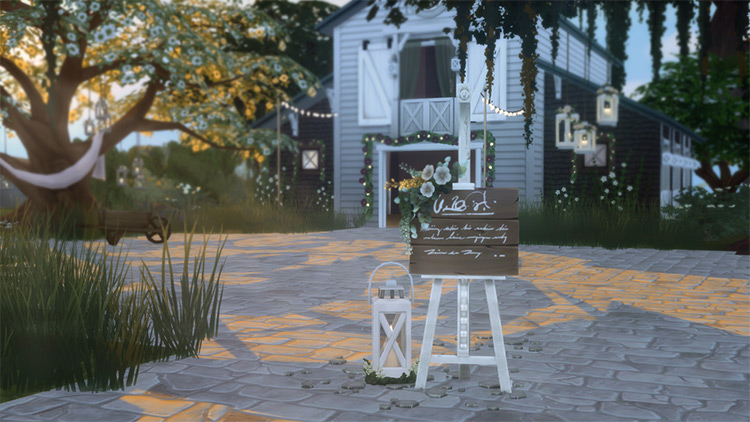 The Plumbob Tea Society always releases such stunning and extensive CC sets, and Rustic Romance is no exception.
The décor pieces in here can easily be found in the interior of a modern or semi-modern farmhouse build.
Lantern lights, hanging steel buckets, blooms in a bucket, and rustic, wooden furniture; what more could you ask for?
2.

Farmhouse Charm – Kitchen Set by Sooky88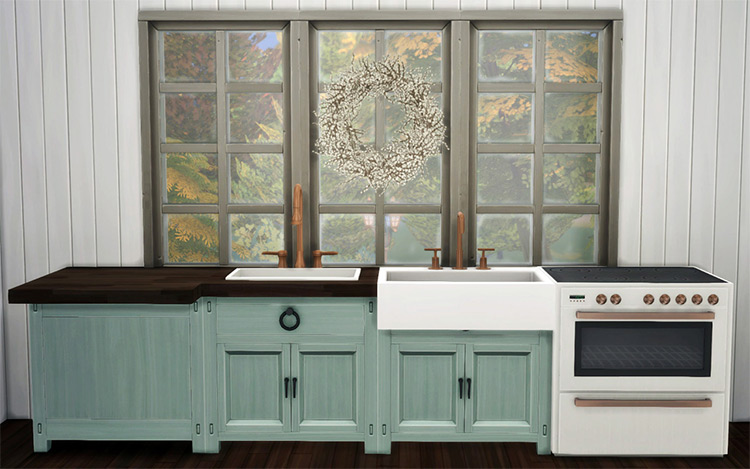 This set contains functional kitchen furniture in wood, brass, and cast-iron textures.
As the name suggests, the creator simply recolored the items in a way that's distinctly farmhouse (and charming). Don't forget to download all the required meshes!
3.

Farmhouse Set by soloriya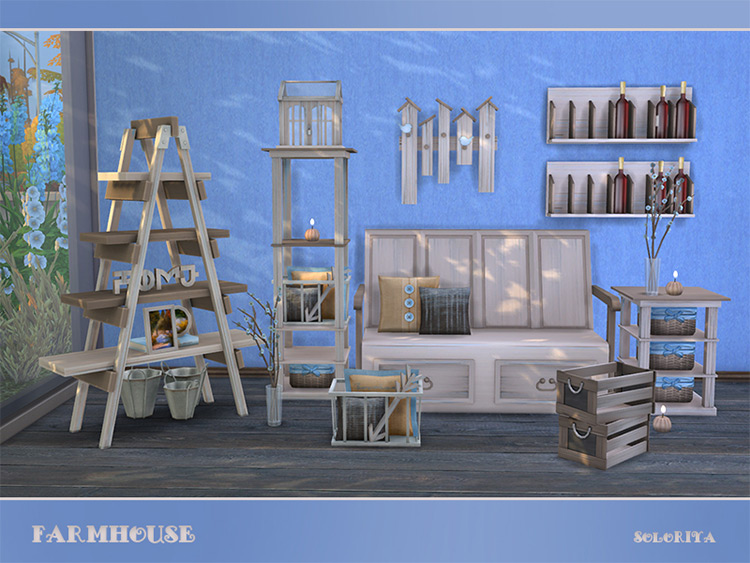 The simple straightforward name of this CC set suits the aesthetic of the items in said set; simple, straightforward, and no-nonsense.
There are plenty of wooden textures here to keep things natural and rustic.
Plus I can appreciate the healthy mix of practical and purely decorative.
4.

Rustic Country Set by soloriya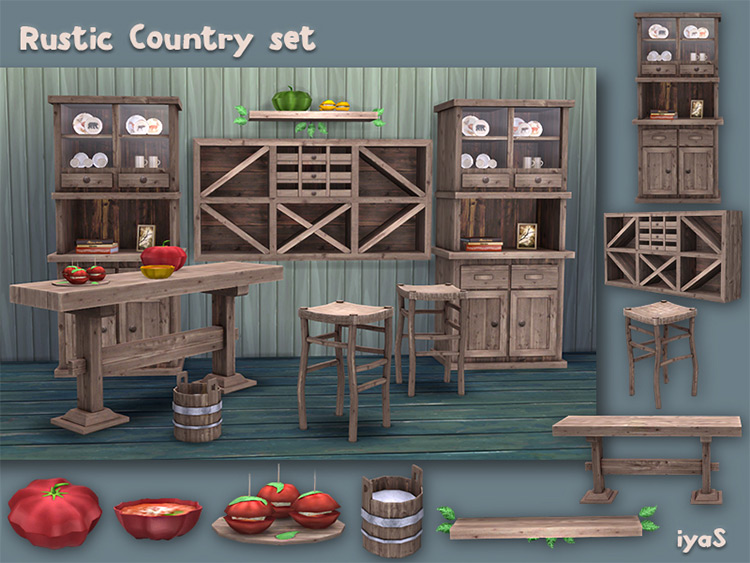 I know modern farmhouses exist.
I also, however, am a sucker for farmhouses that stick to strictly country/rural vibes.
This custom stuff pack nails the post-modern countryside farmhouse look with the crossed support beams, exposed nails, and weathered-wood aesthetic.
I also have a soft spot for the decorative tomato snacks. Really helps emphasize the homey look.
5.

Farmers Crates by leosims
For when the harvest is plentiful and you've got to keep the crops organized.
These custom crates by leosims aren't actually functional storage objects. However, they do work as beautiful, colorfully rustic décor.
6.

Clarissa Set by soloriya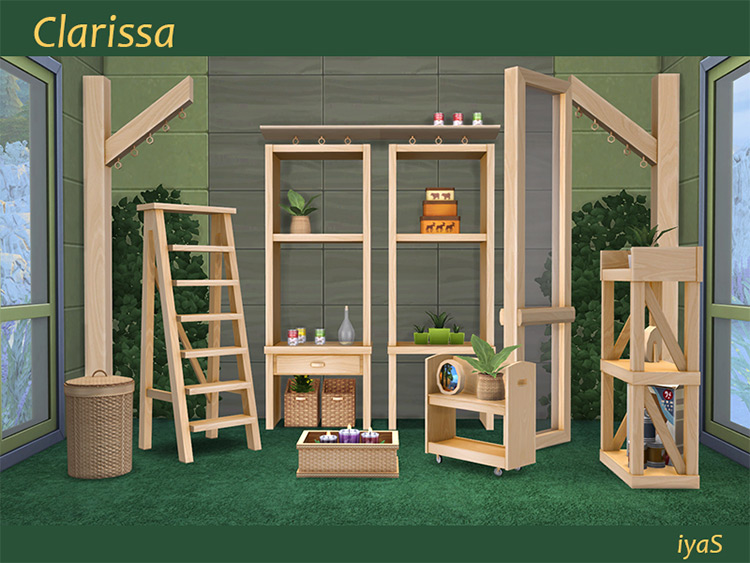 This Clarissa Set by soloriya contains fifteen items, and they're all mostly unique display items and shelving units.
The visuals are very much "comfy country homestead," and I think that suits a semi-eccentric farmhouse build just fine.
7.

Ivy Hallway by leaf-motif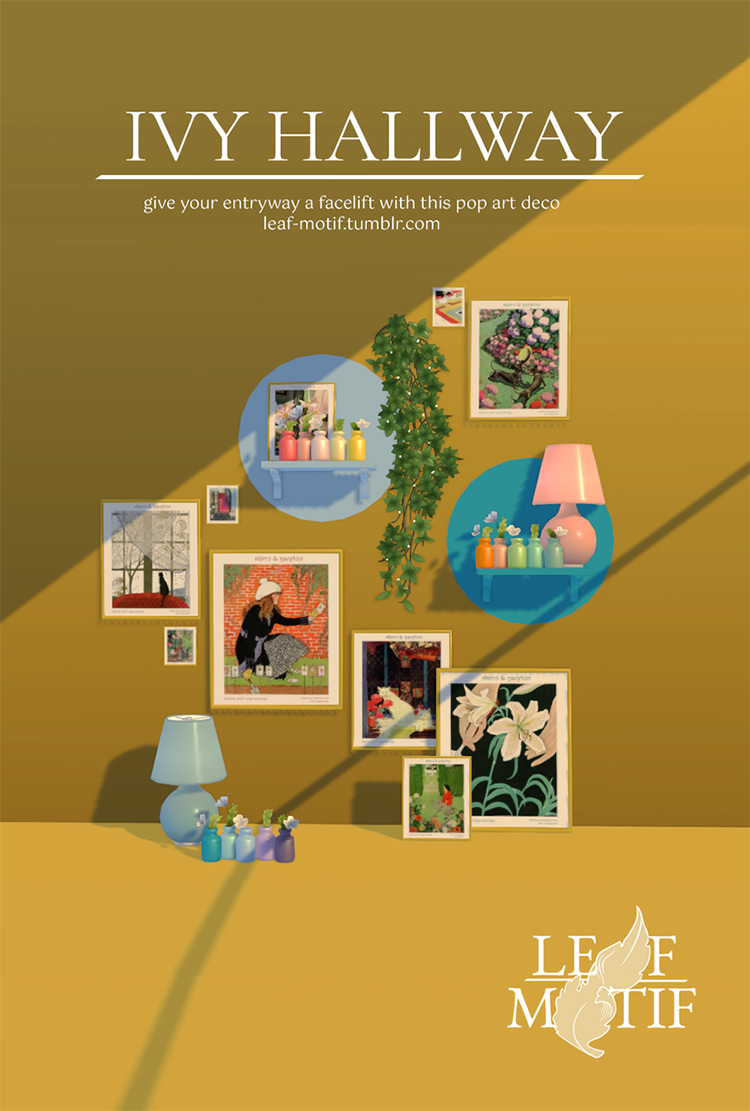 For a beautiful blend of modern-suburban, check out this pack by leaf-motif!
It's a wall décor set that blends natural, earthy elements (crawling ivy, small blossoms) with pops of colorful contemporary features (like unusual display shelves and pop art prints).
It may not be specifically farmhouse-flavored, but it wouldn't be remiss in such a theme, either!
8.

Uncle Fly's Favorite Bar Stool + Cousin Jebb's Favorite Chair by Picture Amoebae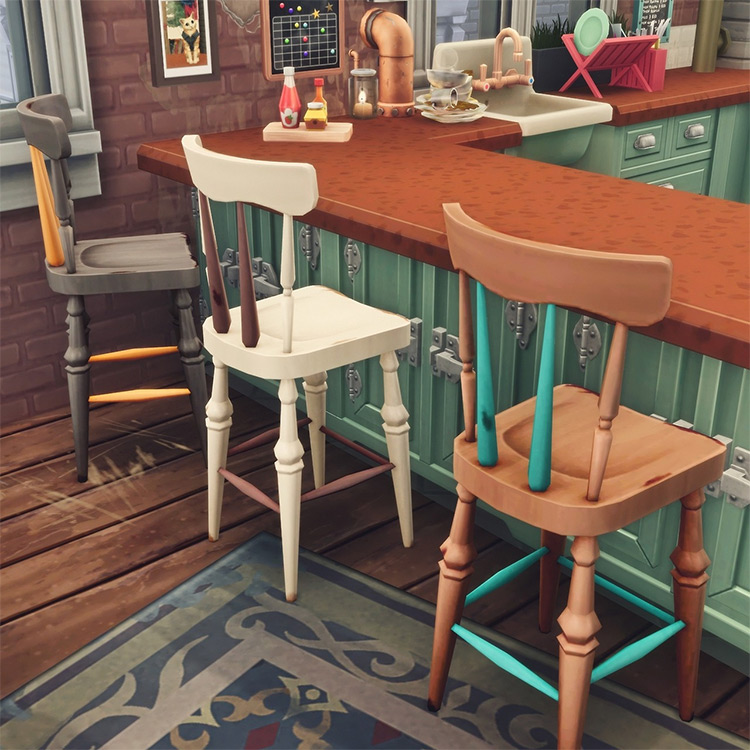 This recolor gives these two EA items (from The Sims 4: Cats & Dogs) that distinct, well-loved farmhouse flavor.
The new palette emphasizes how sturdy the wood is, and makes it look like it could outlast several generations.
9.

Stone Oven by smmsek
A farmhouse build isn't limited to wooden furniture with bronze, copper, or cast-iron accents.
Other textures should suit the theme just fine, so long as they stay within "natural," "worn," "rustic," or similar style categories.
Case in point: this cheery stone oven.
10.

Farmhouse Kitchen by SimPlistic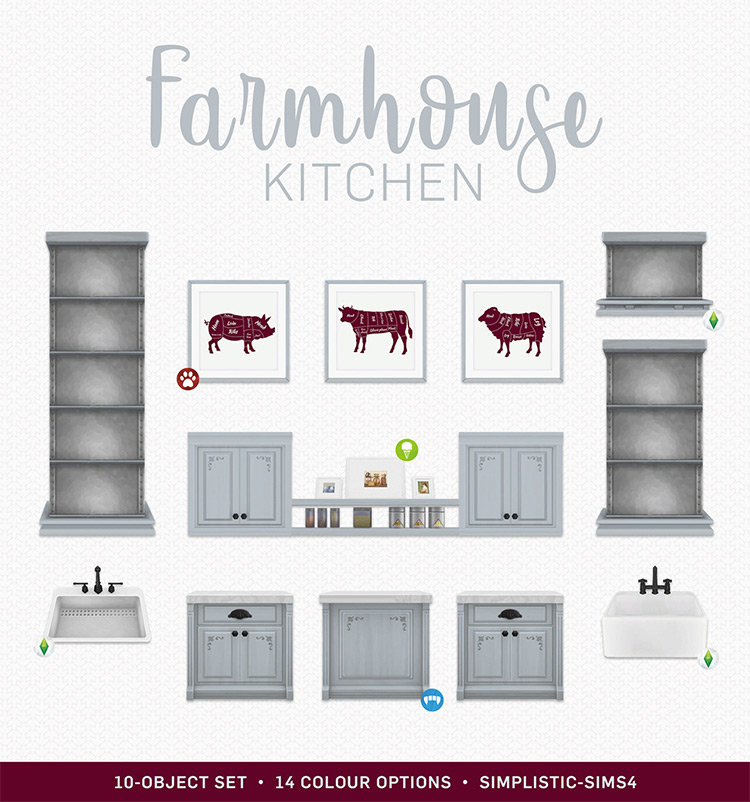 This kitchen set contains ten new objects in fourteen different color options.
They're simple, cozy, and have just a dash of rustic and rural for extra dimension.
And, yes; the rooster wall prints remain adorable even in-game.
11.

MM Garden Set by PQSim4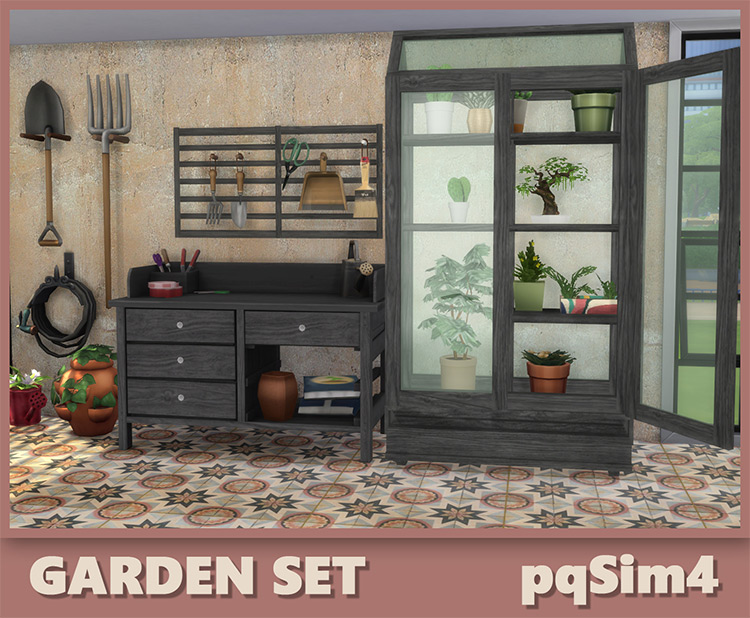 For the backroom, workroom, or little garden shed out on the grounds, this cute Garden Set is a great find!
The farmhouse aesthetic wouldn't be complete without natural elements scattered throughout, and you really can't get any more natural than literal plants in a cute, temperature-regulated shelving unit. Plus, the little tools for plant care? Such an adorable detail!
12.

Edith Garden Clutter by bramblefinch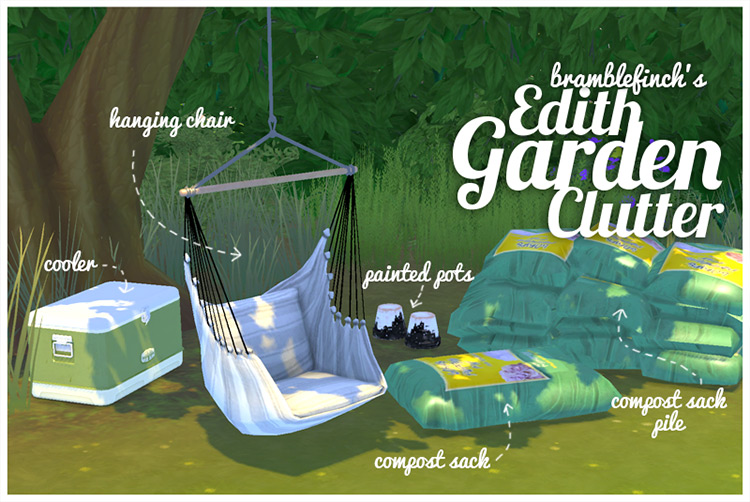 Although this leans more garden than farmhouse, the elements in this pack would not look out of place on a farmhouse. Even a suburban one!
Take a look at the piles of compost sacks, the usable, handmade crafts, and the hanging chair.
It's got the comfy "simple life" vibe that definitely fits the build theme.
13.

Cottage Garden Stuff by The Plumbob Tea Society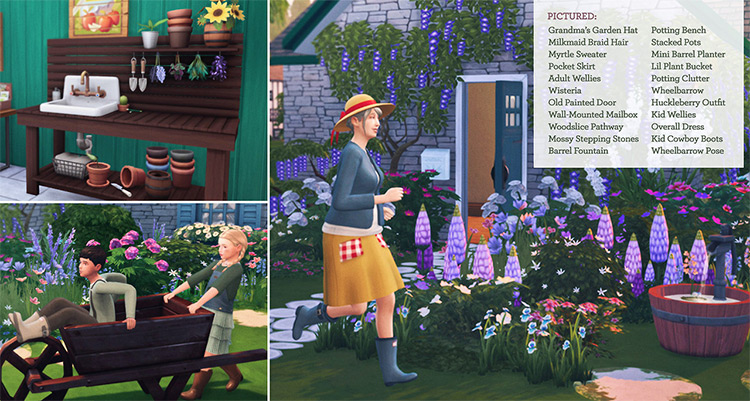 Yep; The Plumbob Tea Society is at it again.
If you thought Rustic Romance was packed, wait 'til you scroll through Cottage Garden Stuff's Item Index. There are 40+ Build/Buy items in this pack, and they range from functional Comfort pieces (like a hanging garden bench) to decorative country/farm/garden paraphernalia.
If you don't find at least one item in here to furnish your farmhouse build with, I will be very surprised.
14.

Hanging Planters by Nolan-Sims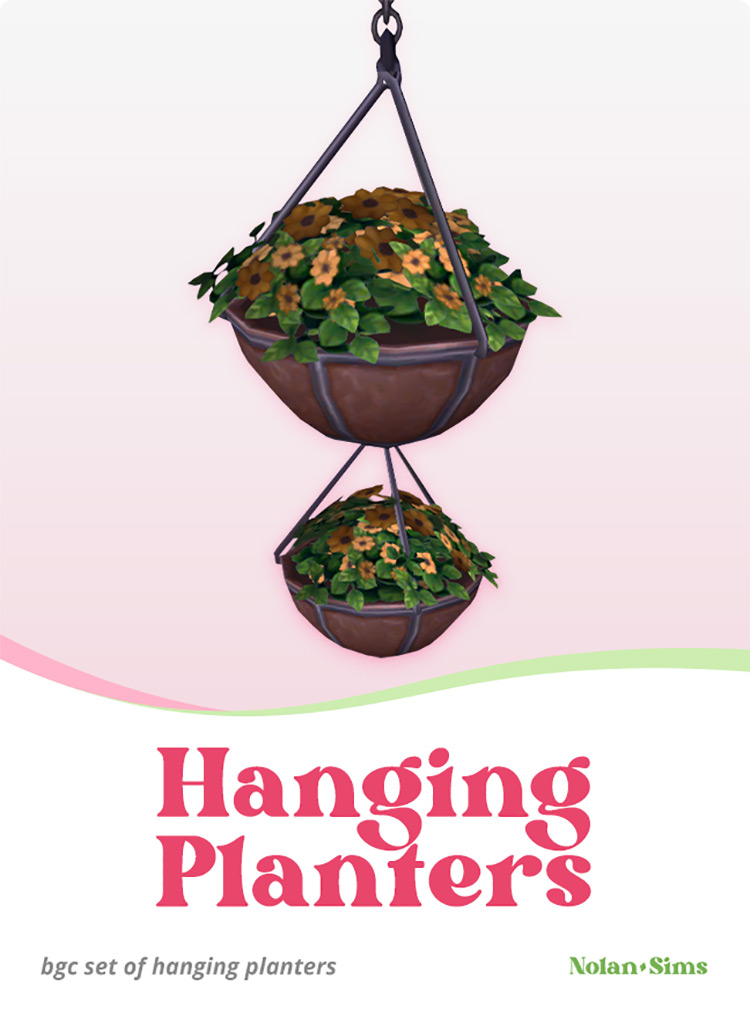 Not enough floor space for your Sims' tiny gardens?
Make use of tall ceilings and open corners by hanging the plants instead!
It's pretty, practical, and helps fill up any awkward, empty spaces.
15.

Modern Iron Radiator: Functional or Decorative by Picture Amoebae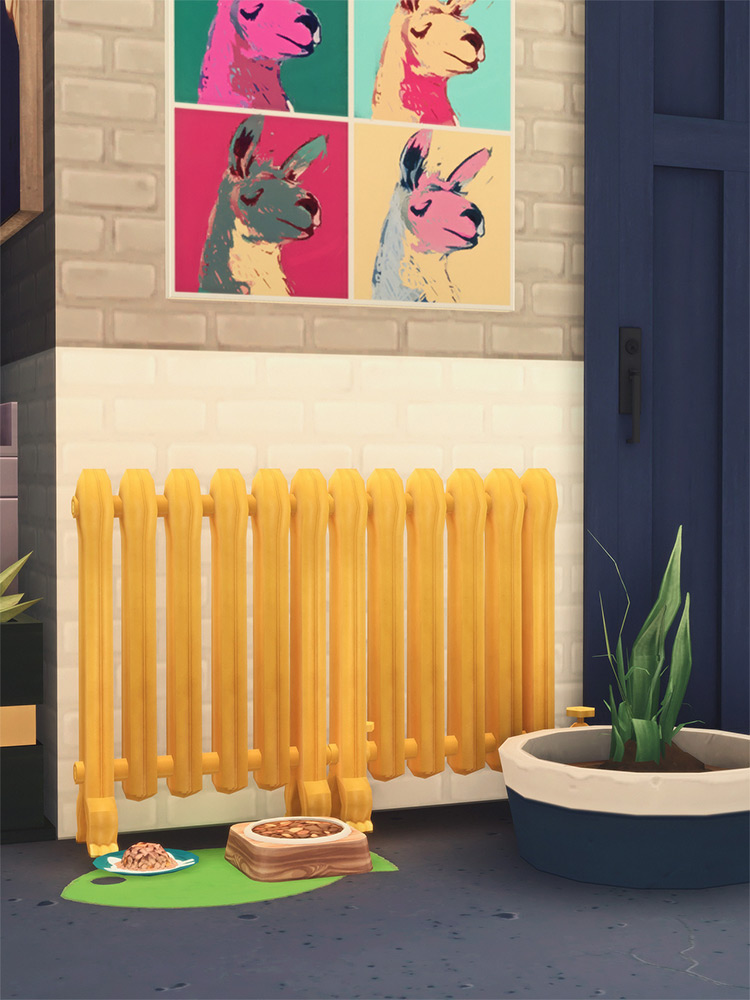 Why install high-tech central heating when you can amp up the rustic charm with a reliable iron radiator? Sure, this one's modern (for practical reasons), but the design is one hundred percent old-school. In the best possible way.
The creator was awesome enough to include both decorative and functional meshes too.
16.

Old Fashioned High Tank Toilet by Picture Amoebae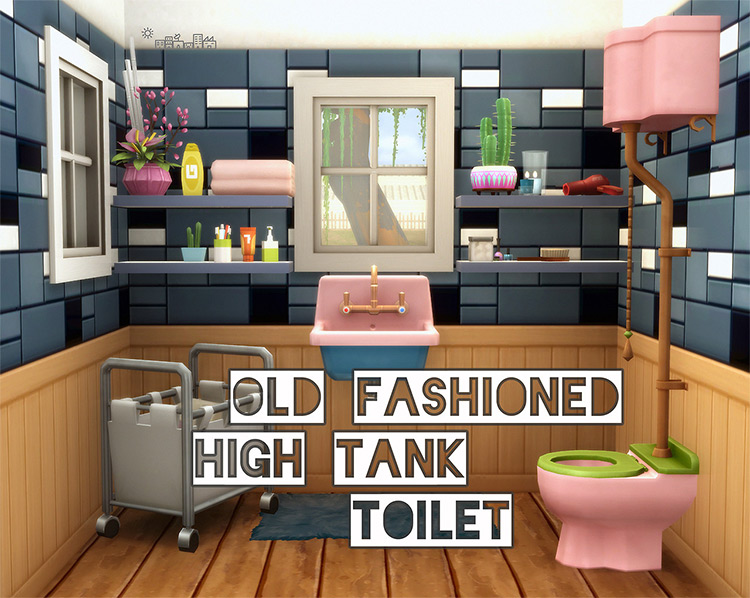 An old-fashioned high tank toilet on a quaint, quiet farmhouse build.
Think modern renovation meets design preservation, where the Sims who live here want to keep as much of the original style of the house as possible without compromising comfort and function.
17.

Better Than a Bush Outhouse Recolors by Ameya Sims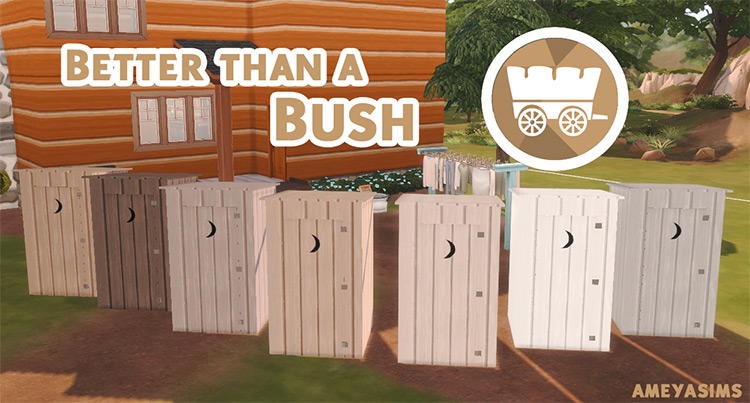 The ingenuity of this concept (and the name) got me giggling.
Why pee in a bush when your Sim can choose the much more civilized option of a nice outhouse?
It's cute, it's functional, and it would make sense to have one on sprawling farmland property!
Sometimes the main house is just a little too far away, you know?
18.

Rothman Farmhouse Fireplace Recolor by the-cedar-chest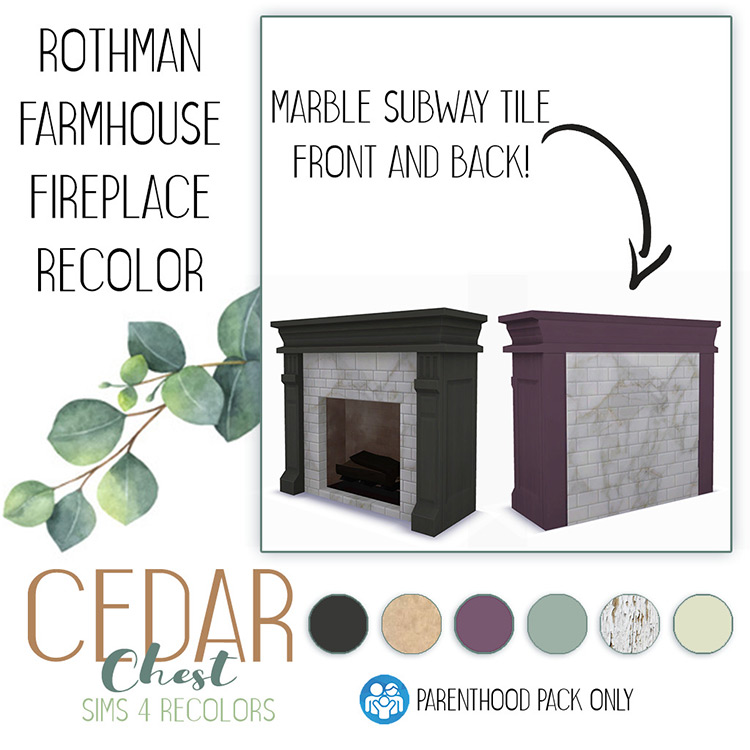 This "Farmhouse Fireplace" recolor adds an element of classy country charm.
It definitely looks like the kind of modern installation a Sim would add to their renovation to complement that quaint homestead vibe.
19.

Bear Rug from Odds and Ends by zx-ta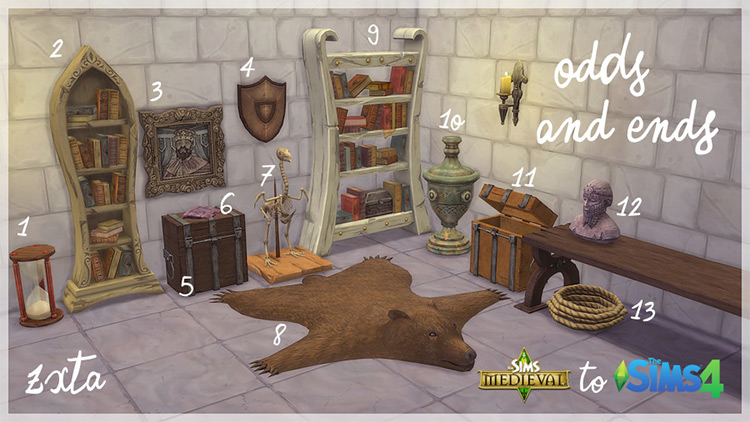 If you never got to experience The Sims Medieval spin-off, this set from zx-ta might interest you! It's full of items from the independent franchise that have been converted for TS4 compatibility.
These include a painting of a monarch, a wall-mounted Heraldic Shield, and a nice, comfy-looking Bear Rug.
Plop this animal-skin décor (faux or not) on your farmhouse floor to bring a hint of raw, untamed nature to the interior.
20.

Death of Marat Set: Marat Crate by femmeonamissionsims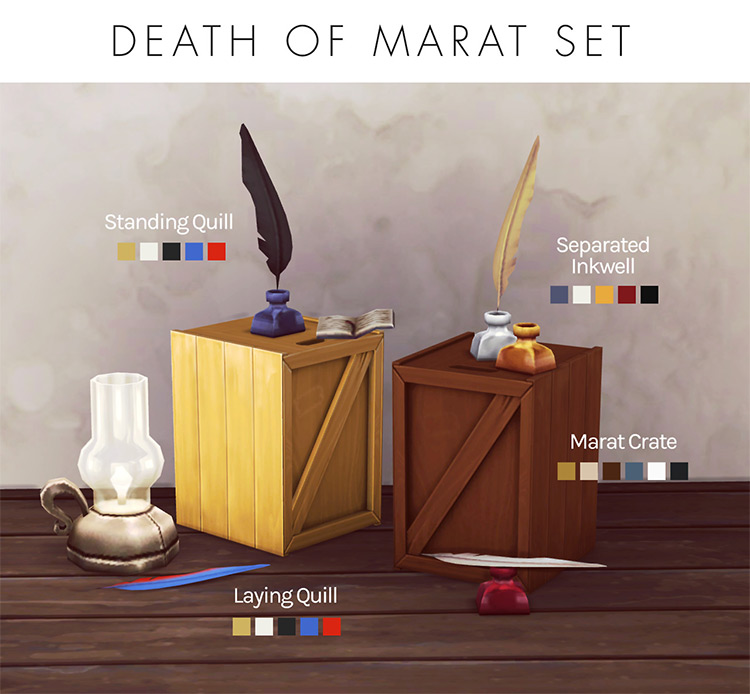 What I'm actually after in this set are the decorative crates with the décor slots.
In true rural renovation fashion, your Sim could use these crates as end tables, coffee tables, display tables, or simply open storage solutions. Plus; the wooden texture is absolutely stunning.
21.

You've Got Mail by zx-ta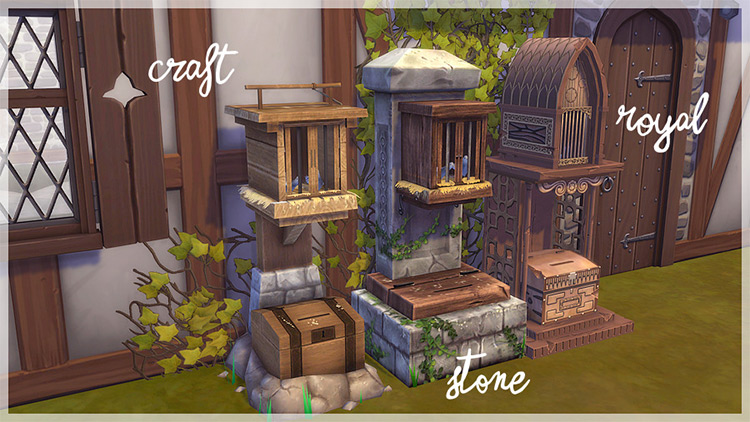 This is a set of six objects; three different mailboxes and some odds n' ends for a desk.
For a unique farmhouse build, I'm mostly after the mailboxes.
They're new meshes with unique designs, and each design has a fun, farm-fresh charm!
22.

Chickens by soloriya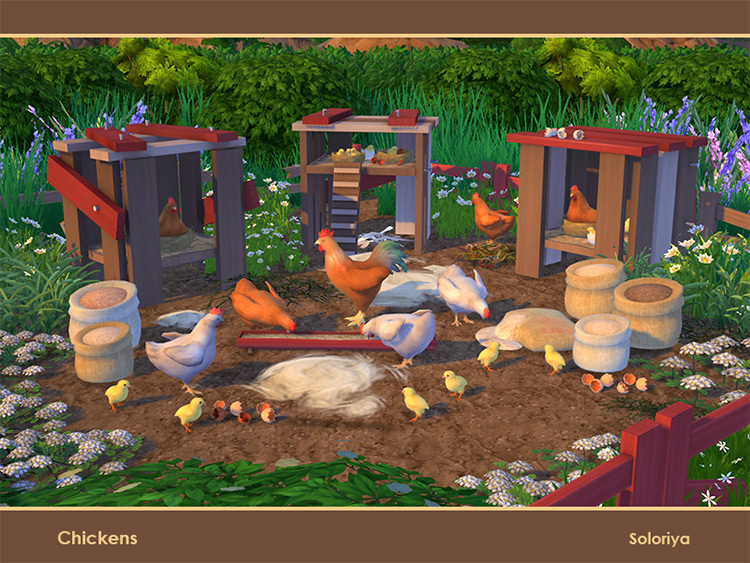 Yup, you read that right. Chickens.
Specifically, decorative chickens, chicks, and chicken nests that you can scatter around your build to give the illusion of a busy bustling animal coop situation in the backyard.
Is it the cutest thing I've seen today?
Actually, yeah. The chicks look absolutely tiny standing next to Sims.
It's almost too adorable. If you want the coop, feeders, and chicken feed sacks, you can find them in soloriya's Chickens, Part 2.
23.

The Big Granny Pack #2 by Miss Ruby Bird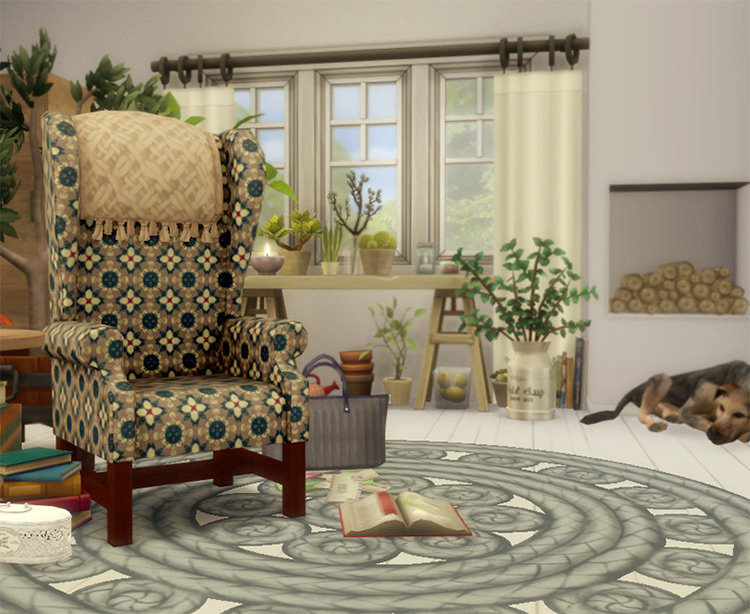 Comfy armchairs with colorful prints, matching ottomans, and some fancy floor lamps with loud floral designs.
The furniture in this pack has that "old comforts" feel that's equated to grandparents, so yeah. I get the name.
But would these fit a farmhouse build? Oh, absolutely!
24.

Shelf Stand by leosims
Is this not the cleverest use of a stepladder that you ever did see?
Seriously, this seems like something people should start doing IRL. Have a bunch of stepladders lying around, rusting away? Repaint and repurpose them into gorgeous display shelves!
25.

Antique Dressing Table by Oni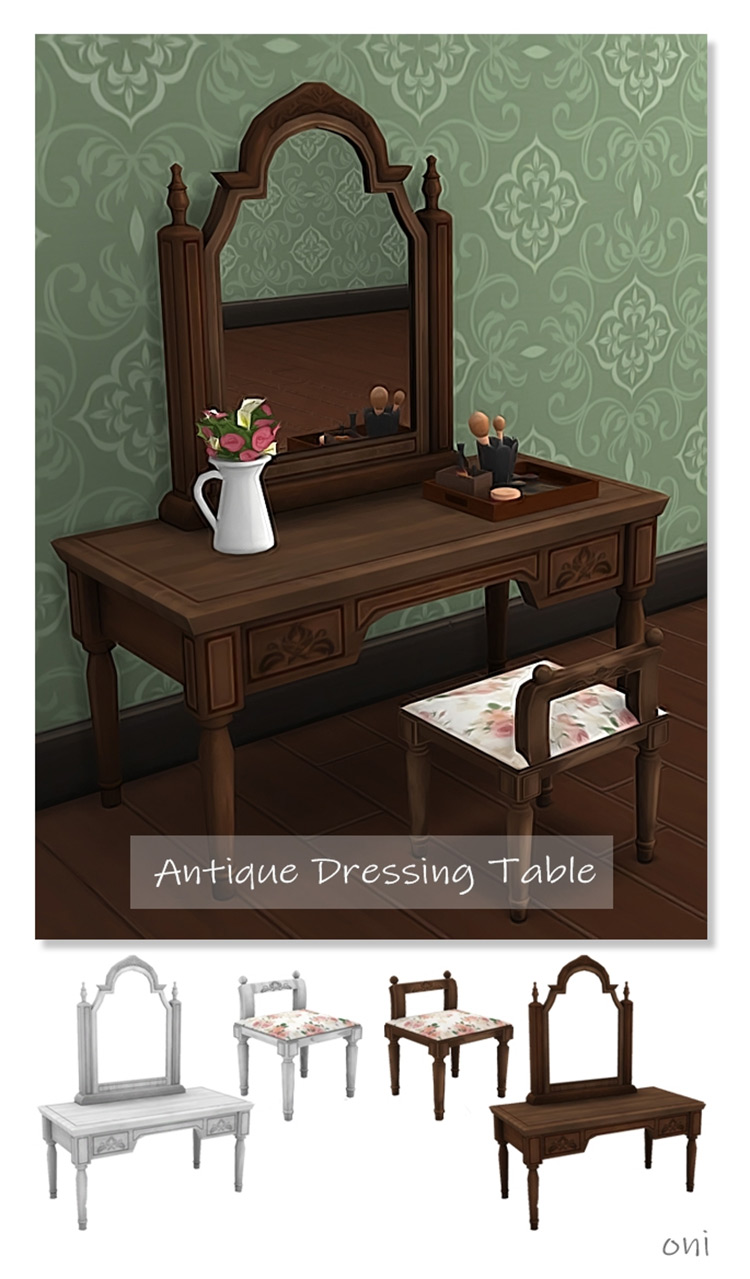 Rustic, wooden, and well-made.
If you had to pick three words to describe most farmhouse builds, these would be at the top of the list. Same as this Antique Dressing Table.
It looks like something your Sim's great-great-aunt left in her room, and no one had the heart to throw it out.
26.

Farmhouse Kitchen Décor by sooy88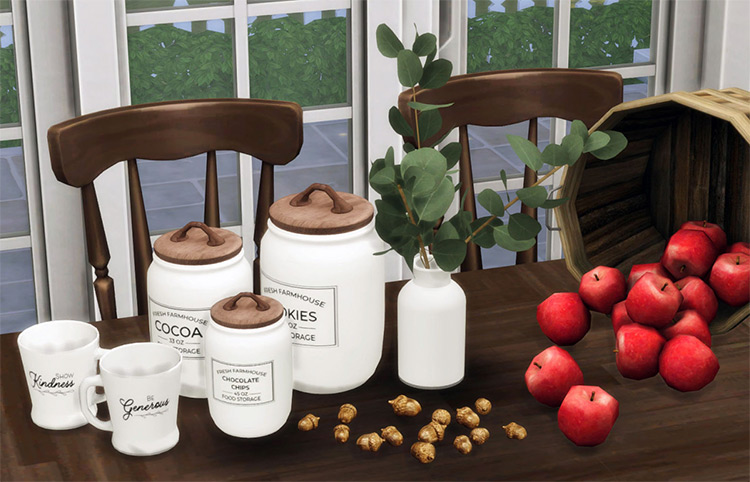 Gotta keep those bits and bobs tidy — especially in the kitchen!
We can't have the cookies mixing with the candies now, can we? These cute, clearly labeled porcelain jars and mugs are the ultimate aesthetic dream for every neat-freak Sim.
27.

Fake Barn Doors by SIMthing New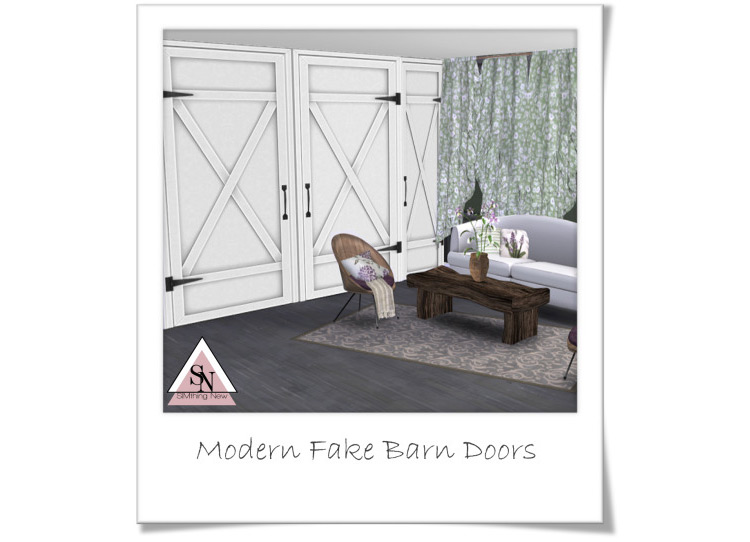 These doors may not be functional, but what does that matter when they look this good? Seriously; these fake modern barn doors could very well be the icing on top of your modern farmhouse cake (or build, in this case).
They're meant to line walls to give the illusion of large closets, pantries, and other similar rooms, but I'm certain veteran TS4 builders can find other creative ways to use them.
28.

Love for Barn Doors – Mini CC Kit by Sixam CC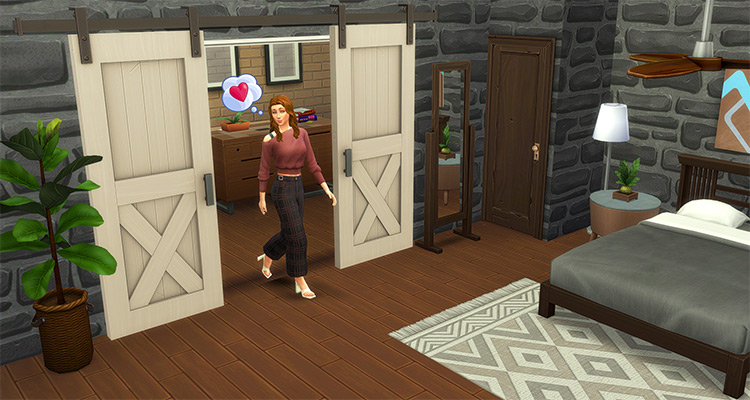 These modern barn doors are a hundred percent functional.
There are five single doors (all of which incorporate wood panels and crossed beams) and four double doors. I should point out that all of these doors slide – as barn doors normally do – so you'll have to account for the bar on the top.
29.

CS Native Indoor Oven (Functional) by BigUglyHag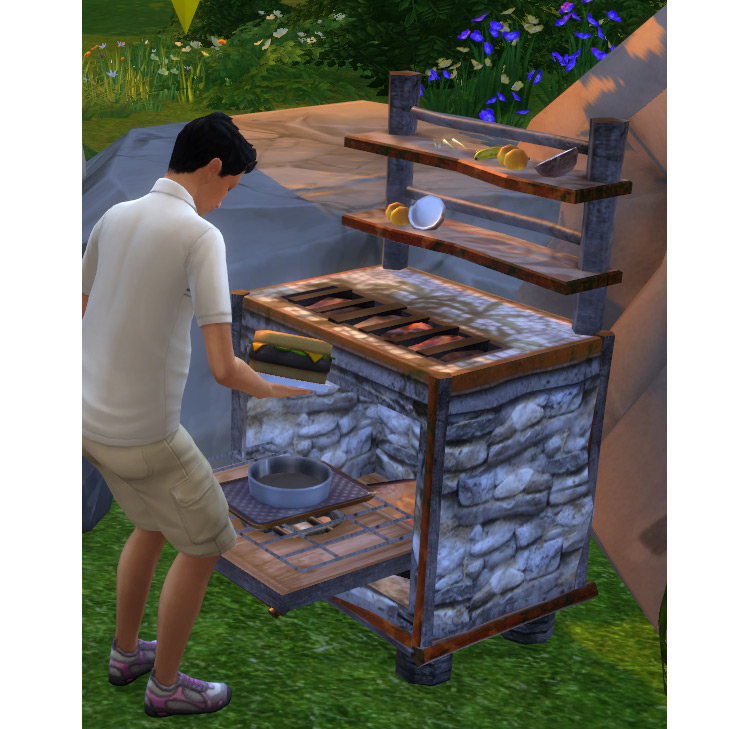 If you really want to push the "old comforts" and "hints of nature" narrative for your farmhouse, why not throw a stone oven in the backyard for barbecue nights?
Hey; it's not the weirdest design idea!
30.

Farmhouse Signs by Sooky88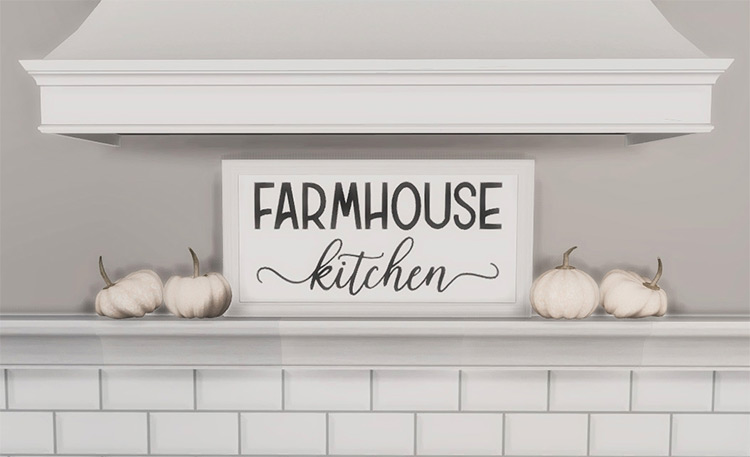 In any other build, these phrases would come off as cheesy, flowery, and just a tad too dramatic.
But in a renovated farmhouse?
That "Made with Love; Country Kitchen" sign can make everything feel warmer, cozier, and ten times more homey.
31.

Duck Egg Blue Farmhouse Kitchen by seimar8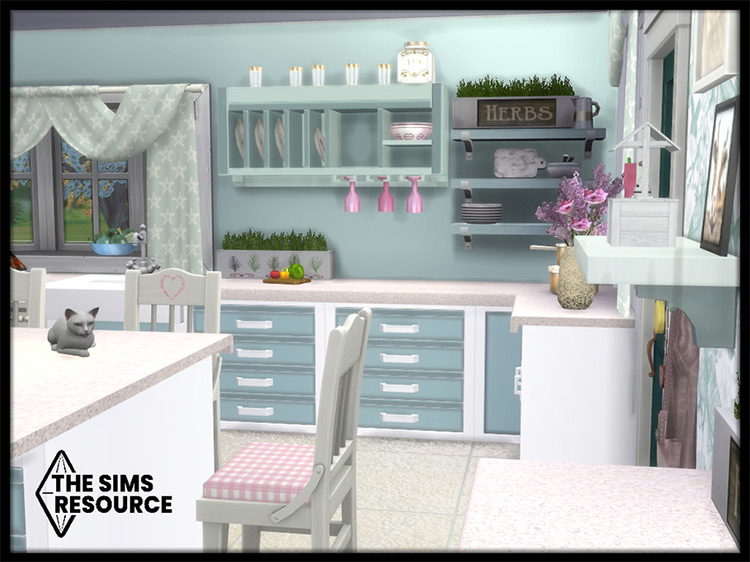 This is one of the quaintest little kitchens I've ever had the pleasure of seeing.
Warm, cozy, and very obviously lived-in, this Duck Egg Blue Farmhouse Kitchen set contains soft, dusky-blue furniture pieces sweetened with "hints of pink."
This pack contains both functional furniture pieces and purely decorative items—all of which host a blend of traditional and contemporary features.
32.

Rustic Potting Bench by Cate Grace Sims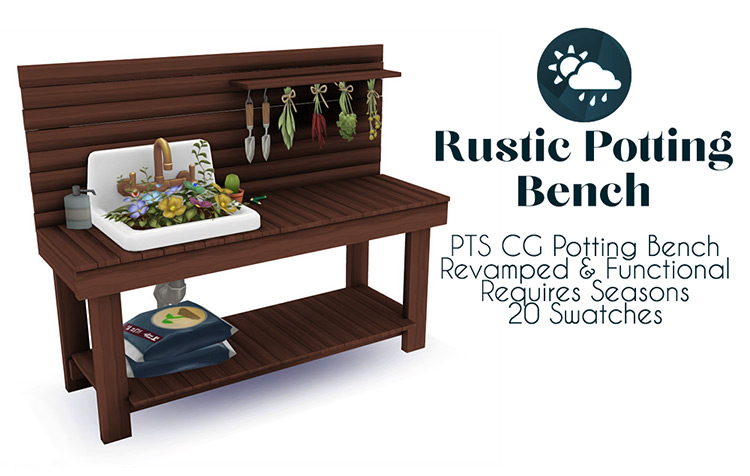 This Rustic Potting Bench is both cute and functional.
In a room full of dark wood and stained wood swatches, this adds a natural pop of color. Plus, you can get your Sim's Flower Arranging skill up!
33.

Traditional Candle Making Table by lilis-palace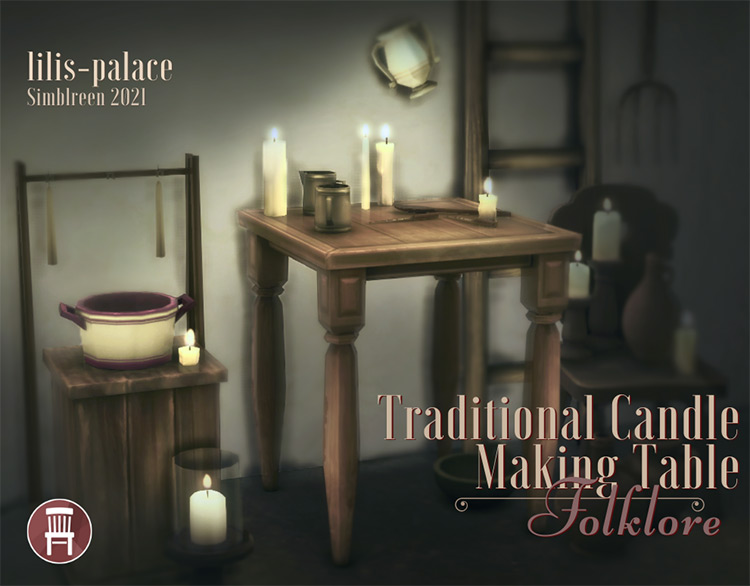 Candle-making makes perfect sense for a Sim that lives (mostly) off the land.
Add it to their list of skills and hobbies, next to flower arranging, crop growing, and fruit canning.
34.

Toddler Washtub (Beta) by BigUglyHag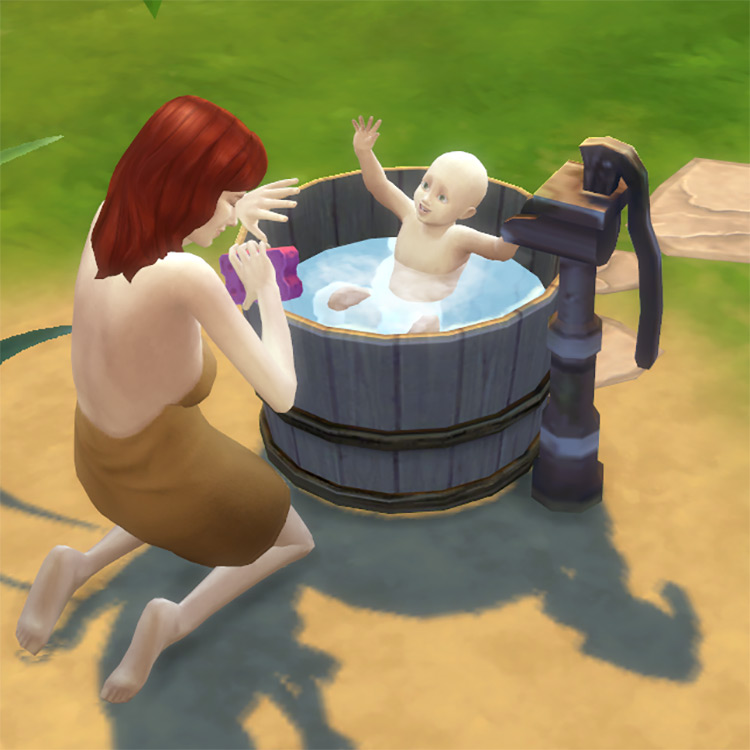 I'm really digging these rustic and/or old-fashioned alternatives for farmhouse décor.
There's just something about keeping to the classics that really makes me think of warm, homey manors on old, well-kept farms. Ergo, this worn wooden washtub.
35.

Crates Fridge by hahhasims
I don't know if I can accurately explain how genius this concept is, but I'm going to try.
Because there is nothing more perfect for a country-based, cozy-cottage-esque, homestead build than crates that can actually store your food.
Yes; these food crates function like in-game fridges. Your Sims can put food in it and take food out, and none would be the wiser.
Aesthetically, this would look right at home in a farmhouse interior. Narratively, how perfect would it be for your farmhouse Sim to pull their fruits and veg from crates?
Honestly, if I could only choose five items to download from this list, this would be my first pick.
36.

Farmhouse Style Dining Chairs by Sooky88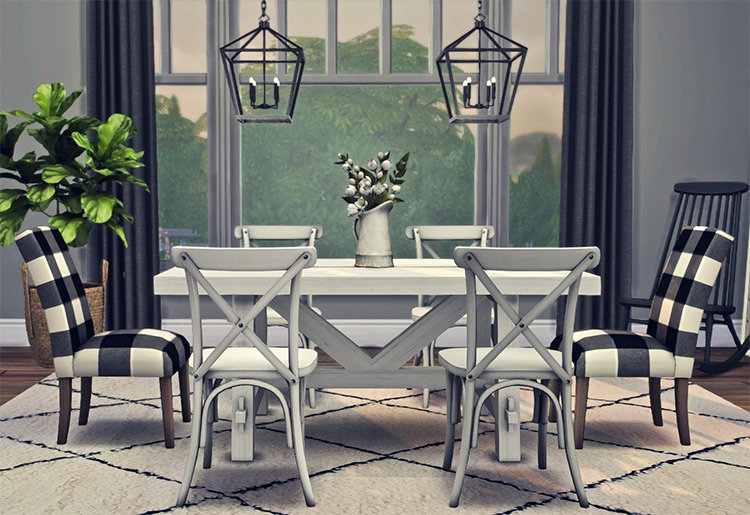 This pack by Sooky88 adds three new furniture meshes to your game.
You get three flavors of farmhouse dining chairs. Each one comes with their own distinct color palette to boot! The styles range from charmingly rustic to homey and old-fashioned.
37.

Absolutely Crate: Stackable Crates and Bookcases by The Plumbob Architect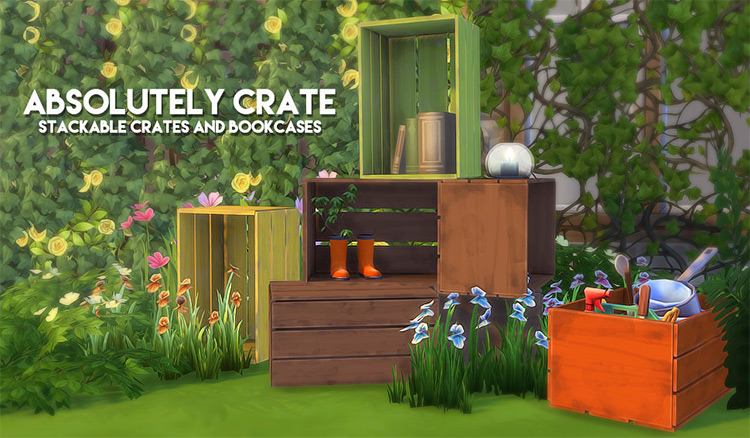 I imagine that you can never have too many crates on a farmhouse.
They're sturdy and multifunctional. Plus, these crates by The Plumbob Architect are all stackable.
If you read the instructions carefully (and make sure you do!), you could design virtually any DIY storage situation.
38.

Animal Crossing Inspired Clutter by okruee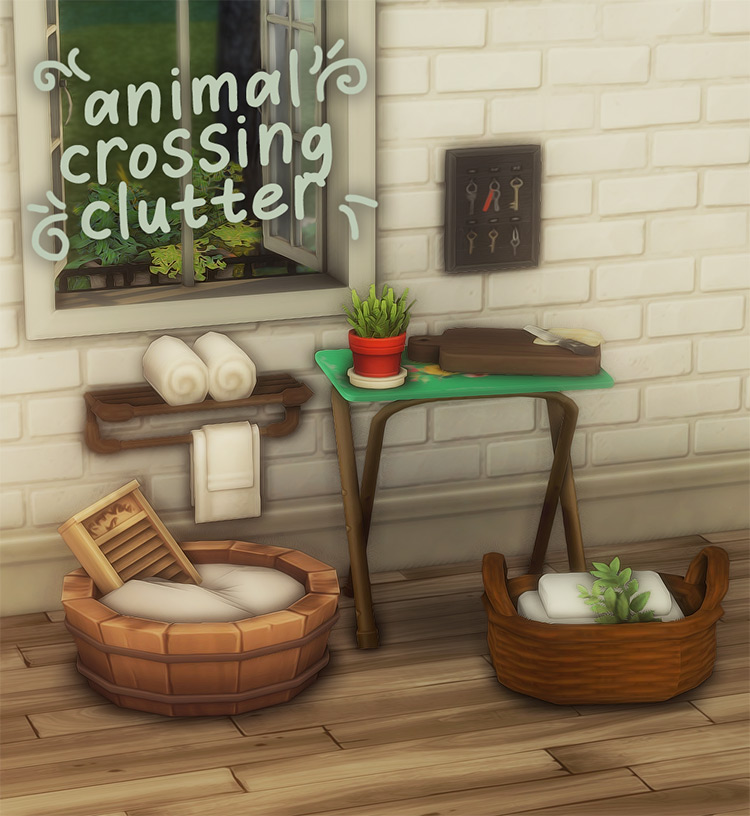 Animal Crossing is the definition of a farmhouse narrative: quaint, fairly isolated, and surrounded by the richness of generous nature.
So even if this AC deco pack is quite small, I say the concept and quality of the clutter in it more than makes up for the size.
39.

Whatever You Want Cabinet + Separated Objects by aavocadosimsthings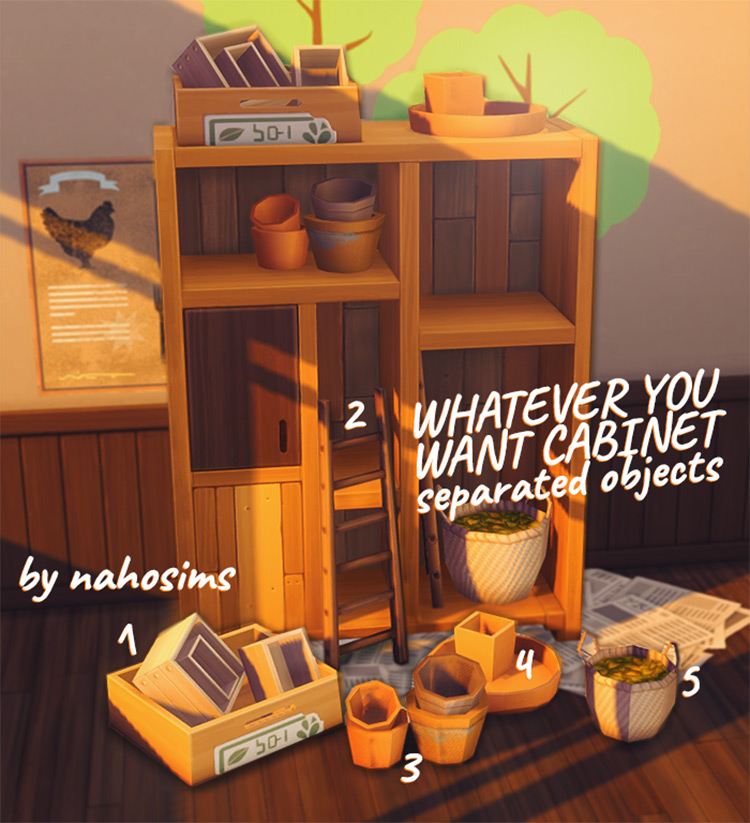 The creator pointed out what a crying shame it was that the deco cabinet from Eco Lifestyle didn't have a bare, usable version that Simmers could decorate with their own choice of clutter.
So they did what all Sims CC creators do:
They took matters into their own hands.
So we get a usable wooden cabinet and some spare clay pots and crates for clutter, and we don't even need TS4 Eco Lifestyle to make it work. I'm counting this as a win.
40.

TSM Rustic Kitchen & Bath Updated by Medieval Sim Tailor & Carpenter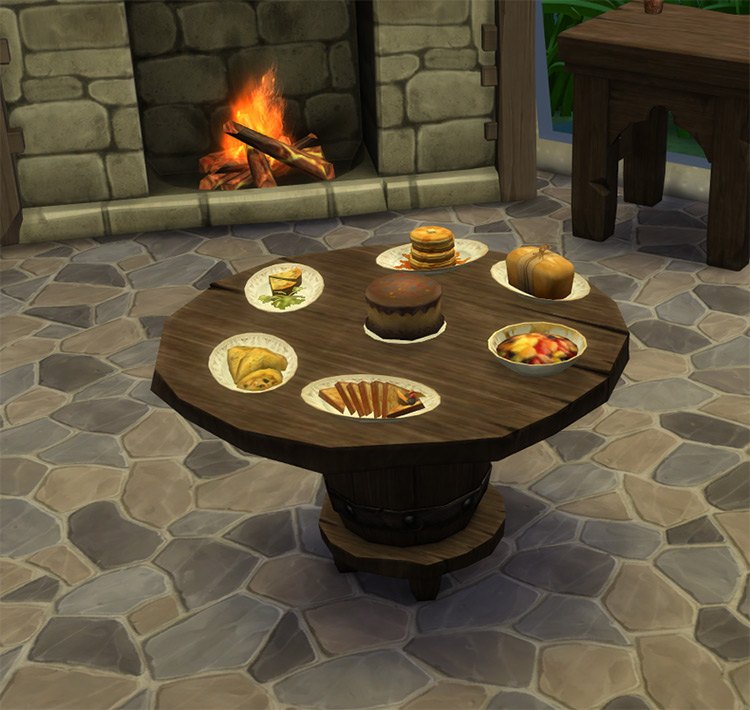 I'm wrapping up this list with a rather extensive CC set of rustic furniture to decorate a well-worn and well-loved kitchen and bath.
Wood-carved counters, barrels for bar seats, and a wooden washtub for your Sims to clean up in.
It's basically The Sims Medieval, but TS4-compatible. Remove the lords, ladies, knights, and dragons, and you've got yourself a pretty old-fashioned farmhouse interior.
Browse:
Lists
Maxis Match
The Sims 4
Video Games