Sims 4 CC: Best Maxis Match Women's Jeans (All Free)
This post may contain affiliate links. If you buy something we may get a small commission at no extra cost to you. (Learn more).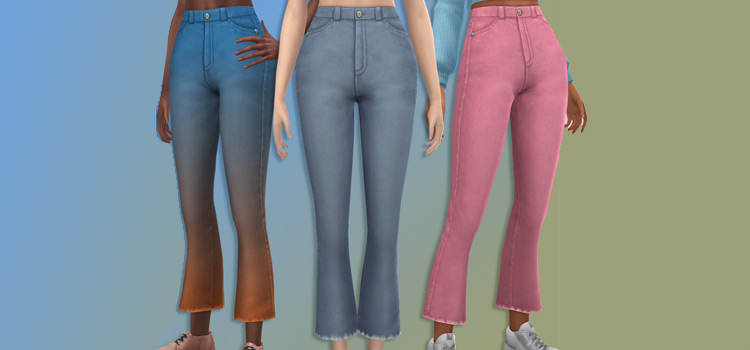 At the imaginary point where convenience, fashion, and comfort intersect, there's probably a pair of jeans.
Casual wear really doesn't get much better than jeans, and the fact that most people own at least one pair is a testament to that reality.
Although there are some decent options for pants in The Sims 4, the selection for women's jeans just doesn't cut it – especially not compared to the range of styles we have in the real world.
On the other hand, if you peer into the world of jeans CC, you'll be drowning in denim amalgamations the likes of which the real world has never imagined.
This list is your life jacket!
1.

Amara Jeans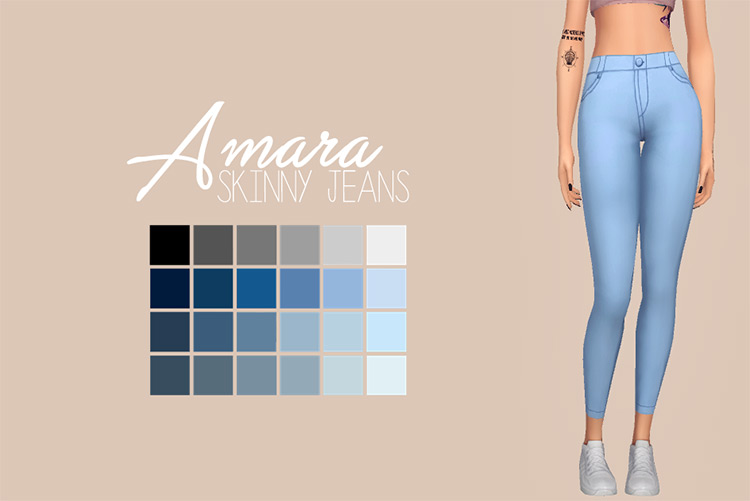 Let's start with this straightforward pair of skinny jeans for women.
It has your typical skinny fit, comes exclusively in the usual denim colors (there are 24 swatches in blues, greys, and blacks), and doesn't have any extra accessories, decals, or designs.
But 'basic' has never looked so good!
The mesh for this CC was technically from a gamepack – but because it was altered to be skinny you don't even need the gamepack to get these jeans.
2.

Patricia Jeans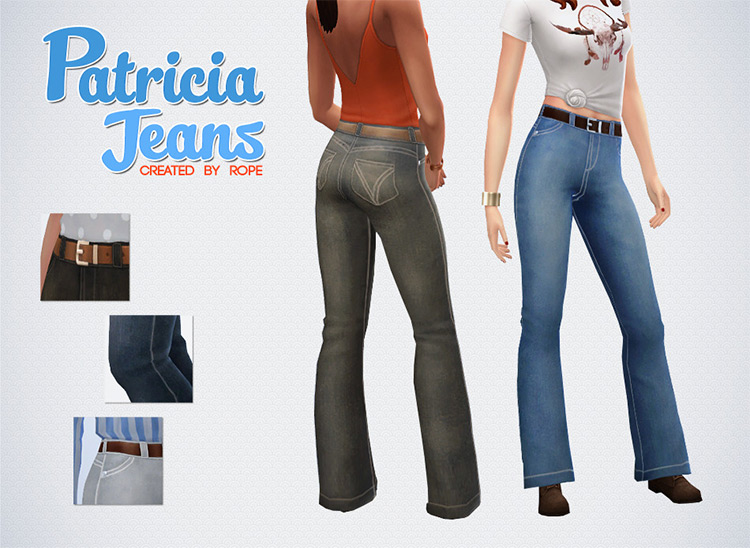 Unleash your inner cowboy with a pair of these bell bottom jeans and some cowboy boots to match – or don't, and just use them in your daily city life.
Bell bottoms are back in style anyway, right?
This CC comes in 15 muted colors, which match the country vibe.
There's no need for hot pink or any leopard prints; the basics will do.
Although the best part about these jeans is that they're high-waisted.
High-waisted skinny jeans are easy to find – but high-waisted wide legs, not so much.
3.

Maxis Match Shabby Jeans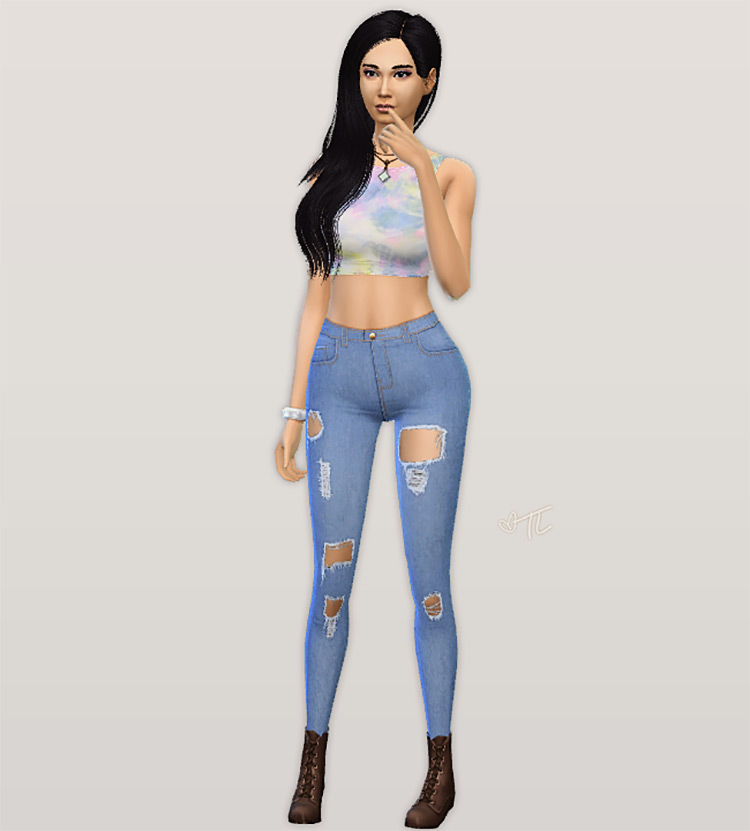 With a name like this, you just know you're in for a treat.
In all seriousness, this CC is actually a great addition to any Maxis match or CC-minimal game.
You'll have 23 swatches (way more than any base game jeans), but there won't be any issues with fitting in.
It's another pair of skinny jeans for the ladies, but it has a hole in one leg (not exactly adventurous, I know) and a slightly different fit than some other CC options.
4.

Floral Jeans Recolour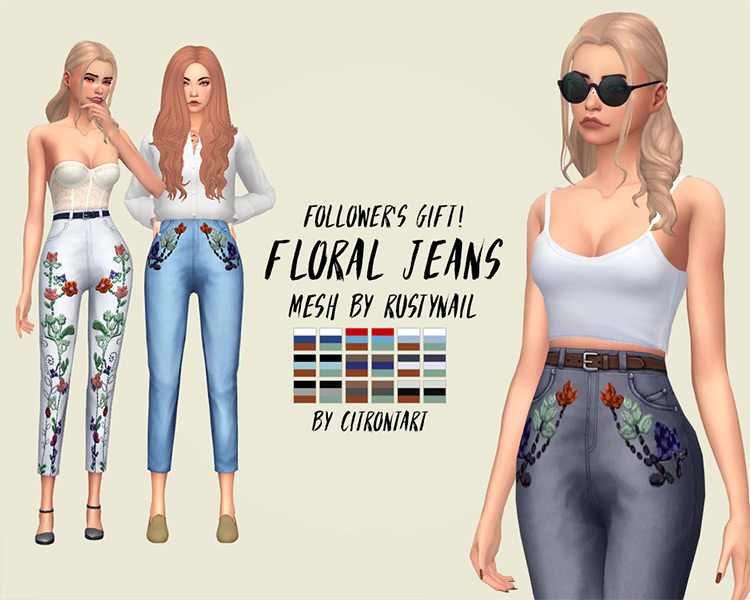 Don't be deceived by the fact that this CC is a recolor.
Though it uses pre-existing assets, that doesn't mean it's not creative!
These floral jeans use an original mesh by a different creator and floral designs from a gamepack dress – the one in City Living, to be precise.
In this CC, it looks like those two things were made just to be used with each other!
There are two different floral patterns here, and 18 total swatches to choose from.
The flowers mostly stay the same colors, with only a few alterations, but the jeans themselves have a great color range.
5.

Big Belted Bad Boy Jeans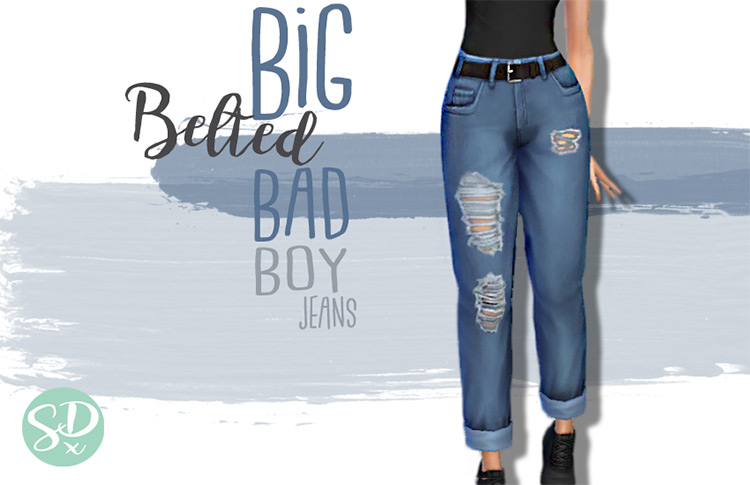 Amidst a bunch of other "1000 followers' gifts", Sondescent decided to gift us jean lovers with the Big Belted Bad Boy Jeans.
They aren't exactly winter appropriate like the other items, since they have holes.
But they do look cute!
It only seems like they have 1 swatch, but as the name suggests, they do have a big belt and a big attitude to go with it.
They're cut in the popular boyfriend jean style with cuffed legs hitting right at the ankle, and a wide-but-not-too-wide leg.
6.

More & More Pants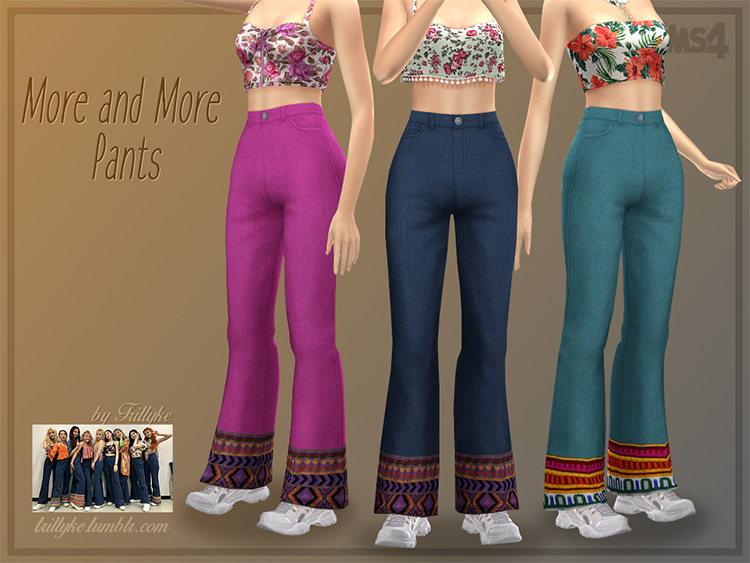 These groovy pants are perfect for your hippy sim.
They're subtle while also smacking you over the head with their funkiness at the same time.
Although this CC is always high-waisted, bootcut, and tons of fun, a little under half of the swatches don't include the design.
With a total of 25 swatches, you'll still be able to have all of the hippy aesthetic you crave, but you can dial it down if you want.
Twice's More and More music video is the original inspiration for these jeans.
They look like something your local hippy would wear, though. So this CC works great outside the music video if your Sim is into that kinda look.
7.

Hey Cupid Jeans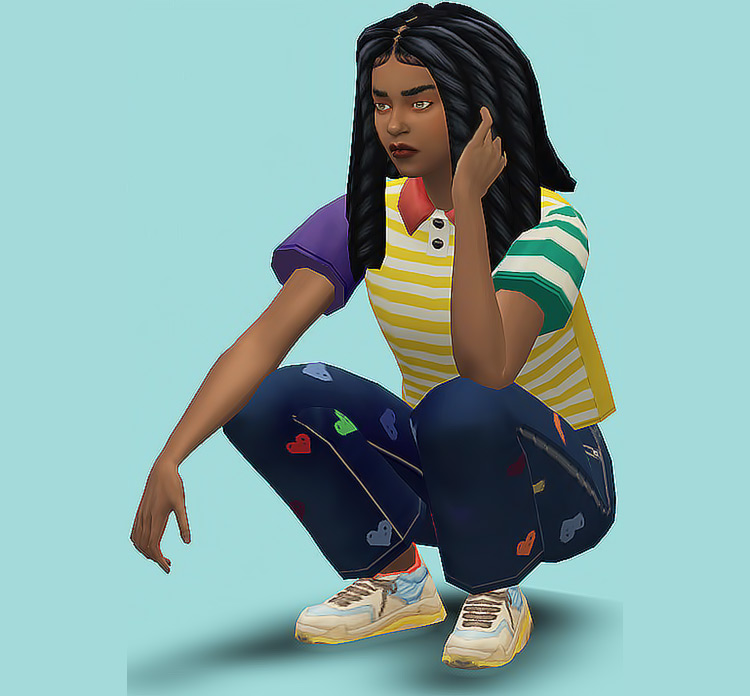 Most jeans aren't super creative about what decorations and decals they include.
It seems like most people (but not all) want jeans to be a neutral, decoration-free part of their wardrobe.
These Hey Cupid Jeans are another song-inspired CC, but the music video for Hey Cupid doesn't have a specific pair of jeans featured.
Even so, this CC matches the feeling of the song so masterfully that it might as well be in the official video!
There are 5 patterns (hearts, a couple lyrics, broken hearts, and stars) plus plain versions in this set, with a total of 35 song-worthy swatches.
8.

Painted Jeans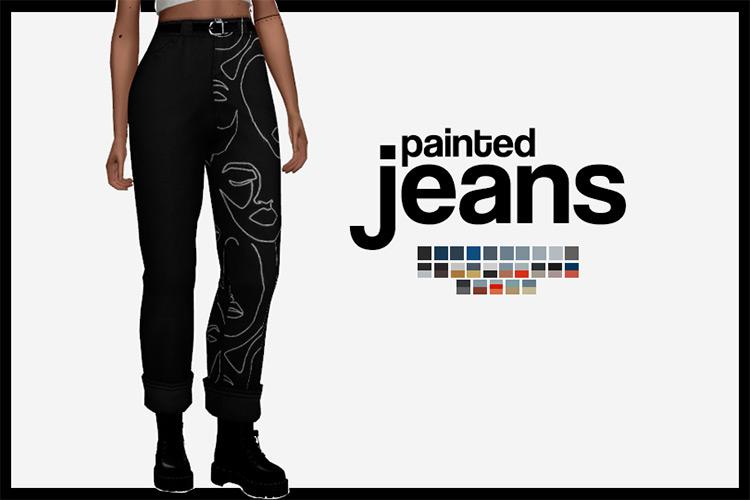 Do you ever just scroll through Pinterest looking at all those cool DIY designs, knowing that you'll never get around to trying them, but still save them anyway?
This pair of jeans is the cure to that.
Kind of.
You'll probably still spend hours on Pinterest. But these painted jeans will at least let you wear some cool Pinterest DIY in the Sims.
Like many other patterned jeans, there are some versions of this CC without the paint design. Most of the 25 swatches have it either in the pockets or on the left side of the leg.
9.

Countdown Jeans

These Countdown Jeans are slim, high-waisted, and flared at the bottom.
But more importantly, they have a great fringed look at the end of each pant leg.
Sometimes those small details are what differentiates the boring jeans from the interesting ones.
Even more than the fringe though, are the awesome color combos. That's what really sell this CC in my opinion.
There are tons of regular (cough boring cough) jean designs, but out of the 20 swatches, there are also 5 gradients and 5 more unique un-jeanlike colors.
10.

Bonehlda Mom Jeans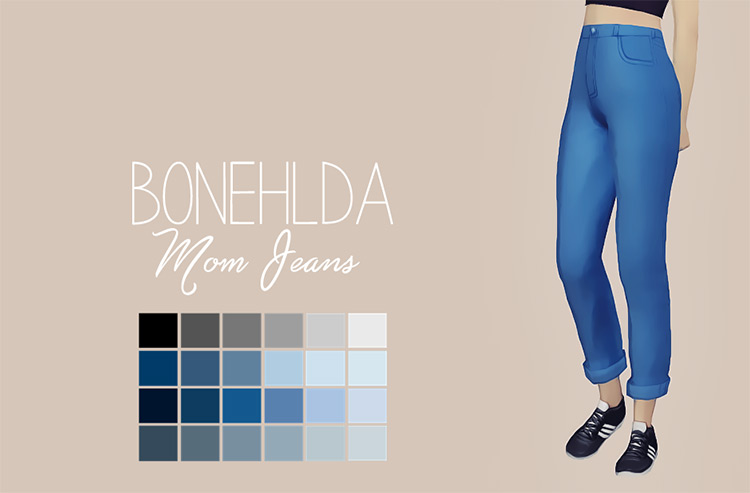 No jean collection would be complete without at least one pair of mom jeans – and if you're looking for Maxis match, then this pair is the one to get.
The mesh is from a different creator, but this CC gives it enough swatches to feel like you have the entire range of denim at your fingertips.
They're a simple and straightforward pair of jeans, sure.
But in the case of mom jeans that might be for the best.
It's important to have a pair of jeans that are just chill and comfortable, you know?
11.

Azure Cropped Jeans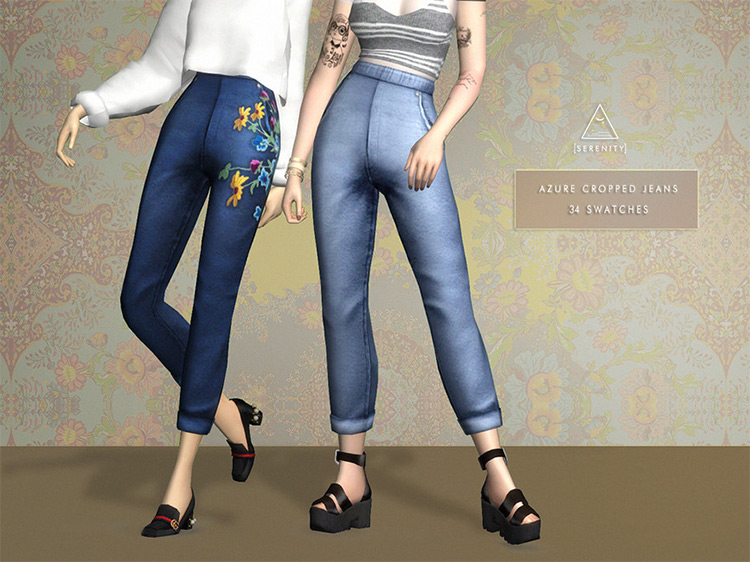 As the third floral jeans on this list, these Azure Cropped Jeans have high standards to reach – and they deliver!
Again, there are plenty of plain swatches (27 of them) if you just like the jeans themselves, and don't want anything else to get in the way of that.
It's pretty understandable to want these plain, especially since they have such a clean design.
But the other 7 swatches are patterned perfection, ranging from paisley to flowers.
12.

Phenix & Lune Jeans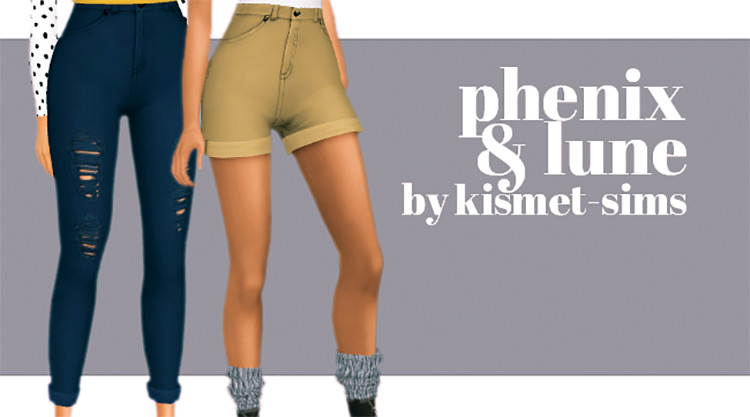 We've gone over a bunch of Maxis match jeans, but what about jean shorts?
This CC set has got them – and it has distressed and non-distressed versions to boot.
With this one pack, your female Sims can wear jean pants for autumn and winter, and jean shorts for spring and summer – or vice versa. It works either way, really.
Like all women's jeans seem to be these days, the Phenix & Lune Jeans are another high-rise pair.
But I'd say they're even higher than usual!
13.

Lula Jeans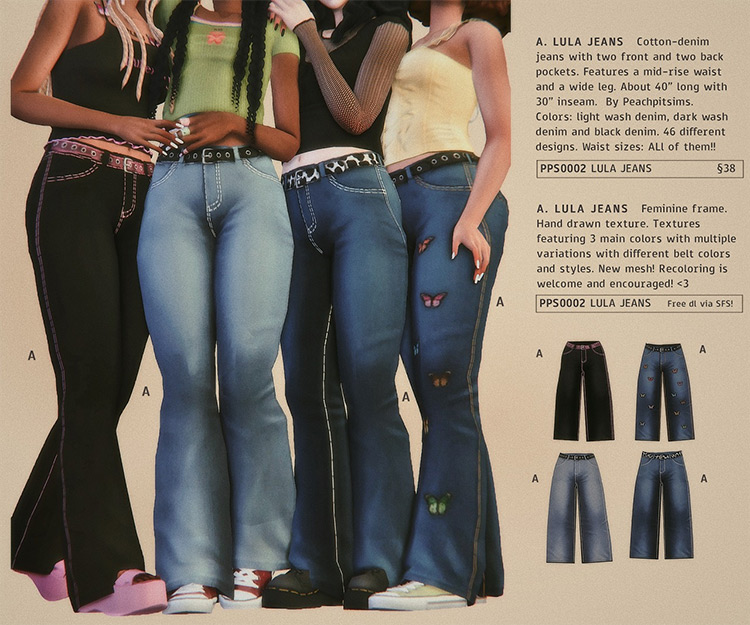 If you need a break from all the skinny jeans and the not-quite skinny jeans, then these Lula Jeans are just the thing you need.
What's great here is the sheer number of swatches.
You think 30 is a lot? Try 46.
There are actually only 3 denim colors, but there are so many design combinations that you end up with a ton of different swatches.
And they're all overlaid on top of that adorably baggy jean cut.
Browse:
Lists
Maxis Match
The Sims 4
Video Games