Sims 4 Maxis Match Fireplace CC & Recolors
This post may contain affiliate links. If you buy something we may get a small commission at no extra cost to you. (Learn more).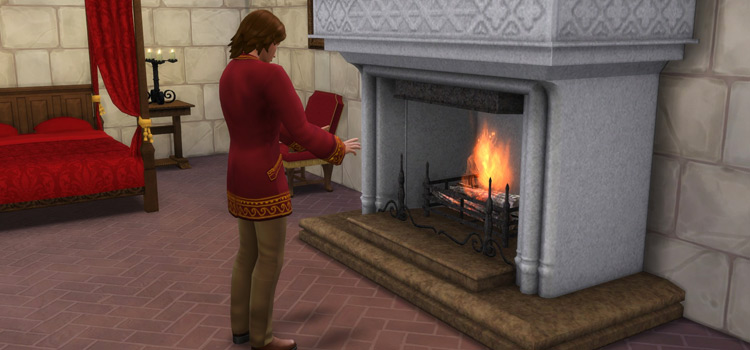 Love them or hate them, fireplaces can completely change the look and feel of a room. Whether that's for the better or worse is up to each individual, of course.
But I personally love them and can't get enough.
They might not come in very handy during the warm months, but there's nothing cozier than lighting up the fireplace on a chilly evening. And decorating them during the holidays is just bliss – even in The Sims!
The thing is, the vanilla options we have don't really represent the vast range of building styles within The Sims community. I mean really, there's only four fireplaces in the base game.
That certainly won't do. We need options that are as varied as our creativity, and that's possible thanks to custom content.
And this Maxis-Match CC list offers enough variety to go around, so your Sims can have a cozy home just the way you want it.
1.

Diagonal "Heat Seeker" Fireplace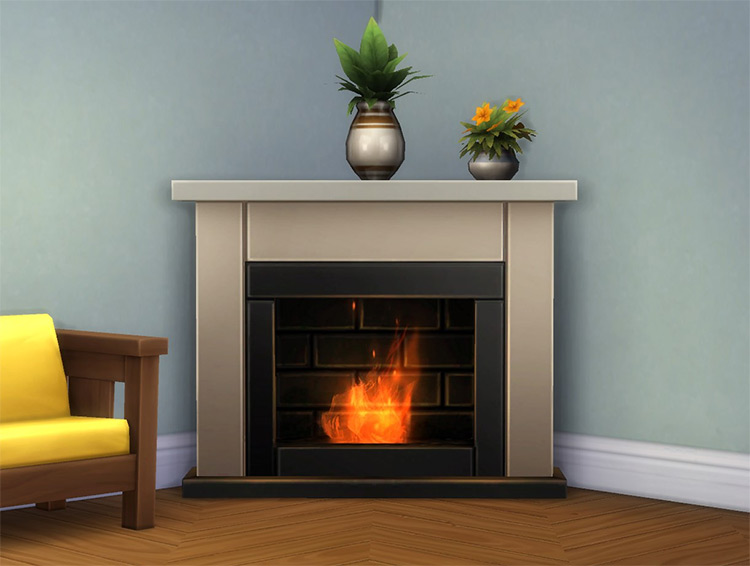 Many floorplans don't leave room for the traditional fireplace that needs to be placed flat against a wall.
You wind up sacrificing floor space, windows, or ultimately leaving the room a little too cluttered.
I mean, a fireplace isn't exactly subtle. It tends to be the centerpiece of a room, which all other furniture and décor revolves around.
That's how it winds up in my builds, at least. Mostly because if you're not careful and place objects a little too close, a stray spark will scorch the place.
But I know that not everyone wants it to be the focal point of the room, especially in more modern builds, and a diagonal fireplace is the perfect compromise.
Your Sims will still have a cozy heat source and a mantleplace to put family photos on, but it'll be off in the corner, unintrusive and chic.
This also includes a mesh override which adds a ledge to the bottom of the fireplace.
I can't explain it, but somehow that little bit of framing around the bottom all around makes it look neater, especially once it's in the corner.
2.

TS2 to TS4 Retro Fireplace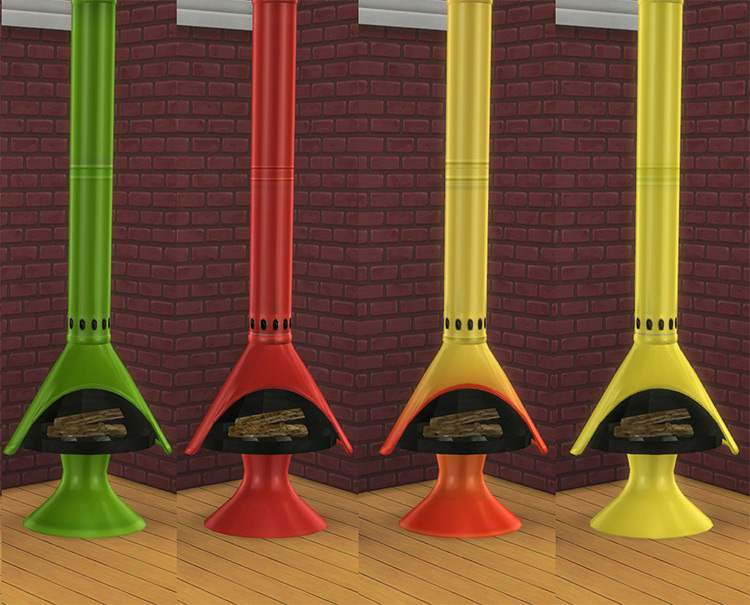 I didn't play The Sims 2 much. I know, for many Simmers that's grounds to have me flogged.
But a fireplace that's almost identical to this one is in The Sims 3, and I used that thing relentlessly.
It's another great corner piece, and pretty much the smallest iteration of a heat source you'll find.
This strangely shaped, almost extraterrestrial-looking design was super popular in the '60s and stuck around in homes for a couple decades after. LOolyharb1 converted this from The Sims 2 and it's just as epic now as it was in 2004.
Or at least that's what I'm assuming. I wasn't even in Kindergarten yet, so I hadn't discovered the life-altering experience of The Sims.
You'll probably find it quite handy along the same lines as the diagonal fireplace if you ever struggle to fit the typical square models into your builds. You can plop this off to the side with its 8 vibrant swatches.
And don't think that just because this is a conversion from a game that's 17 years old that it'll just be decorative. Somehow, the creator even made this a functioning fireplace, complete with the expected animations.
3.

The Warm 'n' Toasty Fireplace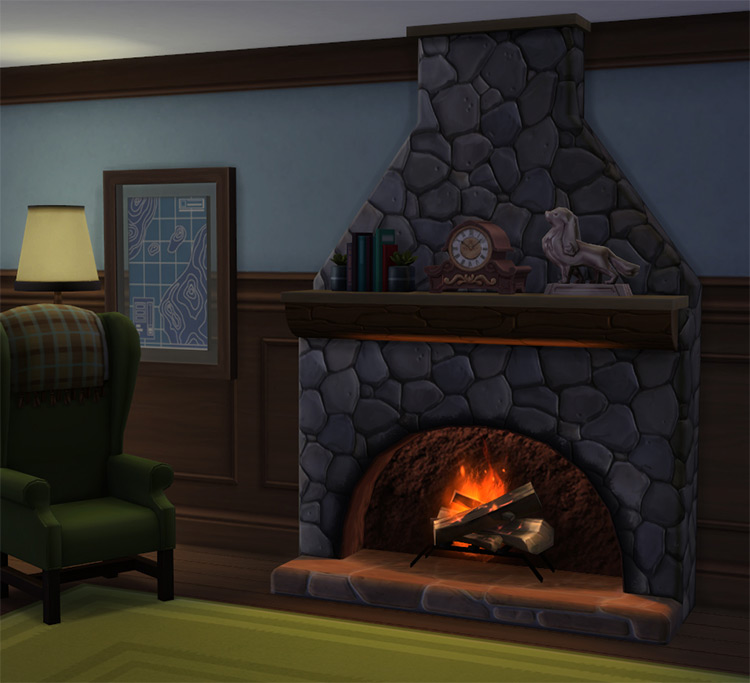 I think anyone who owns a fireplace has the goal of being warm and toasty.
But none will get you feeling quite as cozy as an old fashioned, rustic stone one.
These are great for cabins and cottage homes, as well as anywhere else you'd like to have a little touch of country.
Menaceman44 did a fantastic job of putting this CC together. He used part of the mesh from a fireplace that came with the Bon Voyage pack for The Sims 2, but completely reworked it so it fits flawlessly into The Sims 4.
Seriously, you can look at this all day long and never find any indication that this isn't an official Sims 4 item.
The fireplace itself is made of stones, which come in a few different swatches & looks very Maxis Match.
And the mantle is actually a log. How charming!
4.

Holiday Celebration Fireplace Recolors
Christmas is pretty intricately linked with fireplaces, or at least an open flame.
Santa comes down the chimney, stockings are supposed to be hung on the mantle with loving care, and there's that whole thing about roasting chestnuts.
I don't know anyone who has ever actually done that, or what the result of roasting a nut is, but it's still part of the vibe – and therefore sacred.
Now I've never lived in a home with a fireplace. So I have been thrilled to get to live out all my Christmas-related desires in The Sims.
The developers certainly delivered on that front in The Sims 4, where we got that awesome Holiday Celebration Pack for free long before Seasons was even a thought. That beautiful fireplace that comes with this is super cute – and I love the decorations that are attached.
But one little problem is that each swatch changes everything, including the color of the decorations!
So if you want a white fireplace with all blue ribbons, it's just not possible…
Unless you have this mod, of course.
Then you'll have all the color combos you've ever wanted. Red ribbons on brown, green ribbons on white, it's all lovely!
5.

A Tiny Fireplace For Tiny Houses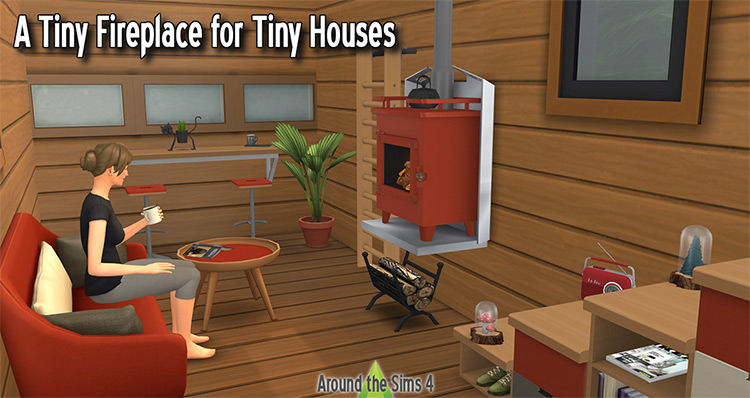 Building a tiny house is possibly the most challenging type of build, but also the most satisfying.
There's quite literally no room for clutter in these homes.
Everything needs to have a purpose and be as compact as possible.
Minimalism isn't just a style, it's a way of life.
This fireplace is a wood burner, which is the most bare bones type of fireplace that exists. It's a box that burns wood for warmth. That's it.
No one will ever claim this is for fancy homes.
But this one is actually wall mounted, and is available for 3 different ceiling heights.
Something I like about models like this or the TS2 Retro Fireplace is that they come with chimneys. This is such a pedantic thing but most of the official ones don't and that's just not a recipe for a good time.
Imagine the smoke from a bonfire but inside your house and with ventilation. Yuck.
Yeah, Sims don't have to worry about smoke inhalation, but I like the realism!
6.

Feel The Burn Fireplace Inserts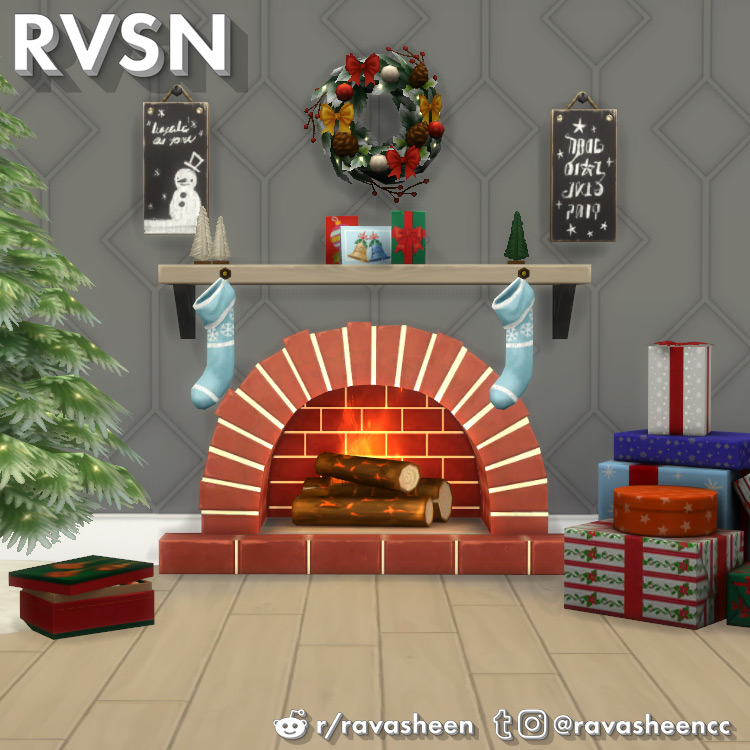 We've seen some awesome new options so far, but depending on the type of homes you place your Sims in, they may or may not be what you're looking for.
Well, how about just making your own fireplace?
That'd be a dream come true, right?
Okay, that might be going a little far, but this is seriously one cool set.
This has 7 different fireplace inserts that you can place as you like. They're really compact, and you can even choose which logs to put inside.
And like all the others on the list so far, these are all completely functional.
Your Sims can stay warm in style, which is totally determined by you.
7.

Athena Sims 4's Fireplace Recolors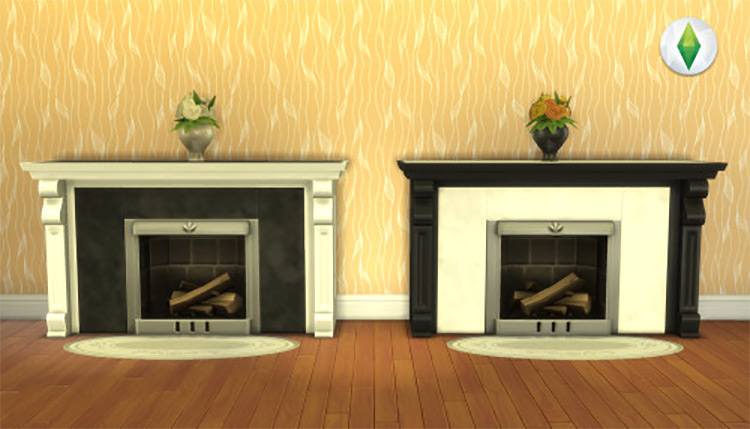 While the base game may only have 4 fireplaces, with all of the right packs, you'll have 13 on your hands.
But as always, you're limited to the set swatches that are available. We all know how restrictive this can feel.
And if you have ever wished for more colors with your fireplaces, then those wishes have now been granted.
This is a whole set with recolors for various fireplaces from the base game – as well as recolors from some packs.
Each one has 6 lovely new wood swatches, except the Cats & Dogs fireplace. That brick beauty is actually my favorite official one available, but the extra white and black options here really bring out all the best things about it structurally.
I think these will be really handy if you have Vintage Glamour Stuff as well. As you'd expect from the name, the fireplace that comes with that pack looks very old-timey due to the color schemes.
But with these modern brown and cream shades, you'll be able to incorporate it into any home, even if it doesn't have an Art Deco theme.
8.

Gothic Fireplace From TS3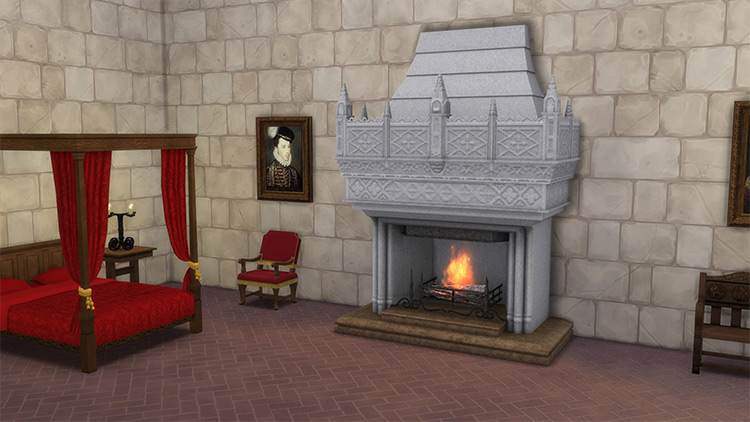 It's interesting how many of the CC fireplaces out there are conversions.
I guess that just goes to show how timeless they really are, for the most part.
And as much as I've talked about small models, there is certainly something to be said for massive, fancy fireplaces, too.
When you've got a big house, you need a big fireplace!
Whether that's a royal mansion or remodeled version of The Goth's house, something new and fresh will really add to the overall look.
Although technically, this is kind of old.
This is from The Sims 3 and fully encapsulates the Gothic style.
And it's massive, with ornate accents that make it look fitting for a castle.
You'll have four stony swatches to choose from, all of which will easily compliment any paint, wallpaper, or paneling. It's stone. Everything goes with stone, even more stone!
9.

Brick Fireplaces
Brick fireplaces have been held in high esteem for a long time.
They're sturdy, reliable, and have that classic charm of days gone by.
The same can all be said for wood.
So combined, it's like a huge dose of warm, fuzzy feelings!
Both fireplaces in this CC set have just that vibe.
One is available for the base game, and it's a longer, three-tile model. The creator did so well incorporating the bricks and wood frame, it looks practically brand new.
And the other smaller fireplace requires Parenthood, but this is a nice take on that classic design.
It's always been fairly simple – but now the bricks are brought out even more by the vibrant swatches and textures.
10.

Basic Belle Fireplace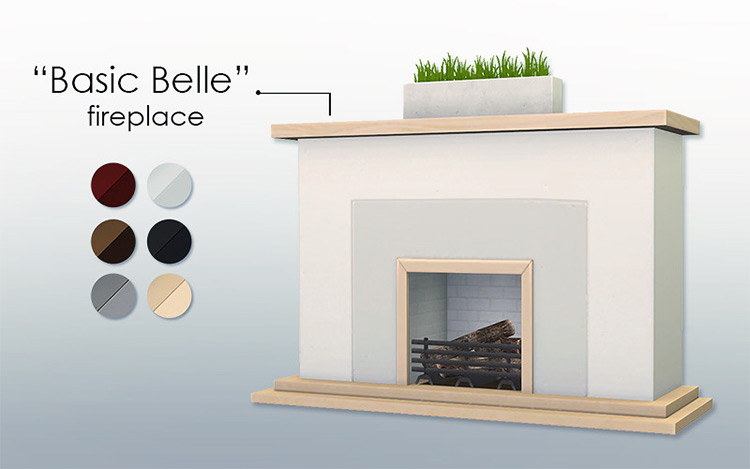 Basic hasn't meant "boring" for a long time.
Interior design today is all about minimalism in many circles.
A lot of people don't like ornate patterns or garish colors, and instead opt for more low key furniture and decor.
This CC is a great modern option if that sounds like your taste, too.
The fireplace has a rectangular style, and the creator gave it a subtly attractive appearance with the little details like the two-tiered base and matching mantlepiece.
Other than that, I must say it is indeed pretty basic (and very Maxis-Match).
But that just makes it even better for blending into a multitude of rooms. Plus with three slots up top for décor and clutter, you can do whatever you want.
Browse:
Lists
Maxis Match
The Sims 4
Video Games