Sims 4 Maxis Match CC: Long Hair for Girls (All Styles)
This post may contain affiliate links. If you buy something we may get a small commission at no extra cost to you. (Learn more).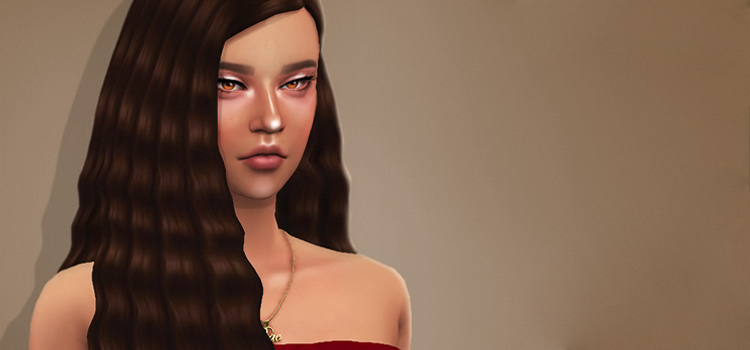 Although I'm a big fan of short hair, my biggest gripe is that only a select few can really pull it off.
You know, the ones with a certain face shape or a forehead size, or a certain set of cheekbones. Yes, I'm bitter – because I've always wanted to rock a cool pixie cut and my round face just isn't having it.
So I've learned to embrace long hair. And as it turns out, there's a lot you can do when your tresses reach a certain length.
And it translates quite well into TS4 CAS CC, too.
So with that smooth segue, here's my picks for the best CC Maxis match long hairstyles for your female Sims to try!
1.

LeahLillith Heartburn Hair Clayified by kotcatmeow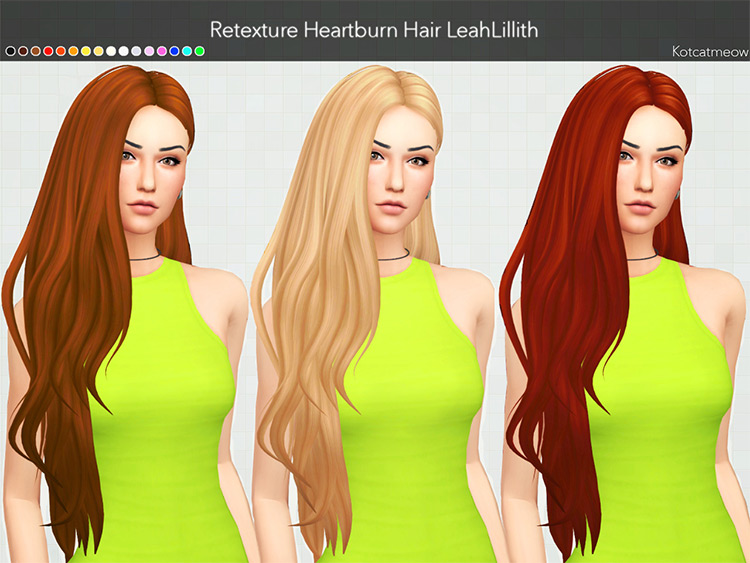 I'm starting this article with a custom hairstyle that I actually use for one of my Sims.
I found it and downloaded it way before I had to write this article, and I've had no regrets.
It looks great in-game
It rarely clips
And it makes my Sim look gorgeous in all my screenshots
The tresses look thick and bouncy, and there's enough texture and waves in the cut to give the hair significant volume.
I'm also a big fan of letting your hair frame just one side of your face by tucking the other half back.
Don't forget to download the original mesh by leahlillith (linked in the description). You'll need it for the hair to work!
2.

Lucy Hair (2 Versions) by Miiko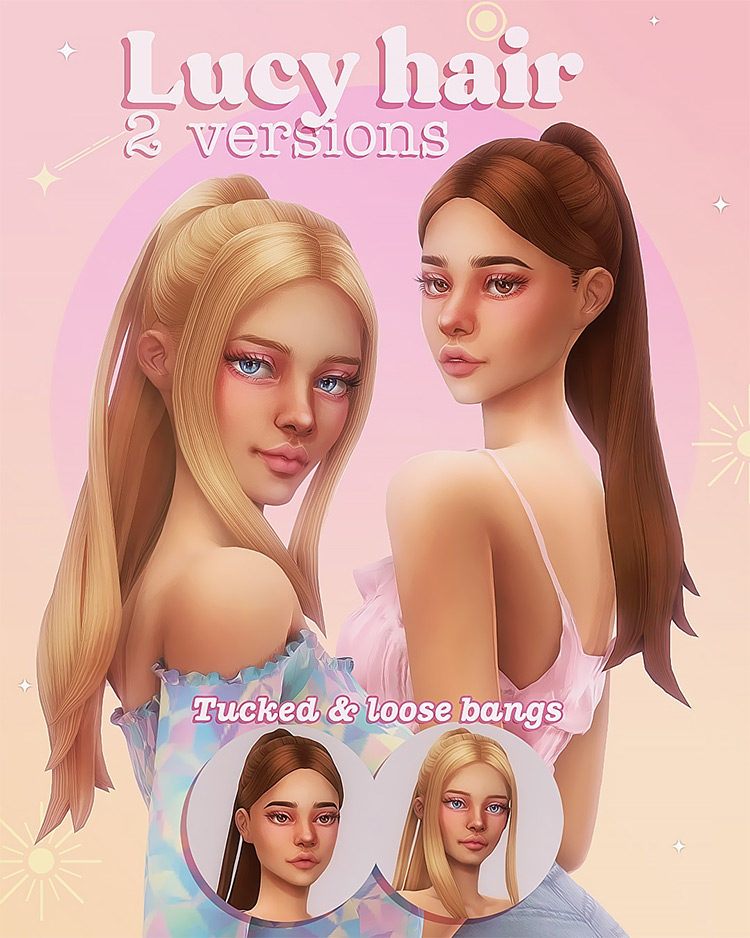 Ariana Grande isn't the only one who can rock a high pony.
Check out this beautiful custom piece from Miiko: a sleek, shiny, impressively high maxis match ponytail.
Choose between pulling all the hair back to accentuate your Sim's facial features, or leaving two long loose side bangs at the front to frame your Sim's face.
Either option is possible, since the creator made both versions available for download.
I'm personally more of a "let-your-bangs-frame-your-face", but hey. You do you!
3.

Katara Hair by dogsill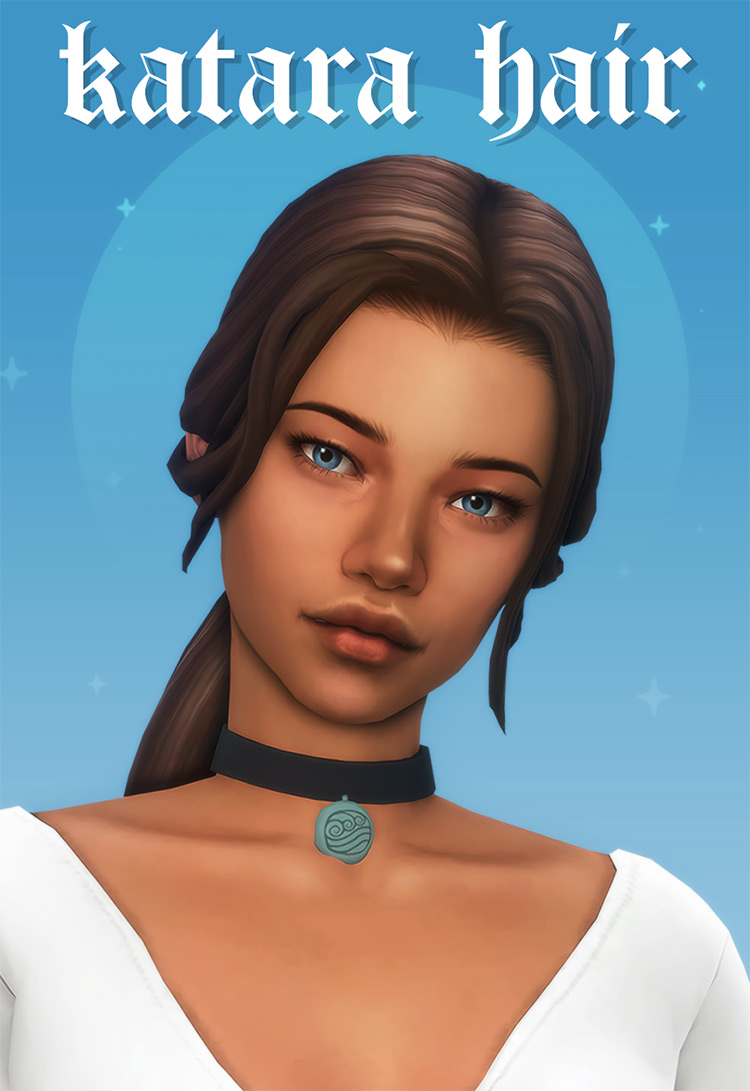 I've been a diehard fan of Avatar The Last Airbender for more than ten years now. And I'm not stopping any time soon.
Don't worry, I won't go off on a tangent about how it's one of the best shows ever made… I'm just going to stick to my guns and encourage you to download the hair.
You don't even need to know the character it's referencing to enjoy it – because the hair is beautiful.
It's a low, loose ponytail that falls to the shoulder blades.
The soft & slightly messy strands of hair at the top help frame your Sim's face.
And if you know what the character looks like, the accuracy is pretty freaking stunning.
This CC has 24 color options available: 18 from EA's standard palette, and 6 extra shades of blonde, brown, and neutrals.
4.

Nadia Hair by tekri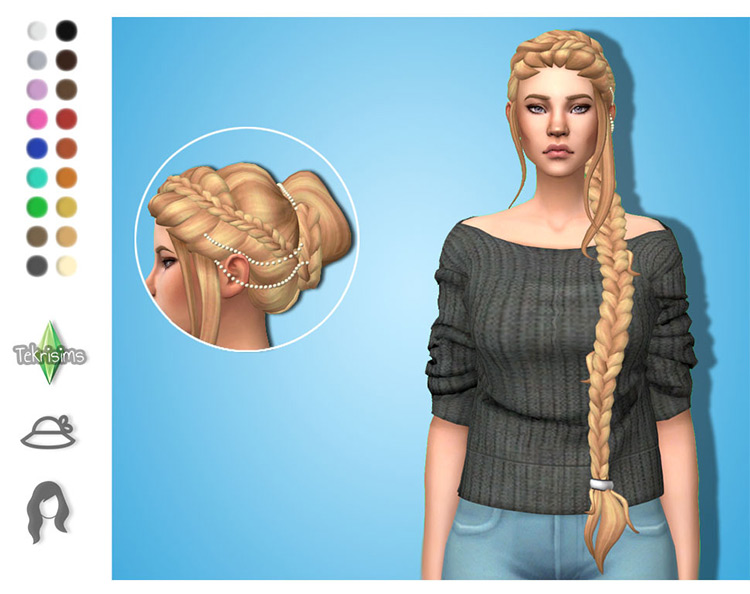 If your hair reaches your hips when it's already in a braid, it's probably a good idea to keep it braided.
It's practical, it's neat, and if done artfully, it can look hella elegant.
Take tekri's Nadia hairstyle here.
The length of the braid is intimidating, to say the least.
But the level of detail in the design is simply stunning.
It helps that the Maxis match texture really emphasizes the chunks, waves, and intricate linework. There's even a beautifully crafted ballerina bun at the back.
Take away the braid (which there is an option for, by the way) and the hairstyle would still look stunning.
5.

Christina Hair by Vikai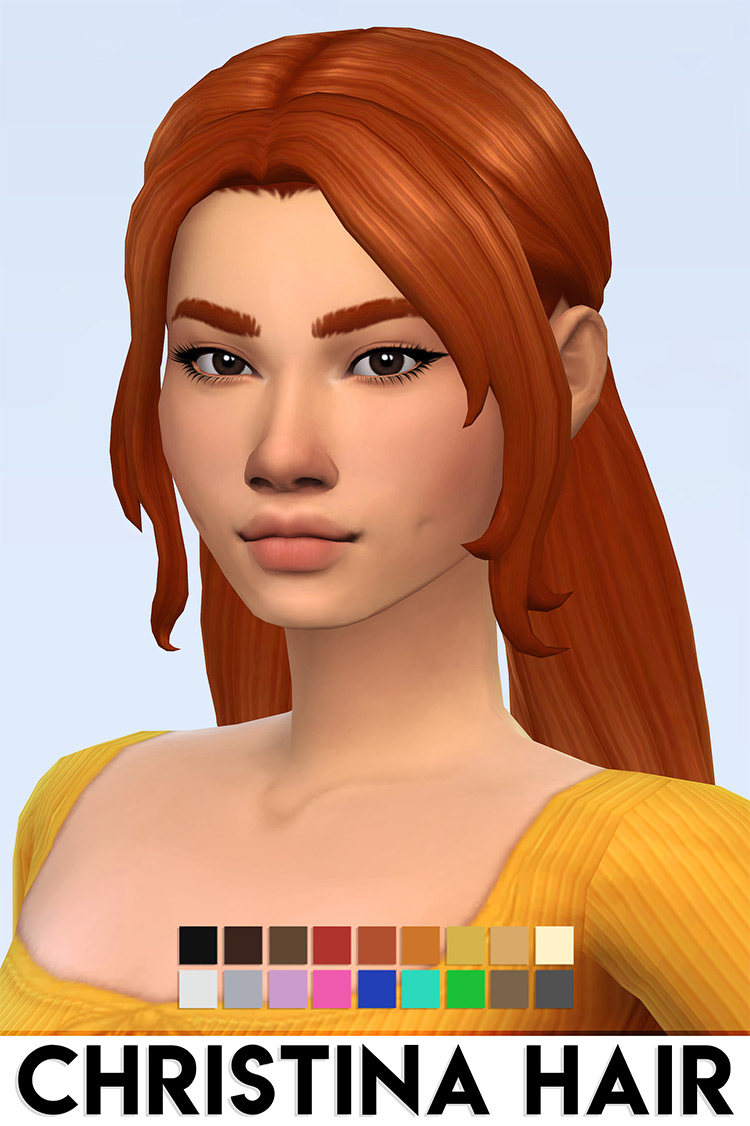 As far as interesting hairstyles go, this one's definitely one for the books.
What I thought was long hair pulled back into a half-ponytail turned out to be two long pigtails pulled to the back.
It's not a style I see often (in TS4 and IRL), so I thought it was worth checking out.
Good news; it looks just as good in-game as it does in the preview photos.
And I like how it looks like the Sim purposefully didn't tie a portion of their hair at the front, so they could let the strands frame their face.
It's a stylistic choice I personally vibe with (even though I don't do it often).
Final rating? A very fun piece of custom hair for Sim ladies, 10/10 recommend.
6.

Rirrier Hair by forestsims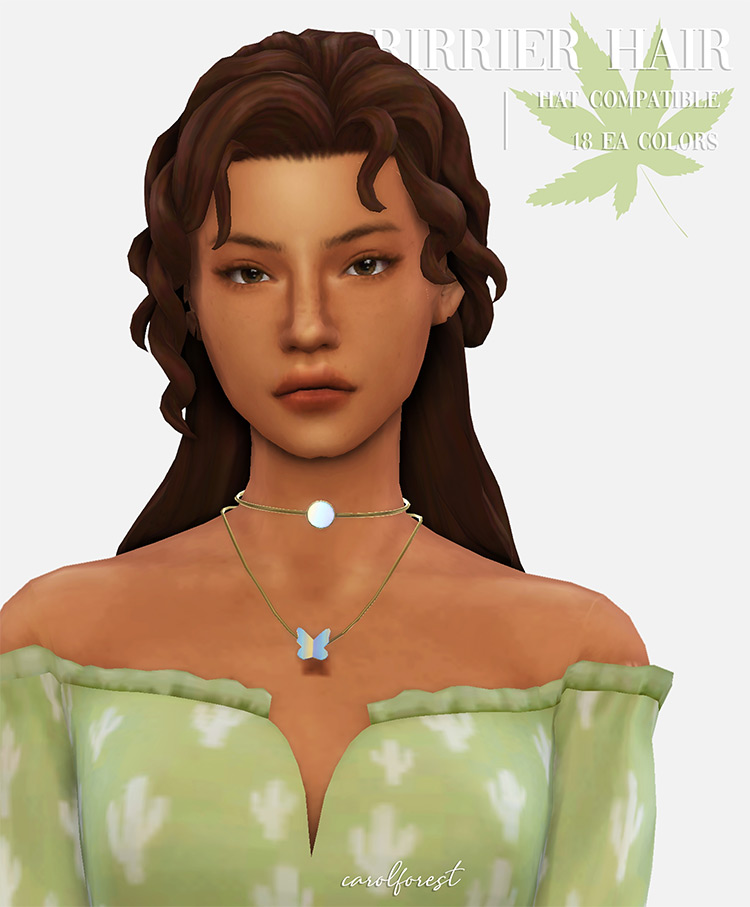 Say this name five times fast.
Jokes aside, this is an incredibly elegant and whimsical hairstyle that I ended up loving way more than I thought I would.
First of all, the curls. Excellent flow and distribution.
Plus these curls look especially gorgeous and defined with the Maxis match texture.
And second of all, the vibe.
Half the hair is loosely tucked into a bun or bunch that goes 'round the head. The rest falls to the middle of the back in a tumble of lightly curled tresses.
It feels very "lady of the forest" or "sweet summer child," and I'm 99% positive we all have a Sim character that fits that description.
If you're part of that crowd, this hair might be useful.
7.

Mhysa Hair by Quirky Introvert CC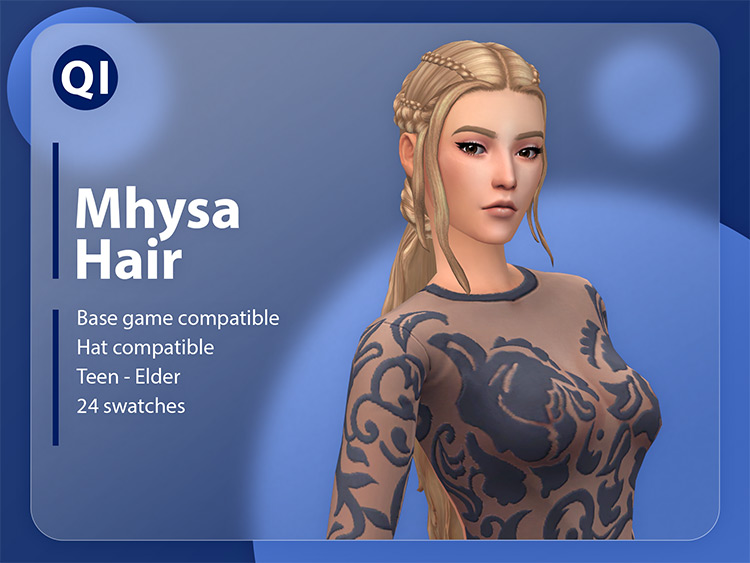 If you're building a medieval, fantasy, or medieval-fantasy Sim, this Mhysa Hair by Quirky Introvert CC would make for a very setting/period-appropriate hairstyle.
Look at how elaborate and detailed the braids are (use a lighter hair color shade, if you have to, because they stand out more with lighter colors).
They painstakingly follow a set pattern, crisscrossing and overlapping only when it suits the overall design.
Even the thickness of the braids vary!
Check out how the thicker ones are used as sort of a frame for the hairstyle and the smaller ones are used sort of like accents.
All this is to say is that this custom hair piece is very impressive, and I would highly recommend it.
8.

Horizons: Harlow & Lenore Hair by clumsyalien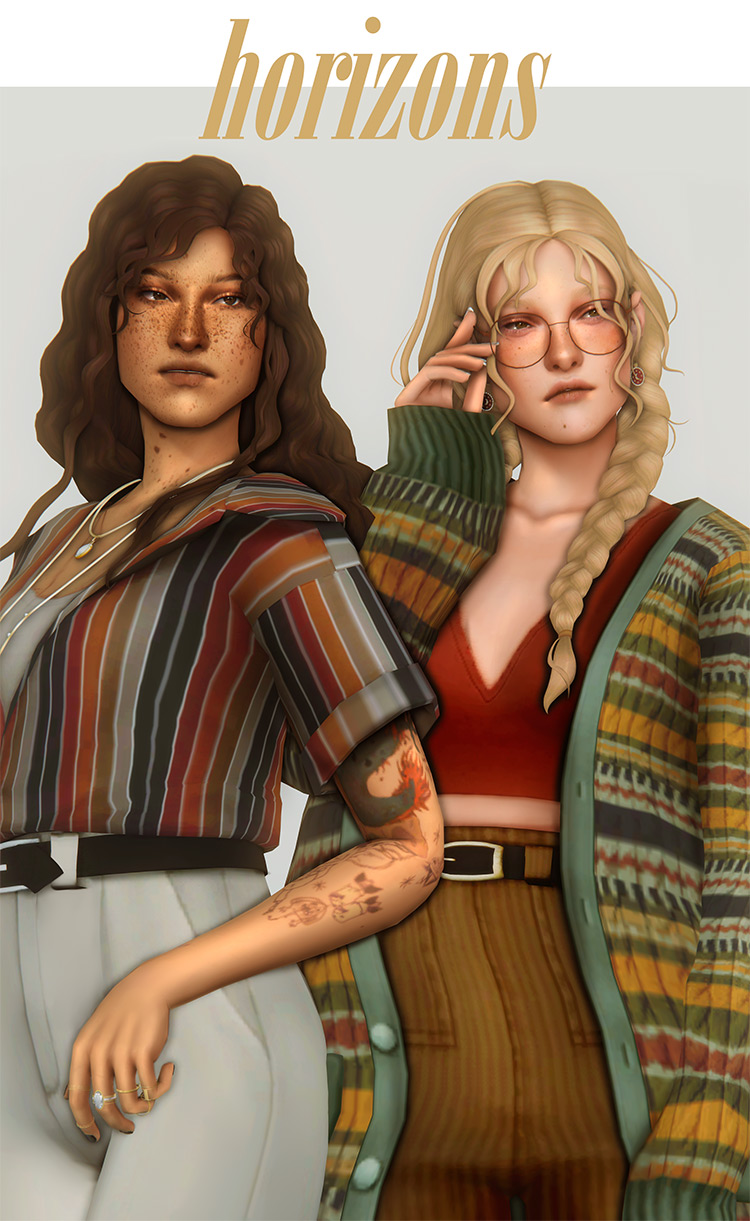 Clumsyalien's Sims have a certain aesthetic that I'm hopelessly in love with.
So if I end up promoting a lot of their custom hair, I apologize.
(But not really because I think they do great stuff)
So there are two hairstyles in this custom stuff pack that fit the theme of this listicle (long, female, and Maxis-Match). These are named:
The Harlow Hair
The Lenore Hair
The Harlow hair has long, wavy tresses and a cute side-fringe thing going on.
The Lenore hair, on the other hand, has two big braids resting on either side. It's accessorized with lose, curly strands of hair scattered around the face.
Both come in 24 colors—18 from EA's palette, it looks like, and 6 additional shades of blonde, brunette, and grey.
9.

Stefania Hair by simancholy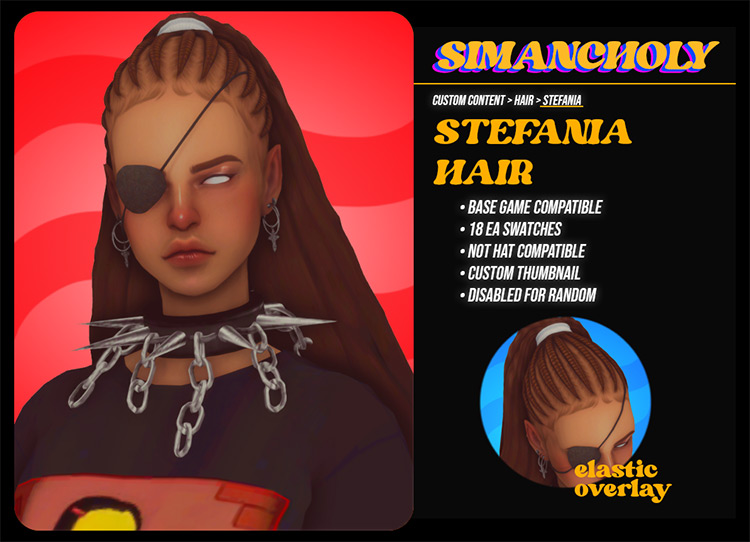 This hair CC is, for lack of a better descriptor, cool.
Seriously it looks so badass.
I love the level of detail the creator put into the hairstyle and hair texture. The artistically styled edges, the even spacing of each braid… they even included an elastic overlay if you want to change the color of the hair tie.
It won't work with hats, but honestly?
The style is far too gorgeous and eye-catching to hide beneath a hat.
If stick-straight hair or California beach girl waves are getting too repetitive, try experimenting with this style. It might inspire a new Sim.
10.

Daylight: Georgie & Daphne Hair by clumsyalien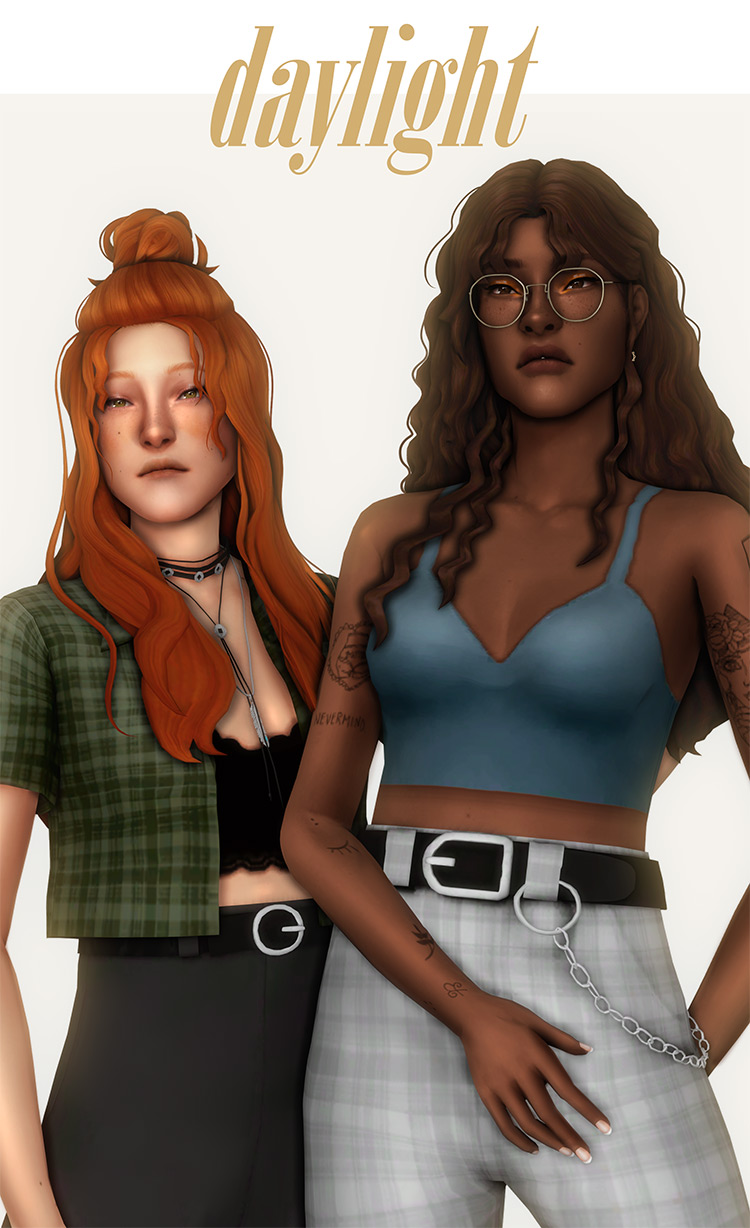 Clumsyalien's Daphne hair is pretty similar to their Harlow hair in the sense that it's loose, semi-curly tresses falling about untamed.
The biggest difference I see is the size of the curls, the hair parting, and the fringe.
Daphne's fringe is parted in the middle and is a lot more pronounced than Harlow's.
Plus, Daphne's got the cute little hair-tucked-behind-ear thing going on.
The Georgie hair, on the other hand, has very light waves, a couple errant hair strands, and a messy (but still elegantly-curled) bun sat right at the top of their head.
I like that there are tufts of short hair around the bun, sort of giving the illusion that it was hastily and carelessly styled.
Gives it more life that way.
11.

Hair Recolor Dump by sulestial
So here's a variety pack of a bunch of long hairstyles in the Maxis match texture.
I originally stumbled onto this because I was looking to download the Lila hair—which is a beautiful cut with Hime-style bangs and a teeny-tiny ponytail way at the bottom of the hair.
Well I saw the preview photo using an elf and instantly fell in love.
But as it turns out, this hair dump contains several other awesome hairstyles worth checking out. Most notably:
They all suit the context of being long & Maxis-matched.
Plus they definitely look like custom hair you'd want to keep in CAS for when you feel like giving your Sims a major makeover.
And they all seem to be fantasy-themed; a definite bonus for me.
12.

Danielle Hair by aharris00britney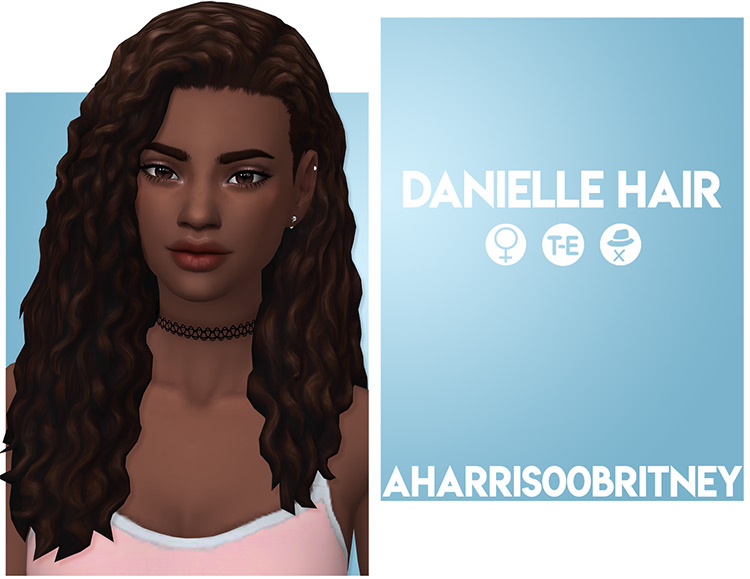 This hairstyle boasts tight thick curls and a gorgeous hairline.
It's not as long as some of the other pieces here (falling to just above the chest area). But I think the volume more than makes up for it.
It may not be as thick as chocolatemuffintop's Void hair, but it's definitely up there. Probably top three.
First thing I noticed when I tried it in CAS is how defined the curls look in the clayified texture.
That definition sort of helps enhance the fullness and body of the hair in general, which made it pretty darn appealing for me!
13.

Alice Hair by Natalia-Auditore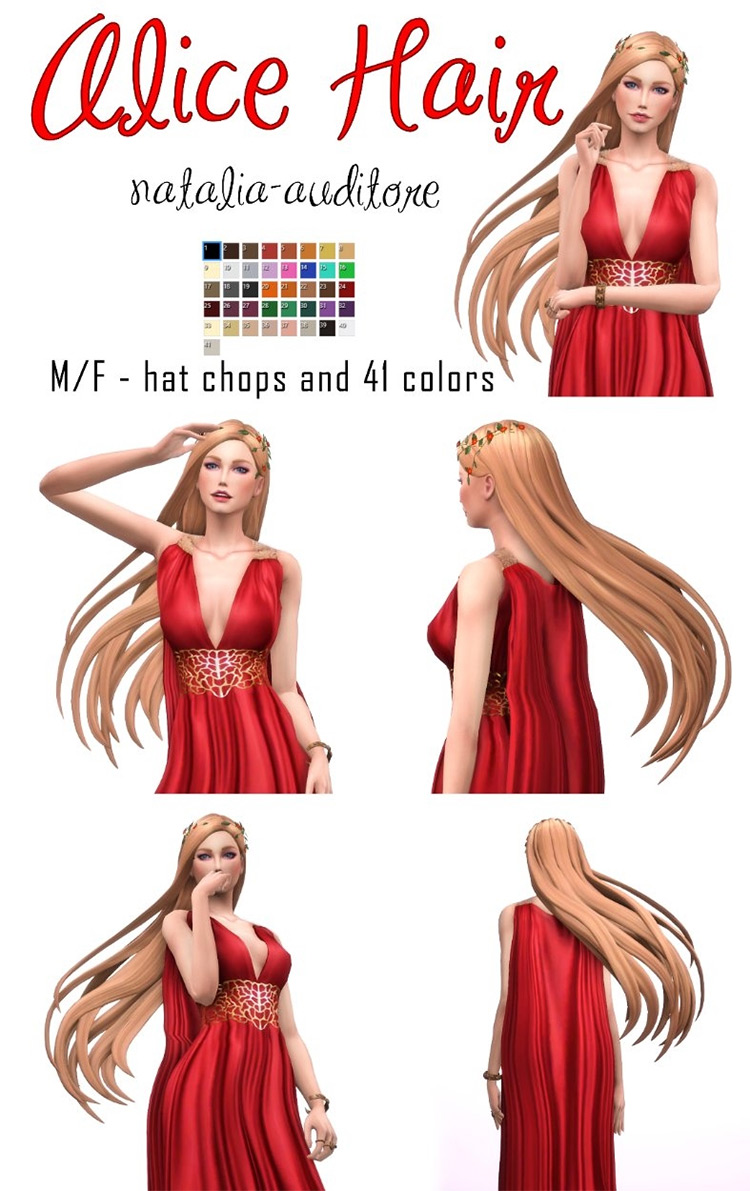 Okay, hear me out:
As someone who tests out a lot of custom poses, custom accessories, and custom clothing in The Sims 4, I usually try to spice up the shots using other random CC items.
Like an interesting piece of furniture maybe, or some pre-made sets.
This Alice Hair by Natalia-Auditore is one of my favorite finds –and I'm so glad I get to sing its praises now.
As you can probably see from the preview photos, this hair is designed so that it looks like it's blowing in the wind.
Do you know how much life that gives to still action shots??
See exhibit A and B below, and then thank me later.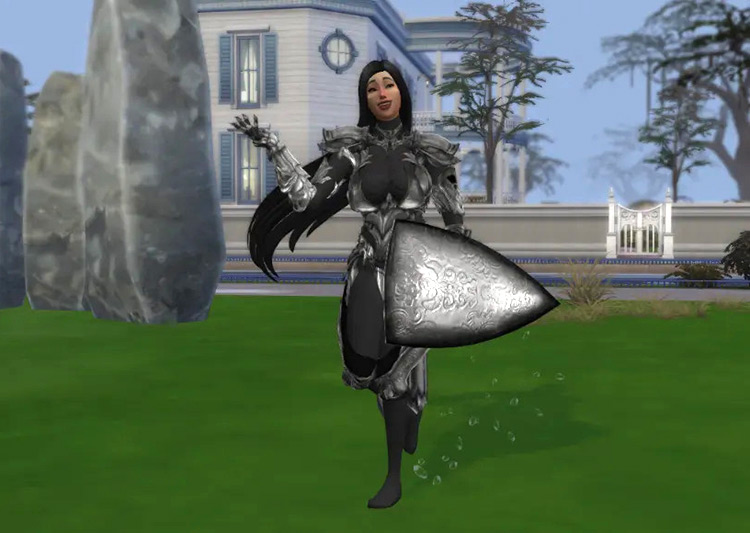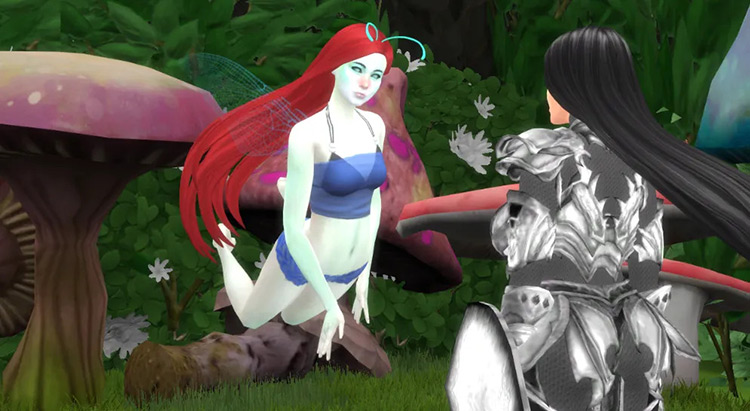 14.

Doll Me Up! by simandy and infiniteraptor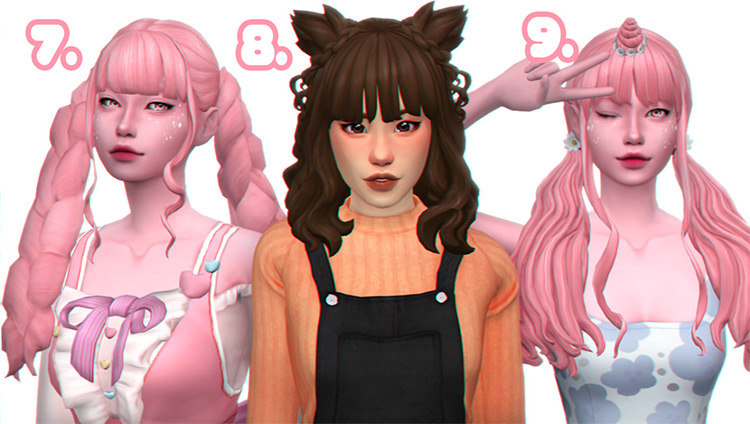 Brought to you by the ever-talented simandy and infiniteraptor, this collaboration project yields nine new hairstyles and two new makeup sets!
And all items follow what seems to be a pink, blushy, porcelain doll concept.
What originally attracted me to this set was hair #7, which is apparently named Hime Hair.
But a quick browse through the previews led to two other hairstyles catching my eye: Oni Hair and Rina Hair.
The Oni hairstyle is especially interesting since it has an optional (but highly recommended by me) split hair accessory.
This lets your Sim rock an extreme two-toned look à la Melanie Martinez, Nicki Minaj, and Sia.
15.

Void Hair by chocolatemuffintop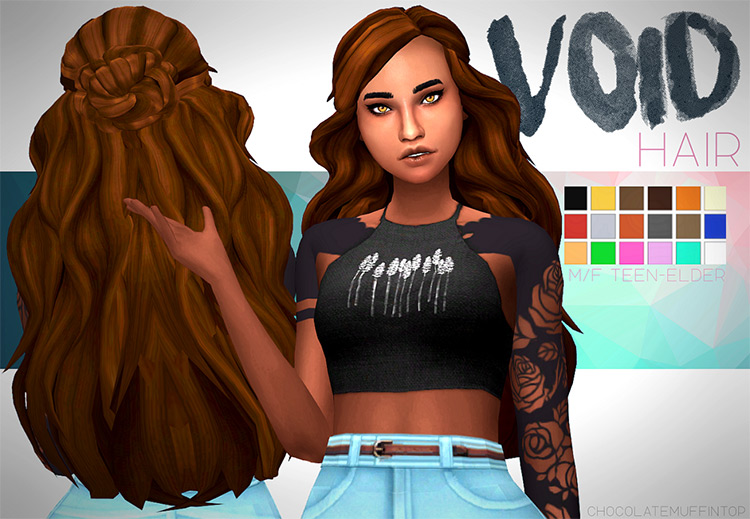 Do you know the expression, "thicker than a bowl of oatmeal?"
I know it's been meme'd to death.
And I know the original phrase specifically doesn't refer to hair, but hear me out.
In the context of this article, that's exactly what this hairstyle is. Seriously, it looks like you could lose a pen, a pair of earphones, and maybe even your driver's license in there.
Thick, luscious, and available in eighteen colors that (surprisingly!) are not from the standard EA palette.
chocolatemuffintop's Void Hair CC is incredible – and it's also base game compatible.
16.

Meadow Winds by simandy & clumsyalien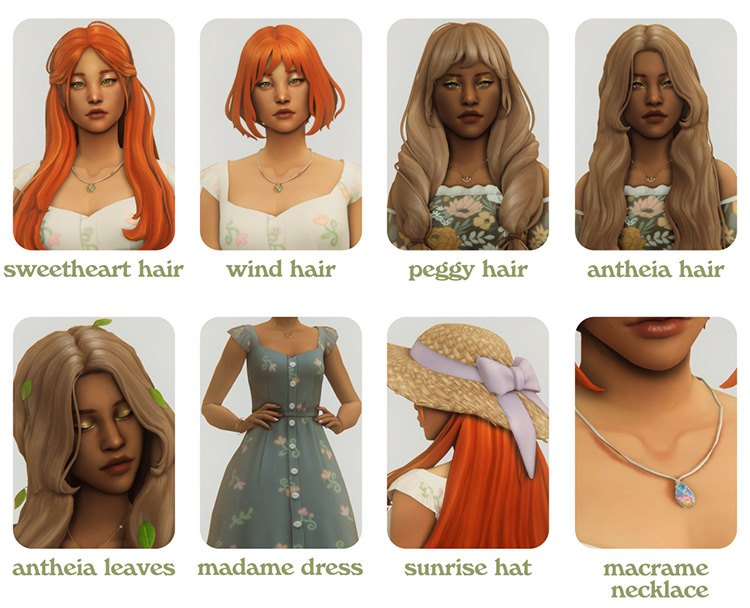 Clumsyalien and simandy are known for their Maxis match CAS items.
If you were to ask for recommendations from the Sims community, their names would pop up several times. I happen to use their content quite a lot for my personal Sims games, so my expectations for this collaboration were quite high.
Obviously, they did not disappoint.
If you're looking for custom long hairstyles for Female Sims in Maxis match, there are three items in this project that check all boxes:
Sweetheart Hair
Peggy Hair
Antheia Hair
I'm going to focus on Antheia though, because I fell head-over-heels in love with the fact that you could put leaf accessories in the hair.
Yes, honest-to-goodness, goddess-of-the-forest, mythical-nature-sprite leaves, clinging to windblown tresses like the most delicate things alive.
The Antheia hair by itself already looks great. The leaves accessory just make it ten times more whimsical.
17.

Diana Hair by Natalia-Auditore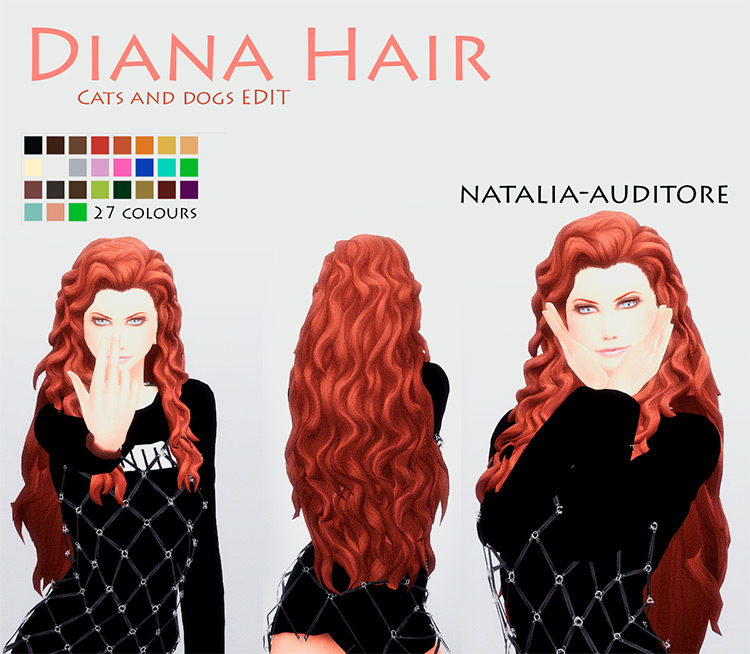 Apparently inspired by DC's Wonder Woman (the New 52 version), Natalia-Auditore's stunning custom hair is fiery and ferocious enough to suit any warrior princess of Themyscira.
I mean, seriously; check out those curls. Those wavy tresses.
The volume and body alone would be enough to knock any man off his feet.
I don't know how practical it is to have hair that long whipping around unrestrained on a battlefield but, hey. Visually, the impact's there.
And in terms of variety, there are 27 hair colors to choose from.
You could stay true to the preview photos and pick a fiery orange, but just know; neon pink and eggplant purple are viable options.
Just in case you feel like playing around.
18.

Nocturne: Adora Hair by clumsyalien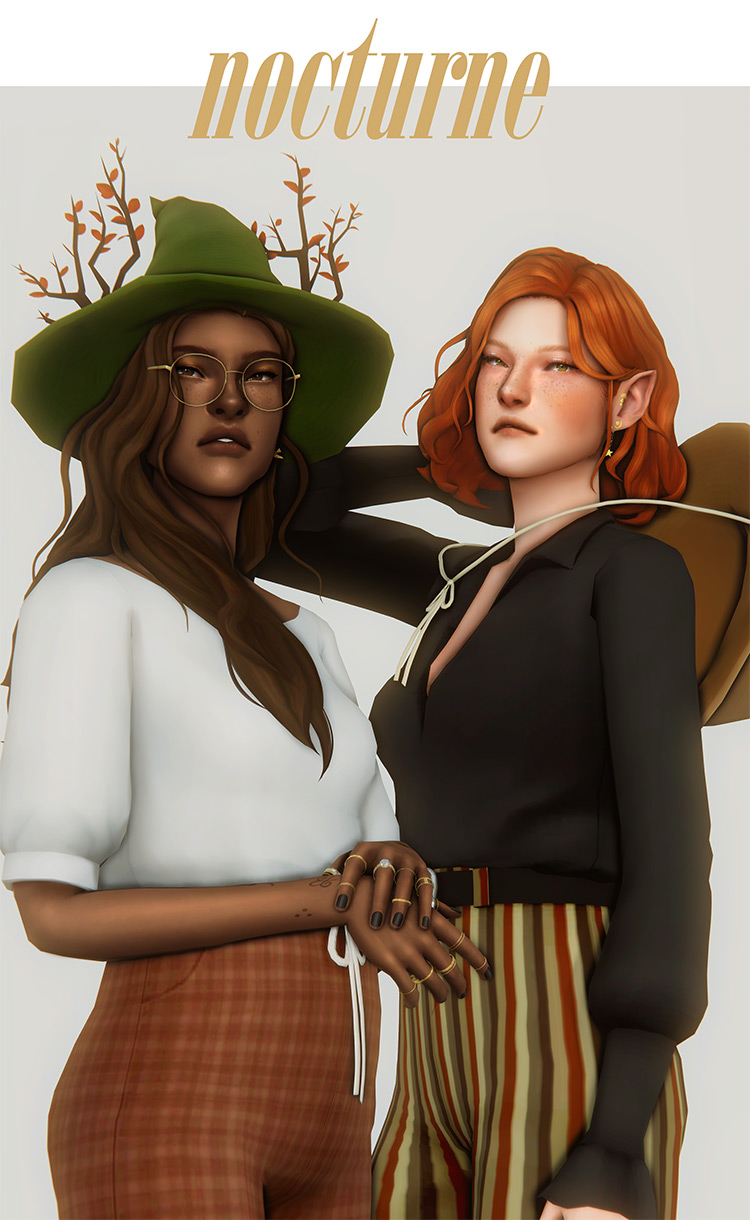 This is one of those custom CAS items I ended up liking way more than I thought I would.
To be fair, when I saw the preview photo for Adora hair on the download page, I thought it was simply wavy hair pulled to one side. Nice and pretty, but nothing out of the ordinary.
I know a lot of people tend to wear their hair that way when it's at a certain length, so I thought it would make for a relatable custom item, too.
I don't know what it is here. The texture, the parting, the little glimpses of wayward strands, or the mesh itself, but clumsyalien's Adora hair is absolutely striking in CAS.
When I tried it on my Sim, I was a little dumbfounded by how perfectly it suited her.
19.

Siren V2 by simandy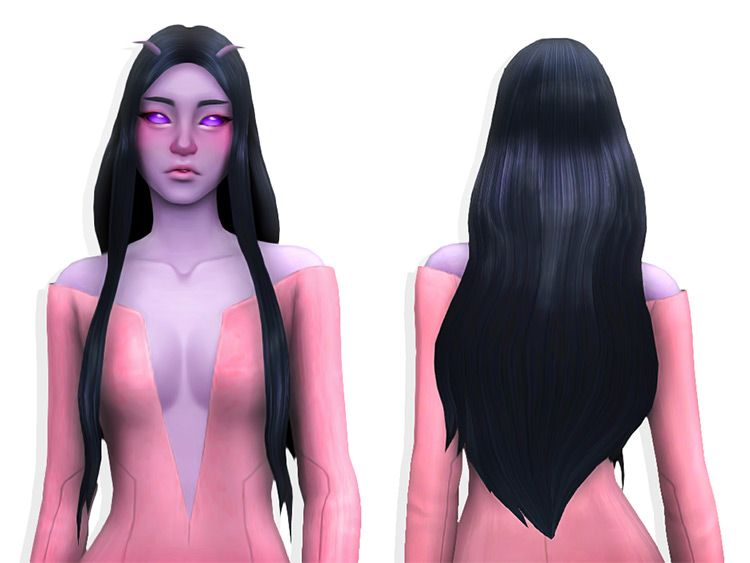 If curls, waves, and ringlets aren't really your thing, maybe try this sleek waist-length number by simandy.
This is apparently the second "better" version of an existing hairstyle CC (still by the same creator), but I can't seem to find Siren V1 or whatever. So I guess I'll just have to take their word for it.
Versions aside, I love the shine and texture for this piece.
Although I'm personally more drawn towards wavy hair and/or loose, beach-y curls, I can still appreciate beautiful hair regardless.
And simandy's Siren V2 is honestly so pretty.
20.

Despina Hair by simstrouble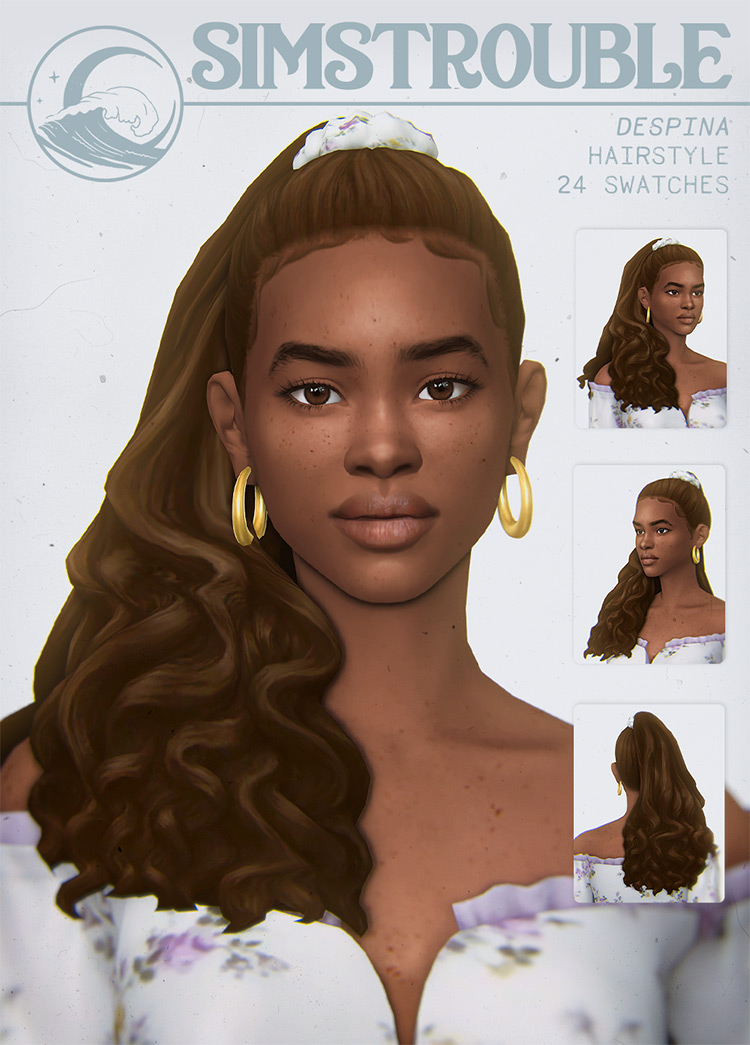 Simstrouble's Despina hair carries the same vibe as simancholy's Stefania hair.
In fact, the styling is pretty similar!
Biggest difference is perhaps the top.
Despina hair doesn't have evenly-spaced rows of braids on the scalp that lead into a poofy ponytail.
Instead, it just looks like a regular ponytail, pulled up and styled for neatness.
I like how the hair is so thick that it rests on both the front and the back of the Sim's shoulder.
This small design detail really gives an indication of volume.
By the way, make sure to check out the creator's notes for links to the hairline used; because it's not included in the original mesh.
Browse:
Lists
Maxis Match
The Sims 4
Video Games