Sims 4 Maxis Match Short Hair CC (Female)
This post may contain affiliate links. If you buy something we may get a small commission at no extra cost to you. (Learn more).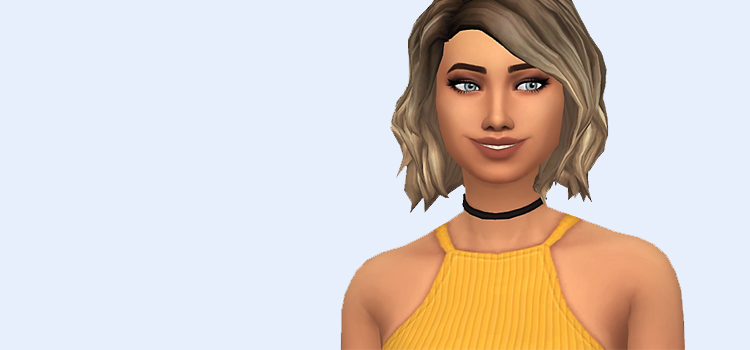 Where would our Sims be without hair and clothes?
Well, bald and naked.
But it's more than that. Create-A-Sim is some player's favorite aspect of the whole game, and it's only made better and better by custom content.
The Sims 4 community offers a broad range of options for basically everything – and today we're focusing on shorter hairstyles for girls. You might think that the shorter the hair is, the less there is to work with, but that couldn't be further from the truth.
And there's plenty of fun options here to fit every Sim! No matter their personality or what stage of life they're in, all of your female Sims can rock an awesome new haircut and make it her own.
1.

Willow Hair
Bob cuts generally come in about a million variations.
It's been the quintessential "short feminine haircut" for eons. And over time people have found plenty of ways to update it or make it original.
Stephanine-Sims has combined all of the best aspects to create this hairstyle.
This bob is sleek, neat, and will give any Sim a youthful feel. The length is slightly tapered, reaching just a few inches past your Sim's jaw
It's classic, yet has just enough of a modern flair to make it perfect for trendy Sims of any age.
And I'm not using the word "perfect" lightly. There's just no better way to describe this, since the layers are subtle and overall it's a realistic, quality hair.
2.

Shelly Hair
You don't see a lot of crossover from other video games with The Sims. This is a life simulator, so mixing in other beloved series like Animal Crossing or The Elder Scrolls usually only works out through CAS or decorative objects.
Well, that's exactly how genius strikes sometimes.
This Simmer was inspired by the hair catalog in Pokémon Shield – and that's how this lovely new CC was made for TS4.
I believe this is actually another type of bob, just a little fuller, thicker, and more textured than the Willow Hair.
I'm no expert on these matters. Sims are my area of expertise, and I can promise any of them will be pretty as a picture with this!
3.

Kiala Hair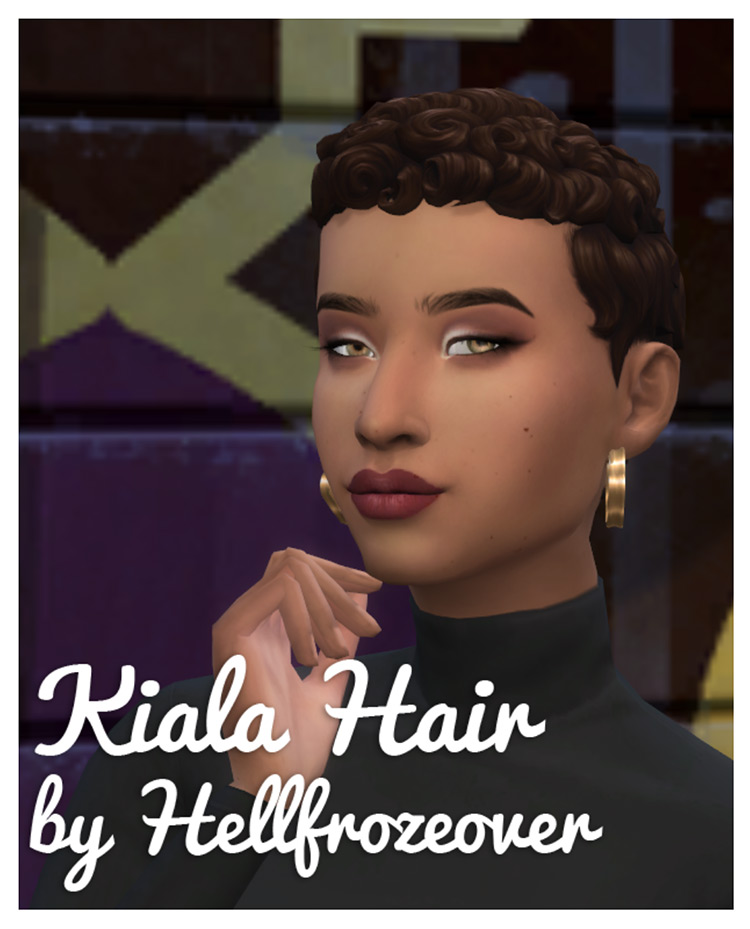 Speaking of texture, that's something nearly all Sim hairstyles could use a little more of. The nuances of human hair are difficult to capture even though most people don't have super straight texture naturally.
Natural is beautiful, so any opportunity to embrace that is a win in my book.
And now more than ever, The Sims 4 has options for you to create original and diverse characters.
These curls are cropped close to the scalp and Ice-creamforbreakfast left them just a bit longer on top. It's safe to say this haircut is full of charm, and an instant classic.
You can use it over and over and it'll easily become part of each Sim's appearance. Sometimes it can feel like you're just making them play dress up, but that's not the case here. The Kiala Hair is a fantastic choice whenever you're looking for something short and curly.
And take a peek at our list of Maxis Match curly 'dos if you're looking for even more curly CC.
4.

Beckett Hair
Shaggy haircuts for women are a really special thing, especially in The Sims.
There really aren't very many, but the ones that do exist are gems. It's like finding a diamond!
This fabulously messy hair features little tufts where the ends curl up, plus some awesome bangs. They overlap a bit, and let's be real: the bangs are often what makes choppy haircuts work!
Here, they definitely complete the look – and are also a big part of the subtle retro vibe.
It's all around a very original look for Sims, and undeniably cool.
5.

Aloe Hair
The waves here are fairly intense, and even more gorgeous.
As they say, there's not a hair out of place. We all know CC can be a bit of a gamble sometimes, but Okruee is as talented as they come – and you'll get salon-quality hair every time.
If you prefer Maxis Match content, then you want things to suit the game's style as closely as possible. Okruee really nailed it with this CC.
Your Sim's whole head will be framed by these thick, flawless curls.
The most epic part might just be the accessory, though.
I'm instantly obsessed with any hair that comes with headbands, bandanas, scarves, whatever. They add an original element that you generally can't get on your own.
Here we have a chic headband overlay that comes in a ton of swatches, so you can match it with outfits or just make it an everyday accessory.
Another unique aspect here is that, despite the headband, the Aloe Hair is still hat compatible.
Most of the time I'm fine exchanging hats for cute accessories, but it's pretty impressive that we have options for both.
6.

Cameron Hair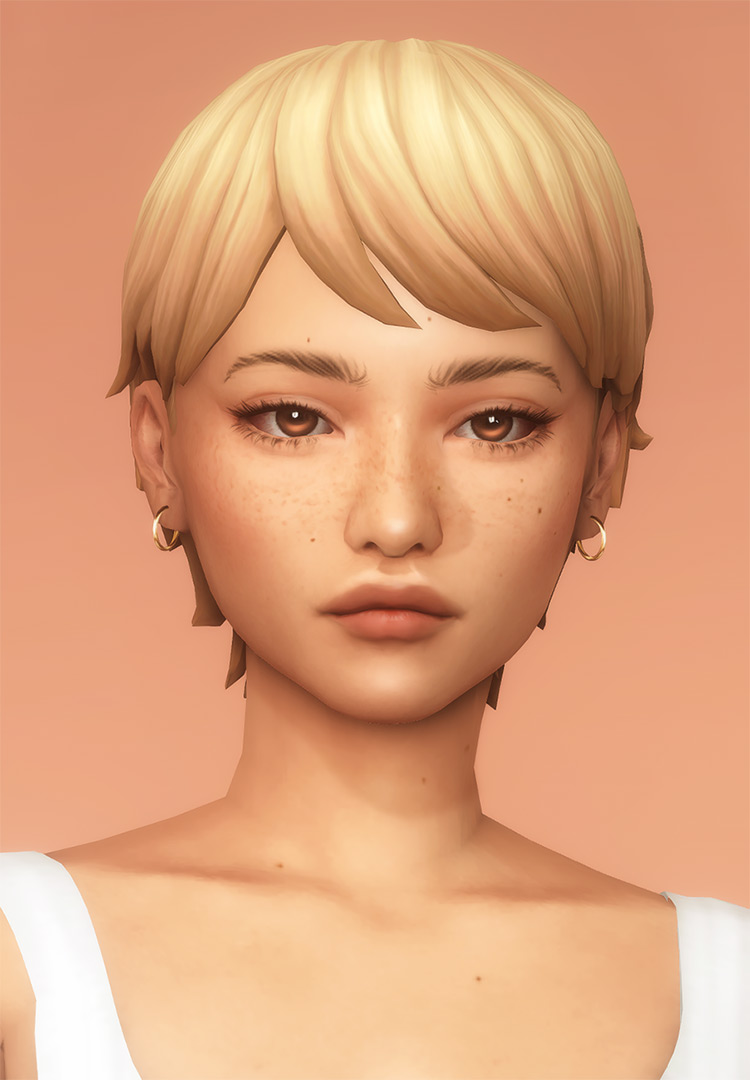 Dogsill has a lot of awesome custom content. But this adorable hair is among my personal favorites.
It's slightly choppy, but in a really cool and intentional way. And it's a perfect example of a modern take on an old school haircut.
I don't know if this was the actual inspiration or not, but this reminds me a lot of the old school 1960s 'dos. Just without the unsightly mullet tails and whatnot.
So in other words, this is a layered bob at its peak!
The Cameron Hair CC illustrates exactly why short hair is so fun. It's freeing, simple, and exciting.
You may not be able to try different styles like you can with long hair, but this can stand on its own. It'll be a long time before you grow tired of seeing your Sim rock such a great style.
7.

Scruffy Hair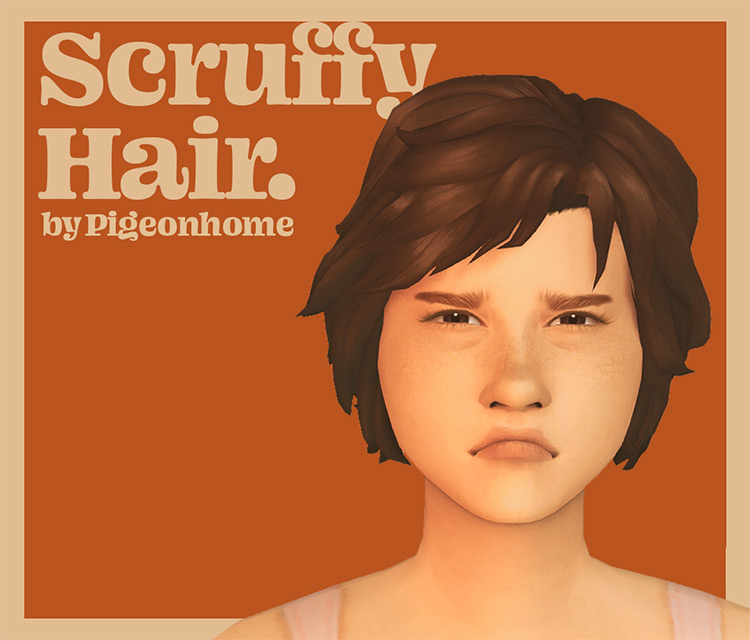 Unless it's intentionally made to look messy, most hairs for Sims are nothing short of perfect.
Officially-released hairstyles and custom content alike are painstakingly crafted for that very effect.
The thing is, real hair isn't perfect all of the time. A lot of care would have to go towards keeping a human's locks resembling anything close to what a Sim has going on.
Not only is brushing it important, but even the type of brush can make a difference as well as type of shampoo, whether or not a person uses heat to style it… who am I telling? The list goes on and on, as everyone knows intimately.
We've all tried to put work into making our hair look its best. We've all thrown in the towel and decided not to go through all that, too.
Well, ironically enough, if you want your Sims to look a little unkempt then you've got to go through the effort of finding appropriate CC.
Pigeonhome's Scruffy Hair may not exactly be tidy – but it's perfect in its own way. Messy hair can get a lot worse than this, and honestly it's very charming!
8.

Flore Hair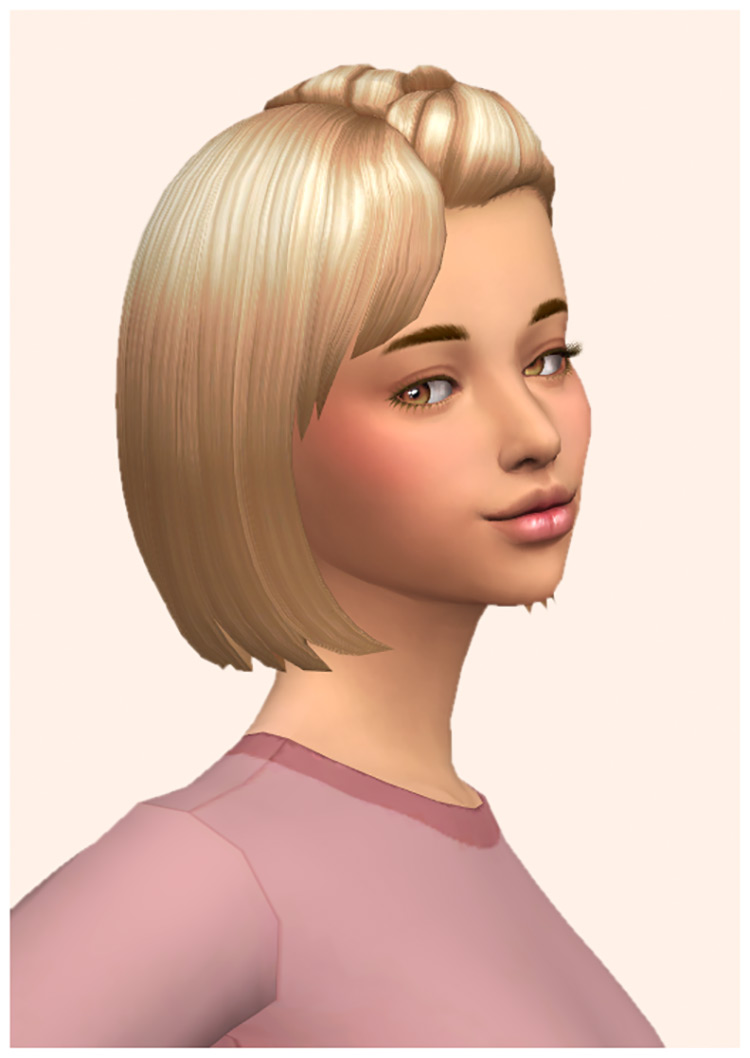 Short hair doesn't necessarily mean not being able to try different styles or experiment with it.
For some people, the ability to just "brush it and go" is a perk, but for those who love to do different styles, it's a different story.
Wondercarlotta proves that it's still possible to do insanely cute hairdos even when your hair is short.
This bob is straight on one side, and the other is pulled up in a gorgeous French braid.
The details here are just incredible, right down to the end of the braid, which looks very natural.
Any Sim with this 'do will really look like they know how to take care of their hair, because this has a very soft, silky appearance.
9.

Leta Hair
Some styles are just timeless.
Usually they're also the simplest.
The most dated cuts have aspects directly linked to their era and place in history. For example, the '20s were defined by super recognizable, wavy, short styles. And although mullets have been going through a bit of a resurgence, they'll always be inherently linked to the '80s.
That's not really a bad thing.
In the future, people will definitely see long & layered highlights or messy buns and know it was a 2010s/2020s thing.
But there's nothing wrong with effortless cuts. They're practical and beautiful in equal measure, like this Leta Hair. It has a soft appearance and the subtle middle part is exactly what makes it timeless.
There's a slight wavy design to the hair that'll stay mosty tucked behind your Sim's ears.
It's another one that'll look awesome on any Sim, whether they're still in high school or have grandkids.
Wavy, short, and feminine are the main factors – and these will always be trendy in some capacity.
10.

Paris Hair
Okruee has struck gold again here with her Paris Hair CC.
It's also another one I can personally attest to being amazing.
I found this not long after it came out, nearly 2 years ago, then accidentally deleted it. We've all been there. I was just trying to thin my CC folder before it caused my computer to combust, and I sure regretted it.
It wasn't until now that I finally found this lovely style again, and I'm over the moon!
All the packs in the world just won't replace your favorite custom content.
And what's not to love here?
This is shaped so elegantly, and has some of the best bangs ever. Not to be biased or anything, but they're ideal. Classy and mature, yet undoubtedly trendy. That's an unstoppable combo.
The best part is that these bangs don't have to be trimmed every two weeks to maintain their length. Sims are truly living the dream.
11.

Rhea Hair
This chic 'do is sure to become an instant staple in your CC folder. In some ways, Create-A-Sim lacks basic, uncomplicated styles.
Don't get me wrong, there are a ton of beautiful ones. Especially in recent years, we have stunning braids and updos as well as several with awesome accessories.
But personally, I like to give my Sims haircuts that are appropriate for their everyday life.
Their lives move fast, and most mothers of 4 don't have time to get gussied up every morning. Especially if their children are as chaotic as all Sim kids are.
Even if they have the Angelic trait, the kiddos in this game never fail to be unpredictable and stressful.
I know not every player is that concerned about the realism of their game, but my logic is sound, right?
Well, I think so. That's why I adore basic creations like this. Your Sim will be served well throughout her life with these tidy, cropped locks.
They're neatly parted just slightly off to the side, which makes for a very refined look all around.
12.

Long Front Messy Conversion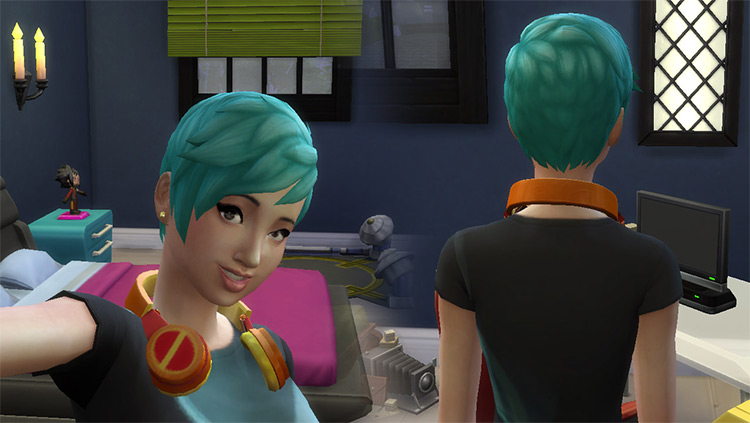 Fashionably messy is a hard look to pull off… for people, that is.
There's stuff for our Sims that's perfectly edited to be aesthetically pleasing, while still giving off the vibe that your Sim is fun and carefree.
You shouldn't judge a book by its cover – but we're all guilty of judging someone based on a first impression… and no one gets judged more savagely than a Sim.
We have no time for ones that just don't have it together in the CAS department.
This is the hair of a Sim who's not afraid to express themself.
It's really choppy, and most sections taper down to points. One side is a lot longer, spanning the length of your Sim's cheek.
13.

Eve Hair
Aharris00britney is one of those creators whose name you probably know on sight if you're big into CC.
They're a busy Simmer who has a huge downloads catalogue full of jaw-droppingly good stuff for CAS.
Some of their other creations can be found throughout this list, and there's definitely a reason they're made it into this collection multiple times.
There's a saying about how lightning never strikes twice in the same place. But Aharris00britney is out here making lightning strike all over the place. Which sounds terrifying, but I mean it in a good way.
This Eve Hair is a bit more elaborate – but the beauty is unmatched.
Part is like an afro, thick and textured, while the front is parted and braided on either side.
That's already a very striking hair, right? Well, there are some little flowers peppered throughout that make it even more lovely. Tiny versions are woven into the braid, while a bit bigger style is on the afro.
14.

Dorie Pixie Cut Hair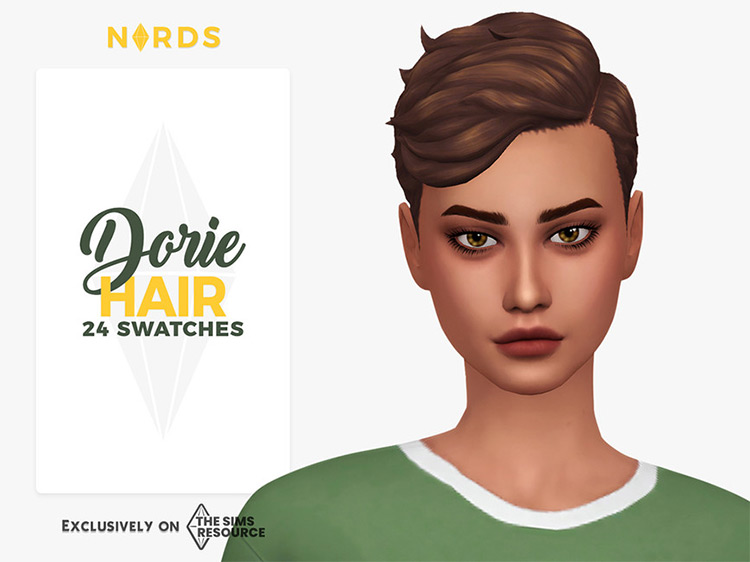 Everyone has a different idea as to what "short" and "long" mean when referencing hair.
It's all about perspective, and even the categories in CAS are somewhat vague.
But there's no denying that the Dorie Pixie Cut is a marvel of feminine hair, no matter how you look at it.
There's such a fluffy appearance and the layering is nothing short of stunning… no pun intended.
One of the deciding factors for something being Maxis Match is whether or not it's "clayified".
That doesn't sound very pleasant, since no one wants clumpy hair – which is seemingly what that term implies.
But really, it's just about whether or not it fits the game's established style. And that can be limiting in terms of detail.
Nords clearly had no problem with that though, because the subtle wavy texture is out of this world.
15.

Puk Hair
Here's something a little edgier than most of what we've seen so far.
One side is totally shaved, while the other half is neatly swept to the right and full of waves.
This is exactly what I'm talking about when I say Simmers are always making sure we have current options for our game.
Something like the Puk Hair wouldn't have been super popular when The Sims 4 first released way back in 2014, but more and more people are falling in love with the half shaved look.
It looks especially awesome from the back, sort of like a mohawk.
Your Sim can really be tricking people because it'll look quite different depending on the angle.
Basically, it's the 2020s version of a mullet. Business on the right, party on the left!
16.

Etta Hair
So, SaurusSims made this CC available for the whole family, both male and female.
And that's awesome – because all-inclusive CC like this is really fun, and all our Sims can be clones too (if that's your thing)
In any case, it's a classic hairstyle for the gals.
It's sort of a hybrid between a bob and a pixie cut.
But whatever you want to call it, it's best summed up as wonderful!
This Etta Hair is on the thicker side, so the side swept part and fringe bangs are especially nice. They'll frame your Sim's face like nothing else – and as smooth as it looks, you can tell from the sides that it has such a feathery texture.
17.

Totally Rad Hair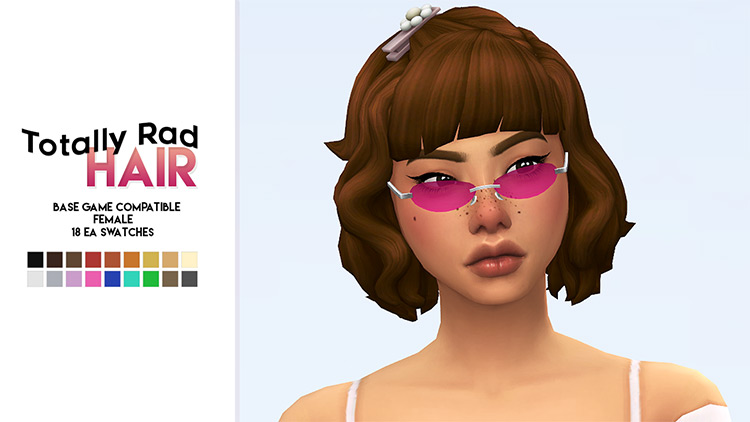 You know what really is rad?
Fluffy waves, straight bangs, and accessory hair clips.
That may seem like a very specific list, but Vikai put it all in this hair.
It has quite a natural look, and there sure is a lot of wavy texture in a small package.
Just because this style only reaches a few inches past your Sim's jaw doesn't mean it's not full of personality. It definitely encompases the larger than life vibes of the '80s, and the willingness to experiment that defined the era.
And now you can experiment too! Because this will be the perfect cap to so many of your Sim's outfits.
From adorable summer ensembles to dark goth looks, there's nothing this won't compliment.
18.

Carry The Zero Hair
Here's another partially shaved hairdo CC – with a really unique look too.
This is undeniably one of a kind.
Undercuts will always be cool. But the way this is subtle, almost hidden by the rest of the wild hair just kicks things up a notch.
It's all brushed to the opposite side and has just a hint of a wavy texture.
Your Sims will look like the baddest chicks around for sure. There's no wrong way to rock this.
19.

Peggy Hairstyle
There's something that's just so sweet about this CC, and it's hard to look away.
These silky waves are definitely admirable. From the back, they have a tidy appearance. It's clearly the hair of a Sim who cares, and takes time to brush it.
The front is a little looser, with stylish tufts here and there.
And like so many others, the Peggy Hairstyle comes with clips!
It's the type of classic barrettes that hold up better than nearly every other type of hair clip on the planet. Your Sim can survive a nuclear blast and those clips won't move an inch.
Aside from melodramatic doomsday scenarios, they still look pretty cute.
20.

Sunset Hairstyle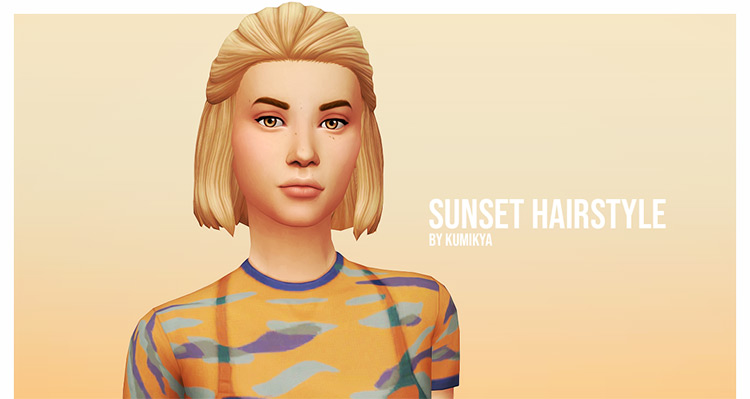 Every time I see the word "sunset" related to this game in any context, I immediately think of Sunset Valley.
That's the hold Sims 3 still has on me.
But this creation from Kumikya is a reminder that TS4 is a totally different world in every way. None of the previous games allowed players to keep their Sims up-to-date and trendy quite like The Sims 4.
And while the developers are great, no one is quite as vigilant as Simmers themselves.
This seemingly basic cut is so cute, and I'm surprised I haven't seen a variation added to the game already – because pretty much any girl with short hair is eager to do the same little pulled-back bun.
It's practical, it's stylish, and the texture is flawless.
We've all found out the hard way that blonde swatches hide nothing in this game. And fortunately, there's nothing here to hide.
No unsightly clipping or weird overlapping to be found.
Through and through, this hair is sleek and shiny – and well worth checking out.
Browse:
Lists
Maxis Match
The Sims 4
Video Games