Sims 4 Maxis Match CC Glasses (All Free)
This post may contain affiliate links. If you buy something we may get a small commission at no extra cost to you. (Learn more).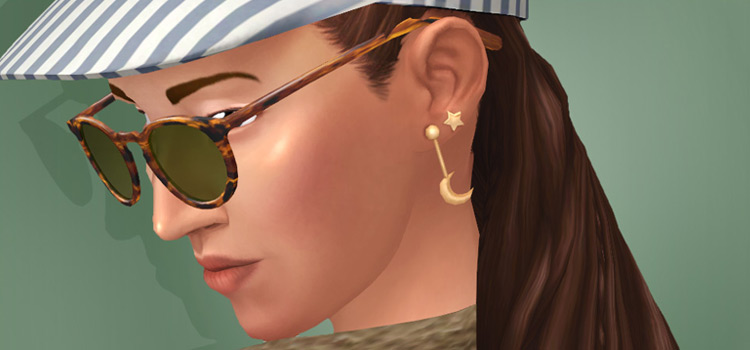 To some people, glasses are a necessity.
To others, they're just a fun accessory.
Sims fall somewhere in the middle. Do they actually need glasses?
Well, this is a life simulator, so yes!
Finding the right frames can be just as difficult for Sims as it is in the real world… unless you dive into all the custom options, that is!
1.

Simlish Clubmaster Glasses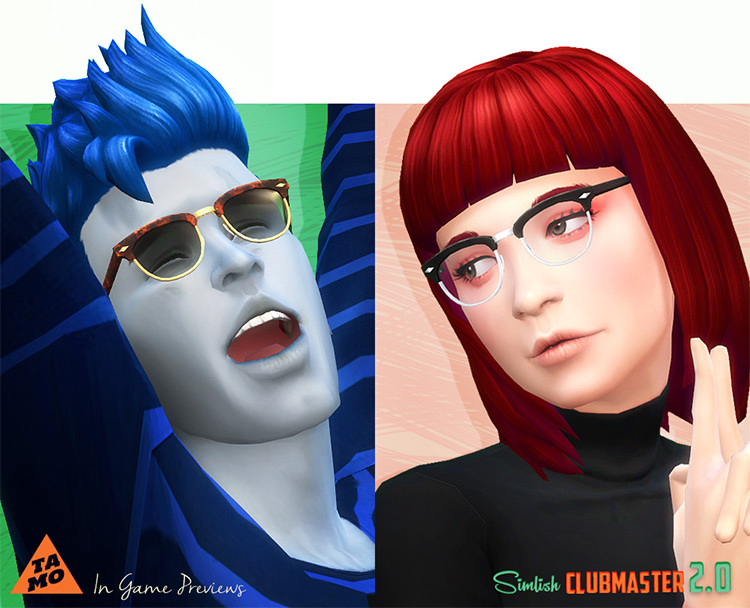 Tamo's collection of classic glasses are guaranteed to be among the most versatile you'll find.
These frames are so simple, yet look so incredible.
Whether you stick to black and tortoiseshell, or branch out with some wild new colors, you honestly can't go wrong.
2.

Nerd Glasses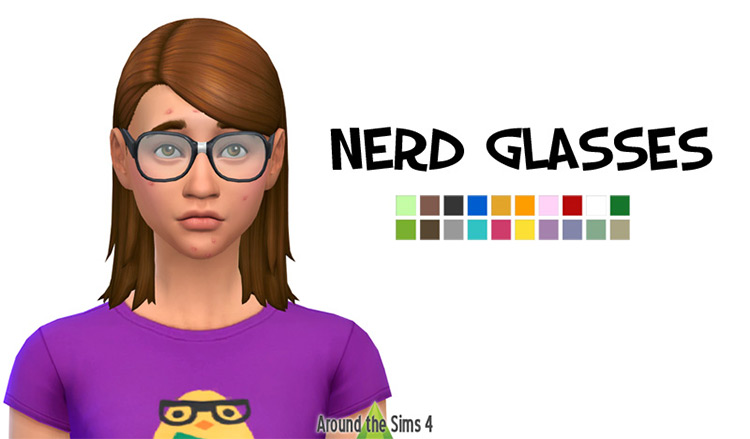 I just love the idea of some bulky, taped frames and clearly I'm not the only one.
It's not fair that Sims get to live perfect lives, where glasses never break and there's always something to suit them perfectly. Take them down a peg, respectfully, with these not so cute glasses.
3.

80s Oversized Glasses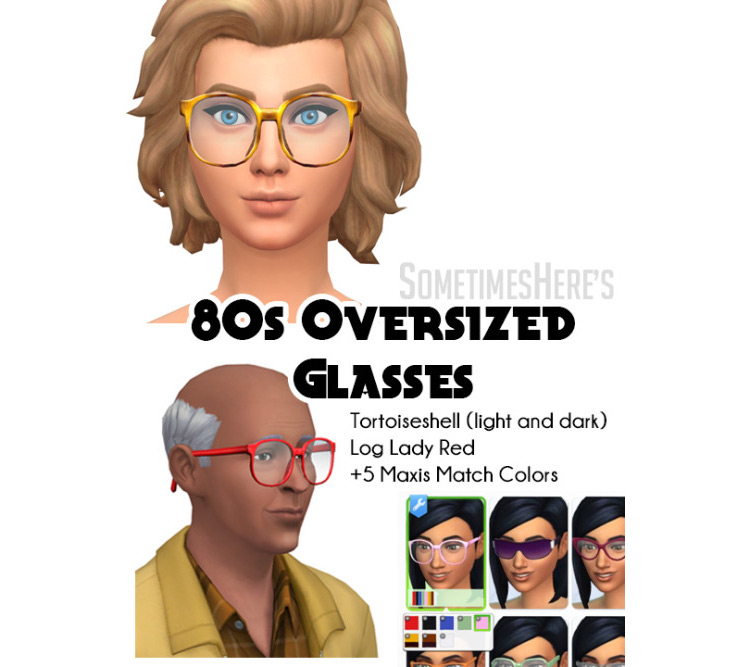 What's great about these is the fact that they're truly for all ages.
They're an obvious choice for elders, but they'll also work for young hipster Sims too.
Thick, oversized frames never really went out of fashion depending on who you ask, anyway. Once again, '80s trends have endured!
4.

Wire Glasses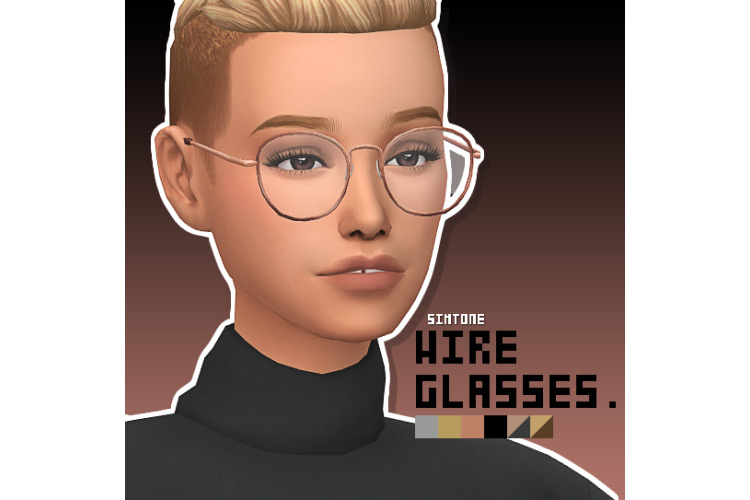 On the other hand, sometimes less is more.
Simtone took a minimalist approach with these wire rims.
It's a classic look that you'll never get tired of having available. No matter what, they're a very fashionable option, especially thanks to the 6 neutral swatches.
5.

The Scientist Glasses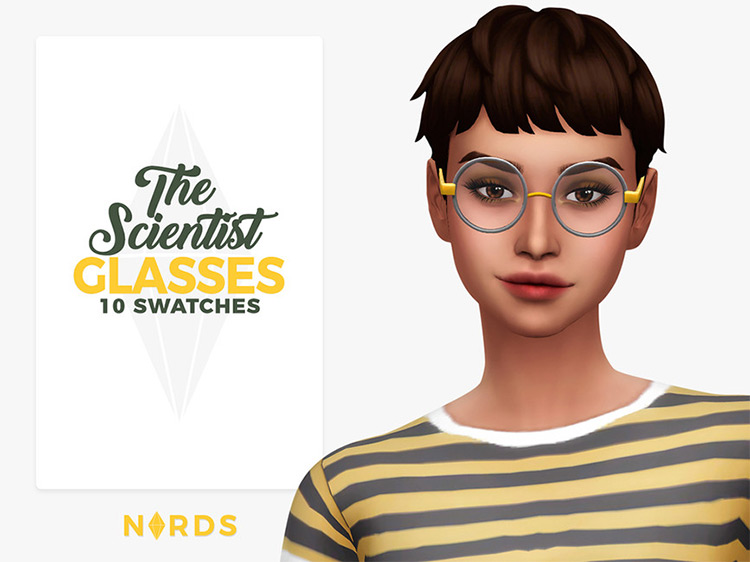 It doesn't take the Genius trait for a Sim to show their smarts. All they really need is a pair of glasses.
As dictated by television, that automatically gives them extra intelligence points.
Nords' unique, round frames will give any Sim a fresh look. They even included a version with tinted lenses.
6.

Amy Frames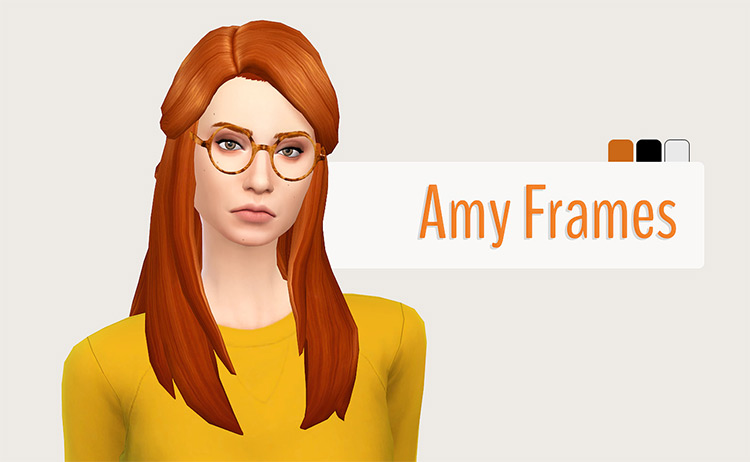 Here are some more standard round-framed glasses. These are kept simple, with just three swatches of mostly solid coloring.
That's not to say they won't be a fantastic addition to your game, though. The more accessories, the merrier, and the neutral look of these make them very versatile.
7.

Houston Glasses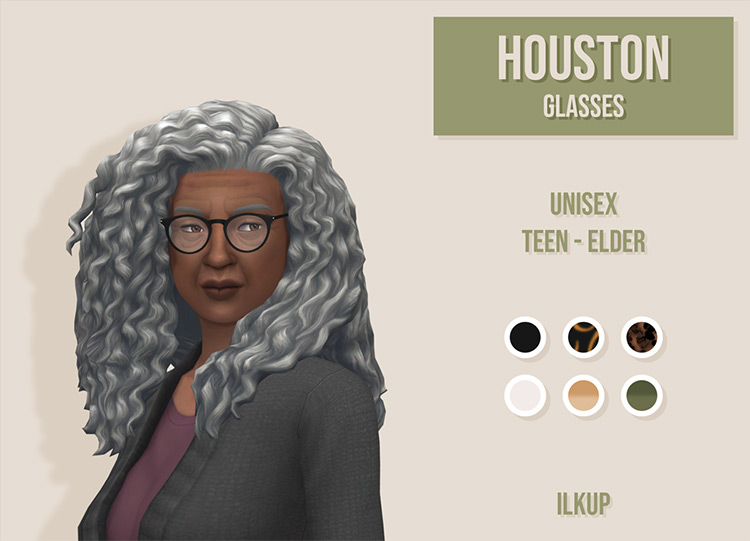 The timeless look of Ilkup's Houston Glasses are sure to serve your Sims well.
I mean, what's not to love?
They've got modest frames and a shape that'll be flattering on all face shapes. And the 6 swatches offer a few unique patterns while mostly sticking to the typical palette.
8.

Kijiko's Semi-Square Glasses Recolored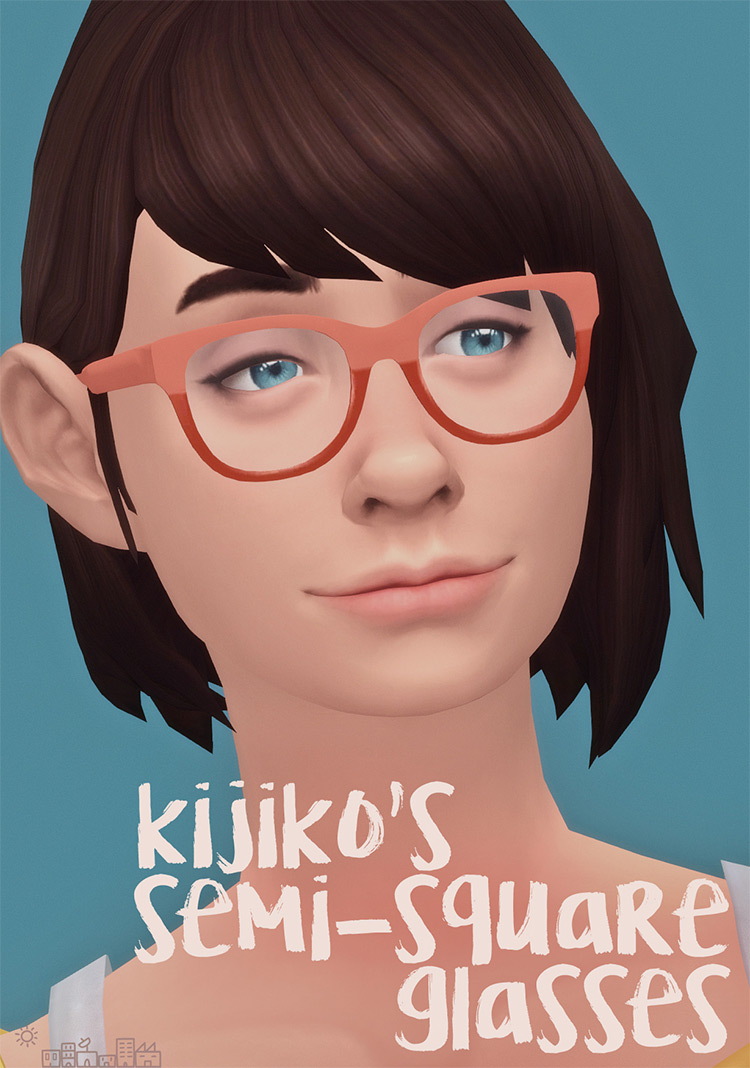 You'll have to grab Kijiko's original mesh to enjoy these recolors, but it'll be well worth it.
Amoebae's 48 extra swatches are an awesome way to expand upon the classic look.
All sorts of fun new color combos not always available for glasses, like shades of purple, green, and blue.
9.

Children's Square + Round Glasses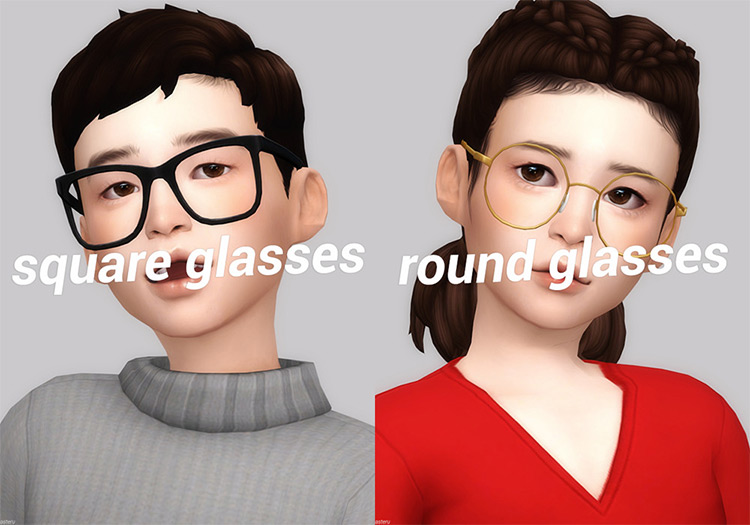 Stylish, modern frames don't have to be out of reach for Sim children, either.
Casteru's two brand new designs will really expand your options in CAS.
Not only are they distinctly different, but super high quality. Both are somewhat on the oversized side, but it's really cute!
10.

Timothy Glasses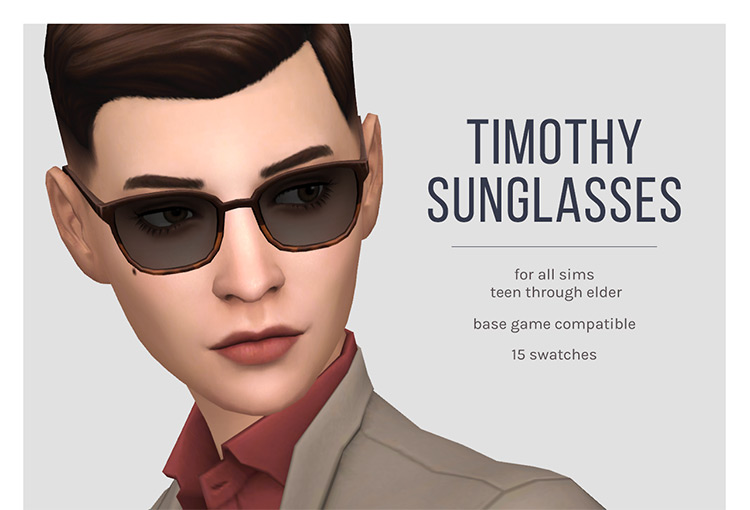 It's like a new, improved, and more modern version of the base game TS4 glasses!
Frames like this are really popular nowadays, so they're definitely a solid accessory that you can use again and again. They come in a variety of mostly neutral swatches that won't clash against any jewelry or attire.
11.

Bateman Glasses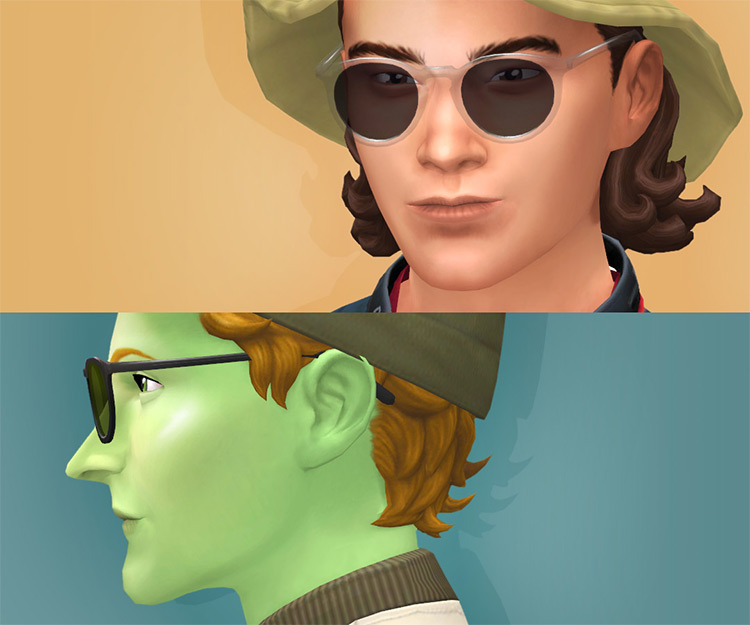 If you've been searching for some new glasses for adults, kids, and toddlers alike, then you've hit a goldmine with this CC.
Because the style is available to all Sims except babies, since they're arguably not even sentient.
Plus these glasses unisex, so it doesn't get much more useful than that.
12.

Daisy & Rose Glasses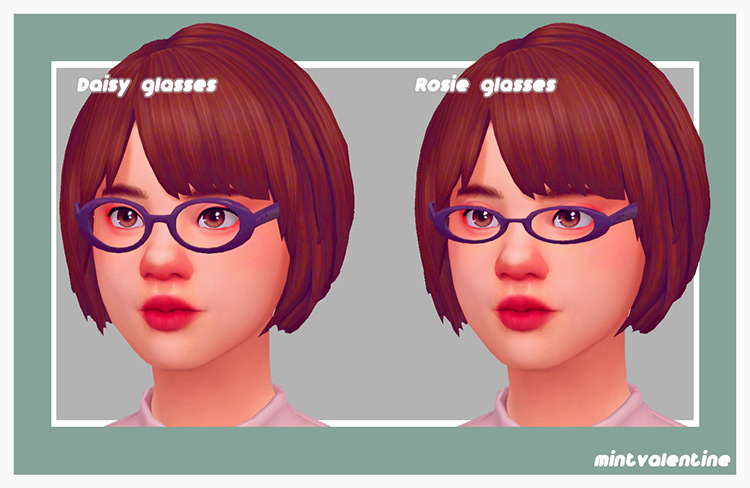 Although MintValentine's two new meshes have rounded lenses, something about these frames are particularly unique. Perhaps it's because of their thickness, or that we just don't see many narrow glasses for Sims.
Whatever the case may be, they're downright adorable.
13.

Esme Glasses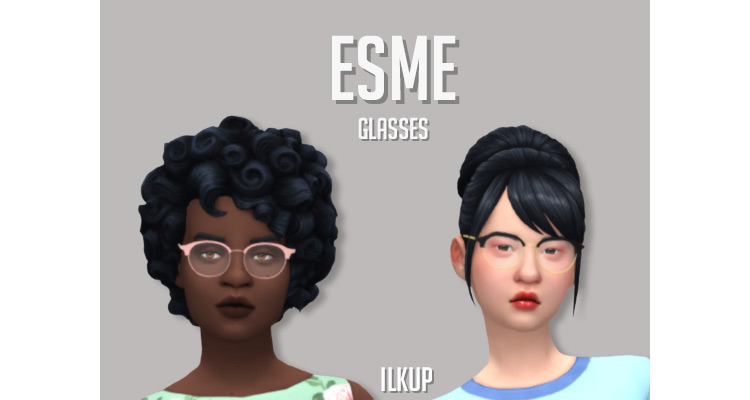 The Esme Glasses may be perfect for indecisive Simmers.
Can't decide between the vintage feel of sturdy frames, or the trendy look of really thin ones?
Well, just go halfsies! These have the best of both worlds, and the lenses themselves are a nice medium size, too.
14.

Buddy Holly Glasses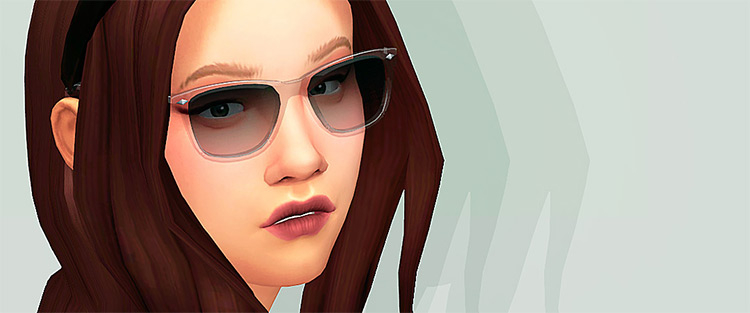 As you might expect from something named after Buddy Holly, these glasses have an old-school vibe.
You don't have to commit to that if you don't want to, however.
The abundance of swatches range from your standard colors to much newer looks, like transparent frames.
15.

Sleek Glasses For Child & Toddler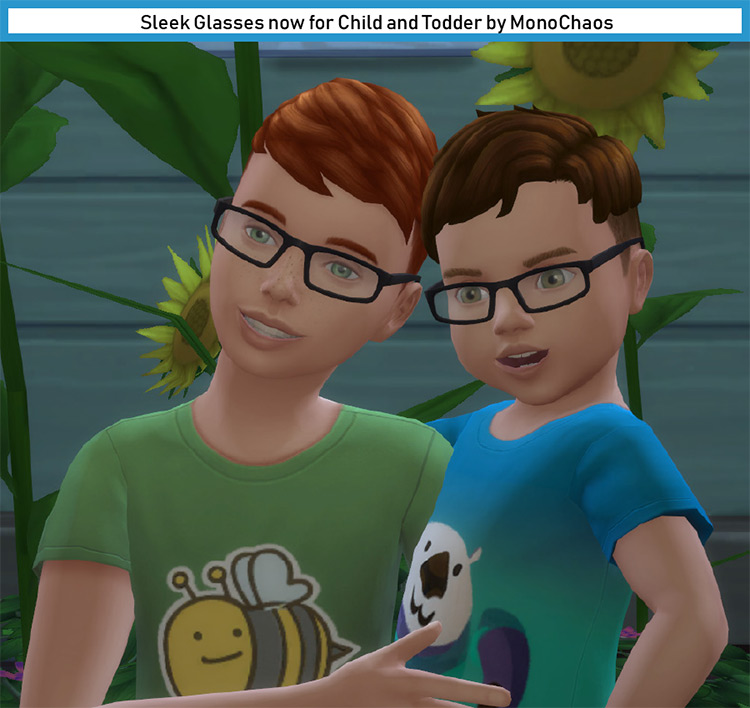 Sometimes it doesn't even take brand new designs to give us Simmers more options.
A conversion will do just fine!
In this case, some of the base game glasses for adults have been shrunk down for children and toddlers. You'd never guess they hadn't been available to them all along.
16.

Arthur Glasses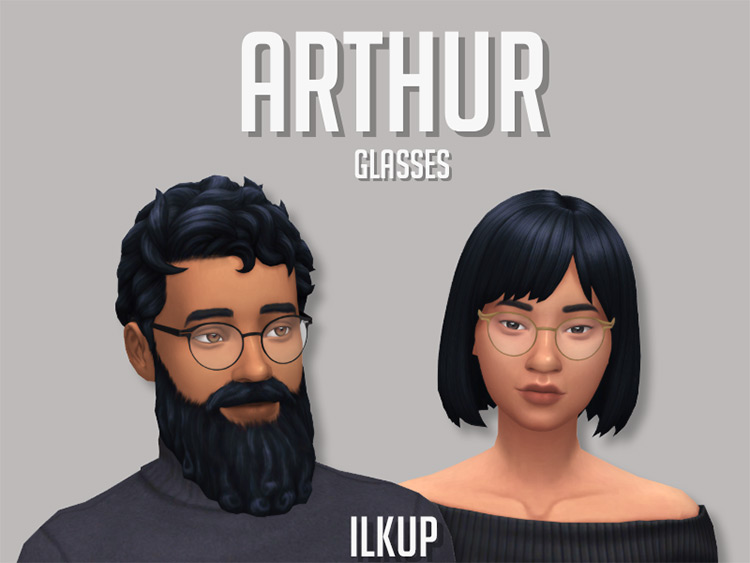 Here we have another minimalist approach to glasses, again from Ilkup. These can only be described as sensible, mature, and sophisticated.
That's reflected through the swatches as well, which focus on metallic shades. An interesting aspect is that these are rounded but not perfect circles.
17.

Marzi Glasses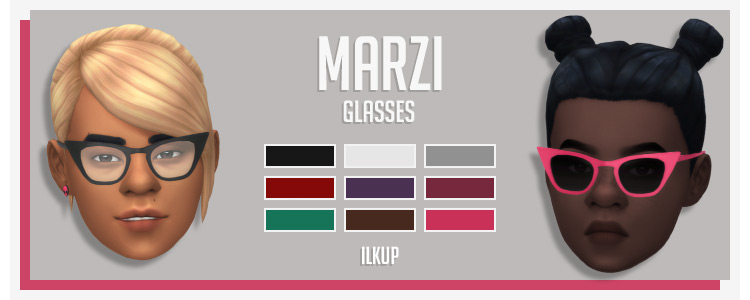 We're all familiar with the cat eye glasses style, which were at their most popular more than half a century ago.
Well, the Marzi Glasses are a much needed update.
These are dangerously pointy, which really gives them a bold feel.
18.

Thin Rectangular Glasses For All Ages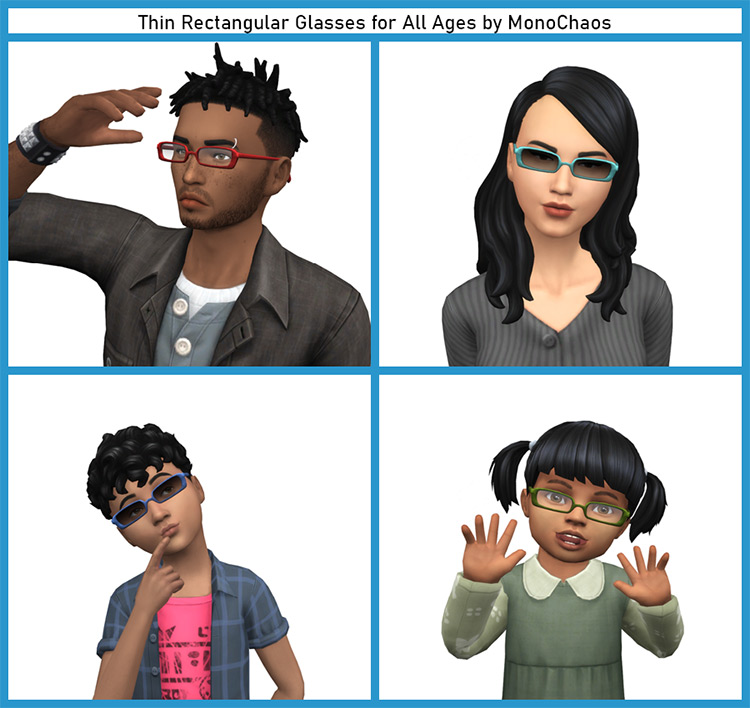 Thankfully, MonoChaos has blessed us with new eyewear options for the whole family.
No matter your Sim's age, now you'll have some cool rectangular glasses for them. The frames may be thin, but they'll still add a big pop of color thanks to the 8 bright swatches.
19.

Odd Kitty & Neon Haze Glasses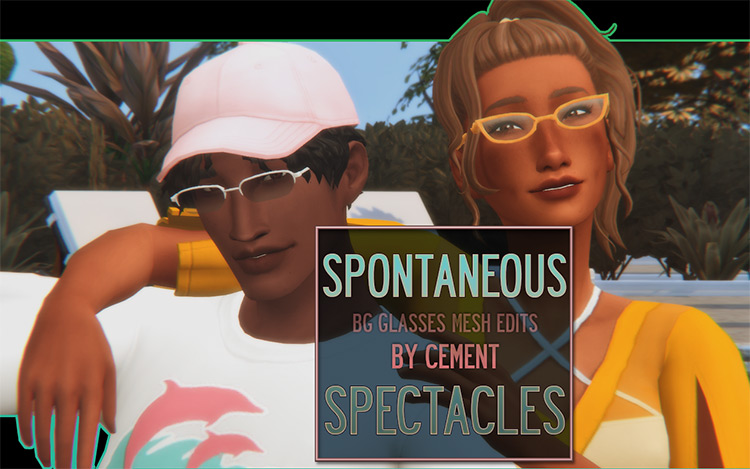 While conversions are usually making adult's stuff usable for kids, the Neon Haze glasses actually use the base game children's sunglasses. They're way cooler though, because now the lenses can be colored!
Then there are the Odd Kitty glasses, which tweak another BGC mesh to create something completely original and mildly pointed.
20.

Sky Pilot Glasses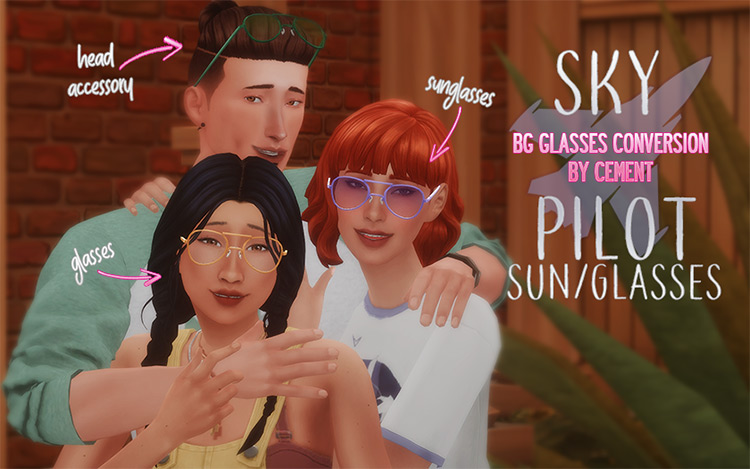 Most Simmers probably seek CC glasses with the intention of Sims wearing them normally.
But I actually love that there's an option here for them to be worn as a head accessory. That's just a nice touch.
As for the standard version, they're like aviator sunglasses but without the tint, which is pretty awesome.
21.

Posey Glasses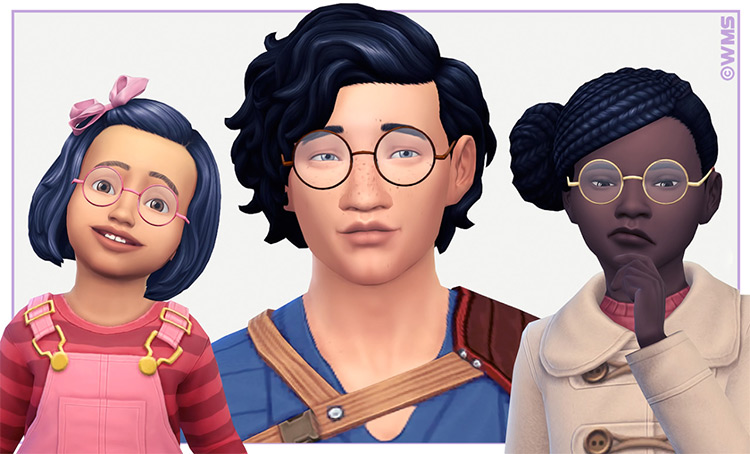 As trendy as wire frames are right now, it comes as no surprise that they're so popular amongst Sims players.
They may be simple, but they sure are fabulous.
The only thing that could possibly make them more fabulous is 60 total swatches. Fortunately, WildlyMinatureSandwich delivers.
22.

Dumbledore's Half Moon Spectacles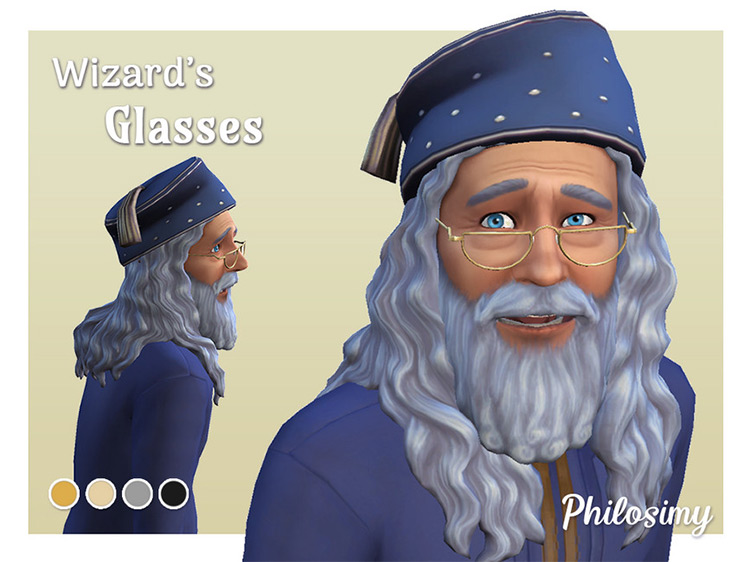 Dumbledore might not be someone who comes to mind when you're looking for style inspiration – but honestly, those half moon lenses are quirky!
Elderly Sims, both magical and non-magical, can wear them just fine. As well as any daring youngsters, of course.
23.

Thin Circular Glasses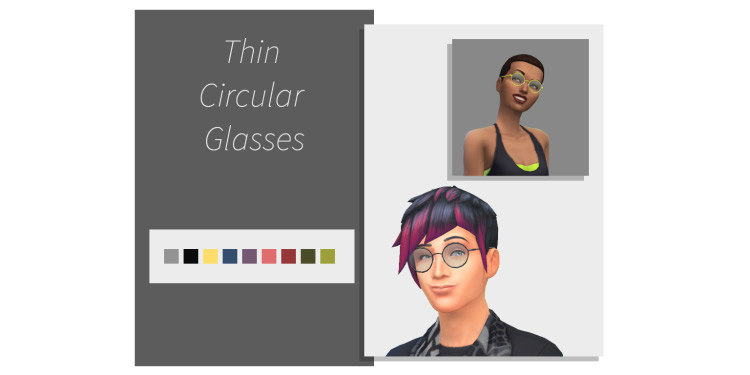 This creator made some tweaks to the base game circular glasses, so now they're bigger and rounder than ever.
They've got that same simple look, which is always a great thing to have to fall back on. The new colors are definitely an awesome upgrade as well.
24.

Marty Glasses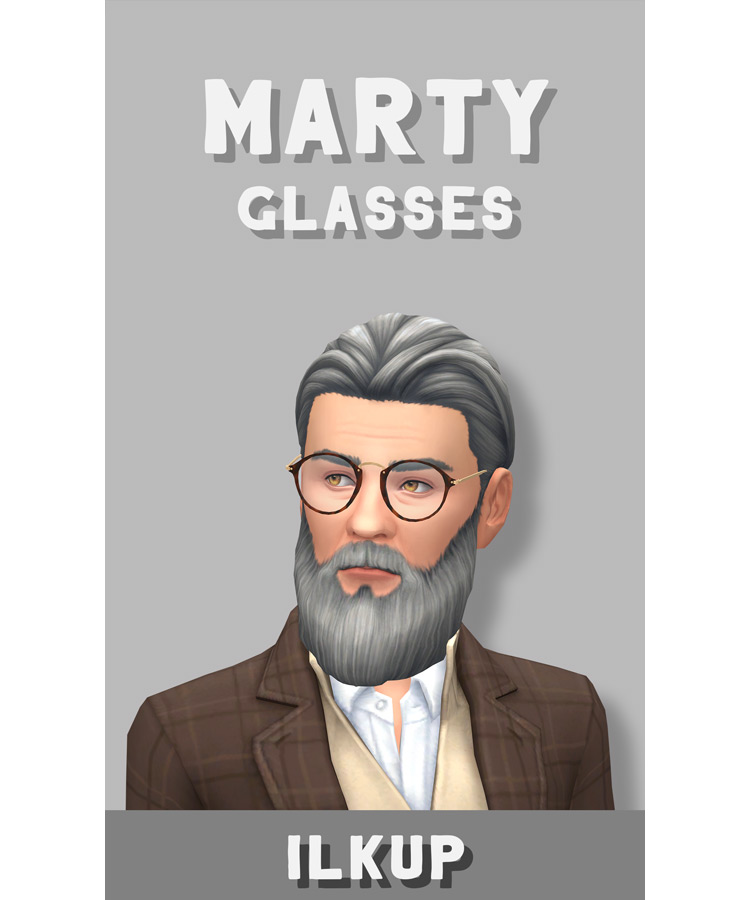 If you're into more distinct frame types, you'll want to grab these.
Despite being super thin, each part is a little different from anything we've seen so far.
The bridge is very arched and the lenses may have a round curve, but they're not a defined circle.
25.

Fletcher Glasses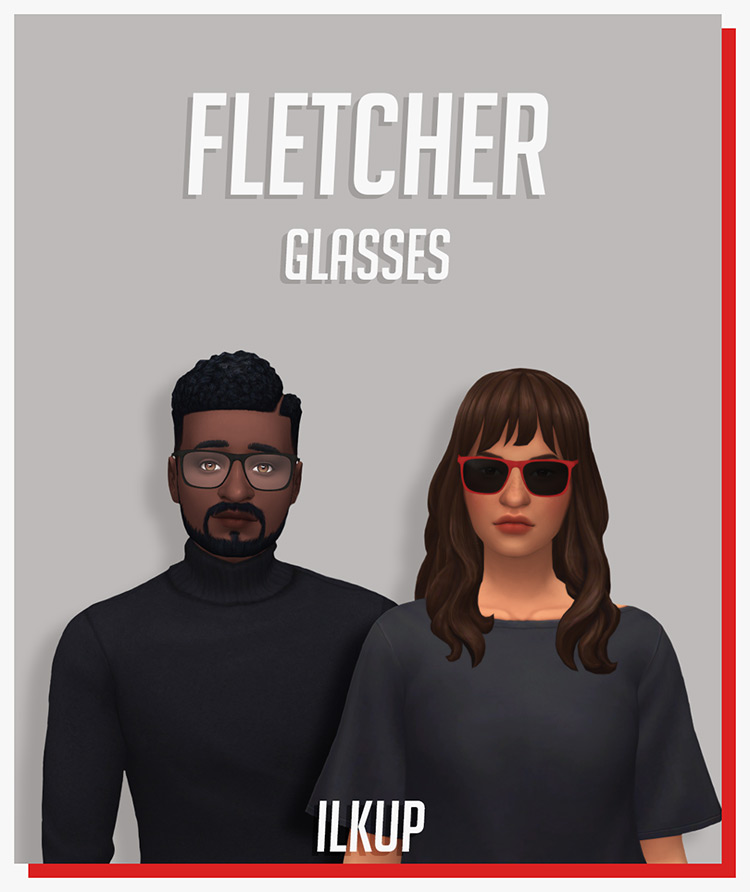 Here's one last creation from Ilkup to round out this CC collection.
No pun intended, because these are more square than anything.
Yet that's exactly what makes them so timeless. Frames like this really are quintessential, they'll complement the facial features of any Sim.
And of course, these are perfectly Maxis-matched to fit seamlessly into your game.
Browse:
Lists
Maxis Match
The Sims 4
Video Games