TS4 CC: 60 Best Maxis Match Hairstyles (Guys + Girls)
This post may contain affiliate links. If you buy something we may get a small commission at no extra cost to you. (Learn more).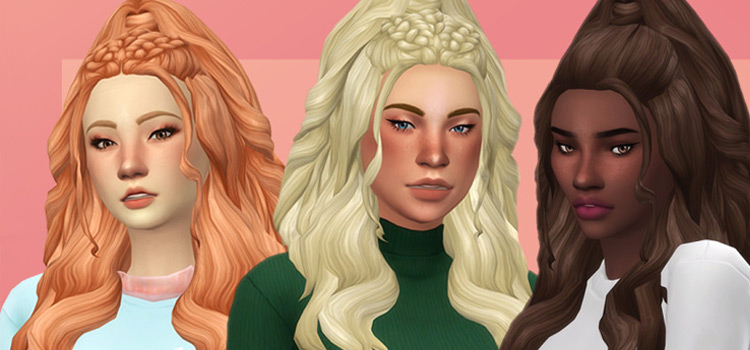 With fan-made content, the possibilities are endless – seriously there's no bottom here.
You could scour the Internet for days on end and still not make a dent.
That's why it's important to find the absolute peak of what our lovely fandom has to offer, and that's just what we've got in this CC list.
Now it's easier than ever to find just the right hairstyle for every Sim!
1.

Leilani Bun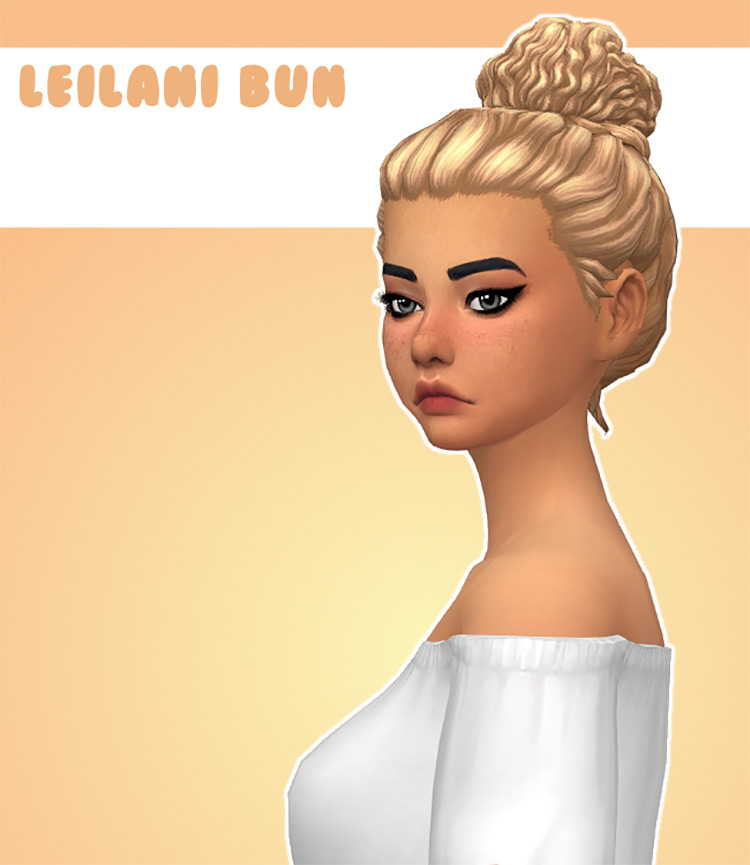 Stephanine's edit of the Island Living bun is the perfect combination of messy and neat, and what really makes it stand out is the texture.
The waviness seems enhanced here and there are a few little wispies, something any bun-wearer knows well.
2.

Sarah Hair (Get To Work Required)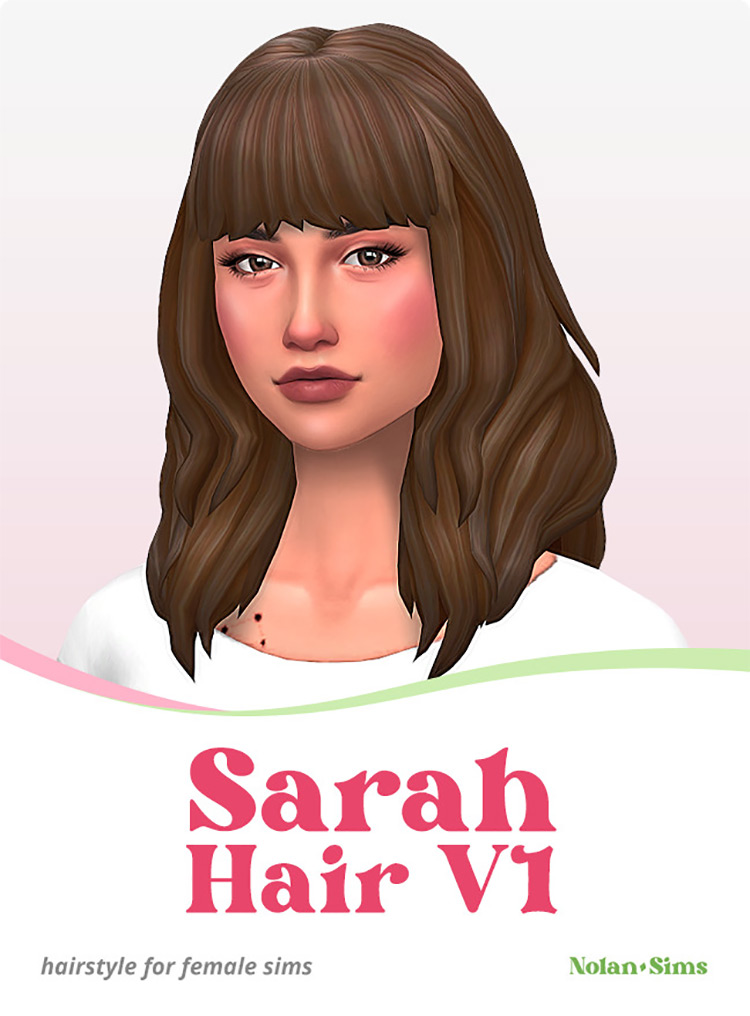 You'll need Get To Work to enjoy this one.
But I suppose that's rather fitting since it is such a great, practical style.
From the soft, layered look to the flawless bangs, any Sim will be ready for business with a cut like this.
3.

Sweet Sweep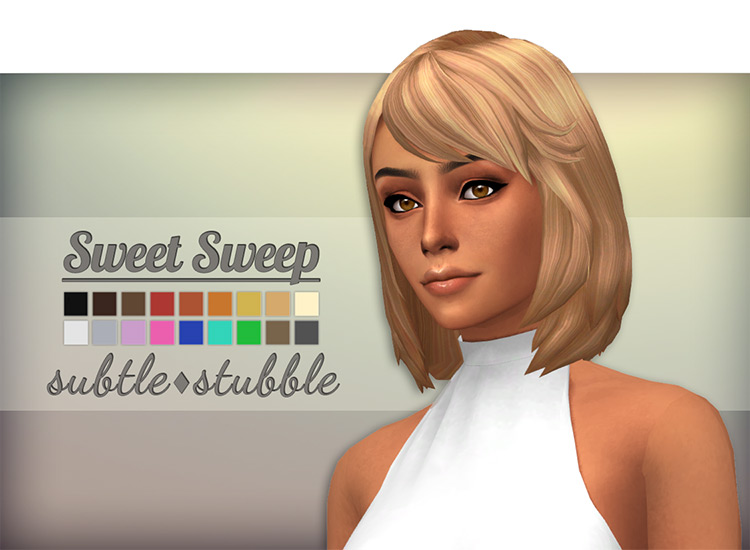 Here's a really cool bob, complete with side swept bangs.
Any Sim will be pretty as a picture thanks to this fierce bob, and it's fully hat and base game compatible. Overall, it has a realistic appearance without working against the game's cartoony style.
4.

Sleek Puff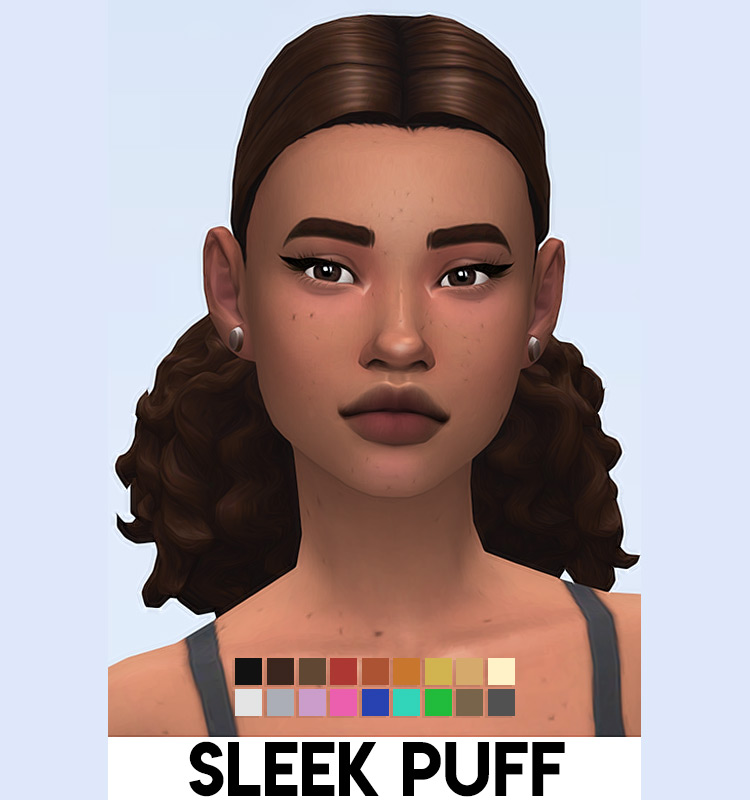 Just the name of "Sleek Puff" sums it up, honestly.
The curls are perfect. I know many Simmers are always on the hunt for curly hair, but the subtle inclusion of it here makes the hair that much more special.
5.

Girl Next Door Bun

This is a neat and youthful style that will be appropriate for both casual and black-tie events.
It reminds me of Audrey Hepburn's signature bun look, and now that same elegance can be bestowed upon your Sim.
6.

Milo Hair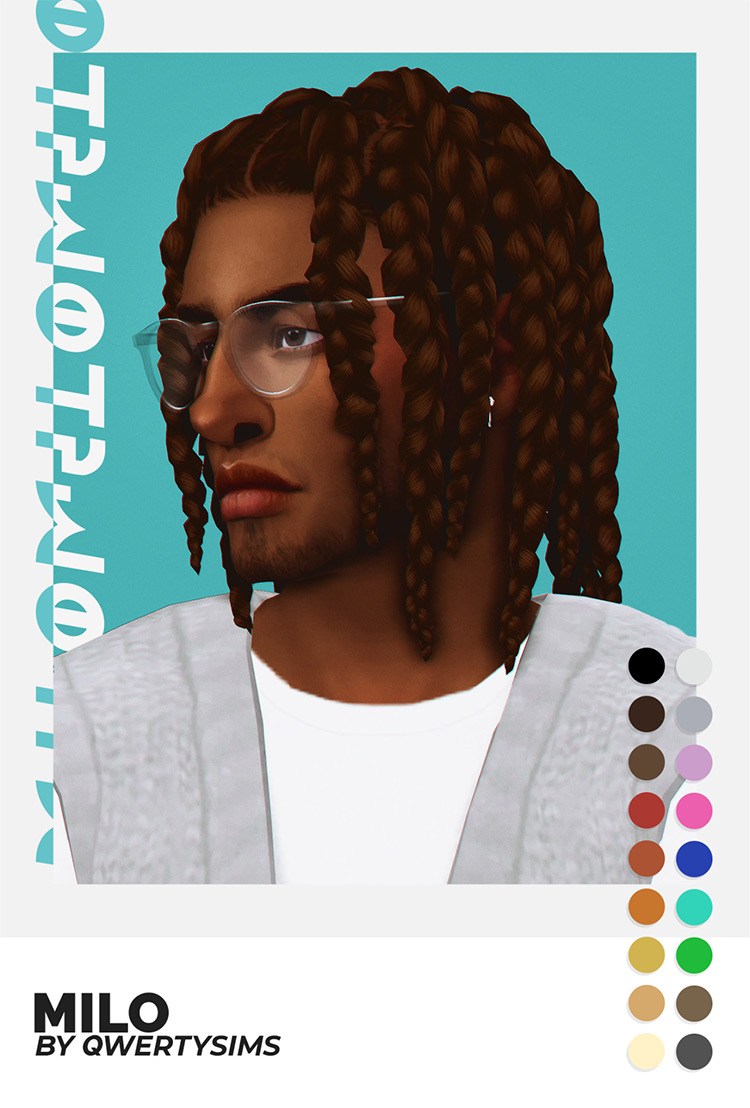 If you'd like an incredibly realistic hairstyle added to your game, then QwertySims has your back. Best of all, both male and female Sims alike can use it.
The detail is incredible, right down to the scalp.
7.

Just Outta Bed Hair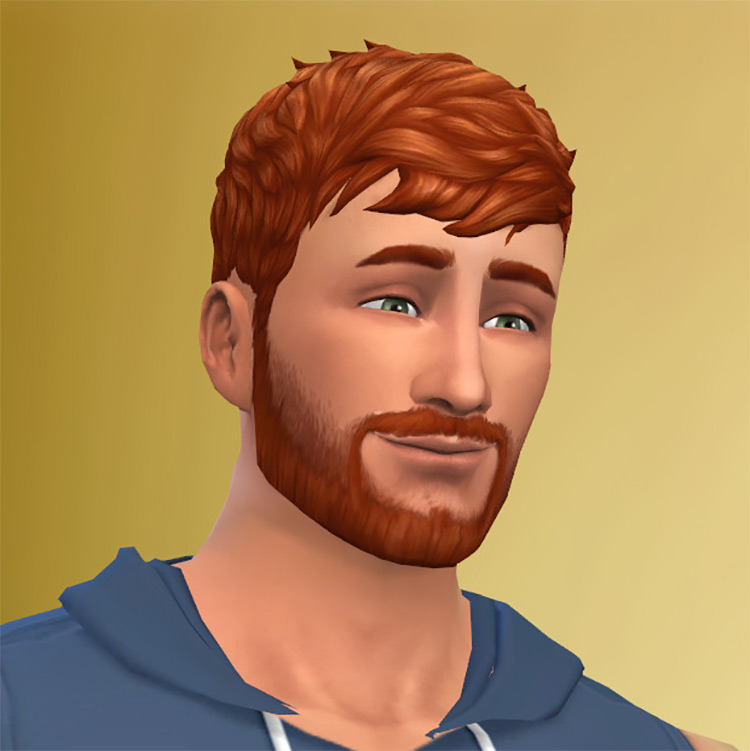 This is like, the ultimate male hair.
There has never been a Sim who wasn't instantly made a little more handsome with it.
What makes it so great is that it's not a super tidy look, it's got messy layers. Plus there are bangs!
8.

Chandler Hair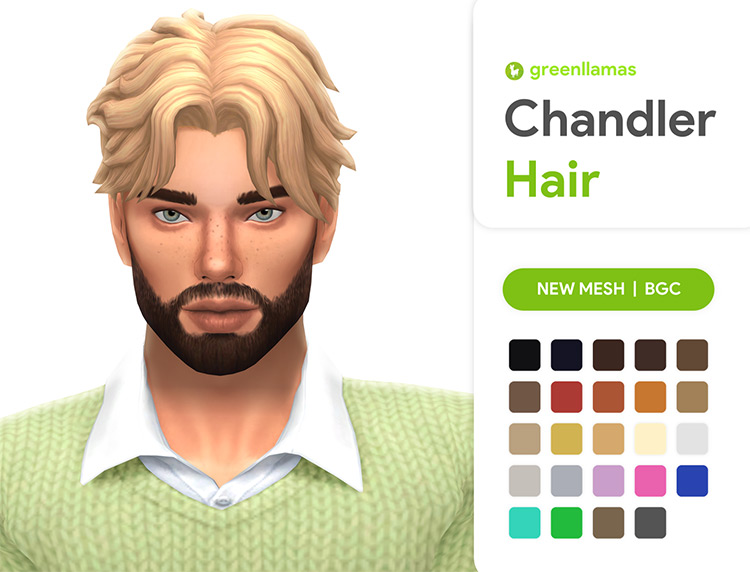 Greenllamas' choppy 90s-inspired hair is among the best, no doubt.
It's amazing the way layers develop on short cuts and they're on full display here. All around, it'll look like your Sim has the softest hair in all the land.
9.

Jin Hair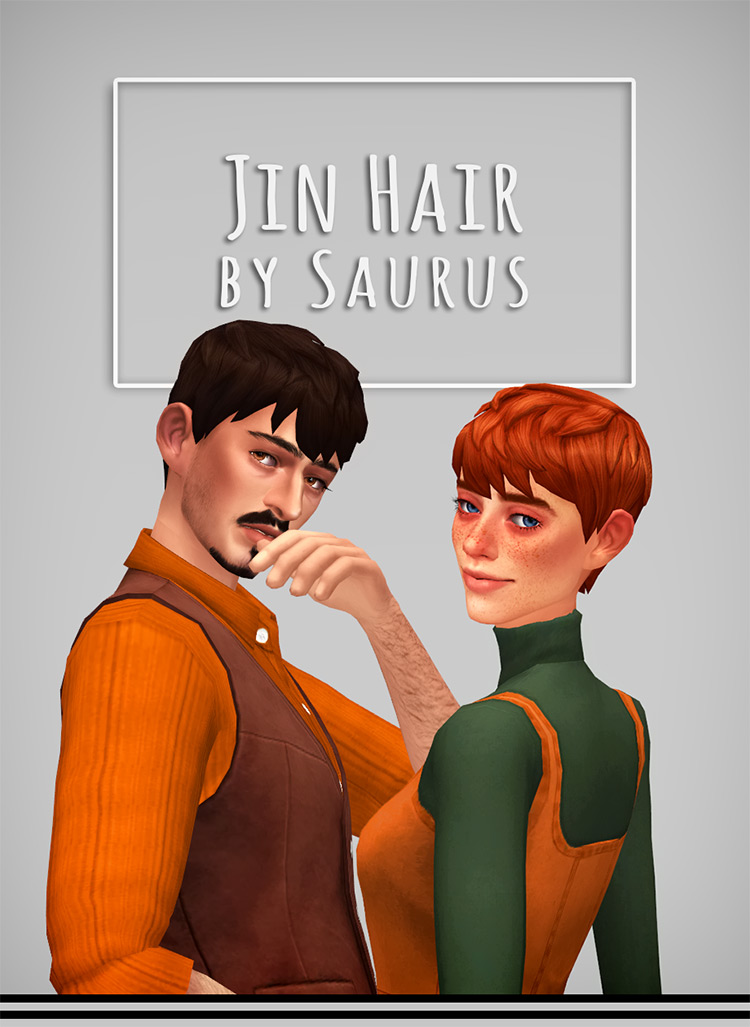 Saurus herself says this unisex hair is basic, but that's what makes it so good.
Sometimes, simple is not only practical, but necessary.
For busy moms, people in certain professions, guys who just like having short hair…a nice pixie cut is always a valid choice.
10.

Paris Hair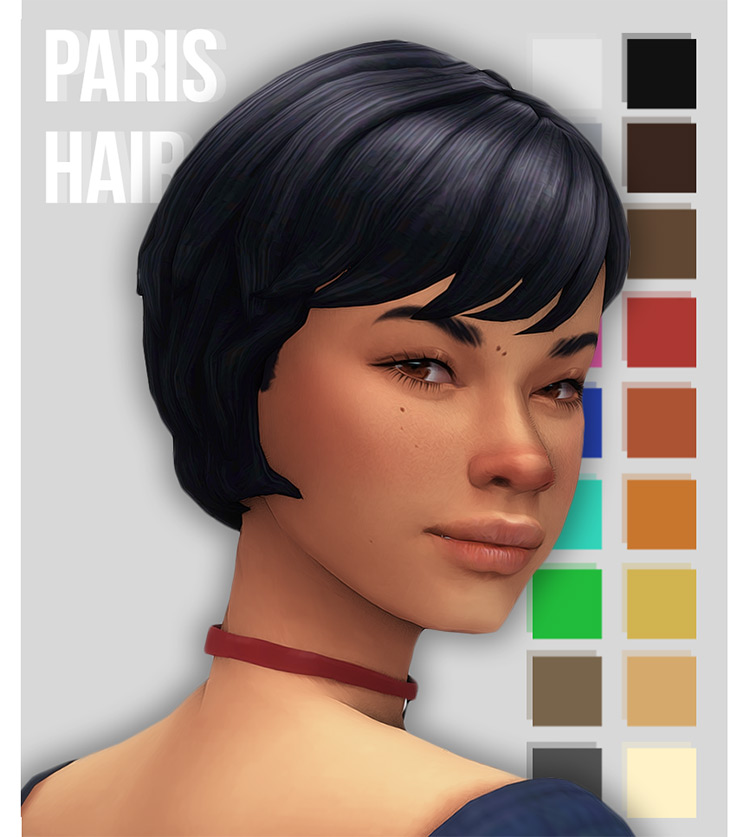 Everyone knows the pain of having to go give a Sim a different hairdo because their usual one isn't right for formal outfits.
You must take short hair as it is, so you want to make sure it's good. Well, that won't be a problem thanks to Okruee.
11.

Bluebell Hair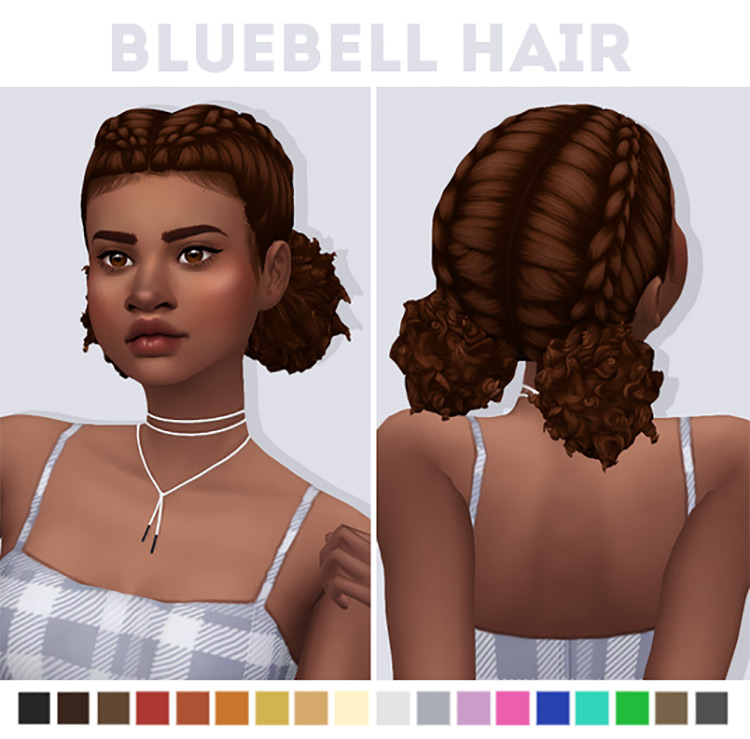 These low and curly buns are reminiscent of space buns, with a twist… braids!
They're arguably better than the real thing since you don't have to go through the hassle of actually putting the hair in this style yourself.
12.

The Pathfinder Hair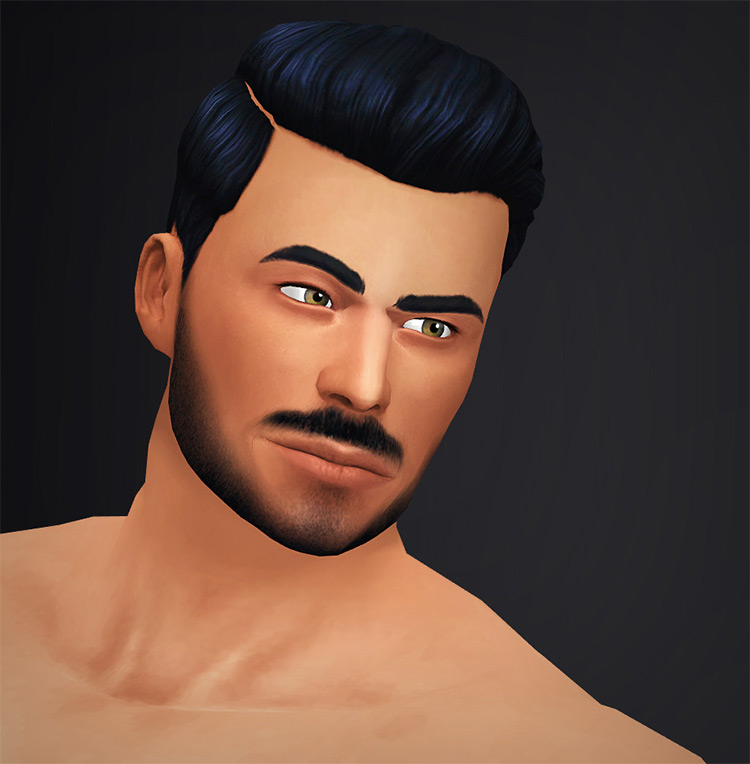 No matter the age, whether they're a teen, elder, or somewhere in between, this is a look that will bring someone special to your Sim. It just feels… wise.
It's a combed and styled look that adds a mature vibe, complete with an absolutely flawless part.
13.

Hermes Hair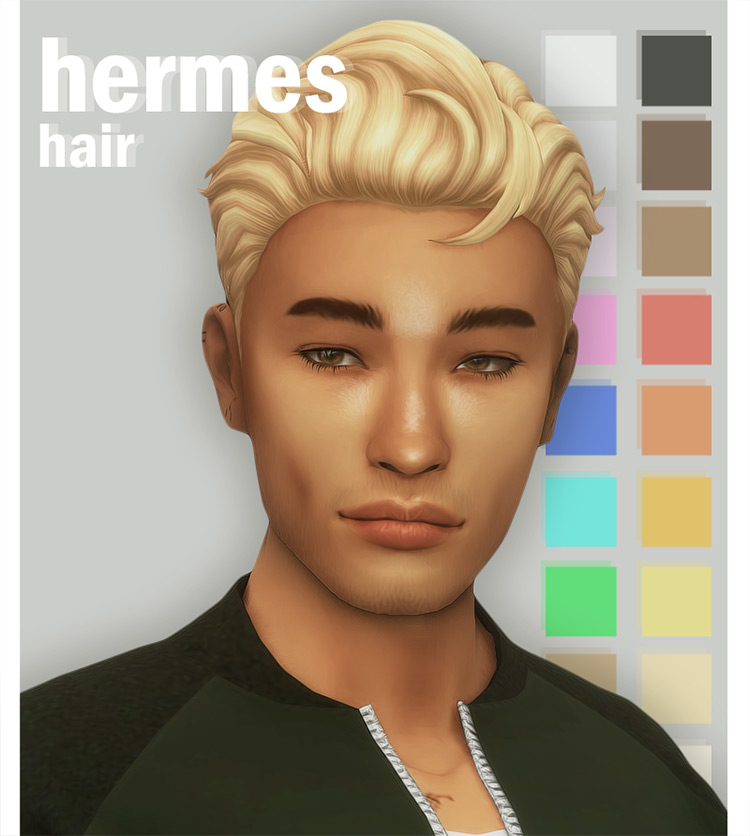 What's in a name?
Depends on who you ask.
For the Hermes Hair, that name's very appropriate. This style is quite sophisticated, mostly consisting of short, slicked back strands. Definitely worthy of a Greek God!
14.

Leah Hair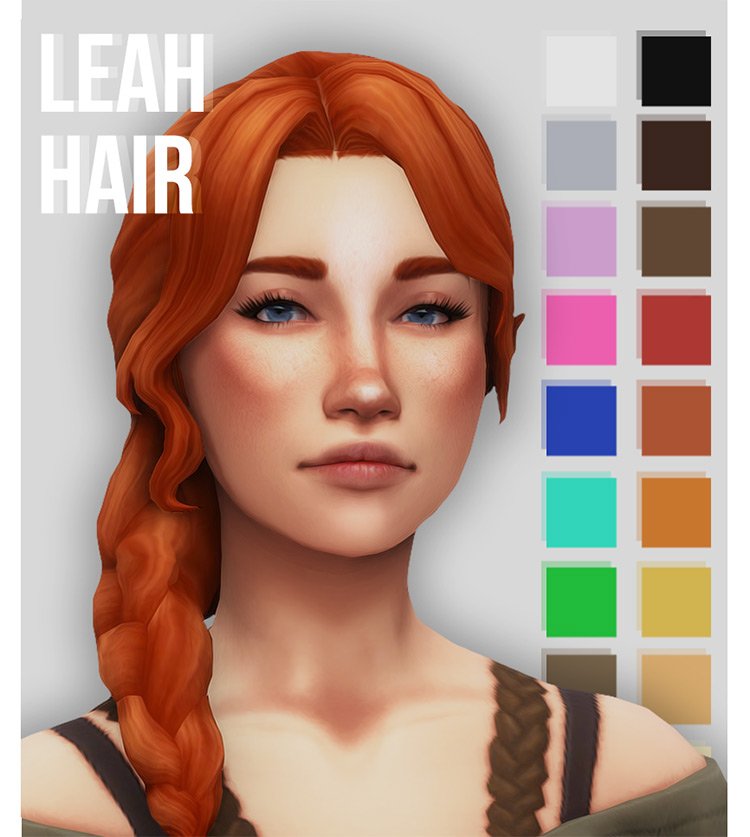 Here we have a beautiful loose braid from Okruee, complete with stylish bangs to frame your Sim's face.
The texture is rather thick and the braid is expertly done, looking just as you'd expect it to in real life. It will sit draped over your Sim's shoulder here, creating a lovely laidback look.
15.

Mali Hairs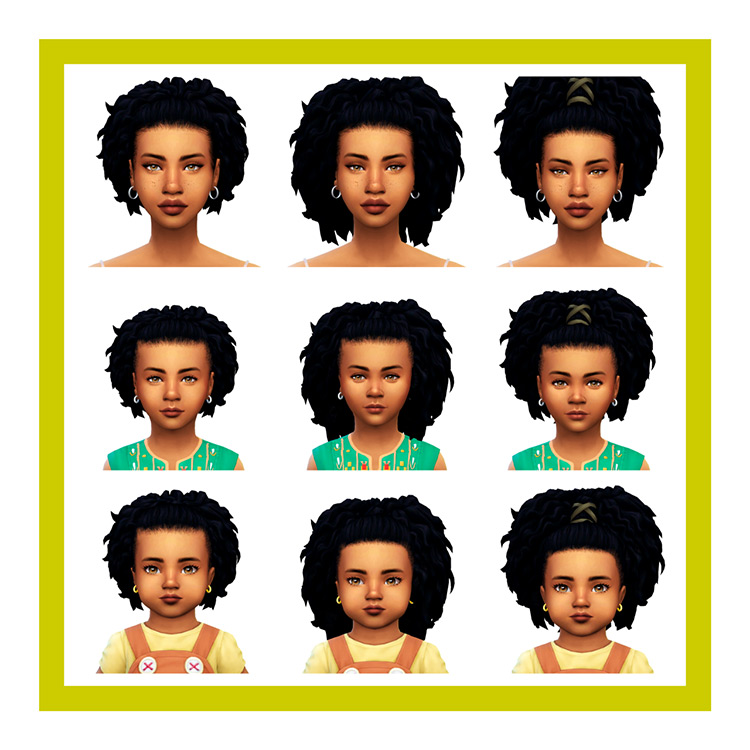 Shysimblr's gorgeous Mali Hairs offer something for all ages, and you get three options.
One is quite short and compact, the 'medium' size is a little longer and larger, and the third is the biggest, featuring a half-updo look and crisscrossing hair ties.
16.

Tyler Hair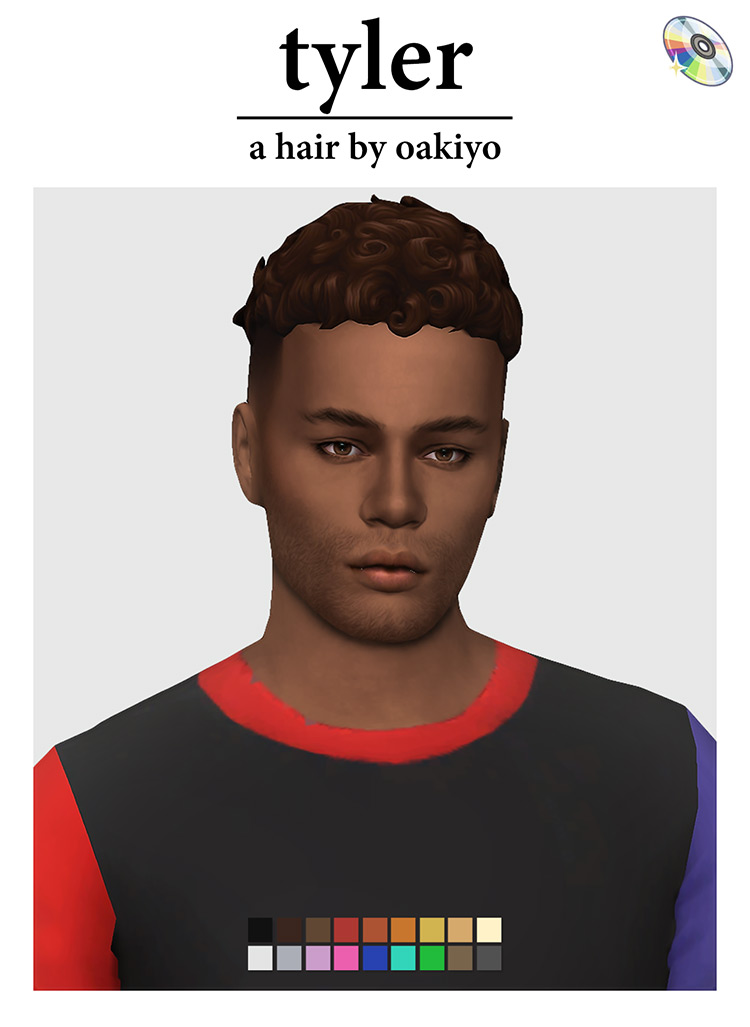 Creator Oakiyo, with the help of a couple other players, made this awesome half shaved, half curly 'do.
Thanks to the talented CC community, the days of textured hairs being rare are in the past. Both male and female Sims can have the perfect, effortless mix of messy and tidy with this hair.
17.

Chocolat Hair (Male)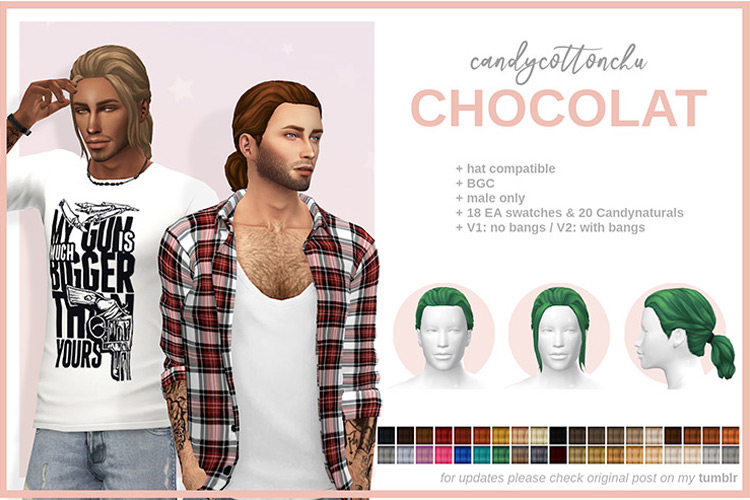 We already have a male ponytail in the base game, but 7 years on, it's looking a little… chunky.
This is a fantastic update to a classic, and even comes in two versions. You can choose whether your Sim's hair is all contained by the hair tie, or he has some side bangs.
18.

Marcel Hair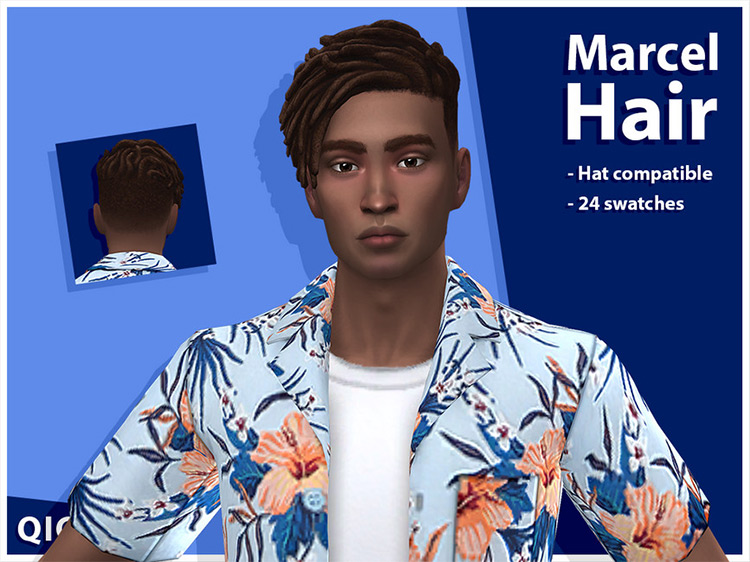 Here are some close-cropped dreads, brushed to one side.
They vary in length and thickness which gives it a very unique appearance.
This is just a wonderfully innovative design, which I believe is a toned down version of one of EA's hairs.
19.

Austin Hair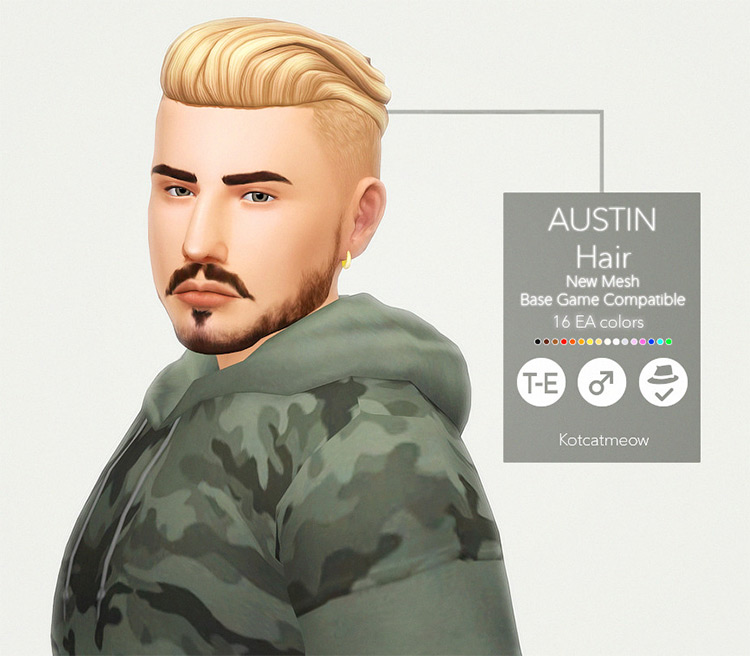 This is one of those styles that's so insanely popular in real life, I'm amazed it hasn't been officially added to the game already.
For something so simple, consisting of just shaved sides and hair slicked over the top, it's quite dapper.
20.

Riley Hair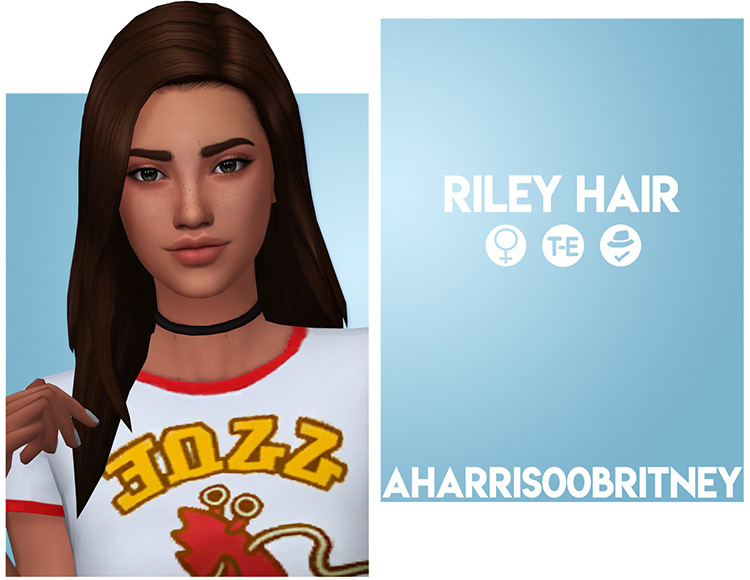 For every person out there who likes to experiment with their hair, just as many like to stick to the basics.
Long-time creator aharris00britney has made a solid style here. It's on the longer side, very straight, and not quite parted in the middle.
21.

Hair19 Opal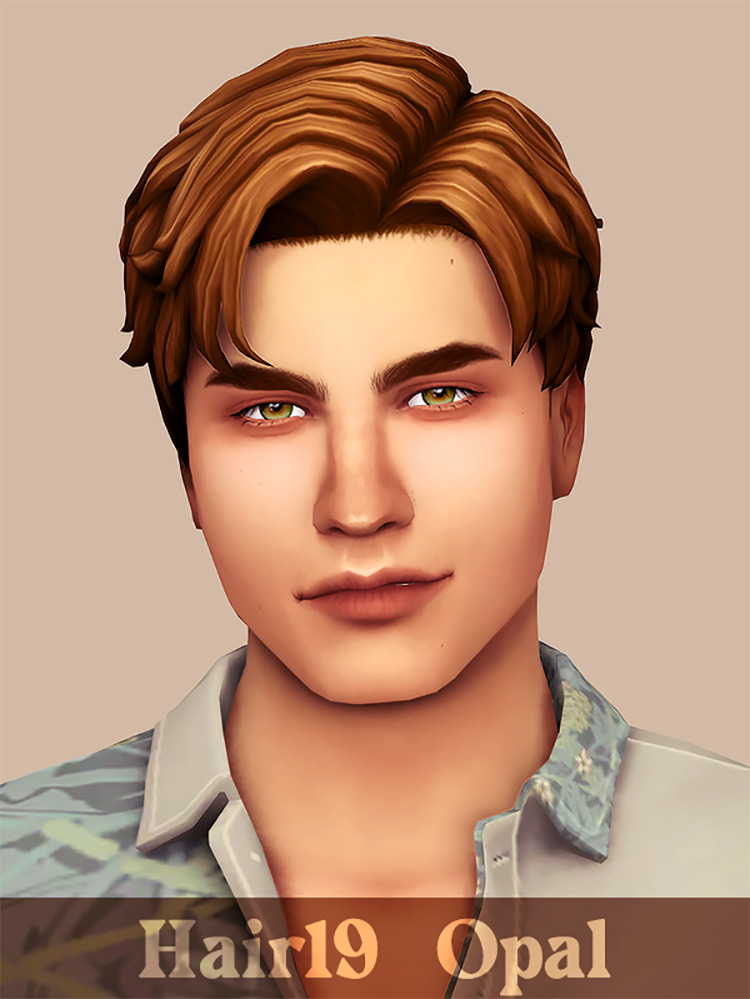 Everyone has different tastes.
But I think it's safe to say this one will make any Sim look straight up gorgeous.
The slightly messy look is done so well here, and amazingly, it's a gender neutral option. Maxis Match doesn't necessarily mean less detail, as this creator has proven.
22.

Enya Hair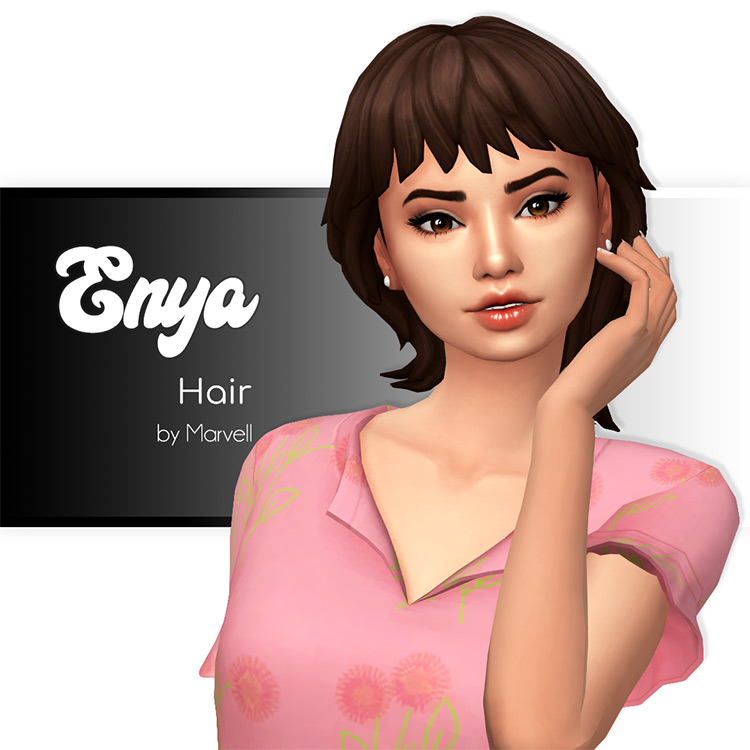 This CC isn't your stereotypical unsightly mullet.
This is one that is choppy, cool, and very far from unfashionable.
It's got a fresh look, giving the Sim layered bangs and somewhat wavy hair that doesn't quite touch her shoulders. From every angle, it looks very natural!
23.

Mengi Hair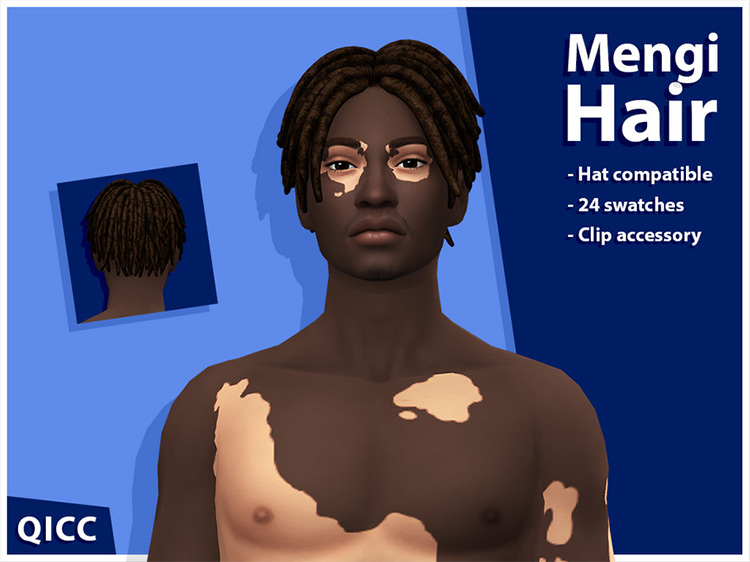 Dreads can take many forms, many of which we've already seen on this list.
Long, pulled up, half shaved… Simmers can do anything.
Now here's a short version, featuring thin locs that are parted straight down the middle and will drape evenly over your Sim's head.
24.

Jazz Riff Hair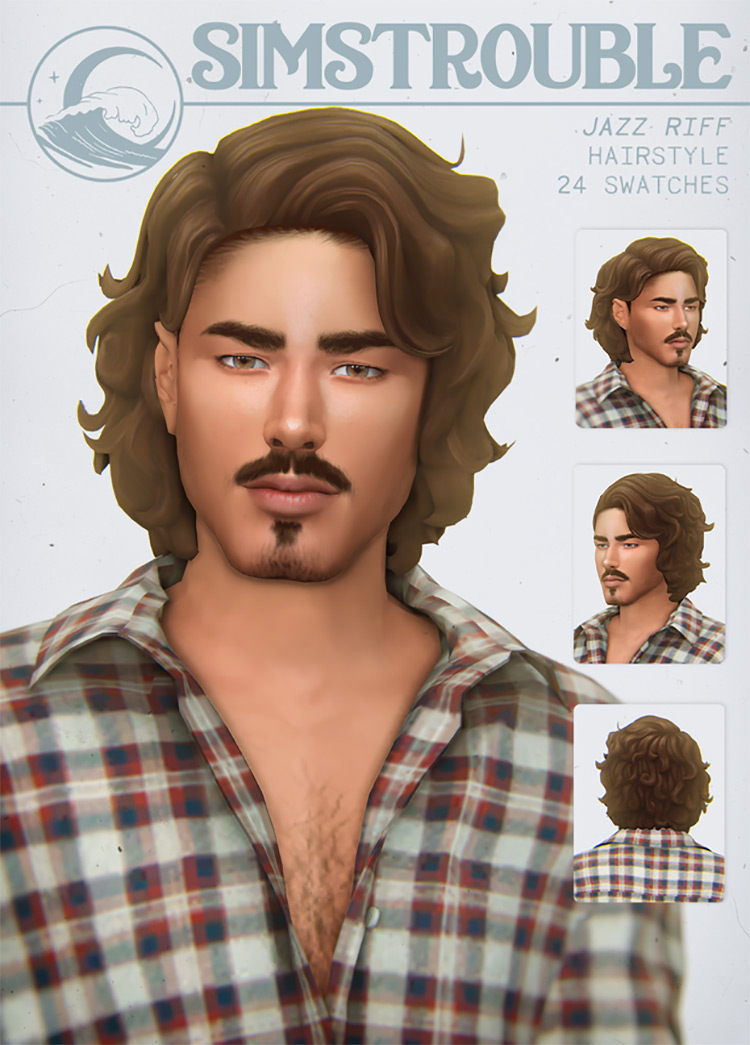 For a style as glorious and majestic as a lion's mane, the Jazz Riff Hair is hard to beat.
All around, the waves are incredible. Sims from all walks of life can rock this for sure. It's even hat compatible!
25.

Danai Hair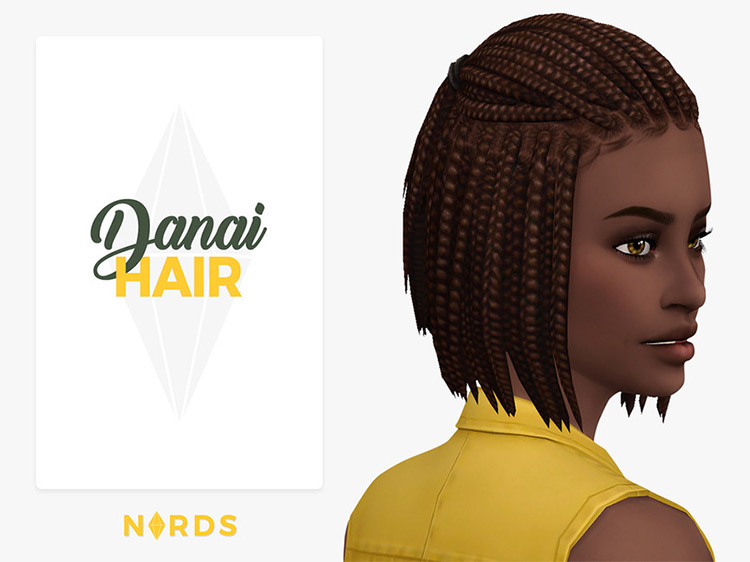 Only the good things stand the test of time and it's easy to see why this classic haircut has.
It's a basic look consisting of little braids pulled back into a half updo, but it just packs such a punch. Any Sim with this Danai hair will be a force of nature, beautiful and fierce.
26.

Hind Hair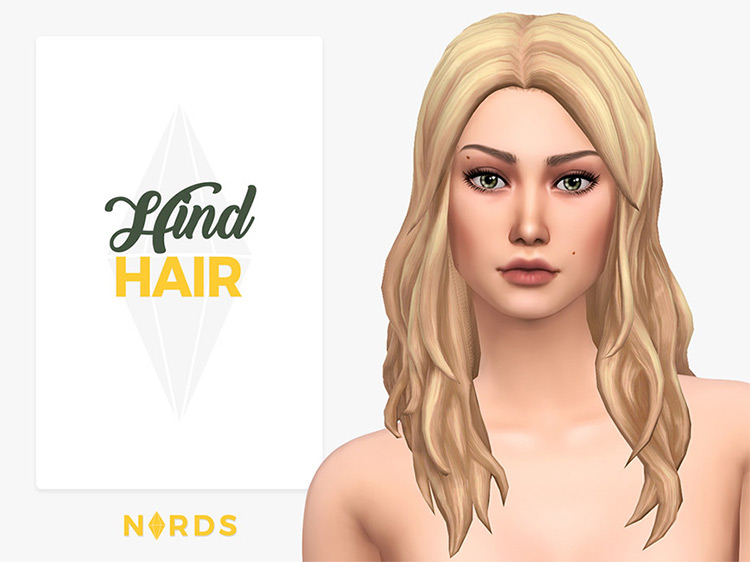 The textures and shadowing here are so subtle, yet they effectively provide depth to the waves to really set this apart.
It's a longer style with a middle part, just the kind of thing many women opt for when they want something pretty and basic.
27.

Shea Hair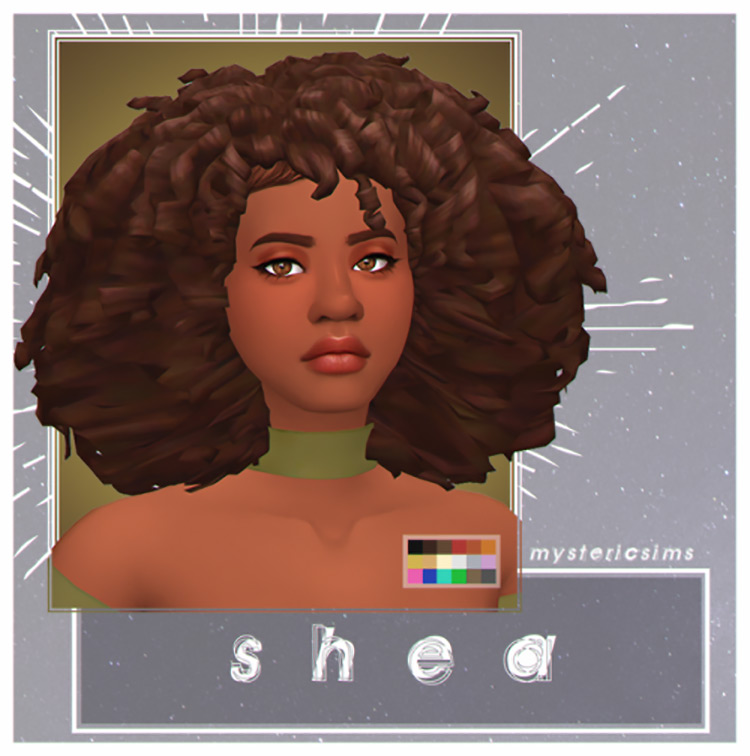 The Shea Hair has curliness and texture in spades, and it's big.
Really big.
Creator MystericSims, with the help of SynthSims, worked hard to make this the best it could be, complete with very natural curls and hat chops.
28.

Juan Karlos Hair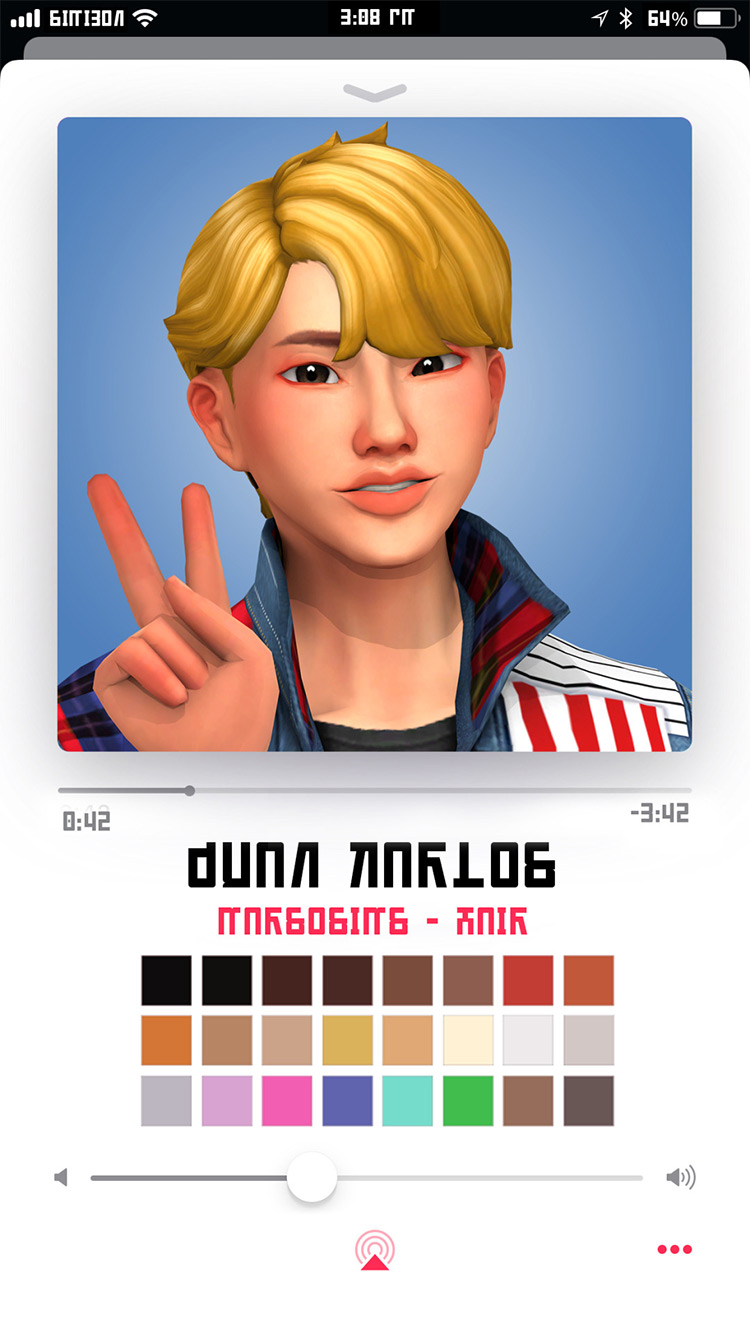 MarsoSims modeled this specifically after K-Pop hairstyles.
This captures the youthful energy of that genre and will just work great for any modern, young, suave Sim.
It's like an all-in-one package, offering personality and style with virtually no added effort on you.
29.

Flore Hair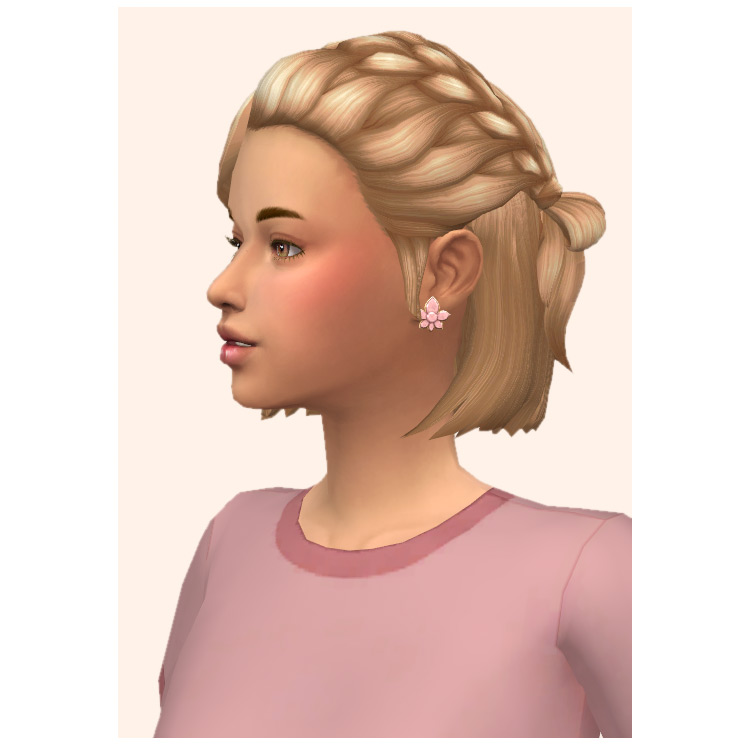 The Sims 4 enables us to live out our wildest fantasies, like having hair this awesome. Half is a French braid, the other side is free and loose.
Styling real hair like this might be difficult… but thanks to wondercarlotta, we can just admire it in pixel form.
30.

Camila Hair
Nobody can argue the abundance of elegance presented here.
The gathered portion of hair culminates in a bun at the back, which has a nice twisted design.
Up front, some side bangs really round the whole thing out and add another layer of beauty.
31.

Veah Hair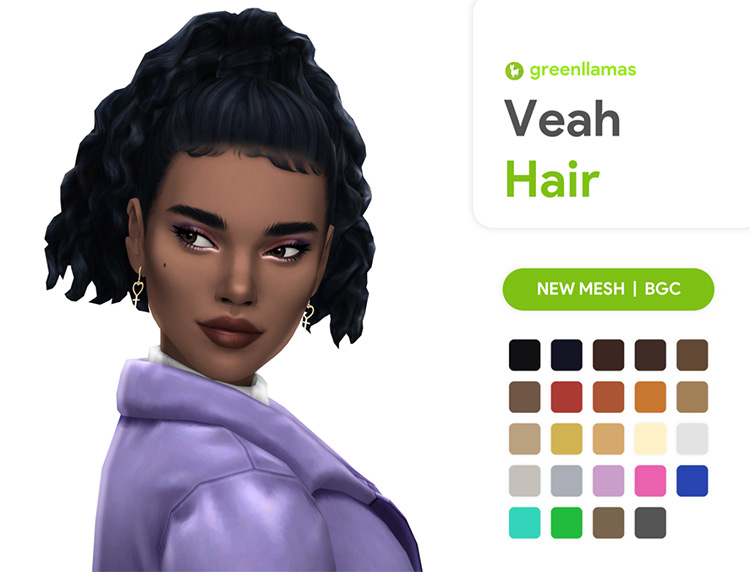 This ponytail from Greenllamas is fun and laid back, as well as stunning on a technical level.
And the wavy texture is just out of this world.
Here's another perfect example of the way creators can blend the Maxis Match look with some realistic features!
32.

Raya Hair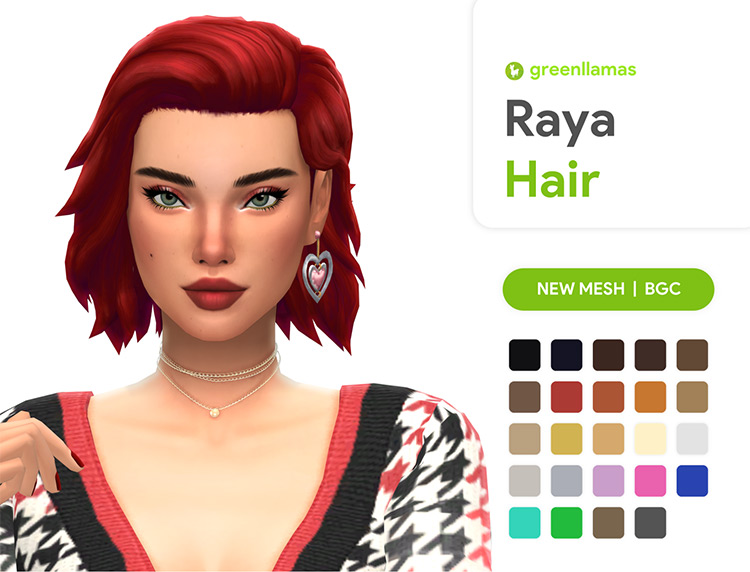 We honestly don't have enough hair styles that are this length.
Not quite long, not quite short, but very cute.
The part being on the side aids giving this a thicker look, and overall it's incredibly smooth. From the hairline to the flawlessly sculpted ends, you can practically see each feathery strand of hair.
33.

Susie Hair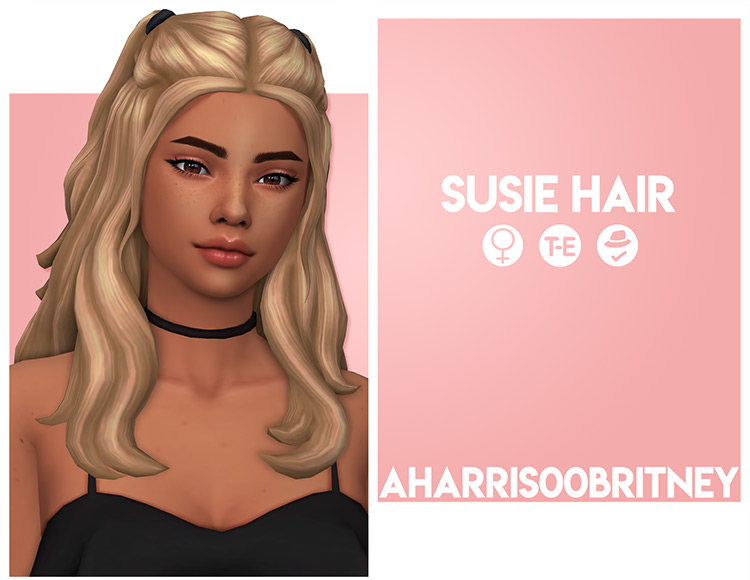 Like so many of today's hottest styles, the Susie Hair is a simple, understated look with a couple accessories.
It's a standard long, slightly wavy style with two small sections pulled up like pigtails. You can even choose whether or not to include the bangs, which really make a lot difference.
34.

Classic Top Knot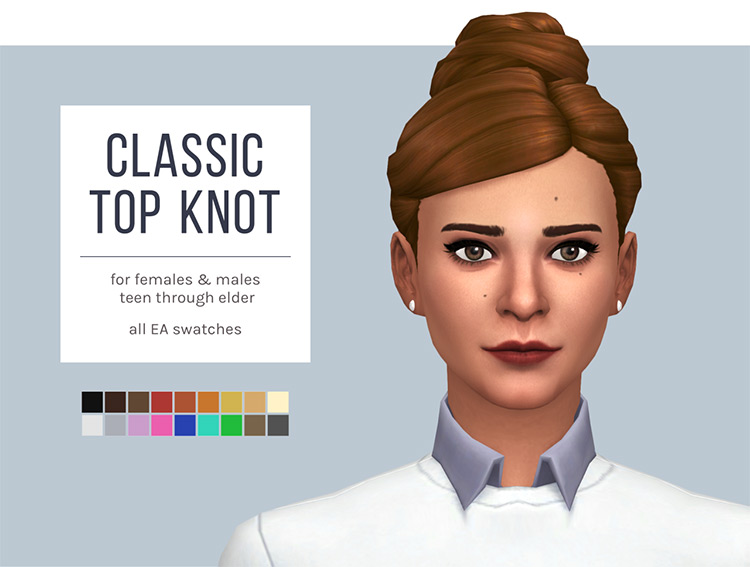 Here's another fantastic bun option to get your Sims lookin' all classic and sophisticated.
The hair is is sweet from any angle.
It even comes with an optional accessory, a little bow that will tuck into the back and is available in 17 swatches.
35.

Jimmy Hair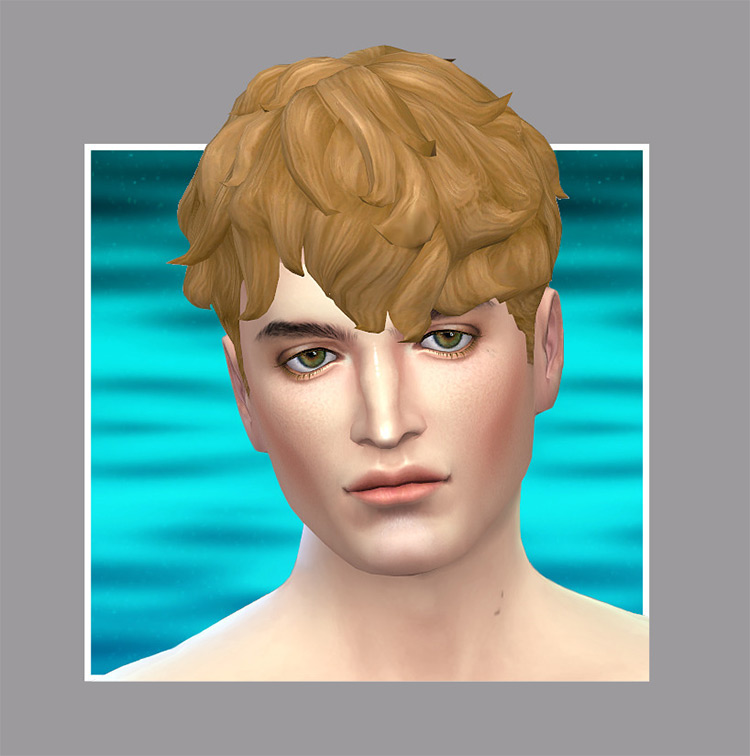 If you've ever been dying for something that would complement your Sim's boyish good looks, then this is it.
It's shaggy, uneven, and messy, the type of thing that would probably stop the heart of many moms. There's just no taming this hair.
For some people, that's a nightmare. For others it's a dream.
36.

Curly Hawk for Toddlers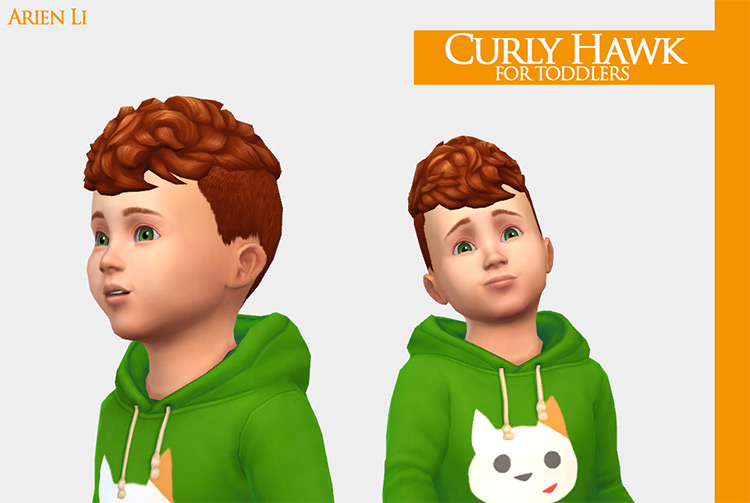 Toddlers are already precious, but throw curls into the mix?
It's madness!
This partial mohawk will look quite dapper on any little guy. Giving toddlers a look of their own can be difficult, but this is a unique choice.
37.

Fluffy Pony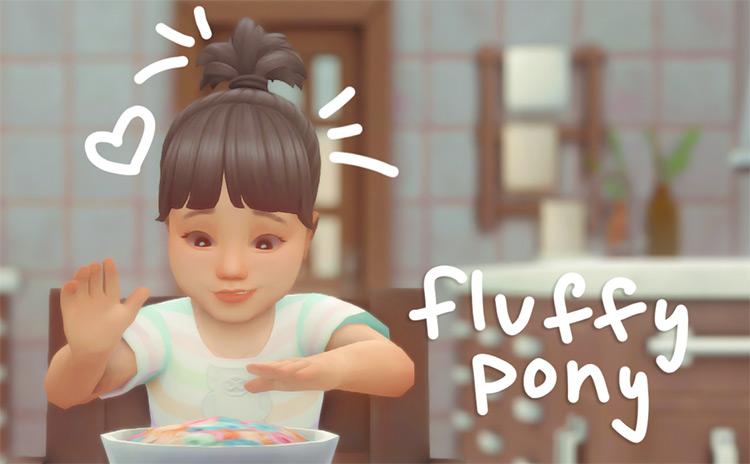 Ponytails work for all ages, but our Sims don't have nearly enough options.
Now you can have a little bit more variety with this adorably fluffy updo.
The creator actually downsized this from an adult version but it works so well on little kids, you'd never know.
38.

Pauline's Bob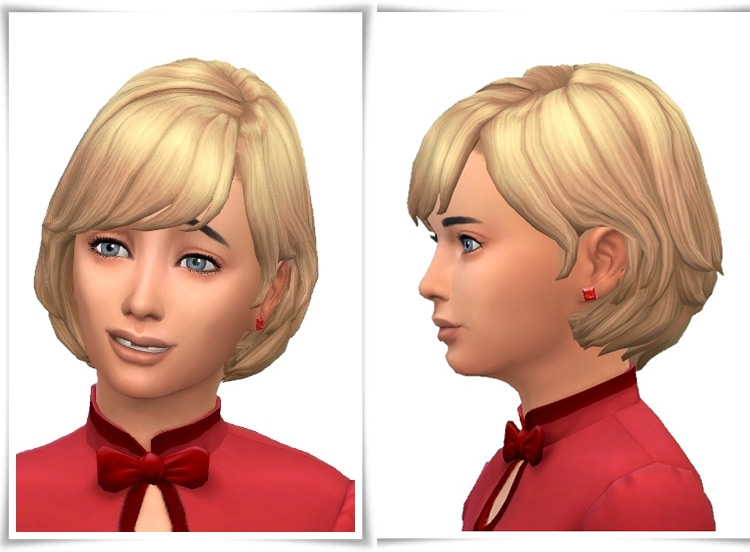 There's not a hair out of place in this bob.
If you ever want to give your Sim's kiddo a bit more of a mature look, this will do the trick without going over the top.
It's styled very nicely, and unquestionably feminine.
39.

Parted Flat for Boys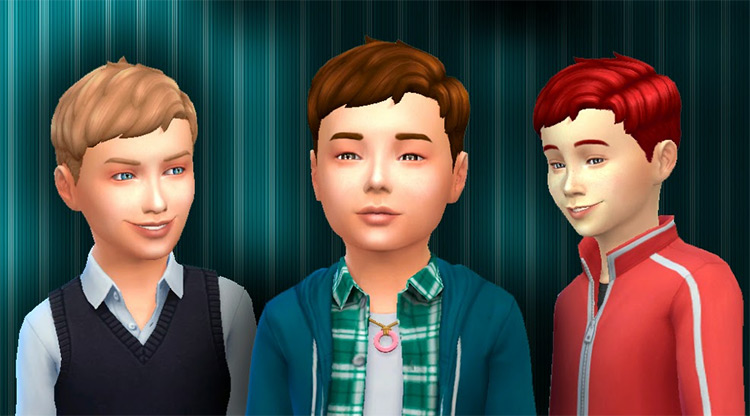 Here's something equally classy for the young dudes in your game.
Just because they're kids doesn't mean they can't look nice and neat.
Although it's the spitting image of a hair from Get To Work, this version is available to everyone.
40.

Buddy Dreads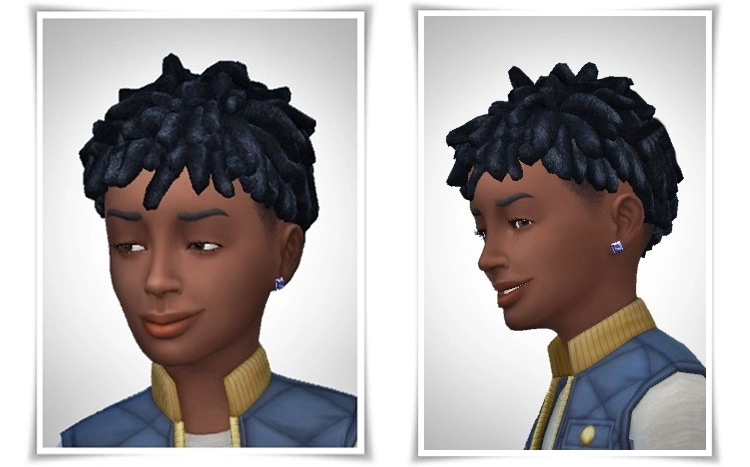 Any child is bound to look cooler than ever with these dreads. It's science… or something.
You can never have too many versions!
These are short and have a great natural appearance. This is another creation that's hat compatible, giving you even more freedom.
41.

Aurora, Heidi, and Emily Buns for Kids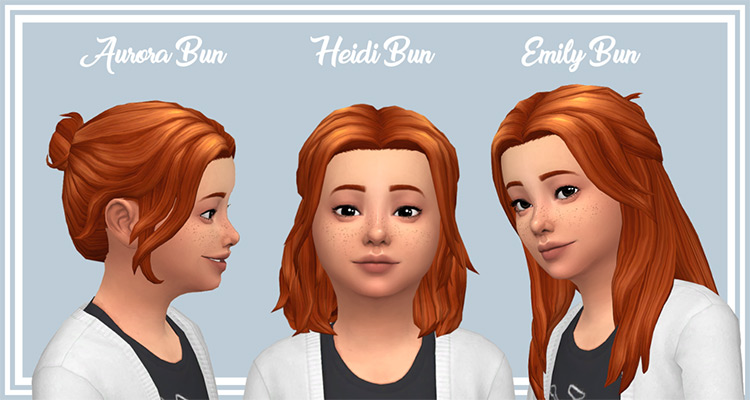 In this CC release, Stephanine brings us three amazing updos for girls.
Each one is a different length but they all come with some really great side bangs, making any of these good for every day and formal looks alike.
42.

Lilly Hair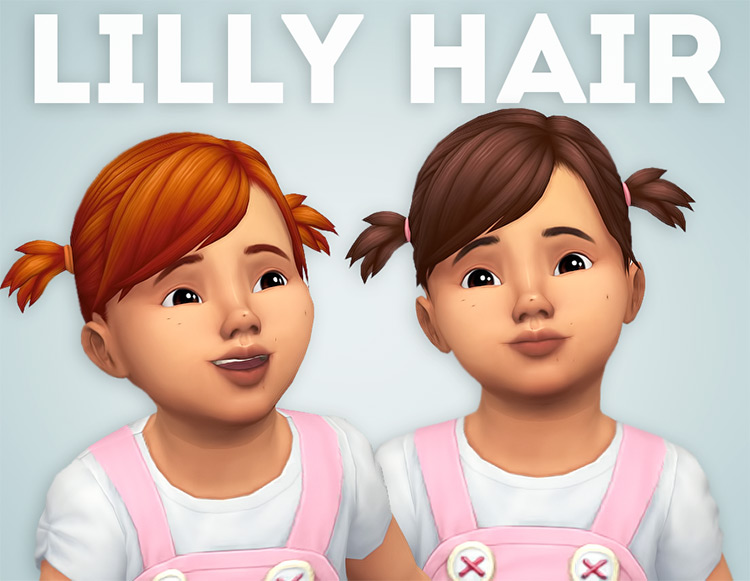 These are just standard, short pigtails.
It just doesn't get much cuter than that.
Sure, this is pretty basic, but that's exactly what makes them such a staple.
They're one of the quickest ways to do a little kid's hair. Then they're ready to get right back to making messes!
43.

Valentina Hair
Chic. Pretty. Stylish.
Those are really the only factors kids consider when they're wanting a haircut, and this one checks all three boxes. The Valentina Hair is a sleek, shoulder-length sight to behold.
44.

Leon Hair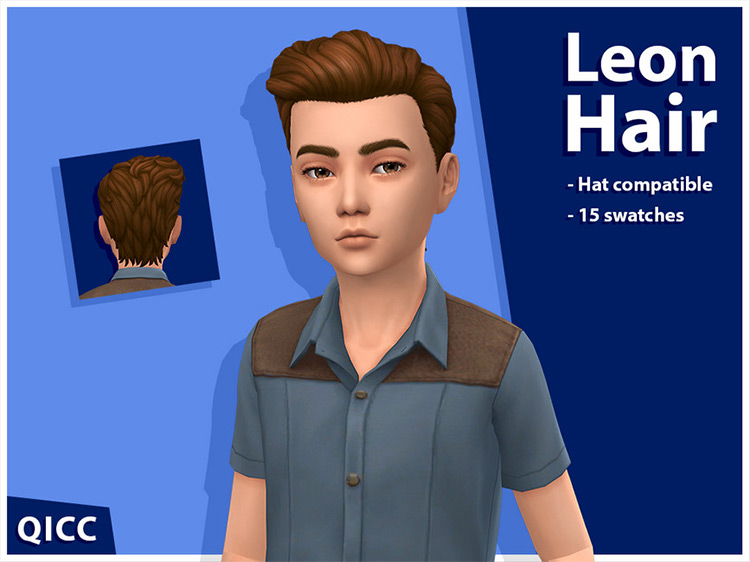 The desire to have an epic hairdo isn't just reserved for adults.
Some kids are born determined to look great from head to toe.
Well, if that sounds like a little Sim you know, then this just may be the hair for them. These swept back layers have everything a child with style could want.
45.

Laila & Leah Hair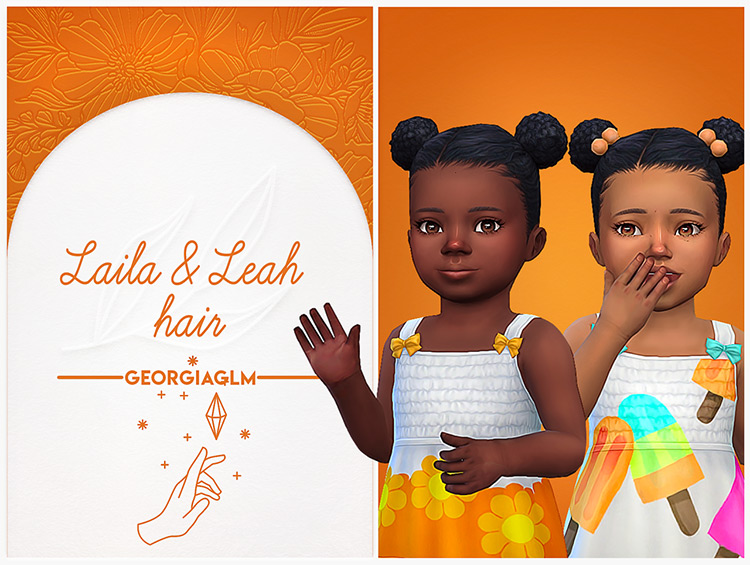 Buns are the star of the show again in these hairs for toddlers.
In both cases, they're small with a faint curly texture. What sets the two apart are the optional accessories. They come in bright colors and add a bit of realism.
46.

Sydney Hair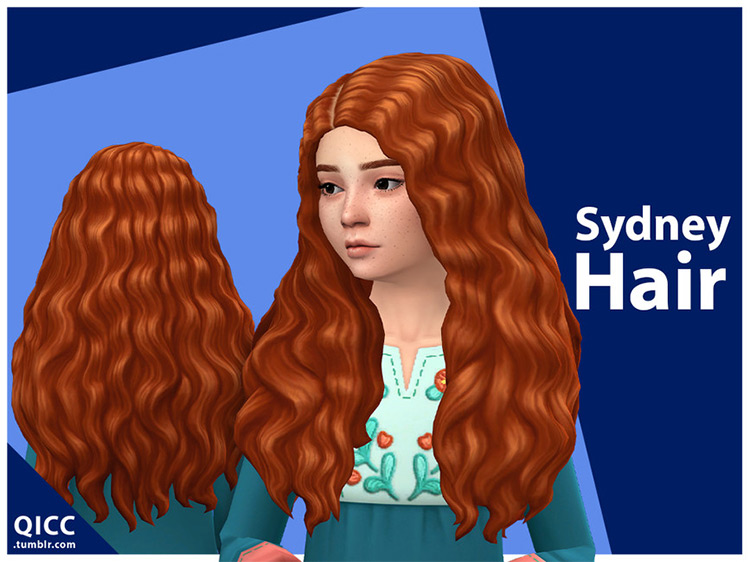 There are more waves in this hair than there are in the ocean, and who doesn't want that?
This is one of the longest styles for children available and it's just astonishing. As far as detail goes, the creator, Qicc, is killing it!
47.

Short Swept Conversion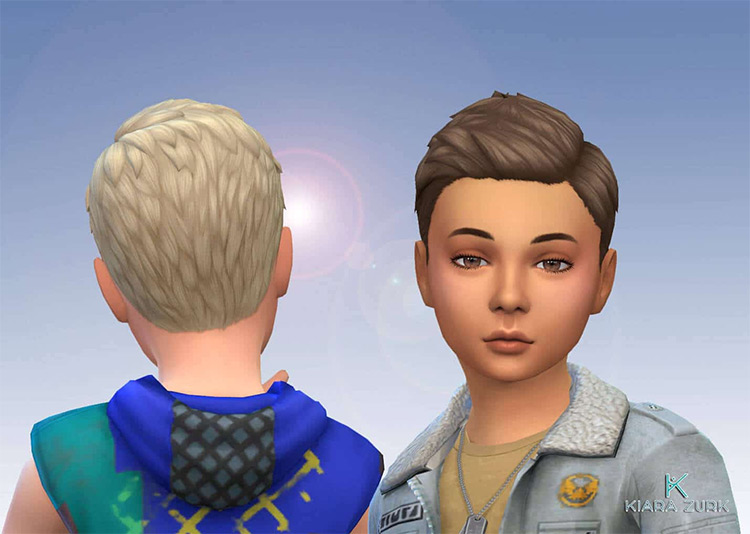 You can't go wrong with a neat, combed style.
And kids are never too young to start appreciating tidiness!
Turn your Sim's boys into dapper young men with this conversion. Even though it was originally for adults, it's really something special for the kiddos too.
48.

Hypersonic Toddler Conversion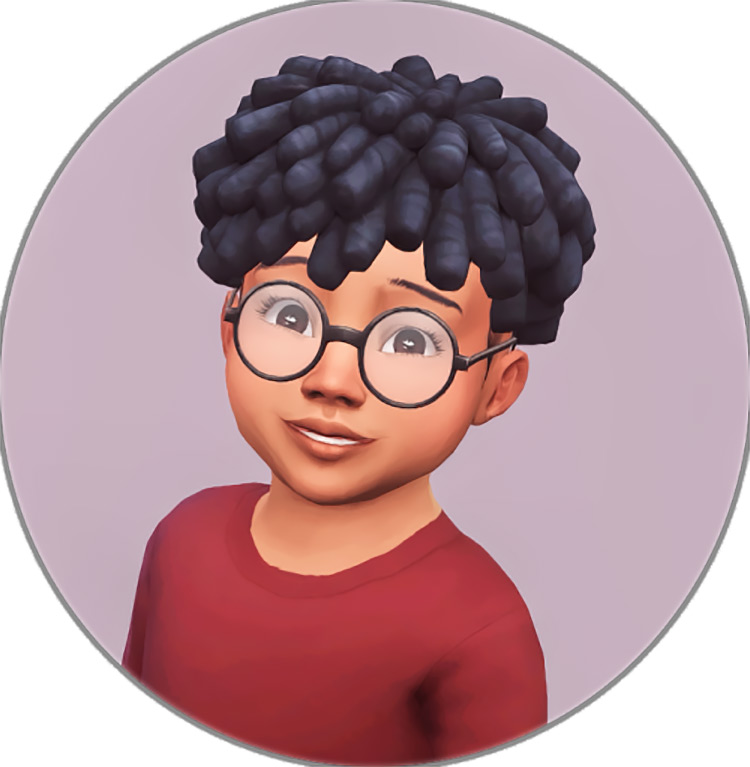 These thick locs are guaranteed to be so charming on any toddler.
It's kind of unbelievable how cute this conversion is.
They're as big as any toddler's personality, which is fitting. A child version is also available!
49.

Little Rascal Hair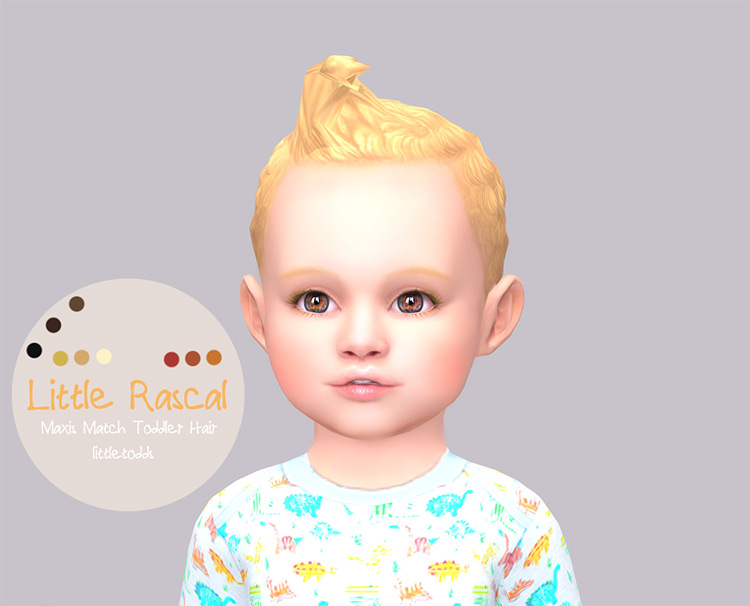 A toddler with no skills and a toddler with maxed out skills are two totally different creatures. We don't know for sure exactly what age they are.
However, this adorable hair will definitely give your Sim's kiddo a vibe that they're on the younger end of the spectrum.
50.

Little Buns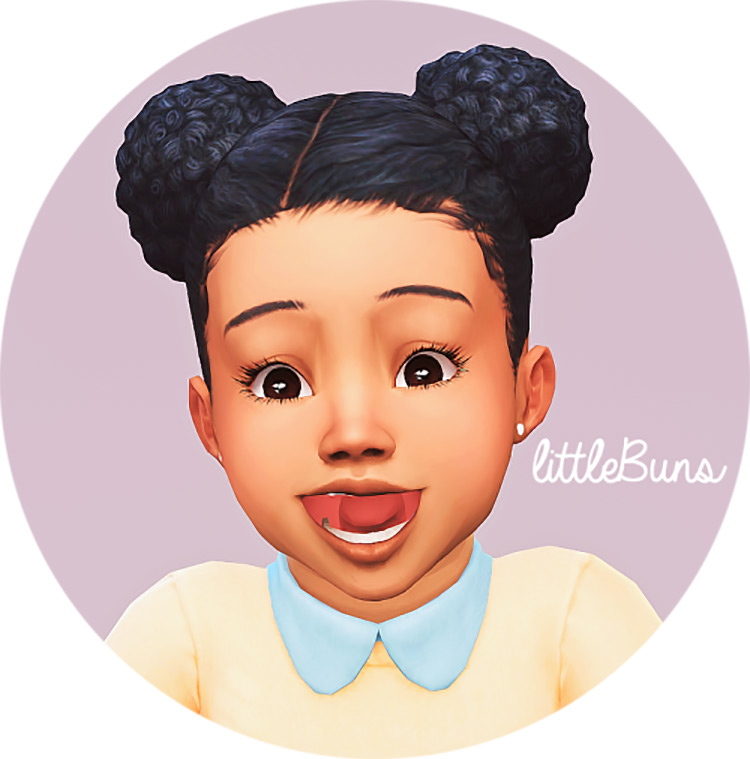 You know those super adorable, poofy buns our Sim children were blessed with?
Now they're available to toddlers too, thanks to this converted version!
They're just as lovely as ever, only smaller. Thankfully, that's really all it takes to make hairstyles fit for toddlers.
51.

Robby Hair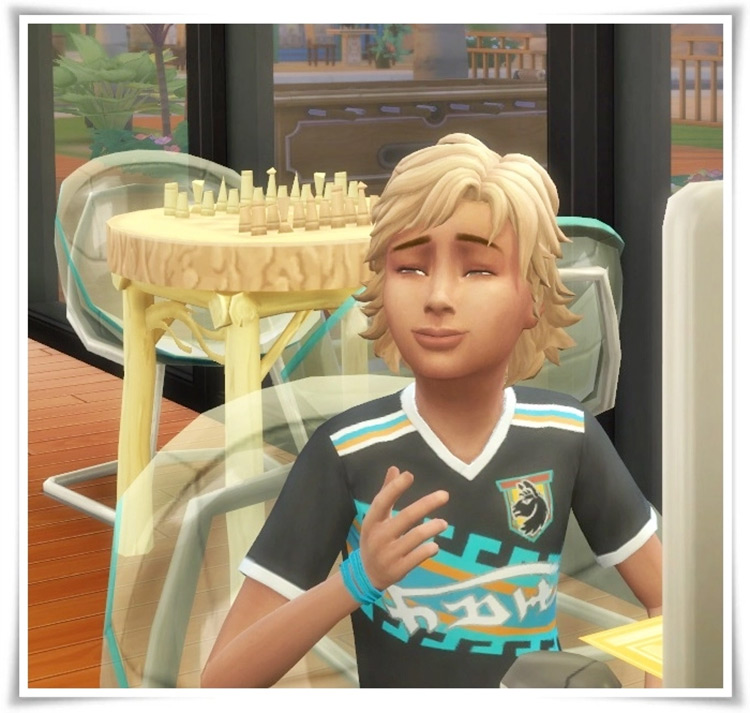 In total contrast to the neat looks above, here's something for the wild child.
Birksche's Robby Hair is messy, shaggy, and overall incredibly cool.
It's flawlessly hat compatible – but come on, how often are you gonna want to cover this up?!
52.

Chad Dreads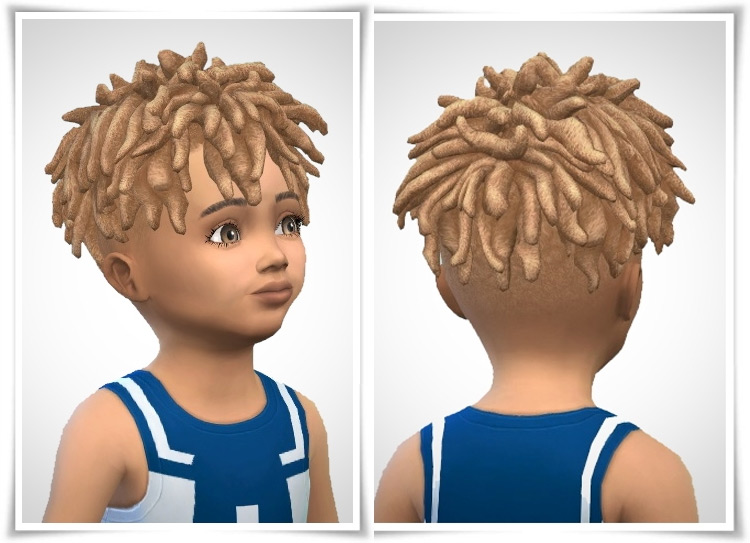 Here we have some dreads with a more realistic flair, though they're still firmly Maxis Match.
In this variation, the back and sides are shaved, really allowing the dreads on top to stand out in all their glory.
53.

"Dee"-vious Fauxhawk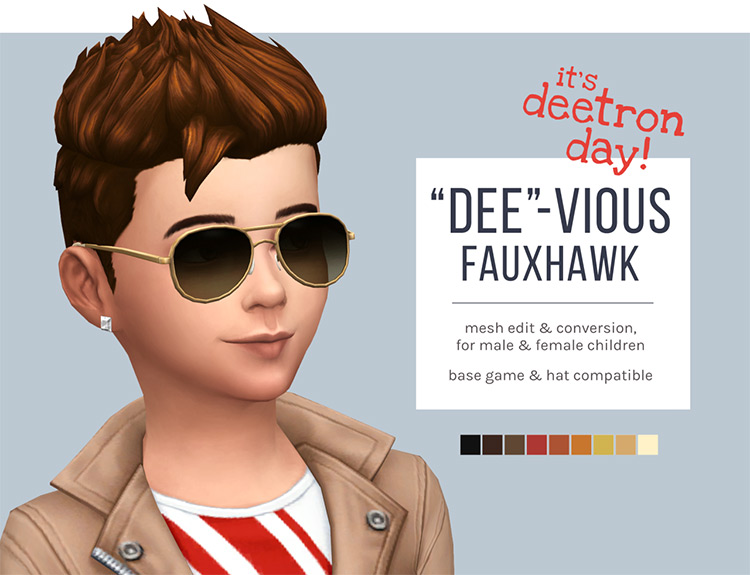 This fun fauxhawk is packed with style and detail.
Most of the hair is brushed upward and there are some stray strands, giving off a delightfully mischievous feel.
Well-kept and tidy hair isn't the preference of every kid, of course. Now both boys and girls can go the opposite route with this wonderfully edgy 'do.
54.

Stormy Hair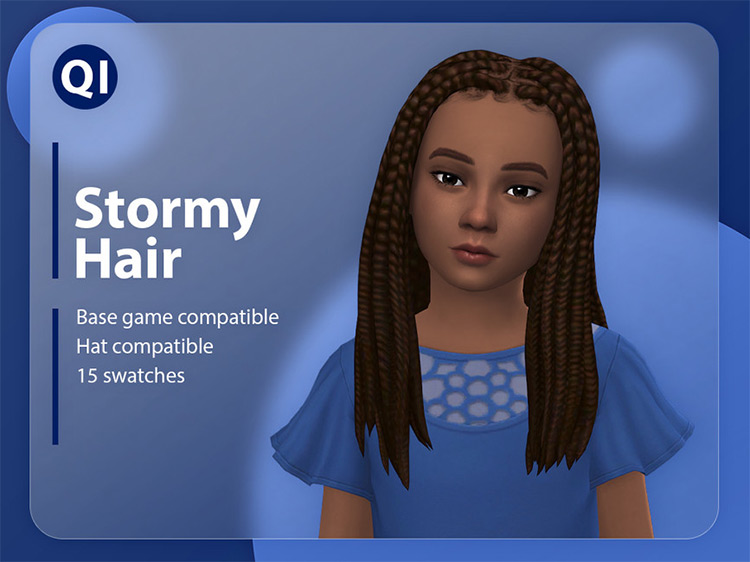 From the middle part to the tapered effect, these braids are just impeccable.
As far as children's hairstyles go, this is a pretty original creation. That just makes it even more gorgeous and versatile!
55.

Camille Hair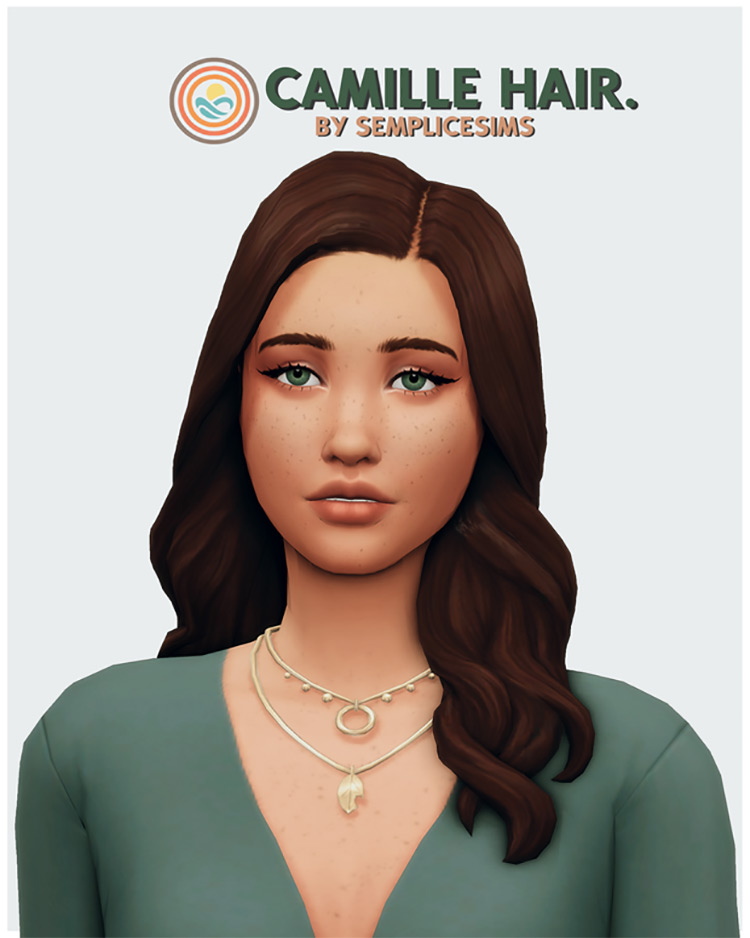 Although this is a modification of a style that came with My Wedding Stories, Semplicesims' base game compatible version is a fresh take.
Part of the long waves are coiled over the shoulder, while most stay in the back. It has a tapered appearance that's just irresistible!
56.

Hello, I Love You Hair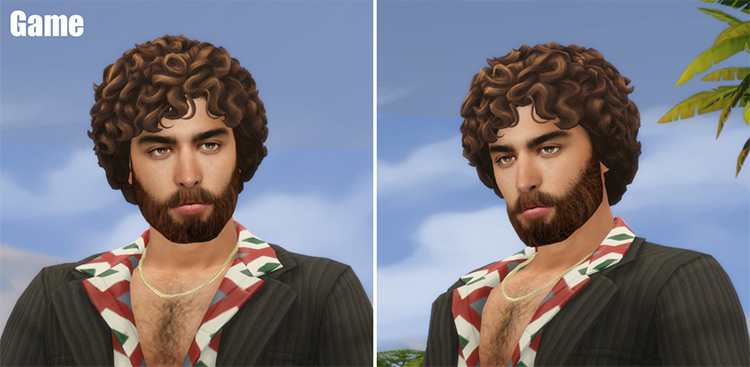 This has to be among the curliest hairs out there, and Wistful Castle really kicked things up a notch.
The level of fine details seen here is unmatched.
Every inch, every strand, it's simply perfect. It's very nicely rounded, but in a natural way.
57.

Ravi Hair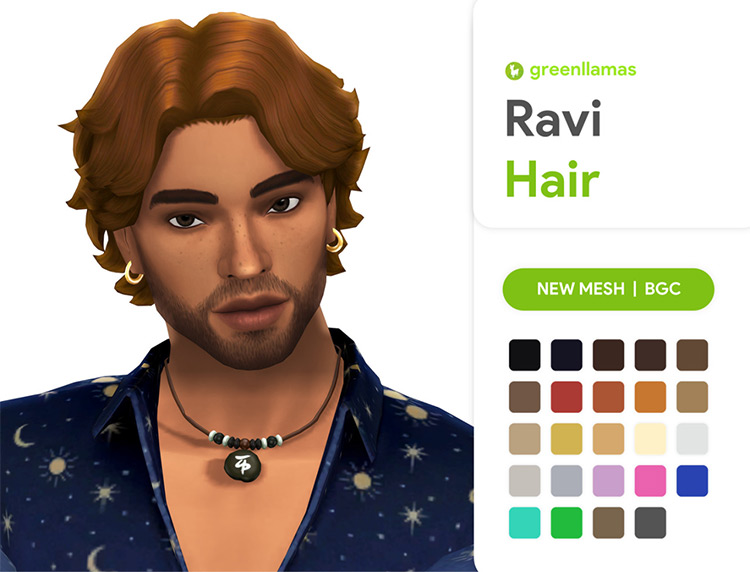 Greenllamas' edit of a Get To Work Hair hasn't just made it base game compatible, it's also better than ever.
The Ravi Hair is a little shaggy, but only in ways that are feathery and look soft. It has a very youthful vibe!
58.

Eleanor Hair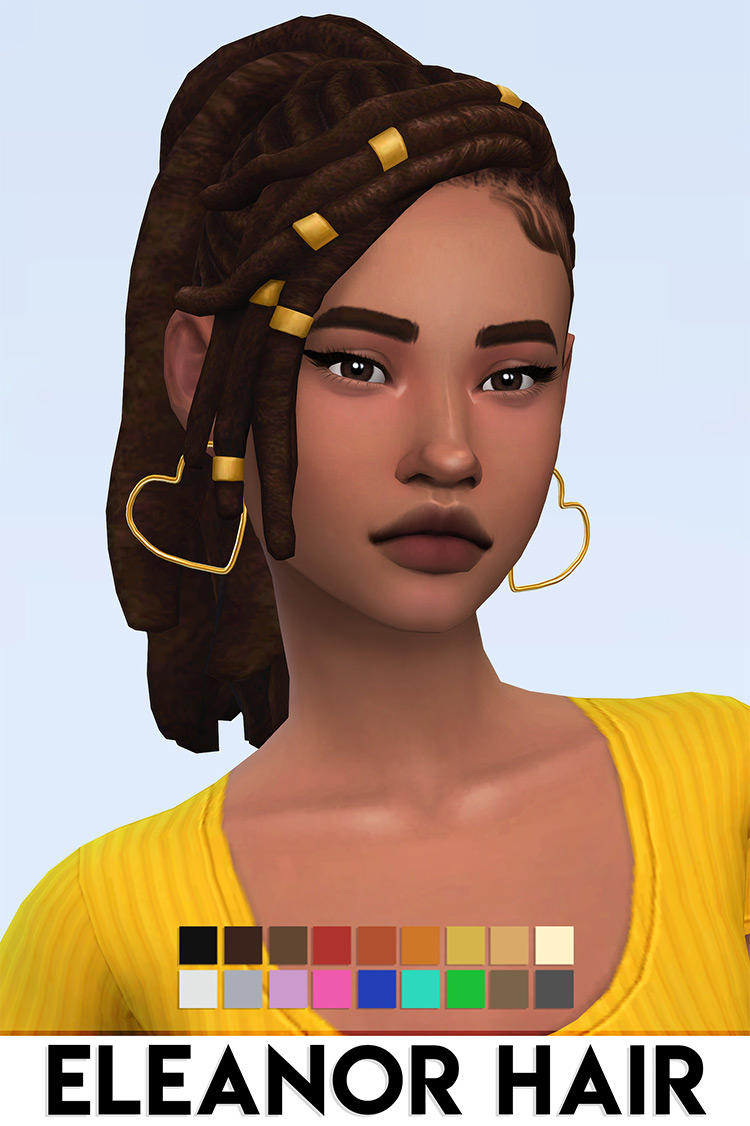 So many different aspects make this one as lovely as it is, we may need a list.
First off, the texture is insanely good throughout. Some of the dreads are thick, some are thinner, there are some wispy baby hairs up front.
And the golden accessories top it all off!
59.

Leonard Hairstyle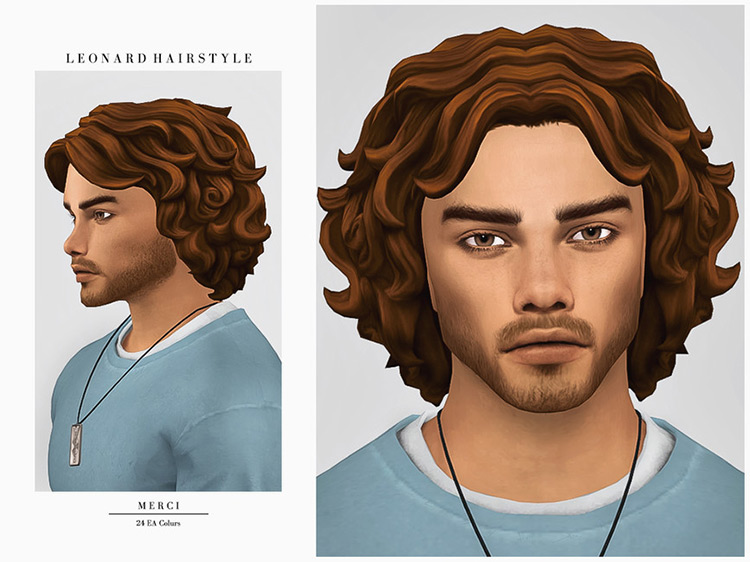 The Sims 4 has no shortage of trendy options.
But thick waves like these really are all the rage nowadays.
If you've got them, flaunt 'em!
This will be flattering on any guy, no matter their ages. Curls like this just never go out of style.
60.

Veera Pony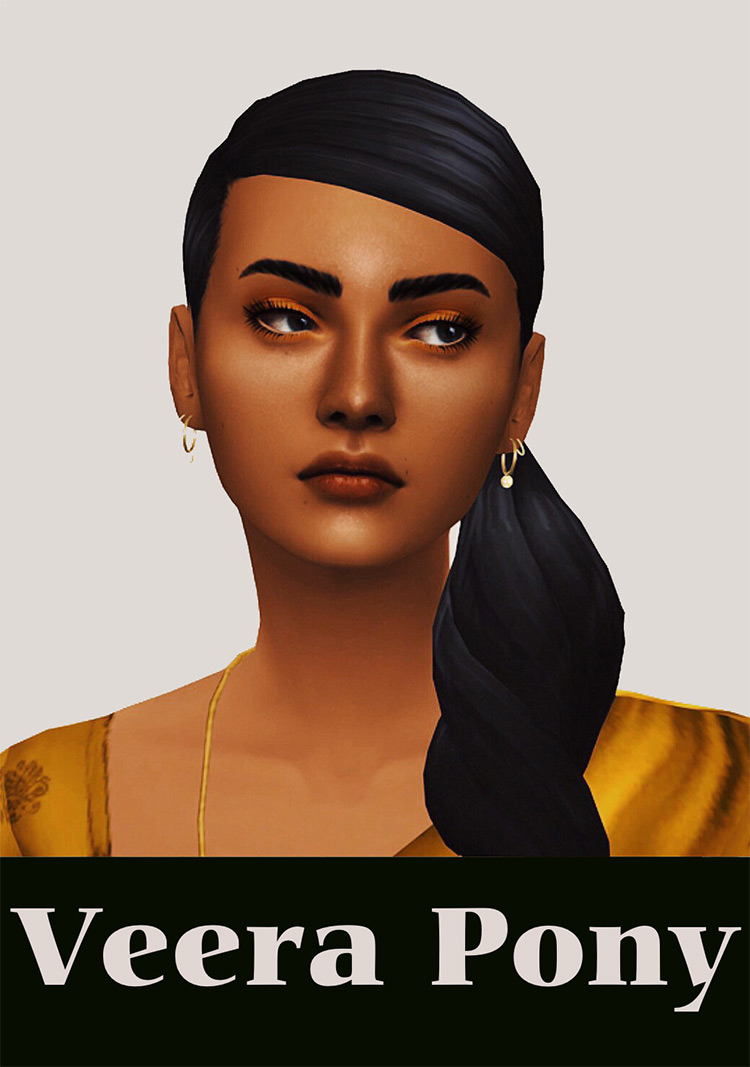 When it comes to modern updos, a side ponytail is unmatched.
They're fairly casual while still looking nice enough for any occasion.
The Veera Pony will serve your Sim well in all of her endeavors. The length is long and the side part up top keeps everything tidy.
Browse:
Lists
Maxis Match
The Sims 4
Video Games