TS4 CC: Maxis Match Halloween Décor, Clutter & Objects
This post may contain affiliate links. If you buy something we may get a small commission at no extra cost to you. (Learn more).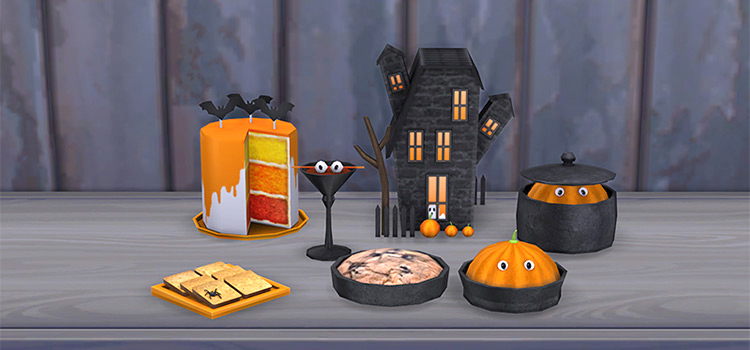 Halloween. All Hallow's Eve. Spooky Day.
Though the names of this holiday may change, its purpose is basically set in stone at this point.
This time of year is beloved for its focus on sweets, fun, and decorating. Now your Sims can embrace that more fully than ever!
1.

Spooky Day Welcome Mats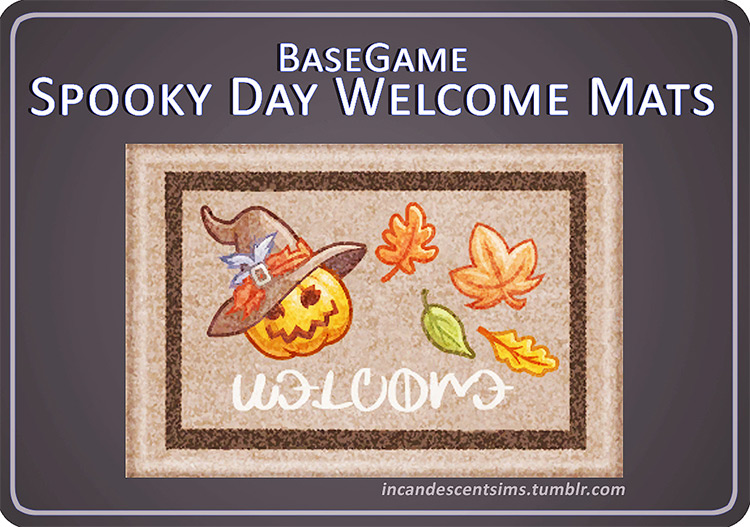 For a lowkey way to bring some spooky vibes to your Sim's entryway, look no further.
These mats are just the right size for most doors, and the 22 swatches provide a ton of unique options. I love that all text is in Simlish, too! No worries about clashing with other decor here.
2.

Spooky Conversions (TS3)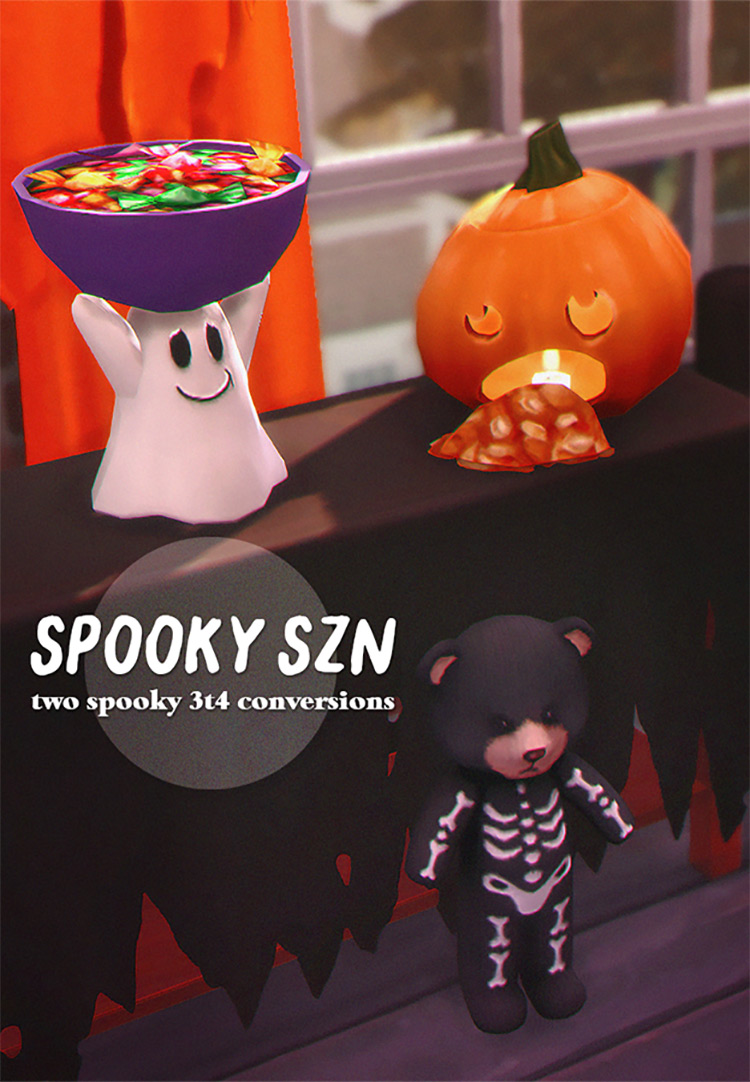 Objects converted from previous games are always really special.
The mesh is already right there, and usually pretty great quality.
This candy bowl and skeleton teddy bear may get you feeling nostalgic for The Sims 3. But now you can integrate them into your current festivities seamlessly.
3.

Treat Bag Set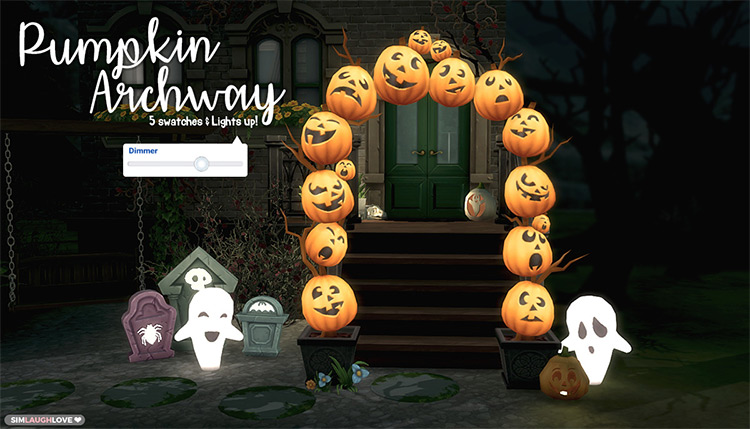 While SimLaughLove's wonderful Halloween set includes a lot of new CC, it's the pumpkin archway that landed it on this list.
It's not only completely functional, meaning your Sims will walk through it as they should, but there's also no denying how awesome it looks. Each pumpkin has its own facial expression!
4.

Divinity Gravestones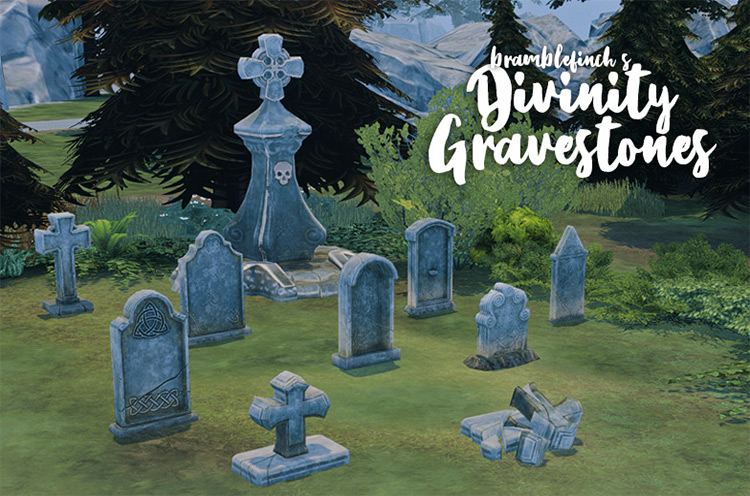 Some may think it's morbid to use gravestones as decor but there's no better way to fill up empty space in your Sim's yard.
Several different sizes and styles are included here. There are really no limits for your Sim's fake cemetery since there are so many ways to arrange them.
5.

Pumpkin Cupcakes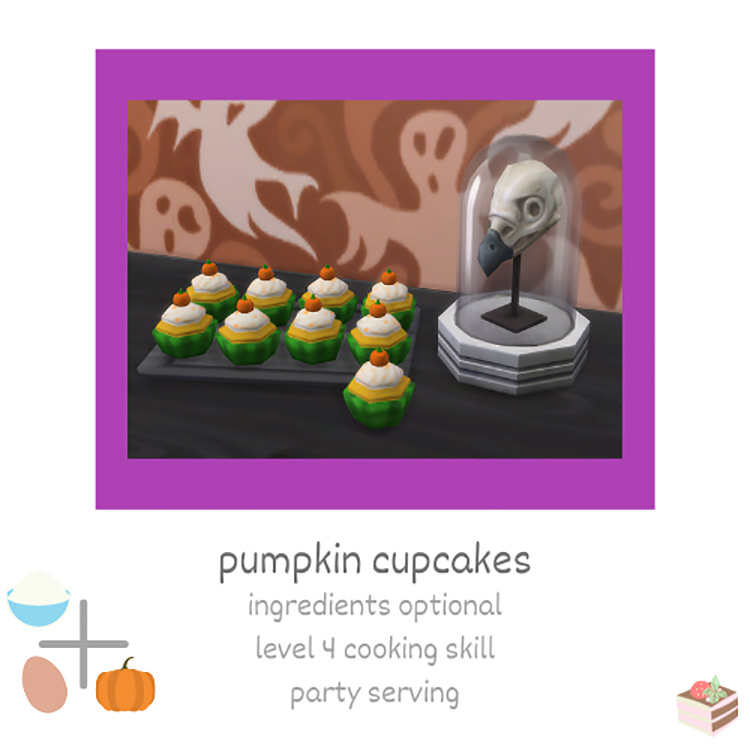 Set the scene for all your Sim's Halloween festivities with these classic pumpkin cupcakes.
These just never get old.
What's really great is that Sims can actually bake and eat them, too! It's a nice touch of realism that they probably won't be on the table for long.
6.

Creep It Real Candy Bowl
Most other holidays have a deeper message about togetherness and showing gratitude. Well, this one's all about candy and fun, two things Sims can certainly use more of!
This cauldron isn't just an awesome decorative piece, it's also fully functional. Sims can treat themselves all night long.
7.

Spell Books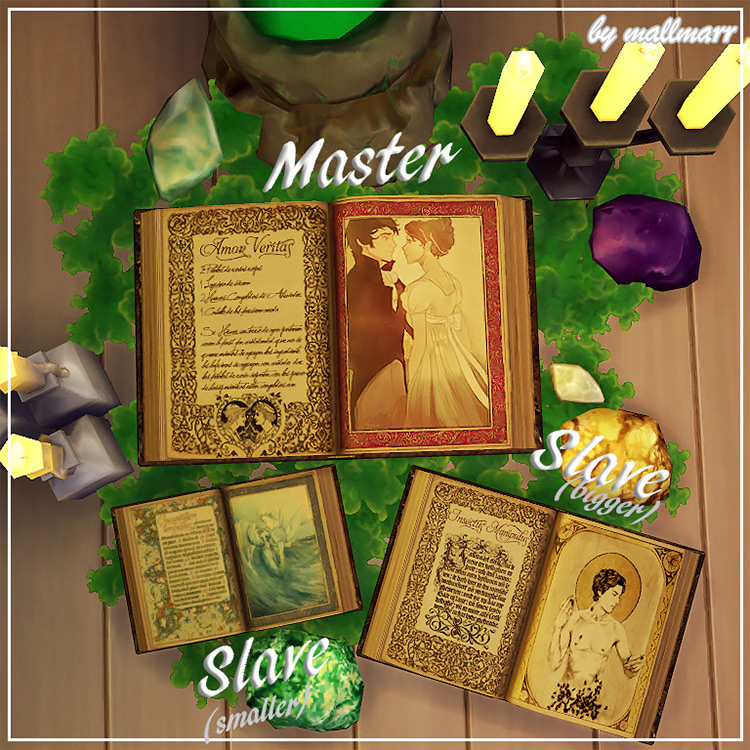 There aren't many contexts in which ancient looking spell books aren't creepy. Whether or not your Sim is really a witch is their business, but any room will be a bit spookier thanks to these.
Three different sizes are included, with 6 swatches for each, so you can really do a lot with them.
8.

Halloween Wallpapers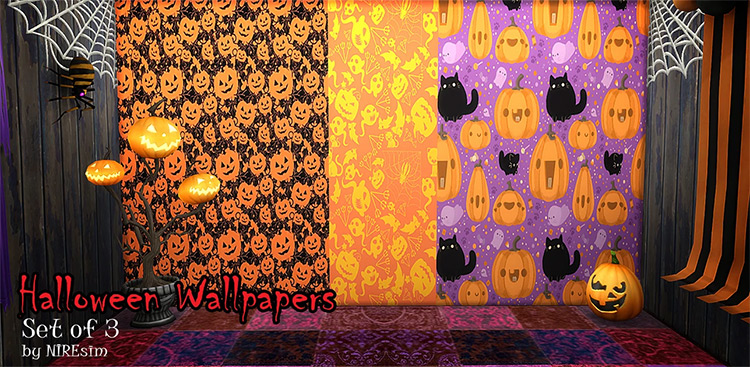 Changing a wall is usually a permanent thing but it's so easy in The Sims, why not take advantage of that?
You can totally deck out your Sim's home for Halloween or just use one of these swatches to create an accent wall. Either way, there's no missing it!
9.

Happy Halloween Snacks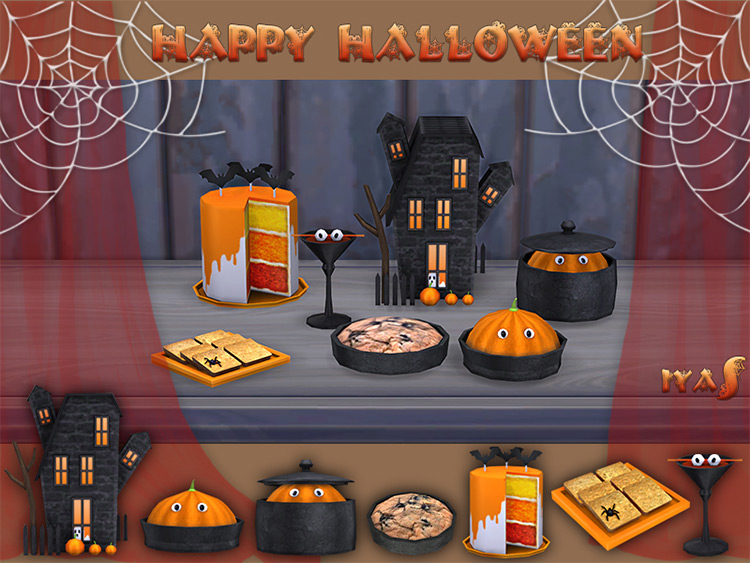 What's a party without food?
These themed cakes, platters, and pans will really be a fantastic addition to any event.
Several swatches are available in the very fitting color palettes of purple, green, orange, and blood red.
And the haunted house sculpture can be used long after the party's over!
10.

Glass Pumpkin Candles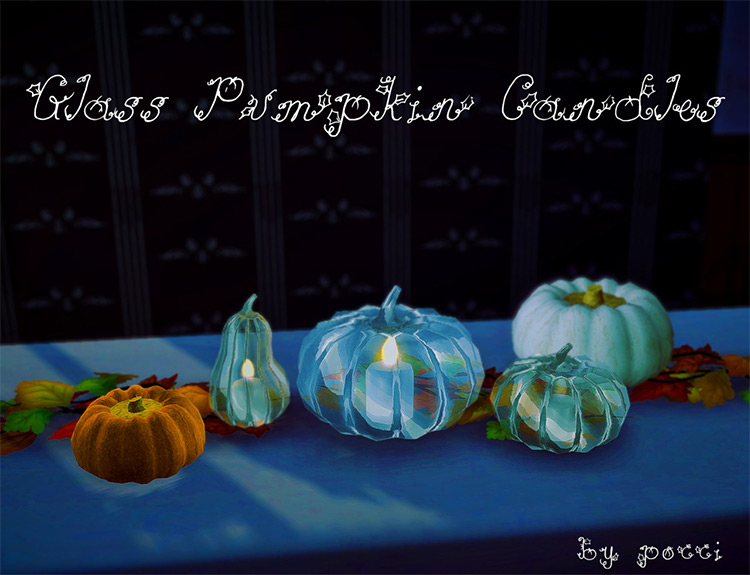 Pocci's glass candles are simply stunning. From the design to the texture, it's perfect.
Three pumpkin styles are available and you'll probably want to use them all. These will be a lovely addition to any surface, all season long.
Best of all, you can even turn them on and off.
11.

Halloween Clutter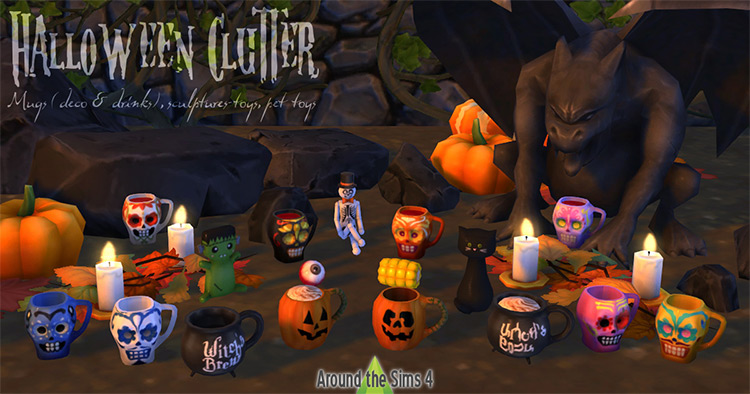 Here's a bunch of nice decorative items to fill in smaller spaces.
There are both functional drinks and decorative mugs, plus some sculptures, and even a little something for the pets!
They require Cats & Dogs, of course, but the eyeball and candy corn chew toys are definitely unique.
12.

Simblreen Rugs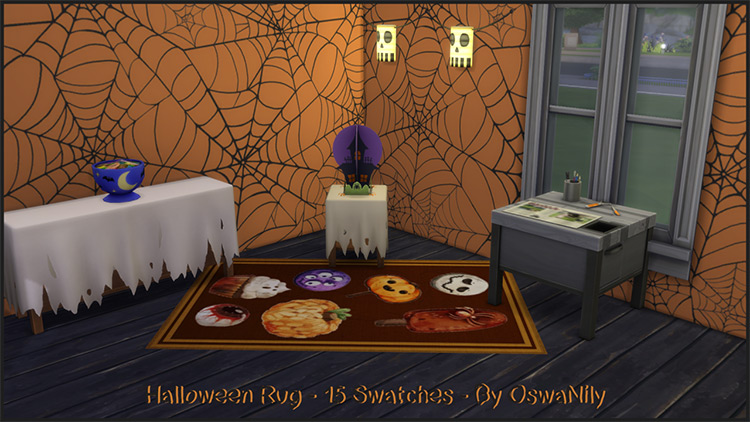 The designs on these are simply adorable.
If you're not into the darker side of Halloween, then these are ideal.
Some really cute kitties, bats, and festive pumps are among the 15 options. They are just the right size for basically any space, from porches to living rooms.
13.

Debug Pumpkins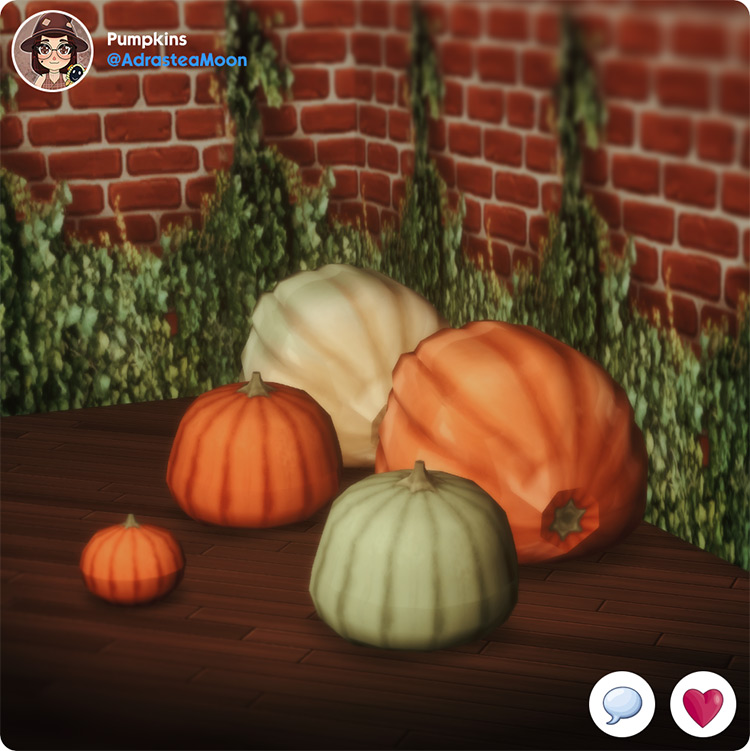 Most Simmers are probably aware of what a treasure trove of items await when you unlock the game's debug items.
But it's also easier sometimes to just grab a base game version, so they're always at your fingertips.
This set of pumpkins is pretty realistic, and can be used in so many ways.
14.

Creep It Real Cookies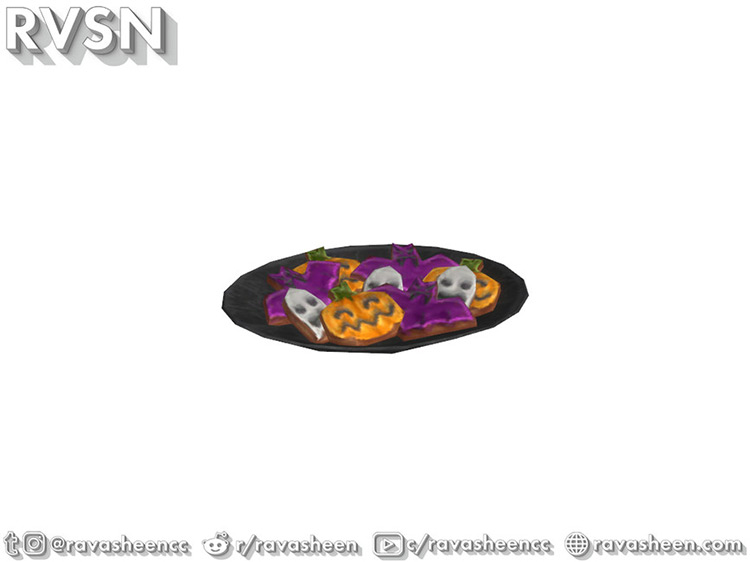 Unlike the candy bowl from this same set, these holiday cookies are just for looks.
A few faux foods are actually really nice to have, so you can clutter tables or counters as needed.
Ravasheen filled this plate with traditional and tasty ghosts, pumpkins, and bats.
15.

Halloween Cat Calendars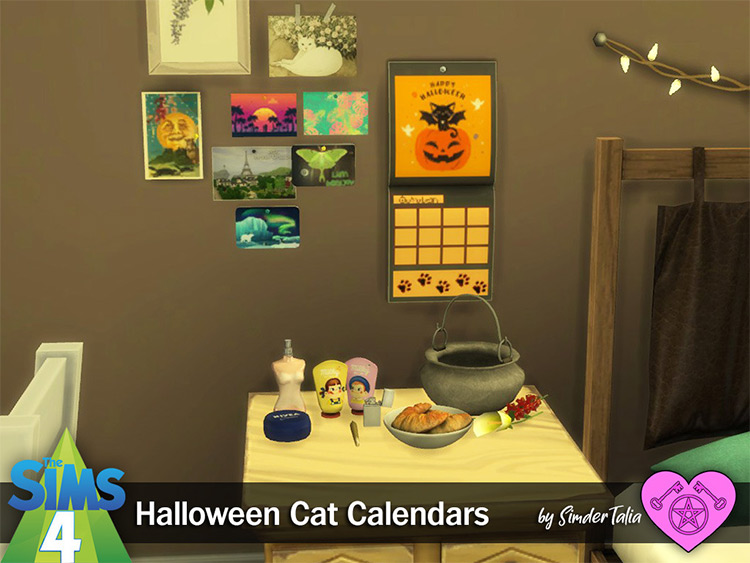 No matter the occasion, cats can improve it.
Each of the twelve swatches for this calendar features a different, but equally precious, spooky kitty. Some have vampire fangs, some are sitting on pumpkins or wearing witch hats.
All are just wonderful, though!
16.

The Very Spooky Spider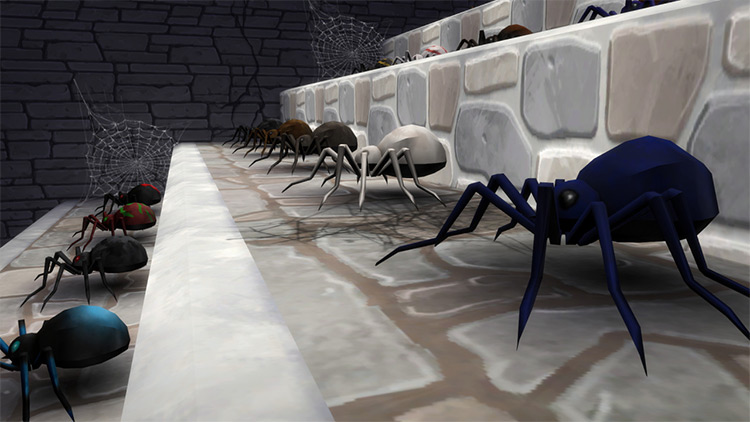 For those times when you want to embrace the horror aspect of Halloween, a big spider will do the trick.
These creepy crawlies are massive. But thankfully, just decorative.
20 different styles are available in this CC– so you can make a whole army, if you're so inclined.
17.

Vintage Halloween Set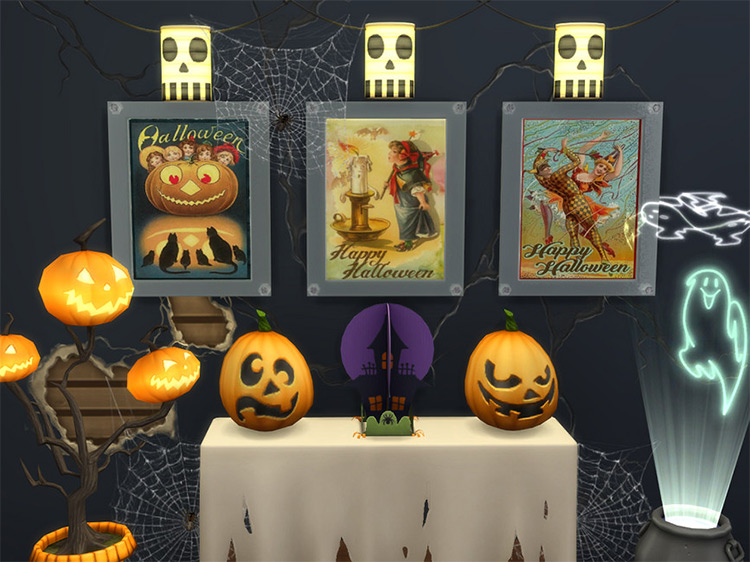 Three vintage Halloween paintings are included in this set from Spitzmagic. Even if they're way before your time, they still just might bring a nostalgic feel to your Sim's home.
The designs are very wholesome and casual, so they offer a more sophisticated way to decorate.
18.

Life is Strange 2 Halloween Pack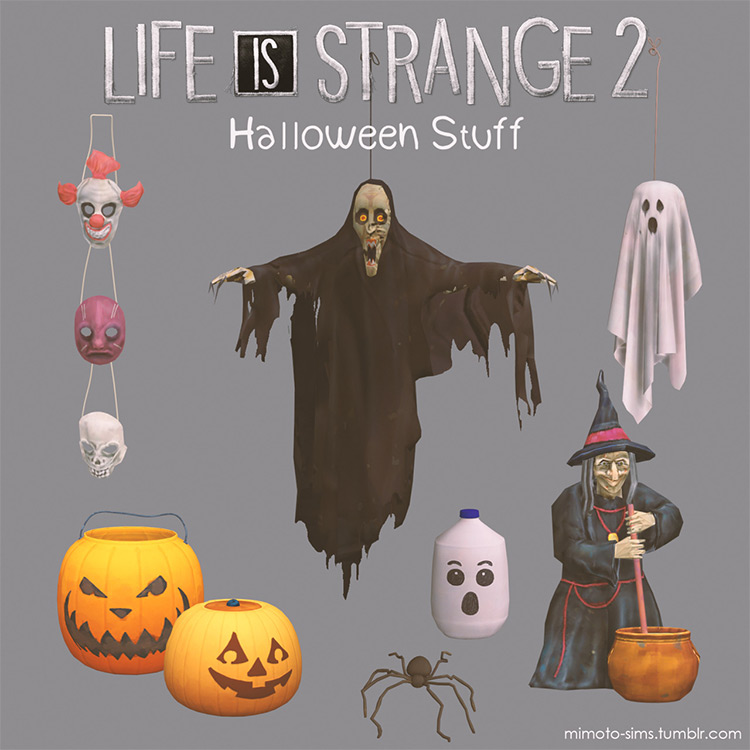 All sorts of classic items are in this pack.
From big spooky witches to ghouls and ghosts to hang around as you please, most of your Sim's needs should be met in this Halloween CC pack.
There are even plastic pumpkins and DIY milk jug ghosts.
They'll definitely bring a homey feel!
19.

Ghost Cupcakes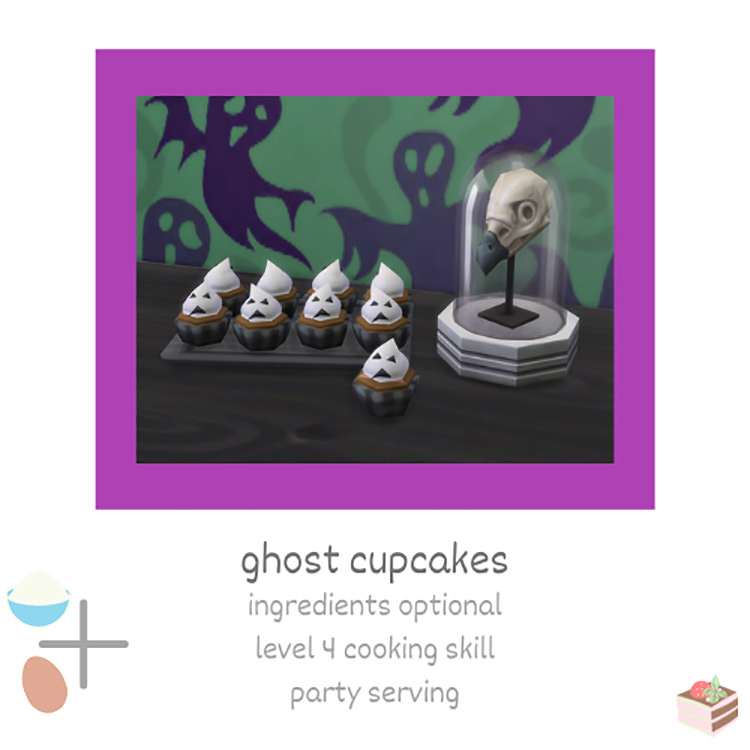 If there's one thing everyone can all agree on, it's that you can't have too many cupcakes at Halloween.
Like the pumpkin version, Sims can prepare and enjoy these the same way.
The ghostly design is super well done. Some might even say they look good enough to eat…
20.

Pumpkin Stereo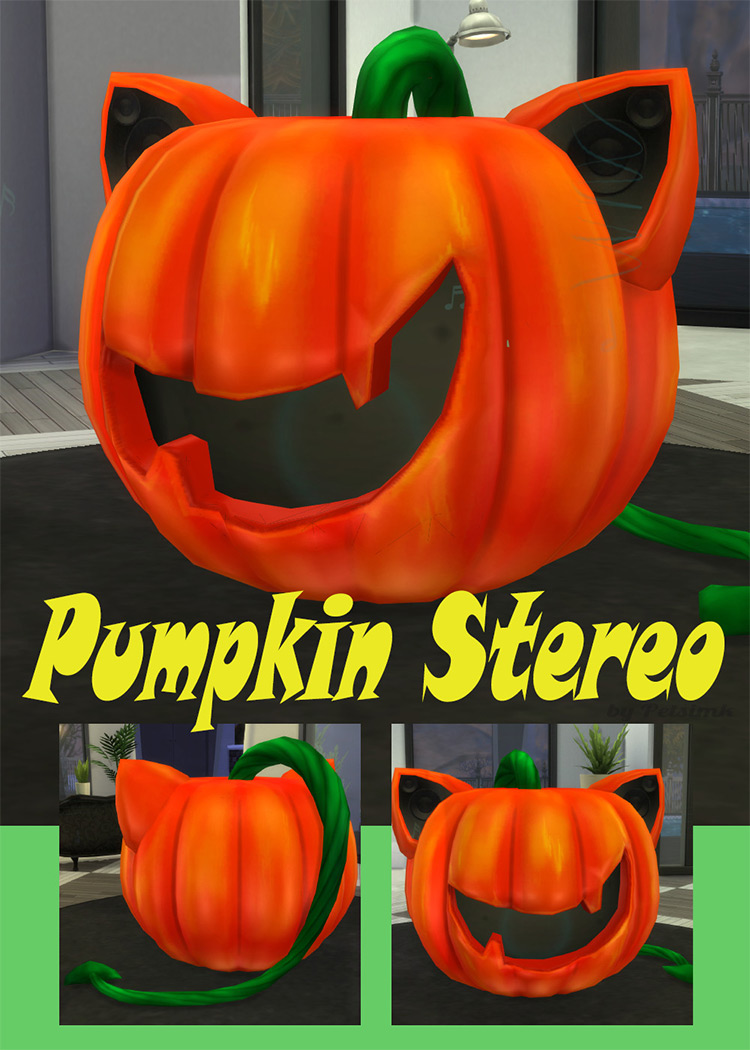 If you plan on your Sim throwing a Halloween bash complete with music, then this new and improved stereo is a must.
How exactly is it improved, you ask? Well, it's like a decorative pumpkin…except it functions as a stereo.
Yep. Enough said. That's an awesome upgrade!
21.

Halloween Outdoor Stuff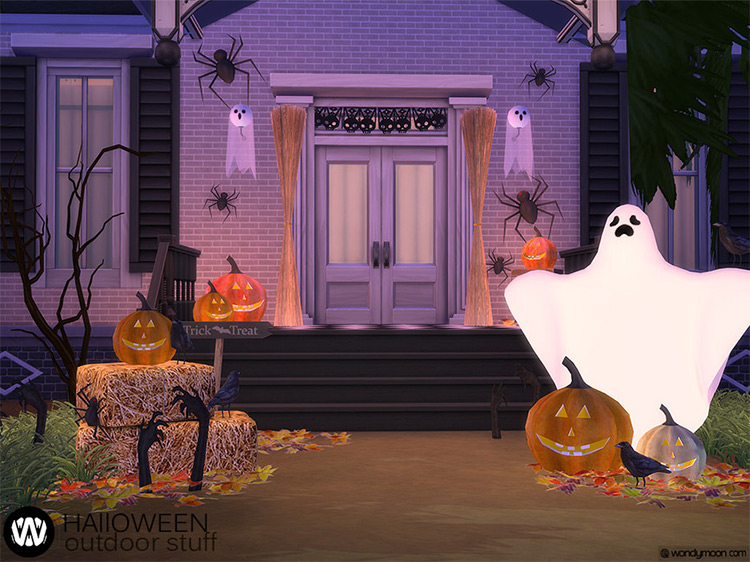 Without the restrictions of a room or ceiling, you can really go wild with decorations.
That may just be why front yards and porches have become such popular focal points for holidays. In this little stuff pack, you'll find great objects, both big and small, to really up your game.
22.

Halloween Deco Sims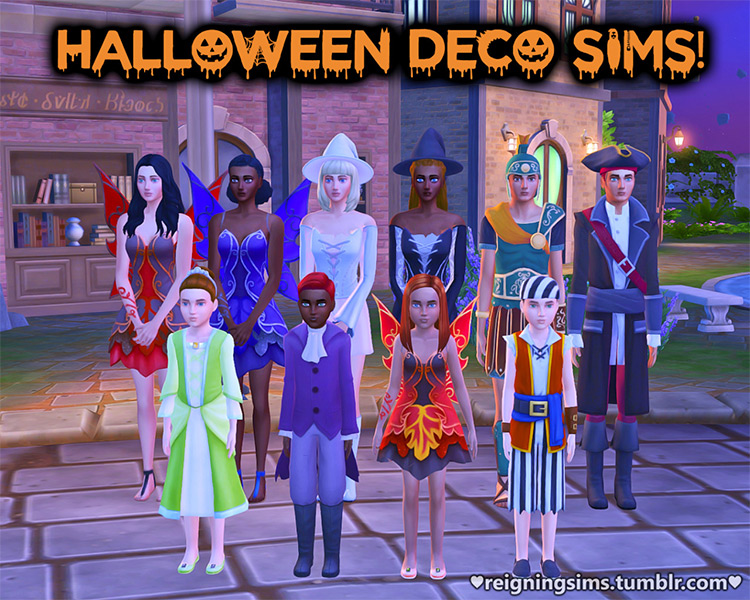 This may seem strange if you're unfamiliar with deco Sims, but these guys just serve as props.
They're really helpful for those of you who like to catch snapshots of your Sims in the moment, and don't like backgrounds being empty.
Use these fake adults and kids to set up a whole scene!
23.

Wicked Awesome Halloween Decor Set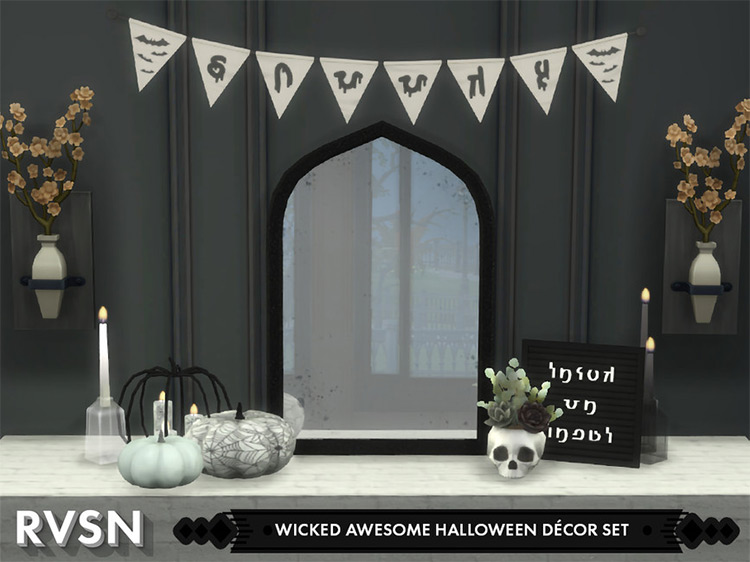 More modern options are the focus here, including Simlish letterboards, wall banners, and of course an abundance of pumpkins.
The black and white color scheme is honestly a nice change of pace from the typical 50 shades of orange thing. It'll be a breeze placing these in any Sim's home, the quality is fantastic.
24.

Countdown To Halloween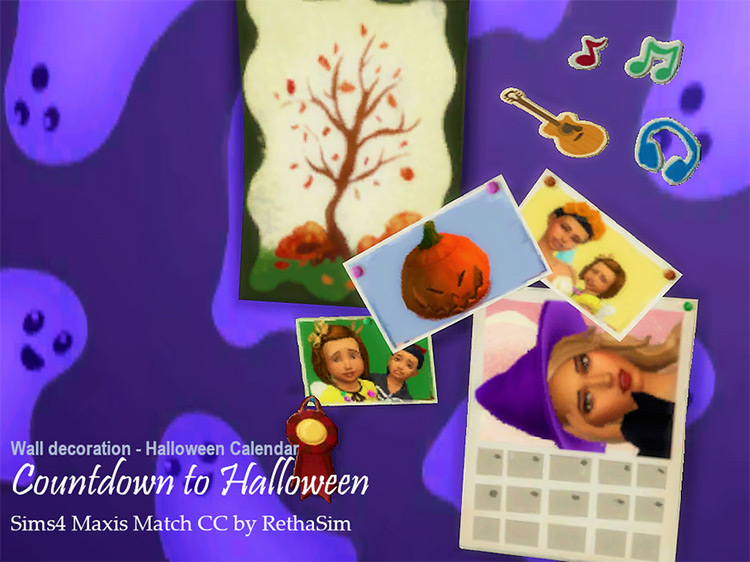 We all have fond memories of past Halloween fun, but I don't how many people actually take the time to commemorate that.
Fortunately, now your Sims can!
This adorable and very original wall hanging features festive snapshots from toddler's first Halloweens, plus an equally fitting calendar.
25.

Gothic Décor Set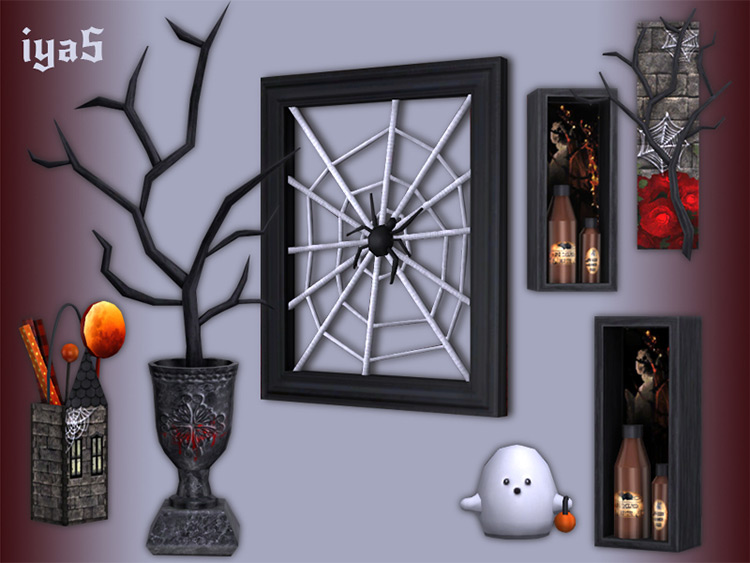 Plenty of standard spooky imagery is here, such as spiderwebs, ghosts, and lots of black.
Whenever you find yourself searching from some small to medium sized deco objects, this set will offer several fresh options.
You won't find wall art like this outside of CC, that's for sure!
26.

Pumpkin Pet Bed (Cats & Dogs Required)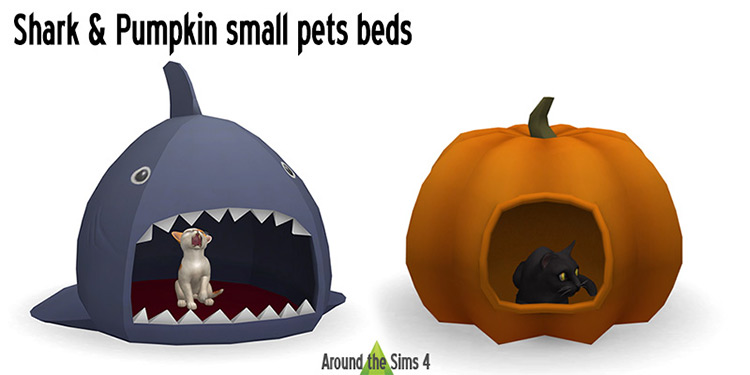 Including pets in life's little moments is often the highlight, both in real life and The Sims.
Give your Sim's cat or dog a more appropriate place to sleep this Halloween, with this awesome pumpkin bed.
It's got a flawless design – and it's even functional.
27.

Fah-boo-lous Halloween Wall Art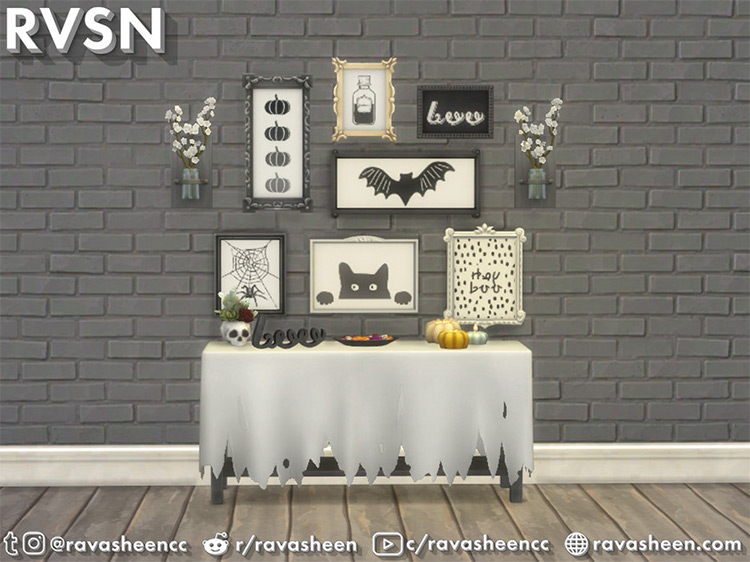 Here are some more brand new wall hangings, courtesy of Ravasheen.
Simply put, it's like these were made to be as aesthetically pleasing as possible. The watercolor pumpkins, black cat, and bat, among other things, all have muted colors and fancy frames.
28.

Pumpkin Pillow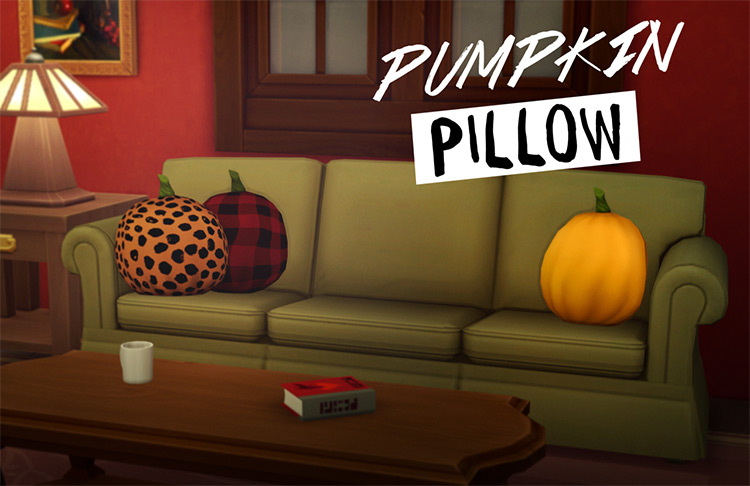 Sims are hardly able to know the joys of throw pillows. Most are only built into couches.
Thankfully, that's a thing of the past, at least for Halloween.
You can place however many of these pumpkins as you want. And with 25 total swatches, it'll definitely be more than one.
29.

Custom Decorative Cake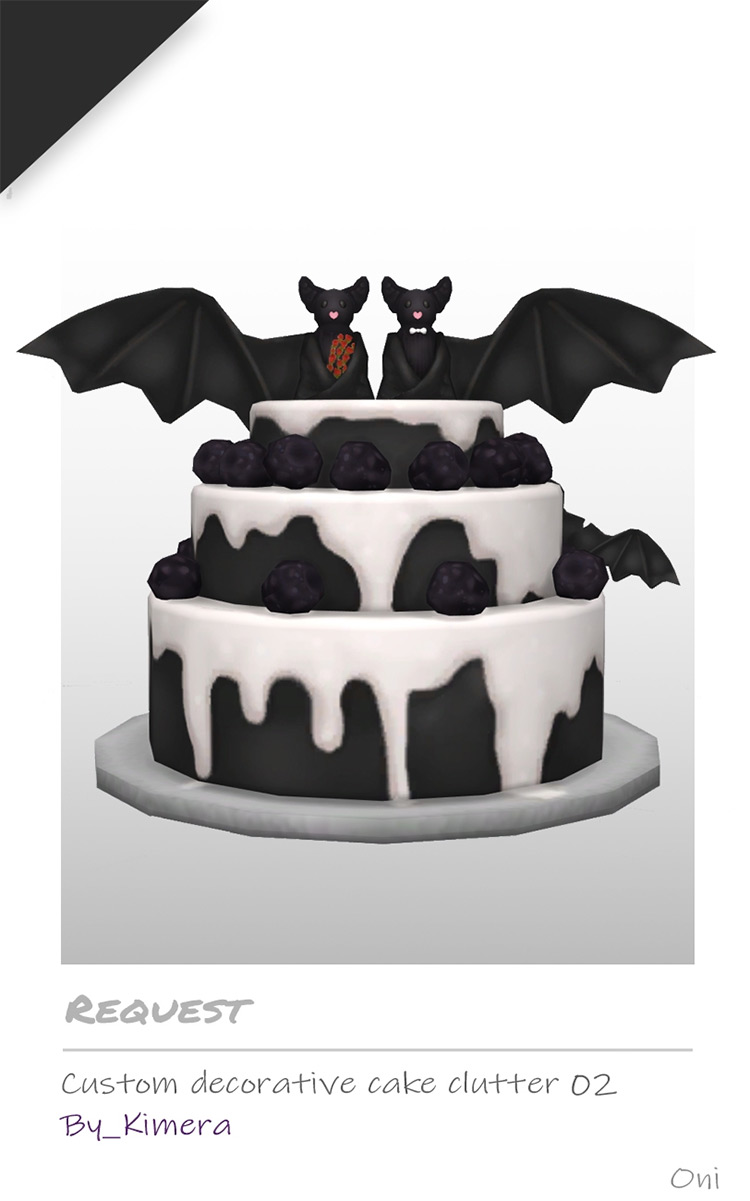 This cake is probably delicious, but we nor our Sims will ever know.
Its sole purpose is to be used for decoration, and it'll serve that purpose well.
Whether the two bats up top are cute or creepy totally depends on your personal opinion of them.
30.

Spooky Flags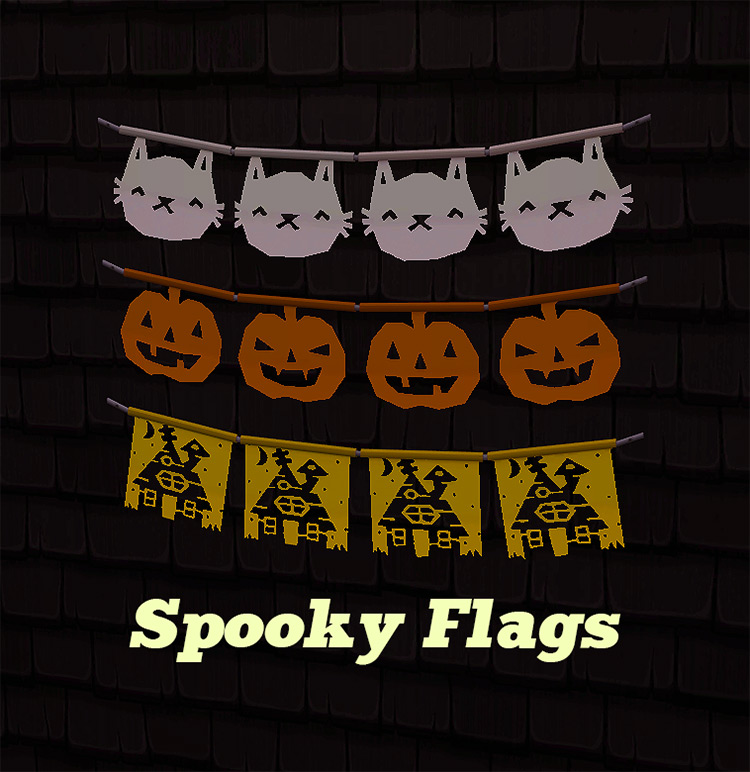 As basic as these flags are, any Spooky Day enthusiast will adore them.
Line the walls with pumpkins, cats, or haunted houses. Or all three!
No matter how you decide to use them, they will really bring a classic look.
Great things come in small packages, and it's safe to say that applies here.
Browse:
Lists
The Sims 4
Video Games