Sims 4 Maxis Match Halloween Costumes CC (Adults + Children)
This post may contain affiliate links. If you buy something we may get a small commission at no extra cost to you. (Learn more).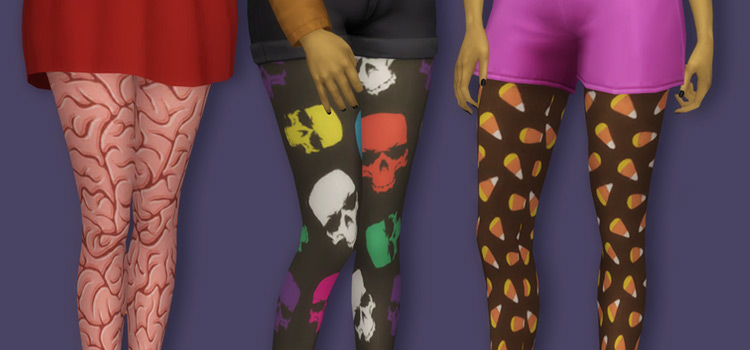 Love it, hate it, or feel like you've outgrown it, Halloween is the only day in the year that everyone gets a free pass to look spooky, creepy, sexy, or downright weird.
Strutting into Starbucks in a full gown, heels, and diamond tiara? Just someone dressed up as a princess.
Got on a bright red bodysuit and a horned headband? They're going as a devil this year.
Buying groceries wearing nothing but toilet paper? As risky as that sounds, people are still going to brush it off as someone dressed up as a mummy.
Make sure your Sims has as many costume options as you do by stocking up your CAS Costumes gallery. Check out these awesome Halloween costumes—all in Maxis Match!
1.

Skelly Onesie by aharris00britney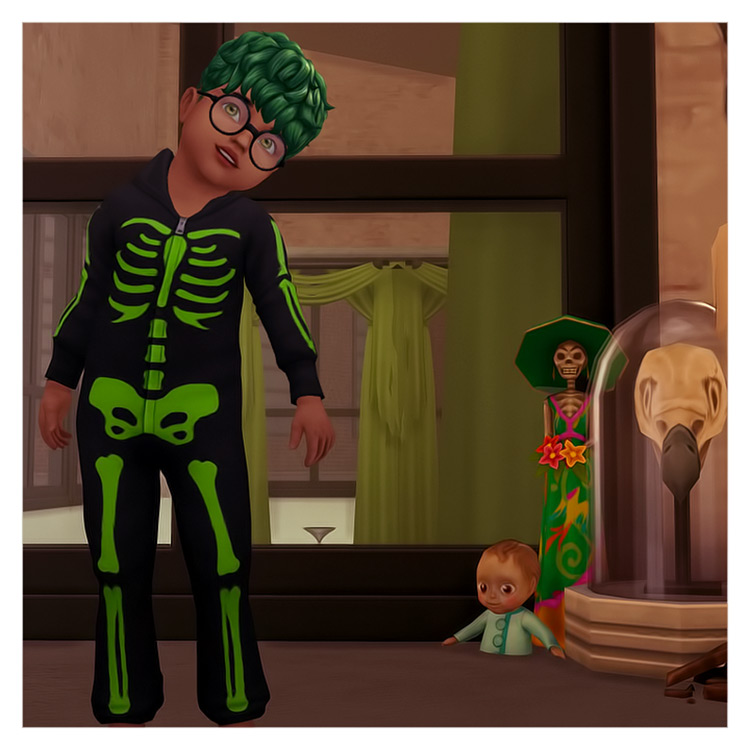 How about a smol spooky skelly to start things off?
Dress your Sims's toddlers up in a comfy onesie with neon skeleton print (then pretend to be scared)! It's quick, it's cute, and it comes in six different colors.
2.

Overalls Ghosts by bukovka
Does your precious little one not want to go as a skeleton?
No worries – they can go as a happy li'l ghostie instead!
These Toddler ghost overalls are perfect for the pouting pumpkins who want to go trick-or-treating as something spooky (but still so freaking adorable).
It's a plain white onesie with four different ghost faces: scared, impish, happy, and mischievous.
3.

Aris Pants Corset by zx-ta
Feel like going as a modern swashbuckler-slash-Medieval-rogue?
Zx-ta gives us a full femme ensemble that looks like something out of The Sims: Medieval.
The rough-hewn leather corset, the billowy cotton blouse, and the practical hempen pants? The ideal outfit for the female LARP-er who wants to dress up all comfortable and badass for Halloween.
4.

Tredony Jacket Striped Pants by zx-ta
If you've got two Renaissance-nerd Sims in a committed relationship, might as well let them go in matching costume, right?
Here's an awesome male-frame counterpart to zx-ta's Aris Pants Corset suit.
This look is definitely suited for nobility, like an aristocratic landowner or well-known lord. Either way, it's gorgeous.
5.

Psylocke Outfits Set by astya96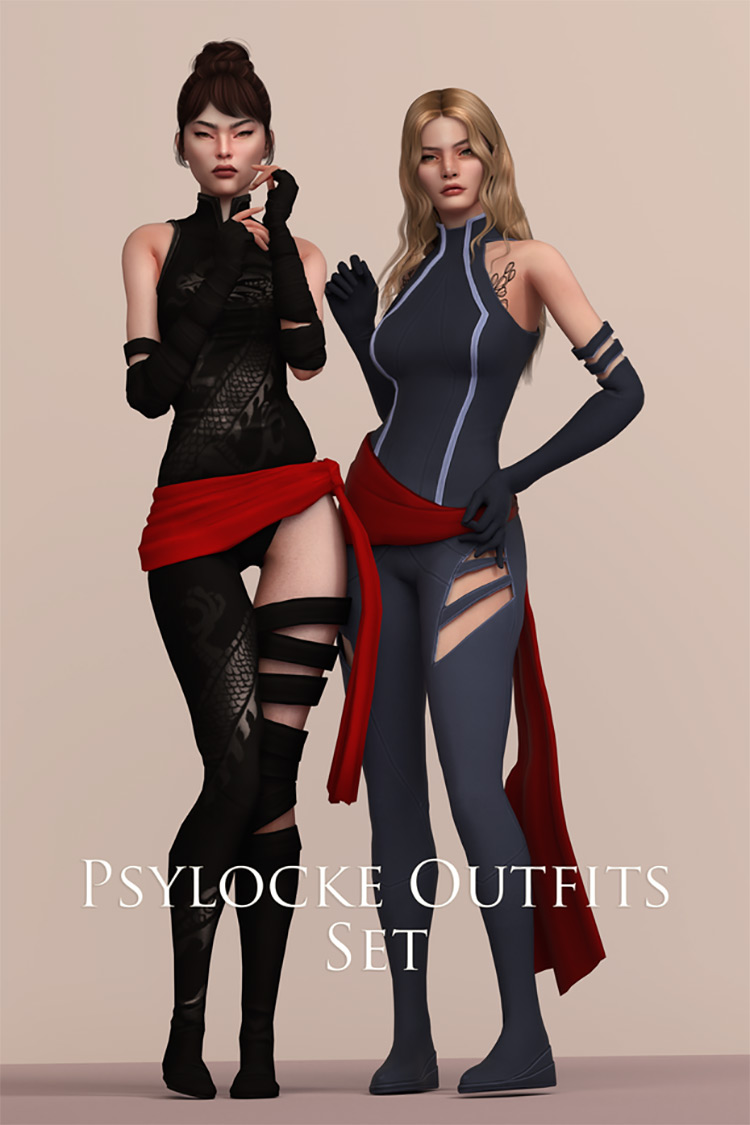 Take it from a self-proclaimed fan of the Psylocke comics. These costumes are so on-point, I could cry.
The creator even made sure to include three different canonical iterations of her costume—including her House of M look!
(Plus a fourth custom one that I'm guessing they designed themselves).
6.

Bee Movie Stuff by landgraaab
The Bee Movie was, for me, an exercise in toeing the line between comical genius and just plain whattheduckery (censored for you young'uns).
Was it enjoyable?
You know, I think I'll keep the extent of my opinions to myself.
Just know that if your Sim feels like going as Barry Bee Benson for Halloween, this costume exists. And works.
You're welcome, I guess.
7.

Dr. Strange from Avengers: Infinity War by plazasims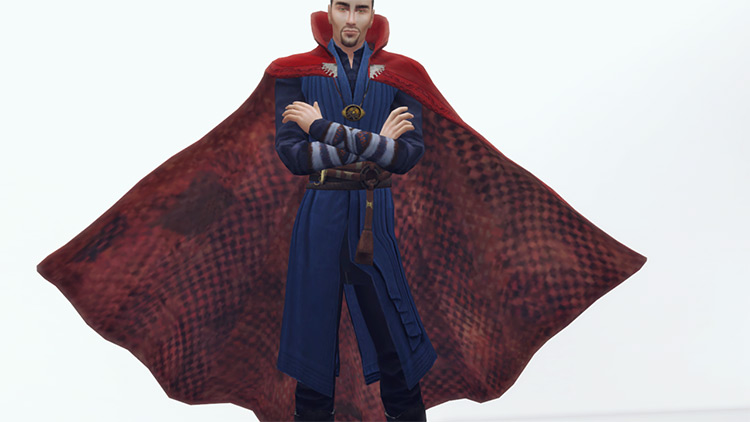 Avengers: Infinity War may be several years' old already, but Dr. Stephen Strange never goes out of style.
And if you're attending an all-night bash-er, his costume would be pretty comfy. Pants and boots are a dream to strut around in during cold autumn nights. Plus, his signature red cape.
That's a built-in shoulder blanket if I ever saw one.
8.

Mystery Inc. Pack by Briaitesims

Group costumes are always a fun idea.
If your Sim has three other pals (and maybe a Great Dane), why not have them all dress up as the iconic Fred, Daphne, Velma, and Shaggy from the beloved TV show, Scooby Doo, Where Are You!?
These aren't premade Sims, by the way.
This set contains clothing items made to look exactly like the clothes the characters wear (like Velma's oversized orange sweater and Daphne's eye-catching purple dress).
9.

Spider-Man Suit and Mask by someone-elsa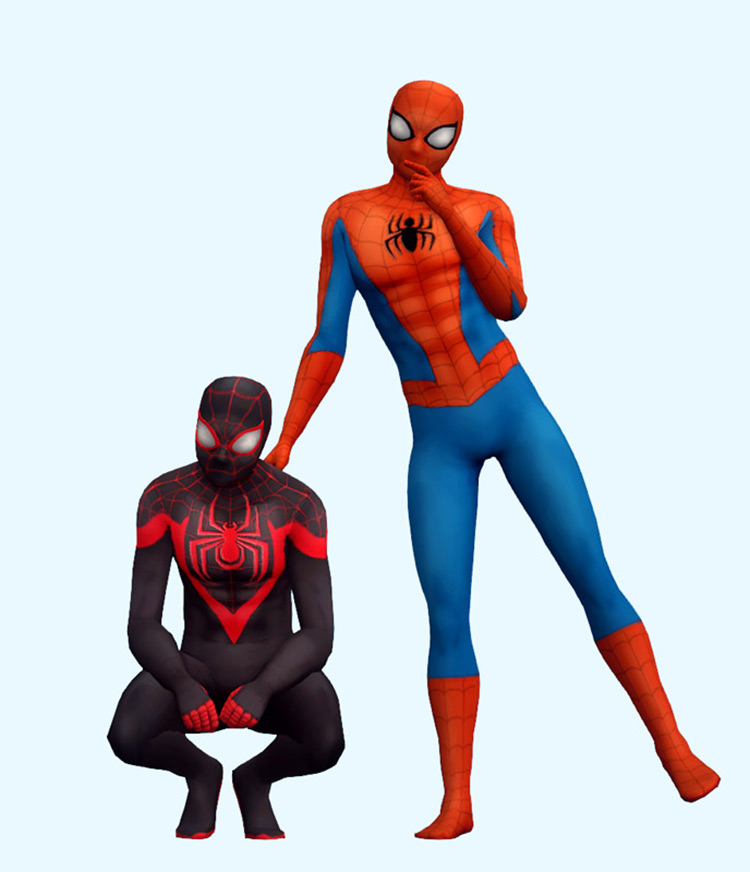 Superhero costumes always make for a great go-to Halloween getup because they're so iconic. Even non-comic-book geeks know the basic superheroes.
(Superman, Batman, we're looking at you).
This Spider-Man Suit and Mask set by someone-elsa? So simple.
Just throw it on your Sim and go. Everyone will know who they're trying to be!
10.

Spider-Gwen Suit by makesims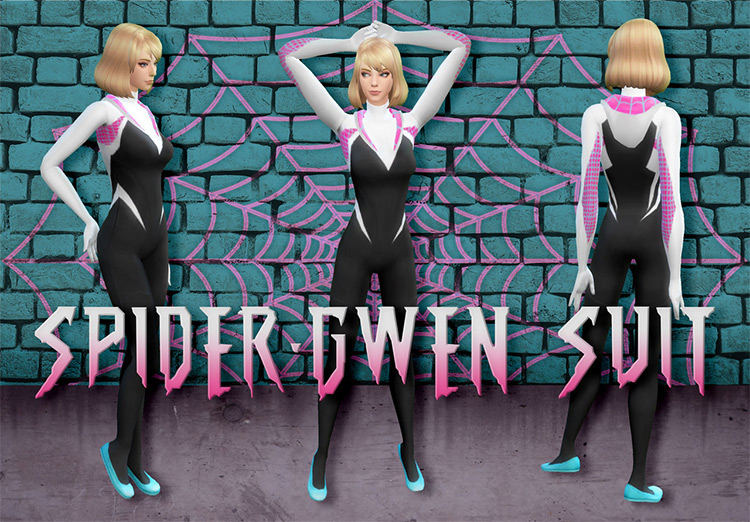 Spider-Gwen may not be as iconic as Spider-Man, but Spider-Man: Into the Spider-Verse definitely bumped up her popularity a peg or two. Shrug this on and swagger out the door. Web-slinging not required.
P.S. the creator does give a head's up regarding a glitch in the CC, so download at your own risk. For a one-time Halloween photo, I think it's worth installing.
11.

Toddler Halloween Costumes by Coli's Wonderland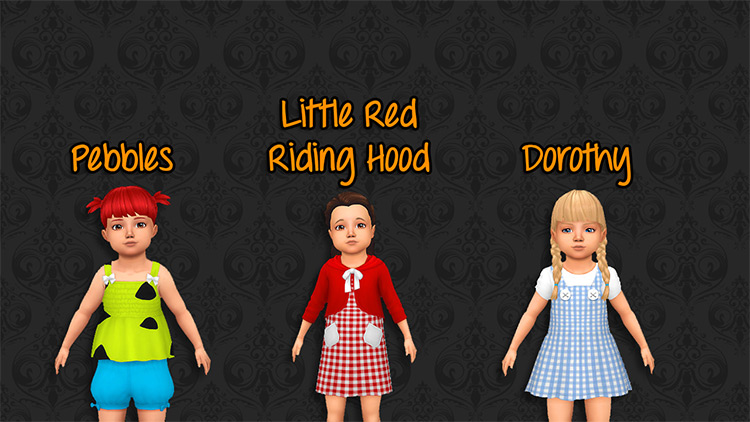 Now this is a variety pack of literally the cutest costumes to ever grace my Google results page.
Your Toddler Sim can go as Pebbles or Bam Bam (The Flintstones), Chuckie Finster (Rugrats!), Charlie Brown (Peanuts), and Little Red Riding Hood or Dorothy (of fairy tale fame).
Love how there are different costumes to choose from – but note that you'll need The Sims 4: Toddler Stuff for most of them to work!
12.

Bugabee Costume by Sims Artists
How about some adorable bug costumes for your adorable snuggle bug?
The pack's cute name is just a precursor to how precious the costumes are.
Your little darling can be a spotted ladybug, a bright yellow bumblebee, or a fuzzy green/pink insect. Too cute!
13.

Halloween Set by plazasims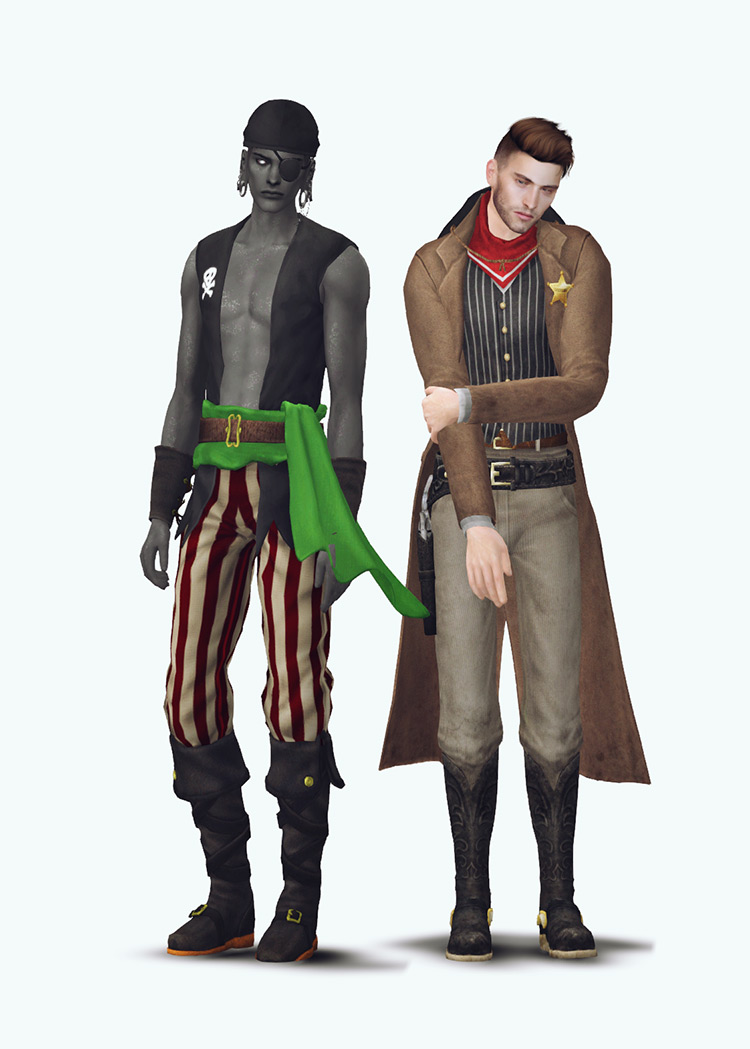 Another variety pack of viable Halloween costumes, only these are definitely more on the adult side of the creative costume spectrum.
You know those really cheesy sexy costumes? Yeah. There's a provocative mummy, a fashionable witch, an undead pirate, and a sultry nurse to name a few.
If that's the theme of your Sims's Halloween bash, hey. You do you.
14.

Artemis Set by Natalia-Auditore
Maybe your Sim sees Halloween as the perfect opportunity to LARP (Live Action Role Play) a little. No harm in that.
I give you a beautiful female archer costume in five jewel-toned colors.
It even comes with a badass bow and arrow accessory for those sweet poses and action shots. You'll need The Sims 4: City Living for it to work, though.
So if you've got the pack installed, I highly, highly recommend.
15.

Joker 2019 Face Paint & Outfit by Rloca
Why so serious? This costume looks great!
Seriously, though (no pun intended). The costume is a recolor of an existing suit from the game, made to look exactly Arthur Fleck's clothes (from Joaquin Phoenix's recent portrayal). It is incredibly spot-on.
The creator even included two variations of the Joker's facepaint; a clean swatch (freshly applied), and a melted, dripping version (happens when you're running around Gotham, murdering townies).
16.

Harley Quinn Set by makesims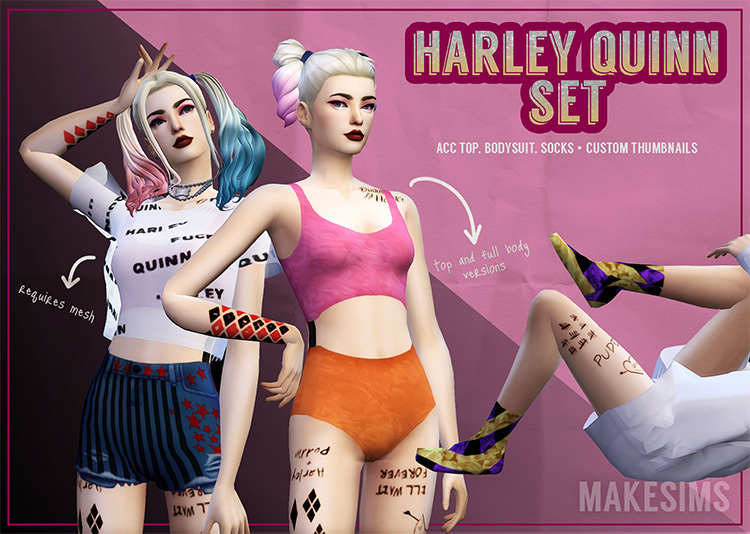 If you're going to download Rloca's Joker 2019 set, why not get a matching costume to portray one of the most toxic relationships known to pop culture? Harley Quinn from Suicide Squad (and, later, 2020's Birds of Prey) has a very iconic and eye-catching look; two elements of a good Halloween costume.
The multicolored hair isn't included, but the mesh top and body suit is more than enough.
Especially if you choose the two-tone red-and-black swatch.
17.

Halloween Costumes Gift by plazasims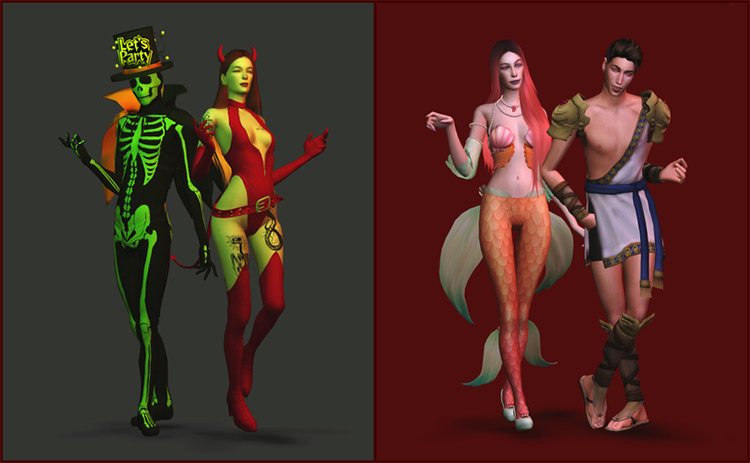 Here are some more unique Halloween getup ideas from plazasims.
These costumes aren't as explicit as their Halloween Set, but they're just as cool.
I especially love their take on the Mermaid. Leggings with a scale pattern make much more sense – and allow for much more mobility – than an actual wearable Mermaid tail.
The other costumes here include a devil, a skeleton, and what appears to be a gladiator (simply referred to as "antique" in the .package files).
18.

Amazon Leather Armour V2 & V3 by Natalia-Auditore
I'm combining both options into one item because they're basically the same thing – just different meshes and colors.
Amazon Leather Armour V2 has more of a gladiator-style cut to the skirt and a fuller chestpiece. V3, on the other hand, feels more like a short battle dress.
Each version comes in two swatches and needs some accessories to work. Don't worry; everything's linked in the description.
19.

Kumikya's Simblreen 2020 by Kumikya
Kumikya's entry for Simblreen 2020 contains two new outfits and a new hairstyle.
One is a hot red jumpsuit and snazzy hair-with-horns, for the modern devil. The other is a simple but stylish witch dress with a white puff-sleeve blouse and cute plaid skirt. Because who says witches only dress up in black?
20.

Captain Marvel by plazasims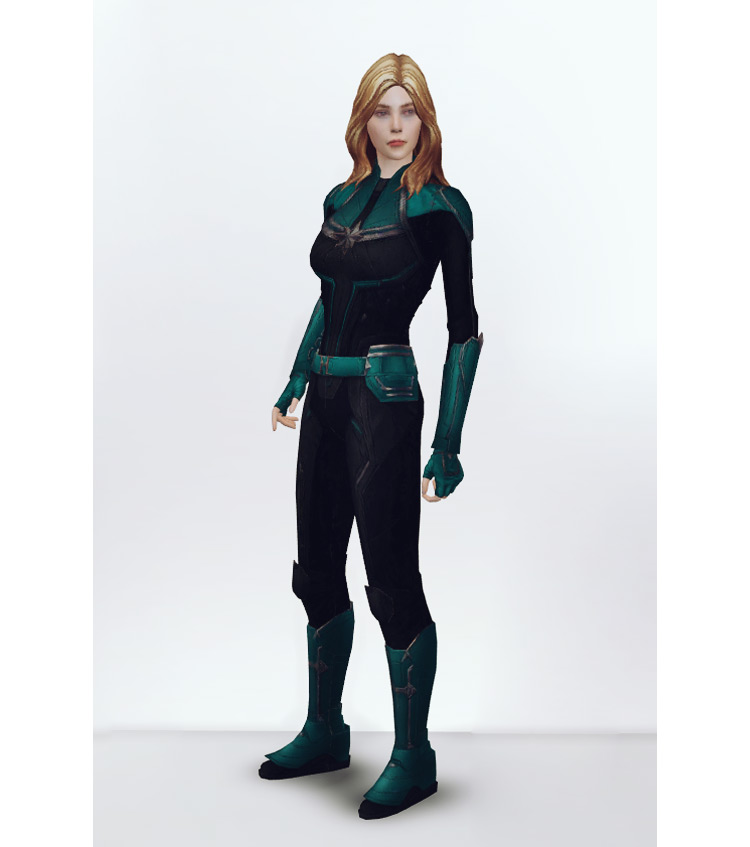 Enjoyed Brie Larson's portrayal of Carol Danvers? Then you're going to love this.
Plazasims gives us both iterations of Captain Marvel's costume from the movie. Her snazzy black-and-teal one (which I honestly loved looking at) and her fierce, space-ready, final evolution—complete with helmet!
Don't forget to download redheadsims's No Ear Presets for the helmet to work!
21.

Wonder Woman by Cloud2 Creations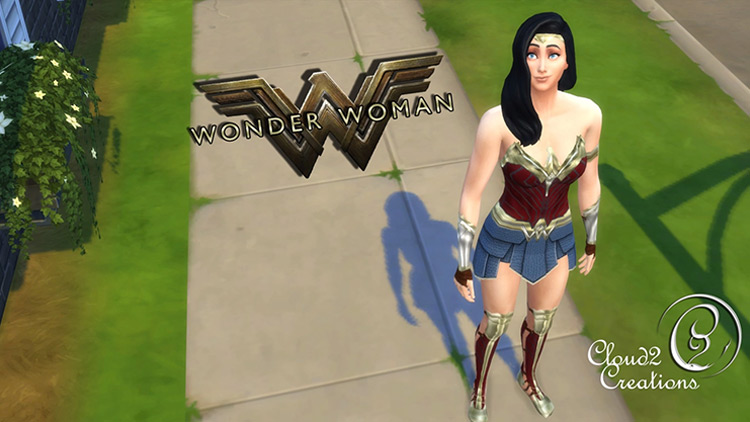 If you're noticing an unhealthy amount of superhero costume options on this list, just go with it.
And besides; a hero is, like, 80% costume. It's like a no-brainer.
You just don their logo and their colors and, bam. Everyone knows who you are.
Take this custom WW outfit.
How could anyone mistake the red bodice, the blue gladiator skirt, the metal combat boots, and – most iconic of all – the sterling "amazonium" armbands of bullets and bracelets fame?
22.

Donna Troy Wonder Girl Costume by beanlynchsimscc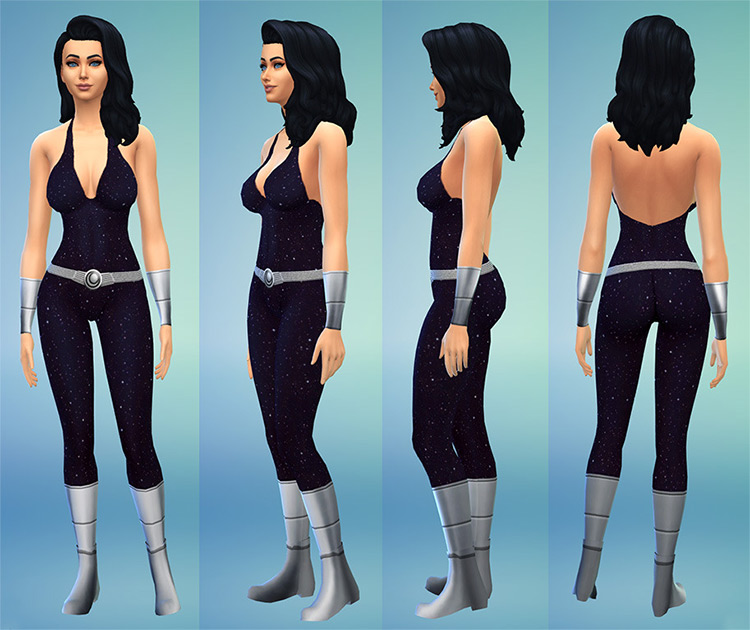 Cassandra Sandsmark may be more popular, but Donna Troy holds a special place in my geeky heart as the original Wonder Girl.
Ergo, I was beyond ecstatic to find this Maxis Match render of her costume.
The creator even included her "rebirth" look, which made me love this download all the more. Her black, sleek, star-littered getup is a personal favorite.
23.

All Nine Lantern Corps by Sambler
Why settle for one lantern when you could have them all?
I mean, that pretty much goes against the comic book canon, but for a costume party? No harm in donning different colors.
The level of detail in this set is honestly impressive.
The creator actually took the time to ensure each lantern's outfit has a different pattern (some based on the lore, others tweaked a little for visual appeal). The masks even have that awesome white-out effect for the lenses.
Don't worry; they don't actually change your Sims's eyes!
24.

Halloween Set #1 by plazasims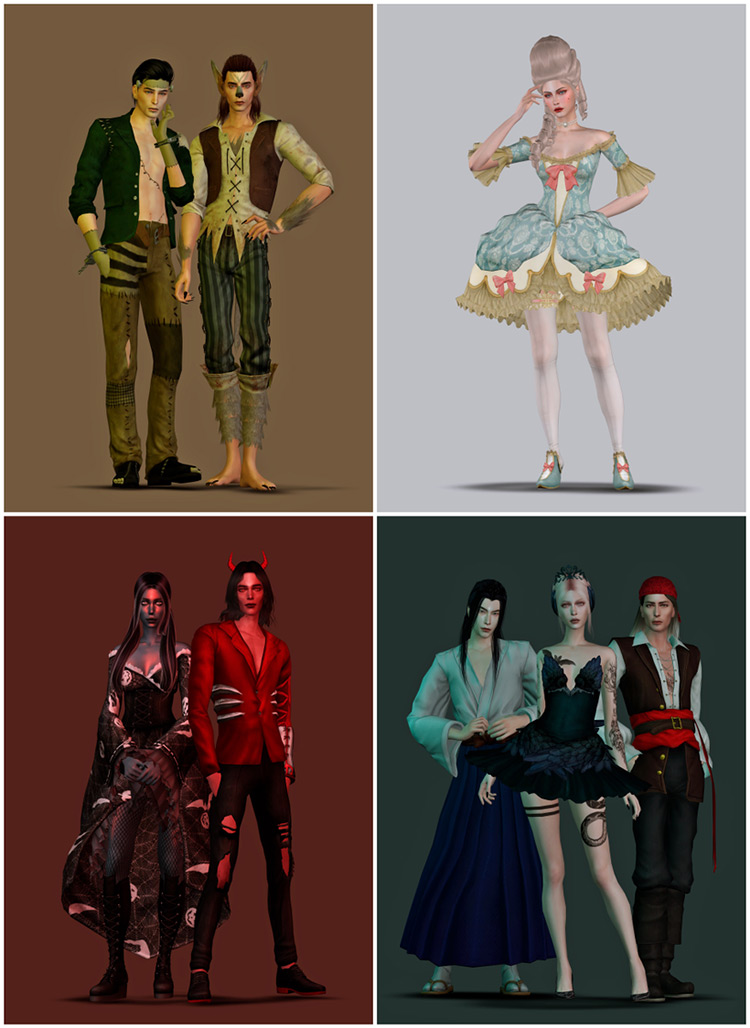 What do a ballerina, devil, pirate, samurai, and Black Magic witch have in common?
Beats me.
All I know is, they're part of plazasims' Halloween Set 1, alongside a werewolf and a Victorian-era noblewoman.
I love that these are full-body pieces, by the way. Just one click and your Sim is all set. Mixing up CAS pieces can be fun but, sometimes, you just want to dress your Sim up ASAP.
25.

Skeleton Set (Maxis Match) by Seger Sims
This skeleton outfit is pretty darn genius. And visually unique.
Rather than the usual leotard/bodysuit/onesie that I'm used to seeing, the bone pattern is on a dress, stockings, and gloves.
Honestly, the whole outfit together (including facepaint) gives off mad La Muerte – aka Lady Death – vibes, in the best possible way.
26.

LOKI Costume by plazasims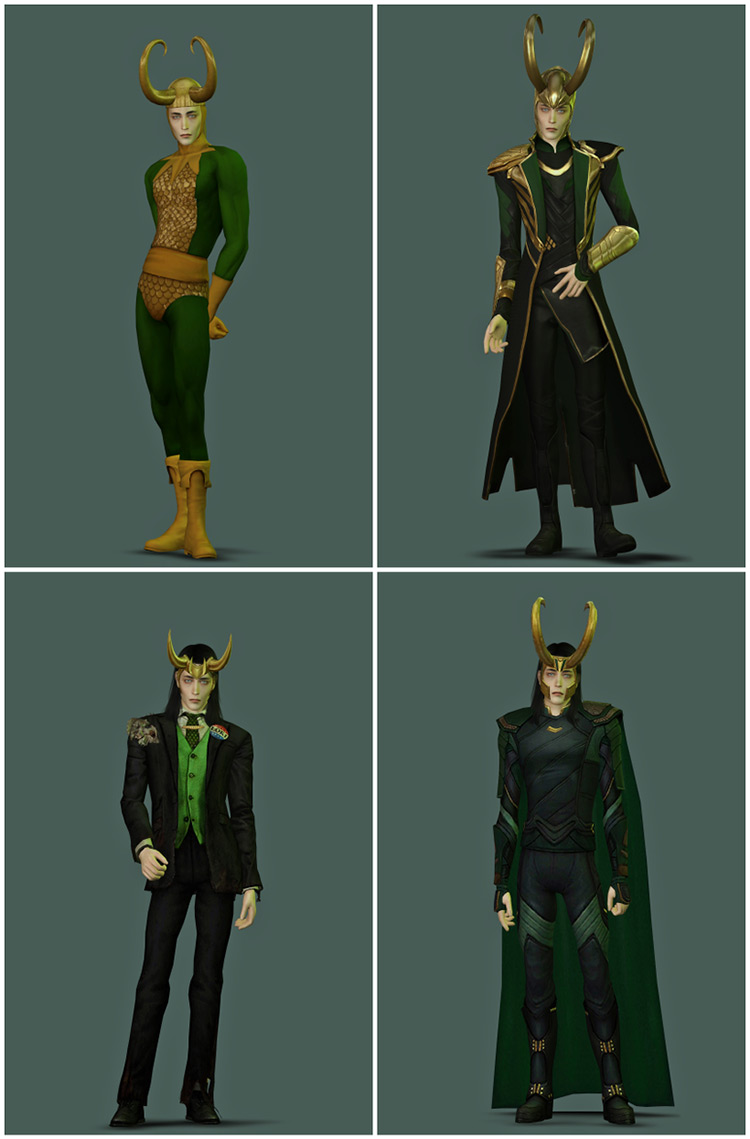 Loved Loki's look in Avengers?
Think his costume in Ragnarok suited him better than all looks combined?
Or do you prefer his classic bright green-and-gold suit from the comics simply because of the nostalgia factor?
Thankfully, plazasims includes all three flavors of Loki costumes (plus his formal suit), complete with headgear and scepter!
27.

Imp Costume (Costume Diablotin) by Sims Artists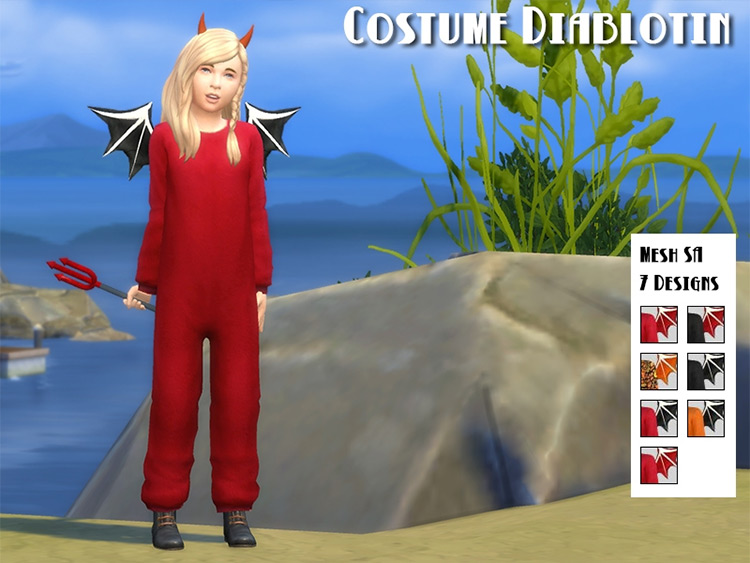 Imps are small, troublesome, mischievous creatures that are more annoying than they are dangerous.
Sounds exactly like toddlers.
(TS4 Toddlers okay, no one call Child Protection Services on me).
This simple but effective costume is basically a brightly colored onesie paired with teeny, tiny bat wings, horned headbands, and a small, plastic pitchfork.
I appreciate that the creator made the accessories and items look plastic and costume-like. Really gives off Halloween aisle/Party City costume vibes.
28.

Bad Witch – Expanded Collection by akalukery
What more does a modern girlboss witch need than a dress, a hat, and some bold lipstick?
This is the kind of costume you wear to a Halloween party to feel good, look great, and still move comfortably. No tricky prosthetics, no uncomfortable fabric, no unnecessary accessories.
Just you (or your Sim, in this case) in an easy-breezy and breathable dress. And a floppy hat.
29.

Opposite Twins Halloween Costumes by cyberdoll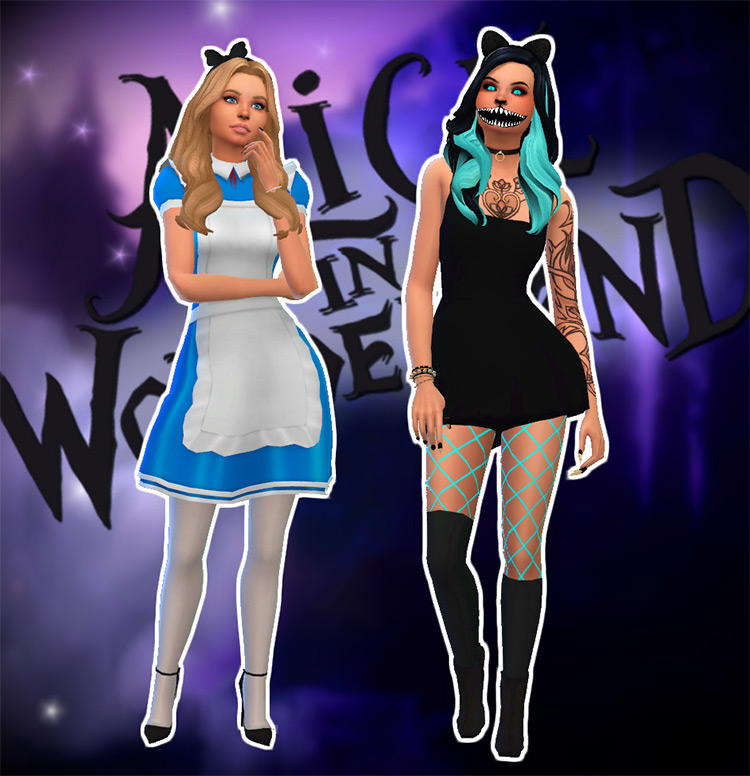 Cyberdoll isn't necessarily the one who created the costumes (i.e., the mesh, the recolors, etc.), but they are the ones who came up with the concept.
Plus, they curated all the pieces. Proper credit still goes to all the individual CC creators, but there are too many on the lists to mention.
Speaking of, the concept is so cool. I absolutely love the idea, and now I want to see it executed IRL.
For now, I'll settle for seeing it in-game.
Not sure why it wasn't listed, but you can download the Cheshire Cat Grin makeup look from the second outfit here.
30.

Little Pirate Set by renorasims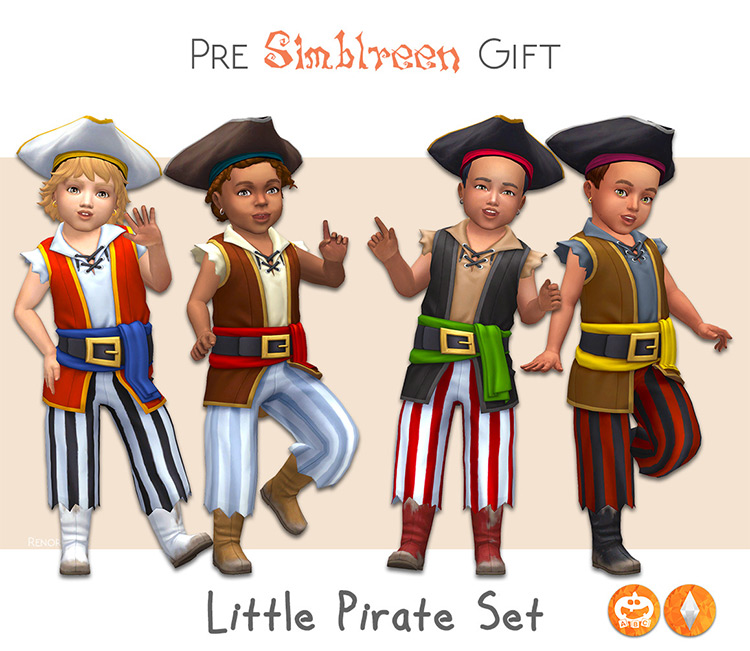 How cute is this set?!
I am so soft for tiny Toddler outfits, and this costume pack is no exception.
Look at the little booties and the teeny hats!
The majority of the costume is a one-piece item that you can find under Full Body. The other pieces (earrings, hat, Pirate boots) are found in their respective categories.
31.

Raven and Starfire from DC Comics by plazasims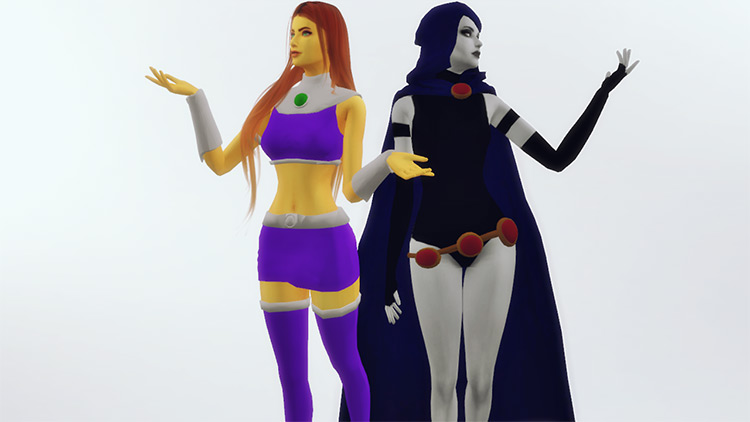 If any besties want to dress up as some strong female characters for Simblreen, Starfire and Raven of Teen Titans fame are pretty iconic. Plus, plazasims outfits are easy to pop onto your Sim!
(P.S. you'll find Raven's cloak in Hats).
32.

Batgirl! by Sambler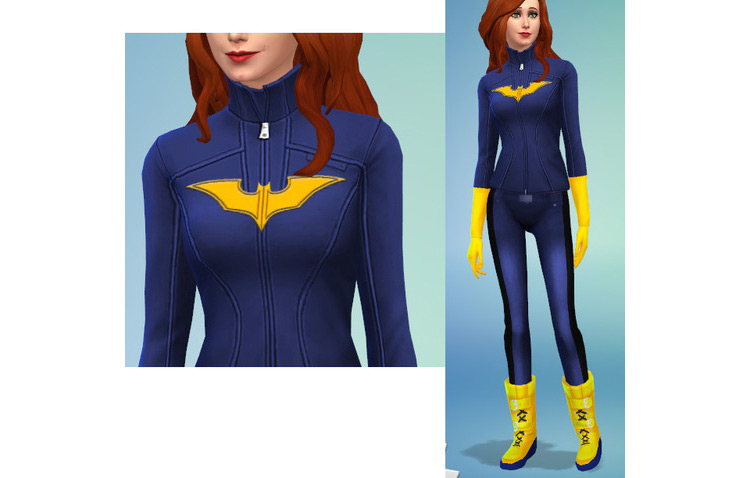 Barbara Gordon will always be a kick-ass boss, regardless of whether she's fighting crime as Batgirl or as Oracle.
If your Sim wants to go as her costumed, crime-fighting alter ego, this beautifully detailed one-piece costume by Sambler is a sure winner.
Seriously love how the mesh makes the material look thick and sturdy—exactly as it should be for (not-exactly) caped crusaders!
33.

Set Red Queen by bukovka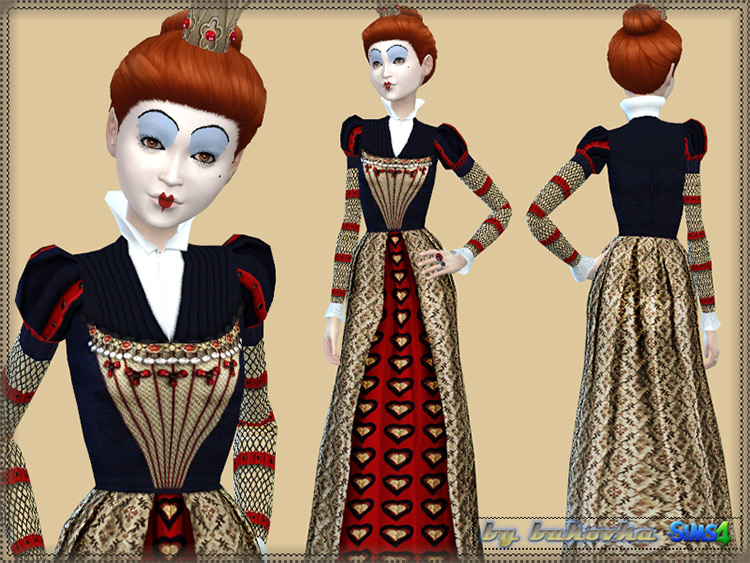 Off with their heads?
Sure, why not.
Get her beautiful blood-red gown and get ready to intimidate the peons.
It looks like the creator used a mod or slider to adjust the model's head (to keep it in theme with Tim Burton's 2010 masterpiece), but you don't need to do the same. The dress, crown, and makeup are more than enough to recreate the queen's sinister look.
34.

Evil Queen Set by Danny's Domain
Forget Snow White. We're going as the bold, beautiful, and badass Queen Grimhilde (aka The Evil Queen).
This CC set includes the dramatic cape, the golden crown, and the queen's signature luxe purple gown.
35.

Fairy Dress for Toddlers by mystufforigin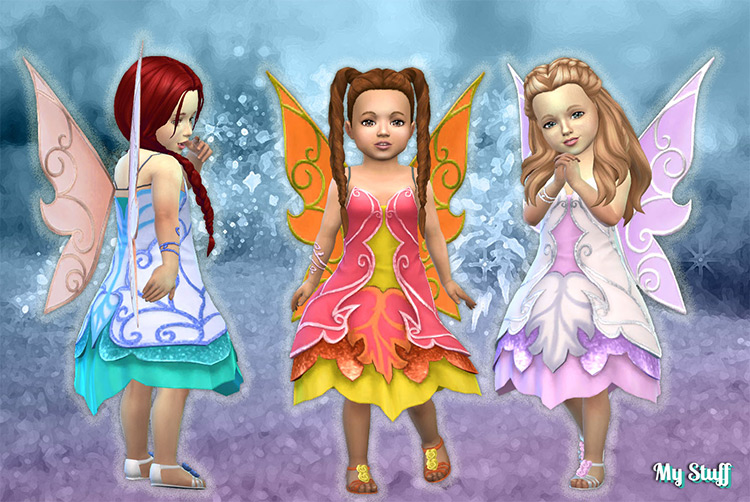 Ending this list with something pretty and precious.
Some toddlers aren't about the spooky, grim, and grisly stuff. That's perfectly fine! Why not go as a sparkling little angle?
This dress is absolutely gorgeous, and the different color combinations of the swatches (ten in total) are so aesthetically pleasing.
I cannot recommend this costume enough!
Browse:
Lists
Maxis Match
The Sims 4
Video Games