Best Sims 4 Maxis Match High Heels CC (All Free)
This post may contain affiliate links. If you buy something we may get a small commission at no extra cost to you. (Learn more).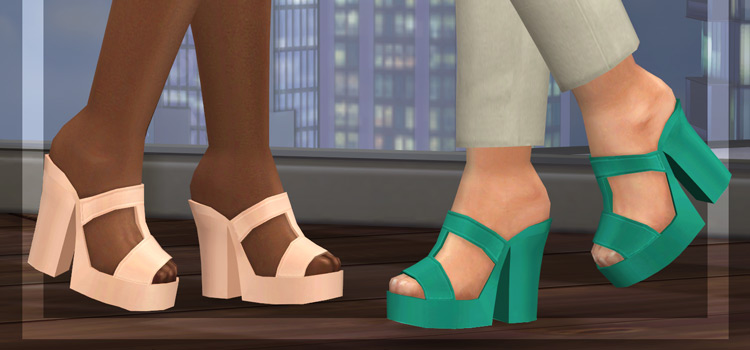 I'm a big fan of the clayified feel with Maxis Match stuff.
But for CAS items like clothes, shoes, and accessories? I'm not too picky.
That said, if you prefer keeping your textures consistent, then you're in the right place!
If you're an MM fan for clothes and shoes, then here's our collection of custom Maxis Match high heels for your Sims to try on.
1.

Final Fantasy XV Fleuret Heels by stephanine-sims
We're starting this list with a collaboration project between stephanine-sims and Mysterious Dane.
It's got a lot of fun FFXV-themed stuff that I highly recommend you check out if you're familiar with the franchise.
But if you're only in it for the Maxis match high heels, scroll down to the middle-ish of the page to find the beautiful Fleuret Heels (and the equally stunning Nox Boots, but more on those later).
They're these three-inch, quasi-stiletto heels with crossed straps and a beautiful round accent in the middle.
They come in fifteen colors—mostly reds, pinks, and peaches.
But there are a couple neutrals and two or three cool toned swatches in the mix.
The download link on the preview page only leads to stephanine-sims's part of the collab, which includes these Fleuret Heels.
If you want to check out the Nox Boots you'll have to navigate to Mysterious Dane's part of the project (look below for details!)
2.

Final Fantasy XV Nox Boots by Mysterious Dane
Heeled shoes are rarely ever sensible.
But these Nox Boots by Mysterious Dane do a good job of straddling the line between fashion and function.
As someone who prefers safe platform shoes, heel height will always be an issue.
Kitten heels are the limit of my comfort zone.
But these boots look like they're at a solid two inches: high enough to be considered chic, but not too high that walking becomes a problem. And clipping, since this is still just a computer game with 3D meshes.
Either way, the texture's great and so is the design.
Not that unique of a concept but definitely a trendy staple.
This CC comes in 15 beautifully deep & muted colors.
3.

Scandal Sandals/Heels by Trillyke
Trust me here:
These shoes are just as fun as their name.
Thick heels, thick soles, thick straps, and a whole lot of personality in the design.
Yep, these custom heels by Trillyke are visually eye-catching.
They also have mad day-to-night-wear energy. Paired with culottes or pressed slacks and a turtleneck, they're perfect for an office look.
But once the miniskirt comes out and the turtleneck is swapped for a crop top, they look made for a night out in town.
4.

Maxis Match Collab by javabeandreams & thisissimtastic
Here's a grab bag of random shoes – Maxis Match high heels edition.
As another collaboration between two incredibly talented CC creators, Mad!(len) About Maxis Match takes ten photoskinned shoes from another creator Madlen (aka MJ95 on The Sims Resource), retextures them, and adds four dozen new colors to their palette.
Yes, 10 shoes in total.
Eight of those are high heels, so I hope you brought your pen.
As far as I can see, Nefertiti and Mateola are the only non-heeled shoes in the bunch.
The rest definitely have enough of a heel height boost to be considered high heels.
Baldaassare, Cesena, and Febris are very open shoes with barely any straps across the toes or front.
Frusina and Minerva are sort of the same, only they use one or two spaghetti-thin straps in their design.
Kharis and Volga have the most straps out of all the items, and Eris is a fashionable ankle-boot number with slender, two-inch heels.
I'm not going to be able to go through them one by one – so you'll just have to playtest them yourself to choose your favorites!
5.

Walk In Sins Boots by sondescent
Now these boots are more my style.
Unlike the Fleuret Heels and Nox Boots with the slim, slender heels, sondescent's "Walk In Sins" boots have thick, clunky, blocky heels that look like they could flatten pavement.
I wouldn't really call these combat boots, since the top is sort of low and the design is pretty streamlined.
But your Sim could definitely kick ass in these!
The heels-plus-platform combo boosts your Sim a good three-and-a-half inches without sacrificing their knees and ankles (which is something you want IRL).
The lacing's standard but works well with the set's "practical" concept.
The boots are available in 9 colors that are pretty much across the board.
I like them in pink, but you can opt for badass black or basic brown, too.
6.

Madlen Erling Boots by MJ95
Let me give you a head's up:
Get used to seeing MJ95's name popup a lot in this article.
They have a real talent for making custom TS4 shoes (especially heels), and a lot of their creations are simply gorgeous.
Take these Madlen Erling boots.
Soft suede, tasteful buckle accents… wide, modest heel?
All the ingredients for great shoes.
I particularly love the modern-cowboy-boot design, with the angled top and thick external lining. Really gives the shoes character without looking tacky or obnoxious.
They may only be available in five colors, but I think the limited color palette works with the vibe of the boots.
As much as I'd love a pair of neon green ankle boots, the visuals would definitely seem off.
7.

Olgo Shoes by jao
"Patent leather pumps".
That is the exact phrase that came to mind when I saw these shoes.
I'm not even sure if they're actually pumps, but it seemed like the perfect description.
These heels look like statement pieces.
Like the kind that are so distinct, you would most likely spot them in a crowd before you spotted the person they belonged to. They look comfortable and dependable—like an old, tasteful shoe that does not age your outfit in anyway.
I also think the concept is exemplified with the Maxis Match clayified texture: thick, solid, and ever-so-slightly clunky.
It's available in 11 candy colors, with about a handful of muted neutrals to even things out.
8.

Madlen Tricia Boots by MJ95
I would honestly pay good money for a pair like these in real life, so my Sims better count themselves lucky they get it for free.
These ankle boots look like butter-soft velvet or suede shoes with wrap detailing and a pretty hexagon-shaped bauble.
The heels are thick and don't stand at too intimidating of a height (two-and-a-half to three inches, maybe?).
Plus, they're not needlepoint-thin either.
Your Sims can definitely strut around in these bad boys to give off fashionably mad boss energy.
The five color options for this piece are all varying shades of warm brown.
9.

Shoes/Heels Mega Pack by Saurus
The creator describes this as a "crapton" of shoes.
Considering there's a total of six unique custom pieces on the download page, I'd say that's an accurate statement.
There are some stylish trainers and sensible flats included in the mix, but we're not here for them.
We're here for these:
Basic Pumps
The Madlen Sumora heels
And the Madlen Lucian heels
The Basic Pumps are exactly what their name says they are: sturdy shoes with half-inch heels that are suitable for everyday wear.
The Lucian heels are the exact opposite: three inches high, pointed, impractical, and definitely only there to make your Sims's feet look good. I'd call these Dragon Lady heels – the kind worn by ambitious women who won't hesitate to drag you to your knees and put you in your place if you dare cross them.
The Sumora heels, on the other hand, strike the perfect balance between Lucian and Basic Pumps.
They also stand at three-ish inches, but the heels are thick and blocky for better balance. And the design is definitely focused more on form & fashion, but they don't look like they'd kill your feet an hour into wearing them.
I'd say they look sturdy and dependable too—like you could use them every day for the next six months and not worry about the heels coming off or the sides fraying.
All three of these heels have 25 color options, and these are all mostly on the softer/muted earthy side.
10.

GianvitoRossi Greta Heels (Recolor) by renorasims
Based off of an actual creation by Italian luxury brand Gianvito Rossi, these Greta heels have the same vibe as Saurus's Basic Pumps.
They're dependable, closed-toe heels that strike that balance between fashion and function.
They may not have crazy strap designs or subtle bling accents like the other items on this list. But they definitely look strut-worthy.
Imagine someone wearing these IRL.
They'd look confident, composed, and very much put-together.
Do note that since this is a recolor, you'll need the original photoskinned mesh for it to work (linked in the creator's description).
11.

Madlen Cybele Boots by thisissimtastic
These are the kind of boots that are incredibly hard to pull off (and put on — pun intended).
So I definitely recommend them for fashion-loving Simmers who can spend hours in CAS putting together different outfits.
I'm the furthest thing from that category (by which I mean many of my Sims's outfits are randomized), so more power to you.
Back to the boots.
They're tall, shapely, and rise to well above the knee.
The heels are slim, delicate, and almost three inches high.
Based on the preview photos, it looks like the mesh is designed to cover skinny jeans and/or leggings to make the bottoms look tucked in.
I have to mention that the color options for these boots are beautiful.
22 swatches of soft neutrals and deep, warm naturals.
My favorites are the dusky pink swatch and soft pastel-ish mint.
12.

Madlen Leona Heels by MJ95
These are the kind of high heels Andrea Sachs (of The Devil Wears Prada movie fame) would totally wear.
Unnecessarily high and with only the thinnest of straps (because fashion) keeping them on your feet, but still sturdy enough to run around and pick up Miranda's coffee order in.
They only come in four colors (beige, charcoal, mint, and dark pink)
But each swatch gives off a different vibe.
The beige has a very classy look to it, while the charcoal feels like a boss.
In mint and pink, the shoes feel more playful and sassy—like something you'd wear to a mixer or house party.
13.

Classic Mule Heels by SLYD
Classic, indeed.
These heels are on the same vein as Saurus's Basic Pumps and jao's Olgo shoes:
Sturdy, dependable, and can never possibly go out of style.
These are the kind of heels you can spend the whole day in (or at least eight hours) and not have to sit every fifteen minutes. They're casual, comfortable, and they look like they'd go with just about any outfit within the relaxed to semi-formal range.
I personally love the style because it's closest to my heel/sandal preference.
I like a nice, wide strap capable of keeping the shoes on my feet… and nothing else. The more room my feet have to breathe, the better.
14.

Hektor, Oxa, Umbria, & Katrin Shoes (Maxis Match) by thisissimtastic
Here's a variety pack of high heels that I would probably categorize as all stilettos.
The heels on them are tall, rounded, and needlepoint-thin.
If your Sim didn't know how to walk in heels, they'll most likely twist an ankle wearing these for the first time.
I mean, these are the kind of heels meant to accentuate slender calves and dainty ankles. Ergo, they are never paired with denim jeans.
Leggings? Maybe. Culottes? Sure.
Skirts? Bingo.
As you can tell by the name (and the preview photo) there are four downloadable heels: Hektor, Oxa, Umbria, and Katrin.
Hektor stands at two-and-a-half inches and has a distinctive, wide strap that runs vertically through the front of the shoe.
Small straps run horizontally across, like accents to the overall design.
Oxa stands closer to three inches and is literally just straps galore. The design is a little similar to Hektor in that there's a vertical middle strap, but there are definitely a lot more crisscrossing straps involved this time around.
Umbria looks like sensible peep-toe pumps, but the dangerously thin dagger heels at the back throw the illusion off.
And, last but not the least, Katrin; an oh-so-elegant number with a strap around the ankle, a strap down the middle, and a strap around the toes.
Visually-speaking, Katrin looks like it's got the highest heels of the four.
If just one or two out of the four shoes strike your fancy, don't worry – you can download them individually.
15.

Madlen Kirza Heels Maxis Matched by thisissimtastic
Big fan of straps and cutouts?
Thisissimtastic's Maxis-Matched Madlen Kirza heels can definitely be defined as wearable art.
Thick, crisscrossed straps at the front weave up the calf to create a diamond pattern (think ballet flats).
Peep-toe cuts at the front allow for maximum pedicure flaunting.
And a nice sturdy strap wraps around the ankles to keep everything secure.
It's beautiful, unusual, and definitely makes a statement.
Plus this CC has 24 different color options. Lots of variety to go around.
16.

Shelley Boots by MysteriousDane
Pad up your Sim's Fall fashion wardrobe with these soft and stylish knee-high high-heeled boots.
That was a mouthful, but it's accurate.
Standing at a modest inch-and-a-half, these boots look comfortable enough for a full day at the office.
They also look fashionable enough if that office happens to be the Runway magazine headquarters.
Regarding the color options, the creator explains the different swatches and versions in their notes, so I highly recommend you read through it before downloading.
Just to summarize: these boots can go over or under clothes, depending on the swatch you select. Again, more details in the description!
17.

Niflheim Heels by stephanine-sims
Right off the bat, the most striking thing about these heels is the design.
Check out the spotted cut-outs patterned on the front and heel straps.
It unfortunately isn't that obvious in CAS (since you can't zoom-in on the feet) so you'll have to go in-game to get a proper look. But trust me: it's an unusual pattern that looks gorgeous on dainty feet.
I also love the small gold buckle accent on the ankle strap.
It breaks the solid color in a good way.
The gold also goes well with all the colors the heels are available in (which total fifteen).
And I personally love the red and pastel pink swatches, but there's something so graceful and visually refined about the original white swatch that I can't ignore.
18.

Madlen Piacenza Boots by MJ95
These boots may not be as intimidating as dagger heels or six-inch stilettos.
But they still look like a force to be reckoned with.
When a heel is high enough to warrant a thick insole for the front of the foot, that's when you know – if you're going to wear these bad boys, you better know how to balance.
Thankfully, fashion physics isn't a thing in the Sims franchise (yet). So your Sim probably won't be wobbling in these wedges anytime soon.
The shoe itself comes in several different colors (nine to be exact), but the shoelaces stay as a chunky dark black.
Don't worry about potential color clashes; black goes with anything.
19.

MariaMaria High Heels by mariamariasims
You can't get any more straightforward and descriptive than a name like this.
No two ways about it: these are high-heeled sandals.
And if you try them on your Sims, you'll find that they look pretty darn good.
The shoes use a standard design that, while not unique or one-of-a-kind, works really well.
A single strap across the toes and another strap around the ankles is enough to keep the heels on your Sims's feet.
The heels themselves are wide and sort of thick, enough so that they kind of look stable (because anything that's not needle-thin probably has decent balance).
They also use an original mesh that's base game compatible, which is awesome.
And they come in 13 new colors—mostly pastels with several darker swatches thrown in.
20.

Iris Shoes by isjao & simandy
These shoes are part of a collaboration project between CC creators isjao and simandy.
The theme is apparently Pinterest-inspired posts, which honestly explains why there are so many aesthetically cute and appealing items in here.
Pink dresses, beautifully wavy hair, fluffy sweaters… the works.
Part of this pack is the aforementioned Iris Shoes — a fun, closed-toe number that sort of looks like chunky doll shoes with heels.
What springs to mind when I see them are those patented Doc Martens school girl shoes – you know those shiny black leather shoes often paired with crisp white socks?
These Iris shoes definitely give off the same vibe, only with significantly higher (and thicker) heels.
The main body of these shoes comes in 16 different swatches, but the heels stay black regardless of the color.
Browse:
Lists
Maxis Match
The Sims 4
Video Games