Sims 4 Maxis Match High Waisted CC (Shorts + Pants)
This post may contain affiliate links. If you buy something we may get a small commission at no extra cost to you. (Learn more).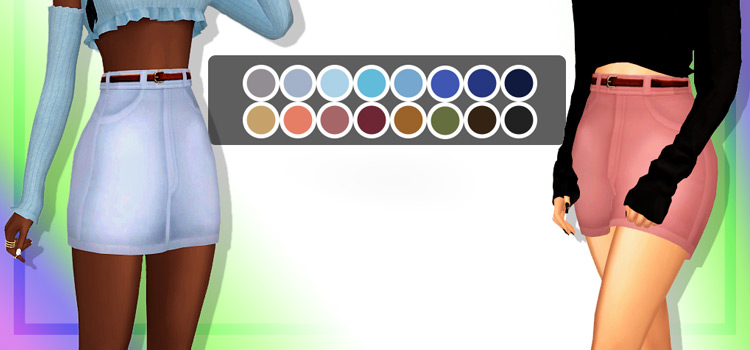 It's true what they say; fashion trends never really go away.
They just die down for a bit, wait in limbo, then come back to life after a handful of decades.
When I was younger, my mom was in high-waist bottoms all the time. In high school and university, everyone wore skinny jeans and midrise jeans (I'm really showing my age here). Now? High-waisted shorts and jeans are back—with a vengeance.
1.

Hallie Shorts by smubuh
These shorts are pretty cute.
They're edged with lace and come in 21 soft, muted colors—sixteen from the creator's own Breakfast palette and five varying shades of grey.
Plus, the Maxis Match texture makes them look comfy and well-worn.
2.

Maxis Match High-Waist Denim Shorts by PickyPikachu
These High-Waist Denim Shorts from PickyPikachu are simple, no-nonsense closet staples.
They work with a variety of tops, can be worn for a variety of occasions, and look great on a variety of body shapes and skintones.
And if that was too many "variety-s" in one sentence, I'm sorry. Basically, these shorts are an all-rounded fashion item.
3.

Tamsin Jeans by bonehlda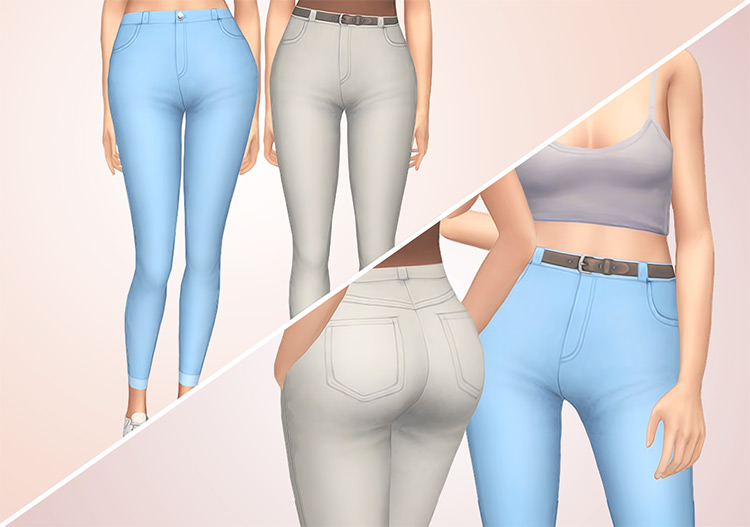 According to the creator, these jeans could have been called "high waisted skinny jeans 2.0," and it would have still made sense.
As you can see from the preview photos, they're not wrong.
The mesh molds to your Sims's frame beautifully and comes in ten different colors. There are also ten extra shades for the version with the belt accessory!
4.

The Jeans Set 2.0 by greenllamas
This Jeans Set 2.0 contains six new denim bottoms. All Maxis Match, of course.
Three of them are low-cut pants for Male frames, but the other three are high-waist wonders for Female frames.
A pair of skinny jeans, a pair of flared denims, and a pair shorts.
5.

Patricia Shorts by moontrait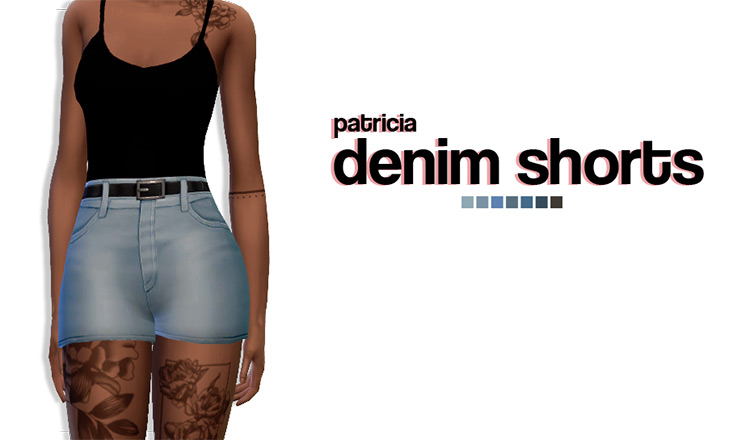 These are practical, high-waisted denim shorts accessorized with a snazzy, solid-colored belt.
The simplicity of the design paired with the casual edges makes for a very chill, relaxed fit. The original mesh comes in seven different colors.
And you can add 24 more color options by downloading newcresting's recolor.
6.

High Waisted Vintage Shorts by Twinksimstress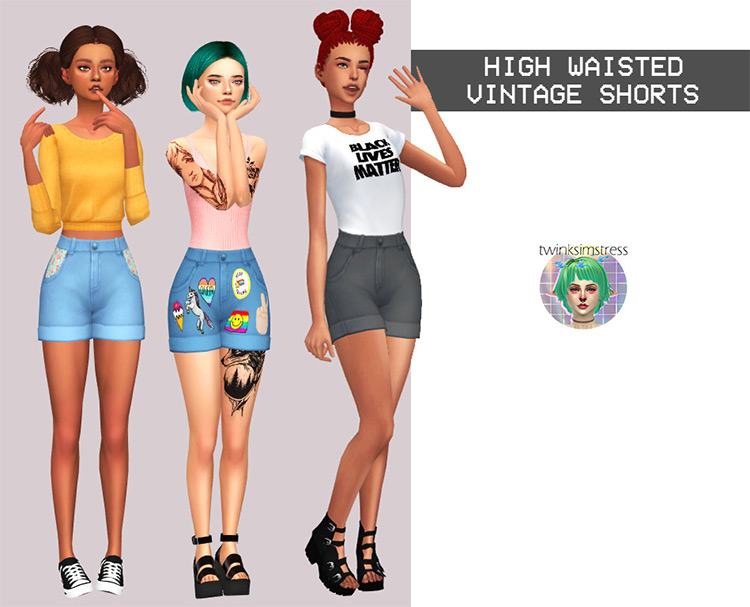 Self-expression is all the rage these days.
Coincidentally, so are 30-second DIY videos on TikTok. Why not combine the two into a pair of high-waist denim shorts with cute, vintage-y, iron-on decals?
7.

High Waisted Denim Shorts by bonehlda
One can never have too many pairs of dependable denim shorts.
And since the current trend of the decade seems to be bottoms that can be hitched all the way up to the ribcage, then that's what we're sticking with. These come in five different colored denim swatches.
8.

Affinity Jeans by areylia-sims
The Sims 4: Jungle Adventure came with a cute pair of light-wash jeans with colorful pockets.
Areylia-sims created a more stylish version with a high-waist and ripped-knees. If you've got the pack installed, highly recommend you check these babies out.
You can choose either clean or ripped jeans with the Jungle Adventure palette (13 colors) or the EA Maxis Match palette (21 colors).
9.

Casie Jeans by AHarris00Britney and ayoshi-sims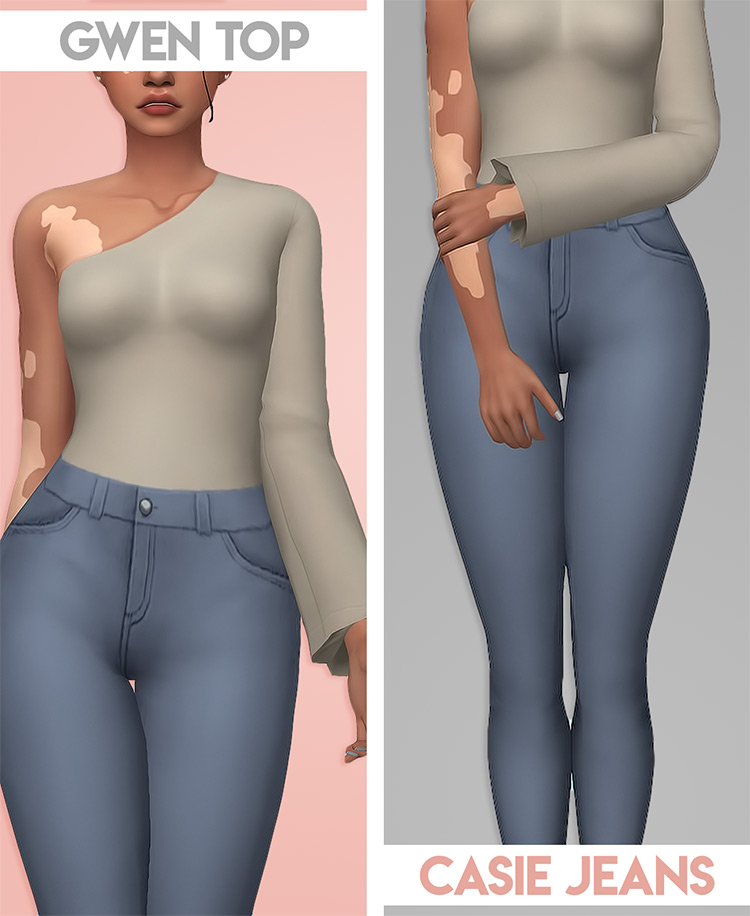 Here's a mega set of beautiful Maxis Match CAS items for my fellow MM-fanatics out there.
Hair, tops, dresses, the works.
But if you just want a nice pair of high-waist skinny jeans for your Sim, the Casie Jeans in the set can be downloaded individually.
10.

Savage-Sims MILF Shorts (Recolored/Maxis Matched) by savage-sims, littlecrisps
I love it when TS4 CC creators convert custom meshes in Alpha CC to Maxis Match—and vice-versa!
It gives Simmers who are very particular about textures a chance to experience the items for themselves.
In the case of these MILF Shorts by Savage-Sims, littlecrisps retextured the Alpha CC bottoms, split them into two styles (with belt and without), and created 22 color options for both.
That's a total of 44 new high-waisted shorts for your Sim to try.
11.

Amara Skinny Jeans (High Waisted) by purrsephonesims
Purrsephonesims' Amara Skinny Jeans are a pair of simple, straightforward denims that close high above the waist and end roughly above the ankles (for that nice, stylish cutoff look).
It comes in 24 shades of denim blue and light-wash grey.
12.

Floral Jeans Recolor by citrontart
If you have The Sims 4: City Living, these florals might look familiar.
If not, don't stress.
The creator simply took the flowers from that one City Living dress and placed them on a pair of high-waist denim cutoffs.
There are two designs for these florally jeans; one with the flowers covering the legs, and one where the flowers simply line the pockets.
13.

Homegrown High-Waisted Shorts by hazelios
I can't vouch for how organic these shorts are.
But I can definitely attest to their cuteness.
The graphic cartoon patches really help sell that narrative.
Funnily enough, even the little ripped-out chunk in the lower-left leg of the shorts makes this item cuter; like an artfully distressed fashion feature that somehow emphasizes a youthful concept.
14.

Go Baby Pants by Trillyke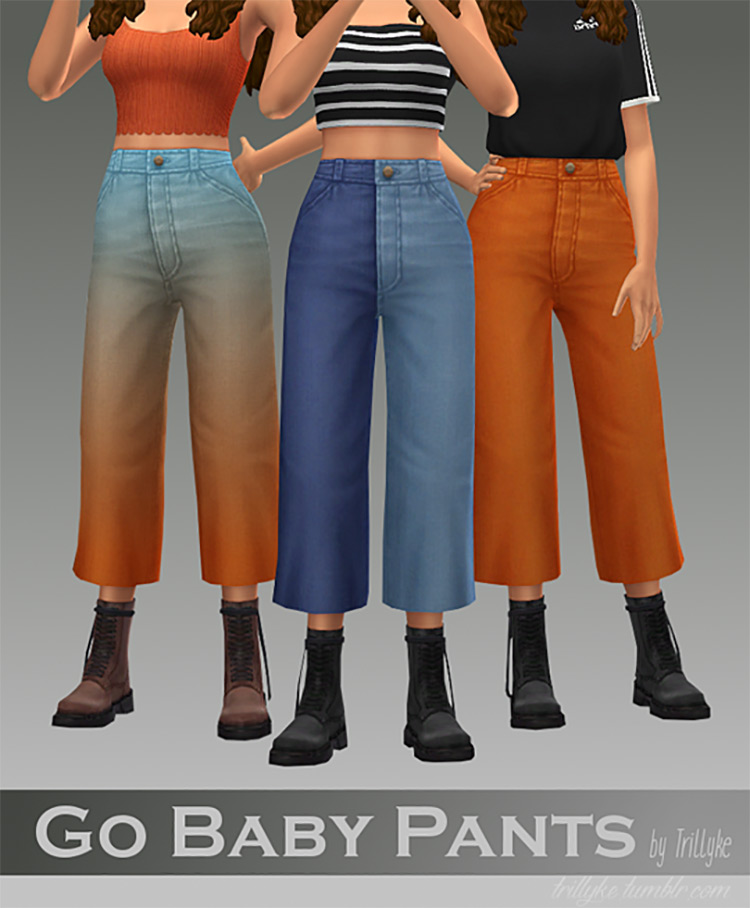 These are some of the most beautiful jeans I've ever had the pleasure of seeing—both IRL and in-game.
You can probably guess why, based off the preview photos. Seriously; how do you say no to ombre-colored or two-toned jeans?
Correct answer; you don't.
15.

Go Baby Pants Recolor by Meeyua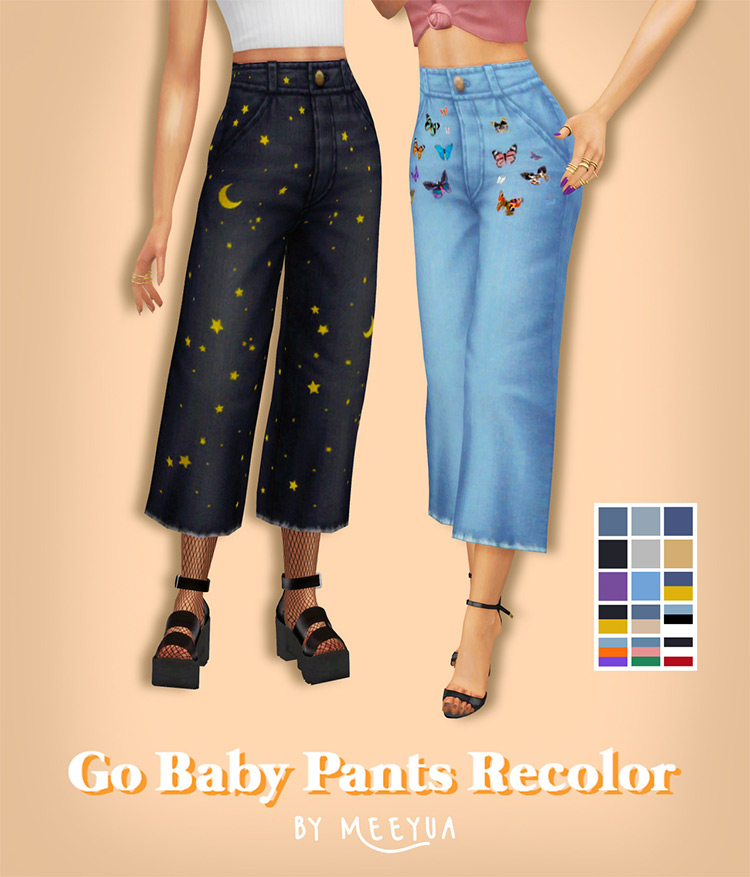 These are recolors of those pretty Go Baby pants from Trillyke.
I had to include a separate listing for them because, come on. Look at those swatches. I would pay good money for a pair of high-quality celestial jeans IRL.
16.

Seeker Skinny Jeans by goodlysims
Two-tone skinny jeans, plain, high-waisted skinny jeans, and jeans with a thin belt accessory.
Yeah, I'd say there's plenty of variation to be found with goodlysims' Seeker Skinny Jeans.
They patterned after dyoreas' Seeker Jeans, only they cling to the shape of your Sim's legs and ride high above their lower waistline.
17.

Jellybean Jeans by saurus
These are the famous Jellybean Jeans by saurus.
If you've ever looked for custom skinny jeans, custom high-waist jeans, and/or custom ripped denim pants, you probably found half a dozen retextures or recolors of saurus' Jellybean Jeans.
There's a reason for that, and it's that this mesh is bomb.
18.

Madlen Jacinta Shorts by Madlen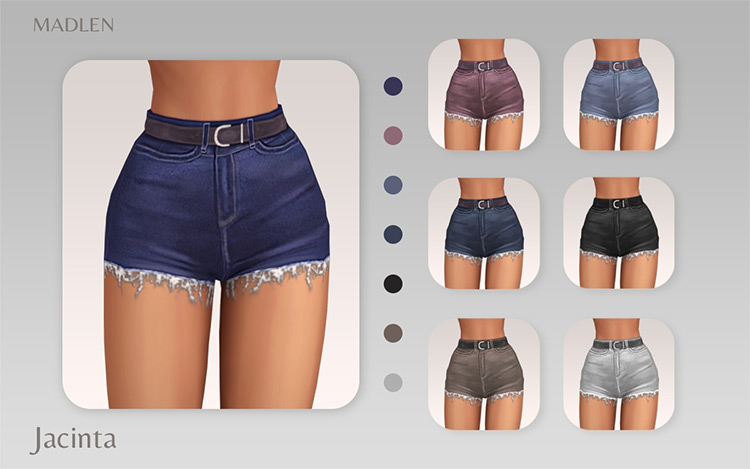 We're back with the shorts!
These cute denim numbers are accessorized by a neat leather belt and classic frayed edges. They also have this slight inward slant to them that – according to the creator – can actually lift your Sim's bum!
Can't confirm that it does, but the effect is definitely there.
19.

Just Jeans by sondescent
The name is actually a spot-on description for this CAS item.
It's, quite literally, just jeans.
High-waisted denim pants that are kind of long and kind of slouchy, but they look like a closet staple. Comes in six shades of blue and then neutral swatches.
20.

Marais Jeans by citrontart
And last, but certainly not the least, is this snazzy pair of high-waist denim jeans by citrontart.
Stylish, dependable, and decidedly flattering for most body types, these jeans come in eleven designs; five solid-colored swatches and six swatches with subtle details and patterns. The variation is a great blend of fashionably flashy and understated.
Browse:
Lists
Maxis Match
The Sims 4
Video Games