Sims 4 Maxis Match Japanese CC (Outfits, Décor & More)
This post may contain affiliate links. If you buy something we may get a small commission at no extra cost to you. (Learn more).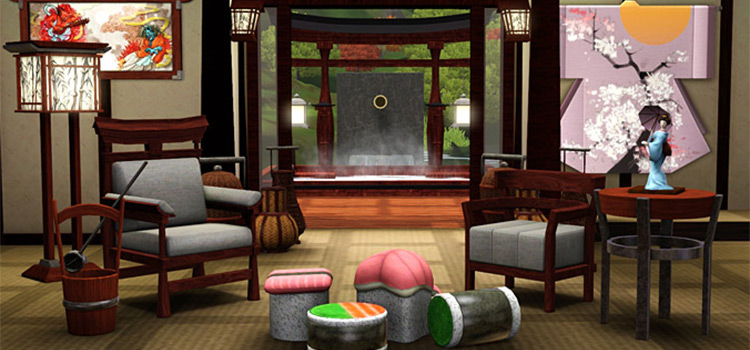 The Sims 4 is by far the most diverse out of all Sims games.
But at the end of the day, the American influence is still quite clear.
To truly bring other cultures into the game, custom content is the way to go. Simulating the Japanese way of life will be both fun and easy thanks to this collection of sleek Maxis Match stuff.
1.

Living Hakone CC Stuff Pack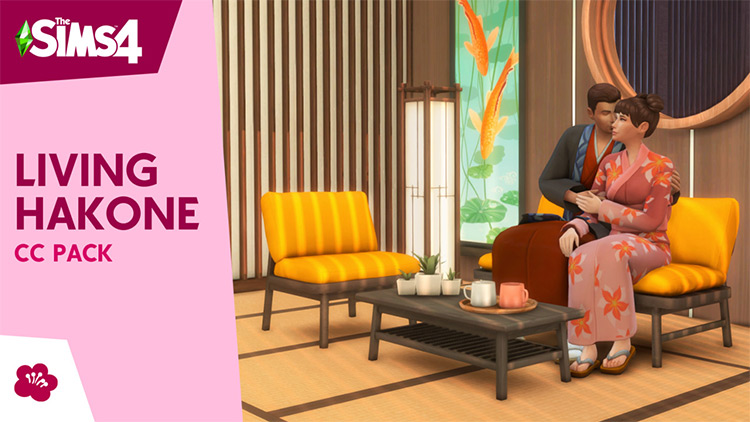 With this fan made stuff pack, you can instantly infuse your game with a ton of new objects perfect for Japanese interiors.
It really covers all the bases, offering something for all of the most important rooms. There are even new windows and ceiling beams!
2.

Female Snowy Escape Yakuta Recolors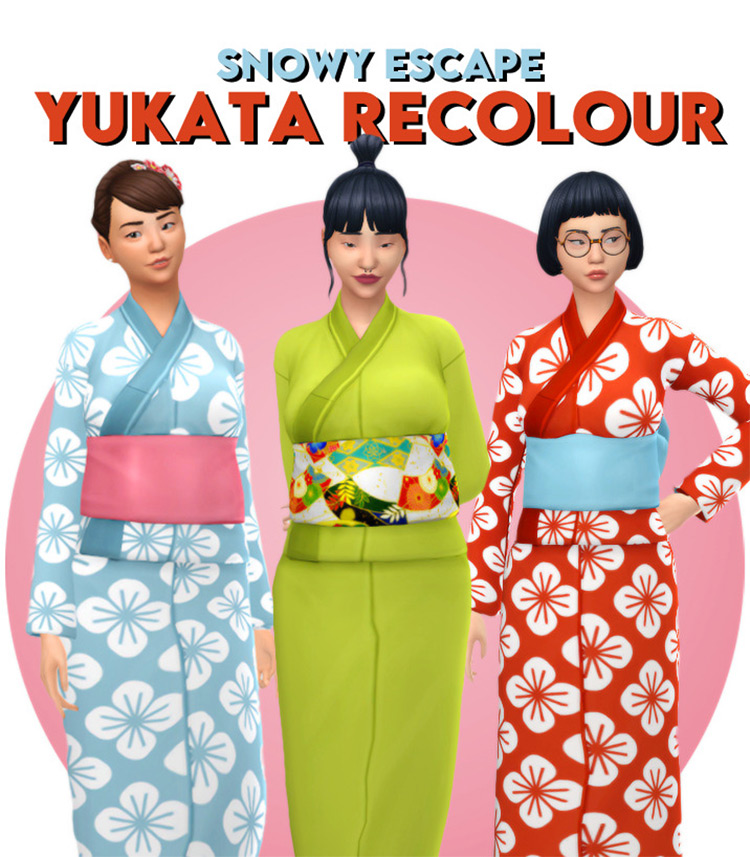 Every avid Simmer knows of the cultural inspirations for Snowy Escape's CAS content. It's awesome, but recolors are always in order.
This traditional type of kimono is very popular for casual occasions, and with 24 stunning add-ons, there's enough to last your Sims a lifetime.
3.

Male Snowy Escape Yakuta Recolors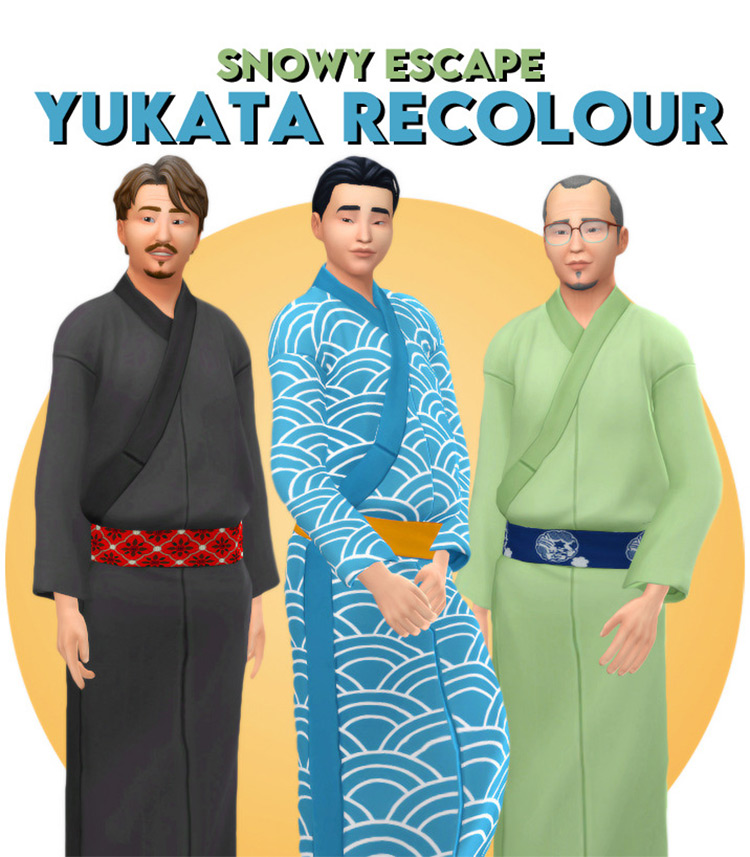 Here we have some recolors for the men's yakuta.
Just like the female version, solid colors and vibrant patterns are blended together for a fresh new look that really captures the beauty of Japanese fashion.
You'll find less flowers in these swatches, but there are still an abundance of modern prints.
4.

Koshihikari Kominka (Residential Lot)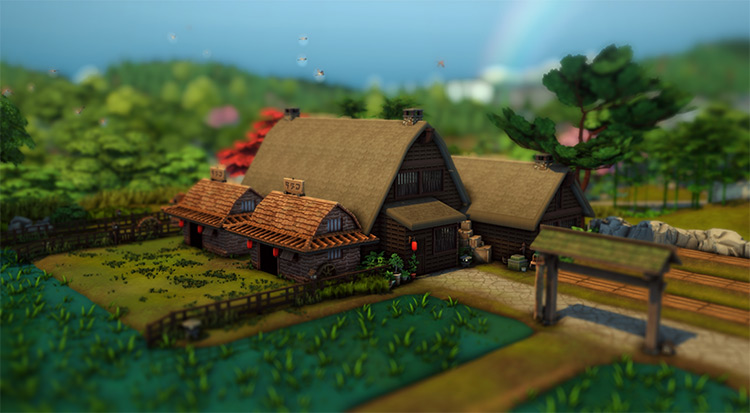 If you're not familiar with the architecture of Japan, it can be really tough to get started on a house.
A number of packs as well as some CC are needed, but this lot is breathtaking. Inside an out, this cozy little farm is loaded with traditional furnishings.
5.

Japanese Cat Wind Chime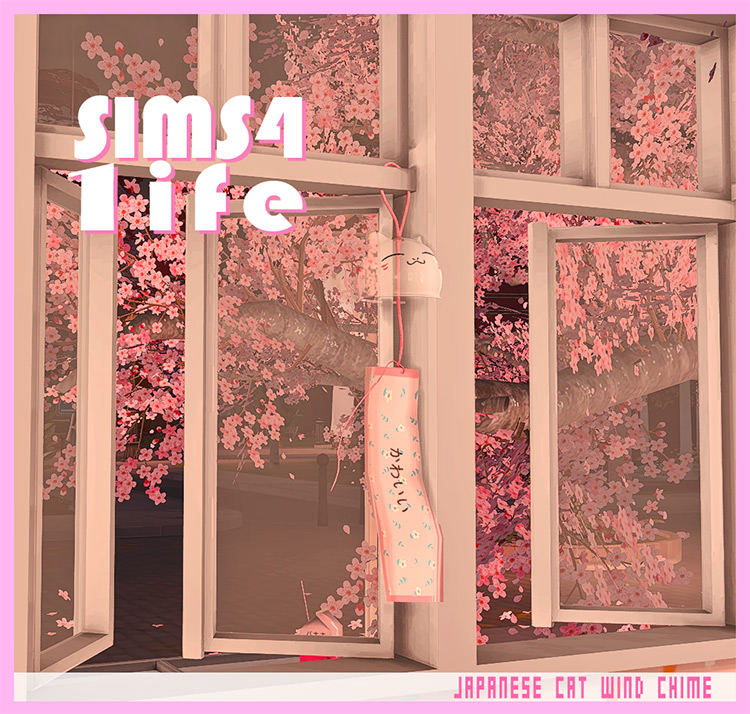 Cats seem to be popular in Japan, and why shouldn't they be?
The Egyptians had it right, worshiping them.
This wind chime combines the best of worlds. It can be hung wherever you want to to add an adorable kitty, and the Japanese text makes it even more perfect.
6.

Kanzashi Style Hair Ornaments Set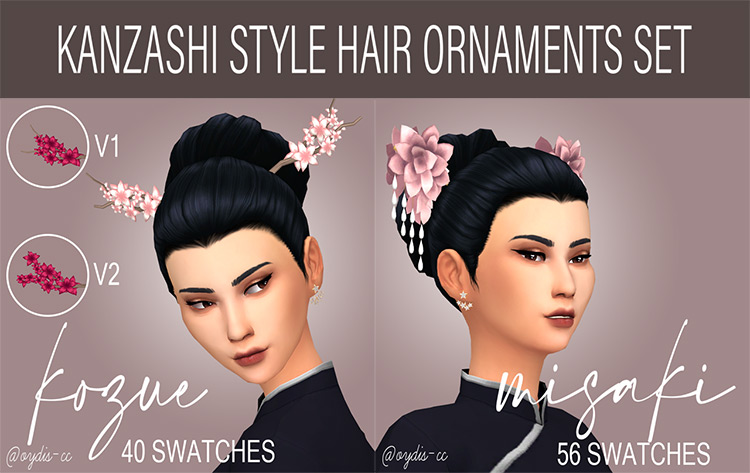 Decor is only one part of including some culture in your game.
It's great for Sims to look the part, too.
This impressive CC set offers a crazy amount of options. Not only are there four different hair accessories, but each one comes with dozens of swatches.
7.

Chicken Katsu Curry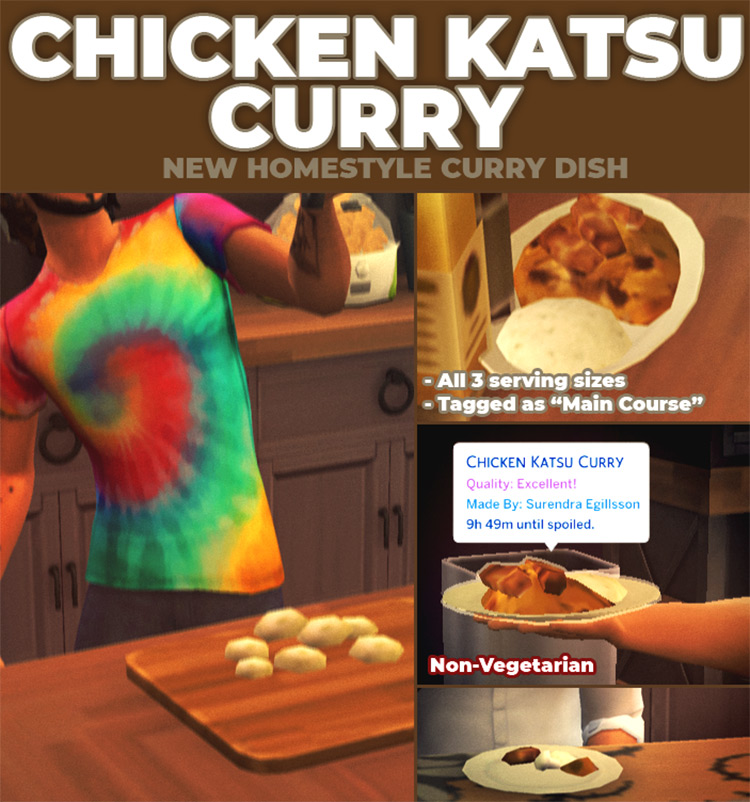 Here's a custom recipe to bring Japan to your Sim's dinner table.
With chicken, bread crumbs, and optional veggies, it's a great unique addition. The best part is this is fully functional, Sims must actually cook it.
Like any other meal, you can choose the amount of servings they need.
8.

Japanese Tatami Flooring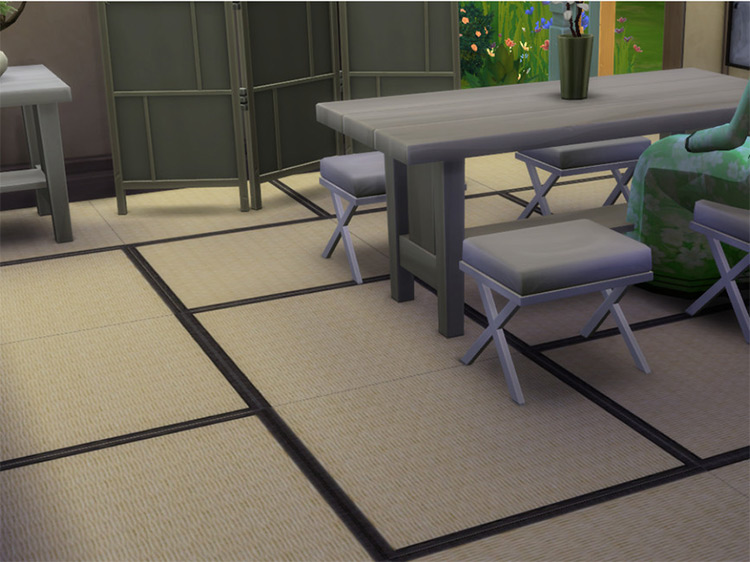 Tatami is one thing that's totally, undeniably Japanese.
This type of flooring is super common in traditional homes, so it's really a must if that's the look you're after. The beige coloring will complement busy wallpaper and colorful decor really nicely!
9.

Decorative Japanese Food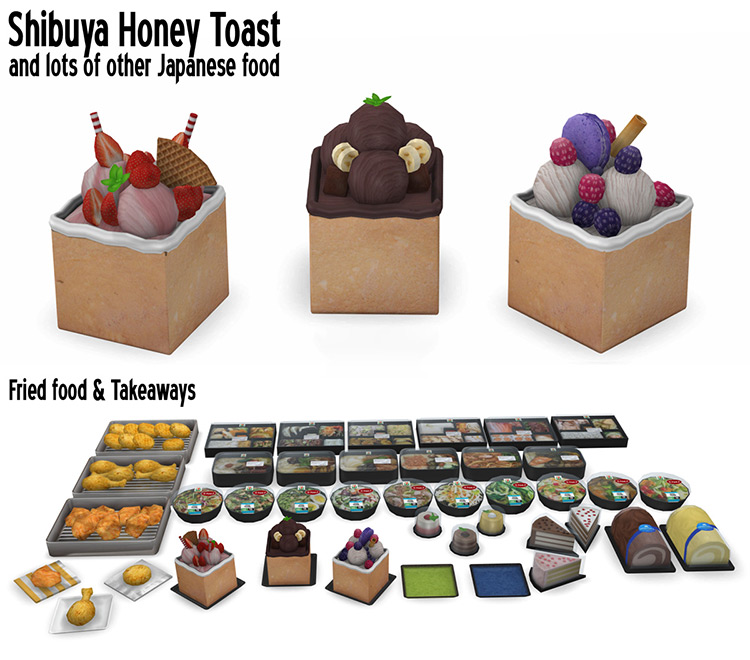 Edible dishes are great, but you never know when deco food will come in handy.
From adding background décor to parties or building a shop, it's just good to have.
Some very tasty looking treats are included here, as well as displays for various savory meals like chicken and korokke.
10.

Floor Cushion Highchair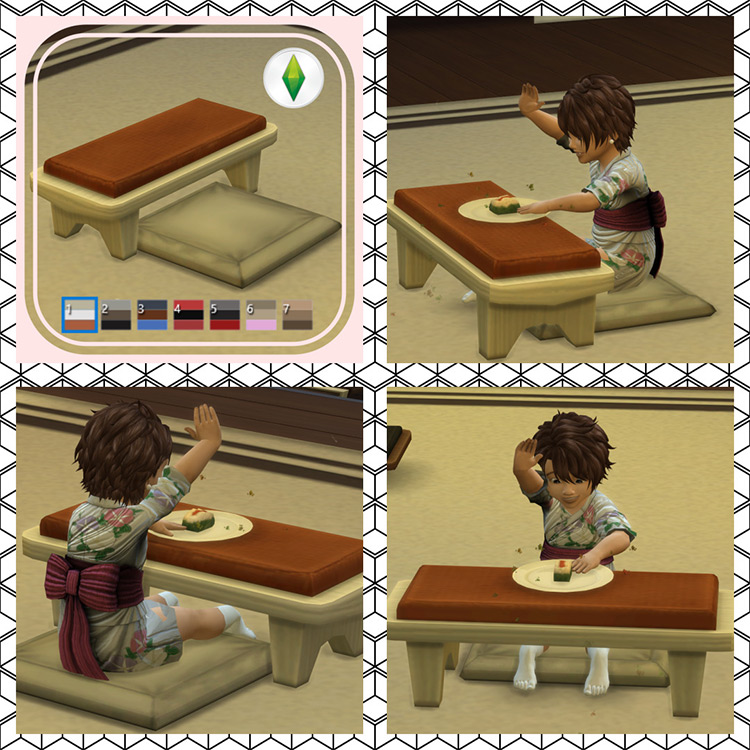 Now toddlers can be part of traditional Japanese meal times.
Since they take place on the floor, a regular high chair just won't do.
This comfy cushion does the trick. The animation isn't perfect but once the kiddo is seated, they'll fit right in…literally.
11.

Japanese Beverage Vending Machine (Outdoor Retreat Required)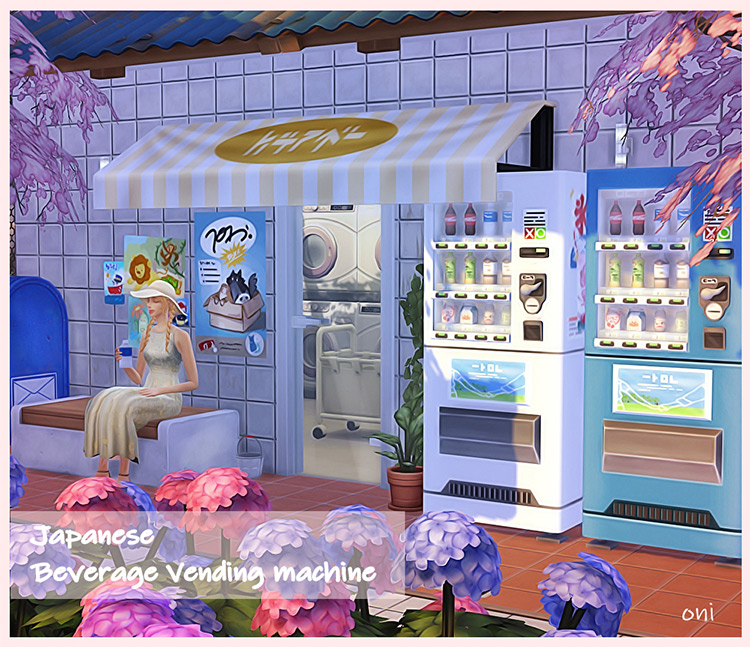 Japan is famous for so many awesome things, listing them could take all day.
But they're really killing it with the snacks and drinks, that's for sure.
Thanks to Oni's functional vending machine, Sims will have access to various popular drinks. Some are common around the world, while the tea options are more specific.
12.

Amazake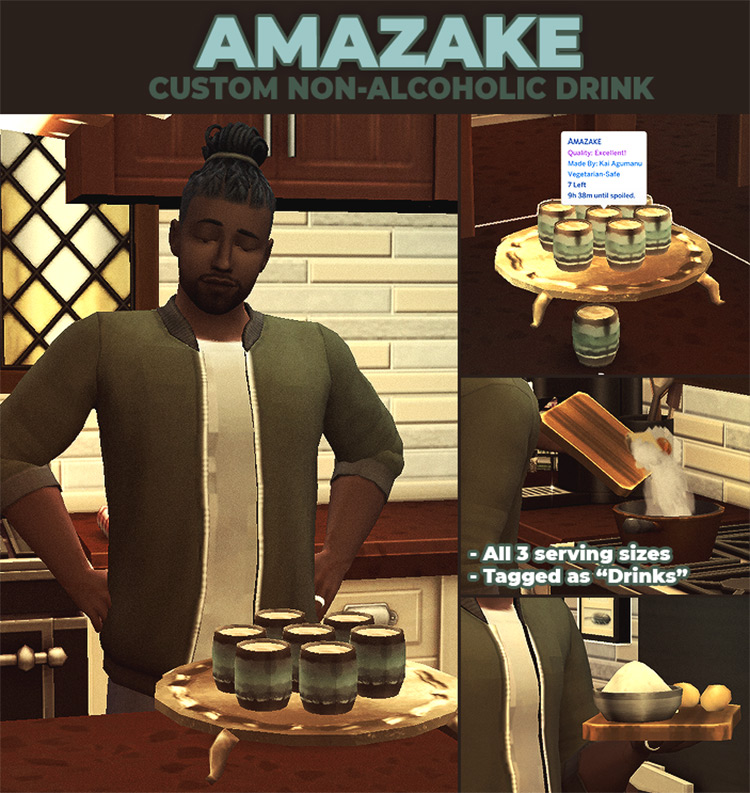 Here's another functional drink to add to your game. By all accounts, amazake is a unique and tasty beverage.
It's even healthy. Japan really has it all.
Sims can consume this fun addition just like coffee. They'll be inspired for 4 hours afterwards, too!
13.

Japanese Flower Tattoo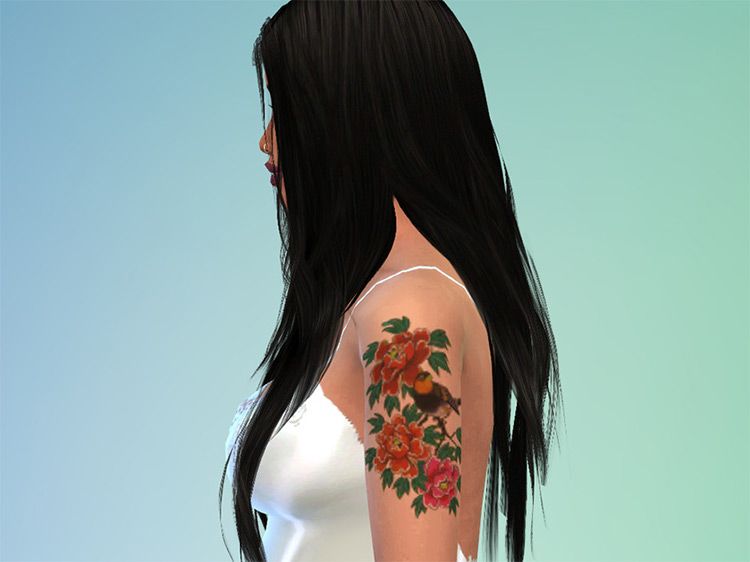 These gorgeous flowers and cute little bird are infused with Japanese inspiration, from the art design to the colors.
As far as tattoos go, it's quite unique. Not many have the style of certain cultures, but this one does, and it'll look gorgeous on any Sim.
14.

Japanese Inspired Wallpaper & Paint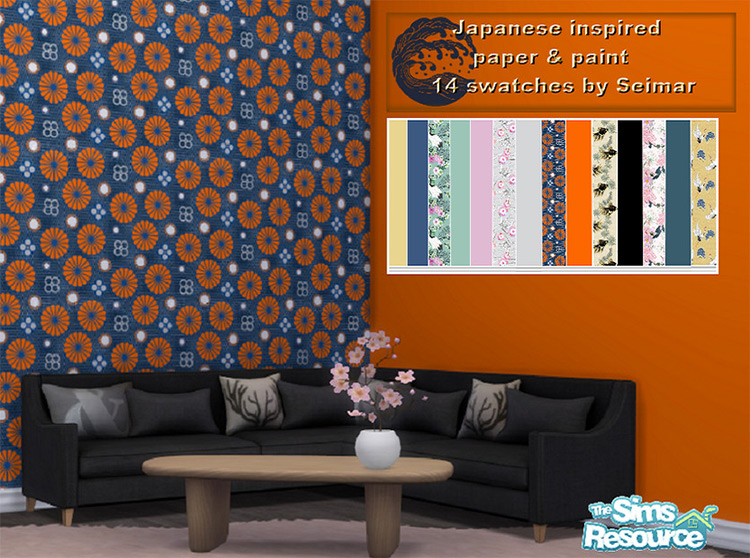 Any builder knows we can never have enough wall coverings. Custom ones are a necessity, especially when you have something specific in mind.
This set has several busy, patterned swatches, plus a few solid colors.
If you'd like to add an accent wall, mixing and matching these really allows a lot of personalization.
15.

Traditional Tea Pot & Green Tea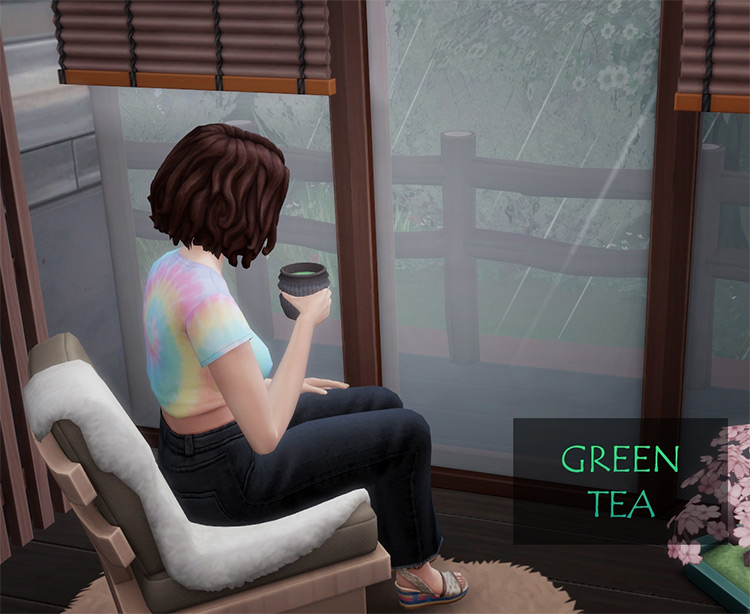 Since it's one of the most beloved drinks in Japan, tea comes in a seemingly endless variety.
Here we have five different types, including the extremely popular green teas, and a functional teapot. Sims will get positive moodlets based on what they drink!
16.

Samurai Tattoo Sleeve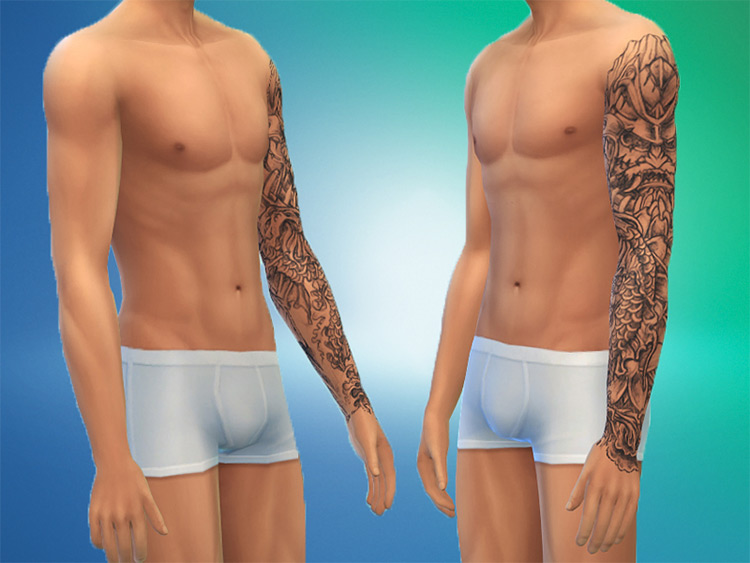 There's all sorts of history and mythos surrounding samurai.
But nowadays they're mostly known for being awesome warriors with really cool swords.
Well this detailed tattoo covers that vibe quite well. It's a full sleeve, so there's no missing it!
17.

Japanese Geta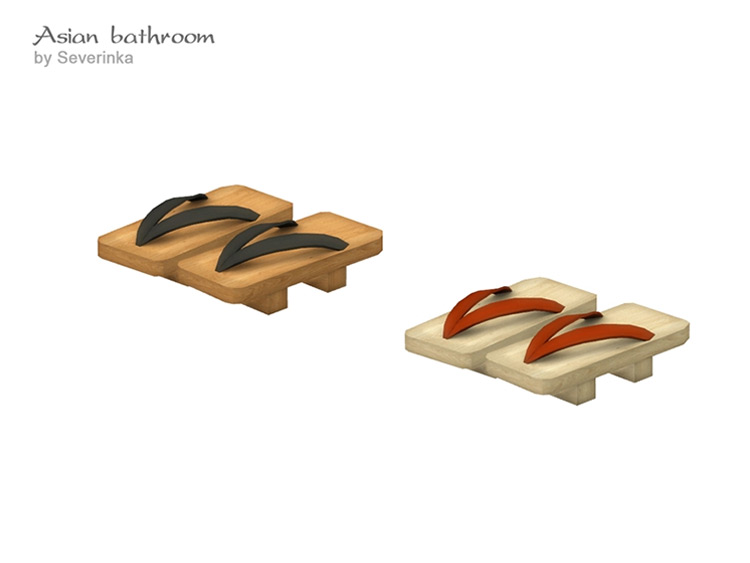 Geta are like flip flops, except they're made of wood and have heel-like "teeth".
They're a common footwear option during warm weather, often worn with yakuta.
But in this case, they're just for lookin'. This decorative pair will definitely add a Japanese flair wherever you place them.
18.

Furisode Dress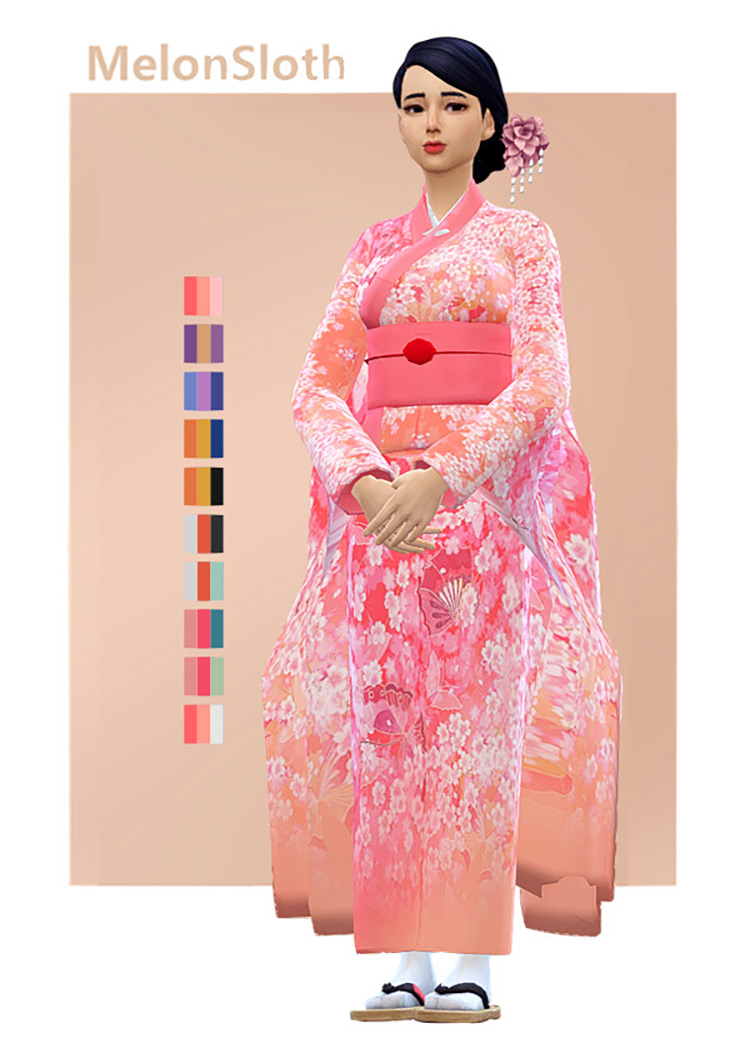 This long, flowing dress is absolutely gorgeous in every way.
The CC creator gave it an unbelievable texture, breathtaking colors, and incredible patterns.
It's basically a wearable work of art. Even though these kimonos have a history dating back centuries, they're still part of Japanese culture to this day.
19.

Little Fish Sushi Restaurant + Japan Clutter Style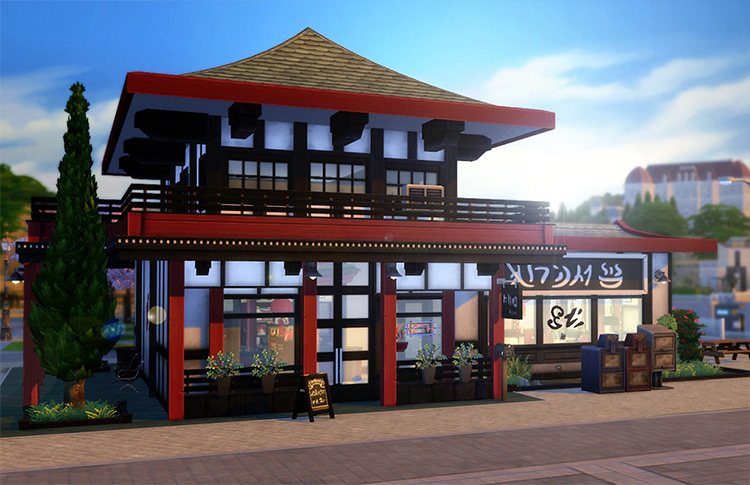 As one of the most famous dishes to come out of Japan, sushi has kind of taken over the world… except for Sims.
Well, that no longer applies! Here's an awesome functional lot, plus some great clutter. This set includes chopsticks, traditional lanterns, and pretty wall hangings!
20.

Japan Inspired Living Set Conversion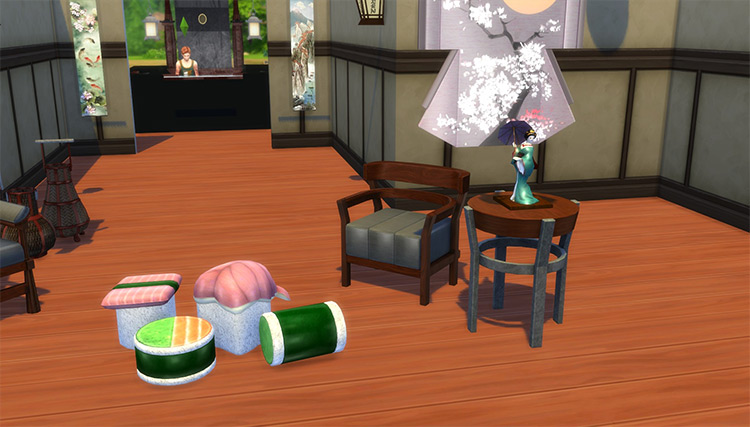 The Sims 3 Store released so many diverse packs, it'd be a crime not to convert them.
All sorts of fun furnishings are included in this set, ranging from functional to decorative. Most of this stuff has a traditional look, but the sushi pillows definitely add a more modern touch.
21.

Beckoning Cat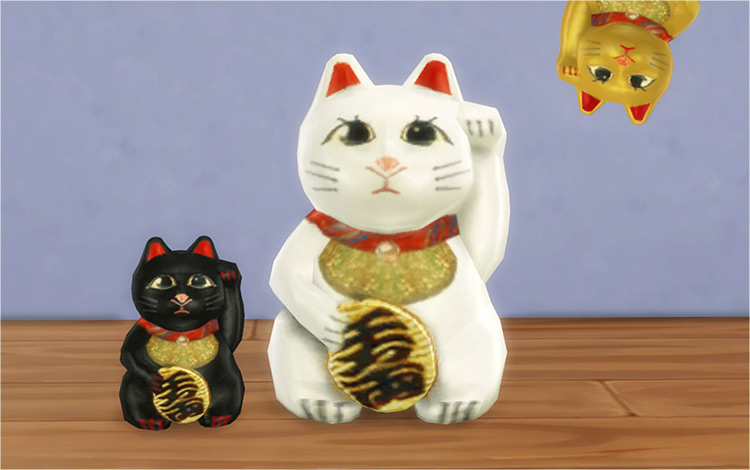 How can you not love this charming chubby cat? This is no ordinary knick knack.
Aside from simply being cute, it's believed to bring goodluck to its owner!
Goodness knows Sims can use more of that. You can try that theory out for yourself with these lovely conversions from The Sims 2.
22.

Shodo CC Set
Calligraphy can put an artistic spin on any language, but the Japanese style is really something else.
Now this ancient creative pursuit can be included in your Sim's lives!
This set includes the supplies, along with decorative shodo clutter as well.
23.

Girl's Kimono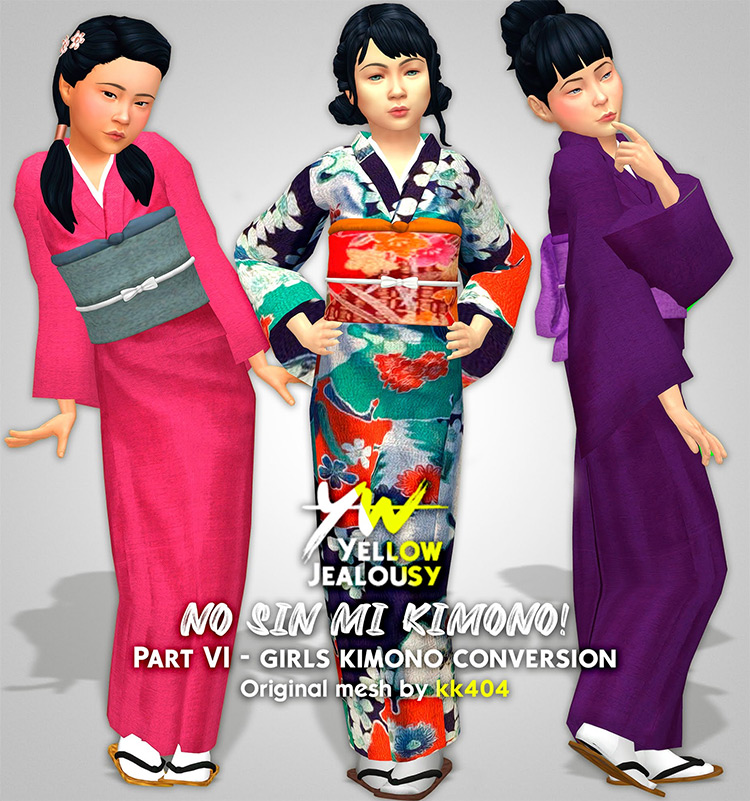 These stylish kimonos are available in a seemingly endless range of options.
Do you prefer the simplicity of solid colors, or the boldness of colorful patterns? How about a mix of both? All of that's here, and then some. You can download each style separately, or grab them all!
24.

Boy's Kimono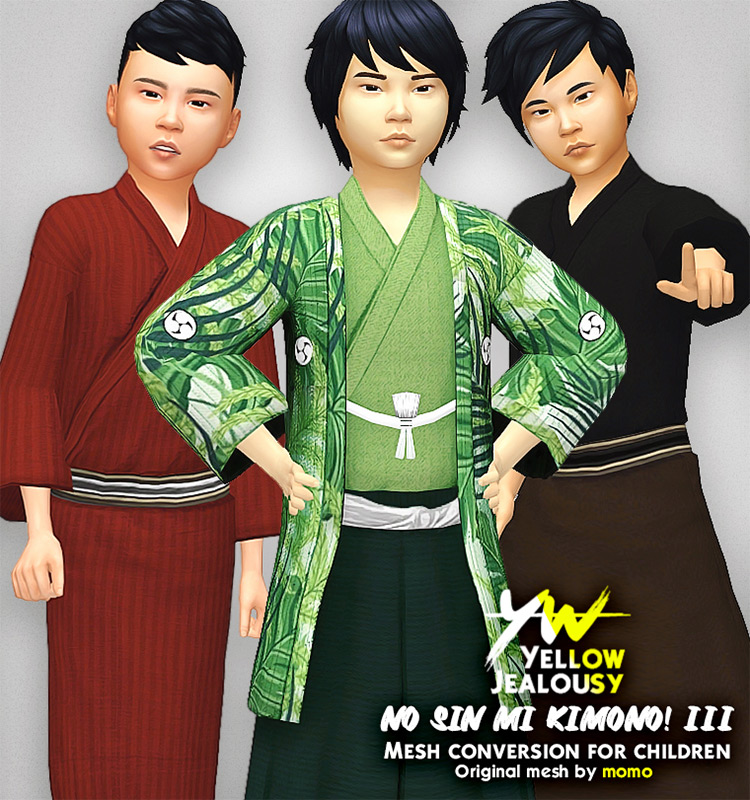 You'll find some unique prints and a fantastic texture in these boy's kimonos.
A version for adults is also available but it's good to have options for everyone in the family! The abundance of swatches here will be very useful if your Sims plan on having a lot of kids.
25.

Bookshelf of the East from South Sea Imports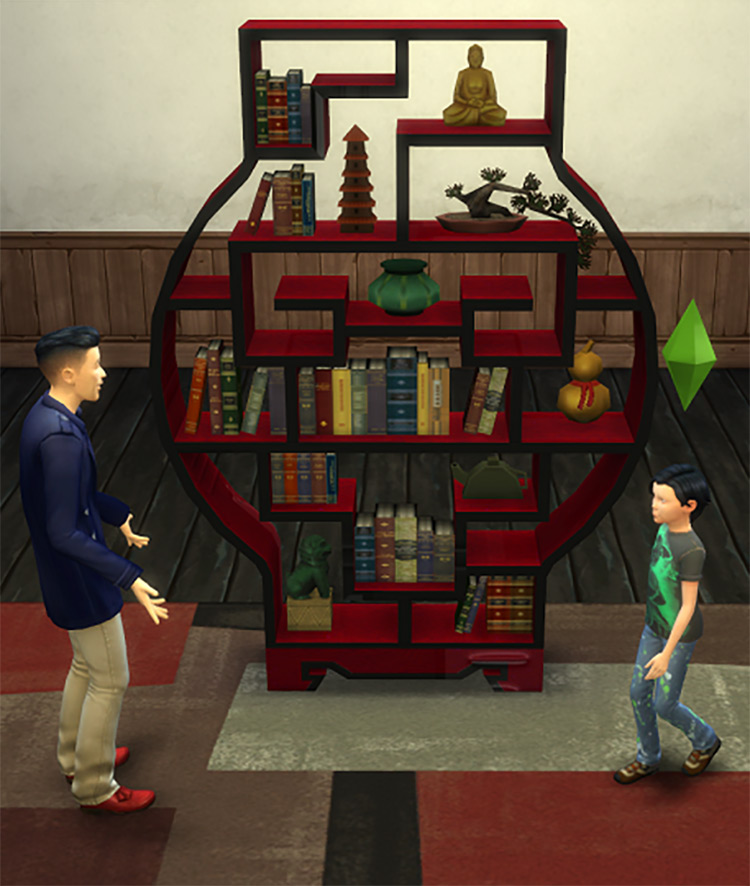 Here we have another conversion from the ye olde days of The Sims 3 Store.
Although it's never specifically linked to Japan, the influence is clear.
The distinct shape of this bookshelf and the built-in decor fit right in. The black and red color combo also will go with any other furnishings!
26.

Kitayama Living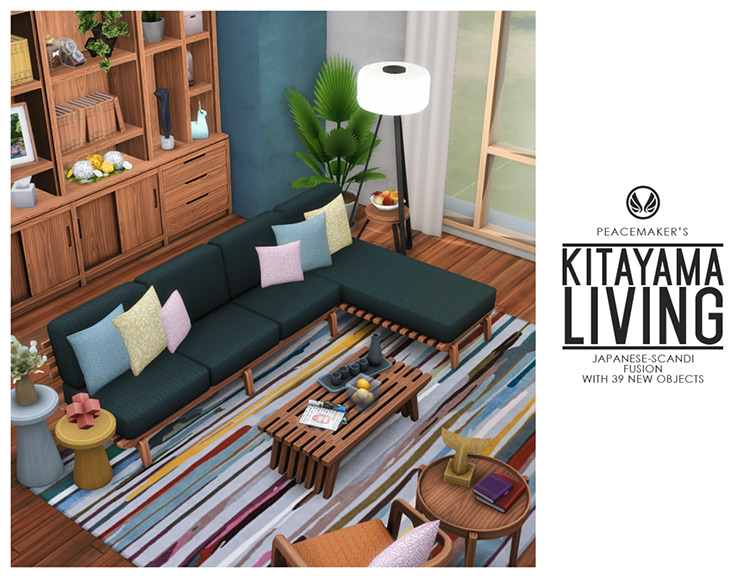 You can have the best of both worlds thanks to this modern, chic set that contains everything a Sim's living room needs.
The distinct styles of Scandinavian and Japanese are blended together in every piece of furniture. With 39 total objects, it'll be a breeze to make your own.
27.

Kitayama Dining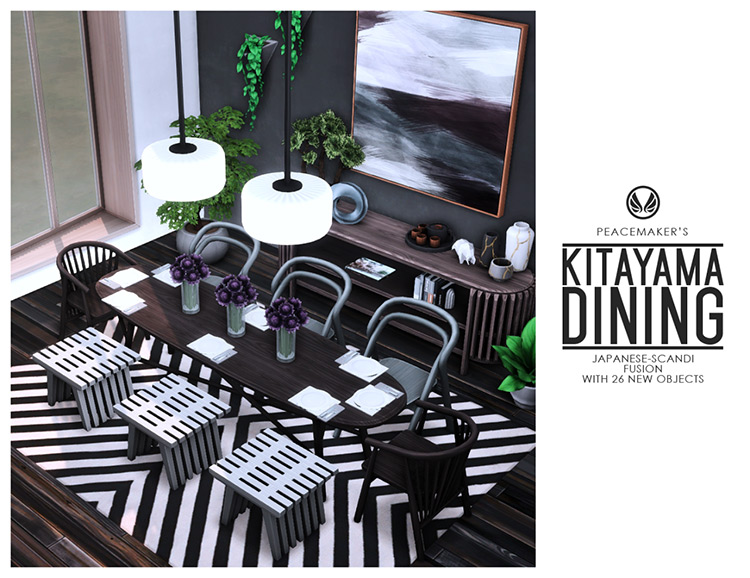 After your Sim's living room is all decked together with the above set, this dining room counterpart can keep this style going throughout the house.
Another 26 items are here, including some beautiful new plants! You'll have plenty of new tables and chairs, for rooms big and small.
28.

Japanese Attire For Men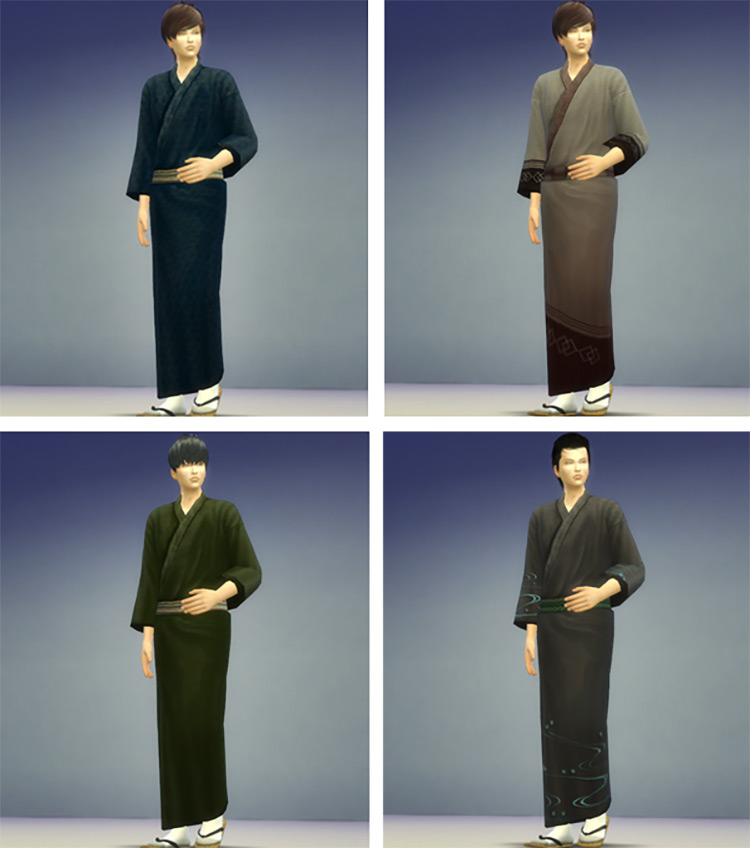 It goes without saying… the more kimonos we have, the better!
This is another traditional attire option for the guys and there's no shortage of swatches. Each one features some solid colors with white, blue or green accents.
29.

Custom Miso Soup Dish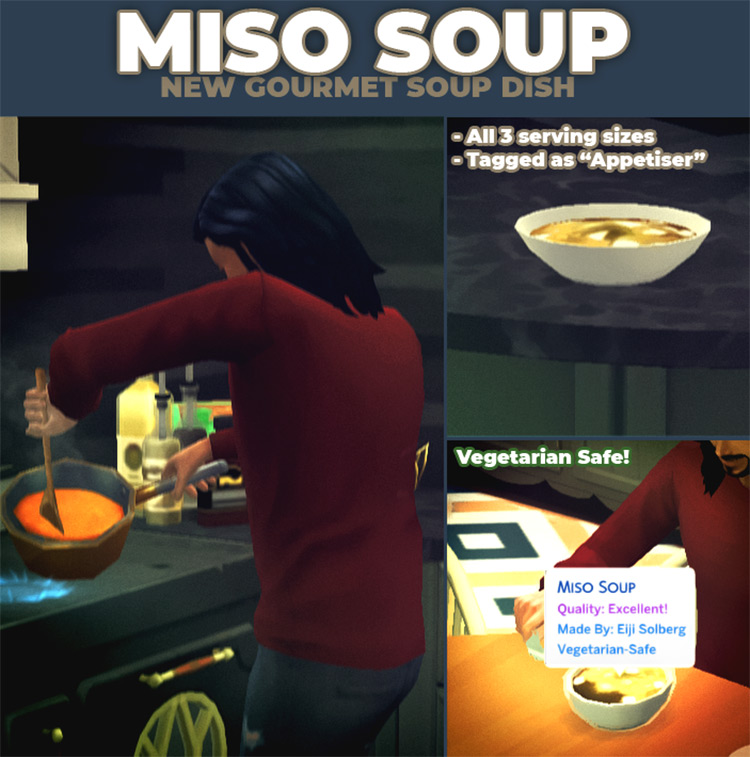 Miso soup can take many forms.
But in this case it's a simple, delicious-looking, vegetarian safe appetizer.
Like the other custom dishes this Simmer has made, this meal is fully functional. Sims can prepare and eat it like any other.
30.

Japanese Bun Hair

This lovely long hair is partially pulled up into a standard Japanese bun style, complete with some cute cherry blossom pins.
Despite seeming rather complicated, it's done so well here, you'd never know.
It's very classy and only gets better the longer you admire it!
Browse:
Lists
Maxis Match
The Sims 4
Video Games