Sims 4 Maxis Match Jewelry CC: The Ultimate List
This post may contain affiliate links. If you buy something we may get a small commission at no extra cost to you. (Learn more).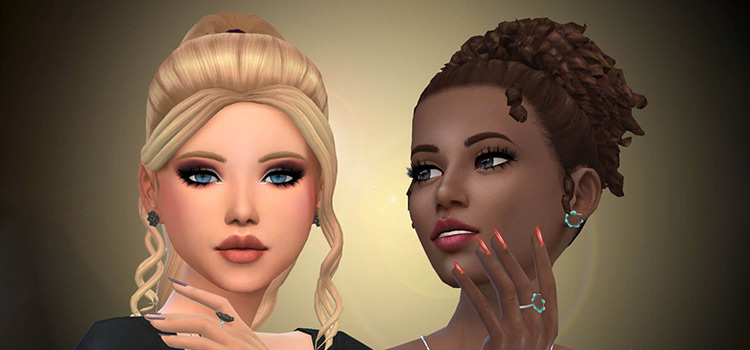 If you and/or your Sims like bling, you best buckle up.
This mega list contains Maxis Match jewelry of all shapes, styles, and sizes.
From conventional and classic to creative and quirky, I think I've found a little something to suit all accessory tastes. Meaning if your Sim doesn't feel like dangling goldfish from their ears, I can recommend a more tasteful pearl cluster option.
You'll see what I mean.
MM Earrings
1.

Coconut Cocktail Earrings by alexaarr
Who doesn't want little coconut cocktails decorating their ears? Seriously, who?
They even have tiny paper umbrellas!
Don't panic; I won't fill this list with just quirky, cartoony, costume pieces, I promise. It'll be a mix of sensible and eccentric.
I just thought these fruity festive earrings would be a great way to start.
2.

Round Rattan by alexaarr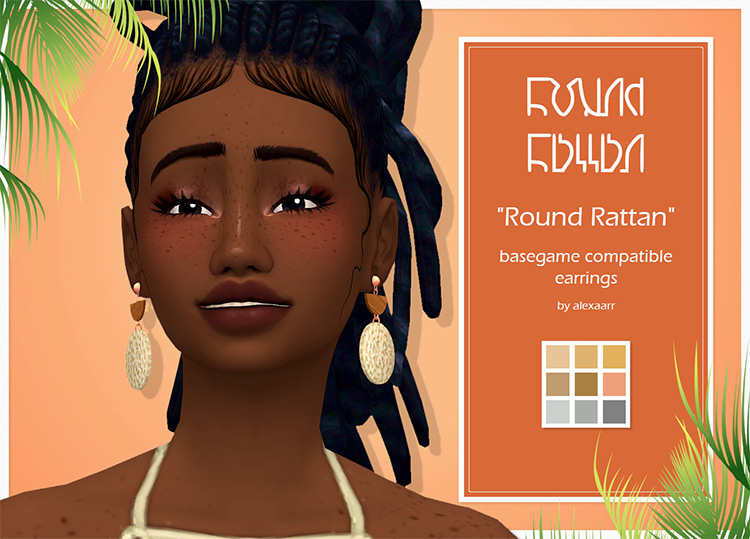 If it seems like I've got a lot of CC here from creator alexaarr… that's because I do.
They're insanely creative and insanely talented in terms of making fun jewelry pieces.
These earrings made of rattan and wood add can a bold, summery look to your Sim's outfit.
3.

Crescent Moon Earrings by renorasims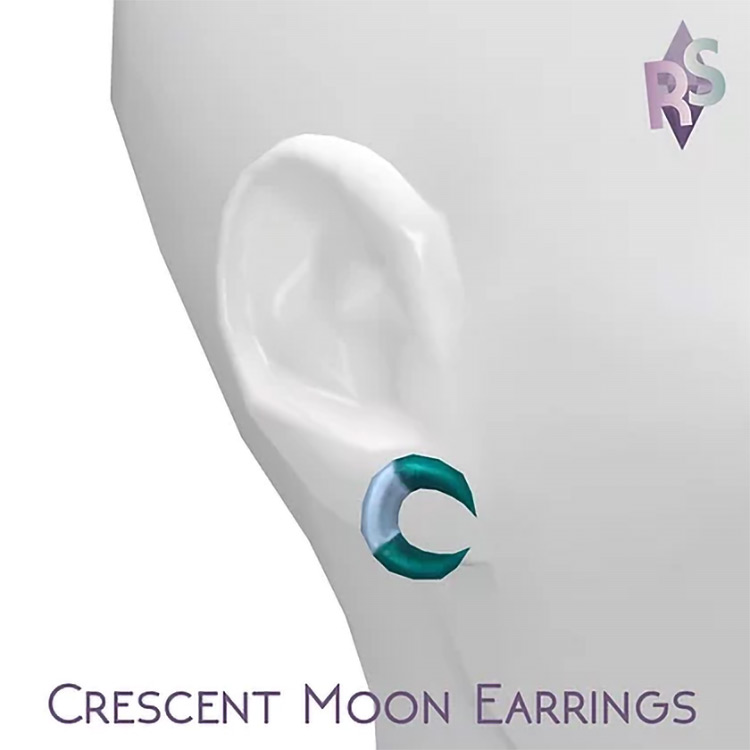 Small and subtle? Sure.
Boring? Nope!
These earrings may not be bold or eye-catching, but they definitely have this charm to them that makes someone want to look twice.
It's like a fashion statement with finesse.
4.

"Sul Sul!" by alexaarr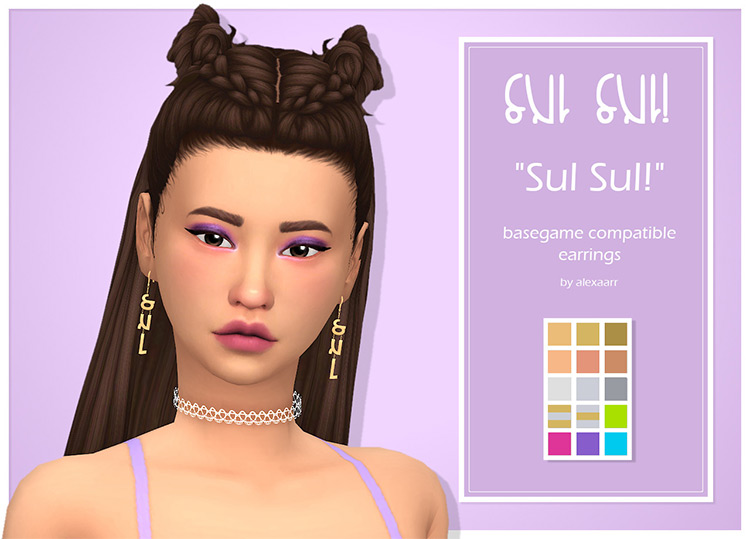 Of course I have to recommend these earrings. They literally say "sul sul!" in Simlish, and I want them — for my Sims and for me.
In all seriousness, someone call EA.
These earrings seem like a great idea for official Sims merch.
5.

Peach Earrings by aharris00britney
Hang a juicy peach (or two) from your Sim's ears to let the world know they're sweet, whimsy, and maybe just a little weird. But, you know. The good weird.
These fruity jewelry pieces by aharris00britney are nice, plump, and come in two colors.
6.

Squaretacular Earrings by alexaarr
These lovely diamond-shaped frames give off a modern-and-chic vibe.
I would say it suits Sims that prefer classic contemporary fashion over more odd, artistic, and/or eccentric looks. They can help glam up a fairly casual outfit, too!
7.

Valentines Day Gift Earrings Set by alexaarr
I have nothing but praise for this creator's custom jewelry.
They're all cute, creative, and incredibly high-quality — and this lovely, heart-themed set of earrings is no exception.
Dangling heart earrings? Heart-shaped hoops? Hoops with hearts dangling from them? You'll find all those options here.
And this set would match perfectly with other Valentine's Day CC.
8.

Big Hoops, Feather, and Double Pierce Earrings by Simple Simmer
If you don't know which design you'd like, get this grab-bag of custom earrings have three beautiful options in one go.
For something tasteful, go for the Double Pierce earrings.
Leaning a little more towards bold fashion? The big hoops should be your thing.
Feeling a little fresh, free, and/or spunky? Feather earrings. Trust me on this.
9.

Lovely Leaves Earrings by alexaarr
Add a pop of earthy color to an otherwise bright, buttery summer outfit with these cute Lovely Leaves earrings by alexaarr.
They look pretty thick and substantial, like they're made of resin or porcelain or something similar. The thickness definitely works with simplified cut-out silhouette, too!
10.

Sea Shell Earrings by alexaarr
She sells sea shells? Sure!
Especially since they're in earring form, I imagine a lot of people would line up to buy them.
These dainty little pieces by alexaarr are a combination of elegant and quirky that somehow just work.
11.

Star Hoops + Key Earring by okruee
This CAS pack from okruee contains two custom earrings.
One of them, I'm particularly fond of. I'm used to seeing key necklaces, but a key earring? That's pretty new.
And after trying them in game, can confirm that they're pretty dope.
12.

Goldfish Earrings by puna-sims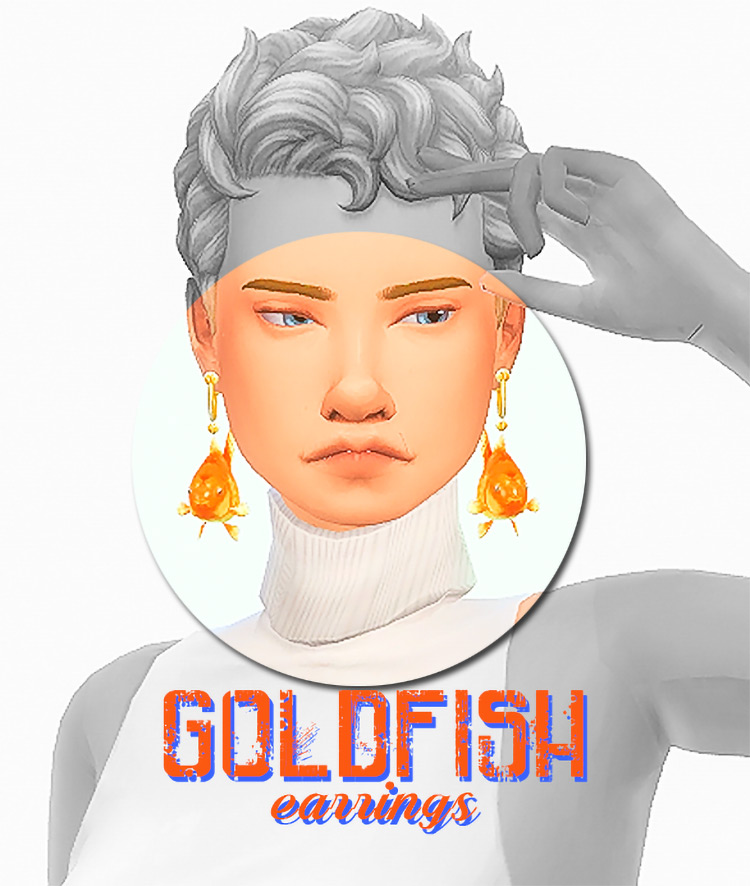 Some goldfish swim in bowls. Others swim in the sea. These goldfish?
They just chill around your Sims' ears; no big deal.
Seriously, though. Talk about statement pieces.
These fishy earrings are adorable and I'm thinking of making them a permanent part of my CAS closet.
13.

Earrings Galore by Nolan-Sims
Male Sim frames don't get a lot of love when it comes to CAS, so I'm always happy when I find unisex items.
These beautiful bronze earrings by Nolan-Sims can be worn by both Male and Female models.
And the designs are just varied enough to give different wear options!
14.

Star Hoops by alexaarr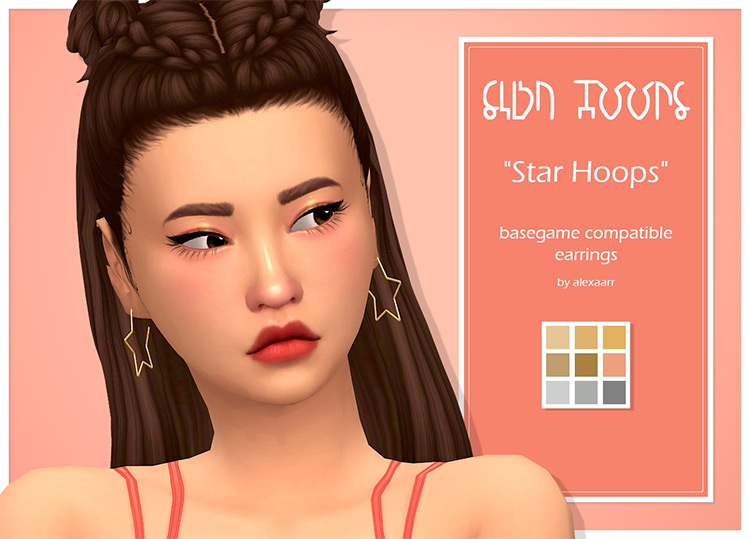 Hoop earrings, but make it stars.
The sentence doesn't make much sense, but the visual helps a lot.
I think that earrings this size can be forgiven since they're pretty much just an outline, so feel free to pair these with colorful, complicated outfits to balance out the crazy.
15.

Prometheus + Elpis Earrings by viiavi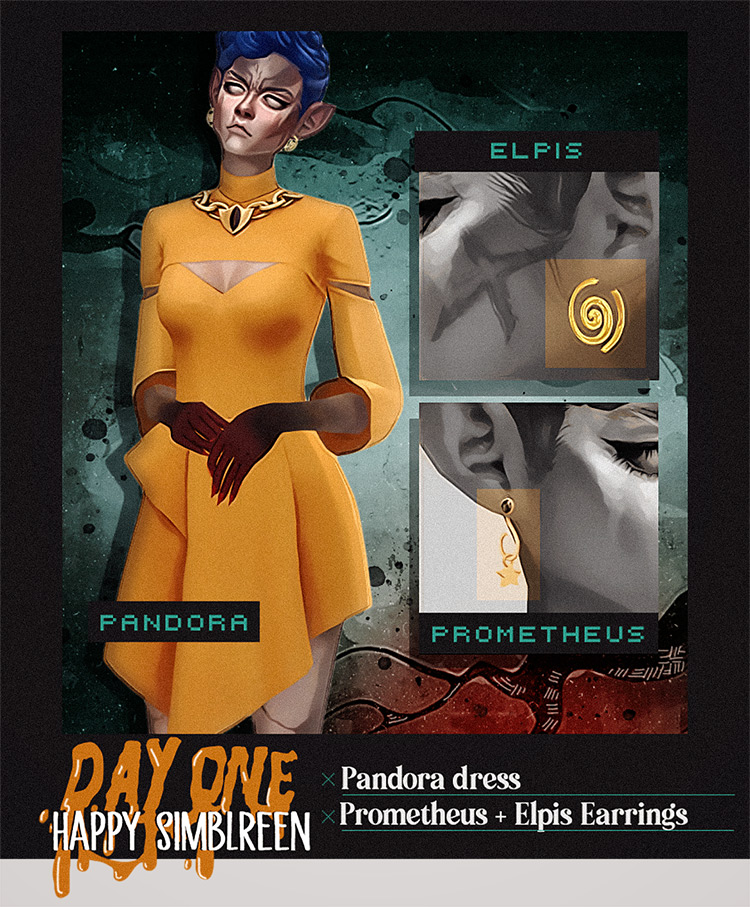 The Prometheus earrings – while interesting – aren't too much of a head-turner.
They're delicate, they're of a decent size, and they're decorated with a single star. Cool and casual.
The Elpis spiral earrings, on the other hand, are next level. They're avant-garde in the best way. Highly recommend for fashion-forward Sims.
MM Rings
16.

Diamond Infinity Love Ring by Glittererry Sims
Diamonds, as they say, are forever.
And if you disabled ageing in your Game Options, your Sims can be forever too.
Why not decorate your immortal goddesses' elegant fingers with an opulent, gem-studded band?
17.

Spring Ring by KiaraZurk
Or how about a dainty spring blossom to accentuate your Sim's slender hand? It comes in twenty distinct colors of varying shades (pastel, powder, bright, muted), which allows it to work with a wide range of outfits and color schemes.
18.

Candy Jelly Ring by mach
If dainty and subtle isn't it for you, you can go the complete opposite with these candy jelly rings.
They're big, bold, and come in very unusual designs.
Purple links, a chain of hearts, or a rounded square? Definitely not what you'd expect from conventional rings, no.
19.

Forever Yours Collection by Reigningsims
Have you ever seen anything scream "elegance" more than these rings do?
I mean, probably, yeah; half a dozen of them are on this list.
Regardless, all three of these custom rings are elegance personified. The size and symmetry of the shapes (heart, teardrop, and rhombus) are simply stunning.
20.

Simblreen Jewelry Three Sets of Rings by Noriann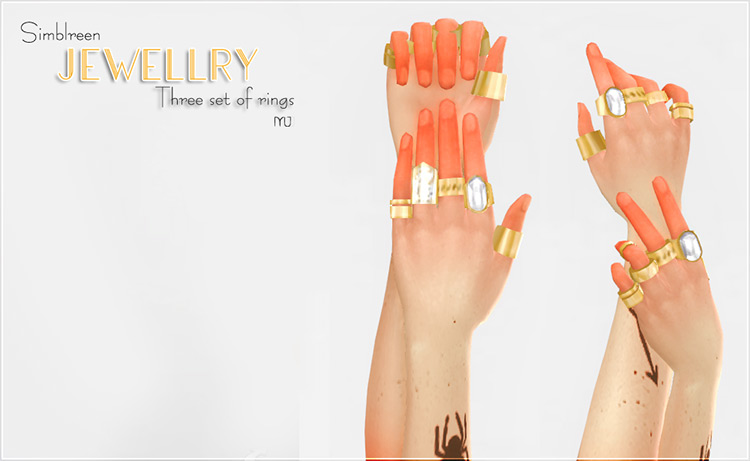 If bling is your Sim's thing, these chunky rings are a must-have.
They're big, they're shiny, and they're definitely noticeable.
Plus you can still use them even if you don't have The Sims 4: Get Famous installed; the creator made these new meshes base-game compatible!
21.

Neptun Rings by polygraphish
Came for the cool-sounding, mythology-esque names, stayed for the actual quality.
These rings are delicate and refined—and they look like they'd cost your Sim several months of rent.
MM Bracelets/Anklets/Armbands
22.

More Bangles by orange-plumbob
If you've got The Sims 4: Holiday Celebration pack installed (it's free, by the way!), then you've probably already seen these gorgeous bling-y bangles in action.
Unfortunately, they only come in three typical colors. Great if you want classic, not so great if you want color.
So orange-plumbob's recolor adds two new design versions with 24 new colors each, for a total of 48 additional swatches.
23.

Pretty Feet by renorasims
There's just something about anklets that makes me think of dainty dancers. Even if the person wearing it isn't physically dainty, I see an anklet on them and I've classified them as "graceful as heck."
Give your Sim the same vibe with renorasims' pretty beaded anklet bands.
24.

Unisex City Living Leaf Armband by glammoose
If you share my love for simple jewelry, nature-y designs, and armbands – I think they make for such a cool and unusual accessory – you might want to take a look at this.
I think it adds that extra bit of oomph to your Sim's look!
25.

Less is More; Pearl Bracelets by renorasims
I agree with the creator here: sometimes you don't want four strings of pearls climbing up your wrist.
A strand or two is enough to tastefully accentuate a slender wrist or a glam ensemble.
26.

Charms + Seaside Bangles by Saurus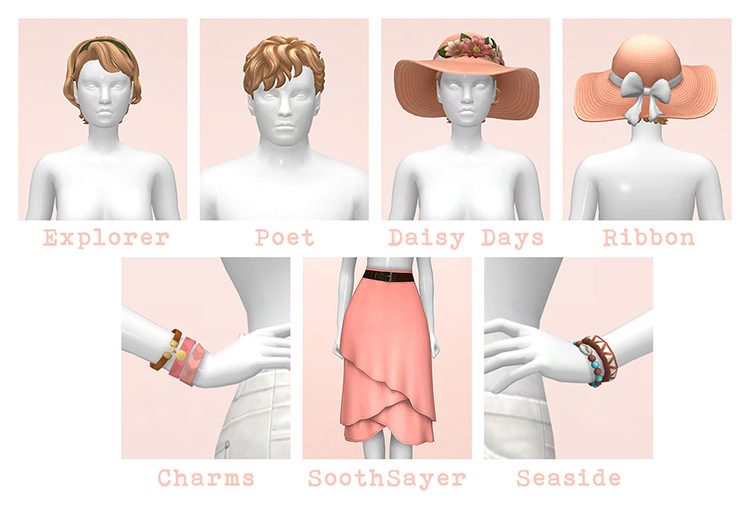 This Bohemian Rhapsody set by Saurus is a visual treat for those who love the clean, natural aesthetic.
Likewise, the bracelets and bangles in this set follow that exact principle; simple, ethnic, and brimming with nature-inspired charm.
27.

Leather Bracelet by Blue Raptor's Den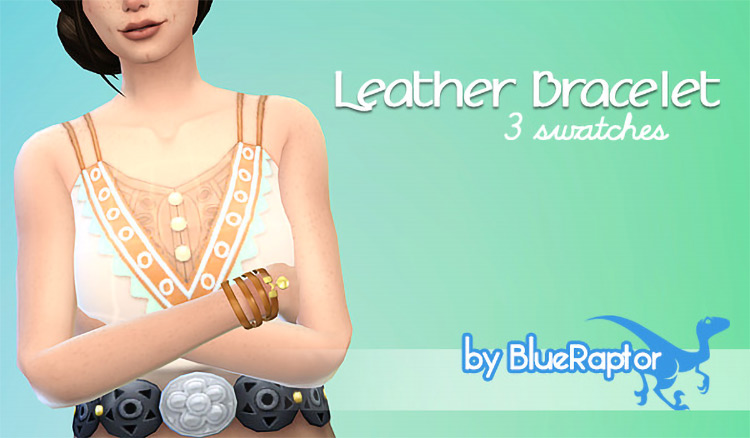 This edit of the leather bracelet from The Sims 4: Jungle Adventure basically turns the obnoxiously chunky wristband into a simpler – and cuter! – group of charm bracelets.
Don't worry; the sturdy, rough-and-tumble look is preserved.
MM Necklaces/Chokers
28.

Cheyenne Necklace by purrsephone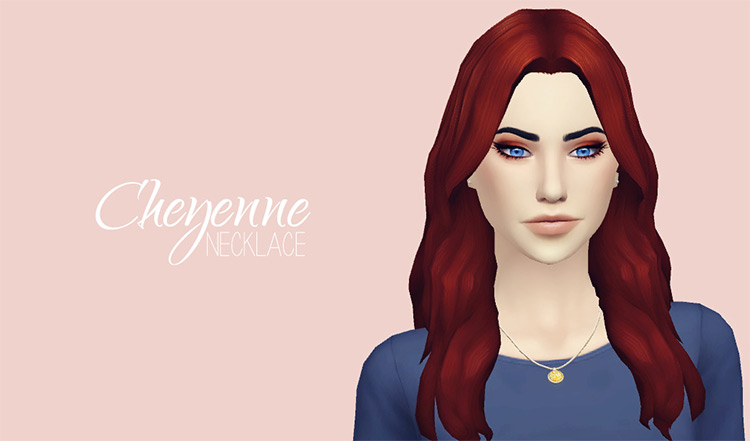 A lot of the jewelry that EA comes out with often looks costume and campy.
I mean, don't get me wrong; if that's your preference, obviously their selection is perfect.
But if you're after more understated, subtle pieces that your Sim can use for everyday wear, CC's the way to go.
Look at purrsephone's edit of the Get to Work necklace. Simple but elegant.
And you don't even need to own Get to Work for this to, well… work!
29.

Double Necklace by simtone
As a big fan of layered necklaces, I had to include this.
I honestly think funky, eccentric jewelry fits The Sims 4 vibes better.
However, safe and basic pieces sometimes make better statements. Plus this design goes with any outfit.
30.

Frai Choker by aharris00britney
A nice simple choker can complement practically any ensemble.
Wide-necked tee? Off-shoulder blouse? A simple scoop-neck tank?
This choker by aharris00britney is so subtle, it'll pair perfectly with whatever your Sim's got on.
31.

Pumpkin Choker by isjao
Pair this choker with those Peach Earrings by aharris00britney and you've got yourself a look!
It might not be an ideal look for conventional Sims who like to keep it low-key, but for artistic and creative souls? It's the perfect statement piece to a Fall-inspired outfit!
32.

Donut Choker by bellassims
It's a choker with a cute donut hanging from it. I can't not share this.
The donut isn't of an obnoxious size either, so it can surprisingly go with a lot of outfits. Available in nine flavors.
33.

Solar Necklace by simtone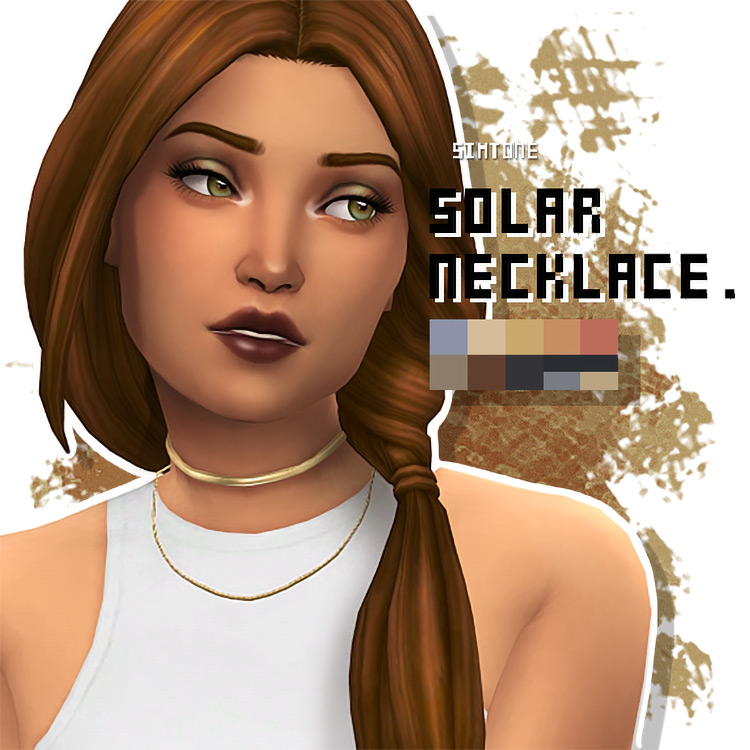 Like a mentioned earlier— big fan of the layered necklace look.
I think it's a simple understated design choice that adds awesome depth and texture to any outfit.
34.

Moon Phase Necklace by alexaarr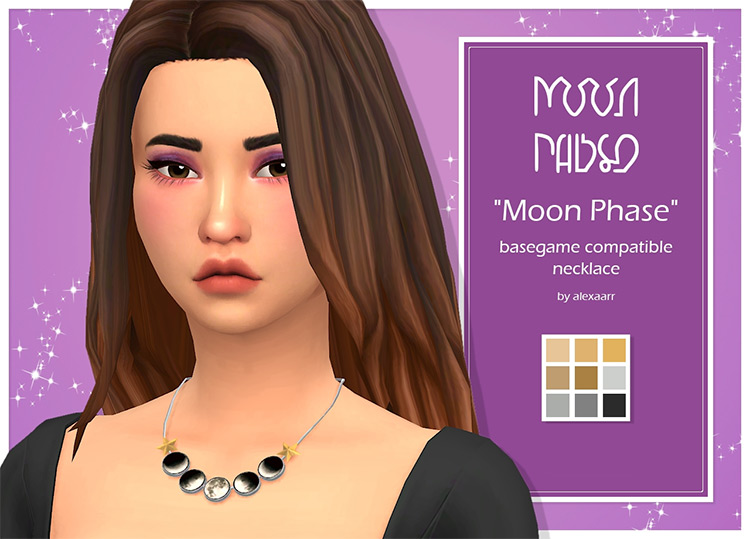 On another episode of, "TS4 CAS Things I Would Actually Buy IRL" this moon phase necklace is the perfect execution of an awesome concept.
It's not just for practicing wiccans and celestial body enthusiasts, no. It works for any Sim looking to add an artistic novel spin to their outfit.
35.

Alien Necklace by simlasya
Profess your Sim's love for the unexplained, the unidentified, and the extraterrestrial with this adorable alien necklace.
I'm not a big fan of our otherworldly friends, but I would definitely wear this necklace.
It's cute, it's none too flashy, and the material it's made of looks to be of excellent quality.
36.

Rainbow Choker by sondescent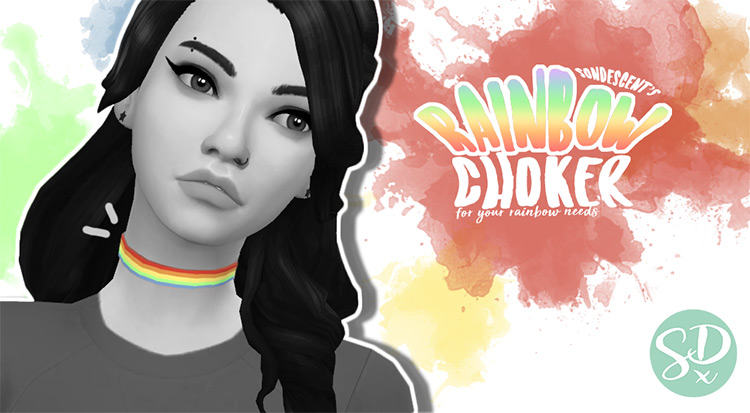 If your Sim is in a rainbow mood, spread the positive vibes!
The world could always use a little more happiness and high energy.
Wrap those seven-colored stripes 'round your Sim's neck regardless of what they're wearing. Good vibes can never clash with fashion.
37.

LGBTQ+ Themed Chokers by weepingsimmer
If you prefer something a little quieter and more unassuming than a rainbow choker, weepingsimmer's LGBTQ+ Themed Chokers offer a subtler option.
Thin black bands with the only indication of your Sims' support being the pendant.
Those who get it, get it. Those who don't, don't.
38.

Blair Choker by aharris00britney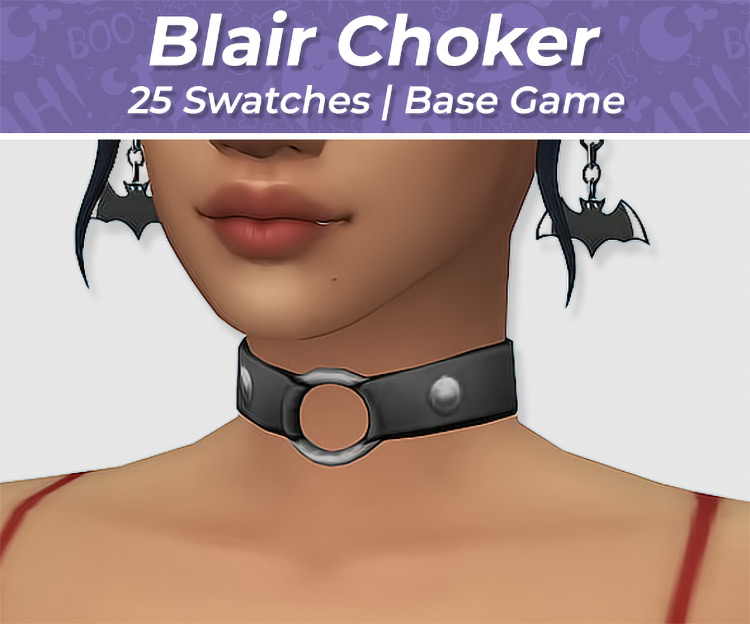 The Blair Choker (you'll have to scroll down a bit to find it in the preview photos) is a part of aharris00britney's 2019 Simblreen pack.
It's not as unusual or unconventional as the other jewelry items here. But I figure a Sim will, at one point, need a ringed choker to accessorize their outfit. So why not include it?
39.

La Rose Choker by IsJao
A sweet, sophisticated accessory for a sweet, sophisticated ensemble.
Seriously, though; it's great that our general perception of chokers has evolved.
We've gone from considering them a purely goth accessory to acknowledging them as a part of everyday wear.
It helps that they're now available in more colors with different design elements, too.
40.

Nebula Necklace by Delise
This Nebula necklace was made to be worn by adventurous, outdoorsy Sims.
It's got that rough, eau naturale look to it. The stones and the leather cord texture give the impression of it being sturdy and practical.
41.

Pearl Chokers by aharris00britney
A string of pearls will always look regal and elegant — even when it's wrapped 'round your neck as tight as a choker.
The biggest difference is that a pearl choker feels a lot more casual than a traditional pearl necklace, so you could pair it with a plain top or regular tee and not look unbalanced.
42.

Layla Choker by Enriques4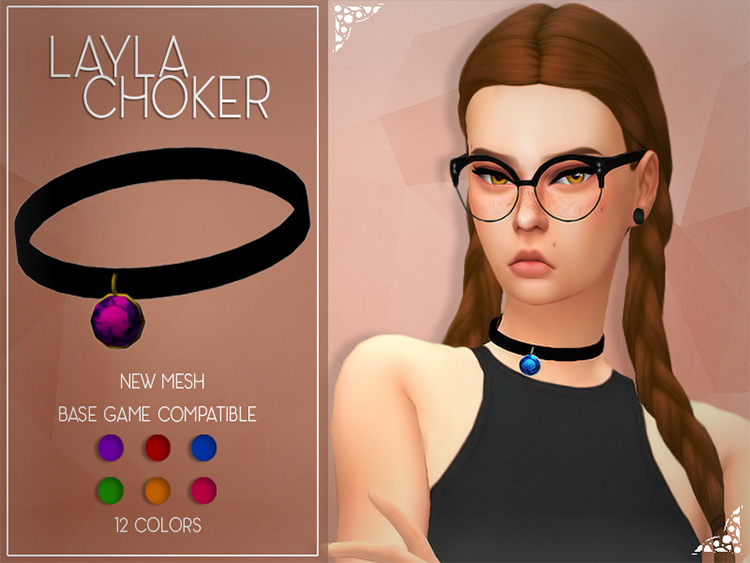 I absolutely love chokers with a small accent dangling at the front.
Yes; it's all thanks to those water tribe necklaces (from the Avatar, the Last Airbender franchise). So you can see why this Layla choker is right up my alley.
MM Jewelry Sets
43.

La Luna Earrings + Necklace by Nords
This trio of clustered pearls is tasteful, timeless, and suits high-end fashion styles.
Wear it with an updo for ultimate gala-night glam or pair it with loose hair to create a glitzier vibe.
And you can download the same creator's La Luna Necklace here to achieve a perfectly matched look!
44.

Not-a-Plumbob Necklace & Earrings by Comfy Simmer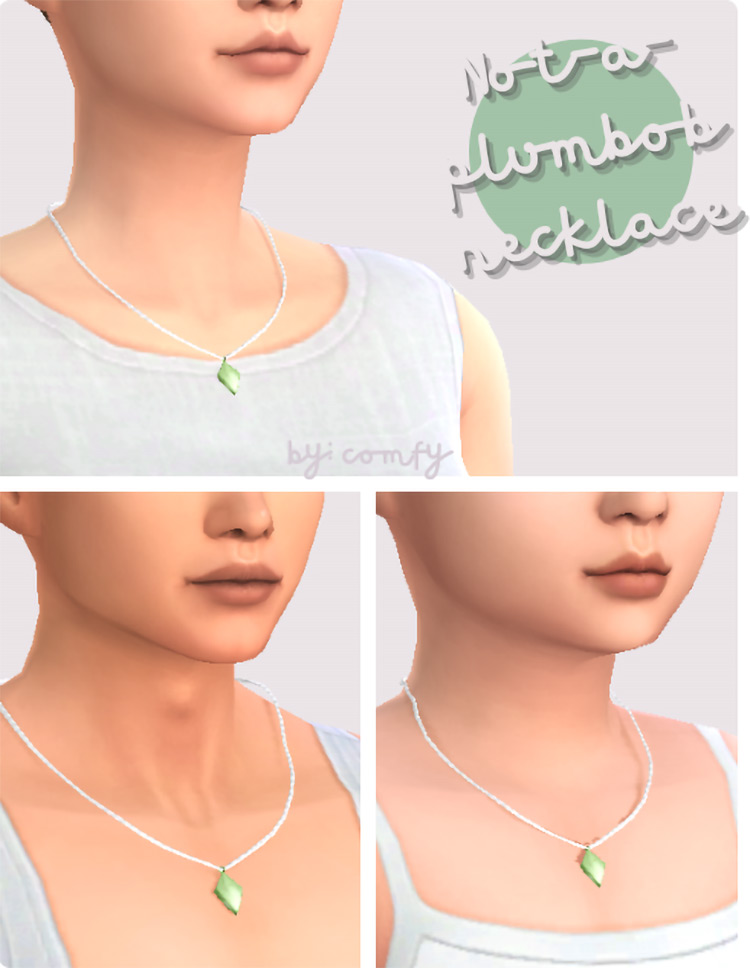 This necklace was never meant to a plumbob but, well. As a Simmer, you can never really escape that iconic, three-dimensional diamond. It's bound to haunt you.
As evidenced with Comfy Simmer's foray into custom TS4 jewelry, this is the result: plumbobs.
To be fair; plumbob studs as earrings are pretty cute! Get the Not-a-Plumbob earrings here.
45.

Citrine Emerald Cut Set by Glitterberry Sims
The definition of glitz and glamor in one custom jewelry set.
In the language of gems, an emerald cut symbolizes an open heart, clarity, and a strong sense of self-worth. Sounds like the perfect design for confident, willful, and (sometimes brutally) honest Sims!
46.

Moon Shard Jewelry Set by kumikya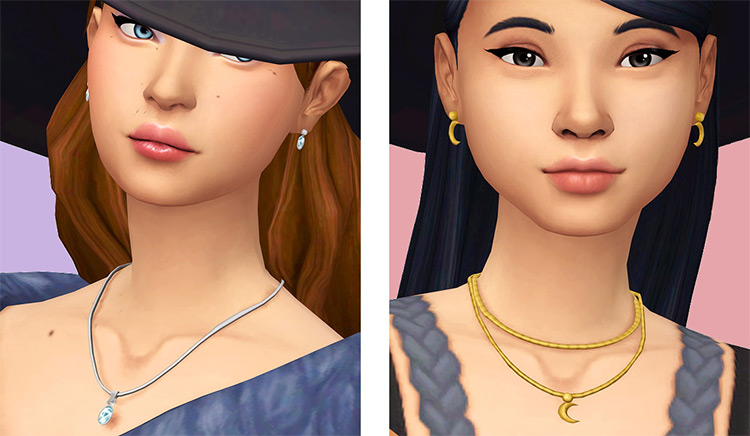 This is a jewelry set I would actually buy in real life, if I ever found one.
It comes with two pairs of earrings and two necklaces, and you're meant to match both.
The ideal pairing would be the Moon Stone earrings with the Moon Stone necklace, right? Sure.
But you can always mix the pairs however you want! If you want to create a gold-and-silver contrast, that's totally your prerogative!
47.

Simblreen 2019 Treats by alexaarr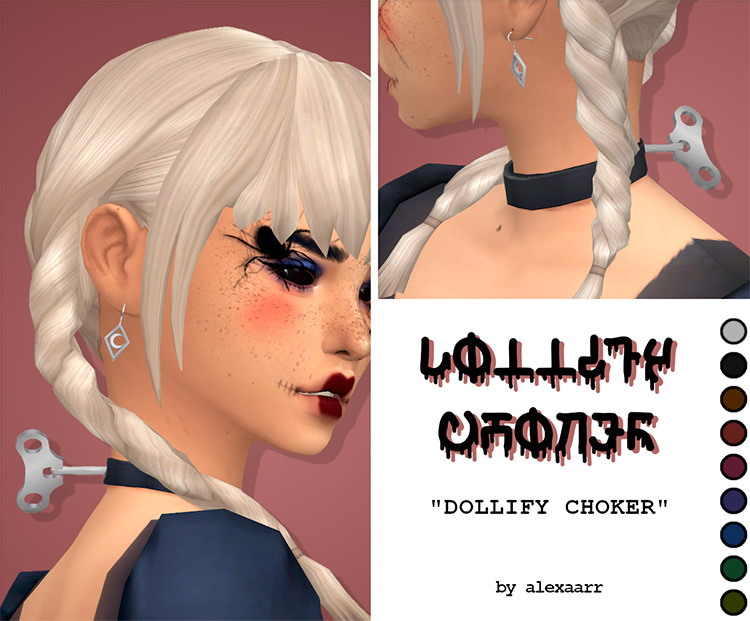 A set of spooky jewelry? Seems that way but, honestly, only the Dollify Choker looks right for Halloween (and might I add that the concept is excellent)?
The Lunatic and Starry Night earrings, on the other hand? Not so spooky. They're chill enough to pass muster for everyday jewelry.
48.

Bay-Bee. Earrings by alexaarr
Alexaarr really has a knack for coming up with creative, unconventional, and highly marketable jewelry designs. They know what elements in what sizes to use to optimize the piece's aesthetic quality.
The Honeycomb earrings, for instance. I doubt they would be as appealing if they didn't have that tiny bee hanging in the heptagon.
49.

Raindrop Earrings + Necklace by Joliebean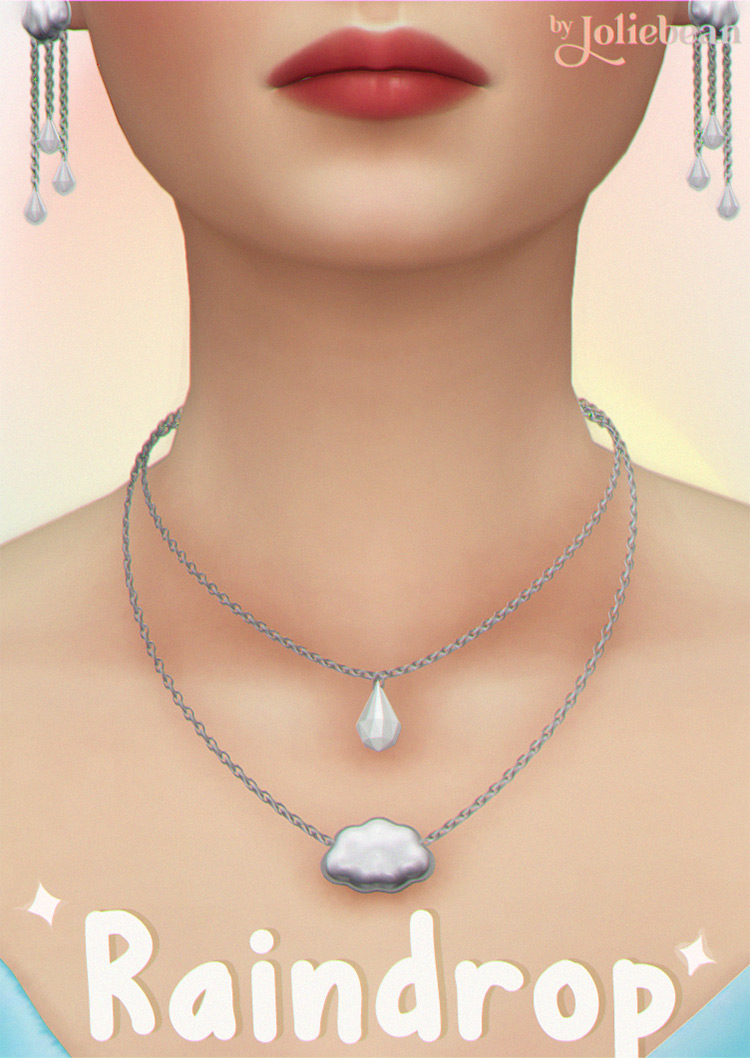 Do raindrops keep fallin' on your head?
Then turn them into cute chandelier earrings or a layered necklace. It's a charming mix of tasteful styles mixed with a fairly unconventional design.
50.

Joliebean's Jewelry Box by Joliebean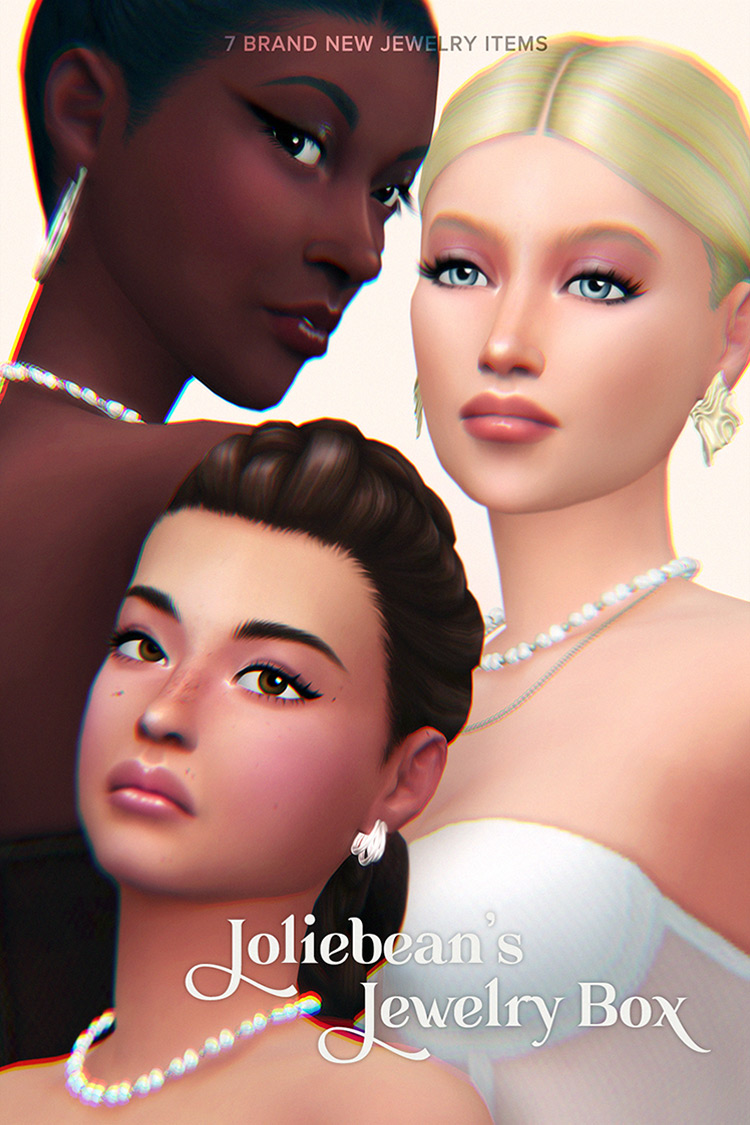 All the pieces in this custom jewelry set look expensive and timeless — like priceless, elegant heirlooms that were lovingly and meticulously taken care of for generations.
Your Sim wouldn't dare lose anything from this set, is what I'm saying.
Not the bracelet, not the necklace, and definitely not the earrings.
Browse:
Lists
Maxis Match
The Sims 4
Video Games