Sims 4 Kawaii Maxis Match CC: The Definitive Cute Collection
This post may contain affiliate links. If you buy something we may get a small commission at no extra cost to you. (Learn more).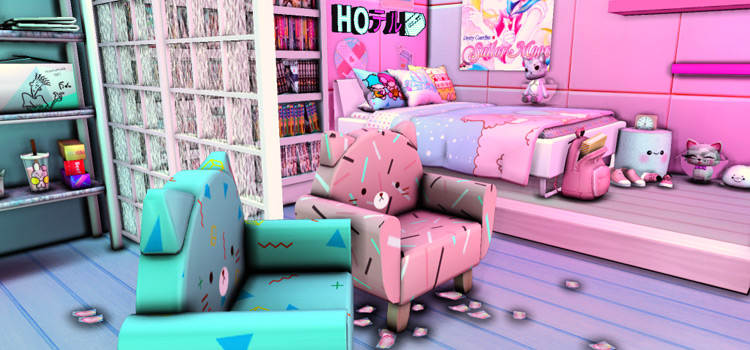 Kawaii means "cute" in Japanese.
It's also a specific style that encapsulates bright outfits, makeup looks, decorative accessories, and tiny, decorated cakes.
Doing a Google image search should give you a solid idea of what the kawaii aesthetic is.
I'm going to do my best to avoid saying "super kawaii!" in this article, but if I slip up, forgive me. There's a lot to unpack here.
1.

Adorable Animal Stockings by bellssims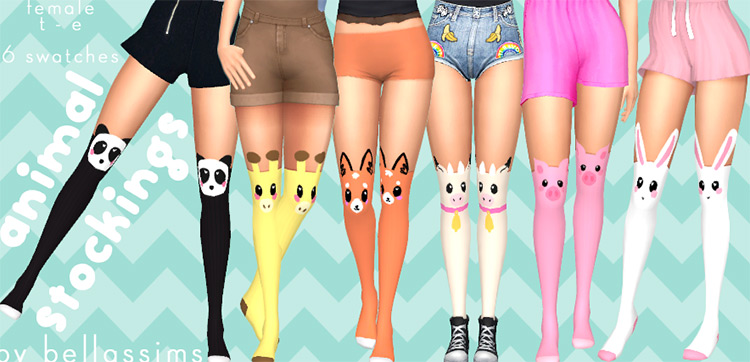 These socks give people the opportunity to say, "there are pandas on your knees," to your Sims and mean it.
How cute is that visual?
Certainly not as adorable as the actual baby animal faces on the socks, but pretty darned close.
2.

Pikachu Slippies by gloomfish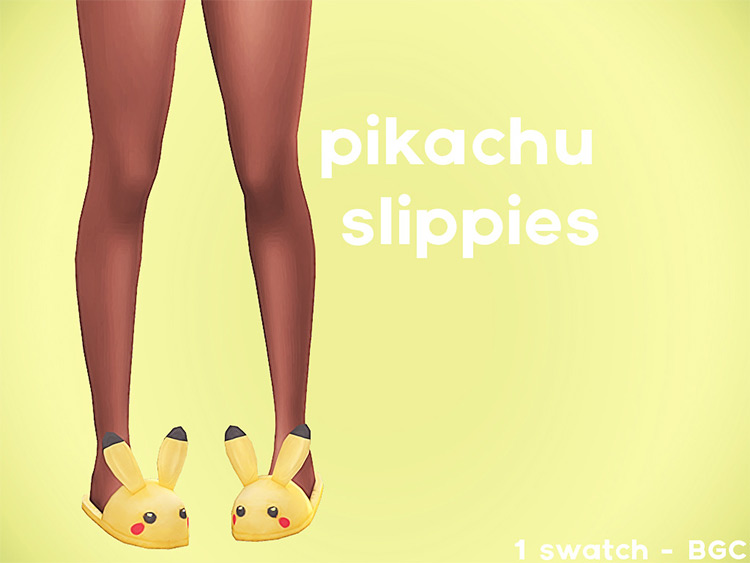 I agree; bunny slippers are a classic.
And they're every bit as cute as Pikachu too.
But sometimes, you just wanna parade your pocket-monster preferences, you know?
So don't think of these as bunny slipper replacements. They're more like adorable alternatives!
3.

Kawai Sweater by Nana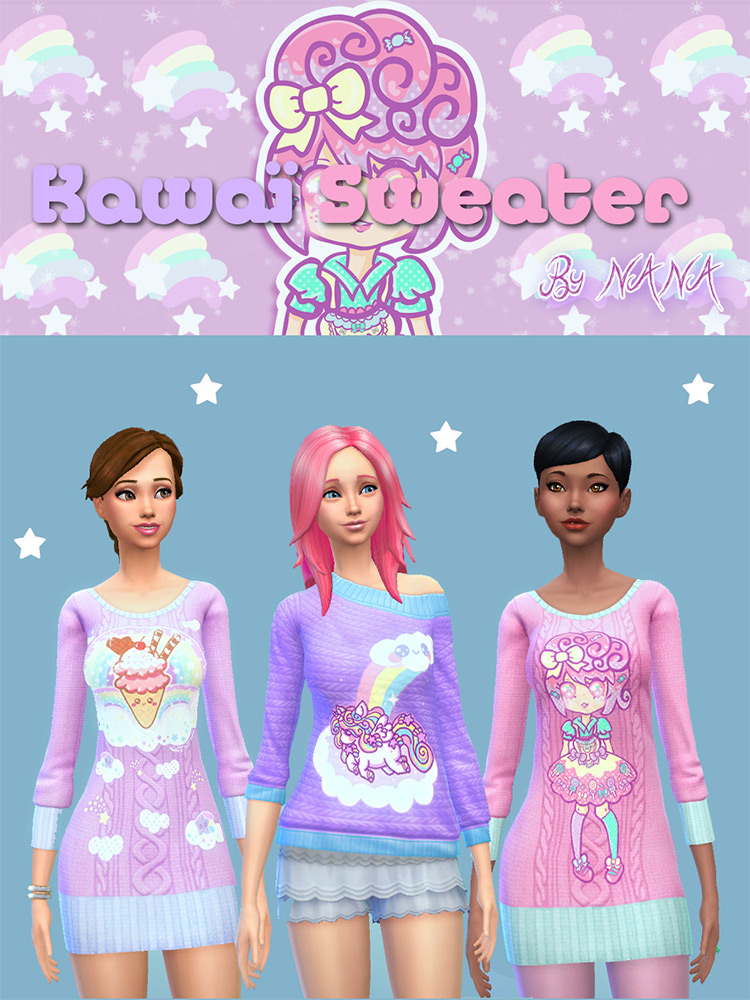 What's fuzzy pink, knit purple, and decorated with bright, bubbly graphics of blushing ice cream cones and fabulous unicorns?
These Kawai sweaters by Nana!
They're soft, oversized, and definitely fit the "unnecessarily cute" concept to a T.
4.

Goldfish Earrings by punasims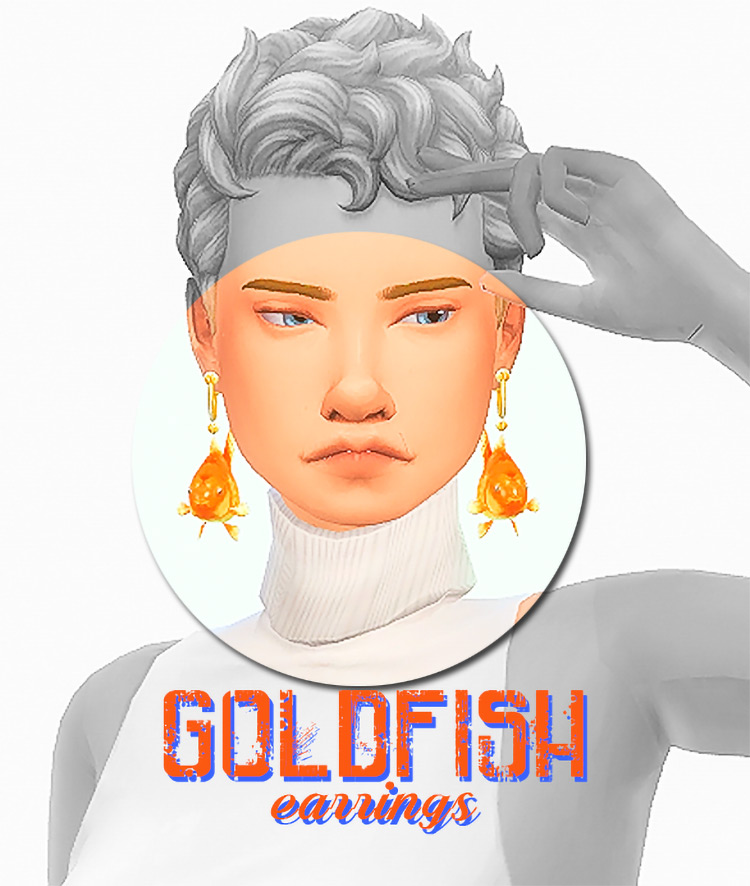 I never conceptualized goldfish earrings to be cute until I saw this pair in-game.
May the Freezer Bunny help us all, but hanging semi-realistic, bright-orange fish from your Sims' earlobes? It's hella cute.
Especially with longer hairstyles—it looks like the fish is hiding in your Sims' hair.
5.

Doll Me Up! by simandy x infiniteraptor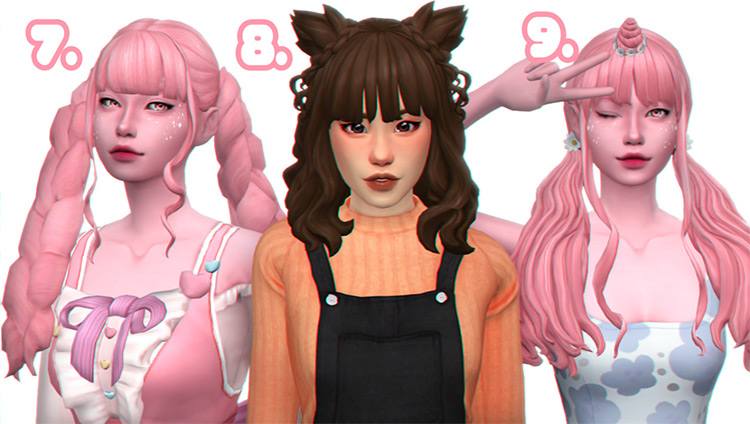 If we could start a "super kawaii" counter for me now, that'd be great. This'll be the first iteration.
Literally every Sim model in the preview photo?
Super kawaii.
They've got the doe eyes, the huge hair bows, the pink blushy cheeks… every feature you can think of that fits this aesthetic, they've got it.
Check the creator's notes for a list of all the CAS CC in this pack if you want to make your own super-sweet squad.
6.

Cupid's Blush by Desimny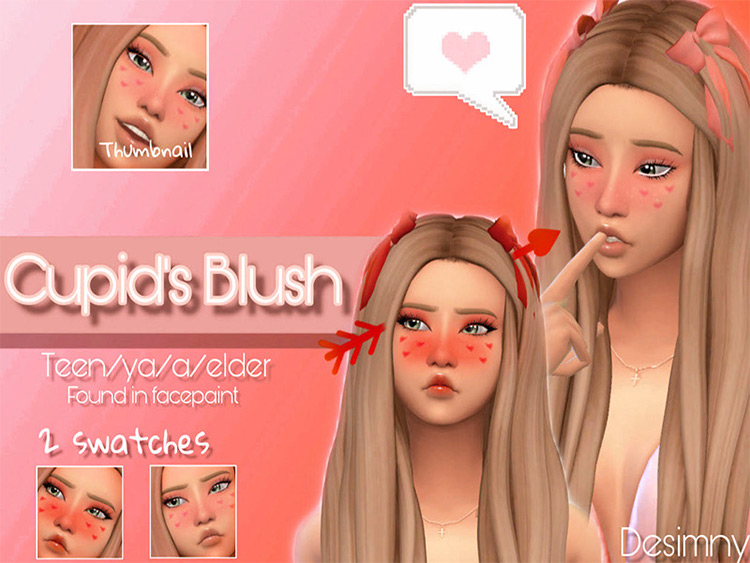 Why settle for a wash of color across your Sims' cheeks and nose-bridge when you can add little hearts, too?
It's cute, it's charming, and it's totally trending on TikTok.
7.

Sugar & Sweetener Socks by saurus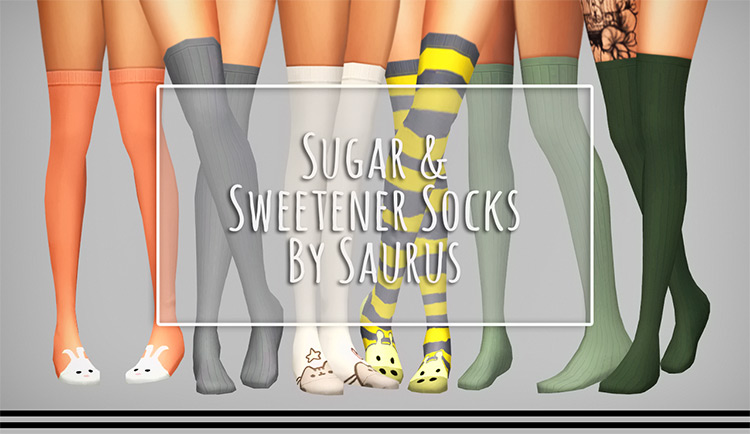 Whereas bellassims' Adorable Animal Stockings placed the li'l critters' faces on the knees, saurus's Sugar socks places them right on your Sims' toes.
This way, when they look down, they're immediately greeted with big, sparkly eyes and boopable noses.
If your heart can't take much more of the teeny ladybugs and adorably disgruntled cats, you can swap the printed ones for socks in candy stripes or celestial prints. Maybe not as "kawaii," but still pretty darned cute!
8.

Donut Choker by bellassims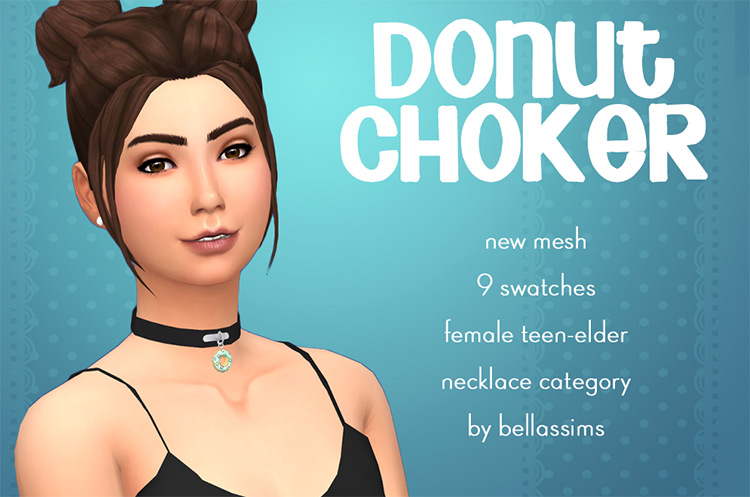 It's a tiny donut dangling from your Sims' neck.
And it's not a big, obnoxious one either, no. It's subtle and understated.
Almost unnoticeable!
But once you see it, you need to look twice. And maybe coo, because it is a really cute donut.
9.

Bear Hat for Children and Toddlers by Lilit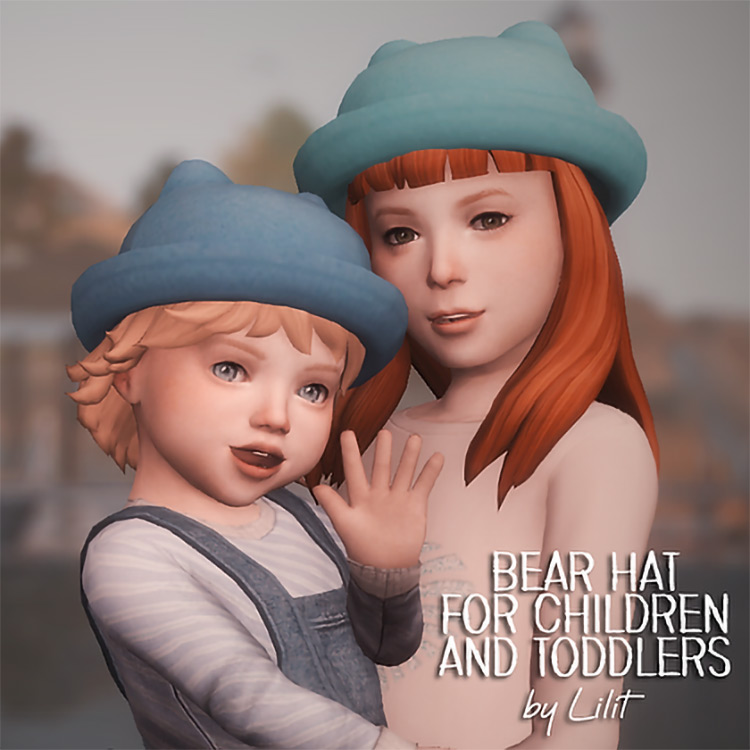 The name of the CC is pretty self-explanatory, and so is the preview photo that comes with it.
If your Sim's Child is in their "Be the Bear!" phase – where they refuse to dress up in anything other than that ridiculous bear costume – this knit hat is the perfect compromise. No, you may not go to the mall dressed like a bear.
But you can at least sport some bear ears.
10.

Pom Pom Animal Stockings by bellasims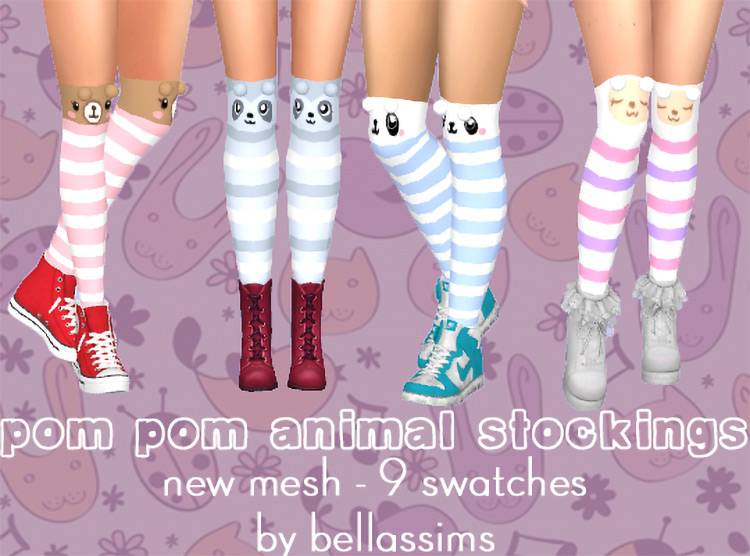 These Pom Pom Animal Stockings are actually part of a set of gifts from the creator to their followers.
It contains other cute items like frilly socks and giant hair bows. But the animal socks with the huge, glittering eyes, pink blushy cheeks, and bright expressions drew me in.
Tick another tally mark under the Super Kawaii counter, please.
11.

Cat Socks by Saruin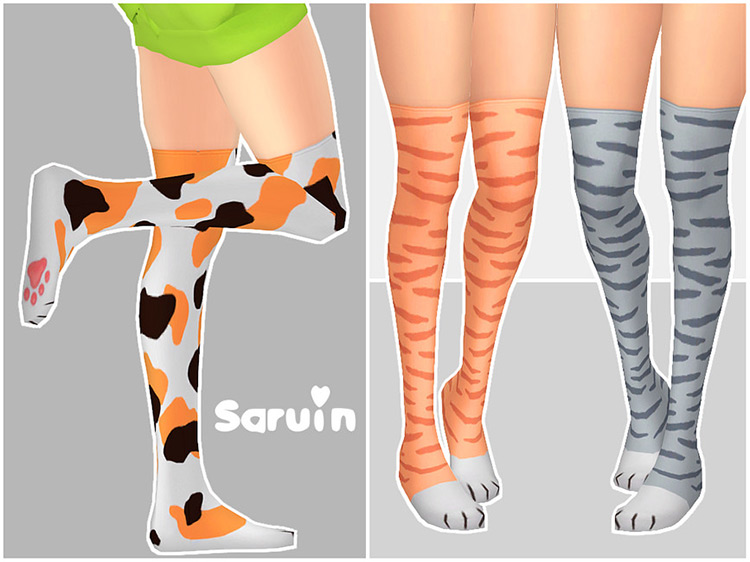 These socks have tiny pink kitten pawprints on the soles.
I repeat; tiny. pink. kitten. pawprints.
And the toes of the socks are designed to make your Sims' feet look like cat paws.
These may not have the actual animal face on them, but Saruin's Cat Socks are still adorable beyond words and definitely deserve a place on this list.
12.

Cat Ear Beanie by JSBoutique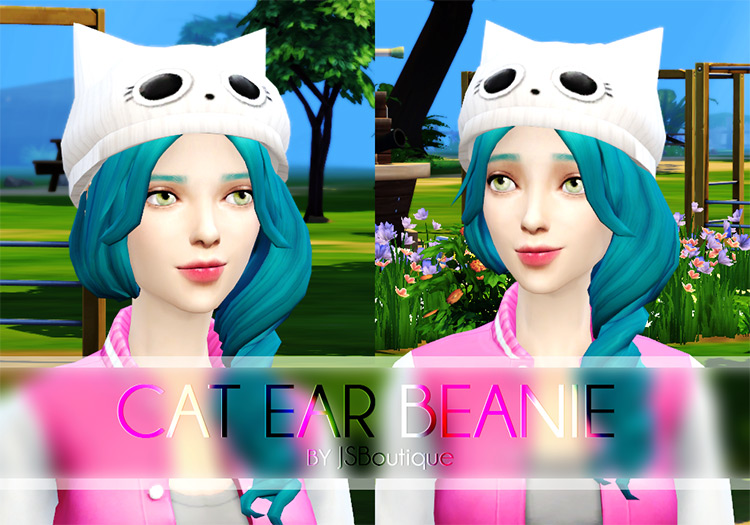 Cats and kawaii are pretty much synonyms.
Not sure why, but if you dive into kawaii elements enough, you'll notice that kitty faces are ever-present.
If your Sim isn't quite ready to start wearing cat ears out and about town, you can always settle for this tamer – but no less adorable – compromise.
P.S. And if you're having problems navigating the downloads page, you can download the Cat Ear Beanie directly here.
13.

Sunburns are Cute Blush by candygarden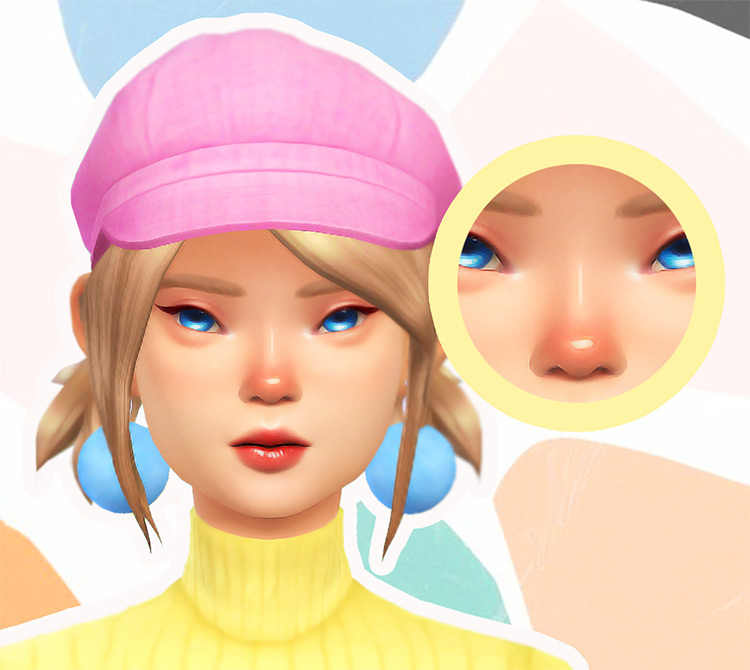 Igari makeup is also Japanese in origin, and they might as well be synonymous with kawaii.
Igari makeup (or "hangover" makeup) emphasizes how adorable one can look with a fresh flush on clear skin.
Candygarden's Sunburns are Cute follows Igari makeup principles.
The color placement makes your Sim look – say it with me – super kawaii.
14.

Untitled Goose Socks by Saruin
Fed up with cute animal socks?
Sorry but, apparently, the Sims CC community's got plenty more stashed away.
I'm not complaining, though. Not when the designs are this cute.
I never knew I wanted goose and flamingo socks until I saw these babies, but there you go. Two of my Sims now sport goose and flamingo socks.
15.

Pastel Melting Tights by Cosmic Plumbob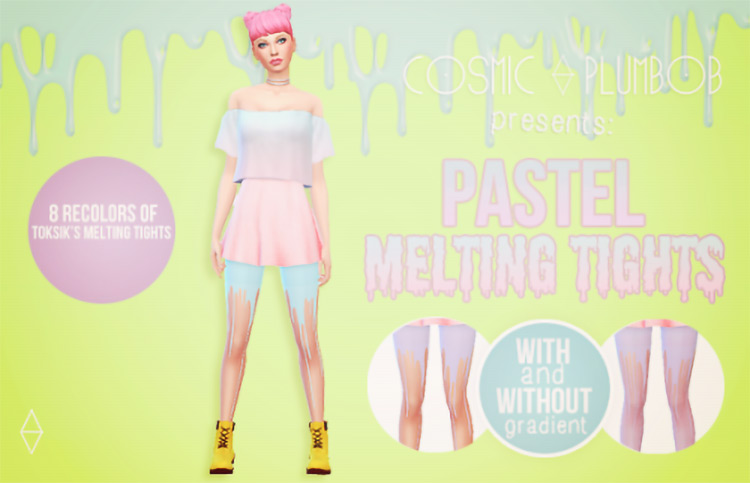 Is your Sim melting? Not really, but the effect is pretty cool.
And once you get over the unusual visual, the whole thing does look cute. It's like your Sim's legs are giant popsicles, and the bright ice cream colors really help push that concept.
16.

Kitty Slippers for Everyone by Sim Laugh Love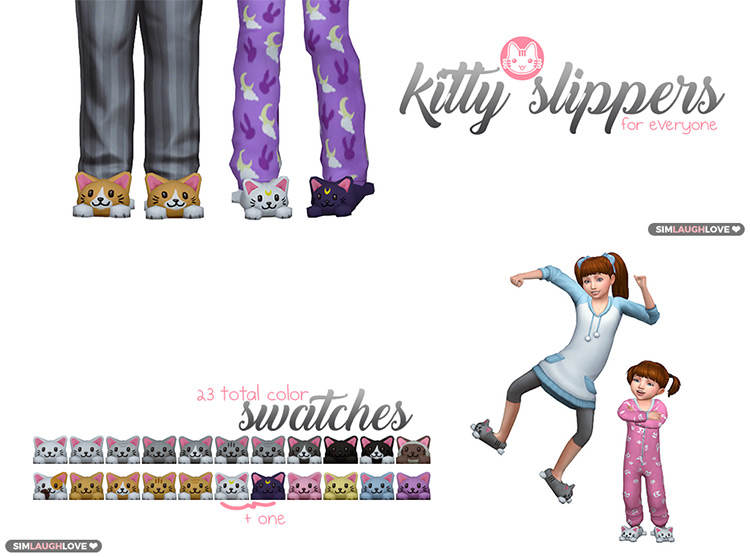 You read that right; these super cute kitty slippers are for everyone. Toddlers, Children, Males, Females… everyone's invited to the party.
Again; bunny slippers? Classic. Can't be replaced.
But when the rabbits need to take a breather, at least there are cats ready to sub.
17.

Christmas Stockings by bellassims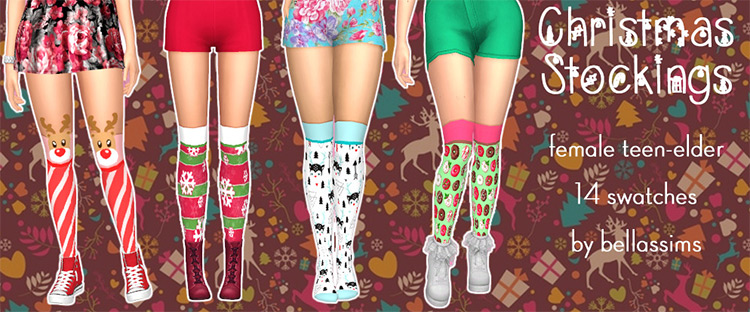 Which is cuter: doe-eyed reindeer with candy-cane stripes or candy-colored donuts on a green crème background?
There's no right answer because both designs (plus twelve more) are available in this adorable Christmas Stockings pack!
Your Sim can mix and match depending on their mood for the day.
Be sure to break out the Christmas poses and snap a few candids.
18.

Stockings – Melting Cat – Made to Mix by Kalewa-a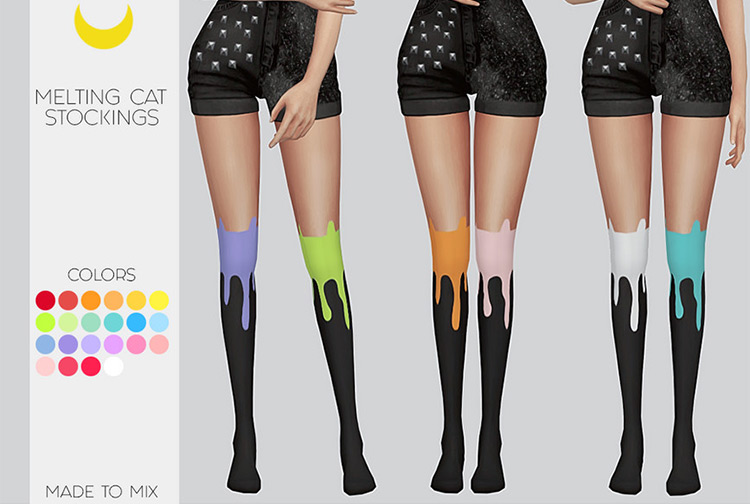 Trust me; the actual custom stockings are a lot cuter than the visual the name conjures.
It's basically the silhouette of a cat's head, and the bottom part looks like drippy, melting ice cream. It's strangely adorable, which is why I decided to include it.
No cats were harmed in the making of these stockings, I promise.
19.

Harajuku Dress by PickyPikachu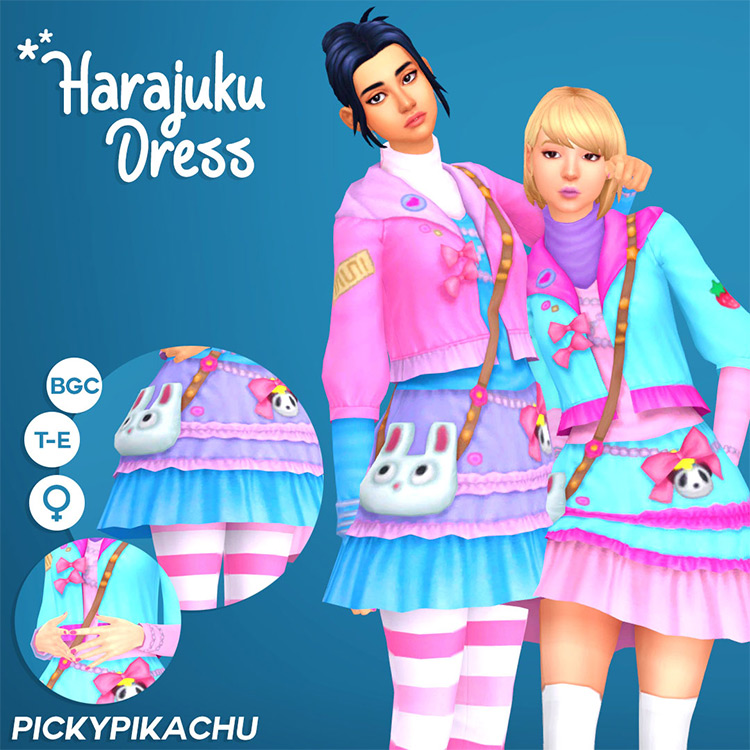 Harajuku is a district in Japan known for color and fashion.
This is a place where bold, bright, baggy, and loud styles are commonplace. Yes, that includes kawaii outfits. Heck, they're a staple in Harajuku.
This pastel dream dress CC by PickyPikachu? Definitely kawaii.
20.

Miss Kawaii Super Cute Dress by Lady Kendal Sims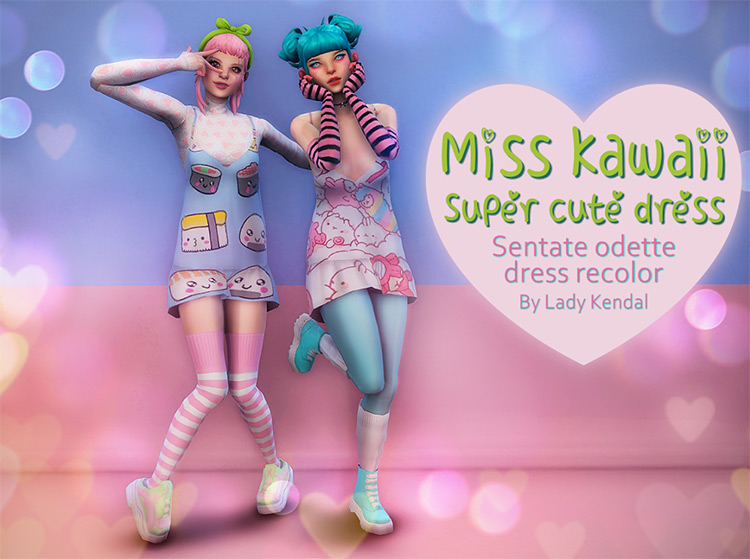 Not gonna lie; I was a little thrown-off by the disconnect between this CC and the creator's layout.
But I'm not about to split hairs when they've given us this super cute outfit decorated with blushing sushi, squishy mochi, and boopable pouting sheep.
If you want to deck your Sims out in kawaii, don't forget to download the mesh!
21.

Bunny Tights by hikariichaan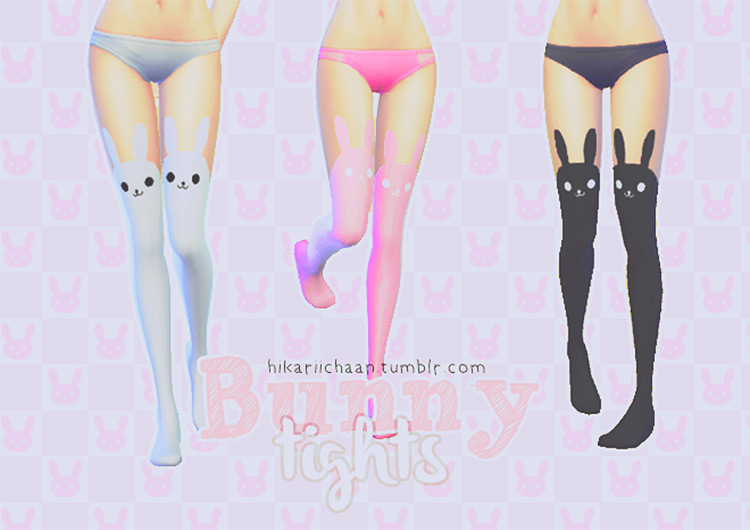 Last of the animal-themed stocking socks on this list, I promise.
But I saw bunny rabbit tights and I had to include them.
If I'm recommending obnoxiously cute stuff to people, I can't exclude bunny rabbit stockings. That would be a disservice.
22.

BT21 x Spao Hoodie Sanrio Recolor by sleepmoodlet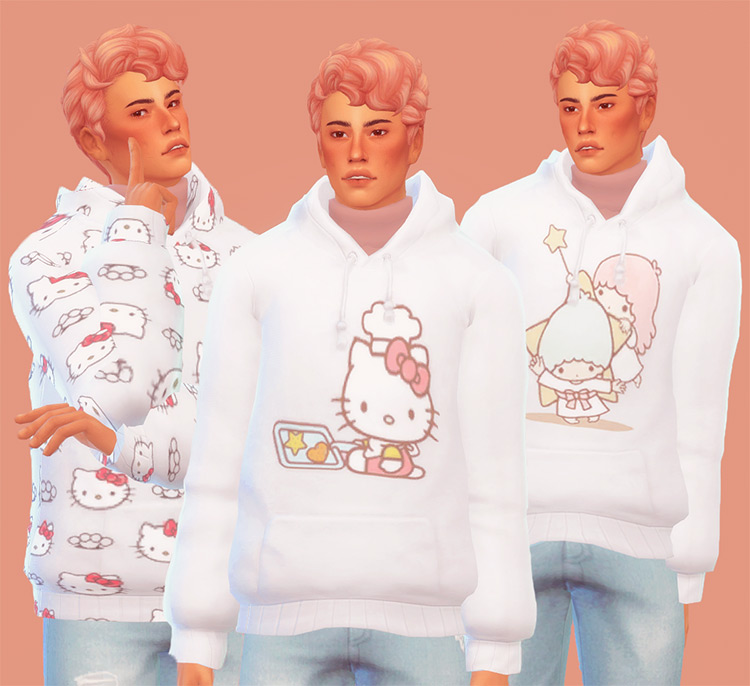 These hoodies are pretty standard hoodies, but their print plants them squarely in the cute category.
Maybe not as exaggeratedly adorable as the other CAS items on this list, but they've got their own cutesy charm. It helps that Sanrio characters are naturally kawaii.
23.

Five Eyes Heart by vesim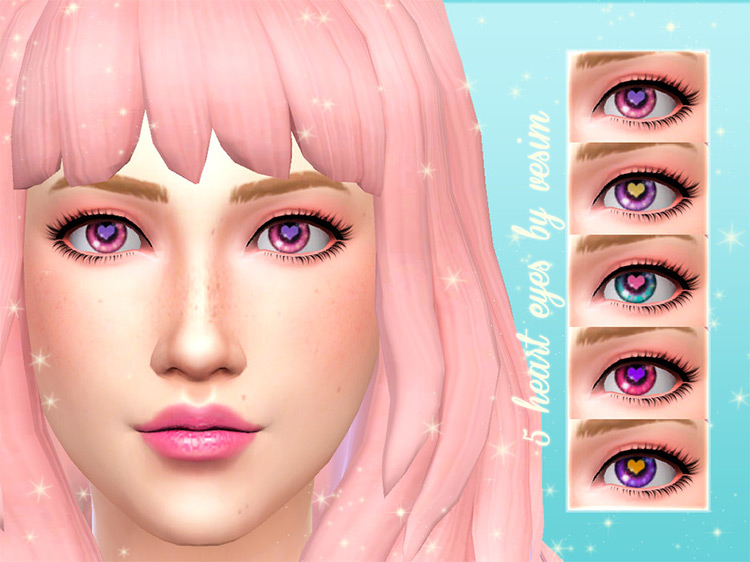 Can heart-shaped irises make your doe-eyed Sims just a little more kawaii?
I dunno for sure, but I do know that this is a common feature for the cutesy character archetype in Japanese anime.
Usually the petite, pocket-sized characters who really know how to milk their cuteness sport some sort of heart-shaped silhouette. It probably works for Sims as well!
24.

Kawaii Heart Blush by Desimny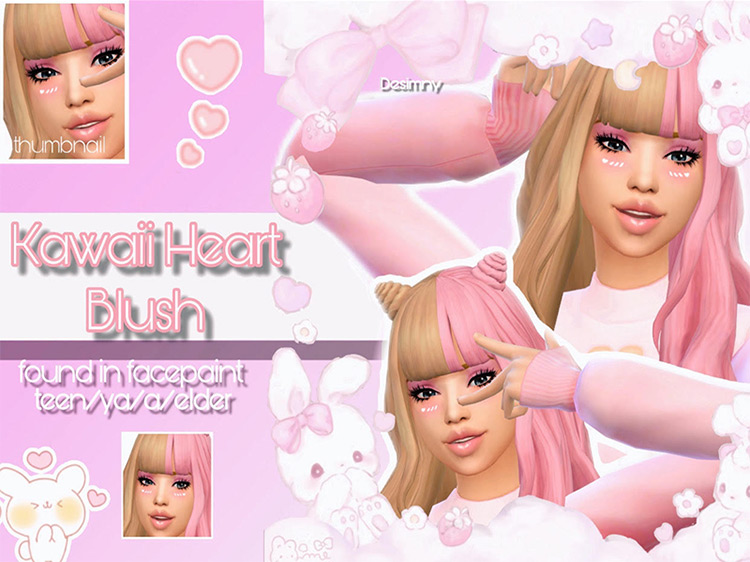 Might as well let your Sim's makeup match their eyes, right?
If you're going to use vesim's Eyes Heart for your Sim's peepers, dab on some of Desimny's Kawaii Heart Blush for a double dose of kawaii!
25.

Finn-Fun Facepaints! by finnchios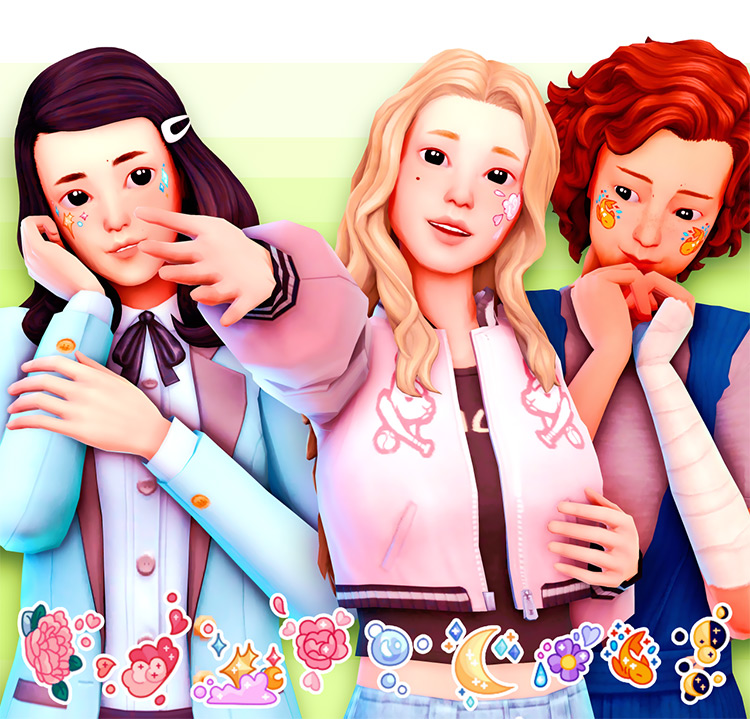 The default face paint options in TS4 are seasonal – and festive! – but they're not specifically cute.
Add a dash of adorable to your face paint options with finnchios' Finn-Fun Facepaints.
The designs are every bit as bright and bubbly in-game as they are in the preview photos.
26.

Night Night Bunny Light by jebeansproutcc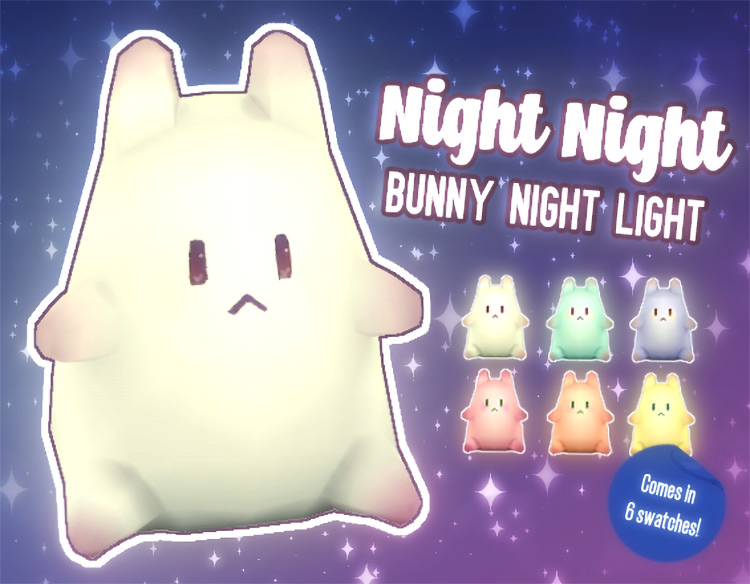 You are never too old for a bunny night light — especially one this cute.
Your Sims could be in the Elder life stage and it would still be perfectly acceptable for them to have this adorably pouty rabbit lighting up their room. Don't fight me on this.
27.

Kawaii Picnic Outdoor Dining Collection by neinahpets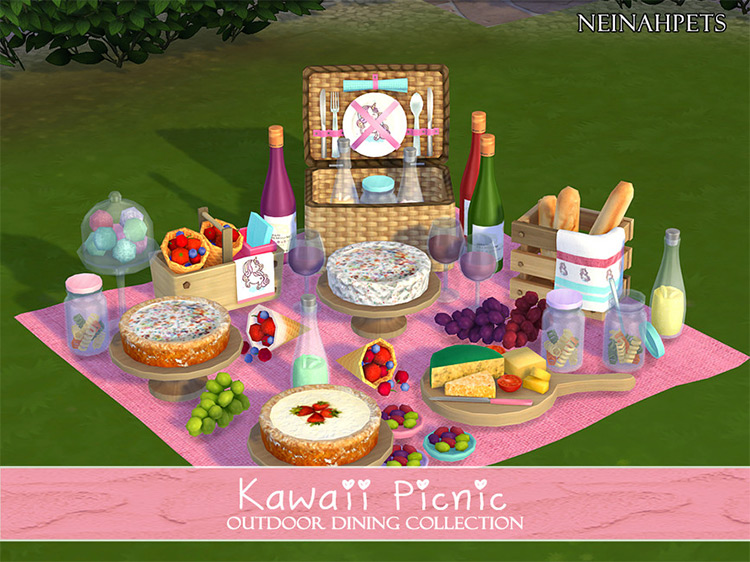 Thanks to neinahpets kawaii recolor of soloriya's mesh, your Sims can have themselves a super-cute, super kawaii picnic date with their friends or significant other.
Glass jars with pink and purple lids, fizzy fruit drinks, dainty sugar-dusted candies—the whole nine yards.
28.

Bread Pot by Aira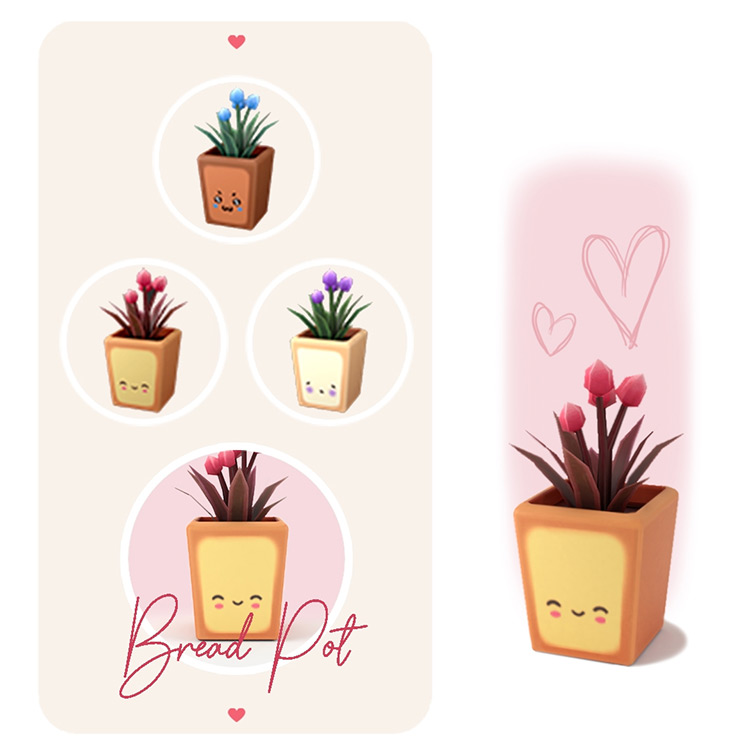 I never thought a flowerpot designed to look like a smiling piece of toast would make me so happy, but here we are.
If you're easily overwhelmed by cute stuff, do not line these up in-game. Just… don't. It's almost criminal how cute these are.
29.

Moomin Plushies by waekey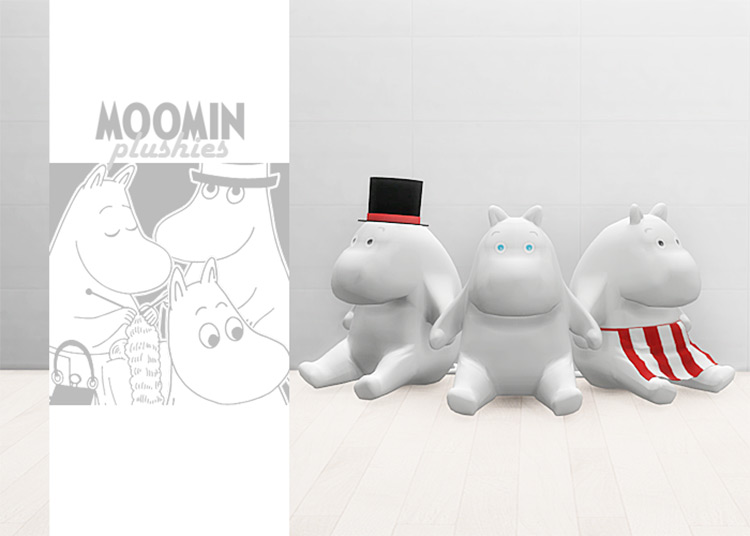 The Moomins are these adorable hippo-like characters with squishy tummies and squishier snouts.
You don't have to follow the series to appreciate how cute they look.
Grab these boopable mallows for when your Sim needs a hippo-shaped marshmallow to cuddle or you just want to make your Sim's space a little more "kawaii".
30.

Kids Set – A Lovely Little Company by Helen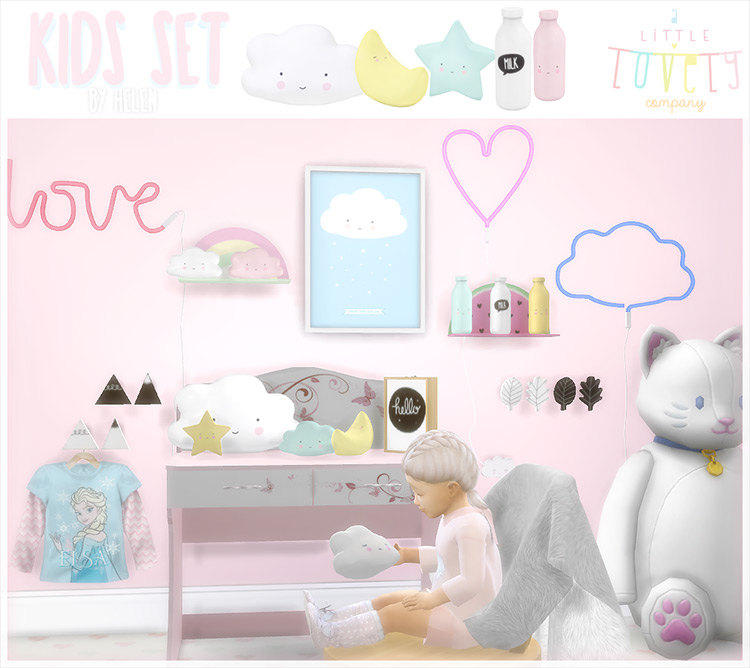 Take one good look at the fluffy clouds snuggling with the mini crescent moon and tell me this pack doesn't belong on this list.
This pack nails the concepts of smallness, shyness, and wholesome innocence—especially since it's meant for children!
31.

Kawaii Breakfast by soloriya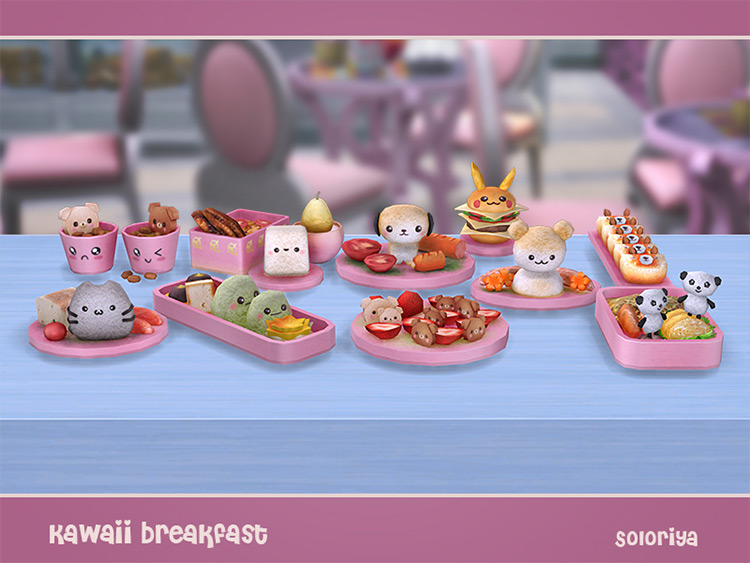 Breakfast is the most important meal of the day.
And now, thanks to soloriya's set, it can also be the cutest.
Listen; if a smiling rice dumpling shaped like a cat doesn't fill you with enough serotonin to make it through the day, I don't know what will.
32.

Sheep Plushies by nooboominicule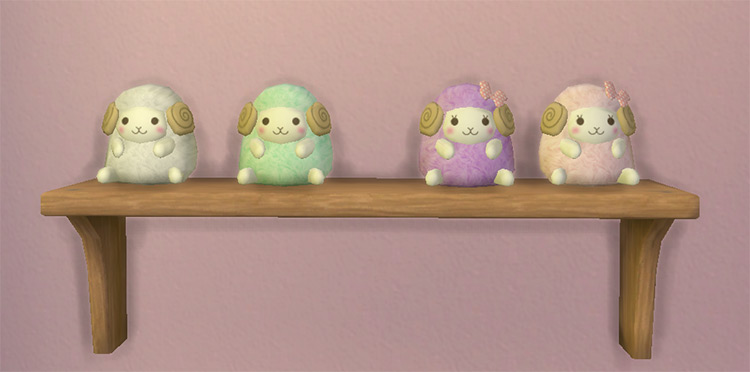 Cute things don't need to be functional. They just need to be cute.
Do these decorative sheep do anything other than sit there and smile a tiny smile of pure kawaii?
No. But I'm going to recommend them anyway, because your Sim's room can always use more cute, decorative sheep.
33.

Angry Cat Sofa by Sims41ife
It's an angry cat sofa.
It's designed to look like a cat with the smallest pout and the cutest blushing whiskers. I don't know what else there is to say.
The reason this unhappy cat chair made it on this list should be pretty clear. It is, quite literally, too cute for words.
And it comes in so many designs, too.
34.

Sushi and Mochi by meghewlett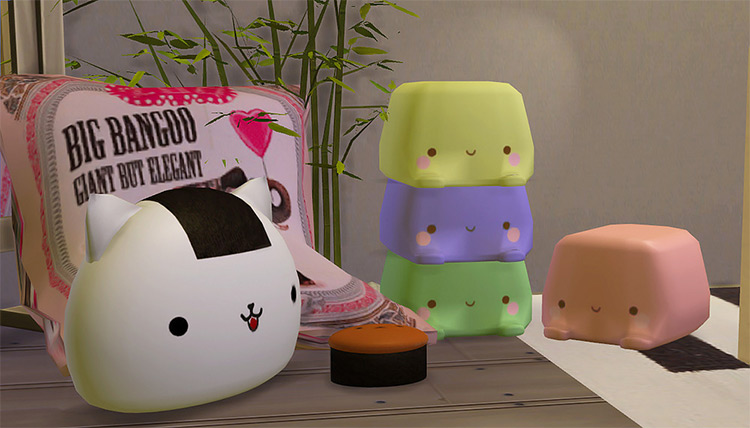 Have you ever seen something so cute and so adorable, you felt the violent urge to hit someone?
Just me?
Okay.
My unchecked anger issues aside, these sushi cat sculptures and stackable mocha items are going to be the death of me. Or they're going to land me in jail. Either of the two.
Kudos to the creator for making something so indescribably kawaii.
35.

Pusheen The Cat by Nolan Sims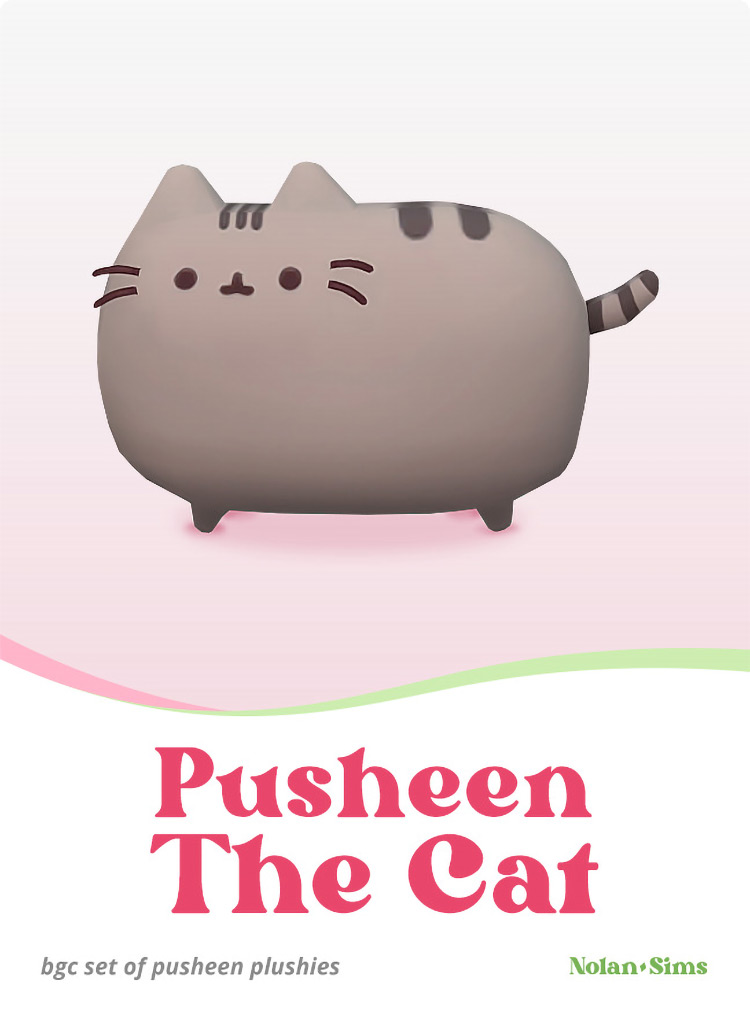 If you are not completely enamored by this giant marshmallow of a fictional feline, I don't know what to tell you.
Pusheen has been winning hearts ever since she was created in 2010. A giant Pusheen plushie can make any room look cuter.
36.

Random Cartoon Chara Rugs by meghewlett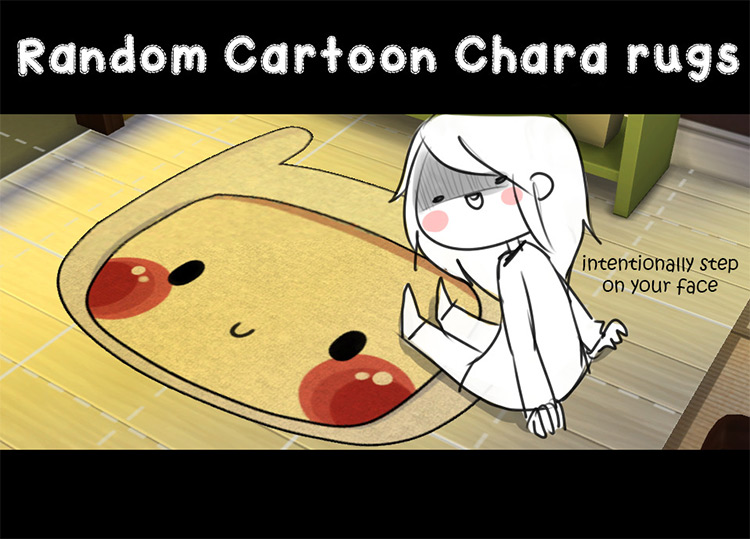 This is one of those creations where you don't need to know the characters to appreciate their design.
Aside from the cartoonishly cute Adventure Time characters (and what looks to be the sentient fire being from Studio Ghibli's Howl's Moving Castle), the creator also included some sleepy bears, a fox kit, and a squishy penguin for swatches.
37.

Kawaii CC Set by soloriya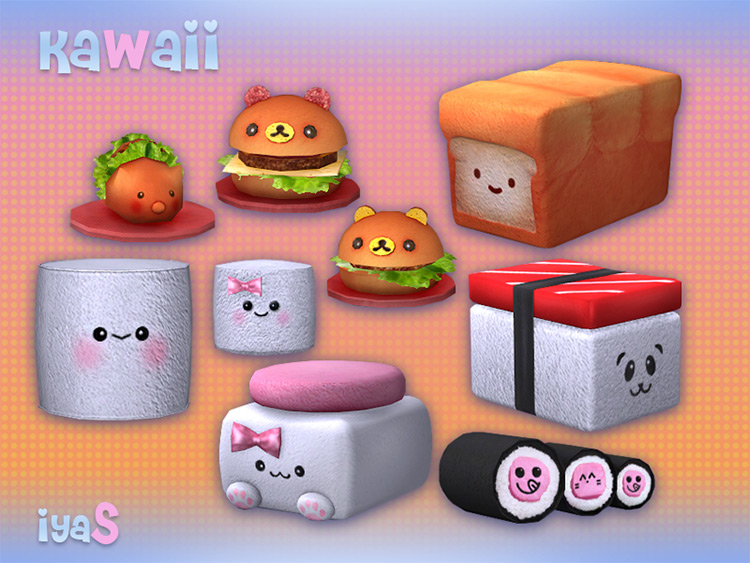 I'm not quite sure why cute bread is such a staple for the kawaii style, but I'm not complaining. Much.
I just feel personally attacked by all the tiny smiles and squishy, boopable faces but I'm fine.
I'm fine.
This set contains five decorative items (including the most adorable burger I've ever seen) and four vaguely food-themed poufs.
Browse:
Lists
Maxis Match
The Sims 4
Video Games