Sims 4 Maxis Match Kitchen CC: The Ultimate Collection
This post may contain affiliate links. If you buy something we may get a small commission at no extra cost to you. (Learn more).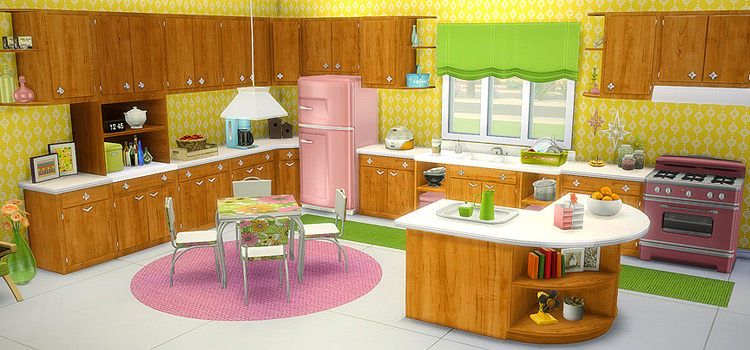 I may not be able to build houses in The Sims to save my life, but that just makes me appreciate beautiful builds even more.
I love watching speed builds by Sim YouTubers.
I love touring random builds.
And even though I don't use them, I like curating pretty Build & Buy CC.
So what do we have on this list? Maxis match kitchen stuff!
Kitchen Sets
These are the all-in-one, one-stop-shops for creating purely custom Maxis Match kitchens in-game.
1.

Vanadium Kitchen by Veranka
Veranka S4CC gives us a Sims 4, Maxis-Matched version of this TS3 kitchen set by wondymoon.
It retains all the good stuff and none of the photoskinned texture. Only clayified counters, bars, refrigerators, and range hood options here, please!
This set adds about 10 new items with beautiful smooth wood features.
2.

Santa Clara Kitchen by SaudadeSims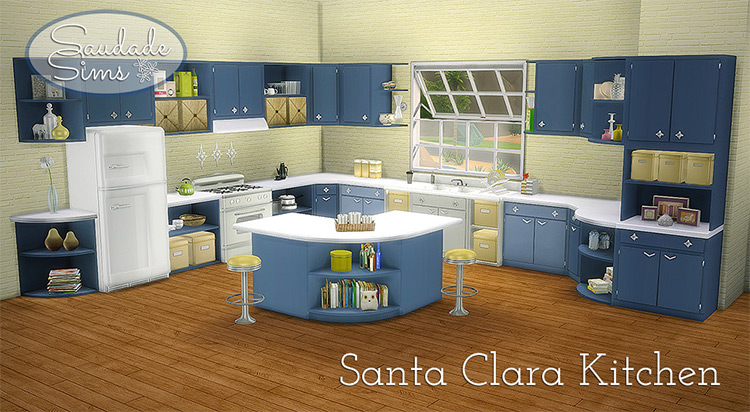 Considering this is the creator's first kitchen set (that they made), they did a bang-up job!
They went straight to the double digits by putting out 25 new meshes for the set, and the effort has not gone unnoticed.
The preview photos alone should be enough to tell you just how pretty the items in this pack are.
3.

Deep Concrete Kitchen by KIWISIms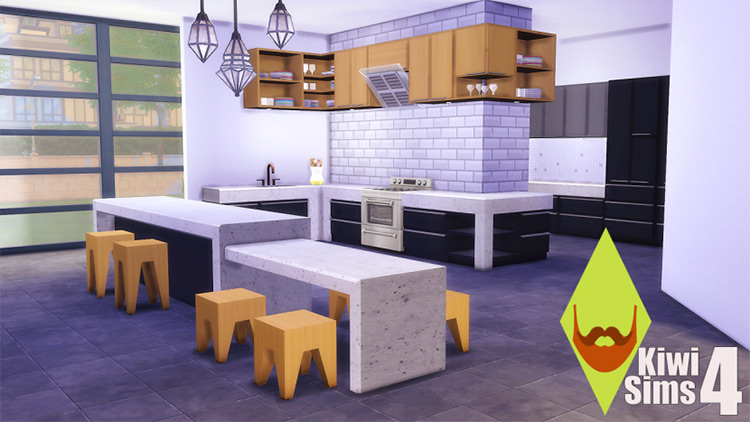 The name of this pack is indicative of the primary texture.
Yup! The kitchen island, kitchen counters, dining table, and cabinets in this set all have a nice white concrete look to them.
From a distance, it looks more marble.
But once you place them in game, you'll see the devil's in the details!
4.

Cottage Kitchen CC Stuff Pack! By S-imagination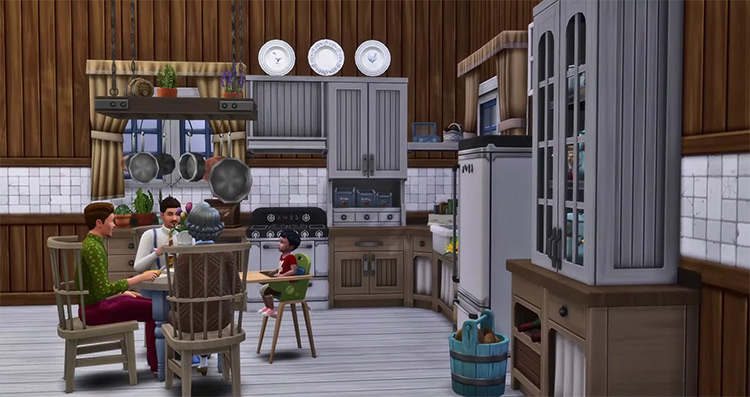 Maybe you don't have The Sims 4: Country Living but still want your Sims to experience the comfort of a cozy homestead cottage.
This insanely extensive pack by S-imagination comes with over 50 new objects.
Most of them are interactive, fully functional pieces of furniture—all bearing a beautifully rustic, wooden-cottage-style vibe.
5.

Lennox Kitchen & Dining by Peacemaker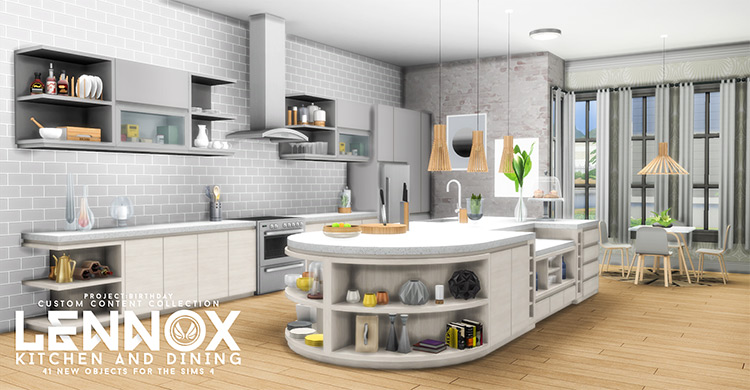 People usually combine the kitchen and dining space, so it makes sense for objects from one room to trickle into the next.
It's not uncommon to have a dining table in your kitchen.
Or to eat your meals at the kitchen island/bar. Ergo, this beautiful blend of objects from Peacemaker makes a lot of sense. Color options are excellent, too!
6.

IKEA Inspired MARSTA Kitchen by Veranka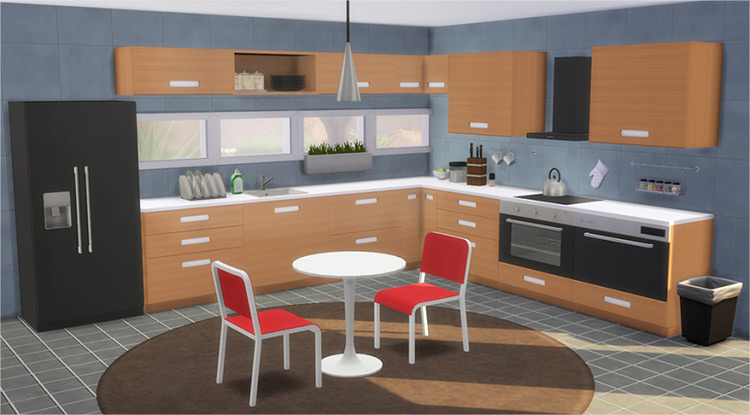 Yet another beautiful kitchen from Veranka that's full of Maxis match-y items.
There are a lot of counters in here (three versions, in fact!) with sweet color options.
Who knew soft pastels and muted candy hues in a kitchen could still look so classy and tasteful? (No pun intended).
Bonus: we've got a separate list of IKEA CC that might be worth browsing as well.
7.

Sol Kitchen by myshunosun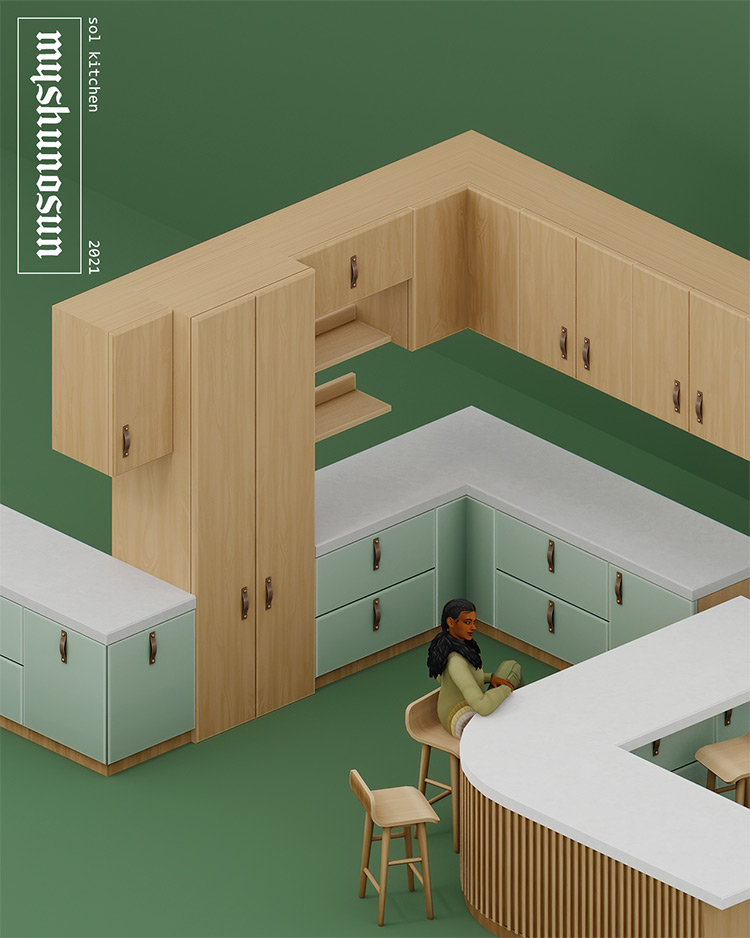 A modular kitchen set made up of functional pieces in solid colors with a gorgeous wooden finish.
This pack has a total of 5 new items. However, because each one has a substantial number of styles and swatches, it feels like there's more.
The modular counter alone has five styles and 30 color options per style!
8.

Indi Kitchen Revamped by stefizzi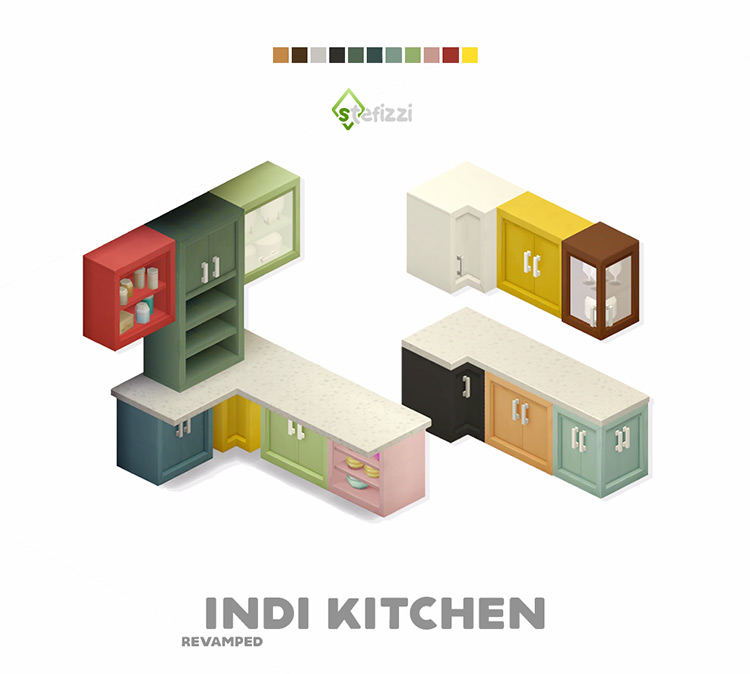 I genuinely never knew I could love soft mints and candy hues until I saw this kitchen.
Seriously, look at the preview photos.
The color combs are bright and airy, and whatever matte texture they've got going on looks excellent. Plus each item has a crazy number of décor slots available.
9.

Atelier Kitchen by Pyszny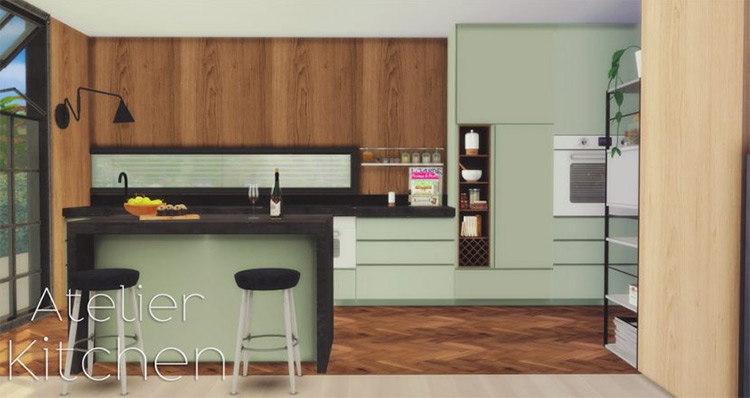 This kitchen set by Pyszny has a tempered but elegant feel to it.
It's got the refined classiness of a high-rise kitchen, but the distinct lack of brushed metal, stainless steel, and thick glass saves the set from feeling cold and impersonal.
In fact, the earthy tones and textures keep it looking warm, elegant, and ever-so-slightly urban chic.
10.

Bayside Kitchen by Veranka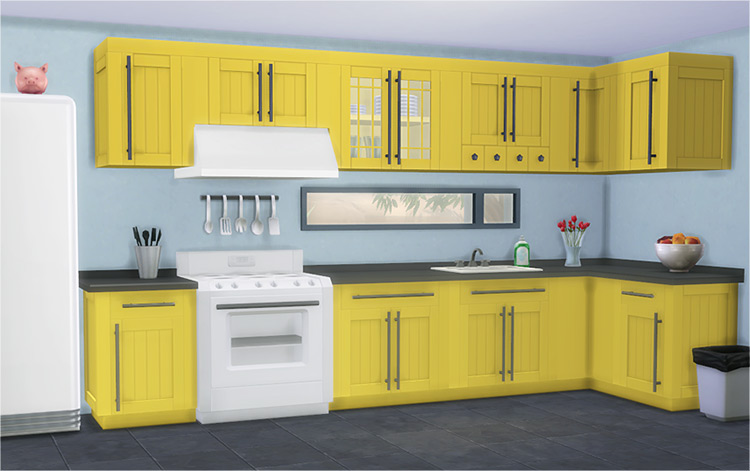 Bright, beautiful, and comforting, this Bayside Kitchen set by Veranka introduces new counters, cabinets, stoves, and sinks to your game.
Said items come in 15 colors each (save for the sink), and these colors are reminiscent of ice cream at the beach on a lovely summer's day.
That's the vibe I get, at least.
11.

Reina Kitchen by nikadema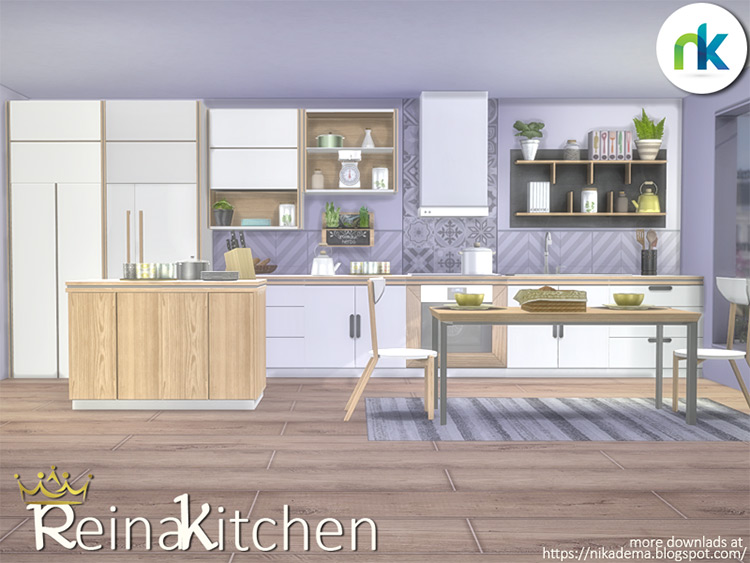 Modern contemporary kitchens can be a real treat to look at when done right.
There's just something oddly visually soothing about clean lines, solid colors, and smooth edges.
And I think this Reina kitchen CC set, with its deep colors and light wooden finishes, illustrates that concept perfectly.
12.

Baltimore Kitchen by Pyszny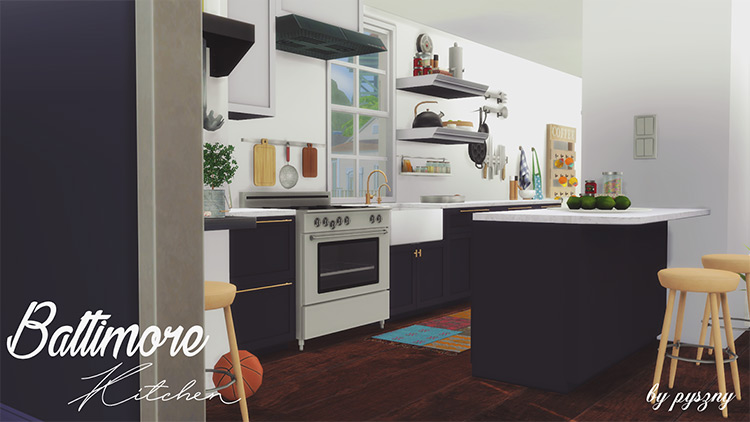 Cream-colored countertops, light wooden cabinets, matte charcoal shelving, and soft golden accents to tie it all together — this kitchen is straight-up art.
Those preview photos? Might as well be the center spread of some Housekeeping or Celebrity Architecture magazine.
How else to describe this kitchen set except that it's gorgeous?
13.

New Vintage Kitchen by Veranka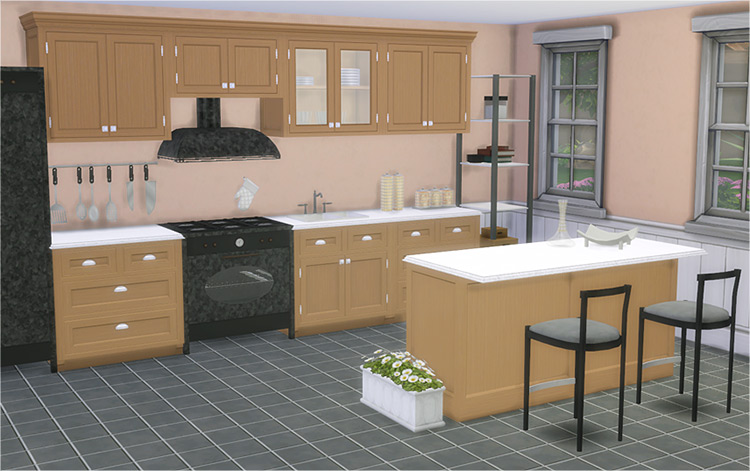 Prefer a kitchen with deep, earthy colors and matte wooden finishes?
Veranka's New Vintage kitchen set comes with 10+ items available in that very color theme.
Two different counters, a new bar stool, and a couple shelving units all in soft, warm browns and pristine white — just to name a few goodies in this pack!
14.

Geneva Kitchen Conversion by Veranka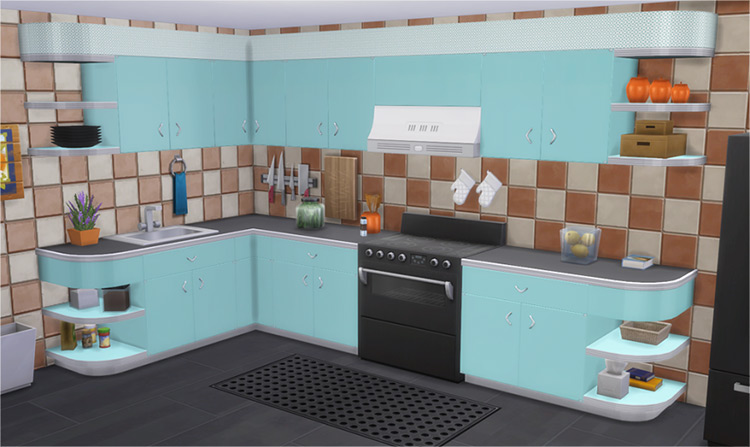 The design and color swatches of this custom kitchen set give me heavy retro/vintage vibes (in the best possible way, of course).
Maybe it's the aqua and purple swatches.
Maybe it's the rounder curved edges combined with the brass and metal finishes.
Whatever the reason, the items in this set give off quaint 60s-movie-set energy.
15.

The Kitchen Stuff Pack by House of Harlix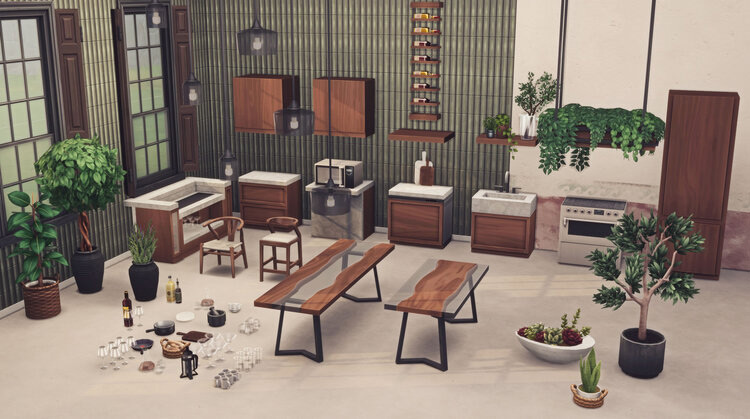 I genuinely do not have enough words to describe how extensive this pack is.
And just to clarify: it's just a custom, fanmade stuff pack. You have extensive, and then you have this kitchen set.
There are a total of 56 .package files and at least 30 new meshes, including both interactive objects and purely decorative clutter items.
I'm not exaggerating when I say that the level of detail and effort that went into this pack is phenomenal.
16.

Shaker Kitchen by peacemaker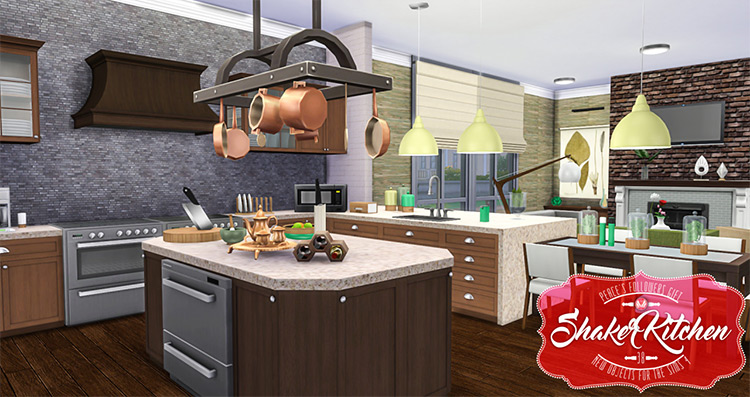 Here's another crazy-stuffed kitchen set with 51 new meshes packed in 38 .package files.
Among this set are counters, islands, and kitchen cabinets with fifteen possible color swatches and four possible countertop textures (yup—there's a level of customization here!).
Other original & fully functional items in the set include Warehouse pendant lamps, fridge nooks, and open shelving. You can read all the nitty-gritty in the creator's notes.
17.

Selvadorian Kitchen Recolor by kalypso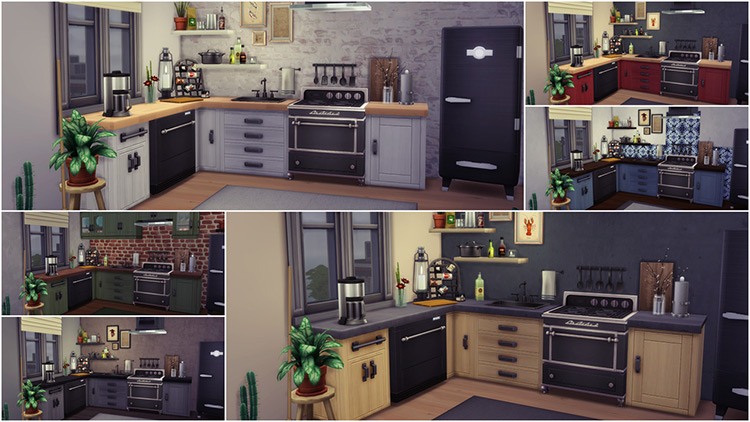 The Sims 4: Jungle Adventure is one of my favorite packs (though it'll never replace World Adventures for me), so I'm pretty biased towards every item in it.
This recolor of the pack's counters, cabinets, and kitchen islands adds some very nice swatches of colored wood and granite.
18.

Selvadorian Retextured & Edited Kitchen Set by peacemaker
No, I did not just recommend the same pack to you twice.
Kalypso's recolor simply added some new color and texture combinations. Peacemaker's set is akin to an overhaul, with six new meshes and 36 new styles and colors.
They've listed the items in their notes (plus prices!) so make sure to give it a thorough read
19.

Classic Kitchen Kit by Max 20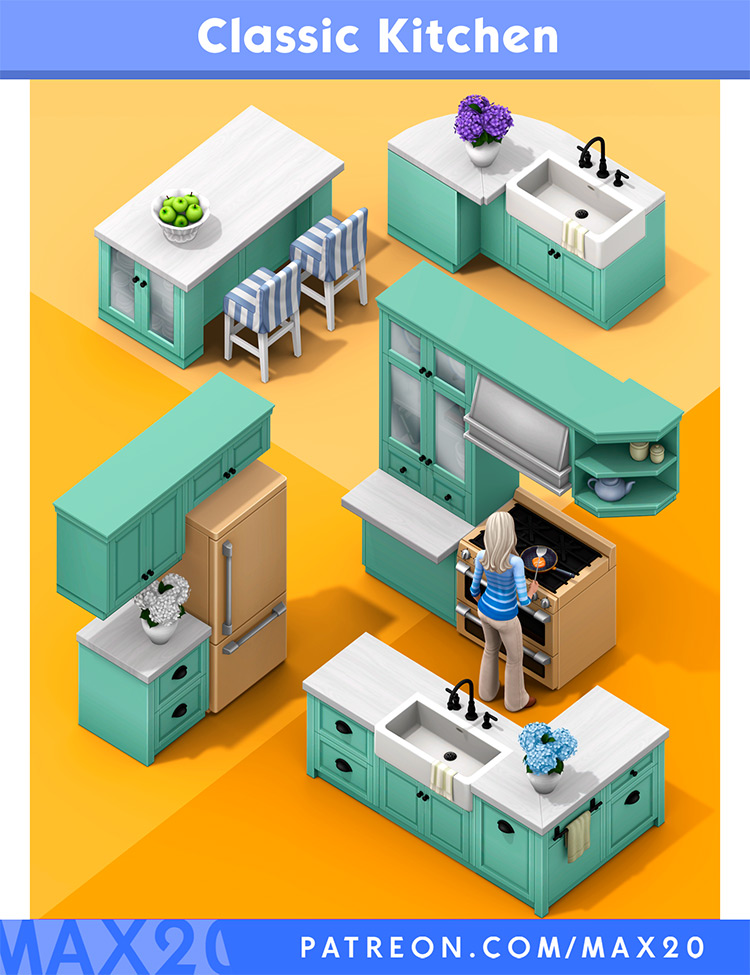 Stay nice, classy, and Maxis match-y with this beautifully minimalist kitchen set.
Proof that your Sims don't need expensive, high-end furniture to have a tasteful and aesthetic-as-heck kitchen.
It helps that the color combinations are a visual treat.
20.

Munch Stuff Pack by Charly Pancakes
A cute, straightforward name for a kitchen stuff pack that shares the same traits.
Munch by Charly Pancakes is a lovely set that seems to have "light, wooden, airy, and impeccably clean" as its theme.
I love that the eleven functional items include some Build mode items too, like wallpaper and flooring.
21.

Kessler Kitchen Pack by Sixam CC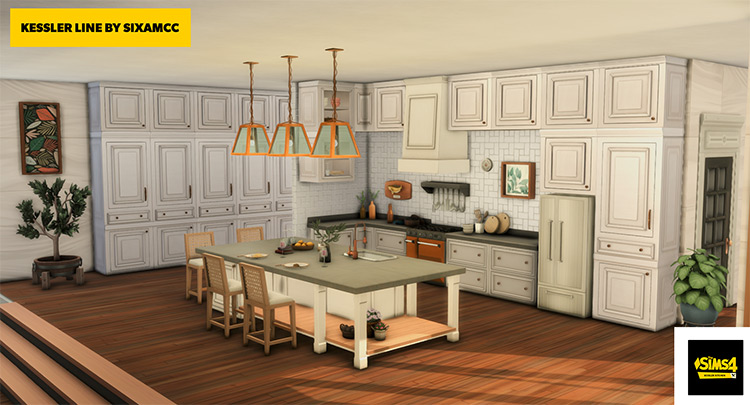 The creator describes the items in this pack as "classic," with "3D details."
I think the muted colors and soft washes definitely fit the casual, back-to-basics style that they were trying to achieve.
And the extra detailing on the items – like the knobs, handles, and trim – do seem to pop! So major kudos; this is as advertised.
22.

Mono Kitchen Conversion by Leo
Counters with cubbies, shelving units with item slots, and a nice, sleek range hood. These are just some of the new meshes in Leo's Mono Kitchen set.
They're all fully functional and come with some very fetching color options.
Think light beige wood paired with dark matte granite.
23.

Simmer Down Kitchen Counter Set by Ravasheen
If you're a Sims builders that's obsessed with kitchen counters, this pack is a dream come true.
It's all counters, surfaces, and shelving unites—with a lot of item slots for décor and clutter!
Stack cups and mugs in the corner counters, stash plates and trays in the kitchen shelves, and hang your Sim's wine glasses from the oh-so-clever wine rack placed directly beneath the cabinets.
Misc. Kitchen Furniture & Appliances
Need some more counter options?
Are you completely fine with your current kitchen setup… except for that darn fridge?
Here are some individual Maxis match furniture items & appliances that you can add on to your sets.
24.

Updated: The Harbinger Fridge by plasticbox
It's a crying shame we don't have more fridges that match counters.
I personally love a cohesive kitchen look (I think it's so aesthetically pleasing), so something like this Harbinger Fridge is definitely right up my alley. It's fully functional, too!
25.

Cottage Cor Blimey! Add-on Appliances by amoebae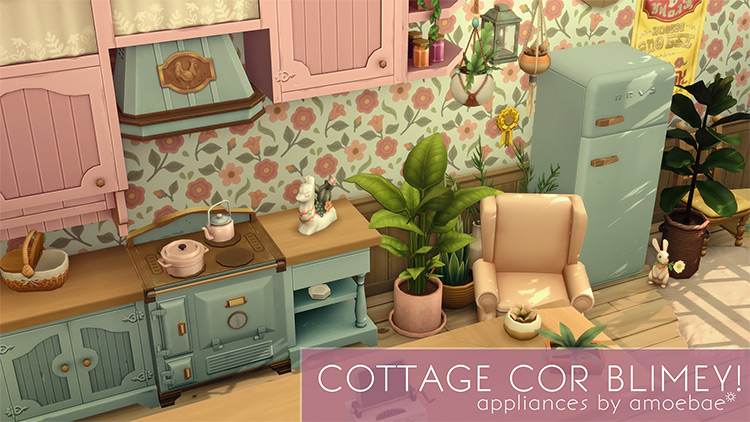 If you've got The Sims 4: Cottage Living installed, you might want to take a gander at these add-ons.
It adds a couple of quaint, charmingly rustic appliances for the kitchen, like fridges and stove hoods.
The metal detailing comes in two swatches: brushed bronze and gun-metal grey.
26.

New Vintage Appliances by Veranka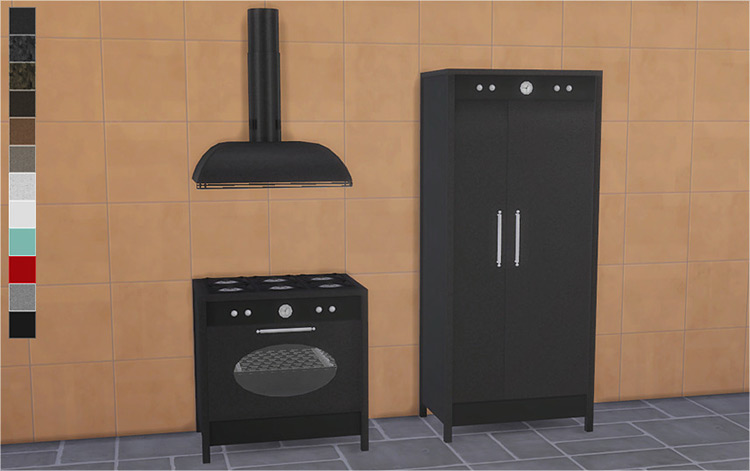 Maybe vintage is more your aesthetic?
No worries; Veranka's got an old-timey-looking stove, hood, and refrigerator to fulfill your 70s style agenda.
They come in twelve colors, most of which fall in the "dark gray to charcoal black" territory. But there are still a handful of brightly-colored mint swatches!
27.

ECO Kitchen Appliances by Severinka_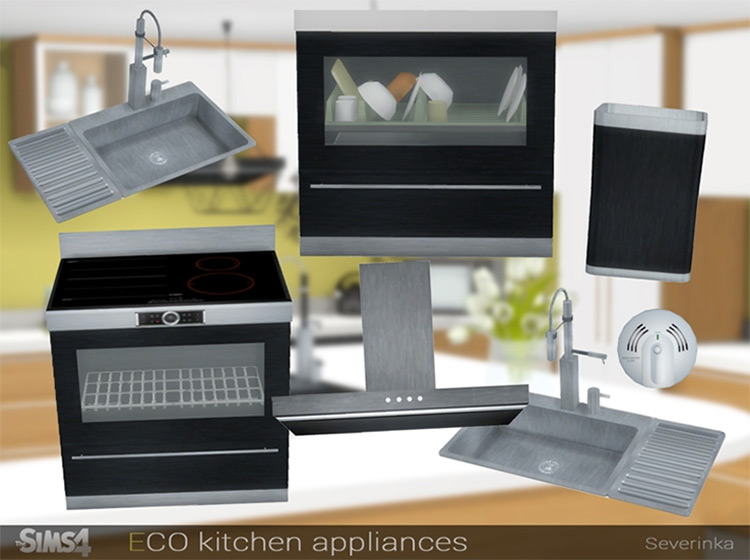 Eight new kitchen appliances that come in two metal options: classic light silver grey and modern brushed black.
In terms of design and/or color, they don't seem to have a particular theme. That's the beauty of them, though.
Means you can stick 'em in most any kitchen and they'll blend in.
28.

Decluttered Country Kitchen Cabinets by Silverhammersims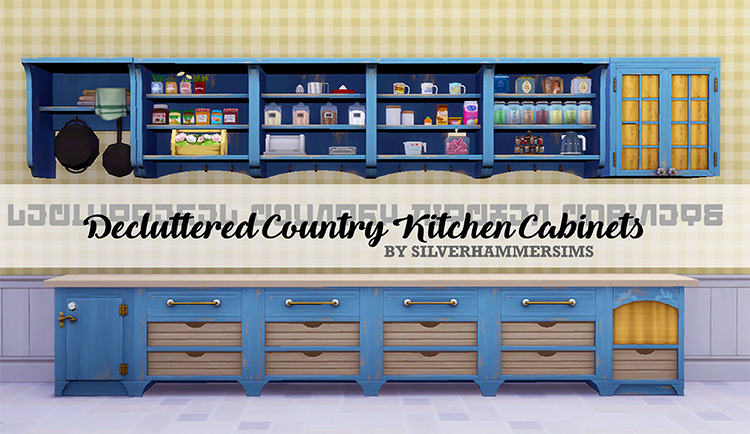 I love how custom clutter can turn any room from bland and basic to warm, inviting, and lived-in.
Maybe it's how little details can add a personal touch.
Maybe it's because too many free surfaces and open spaces can detract from a room's aesthetic quality.
Either way, I'm just here to recommend these pretty, fully decorate-able cabinets.
29.

Functional Toaster by necrodogmtsands4s
I genuinely don't think I've ever seen a toaster in the Sims 4. Maybe I'm blind.
Maybe I never browsed Build & Buy long enough to notice it.
But I could swear the vanilla game doesn't offer working toasters.
That's okay, because necrodogmtsands4s has our back with this CC.
They're brightly colored, compact, and fully functional, too! Check out the video in the creator's notes to see them in action.
Maxis Match Kitchen Extras & Clutter
Some extra bits n' things to make kitchens look more lively.
30.

Argon Kitchen Hanger by wondymoon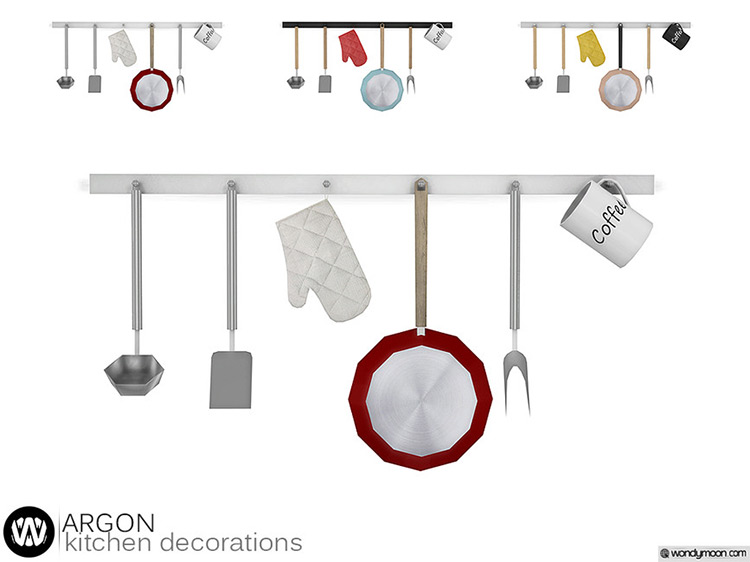 This nifty hanger is a clever item you can hang up in your Sim's kitchen to make it look more usable!
This includes stuff like a:
Soup ladle
Oven mitt
Coffee mug
And a large pan
Plus plenty more!
There are three swatches for it, and each swatch changes the color of the hanger strip, the oven mitt, and the frying pan.
So you can't really change the color of the individual items. But, hey. It still makes for an excellent wall decoration over a stove.
31.

Avis Fruit Bowl by NynaeveDesign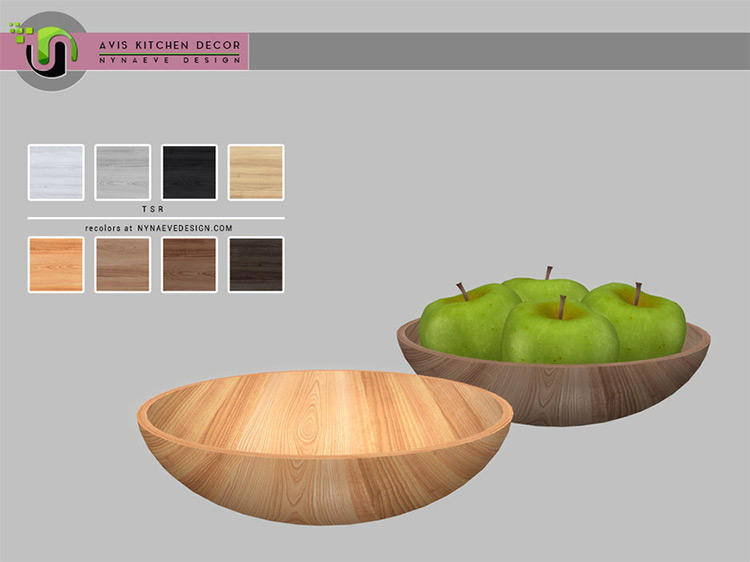 The base game fruit bowl offers a bright, colorful mix of bananas, apples, and the occasional peach.
We're all for variety here, of course, which is why it doesn't hurt to add a different bunch of fruit.
Maybe the family's on an apple-eating kick that week.
And I do love the beautiful wooden textures of the bowl.
32.

Kitchen Clutter Collection by Maxis Match CC World
This variety pack offers a number of items you can clutter up your kitchen with to create a lived-in look.
There are three bowls, a stick of butter, some salt and pepper shakers, a cutting board, and a brass soup pot, among other things!
Highly recommend if you've got a lot of counter space to fill.
33.

Tiny Living Kitchen Clutter by BrazenLotus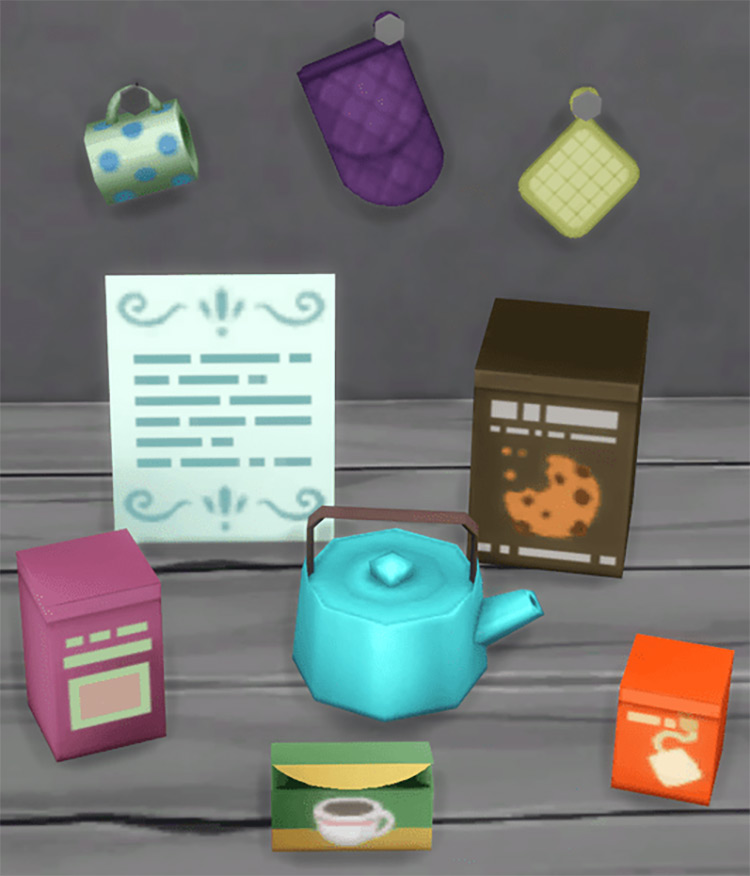 Here's another variety pack of stuff you can stack on top of shelves to breathe life into an otherwise clinical room.
I genuinely do love me some good clutter, and the items here are so fun and colorful.
A bright blue teapot, a fancy recipe card, and a purple oven mitt?
Talk about pops of color!
34.

Breakfast Clutter by Around the Sims 4
Start your Sim's day right with a nice hearty breakfast.
It's the most important meal of the day, or so they say.
This Maxis match bundle of breakfast clutter contains a couple popular breakfast brand items in Simlish (Kellog's Cornflakes, I'd recognize you anywhere) and some purely decorative mini-appliances — i.e., the bright red toaster and the shiny silver teapot.
Browse:
Lists
Maxis Match
The Sims 4
Video Games