Best Maxis Match CC Eyelashes For The Sims 4 (All Free)
This post may contain affiliate links. If you buy something we may get a small commission at no extra cost to you. (Learn more).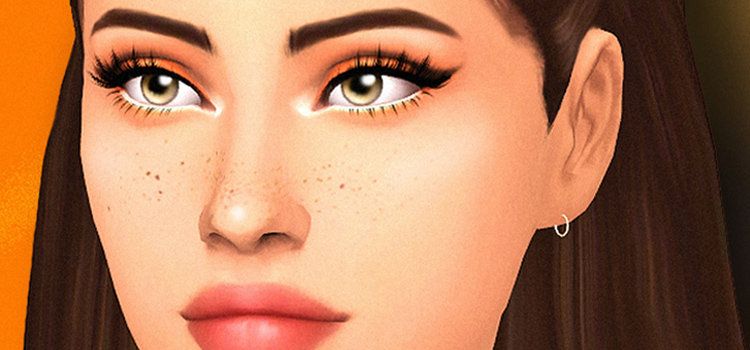 The customization options we have in Create-A-Sim are pretty amazing. It's a massive step up from past games.
Sliders alone totally changed everything, since we can even shift a Sim's cheekbones, adjust every little part of their nose, completely control the size and shape of their lips, and more.
Nothing is really off limits.
But one surprisingly overlooked area is found on a Sim's eyelids – yes, I'm talking about their lashes.
CC Creators have made lashes that look just as good as the real stuff & blend seamlessly into CAS.
This list will help revolutionize all the time you spend creating Sims. From luscious lashes that would make a model jealous, to simple styles and everything in between, this Maxis Match lash collection is sure to have something for every player.
1.

3D Princess Eyelashes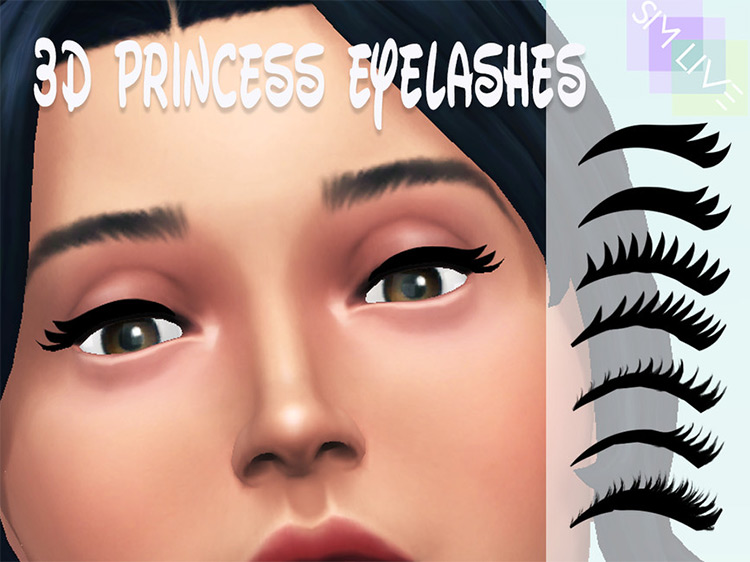 The official EA eyelashes are nothing special, because they aren't meant to be.
CAS excels in other parts, mostly focusing on the big picture rather than small details like blemishes or what's on a Sim's eyelid.
But once you've seen what other people have done with CC lashes, there's no going back.
It's really a testament to how important lashes are, when even the Disney princesses have full sets.
KikiSimLive made these 3D lashes with the princess look in mind, and she definitely succeeded. You'll have a lot of variation to choose from, since each option gets progressively more defined lashes.
They're categorized under glasses, and they're just for the top lid, making them stand out even further.
2.

Daily Eyelashes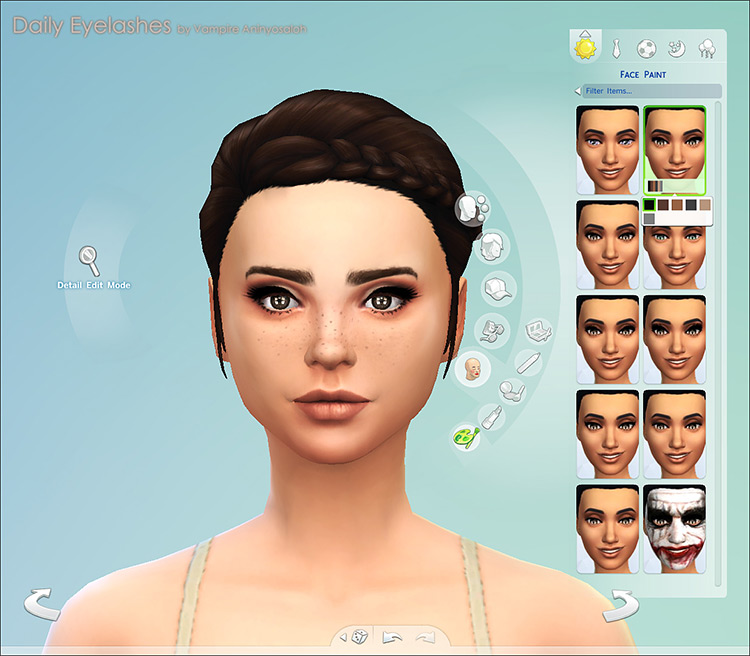 Your daily lashes may be the ones you were born with, or they may be ones you have to keep on with glue. It's really personal taste – like every choice you make when creating a Sim.
That term "creating" is even a bit broad, honestly.
We mostly build our Sims from the ground up. Most Simmers don't like to leave a lot randomized or untouched, which is why there is CC for nearly everything you could want.
There are three options with this CC which provide a subtle change to your Sim's eyes. On top, the lashes are thick and have a winged shape, while on the bottom, they're thinner.
Male Sims can even get in on the fun here too! Creator Vampire_aninyosaloh made these totally gender neutral.
3.

Pikypikachu's Maxis Match Eyelashes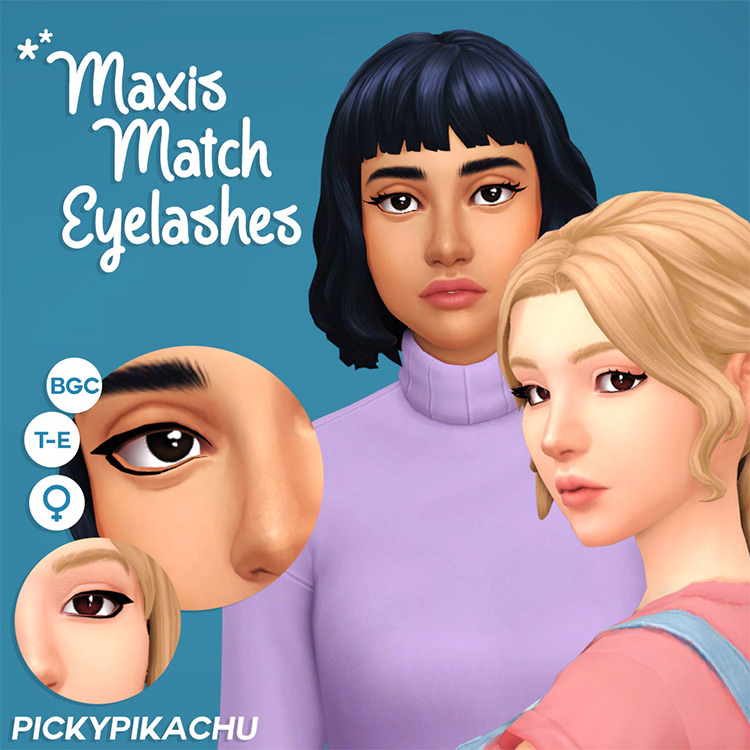 We'll get into some more expansive packs soon, but if you'd just like a few new options to enhance your Sim's appearance, then these will get you far.
Some options may overwhelm you if you're not used to this type of CC, but Pikypikachu has the perfect introductory set.
You'll get just 2 styles here – but they really speak for themselves.
The Jade version has longer lashes that slightly curl upwards. The Norma eyelashes, on the other hand, feel like an enhanced version of what's already in CAS. The top lid is one thick, dark streak and the bottom is thinner and tapers off at the end.
It's been several months and these are still some of my go-to choice. They really bring out a Sim's eyes!
There are even different download options so you can decide how they're categorized. You can choose to download them as various skin details, moles, or accessories. This is something to put some thought into since it may clash with other stuff.
For example, if you download them as earrings, then your Sim won't be able to wear earrings. But this is usually pretty easy to work out – just consider what part of CAS you can do without for one Sim, and they can have their pretty new eyelashes.
4.

Pikypikachu's Maxis Match Lashes In The Historian Palette
You might already be amazed by Pikypikachu's lashes. I know I am.
So what more do we need?
More colors!
Yes, you can almost always find recolors for anything in this game – and CAS accessories are no exception.
Snowyescape here revamped those amazing Norma and Jade eyelashes to have 28 new swatches.
Each one is from SerendipitySim's Historian Palette which has lots of cool, neutral shades. Now you can add some brightness and personality to your Sim's eyes with fall tones, blues and greens, and more.
5.

MM Eyelash V2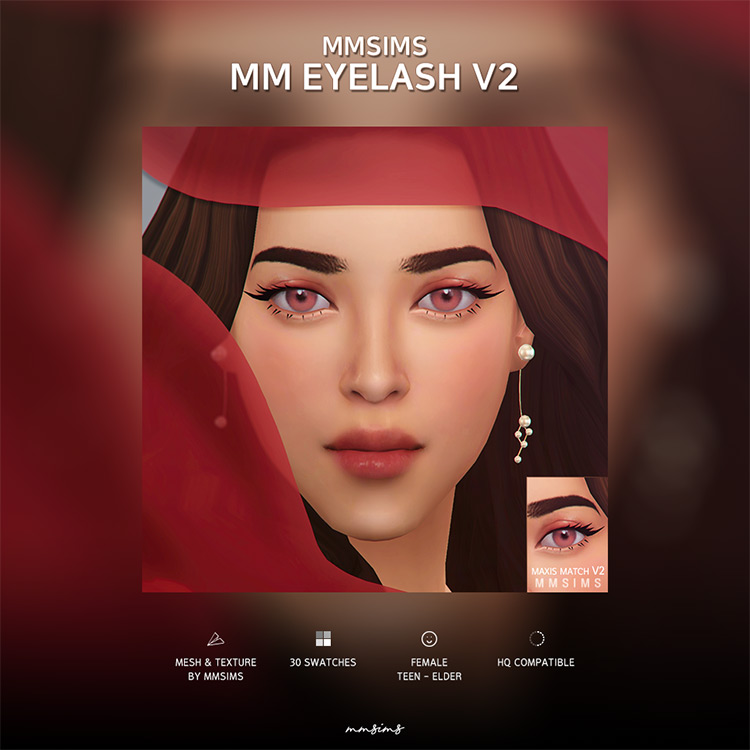 MMSIMS is a talented Simmer who's been making fantastic CC for years – both for The Sims 3 and The Sims 4.
They say practice makes perfect, and MMSIMS must have practiced a lot because this set is truly flawless.
Plenty of options are available to ensure you can always find lashes right for your Sim.
Of the 15 swatches, most feature long upper lashes. You'll still have a lot of choices regarding just how long they are, but the bottom eyelid sees a little more variation. In some, there are no eyelashes at all, while in others they are just as long as the ones up top.
6.

Natural Match Lashes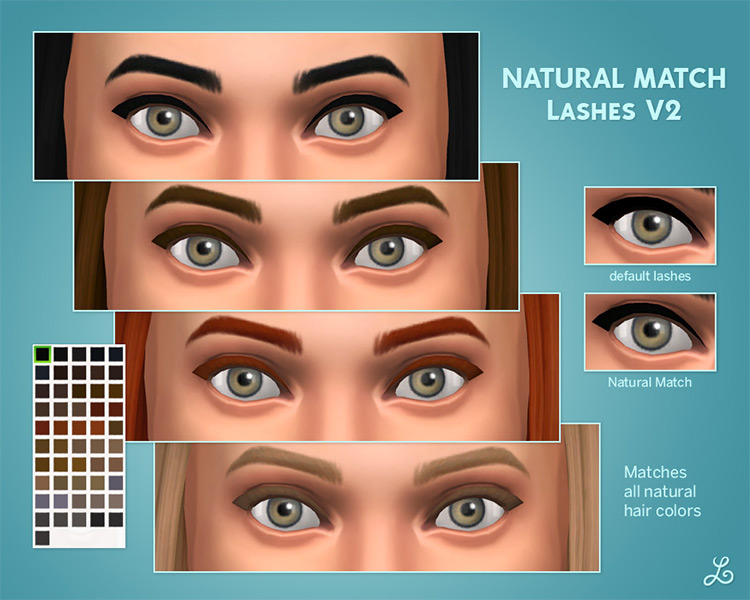 Matching has been a source of irritation in this game for years, and I'm not talking about Maxis Match.
Furniture can be a real pain (if not impossible) to match. Even if it's from the same pack. But that's easier to get around than something on a Sim looking a little off.
We have a choice in whether or not we want their eyebrows and hair to be the same color, but eyelashes just are what they are without CC.
And with custom content, you do have a choice.
This mod allows you to change the color of the default lashes in the base game. You can match them to all regular hair colors, and even change how light or dark they are.
7.

Simmaniacos' Eyelashes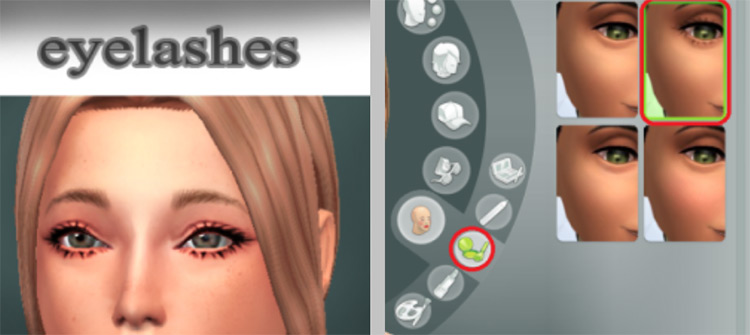 Here's another option for a more natural & realistic look – without sacrificing the good old Maxis style we all know and love.
These lashes aren't as heavily defined as the falsie style, and your Sim will have an even amount of lashes on both eyelids.
Also, the shading here is really beautiful. It perfectly illustrates how the lashes get thicker at the outer corners.
You get just one option in this set, and it can be found with the blush in the makeup category.
8.

MM 3D Eyelashes Skin Detail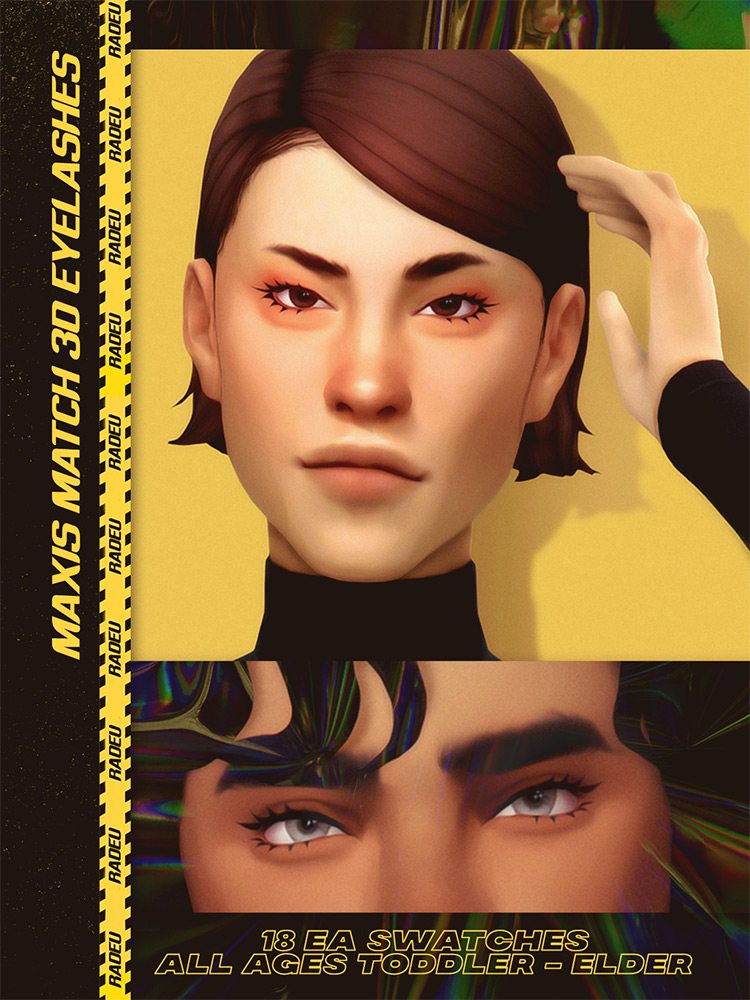 Unless otherwise specified, most CC eyelashes are 2D. There's nothing wrong with that, the appearance is just different. As expected, they're flatter.
3D eyelashes, though, will really give your Sim's features more dimension. See what I did there? Lots of puns to be found in basic geometry concepts…
But thankfully, you don't have to think about math to know how great 3D lashes look on your Sims.
They usually appear very defined and voluminous, which is exactly what makes these ones from Radeu so epic.
No matter how you angle the camera in-game, as long as your Sim's face is visible, their realistic eyelashes will be visible as well.
If you wear makeup then I'm sure you've wished you could naturally have the same appearance you do while wearing mascara, and that's sort of what's going on here.
These lashes are as thick as if they've been brushed with the most high-end mascara out there, and that's how they will stay.
9.

BAkalia's Male Eyelashes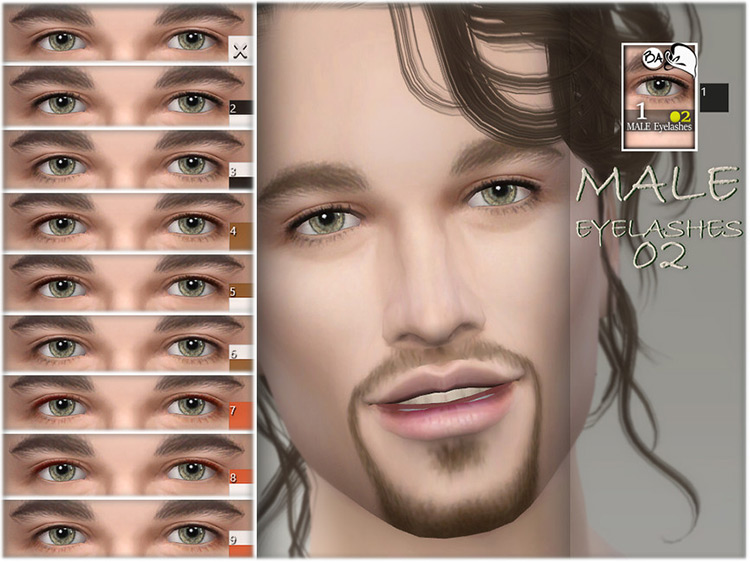 It's some kind of cruel cosmic irony that guys who don't care one way or the other about eyelashes often have the best ones.
Little do they know, it makes them super handsome.
Pretty lashes aren't just for the ladies!
Poor male Sims are already neglected enough. We've really got to throw them a bone now and again.
And these custom lashes are an understated way to give your male Sim's face more originality. Their eyes will truly be one of a kind.
The creator included nine variations in this set, each offering slightly different options in terms of density and color.
10.

No EA Eyelashes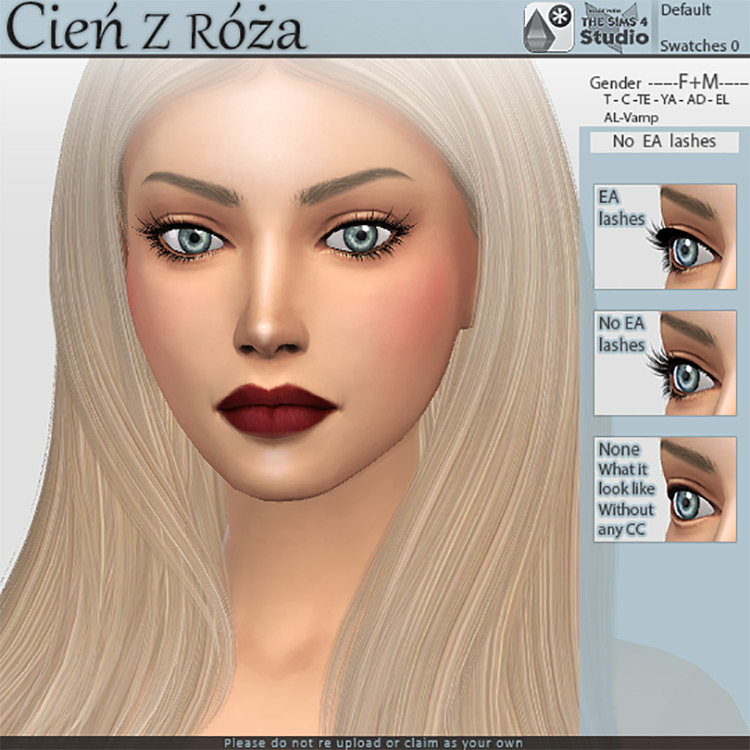 If you're CC hunting specifically for eyelashes, chances are you're bored with the EA lashes. It's not like there's anything inherently wrong with them, but many custom options can clash against the CAS defaults.
They just weren't really meant to mix – and it can affect how your new custom eyelashes look. We certainly wouldn't want that.
Well this mod makes it so the pesky EA lashes are gone while using custom lashes. This removes the over-the-top darkness that can sometimes result from using CC lashes layered over the "original" ones.
Any custom options you download will look even better when they're not being hindered by the EA versions beneath.
11.

ARACHNID Eyelashes
Normally, any part of a person's appearance being related to an arachnid isn't exactly a compliment.
No matter how you feel about spiders, I've never met a person who wanted to look like one!
But when it comes to eyelashes? It kind of makes sense.
You want them to be as long and smooth as a spider's legs, right? There's nothing more natural than one of those little buggers running around as fast as their eight legs will carry them. It's distinct, and that's the same energy you want for lashes.
Smoothness and beauty are big factors and they are what make these so special.
Spooktacularsims not only named them very appropriately, but both the top and bottom lashes succeed at being exceptionally natural.
12.

MM Eyelashes V3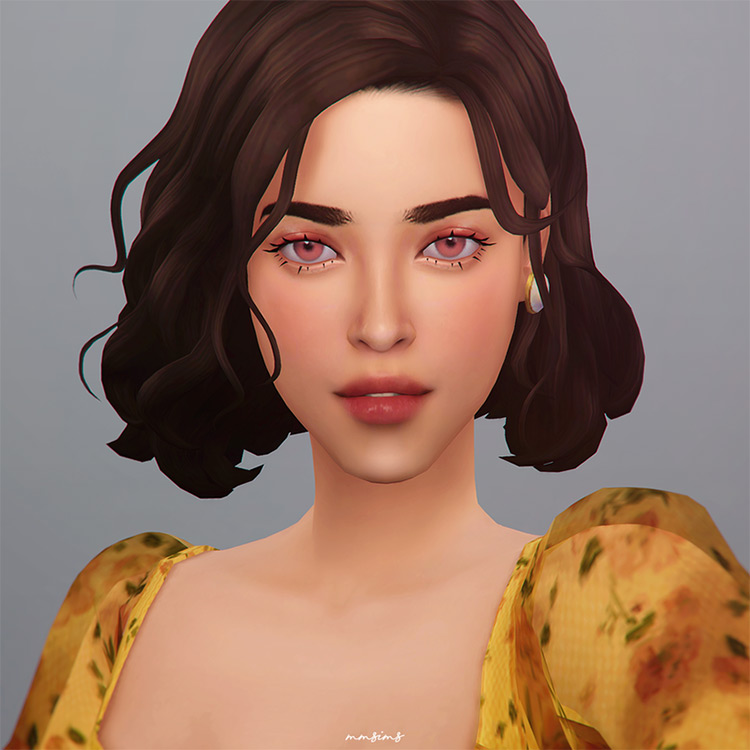 Here we have another set of 15 eyelashes from MMSIMS.
These are thinner than most of the options we've seen so far. And while a lot of people may think this look is less desirable than really thick styles, that isn't necessarily the case.
Most people aren't born with the type of eyelashes you see with folks on magazine covers or on runways.
Without extensions, faux lashes from a box, or help from Maybelline, girls can rock the natural look.
That's really what you get with this CC set.
Yes the eyelashes are fairly sparse, but not in a negative way. In fact, it may even make your Sim's eyes stand out more, since there's a more intense clumping effect that leaves the lashes distinct and long.
13.

3D Maxis Match Eyelashes Set
You'll get some intricate lashes with this 3D set.
And each swatch offers something a little different.
In some, the top lashes are thick and defined while the ones on the bottom are more thin.
Others have them both mostly the same, but you can find plenty of options where they're quite long as well.
These are great for when you want your Sim to have a natural look with just a little bit of added intensity that'll only make their eyes themselves more vivid.
14.

Suzue's 3D Eyelashes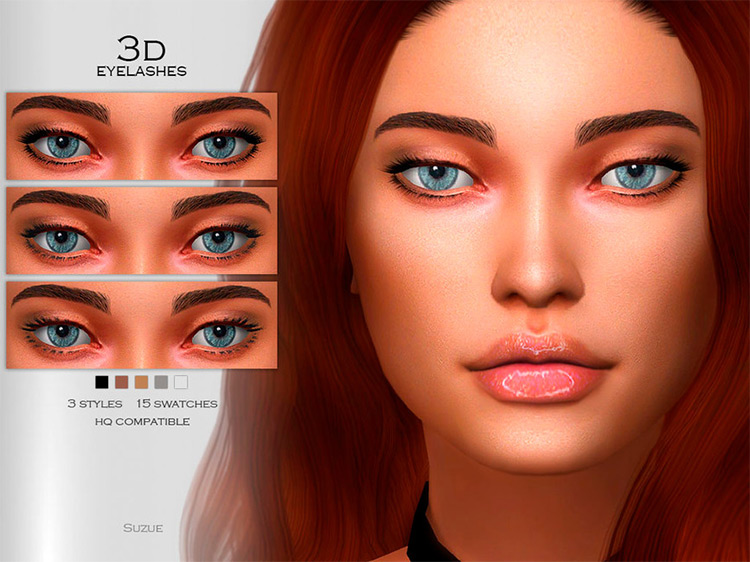 "Natural" is a word that gets thrown around a lot when it comes to makeup and cosmetics.
It's already been used several times describing CC on this list.
But when you're trying to force that, it can be like fighting a losing battle. I mean, just trying to look natural is kind of contradictory, right?
That's not to say there's something wrong with wearing cosmetics loud and proud, but a Sim's beauty is not the same as a person.
Oftentimes, trying to truly make them look realistic is a delicate balance – especially if you want to stick with Maxis Match stuff.
Suzue has what may just be the ideal lashes for a genuinely natural appearance.
They're insanely detailed, consisting of short yet thick lashes all around.
It's like if you took the default lashes and upgraded them to look better and more realistic. That's pretty much how these feel.
15.

Easy Design 3D Eyelashes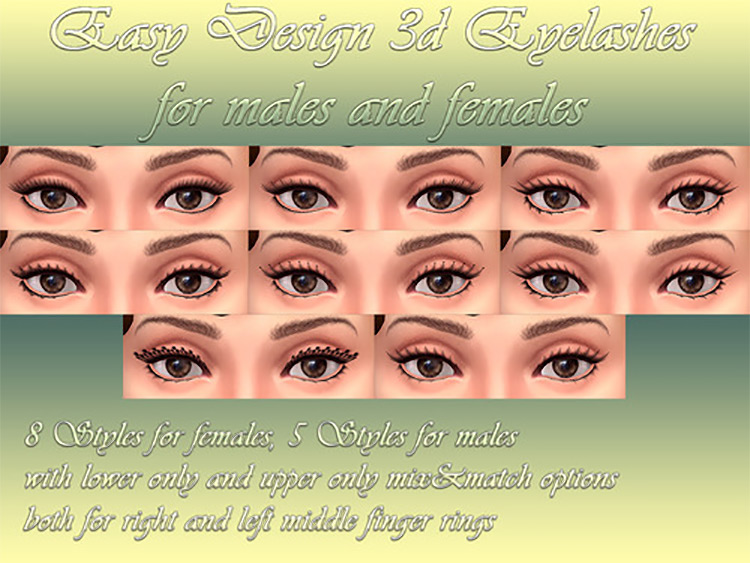 Here's another option for when you want your Sims to have nice lashes, but nothing too extravagant.
These are a great medium with a unique flair. The creator even made it so they're available to female Sims as well as males – and for both, the eyelashes can be found in the ring category.
You'll even be able to mix and match them to determine for yourself how thick you want them to be. With some layering, you can totally make these work for your Sim exactly as you want.
There's a lot of variation to be found with this set too. Some of the lashes are fuller than others, and there are even a few swatches with distinct additions like beaded tips.
16.

3D Lashes For Kids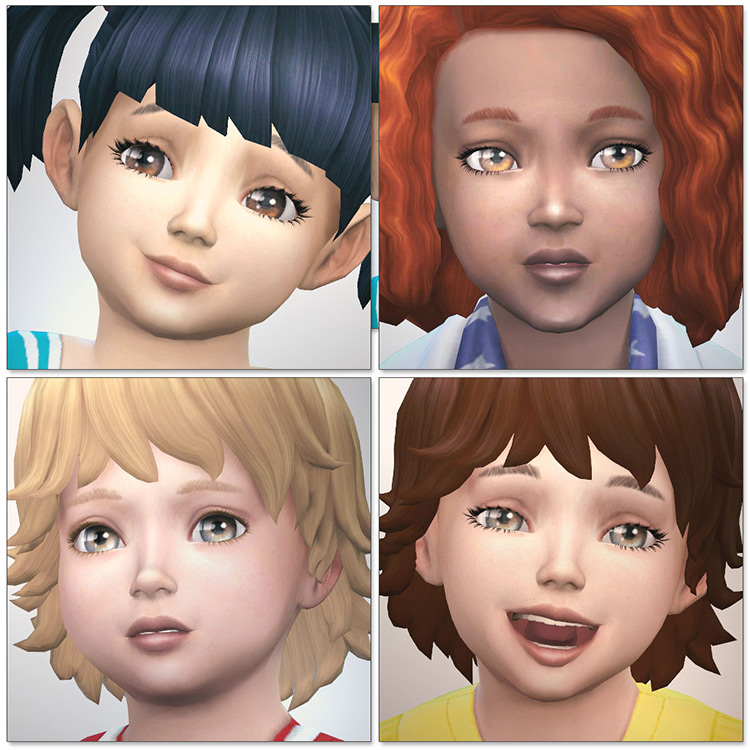 Children in The Sims have always been a little lackluster, to say the least.
They don't really do much but play, go to school, and make messes.
All the parents out there can probably really relate to the Sim moms and dads on that front. But at least real kids actually look like people.
Children physically don't have a lot going on. Their faces aren't as individualized and, most notably, they don't really have eyelashes.
Isn't that bizarre? You may not have noticed, but once you do, it's hard to go back. Custom eyelashes will definitely make each Sim child seem like their own person with a unique look.
The thing is, there isn't even much CC to do that. Kijiko here has one of the only available eyelash sets out there for the kiddos. Fortunately, it's a really good set.
These full lashes will make your Sim kids even cuter.
You can use them on both toddlers and children, so at last our Sims can seem like they've always had eye protection – instead of randomly sprouting them sometime after they become teens.
17.

Lottie's Mascara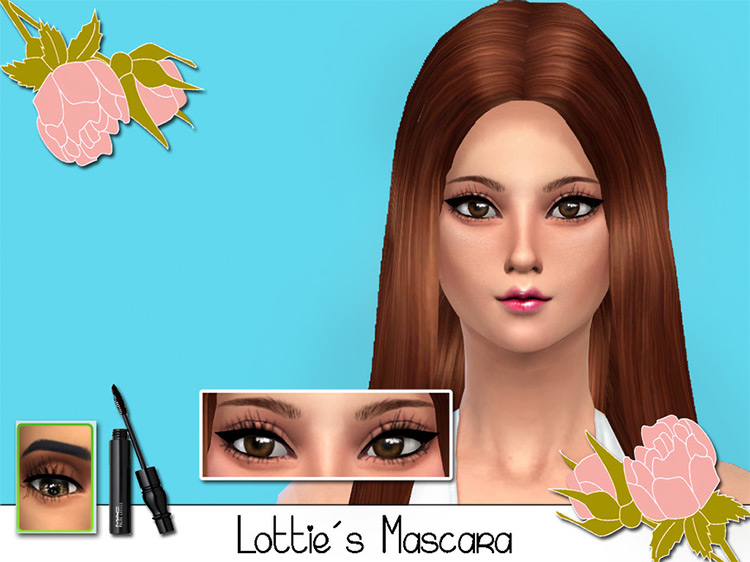 Everyone loves mascara – assuming you're into makeup, of course.
And for people who enjoy gussying up or expressing themselves through cosmetics, mascara is often the cornerstone. It's one of the first things people try when exploring makeup for the first time, and for good reason.
Mascara may come in a little bottle, but it makes a huge difference.
It makes lashes bigger, better, and more defined.
So by downloading CC eyelashes, you're figuratively acting as your Sim's mascara.
That's like, inception or something.
What you'll find here is a realistic take on that emboldened lash look.
You can use this to build upon default lashes to truly make them fuller. When applied, Lottie's Mascara will give any set of eyes some new tall, believable streaks.
18.

BAkalia's Female Eyelashes 06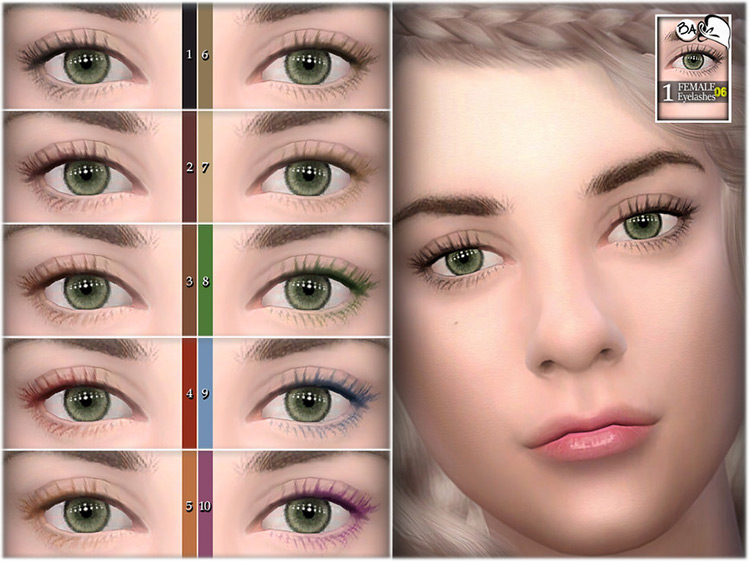 We've already seen BAkalia's handiwork with their male eyelashes.
It's only fitting to take advantage of what they have to offer females, too.
These are some more wispy lashes that get thicker towards the outside of the eye. Or maybe they're getting thinner towards the inner corner… it's kind of a glass half full thing, all depending on how you look at it.
But you won't have time to think about semantics when you're admiring how hot your Sim looks with their pretty new eyes.
Because really, lashes aren't just bits of hair on the lid – I'd think by now that's pretty clear.
They can change someone's entire appearance, almost always for the better.
Something fun about these lashes is that they don't just come in your typical black or brown watches. You can even give your Sim blue, purple, red, or green ones if you want to.
19.

Pretty Doll Eyes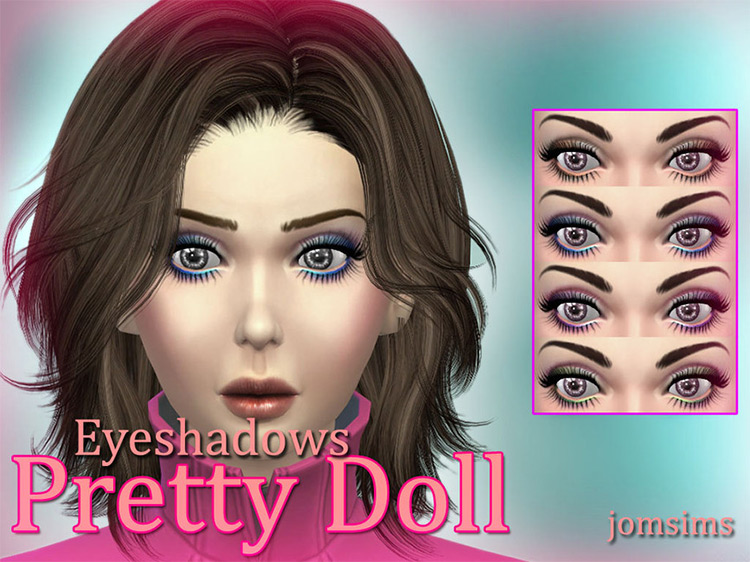 Dolls aren't all that different from Sims.
What they get up to is entirely controlled by who owns them, and they're generally created to be physically perfect.
This game offers a free pass to be shallow for a little while. You can harshly judge Sims on their appearance in ways it would be terrible and inexcusable to do to living people.
Not many players are content to play randomized Sims or townies – and that's why so much incredible custom content exists. That's part of the fun!
Jomsims created an interesting set here, which will transform your Sim's ordinary eyes into something fit for a doll.
The lashes have a fantastic curled design, and the doll vibe is undoubtedly present.
Just the lashes alone will make quite an impression. But to further cement the look, you can also use new eye swatches and eyeshadow as well.
20.

MM 3D Eyelashes (Bottomless)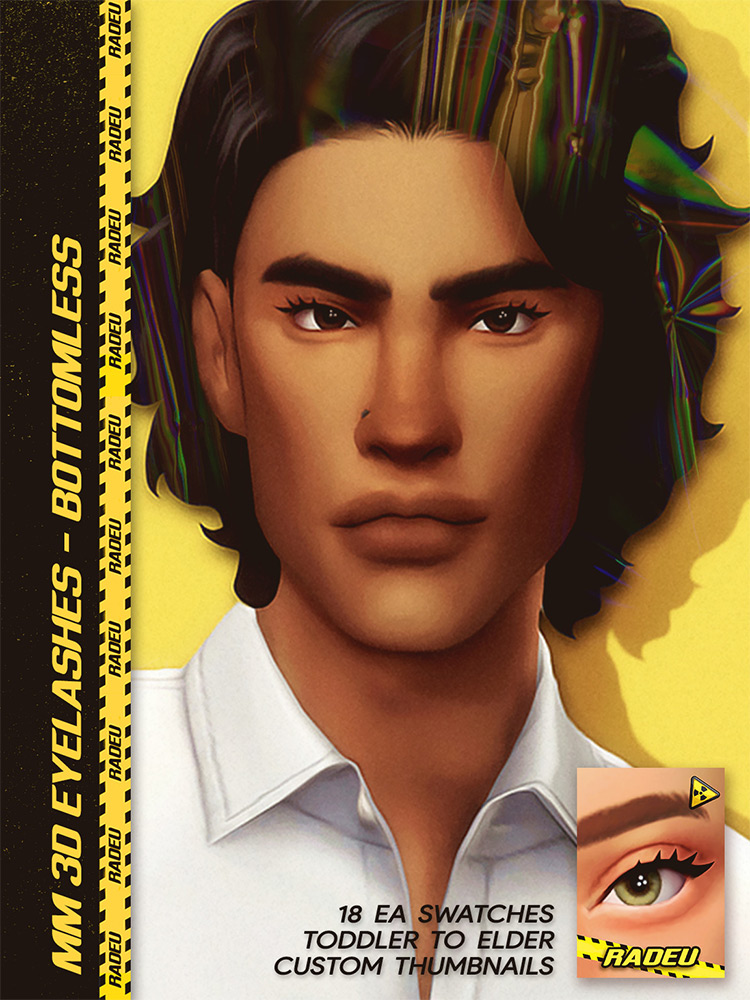 Lots of people prefer a fuller look. But it doesn't take a lot to switch up a Sim's face.
Creator Radeu made another iteration of 3D lashes that you can find here.
And these are just as awesome – except they're only for the top eyelid.
Yes, no lashes on the bottom this time around.
You may think that's strange, but it actually makes for an even more pronounced look. Without lashes on the bottom, the eyes somehow pull even more focus.
Like the other version, these can be found under skin details and come with 18 swatches.
21.

Simpeachie's 2D Lashes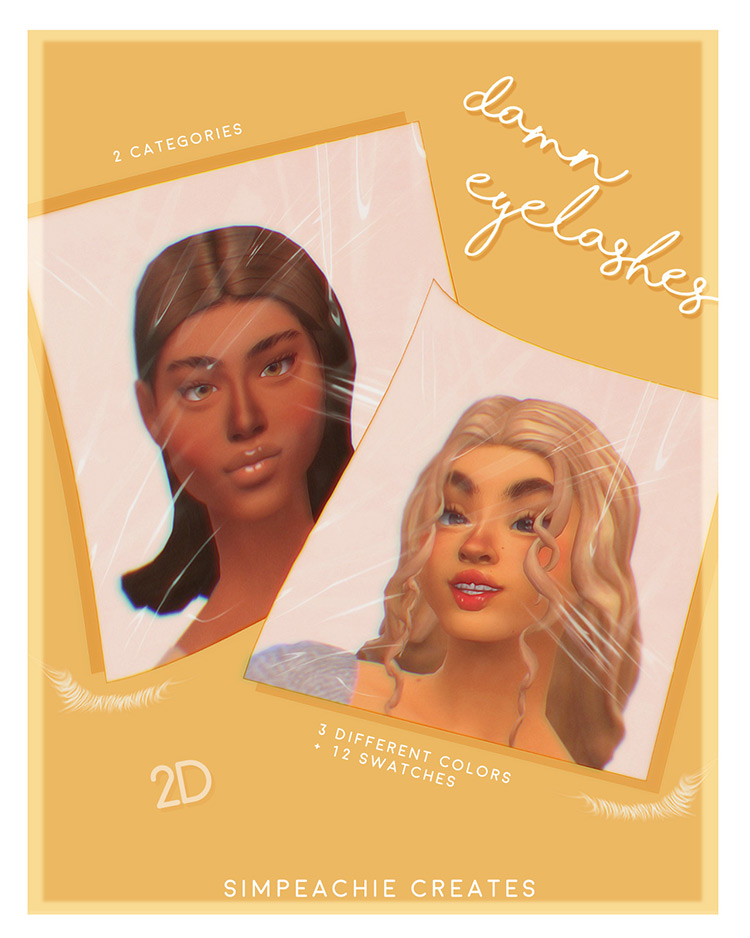 Even though their biological purpose is to shield the eyes from debris or damage, eyelashes are deceivingly delicate.
How many times have you barely touched your eye only to find them on your finger?
And then they can always just randomly fall into your eyeball and ruin your day for a little while.
Simpeachie has got some lovely options here that embody how dainty and feminine lashes can be. These are 2D and function like makeup, though you will be able to find them in the skin detail section as well as being able to apply them like eyeliner.
These are super cute and offer a lot of variety in terms of length and fullness.
22.

Glaza's Eyelashes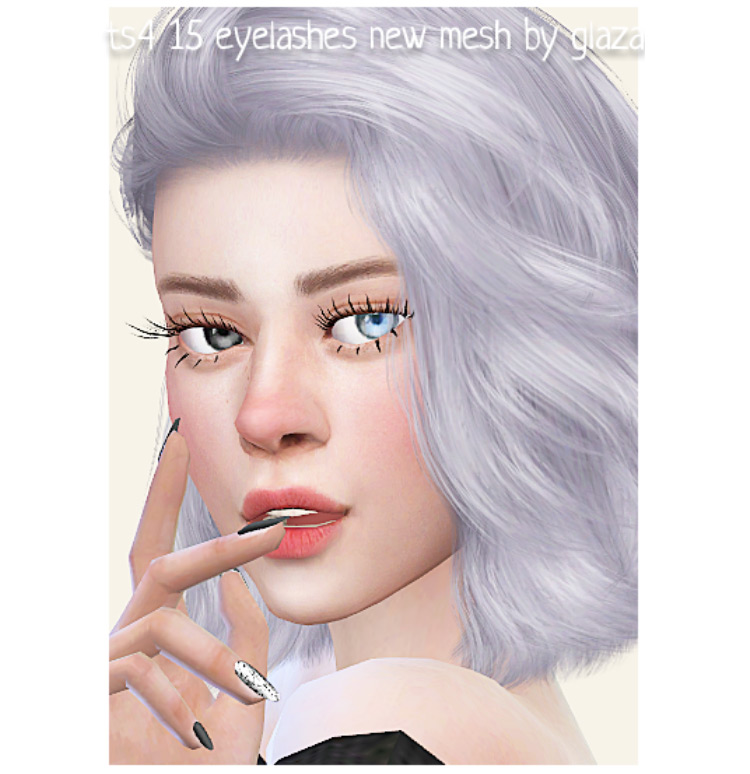 I've talked a lot about how lashes can make eyes pop (not literally, I hope).
When you're working on a Sim's face, making certain areas standout is vital.
Well, I must say this CC feels ideal for when you want your Sim's eyes to be their defining feature.
You'll be hard pressed to find more distinct or longer lashes than these without sacrificing the realism.
In many of the swatches, the lashes are clumped together for ultimate thickness, which is a lot more elegant than it sounds.
These were made by creator Glaza themselves, and it's obvious just how much effort went into them.
23.

Three Eyelash Styles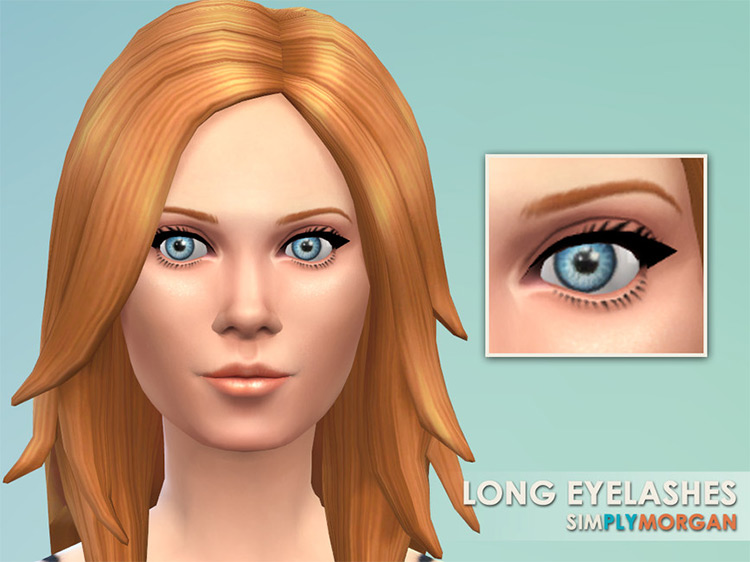 You gotta love it when Simmers are so straight and to the point.
Like SimplyMorgan77 herself says, there are three charming eyelash styles here. These will blend very well with full makeup, whether you give your Sim a full face or just want to apply some eyeshadow.
And there's no need to worry about how they'll affect your CAS build, since they're found in the face paint section. Meaning your Sim can still wear any accessories or jewelry you want.
The intensity of these lashes will also depend on the swatch you choose.
The darkest style is quite bold, while the lighter one is rather subtle.
24.

Universal Eyelashes By Faye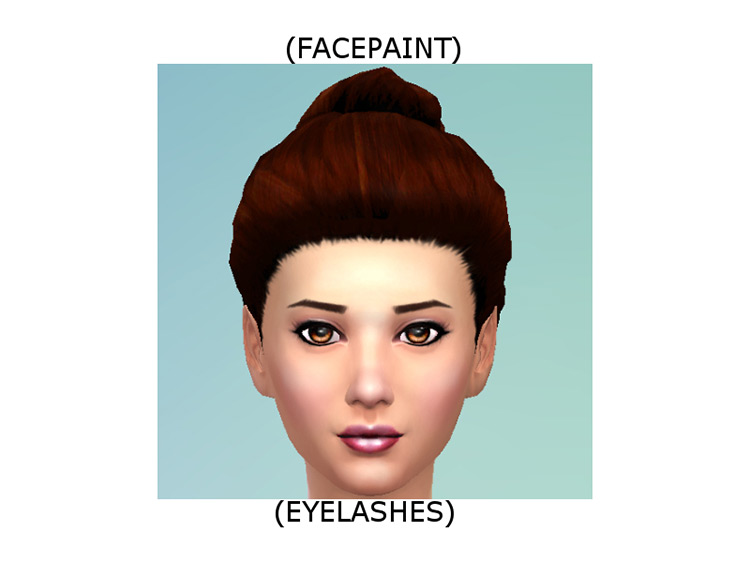 Eyelashes are already pretty universal, but the right style can be used again and again.
We have all created Sims and used a certain article of clothing or hairstyle that just becomes so innately "them" that using it on future Sims doesn't feel right. At least I certainly hope I'm not the only one that has experienced that…
Anyway, the point is that what you get here is a simple and modest option that will be great to use many times over.
It cultivates a natural winged effect.
And as if that isn't cool enough, you can apply them to both male and female Sims.
The detailed lashes themselves are just subtle enough that they seem real, yet are definitely still Maxis Match.
25.

Multicolor Eyelashes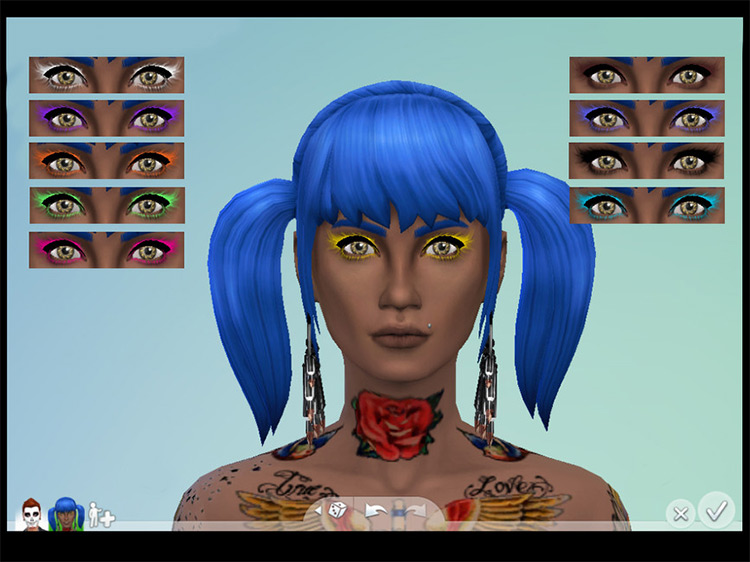 Finding lashes that look as close to the real stuff is fun. But it's worth remembering that not everyone in real life even likes to keep them that way.
Self-expression takes many forms. And now more than ever, people are finding their outlets through makeup.
This CC is a really fun creation that's all about bringing some color to your Sim's eyes.
These are pretty bright, offering swatches like yellow, blue, pink, green, and some more, all with different shades to choose from.
I just love thinking about all of the potential here.
From raves and nights out dancing, to when you simply want your Sims to have an unmistakable style, Plumbobfae's lashes will definitely do the trick.
26.

Individual 3D Eyelashes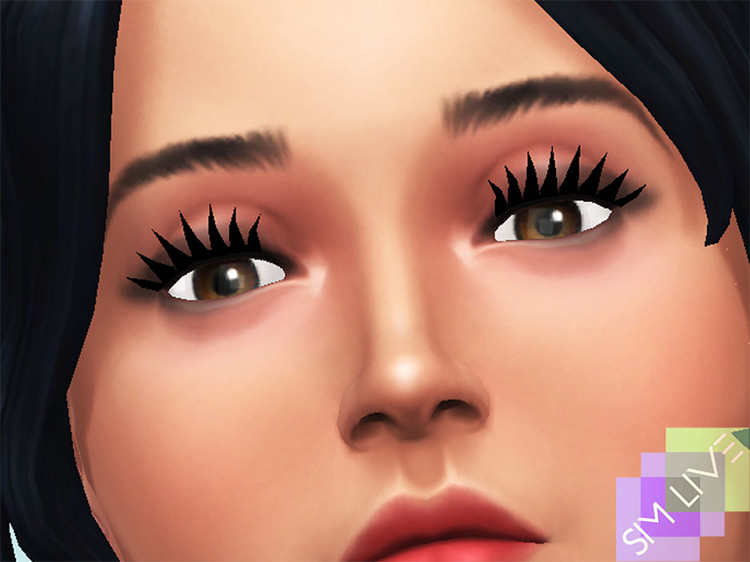 KikiSimLive, the same creator who brought us the 3D Princess Eyelashes found above, has struck gold with this cartoony and spiky style.
Players who like a more realistic look may be put-off by anything in CAS being hailed as cartoony… but that's exactly what makes these such a solid Maxis Match choice.
The Sims 4 itself has a more cartoony animation & graphic style than any previous game.
And I'll admit, that put me off at first.
After playing The Sims 3 where it looked semi-realistic even if my computer was about to burst into flames, it was an adjustment.
But now there's no going back. The Sims 4 is unique in a way that leaves tons of room for Simmers to explore our own tastes.
These lashes will be just for your Sim's top eyelid, and you can find them with the earrings.
27.

Dawn & Sunset Eyelashes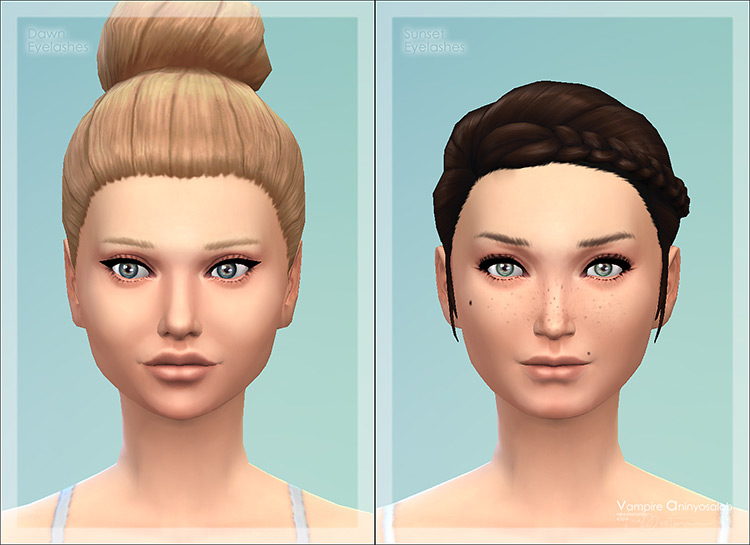 Sunrise, sunset… a lot of things change between those times. But generally, your eyelashes stay the same.
The same doesn't have to apply to your Sims.
You can change their whole face a million times a day if you want, and it doesn't require nearly the same amount of effort that it would if you wanted to do that with your actual face.
Something worth noting is that the creator here made these a whopping five days after the game was released. That just tells you how dire new lashes are, and always have been!
You'll get 2 awesome options here that still hold up all these years later.
The dawn version has a more understated & light appearance, while the sunset ones are a little thicker.
28.

Long Eyelashes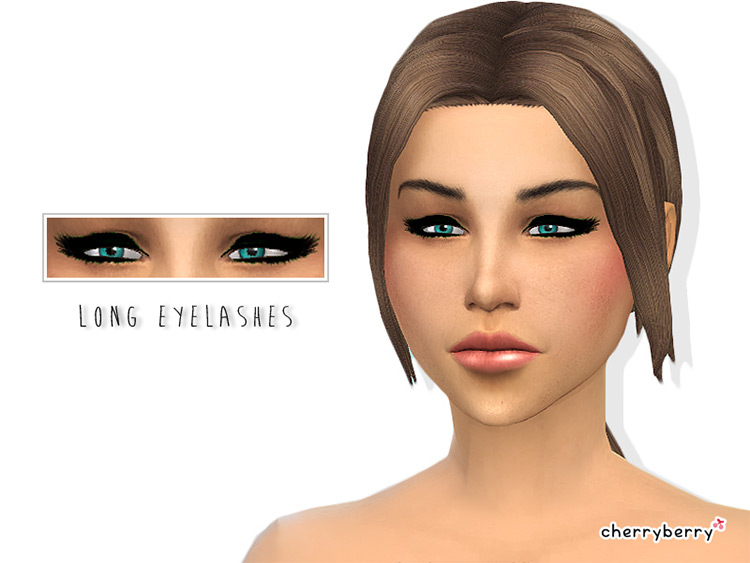 I'm not someone who pays much attention to what's trendy. But last I knew, long eyelashes were where it's at. The bigger, the better!
That's why I'm a little surprised there aren't a ton of super full lashes available for Sims.
What CherryBerrySim has here are among the best – and interestingly enough, these were also created less than a week after the game debuted.
Seriously, if there's anything Simmers can't get enough of, it's stuff to make their Sims prettier.
These lashes offer a very encompassing look. They'll surround your Sim's eyes with flirty, dark lashes that are gorgeously full all the way around.
29.

Two Eyelashes – Falsies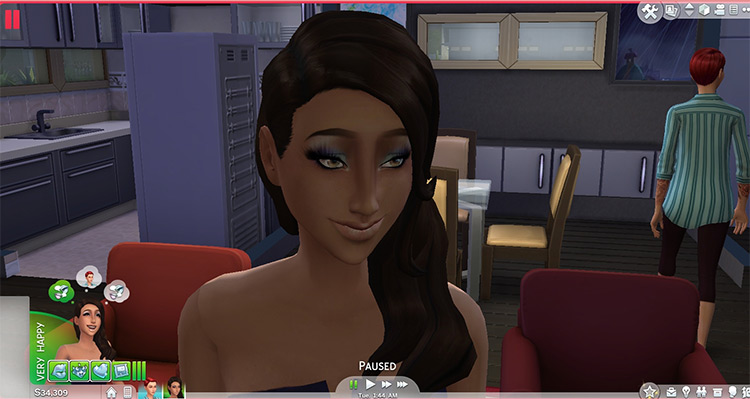 There's a lot of CC out there.
And that's what makes this community so awesome – but sometimes you just want a couple new things.
This is another simple set that offers just 2 options, both of which are modeled after the false lash look.
"Falsies" are among the most valuable cosmetics, bringing big changes in a small package.
Your Sim's eyelids will be lined with thick, bushy, bold lashes. Heavy makeup will compliment them well but even without eyeshadow, will only enhance your Sim's beauty.
30.

Lashfiller For Kids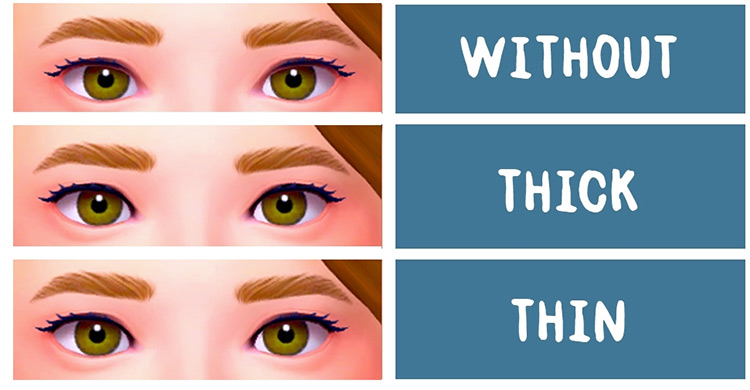 Many Simmers don't like to go too extreme altering kids' appearances.
If you really wanted to, then you could find tons of CC to tweak their faces to be exactly as you want, whether that's more realistic, more like their parents, or whatever else.
But it might make them stand out a bit more than you prefer, since the rest of the children will still look the same.
This simple lashfiller is a way to improve a Sim child's eyelash situation without going over the top.
They've always looked plain and basic. But with this skin detail you'll have 2 new options to fill in the gaps.
One is thick, but it's still nothing too crazy – so your Sim kid will just look like they hit the genetic jackpot.
The second version is thin but still offers a noticeable difference.
But no matter what you choose (from this CC or from this entire list), you should have everything needed to create Sims of all ages with gorgeous eyes as their defining feature.
Browse:
Lists
Maxis Match
The Sims 4
Video Games