Sims 4 Maxis Match CC Lip Piercings (All Free)
This post may contain affiliate links. If you buy something we may get a small commission at no extra cost to you. (Learn more).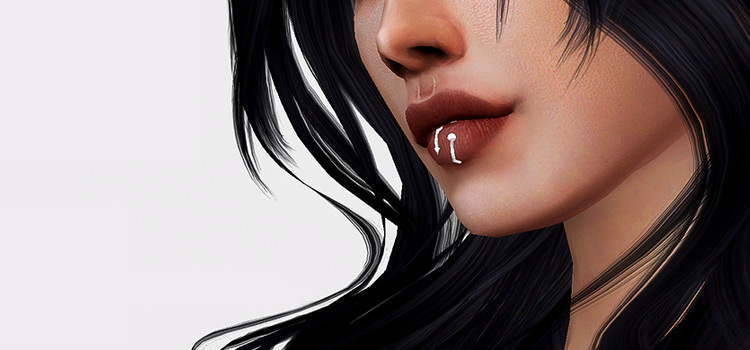 Aside from earrings, we're mostly on our own when it comes to piercings for Sims.
Luckily, that's not a bad thing at all.
Custom Content creators have done more than just fill in the gaps – there's an abundance of options brand new to the game.
From classic styles to trendsetting designs, we've curated it all right here.
1.

Unisex Spider Bites Piercing
You don't want to hear the words "spider bite" in literally any other context. They describe this cool, trendy type of piercing pretty well, though.
This CC set is available to Sims of all genders and was made to be as inclusive as possible.
2.

ZombieTrait's Lip Piercings
Considering base game TS4 has no lip piercings at all, anything is a step up.
Fortunately, these are indeed basic but they've got just the right metallic tone to stand out.
No matter the Sim, any of these three swatches will look fantastic. Each ring is situated on the lower right side of your Sim's mouth.
3.

ANATHEMA Lip Stud Piercing Set
When it comes to an abundance of options, it's hard to beat this set.
You can choose from 16 different locations and pairings.
Some options double or triple up on the shiny studs, and there are tons of ways to come up with your own combinations, personalized to your Sim.
4.

Unisex Dolphin Bites Piercing
Most lip piercings for Sims are some variation of studs.
The simplicity of it all is actually a huge plus, because you can use nearly all of these interchangeably, for those Sims who seem like they'd have more than one.
These two are small and will sit nice and straight below the bottom lip.
5.

Medusa Piercing
Where the names of piercings come from is anyone's guess.
But I suppose this stud, loud and proud in the middle of the upper lip, is indeed as awesome as a mythological Greek figure.
Like most of WeepingSimmer's other creations, this one is unisex. A smaller version is also available!
6.

Vertical Labret Piercing
It doesn't get much more hardcore than this piercing – which isn't just two studs, but actually one piercing straight through the lip.
That isn't obvious to the naked eye, though. It's mostly implied.
At the end of the day, the vertical labret is straight up epic.
7.

Jekyll Lip Corner Piercings
Tons of facial piercings are included in this release from PralineSims.
But it's the lip corner ones that are the focus this time.
Most things for this area are kept fairly basic and this is no exception, although it has a very cool and realistic appearance.
8.

Clairvoyance Lip Ring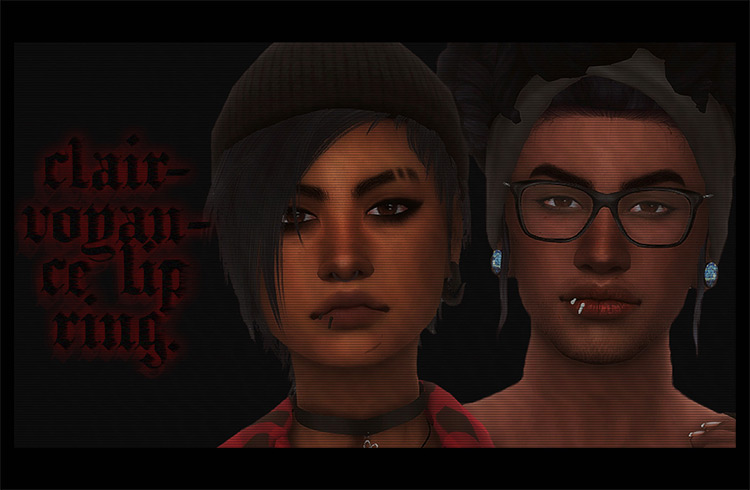 Studs are great, but here's a little change of pace.
Lip rings are equally popular so it's good to have multiple options. These are really impressive, especially since they will move with your Sim's lips for the most part. No unsightly clipping to be found!
9.

Belle Labret Piercing
While this creator's style might be highly realistic, the piercing itself honestly will work for all tastes.
This sits in the center of any Sim's lower lip and it's the perfect medium in terms of size. It's one of the more discreet options available, but it's not so small you'll miss it, either.
10.

Unisex Snakebites
Snakebites are distinct no matter how you look at it, but these ones will sit at either corner of your Sim's mouth. There's no missing them!
Single options are also included, in case you don't want to double up.
20 fun swatches offer plenty of ways to shake things up with off-the-wall colors.
11.

Smiley Piercing
What's really unique about this one is that it will actually only be visible when your Sim is smiling or laughing.
I believe this is actually the only one available in this area, on the inside of the upper lip. So for something that'll truly set any Sim apart, look no further!
12.

Unisex Monroe Piercing
This has to be one of the most popular piercings around.
It's not exactly a mystery why such a simple stud has become the go-to for so many.
The small size and neutral location just complement most faces really well. You'll find that this one is just as versatile as the real deal.
13.

DIY Lip Piercing Set
For players who love to have lots of ways to customize their Sim's look, this set is unmatched.
Thanks to all of the different ways you can pair up these studs and rings, the possibilities are practically endless.
The colors stick to standard metallic shades, aiding the Maxis Match aesthetic.
14.

Obsession Lip Chain Piercing
Here's something that is one-of-a-kind. It's not every day you find jewelry for Sims that incorporates both their lip and their ear at the same time!
This is no doubt a modern & trendy look – and this creator executed it so well. It's a fantastic design, that'll be equally great on any Sim.
15.

Unisex Angelbites Piercing
The concept of an angel bite is rather disturbing. But fortunately, the actual thing isn't… at least as long as it comes in the form of an accessory.
They are actually somewhat similar to the Monroe piercing, you just get two this time!
As with most of WeepingSimmer's content, lots of bright colors are available.
Browse:
Lists
Maxis Match
The Sims 4
Video Games