Sims 4 Maxis Match CC: Lips, Lipstick & Lip Gloss
This post may contain affiliate links. If you buy something we may get a small commission at no extra cost to you. (Learn more).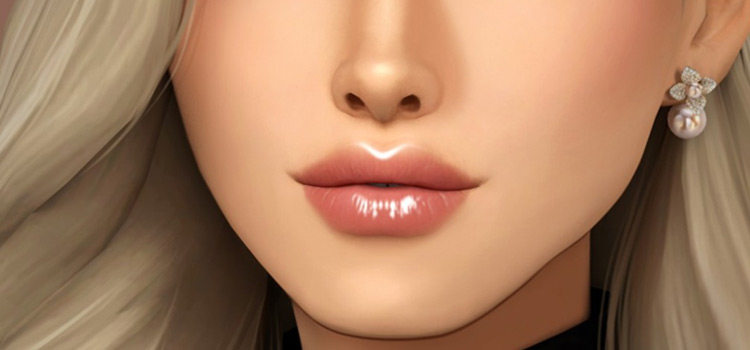 A full face of makeup has got to have something for the lips. That may even include altering them completely.
No matter what your Sim's style is, there is surely something custom that's really flattering.
It goes without saying that we can use more options. And here are the highest quality ones around!
1.

Tequila Matte Lipstick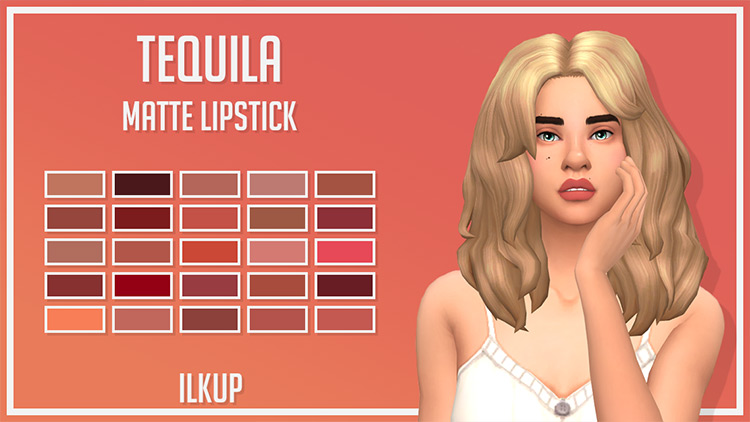 If you've never been totally sure what "matte" means, like me, then this lipstick should clear things up.
You'll see on your Sims that each swatch has a more toned down, muted look. That's it!
All of these shades of purple, pink, and peach are brought out just fine without a glossy texture.
2.

Honey Gloss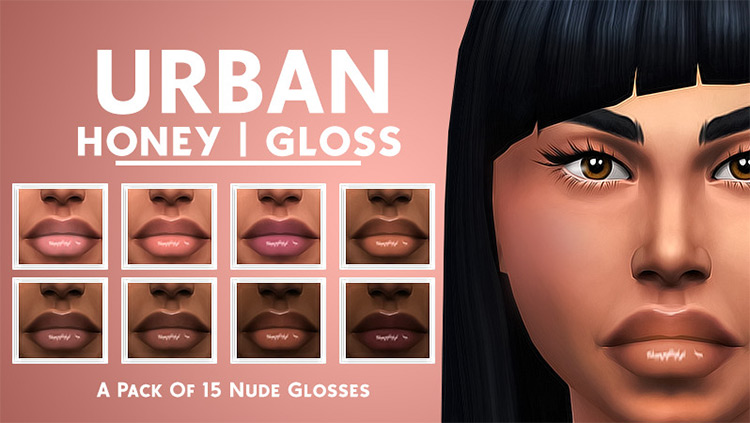 On the other hand, some people are all about that gloss. And why not?
When that's the look you're going for with your Sim, some shine is a necessity!
This set is indeed as sweet as honey. Such gorgeous nude tones are a fantastic option for ladies of all ages.
3.

Nat Lips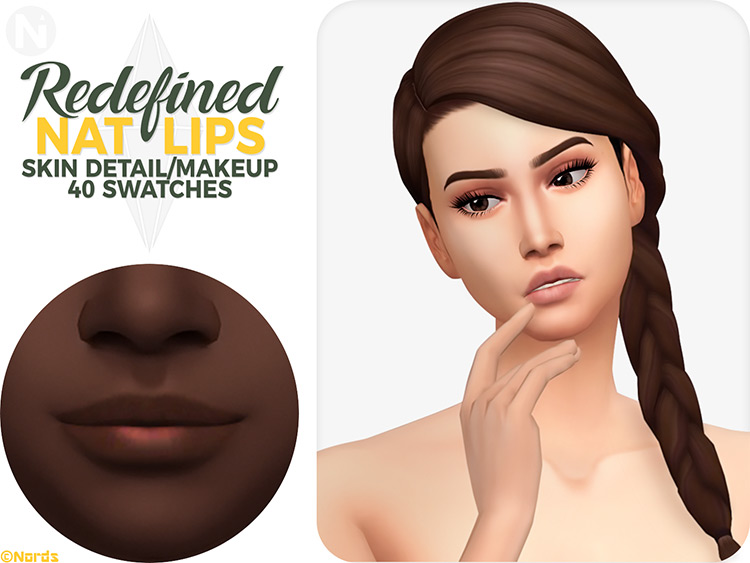 What we have here is not makeup, but something that tweaks how lips themselves look.
Nords' skin detail has removed some of EA's shading, giving Sims more realistic mouths.
Thanks to the 40 swatches, players should have no problem creating a more natural appearance on any skin tone.
4.

Nessie's Lip Collection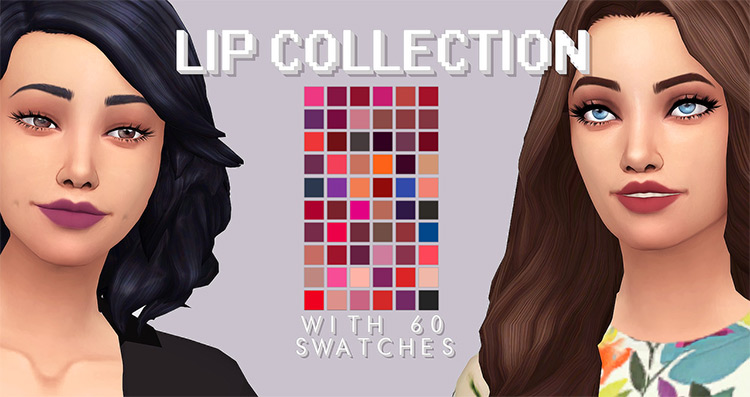 Isn't it great when Simmers bring real-life inspo into the game?
Many of these shades are brought directly from actual cosmetic lines.
As you can imagine, that means there's a ton of variety. A mindblowing 60 total swatches are included in this CC collection, covering everything from your typical reds and pinks, to blue and black.
5.

Silken Lips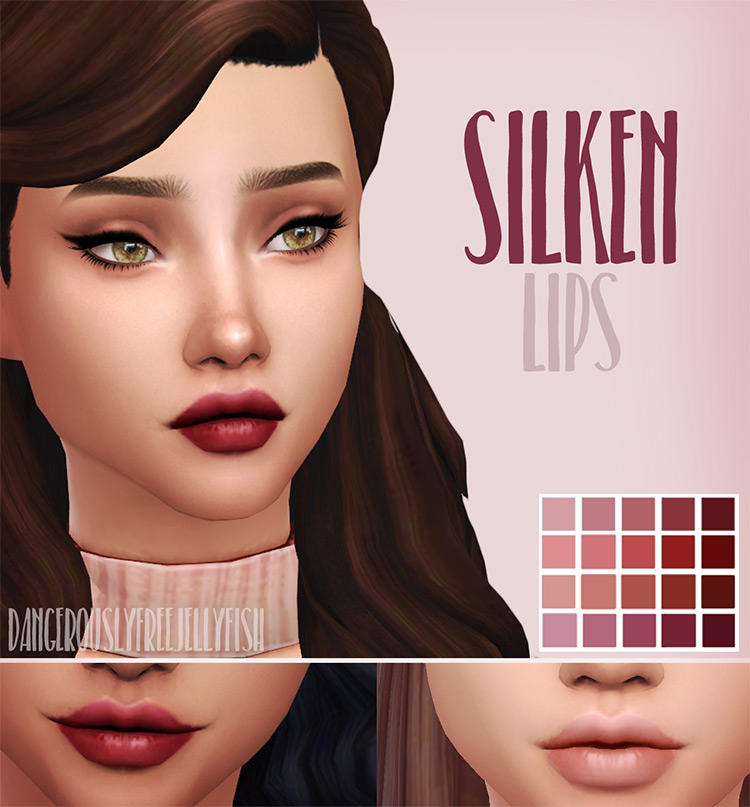 Sims don't have to fight nearly as hard for pretty lips as we do. They're free from the unsightly effects of cracking, dryness, and peeling.
Well, it's not true that you can't improve upon perfection. These swatches enhance a Sim's appearance even more through 20 smooth options.
6.

Burt's Bees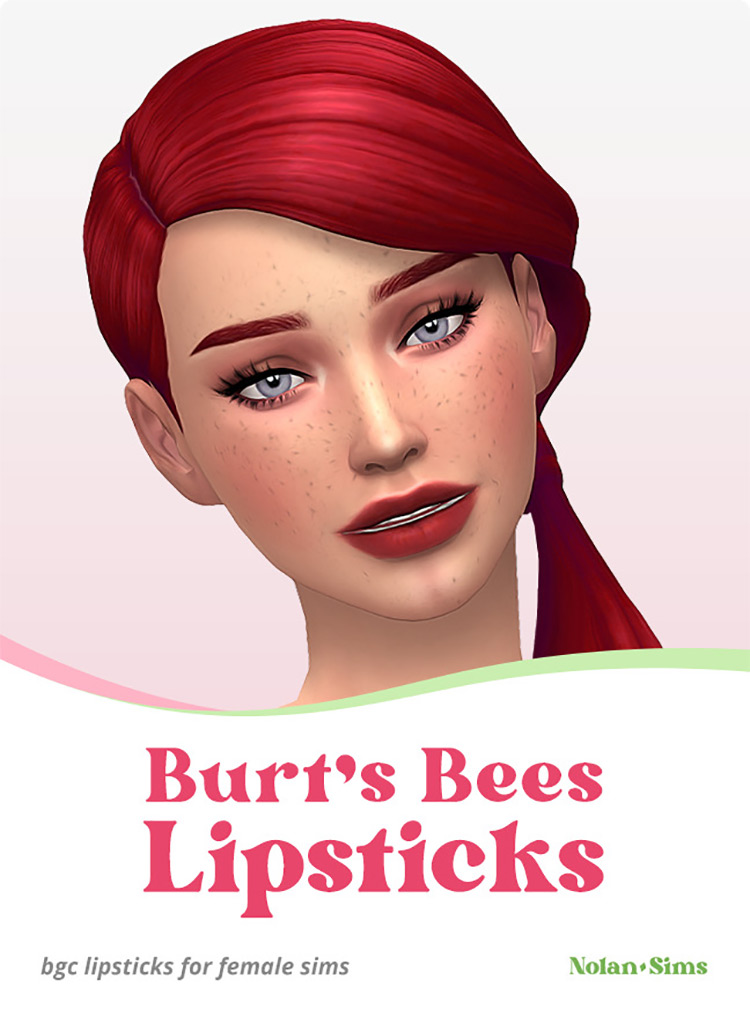 We all probably know Burt's Bees for their chapstick, but their cosmetics are pretty epic, too.
And now Sims can enjoy them!
The color palette mainly sticks to classic shades of red and pink, but you'll still have plenty of variety to play around with.
7.

Locking Lips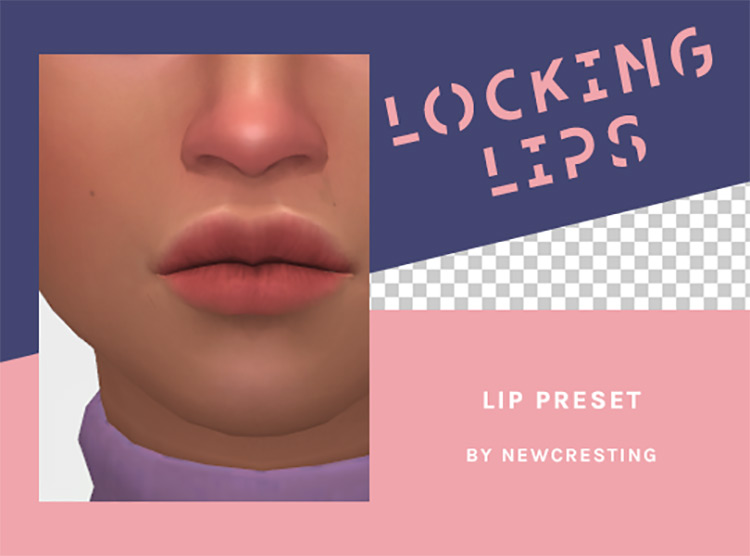 Fine tuning any Sim's lips can be tedious, and the base game presets get old after a while.
Luckily, there are all kinds of CC presets already out there. Here's one new pair to use on any Sim. They've got a nice, natural design that's really versatile.
8.

Au Natural (Get Together) Required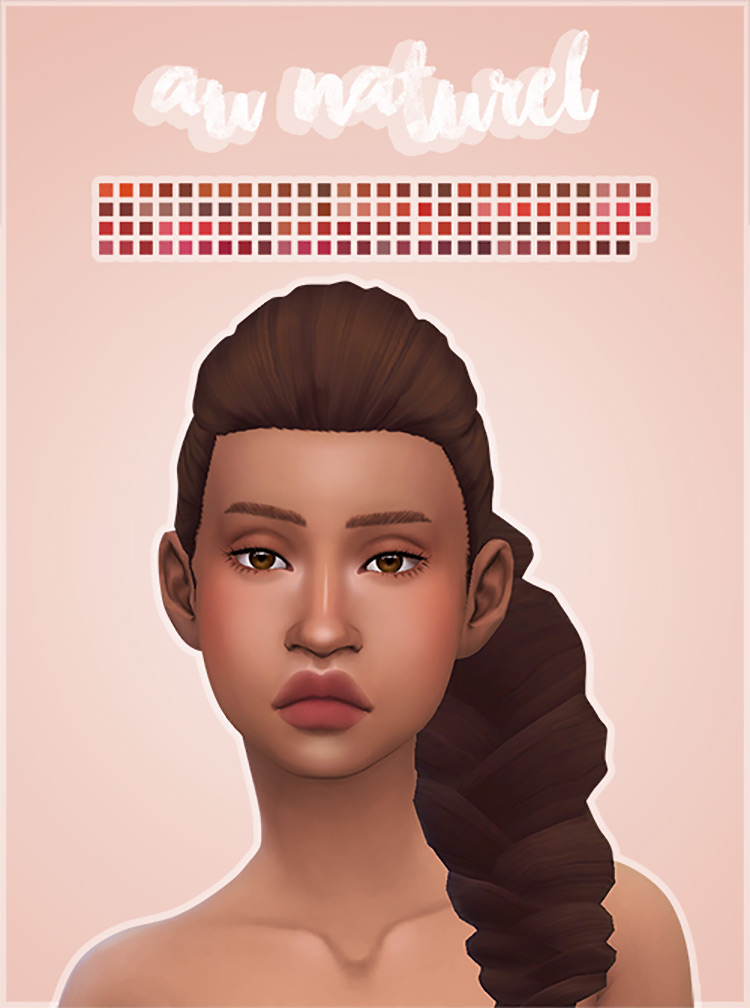 Every shade of red, pink, orange, and brown you could possibly want is included here.
It's quite a comprehensive collection, with a total of 112 swatches.
Yeah… that should have you covered.
The intensity may vary but for one large selection of neutral hues, you can't beat this.
9.

Butterfly Lips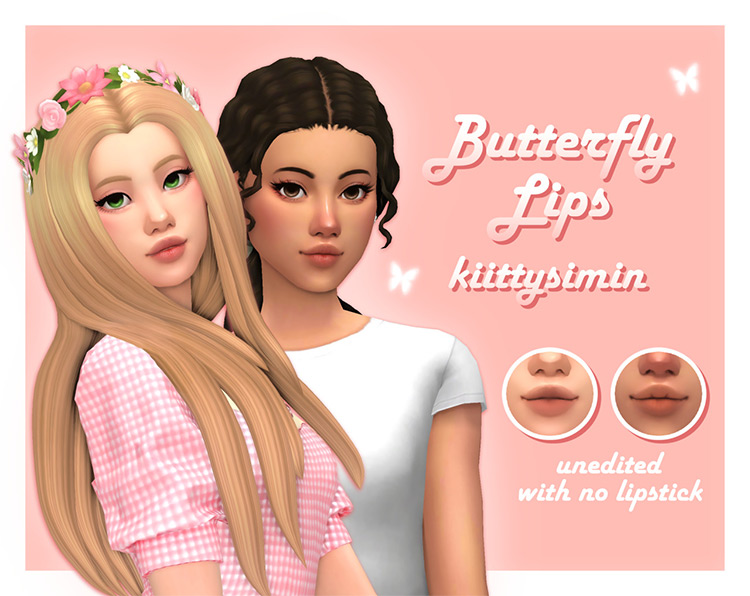 To many, the Butterfly Lips are ideal. They are plump, feminine, and far from anything you'll get from pressing the "randomize" button.
Just one preset is included but it's really something special. It's insanely cute, so any Sim you put it on will be too!
10.

The Glossifier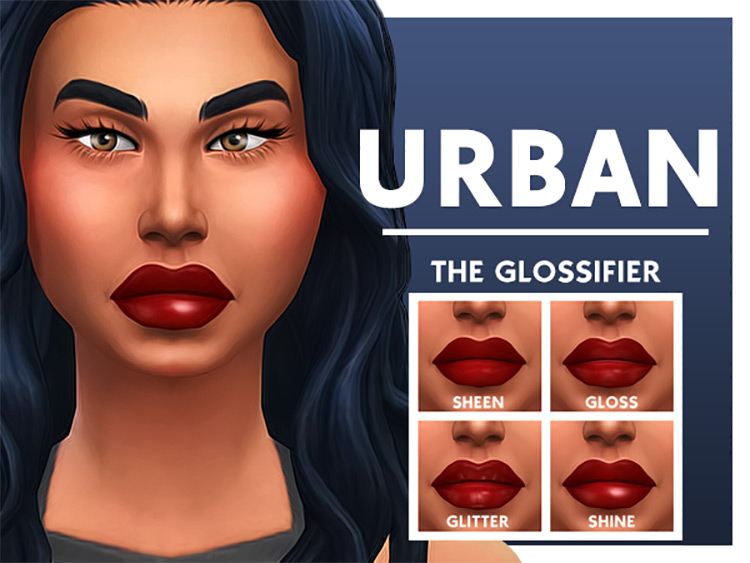 Here's something that can give any and every lipstick that sweet, sweet shine.
This brilliant overlay will allow you to apply one of four finishes. They range from subtle to super shiny and everything in between, just with those four options.
Now all lips can be glossy, if you want them to be!
11.

Delilah Soft Lip Gloss
All of these natural hues will boost your Sim's booty in subtle ways. In a typical color palette of reds and pinks, each swatch has a gentleness about it you can't find in the base game.
These are ideal for when you really want to keep your Sim's makeup lowkey.
12.

20 Shade of Red
This collection has already had some focus on red, but here's one creation with 20 total hues of the most sultry, iconic lipstick shade around.
They range from strawberry and cherry to plum, pomegranate, and raspberry.
Yep, all fruit.
It's a good descriptor, okay!?
13.

Midnight Lipstick
Sometimes, you've just got to embrace the dark side.
With very bold shades of green, blue, red, black, and purple, you'll be all set for alternative styles. Goths, punks, skaters, whatever!
Even those without a chosen fashion vibe will be beautiful thanks to such brilliant options.
14.

Sugar Lip Gloss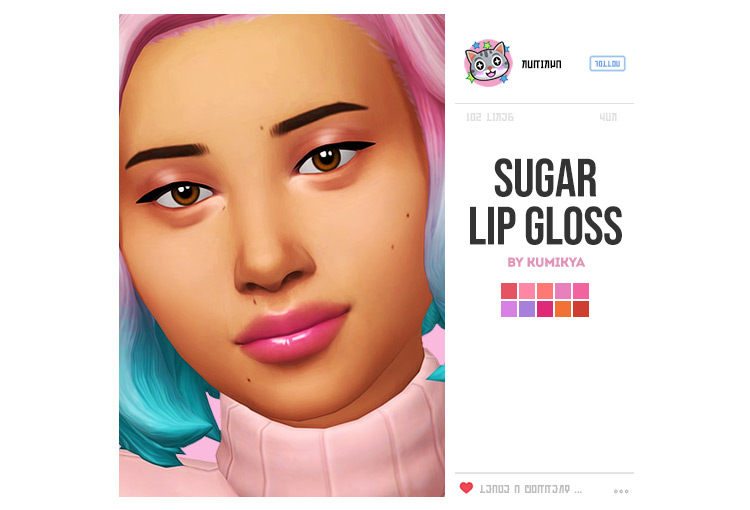 Kumikya's lip gloss set features 10 shades of bright, vibrant goodness.
To put it simply, they're just fun!
Each one is an awesome way to add a pop of color to your Sim's look, without going overboard.
The sheen effect deserves some appreciation too, since it's basically flawless.
15.

Love Kisses Lipstick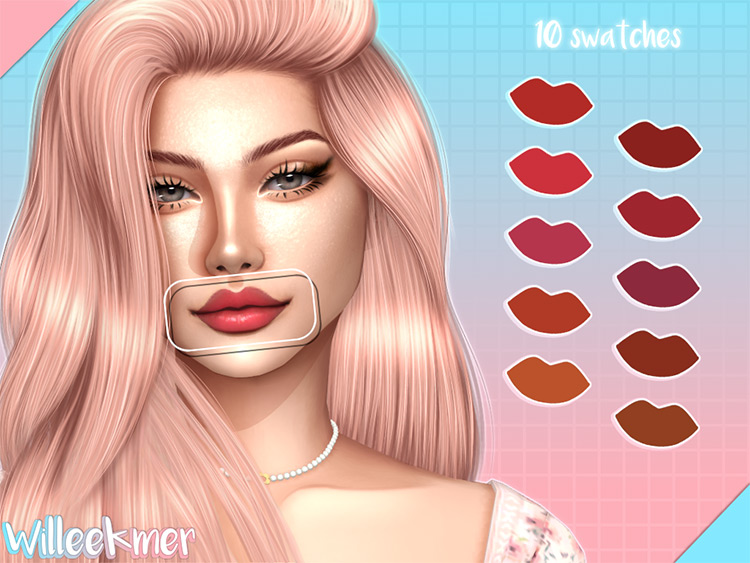 We've all seen those old jokes where a woman smooches somebody and leaves behind a big kiss mark.
Well, this is the lipstick that seems like it would have that effect. In the best way, all of the colors here seem pretty heavily applied.
16.

Mimi Lipstick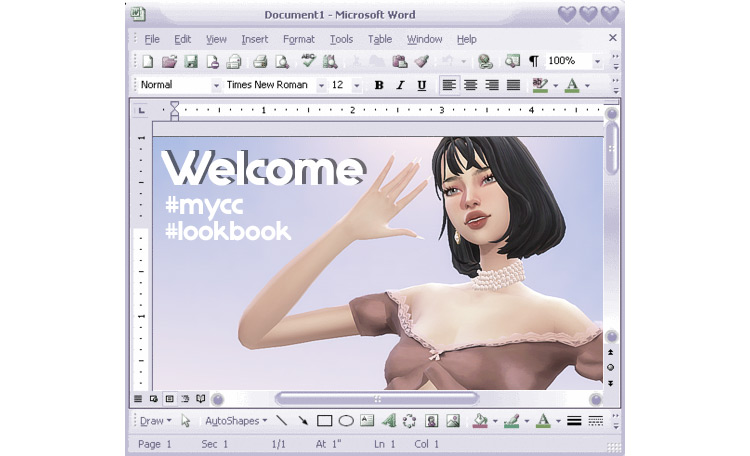 Get the best of both worlds with this release, where there are options for both lipstick and gloss.
And they're both awesome! The matte texture of the lipstick is stunning, while the shiny gloss is really cute no matter the swatch.
17.

Fruit Flavored Lip Gloss Set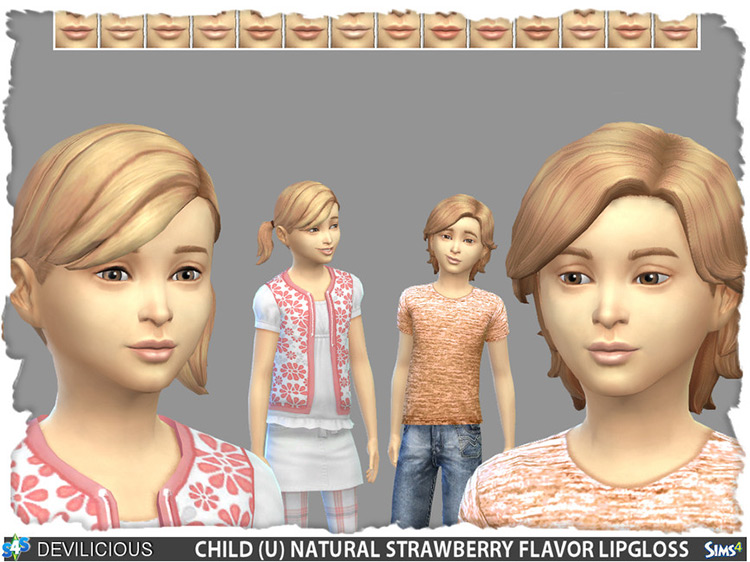 It's often the delicious flavor that interests kids in lip gloss over the look. Some never grow out of that.
What's fun about this set is that the two variations are represented by banana and strawberry flavors. Boys and girls both can enjoy them, and there are actually several dozen total swatches.
18.

DirtSims' Lipgloss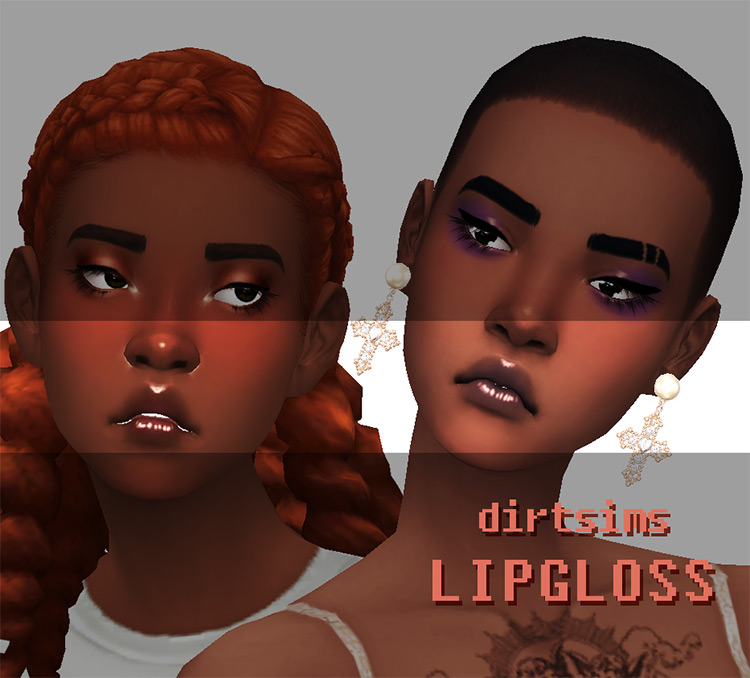 Now here's one that really puts the "gloss" in lip gloss. You can't miss it!
Every bit of these 20 swatches has a full glistening, lustrous appearance. They're silky smooth, and sure to add a saucy feel to any makeup look.
19.

Tender Puff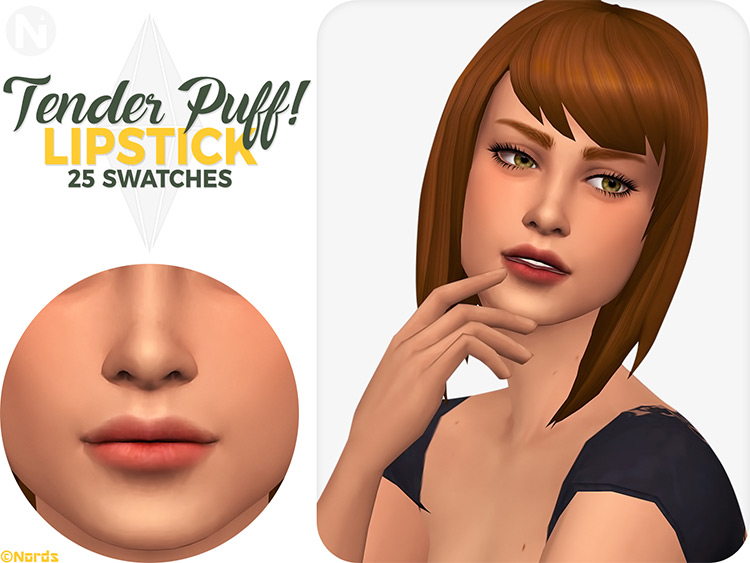 The 25 new lipsticks seen here are packed with very vivid hues – as well as a few nude tones.
Whatever look you're going for, one of these will surely suit your Sim just fine. Once again, creators are excelling at inclusivity too since many of these swatches can be used for various skin colors.
20.

Poutsicle Lipstick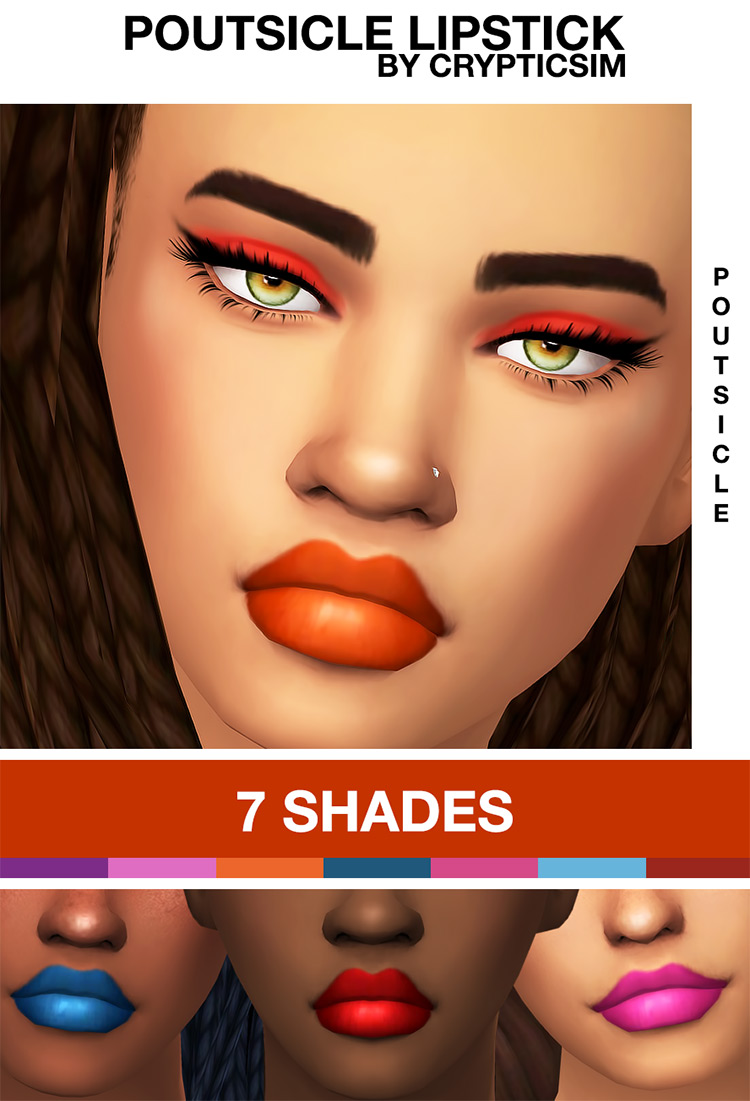 These swatches are based on Rihanna's own makeup line, you you'd expect them to be good… and they definitely are.
The satin texture was replicated flawlessly thanks to CrypticSim's efforts. There may be just 7 swatches, but they really pack a punch.
21.

Lip Preset + Lipsticks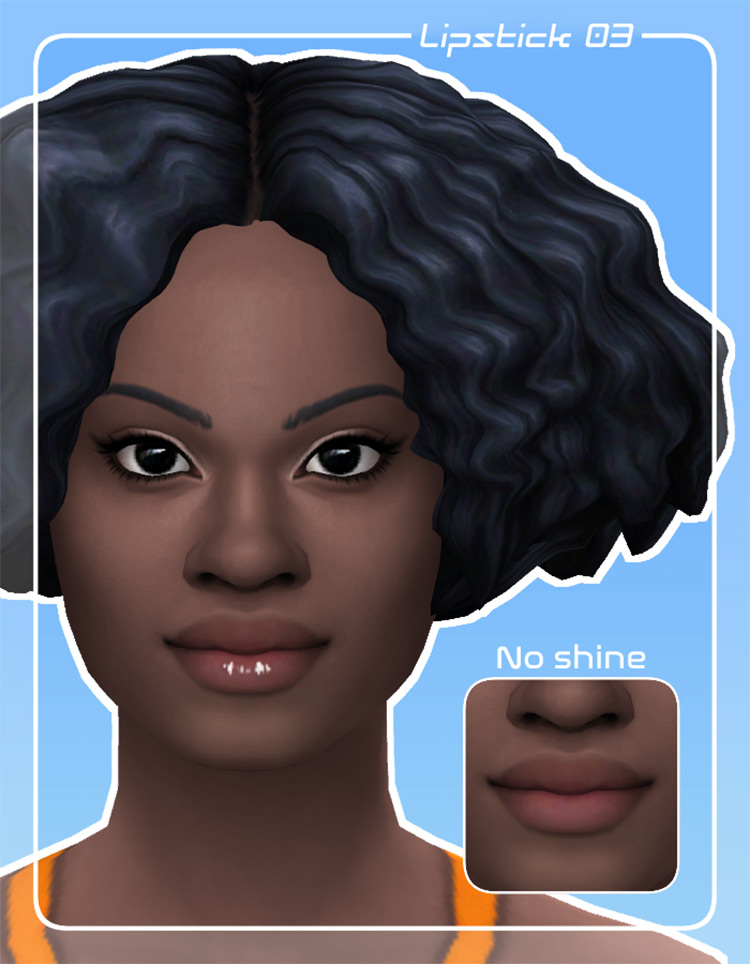 You get the whole package with this Maxis Match CC set:
A new pair of lips, and some lovely colors to put on them!
For the most part, all of these new swatches are very subtle. The creator went for a natural look and definitely nailed it.
Half are nude, and half have a gloss effect.
22.

Shiny Submarine Lipstick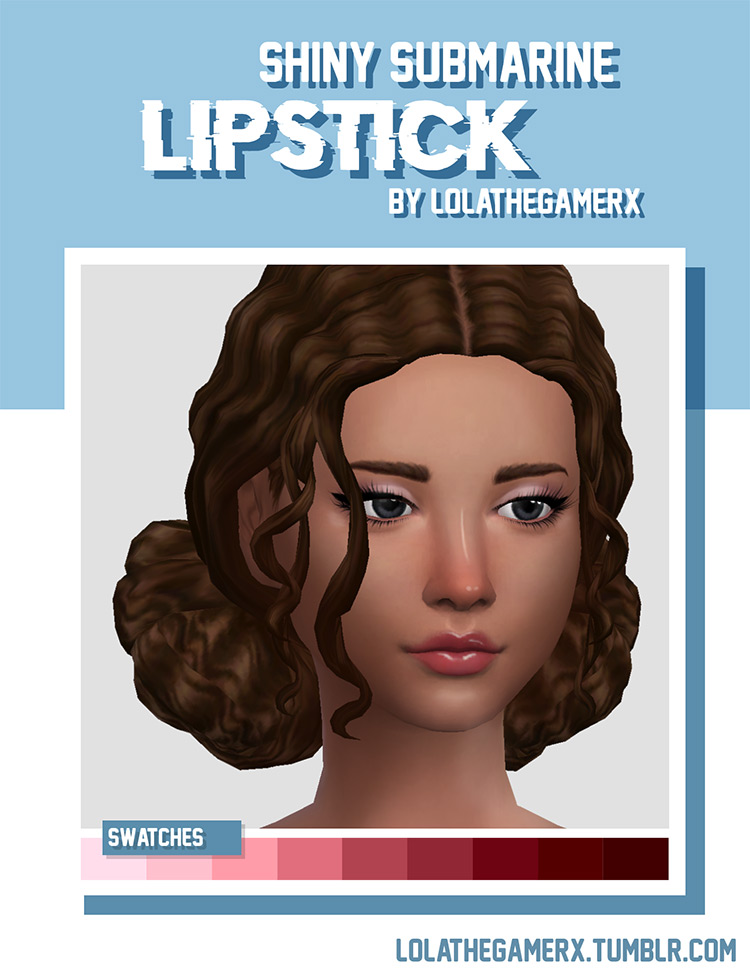 Here we have a set that'll keep your Sim's lips particularly moist.
These 9 swatches are nothing short of luscious. They're honestly some of the glossiest options you'll find in this whole collection.
As far as the texture goes, that's also pretty impressive. Both versions are very realistic!
23.

Lady Peach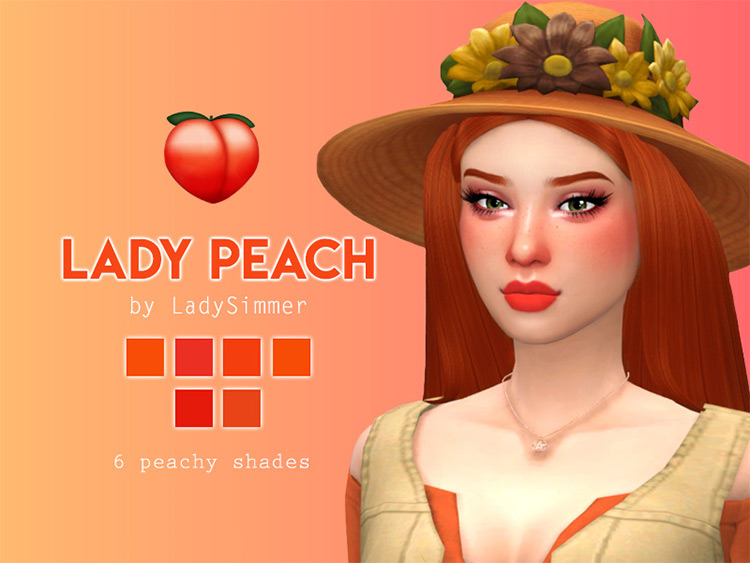 My fellow peach enthusiasts will agree this is one color we can't have enough shades of.
And now we have 6 more.
Whether you want to go dark or light for your Sims, peach always brings a certain elegance. It's also something that is striking no matter the skin tone.
24.

Simthropology's Maxis Match Lipsticks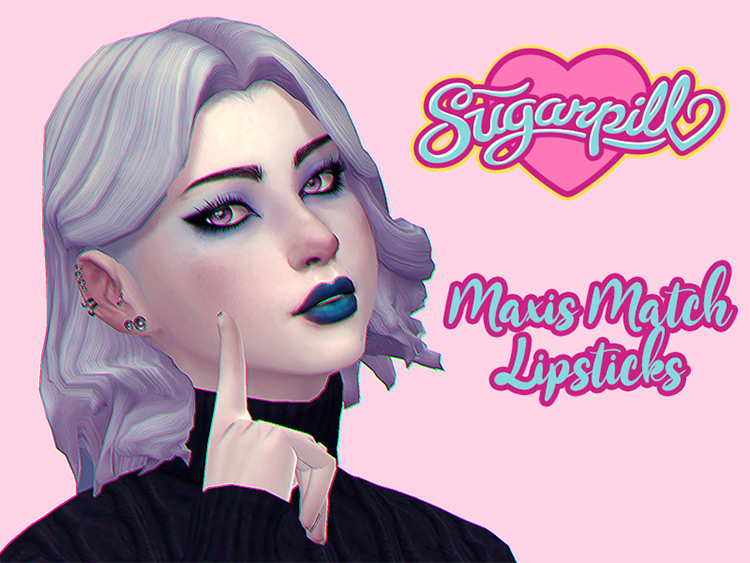 Most of Simthropology's original swatches are really outside of the box. If you love quirkier lipstick options then this is definitely your dream collection.
Matte options for blue, green, and even yellow are featured here, plus a ton of classic neutrals.
25.

Robyn Lipstick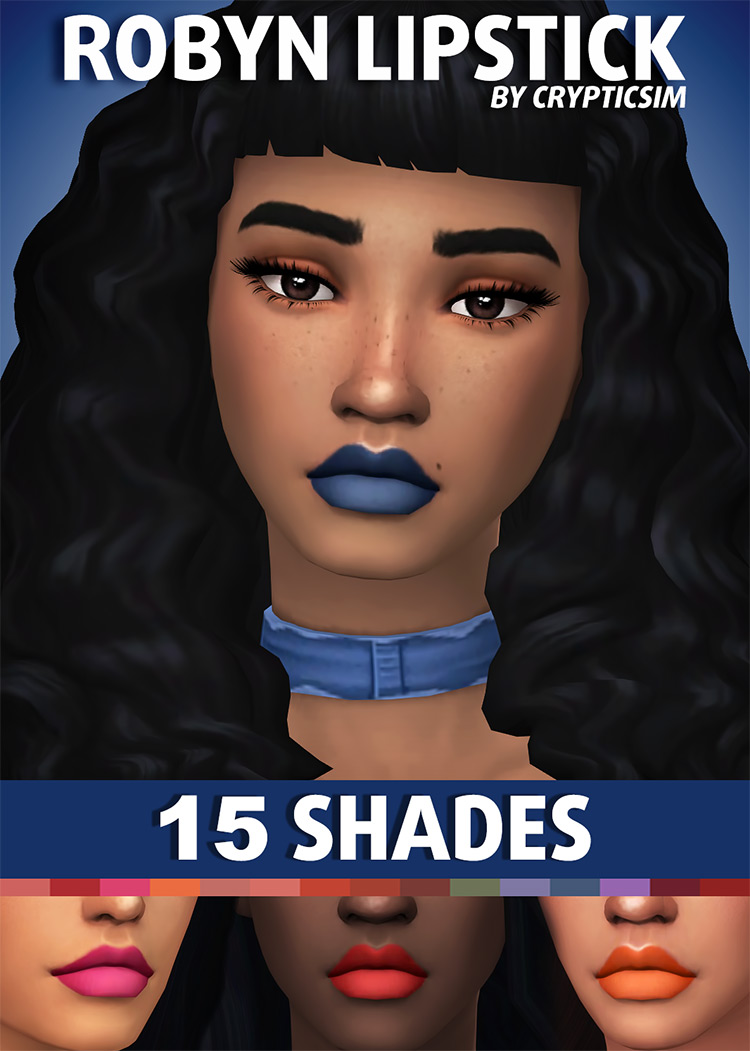 It doesn't get much more vivid than the Robyn Lipstick set. Any Simmer who's into bold and "unnatural" shades is gonna be obsessed with this one.
Each of the 15 total colors are breathtaking.
In this case, it's the matte finish that makes this so distinct.
26.

All That Jazz Set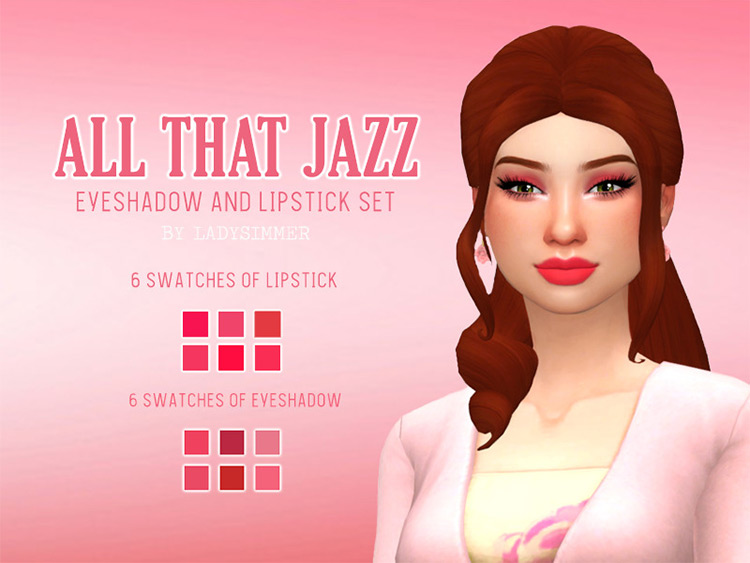 Creating a cohesive makeup look can be intimidating if you're not familiar with all the ins and outs.
You can kickstart your Sim's beauty thanks to this matching eyeliner and lipstick. They complement each other very nicely!
Most of the swatches are beautiful pinks so it'll be easy to mix and match.
27.

Mango Tango Lip Gloss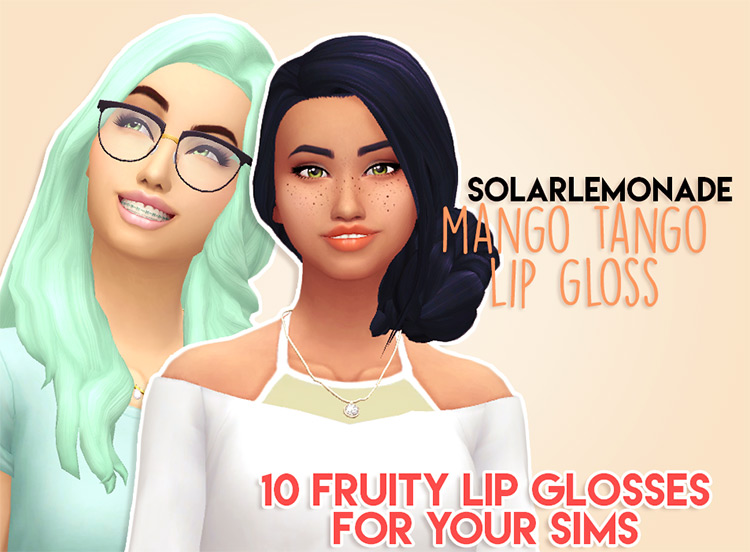 We're back to more fruit references, because half the joy of wearing lipgloss is sneaking a taste.
10 orangey tones are available, and each one is a little different. They'll bring some definition to your Sim's lips in an epic, but not overbearing way.
28.

Puffy Lip Preset Pack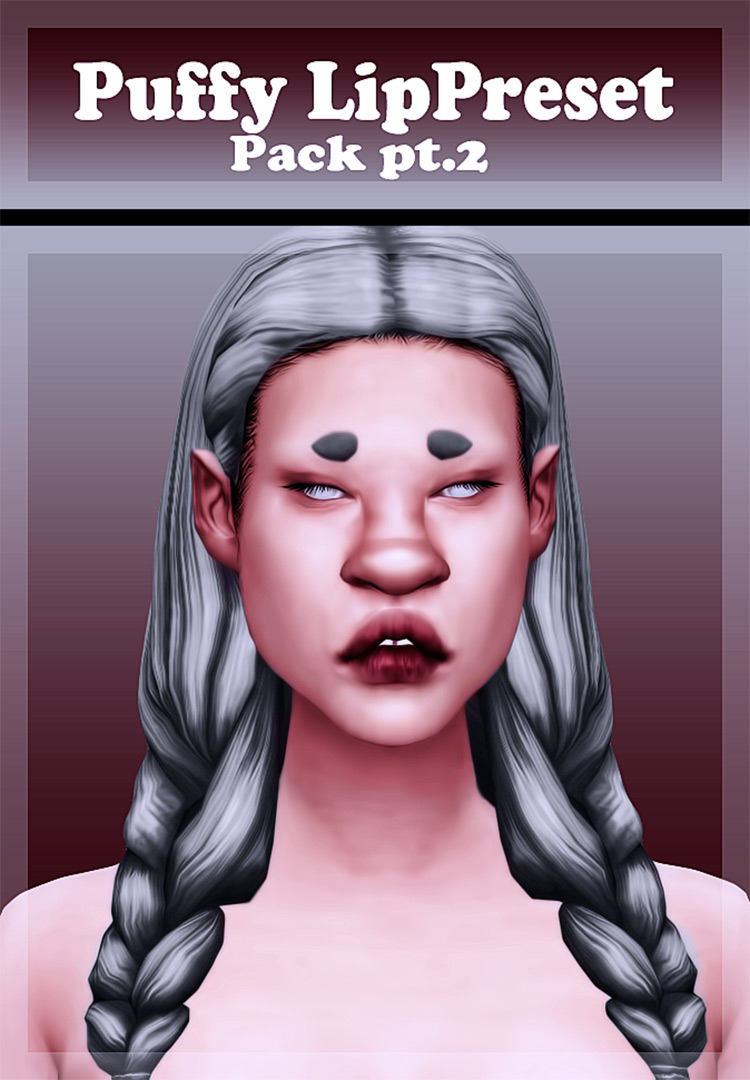 Puffy lips can be tricky to do in CAS.
Sliders will only help so much.
Here's a preset pack that does all of the work for you. All ages are covered, so kids and toddlers can have a convincing pouty face at last.
29.

Shego Two-Tone Lipsticks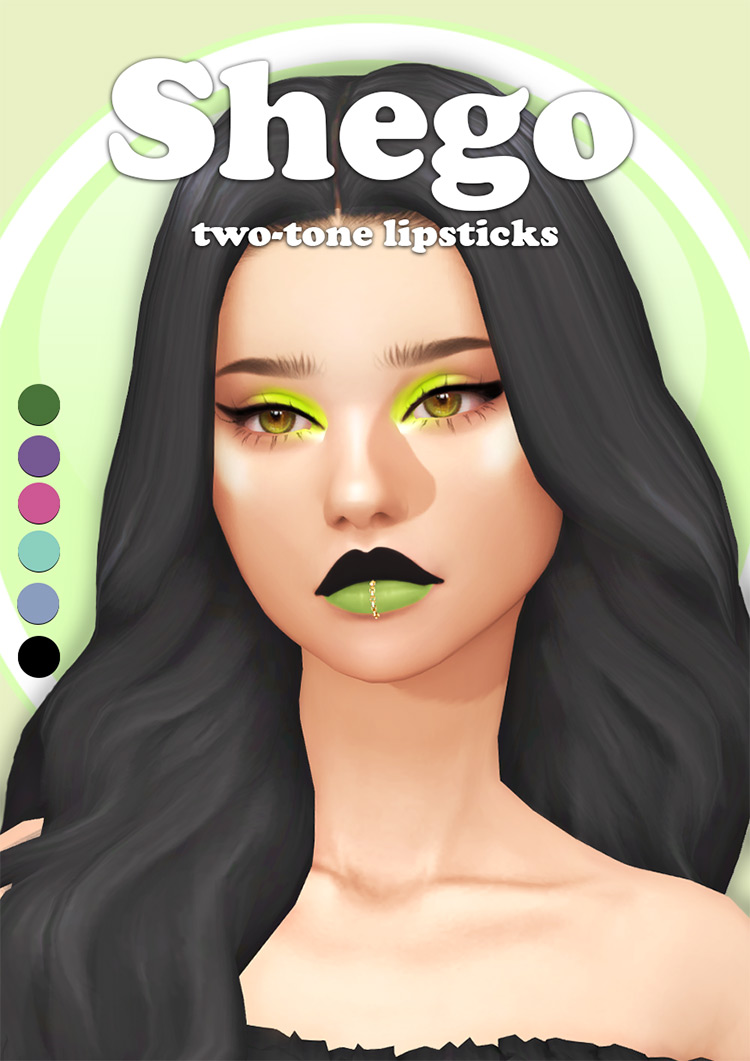 Lady Simmer has provided another great example of how custom options can expand our CAS potential in such big ways.
Two-tone styles like this are hard to come by, and these are some of the most unique. In each option, green, purple, pink, or blow are paired with black.
30.

Illumine Lipstick
Basically, all the variety a Simmer could want can be found through these 60 swatches.
Not even green, brown, or yellow are left out, which are usually rare to come across. There's even a black option!
Plenty of natural shades are included as well, for when you want to keep your Sim's look lowkey.
Browse:
Lists
Maxis Match
The Sims 4
Video Games