Best Sims 4 Maxis Match Living Room CC (All Free)
This post may contain affiliate links. If you buy something we may get a small commission at no extra cost to you. (Learn more).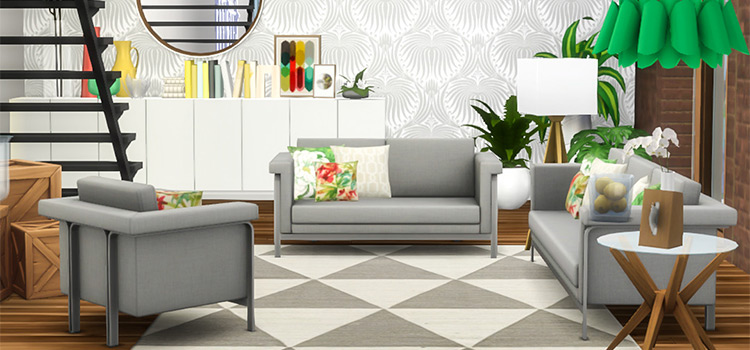 Every house needs a communal space for its residents and guests to kick back, relax, and enjoy each other's company.
Any Simmer knows how tedious it can be to make that room something special, though.
But you know what'll fix that?
A hand-picked compilation of the most awesome Maxis Match custom content fit for living rooms, and that's exactly what we have here!
1.

Rubicon Jute Rugs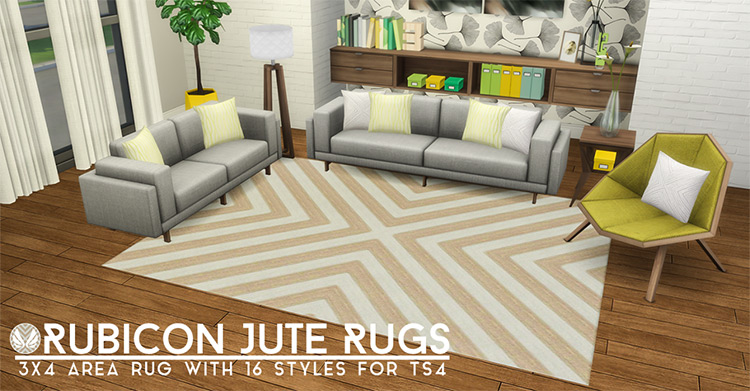 If there's anything Sims need more of, it's rugs.
Many players will agree, we can never have enough!
This medium sized one from Peacemaker, with its neutral colors and chevron-like design, might be just the thing your build has been missing.
2.

Metropole Ottoman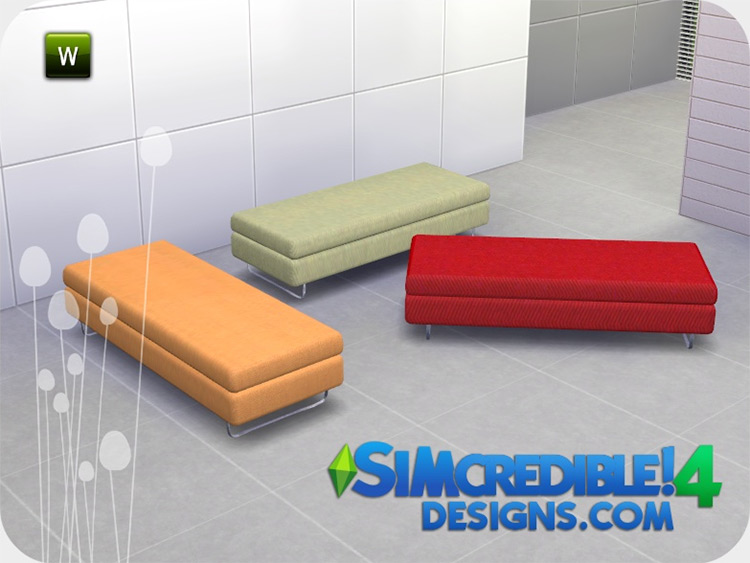 Is it a seat, is it a table?
Who knows.
Whatever an ottoman is supposed to be, they're pretty nice. This design is super lowkey and you'll be able to easily integrate it into any theme you may have while building.
3.

Pavel Coffee Table
One of the best things about CC furniture is that Simmers add so many extra slots.
You'll have no shortage of opportunities to clutter up your Sim's house with this coffee table, seeing as how it has 51 deco slots.
4.

Mounted Faux Bear Head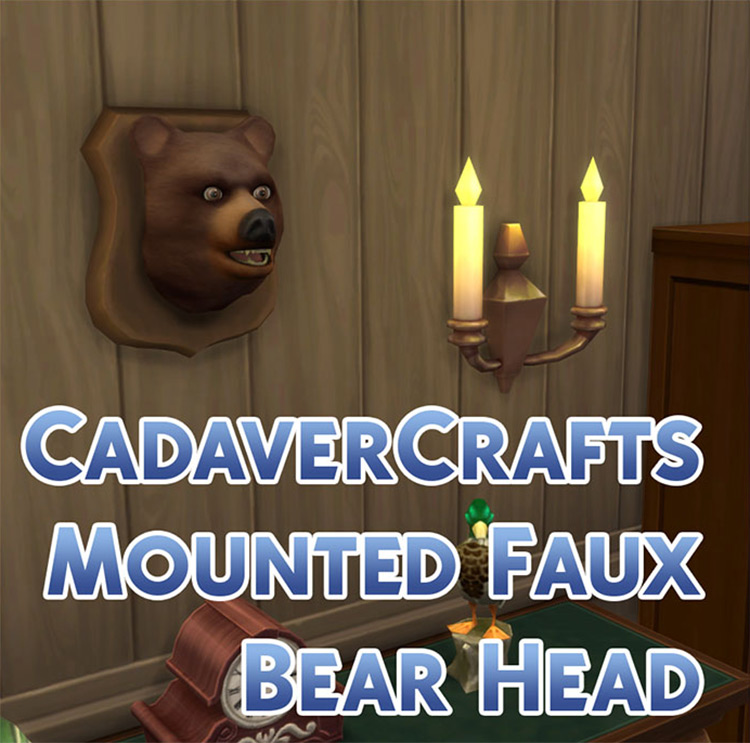 That creepy bear costume from Outdoor Retreat has given us the perfect alternative to realistic head mounts.
If you're into rustic builds, such as cabins or cottages, this will definitely be a useful addition to your game.
Place it right above the fireplace and party like it's 1895!
5.

Grandma's Couch Recolor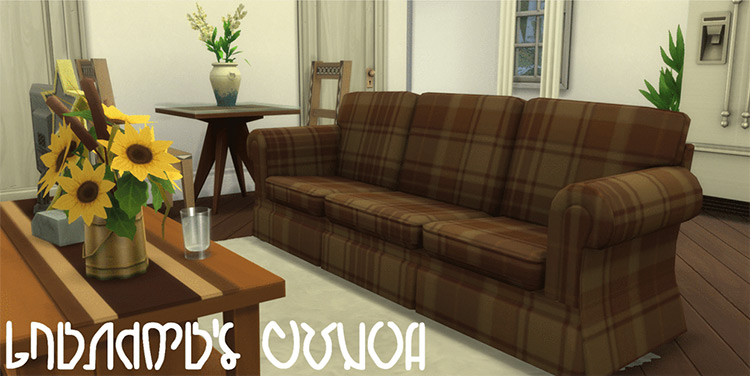 Here we have an authentic retro couch that you can include in homes both old and new.
It'll bring a nostalgic, cozy feeling to your elder Sim's homes, and a "we don't have to shop for furniture anymore, I found this on the curb" vibe when used in younger Sim's abodes.
6.

Little Bubbles Coffee Table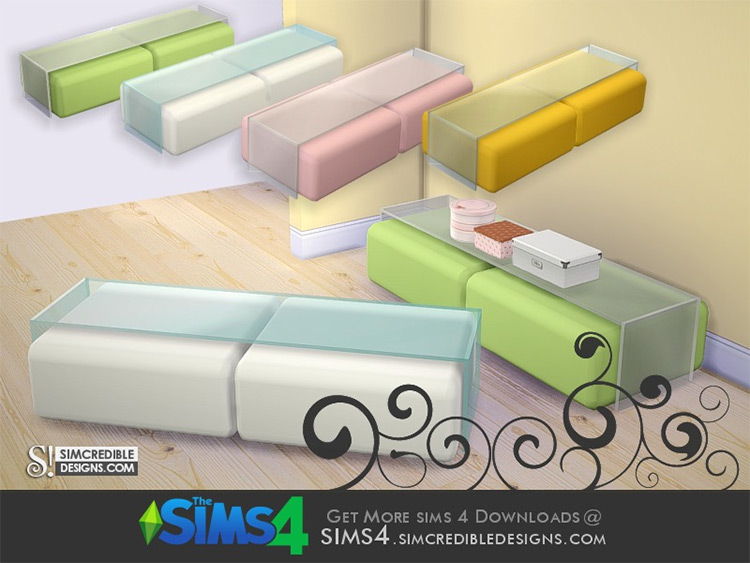 Now your Sims can enjoy the vibrant colors only fabric can bring while still being sensible.
This glass tabletop is like a protective shield while the thick, material part beneath comes in bright shades of white, green, pink, or yellow.
7.

Industrial TV Stand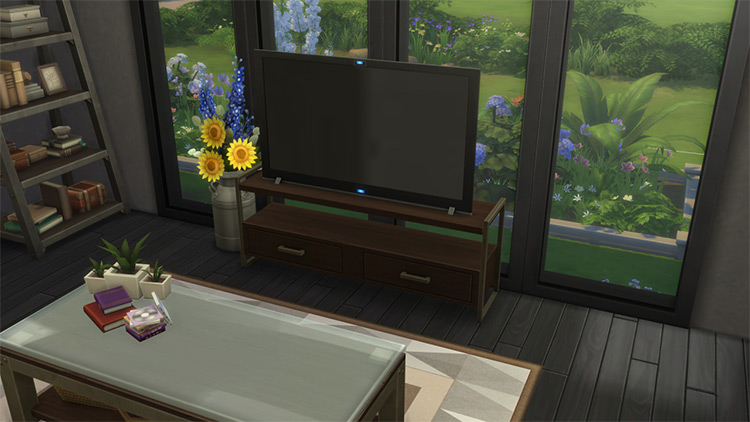 The industrial style is characterized mainly by simplicity, and far from flashy.
IllogicalSims made this to match the base game furnishings. Most of the swatches consist of dark wood and a metallic frame.
8.

Living Room Dining Set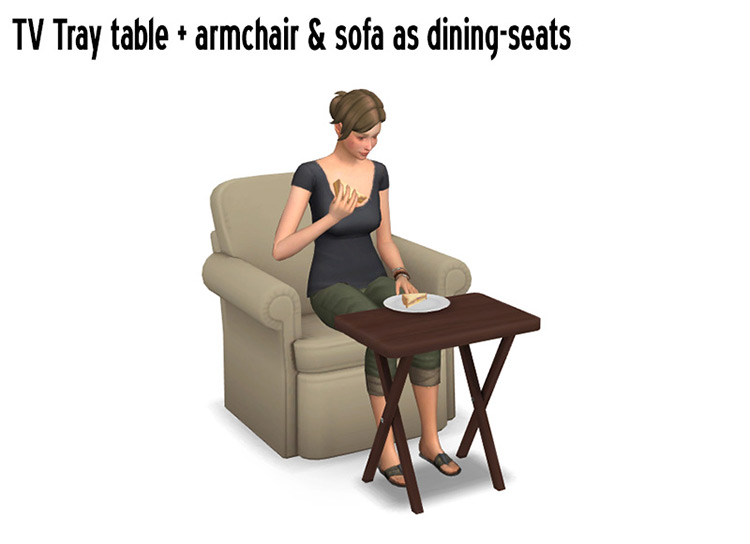 Almost everyone has a meal in front of the TV now and again, if not every day.
The creator has made it so the armchair and sofa in this set are considered dining seats. Then there's the classic wooden TV tray, arguably the foundation of all living room dining.
9.

Functional Photo Frames
What really makes a house a home is the personal touches and memories. That's just what Sims need.
Not only does this allow you to place photo frames on any surface, including the floor, but it's a little more compact.
10.

Queen Bae Window Seat Recolors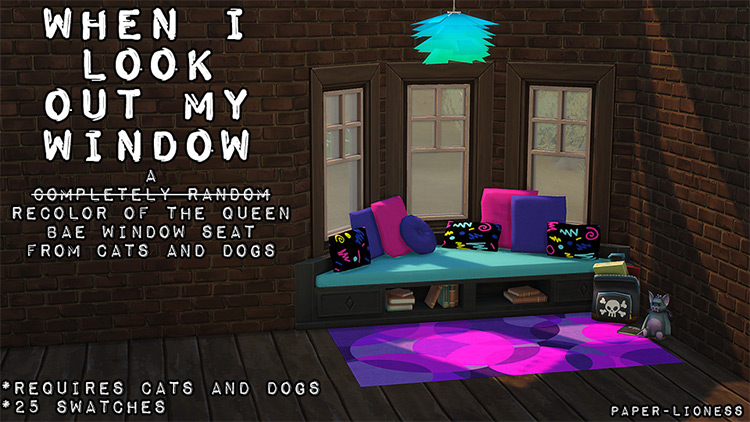 The Cats & Dogs expansion pack brought us window seats, which had been highly anticipated.
All it's missing is a few dozen more swatches, so here we are.
These recolors are all over the place, featuring neon pillows or very busy patterns. There are plenty of neutral options, too!
11.

Decorative Log Pile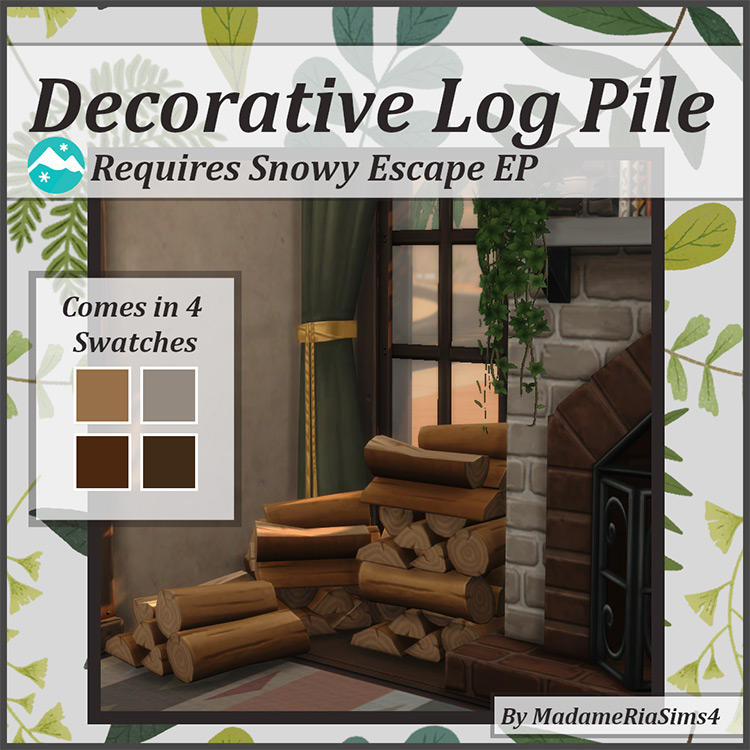 There may be some debate as to whether or not a log pile is appropriate for a living room, but hey, you never know.
MadameRia separated these from the Snowy Escape fireplace and now you can place them however you want.
12.

Art Of The Century Set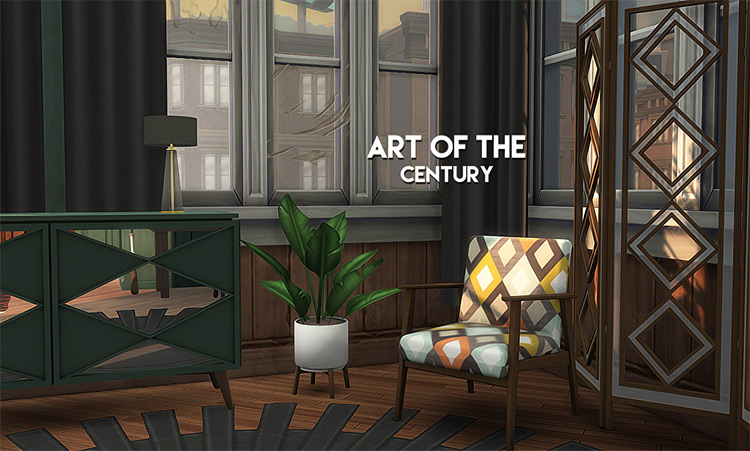 Mid-century modern furniture and color schemes were so revolutionary, they're still highly admired all of these years later.
This creator has got just the way for you to add a few retro-inspired touches to your Sim's home. Each object is very unique, and timeless enough to be used in all sorts of ways.
13.

Blips Loveseats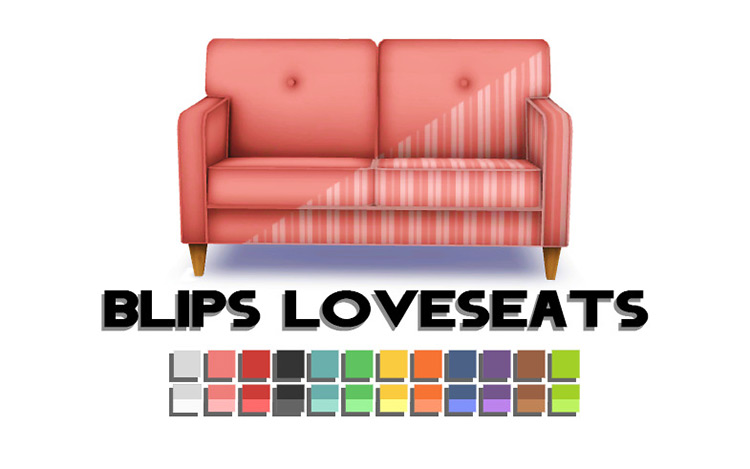 A loveseat is just a loveseat, right?
No! Of course not!
Smaller than a sofa, larger than a chair, they're the perfect medium for seating in spaces of all sizes.
Here's a classic square loveseat, with two dozen colors and patterns to choose from.
14.

Modern Living Stuff Pack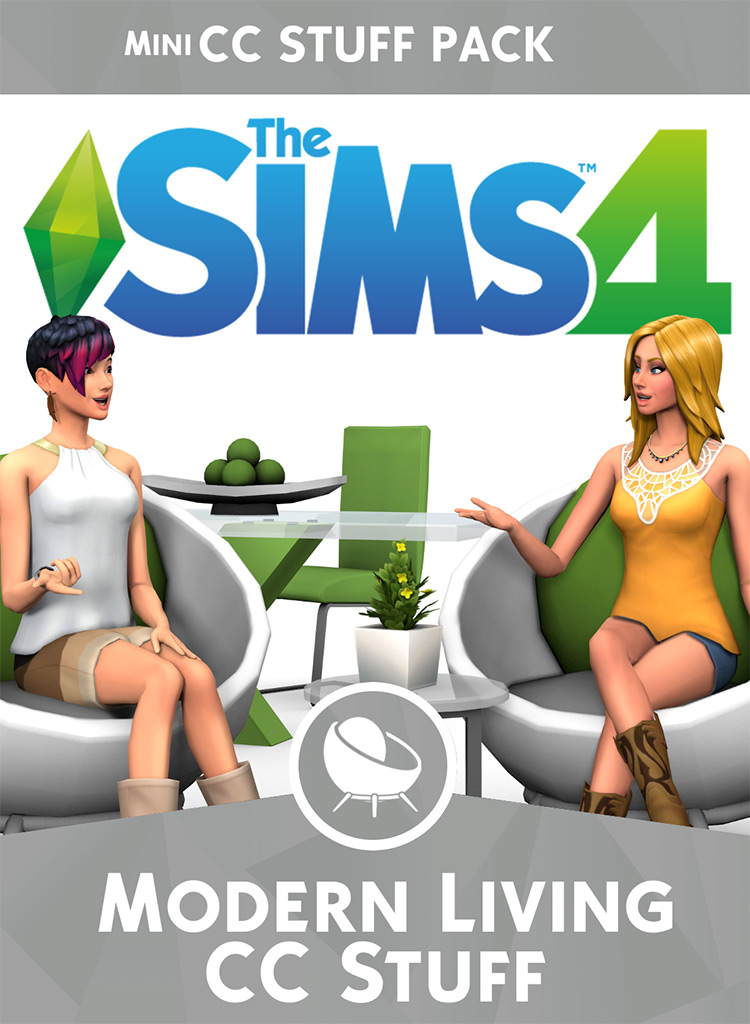 Modern interior design is all about natural color palettes and smooth, clean lines.
This fan-made stuff pack is full of all that and more, with 13 unique objects total.
You can use this set on its own, or integrate it with items from other packs.
15.

Curtis Seating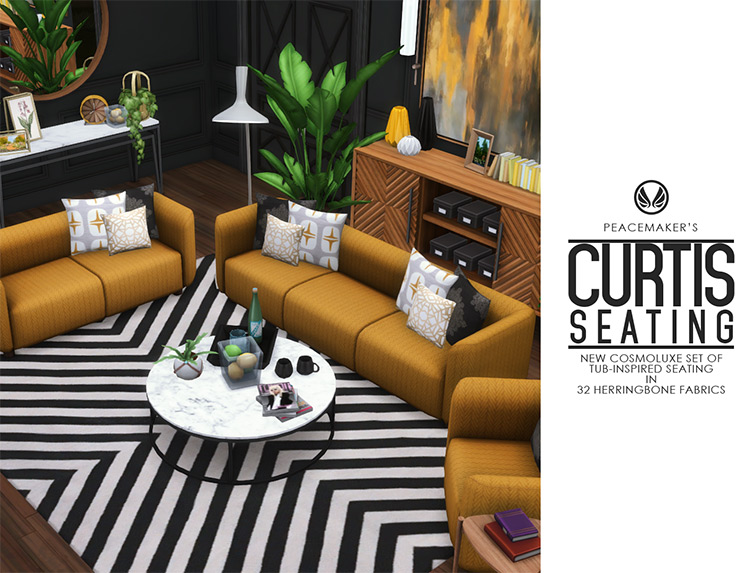 Seating really can make or break a room, so you'll want to get it right!
This distinct look has the perfect mix of mid-century modern and really, actually modern brought by tub chairs. Plus there are enough style options to satisfy even the most swatch-obsessed Simmer.
16.

Basil's Chair (Cats & Dogs Required)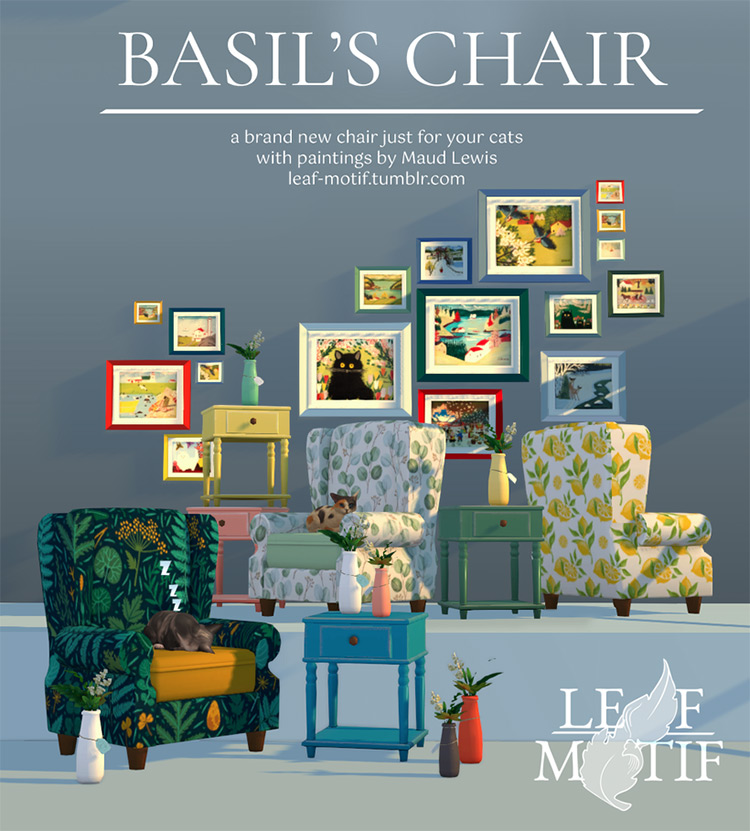 This chair was made specifically with kitties in mind, to give them their own designated seat.
It's really an adorable idea and this isn't something you have to force, the chair is actually configured as a pet bed, so they'll be naturally drawn to it!
17.

Industrial Accent Table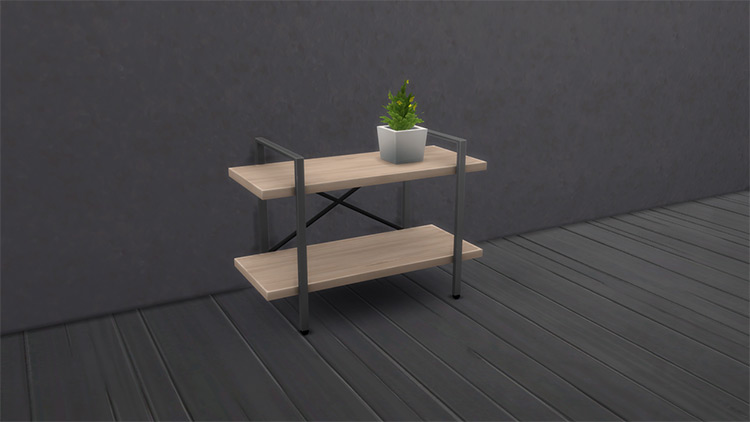 If you like minimalism or just to keep your builds simple, then the industrial style will be your best friend.
You know what this table is? Two planks of wood on a thin metal frame.
That's all there is, and that's all you need.
18.

Mette Living Set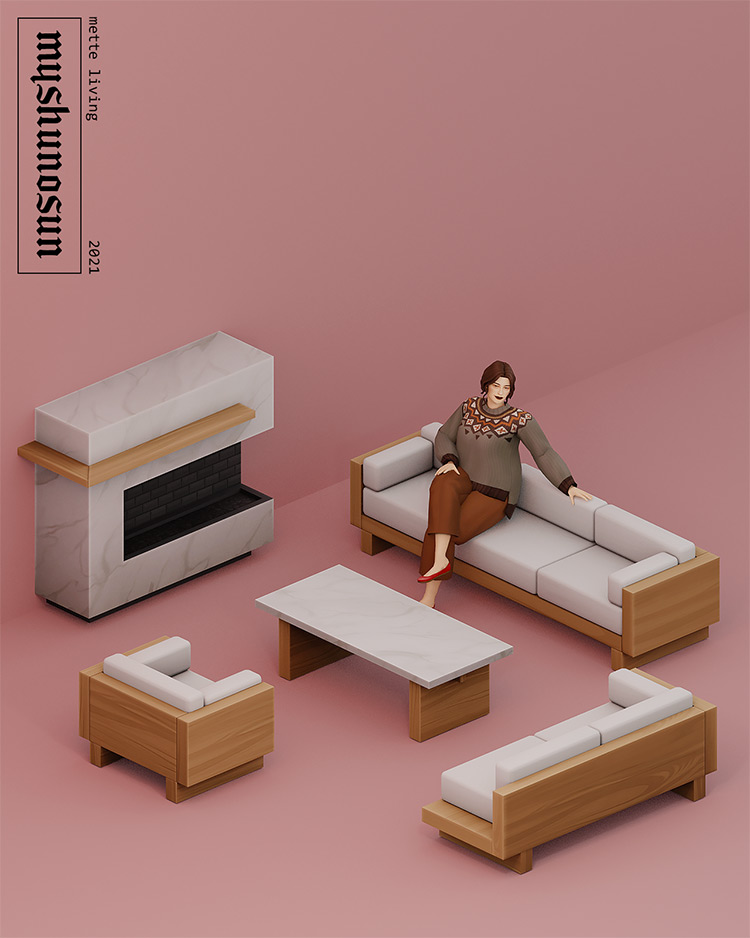 For inexperienced Simmers, furnishing a whole house can be daunting.
But Myshunosun's Mette Living is like a shortcut to an awesome interior. It mixes sleek wood and marble textures, for an end result of 6 items you can use again and again.
19.

TS3 to TS4 Coffee Tables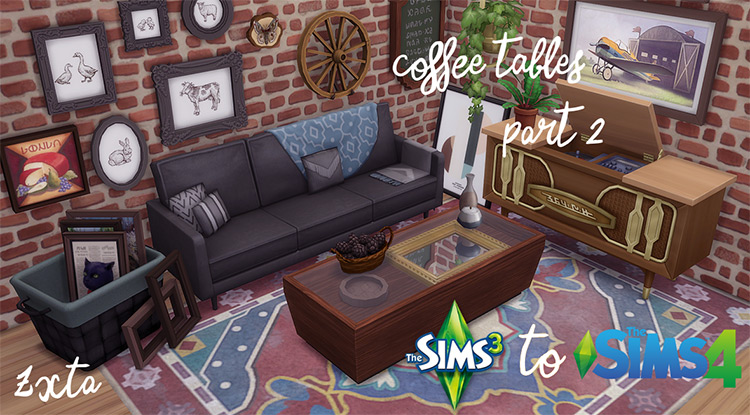 One of these conversions that really stands out is the fire wheel table, from The Sims 3: Ambitions.
It's been edited so that the table can be just like a glass case for you to clutter up as you please.
Beyond that, this release has a total of 7 items from various expansion packs from back in the day.
20.

Minimal Living Set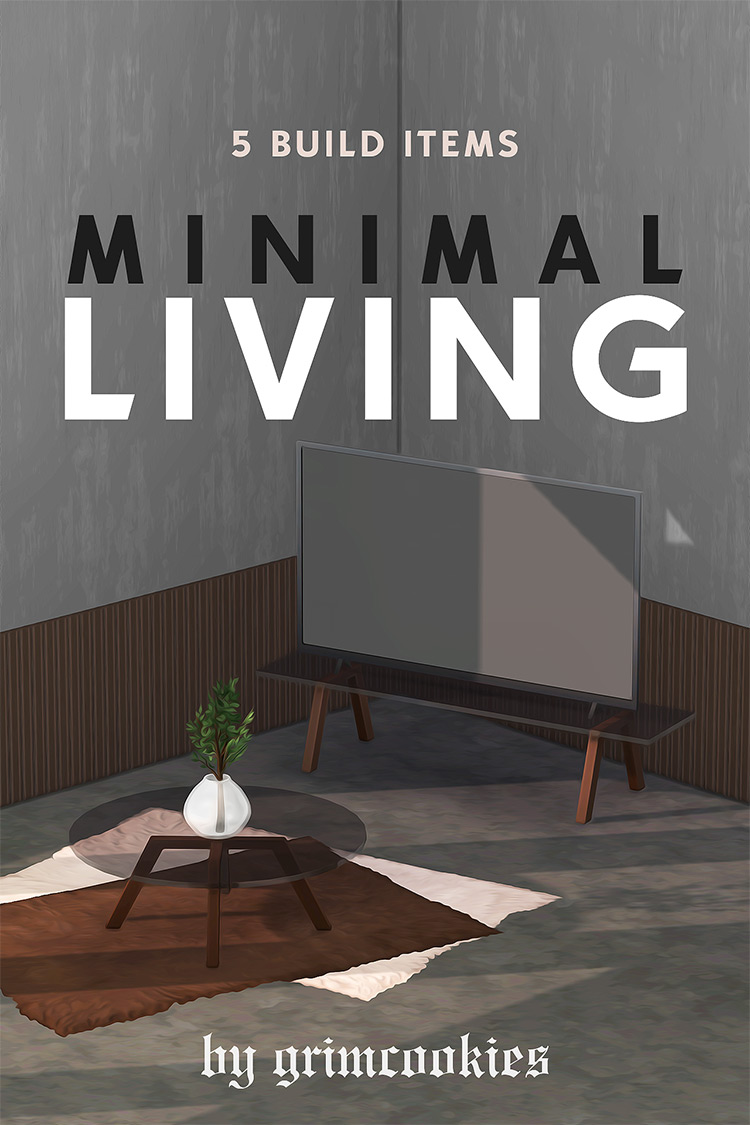 For a pleasant living room, your Sims need the three objects included here: a television stand, a coffee table, and a TV.
Undoubtedly, this set will serve you well when renovating.
It really has that fresh contemporary look.
21.

Intellectual Illusion Wall Shelf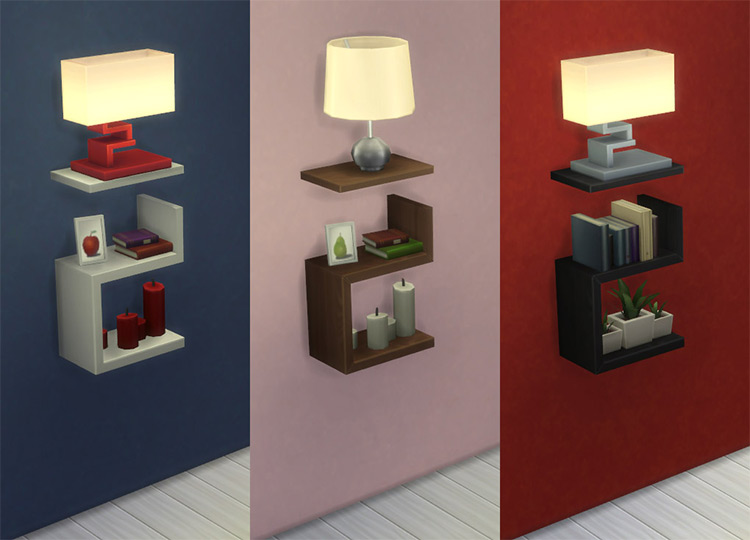 Creator IgnorantBliss has remedied the lack of shelving in the game by taking all the books off the base game wall shelf and adding decor slots instead.
It's a bit of a step up from the regular shelves since it maintains that unique structure.
22.

IKEA Benno Standalone TV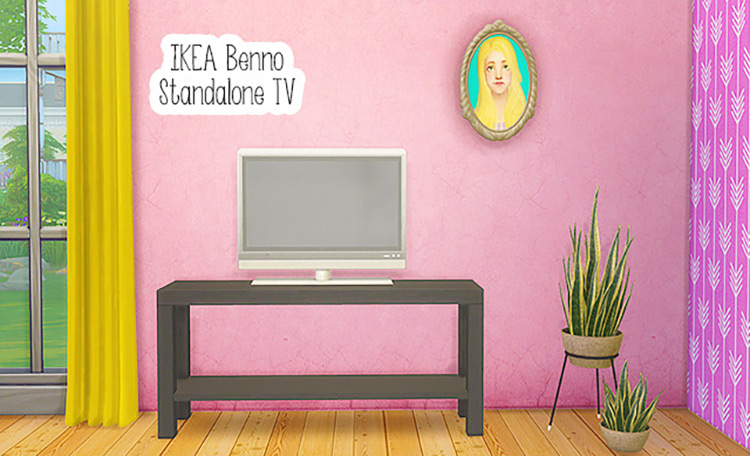 Here's another blast from the past, with this TV that dates all the way back to The Sim 2.
It's a nice option to switch things up in your builds since it is notably different from the various options we have in the base game. The size is just right for bedrooms, tiny homes, and dorms!
23.

Motivational Smart Speaker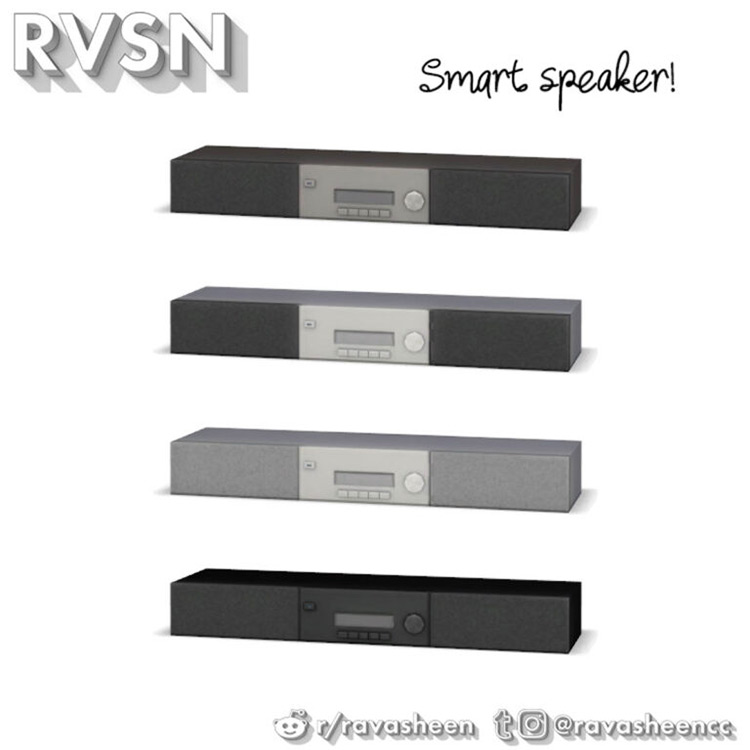 Every major tech brand has their own smart speaker nowadays, even the hypothetical brands in The Sims!
RAVASHEEN's own take on the device will let your Sims enjoy everything any other brand has to offer. They can do everything from control the lights to play games.
24.

Gloomfish Fish Tank (Cats & Dogs Required)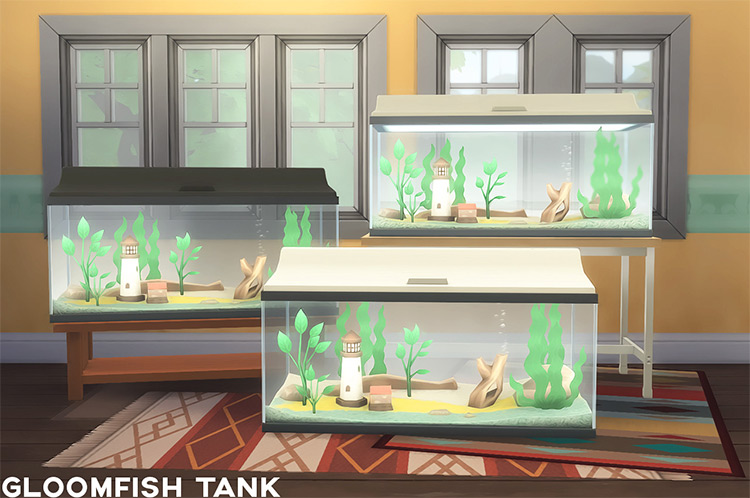 You can place this medium-sized fish tank almost anywhere. It's entirely up to you what type of stand, or lack thereof, you want to use to display this.
Aside from pet ownership simply being very enjoyable, fish tanks in The Sims 4 are also a pretty good source of light.
25.

The Core Living Set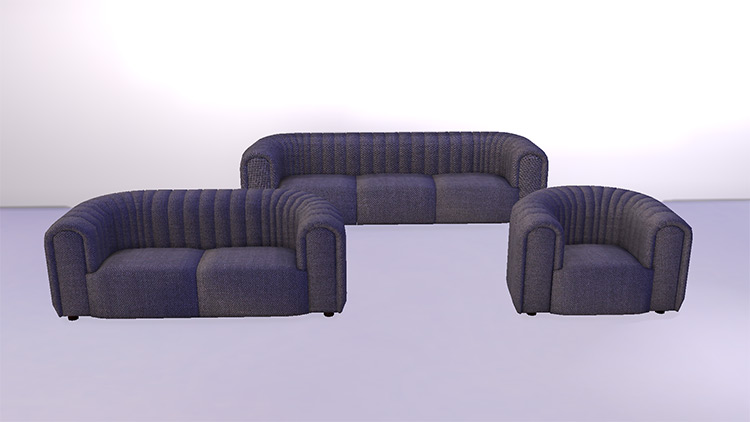 The Core Living Set has a textured, curved back on each piece of furnish that gives it a very contemporary appearance.
These are pretty unique not just because of how they're constructed, but because of the rich color swatches as well.
26.

Bootlegged Comfort Couches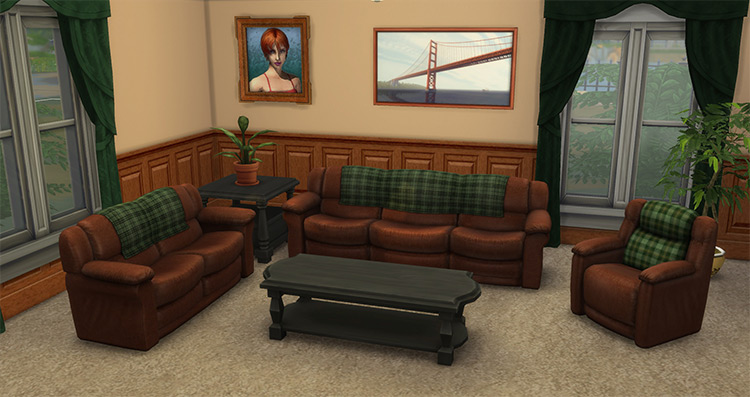 What Simsi45 has here is some of the best stuff you'll find if you like that comfy, vaguely vintage look.
These couches are converted from The Sims 2 and that leather texture is unmistakable. Three pieces are included, and the loveseat was specially made so that this would be a complete set.
27.

Take A Side Console Table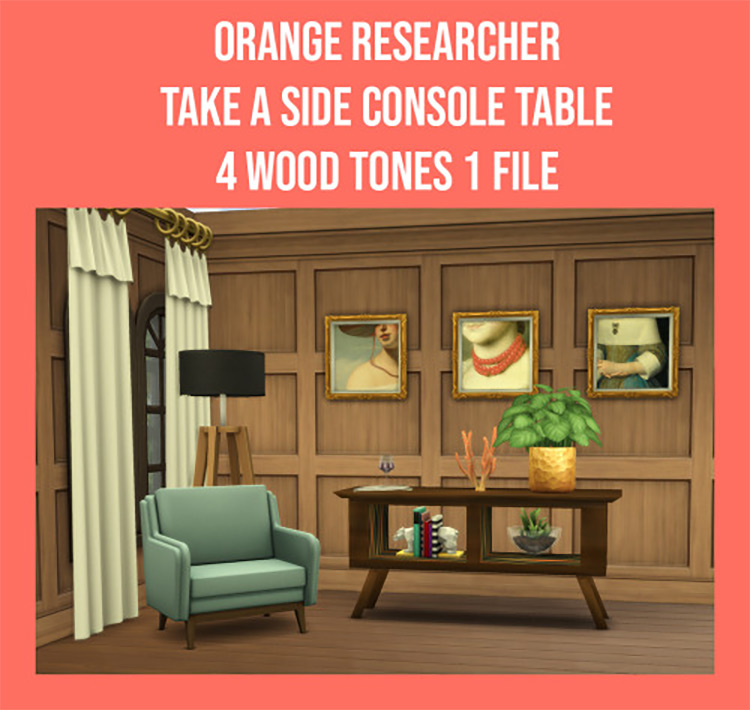 This really is the ideal console table if you like a lot of clutter and decor in your Sim's home.
Not only do you get the top surface, as expected, but two large spaces in the middle, too.
28.

Glow With The Flow Customizable Lamps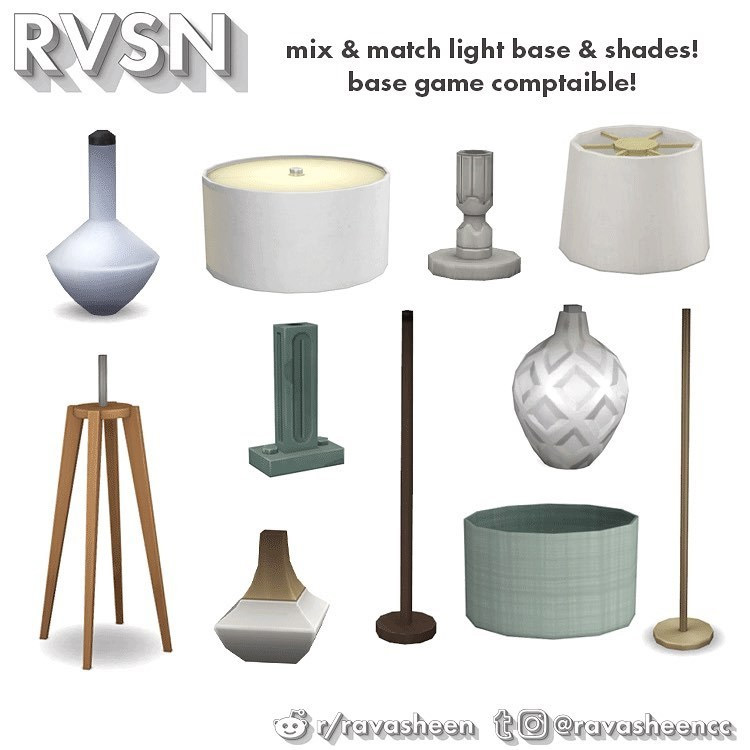 Lighting can add to the mood of a room as well as serve as part of the overall interior design theme.
RAVASHEEN has got the ultimate fix for all of your living room lighting needs in this little pack.
Lamps and lampshades are entirely separate so you can build one just the way you want it.
29.

Iris Seating Set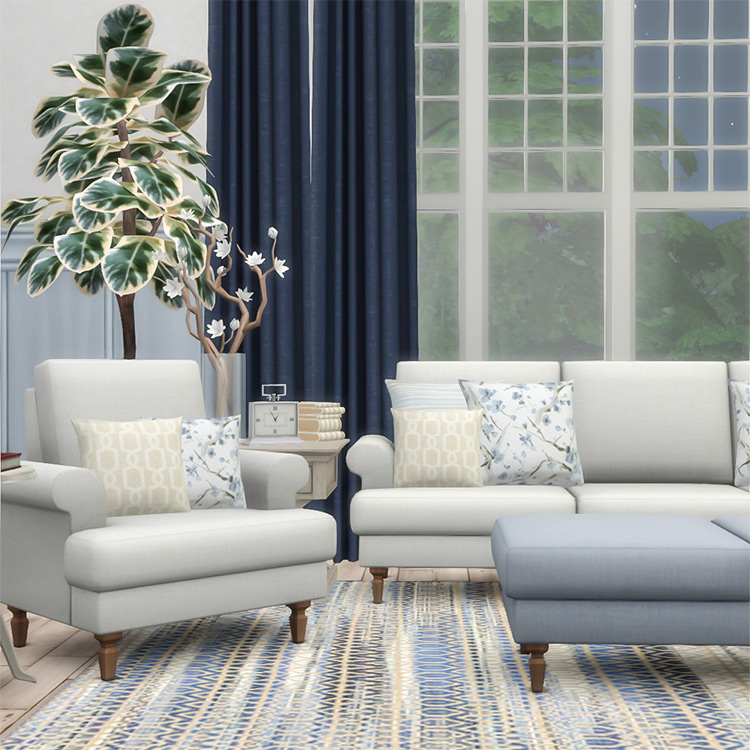 Just about anything dubbed "country style" is bound to be great.
What Peacemaker has here captures classic southern charm. In addition to your seating basics like a sofa, loveseat, and armchair, a matching ottoman is included!
30.

Restoration Hardware Room Divider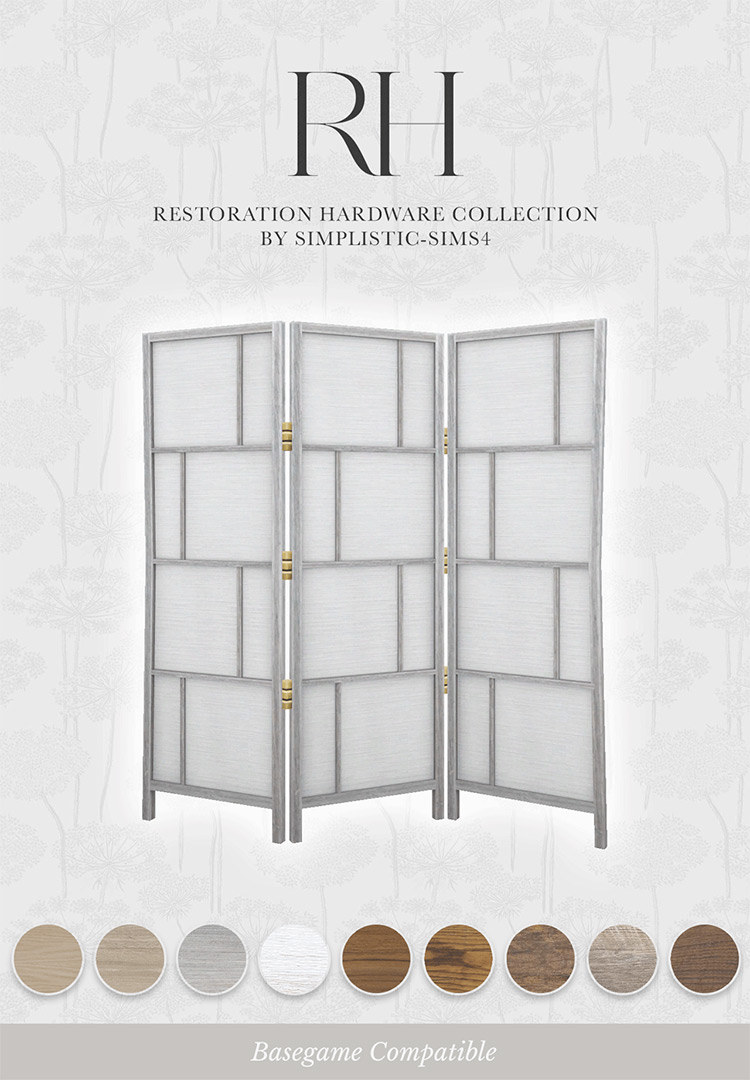 Nowadays, the first thing a lot of new homeowners want to do is knock down those pesky walls.
A room divider is a really handy way to mark a boundary without fully closing off a space. This rustic partition is exactly what you need to define your living room in an open floor plan.
31.

Artz Living Room CC Pack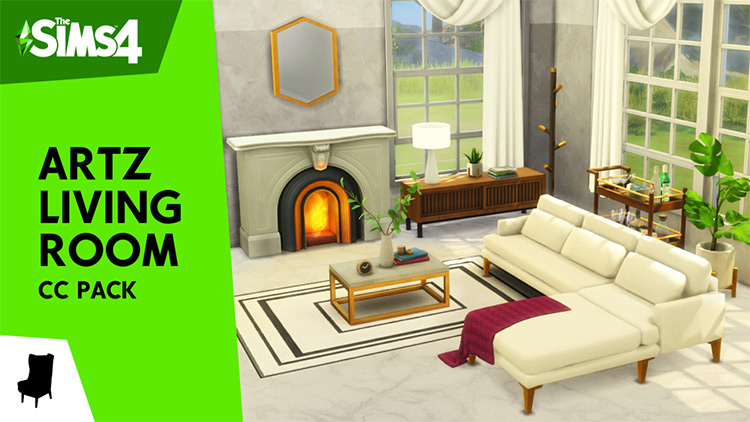 Every bit of the content here is just loaded with colors.
Plenty of seating options are available, plus vases, wall hangings, and a brand new fireplace. It'll be a breeze to color coordinate this set, or find ways to mix and match.
32.

Slouch Stuff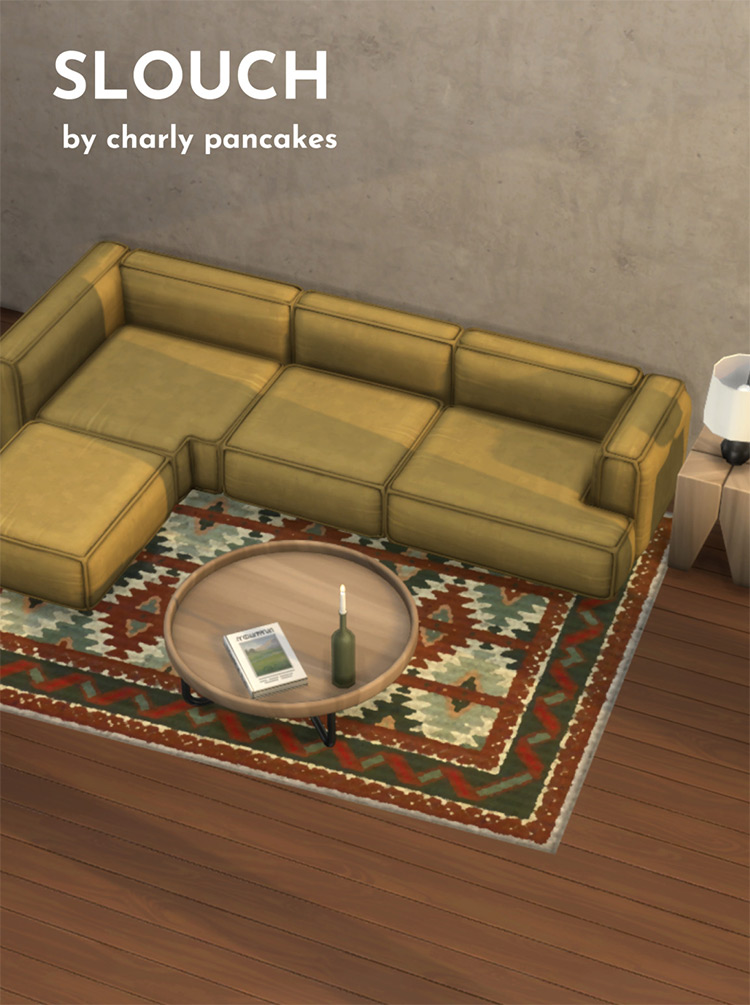 Thanks to the wonders of custom content, sectional couches are now available in the base game!
This spectacular set keeps things pretty low key with wooden textures and very comfy looking furnishings.
33.

Floral Sofa

The Hipster Hugger Sofa is one of the simplest sofas in the game… for better or worse.
It may have a great design, but it only has 3 swatches.
SuburbanSims has found a way around all of that with this version, which has two dozen gorgeous floral patterns to choose from.
34.

Luxurious Lights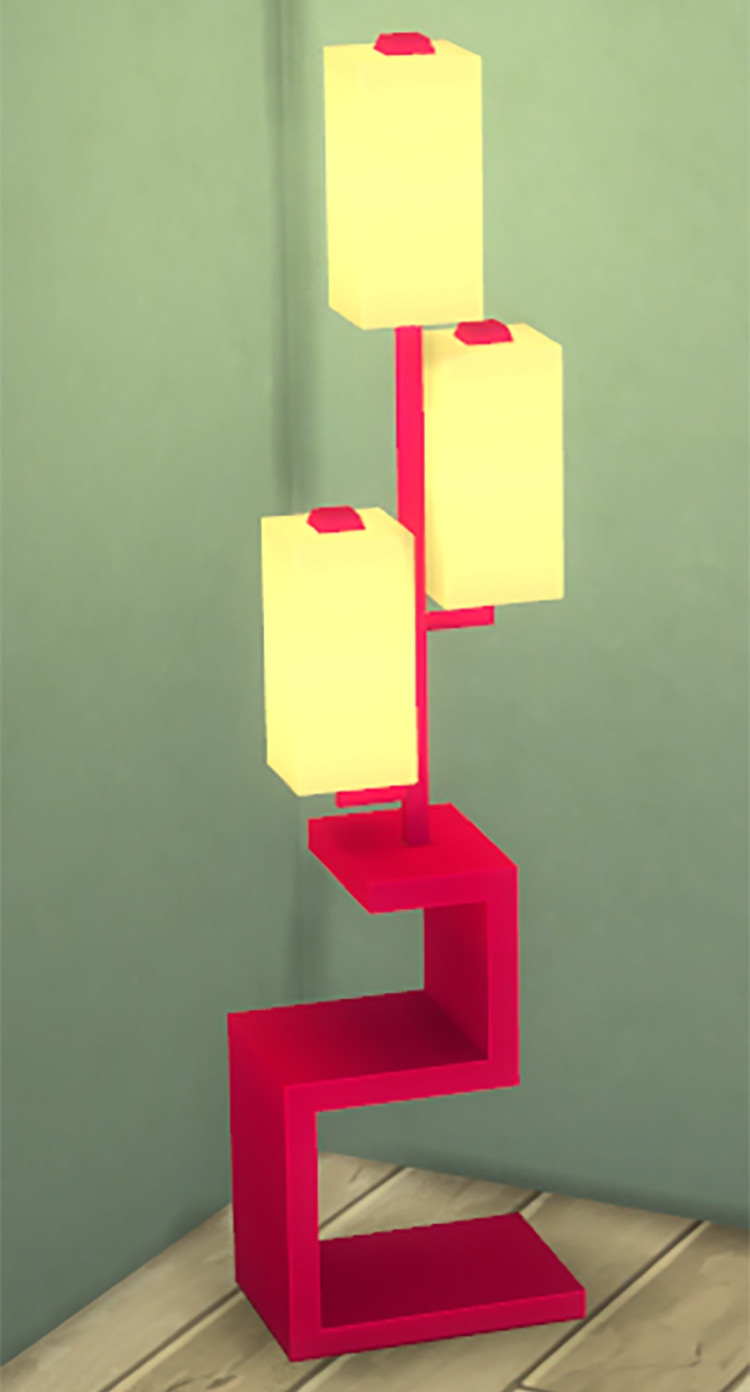 Here's another epic recolor, which breathes some new life into that super chic base game lamp.
Now it's even more modern and will really pop. It's even been modified to cost less Simoleons!
35.

Color Me Yellow Modern Rugs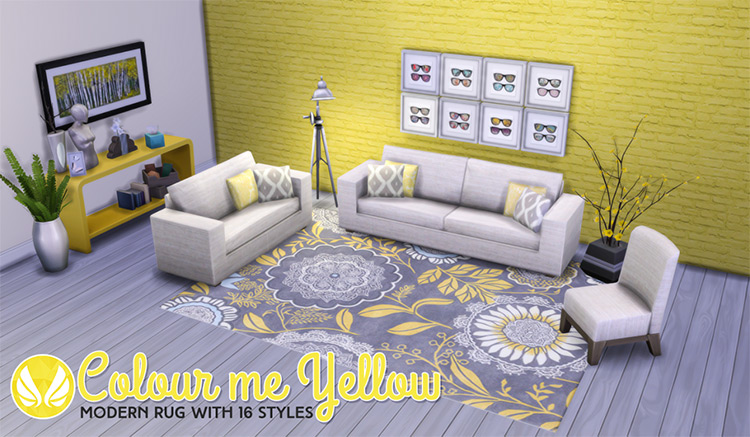 These 3×4 rugs are a great size for most spaces, particularly living rooms.
Yellow is the primary color for these bold, patterned rugs but a mix of gray and white also helps the modern designs stand out.
36.

Coffee Table #001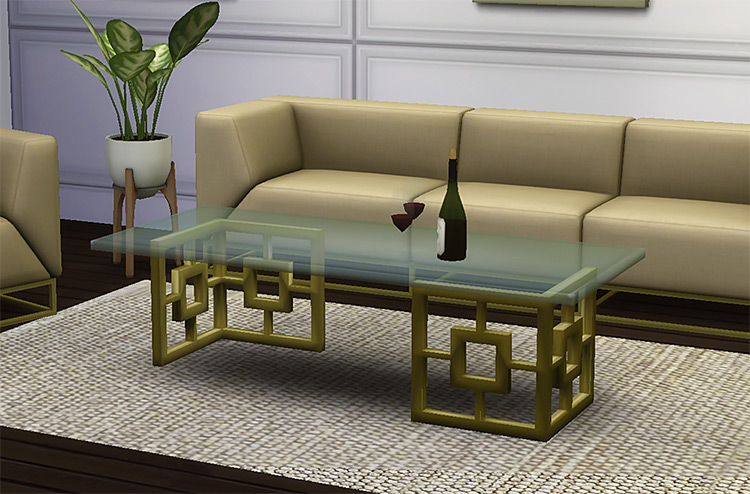 Most of The Sims 4's coffee tables are wood, which isn't bad. But if you ever want to shake things up, this glass tabletop is a sure way to do it.
A metallic, ornate base really goes nicely with the glass.
37.

Simple Square Candle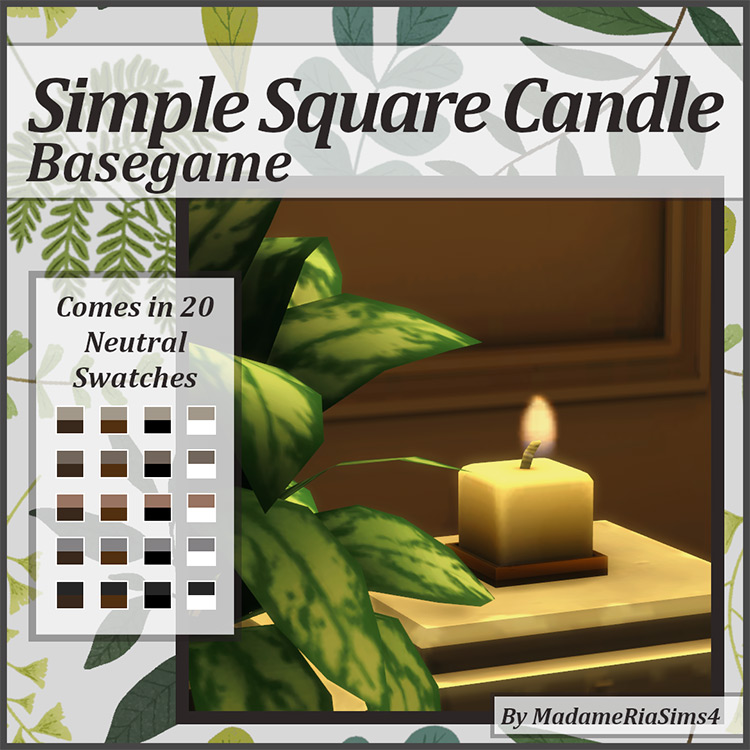 Nothing brings joy quite like something that smells great and is also a cute decorative piece.
That's just what MadameRia's creation brings to the table. I can't attest to the smell, but these square candles and their wooden plates are very classy.
38.

Dawn Living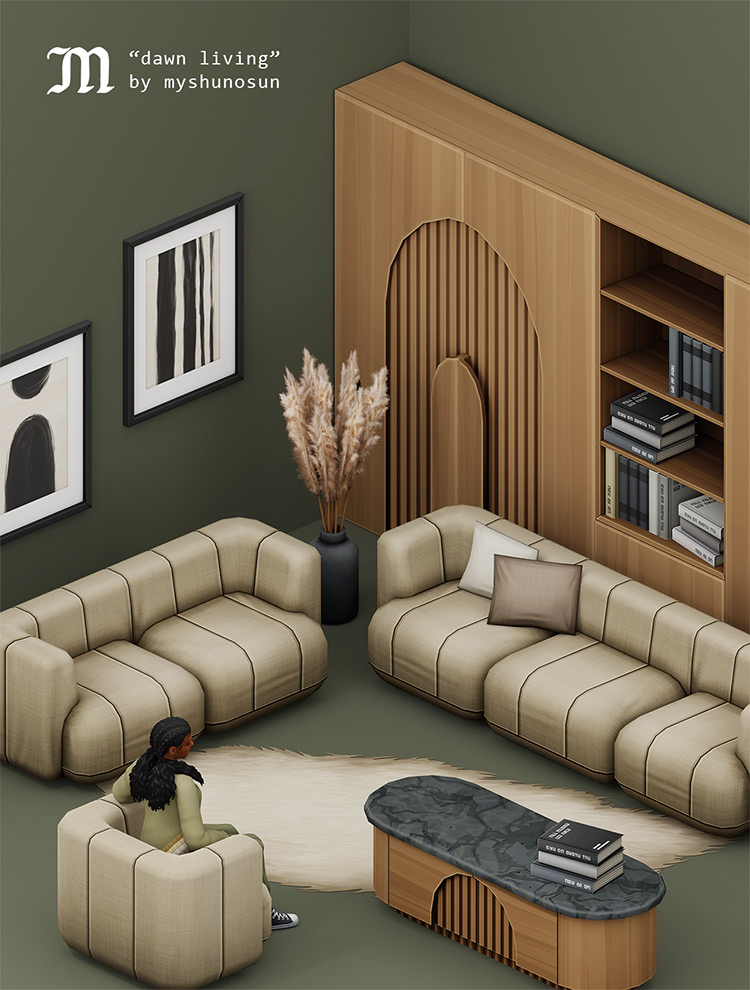 This set is the peak of contemporary style. 12 items total are included and a neutral color palette throughout seals it as chic and modern.
Besides some great furnishings, the set also includes new plants and clutter.
39.

Bruuno Industria Modern Seating Collection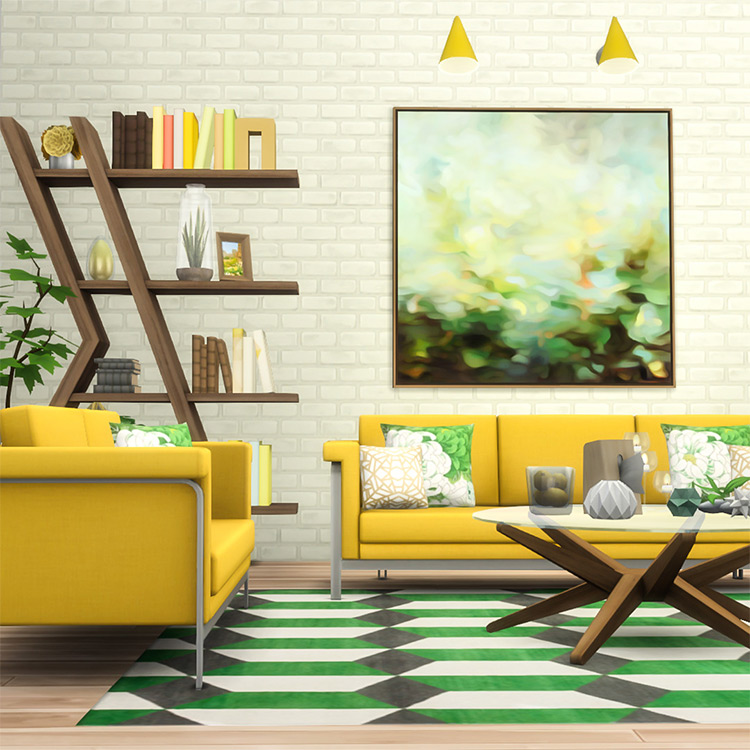 Here's some more state of the art seating options.
The metal frame and abundance of bold, solid colors are a combination that's unique to this collection. This couch, chair, and loveseat fit into the game incredibly well.
40.

Cousin Jeb's Rocking Chair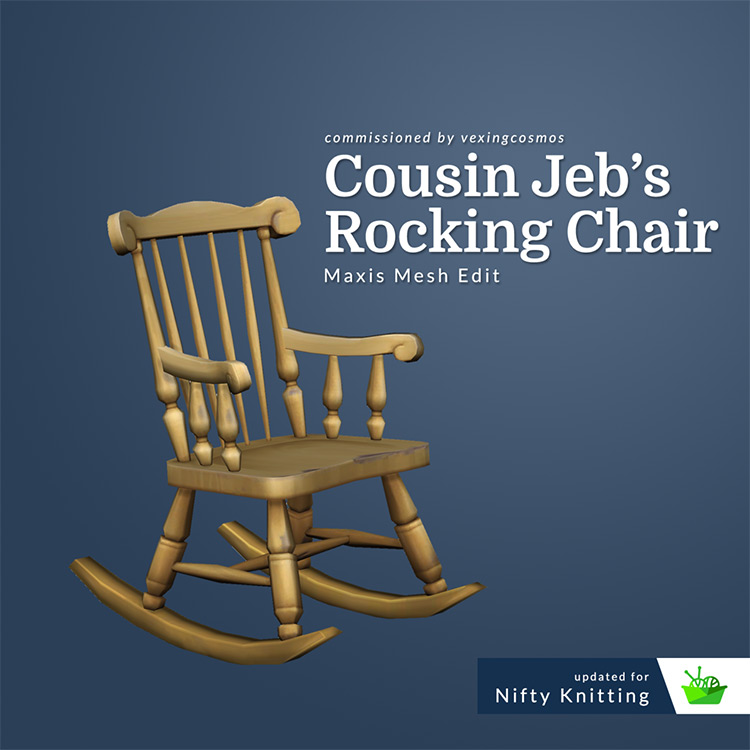 You may see a rocking chair and assume Nifty Knitting is required, but alas, Linzlu made a base game compatible version.
The 38 swatches are quite an upgrade, anyway. Some of them have a slightly beat up look, which only adds to the charm.
41.

Indigo Art Collection (Dine Out Required)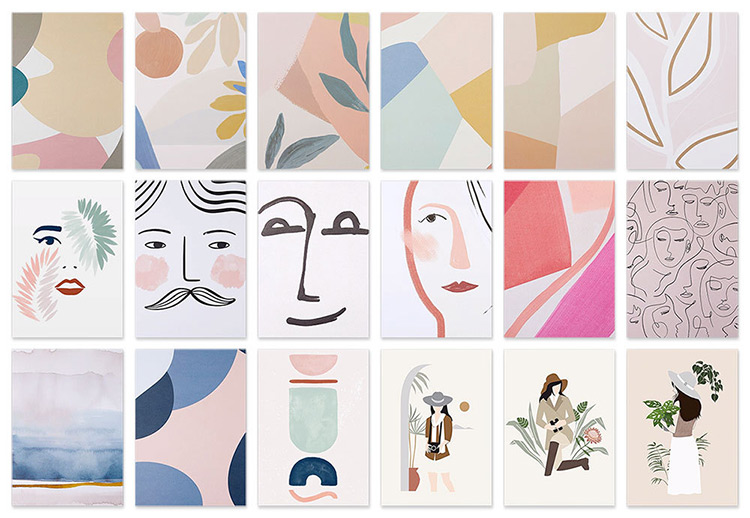 This Maxis Match CC set is sure to brighten your Sim's living room.
With 18 original wall canvas prints, there's definitely something for every Sim.
They're even based on real life art, so you know it's quality stuff.
Tip: We also have a separate page for Maxis Match wall art CC, so be sure to check that out too!
42.

Rorik Rug (Base Game Compatible)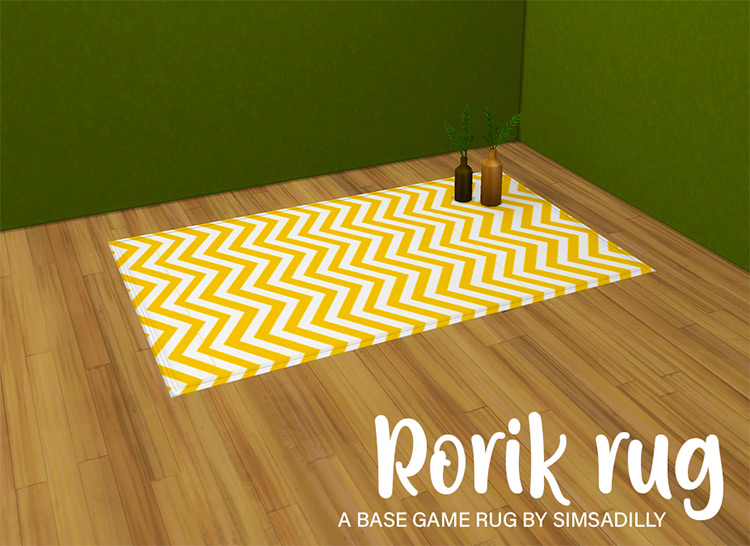 The geometric patterns featured on these small rugs will add a lot of personality to your build.
8 vivid swatches are prevalent throughout and bring out the design even more. They'll be easy to use with all sorts of other furnishings.
43.

Bracken Living Room Chair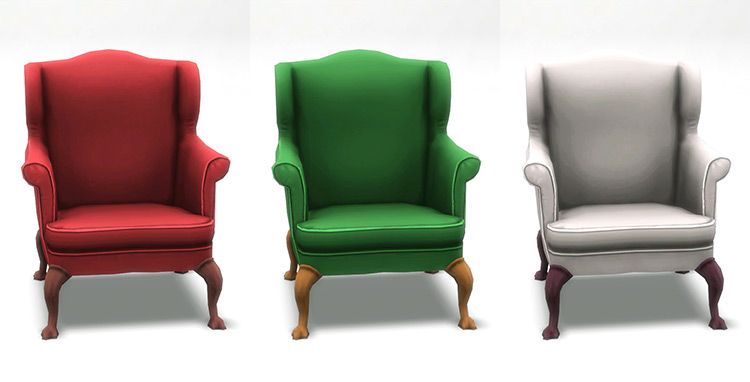 You know this is an old school chair just from those claw feet.
Here we have another conversion from The Sims 3, and it's a pretty timeless type of armchair. It's a little pricey in-game but the dozens of swatches will allow you a lot of personalization.
44.

Linea Sofa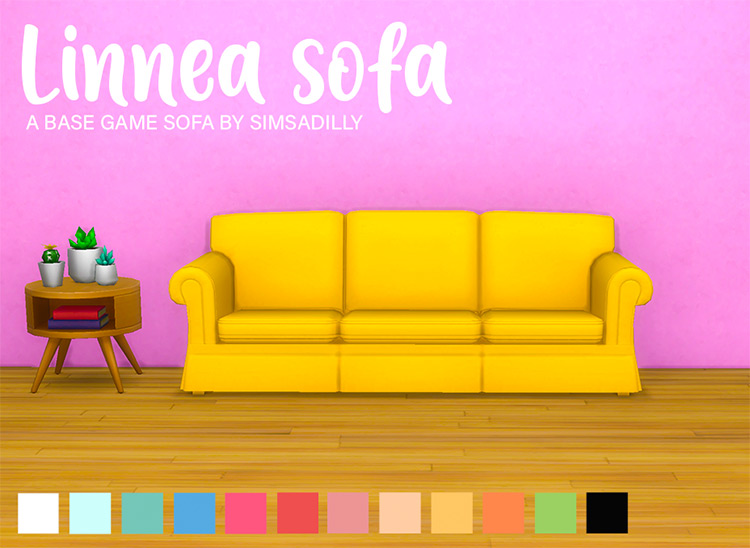 This is another take on the Hipster Hugger Sofa, and this time it's been given a stunning makeover with 12 new vibrant colors.
They're so bright, they're practically neon!
The Linea Sofa definitely makes for a fun living room.
45.

Local Tourist Landscape Art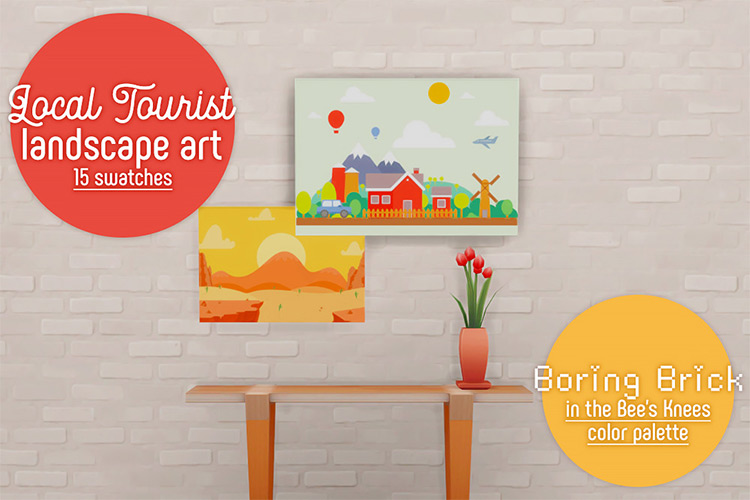 For some cute, wholesome art, look no further than this CC set.
The various landscapes included in these prints are neutral enough to work in any home. There are 15 swatches so don't be afraid to improvise collages!
46.

Country Furniture
Linzlu's cozy seating set is brought to us by another conversion. Just because it's a little outdated doesn't mean it's not still great!
The wood trim looks great against the fabric, no matter the swatch.
47.

Plumbob Pink Salt Lamp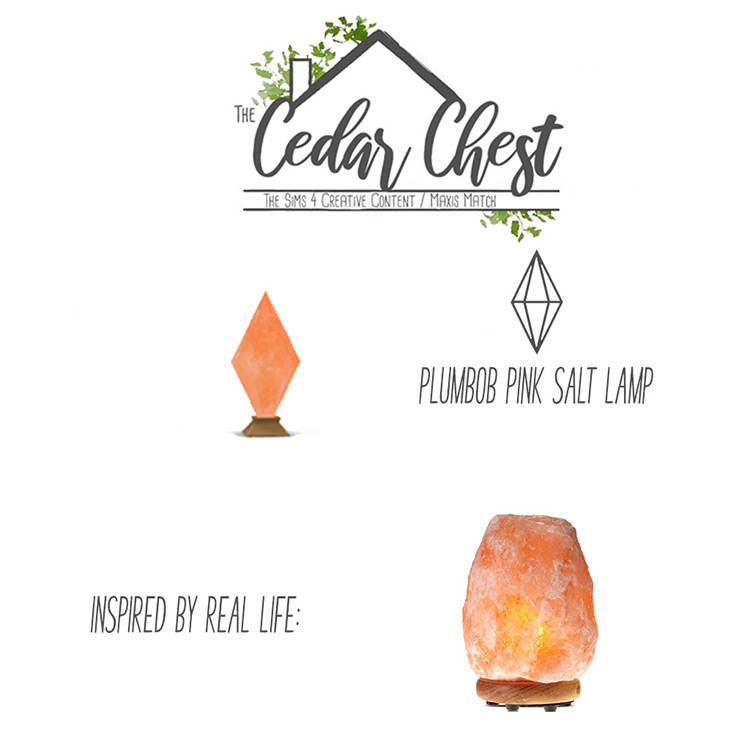 Lamps come in all sorts of wacky shapes nowadays.
But a plumbob just makes sense. This is The Sims, of course.
It's easy to see that the inspiration came from real life Himalayan salt lamps. That pink-orange hue is unmistakable and so, so pretty.
48.

Winter Garden Set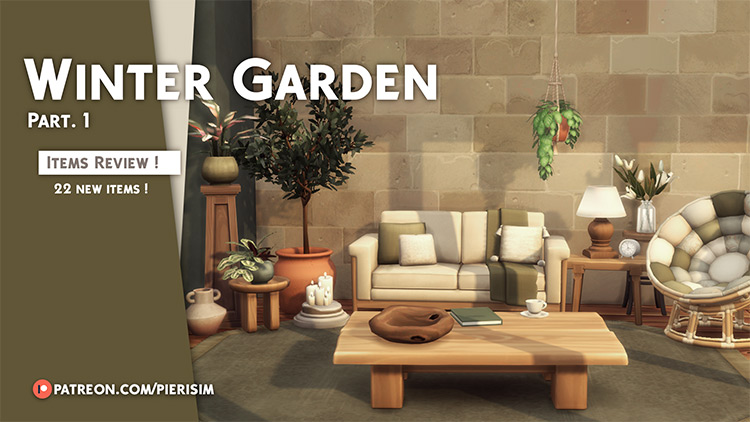 There are endless customization options offered in this set. You can even decorate with blankets and throw pillows like never before.
Pierisim included some brand new seating, plus plenty of clutter objects.
49.

The Willow Collection (Tiny Living Required)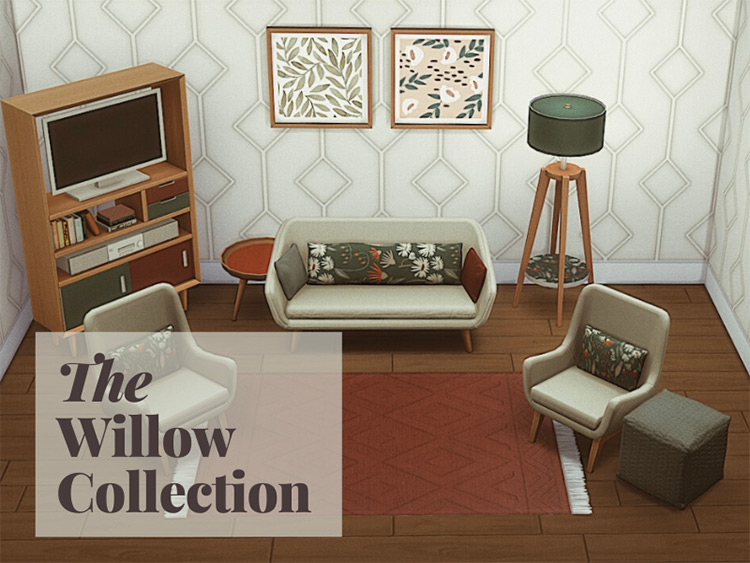 Here, the lovely furniture and art from Tiny Living has received a refresh.
It was pretty retro before but the softer shades of green, red, and white seen here are no doubt modern.
50.

Rooting For You Plant Set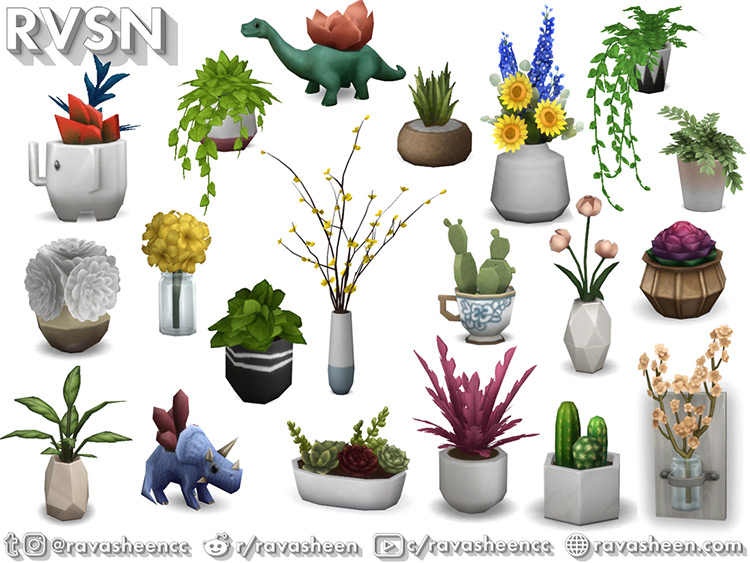 Plants are already great decor for our Sims, but RAVASHEEN has made them even better.
There are a lot of fun vases in this set that incorporate different colors and styles. A couple are even dinosaurs!
And all the items are totally Maxis Match to blend in perfectly with your other décor.
Browse:
Lists
Maxis Match
The Sims 4
Video Games