Sims 4 CC: Best Maxis Match Long Hair For Men
This post may contain affiliate links. If you buy something we may get a small commission at no extra cost to you. (Learn more).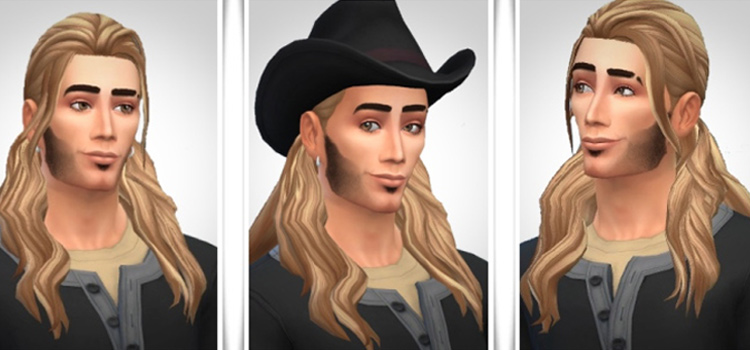 We're really fortunate to live in times where you can do basically whatever you want to your hair.
But things have always been that way for our Sims, of course.
Guys young and old have tons of styles available that are trendy and chic… but CC is often still where it's at if you're looking for something unique or timeless.
Long hair can take many forms – and proper representation for long hair can only come from Simmers themselves!
So let's broaden our horizons with this epic collection of long male hairstyles, all with plenty of variety to go around.
1.

Benjamin Hairstyle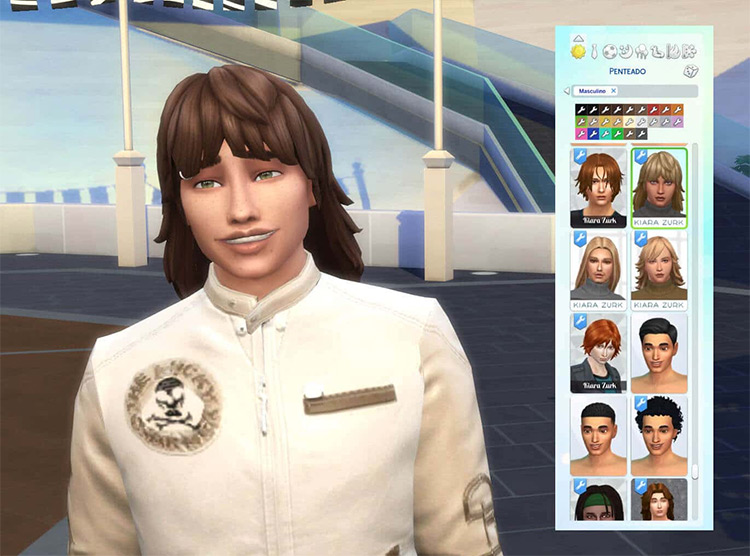 Different people have different ideas about exactly what length is long when it comes to hair, but past the shoulders is a safe place to draw the line for guys.
This has more length to it than some of the styles categorized as "long" in the game!
It's a pretty straightforward style that can really work for guys of all ages.
Whether your Sim's hair is black, red, or white as snow, all swatches look equally great.
From the bangs up front to the choppy layers in the back, everything about this Benjamin Hairstyle is fashionably messy.
Neat Sims may not approve, but this will suit any laid back, boho, or otherwise awesome guys just fine!
2.

Stranger Hair (Male)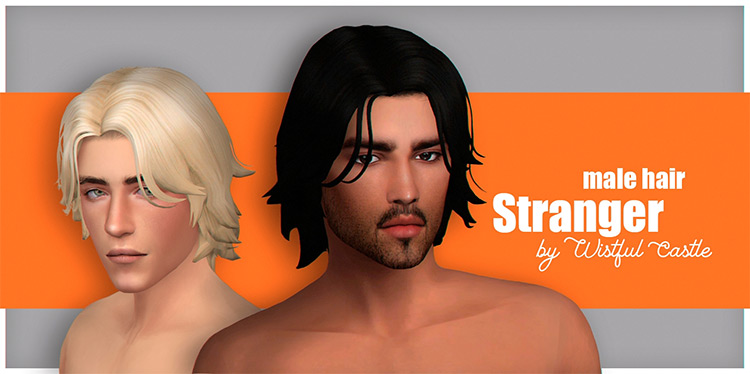 Despite being highly detailed, Wistful Castle's Stranger Hair is a great choice for all Maxis Match lovers.
The game's earlier hairstyles have a less realistic look to them, referred to as "clayified" by most players.
And that's a defining feature of all MM hairs. But as time has gone on, official CAS content has gotten more detailed.
Things seem to get more advanced with each new pack. And this CC's style is kind of along the same lines as something from Cottage Living or Snowy Escape.
You can easily see the fine strands of the hair, especially with the blond swatch.
But this is silky smooth, shaggy, and ultra-cool.
It tells a story. And that story is that your Sim is a hottie. Just saying.
It's a look that can match both cowboys and surfers everywhere – and you can't go wrong with that.
3.

Leonardo Hair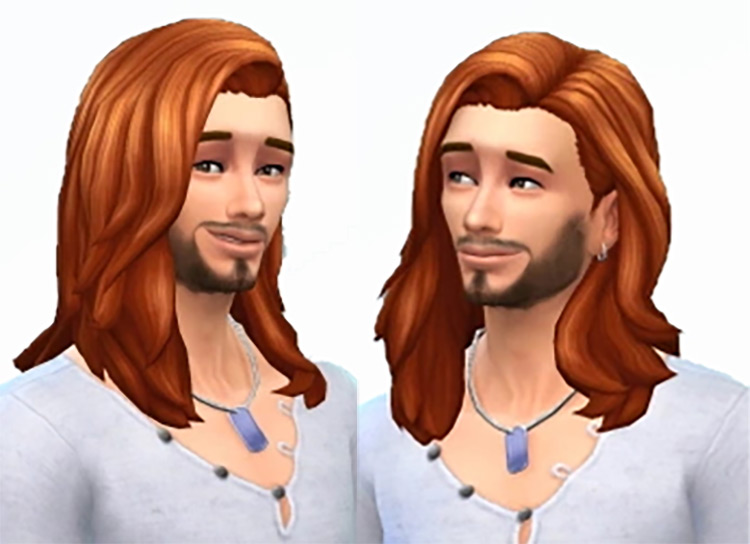 There are a lot of unique hairs available TS4 – both as CC and official content.
And EA has really branched out in recent years, giving us everything from shaved paw print designs, to whatever is going on with Nifty Knitting.
Seriously, why are those quiffs so tall?! They're cute and all but also really intense for a pack about knitting…
The point is, as fun as it is to try new things, you just can't beat the classics.
This hairdo is a simple and timeless long option for guys.
It's side-parted, neat, and flows smoothly on both sides of your Sim's shoulders.
I'm sure you've heard that phrase "not a hair out of place". And ironically enough, it applies here.
It's an unfortunate misconception that long hair automatically is feminine – but this is plenty masculine and high quality enough to use many times over.
4.

Dread Curls Bun Male
A lot of different styles can involve dreads, which isn't really reflected in the game due to its mechanics.
It's already difficult enough to find an updo or braid to accompany a Sim's everyday long hair, if you strive for accuracy.
Well this CC is a brilliant way to bring the pulled back dread look into the game.
Since there aren't that many long hairstyles for guys as it is, updos are even harder to come by!
But as always, custom content provides.
If you want a simple & modern dread style with great texture, then look no further. Birksche has got just what you need.
5.

Pierre Hairstyle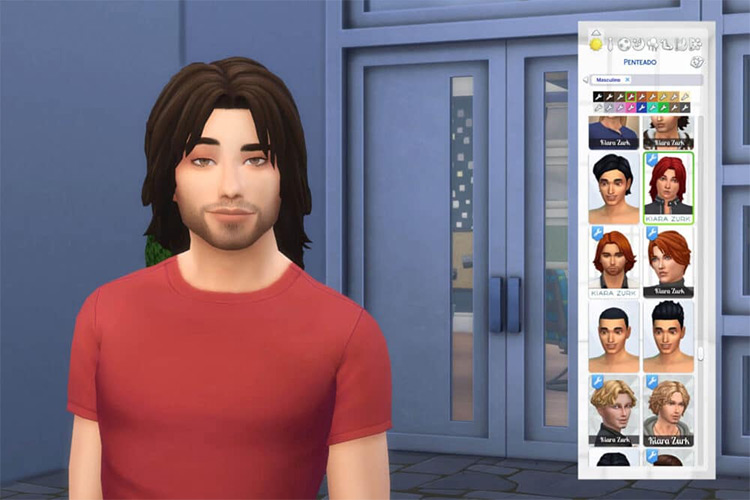 Here's something really cute from CC creator KiaraZurk.
And by just looking at the front, you may never guess how long it is in the back!
These gorgeous feathery waves taper to a point past your Sim's shoulders.
Something about this cut looks particularly soft, not to mention very natural.
Dudes from all walks of life are bound to look cool with hair like this. It's got some subtle bangs up front plus a classic middle part, adding to the simplicity.
6.

Silent November Hair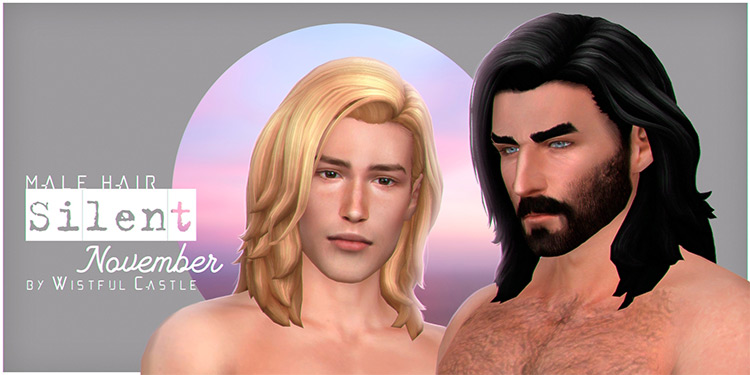 If you generally like your male Sims to have long hair, you're bound to love this CC.
What creator Wistful Castle designed here is about as realistic as it gets with Maxis Match. And it's beautiful!
This is like, male model levels of awesome hair.
Your Sim definitely didn't roll out of bed with this look.
It says they care about their appearance, and it's certainly paying off.
Not to be shallow… it's what's inside that counts. Except with Sims.
They're soulless sacks of pixels unless we mold them into something more, and the truth is that starts in CAS!
You'll be off to a great start for a heck of a handsome dude with these gorgeous layers.
And there's been a lot of drama in the past year about whether side-parts are still cool or not, but I've never seen anything one way or the other for guys – and it definitely works here.
7.

Ethan Hair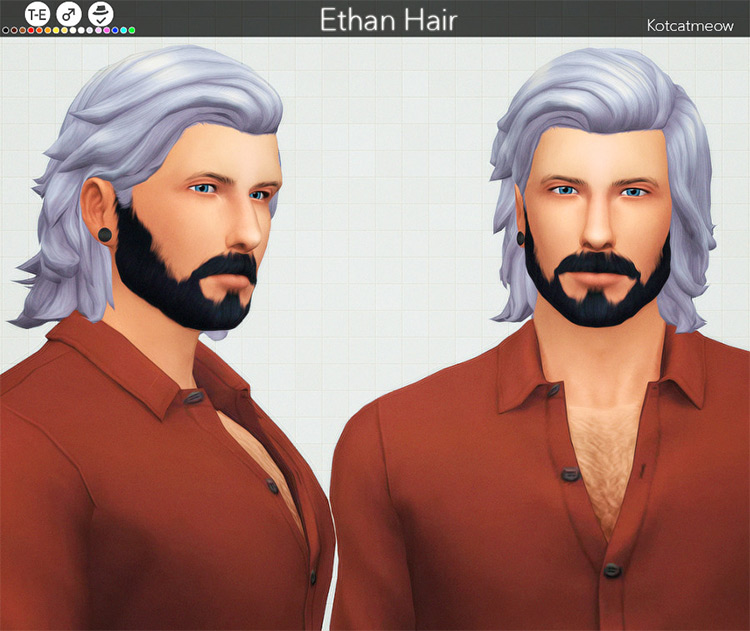 As with anything, attention to detail and hard work always pays off.
Making custom content for The Sims 4 is no walk in the park, as anyone who has ever attempted it will tell you.
Experience will help a lot but it doesn't come easily.
Unfortunately, small flaws can be glaringly obvious with the game's graphics and style.
Which makes this hair even more impressive than you might initially think, since there's not one thing wrong with it.
I mean, this is one of the best masculine hairs I've ever seen (for custom content), both in form and function.
These side-swept layers offer a really cool cut for guys of all ages.
It has such a fresh look too – and I'm sure it'll remain fresh many years to come!
Oh, and it's even hat compatible. That often complicates things even more, but Kotcatmeow has got everything covered.
You'll get everything out of this that you'd expect from an official release, including quality!
8.

Adrian Hair
Compared to the base game, I think this hair could easily make the running for one of the longest haircuts available to male Sims. Maybe even for women Sims as well!
This CC is actually gender neutral – so that's a plus.
And it's amazing how well guys and gals alike can rock it.
But since we're focused on male Sims (for once) it's only fair to talk about how great it looks on them specifically.
This long straight hair offers a look that has been fashionable for decades, and isn't going anywhere anytime soon.
If something is pretty, it's pretty! You can't improve upon perfection.
These long, feathery, middle-parted locks are smooth and stylish.
And this 'do all-around has a really natural & realistic appearance with how the hair sits. Absolutely worth a download.
9.

Bucky Hairstyle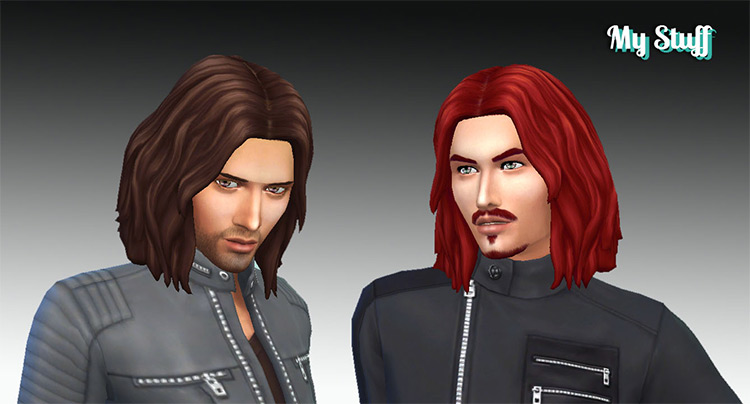 This may not be as long as the Adrian Hair, but this shoulder-length design looks great on lots of dudes.
It's longer than many have ever experienced, and you can experiment with a Sim even more freely than you can in real life!
Everyone always says "it's just hair".
But you don't even have to wait for anything to grow out in this game.
If something isn't particularly flattering to your Sim, changing it out is just a matter of a few clicks.
But I think you'll be hard pressed to find a Sim who doesn't look great with this Bucky Hairstyle.
10.

Aaron Hair
The painful part about having so many packs for The Sims 4 is that a lot of times, the only stuff a player might be want is more clothes and hair.
So then your only option is to buy a whole pack centered around content and gameplay you'll probably never use, just so your Sim can have that cute new hair that caught your eye.
Well, fortunately, a lot of Simmers can basically bring them to us free of charge.
It sounds a little shady but it's within EA's own creator guidelines. As long as it's not the original mesh itself and has enough edits to be an original, standalone creation, it's all good.
That's exactly what Nolan-Sims has done.
This skilled Simmer took one of the new styles that came with Island Living, edited the mesh, and now we're all blessed with a lovely long 'do for dudes.
One side of the hair is tucked behind the ear, while the other flows freely.
No matter how you look at it (or what swatch you use), this has a nice authentic feeling all around.
11.

Lewis Hair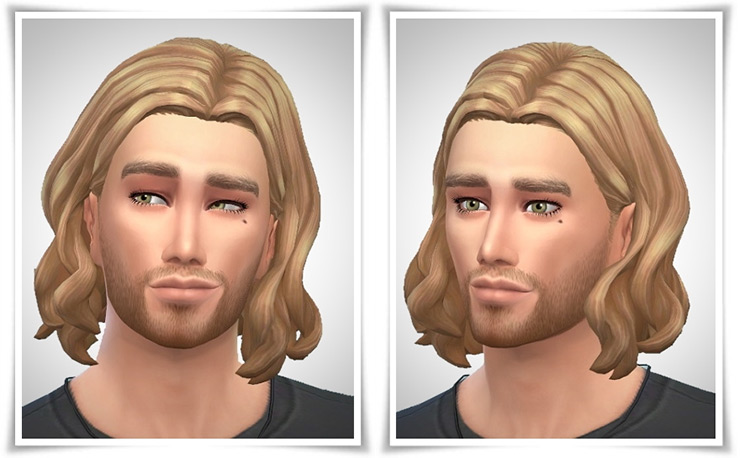 Here's another mid-length long hair CC, this time with some gnarly waves!
Okay, I know there's no way for Sims to surf… but tell me this isn't the hair of every cute beach bum.
The guy with this hair definitely uses the word "sick" regularly, and he's not talking about the flu.
Although that's just my perception.
You're free to create your own narrative.
In fact, that's the whole point!
Maybe this is the hair of a talented artist in San Myshuno. Maybe it's the hair of a really untalented one in StrangerVille.
Who knows? Only you!
12.

Leslie Hair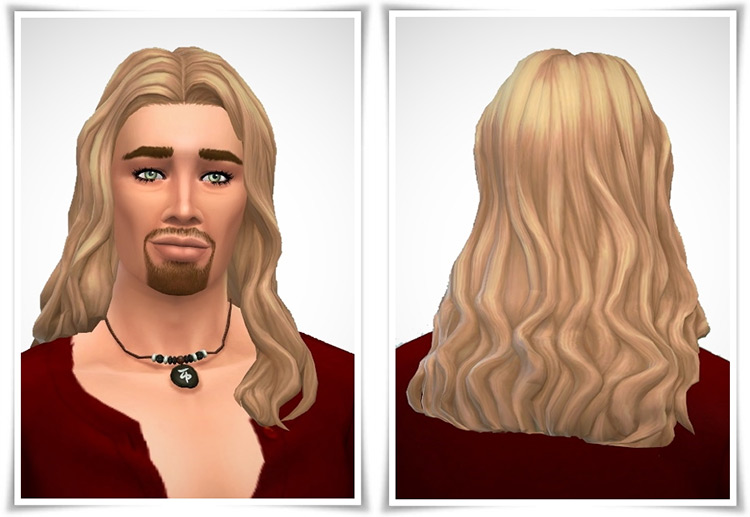 A lot of creators have their own niche areas or specialities.
This can go beyond just clothes or hair itself, to a specific look.
And Birksche's many releases have been staples in my game for years.
We've seen several of her other creations on this list already, and I think it's safe to say she has made the most CC long hairstyles for guys in TS4.
I mean, I haven't run numbers or anything… but she's clearly doing much needed work!
And when it comes to this curly/wavy Leslie Hair, it's just gorgeous.
It has volume we all dream of for ourselves, as well as strong waves, all in stunning detail.
13.

Jonathan Hair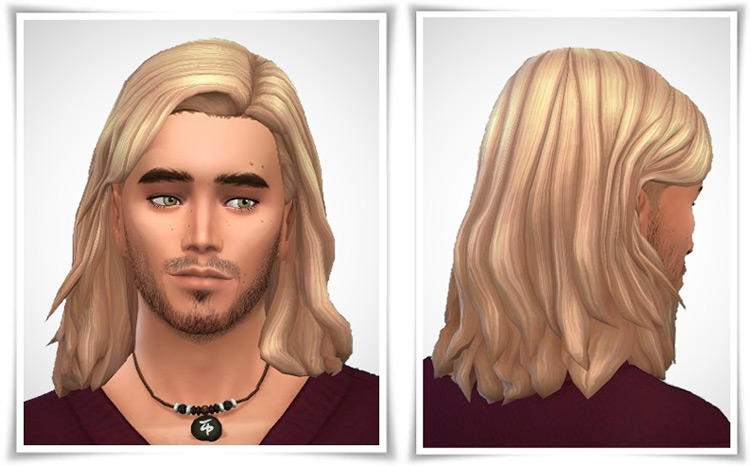 Here's one last contribution to our worthy cause from Birksche – and it's another awesome shoulder-length option!
Simply put, this hairstyle just looks cool.
It has a smooth texture that just seems so soft and feathery.
When you want a Sim to look modern and handsome, the Jonathan Hair will have your back.
It's basically impossible for them to look bad with this.
Just throw the whole Sim away if they can't pull it off, 'cause honestly, that's a bad sign.
14.

Eddie Hair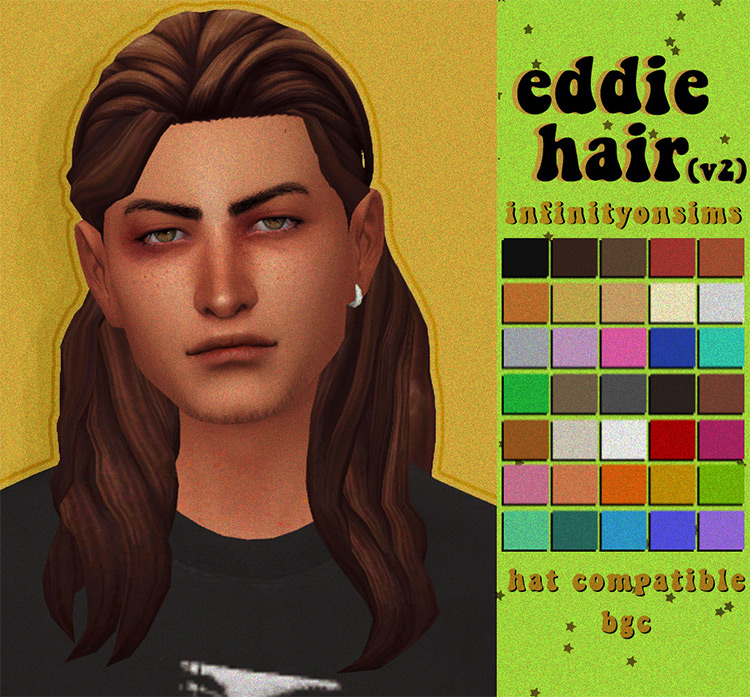 The longer hair is, the more stuff you can do with it.
Tragically, that doesn't mean much for masculine tastes.
Women can do all kinds of braids, updos, and styling. But guys generally are limited, even more so in The Sims.
As it stands, they only have a ponytail or pulled up dreads available.
Well this Simmer put it all into this look.
Not only does this CC look great from the front with the layered hair & loose bangs, but it's actually pulled up partially into a bun in the back – which looks amazing too.
You don't often see hair that's as complex as this, while still being mostly hat compatible, and even coming in extra swatches.
15.

80's Long Male Hairstyle
We all know how fast times change.
What's popular seems to fluctuate week to week and it can be hard to keep up.
But hair has always been a different story. In a matter of a few decades, men in the 20th century went from being deemed bums if their hair was long, to pretty much being able to do whatever they want with it.
By the '80s, big hair was "in" for everyone – including the guys.
And beyond the glam rock scene, plenty of dudes were happy to have something simple straight like this.
This expertly clayified hair design is super sleek and neat all around.
It's a little shorter in front, and tapers down to a point near the middle of the back.
And it comes in 18 brilliant swatches to pick from.
Axl Rose fans will definitely want this in their mods folder.
Browse:
Lists
Maxis Match
The Sims 4
Video Games