Sims 4 CC: Maxis Match Shoes & Sneakers For Men
This post may contain affiliate links. If you buy something we may get a small commission at no extra cost to you. (Learn more).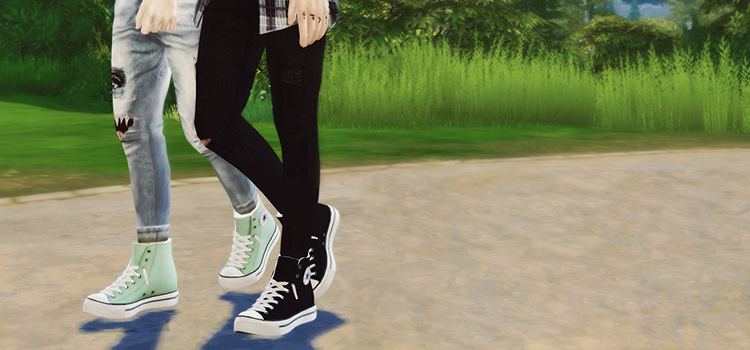 You can't have a functional wardrobe without shoes.
Likewise, it can be difficult to have a functional Sims game if only some of your CC is Maxis-match, while the rest is Alpha or some weird amalgamation of unnamed styles.
In short, Maxis-match and shoes are a match made in heaven!
Plus (in men's fashion especially) shoes are often the most important element of an outfit.
Sneakers, for example, took the world by storm with collectibles and a constant stream of new designs from popular shoe brands.
And what's after that?
Well it's time for them to take the digital world by storm.
1.

Nike Air Max 270 React
The Nike Air Max 270 costs around $150 if you want to buy a new pair.
In The Sims 4, it's approximately $150 cheaper, thanks to the power of free CC.
This chunky shoe is great for running, and it looks the part (which is the important thing since it's just a clothing item without any actual function).
You'll need to download the mesh from the children's version of this shoe to use the adult version (linked in the description), and once you've done that you'll be able to use it for male and female Sims of all ages except toddler.
2.

Basic Slip-ons
Slip-ons are one of the greatest shoe designs ever invented, and that's not open to debate.
They're easy to put on, look great, and have I mentioned they're easy to put on?
The lack of shoe laces makes my heart skip a beat.
Somehow, these shoes are even more casual than sneakers!
This CC has 15 swatches total, including a bunch of patterned slip-ons.
From black to pale blue with daisies, there's a color pattern for everyone.
3.

Converse All-Star Sneakers
Converse's all-star sneakers look totally different from most sneakers.
And that's exactly what makes them so iconic as a brand and as a shoe.
Although their signature 'slim' fit isn't everyone's cup of tea, it's hard not to respect their unique look.
This CC offers 14 swatches of the most recognizable converse patterns, so it's perfect for recreating real-world outfits in the Maxis style.
Even if The Sims 4 is your getaway from reality, these shoes are good enough to deserve their own digital escapades.
4.

DC Mikey Skater Shoes
Given how popular skater shoes are in fashion, an unfortunate percentage of the population doesn't know that skater shoes are legitimately designed for skateboarding.
Admittedly, they are good looking shoes, but that wasn't their original purpose.
I guess when it comes to The Sims 4, there's no need for skater shoe functionality anyway!
This CC is based off of a real-world skater shoe design – but it comes in way more colors (35, to be exact) than you'd ever find in your typical real-world shoe retail store.
That's just one of the many benefits of living life in The Sims.
5.

TanJun Nike Sneakers
In Japanese, "tanjun" means simplicity.
That ideal is exactly what Nike was reaching for when they designed their Tanjun Sneakers, and it's replicated wonderfully in this CC pack.
This clean, simple design will look great on any sim, including men, women, and children.
It even has 15 swatches so you can add a splash of color to the basic design.
And the Tanjun Sneaker converts into the Maxis style impressively well. Since they're both styles based on simplicity, I suppose I shouldn't be surprised!
6.

Hitops High Top Sneakers
Branded sneakers are cool and all, but not everyone wants to be a walking talking advertisement for shoe companies.
Even if you like the logos or you take pride in them, being a mobile billboard can get exhausting, especially while you're trying to relax and play video games.
These 'hi-tops' are just your typical high top shoes made in the Maxis-match style, and designed for male Sims. There are 14 swatches here, including a bright red that would probably let you digitally cosplay Izuku Midoriya if you were so inclined.
7.

Busted Sneaks
Every time you see a CC that's adjusted from an EA mesh (or is a recolor of a Maxis item), you can be certain that it's Maxis-match.
After all, it's based directly off of in-game stuff!
These busted sneaks are just like the vanilla Sims 4 sneakers, but they've been through some things.
Like, a lot of things.
From holes to grass stains, this CC has perfected looking well-used while still looking Maxis-match.
It comes in 9 high top colors (these come in a variety of busteds) and 5 slip on colors (these have a hole in the top).
8.

Noctis Boots
If you saw the name of these boots and your heart skipped a beat (or, y'know, you just recognized it), then you're in for a treat.
Noctis' ensemble from Final Fantasy XV's is awesome in a multitude of ways – but his iconic boots are probably the best part.
With this CC, you could have your very own pair of Noctis Boots in TS4! (Noctis not included.)
There are 10 swatches included, though: 3 with the typical red sole and 7 with matching soles.
9.

The Basic Sneaker Recolor
In an effort to fix where EA went wrong, Pleyita made this CC in order to give two basic shoe meshes already in the game a colorful revamp.
Even though this pack technically is just a bunch of recolors, the difference between this and the original shoes is pretty dramatic.
After all, EA would never let us have fried eggs on our shoes.
They're too stingy for that.
With 36 colors and 45 patterns, you'll never want for more swatches of sneakers ever again.
10.

Rococo Shoes
After all the modern sneakers and shoes we've gone over, this blast from the past might be exactly what you're looking for.
The Rococo era is a common inspiration for historical fashion.
It's easy to see why, what with all the buttons and frills! But the high-heeled men's shoes of the era, while slightly less popular, are worthy of praise too.
They may be a tad avant-garde in a modern setting, but they'd fit right in with any historical gameplay.
Sometimes it's good to stand out.
This CC has 35 swatches of Rococo fabulousness, so you can wear a different color for every occasion – even if none of those occasions actually call for Rococo shoes.
Browse:
Lists
Maxis Match
The Sims 4
Video Games