Sims 4 Maxis Match Mermaid CC (All Free)
This post may contain affiliate links. If you buy something we may get a small commission at no extra cost to you. (Learn more).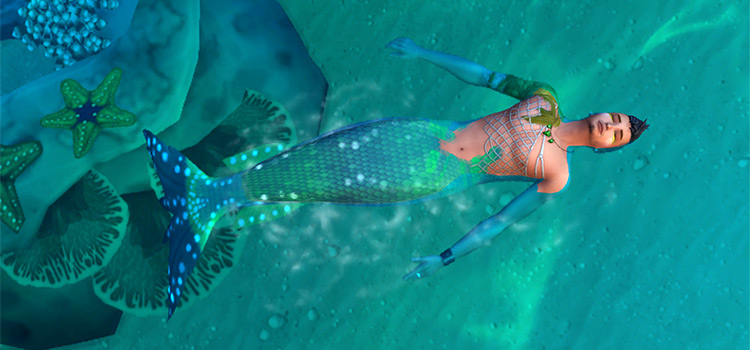 As much as I love The Sims 3 (and will forever hold it near and dear to my heart), their mermaids – concept and visuals – weren't the best in the series.
I enjoyed them to a degree, but I can confidently say I'm enjoying TS4 mermaids even more.
Even though they can't really do much outside of Sulani, they're still lovely to have in any household.
Ergo, if you feel like sprucing up your own merSim, here are some Maxis matched fishy finds!
1.

Milotic (Inspired) Tail by valentinakarlova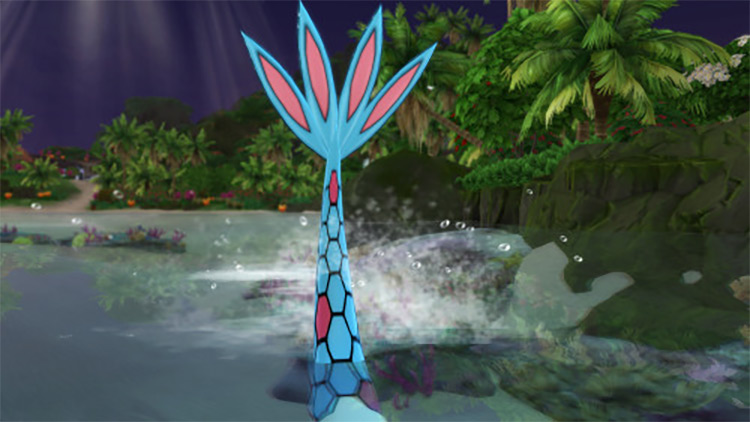 Calling all Pokémon fans — this one's for you.
You know how South Korea recently got into Pokémon bread (and the cute stickers that come with it)? Yeah, the Sims 4 community is already there.
Only in place of flavored bread and Winkachu, we've got Milotic-inspired mermaid tails in 30 gorgeous & ethereal-fantasy-fish swatches.
2.

Now! (16 New Mermaid Tails) by Gengar Used Lick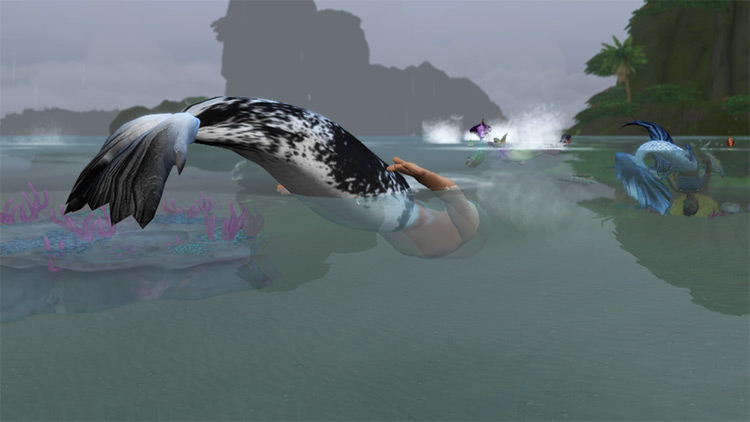 What happens when one very talented TS4 CC creator gets bored?
16 snazzy new mermaid tails, ranging from cute to pretty to scarily scientifically accurate (seal tail, I'm looking at you).
This is really pushing the envelope with regards to what species constitute a mermaid but, you know what? I'm not mad. I think it's genius.
I also think the Petal Tail is gorgeous and have thus made it a permanent fixture in my Downloads folder.
3.

Treefish Mermaid Tails by Gengar Used Lick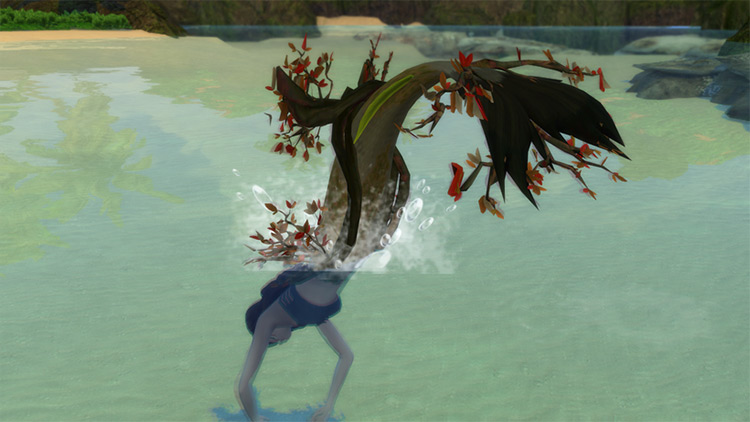 Here's another custom merSim tail from the same creator of the previous CC set (Gengar Used Lick). Not included in their 16-tail extravaganza.
It's a Treefish tail in the sense that it's actually a wooden-looking tail with branches and leaves.
A real treefish doesn't look like that (they're simply striped, as far as I know), but hey. This is the Sims. It totally goes.
Plus, the matching tree-y headpiece is so elegant.
4.

Pride Mertails by renniequeer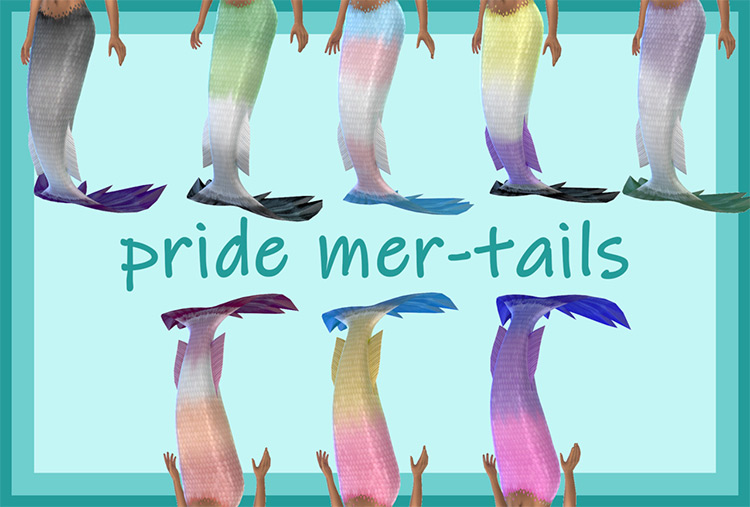 For the loud and proud merSimfolk who just want representation (and beautiful rainbow gradient tails).
Sure, there's a classic rainbow swatch in the base Island Living expansion, but we want variety!
So here are eight more gorgeous multicolored tails for your merSim to enjoy.
5.

Whisper Eyes (Mermaids) by dangerouslyfreejellyfish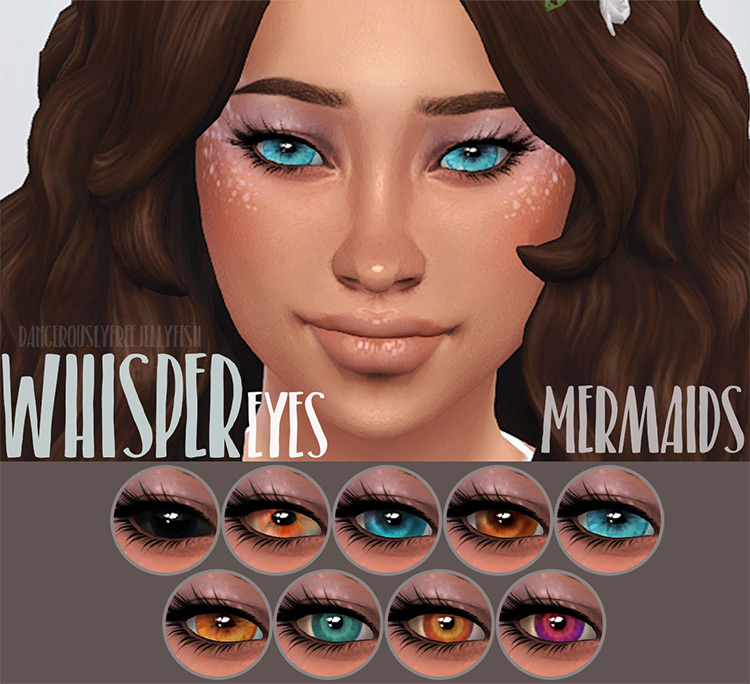 These custom eyes are deep, mesmerizing, and borderline hypnotic.
Exactly what you'd expect from deep-sea dwellers who may or may not lure unsuspecting sailors to their death (depending on the lore you subscribe to).
6.

Nenps Fish Scales Recolored by weepingsimmer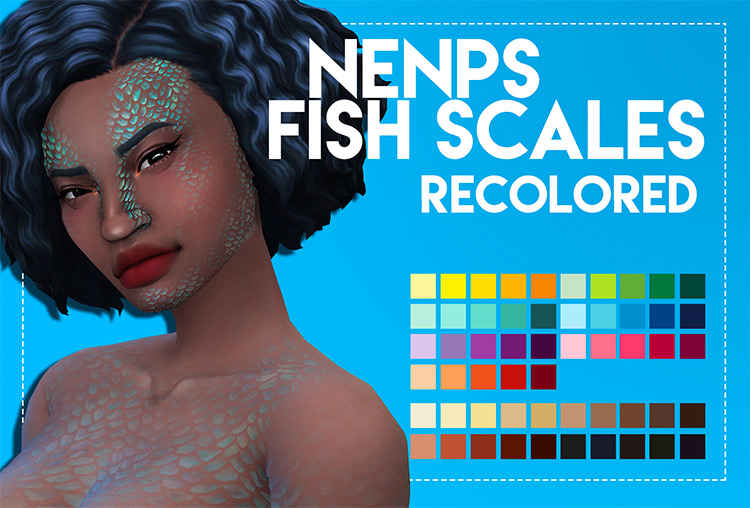 When your merSim feels like a (literal) fish out of water, why not have them rock their scales instead of hiding them away?
This recolor of nenpy's Fish Scales Tattoo makes the original CC Maxis match and ultra-colorful, with 56 beautiful swatches to play around with.
You don't need the original .package file from Nenps for this to work, but you do need to download the recolor's Tattoo Version for all other versions to work.
7.

Leg Scales for Mermaids + Chest Scales for Male by Karine78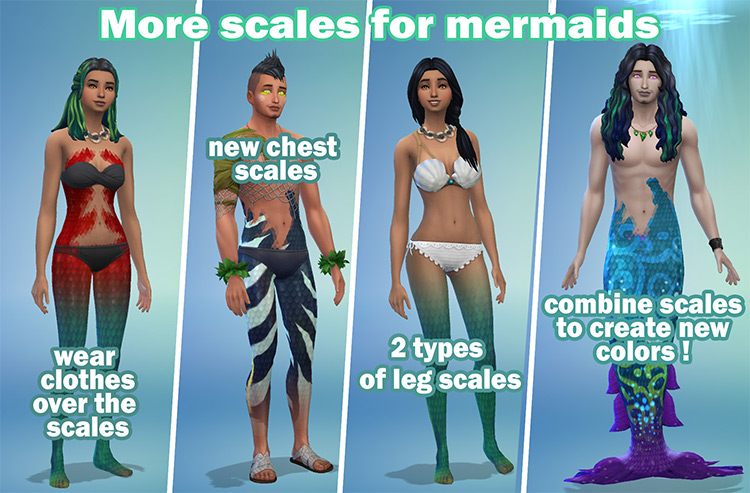 Karine78 took the Sims 3 concept of semi-transformed mermaids (aka scale-y legs instead of a tail) and made it work.
Let the Sims community breathe a collective sigh of relief, because this custom version looks much better.
Check out the preview photos to see how gorgeous and otherworldly the Sims look with their beautiful gradient scaled leggings and tops.
P.S. claudiasharon created a version for Children and Toddlers! These'll work so long as you have the original mesh installed.
8.

Mermaid Top & Leggings by annett's sims 4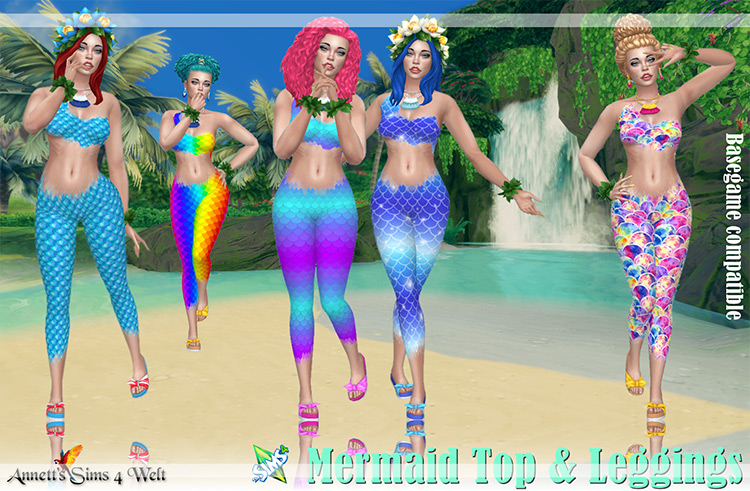 More scale-y legging CC options!
These look more like colorful patterned leggings than the remnants of a tail-to-legs transformation, but the overall visuals are still gorgeous. Especially since the tops match the hues of the leggings and have the same scaled, scalloped effect.
9.

Mermaid Crown by SatiSim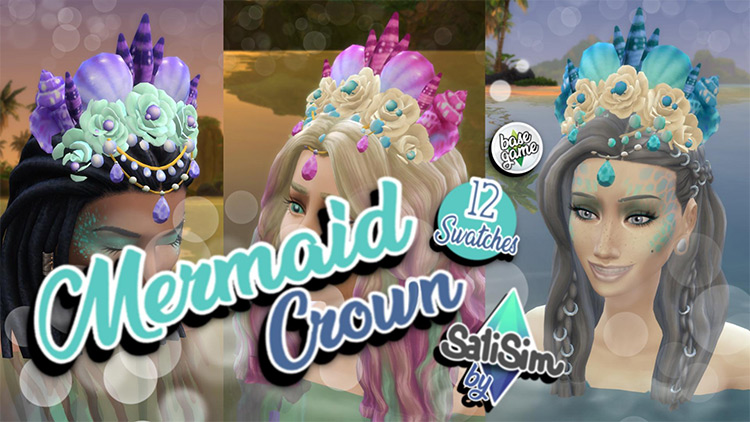 Here's a headpiece worthy of an Occult Sim that wields grace and power like a weapon.
Seashells, corals, and pearls galore, this crown genuinely looks like it was crafted underwater.
It's flashy and ostentatious, but still artfully so. Plus it comes in 12 pretty swatches.
10.

Vampire Squid Tail by Gengar Used Lick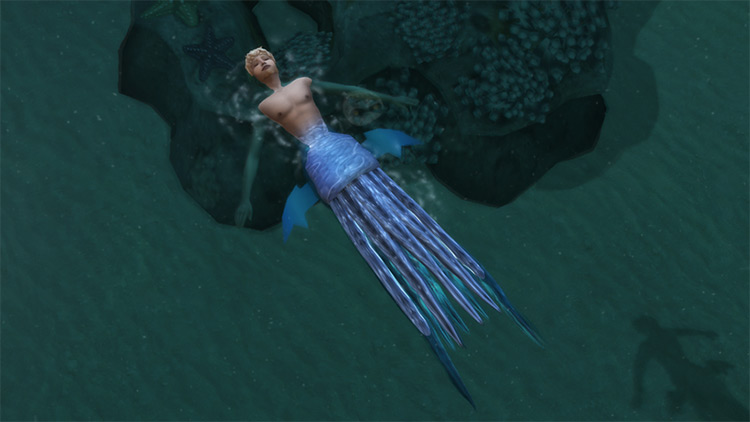 Apparently, this creator really likes making custom merSim tails.
I'm not complaining. In fact, I am beyond impressed.
I'm just a mite curious as to why a vampire squid, specifically. But, hey; the tail looks fearsomely impressive regardless.
11.

Koi-Themed Mertails by Starfull Sims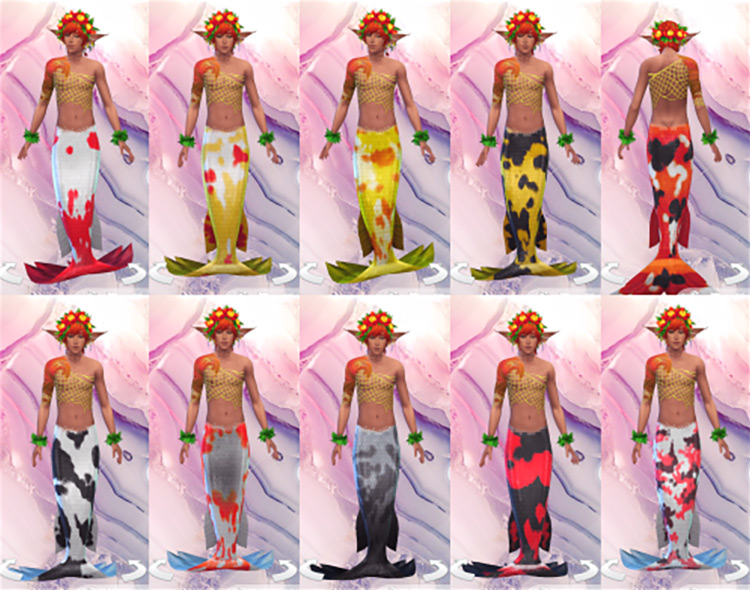 Pretty self-explanatory CC here.
If the name didn't tell you enough, then I'm sure the preview photo speaks volumes.
These are 10 new beautifully-colored tails for your merSims to splash around in. And they're all patterned after the artfully splotchy scales of the koi fish (which are always so deceptively spellbinding to look at).
12.

Frilly Fins by divadoom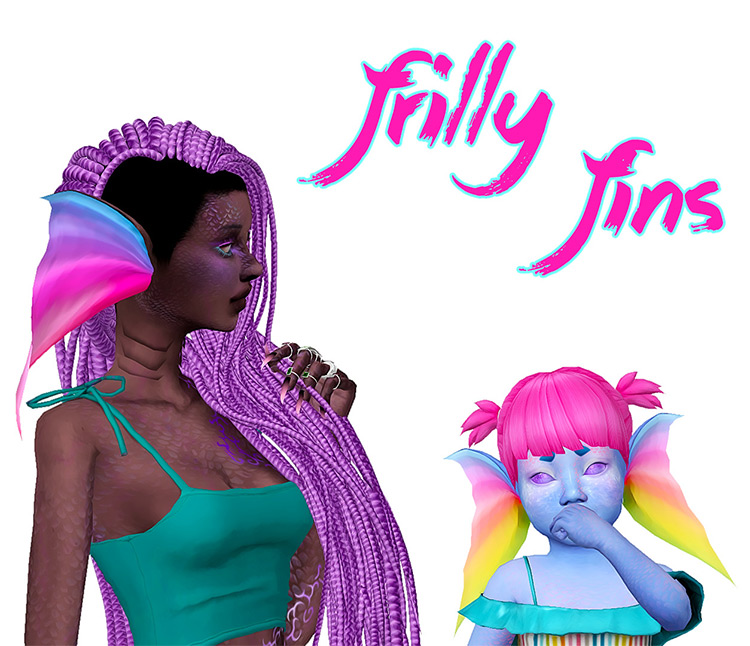 On regular human Sims, these colorful, candy-hued ear-fins would definitely look strange.
But on majestic mermaid Sims? They make sense.
Much like the side fins on most fish, they're big, frilly, and probably look a right treat underwater. You can get them in two solid versions and one hauntingly transparent one.
13.

Subtle Scallops by nolan-sims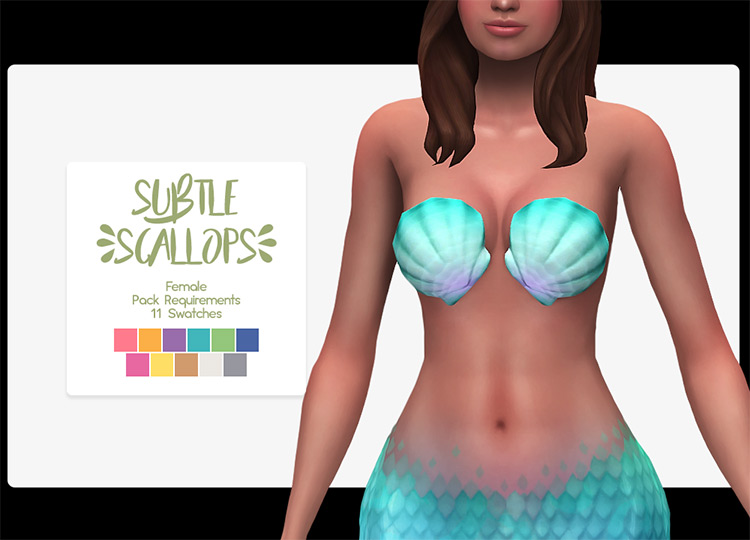 Would you look at that. You can recreate Ariel in TS4.
Teal tail? Check.
Bouncy, bright red hair? Check.
Purple seashell bra? Yup.
Thanks to nolan-sims's edit of the original TS4: Island Living mesh, these shells are subtle, strapless, and totally capable of withstanding intense swimming.
Suspend disbelief, guys. It's the Sims.
14.

Ears of Mermaid (w/ luminous ends) by Zaneida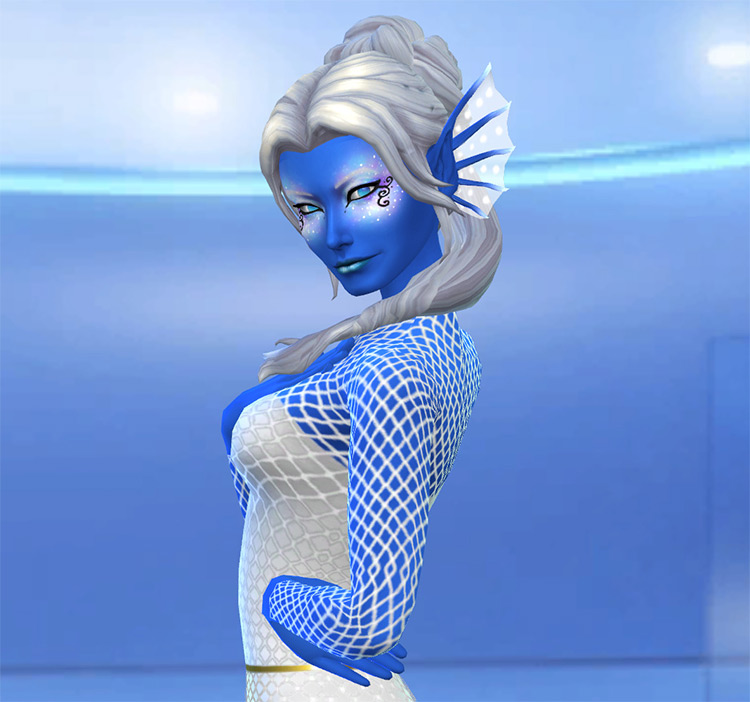 I've stumbled upon a lot of gems (both literally and figuratively) while searching for this Maxis Match mermaid CC – and this one still stands out.
Especially with those glowy ends.
The bioluminescence feature isn't really obvious in CAS, so I recommend letting your merSim splash around during night to get the full effect.
15.

Mermaid Head Fins (with luminous ends) by Zaneida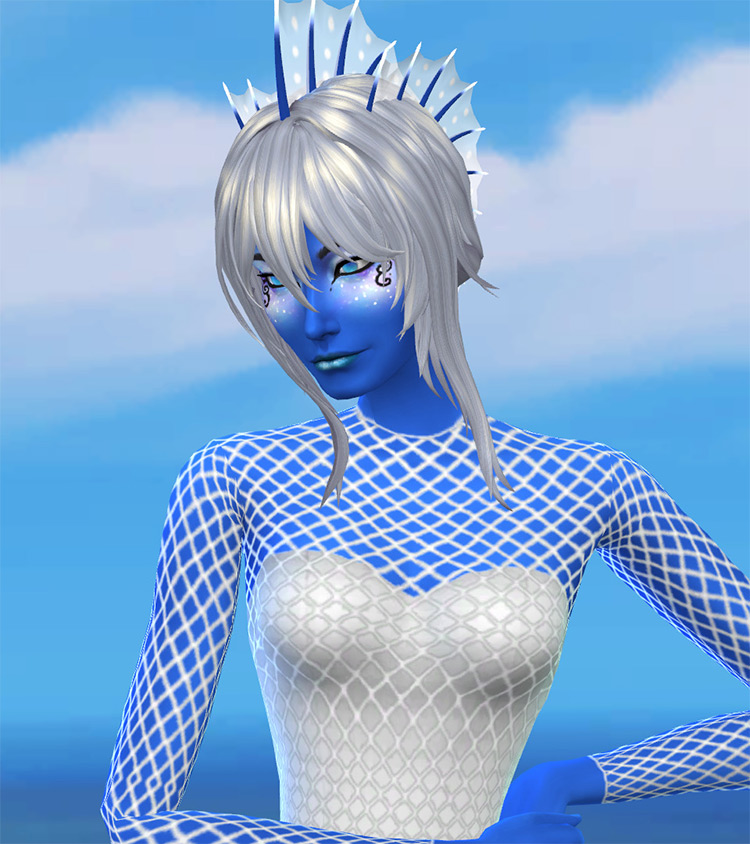 Not feeling the luminous ears? That's okay.
These fins can be your Sim's (literal) crowning glory.
They sit atop the head so elegantly. From the side, it looks sort of like a fancy dorsal fin. From the front, it looks like a badass crown.
Plus, the tips (like creator's Ears of Mermaid CC) of the fin also glow with bioluminescent light.
16.

Luminous Water Mermaid Tail by Zaneida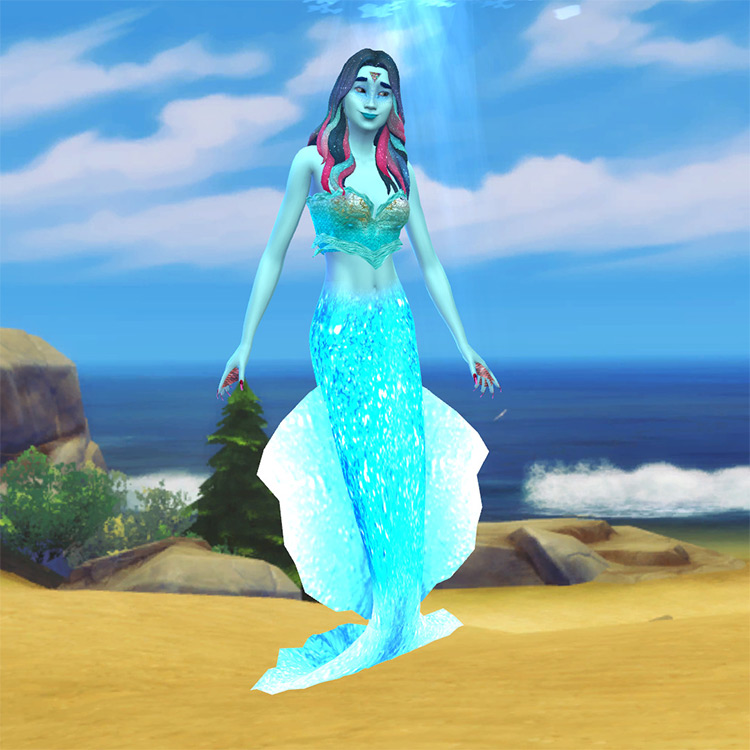 Lastly, here's a bioluminescent tail to complement your merSim's glowing ear tips and glowing dorsal fin.
Dunno if the creator meant for this to be a set, but I can't deny the appeal.
Again, take 'em merSims swimming at night to get the full glow-in-the-dark effect!
17.

DSF Mermaid Tail Opalo by DanSimsFantasy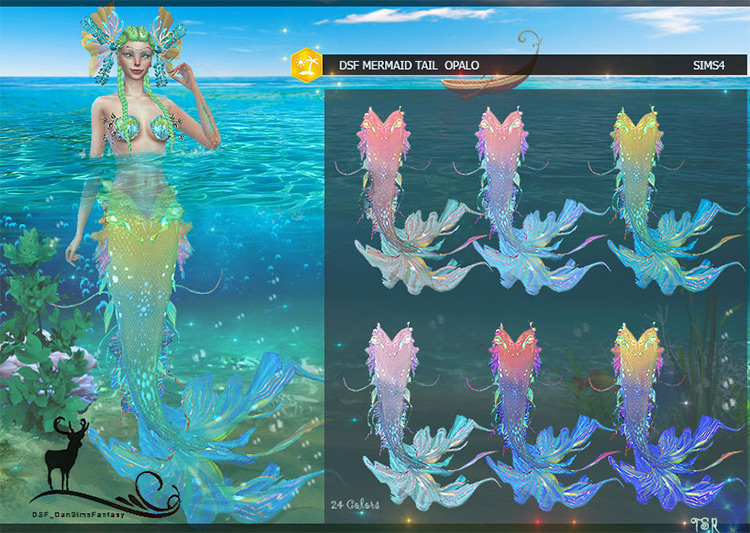 When I tell you that this tail is stunning in-game, you'd better believe it.
Even in Laptop Mode, all the details looked great.
The gentle gradient, the wisps, the fins, the tendrils, the scales… I could wax poetic forever about how these tails look like they came straight out of the best fantasy movies, but I won't.
I'll just leave them here for you to enjoy.
18.

Mermaid Gradient Tails Scales and Seashells Set by tashamaria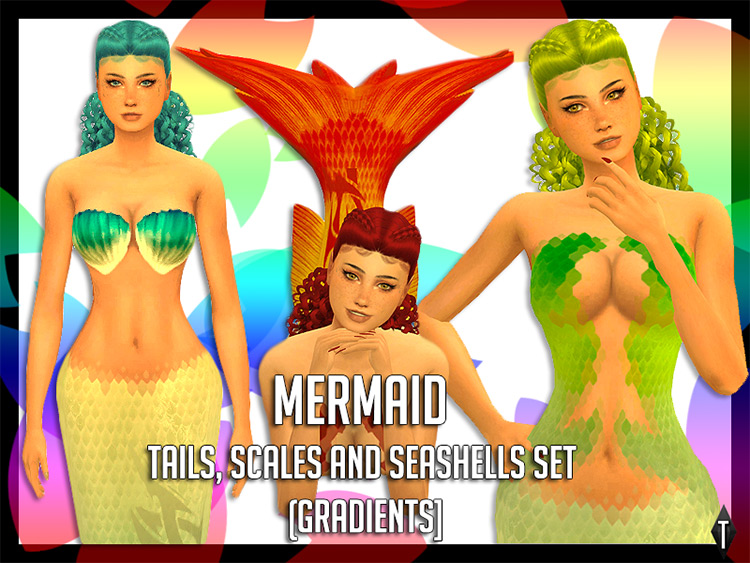 Sims 4 mermaids are honestly the prettiest mermaids in the franchise.
They've got great (if not limited) tail choices, the tops are pretty varied, and I really, really like the game's take on scales.
But if the options can be expanded, why fight it?
Check out these gorgeous scales, tails, and seashell sets by tashamaria. Trust me; the gradient color combinations are to die for.
19.

Siren's Enchanting Delusion v1 by CMYKAYLEENA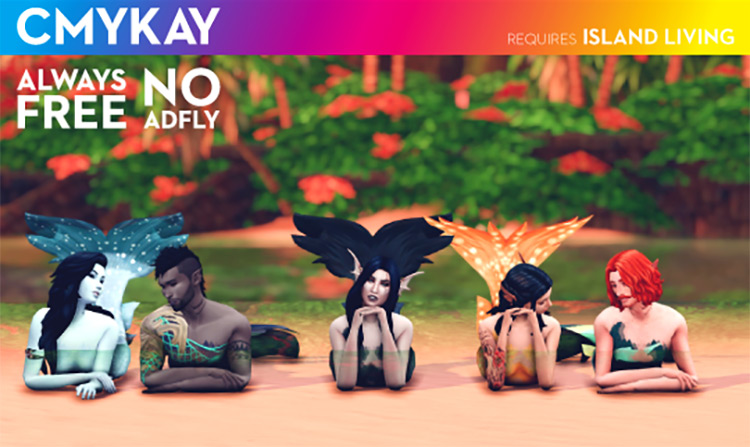 This is part one of a very detailed, very thought-out series of custom TS4 mermaid tails n' scales.
The creator initially made these tails because, and I quote, they "didn't like that the scales came off your merperson when they took a bath."
Tried them for myself and can confirm; these tails make it so that my merSim's scales do, indeed, stay on during bathtime.
20.

Siren's Enchanting Delusion v2 by CMYKAYLEENA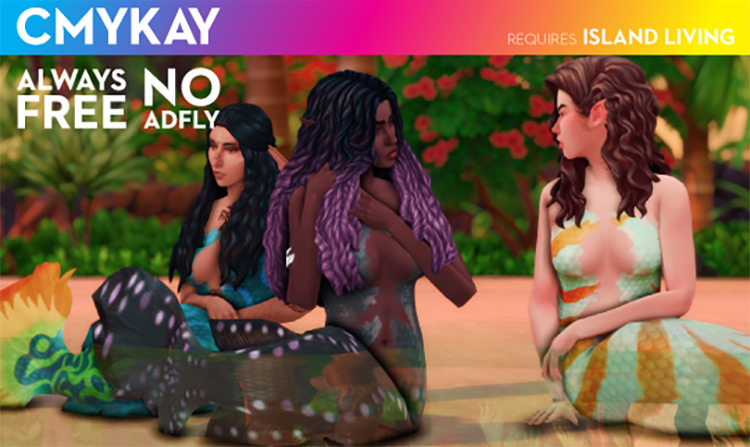 Here's part 2: the symmetrical tops—or, in this case, scales.
They can be worn separately since they're in a different category but they should, ideally, match your merSim's tail type and color. That way, the scales look seamlessly merged all over.
Try it out on your Sim in CAS and see; the full body effect is honestly so satisfying.
21.

Siren's Enchanting Delusion v3 by CMYKAYLEENA
And here's the third and final part of CMYKAYLEENA's full-coverage scales endeavor.
Version 3 contains the asymmetrical version of V2's scaled tops. Much like V2, they're meant to merge seamlessly with your merSim's tail, so mix swatches responsibly!
The creator also mentions needing some form of nude top (for the Female Sims only) to wear so that the scales look as natural and as close to the preview photos as possible. Any custom nude top will do, but there's one available for download in the description if you don't have a particular preference.
22.

Toddler Mermaid Tail by Merman Simmer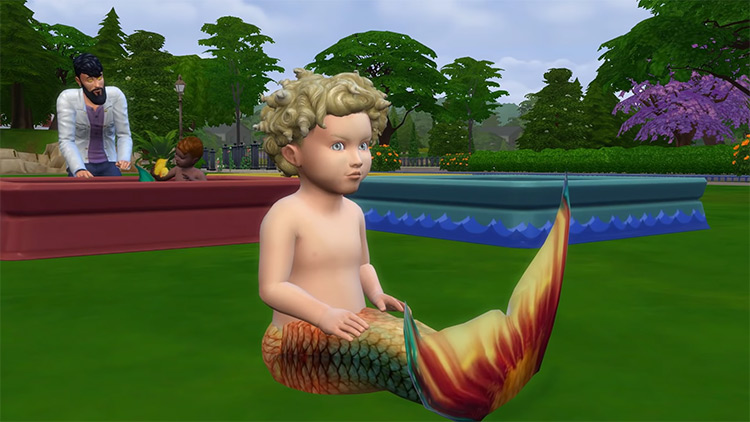 You can make tiny little toddler mermaids!
Need I say anything more? Need I elaborate?
You can have literally a whole family of merSims swimming around in the bright blue waters of Sulani. It's so precious and so perfect.
Note: Don't forget to download the No Foot mod for the tails to work (this is linked in the description). Otherwise your perfect little mermaid Toddler will have human feet overlapping their adorably fishy tail.
23.

Tropical Island Living Mermaid Tail Recolor by Radea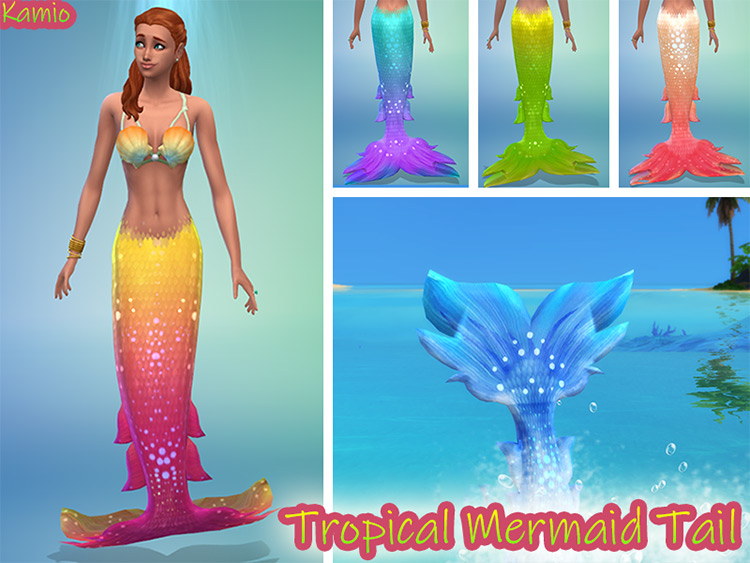 The creator describes this as a "tropical recolor" of the vanilla tails that came with TS4's Island Living pack.
They're bright, they're colorful, and they've got a bit of sparkle for magic.
A comment on the download page describes one of the tails (with the pink-and-yellow hues) as reminiscent of a fizzy pineapple pink slushie, and I think that's exactly what the creator was going for.
24.

Submerged Eyes by Aveira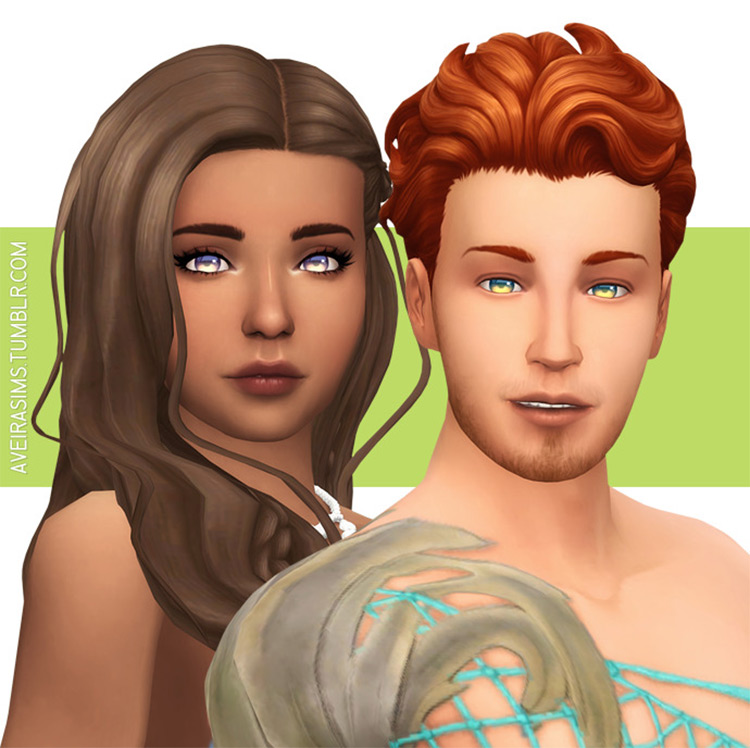 When I tell you that these eyes are the most hauntingly beautiful and dangerously mesmerizing eyes I have ever seen on a merSim, you better believe me.
It's not just the size of the iris or the blend of colors (although the combinations and gradients are painfully gorgeous).
It's the constant, ever-present reflection of what looks like the ocean shining from the iris. It's downright poetic.
25.

Male Mermaid Top by redearcat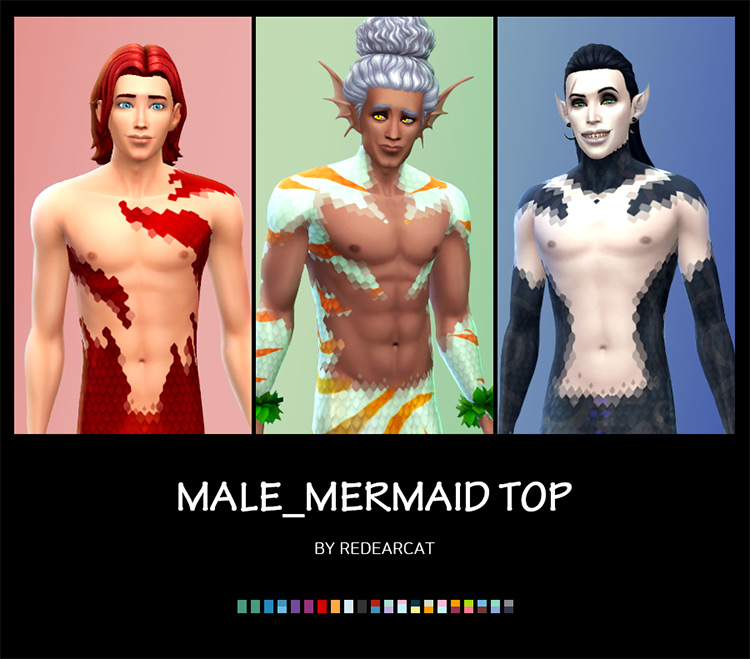 Male merSims deserve some snazzy new threads (scales?) too.
These custom creations by redearcat make it look like the scales of your merMale's tails extend up their torso and arms in really cool symmetrical-slash-geometrical patterns.
There are 21 possible variations and they work for Teens to Elders.
26.

Mermaid Gloves by redearcat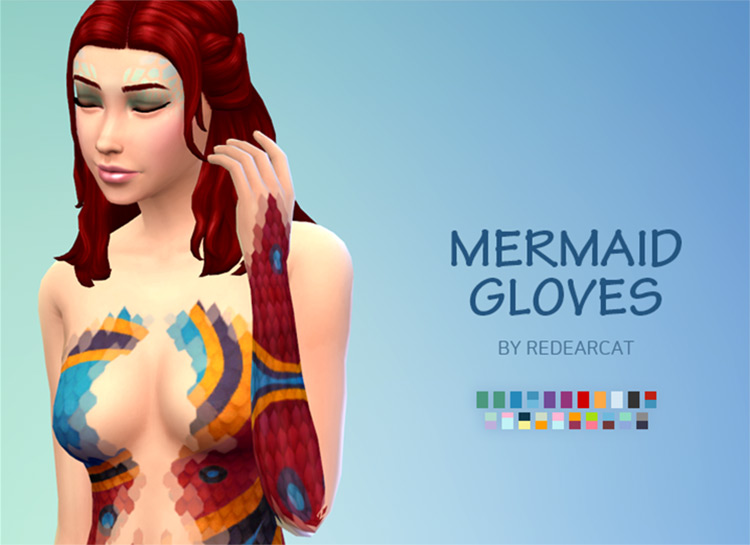 This one's by the same creator as the Male Mermaid top, and the concept is every bit as clever and cool.
Basically, your mermaid's tail scales have reached their arms.
Choose between three lengths and 21 beautiful swatches!
27.

Mermaid Hair: Kelpy Curls by Juju Gamer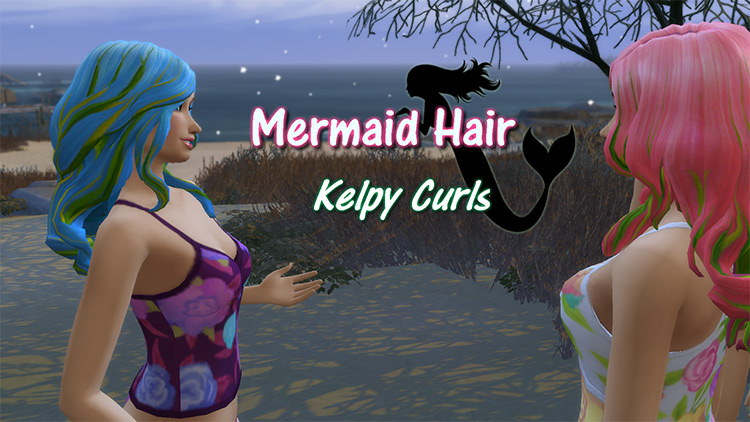 I have to slap a heavy adfly warning on this download, but please believe me when I say that it is so, so worth it.
These Kelpy Curls are thick, luscious, buoyant, and decorated with seaweed.
And the effect is a lot more beautiful than you'd expect.
Of the 14 swatches, I have to recommend the bright blue and purple swatches.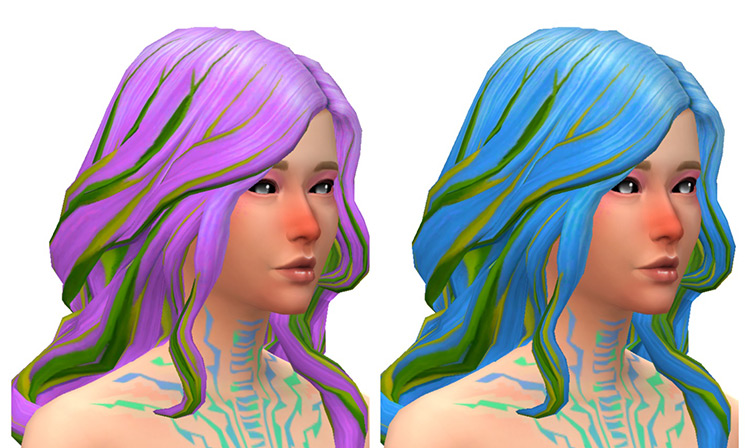 28.

Aqueduct Gills by Simulation Cowboy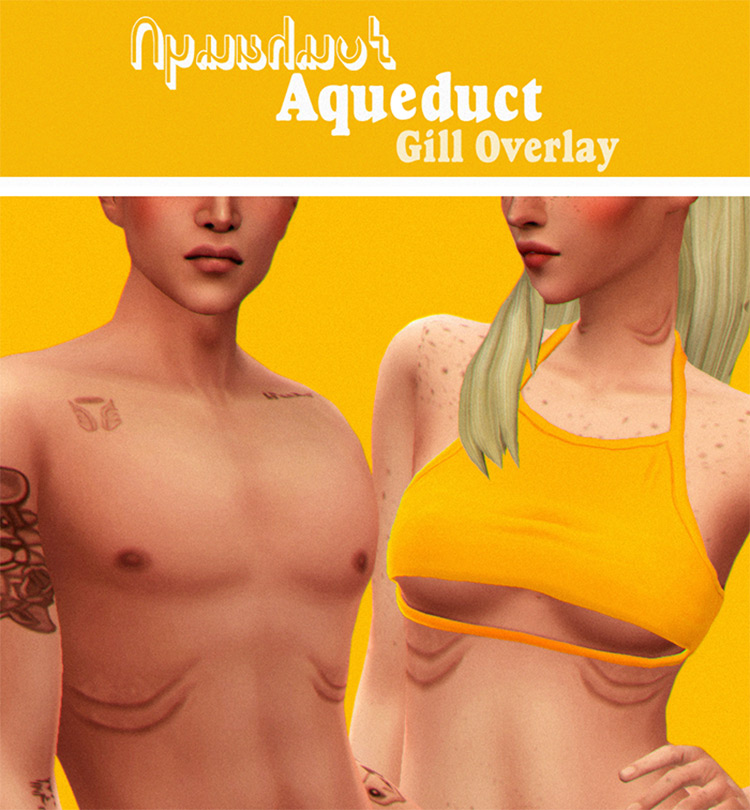 This CC could work so well for a narrative where your Sim can't let anyone know they're a mermaid.
Imagine them refusing to wear crop tops no matter the weather or wearing scarves even in summer because the neck gills are just so prominent. I'll leave you storytellers to it!
29.

Mermaid Tails & Tops in @berrygameplay's Candy Shoppe Palette by cosmicamos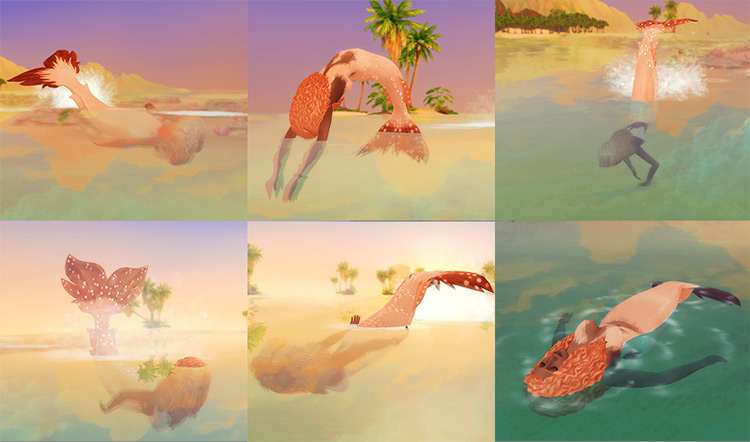 Sea green, ocean blue, and aqua are all beautiful colors for tails.
But for a pop of color in the vast sparkling waters, how about a little less natural and a little more bubblegum pink?
These recolors by cosmicamos introduce 36 yummy new colors for your merSim to splash around in.
My favorites? Peppermint and Cherry Cola!
30.

Siren Ears & Gills by pyxis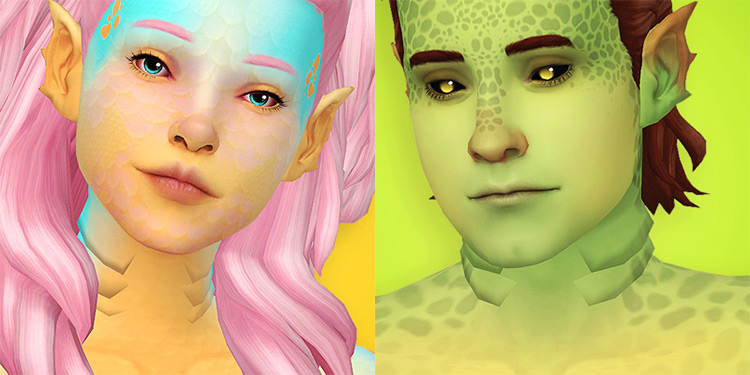 Some subtle neck gills and tri-tipped custom ears for your water-dwelling Occult Sim, by pyxis—one of my favorite TS4 CC creators for Maxis match supernatural and fantasy CAS stuff.
They're very good at creating custom content that blends and/or overlays seamlessly with base game features.
These mermaid-flavored add-ons? No exception!
31.

Interstellar – A Butt-Ton of Alien Stuff by pyxis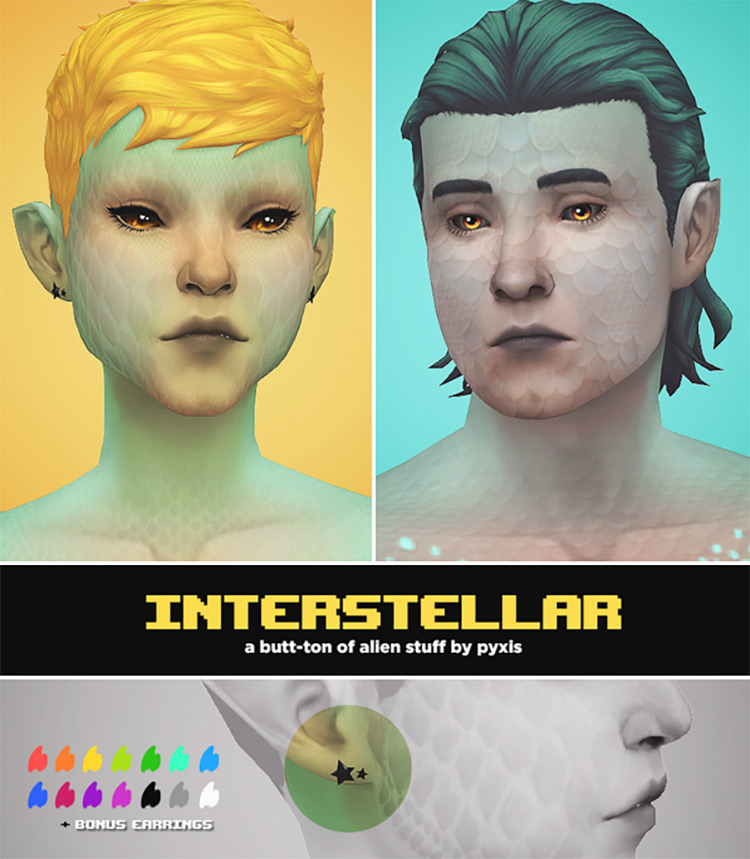 Sure, this CAS stuff pack is named for aliens.
However, check out the skin scales for the face and body. They one hundred percent look like they belong on fish.
Or, you know; fishy Sims.
Ergo, I'm recommending this pack for extra texture if you ever need extra merSim texture.
32.

Siren Ears by tekri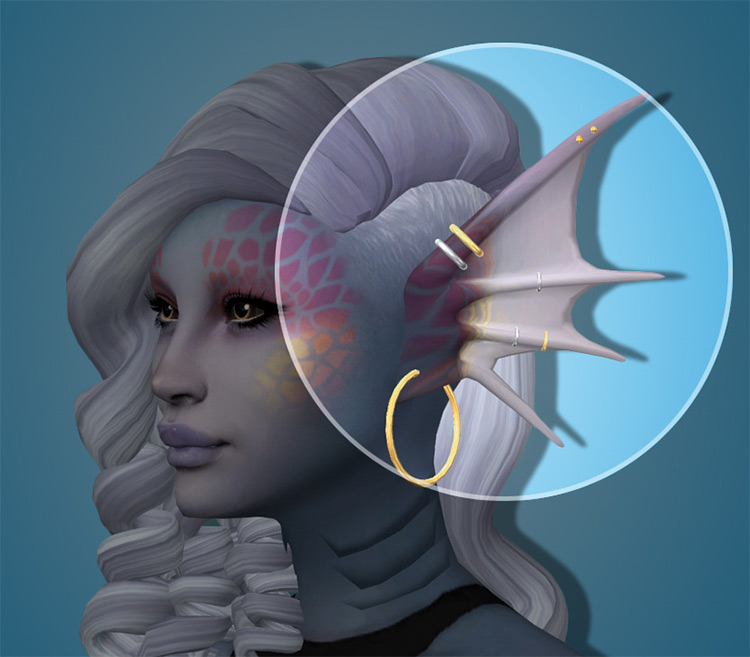 These are, and I quote, "big, spiny, pierced fish ears for your mermaids."
The description doesn't do justice for how majestic these ears really look.
They're sea-creature-themed in, like, the best possible way! Plus, they match whatever skin color they're laid over pretty closely, so mad kudos to the creator for that!
Piercings optional.
33.

Web Ears by Zaneida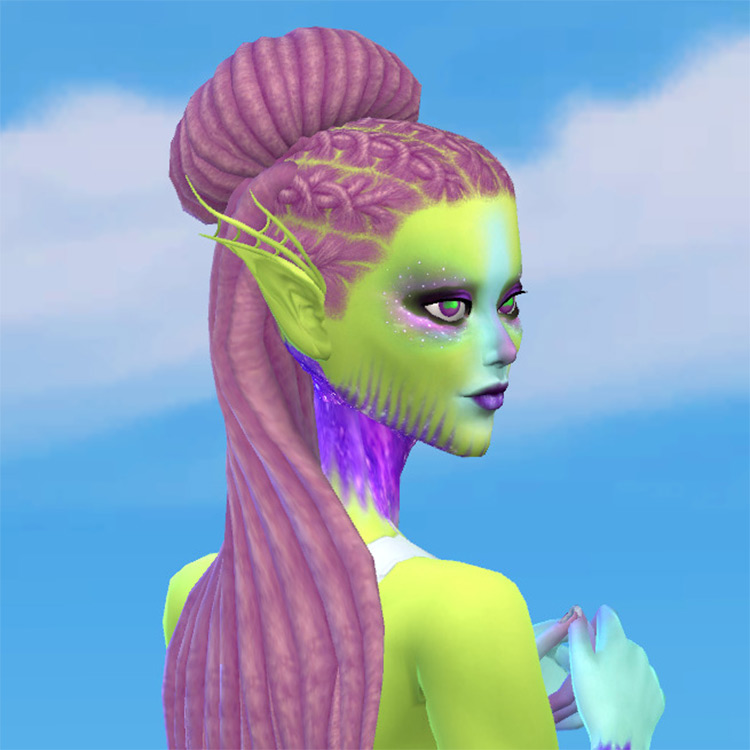 Pretty self-explanatory.
For an extra touch of elegance mixed with creature-feature, these web ears by Zaneida & The Sims 4 are an excellent pick.
They come in two styles and can be found in Skin Details.
34.

Mermaid Set by petaliko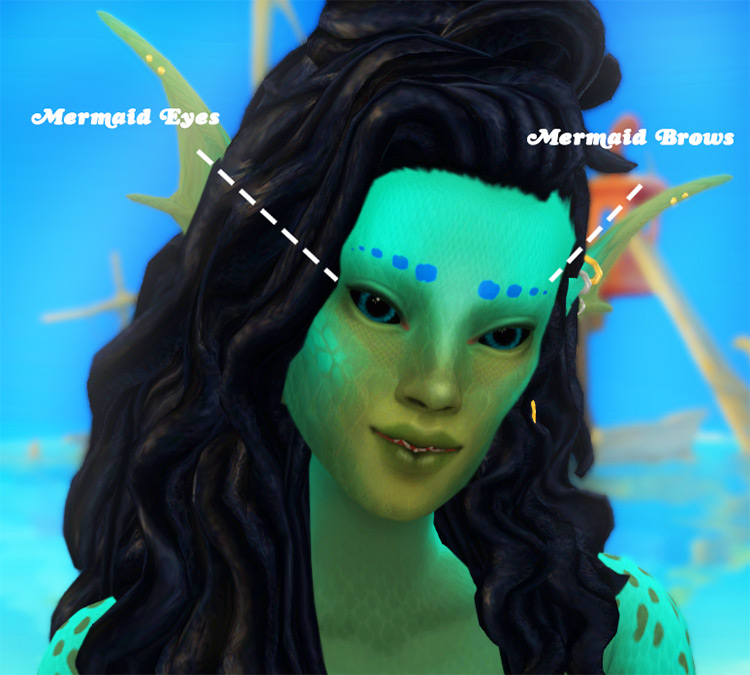 Here's a great one-stop-shop for creating fishy Sim friends with CC.
This custom stuff pack by petaliko contains creepy (but still pretty!) mermaid eyes, some face scales, and dotted mermaid brows.
These slightly more extreme features do make merSims more "creature" than Sim. But if that's something right up your alley, then this download's for you!
35.

Taty Mermaid Blush by tatygagg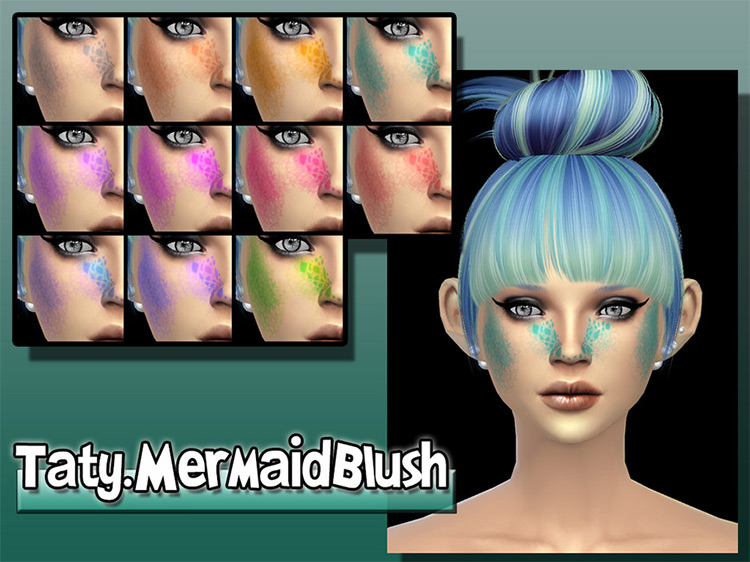 Going for something a little less subtle and a little more bold? Enter Mermaid blush.
Colorful, scaly mermaid blush that follows the contour of your Sim's face.
The edges sort of fade into lightly textured, skin-colored scales, but the majority of the blush is bright and colorful.
Get it in 11 pretty shades!
Browse:
Lists
Maxis Match
The Sims 4
Video Games