Sims 4 Maxis Match CC Must-Haves: The Ultimate Collection
This post may contain affiliate links. If you buy something we may get a small commission at no extra cost to you. (Learn more).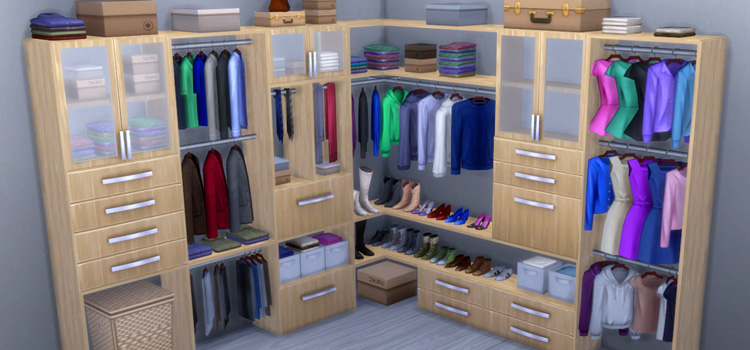 One of the best things about The Sims franchise has always been its level of customizability.
The ability to create unique-looking avatars has massively improved with each iteration. It started with The Sims 2, picked up pace in The Sims 3, and really hit its stride in TS4.
And through it all, fan-made custom content has further added to the experience.
With probably tens of thousands of CC CAS items out there, I've curated a small portion of it here, focusing on Maxis match designs.
Here's our collection of what I consider to be Maxis match CC must-haves.
MM Skin (Blends, Masks, Default/Non-Default Replacements, Overlays)
1.

Baby Powder by simandy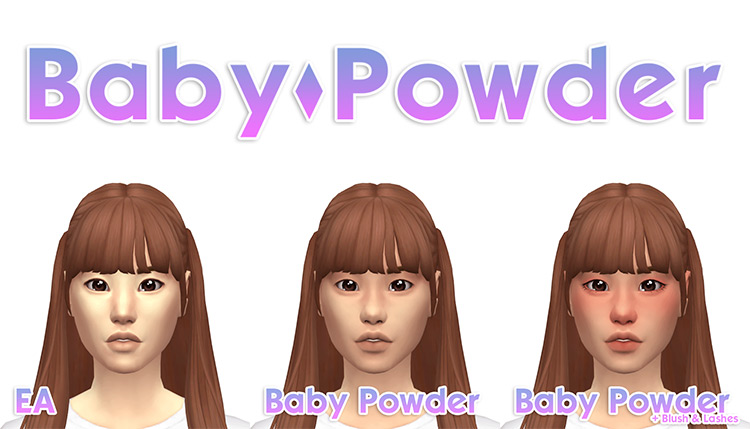 For younger, baby-faced Sims (even if they're in the Adult/Young Adult life stage), this custom skin blend by simandy is perfect.
It smoothens out lines and crevices you probably didn't even notice with the EA default skinmasks.
Check out the GIF on the download page; the difference is jarring!
2.

Pao from Toasted! by simandy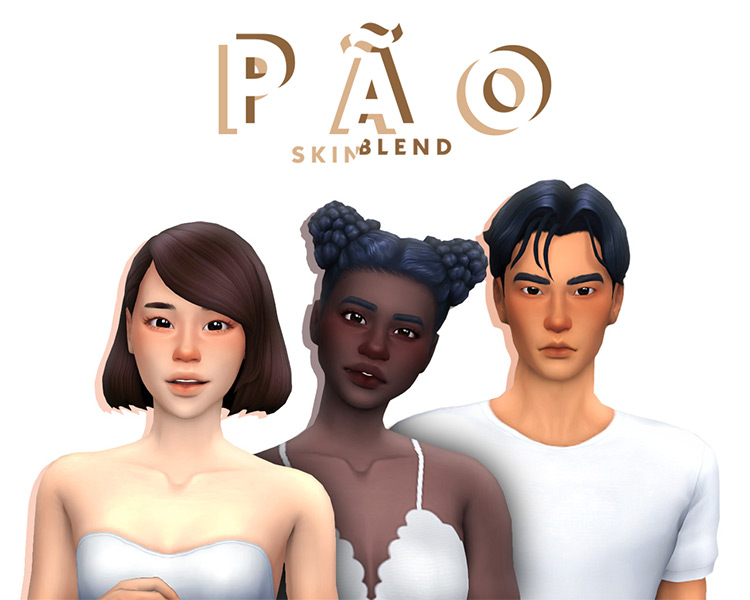 This is actually a set that contains a custom skinblend (Pao) and full-body blush options (Torrada).
I use the skinblend more than the blush, though, so I'm placing it here.
Pao doesn't so much eliminate the contours of the face as it softens them. The gentler lines make for prettier makeup combos!
3.

Amendoim Skinblend by simandy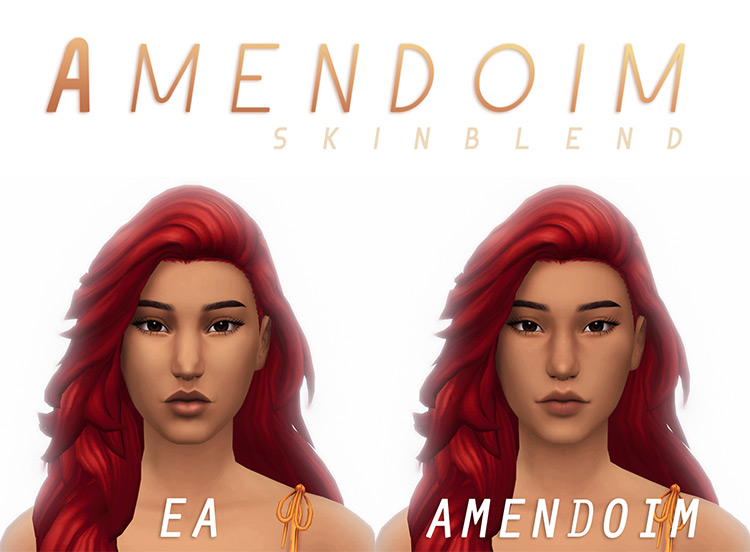 For a custom skinblend that's not too far from EA's default skin, I recommend Amendoim.
Like Pao, it has a softer, gentler texture that gives Sims a more animated 3D-render look (think the graphics in video games like Final Fantasy XIII) than a semi-realistic, semi-cartoony vibe.
4.

Afterglow Skin by kellyhb5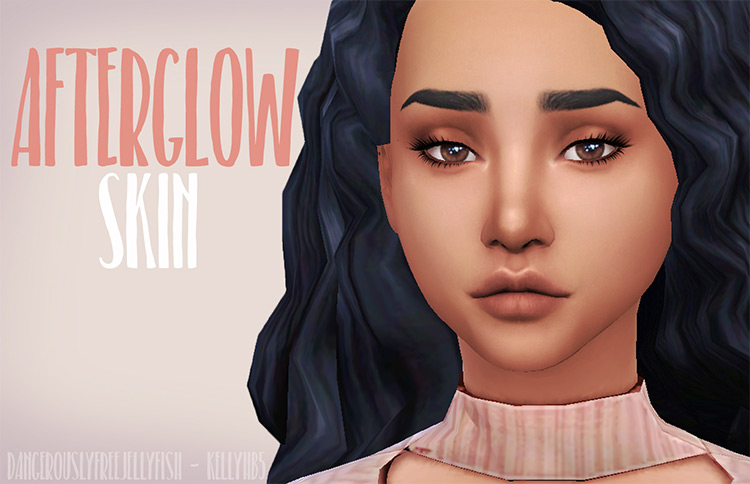 The differences between this skin replacement and EA's default are subtle.
And by subtle, I really mean "almost unnoticeable."
But there's a key difference between them, and I think it's the contour.
The shadows and highlights on this skin blend into each other better than they do on EA skin, effectively eliminating harsh edges.
5.

Sicily Skin by sibyllinesims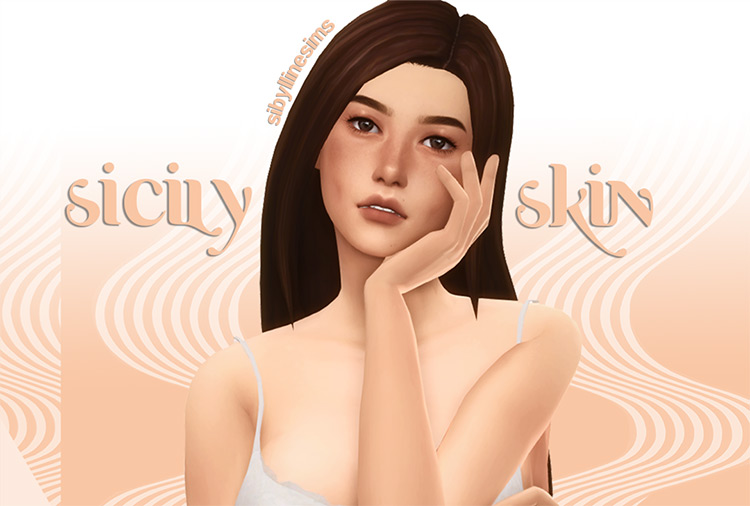 This heads into the opposite direction of the masks we've covered so far in that Sicily skin has more texture than default TS4 skin!
The lip lines are softer and the eye folds are smoother, but everything else?
Dips, creases, and some rough patches galore.
Make no mistake, though; this blend is every bit as aesthetic as the first four.
6.

Lily Skinblend by Llumi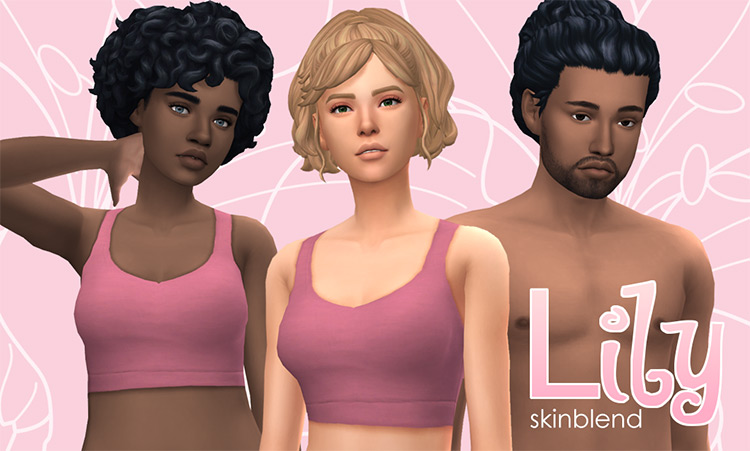 I would put this on the same level as kellyhb5's custom Afterglow skin.
The difference between EA's default and this? Not so obvious.
The visible change lies in the highlight and shadows.
The shadows are lighter and the highlights are dimmer, making for a less obvious skin contrast.
MM Skin Details
7.

Altair Freckles from "A Skin Detail Set" by peachyfaerie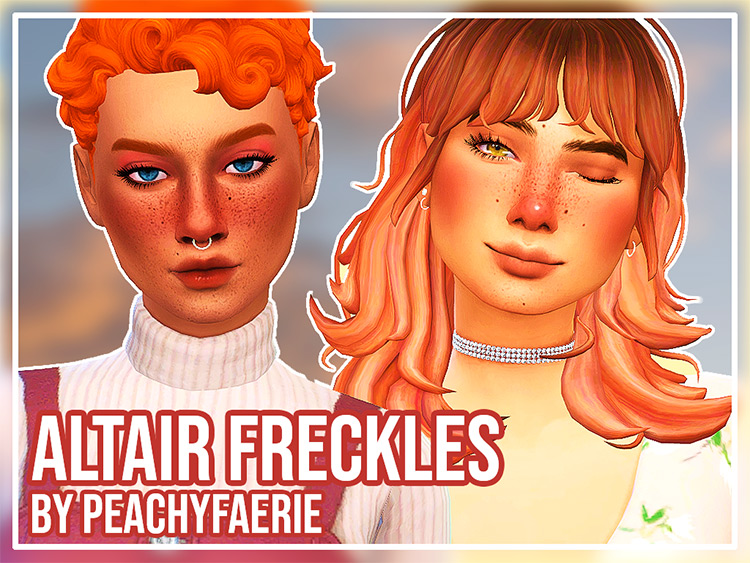 Aside from the Altair freckles (which are really cute), I actually use several items from this pack on a regular basis. The Lyra blush and the Pluto face shine, specifically.
So if you're trying cosmetic Sims 4 CC for the first time, I recommend downloading this pack as an easy one-stop-shop for high-quality face mods.
8.

Shine Mole Kit – Nobody's Like You by vegantrait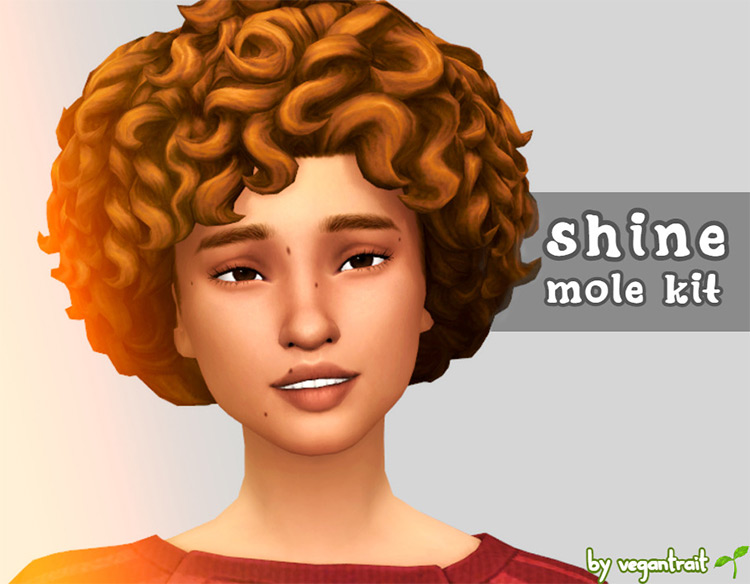 This is one of the most extensive and most customizable skin detail sets available, and I love that for it.
There are 60 different moles that you can place, and they're all available in eleven different categories.
This means you can, in theory, combine eleven moles at once.
They work for Female and Male frames, are enabled for all ages, and are base game compatible.
9.

Mango Moles by ratboysims
These offer a couple new moles in a couple different placements on the face. Perfect for when you want something new but still subtle.
There are four styles in total, with two swatches for each style.
10.

Maple Freckles by joviean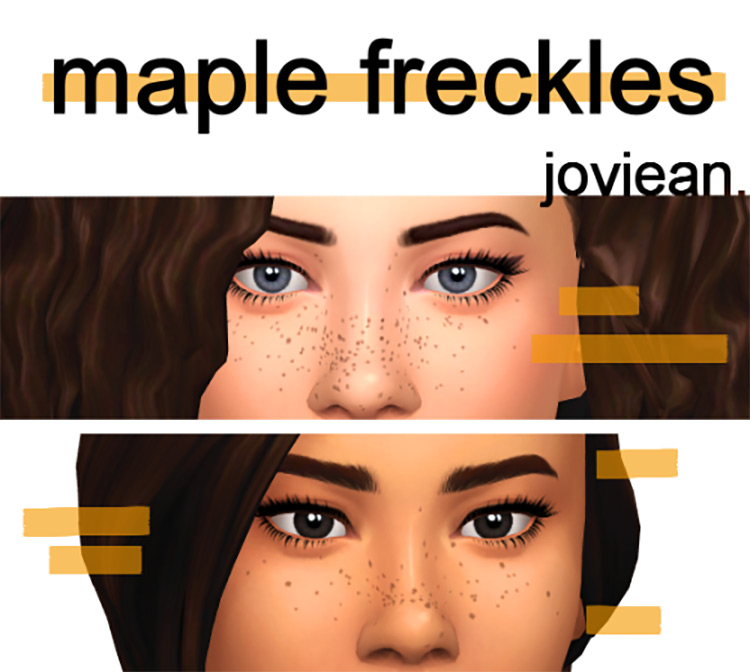 These freckle smatters are so cute!
There isn't much variation in terms of scatter and intensity, but I still like how majority is concentrated on the nose bridge. Really great way to add character to your Sim's look!
11.

Nose Shine by cakenoodles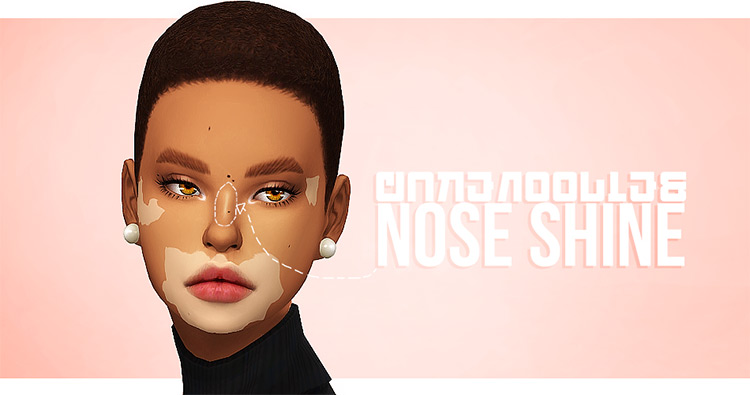 I'm putting this in Skin Details since:
That's how I use it, and
I see it as more of a natural shine than an applied highlight (aka makeup)
Speaking as a makeup junkie, the shine is so soft.
It doesn't look like the kind of exaggerated glow you get from a baked highlighter.
MM Nose: Masks & Presets
12.

To The Bone – Nosemasks by Pyxis
Pyxis has a way of giving Sims just the cutest, smoothest noses.
Their nosemasks help keep any distinct features on the nose – like a deeper bridge or a prominent bump – looking natural.
13.

Lookbook + Nose Preset by vibrantpixels
And speaking of cutest noses, this nose preset by vibrantpixels can help you achieve a charming button nose for your Sim.
They do mention that this works best without any extra skin details, but I usually combine this with Pyxis's To The Bone nosemask.
And the combo works just fine!
MM Lips: Masks & Presets
14.

Redefined Nat Lips by Nords
For softer-looking lips that are less glossy and more matte, this is my go-to overlay.
I'm a sucker for shiny, plump lips, but the semi-pouty look can get pretty repetitive after a while.
Plus the default lip masks look like they've got gloss on. For a truly fresh-faced, no-makeup look, these Redefined Nat lips are great.
15.

Lip-Kit: Presets, Shape-Overlays & Mouth Corners by Miiko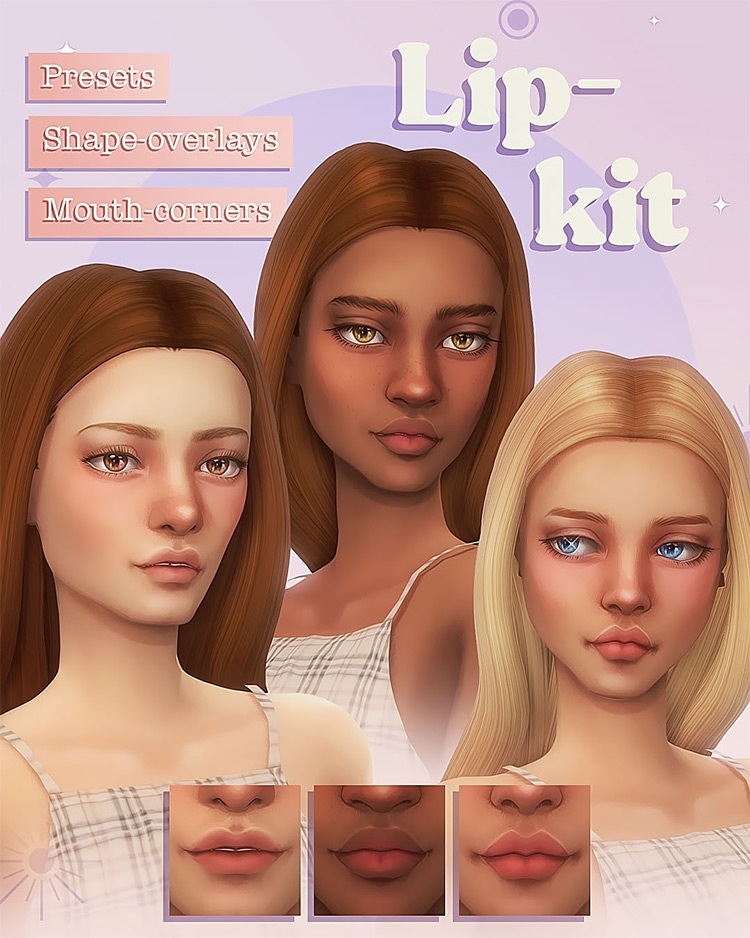 This extensive CC set contains all the items you need to fully customize your Sims's lips: presets, masks, and even mouth-corners!
I don't use them a lot since I prefer lip masks and glosses, but they always look great matched with the other items in this set.
16.

Lip Preset Pack by squeamishsims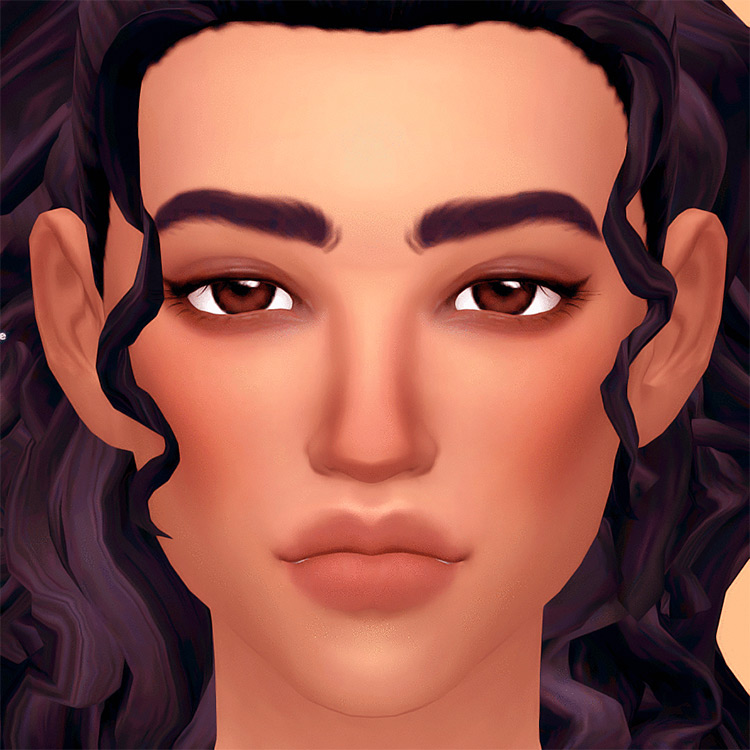 These presets are simple but super helpful.
They're soft, plump, and form a cute lil' pout that's all levels of charming.
I like the slight hint of highlight on the cupids bow, too. Really accentuates the shape of all four lips in the best way.
MM Lips: Tints & Glosses
17.

Gradient Lips by dear-solar
If you're into Korean beauty, then you're probably familiar with "gradient lips."
It's a makeup style that gives the illusion of rosebud lips. It also helps soften makeup looks with smoky eyes and intense contour.
This set comes with 30 swatches.
18.

Honey Gloss Urban by XURBANSIMSX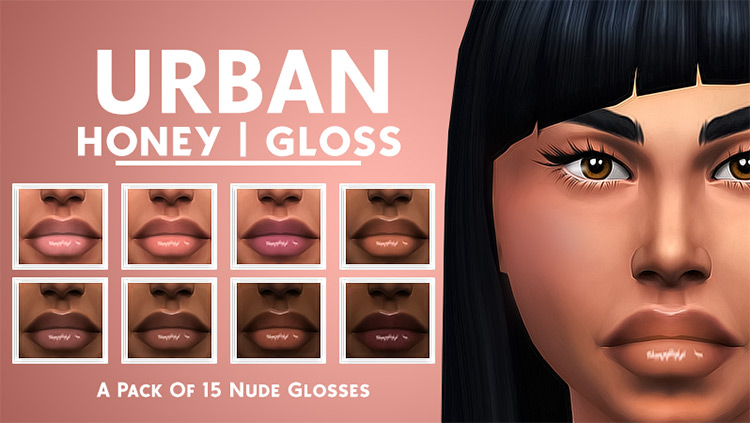 Honey Gloss gives you 15 beautiful nude glosses for a neutral, natural look.
As someone who prefers plump and shiny Sims lips, this is a personal must-have.
Plus the in-game sheen my lips get when they use these glosses is to die for!
19.

Charm Lipstick by crypticsim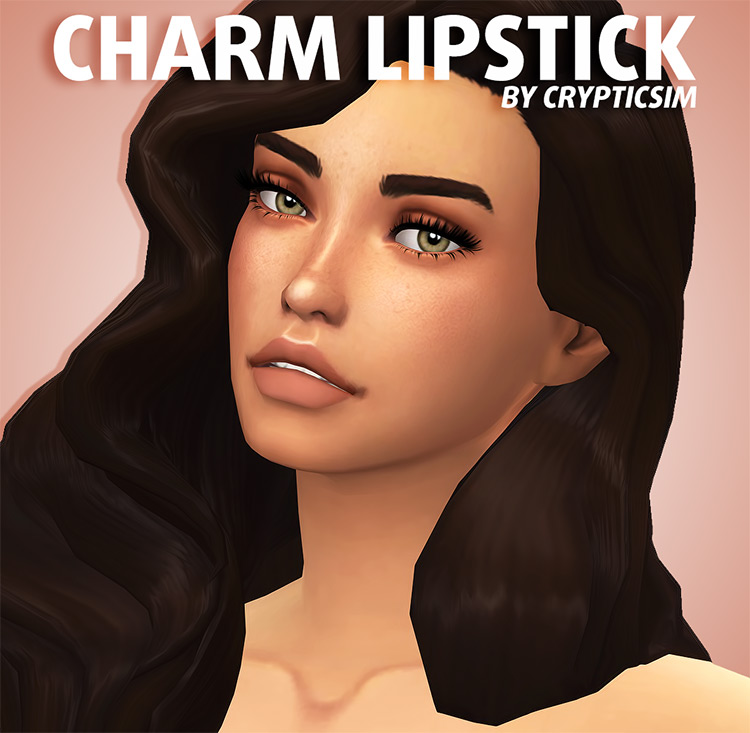 Crypticsim really said "inclusivity, luv!" with this lipstick set.
Nude lipstick is supposed to match and enhance the skin tone—not change or modify it!
With a total of 40 shade options, this Charm Lipstick kit is definitely one of the most diverse CC packs out there. Plus the smooth matte effect is really pretty.
20.

Delilah Soft Lipgloss by ilkup
Speaking of diversity, ilkup's Delilah lip gloss set has a decent number of options, too.
Considering that the visible color scheme of the set (a powdery-peach vibe) probably limited the choices, I think the creator did great with the given parameters.
MM Eyebrows
21.

Eyebrow Set #1 by adiec
These are, as the creator puts it, "some cute li'l eyebrows" that they apparently made while studying.
Proof that we don't choose when inspiration strikes.
Out of the three hand-painted eyebrows, two are intentionally asymmetrical. I have to agree with the creator—the effect is incredibly charming.
22.

Eyebrow Set #2 by adiec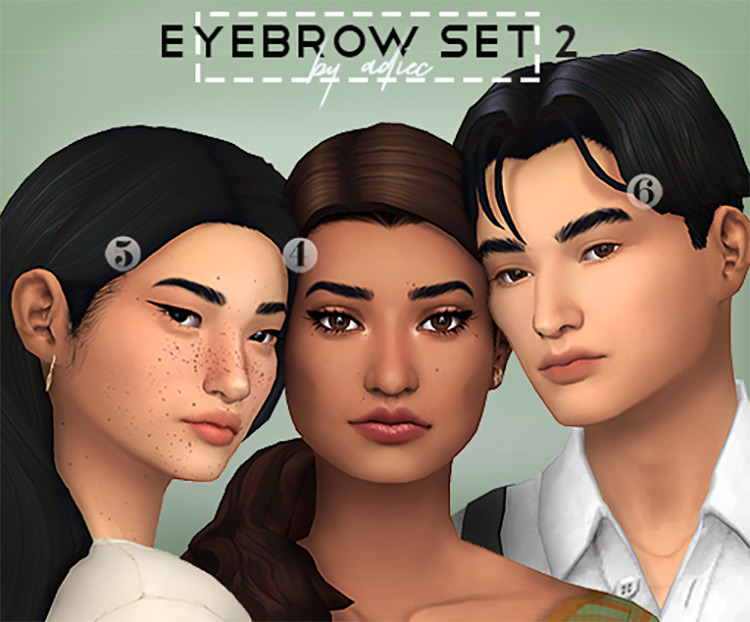 More slightly asymmetrical eyebrows (from the same creator)! It's true what they say, then; eyebrows are sisters, not twins.
Like the first set, these brows are available in EA's default 18 colors.
23.

The Brow Set by greenllamas
Took me a while to realize that these brows were named after celebrities.
But the shame is, thankfully, not as intense as the brows.
Despite their obvious thickness, the creator managed to blend shallow arches with a subtle tilts to create four strong yet soft eyebrows.
24.

Rhythm Eyebrow Set by vanilasimscc
When you want to give your Sim's look that little something extra, go for the cut brow. It's a simple but immediately noticeable detail that instantly adds character to an otherwise bland, vanilla face.
25.

Whispy Eyebrows by TwistedCat
This CC was released pretty recently (as of this writing). So it's not as tried-and-tested as the other items here.
However, the style and quality of these brows have guaranteed them permanent residence in my Mods folder.
I've tried a lot of natural-looking eyebrows on my Sims before, and these seem to suit a lot of different eye shapes the best!
MM Eyelashes
26.

3D Lashes by dreamgirl
Hey; if we can achieve lashes to the heavens in real life (using top-notch fake lashes, of course), then why can't our Sims do the same? Although I prefer my lashes simpler and more separated, dreamgirl's 3D Lashes are great for creating dramatic night-out looks.
27.

Maxis Match 3D Eyelashes Sets 01 by Bed & Musae
Now these lashes, I use them almost all the time.
Like I said; simple and separated.
I love how only some select strands of the lashes can be seen.
And I especially love when the longer ones are interspersed with stubbier clumps. The overall look is slightly messy but imperfectly pretty!
28.

Maxis Match Eyelashes (Laptop Mode Friendly!) by PickyPikachu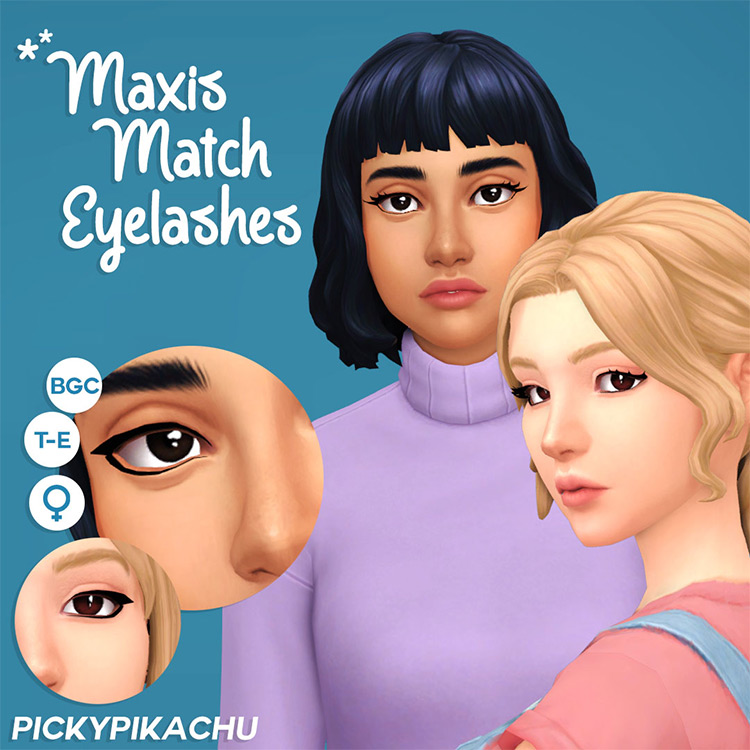 And these are my forever go-to lashes. If I could set them as default skin details, I would.
They're thick, lush, and about as Maxis match-y as you can get.
I love the separated-lash look on the Jade eyelashes, and the quasi-eyeliner look for Norma is a real winner.
But the biggest selling point for me? They're Laptop Mode friendly.
My fellow non-desktop-users, rejoice!
29.

MMSIMS Eyelash Maxis Match v2 by MMSIMS
It was love at first sight between me and these lashes.
I saw them, I saw what they could do for my Sims's eyes, and I never looked back.
They create that perfect cat-eye look (that I'm pretty obsessed with) without needing eyeliner.
30.

MMSIMS Eyelash Maxis Match v1 by MMSIMS
The length, lash distinction, and lash separation are different from the creator's V2 lashes.
But they share that nice, fluttery lash style that extends from the outer corner.
Really great for creating casual glam looks.
31.

3D Princess Eyelashes by KiKiSimLive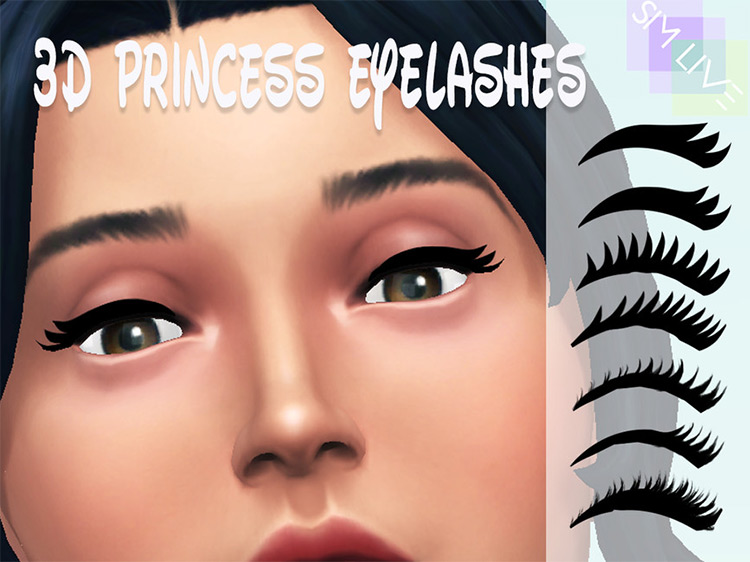 I was recently recommended this by a fellow Simmer, so of course I gave them a shot.
I'm two months into trying these lashes and I am pleasantly surprised with the gorgeous definition they add to my Sims's eyes.
32.

Eyelashes Download by simaniacos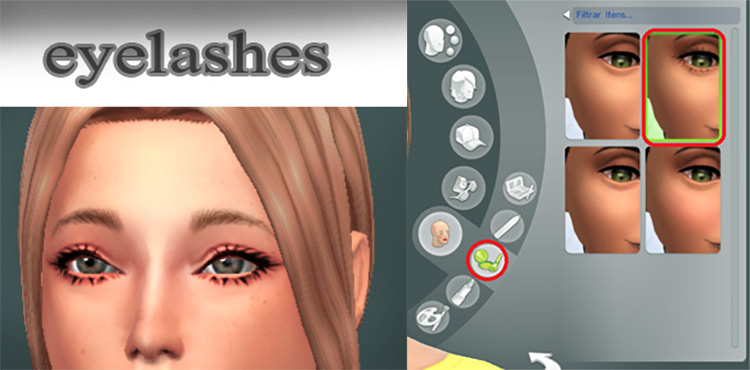 These are simple lashes that are short, straight, and circle the entirety of the eye all radiant-like.
I personally love that they're drastically different from the long, hyper-curled design most custom lashes come in. The overall look is very clean!
MM Eyes
33.

Submerged Eyes by Aveira
These heavily hypnotic eyes may be meant for mermaids, but non-Occult Sims can use 'em too.
If you want to give your Sim an interesting, mesmerizing look, nothing's better than these gorgeous, colorful peepers.
34.

Still Feels Eyes by baieyu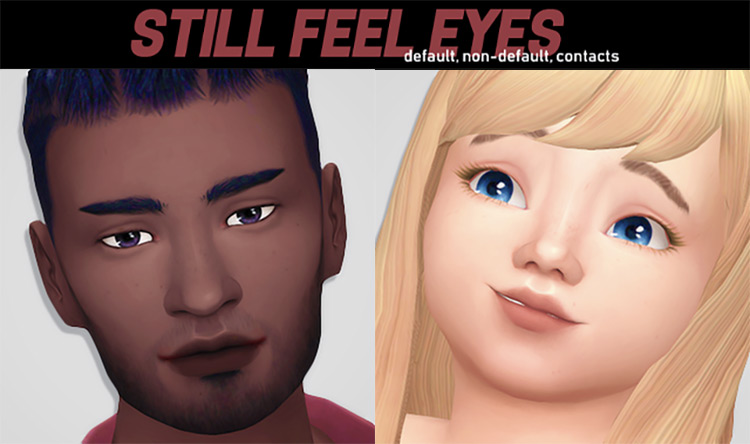 Custom "painted from scratch" eyes that are full of specular highlights and pretty, subtle details.
I always love it when content creators use a gradient instead of solid color blocks and cell shading for the iris. It adds more depth.
35.

Impact Eyes by ratboysims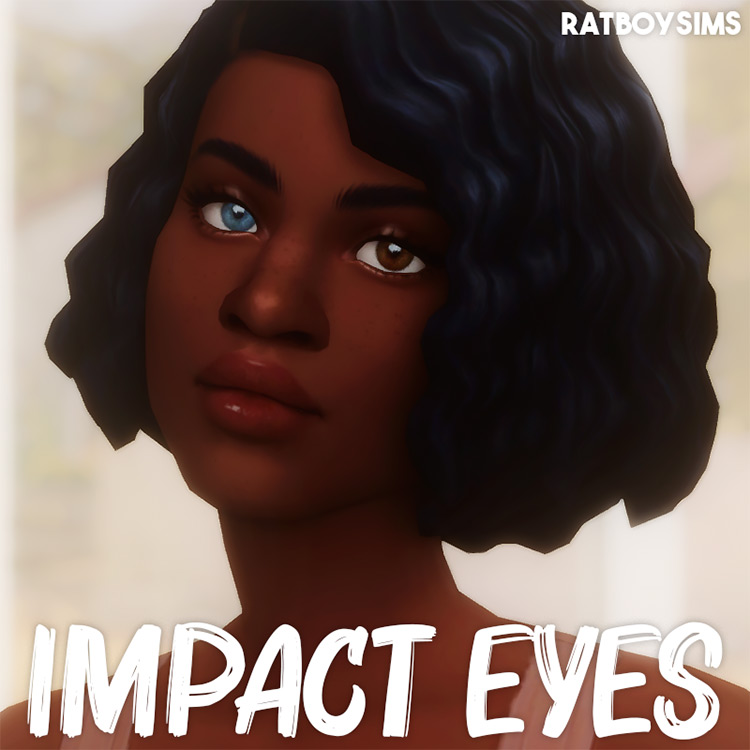 These eyes remind me of baieyu's Still Feels custom eyes, only with a smaller pupil and far more color in the iris.
Both have great specular lighting and come in pretty color swatches.
They each have their own personal charm, so which one you use is really just a matter of preference.
36.

Soft Eyes by squeamishsims
These eyes definitely live up to their name.
Everything about them, from the way the edges of the iris look against the sclera to the way the eye color blooms out from the pupil, is soft, feathery, and seamlessly blended.
37.

Beetle Eyes #2 by squeamishsims
From the same creator as the Soft Eyes CC, only everything's a little less blurred.
The irises still have a hint of soft black vignette around them, but there are a lot less gradients and a lot of more solid lines.
They also have a lot of color options: 54 brand new shades to play with, including 18 heterochromia variations in EA colors.
38.

Thousand Eyes Default Version by liahxsimblr
Like Aveira's Submerged eyes, the iris on these custom peepers have a pattern overlaid over the solid color.
It creates a mesmerizing look that's both subtle yet so distinct. Kind of like when people wear specialty contacts IRL.
39.

Whisper Eyes by DangerouslyFreeJellyfish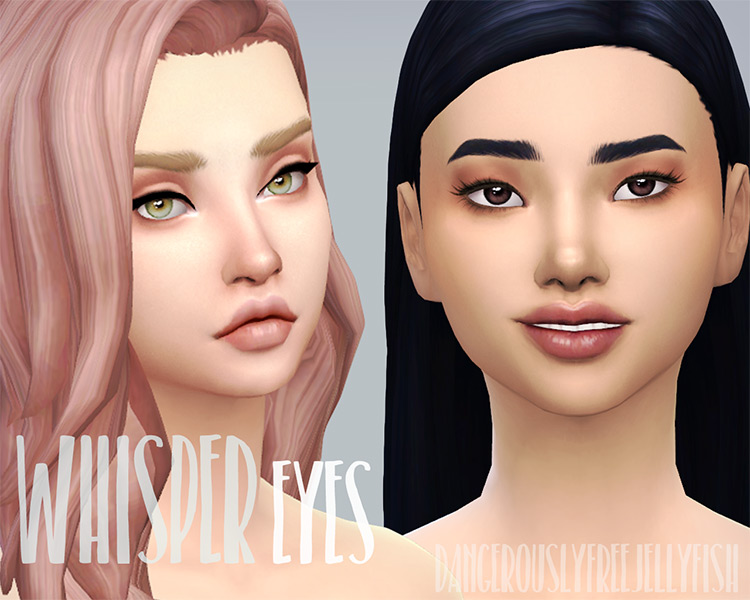 Looking for custom eyes that come in lighter or paler colors?
These Whisper eyes are a visual treat.
They're pale, they're delicate, and even the darker shades give off a wispy, airy vibe.
General MM Makeup
40.

Carnival CC Pack by peachyfaerie
This CC pack is the equivalent of heading to Sephora or Ulta and buying one or two items from nearly every category.
Eyeshadow, eyebrows, lipstick, liner, and a fairly intense cream blush (I'm talking about Lucille, though Violetta's pretty saturated too).
This is a great one-stop shop for multiple CC makeup items in beautiful peachy coral shades.
41.

Incheon Basics by simandy
Here's some soft, subtle, Eastern-style makeup.
I'm talking highlighted undereyes, highly blended eyeshadow, and sharp winged liner. Simandy's makeup CC is usually great for creating innocent, wide-eyed looks, but I've found that the Eui eyeliner and Eun eyeshadow in this set works great with almost every eye shape.
42.

Glistening Collection by Plumbhead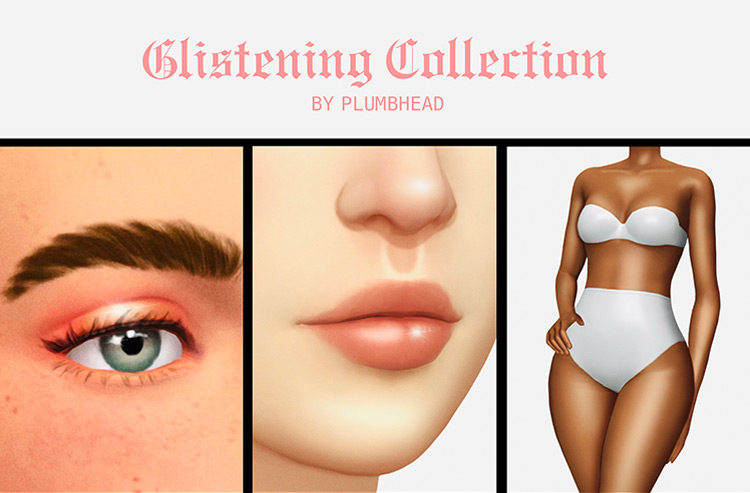 If this was actual makeup, this'd be my holy grail.
Light, nude, and highly glossy swatches that can help create a plump, glowing, no-makeup shine. It's honestly like adding a filter for your Sim's face!
43.

The Lotus Collection by crypticsims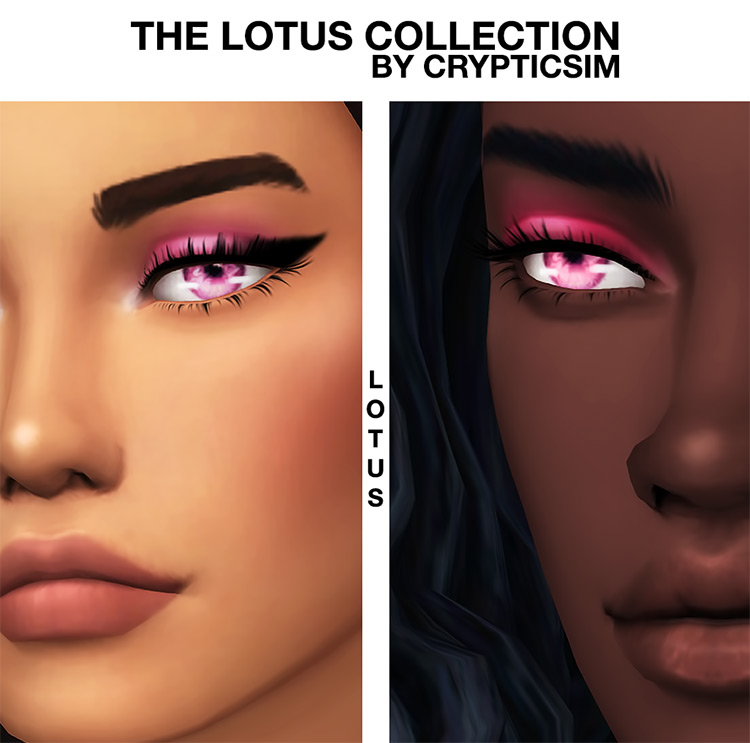 I usually recommend makeup palettes in warm, earthy tones—mostly because that's my preferred color palette.
But if you want something on the cooler side of the spectrum, this eyeshadow and eyeliner duo is to die for.
Check out how stunning it looks — especially on deeper skin!
44.

Blushing Peach Makeup Set by Miiko
Yep, this makeup set lives up to its name.
Literally all the swatches, all the effects, and all the finishes of the eyeshadows and lipstick look like soft, powdery blush.
It's a very specific look.
And for me personally it's a very aesthetic look, too!
45.

Fantasy Blush by asylumsims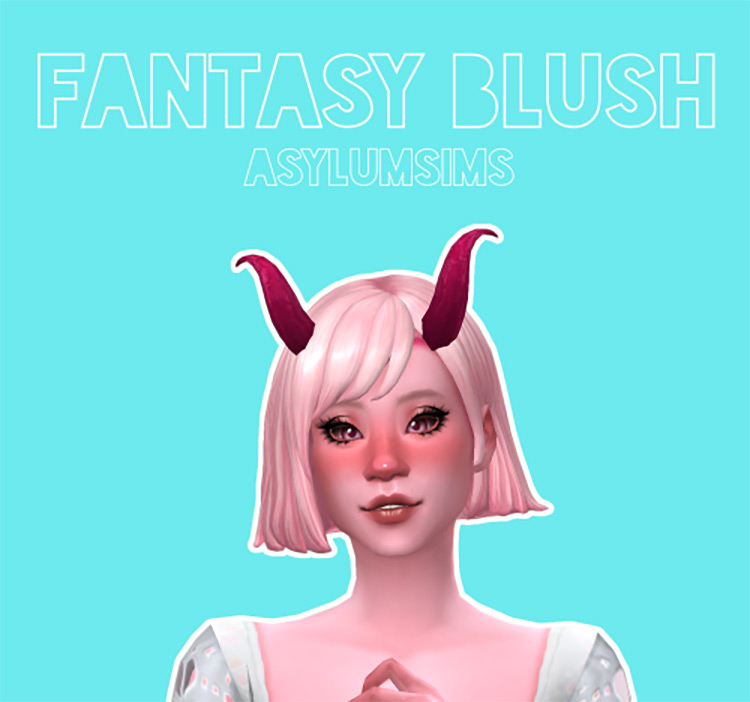 A multicolored recolor of simandy's Geleia blush is exactly what all of us fantasy/mythical-creature-loving Simmers need!
If you create tieflings, elves, orcs, and ogres in your game, then this is legitimately a must-have.
With 27 swatches, you're bound to find something to that compliments your blue-skinned alien or green-skinned siren's skin tone.
46.

Body Blush by The Kims 4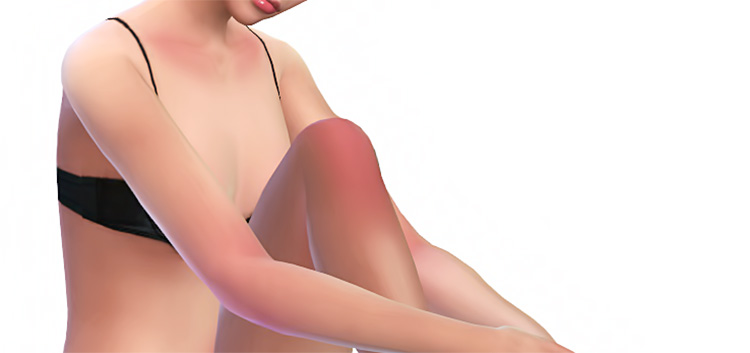 I love me some nice, healthy body blush.
Even if it does end up covered by clothing, like, 80% of the time. I still like knowing that it's there.
And it's always a pleasant surprise when those little splotches of color peek out from underneath clothes.
47.

Doll Me Up! by simandy and infiniteraptor
This CC set mostly contains hair, but there's a small bundle of custom makeup that I use fairly often.
It's simply titled Korean and Japanese Style Makeup, and it contains two types of eyeliner, two types of blush, and one lip gradient with ten swatches.
The makeup design follows Korean and Japanese beauty trends, so expect flushed cheeks and peachy-pink eyeshadow.
48.

Strawberry Blush by CreamLatteDream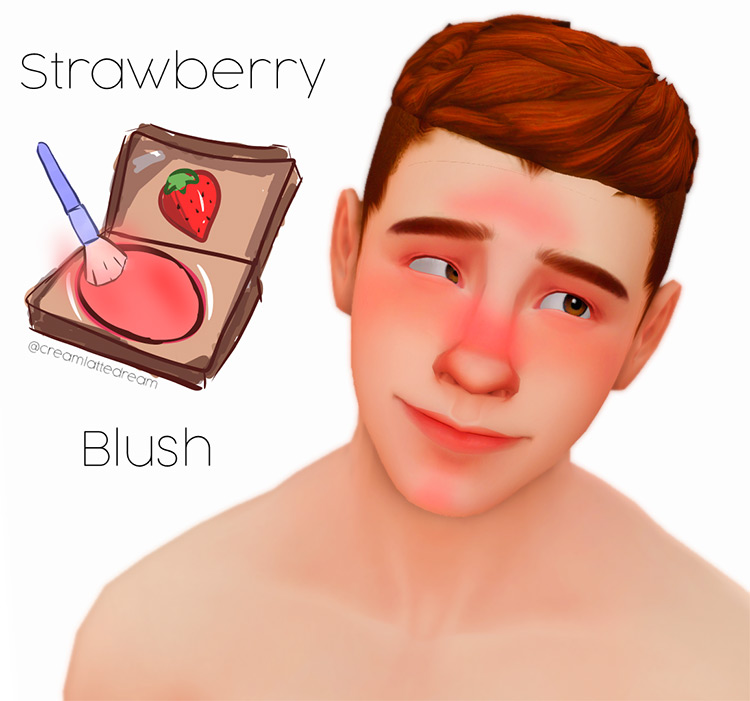 For a subtle, sunburnt look (that pairs really well with most skin tones) this Strawberry Blush by CreamLatteDream is great to have in your Mods folder.
I have a fondness for makeup looks that add texture and depth to skin using blush, so I do use this often enough to warrant a recommendation.
Plus I love that it works for all genders.
Female MM Hair
49.

LeahLillith Heartburn Hair Clayified by kotcatmeow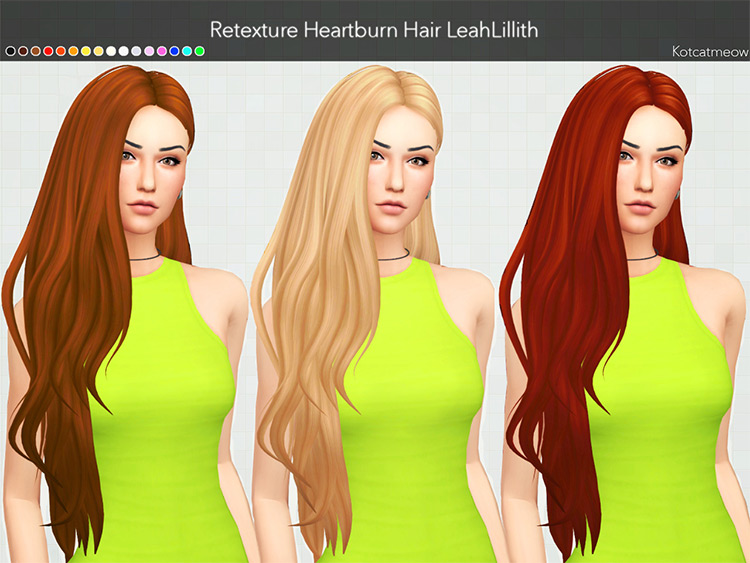 This is the nth time I've recommended this hair in a Maxis match round-up article… and I don't think I'm ever going to stop.
Words cannot describe how much I love the style of this hair and how well it works with literally almost every Sim I create.
It's a Maxis match-y must-have for sure.
And we also have a separate list of Maxis match long hairstyles for girls, so have a look there if you want some alternatives.
50.

Oceans by kismetsims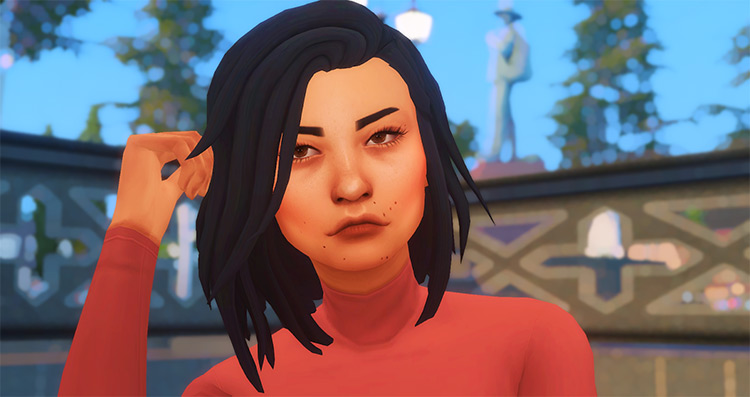 This is a custom hairstyle that I see being used almost everywhere.
On Sims for lookbooks, on Sims for play-test videos, on Sim models for makeup… it runs pretty rampant, lemme tell you.
And I understand why.
This shoulder-length bob with its side-swept & slightly messy edges looks really cool. A great choice if you're into shorter hairstyles.
51.

Braids Collection: Bella Braids v1 & v2 by sheabuttyr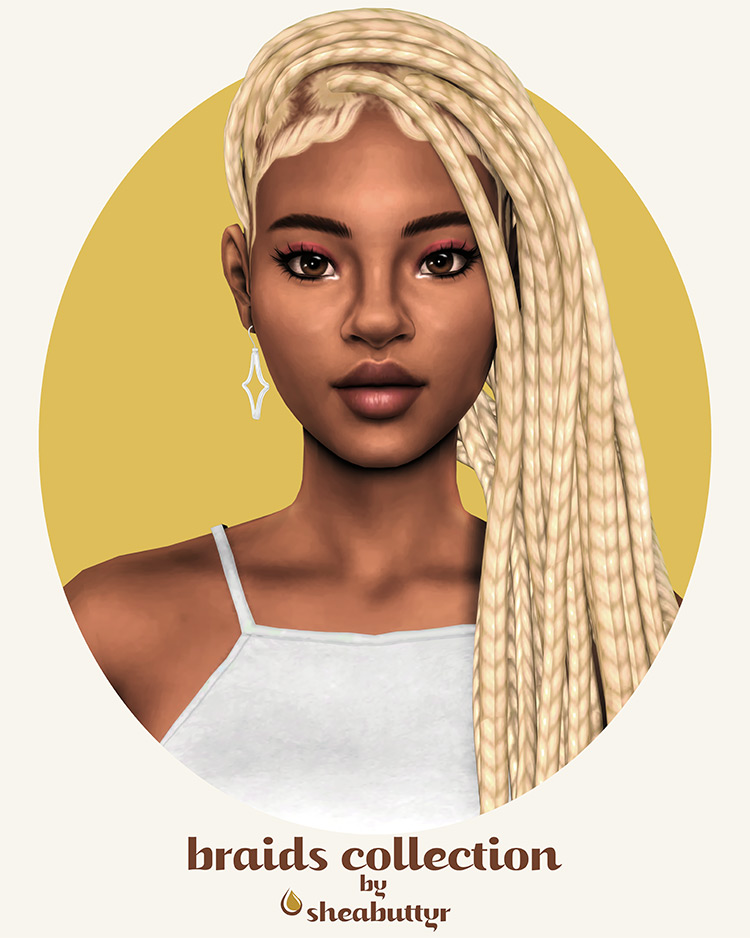 If you feel up to adding all 41 hairstyles in this set to your library, I highly support that decision.
They're all beautiful, unique, and they come with 31 color options to boot!
But if I had to pick just one, I recommend the Bella braids (both versions) — aka the one in the main preview photo.
I cannot tell you how many random townies are walking around my game right now sporting this fetching 'do.
52.

Madelyn Hair (Updated) by Aladdin-The-Simmer
There's always a spot in your Mods folder for long, wavy hair.
I recommend Madelyn by Aladdin-The-Simmer mainly because it's beautiful in its simplicity.
It's a basic long hair do with soft waves parted down the middle. Pretty easy to pair with virtually any facial features and face shapes.
Male MM Hair
53.

Boy Problems Hair + Scruff by luumia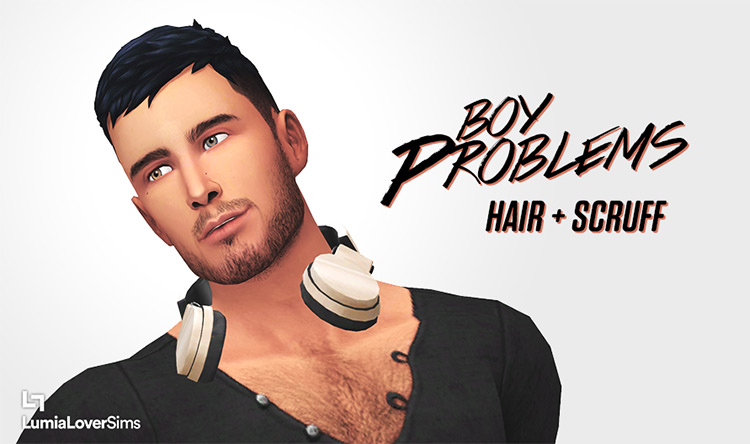 This hairstyle and scruff combo is straight-up sexy.
I feel like we don't get a lot of variety for short Male hairstyles, so I'm always on the lookout for interesting takes on existing EA hairs.
I can't tell you how many times I've used luumi's CC (both the scruff and the hair) for my Male Sims.
54.

Mark & Willson Hair by vevesims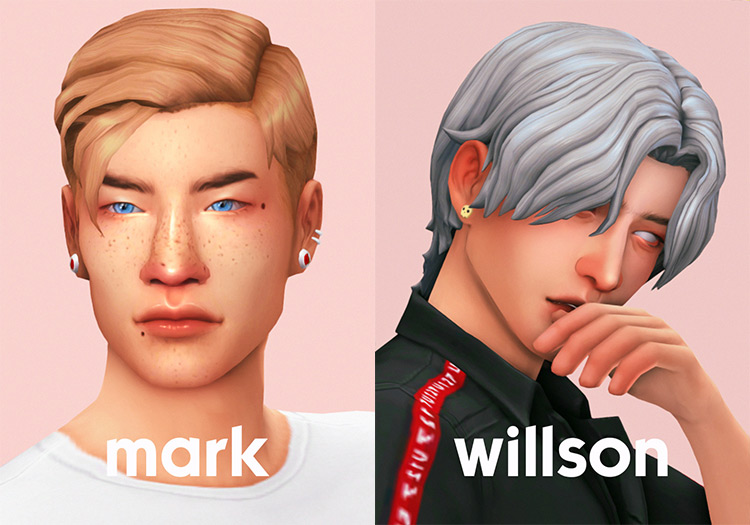 The Willson hair is another one of my holy grail, forever-go-to hairstyles when I can't pick a flattering cut for my Male Sims.
I've tried it in all 18 EA colors and I can confidently confirm that it looks great no matter what shade it's in.
I use the Mark hair a little less often, but I do love the slight wisp of bang at the front.
55.

Lucian Hair by naevys-sims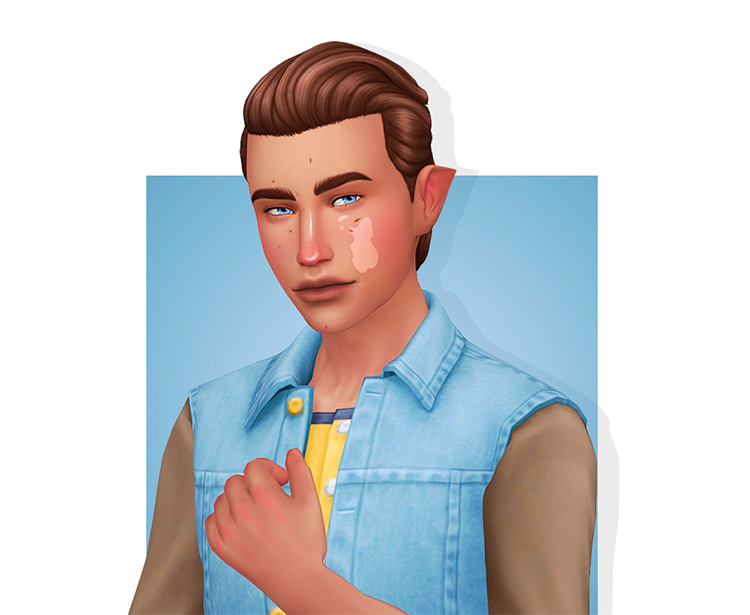 This is apparently a less-poofy version of one of the Male hairs that came with The Sims 4: Get Famous pack.
Thankfully, you don't need that pack for this CC to work.
I highly recommend this slicked-back hairstyle for formal to semi-formal outfits, when your Sim needs to look a little more expensive and put-together.
Browse:
Lists
Maxis Match
The Sims 4
Video Games