Sims 4 Maxis Match Nose Ring Piercing CC (All Free)
This post may contain affiliate links. If you buy something we may get a small commission at no extra cost to you. (Learn more).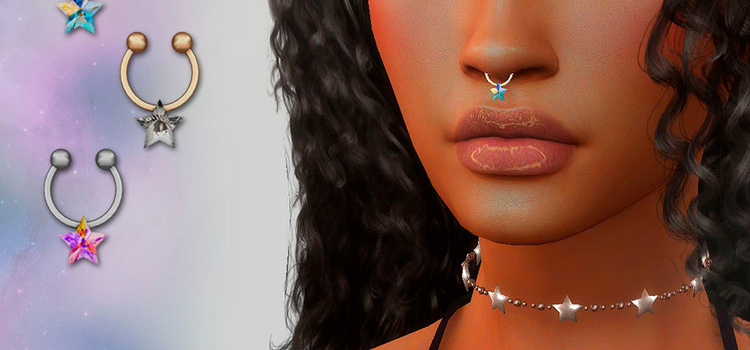 I'd never get a nose piercing in real life, purely because I'm scared of needles.
But in The Sims 4, my sim self has no such limitations.
Whether it's to live out my heavily(ish) pierced dreams or to design cool characters, adding nose piercings to the create-a-sim experience is super worth it. The glaring issue is that, nose rings or otherwise, there aren't exactly a lot of options for piercings in the base game.
So what do you do when you only need a couple pieces of jewelry to complete your sim?
You look for Maxis-match CC, of course!
1.

Antivan Nosechain Maxis-Matched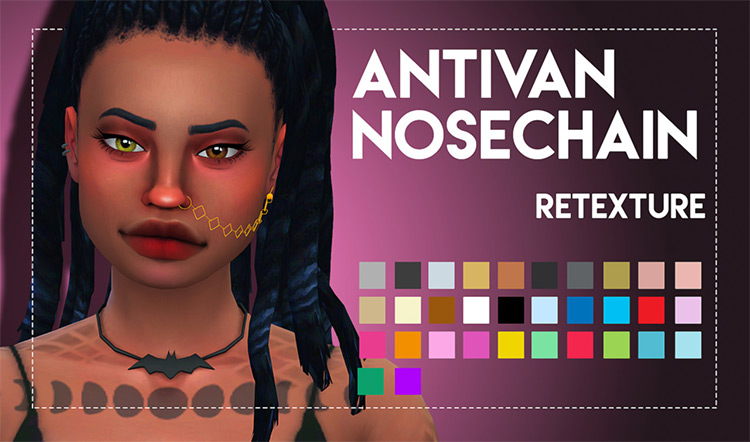 You know when you find the perfect CC you've been searching for, but it isn't really Maxis-match?
Well content creators experience that, too.
Creator Weepingsimmer retextured a nose chain design by Eliavah to make it blend it a little better with Maxis items.
The simple change makes a world of difference!
There's just one thing that Weepingsimmer changed that doesn't fit in with other Maxis items; this CC actually has enough swatches for once. There are 32 swatches in metallics, pastels, and vivids.
2.

10k Follower Nose Ring

This simple set of 4 septum piercings is a great place to start if you're new to giving your sims piercings or you only need to give piercings to one sim.
Since there are 4 swatches, you'll have enough options to be able to flex your wings a little bit without being overwhelmed by having a gazillion different piercings to wade through.
The swatches available in this set also cover all of the basic septum ring designs:
There's a beaded ring, a petal/floral ring, an open ring, and in the words of the content creator, a "plain jane ring".
3.

Septum to Nostril Nose Ring Set
If septum piercings aren't really your style, then this is the CC for you.
It's essentially a nostril piercing version of the septum piercing rings we just looked at.
They're made in the same 4 styles (this time with 4 colors to go with) and are usable by any gender. The main difference is the piercing location!
Another bonus is that these piercings will fit on any sim. It's a common issue with nose piercing CC that some sims aren't compatible because of the shape of their nose, but that isn't an issue with this set.
Every ring in this pack is compatible with every nose.
4.

Nath Nose Ring Set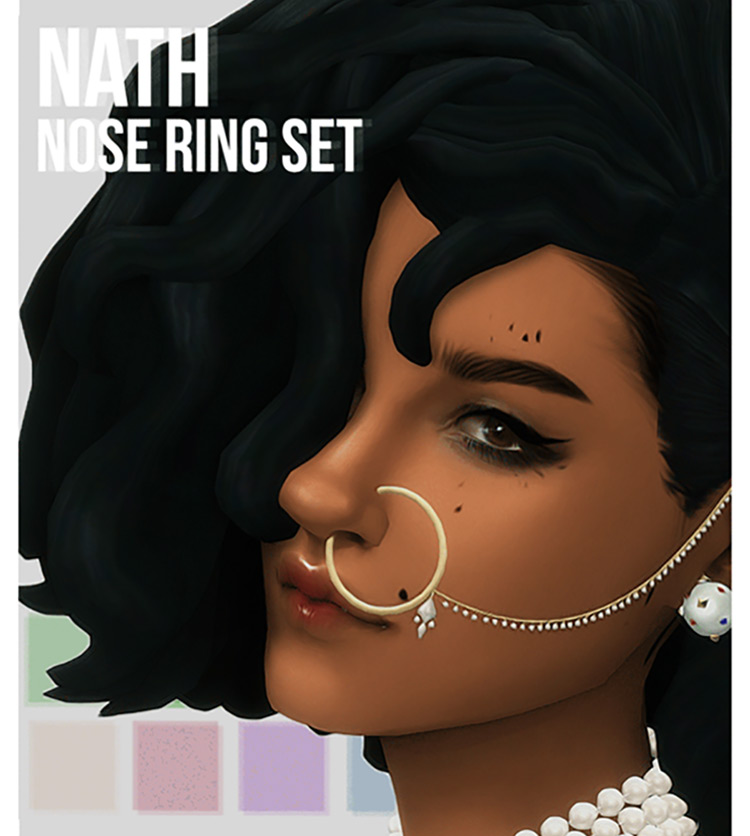 With the addition of the Street Fashion kit and all of the Mumbai-inspired clothes that come with it, you might be itching to make some Indian sims and settings to put those clothes to good use.
If you ever end up orchestrating a wedding for an Indian sim bride, then this nose piercing might come in handy.
The nath nose ring is a type of piercing often worn by Indian brides throughout South Asia. And this particular CC offers 3 different nath designs and 12 swatches.
5.

Fine Ball Nose Piercing Set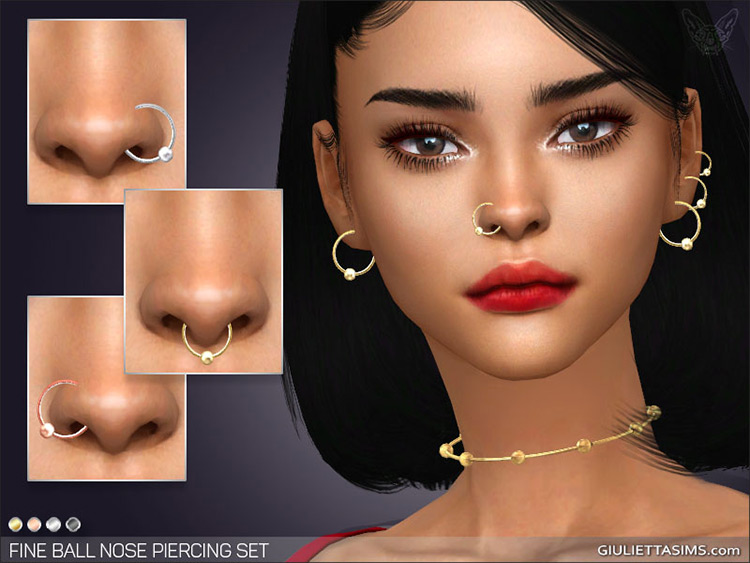 So many nose piercings can look downright clunky.
All the power to you if that's the look you're going for, but what if you want something more dainty?
The Fine Ball Nose Piercing will be right up your alley!
As the name suggests, this nose piercing is a lot more 'fine' than other piercing CC tends to be. The default cool gold tone is my favorite, and the CC is good enough that it could get away with only offering that swatch.
For those of you who want more options, there are 4 swatches total. But you'll be limited to female Sims of any species: humans, vampires, mermaids, aliens, you name it.
6.

Suzue Star Nose Ring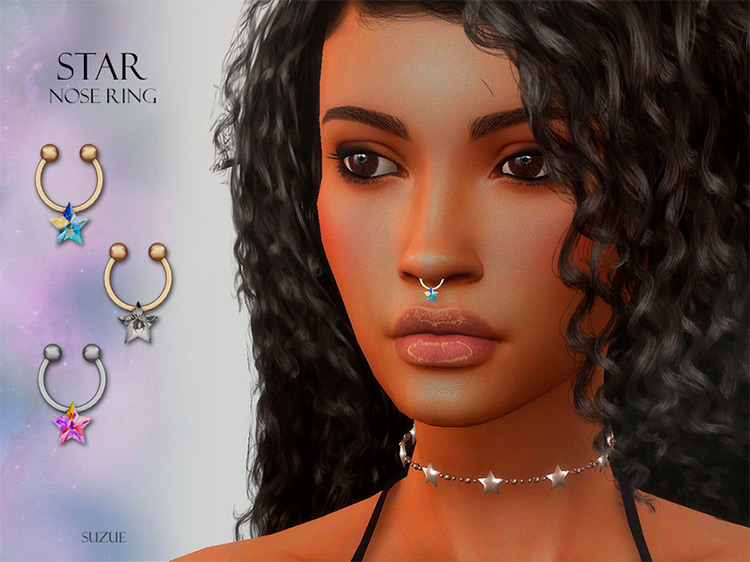 The uninitiated may reserve non-earring piercings for only the edgiest of characters. But any sim can wear some fun nose piercings.
This Star Nose Ring, usable by female and male sims from teen to elder, might convince you of that fact.
Instead of cold and edgy, this piercing is warm and colorful.
It makes me happy just to look at it!
It comes in 10 swatches, which change both the star color and the metal color. There are a couple versions of this piercing that are in all metallic and tons more that use bright colors.
7.

DIY Nose Piercing Set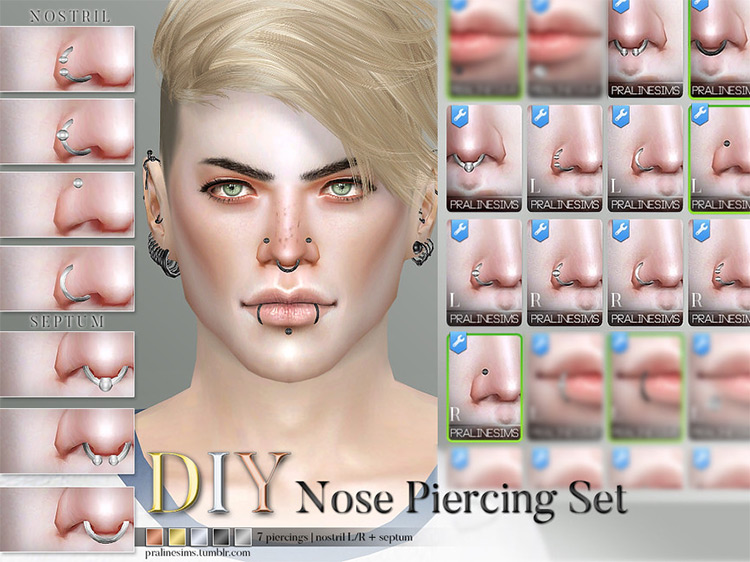 When trying out something new like a nose piercing in real life, the last thing I'd want is to have to DIY it.
But in TS4, that's exactly what I want!
These DIY Nose Piercings will let you customize your sims' nose piercings to your heart's content, without all the skill you'd need to actually pull it off IRL.
It's the best of both worlds.
There are 7 different piercing styles in this set that can be used for either male or female sims, but the customization goes beyond that.
Every piercing can be placed in the left nostril, right nostril, or in the septum.
8.

Slightly to the Side Piercing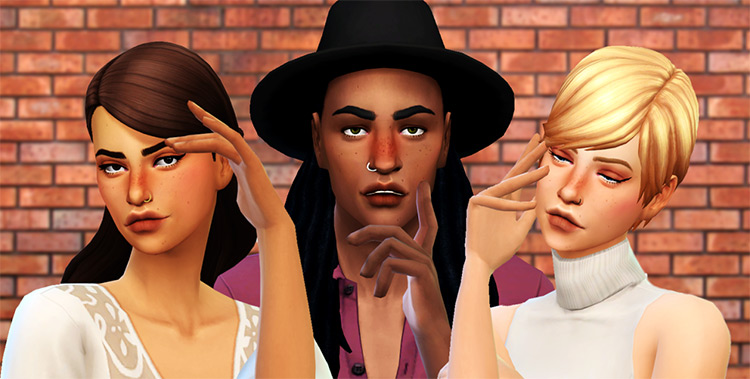 Sometimes all you want is something simple to jazz up your sims.
There will be no need for extravagance with this piercing pack!
Most piercing packs offer loads of different designs, which is cool, but totally unnecessary for the casual nose piercer.
This CC, on the other hand, offers just a single design.
Available for both genders, the "Slightly to the Side" piercing is a simple ring shaped piercing. No more, no less.
It includes 4 color swatches and the option to put the piercing in either nostril.
9.

Playboy Nose Ring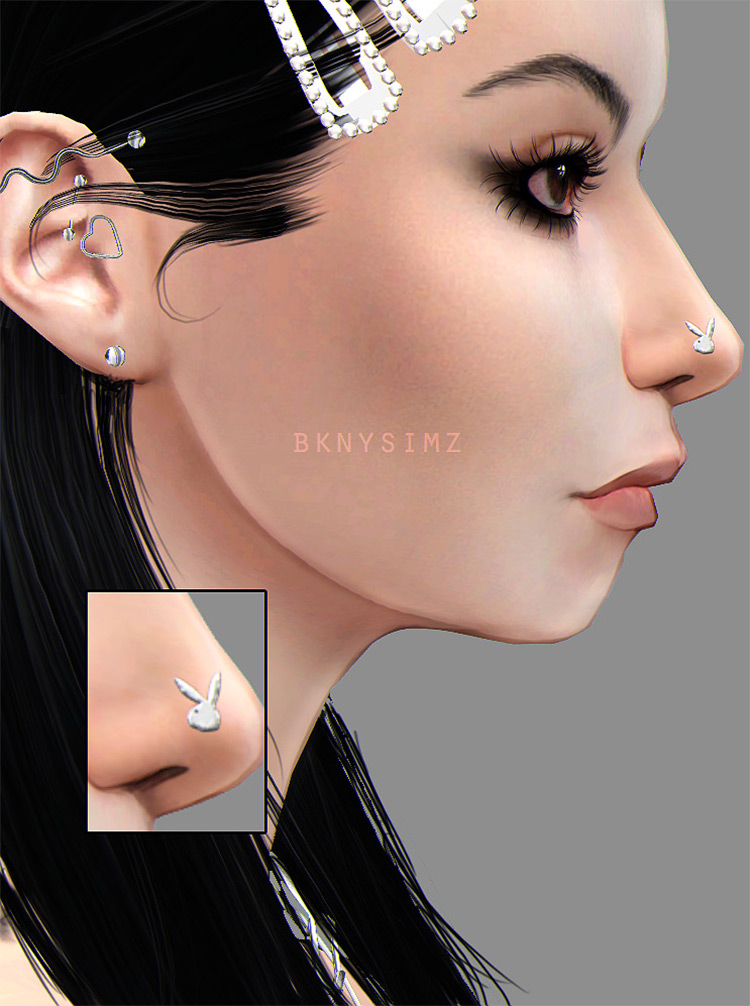 Amidst all of the branded clothing, accessories, and jewelry, piercings are one thing that you can usually assume are safe from the brand stamp.
This nose piercing is definitely not safe. And I'm not mad at it in the slightest.
Even if you aren't big on playboy, who can resist wearing a cute little bunny as a nose stud?
The Sims 4 is a solo game. If you don't tell, nobody will ever be the wiser.
This custom stud comes in 4 swatches (silver, gold, black, and pink) and can be used in either nostril, plus it's for any gender, and for ages T-E.
Browse:
Lists
Maxis Match
The Sims 4
Video Games