Sims 4 Maxis Match Nursery CC: The Ultimate Collection
This post may contain affiliate links. If you buy something we may get a small commission at no extra cost to you. (Learn more).
The Sims 4: Toddler Stuff introduced a lot of fun CAS stuff for Toddlers, including some cute new clothes and spiffy new hairdos.
For Build n Buy items, they gave grand total of 24 new items: a pile of pillows (that functioned as a seat), a tiny director's chair, and a giant tree-shaped dollhouse.
That's all well and good – but 24 items doesn't really give much leeway for experimentation and variety.
So if you want a themed nursery, we're gonna have to look to the Sims 4 community for help.
Custom content creators to the rescue!
1.

TS3 to TS4 Lindsey Nursery Conversion by michelleab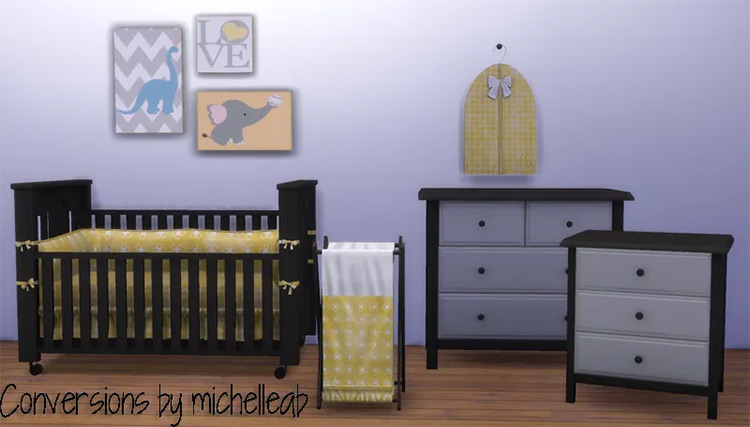 TS4 conversions of TS3 items make me genuinely happy.
Nostalgia factor aside, The Sims 3 genuinely had a lot of cool stuff that they should have continued (or kept) in The Sims 4.
Like this Lindsey Nursery set, for example.
It's got gorgeous wooden textures, great color combination swatches, and cute wall art.
Seriously; look at those baby animals. They make me want to coo.
There are a total of 6 items in the pack, and the zipped file download gives you the option to install them separately (aka individual .package files) or as a merged set (aka one .package file for all).
2.

Peanut Puppy by NynaeveDesign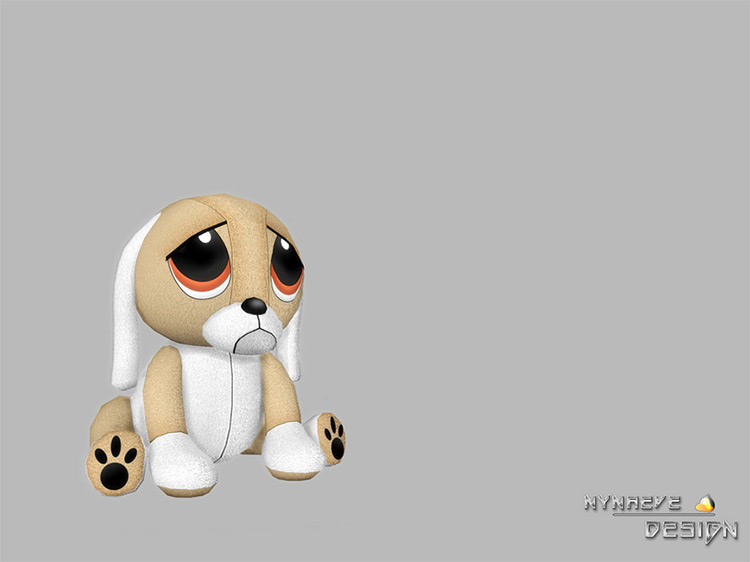 My initial reaction to this stuffie was something along the lines of it's so cute please I'm gonna cry—
But that's neither here nor there.
This stuffed doggo plushie with the saddest Bambi eyes and the cute lil pout is every bit as adorable as its name.
I'm weak for sad-looking animals because they give off mad "adopt me!" energy.
Well this Peanut Puppy by NynaeveDesign really tested my will.
I'm happy to report that I lost.
Because I downloaded it and installed it the moment I saw it. For just 150 simoleons, you too can have this adorably pouting puppy in your Toddler's arms. Or in their nursery—your choice!
3.

Melina Set by soloriya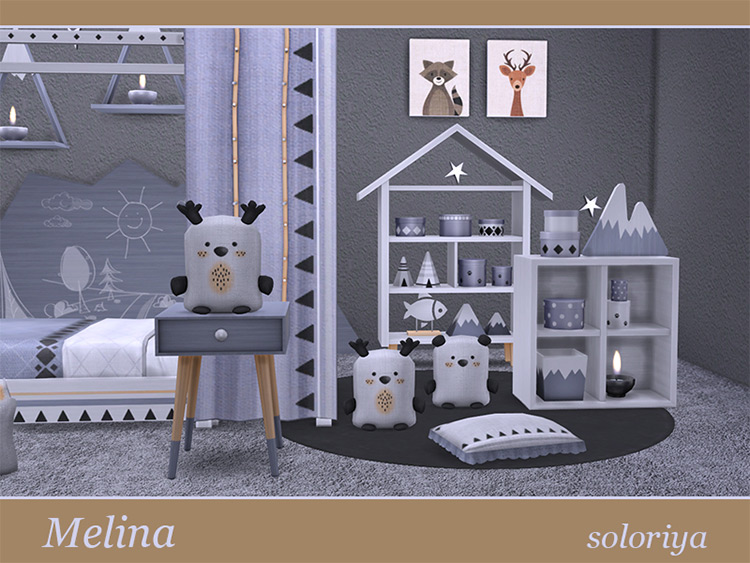 Create the perfect outdoor getaway for your darling baby Sims with soloriya's Melina set—a stuff pack with 19 furniture pieces, plus some tiny odds n' ends.
It includes:
A canopy bed for Toddlers (with matching optional curtain)
A functional four-square storage shelf
Blushing bear-shaped pillows
Plus some decorative, brightly-colored fish
Yes, it's every bit as whimsical as it sounds.
Soloriya is another big name amongst the Sims 4 CC community. Their Maxis Match Build & Buy stuff is always spot-on.
Everything, from the quality to the concept, never ceases to amaze. And this collection is no exception.
It's the perfect blend of form and function, and it helps that the form is all kinds of cute.
4.

Susanna CC Set by soloriya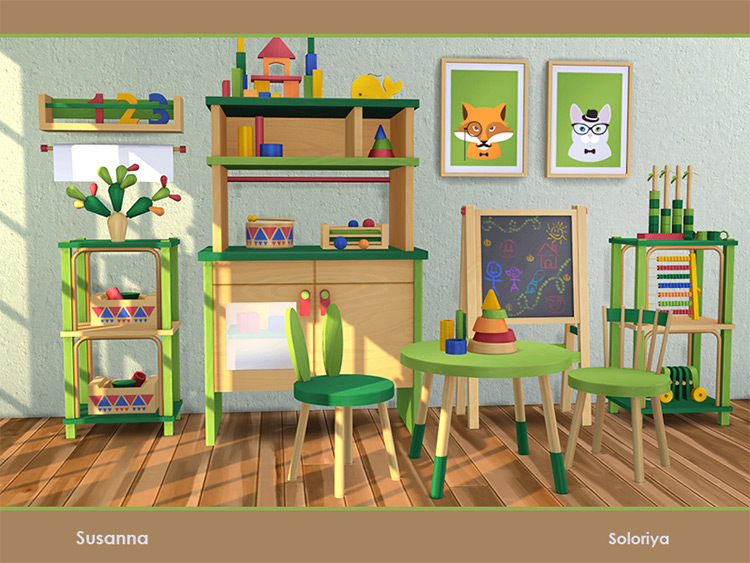 This playroom set (again by soloriya) gives off major jungle safari/adventure vibes.
Especially with the green swatches paired with the light, solid wood.
Ergo, I'd say it's perfect for the adventurous outdoors-y Toddler who loves discovery and exploration.
There are a total of 10 items in this Susanna pack, and most of them give off a very whimsical child-friendly vibe.
My favorites would have to be the bunny-eared chair and the storage box with the random colorful balls.
5.

Kids Functional Toy Set by Sanjana Sims Studio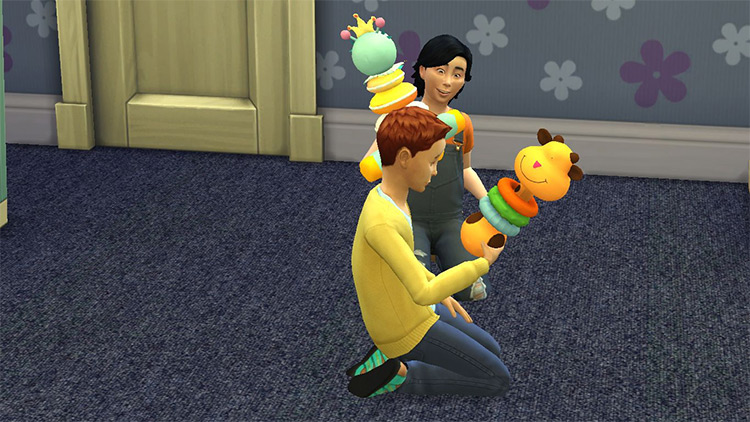 Need to restock your Toddler's toy box? Say no more.
These original Sims 4 toys by Sanjana Sims Studio are guaranteed to brighten up any nursery!
What's cool is that these aren't recolors or conversions of existing TS4 items, no.
These are five brand-new meshes for your Sims's Toddler to play with.
They are, in order of the preview picture:
Hello Kitty (or some Sims 4 version of her)
A particularly tall, uniped brown cow
Marie (from Disney's The Aristocats)
A blue clown
A bright red parrot (also referred to as a "talking bird" in the .package files)
What makes this even more impressive is that they're all fully functional.
Toddlers can interact with them like they would regular Toy objects from EA. That means they can raise a Toddler's Imagination skill and Fun level when they're not being used as decoration.
6.

Miralke Nursery Conversion/Edit by dreamcatchersims4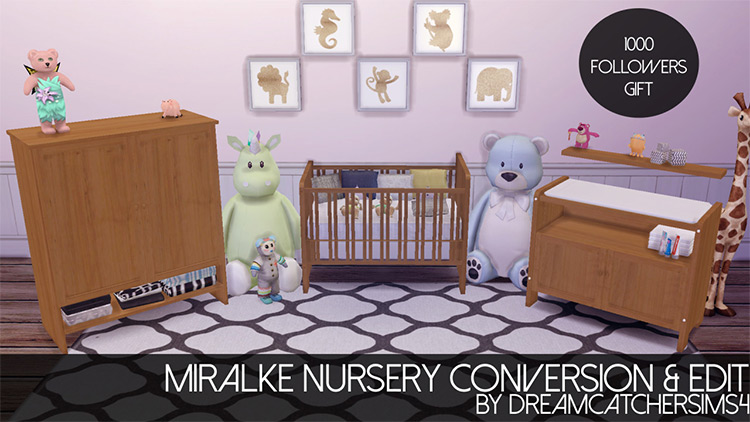 Dreamcatchersims4's celebratory 1k followers pack contains three new pieces of furniture for a functional nursery:
A crib
A baby changing table
And a dresser
Each one is made mostly out of light chestnut wood, with a few sections (like the sides of the crib and the doors of the dresser) painted a different color.
There are 26 color options for all three pieces, ranging from lemon yellow to mermaid teal to pastel pink. There's even a bright purple swatch that I absolutely adore in-game.
Before you download and install the pack, make sure you read the creator's download notes for specifications and more item details.
As far as functionality goes, it's not the smoothest.
I mean, considering the fact that you'll need an extra mod to get the crib working. But hey; at least the nursery dresser and changing table are legitimate storage solutions.
Honestly, the visuals of this set more than make up for lack of functionality.
7.

Kardofe_Bambino Children's Room by kardofe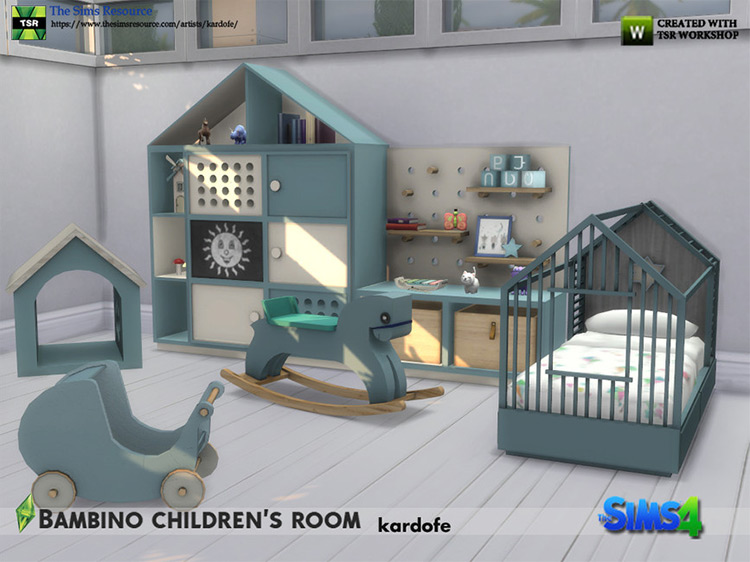 Here's another entry for Toddler Nurseries With Gorgeous Visuals.
Like, seriously; look at how smooth and sleek everything looks!
It's minimalist in the best way possible, what with the clean lines, slender bars, and soft yet solid colors.
There are 12 items in this pack, and the bigger ones (i.e., the beds, chairs, and storage units) are functional.
The painted rocking horse is, sadly, purely decorative. Not too bummed though because it's still hella cute.
8.

Stibium Toddler Room by wondymoon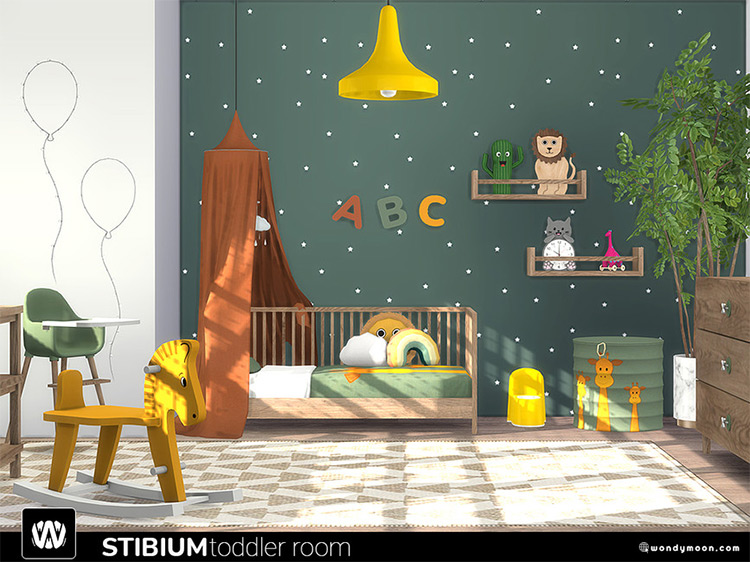 Ever since I wrote a couple articles for Christmas-themed decorative CC, I've become infinitely knowledgeable about wondymoon's Build Up Christmas Tree package.
But I didn't know they made a ton of other cool stuff (not just Christmas trees!) until I stumbled upon their TSR page.
This Stibium Toddler Room CC is perfect for constructing a minimalist nursery with whimsical touches.
It contains a total of 10 items, the most striking of which is a bed with a matching single canopy, a crib mobile, and the cutest sun-and-cloud cushions you ever did see.
9.

Mid Century Modern Nursery by Stay at Home Sim
This small stuff pack from Stay at Home Sim is a mix of furniture and decorative items, all in a gorgeous cherry wood texture, sporting simple yet clean geometric designs.
True to the name, the vibes of the entire pack are indeed very midcentury modern—where functionality, teak wood, and curved edges rule supreme.
The eight items in the pack include:
A functional crib (programmed as a Toddler Bed, so Toddlers can interact with it)
A wall shelf (with three deco slots)
A honeycomb quilt (which I am absolutely in love with btw)
A cozy rug
Plus other stuff!
I also want to give a special mention to the block toys made of natural wood. They look intricately carved and they function as actual TS4 toys.
10.

Baley Nursery by pqSim4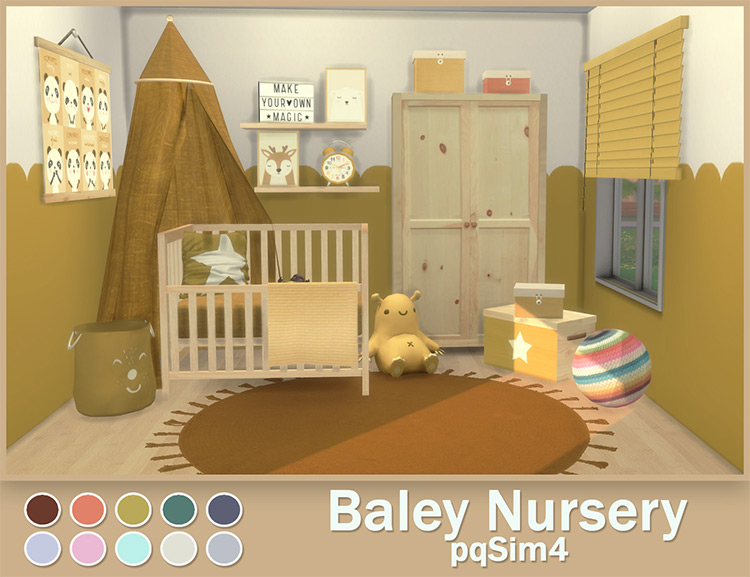 First of all, I want to point out that the creator was nice enough to separate the furniture items from the clutter/decorative items in this pack.
That way, if you're only interested in the eye candy of this Baley Nursery pack, you don't have to download the crib (plus matching blanket) or the closet. And vice versa!
Only want functional furniture for the nursery?
No need to download the cushions, the baskets, or the adorable blob doll.
It's an organized pack for a clean, minimalist nursery.
Honestly, I find this CC set to be one of the most aesthetically pleasing ones in this list. 10/10 recommend.
11.

Cribs Cribs Cribs by wildlyminiaturesandwich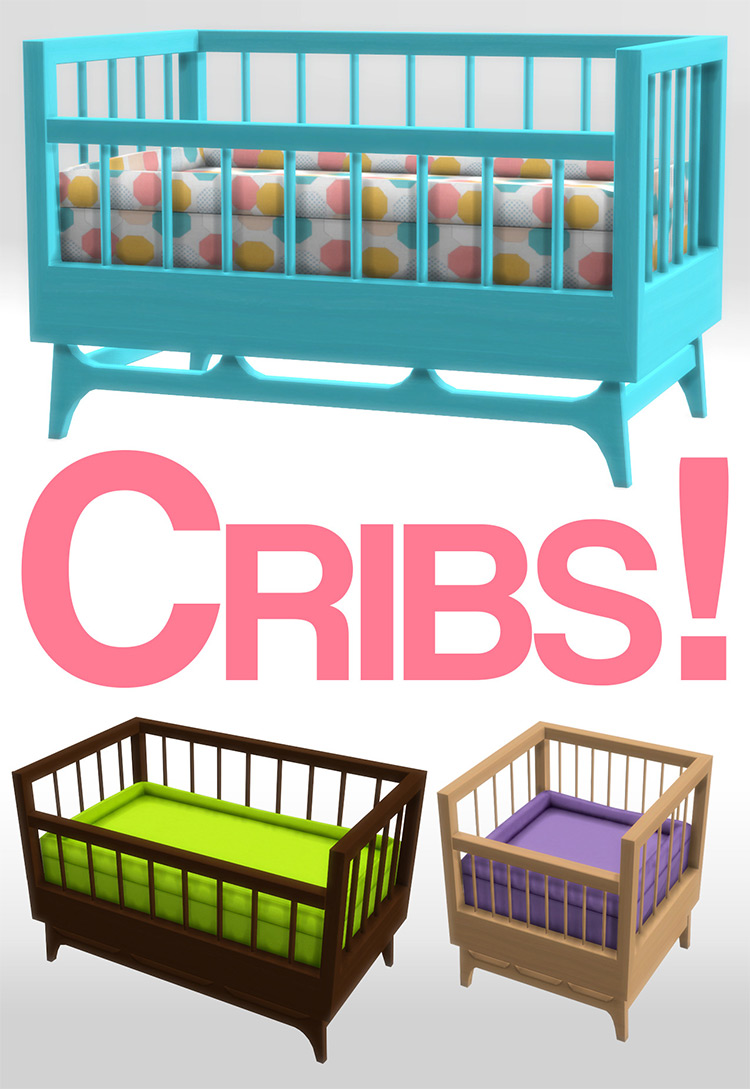 Uh, yeah. Cribs.
I don't know how else to explain what this download is all about when the name (and the preview photos!) are as clear as you can get 'em.
These cribs are based off of loree-sims4's conversion, but you won't need to download any additional meshes for them to work.
There are two variations of this crib that you can install: the "large crib" and the "small crib."
The large one is great for putting down multiple babies (i.e., twins, triplets, quadruplets, etc.).
The small one is roughly half the size of the large one, and it's perfectly cozy for just the one tiny Sims baby.
Each version has three .package files:
Crib base
Solid-colored mattress, and
Patterned mattress.
Yep, the mattress is separate from the bed base.
What a concept, right EA?
Anyway, you don't need to download both mattress versions if you're only after one particular design. But you will need the crib base for the mattress to slot on to.
Wildlyminiaturesandwich has a couple other notes and must-do's listed in their description, so make sure you read carefully before downloading!
12.

Kids Room Baby Sheep by Severinka_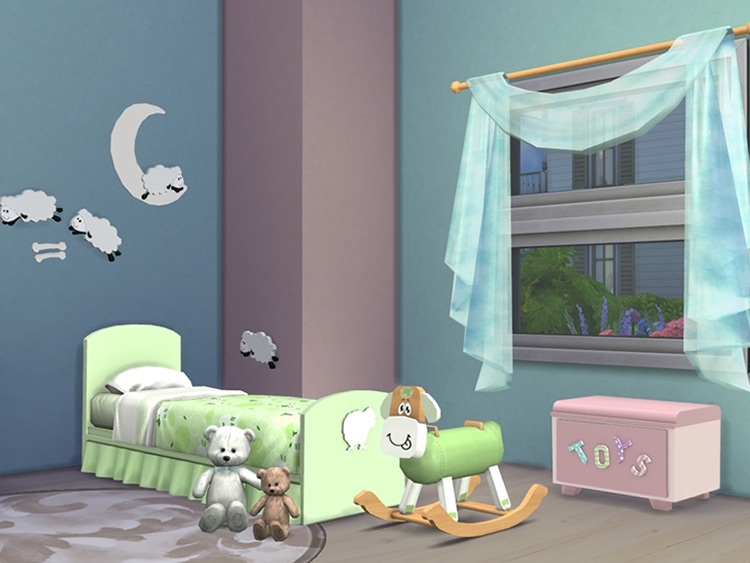 Here's something that perfectly fits your pastel baby dreams.
Severinka_'s Kids Room Baby Sheep contains a whopping 21 items, and a good chunk of it is functional furniture.
A changing table, for instance, that works as a dresser.
Bedside tables with décor slots.
A single bed perfect for toddlers and children.
Believe me, there's a lot of good stuff.
The set is so named because the creator published it during the Year of the Sheep (back in 2014).
Don't worry about the date; all the items are base game compatible so they should still work perfectly fine.
And the creator also included a handful of cute sheep-themed items (like the TV and wall décor) to keep the concept going.
13.

Awesims Broyhill Nursery by Awesims (Loree)
This is another nursery stuff pack that contains a decent number of items in one download.
There's an armchair, a crib, a rocking chair, and a baby changing station—just to name a few.
The creator also included a bonus item called the Jet Set Bench (fully functional and their own mesh), which to my knowledge is a fun polka-dotted bench with 14 brightly-patterned swatches.
There doesn't seem to be a set theme to the nursery.
But I did notice that most of the furniture items boast colorful geometric patterns for their swatch options.
If solid color swatches are getting a bit too boring and repetitive for you, this nursery set could be a welcome change in the lineup.
14.

My Rokin Rider by inabadromance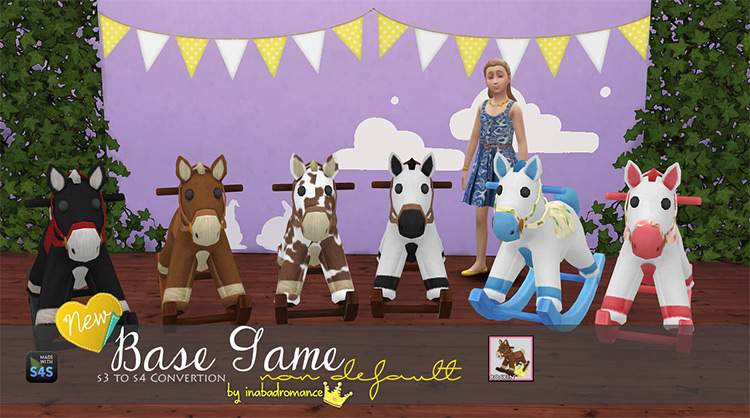 It's a crying shame that not even EA thought of rocking horses for Toddlers.
Seriously, imagine the possibilities.
Thankfully inabadromance has got our back.
While these rocking horses aren't functional, they're certainly fun to look at.
And if you're building a nursery, these are the perfect choice for cute clutter/space fillers.
The color options are pretty varied, too. Mostly brown, white, and beige, but there's a baby blue and peachy pink swatch in there if you prefer a pop of color!
Fun fact: inabadromance is one of the OG TS4 CC creators for the smartphone accessory used in a lot of custom pose packs. A good deal of custom smartphone accessories are recolors/retextures of their mesh. Just thought that was worth sharing!
15.

Functional Toy Bin by ravasheen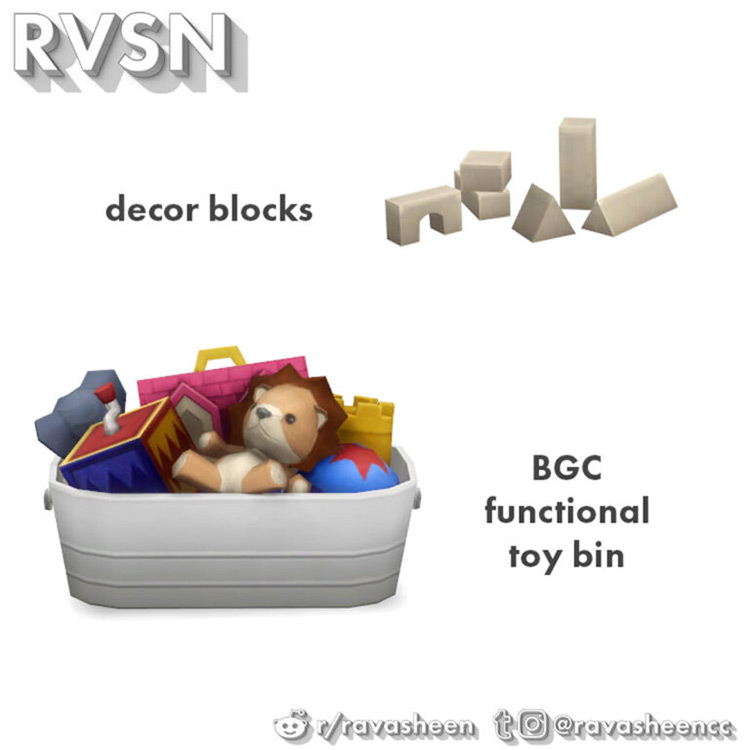 The cute wooden blocks in this download might be purely decorative.
But the base-game-compatible toy bin (that looks like a little tub stuffed full with just the cutest items) is actually fully functional.
You can use it like you would an EA toy box or storage container. How freaking clever is that?
Answer: very.
I haven't seen any other custom storage quite like it, so I've got to give major props to ravasheen. The whole download is just adorable.
16.

Ken You Not Dollhouses by ravasheen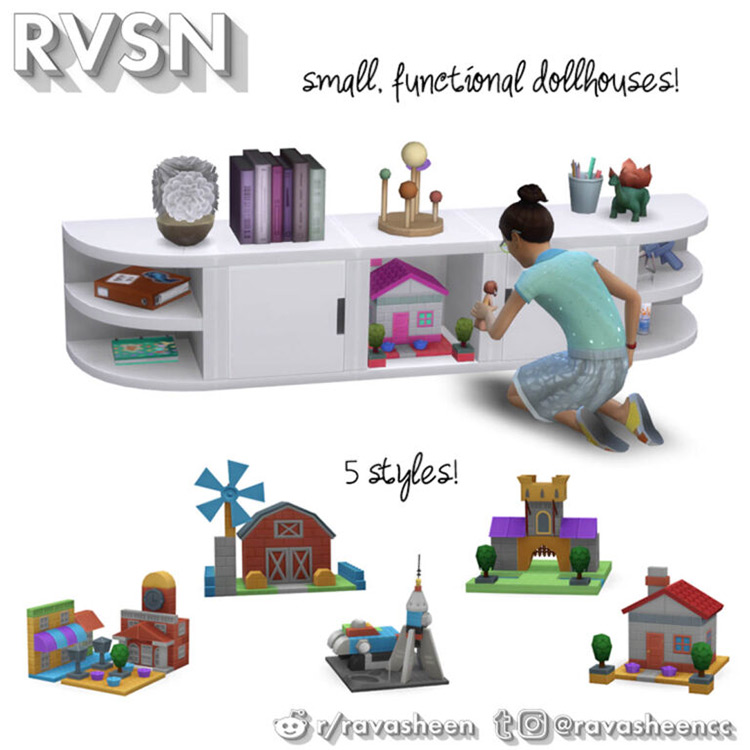 Here's the thing that always got me about Sims 4 dollhouses:
Why are they so big?
I mean, if you've seen TS4 dollhouses, then you know they take up 2×3 tiles. That's bigger than some base game bedside tables!
Don't get me wrong: the size difference between them and tiny Toddlers is absolutely adorable.
I like how the toddlers can look absolutely dwarfed next to some of the more imposing builds.
But sometimes, you just want something a little more compact, you know?
Especially if your Sims live in an apartment or a Tiny Home – every tile counts.
So here's ravasheen's Ken You Not dollhouse. A perfectly functional, gender-neutral dollhouse that takes up only – wait for it – one (1) tile.
There are five different flavors here:
Castle
Farmhouse
Regular residential house
Spaceship
And a tiny town
Bonus: they work even when slotted into ravasheen's Do It Yourshelf cubbies. Highly recommend you check those out too!
17.

Little Nursery Table by budgie2budgie
You can never have too many storage solutions—both in The Sims and in real life.
But since I'm not about to start writing Ikea recommendations any time soon, let's stick to budgie2budgie's Little Nursery Table.
It's a single Maxis Match furniture item that, in my opinion, can really breathe life into a nursery.
It comes in four bright color options, and each one has a cute age-appropriate graphic design at the front.
You can't close the top drawer, but I like how that little details makes it look like it's constantly being used.
Not sure how many item slots there are, but it looks like all four compartments can hold at least one décor/clutter item.
18.

Naturalis Nursery by SIMcredible!
I am a huge fan of this aesthetic.
I don't know what it's called exactly – clean? Natural? Handmade? Woven?
But I do know that it's beyond pretty. Like, everything about this nursery – from the hand-woven rattan baskets to the delicate wooden crib – looks gentle and beautiful and whimsical.
This creator is known for their high-quality custom content, and the items in this set (12 in total) are no exception.
By the way: the baby-changing table isn't functional. I recommend checking each of the creations in this set individually to find out which ones are purely decorative.
19.

Mini-Chairs, Mini-Tables & Chair Boosters by Around the Sims 4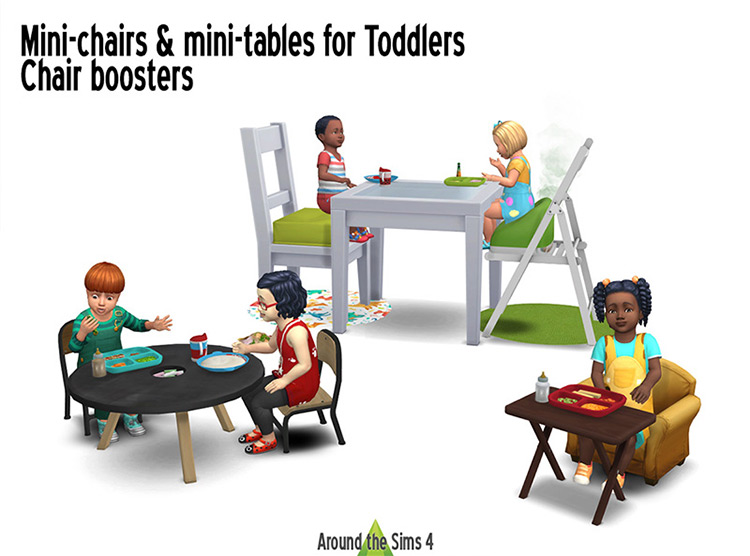 Around the Sims 4 basically created a standard furniture pack, and then shrunk the items down to half their original size so they could be Toddler-friendly.
If that isn't the cutest thing, I don't know what is.
And for little tots who insist on sitting at the grown-up's table, there are even brightly colored booster seats!
Fair warning, though: the booster seats are a little tricky to use.
Even the creators say so.
In the notes section, you'll see a section on Important Instructions About the Chair Booster. I'd highly recommend you read that before you decide to download and install.
But if you don't want to go through the hassle, don't worry:
Everything here can be obtained individually, so you can still download the tiny furniture without the booster seats.
20.

Sweet Lullabies Nursery by renorasims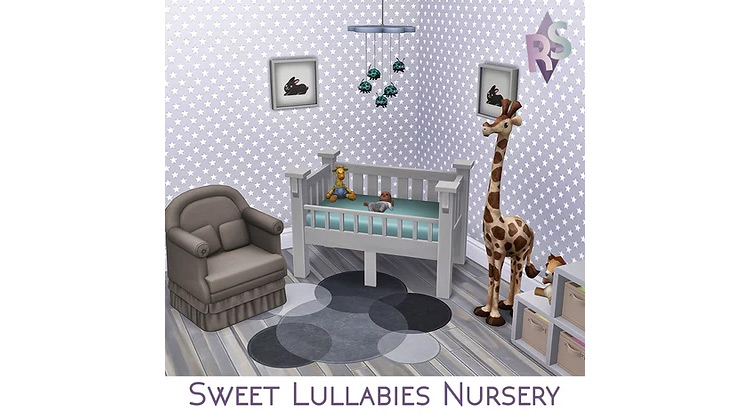 "Sweet" is the correct term for this nursery. It's so simple and beautiful – I mean, everything just has this softness to it that makes the whole thing look so cozy and inviting.
The giant plushie giraffe, for instance, looks every bit as huggable as the crib-sized version.
The wall prints are indeed very playful (as per their name).
And the bright yellow armchair? It's listed as the "snuggly" chair, and I cannot argue with that description.
With this set you'll get a total of:
Seven Buy items (furniture plus décor)
And one new wallpaper type (with 14 swatches) for the Build category
Browse:
Lists
Maxis Match
The Sims 4
Video Games