Best Sims 4 Maxis Match Ponytail Hair CC (All Free)
This post may contain affiliate links. If you buy something we may get a small commission at no extra cost to you. (Learn more).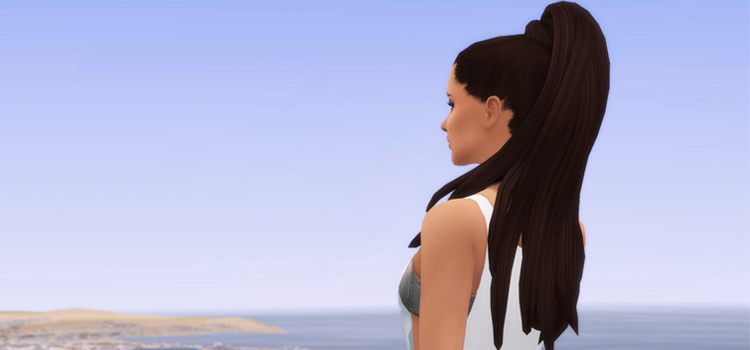 Whether you just woke up and are late for work, or have an elegant wedding to attend, there's one hairstyle you just can't go wrong with…
The ponytail!
This is true in the digital world as well.
Your Sims have a variety of situations where ponytails would look amazing.
Because really, when does a ponytail not look good?
And with such talented CC creators, your Sims can have their pick of Maxis Match ponytails for every occasion.
1.

Curly Ponytails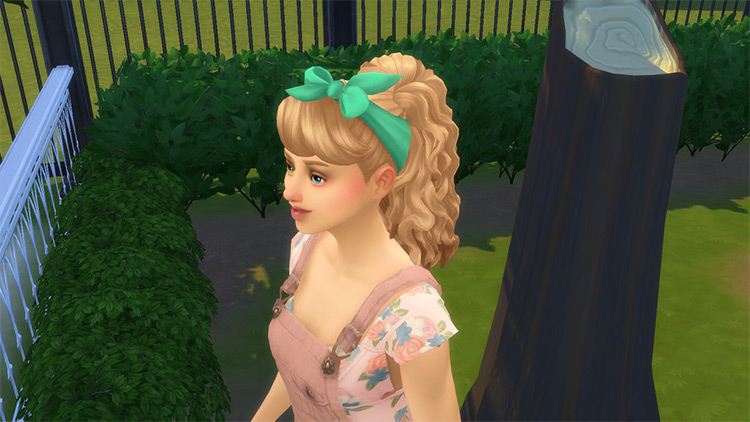 As someone with curly hair, making sims with curls fills me with joy.
However, the reality of curls is a bit more nuanced than the perfect hairs we see in The Sims.
But with CC, we can finally have more realism with curls.
The Molly Hair by Sisselin (part of the pack linked above) is a great ponytail to use in a pinch.
It's both stylish and realistic, with heavy layers.
And it even comes with an option if your sim wants to wear a hat with it.
2.

Braid Ponytail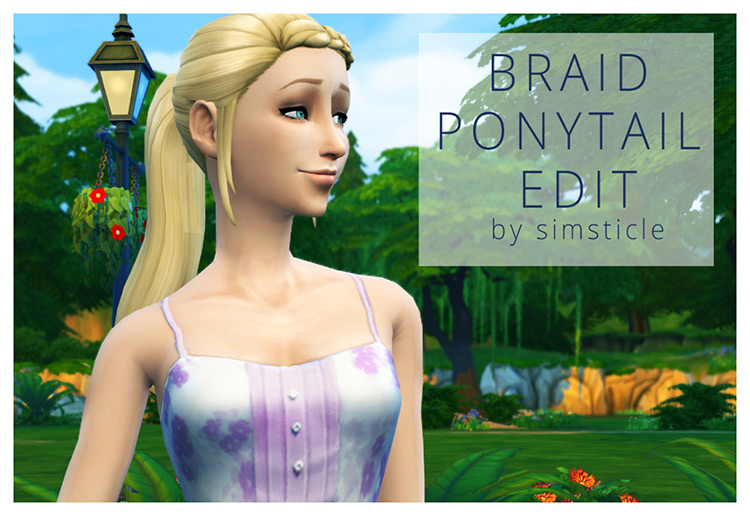 Straight-haired sims deserve pretty hairstyles too!
This hairstyle combines two simple concepts: the braid and the ponytail.
It's such a basic combination, and yet it looks so good.
You could pair this with any outfit, and your sim doesn't even have to deal with the hassle of both braiding and putting their hair up. Win win!
3.

Lexi Hair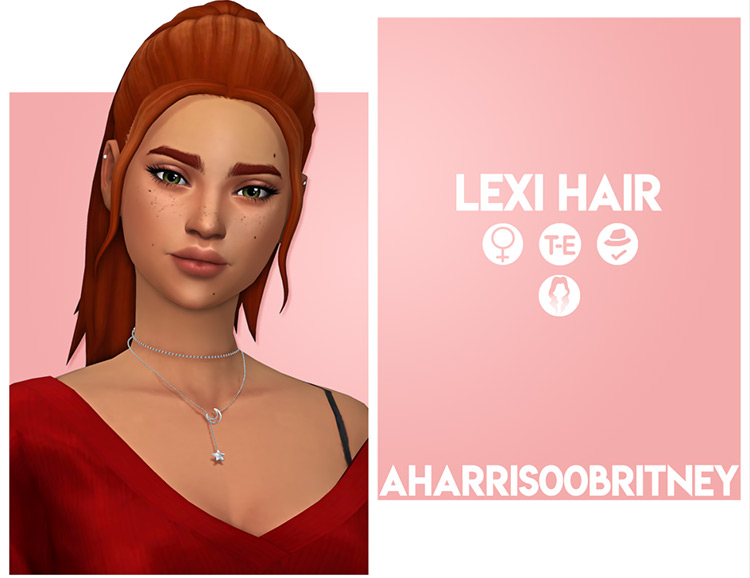 Having long hair can be quite the hassle.
Well this CC by AH00B can alleviate all your struggles.
It comes in two versions, so if your sim is feeling adventurous and wanting bangs… this may be perfect.
It also has an ombre accessory option!
4.

Meghan Hair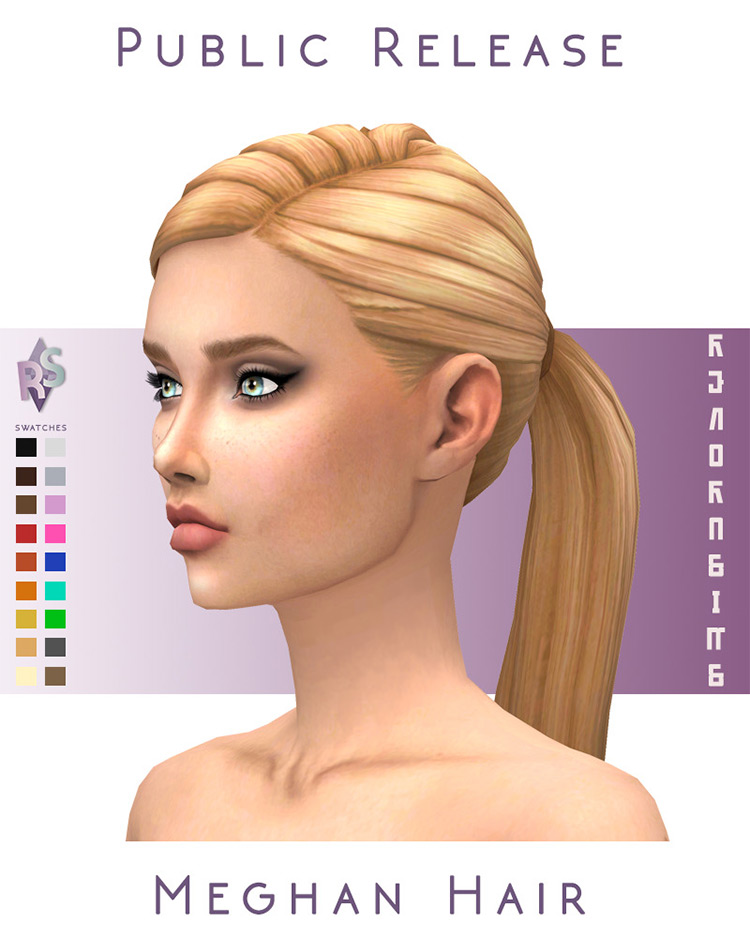 The Seasons expansion pack comes with a classic ponytail with a shaved back.
While Maxis did well with this ponytail, Renorasims improved it.
And let me just say: this ponytail is sleek all around.
This CC creator says that the Duchess of Sussex is an inspiration – which I now realize may be why it's called the Meghan hair…
So if you want your Sim to emulate royalty, this ponytail is the way to go!
5.

Libby Hair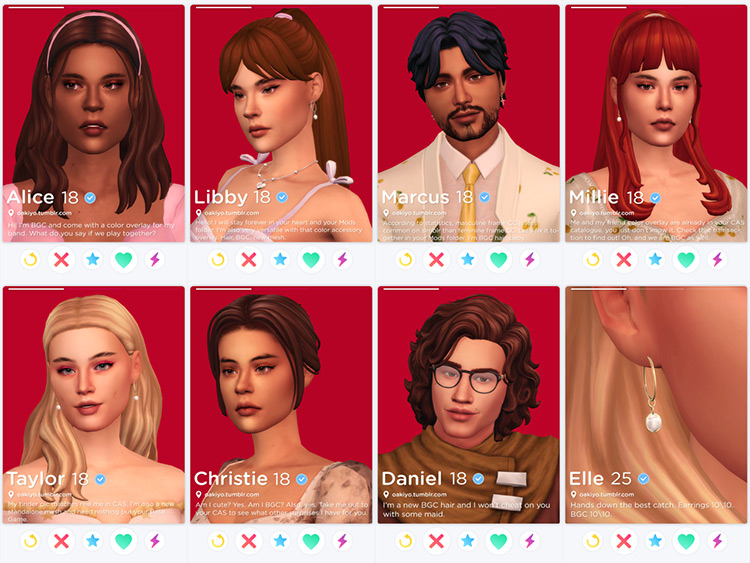 Here's some custom hair that makes me want bangs in real life – if I could only look like that.
This Libby hair would be so difficult to achieve IRL, but not in The Sims!
With the click of a button you can add this into your CC folder in seconds.
And you can even change the color of the hair tie if you download a separate accessory file (all info in the CC's description).
6.

Izzy Hair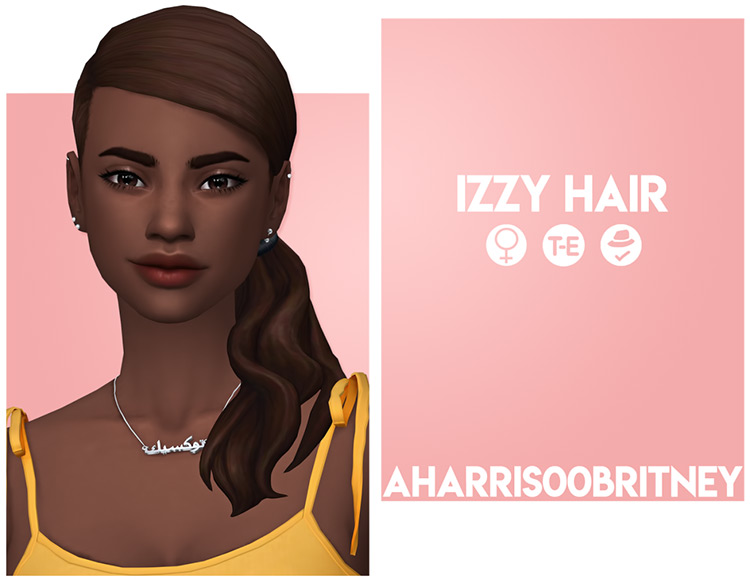 Mid-length hair needs ponytail representation too.
Plus this hair has curls??
I'm in love.
The curls casually fall over the shoulder, and yet the bangs are so tightly styled. Now no matter what activity your Sim's doing, their hair won't get in their face.
And they'll look real good doing it.
7.

Denise Hair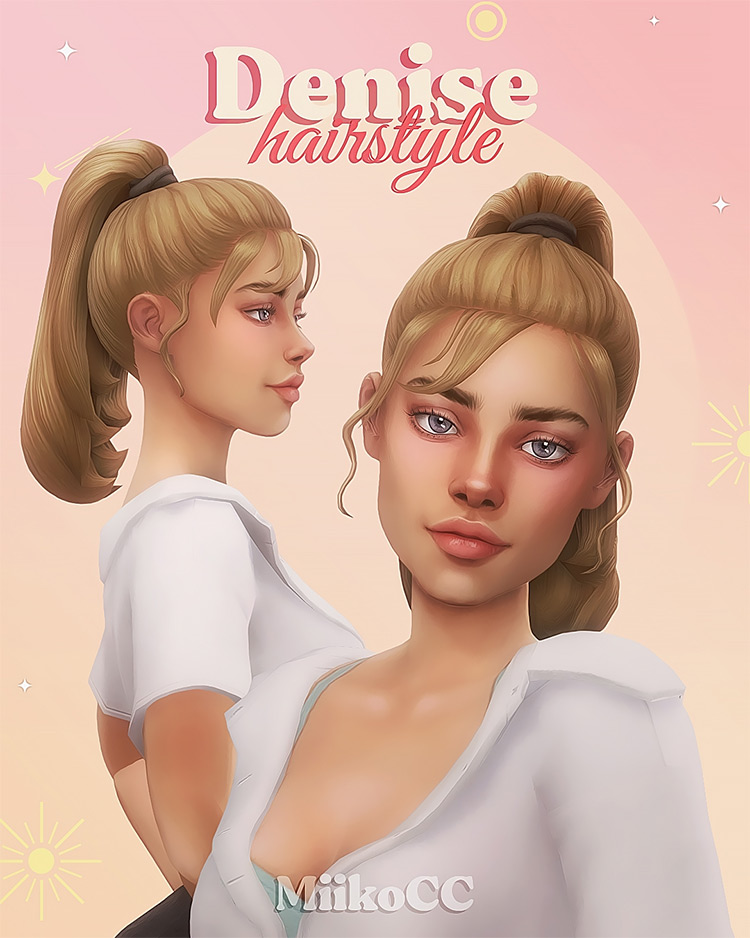 This hair is modeled after a style icon, Denise Richards (hence the name).
I mean, the influence is clear, as is the beauty of this ponytail.
It comes in two versions: with bangs and without, and this has three bonus colors on top of the EA swatches.
Thank you Denise Richards for this beautiful hair, and everything else you've done.
8.

Harlow Hair
The world, and The Sims, needs more curl representation.
And I hear you loud and clear.
This custom Harlow Hair CC by Oakiyo has beautiful curly hairs at the front, and has the rest of the curls in a low ponytail.
Trust me, anyone with long heavy curls will understand the ease of a low ponytail.
The realism of this hair makes me love it even more.
Plus this could be casual or formal – it's all about how you style it.
9.

Despina Hair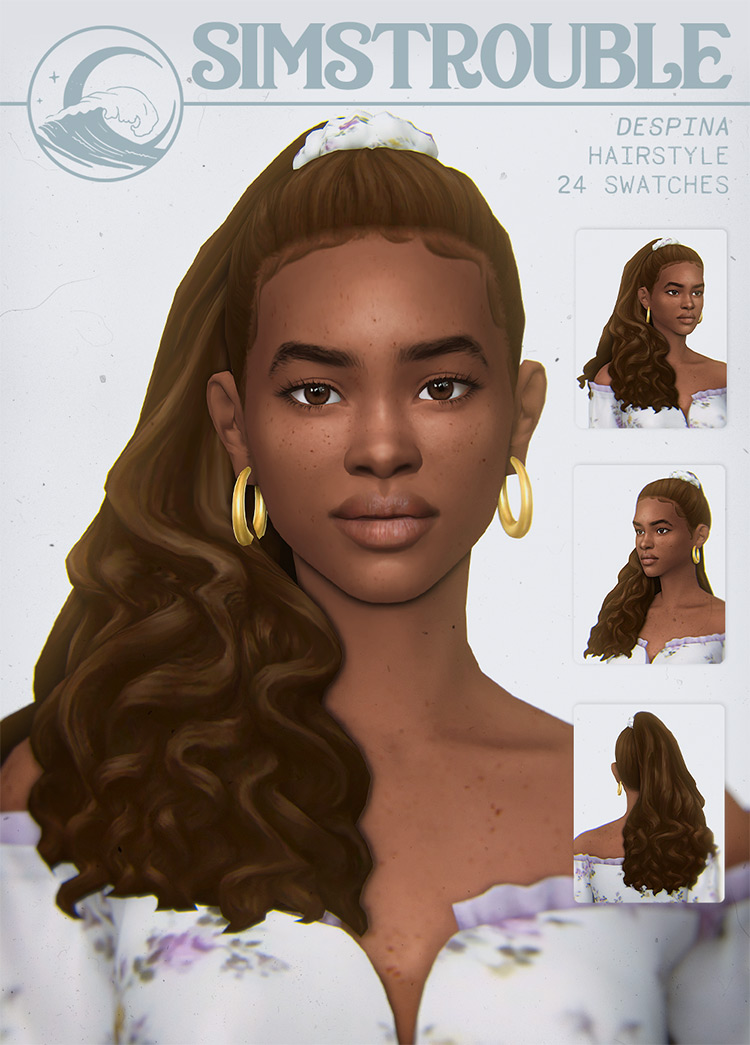 Here's yet another curly over-the-shoulder ponytail.
But are we really going to complain?
It's also over the right shoulder, so it is different from AH00B's Izzy hair.
This ponytail definitely holds a lot of curls though.
I don't envy your Sims who have this much hair to deal with – but I do envy them for getting to rock that ponytail.
10.

Lily Hair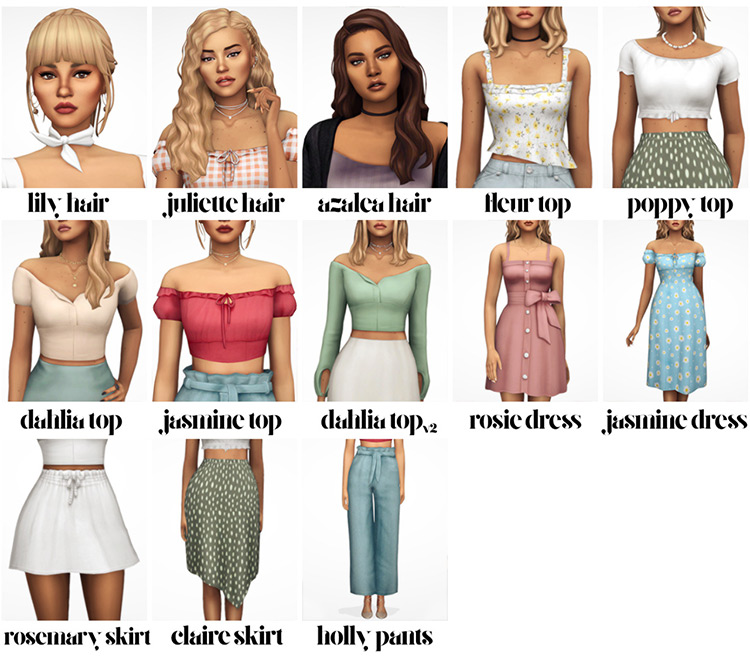 As this list has demonstrated, custom content creators are so talented.
And this Lily hair showcases insane skill.
Just look at the bangs and the strands hanging off, it's simply stunning.
Your Sim will look amazing in this ponytail no matter the occasion, because how could they not?
I'm jealous they get to wear it.
11.

Bruna Hair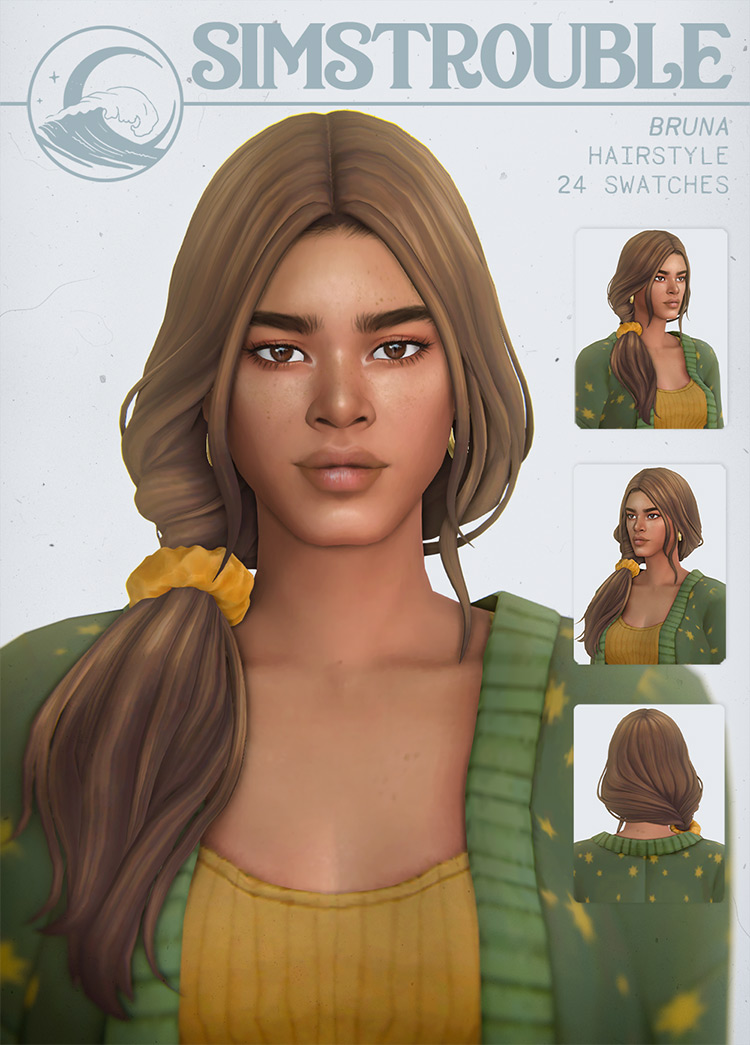 This ponytail is the definition of customizable, on top of being so pretty.
You can download a cluttered version with more strands, or a simpler uncluttered version.
Both are effortlessly beautiful.
On top of the two different versions (!), you can also choose between a bunch of colors for the scrunchie.
If your Sim's worried about their hair not matching their outfit – they can calm down now.
12.

Maya Hair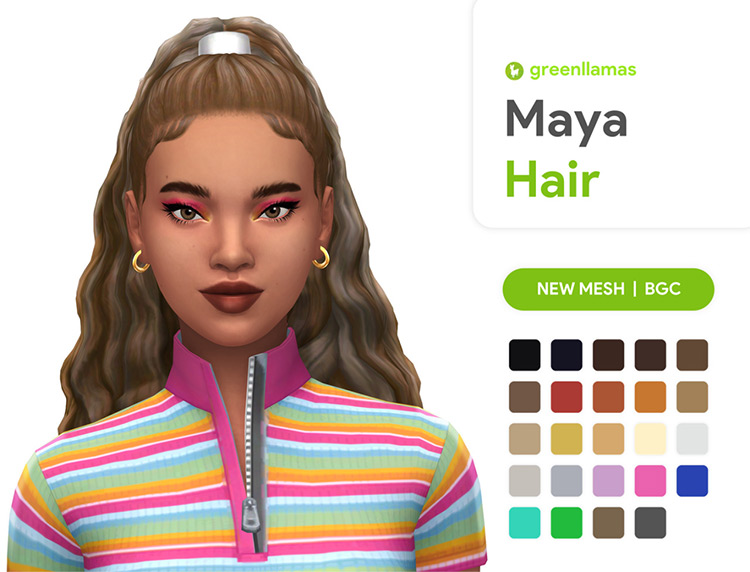 This Maya hair is a high ponytail for curly haired sims.
In real life, this look would take pain, time, and tears.
But in The Sims, it's just a click.
IRL your ponytail would slowly slide down your head… but this CC will never let you down.
A pro tip: custom content baby hairs and edges look great with this hairstyle!
13.

Mutya Hair
CC creators often take inspiration from Maxis.
And that's where we get the idea of Maxis Match CC.
Well this Mutya hair is part of a CC pack inspired by Sulani, the world that came with Island Living.
But you don't need Island Living to get this pack (or hair).
Plus, this ponytail will look good in any world.
I especially want to draw attention to the bangs on this hair though… they're so shiny, it's inspiring.
I need someone to tell me the hair care routine for that shine.
14.

Zadie Hair
It is an objective fact that ponytails should not be confined to one hair type.
Dreadlocks are beautiful, and look amazing in a ponytail!
This Zadie Hair is one piece of evidence.
I'm also weirdly impressed by the hairband, it's so cool.
Give your Sim this hair and they will be eternally grateful. Trust me.
15.

London Hair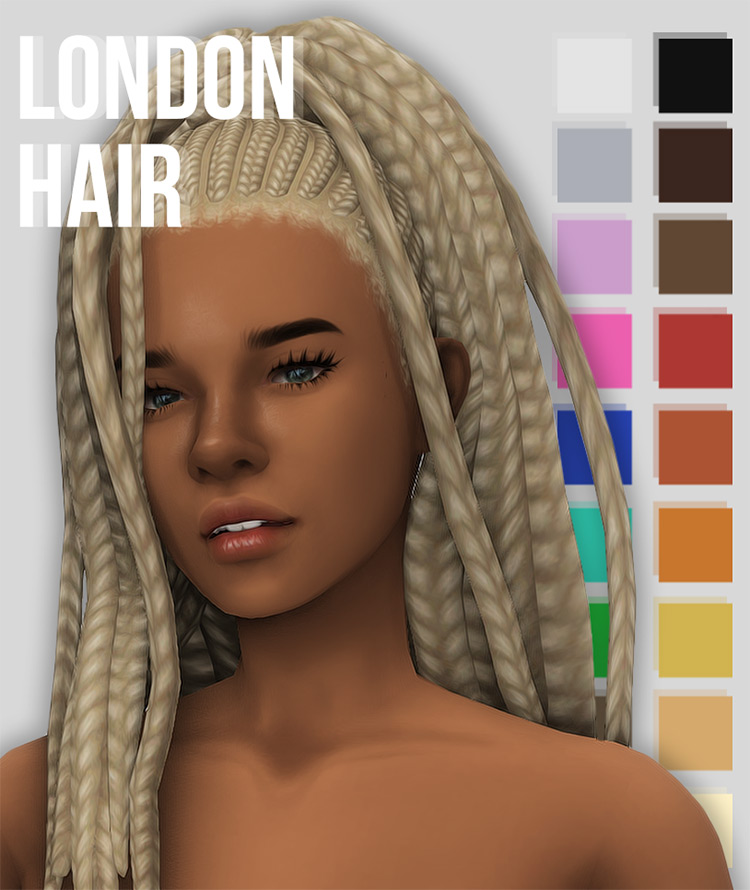 This braided ponytail is another example of The Sims making life seem so easy.
In real life, the time and effort to achieve this look would be insane.
But you can have your Sim wearing this in seconds – and wear it forever if they want to.
Also worth mentioning that this London Hair is hat compatible, so the styling options are basically endless.
16.

Hilda Hair
Can you tell I love curls?
But honestly, this hair by Okruee is just stunning.
The way the front strands fall naturally over your Sim's face?
The half of the ponytail that rests over the shoulder? The high ponytail??
It checks all of my boxes.
I think I'm in love with high ponytails – and I will live out this love with custom content starting with this hair.
17.

Solana Hair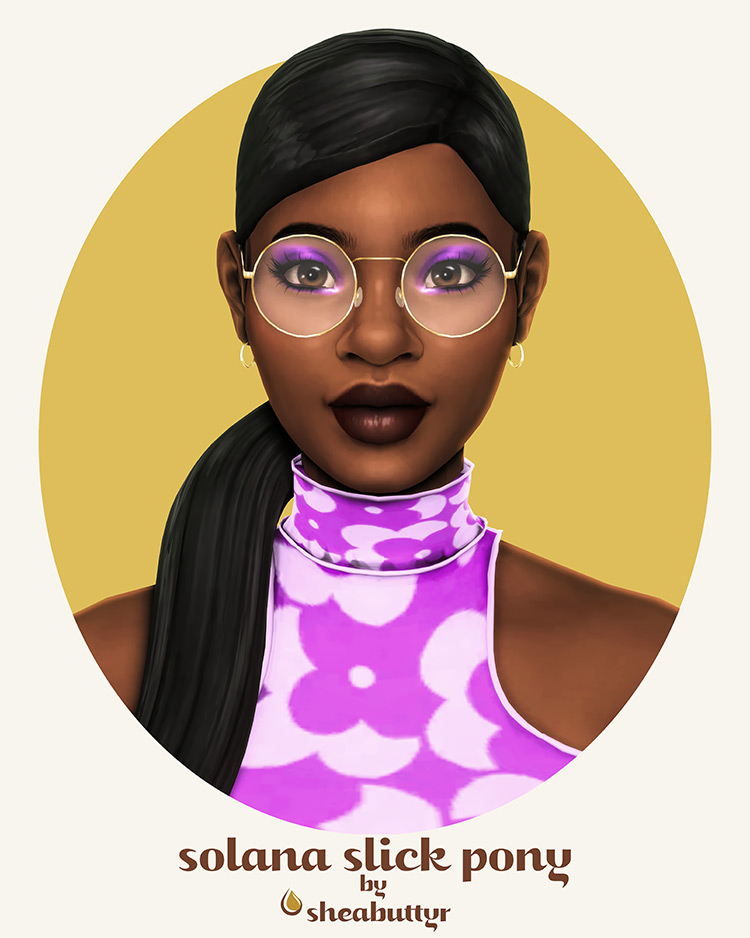 Here's a ponytail that would be the definition of slick.
It looks like a luscious snake slithering down your Sim's shoulder.
And who doesn't secretly want to wear a snake?
Seriously, I can't imagine the amount of product your sim would need to make it work, but the end result is worth it.
18.

Braided Ponytail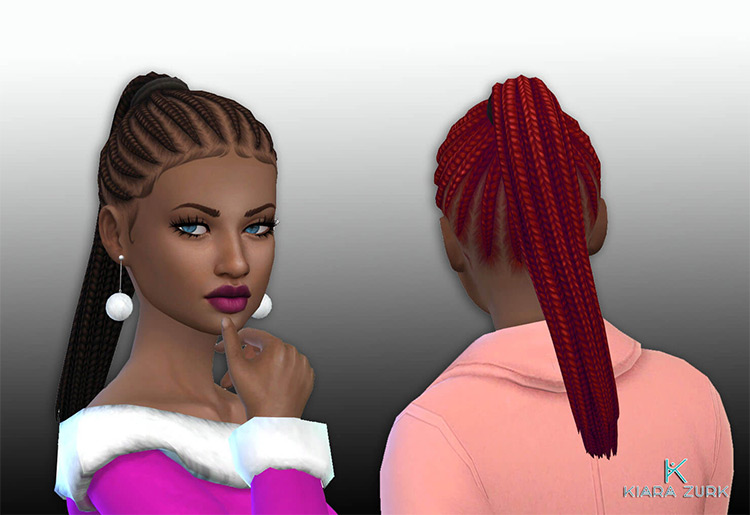 Braided ponytails are just so pretty – we needed another one in this list.
And with this hair, confidence will no longer be an issue for any sim.
How can you doubt yourself when your braids look this heavenly?
Also, you'll notice this one uses a high ponytail.
We love high ponytails.
And this CC even comes with edges by default, which is very much appreciated.
19.

Skater Style Hair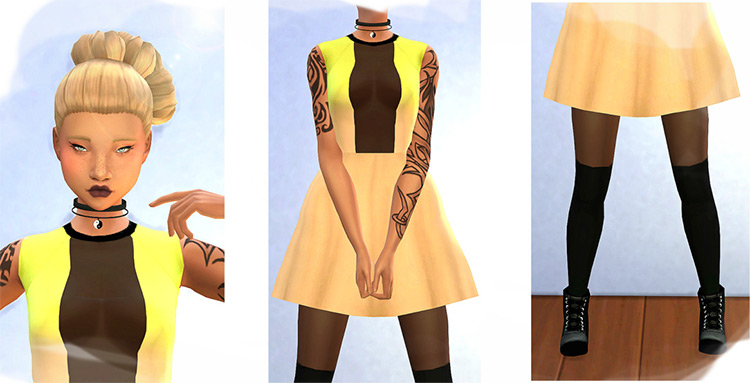 One of the most impressive things about custom content is how Simmers can make realism look so good.
See this hair for proof.
The braids are clearly beautiful. But even more, I love how slightly lopsided the ponytail is.
It makes your sim look like they're constantly in motion (which they likely are!)
It's so real, because 1) ponytails are difficult for all of us, and 2) hair isn't always symmetrical.
On top of being realistic (and Maxis Match), your sim will look amazing with this on.
What's not to love?
20.

Elise Hair (Energia Set)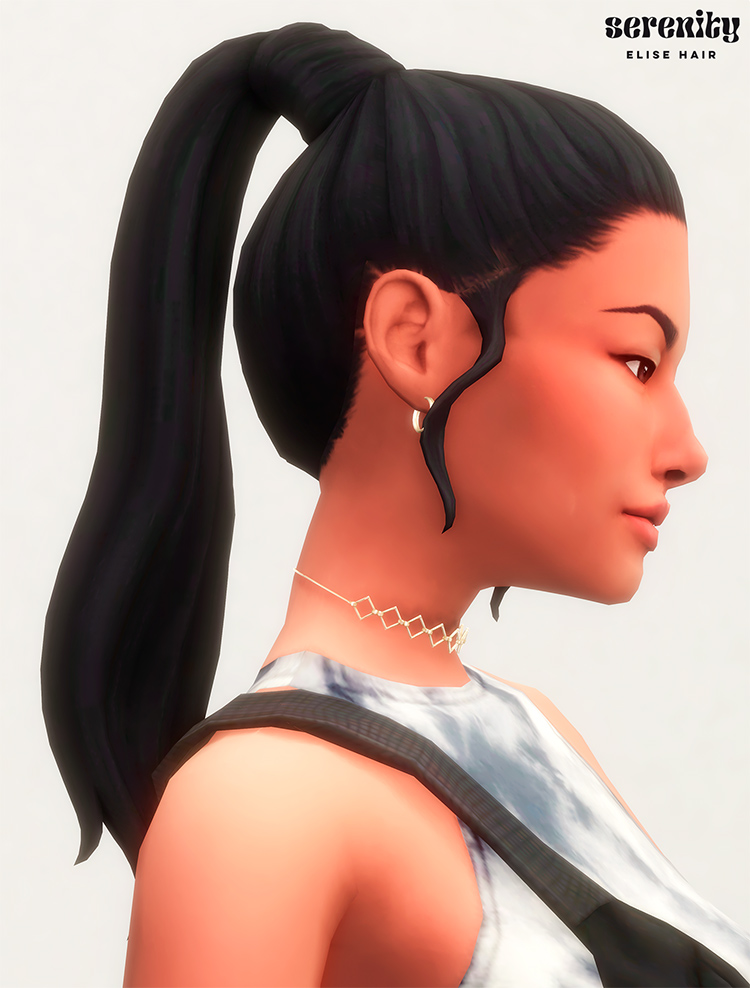 The Elise Hair comes with a workout CC pack called the Energia Set.
But it could not be more versatile.
Whether your Sim is going out for a jog, or maybe going to the park to relax, they'll be the best-looking one there.
(Which is everyone's goal at a park)
This hair also has some realistic elements too, with strands falling in the front and the ponytail being off-center.
It's a classic example of how custom content creators are so innovative – even with a simple concept like the ponytail.
Browse:
Lists
Maxis Match
The Sims 4
Video Games