Maxis Match Ripped Jeans CC for The Sims 4 (All Free)
This post may contain affiliate links. If you buy something we may get a small commission at no extra cost to you. (Learn more).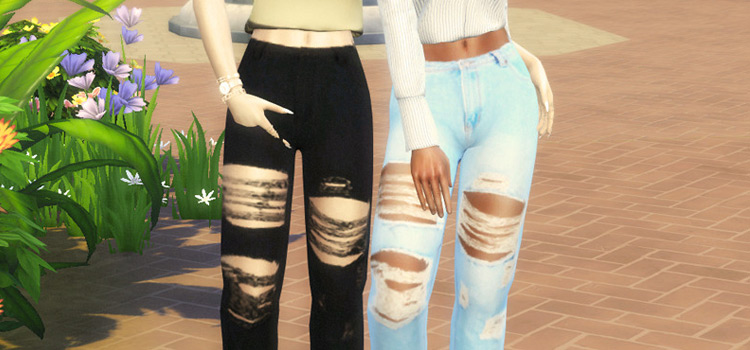 Denim has seen quite an evolution through the years, and rips are just one of many ways jeans can be customized.
This distinct look isn't going out of popularity any time soon.
On the contrary, it's more popular than ever – and that's reflected by the dozens of styles made available for The Sims 4 through custom content.
1.

Lauran Jeans
TajsweL's Lauran Jeans are form fitting, have a great denim detail, and the ends are rolled up neatly.
One side has a long tear, with lots of little thready bits holding on for dear life.
Rips like that rarely come alone, so there are a couple smaller ones as well.
2.

Basic Ripped Jeans
One-size-fits-all jeans aren't possible for actual people but this creator essentially created such a thing here for our Sims.
This gives you the option to replace the existing base game jeans with new and improved options for men, women, children, and toddlers.
3.

Gavin Jeans
Here's something just for those special dude Sims in your life.
Not only are they cropped, but the bottom hem is neatly cuffed.
There are some smaller tears on both sides and you'll have 13 denim swatches to choose from.
4.

Bambu Ripped Jeans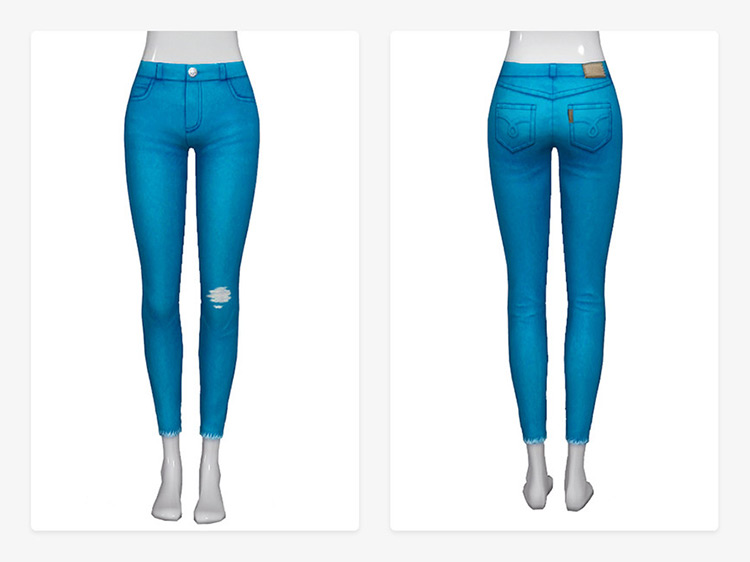 Nords' take on skinny jeans version offers a more subtle approach to the ripped look.
There's just one small patch on the knee that's ripped and the bottom hems are lightly frayed.
5.

Max's Ripped Jeans (Get to Work Required)
A lot of players really don't give Sim children a second thought.
But if you play multiple generations, you may want to give each kiddo a defined look.
HollowSprings created these from a Get to Work mesh and they're a stylish option for both boys and girls. The torn patches are wide and abundant, you can't miss 'em.
6.

StoryLegacySims' Ripped Jeans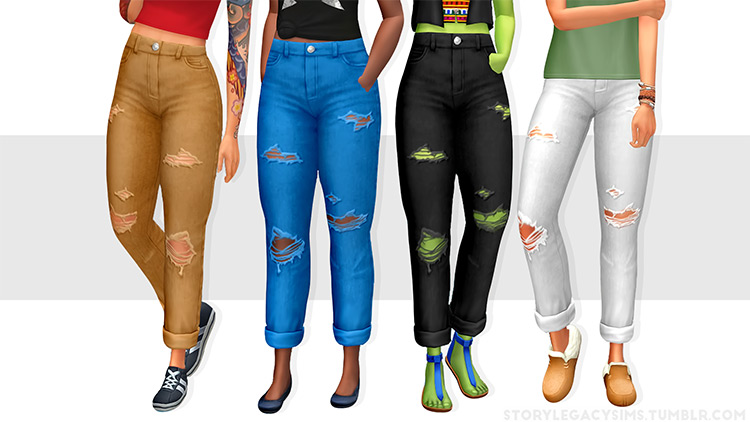 I'm sure we're all familiar with the base game mom jeans. Nowadays they're just a bit dated and could benefit from a makeover.
As it turns out, some big ol holes were all they really needed.
It's really a fresh look and these rips look super worn, which gives them an even more relaxed vibe.
7.

Sourpatch Jeans
Saurus included some really cool designs here and there are 18 total swatches that go beyond your typical denim palette.
Each of the frayed tears has a plaid print inside, which makes for something truly original.
8.

Kotcat's Denim Jeans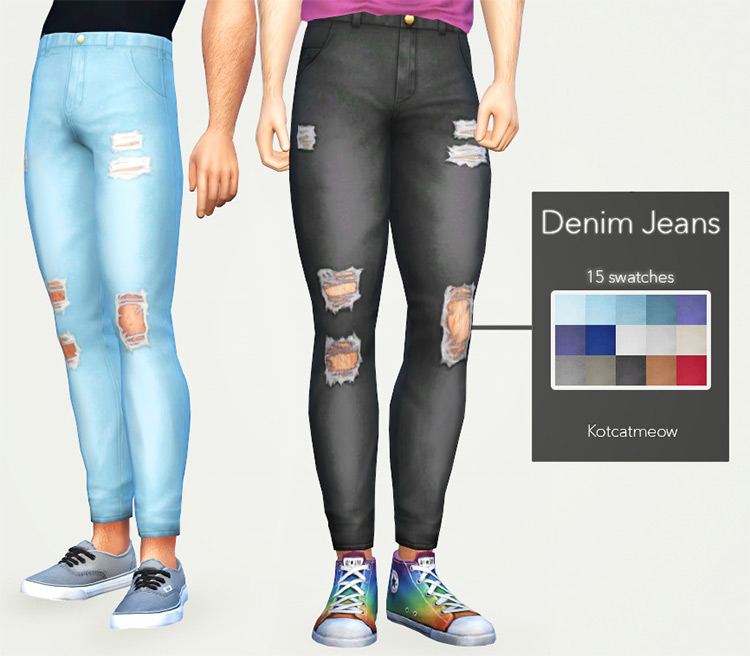 Much like snowflakes, no two rips in a pair of jeans are the same.
And that's how it is with this CC.
As for the fit, they're slim and high waisted. So you'll have endless options when it comes time to pick out a top to go with them.
Plus it's designed to be 100% Maxis Match (and these are base-game compatible too!)
9.

Billy Jeans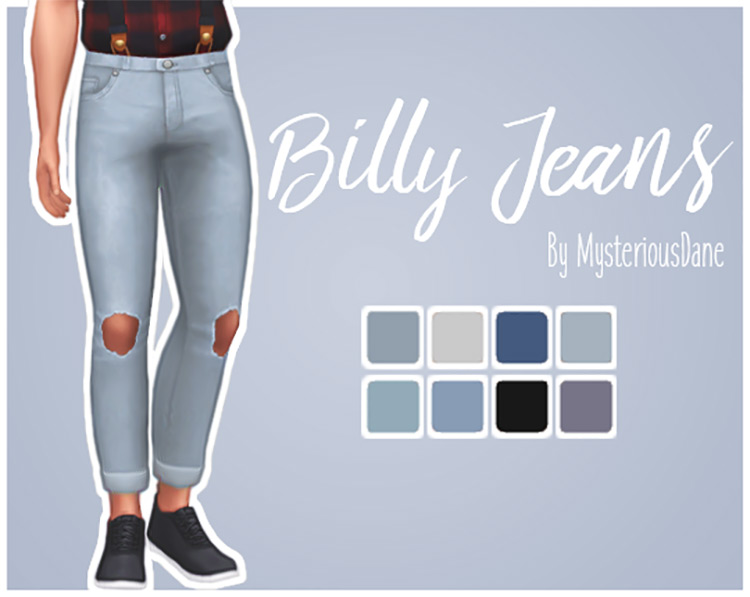 MysteriousDane's edit of the base game jeans has resulted in something a little tighter and much more flattering.
Show off that Sim booty, don't be shy!
These Billy Jeans have a simple and low key look, with 8 denim tones to choose from.
10.

Bom Pom Jeans
It's all about balance with fashion.
And the exceptionally clean tears in these CC jeans are a nice alternative to neat, hole-less pants without getting too crazy.
These are also similar to a bootcut style so they're awesome for masculine Sims, especially if you want them to also wear boots or high tops.
11.

Jasper Jeans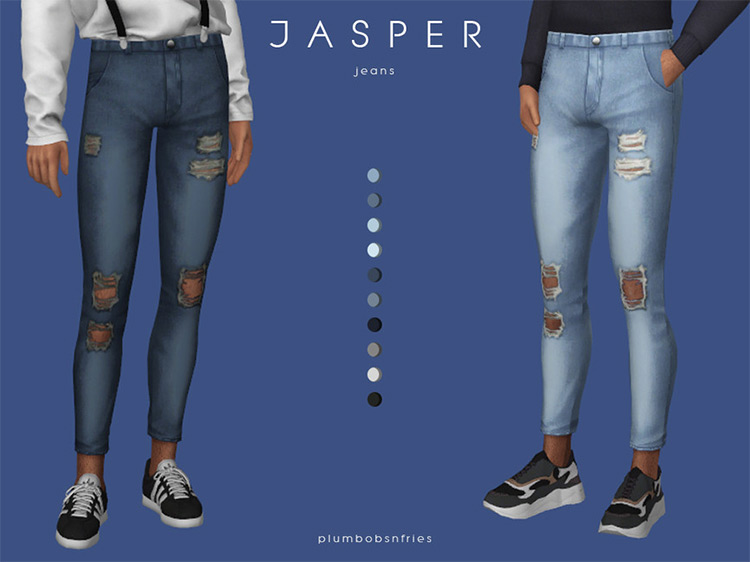 Since everyone has their own staple pieces that they wear again and again, shouldn't Sims have some too?
Plumbobs n Fries' Jasper Jeans might just be the next thing you can't get enough of in CAS. They have a fantastic fit thanks to the high waist!
12.

Gabbie Jeans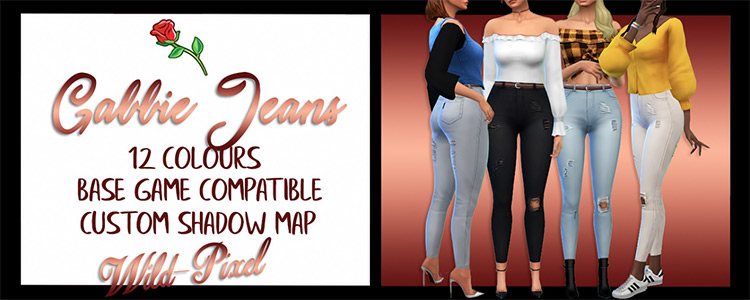 The cutest little tears cover both the front and back of these Maxis Match skinny jeans.
They're available in a palette of 12 custom swatches, giving you plenty to choose from.
13.

Patterned Ripped Skinny Jeans
There's certainly no shortage of rips with this CC.
The rips line each leg, and the different sizes give them a really natural look.
Other than that they're pretty standard, so they're perfect for everyday looks.
14.

Pickypikachu's Ripped Jeans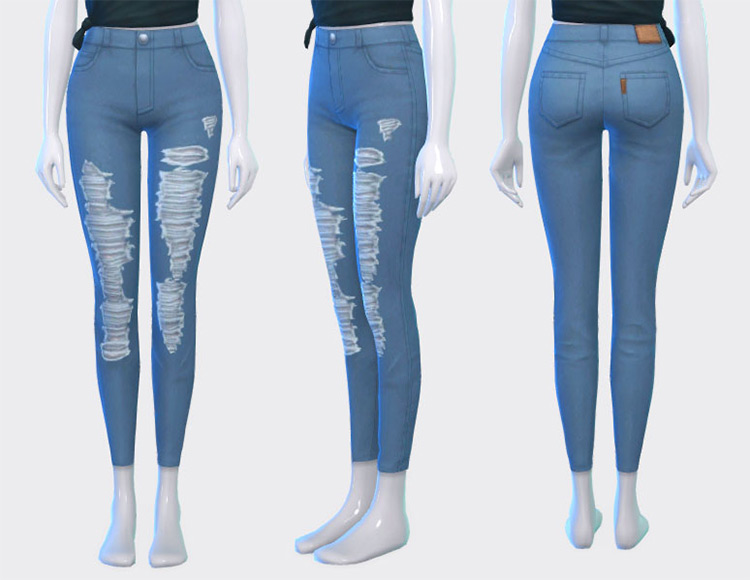 You can't miss the design of these jeans.
The creator really went all out with the texture here and it's very well done. They're available in light and dark swatches.
15.

Toddler Ripped Jeans
A toddler's style is generally up to their parent, or in this case, you. Their overlord.
Casteru's jeans include a couple of rips to bring some fashion to the chubby little legs of these tots.
16.

Beautiful Feeling Jeans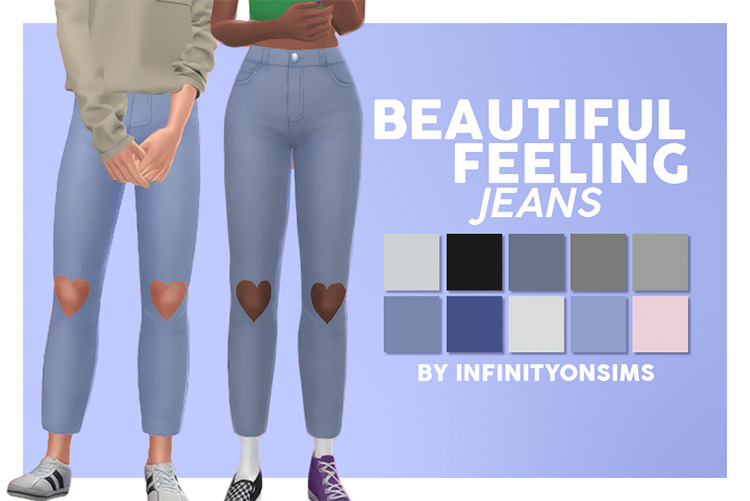 The rips in these are different because they're neat, clean, and in the shape of a heart!
It's such an original idea, and so cute.
Each Sim will really make it their own since it's their own knees that give the heart color.
17.

Super High Waisted Skinny Jeans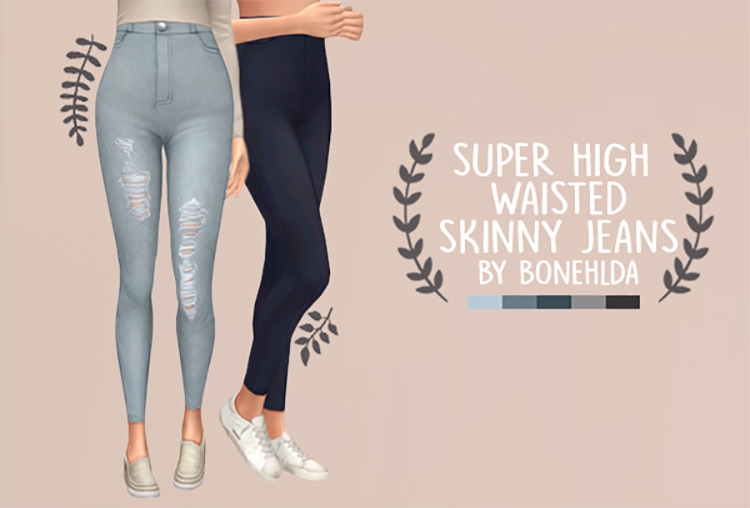 Tons of cropped tops are in the game by default.
But if you're into a modest look, then jeans that bridge the gap are a must!
Of course, that doesn't mean they have to be dull, and the distressed patches here still offer a modern touch.
18.

Mile High Ripped Skinny Jeans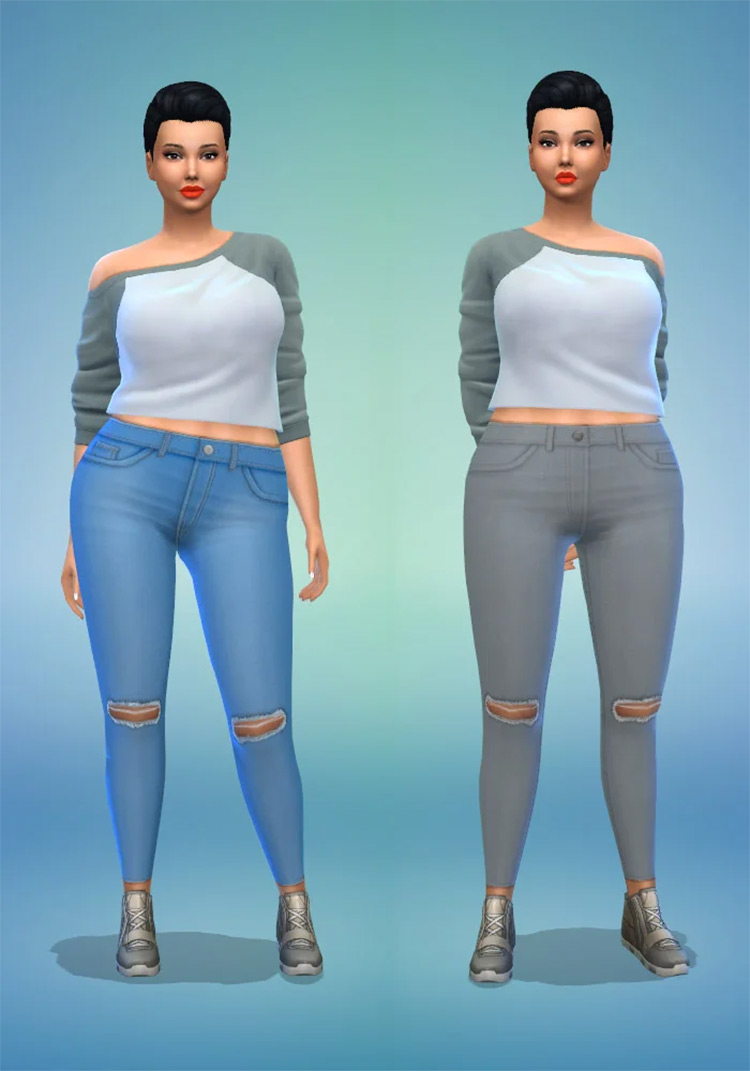 Here's another high waisted option, though they go a little lighter on the rips.
There's just some torn patches on the knees of these, plus 10 different denim shades.
19.

Scorpio Jeans
This CC is the jackpot for male Sims, honestly.
Four different styles of jeans are here, including three different lengths of pants and one pair of shorts.
All of them incorporate some very nicely detailed ripped patches in different areas.
20.

Jellybean Jeans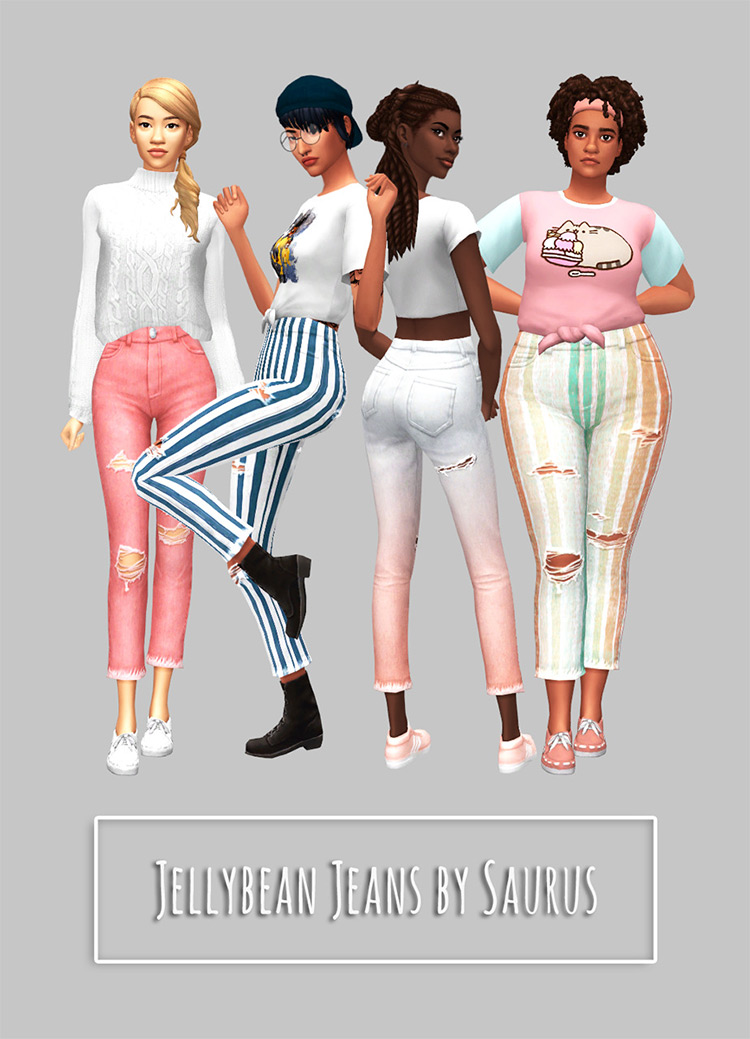 Simmers generally agree that the more possibilities we have in CAS, the better.
Well, not only do these jeans have a great design, but they come with an incredible palette of 45 swatches.
And in addition to the regular denim colors, you'll also get dozens of bright colors and patterns too.
We also have a whole collection of high-waisted CC, so if you want bottoms with a similar fit then definitely take a look there.
Browse:
Lists
Maxis Match
The Sims 4
Video Games