Maxis Match Royal-themed CC for The Sims 4
This post may contain affiliate links. If you buy something we may get a small commission at no extra cost to you. (Learn more).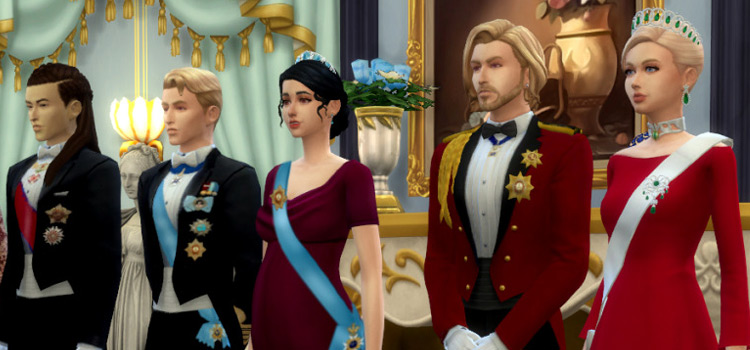 There are endless ways to change up how you play The Sims 4.
But none are quite as reliant on custom content as a royal-themed save.
This game is inherently modern and casual, so you'll need all sorts of clothes, accessories, and furniture to really embrace this lifestyle. And while we do have a separate page of Royal goodies for TS4, this list will be focused just on Maxis-Match CC.
1.

Royal Tour Dresses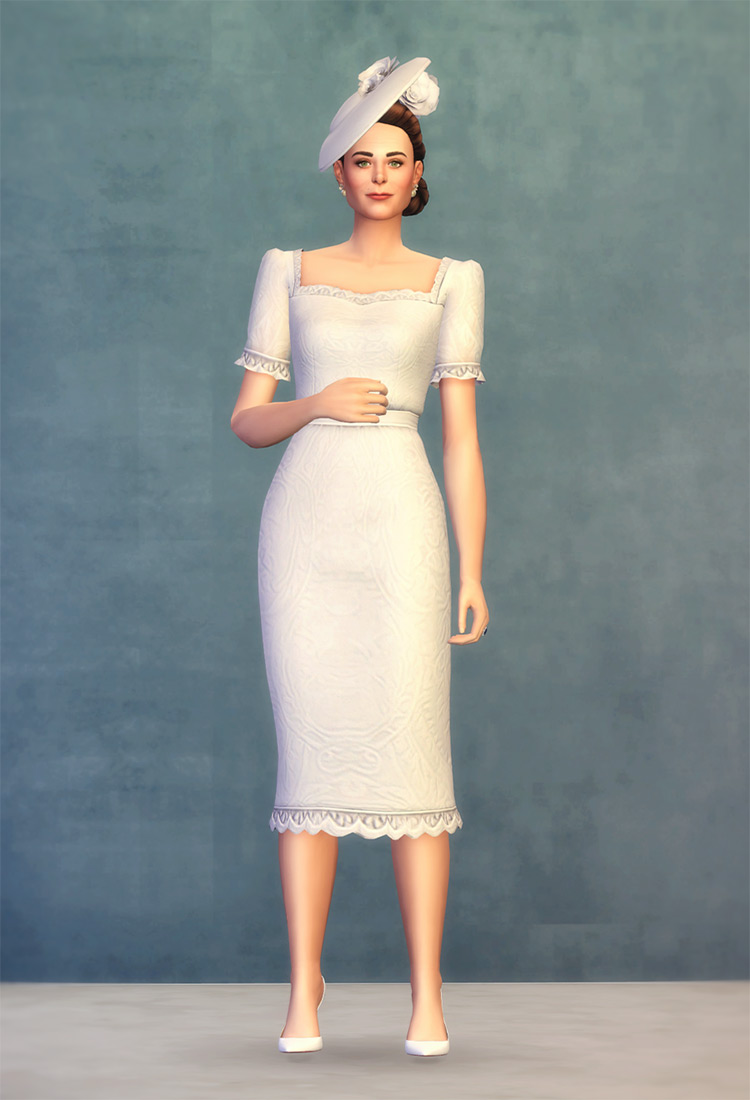 Let's be real:
Having the right look is at least half the allure of playing royal Sims.
The wardrobe of princesses and queens is truly awe-inspiring, and this creator has some perfect outfits for your Sims right here.
These bold colors and modest styles are never falling out of popularity.
2.

Black and White Diana Set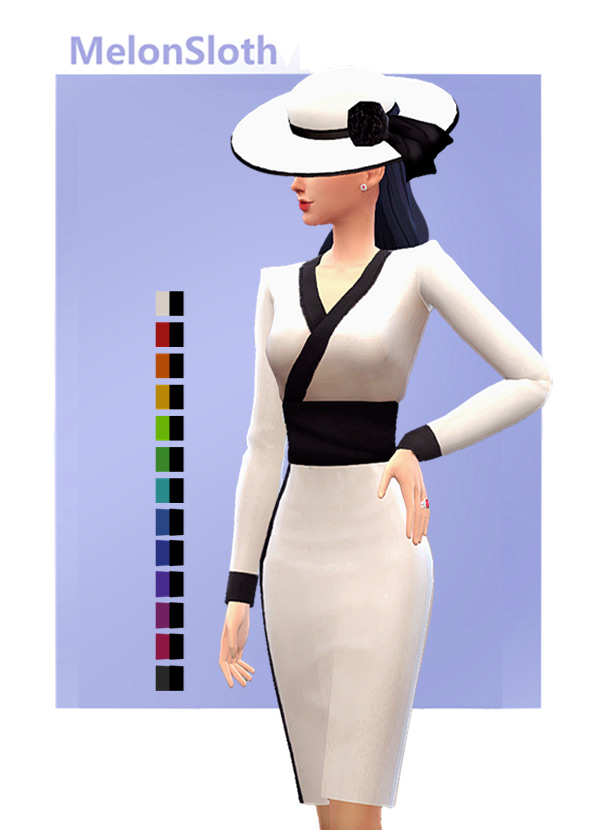 There's no sense in beating around the bush.
Princess Diana is a fashion icon. Her incredible '90s ensembles are the object of envy even to this day.
If you want to dress your Sim exactly like her, no one will blame you. This matching hat and dress come in a ton of different options.
3.

Victorian Uniform Jacket
As tempting as it may be to focus entirely on elegant dresses, you can't neglect your male Sims. It just won't look right if he's walking around in a t-shirt and jeans!
Although this is a jacket for formal occasions, and a uniform at that, there will be no denying your sim is a royal when he wears it.
4.

Mr. & Mrs. Fall Coat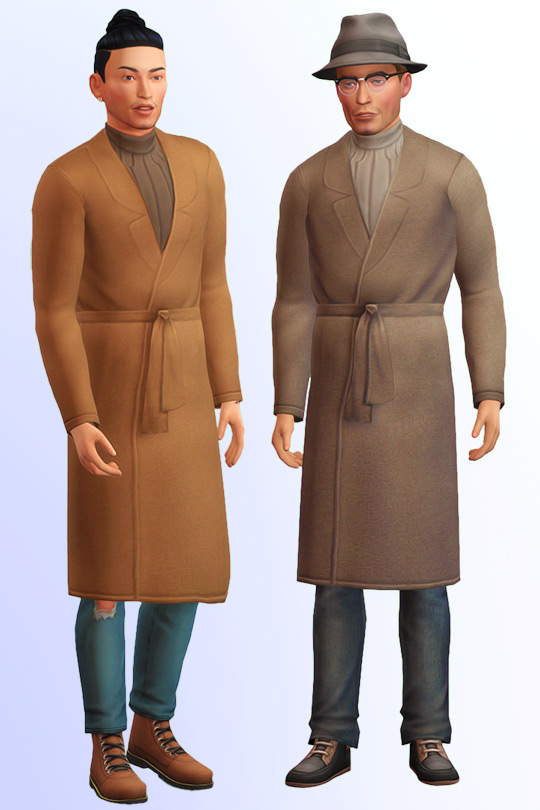 Most outerwear options, in-game and CC alike, are a little too modern for your typical royal vibe.
It's classic styles like this you'll want to grab.
For men, the trench coat is very straightforward and simple, with 10 swatches. The Mrs. Fall Coat is stunning. and you can have so much fun adding hats, scarves, and whatever else comes to mind!
5.

Auswe Collection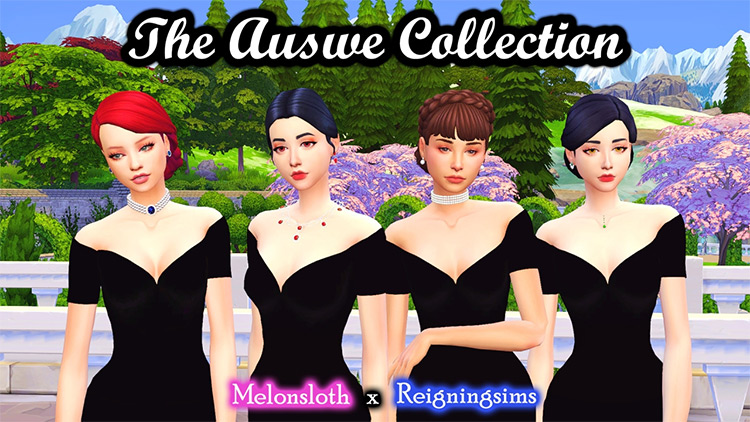 Some new bling never hurts.
These sophisticated pearls and jewels can be paired up nicely with just about any outfit you'll find on this list. For each necklace, there are matching earrings!
So you get eight brand new accessories in this collection.
6.

Toddler Dresses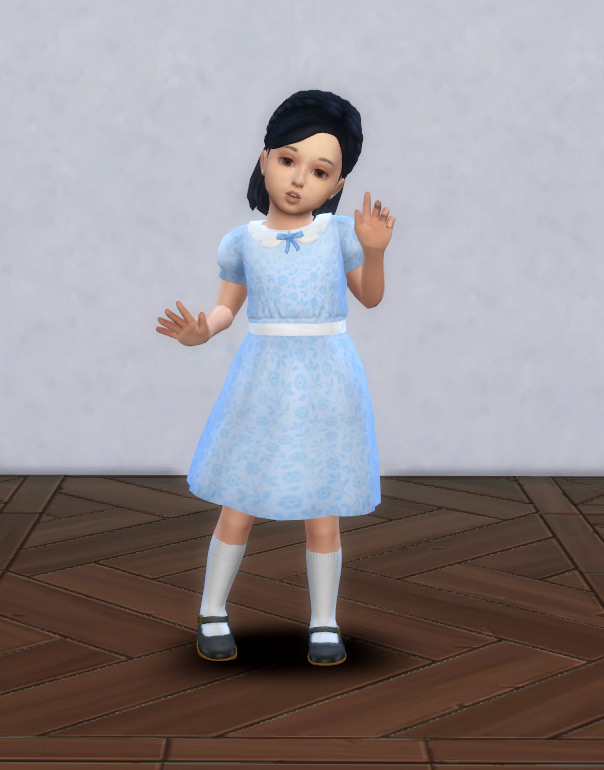 You'll probably want even the youngest Sim nobles to look a certain way. MelonSloth's toddler dresses are classy, timeless, and absolutely adorable.
The combination of floral prints and bright colors definitely are perfect for the little princesses in your game.
7.

Glitterberry Sims Royal Poses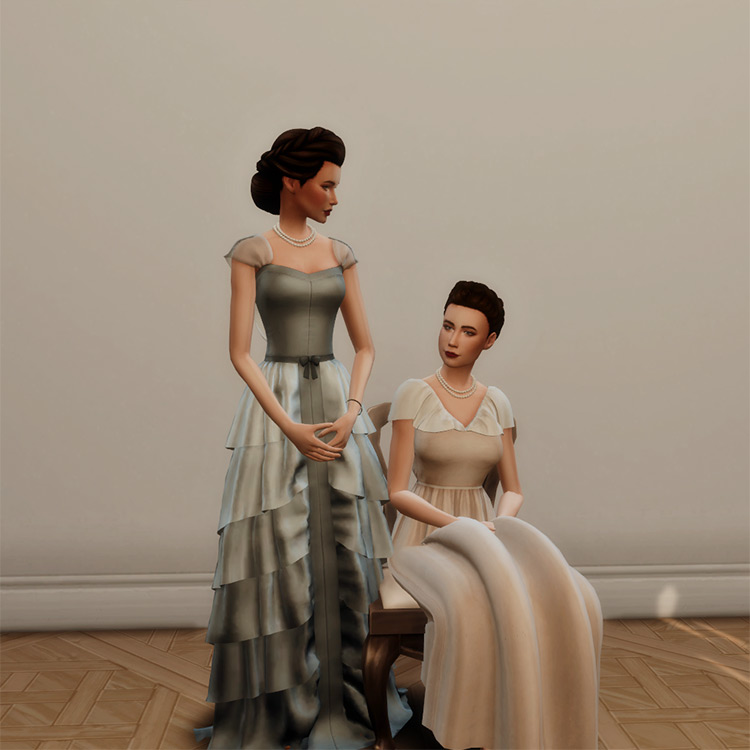 You can find dozens of other fitting pose packs across the web, but this is a good starting point.
Since each new generation, royal or not, generally begins with just two Sims in love, it's nice to capture that.
Before they get to work bringing an heir into the world, make sure to get some snapshots of the happy couple, young and free!
8.

Child Canvas Shorts
No matter the weather, shorts and a sweater is basically the standard outfit for royal boys.
You'll want to steer clear of basketball shorts or anything with an athletic look and opt for something like this instead. These simple canvas bottoms come in a wide variety of solid swatches.
9.

Earth Angel Dress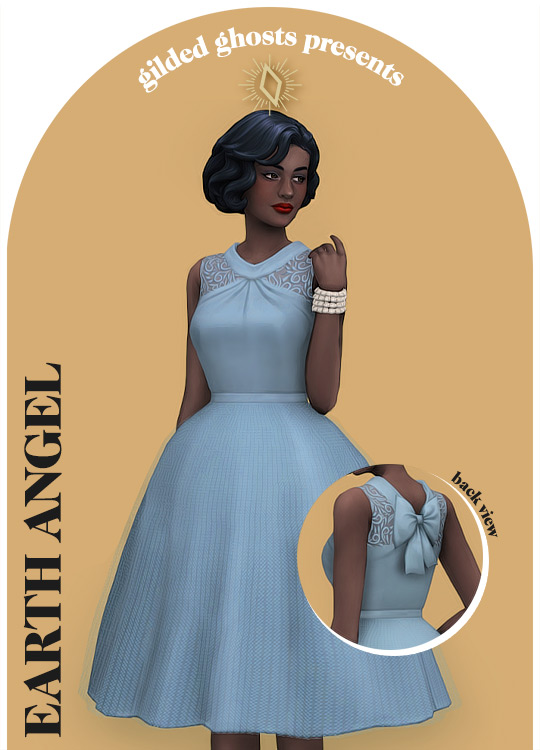 As a general rule, most '50s clothes will work just fine here.
This snazzy party dress from GildedGhosts has a lot of fun variations. From one swatch to the next, it's practically an entirely different dress! The big bow on the back is just the cherry on top.
10.

Yellow Summer Dress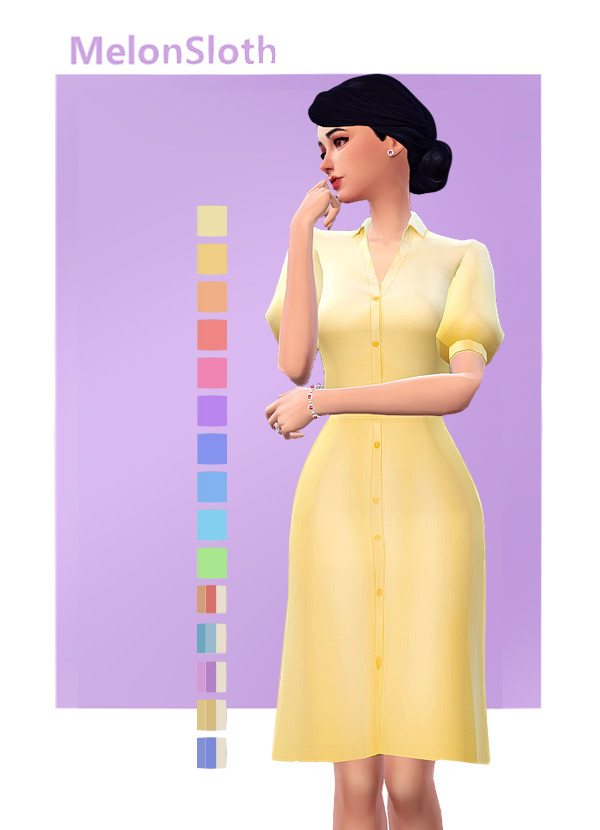 This dress is practically a replica of the real thing worn by the woman, the legend, the 21st century royal fashion icon herself – Kate Middleton!
For Sims of all ages, this absolutely gorgeous dress is great for the warmer seasons. Although the yellow is quite striking, you can choose from many other colors.
11.

Horse Drawn Carriage Pose Pack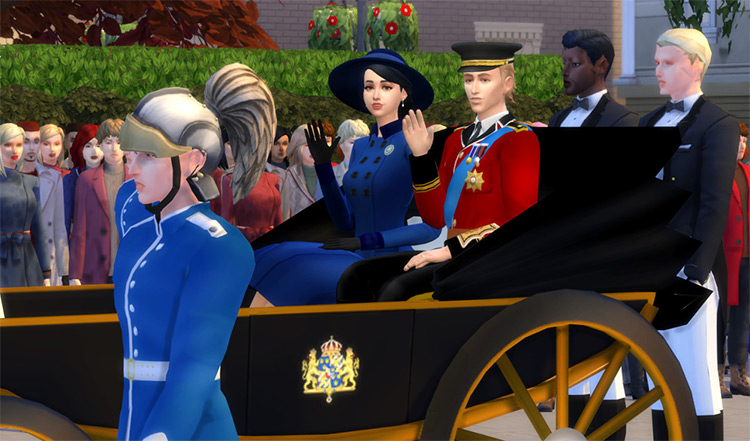 MelonSloth goes way beyond your average pose pack here. This download includes a carriage, decorative horses, and a multitude of deco Sims.
Unless EA ever blesses us with a royal pack, this is as close as we'll get to giving our Sims such a luxurious life.
12.

Royal Uniforms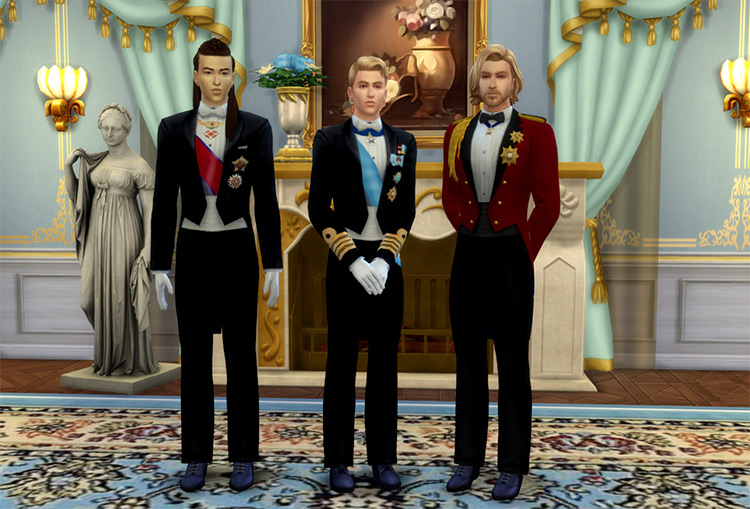 Here are some more uniforms to turn your Sims into the dashing young men you've always known they could be.
These three suits are inspired by real ones worn by Japanese, British, and Swedish royals.
Just like the previously listed, more vintage uniform, these are ideal for formal events.
13.

Fascinators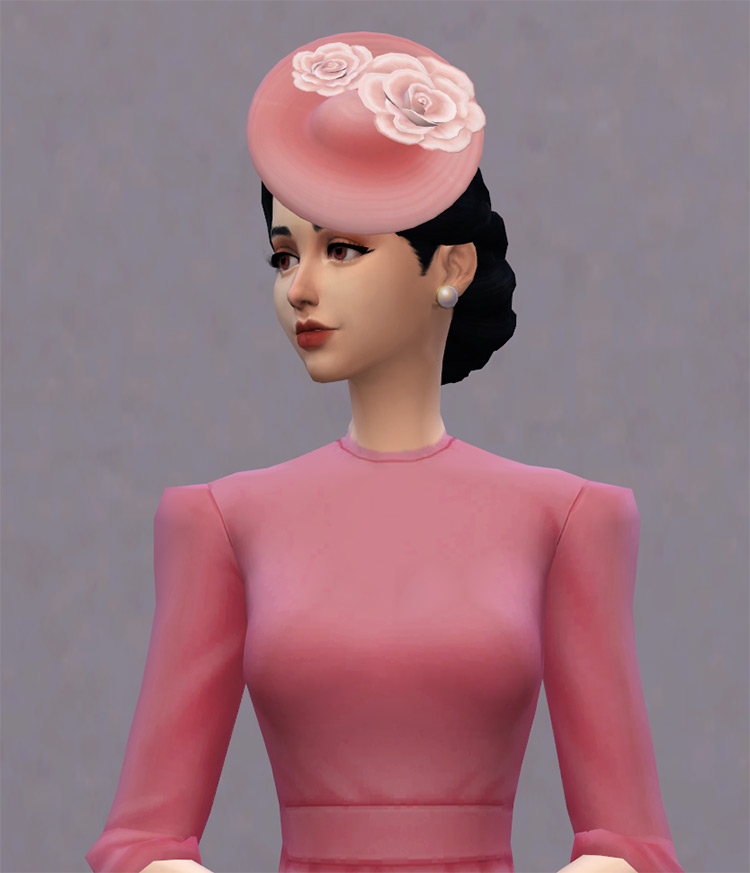 In case you've never noticed, royal folks wear a lot of hats. And I don't mean snapbacks.
Unique fascinators like these, which come in all sorts of sizes, colors, and styles, are truly a must-have. They will completely transform any outfit from regular to regal!
14.

Draping Palace Double Bed (Seasons Required)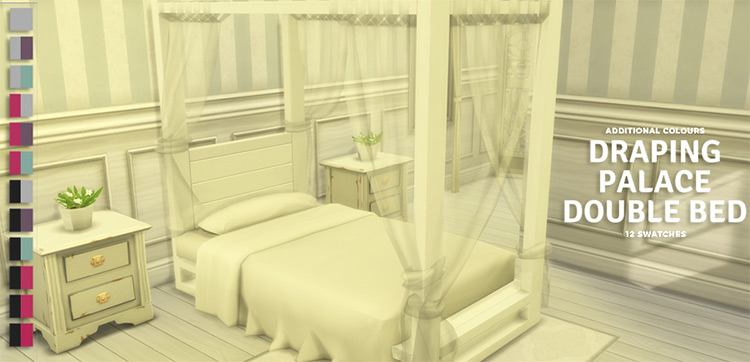 We've already got some solid options for making your Sim look royal, but how about where they live?
Even if you grab an elaborate castle off the Gallery, you might want some custom furniture like this canopy bed since there isn't a ton of super fancy stuff in the game.
15.

Living & Dining Storybook Set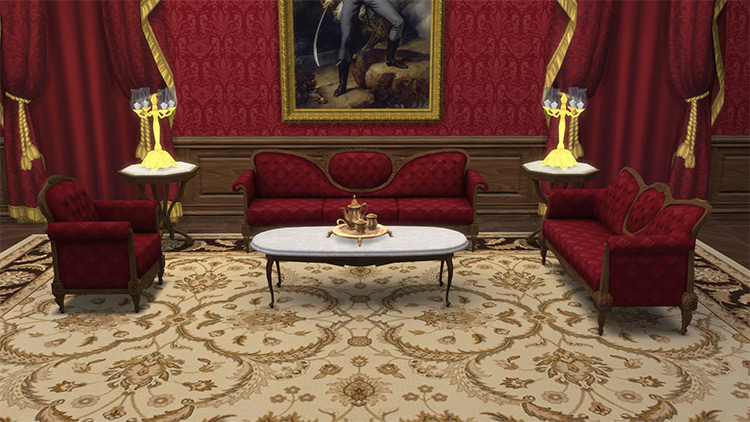 You may recognize these stately sofas and tables from The Sims 3, but if not, don't worry. They're back, converted for use in TS4!
The vintage inspiration for this set won't look a bit out of place in your Sim's fancy-schmancy home. While the red or green swatches are inherently the most noble, there are many other nice options.
16.

Not So Flat Flats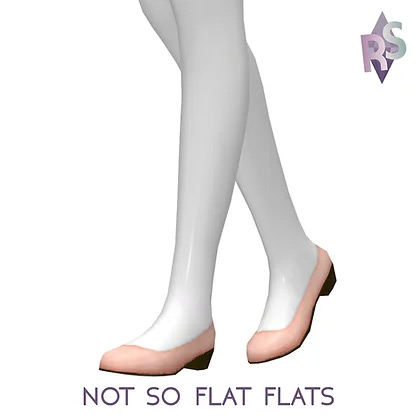 For footwear, a little heel is all you need.
These flats are a nice upgrade from the base game ones without graduating all the way to tall heels.
There's really nothing that these won't look amazing with. Skirts and dresses are obvious, but even pants look fantastic with these flats, if you're feeling adventurous.
17.

Princess Margaret's Tiara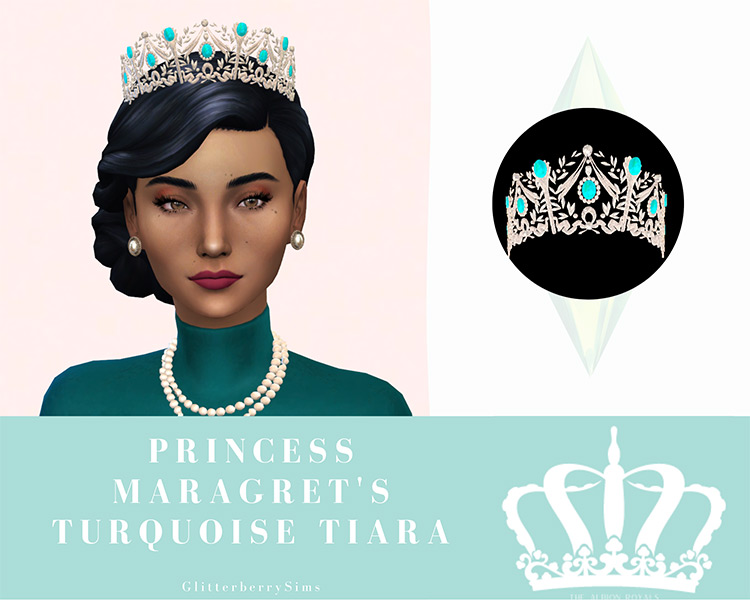 Can a Sim even be a princess without a tiara? I think not!
Here we have another lovely real-life inspired item, and it's quite glamorous. These bright turquoise stones can't be missed.
18.

Ultimate Royalty Pack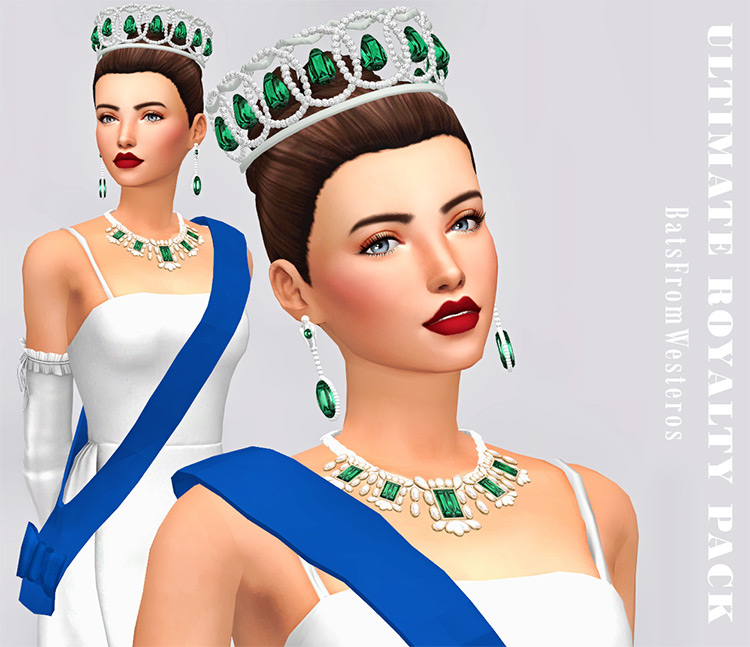 Here we have another accessory pack, for your matching enjoyment.
Deck your Sim out with a tiara, earrings, and necklace, all of which are absolutely loaded with jewels. A royal sash is also included, because there's just no better way to indicate that your Sim is someone important.
19.

Queen Set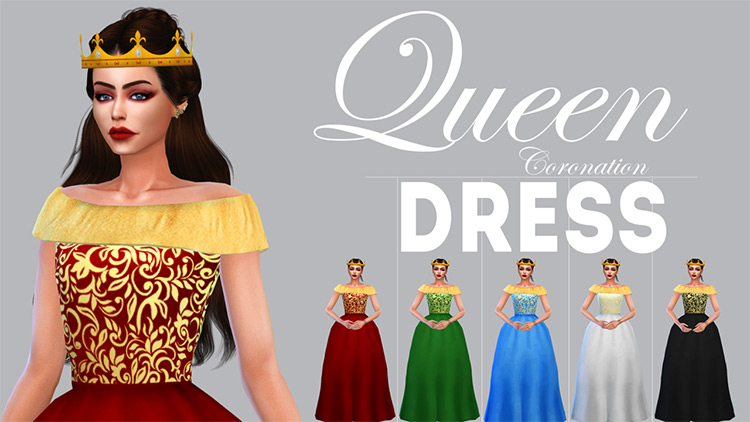 Not everyone gets to wear the crown.
Your Sim's coronation will be the most important day of her life and it's full of pomp.
To really make the occasion special, you'll want this breathtaking dress and equally amazing crown. There are five swatches, so you can put your own spin on it.
20.

Duchess of Hat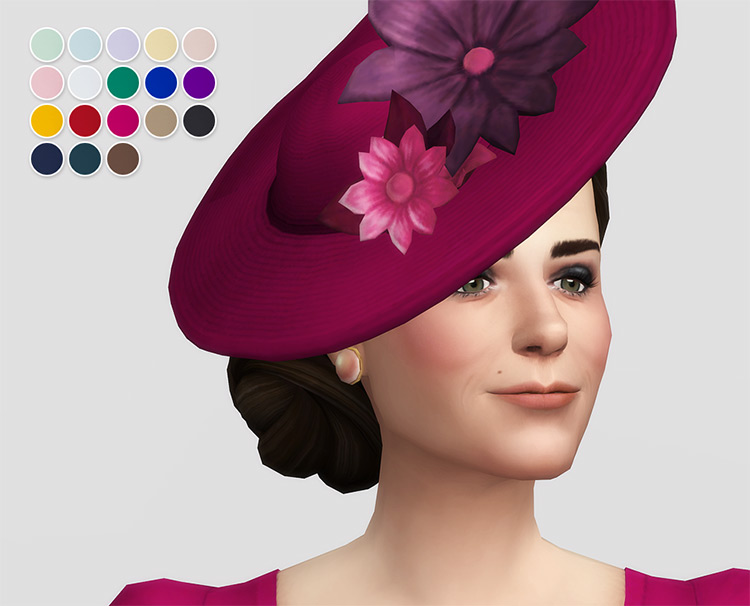 Another hat never hurts.
This one is particularly pretty, with two big flowers right up front.
One thing about royal style is that it's usually loaded with color and Rusty's CC is no exception. With this hat, you will have 18 colors to choose from.
21.

Princess of Suit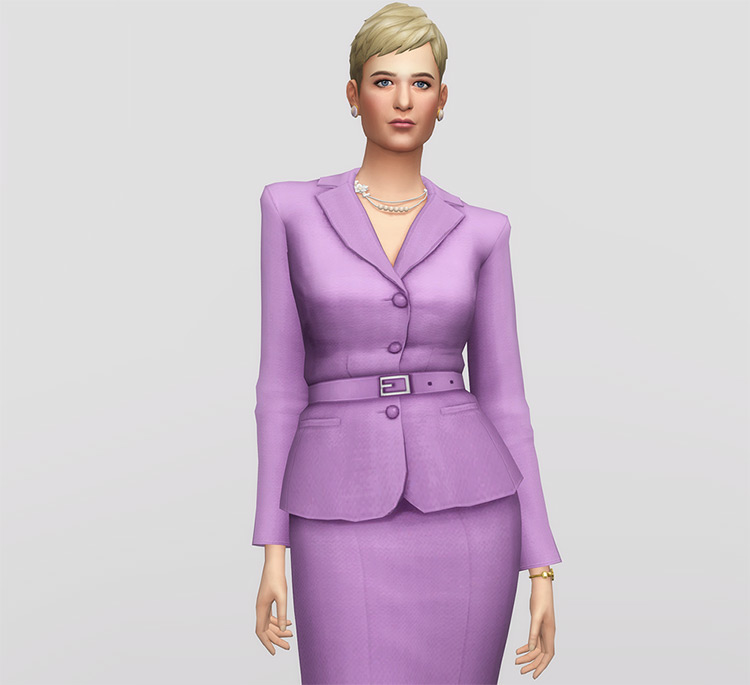 Rusty's smart, feminine suit is an absolute gem. It's practical without sacrificing one bit of style.
The chic color combinations really bring it all together, right down to the belt. And you can rest assured your Sim is on the right track, since this is just like real-life royal attire!
22.

Formal Pants For F
Pretty much every day is formal for a royal by most people's standards, so don't hesitate to use these for all of your Sim's outfits.
All you need to go with them is a nice blouse and some low heels or flats.
23.

Little Lady of Dress & Hat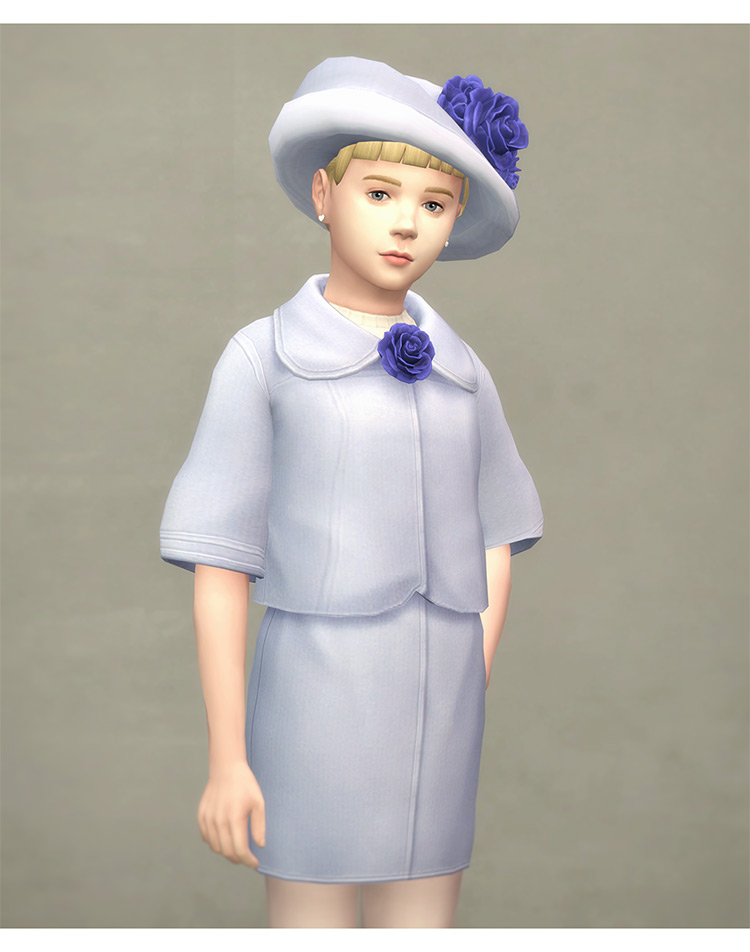 I just can't get over how cute this set is, and neither will you once you see it in your game!
This unique dress for children, complete with a matching hat, is regal to the core. Both pieces are adorned with beautiful flowers and come in two dozen options.
24.

Rococo Portraits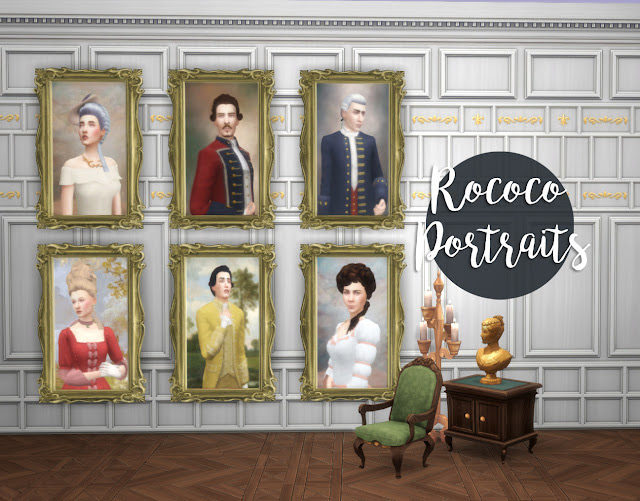 Monarchies are nothing if not steeped in history. So if you want to give the illusion that your Sim has ancestors, some old-timey portraits are just what you need.
They are pretty big, too.
Exactly what the tall, long walls of your Sim's palace are missing!
25.

Crepe Midi Dress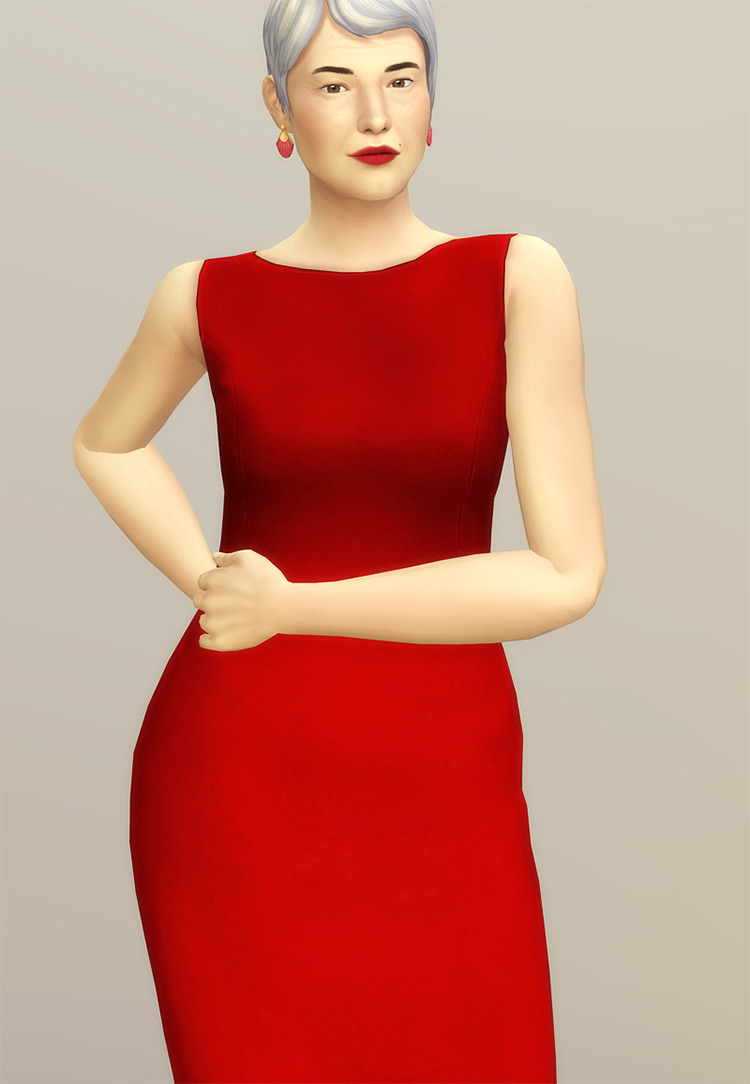 A dress like this works for any woman in your royal Sim family, from young adult to elder. Unsurprisingly, this is another style that has stood the test of time.
With 20 swatches, there's a color here appropriate for every occasion and event under the sun.
Browse:
Lists
Maxis Match
The Sims 4
Video Games