Sims 4 Maxis Match Shorts CC (Girls + Guys)
This post may contain affiliate links. If you buy something we may get a small commission at no extra cost to you. (Learn more).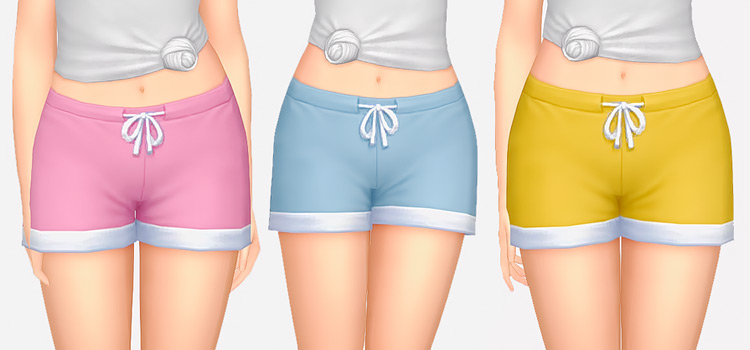 Spring or summer, a comfy and stylish pair of shorts can really make your day.
The Sims 4 doesn't give us a whole lot to work with, but custom options more than make up for it.
Whatever you're looking for, you can rest assured another Simmer has already made just what you had in mind!
1.

Spooky Pajamas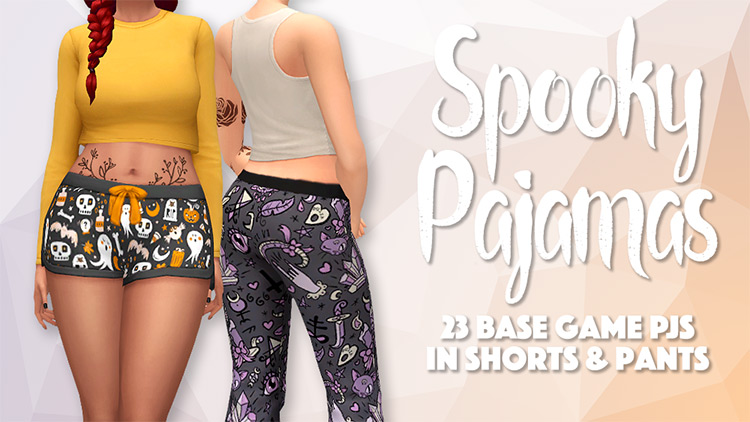 Ooh, spooky scary skeletons. And Jack-O-Lanterns, candy, ghosts, and… well, pretty much all of your favorite Halloween themes and colors!
Seasonal pajamas aren't the hottest commodity in The Sims 4 community so seasonal options like this are a nice, new option.
There are enough swatches to last you several generations.
2.

Summer Basics Collection

I'm obsessed with denim shorts, especially for Sims, and it seems I'm not the only one.
They're such a classic look.
Blouses, tees, or tank tops will look great with any of these three styles.
One is a medium length and has neatly cuffed hems, but the other two options are frayed.
3.

So Comfy Shorts
If you ever want to add some more basics to your game, these shorts are a good contender.
With an array of solid colors to choose from and a smooth cotton texture, they'll work with almost every category. Except Cold Weather, of course… unless you hate your Sim.
4.

High Waisted Vintage Shorts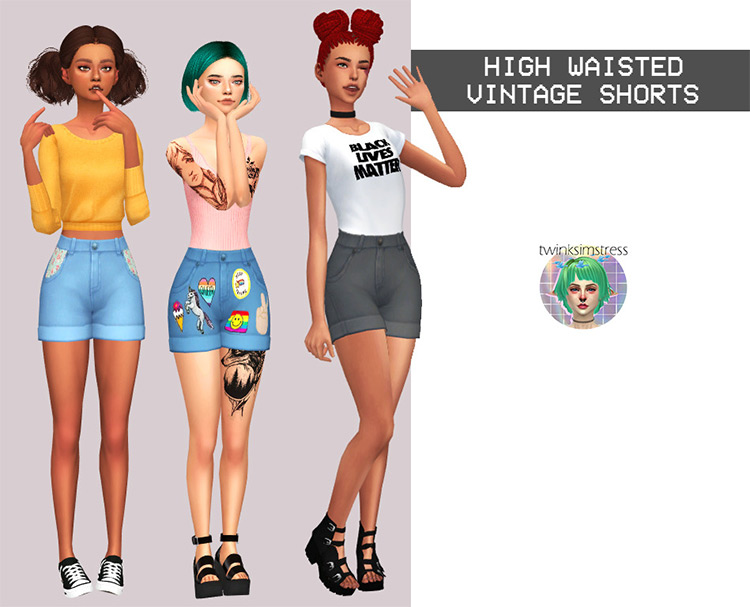 Here are some more awesome jorts, although there's a lot of room for customization with these.
The creator included all sorts of different appliques or ripped patches depending on which swatch you use. Some even give the pockets a different pattern, which really looks unique.
5.

Athletic Shorts by Joviean
The Sims 4 has more athletic options than ever before. There's exercise equipment, sports, and all sorts of options for physical activities… it's easy to get a Sim moving!
Unfortunately, we don't exactly have an abundance of athletic wear.
These modified and recolored base game shorts give us a more fashionable alternative.
6.

Cami PJs Shorts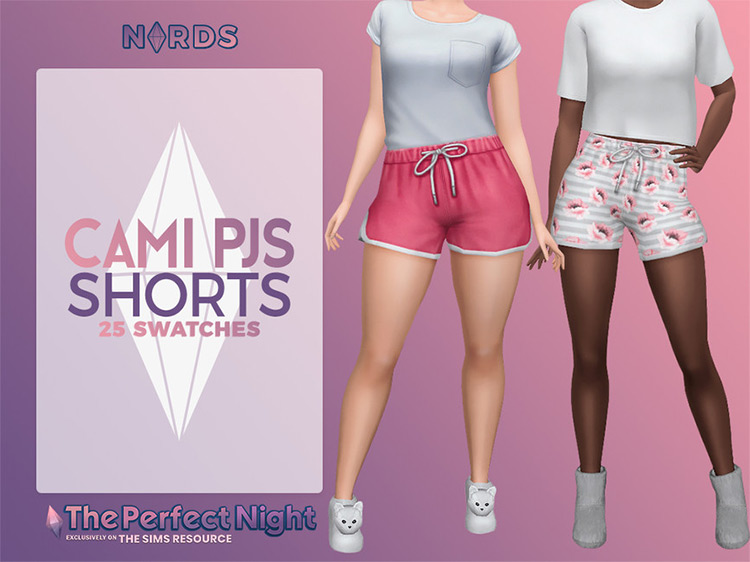 Sims have such limited sleepwear that most players will just leave them with the randomized outfit, but it's fun to give them something just for them.
These 25 swatches include an array of solid colors and patterns.
They definitely look comfy, perfect for a night in.
7.

Summery Shorts
What's interesting about Solistair's Summery Shorts is that there are options for guys and girls alike, and they basically match.
They're also really, really pretty.
Each swatch has a different embroidered or leafy design that's just stunning.
They also have a belt, perfect for tucked tops. And if it's summertime, what more could you ask for?
8.

Carnival Kit Add Ons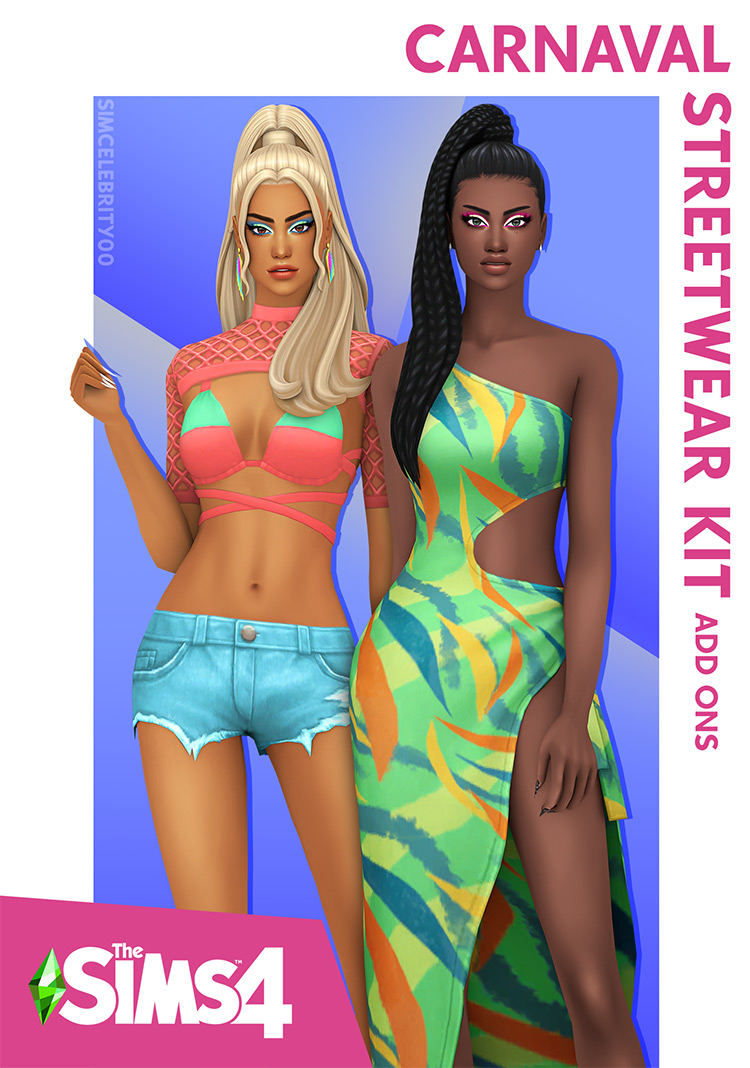 Although this base game collection offers plenty of original, one-of-a-kind content, it's the shorts that got it onto this list.
They're unlike anything Sims have ever seen, all torn up and frayed.
If you like short shorts then you're in luck, because these are some of the shortest around!
9.

Holiday PJ Shorts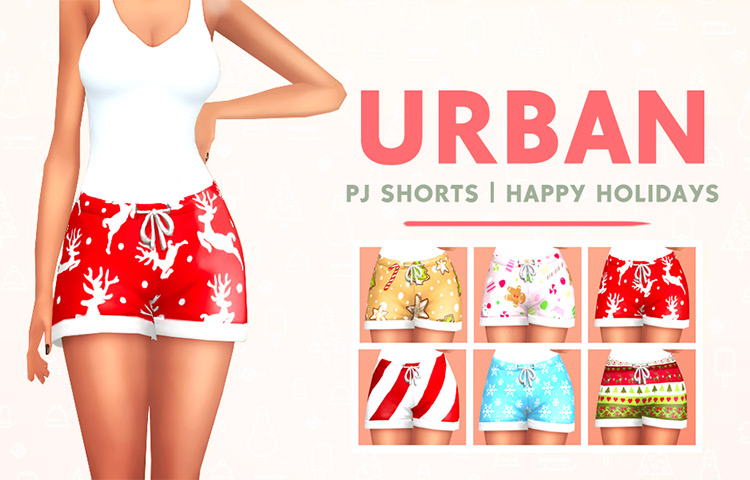 Maybe it's a winter wonderland, or perhaps your Sim lives in the desert.
But holiday pajamas are a must-have if you're feeling festive!
These shorts have 8 swatches some have neutral winter themes like snowflakes and snowmen but there are typical Christmas trees, reindeer, and gingerbread men included as well.
10.

Tiramisu Shorts
It's hard to beat CandSims when talking about swatches. A whopping 75 are available for her awesome Tiramisu Shorts.
The minimalist style is more than made up for with such a massive range of choices. They just look comfy and practical!
11.

Biker Shorts
Despite the name, it's been a long time since these spandex beauties were just for cyclists.
Nowadays, they're pretty trendy.
Pair them with anything from sweaters to equally form-fitting tank top, and you'll have a very fashionable, up-to-date Sim in no time.
12.

Just Shorts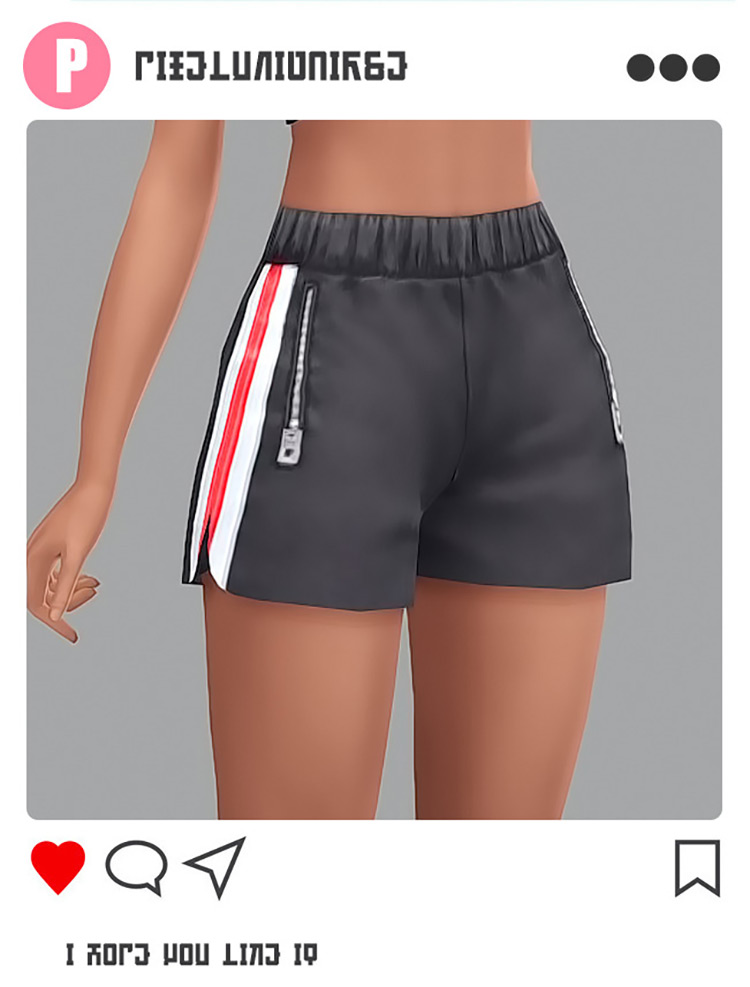 These are basically the definition of athleisure.
With the stripes and zippers, they definitely look sporty, but you can certainly use them in everyday outfits, too!
It's awesome that they're high waisted as well, because crop tops will look especially good with them.
13.

Wowie Shorts
Brianitesims brings us some more simple cotton shorts.
They've got some little drawstring and a ruffled hem, setting them apart from the rest.
All of the swatches come from CupidJuice's Dream Pop Palette and it's loaded with bold colors.
14.

Hiraeth Shorts
It's always great to find something that looks both functional and stylish.
Gloomfish's high-waisted, cuffed shorts are great for everyone, but they really give me outdoorsy vibes.
Imagine pairing them with some hiking boots and sunhat… boom, you've got an idea for something original but cute!
15.

Anne Shorts
You can't go wrong with some decorative buttons.
The more, the merrier!
But Nords just included three on this creation. They line each pocket and definitely give these shorts character.
Beyond that, there's a really solid assortment of neutral swatches.
16.

Annie Shorts Set
If it's color you want, this set has it all.
Solistair has got something really unique here. Each pair of shorts are two different colors! Green and purple, pink and blue, orange and red, and so on.
A whole bunch of accessory stockings are included as well, made specifically to go with these shorts.
17.

Island Shorts
We're going back to the basics once more with these drawstring shorts.
There's nothing too fancy here but that's often a plus. That makes them a great contender for everyday and hot weather outfits!
All of the little details make them more realistic, like the pocket rivets and belt loops.
18.

Glitter Shorts
Who doesn't love glitter? If the answer is you, then you're free to keep scrolling.
But for my fellow sparkle lovers, this Maxis Match design is like the Holy Grail!
Sapoye keeps the design of these shorts simple. It's really just a recolor of some base game shorts, but the glitter has totally breathed new life into them.
19.

Sirea Shorts
These have the trifecta of style: they're belted, high-waisted, and rolled at the bottom.
It doesn't get much more timeless than that.
That's just what makes them great for all ages, and the 12 swatches offer plenty of options for every Sim.
20.

Fishnet Shorts
Have you ever wanted your Sim to wear shorts under their shorts? Well, here you go.
Dreams really do come true.
Okay, they're accessories, but they still look really cool because they're fishnet. And if you're feeling adventurous, a Sims don't have to wear something over them… decisions, decisions!
21.

It's A Man's Shorts
Now it's time for some masculine shorts, and these are a good way to start.
I mean, they're pretty darn rugged. Just look at that denim texture!
These shorts are rolled at the knee, belted, and may or may not have some little tears depending on the swatch.
22.

Summer Stroll Slouchy Shorts
Luumia & Synth's summer collection has a lot of great content, but the slouchy shorts are particularly charming.
Something about them just looks so natural, like a Sim really did roll them up.
The retro vibes can't go unnoticed either. No matter what your Sim gets up to this summer, he'll be cute as heck.
23.

Men's Running Shorts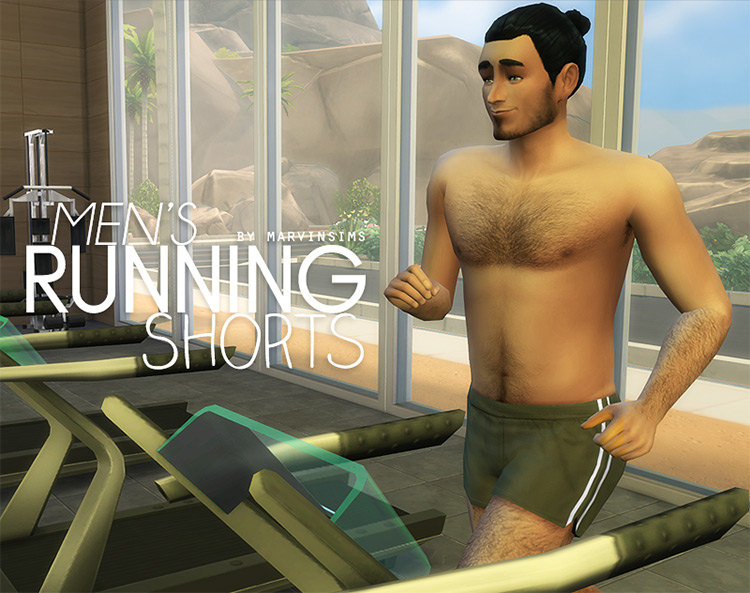 MarvinSims has recolored and tweaked the base game shorts to create something more fashionable, and with more swatches than ever.
Several have the iconic Nike swoosh.
As with most athletic wear, these are good for exercise as well as all casual ensembles.
24.

Brian Jean Shorts
These unisex denim shorts are nothing short of perfect.
The length and texture both are very flatting and although it's such a small detail, the leather tag on the waistband makes them even more realistic.
Since it's denim, there's an assortment of blue, gray, and black colors.
25.

Mid-Length Shorts
It's easy to feel like Goldilocks when choosing shorts.
Some are too long, some are too short. You've got to find ones that are just right. Fortunately, MarvinSims has edited the base game shorts so they've got the best of both worlds.
They're more flattering now, but still have nice, neutral swatches.
26.

Midi Shorts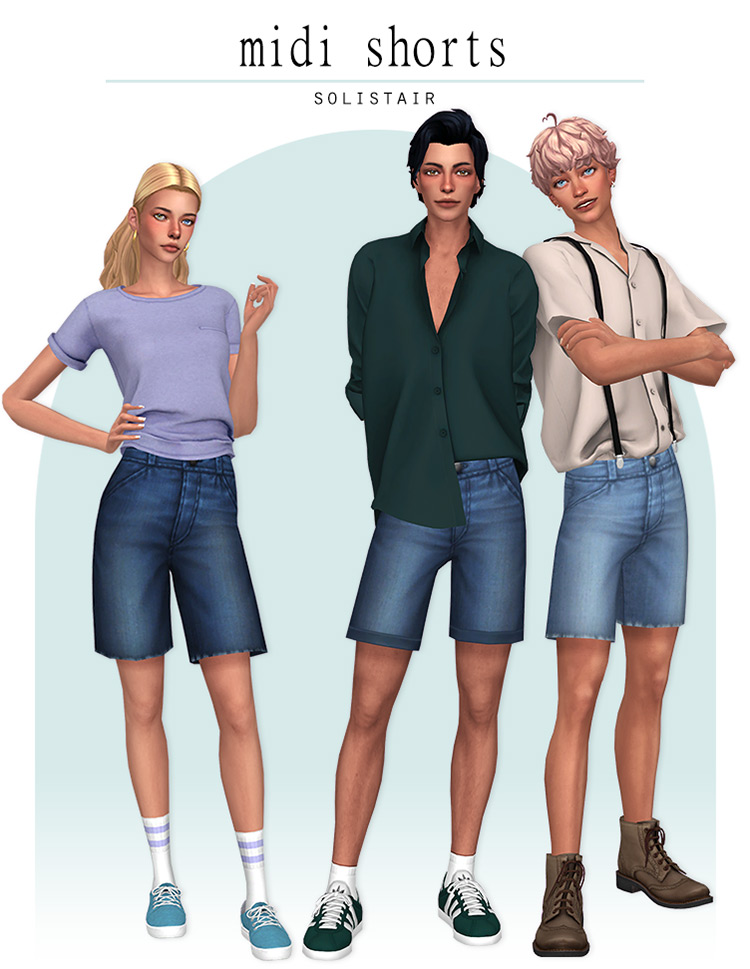 Here we have some more denim shorts, and versatility is the name of the game.
Both styles, fringed and folded, are available to male and female Sims alike. They're so classic and the range of jean textures really do them justice.
27.

Prepped Shorts For Men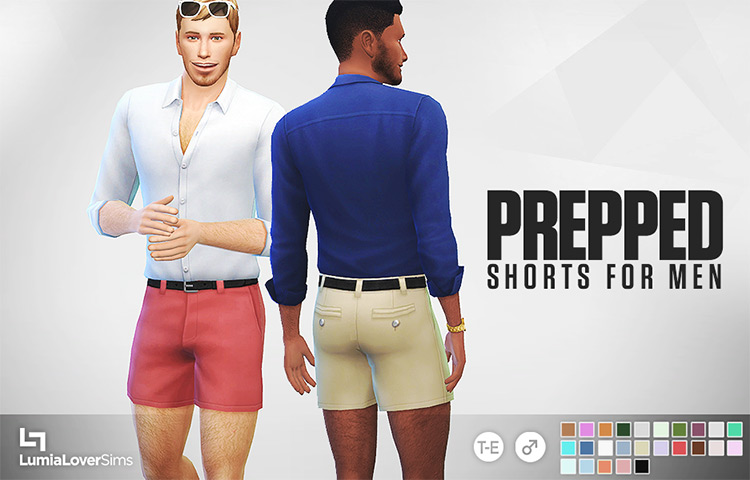 Bring some class to your Sim's spring and summer threads with Luumia's preppy, belted shorts that are bound to give any dude a boost of handsomeness.
You can really get creative putting together an outfit thanks to so many bright, fun swatches.
28.

Coleus Bermuda Shorts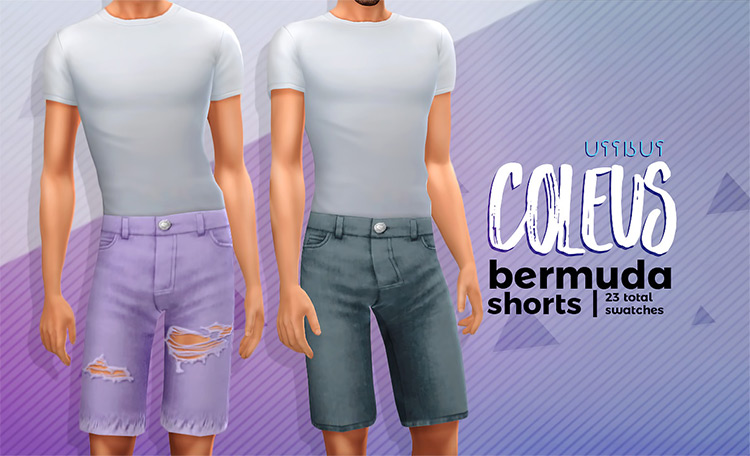 It's hard to top bermuda shorts in terms of style and longevity.
Their medium length just makes them an awesome choice for men of all ages and nowadays, there's no need to stick to neutral colors.
Viiavi's 23 options include not just your typical colors, but shades of green, purple, and red too.
29.

Satin Running Shorts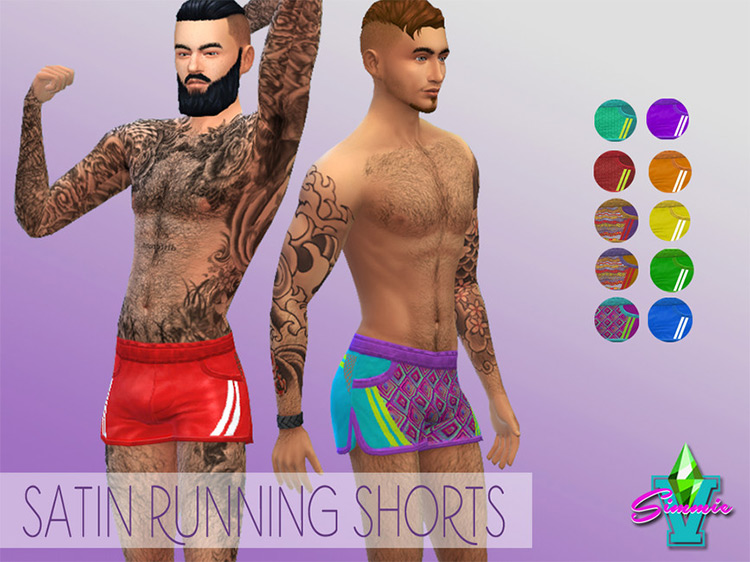 The Sims 4 has plenty of fitness attire.
We have whole kits dedicated to it now!
But do we have retro-inspired short shorts with a satin texture and almost psychedelic patterns? Well, not unless you download these!
Don't just limit yourself to athletic outfits, though. They'll work with everyday and Hot Weather ensembles just as well.
30.

Athletic Shorts For Dudes
Baggy shorts are definitely declining in popularity.
Society is circling back around to more flattering and slimming designs.
Most of these are solid, although some have two thin stripes. Your Sims are good to go whether they're jogging, shooting some hoops, or hanging around at home.
31.

Short Shorts (Backyard Stuff Required)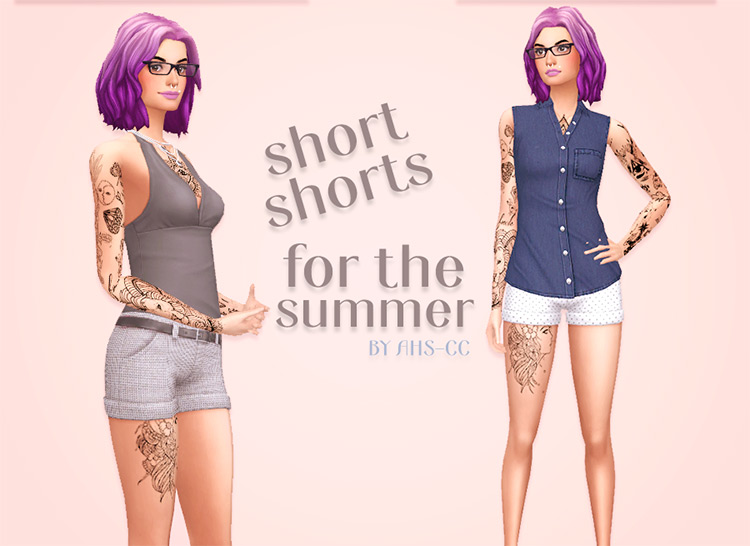 Who wears short shorts? Your Sim wears short shorts!
Well, maybe. That's entirely up to you.
It's hard to resist these fun recolors, though.
The 20 swatches include many different vibrant, unique patterns but there are plenty of solids as well.
32.

Hallie Shorts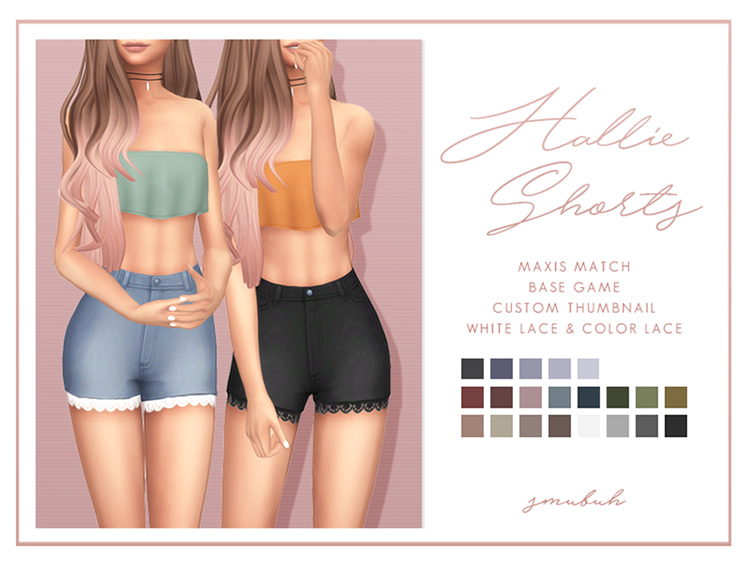 You know what shorts need more of? Lace trim.
Because why not, it looks really nice!
All of these denim-textured, high waisted shorts come in neutral tones that are complemented very well by the lace. It's an original look for sure, but also a genius one.
33.

Dreams Come True Pajama Shorts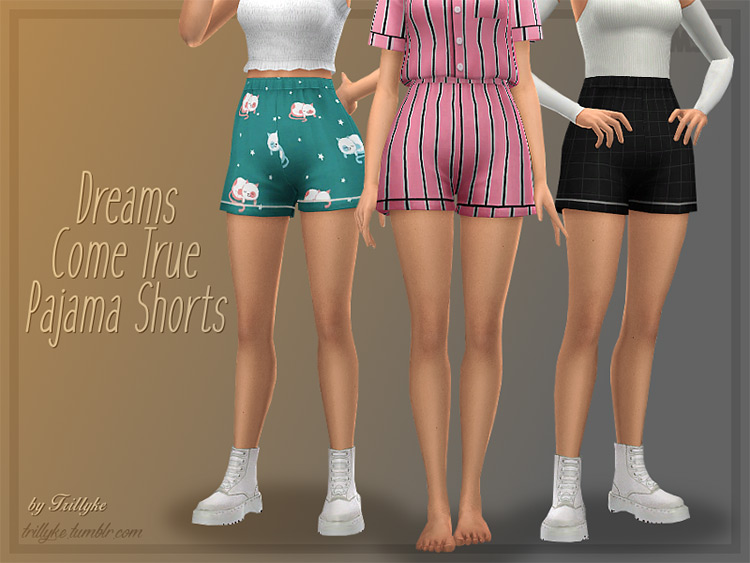 Trillyke brings us some more pajama options, and they're so cute your heart will explode. Seriously, there are cats!
In fact, most of these shorts have very unique patterns.
There's a swatch with some equally adorable dogs, very colorful koi fish, and even some cacti.
34.

Caio Check Shorts
Although these were released as part of a pretty magnificent autumn-themed set, they can be downloaded solo.
And the colors might lean towards a fall vibe with so many shades of orange, but they'll look great no matter the season.
The fabric texture is a nice alternative if you're a big fan of denim.
35.

Dost Shorts
On the other hand…can you really have too many jorts? Nope! And neither can Sims.
This version stands out in its own way due to the tapered, ripped legs.
They're very stylish.
And while they're still undeniably Maxis Match, Nords' Dost Shorts have all of the same little details you'd expect from the real thing.
Browse:
Lists
Maxis Match
The Sims 4
Video Games