Maxis Match Skinny Jeans CC for The Sims 4 (Guys + Girls)
This post may contain affiliate links. If you buy something we may get a small commission at no extra cost to you. (Learn more).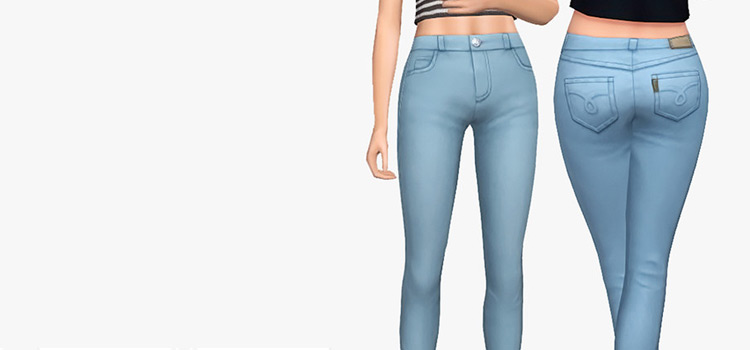 Jeans have been at the center of fashion trends for decades, though their form may change.
These days, it's all about the skinny look. The tighter, the better!
And fortunately there's more CC out there matching this criteria than a player could ever hope to sort through.
1.

Super High Waisted Skinny Jeans
Low-riding pants have their place, and we'll get to that.
But high waisted jeans are just so useful in this game.
They make every ensemble a little more put-together since you don't have to worry about shirts being an awkward length. For even more stylishness, Bonehlda added some optional rips!
2.

Seeker Skinny Jeans
A person's blue jean preference can be a big deal. Some denounce lighter shades entirely, while others can't bear dark denim.
Well, these swatches bring it all. One version has the best of both worlds, with each leg being a different shade.
3.

Sunrise Pants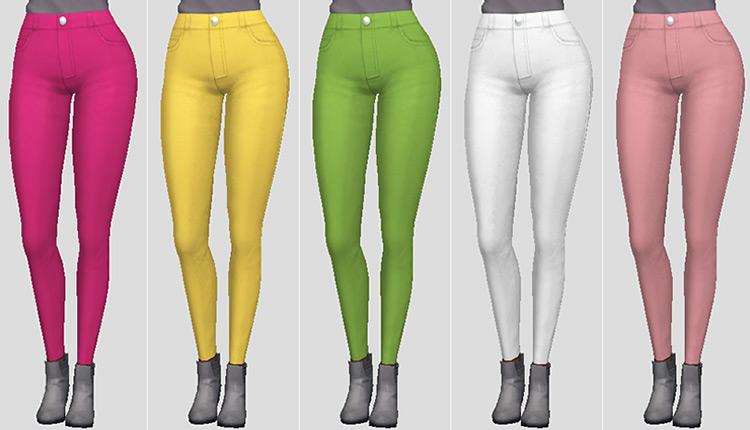 Although blue denim is a classic look, sometimes it's fun to throw in other colors.
There's certainly no shortage of them here! Veranka has got a huge variety in these 30 swatches.
You'll find multiple shades of every color, even some lovely pastels.
4.

Robin Skinny Jeans (City Living Required)
Since City Living has got some of the trendiest fashion in the game, it makes sense that the edits are much the same.
You won't regret adding this to your male Sim's wardrobe. These jeans are slim, masculine, and torn at the knee.
The included fishnet accessory is a unique touch too!
5.

PickyPikachu's Maxis Match High Waist Denim Skinny Jeans
The great thing about these is that they've got a more neutral look. Yeah, they're skinny but not super duper tight.
But never fear, they are still sufficiently form-fitting.
A great range of denim colors are included as well, from white to black, and all the blues in between.
6.

Bowling Night Jeans Edited
Sometimes, you just can't beat EA's stuff.
Well… I suppose that's not totally true, or we wouldn't be here!
Thanks to Mysterious Dane's mad editing skills, the fashionably torn skinnies that came with Bowling Night Stuff are now BGC.
Not only that, but the mesh has been altered so they're a bit smoother and longer.
7.

Tot Skinny Jeans
The need for good jeans transcends all ages.
And the simple truth is, a toddler's chubby little legs are just so cute.
That's what tot style is all based around anyway. So to keep even the youngest members of your Sim's family fashionable, modern pants like these are a good way to go.
8.

Grannr Jeans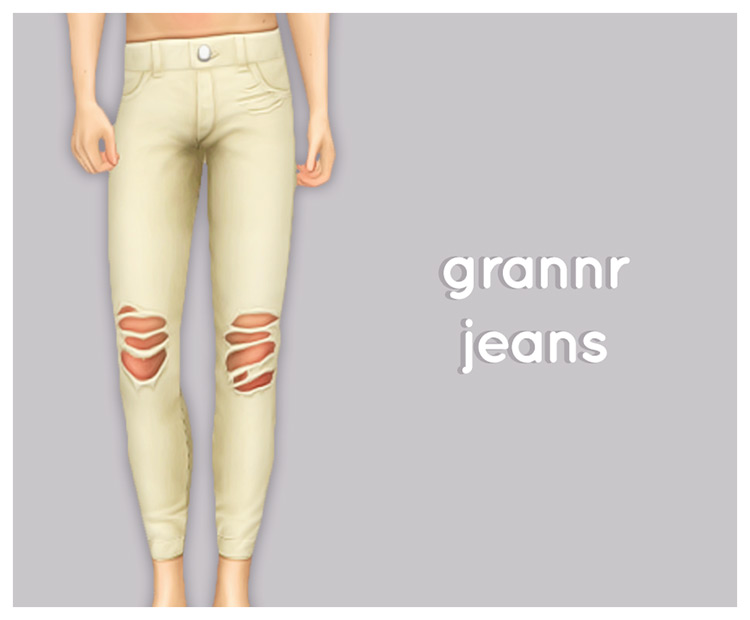 These cropped jeans were practically made for spring and summer wear. Any type of sandals, loafers, or sneakers go so well with them.
And we can't forget about TS4's abundance of boots. So really, Eiyr's Grannr Jeans are suited to all tastes!
9.

Britechester Jeans
Why fasten pants with just one button when you can do it with four? The more, the merrier!
They really do bring something special since multiple buttons are an unusual sight for Sim's bottoms. There's just nothing not to love about this edit, which maintains the fantastic denim texture while adding a higher waist.
10.

I Love Denim Jeans
If you're a Simmer who loves clothes with a more realistic look, then these are the jeans for you.
Nords' masterful tweaking combined bottoms from two expansions to create one pair of base game pants. That's some math we all can get behind!
Best of all, they're flattering on all bodies.
11.

Elliot Jeans
Here's another option just for men that's stylish in every aspect. The rolled cuffs at the bottom bring it all together, sealing these pants as something casual but still neat.
As for swatches, they may be limited, but they're some really solid choices.
12.

Mile High Super Skinny Jeans
Pants can't get much higher than this unless we get up to the chest, and no one wants that.
In all seriousness, the height of these is just right. They can be worn with a huge variety of tops and shoes. Anything goes, from crop tops to sweaters!
13.

Child Skinny Jeans
What are the kids wearing these days?
Well, it's safe to say baggy jeans are out.
Most of the base game options for them are already skinny but none are quite as cool as Casteru's. With the cropped length, subtle frayed texture, and trendy tears, any Sim child can get with the times now.
14.

Rocker Jeans
Get Famous is another pack that's known for its CAS additions.
If your Sim wants to be a star, they've got to dress like one.
What better way to do that than with some skinny jeans? RenoraSims took these on and made them BGC by removing the makeup bag. The tears are also optional now.
15.

Jenna Jeans
It's easy enough to make a pair of capri pants, just roll up the legs of some jeans.
Of course, a Sim can't improvise with their clothes like that, so we've got to customize our way through such issues.
These are skinny, with plenty of holes, and rolled just midway up the calf.
16.

Panda Jeans
Saurus' 28 swatches provide plenty of alternatives if you'd like to branch out from typical blue jeans.
Some of those default colors are still available, of course! But many others, such as orange, pink, green, and camouflage, are very original.
The various rips make them even more chic.
17.

Simple Simmer Skinny Jeans
Three vastly different styles from Pixelunivairse bring a lot of variety to the table.
While they're all skinny, one version is belted, another has rips, and the third has neither of those things and is simply a standard design.
A good palette of solid colors can be found for all of them, however.
18.

Hey Cupid Skinnies
Hearts are always just so darn cute. Whether they're on clothing, jewelry, or even wall art.
The creator took many different approaches with them here. Variations include solid white, multicolored, even some that are broken.
Sure, that's not as sweet as an intact heart, but it's the aesthetic that matters!
19.

Lena Jeans
Mysterious Dane has blessed us with another basic but flawless pair of jeans. A Simmer can really never have too many options like this to choose from.
These have got the right length and look to wear no matter the season.
And while they're great with boots, whatever suits your Sim will do just fine.
20.

Male Loose Fit Skinny Jeans
We've already seen there can be quite a range when it comes to skinny jeans, and these land somewhere in the middle.
Thanks to the design, these have a rugged, masculine feel. And while many options are cropped, these full length legs are perfect to pair with boots.
Browse:
Lists
Maxis Match
The Sims 4
Video Games