Sims 4 Maxis Match Skirts CC: The Ultimate Collection
This post may contain affiliate links. If you buy something we may get a small commission at no extra cost to you. (Learn more).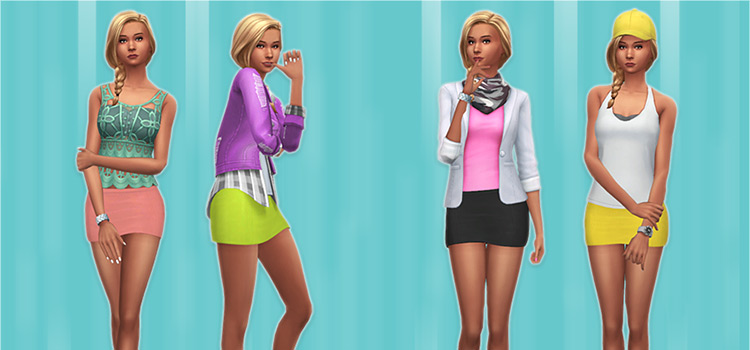 What's not to love about a skirt?
There are an endless amount of options for every aesthetic and every age.
As always, you can majorly expand your Sim's hypothetical closet with some CC shopping. You've reached the holy grail if you're a skirt lover, since this is the hand-picked best of the best Maxis Match options!
1.

Long Line Button Skirt Recolor
Starting out strong, we've got a classic: denim!
Since it's high waisted, you can basically do whatever you want and it'll look great.
Go for a more modern twist by pairing this with a crop top, or go for a sweater if you're more into the traditional look.
2.

Bright Eyes Skirt (Maxis Match Recolor)
A sparkly skirt has never gotten any complaints, but you know what has? Limited swatches.
We just can't be tamed, and that's why the fun can just keep going with all of these new recolors. Most are really vibrant but there are a few neutrals.
Now Sims can really shine bright as they're hitting the clubs.
3.

Grace Skirt
This is by far one of the most versatile skirts around, thanks to both the length and the color palette.
It's just a perfect neutral that can be worn by Sims of any age, whether they're a teen, elder, or middle-aged.
Whether paired with a tank top, blouse, or a sweater, it just works.
4.

Circle Skirt For Kids
Could you imagine an update where most clothes could be converted between ages right there in CAS?
For now, we are just really blessed to have so many creators who are capable of it.
This base game skirt has been sized down for both children and toddlers, and there's a whole bunch of additional swatches.
5.

Bloomin' Skirt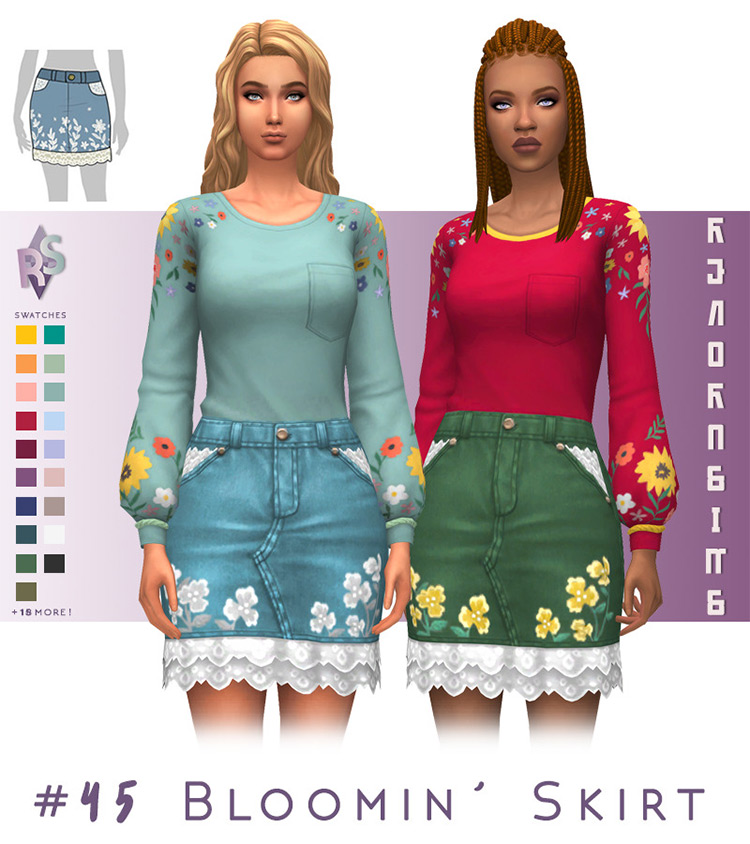 To keep things simple, what RenoraSims has here is a stunning skirt with a really unique look.
Between the lace trim and the floral accents, it's impossible not to adore this.
The denim texture is also a great contrast against the delicate look of the lace, and there are tons of swatches.
6.

Ribbed Skirt
StoryLegacySims edited the Eco Living skirt and converted it for toddlers, and now it's insanely adorable.
Corduroy texture? Tiny buttons and pockets?
Um, yes please!
Now it's also BGC, which definitely makes it one of the best things if you're looking for some new toddler attire.
7.

Paeonia Skirt
What's better than ruffles? Not much.
They can really kick things up a notch, and transform something that might not have been very exciting into something you'll want your Sim to wear over and over.
This describes the Paeonia Skirt pretty well.
It's layered, high waisted, and comes with an abundance of colors.
8.

Expectations Skirt
A belt can really bring an outfit together, making it look more polished.
Here, the slim black belt makes this already classy A-line even nicer. A matching blouse is also available for download, but you'll have no shortage of tops to pair with this. Just about anything will look lovely!
9.

Bow Belted Skirts
SimLaughLove has gone wild with the swatches for this one, and it's basically the best thing ever. Besides a big range of solid colors, the patterns really are special.
There are birds, flowers, stripes, abstract prints, and best of all, corgis. I'm not talking regular corgi dogs, these dogs are wearing sunglasses and floaties – it'll melt your heart!
10.

Mid A-Line Skirt
Sims can wear longer styles like this for so many different occasions, you really can't have too many options.
Holidays, parties, date nights… wherever their life takes them, a nice A-line skirt can be the go-to!
40 swatches are included, providing multiple shades of basically every color.
11.

Cute Patterned Skirt
It's right there in the name, these really are cute patterns!
Sure, they might not be what a Sim would wear to a formal party, but any of these swatches will give their outfit a little personality.
There's plaid, flowers, polka dots, and even cow print.
12.

Midnight Pretenders Skirt
You just never know when a really long skirt will come in handy.
That might just be what looks right on your Sim, or perhaps they need something breezy for summer outings.
Any of these 40 swatches will be a solid choice, no matter your Sim's age.
13.

Basic Pencil Skirt
Getting back to the basics is almost never a bad thing. Simple, knee length skirts such as this one are really timeless. No one will deny they bring a unique sense of femininity and elegance.
That's probably why they dominated business casual attire for decades, but they're just as good for "dressed up" everyday attire.
14.

High Waist Belted Skirt
Sometimes, a belt is really all you need to pull an entire outfit together.
There aren't nearly enough belted bottoms in the game, so each one you can add to your collection really is a gem. This one stands out for its super high waisted design as well.
15.

The Now Skirt
Sims can wear this through both spring and summer, and maybe even fall if you throw in some leggings.
It's another one that's quite simple, which of course makes it a great basis for so many styles. Some of the swatches make it a totally neutral piece, allowing you to utilize however you please.
16.

Maxi Skirt Boho Tiered
If you've ever wanted to play a hippie Sim, now you've got a great opportunity for them to look the part.
These 17 swatches are very unique. In some cases, each tier is a separate color and pattern altogether, so that the end result is reminiscent of a patchwork quilt.
17.

Maxi Skirt
Heartfall definitely put the "max" in "maxi" with this skirt.
As in, it's the max length the game can allow. Don't worry about shoes, because you'll never see your Sim's feet!
It's very elegant, especially the solid colors, but there are some fun options too like unicorns and rainbows.
18.

Chelsea Skirt
The overlapping, asymmetrical design is what sets this skirt apart from the rest.
It's ideal for a preppy aesthetic, since it's not only high waisted and belted, but all 18 of the swatches are plaid.
I know, that's a lot of plaid, but it really works.
The colors complement the pattern perfectly!
19.

Jonna Skirts
Just one glance at these two skirts will probably tell you they're based on Cottage Living.
They've definitely got that cozy, chic, yet vintage-inspired feel.
But the best part is that both the long and short versions are BGC. Now your Sims can exude Henford-On-Bagley vibes even if they're not residents.
20.

Andreya Skirt
With the youthful vibes of this mini skirt, you'll probably want to keep it away from the elders.
It's an awesome pick for young adults, though. The 59 swatches, covering a wide variety of designs and colors, will leave you room to figure out what's right for your Sim, whether that's everyday or party attire.
21.

Maddy High Waisted Skirt
Here's another edit of this iconic skirt, and this time a subtle tweak has made it much more flattering and practical.
You may not even catch it if you're not looking for it. All this Simmer has done is move the skirt's waist up a bit and boom, it looks so much nicer!
22.

Cargo Skirt for Children
An adult-sized version of this is also available, but it's really the kiddos who are lacking maxi skirt options at the moment.
This one's quite simple, and a really cool aspect is that it's available to both masculine and feminine Sims right off the bat.
23.

Spark Mini Skirt
Ah, pockets!
Hypothetically, Sims need to store all of those books and selfies in their inventory somewhere!
In this case, the practical look of this short skirt makes it even better. With 15 swathes, there should be no shortage of opportunities to create brand new outfits.
24.

Brianite Sims
This is like many other designs we've seen, except one side is split.
That may not sound like much but it's actually an interesting spin on such a classic style.
You've got to love all the floral prints, too. Perfect for spring!
25.

Rex Skirt
The Sims 4 is by far the most diverse game of the series, and custom content reflects that.
With this skirt made specifically for masculine frames, pretty much all Sims can rock this style now.
The subtle pleated look is really amazing, and the 18 swatches cover a variety of patterns.
26.

Okara Skirt
Traditional prints become traditional for a reason, which is that they look really nice. It's that simple.
Okruee's damask pattern, as seen on many of this skirt's swatches, may be recognizable from wallpaper. But it's no doubt timeless, and suits the satin texture nicely.
27.

Sol Skirt
For something totally outside of the box, look no further. The asymmetrical cut of this one is incredibly chic. You can't deny the island vibes.
A wide range of hues make up the color palette, including everything from lilac to black.
28.

Frida Skirt
Beauty is in the eye of the beholder. And although PixelUnivairse says the Frida Skirt isn't perfect, it looks pretty darn close to me!
That flared shape is hard to beat, plus it's got a belt. Already, it's a must for Sims everywhere!
29.

Distressed Skirt
Neat Sims and players may be distressed over the frayed hem of this gorgeous denim.
Fortunately, there's a second version that's clean and flawless.
These are really a great length. Accessories like socks or tights will look awesome, whether you opt for classic blue shades or brighter colors.
30.

Base Game Skirt Overrides
The base game's maxi skirt might just be one of the best feminine clothing options.
It's super versatile, thanks to the flowy look and long length.
Well it just got even better, as did the shorter circle skirt! Both have been given multiple bold, brand new swatches.
31.

Simple Flare Skirt
Just look at that flared shape. So classy, so sassy.
This high-waisted fit and unique cloth texture make this an adorable addition to any Sim's wardrobe. The color palette has a wide range so whether muted neutrals or your thing or you prefer brighter shades, something here will suit you.
32.

Aretuza Skirt
Real clothes come in an endless amount of material types, but for Sims, it has to be a deliberate thing.
I can't be sure what Margosims' Aretuza Skirt is, but it sure looks like corduroy, and it's got vintage vibes.
You can easily modernize it thanks to the 45 swatches, though!
33.

Freezing Legs Pleated Skirts
Not all skirts are made to be worn year round.
Sometimes you just want something cute and short for the heck of it.
A pleated design is among the most popular styles around for such reasons. Although they are sometimes used as part of a uniform, they work as casual attire just as well.
34.

Spice Skirt
What goes around comes around, and that's especially true in regards to fashion trends.
The '90s are having a bit of a resurgence right now, so long skirts with a split side are definitely in.
It's been so long since they were last "in" that now they really look fresh.
35.

Daydream Skirt
One day, I bet belts will be a separate accessory that we can use at our leisure.
Until then, we must mostly rely on other Simmers to deliver.
Thankfully, we've got stuff like this stunningly stylish miniskirt with its simple black belt. Classic patterns like houndstooth and plaid are available.
36.

Louise Skirt
When all else fails, a strip of cloth will work as a belt, too. This adorable bow really akes the Louise Skirt stand out!
It's also got some awesome details with the texture and stitching, plus a few buttons. There's a lot going on, in a good way.
37.

Incheon Skirt Separated
As controversial as Kits may be, they really do have some good content.
But it can always be reinvented!
Cloudcat separated this long, cozy skirt from an outfit that came with Incheon Arrivals. Now it's BGC and a bottom in its own right.
38.

High-Rise Denim Skirts
The denim texture of these is absolutely fantastic. There's a realistic appearance to it that doesn't clash with that Maxis Match look we're all after.
It's a solid mini skirt option no doubt, but the colorful swatches branch out beyond your standard shades of blue, so it's even more special.
39.

Eleven Skirt
More denim? Always a yes.
But it's really the DIY look, with that super frayed and asymmetrical hem, that makes it one of the best skirts.
Dyoreos, the creator, even says it's good for any season and I totally agree. Some nice tights or knit socks will make it plenty warm for cooler weather!
40.

Suzy Skirt
Most of the options in this collection are on the longer side, so it's only right to finish with a little something for the mini skirt fans.
This is about as mini as it gets, and the bright colors make it even more fun. The height is also just right to pair with a huge range of tops.
Browse:
Lists
Maxis Match
The Sims 4
Video Games