Maxis Match Sleepwear & Pajamas CC For The Sims 4
This post may contain affiliate links. If you buy something we may get a small commission at no extra cost to you. (Learn more).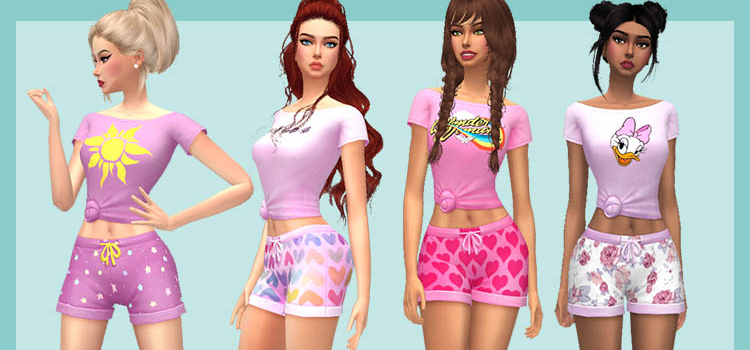 It genuinely amazes me how a lot of people put so much thought into what they're going to wear to bed.
Like seriously. Lingerie, pajamas, nightgowns, sleeping sets… there's a genuine demand for certain sleepwear styles in the market.
I can't explain it (since I barely understand it myself), but far be it from me to judge how other people choose to live.
Might as well ride the wave.
So for the fashion-conscious, fashion-forward, and fashion-initiated, I present you with custom Maxis Match sleepwear for the discerning Sim.
1.

Soft Dreams Recolor by simkath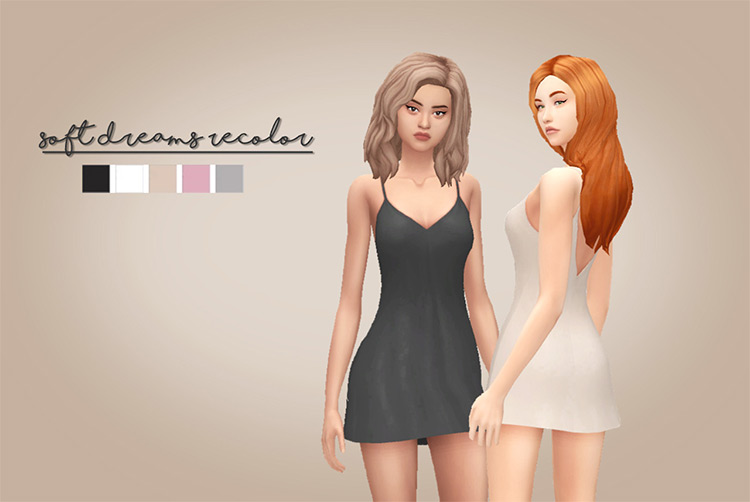 This is a recolor of Kiara Zurk's Soft Dreams sleepwear, and I personally find this color palette more appealing.
Just my personal opinion though! The original creator's sleepwear is just as gorgeous, I promise.
Simkath's recolor includes five solid color swatches that can all be described as soft, muted neutrals.
I love the pale pink swatch the most. In-game, it looks more like a dusty or dusky rose. Regardless, it works really well with the texture.
The design is also so pretty for something to simple. 10/10 recommend!
2.

Dreams Come True Pajama Shorts by Trillyke
For those nights that are just way too hot and stifling for pajama pants, here you go; some easy, breezy cotton shorts by Trillyke.
Soft, elastic, and available in 30 different swatches: twenty patterned and ten solid colors. The patterns range from loud and graphic to quiet pinstripes and checkered patterns.
Although specifically named "pajama" shorts, even the creator admits that these would work for most any situation.
Wear them to bed, wear them around the house, wear them for a quick trip to the convenience store… the designs are that versatile!
My personal favorites would be bright pink one (with the strawberry print—a classic) and the light cream one with the pink flowers and leaves (tropical enough for a beach trip!)
3.

Sleepwear Jumpsuits by ChloeMMM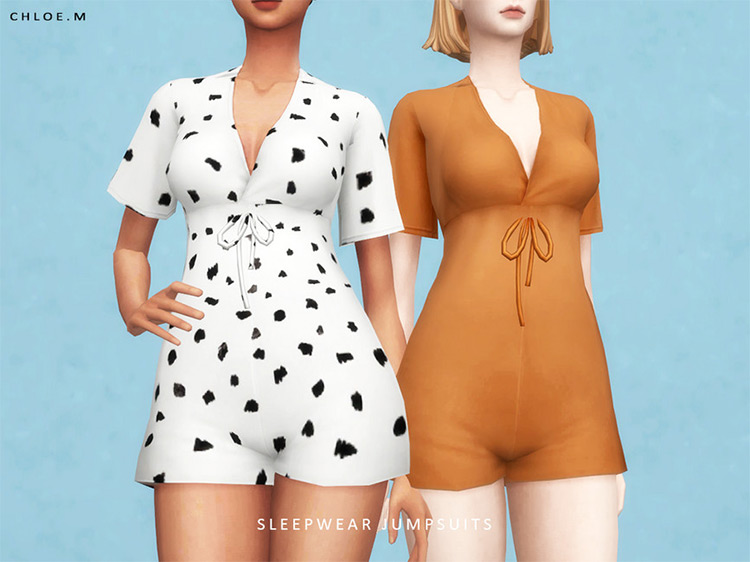 Although I have seen this style of sleepwear before, it's definitely something I've never tried.
I get anxiety when it comes to one-piece clothing items (because, seriously—how do you go to the bathroom?!)
But, since Sims don't have to worry about the stuff I do, I can confidently recommend these jumpsuit PJs by ChloeMMM.
Who says sleepwear can't be stylish?
Plus if your Sim (for some reason) were to go out in public wearing these jammies, they would look so put together.
4.

Silk PJs Irene by dgandy
Some Sims go to bed wearing threadbare shirts and ratty bottoms.
Some Sims go to bed in soft cotton and colorful satins.
Both options are totally fine, but if your Sim falls under the latter category? This gorgeous two-piece silk pajama set by dgandy is the way to go. It's got a cute cut to it, a delicate ribbon 'round the torso, and swirling lace trim.
Could it be any more luxurious? Didn't think so.
5.

Pajama Shirt by SLYD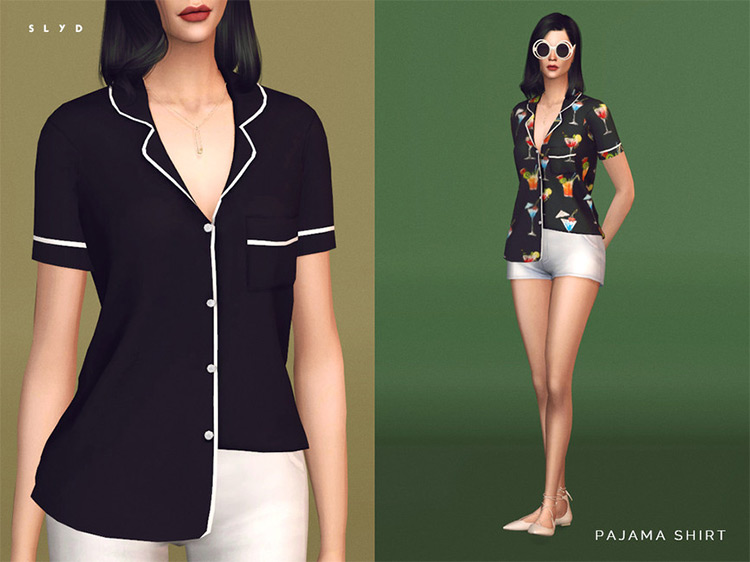 This is one of my favorite pajama picks on this list, and I think it's largely due to the personality.
I mean, the half-tucked look already gives off incredibly fashion-forward vibes. It's the kind of thing true fashionistas would do simply because it's creative, artistic, and avant-garde—and not because it's trendy or hot.
I'm also a big fan of "slouchy" outfits, so this one ticked all my visual appeal boxes. It's specifically named a "pajama" shirt, so this definitely works as something your Sim just threw on before they crawled into bed.
But as you can see with the preview photos, this could be used (and used well, might I add!) as a casual, everyday outfit when paired with denim mom pants or wide-legged culottes.
Pretty freaking versatile!
6.

Sweet Dreams Nightdress by Simwolf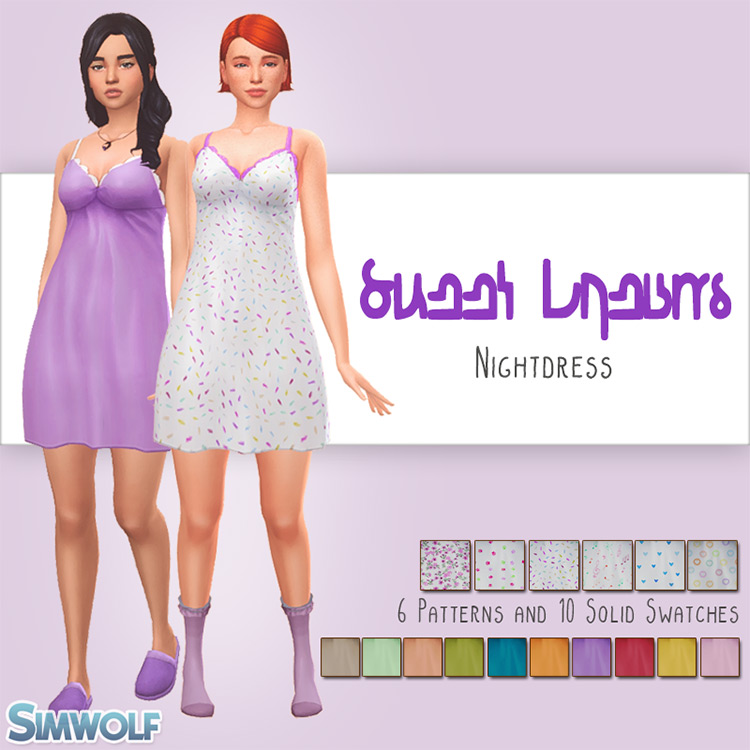 According to the creator, this Sweet Dreams nightdress is a custom sleepwear option that's just a little longer and a little cuter than the base game ones.
I have to agree—especially with the second statement. I'm not too chuffed with the length, but the base game designs could definitely use a revamp.
Enter Simwolf's pretty pink nightie (or purple, or peach, or printed).
It comes with six sweet patterns and ten solid color swatches, for a total of sixteen variations.
The solids are definitely more on the vibrant and pastel side. Meanwhile, the patterns are all small, repeating prints that remind me strongly of candy and gumdrops.
I guess that's pretty on-brand, given the name of the CC.
7.

Pajama Jacket by ChloeMMM
Are you seeing this jacket?
No seriously, are you seeing this?
I know some people prefer to sleep in style, but this is something else. This is next level. People who wear this to sleep are probably more put together than I could ever hope to be, and I am simultaneously awed and ashamed.
This sleeping outfit is trendier than most chic everyday outfits I see. TS4 base game could never.
There are fourteen swatches for this fashionable pajama jacket, and you can find it under Gloves in the Body Accessories category.
8.

Pajama Party Collection by Saurus
I love custom content variety packs.
I like that you can get multiple items from one download. I also enjoy sifting through the items and choosing which ones I want to install.
And let's be real: the fact that they're free is a sweet, sweet bonus.
This Pajama Party Collection pack by Saurus is an awesome example of a total hit for me. Let's start with all the items being Maxis Match—my preferred texture. Already a win.
But then you look at the designs and, damn. They're all beautiful and distinct.
Like, the Boyfriend Shirt/Dress looks nothing like the XL T-Shirt Outfit. The Sweet Dreams Outfit is a far, far cry from the Daydreams Top and the Jammie Shorts.
Talk about variety!
If one of the sleepwear options doesn't tickle your fancy, just slide on over to the next one.
All four have well over twenty color/print options, and they're all base-game compatible. No separate meshes needed.
9.

P!ATD Pajama Pants by loricsimmer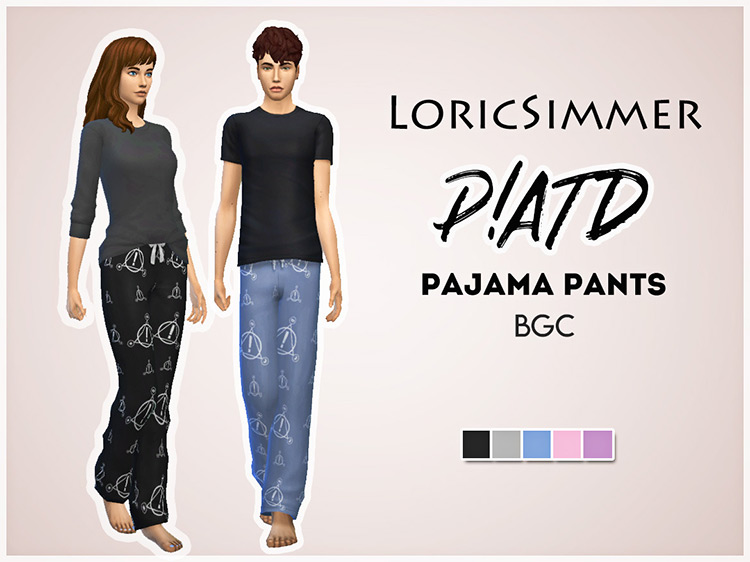 Calling my fellow P!ATD pals.
Even if you can't secure any Panic! At the Disco merch, doesn't mean your Sims can't either.
Loricsimmer made some very fetching Maxis Match pajama pants with the P!ATD logo on it, and it's strangely endearing. As endearing as pajama pants can be, anyway.
They're loose, they're baggy, and they look like soft, comfortable cotton.
Plus they advertise one of the best bands of this generation. What's not to like?
10.

Trillyke Moonwalk Pajama Pants
Want a bit of fluff and frills on your sleepwear?
How about some cute, dainty ruffles 'round the edges?
Trillyke's Moonwalk Pajama Pants are simple and straightforward bottoms that could be paired with any random top (be it the pajama top featured in the preview photos or any other sleep shirt in your download folder).
The texture makes me think of a stiff cotton or flannel—minus the stereotypical checkered flannel pattern, of course!
Speaking of patterns, these pajama pants have fifteen different style swatches.
No prints per se, but there are some pretty solid color choices in there.
11.

Poppy and Jasmine Sleepwear by kumikya
There are two styles of sleepwear in this download.
Both are loose, casual pullovers that look like they're extremely easy to slip on and off.
The mesh also makes them look like they're made of the softest, most comforting cotton, which is a vibe I personally advocate for.
Poppy in particular looks like something right out of my closet. It's just an oversized plain tee. No fuss, no muss, no frills.
Jasmine has more of a "boho beach girl" vibe to it, what with the woven panels on the chest and the embroidered buttons.
Both can be used for everyday wear and sleepwear (as per usual), but the creator also thought to tag them for Hot Weather wear. Which, yeah.
Given their design, the tag makes a lot of sense.
12.

Sweet Sim Dreams PJ Set by sondescent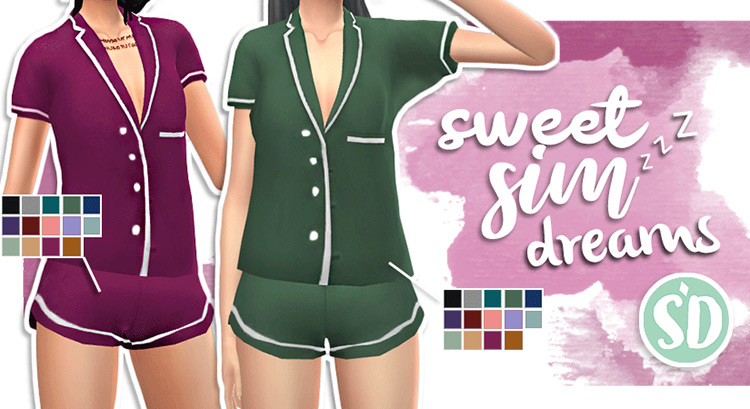 Classic pajama shirt meets casual cotton sleeping shorts.
Who says pajama bottoms can only be pants? Lots of people wear shorts as jammies, and your Sim need not be an exception.
This whole outfit (top plus shorts) makes your Sim look so put together, in a chill laid-back sort of way. Definitely recommend for summer slumber.
And if only the shirt or the shorts caught your attention, no worries; they're separate clothing items that can be paired with other CAS stuff (CC or otherwise).
13.

Basegame PJ Pants by Beth Sims
I have to agree with the creator on this one: the base game clothing items genuinely do not come with a lot of color options.
Like, you'd expect a little more color variety considering they took Create a Style away.
But this is just me venting.
At least recolors from creators like Beth Sims exist.
This download will take your base game pajama pants from a paltry handful of color options to a whopping 55 swatches (including WildlyMiniatureSandwich's Neutral and Unnatural palettes).
There's nothing wrong with the base game TS4 items, honestly.
Simmers just need more color and style choices.
It gets boring when colors get too repetitive, you know?
14.

Sims 4 Sleepwear Set by MiCat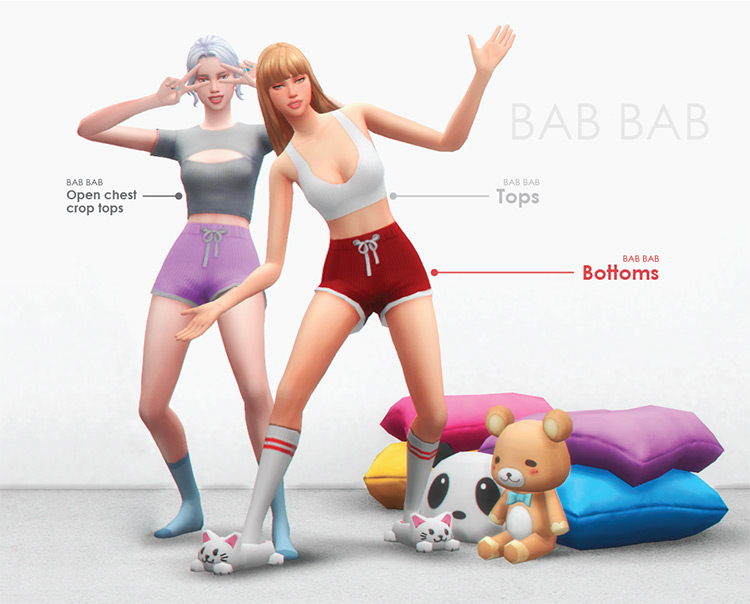 First of all, the pajama top's pretty interesting in general – especially as a sleepwear choice.
And I know you know which one I'm talking about. Most people I know prefer to crawl into bed wearing something loose and breathable, so the form-fitting, body-con, chest-window sort of situation is pretty new to me.
That doesn't detract from the design, of course. The Bab Bab Open Chest Crop Tops design is honestly a look! It's got the "casual yet cool" vibe down pat. And it helps that most of the colors it's available in are light pastels and soft saturated swatches.
This is true for the Bab Bab Tops and Bab Bab Bottoms as well, so you can create a completely matching sleepwear set even though the items are separate.
15.

Pajamas Bottom Pack by nekros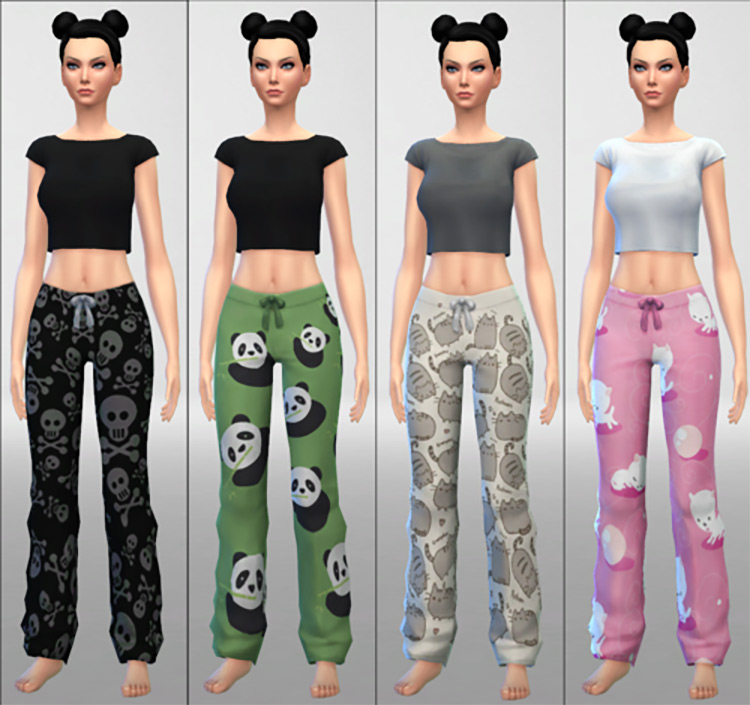 There are only four swatches for these base-game compatible jammies.
And as far as design or texture goes, they do look like the default base game pajama bottoms.
So why am I including it in the list?
Two reasons: panda prints and Pusheen.
I feel like that's enough of an explanation. I would buy the Pusheen pajamas if I could, and you can bet your watch I'd wear them around the house all day, every day.
16.

Edwardian Men's Underwear & Nightwear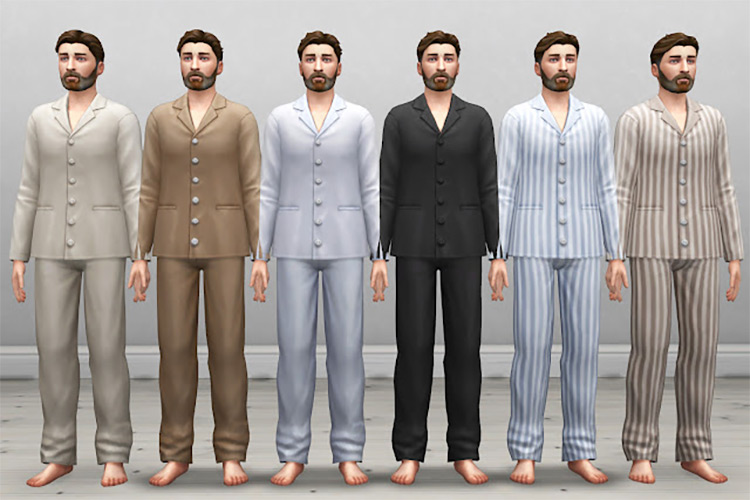 I bet you thought I forgot about the men.
Believe you me, I did not.
Unfortunately, there just aren't as many custom options for Male Sims models as there are for Females (yet). Don't worry, though; the Sims CC community is doing much better than the Sims team in terms of inclusivity.
But I digress. This distinctive sleepwear pack by historicalsimslife gives us three new outfits for Male frames. And all three outfits are stylishly dated.
The creator's name alone should be enough to explain why they chose to release old-fashioned pajama sets. For those who love classic vintage and old-timey renaissance/Victorian outfits, this one's for you.
The download link leads to the creator's directory, so don't be surprised when you see a lot of files. Just ctrl + f (or cmd + f, for Mac users) and type in "Edwardian." You'll get what you're looking for.
But just in case you don't, here are the simfileshare links for the nightgown, the pajamas, and the underwear.
17.

Pillow Fight by GoodChillsStudio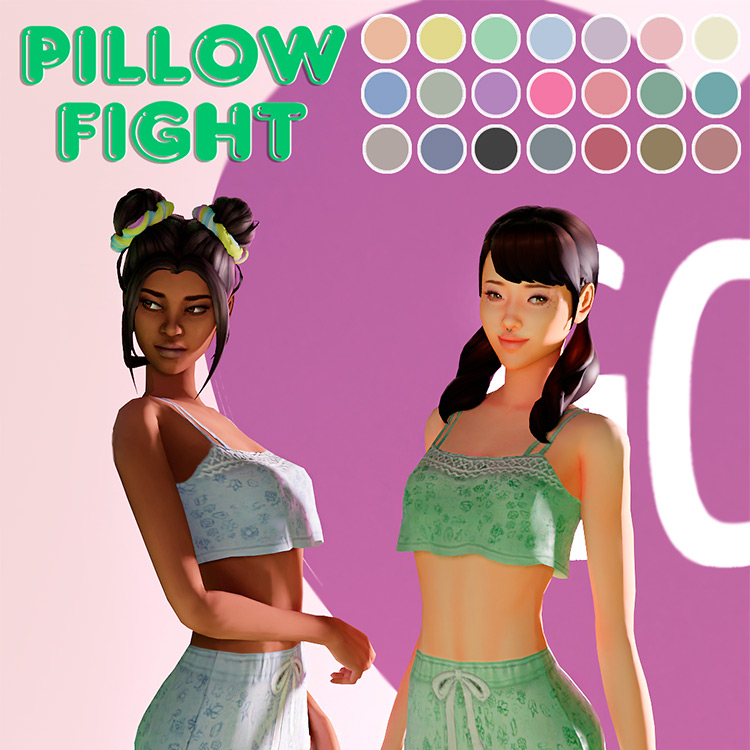 How about a pajama set that's equal parts sweet and saucy, cute but still kinda coy?
GoodChillsStudio's Pillow Fight sleepwear set toes the line between those descriptors by pairing some short, lacy shorts with a teeny, spaghetti-strap cropped top edged in lace and ribbons.
It's a weird dichotomy that oddly works, and I'm pretty darn impressed by how well the creator pulled it off.
There are 21 swatches for tops and 21 swatches for the bottoms.
Mix and match is possible, but I think it'd be a crying shame to separate the pieces in this set considering how cute they are together.
18.

Cami PJs Shorts by Nords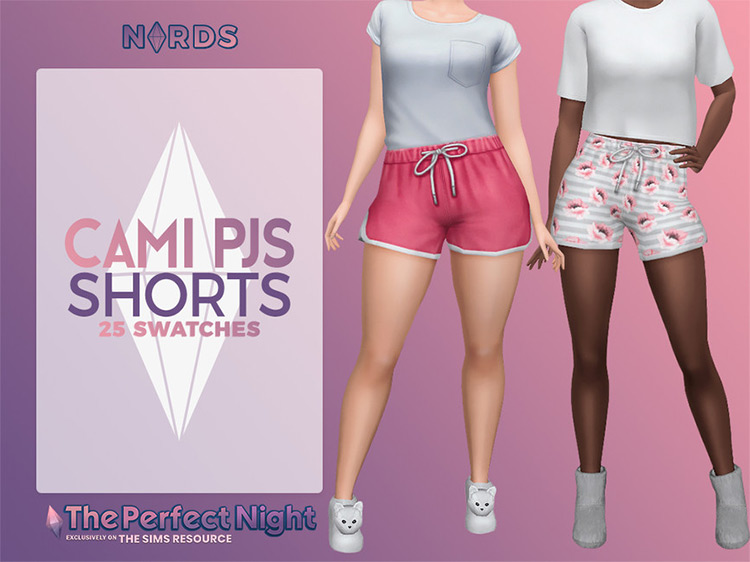 When the night's hot and stifling, ditch the flannel pajamas and fuzzy bathrobes. You'll feel much better in a pair of cotton-soft, silky smooth sleeping shorts. They're not the pinnacle of luxury, but they're cute and comfy as heck.
Plus they pair with basically anything.
Lacy white sleep top, oversized shirt, ratty tank, cropped cotton tee … they'll work quite nicely with any of the short's 25 swatches (ten solids and fifteen patterns).
I'm going to take the opportunity to recommend the unicorns-in-donuts pattern. Had a lot of fun with that one!
19.

Urban Basegame Recolor Pajamas by Urban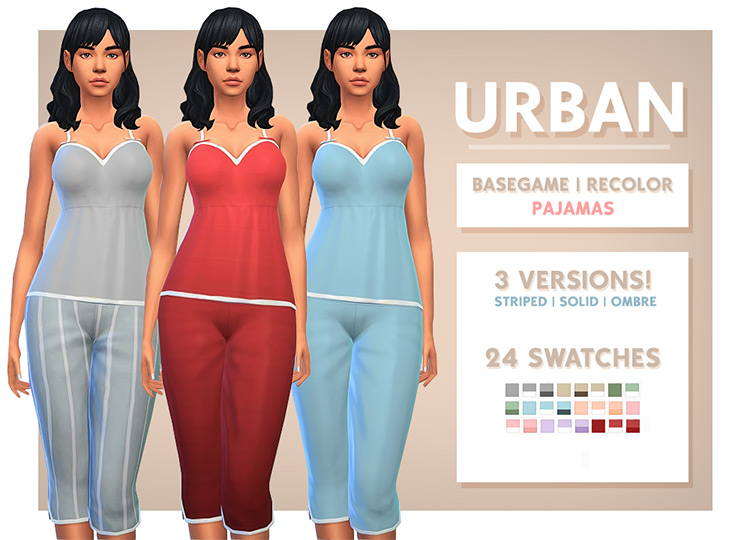 The gradient coloring of this set really threw me off for a minute, but in the best way.
I mean, this kind of coloring is pretty unusual for Maxis Match items – especially since the texture is often emphasized with solid, saturated colors (to match the clayified, cartoon-ish look). So I was intrigued.
Good thing the pajamas look excellent in the game.
Plenty of pretty colors to pick from (24 swatches to be specific), and I'm a big fan of the white-pinstriped variations for the pajama bottoms.
20.

Sandwich Jammies (Simblreen 2017) by WildlyMiniatureSandwich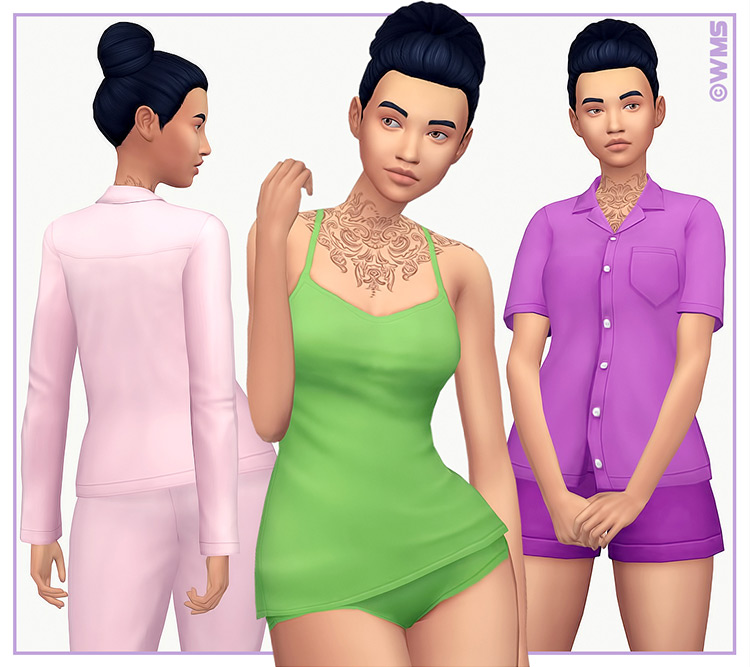 Ending this list with another variety pack of some fun nightly essentials from WildlyMiniatureSandwich.
And if the name wasn't enough to hook you (as it did me), maybe the preview photos will.
Look at how nice and practical these sets are. And you get them all in one download!
To start, choose between tank tops, short-sleeved button tops, and long-sleeved jammies. Then match them with a dependable pair of undies, breathable sleeping shorts, or cozy pajama pants.
And as a fun little bonus, the creator even threw in a pair of puffy bedroom slippers.
How cute? Very.
Absolutely love this pack, and I'm confident you will too.
Browse:
Lists
Maxis Match
The Sims 4
Video Games