Sims 4 Maxis Match Socks CC (Male + Female)
This post may contain affiliate links. If you buy something we may get a small commission at no extra cost to you. (Learn more).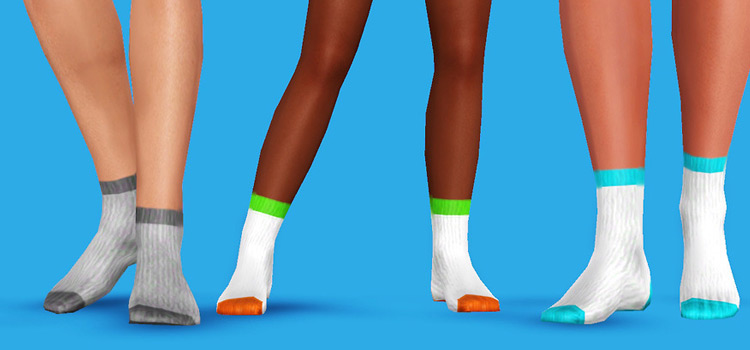 As a kid, I was always disappointed when I was gifted socks.
No matter how pink, pearly, pretty, or frilly the pair, socks (and stockings!) as a present was always a major disappointment.
Now, as an adult, socks are a godsend.
I'd go so far as to say they're my love language. If I give you a pair of socks, it means I care enough about you to keep your feet warm.
And with that weird anecdote out of the way, let's check out some custom Maxis Match socks for your Sims!
1.

Complimentary: A Set of Accessories by honeycuts
Starting this list off with not one, not two, but three custom socks from one cool CC pack.
Honeycuts' Velvet Socks, Silk Socks, and Eye Socks are all high-quality outfit accessories for your Sims.
And they're all Maxis match.
If you want plain, solid colors, go for the Velvet socks.
If patterns and graphics are more your speed, the Silk Socks has twelve options and the Eye Socks has eight!
2.

Stompy Shoes + Socks by casteru
Sneakers, chunky sneakers, and striped socks.
It's a classic matchup that suits any casual-Friday dress code.
But if you're just after the cute stripey socks by casteru, you're in luck. Everything can be downloaded individually.
3.

GTW Thigh High Recolors by moon-craters
Thigh-high socks are the epitome of fashionable and functional.
They pair perfectly with virtually all skater skirts, midi-rompers, and short-shorts.
Need a pop of color, a cute – but simple – accessory, or some extra warmth for your freezing toes? Thigh-highs. They're the way to go.
This recolor by moon-craters adds 27 new color options.
4.

Knee High Recolors by moon-craters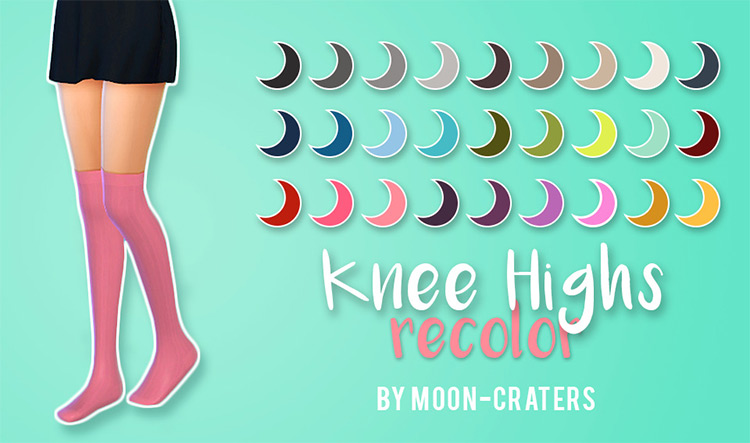 They're not as versatile as thigh-highs, but knee-high socks are still very much a crowd favorite.
They're cool, they're comfy, and they provide a bit more wiggle-room. As is the case with the creator's GTW Thigh High recolor, this recolor also adds 27 fun bubblegum-fresh colors to the original palette.
5.

Colorfully Socks by AdrienPastel
Think mismatched socks are really cute?
Why not take the asymmetry one step further by having your Sim wear two socks that are different colors and different heights?
What's it to the community if your Sim decides to pair a sunflower yellow ankle sock with a knee-high sock in sky-blue? I certainly don't mind.
6.

Knee Socks by bookwork sims
You know how you have multiple pairs of the exact same socks? Like, the kind you buy in a pack of three at your local drugstore or shopping mart?
That's what these knee socks from bookwork sims are; same style, same design, same brand.
The only way to tell them apart? The color.
7.

Domino Socks by AdrasteaMoon
Here are some cute patterned socks to keep your Sims' toes nice, warm, and whimsical.
Colorful little blossoms, argyle-like stripes, little celestial graphics, watercolor plants… the scope of the designs is quite impressive!
8.

Lil' Bit Longer Socks by lilyph
For when your Sim needs their socks to be just a little bit taller than high-tops and high-cut boots.
These cozy, custom accessories by lilyph come in seven safe, neutral colors.
And, true to their name, they're just a "little bit longer" than most of the base game socks.
9.

Pastel Patterned Overknees by shelovespolkadots
For Sims who love patterns and pastels, here are some colorfully loud over-the-knee options to spice up their sock drawer.
Because why wear white, grey, or black socks when you've got literally the whole rainbow – and then some – to choose from? They're cute, they're quirky, and they still look pretty cozy.
10.

Pastel Patterned Knee Socks by shelovespolkadots
Basically a remix of the previous item (Pastel Patterned Overknees), only shorter and more varied.
These come in twenty designs, and they are every bit as vibrant and colorful as their higher-than-the-knees counterparts.
11.

Aesthetic Socks by makesims
This CC definitely looks like the kind of subtle minimalist ankle socks that Tumblr girls (or I guess Sims?) would wear for a lounging-at-home photoshoot.
So I guess, in that respect, makesims nailed the concept.
These are, indeed, aesthetic socks that one would find on Tumblr.
12.

Simple Cozy Socks by nativemoonlight
Can't get any clearer than the name itself.
This CC is a pair of plain, thick, knee-high socks that come in 24 solid colors.
They're simple, they're sturdy, and they look great paired with all sorts of footwear. Yeah, even slides!
13.

Get Famous Socks Recolor by alexaarr
I, too, am an avid fan of (most of) the accessories that came with the Get Famous pack.
These calf-length socks are a cute and easy way to accessorize outfits with shorts, A-line skirts, and skater skirts.
And now, thanks to creator alexaarr, they come in more colors. 75, to be exact!
14.

Chunky Socks by Bellassims
Now these are my kind of socks.
I get cold easily so socks that are thick, chunky, and look like they could roast my frostbitten toes back to life are a win in my book.
If your Sims feel the same way, these custom socks by Bellassims are too cute to pass up. They've even got that cable-knit-sweater design thing!
15.

Falling Leaves Socks by cloudcat
For Sims (and Simmers!) who love seasonal lookbooks, here's something suitably autumnal.
These pretty (and pretty simple) Falling Leaves socks come in thirteen colors with corresponding plaid patterns overlaid.
They give off major argyle sweater/sweater-vest vibes, only in sock form.
16.

Pride Socks by AdrienPastel
Whether you and your Sim are part of the movement or you're simply supportive of it (vocally or otherwise), these rainbow socks by AdrienPastel would make a great addition to your CAS closet.
They come in five multicolored variations and look great both in CAS and in-game.
17.

Socks (3D) by kismetsims
Frilly socks, crew socks, and cuffed socks.
Pick whichever one suits your Sim's footwear the best and call it day.
I agree with the creator here: 3D socks look excellent in Maxis Match textures.
And I love the convenience of having all three socks available for individual download from one page.
18.

WDWEHTP – Kismet-Sims 3D Socks by chimaerae
Apparently, kismetsims's 3D socks also look great in a Disney palette.
36 new colors for the frilly, crew, and cuffed socks, courtesy of chimaerae.
I really like how the greens of this palette look in-game, which is why I'm giving this recolor its own item.
19.

BunBun Stockings by cloudcat
Even if you ignore how hopelessly adorable this entire CC set is (look at that dress and tell me you're d'awwing), these custom BunBun stockings are still an excellent find.
The design is unique enough – and comes in enough colors – to spice up most any plain, boring outfit.
The name may say "stockings," but I know thigh-high socks when I see them.
20.

Sweet Socks Set by Saurus
Saurus's Sweet Socks Set is perhaps the most popular Maxis Match socks set in the TS4 CC community.
Aside from the fact that they're almost always recommended, a lot of CC socks in MM textures are simply recolors of the Sugar and Sweetener bundles.
It's fairly easy to see why this is the case, though. Just look at the preview photos.
Those are some of the sweetest, prettiest, and most aesthetically pleasing socks to have ever graced my CAS gallery.
To tell them apart: Sugar socks come in patterns and have cute animal faces on the feet. Sweetener socks come in solid candy colors.
21.

Striped Thigh High Pride Socks by MonoChaos
Here's a CC pack in line with AdrienPastel's Pride Socks.
If you want to make a statement, say it with practical accessories!
22.

Essential Socks (BGC) by CreamLatteDream
If the creator says these ankle socks with fun, fresh, and graphical patterns are essential, who am I to argue? In fact, I agree!
I think everyone should own a pair of pumpkin-patterned socks at least once in their life.
23.

Midday Socks Updated by kumikya
These Midday Socks (still from kumikya) can be categorized as simple closet staples.
Hey; not every Sim collects novelty socks, okay?
If their sock drawer is full of practical tube socks in single, solid colors, who are we to judge them?
24.

Too-High Socks by pleyita
This CC CAS set is actually a personal favorite of mine.
I use the Female Varsity Jacket and the Vintage Shorts for my Sims's Athletic Wear all the time.
But in the context of this article, check out the Too-High Socks. They have a slight ribbed pattern, iconic athletic stripes, and they work for both Male and Female frames.
If you want some vintage 90s accessories, these tube socks are it!
Also, I beg to disagree with the name. I think these socks are at the perfect height.
25.

Imadako Bobby Socks Recolors by shuu
These socks are similar in design to kismetsims's Cuffed 3D Socks.
They're thick, plain, and hit right around the middle of the calf and ankle. They also have that distinctly thick lining around the top that gives the illusion that the socks were rolled down.
If you still can't find a color you like from the original mesh's nine colors plus – and the 36 colors from chimaerae's WDWEHTP palette recolor – then maybe it's in this one.
After all, this recolor has 42 swatches.
26.

Arctic Socks by bubble-fluff
Some elegant above-the-knee socks to highlight your Sims' long legs and dainty ankles.
I don't know if it's due to the Maxis Match texture or the socks' slightly ribbed design, but these look excellent on slender calves.
27.

Kumikya Socks Recolor by Miss Ruby Bird
We've had a slew of simple and solid-colored socks for the past few items, so let's bring back the patterns!
Miss Ruby Bird's recolor of kumikya's Socks (not kidding; that's the name of the CC item) give us a whimsically vibrant palette of fresh patterns.
Watercolor palm trees, pop-art of citrus fruits, and bright yellow bananas on a baby blue background.
I don't collect novelty socks, but for these? I'd be willing to bend my own rules.
28.

Snuggly Socks by sondescent
I love the length, I love the aesthetic (makes me think of a rainy afternoon in London, and I'm not sure why), and above all, I love the name.
The name alone was enough to get me to download these socks.
But if you need a more practical reason, I will say that they provide great color balance to bright and/or white outfits.
29.

Bow Socks 01 by Jius-sims
For those times that you need to make a statement via leg accessories. Hey; you never know.
Plus, I love the tiny bows.
They make for adorable accents.
Personally, these socks aren't my style. But I do recommend them for fashion-forward Sims who love to experiment.
30.

Crazy Gal Short Socks by nativemoonlight
Honestly, I'm a big fan of candy stripes on clothing.
Fluffy sweaters that look like candy-canes and rainbow-striped arm warmers are my jam (even if I don't wear them often).
These ankle socks by nativemoonlight are, for me, the perfect balance of colorful-but-practical patterns. It's okay if they're visible, but hiding them doesn't defeat the purpose of their design either (unlike graphic and novelty socks).
31.

Too Cool to Match My Socks + Too Cool to Wear a Sock by remiiry
What I've gathered from this set is
Mismatched socks can be strangely aesthetic, and
Sometimes, Sims are too cool to wear both socks
Sometimes you just can't be bothered, you know?
All jokes aside, these custom socks definitely stand out.
And in the case of the Too Cool to Wear a Sock set, it spins an interesting narrative—in the sense that you kinda wanna know why they forgot the other sock.
32.

The Perfect Night – Cold Feet Socks by Nords
Cool striped socks with slight ribbing around the tops. Helps prevent socks from rolling down, or so I heard.
This basic simple set has an athletic(ish) vibe and comes in twenty solid-colored swatches.
33.

Prism Socks by Trillyke
I love it when socks have different colored toes and heels.
It gives them a little something extra without necessarily needing prints or patterns.
And with these socks, the line of pearls around the edge makes it extra sparkly.
34.

Rainbow Sockies by sondescent
The creator's notes for these socks start with: "they're only simple, but I really like them!"
Believe you me, I'm on the same boat.
Like I mentioned earlier, I don't really collect novelty socks. I'm pretty basic that way.
35.

Wool Leggings + Knit Socks by plumbjam
Honestly, plumbjam had me at "warm" and "cozy."
These look like the perfect accessories for sweater weather.
The leggings especially look like they ought to be paired with a thick, oversized hoodie.
The knit socks, on the other hand, are nice, practical, and look like they could definitely keep your Sim's feet toasty.
Browse:
Lists
Maxis Match
The Sims 4
Video Games