Sims 4 Maxis Match Spring Clothes CC (Guys + Girls)
This post may contain affiliate links. If you buy something we may get a small commission at no extra cost to you. (Learn more).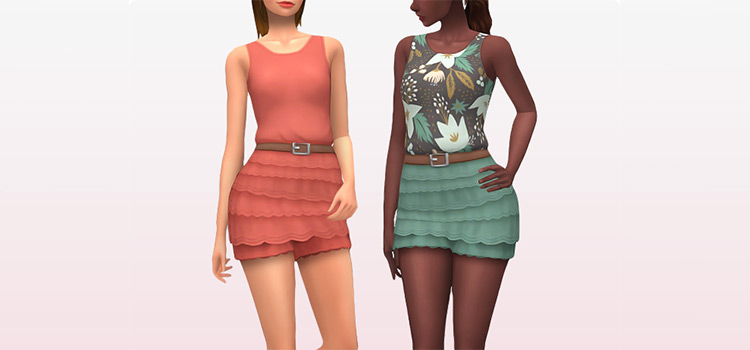 Spring can sometimes feel magical.
Love is in the air, so a Sim has gotta look their best.
This transitional time of year has so much about it that's pleasant. Soft colors, pretty patterns, and lots of ways to create brand new looks are all right here.
1.

Mr & Mrs Spring Set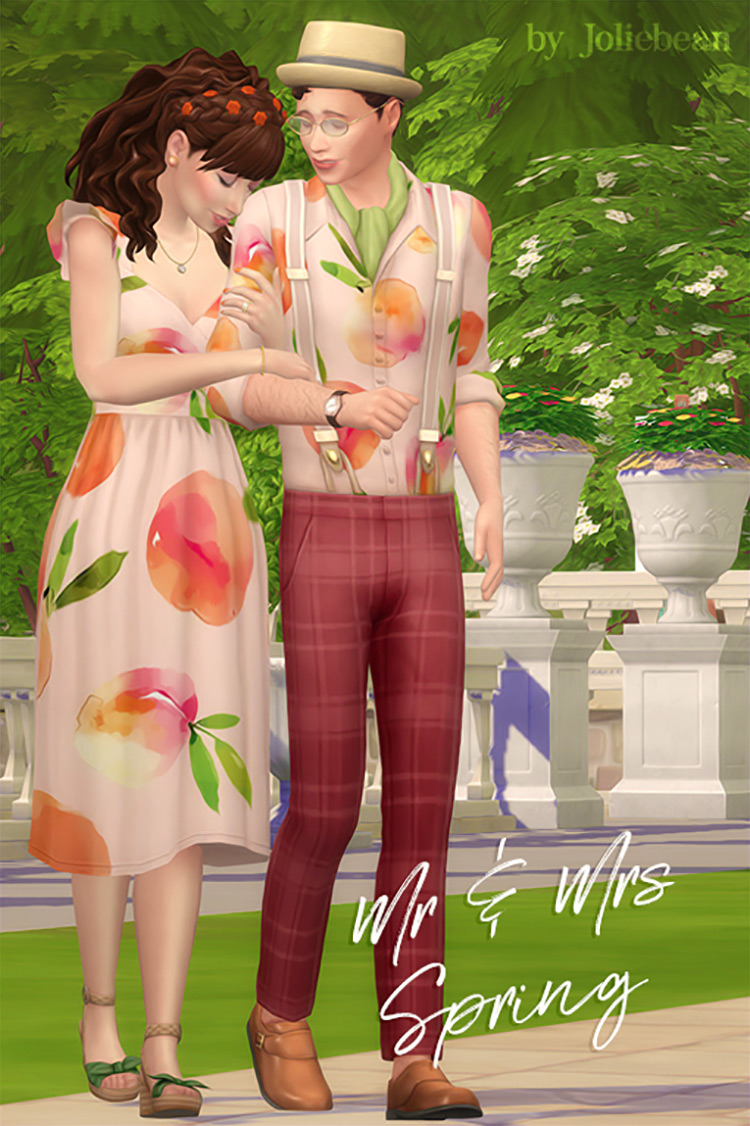 Matching outfits already make me feral, and I know I'm not the only Simmer that feels that way.
This CC set is among the best for couples.
You can't beat suspenders if you want a guy to look handsome, and the dress is equally wonderful with its wrap design and ruffle sleeves.
2.

Papillon Dress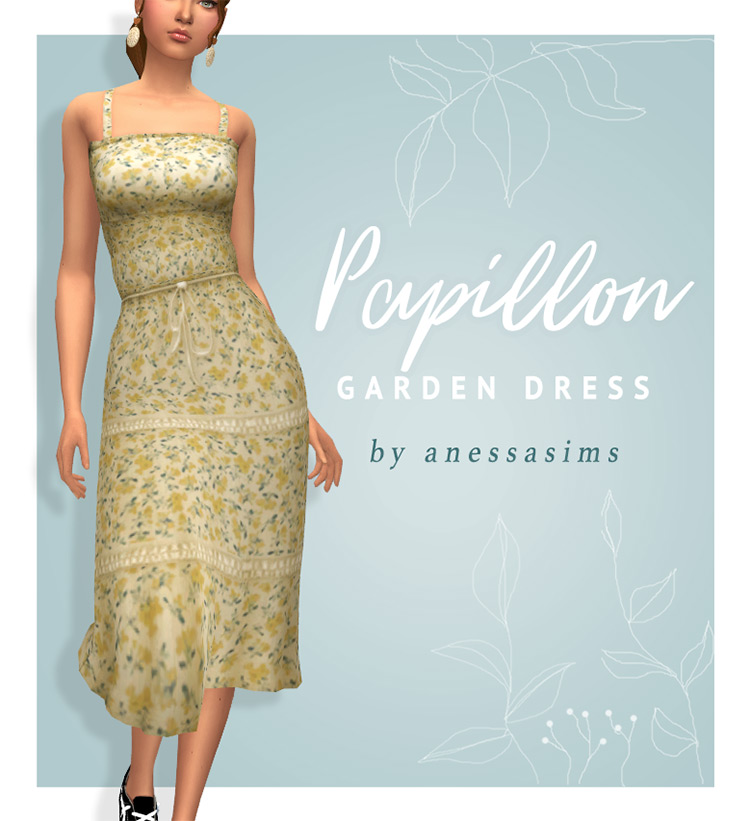 In most climates, spring is as neutral as it gets in terms of weather and temperatures. So there's no better time to wear something light and airy, such as the pretty and casual Papillon Dress.
Everything about it is so lovely and feminine, from the swatches to the cinched middle.
3.

Raindrop Coat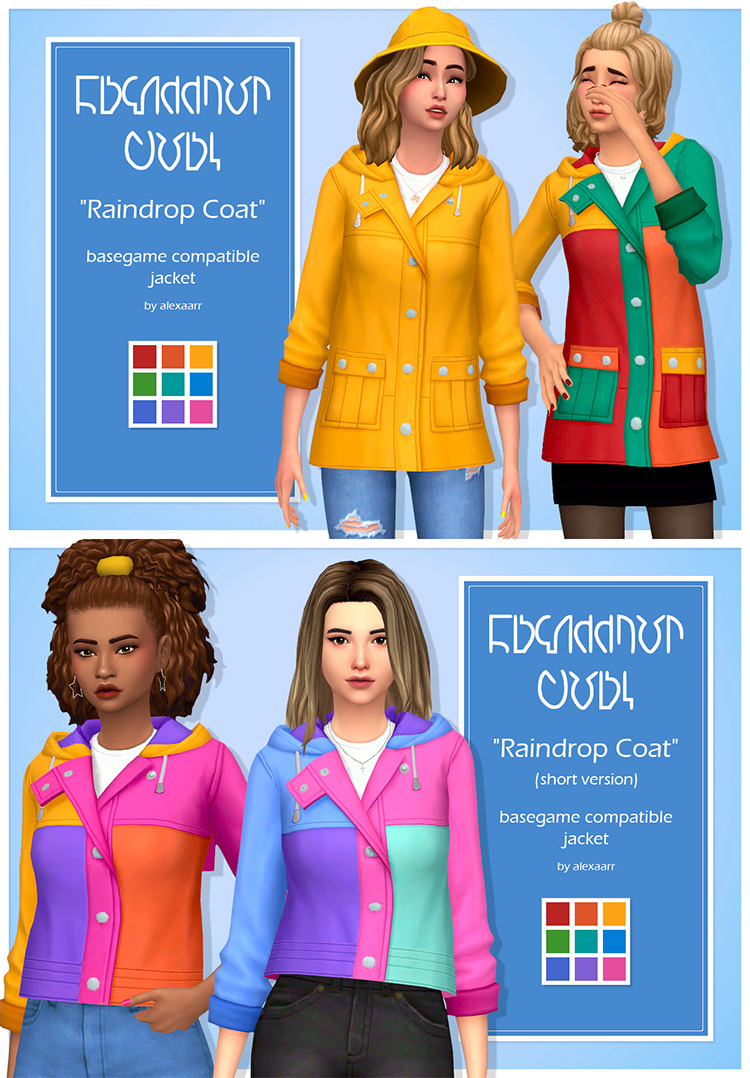 Whether you opt for the long or short version, this raincoat is a gamechanger.
It's cute, bright, and practical, too.
What more could a Simmer want!?
Well, the answer to that is always "swatches" so there are 30 total. Most are packed with color, and lots of different ones.
4.

Leapin' Layers Shirt
A few extra layers can't hurt during this time of year. You never know when the winter chill will decide to rear its head again for a day or two.
RenoraSims' stylish top features partially rolled up sleeves and a tee beneath. Jeans, khakis, and cargos alike will all go with it nicely.
5.

Plaid Shirt Button Open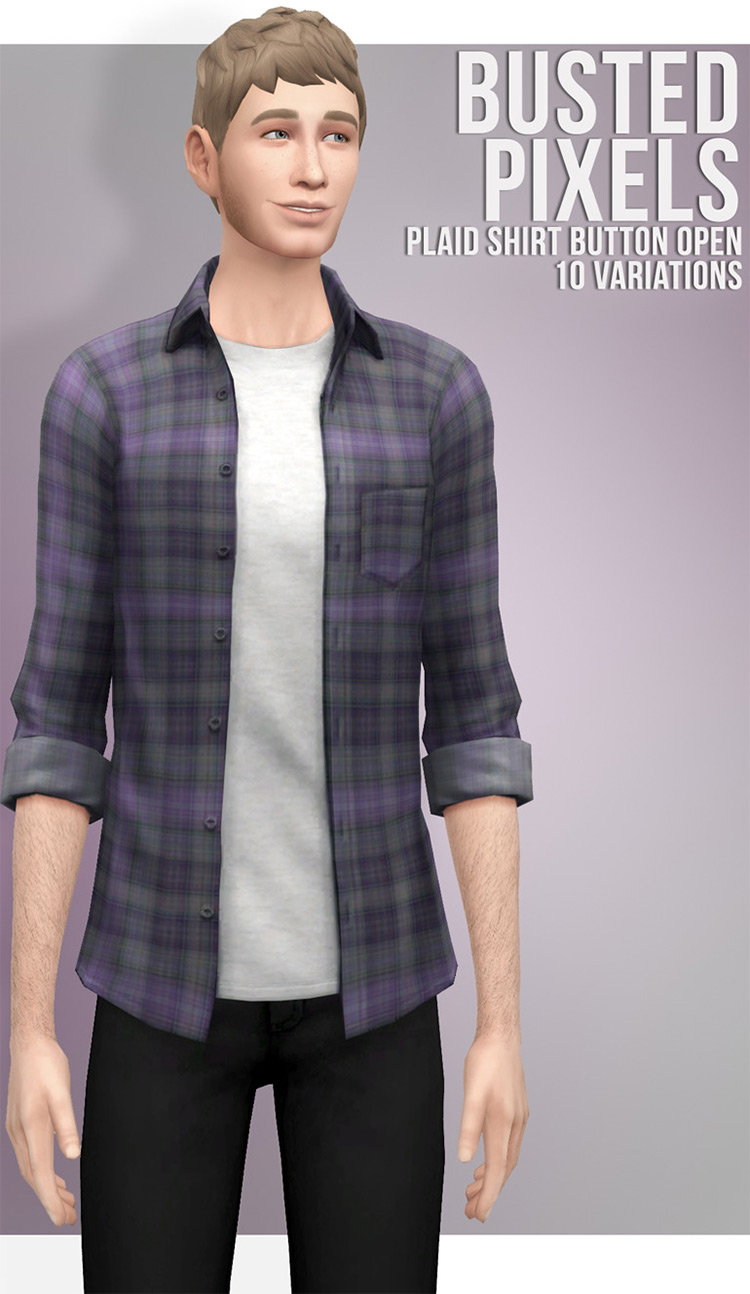 A plaid, opened button up is a classic casual piece for men, and for good reason.
Just look at these 10 variations, and how each one is like a whole brand new, standalone top.
It's an undeniably modern look that's probably gonna be popular forever, so it's a solid addition to CAS.
6.

Spring Blouse
Flowers are a key player in the spring look, whether we're talking about real ones in a garden, or gorgeous patterns on clothes.
They are really what seals this as something very fitting for this season. The deep v-neck and long sleeves balance each other out nicely.
7.

Spring Fever CC Pack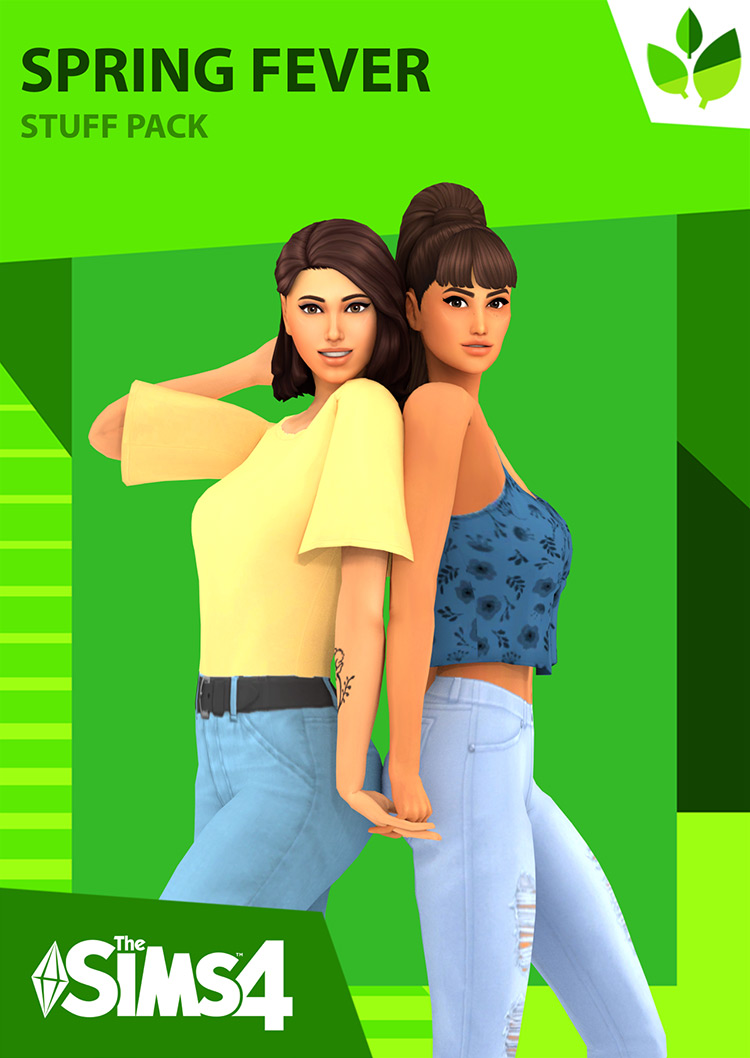 Season-specific vibes were deliberately put into this collection.
The high-waisted jeans and two new tops are already very stylish, but the hairstyles are a particularly nice touch.
One is a thick high ponytail and the second style is wavy bob. Both are super original, and downright excellent!
8.

Morgan Wrap Dress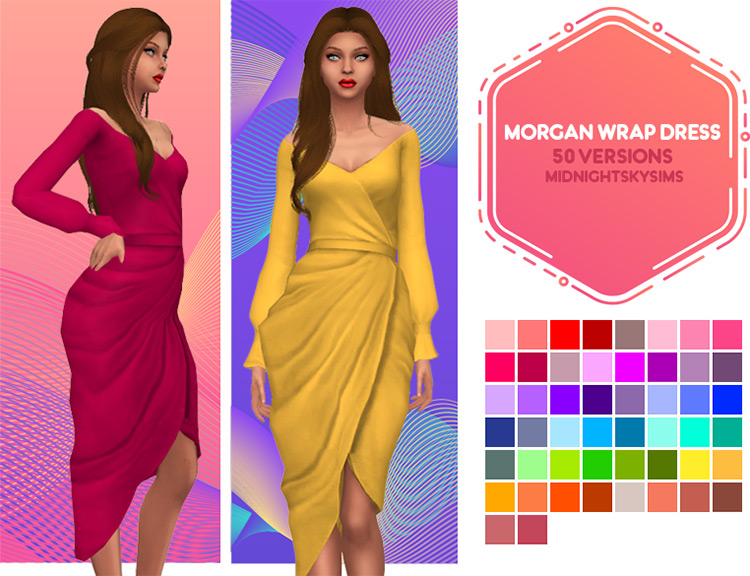 It's just not spring without some fun outdoor events, and your Sims will need the perfect dress to wear to them.
With 50 swatches, you'll be all set.
From birthday parties to barbecues, this elegant wrap dress has the right look.
9.

Jaina Top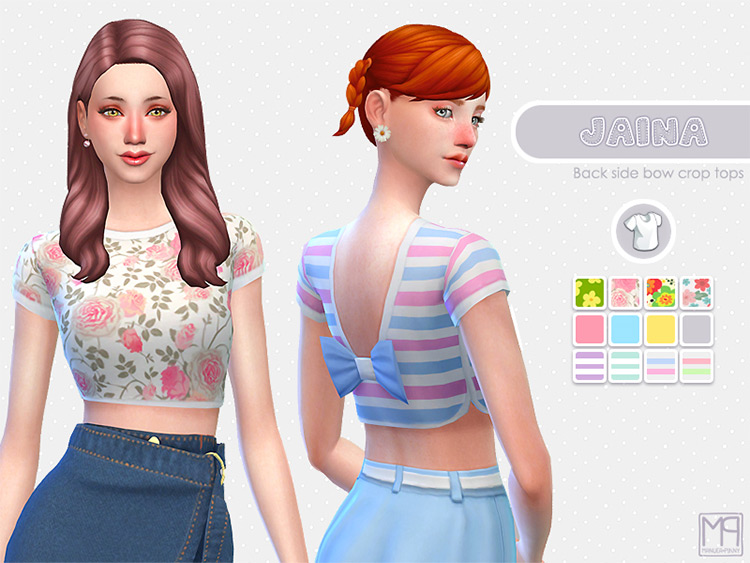 Floral patterns, pastel stripes, and a bow on the back make the Jaina Top one of the cutest things out there, hands down.
I mean, there's just nothing not to like.
And the real kicker is that it's a crop top, so it's right in line with what's really in fashion at the moment.
10.

Giselle Jumpsuit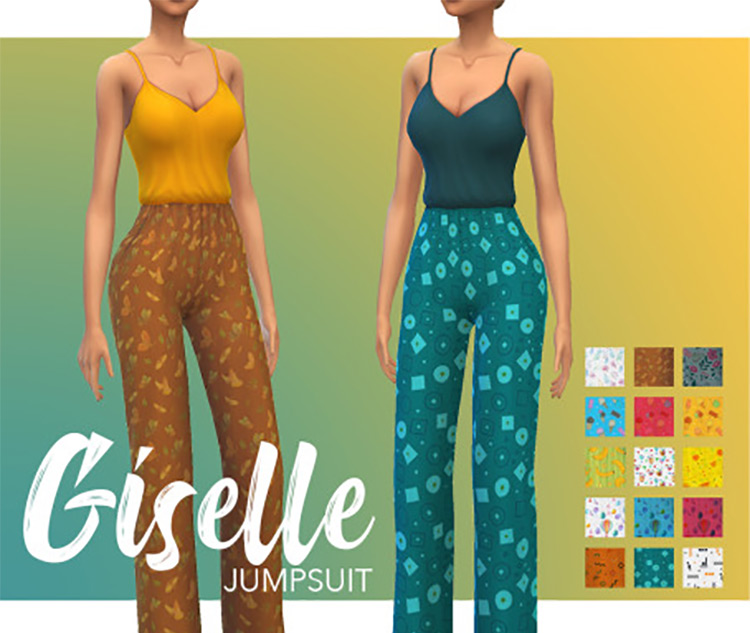 On the other hand… jumpsuits bring a "throwback" feel to The Sims 4.
They might not be experiencing their heyday like cropped tops, but they're still pretty snazzy.
This base game one is practically brand new thanks to Simsadilly's recolors.These shades provide us with a much needed upgrade.
11.

Base Game Polo Shirt Recolors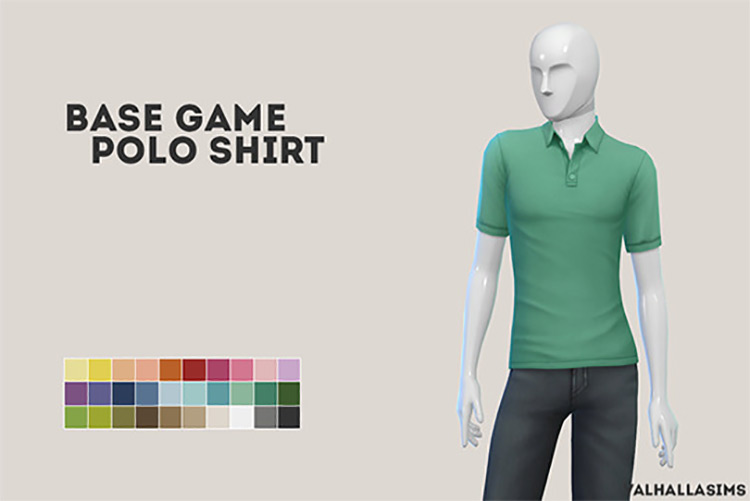 Yep, more recolors.
Because TS4 has some great stuff, it's just cruel to stay limited to the same 5 or 6 colors year after year.
Neutrals like brown and white plus an array of cooler, brighter options round out this 30 swatch palette. Remember, it's a polo. There's never a bad time to wear one!
12.

Spring Vibe Skirt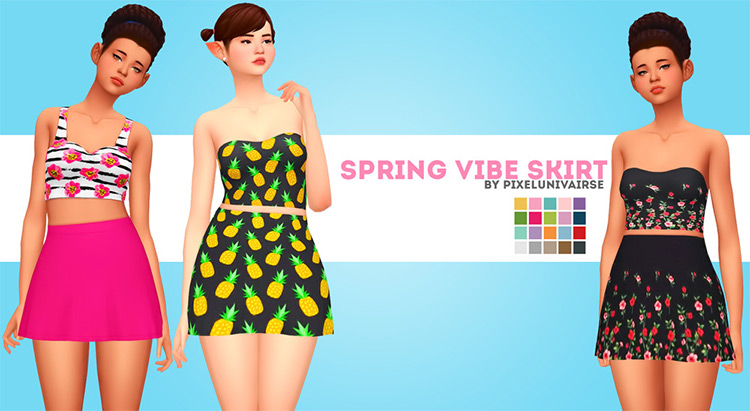 The more skirts, the merrier!
Experimenting with this can really be a lot of fun, thanks not just to the short length, but the swatches as well.
They're really something special, featuring very modern and sought-after patterns like pineapples and geometric prints.
13.

Spring Wedding Set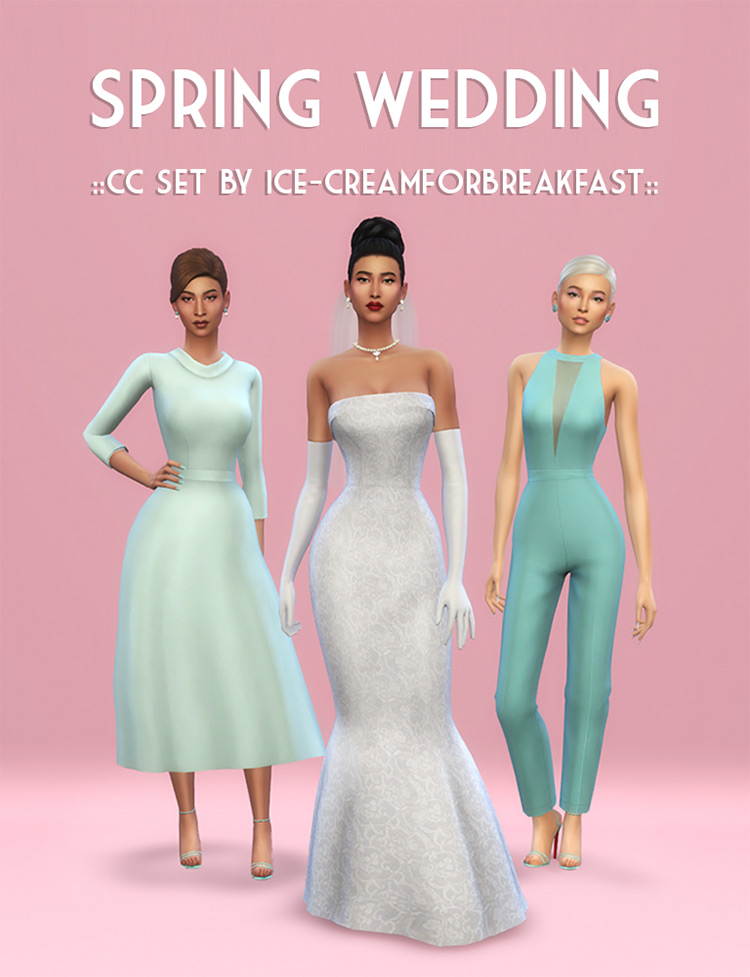 Autumn weddings have become quite popular.
Sure, they're cozy.
But isn't there something kind of symbolic about tying the knot in spring? As flowers are blooming, so is your Sim's love!
Dresses for all the ladies in attendance are included here, plus a new hairdo and veil.
14.

Moontrait Accessory Jacket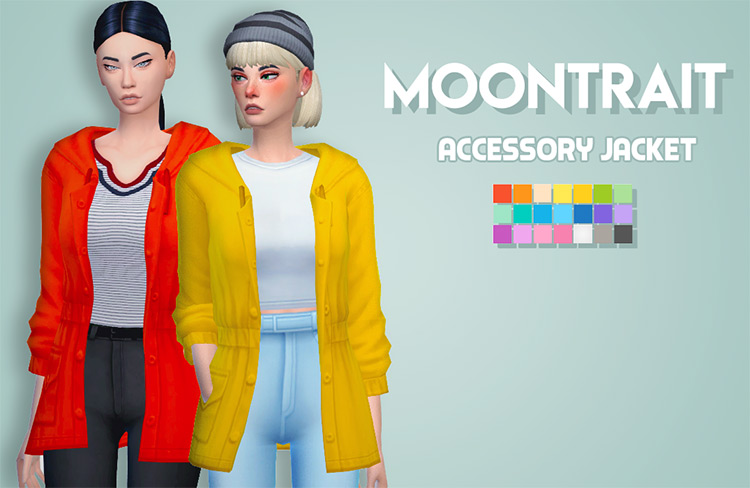 Accessory tops are some of the best custom content items you can find, because this is as customizable as it gets.
There is already a fantastic selection of swatches to choose from, but it's also entirely up to you what your Sim wears with this jacket.
15.

Spring Print Button Up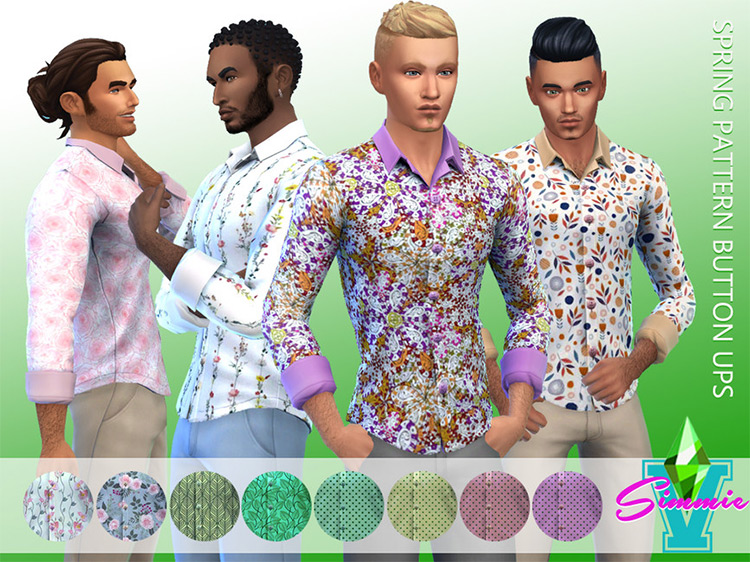 Fully embrace and celebrate this season like never before with SimmieV's brilliant top.
These prints are all very busy, bold, and beautiful. The perfect trio, if you will.
The colors and patterns both go together very well, making this a unique option for men.
16.

Jubilee Frilly Romper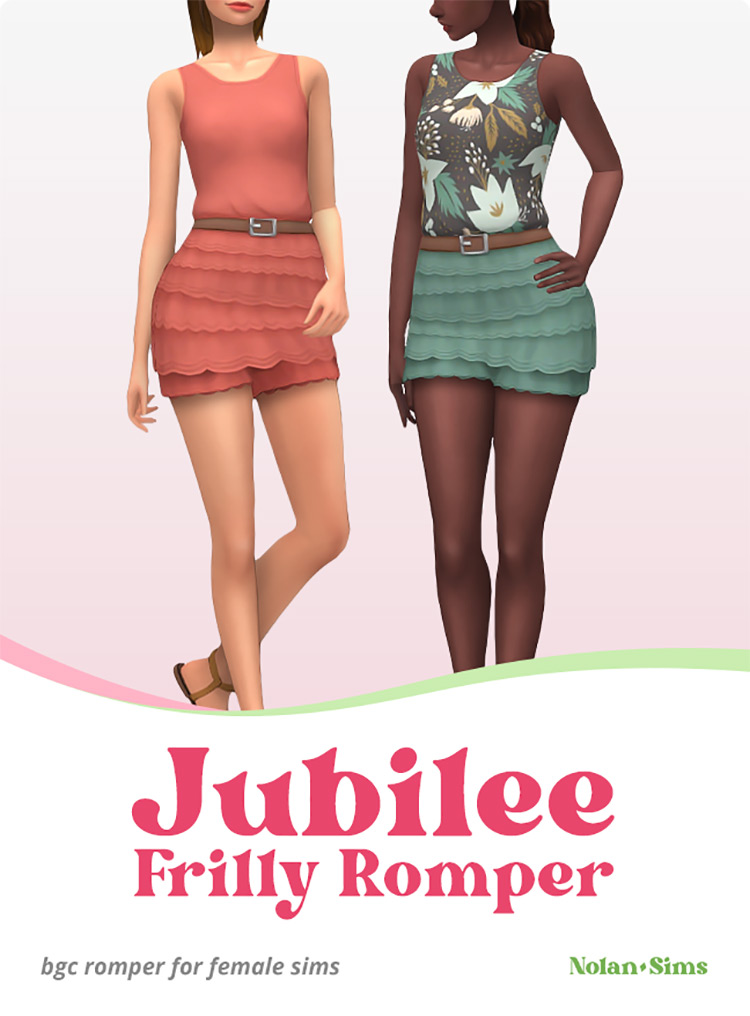 What's so great about rompers is that they're very feminine and youthful, but also not at all restrictive.
To get right to the point, this one has got style out the wazoo. The ruffled shorts, brown belt, and tank top combined make a stunning outfit.
17.

Spring Days Shirt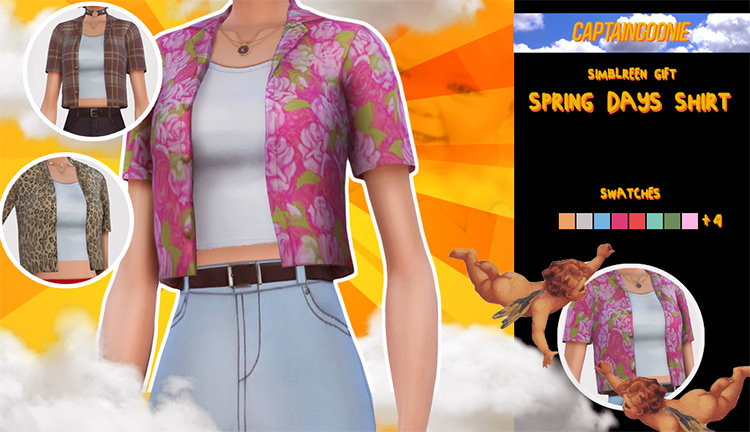 An opened button-up and tee is a combination that you just can't have enough of. It can be done in so many different ways, and this cropped version is a nice way to keep it modern.
The swatches provide a ton of variety, from floral designs to animal print, and even a plaid one.
18.

Easter Alice Dress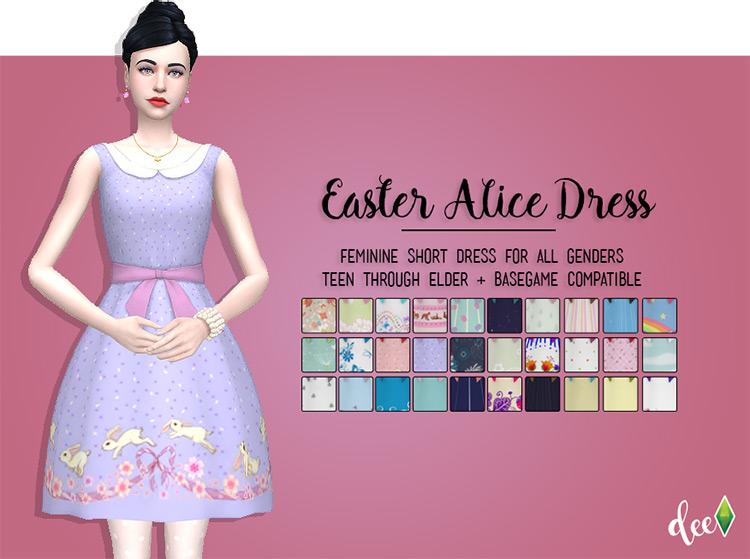 For those who celebrate Easter, adding that to your Seasons calendar can make the season feel even more realistic and fun.
And you'll need the wardrobe to go with it!
Here's a dress that's simply gorgeous, and ridiculously elegant. The lavender, bunny-themed swatch is just one of many fitting options.
19.

Party Pantz (Tie Die)
I don't know about you, but I just can't pass up tie dye, no matter the season.
Sondescent's fun, recolored pants are the perfect way to add an original flair to your Sim's attire during those spring days where it's not quite warm enough for shorts.
20.

Polo Crop Top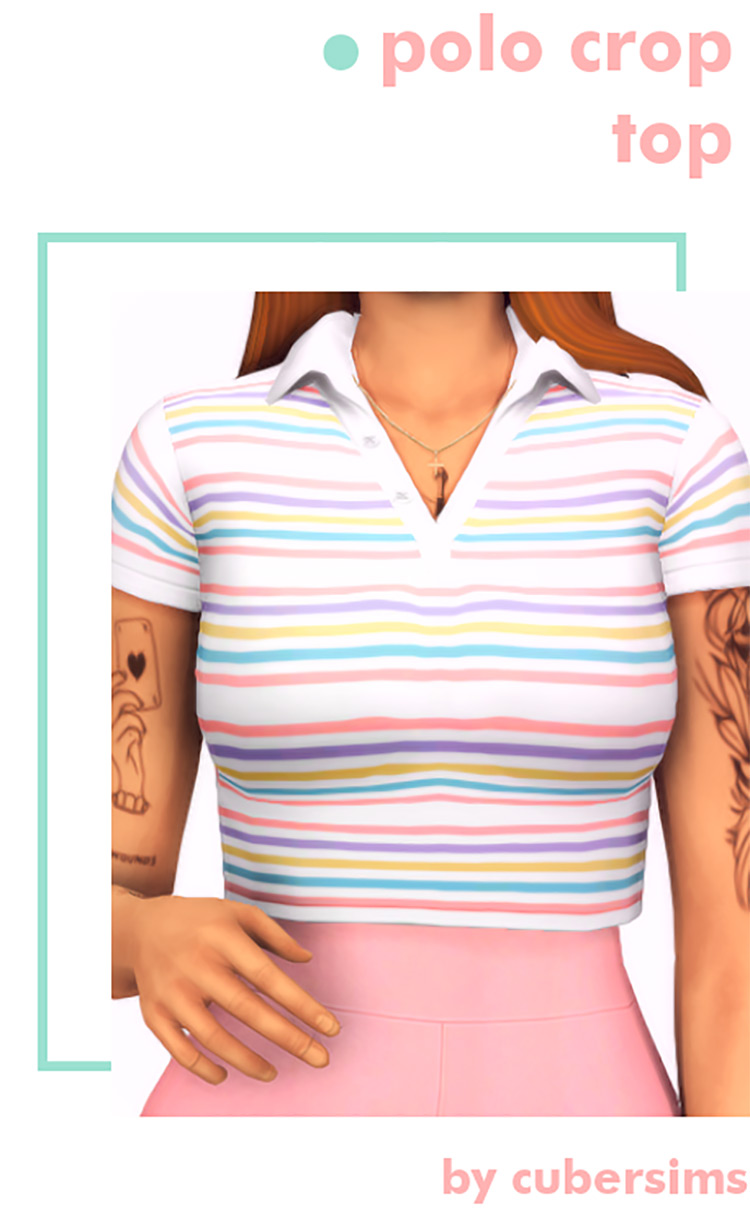 There's no reason to limit your polo appreciation to the guys. This cropped version for women definitely has a feminine touch.
It's just the right length to pair with high waisted bottoms, or your Sim could fully embrace the cropped design and show off her belly.
21.

Not So Flat Flats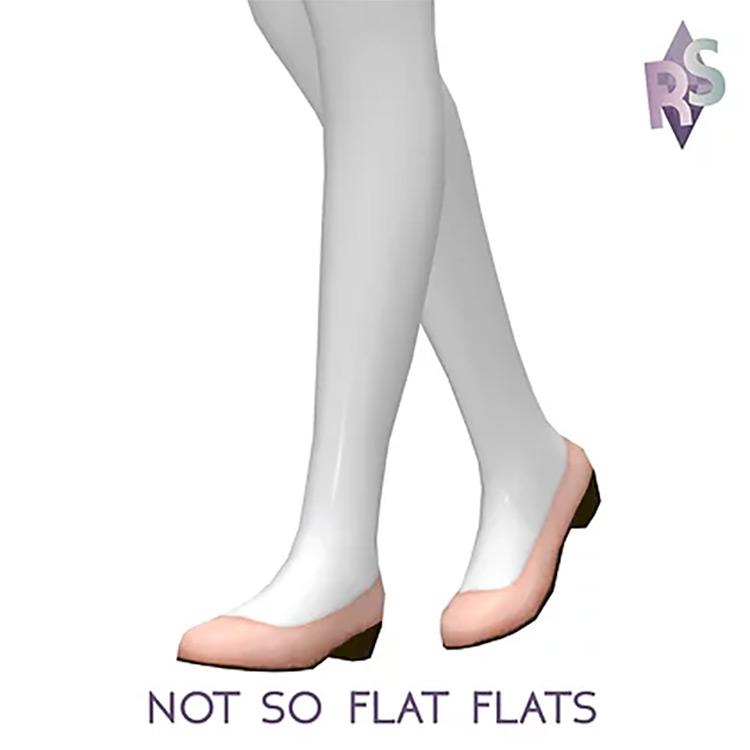 Renora's flats may be basic but they're literally a game changer if you put a lot of time into CAS.
They are classy yet casual, and undeniably timeless. The 20 swatches can allow you to both add a pop of color to an outfit, or go with more neutral tones.
22.

Felix Jeans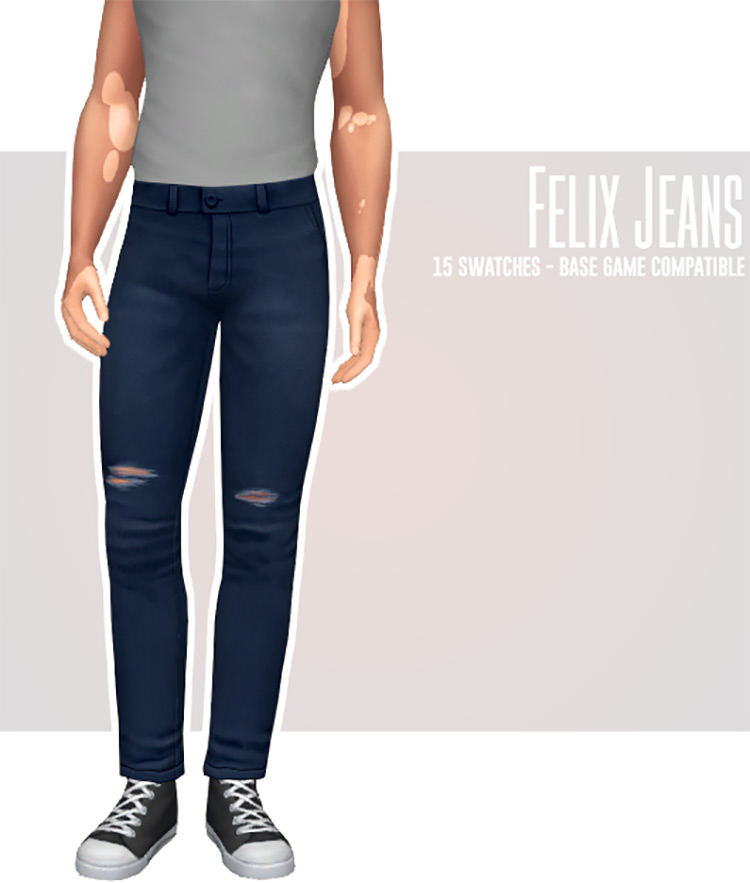 A good pair of jeans can be the foundation for an endless number of outfits. With these edited, BGC jeans for men, you'll have a lot to build on for spring looks.
It's a good middle ground between skinny and mom jeans… or whatever the equivalent for dudes is called.
23.

Pleated Mini Skirt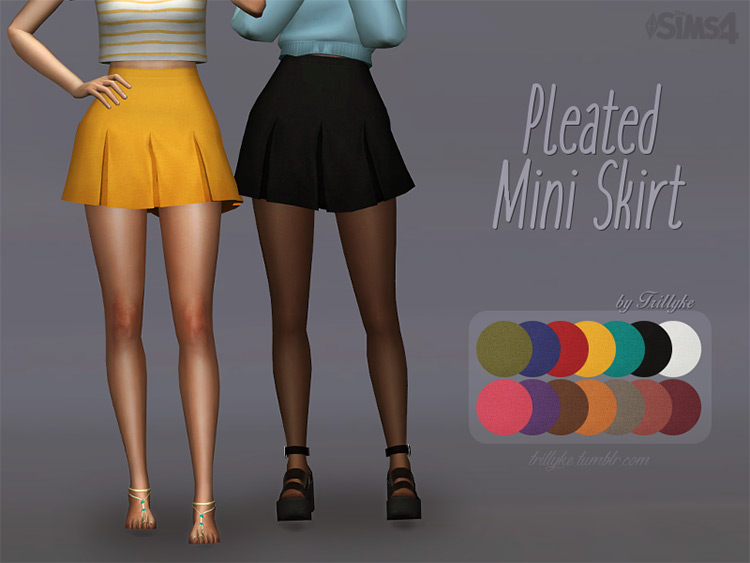 A-line skirts are known for being flattering on various body types, and this one is not an exception.
Any Sim can rock this high-waisted, flared design. This is another example of something highly versatile that can be used for so many different styles.
24.

Rosalina Legging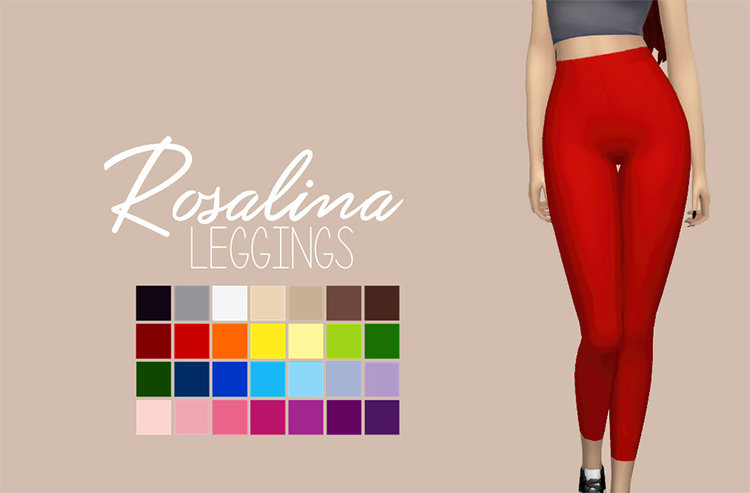 Is there ever a bad time for leggings?
That was a rhetorical question. The answer is no, of course, especially if the leggings are as epic as these are!
They're extremely high waisted which can really be a plus, and they have a pretty expansive color palette as well.
25.

The "Not Your Typical Granny" Cardigan (Discover University Required)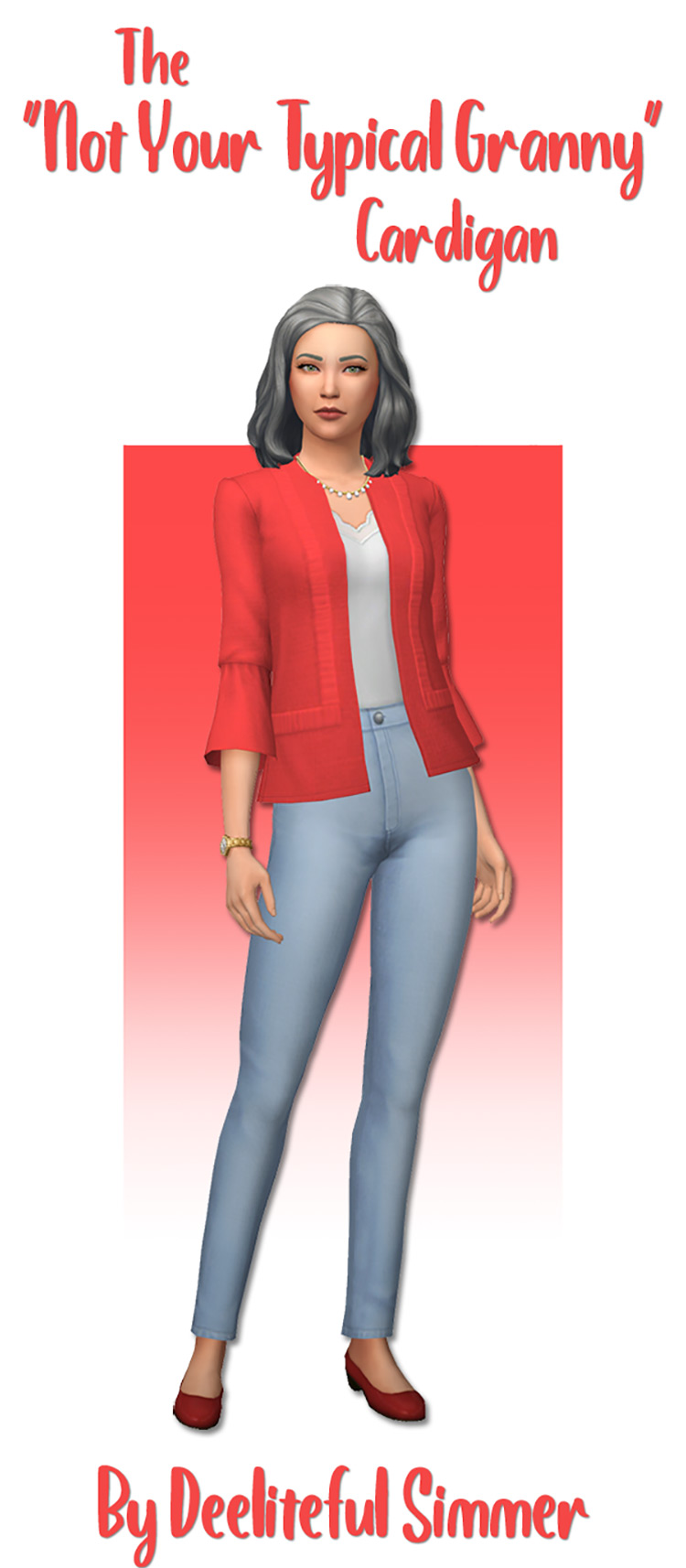 Most Simmers would probably agree, we can use more stuff that's fitting for all ages.
TS4 mainly focuses on the Young Adult lifestage, but even the hippest elders around probably aren't wearing crop tops.
Here's a sensible but still stylish cardigan. It's even got batwing sleeves, you can't get much cooler than that.
26.

Checked Shirt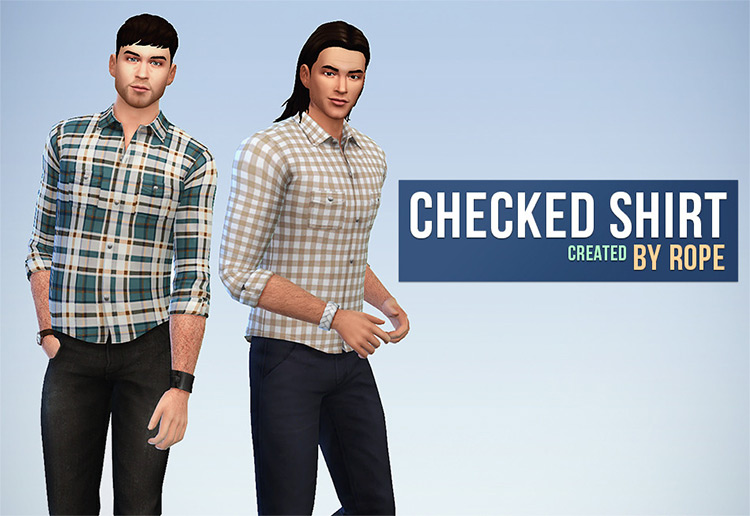 A button up is still casual, but offers a bit of a leg up from a tee.
All of these feature checker patterns, which just makes them even better. It's a nice change of pace from the solid color ones we have in game.
Male Sims will be more handsome than ever!
27.

August Jacket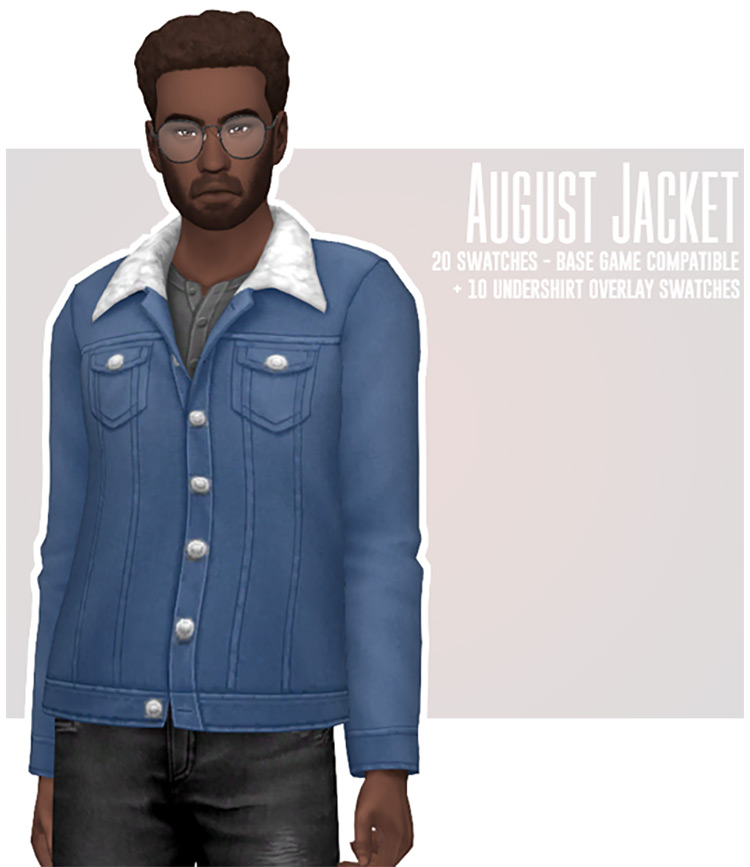 Sure, it's called the August Jacket.
But in many climates, layers are the last thing you need during that month!
I've said it before, and I'll say it again… denim is a fashion staple that's not going away. Just look at how cool that Sim model looks in this, how can a Simmer pass it up!?
28.

Sannie Overalls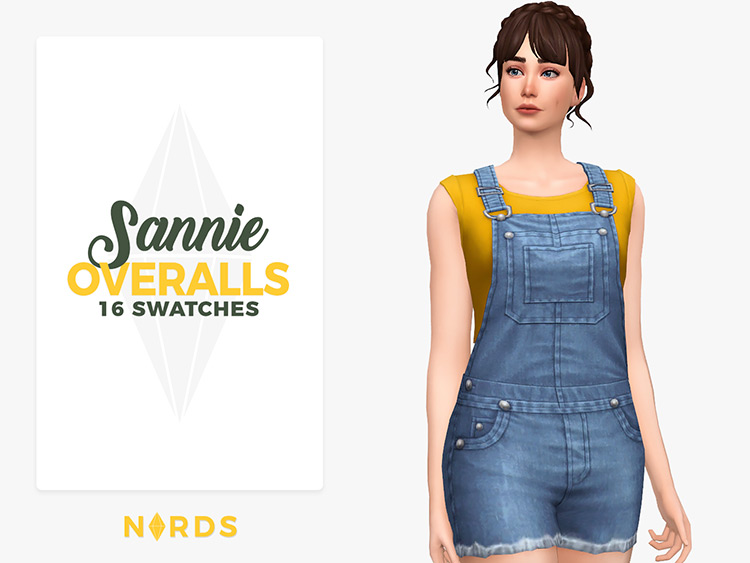 In this game, overalls kind of guarantee one outfit.
You're saved from having to put something together yourself… for better or worse.
The country vibes of these overalls comes from the spectacular denim texture and the tee beneath. They don't look like they're just for work on the farm, they're very chic, too!
29.

Frida Top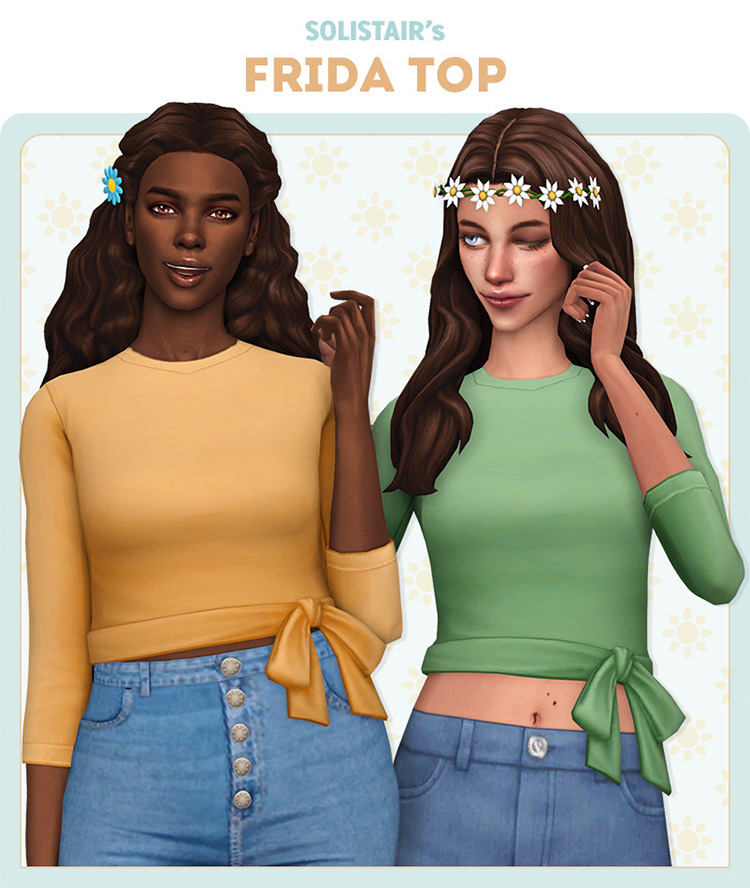 Sleeves can definitely have a major impact on the overall look of a top. In this case, the 3/4 length makes it ideal for springtime.
The 20 different swatches offer shades of blue and green we don't see often.
Also, it's got a bow. That just makes it extra cute.
30.

Cotton T-Shirts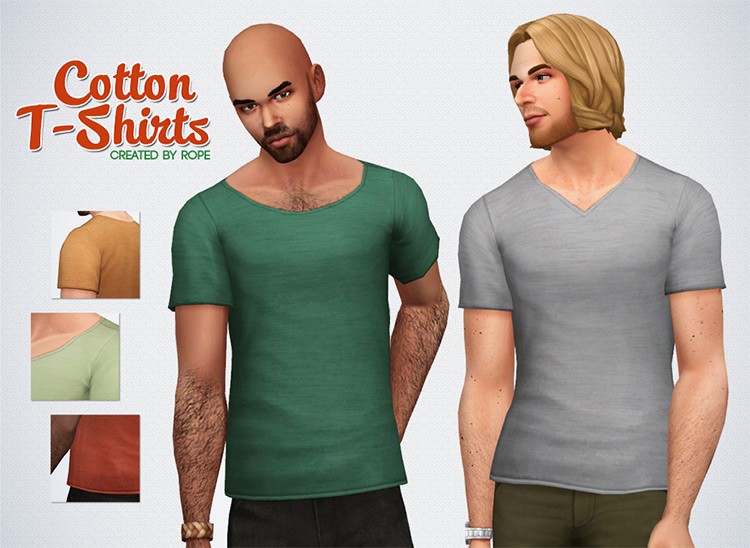 When putting together every day outfits, chances are you'll turn to tees. They're just the obvious choice unless you have something specific in mind.
But Rope has got a way to switch things up while maintaining that laidback look.
These cotton-textured shirts have two variations, one with a rounded neck and one with v-neck.
Browse:
Lists
Maxis Match
The Sims 4
Video Games