Sims 4 Maxis Match Sunglasses CC: The Ultimate List
This post may contain affiliate links. If you buy something we may get a small commission at no extra cost to you. (Learn more).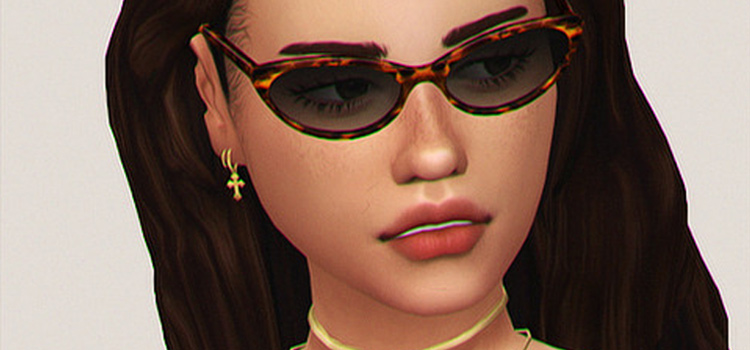 Sunglasses can make or break your look in both The Sims and real life.
Is your celebrity sim just wanting to dine in peace without anyone recognizing them?
Or is your sim maybe looking to fit in with the locals at the beautiful beaches in Sulani?
Well all of these custom sunglasses are not only versatile in style, but they're also perfect for pairing with your favorite Maxis Match outfit.
So what are you waiting for? Get your sim outside and show off their new look!
1.

Simlish Clubmaster v2.0
These clubmaster sunglasses by Tamo come with or without tinted lenses, so your sim can rock them inside and outside effortlessly.
If this design is your absolute favorite and you want to grace all your sims with ultimate style, then good news!
These shades come with two different metal finishes (silver and gold), and come in fifteen different frame colors.
You would run out of townies before you ran out of color combos!
2.

Sunglasses – PIENE
I am obsessed!
Have you ever seen such unique sunglasses?
These round spectacles are totally spectacular, and will make your sim the talk of the town.
They come in four different neutral colors, which is great because they really stand out on their own!
I love pairing these glasses with a wide brimmed hat and shipping my young adult sims off to college. It's the perfect look for your artsy sims or celebrity sims.
3.

PAB Glasses
You've seen regular aviators, square aviators, even teardrop aviators.
Now it's my pleasure to introduce you to… round aviators!
I love the shape of these sleek and stylish sunglasses.
And I love how there's no bridge blocking your sims nose.
They say if you have a square face, you should lean more towards aviator style or round sunglasses.
Which means this look would be a match made in heaven for your square-faced Sims.
Also, the shades come with or without tinted lenses, and in 5 frame colors.
4.

ASTRA Glasses by Plumbobs n Fries
These rimless rectangular sunglasses are so fun. They almost remind me of robot glasses that were popular in the '80s, except instead of being other worldly, these are out of this world.
These glasses are a statement on their own.
But they could – and should – be paired with a big fur stole and Farrah Fawcett hair.
These iconic glasses come in eleven swatches in total, and would best suit Sims with round faces and big personalities.
5.

Cat Sunglasses For Kids
Okay, these are my new favorite sunglasses, and a current staple for my feline-friendly kid Sims.
They're even compatible with the CAS glasses slider by Iconic!
This slider changes the shape, size, and location of your glasses. A must-have for almost any Sim who wears glasses (of any kind!)
These CC cat sunglasses come in 22 colors in all, including a fun tiger stripe pattern.
6.

Matrix Glasses by LEXEL
I've used these sunglasses for my techy sims.
But my favorite use is for Sims that reach Oracle status in the criminal career.
If you want to do a Matrix-themed playthrough or recreate J.P. from the movie Grandma's Boy, you're going to need these shades.
And these sunglasses could also work really well for your goth sims.
7.

Acetate Cat-Eye Frames by MURPHY
These sunglasses are glam and timeless.
I love the frames because they remind me of an oversized version of what Midge from the Marvelous Mrs. Maisel wears in the Catskills.
So why not have your next legacy sim become a comedian?
This CC comes in three colors, and will transform your sim into a celebrity in no time.
8.

Heart Glasses
I am in love with these heart sunglasses!
And this style actually became popular when Stanley Kubrick's film 'Lolita' came out, because the star of the film was wearing them on the poster.
These cute shades come in 8 colors, one of which is a tortoiseshell design – perfectly retro just like the memorable heart shape of the '60s.
9.

Oval Acetate Frame with VLogo Signature (by MURPHY)
Did anyone else have a pair of these in the '90s?
I feel like these oversized clunky-framed sunglasses used to be everywhere.
They seem to be making a comeback lately – and I am here for it!
For this CC, the glasses come in three stylish designs. But the plain black look will always have my heart.
Get your sims on board this trend ASAP with these cute shades.
10.

Sindra Glasses
These wayfarer style glasses are just absolutely timeless. They remind me of a sleeker version of Audrey Hepburn's iconic Breakfast at Tiffany's persona.
They come in four different colors, and you can choose whether or not you want them tinted.
I use these glasses without tint for my more scholarly sims, and with tint for my beach bum sims!
11.

Sunglasses for Men by Severinka
What else says "summer" for your party-going sims besides these fun sunglasses?
These aviators come in 7 solid colors to rock at the beach, which is great already.
But the coolest thing about them is their almost iridescent lenses. It really makes them stand out!
So hop on over to Sulani, grab a float or sun tanning blanket, and feel as hip as the locals in these party shades.
12.

Cat Eye Sunglasses
Okay, I need these in my actual wardrobe like yesterday!
I love the color accent on just the outer corners of these shades. It really makes your sims eyes look bigger.
These glasses can't be used by kids or toddlers, but teens through elders can rock them.
And really, these shades are super posh and easy to pair thanks to its neutral tones.
13.

LeahLilith Cat Eye Glasses
Round sunglasses have been all the rage lately.
And these sunglasses are no exception.
What I love about these cat eye sunglasses, besides the perfect angles that draw attention to your sim's face, is how flawless they look on materialistic and criminal sims.
If your sim is a cat person, these glasses should be your go-to.
14.

Cuore Sunglasses Child by Suzue
While these glasses may just be for children, they're way too precious to pass up.
The shades come in a variety of 20 different swatches, including multicolor iridescent lenses or regular dark lenses.
I love the subtle heart shape too. It really reminds me of being a kid, which shows that these glasses would be perfect for any of your Sim's little ones.
15.

Myneon Glasses
These sunglasses are such a mood!
They're somehow both retro and futuristic – and I just can't get enough of them!
And get this: 30 different swatches are available for you to choose from.
The blue and teal lenses are my absolute favorites, but the black lenses with the copper frames are totally perfect for a detective sim, or maybe for a paranormal investigator sim.
16.

Sim-Bans Sunglasses
These 'Sim-Bans' may be inspired by a certain brand of real sunglasses (I'll let you guess which!), and the quality shows.
These shades come in 6 various color schemes, including a sleek black option that would be a stellar match for your secret agent sim.
I love the fun gradient on the lighter colored lenses, and the detail on the side of the frames with the 'Sim-Bans' name.
You wouldn't want your rich sims to be seen in off brand glasses, would you?
17.

The Scientist Glasses
'The Scientist' is the perfect name for this CC.
Because these glasses really are a fit for your mad scientist sims!
I love that the frames come up close to the side of your sim's face, giving off an almost steampunk feeling to this already-unique accessory.
Ten swatches are available for these sunglasses, including some without tinted lenses. So your sims can find ways to poison the water supply within the comfort of their home – no crazy looks!
18.

Nick's Sunglasses
These round sunglasses by Brianitesims really stood out to me because of their super futuristic bridge.
Both your male & female Sims can rock these any time, and the shades come with 18 color options from the dream pop palette.
Round frames like these are perfectly flexible for almost any Sim.
They go with heart-shaped faces, square faces, and diamond shaped faces!
Browse:
Lists
Maxis Match
The Sims 4
Video Games