Sims 4 Maxis Match Sweaters CC (Girls + Guys)
This post may contain affiliate links. If you buy something we may get a small commission at no extra cost to you. (Learn more).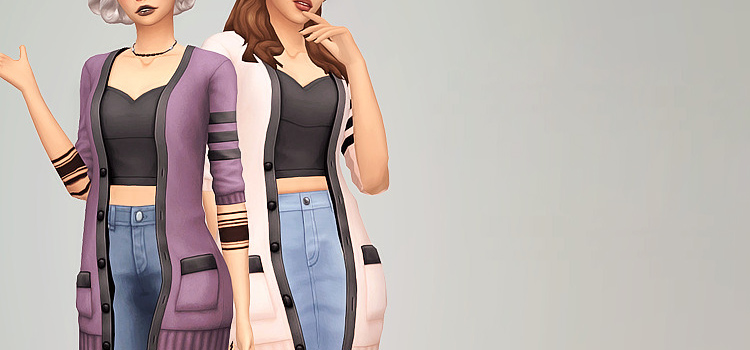 Every time autumn and winter roll around, I have the urge to dress my Sims in the greatest of seasonal fashion. It doesn't matter whether or not it's actually those seasons in the game – the holiday spirit just gets in my bones!
Sweaters, I would argue, are the epitome of seasonal fashion.
They're warm, cute, and layerable, which means that they can be made to suit uncomfortably cold weather or pleasantly cool weather.
And when it comes to Maxis-match sweaters in The Sims 4, you have plenty of options. Let's dive in.
1.

Grandma Sweater v2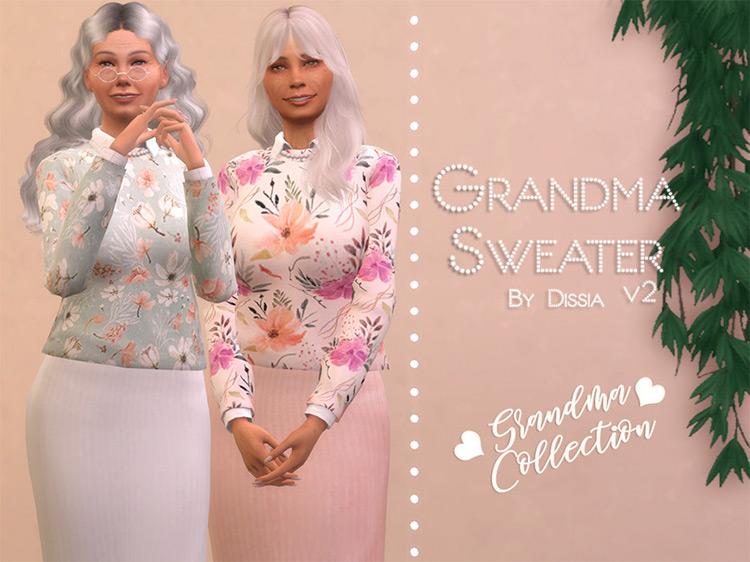 It's so easy to get caught up in the wild adventures and glamorous fashion of your younger sims that you forget to take equal care of your older Sims' wardrobes.
Even worse, a lot of CC that's intended for older Sims is dull and drab.
This grandma sweater is desaturated, but it's far from boring.
There are 11 swatches of pastel sweaters mixed with colorful florals, so you can keep those old bones feeling warm and looking fresh.
2.

Grandpa's New Duds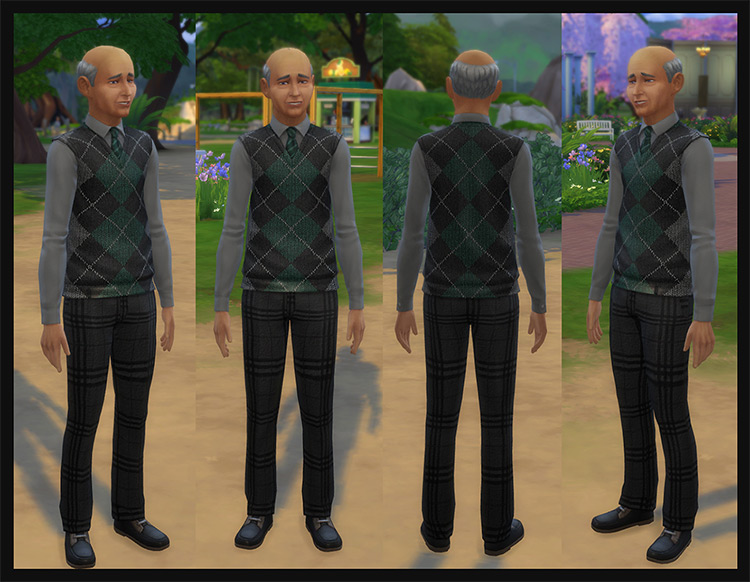 As the grandfatherly counterpart to the previous CC, these new duds are sure to keep gramps feeling sharp as ever.
This CC may have been made by a different creator, but the quality is just as good – and it's just as much of a Maxis-match.
Plus it includes a full set of clothes: slacks, a knitted cardigan, and a vest alternative for warmer weather.
The vest has 21 recolors, while the other two items have 13 recolors each.
3.

Cherry Knit Sweater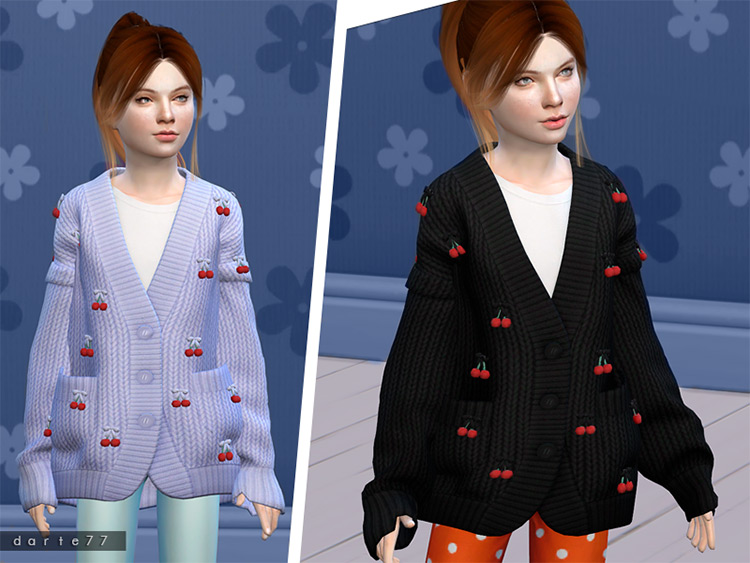 Cherry is a spring (or late summer, if you're lucky) type of fruit.
And that's exactly what makes this sweater so fun.
Instead of sticking to plain, abstract, or 'wintery' patterns, the Cherry Knit Sweater is proudly covered in little red cherries.
Interestingly, the cherries aren't actually a pattern on the knit itself. They're instead attached to the outside of the sweater, giving the sweater a very 3d look.
And even with those details there's still no denying this is Maxis-match!
4.

Sweater TP396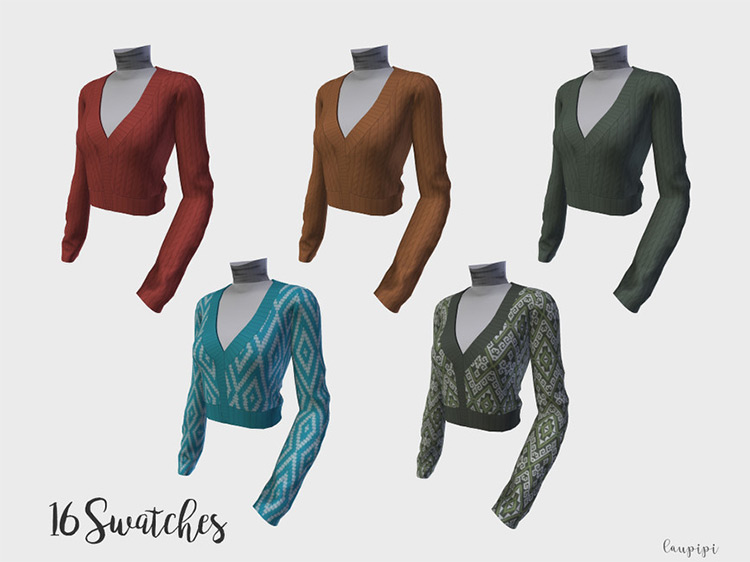 High necklines, even turtle-high, are just par for the course when it comes to sweaters.
Which makes sense considering sweaters are nothing if not cozy.
The low V-shaped neckline in this sweater CC is a rarity, and that's what makes it such a great find.
Layering is the best winter aesthetic!
The 16 swatches that this CC has are mostly in autumn, winter, and spring colors. I'm sure us weirdos who wear thick sweaters in summer can bear wearing them in non-summer colors, anyway.
5.

Bismarck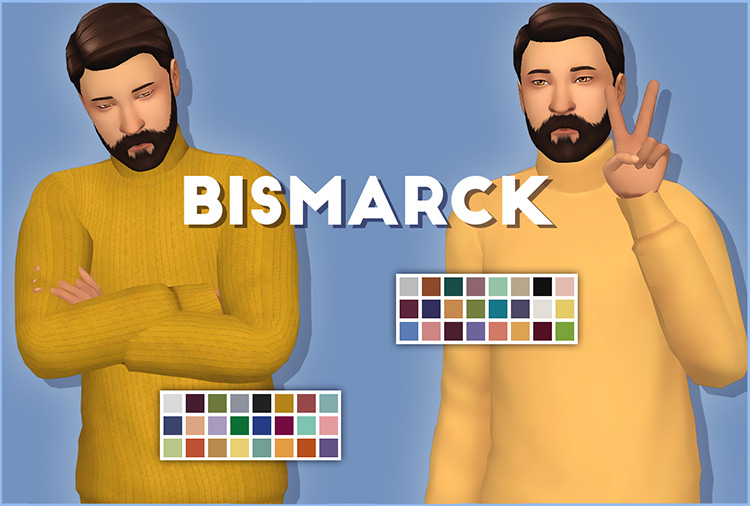 This Bismarck sweater is a less scholarly sweater than most of the men's sweaters out there.
It's not business-y, either (though it could be if you wanted it to be).
Anyone from a lumberjack to a barista can rock this sweater without issue.
That's how you know it's a good CC to snatch up for your sims!
This one comes in two versions, knitted and non-knit, and has 27 colorful swatches for each version.
6.

Loose Rainbow Sweater Dress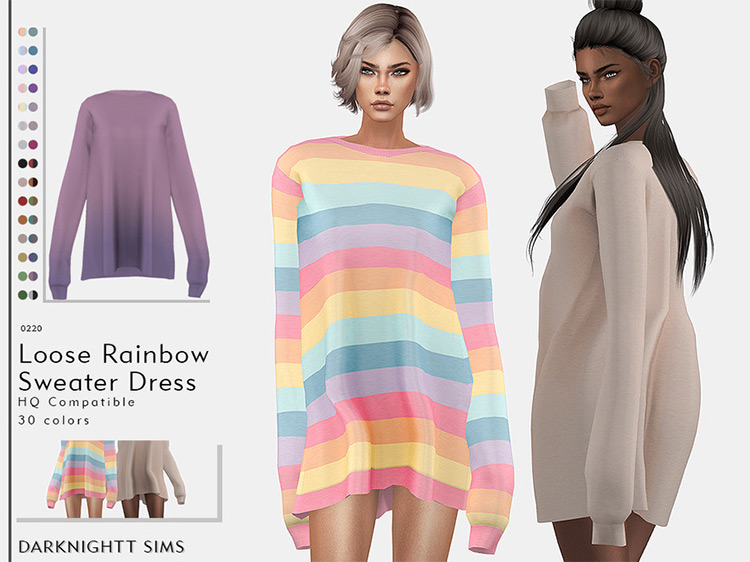 I'm not so bold as to put just any knit item on this list. But sweater dresses get a free pass from me.
They're essentially really long sweaters, so I think they belong here as much as anything else.
The simplistic texture makes it a perfect Maxis-match, and the flowiness adds an extra element that's so often missing in regular Maxis items.
In addition to a fun pastel rainbow, this CC has 29 other swatches – some of them have patterns, some don't, and all of them are awesome.
7.

French Sweater
This fashionably French-styled sweater is perfect for your sim's day out to a café with friends, or out on a zoo excursion, or even just a walk around town.
From fresh summer fun to the Christmas-est of the Christmas sweaters, the 25 swatches are equally as versatile as the design.
Plus the decals are just plain adorable.
My favorite part of this CC is that it's ever so slightly cropped, giving the cutest peek of midriff without going overboard.
8.

Sweater Vest (My Stuff)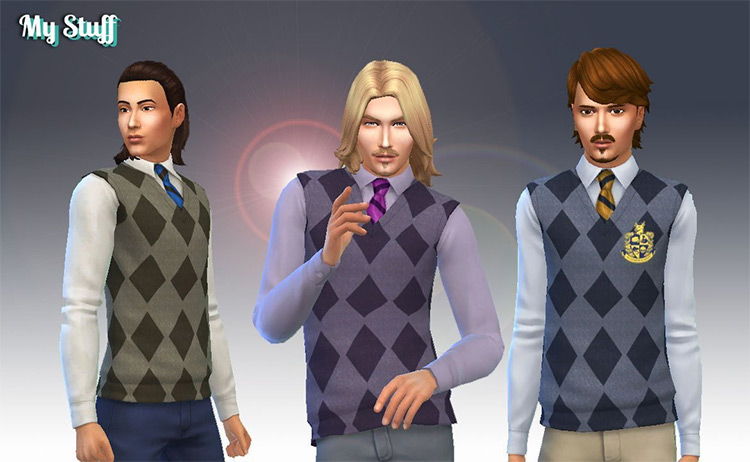 Don't be fooled by the flamboyant poses in the thumbnail.
This sweater vest is for everyone, even if they're no good at being excessively fabulous.
This CC is ideal for school situations, since it copies the look of school uniforms. That being said, a post-school aged sim could certainly wear it just as well.
One pattern dominates the swatches of this CC: a not-quite-but-almost argyle.
9.

Bohemia Sweater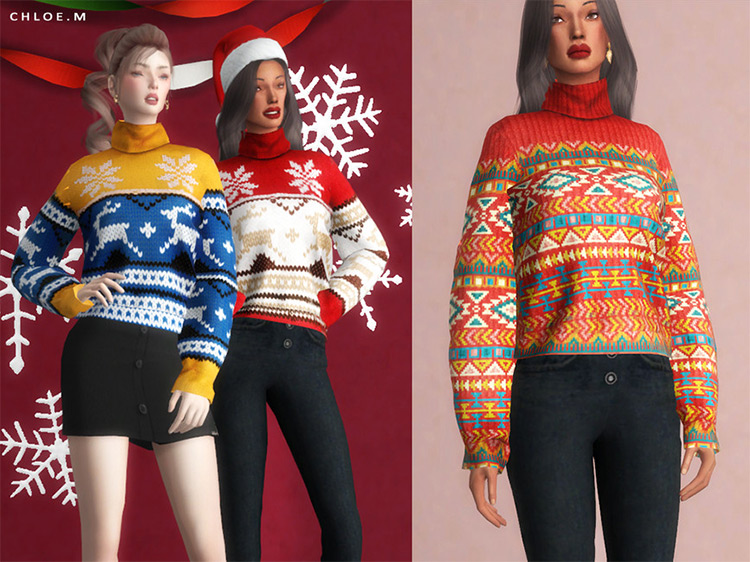 If the urge to bust out the ugly Christmas sweaters is calling, then this is the CC for you.
I can't promise that your sims will appreciate their gift – but who cares what they think?
It's possible that the 10 garishly gorgeous swatches in this CC will win them over. They've certainly won me over!
The only downside is that this sweater brings bucket loads of Christmas spirit no matter where it goes (or what season it is). And I mean, is that really a downside, though?
10.

Preppy Shoulder Sweater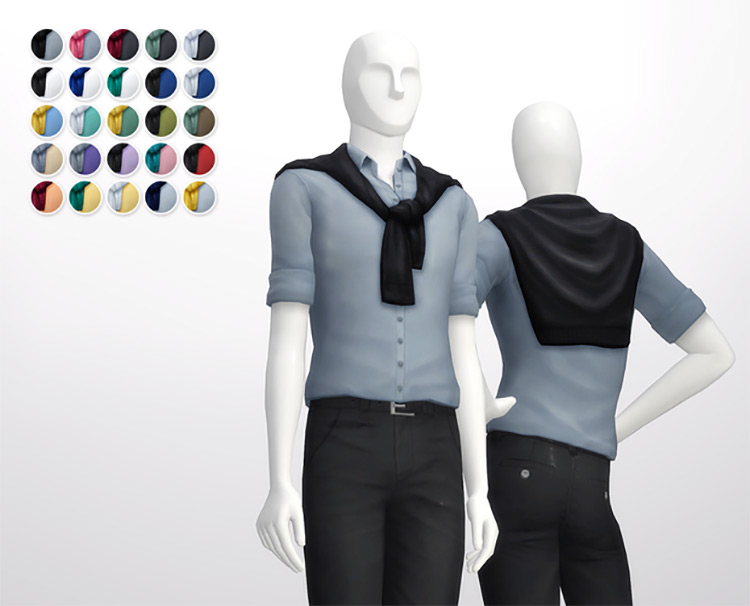 We all get a little bored with the same old styles & the same old way of wearing things sometimes.
This preppy-styled sweater may not be the newest concept, but it's certainly a different way of "wearing" a sweater!
The 25 colors include changes to both shirt and sweater, resulting in some truly unique combinations.
Just like the sweater vest from earlier, this CC is attune to the fashionable murmurs of school children more than the cries of silly adults. Whether that's a good thing or not is up to you.
11.

Edward and Piers Country Sweater Vest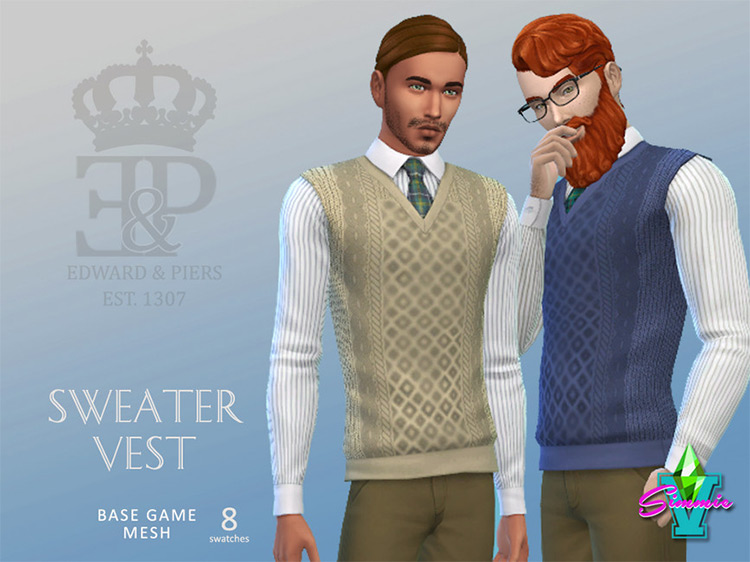 Named after the iconic historic duo Edward II and Piers Gaveston, this sweater vest is bound to bring some drama to your sim's wardrobe.
Ideally, it won't be drama that results in the death of both you and your lover/brother-in-arms, but drama nonetheless.
As a sweater vest and pinstripe shirt combo, this one is already quite classy; but toss in a plaid tie and its classiness goes off the charts!
There are 8 different sweater swatches here, and 8 tie swatches, so your Sim will always have a new combo to try for each day of the week.
12.

Half-Zip Sweater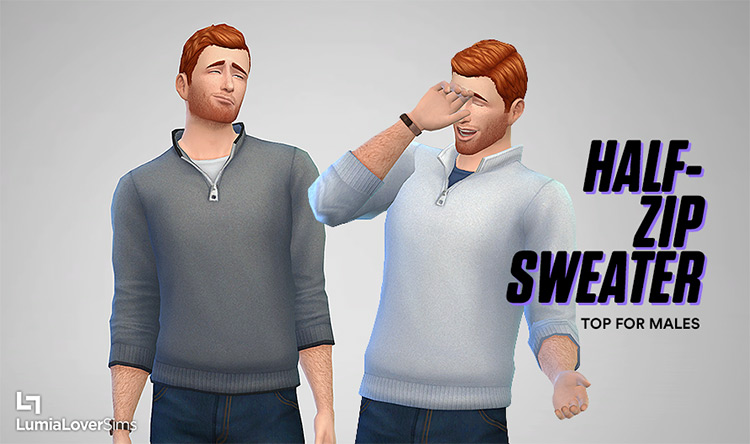 As cool as ugly holiday sweaters are, or sweaters for gramps/grams or classy sweater vest, there's something to be said for stylish modern sweater designs.
And this custom sweater is exactly that.
Modeled after a real-life sweater, this clean and practical CC will keep your sim looking their best in any type of weather; not that TS4 has many types of weather to begin with.
Between the sweater and the t-shirt peeking out from underneath it, there are 8 color combos to pick from.
13.

Erin Dress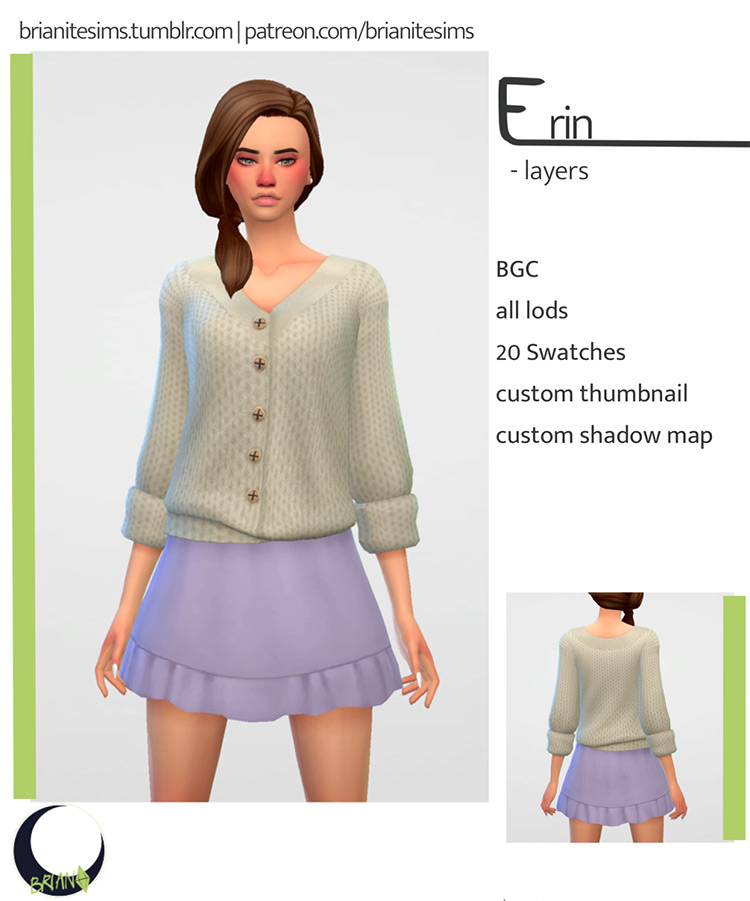 This Erin "Dress" is less of a dress, and more just a combination of cute sweater on top of ruffled skirt.
Not that that's a bad thing.
Unlike many of the other sweaters on this list that belong wholeheartedly in the realm of holidays (i.e., autumn and winter), this CC looks suited for spring.
But with an impressive 20 swatches, there's a version of this dress for every occasion (or season).
14.

Short Jumper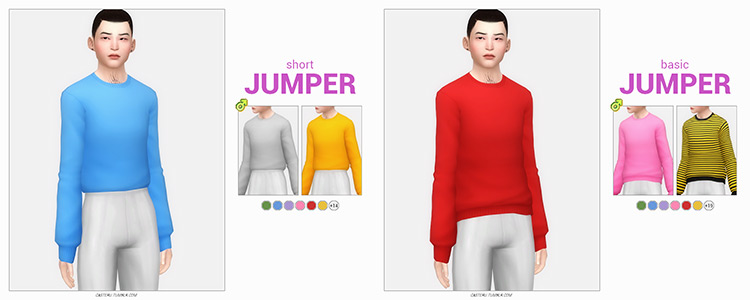 Jumpers are the most straightforward form of sweater there is.
And this jumper CC set is no exception. The clean yet chic design makes it a perfect fit for the Maxis-match style.
There are 2 different cuts included in this CC set: a Basic Jumper, and a Short Jumper. They're essentially the same, but one of them looks like it's tucked.
The Short Jumper has 20 swatches, while the Basic Jumper has 25.
15.

Don't Care Sweater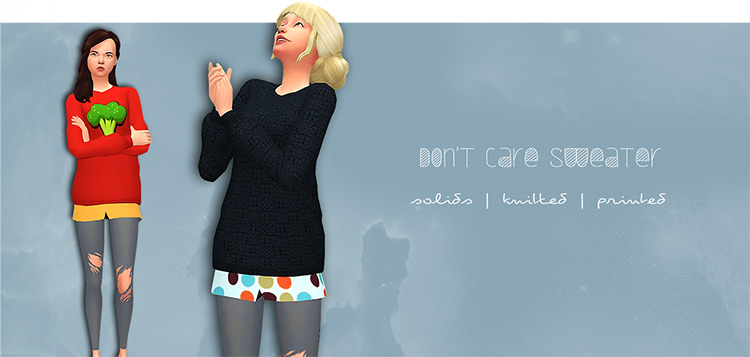 Your sim might not care about how they look, but you certainly do.
That's why this "Don't Care Sweater" is the perfect compromise. It'll let your Sims look effortlessly cute.
This slightly oversized sweater works for teenagers, grown adults, and everyone in between.
Although it always looks sweater-y, there is a knit and a non-knit version depending on your personal preference. And with 18 solid color swatches, 12 print swatches, and 16 knit swatches, you'll never run out of options.
16.

Slow-Dive Jumper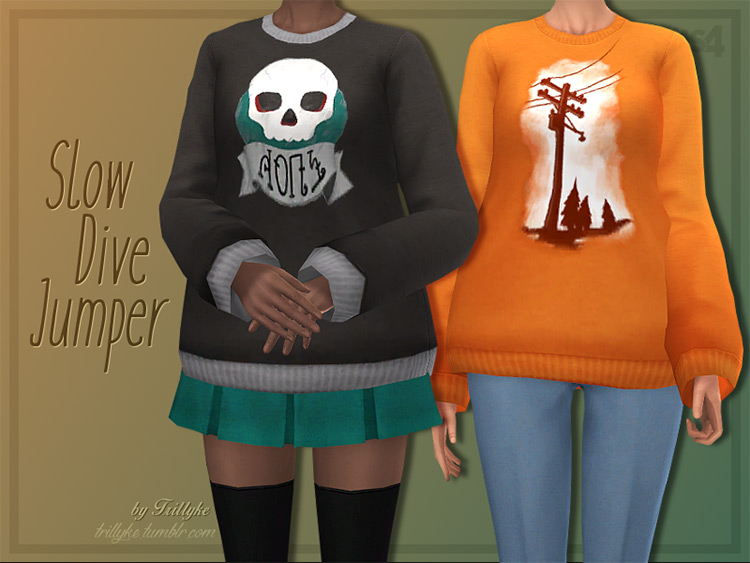 Here's a piece that should really grab the eye.
With its bright colors and modern designs, it reminds me of a t-shirt turned sweater. And it has all of the cuteness and coziness of an oversized sweater, with the graphics of a casual tee.
This CC is Maxis-match to the extreme, down to the language used: Simlish instead of English.
There are 25 exciting swatches as well, ranging from basic patterns and colors (such as stripes) to flamingo prints.
17.

Edward and Piers Argyle Sweater Vests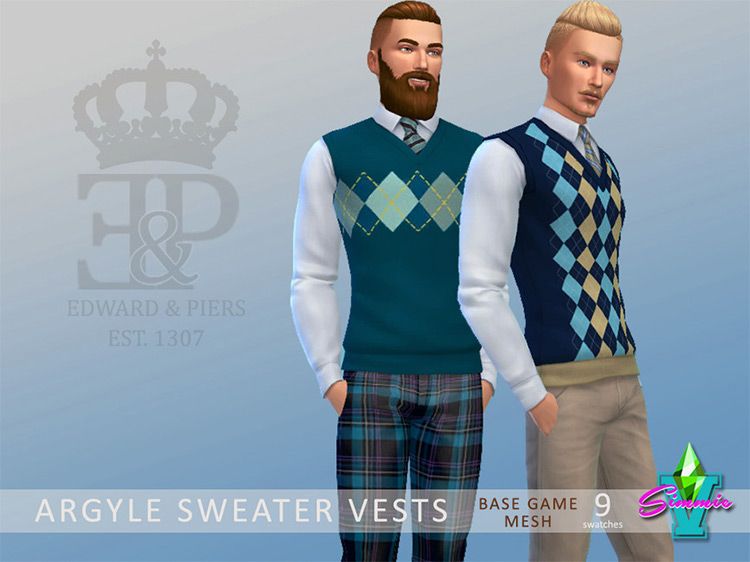 Yet another sweater vest from the make-believe CC 'brand' Edward and Piers – this time in argyle, because who doesn't like argyle sweaters?
Although still sharp and good looking, this vest is less prissy than its rich cousin.
Your Sims could wear it to work, to a Christmas party, or to a golf course.
No matter where they go in this outfit, they'll look good.
Browse:
Lists
Maxis Match
The Sims 4
Video Games