Sims 4 Maxis Match Toddler Clothes CC (All Free)
This post may contain affiliate links. If you buy something we may get a small commission at no extra cost to you. (Learn more).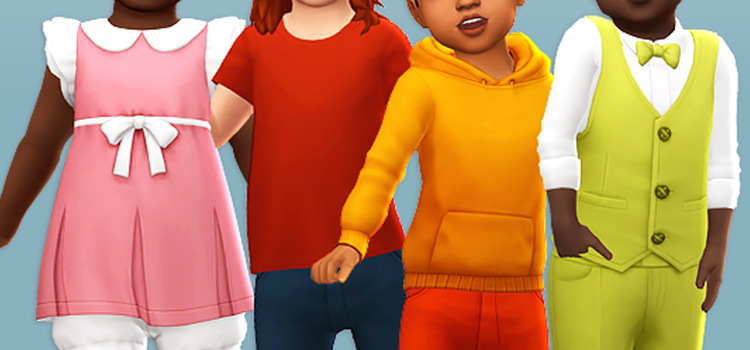 There are two halves to The Sims 4 Community.
Those that can't stand to have toddlers around because they're like messier pets, and then there are those of us who adore the little buggers and find all the woes of toddlerhood charming.
But as far as The Sims 4 goes, they make the game complete.
The toddler portion of CAS has some nice stuff – but if you play them a lot, then the amount just isn't enough, no matter how many packs you have.
But with CC?
Oh man, you're really in for a good time.
Simmers have made tons of truly precious items to fill in the gaps, from furniture to fun poses – and there's a lot to try out.
And here's our huge collection of toddler Maxis Match clothes, all custom-made with love by the TS4 community.
Just be warned: you may find yourself spending the next three hours in CAS playing dress up with a toddler!
1.

Toddler Pea Coat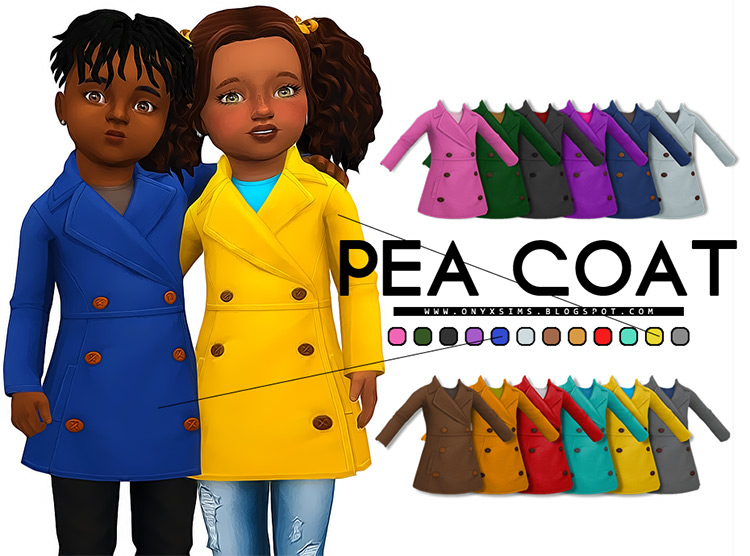 It's hard to believe that for over two years after The Sims 4 launched, there were no toddlers at all.
In hindsight, I don't know how we ever survived.
Well thankfully they're here now – and even if they giggle at the word "pea", they'll look nice and posh in their brand new pea coat.
This timeless coat will bring some old school charm to your game, albeit on a small scale.
Also, if this looks familiar then don't worry, you're not crazy.
Onyx Sims converted it from the Seasons pack and downsized it for the toddlers.
The overlapping design and tiny buttons will provide warmth in style, even if you just have the base game and have to imagine that the weather matters.
2.

Patch Overalls
In my opinion, two things are the epitome of toddler fashion: overalls and animals.
Casteru brilliantly combined them here, for an outfit that'll melt your heart.
Even when your Sim's son or daughter throws their third tantrum in a row because they need their diaper changed, but also don't want their diaper changed.
Just look at the little cow patches on the knees and try to stay annoyed. It's impossible!
There's a pocket on the front that matches the sweater in some swatches, because we all know how much stuff toddlers have to carry around.
3.

Sweet Dress & Beret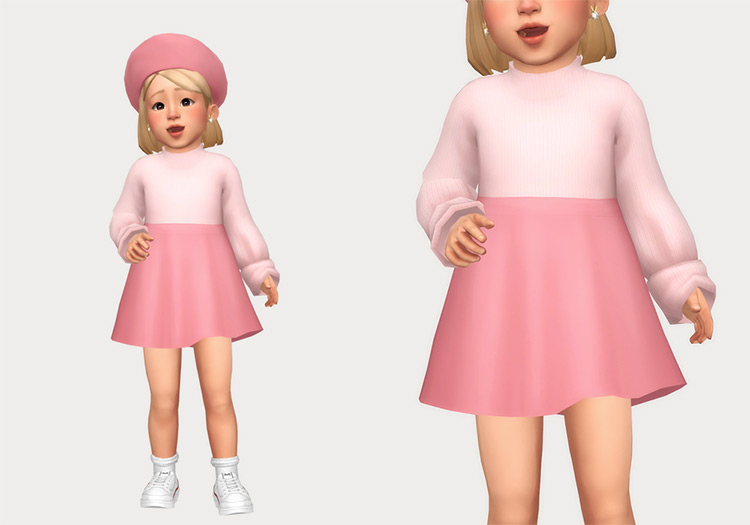 Here's another gem from Casteru, and this time it's something just for the little feminine ones in your household.
First off, we have the dress.
It sort of seems like a combined sweater and skirt, and it's amazing. The sleeves have a bit of a baggy, oversized effect.
Lots of toddler clothes seem to have that – and while in this case it's definitely just for stylistic purposes, I think it often comes from parents buying a size just a little too big so they can grow into it.
Bearing that in mind, I think it gives this an even more heartwarming feel!
The hat included here is your standard beret with not only swatches to match all the dresses, but a couple dozen others as well, in case you won't want to get too matchy-matchy.
4.

Toddler Denim Shorts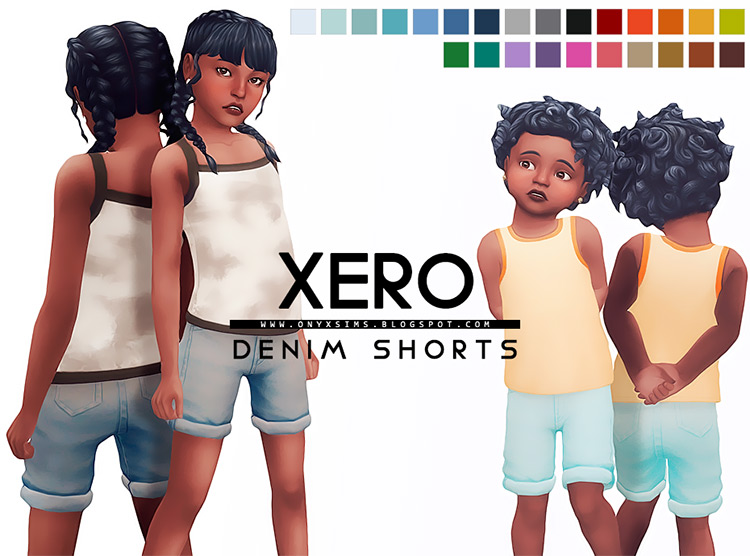 Whenever I see someone asking about good toddler CC, I have to suggest Onyx Sims' denim shorts.
I'm obsessed and have been for a couple of years now.
Yes, I said before that using the same clothes over and over again isn't fun, but these are an exception.
They're just adorable, with rolled legs and that classic denim texture.
I don't claim to be up on what's "in fashion" for toddlers nowadays. But jean shorts seem like something that should never go out of style, especially for kiddos.
Not only are they durable, perfect for horsing around outside, but literally everything goes with denim.
So in other words, you can easily avoid your tot looking like a hot mess. Sweaters, tees, tank tops… heck, just leave them shirtless! It's all good.
Onyx Sims has created the ideal warm-weather bottoms – so feel free to use them to their fullest extent.
5.

Edwardian Toddler's Underwear & Sleepwear
There are a lot of variations to the Decades Challenge, but the gist is that you play through different time eras.
Honestly, I've given it a go – and the most challenging part is usually finding period-appropriate clothes and furniture.
It can be especially difficult for toddlers.
They weren't running around in OshKosh B'gosh and dinosaur onesies back then.
Their clothes tended to mimic what adults wore, or at least represent the general fashion themes of the time, like modesty.
Well this CC set is for both boys and girls and it includes some nice pajama options for your Edwardian babies.
Just keep in mind that little boys wore dresses back then too.
They were quite progressive.
6.

Toddler Long Sleeve Shirts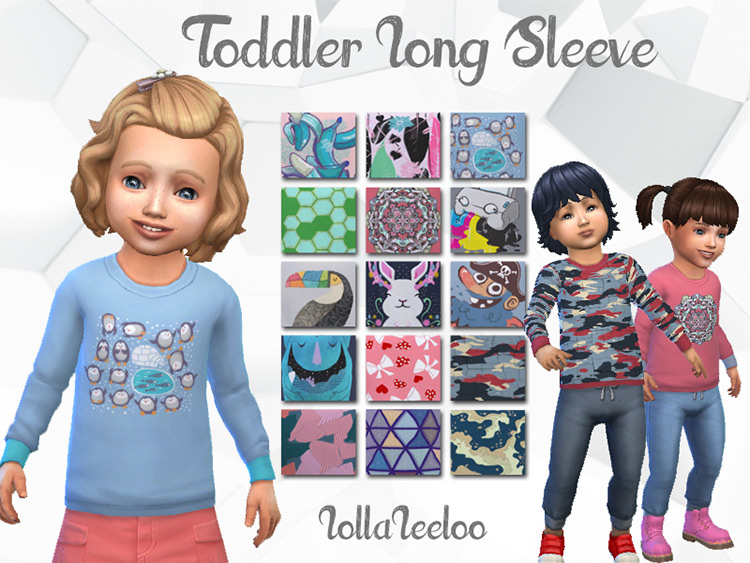 You're never too young to own an abundance of comfy, casual shirts.
All of the base game long sleeve shirts look like pajamas. So I'm glad a Simmer took the time to make some that are more fitting for everyday outfits.
These 15 swatches feature a variety of designs for both boys and girls, including some trippy geometric patterns as well as cute critters.
They're sweet and simple, kind of like toddlers themselves.
7.

Bow Romper
Rompers are similar to overalls with the way they are versatile and practical.
Toddlers can look nice and still be ready to play at the same time.
This adorable version has tiny bows instead of buttons or clasps on the straps, puff sleeves, and Peter Pan collar.
I just recently learned that's what this type of collar is called… I have no idea why, it doesn't really seem fitting for something so classy, but it is what it is.
And of course, in typical romper fashion, it has short little puffy legs as well.
8.

Welcome To Autumn Toddler Outfit
It's the time of the season when you have to try and wrangle tiny humans into weather-appropriate clothing.
I'm sure all the real parents out there wish giving their kids more layers was doable with the click of a button, but it's no small feat that this is possible in The Sims.
This outfit was made specifically with autumn in mind, when the days are growing shorter and colder, but it's not quite time to stay stuck in the house yet.
Those of you in areas where it doesn't get cold won't get it, but to put it in neutral terms, Willow Creek and Brindleton Bay Sims have to consider these things!
Toddlers from those parts have it easy now, with this stylish set from InstantRhiiPlay.
9.

Toddler Shirt & Jeans Set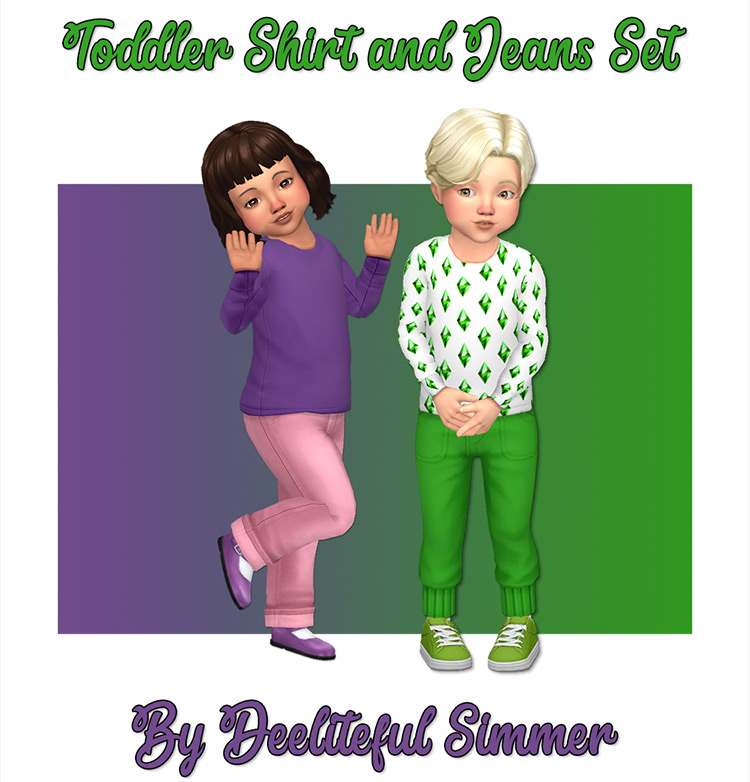 This CC offers some basics that every toddler should have, simulated or not.
These long sleeve shirts come with two options: solid colors or printed.
Either way, they'll definitely come in handy.
Whether your Sim's little one is just spending a day watching TV or playing in the backyard, a casual outfit is the key.
It can be tempting to dress them in fancy stuff all of the time.
But toddlers are still at an age where anything and everything can become a mess that no amount of bleach will fix.
These jeans also have a brilliant theme of simplicity, although they have a cute cuff at the bottom.
10.

Hayden Pants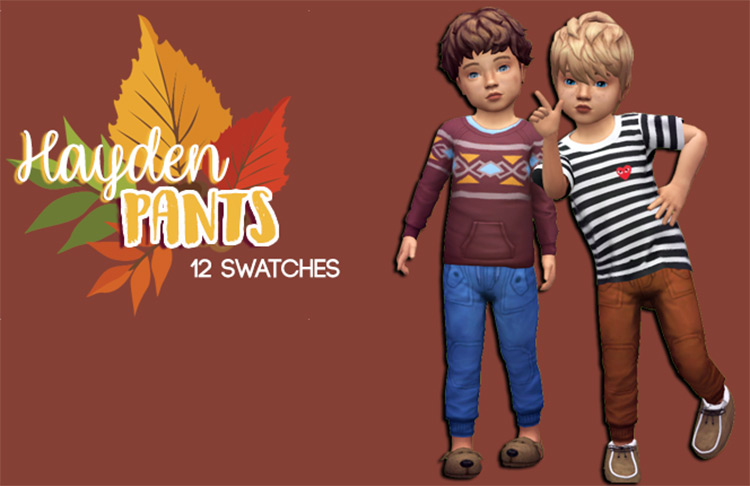 For a change of peace from jeans and sweats, Hollowsprings has some toddler cargos here that are pretty cute.
At least I think they're cargo pants, anyway.
They have nice pockets and visible stitching, so I'd say these are bottoms for a toddler who means business, like drinking juice boxes and making sandcastles. Important stuff.
They come in 12 great swatches that'll be super easy to make a good outfit with.
Like jeans, these basically go with everything.
11.

Sleepy Time Toddler Tee
There's just nothing more adorable than a toddler in a big baggy tee.
Whether it's a hand-me-down from an older sibling or someone just bought them the wrong size, it honestly looks like peak comfort, too.
With the way this game works, all clothes usually seem to be perfectly tailored to your Sim.
But Pickypikachu has got all you need right here.
This tee not only goes clear down to your tot's knees, but it's a little lopsided up top too. Y'know, to really maximize the charm of this shirt.
The sleeves even add up with that and sit at uneven lengths.
Now toddlers have a perfect "lazy day" outfit for when it's noon and they still aren't out of bed.
12.

Meow Sweater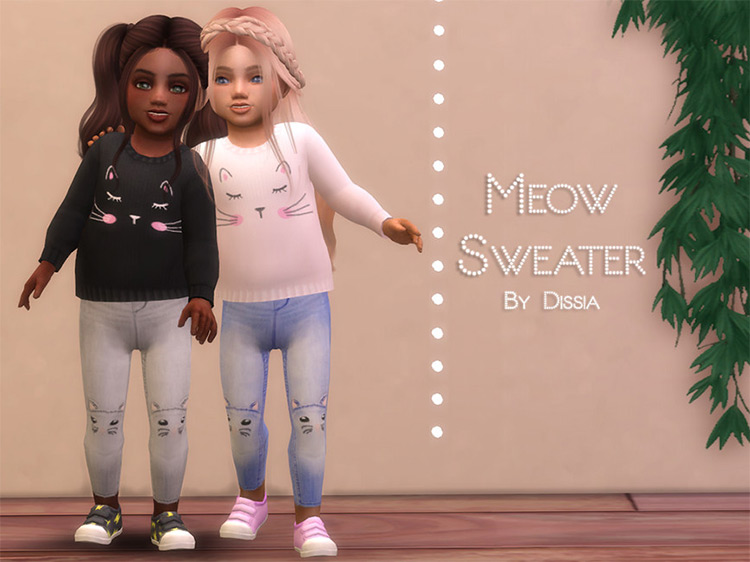 Humans usually figure out pretty quickly how adorable and wonderful animals are.
Furry faces can bring a lot of joy, even just the sight of them – and that's why clothes for all ages are covered in adorable animal friends!
Clothes manufacturers caught on fast.
This CC sweater will keep your Sim's toddlers warm in style.
The front has a sleeping cat's face, complete with a little nose and whiskers. You can still see the nice knit texture through all 7 swatches.
13.

Toddler Icon Tees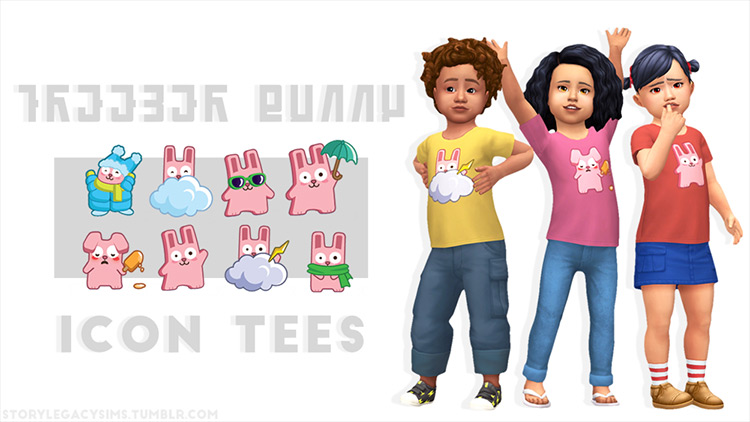 Icon tees are iconic.
This is another thing that people of all ages can wear, though toddler versions usually stick to age-appropriate images that are innocent and fun.
In The Sims franchise, that means Freezer Bunnies.
These games are kept fairly PG-13 throughout, although there are some mods that can definitely change that in some disturbing ways.
But since we're talking about toddlers, it's best to keep things as age-appropriate as possible.
Freezer Bunnies are one of those bizarre yet classic parts of The Sims. It's also a little bit of a mysterious creature since his history and purpose is mostly unknown.
Each of the swatches here features the various versions of Freezer Bunnies, including:
Them bundled up for winter
Holding an umbrella
In a thundercloud
And many other designs!
14.

Toddler Onesie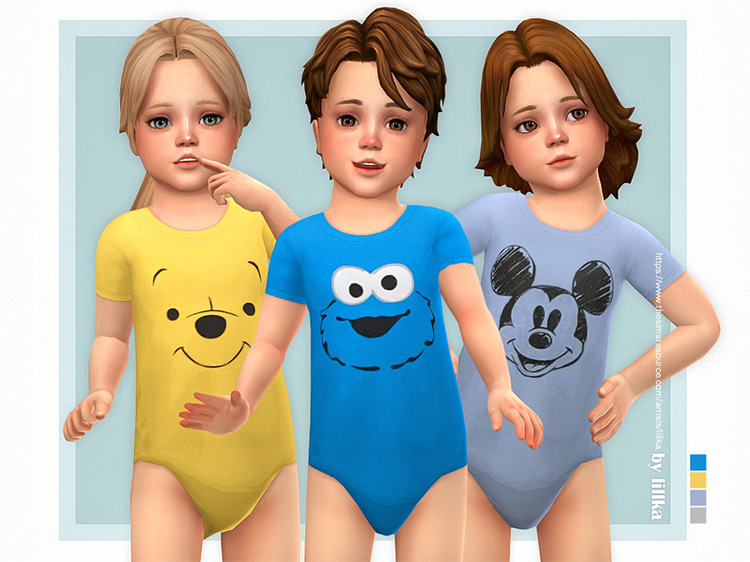 All of a Sim's life stages are rather ambiguous.
There are no set numbers dedicated to them, so that's basically left up for each player to decide for themselves.
But toddlerhood is a very important time, where usually a lot of development happens in a very short span.
Well these onesies will keep your little ones looking little, to really emphasize their phase in life.
Not only does this CC have the typical cut for babies with short sleeves and no legs, but they also feature characters adored by children everywhere, including Cookie Monster, Winnie The Pooh, and Mickey!
15.

Layered Dress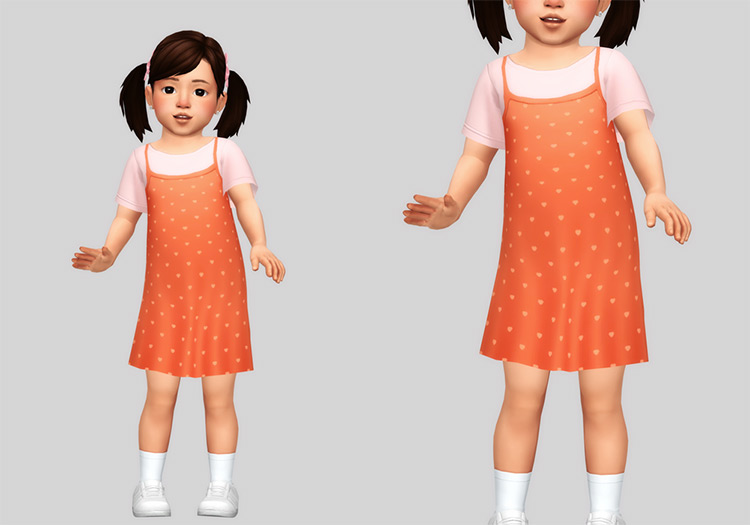 Why just wear a dress when you can layer it over something else?
More layers, more fun!
OK that may not be the case for everyone. But this creation from Casteru looks so lovely, it seems that way.
It has a simple spaghetti strap dress over a t-shirt, and looks like it'd be incredibly comfortable.
This is one of those things that a toddler can pull off effortlessly, but would take a lot for an adult to not look frumpy. Tragic.
Your toddlers will look pretty as a picture in all 30 swatches, no matter the season.
16.

Toddler Swimsuit Recolor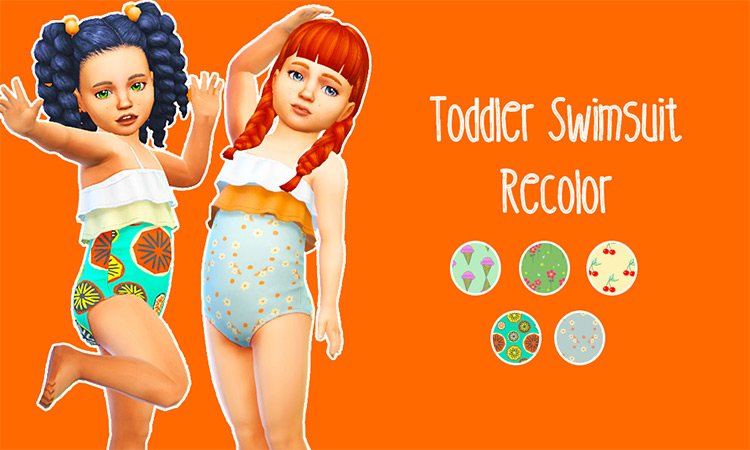 I never really understood why there was a toddler swimwear category in CAS even if you didn't have Seasons.
Without that pack, toddlers have literally no reason to wear a swimsuit… they ain't swimming.
But Seasons did bring lots of great new ways to get your Sims out of the house, including toddlers.
The kiddie pools that are included are one of my favorite objects, so I'm familiar with all of the swimsuit options currently available.
If you feel the same, then these 5 recolors really will be a nice change.
They're very vibrant and summer-y, with patterns like ice cream cones, cherries, and fruit.
17.

Belle Bow Blouse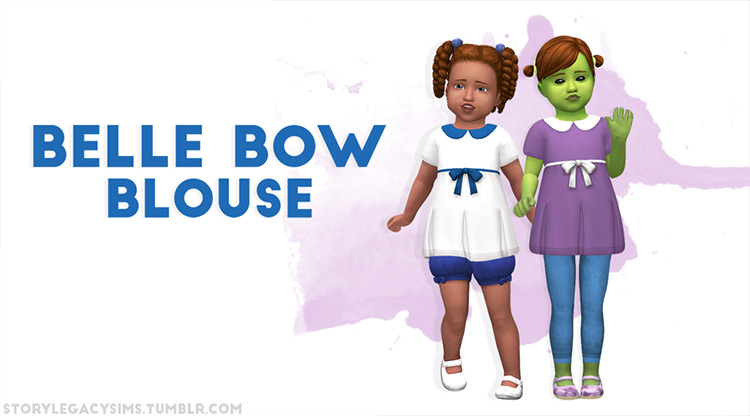 Bows add a sophisticated flair to just about everything.
And while toddlers generally aren't and shouldn't be sophisticated, it can be nice to make them look classy… right before they start throwing food or smearing paint.
But this blouse is far from extreme – it's just a sweet top with a Peter Pan collar and bow on the front.
At the bottom there's a pleated effect too, which gives it even more dimension.
You'll be able to put together some lovely outfits with these 20 swatches, most of which include a solid color, alongside the collar and bow using a different complementary color that'll.
18.

Mismatching Wellies & Shoes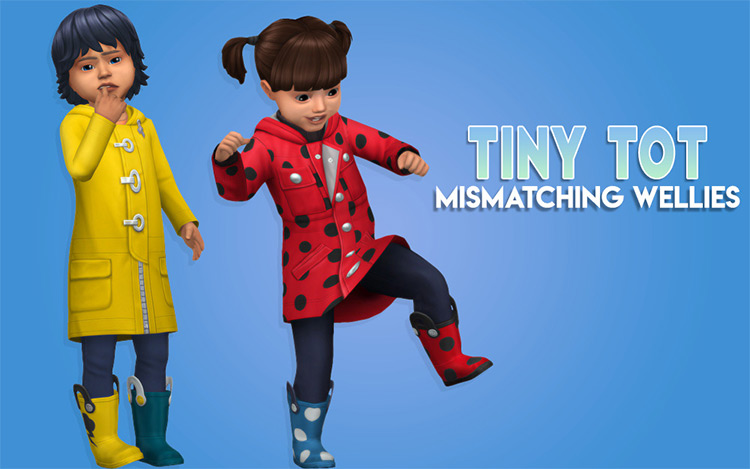 Toddlers usually won't make the best fashion choices when left to their own devices.
But that sure can be cute!
And cam create some awesome photo ops.
This CC set allows you to do what was previously impossible – give your toddlers mismatched shoes!
It's bound to happen at least once in most families and now this endearing taste of realism can be in your game.
For those of you with Seasons, your toddlers can wear two different wellies, also known as rain boots.
I just love the implications here. It's like the kiddo was so excited to go play in the rain, they couldn't be bothered wearing the right boots!
There are also mismatched shoes here, which are for the base game.
And this CC goes even further than the wellies, since these swatches include one sandal and one sneaker.
That's a sure sign of a toddler who dressed themself, and wasn't totally "with it" when they did.
19.

Circle Skirt For Kids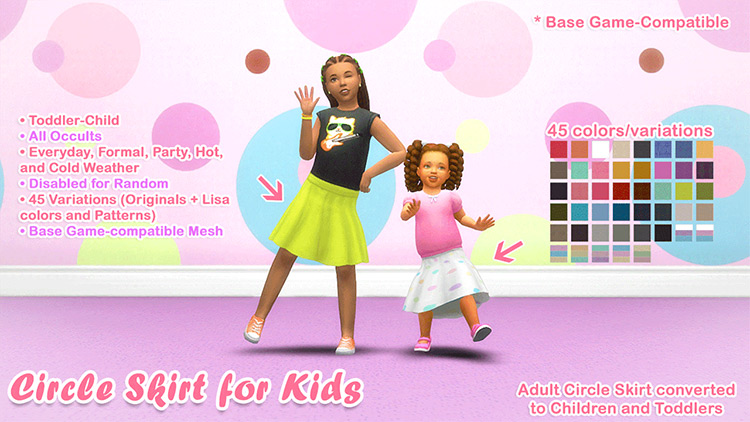 Skirts are surprisingly versatile considering how one-note they seem in theory.
I mean, they're basically just flaps of fabric. There are no legs like with shorts or pants, a skirt is just… there.
Well for this CC, Hypergnomesimblr converted the base game adult skirt down to kid's sizes.
Any toddler will look very darling in these long flowing beauties.
It's available with the original swatches, as well as plenty of fun new ones.
So you'll have a ton of solid colors to use as well as some lovely pastel swatches with stripes, dots, and geometric shapes.
20.

Toddler Hoodie Recolors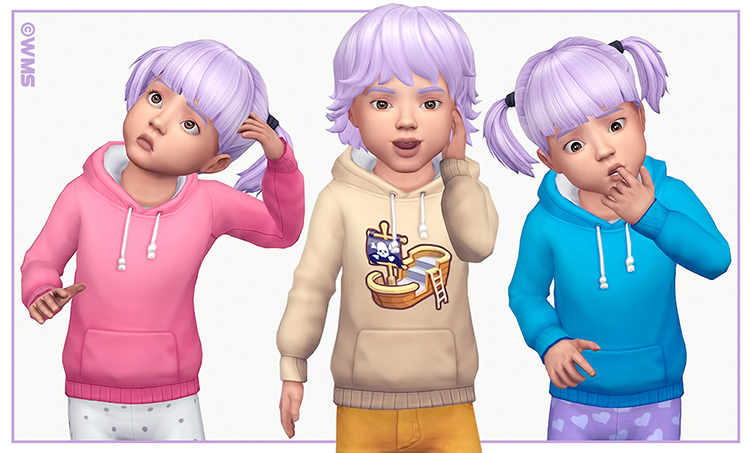 Simmers often like to edit existing clothes to create something new.
But there's not much you can do with a hoodie… except when it comes to the swatches.
There's always room for improvement there.
And thankfully, WildlyMinatureSandwich has got us covered.
These 55 recolors include just about every shade for all the colors of the rainbow, plus 20 graphic swatches as well.
Those graphics include images like an alien, a spaceship and a cowplant.
You know, just normal toddler stuff.
You can even decide whether you want to download just solids, just graphics, or both, since the creator offers single and merged download files.
Browse:
Lists
Maxis Match
The Sims 4
Video Games