Sims 4 Maxis Match Toddler Furniture CC (All Free)
This post may contain affiliate links. If you buy something we may get a small commission at no extra cost to you. (Learn more).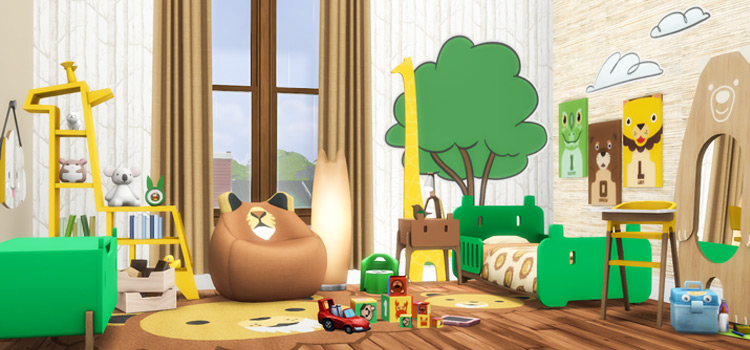 It's practically a necessity to find extra CC for your sim kids at one point or another.
Unless you're a vanilla game puritan (and clearly you're not), there's bound to be some sim family that captures your heart so much that you want to build them a custom home – including rooms for their little ones.
For me, every sim family ends up like that!
Toddlers always get special care and attention. They're the next sim generation, which is worthy of attention on its own, but they're also super cute.
Besides, toddlers tend to be beings of pure chaos. And they need lots of toys to balance it out.
With EA only offering so much, CC is always the way to go. And Maxis-match CC is just the icing on the cake!
1.

Roarsome Kids Bedroom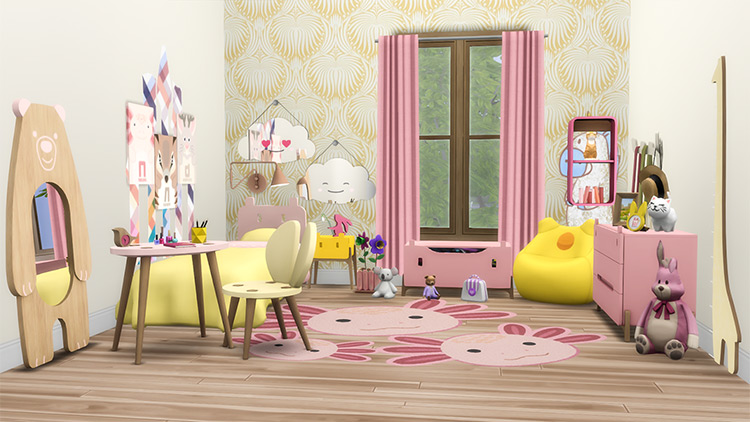 To start this list off with a bang, let me introduce you to the Roarsome Kids Bedroom set.
It's a giant CC set, with 30 new items, including functional ones (all of the beds and the bookshelf) and a metric ton of swatches.
The lowest number of swatches an item has is 4, while the highest is 44. Most swatch counts fall somewhere in between.
Aside from being ginormous and Maxis-match, this set also uses one of the most fun and popular designs for a kids room: animals.
From giraffes to koalas, this CC will let you turn your toddler's room into a safe, cozy, and far less smelly zoo.
2.

Stephanie Nursery Apple Toy Box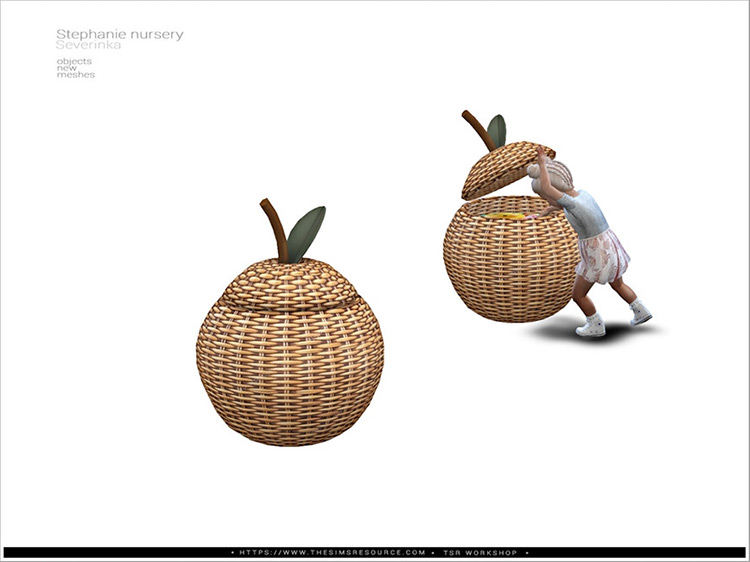 It can be surprisingly hard to find good toy boxes. And it gets even harder when you want Maxis-match ones.
This CC ticks both of those boxes (pun not intended), but it also happens to be super creative.
The apple design is cute, but it'd be even cuter to see your toddlers peek into it to grab a toy. Which you can actually do, since this CC is fully functional.
It doesn't have any swatches, but that isn't much of a loss since it's a basic woven basket. The colors that were chosen for it do a great job of looking like a basket apple while showing off the gorgeous woven texture.
3.

Cutie-Pie Kids Room Desk Chair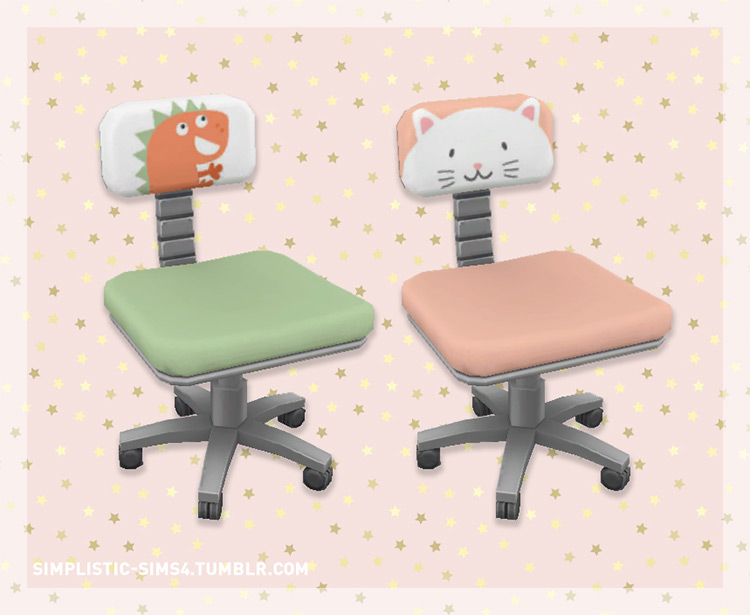 Sometimes it's unnerving to see your sim children doing homework or sitting in front of a computer because they remind you so much of yourself.
It's like they're already adults, hard at work.
Sometimes, though, it's just really cute – and this desk chair CC will ensure that it falls into that latter category.
And it's thoroughly a Maxis-match model!
There are 6 basic colors and 10 cutie-pie patterns, usually featuring adorable stylistic animals. But there's a robot and a fairy amongst all of those animals, so there's something for everyone even if they aren't animal lovers.
4.

Whimsy Circus Toddler Set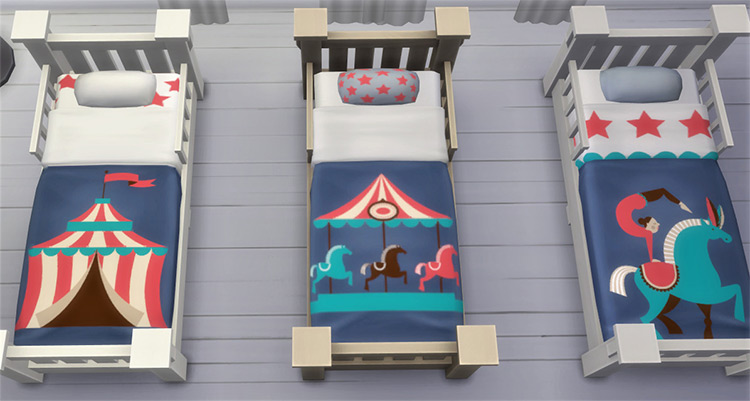 These days, it's increasingly less common to take your family to the circus.
I've never had a circus visit my town, so the only experience I ever had with them was through TV shows, movies, and video games.
This Whimsy Circus set is a fun way to bring the circus to your sim toddler, without the ethical concerns or the need for a circus mod. It's also just adorable.
A bed, wallpaper, and a growth chart (too bad this is useless in the Sims 4) complete the set. Everything is essentially the same color, but the bed has 3 swatches that feature different circus-themed patterns.
5.

Toddler Bed (by Chalipo)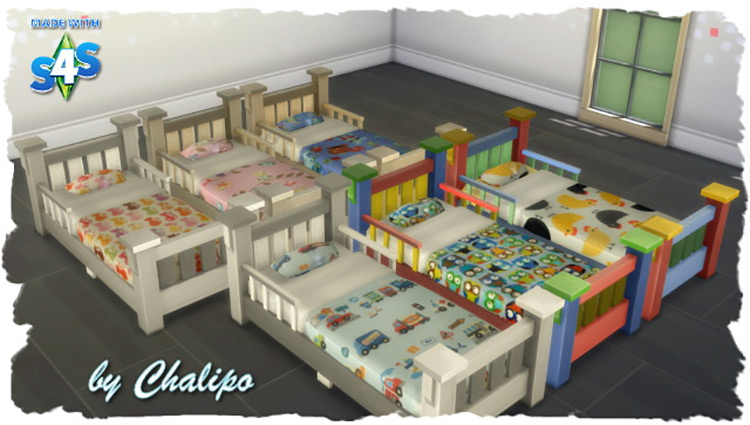 While this CC might seem strictly worse than the earlier packs because it's only a single bed, don't write it off just yet.
It is a darned good bed, even though it's simplistic.
There are two main 'looks' that this bed has.
First, there are 4 swatches with cream, gray, and brown shades of bed frames that seem fit for a mellow suburban house or even a cottage in the woods.
On the other hand, there are 2 extra vibrant swatches with lego brick colored bed frames that would look great in an urban setting.
But really, either look could work in whatever situation you want it to.
6.

Toddler Creativity Pack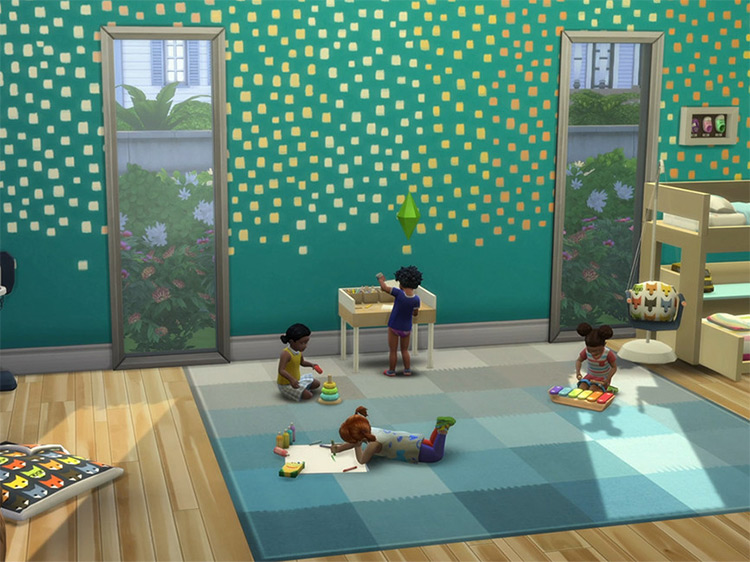 The most magical thing about children, by far, is their unfiltered creativity.
It even makes up for all of the stress and chaos that toddlers often cause.
The thing is, a child's creativity can only truly be unleashed when they're provided with the means to actually express themselves.
The Toddler Creativity Pack is founded on that idea. And it will put music, drawing, and loads of fun at your sim children's fingertips.
It includes 4 functional toddler toys, complete with custom animations. You can tell that a lot of creativity went into the creation of this CC – and it paid off!
7.

Wicker O' Wisp Kids Room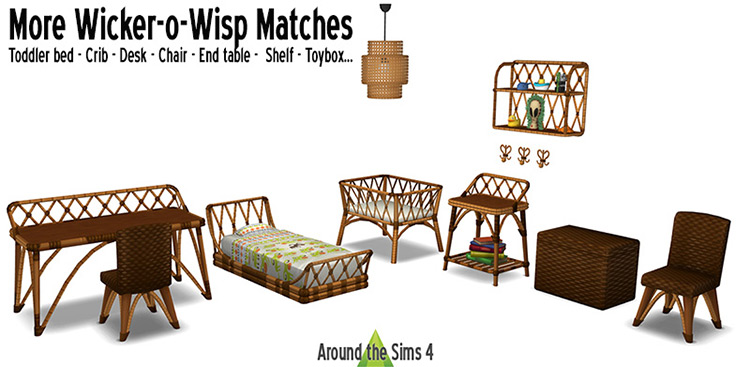 When I saw this CC for the first time, it immediately reminded me of the rickety, spooky home atmospheres in some games.
But this is not that.
The Wicker O' Wisp set uses woven wood and a handmade aesthetic to create an atmosphere that is surprisingly warm and cozy. It also has all of the mainstays that your child's room needs to feel like home, from a toybox to a desk and chair.
For siblings with a (very) small age gap, there is both a toddler-sized bed and a crib included.
With this many goodies, I'd accept it even if it didn't have swatches; but this CC has 8-14 variations for each mesh.
8.

Lenny Kidsroom Furniture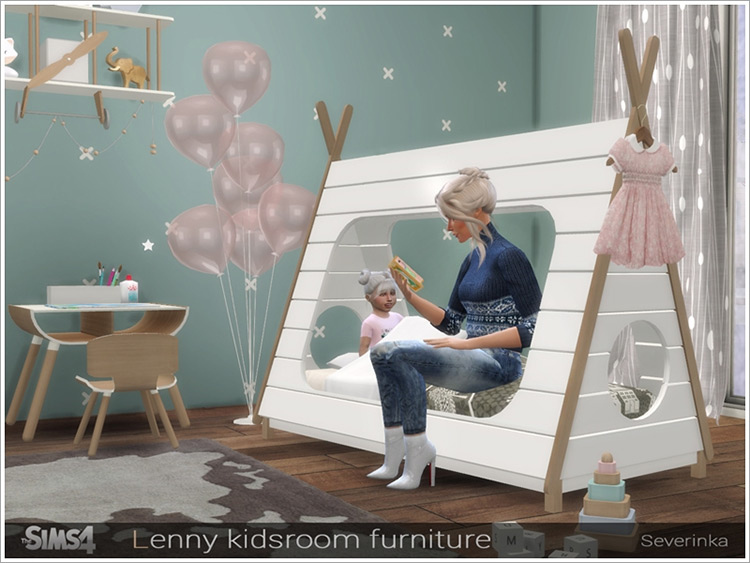 If dreamy builds are more your style, then this kids room set is for you.
It has all of the essentials steeped in a soft, sleepy aesthetic, making it the perfect place for a toddler.
A tent-shaped bed is enough to fill anyone with wonder (I know I would have loved something like that when I was a child), but the addition of an airplane shelf, a world-map rug, and a dream catcher really take it to the next level.
Although every piece of furniture only comes in soft greys, browns, and pastels, most of the items have a few shades to choose from.
9.

Kids Bedroom CC Pack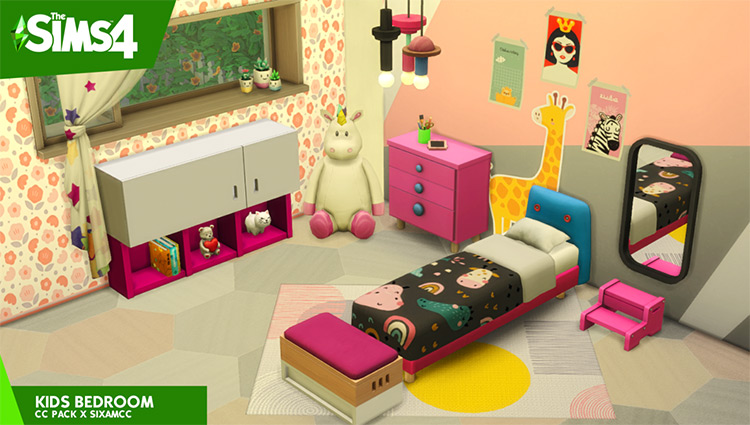 This Kids Bedroom Pack may not have a catchy name.
But it proves you don't need a great name to offer awesome CC, as it has colorful and creative features in that signature Maxis-match style.
More specifically, it introduces 46 new items with more swatches, variations, lengths, etc. than you can count.
If you're big on making lots of sim babies (looking at you, 100 baby challenge), then this pack will save you from downloading a bunch of different CC.
Best of all, the beloved freezer bunny gets a new life as a bed frame – 10 bed frames, to be exact.
10.

Functional Toddler Bunk Bed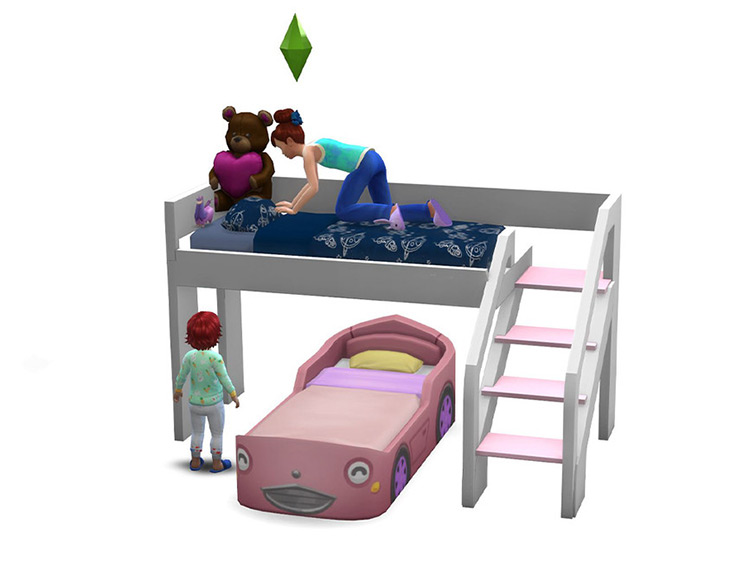 Whenever my sim has a child for the first time, I'm always dead set on making sure they have another one soon.
Siblings can be awful sometimes, and annoying lots of the time.
But I feel like every sim kiddo deserves to have a sibling to grow up with.
That means I'm always on the lookout for CC like this, where I can have two toddlers share one piece of furniture. Plus it's a great way to save space!
Not only is this CC fully functional, but it's even animated – so you can watch your little ones crawl into bed every night.
11.

Toddler Bedroom Stuff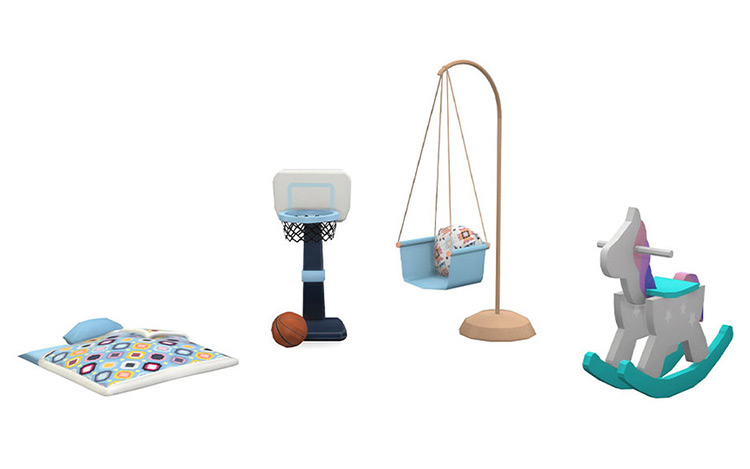 Despite the name, this CC pack includes toddler stuff that could easily be used outside of the bedroom. Take the kids basketball hoop, for example.
It could make its home in the living room or outside and nobody would bat an eye.
Something that would definitely result in some double takes (at least in the real world), on the other hand, is the toddler swing.
I definitely wouldn't want to put a fragile human baby into a piece of furniture they could fall out of so easily!
Thankfully, none of that is a concern in the Sims 4.
All of the items in this CC set are functional too – so there's no drawback there, either.
12.

Toddler Bed Frames and Mattresses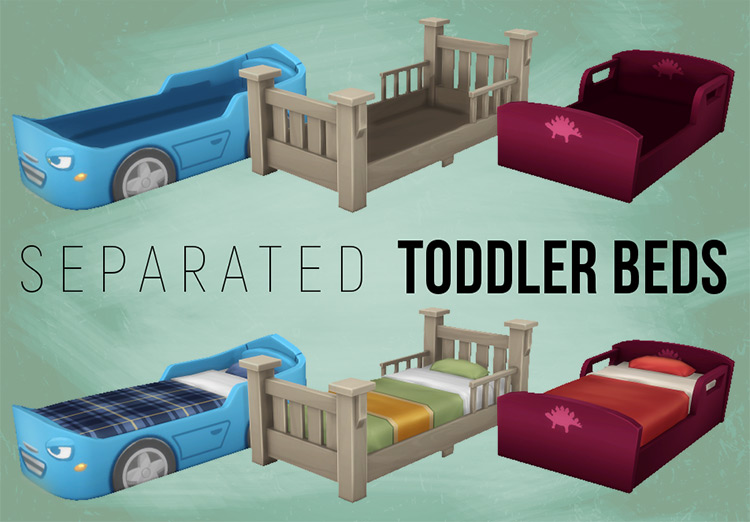 You can never have enough cute toddler beds.
There will always, always be another sim family with kids for you to decorate a house for.
The beds featured in this CC are great enough that they don't need another selling point. But they have one!
Your sim toddlers can pick between a dinosaur bed, a car-shaped bed, and a homey (but regular looking) bed. Then, they can choose all over again when they pick out a mattress.
Each bed in this set is actually made up of two separate items: a bedframe and a mattress.
That doesn't just mean an extra step. It means you have more customization options – and who doesn't want those?
13.

Odette Kids Room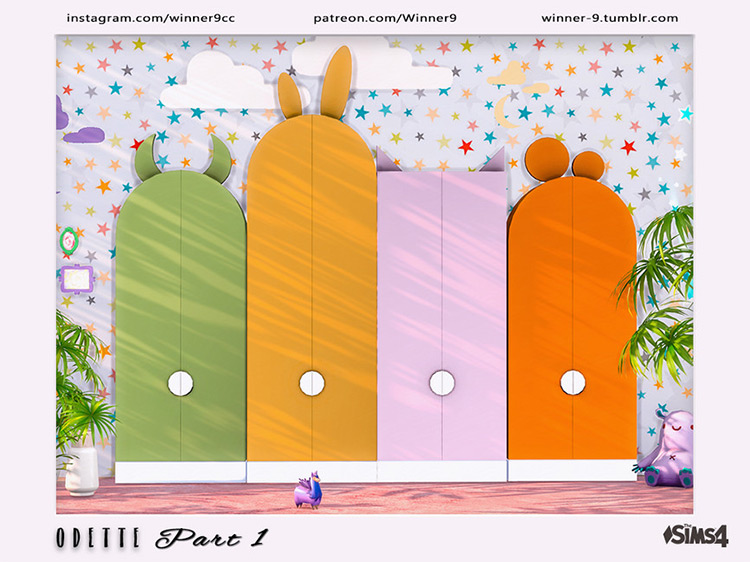 This kids room CC set gives me Monsters Inc. vibes. But instead of actually being like Boo's room, it's like off-brand Monsters Inc. merch instead.
That sounds bad, but it's not – it's really cute!
The set includes 4 mirrors and 4 wardrobes with little animal ears on top. One of the mirrors and one of the wardrobes have tiny horns on top, hence the Monsters Inc. vibes.
Monsters Inc. aside, if you or your little one is a huge Disney fan then they'll feel right at home with the mouse ear version of this set. It looks just like Mickey Mouse, but in a brighter color palette.
14.

The Kids Room High Chair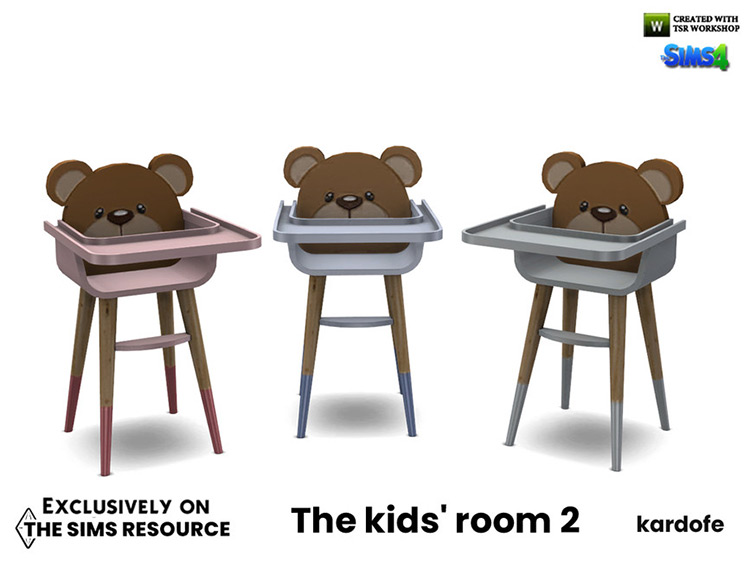 Eating is absolutely essential for little hobgoblins (AKA toddlers).
Small children are going through the most growth-intensive period of their life, whether they're sims or real kids.
This CC will help you get through all of that eating worry-free. You'll even be able to take a relaxed moment to notice how cute your toddler sim looks in their bear-themed high chair!
The bear itself never changes color – but there are 3 color options for the rest of the high chair. Baby blue and pink tend to be easy colors to find for kid's stuff, but if you want a break from those typical colors then there's a plain grey version here, too.
15.

Teddy Go-Go Potty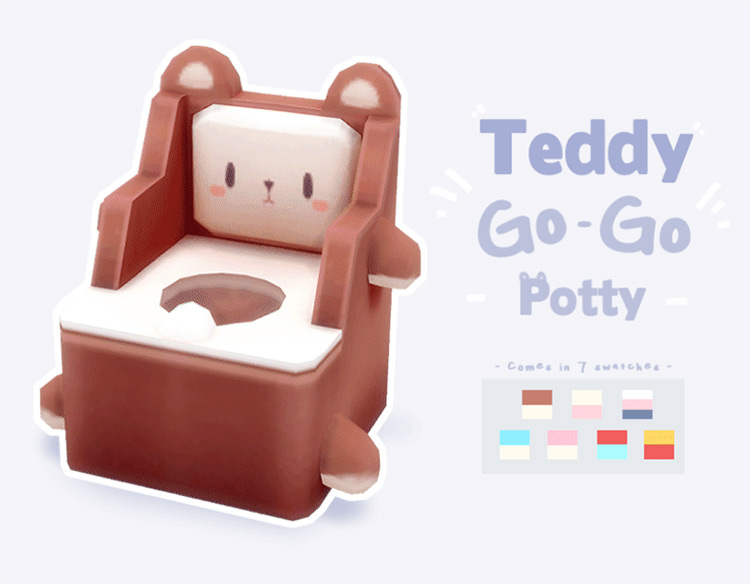 Another important (but markedly less fun) aspect of toddler growth is potty training.
What goes in must come out, right?
It's definitely ideal for your toddler to be able to go on their own after the diaper phase, but it can be a nightmare to find a functional toilet that is actually made for your sim toddler.
There's something a bit odd about seeing a tiny toddler using a regular adult's toilet – and the potty chairs in the base game are ugly, to say the least.
If that's something you're struggling with, too, then this CC is a dream come true.
Not only is it a fully functional potty chair, but it even comes in 7 swatches!
16.

Toddler Simulation Toilet Potty Chair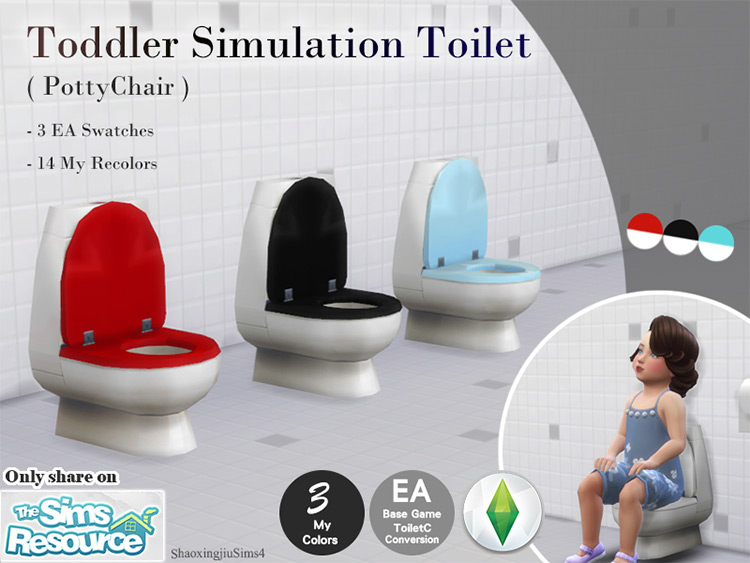 If you don't want to go the full bear CC route, then this potty chair conversion will be your savior. It's an EA item, but this time it has 17 swatches.
You can say goodbye to using those limited Sims 4 swatches, and say hello to color city.
Just like the original, it's fully functional and ready to help your toddler take their next steps (towards the bathroom).
The best part of using EA items is that they're guaranteed to be Maxis-match. I think at this point you could just call them Maxis.
17.

Cutie Pie Toy Box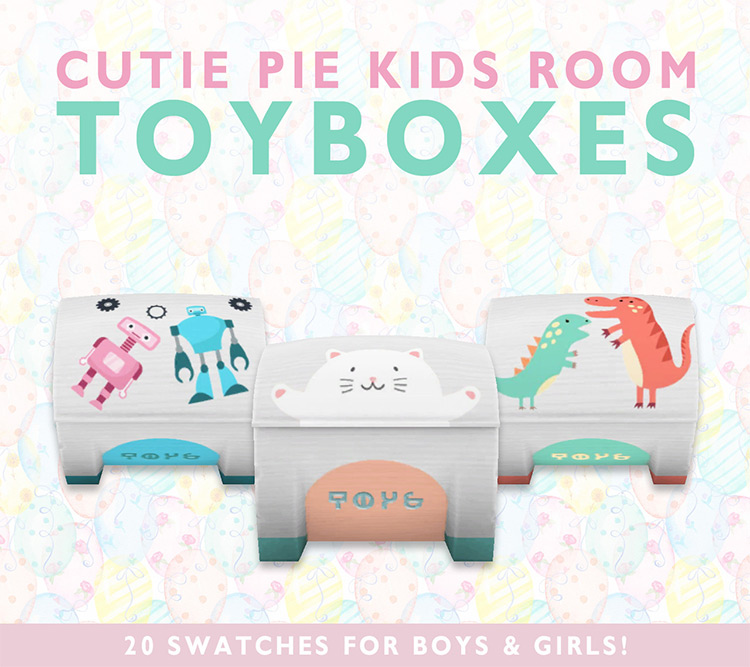 The Cutie Pie Toy Box is an adorable toy box item designed to fit with the rest of SimPlistic's Cutie Pie set.
Its design is straightforward (SimPlistic, even), but the pretty pastel colors and cutesy decals printed all over it are what really make this CC worthwhile.
Well, that and the fact that it has a bunch of other items to match with.
There are 20 swatches total, each with unique colors and designs. I can't help but notice that there are a lot of horses, robots, and kitties here – very valid choices, since those are all lovable by children of all ages.
18.

Nature Kids Extras Set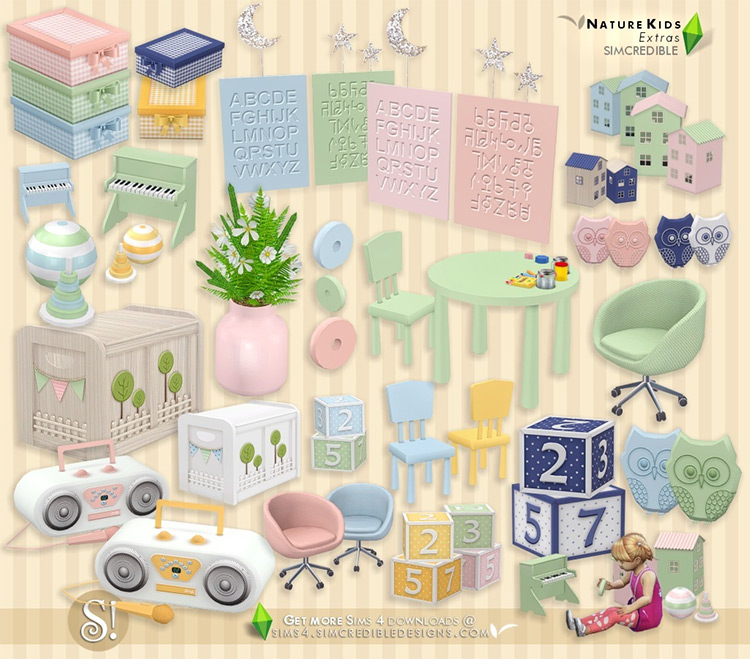 A sweet, nature-centric kids set is the perfect way for a nature-loving parent to pass that appreciation onto their children.
This set is also one of the larger CC packs on this list. But all of the items in it are 'extras'.
From toy boxes to dollhouses to a potted plant, there are enough toys and decorations for multiple kids (and multiple rooms).
My favorite item is the alphabet learning poster, with variations in Simlish and in English.
You can teach your sim children how to read, how to appreciate nature, and how to have a stylish bedroom, all with one set!
Browse:
Lists
Maxis Match
The Sims 4
Video Games