Best Maxis Match Vampire CC For The Sims 4
This post may contain affiliate links. If you buy something we may get a small commission at no extra cost to you. (Learn more).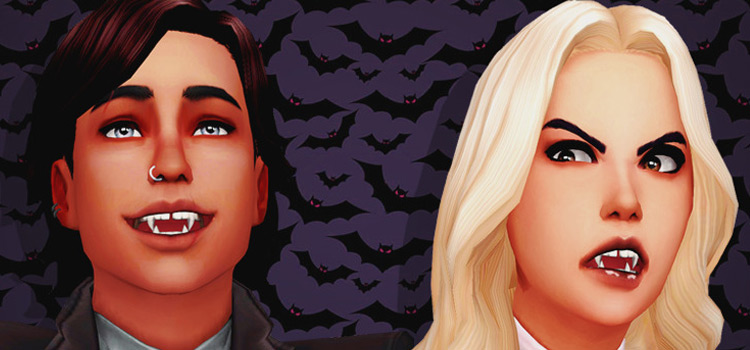 The Sims 4 is no stranger to alternative lifestyles.
Vampires are one type of occult Sim that we have a whole pack dedicated to. But as any player knows, more CAS options are always appreciated.
Most of this collection will allow you to create a vampire with base game compatible content. And it's all totally Maxis Match to blend in with EA's clayified style.
You'll have more customization possibilities than ever!
1.

Bat Wings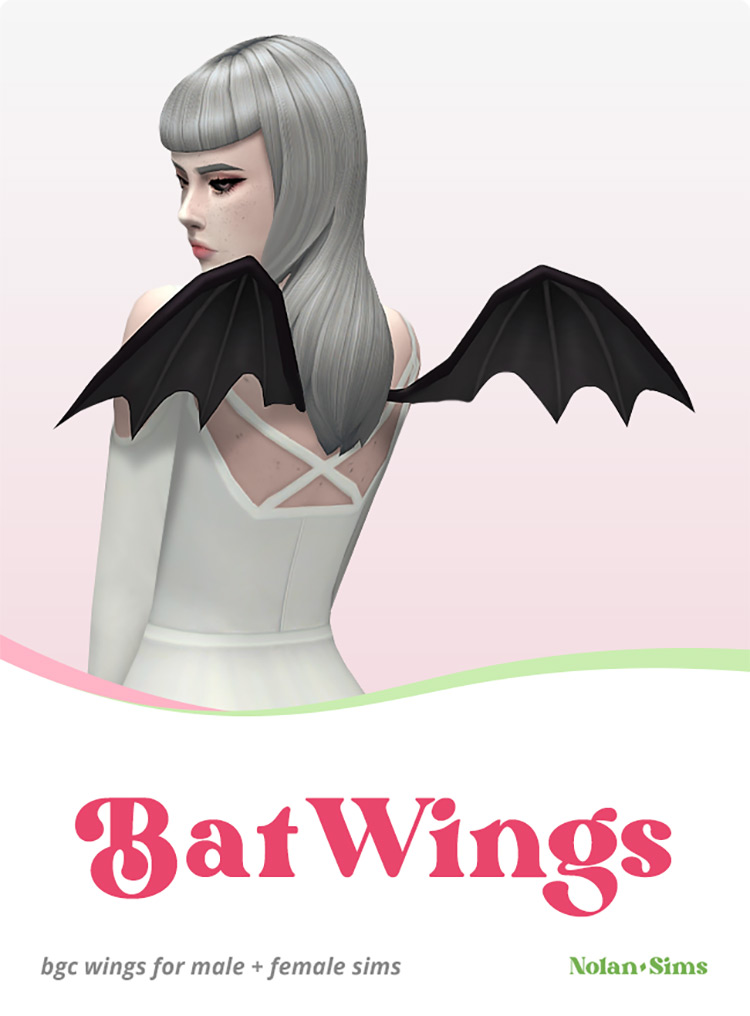 Until we can watch our Sims turn into their true form as a bat and fly off into the night, these wings will have to do.
I mean, why not?
They're certainly creepy to look at, and will bring that feel to any Sim.
2.

Vampire Stuff CC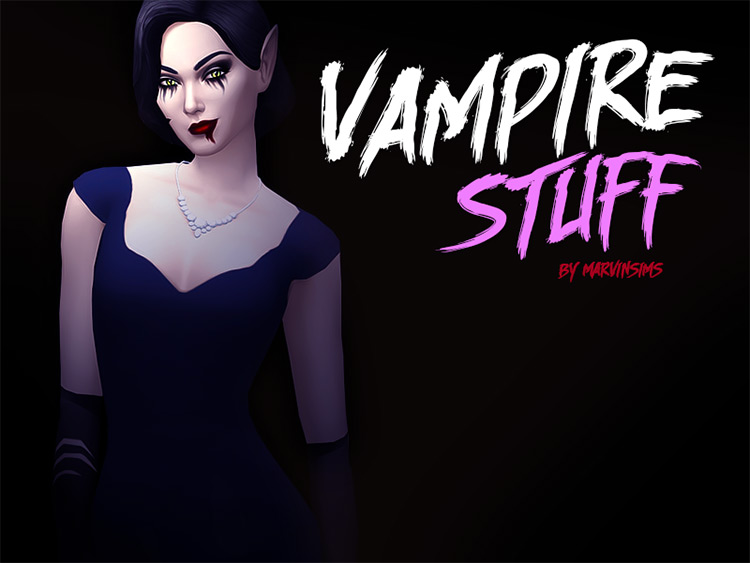 This edit is long overdue, honestly.
The scariest part is that they're supposed to be immortal, so does that mean eternal braces?
Somehow, that's the scariest prospect of being a vampire by far.
These look fantastic, and there's even a version with a gap.
3.

Vampire Teeth (With Braces)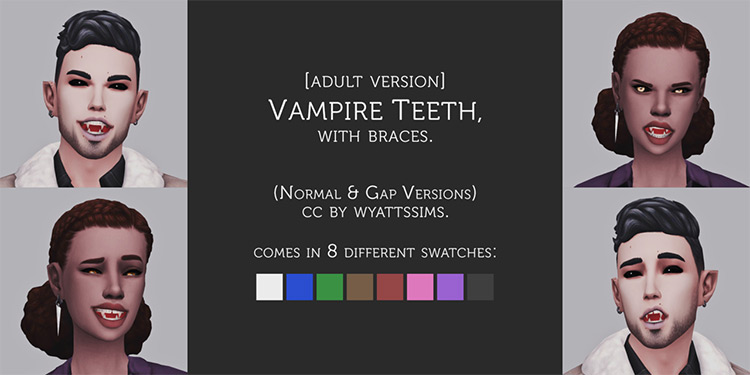 This edit is long overdue, honestly.
The scariest part is that they're supposed to be immortal, so does that mean eternal braces?
Somehow, that's the scariest prospect of being a vampire by far.
These look fantastic, and there's even a version with a gap.
4.

Gapped Vampire Teeth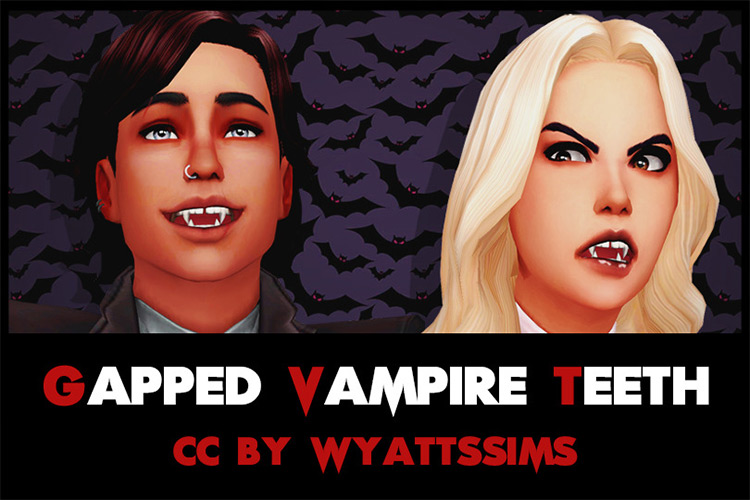 Here's another edit that simply makes it so there's a cute gap between those sharp, pointy fangs. Because who says they all have perfect teeth?!
You can also find an identical version for kids.
Both this gap and the braces are awesome ways to add diversity to your Sim's appearance.
5.

Dolce Vampire Eyes (Vampires Game Pack Required)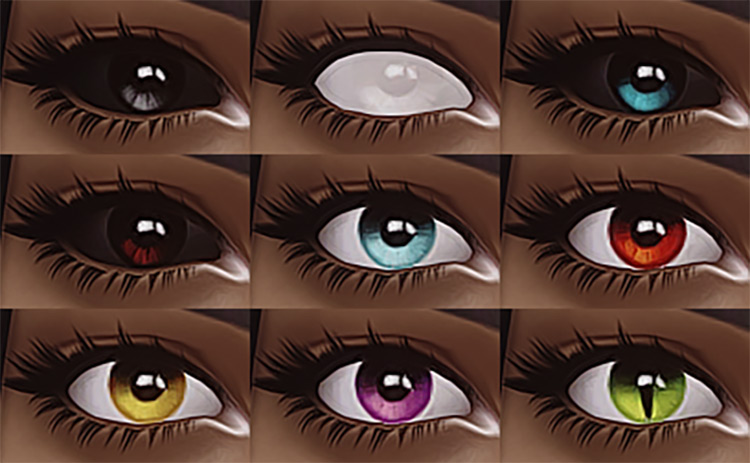 As unsettling as our "friend" Vlad may be, imagine how much worse he'd be with unnaturally dark eyes and blood red irises.
Yep. Wrixie, the creator, went there.
All of the eyes that came with the pack are made far more disturbing and striking by these edits. In a good way, of course.
6.

Elegant Vampire Dress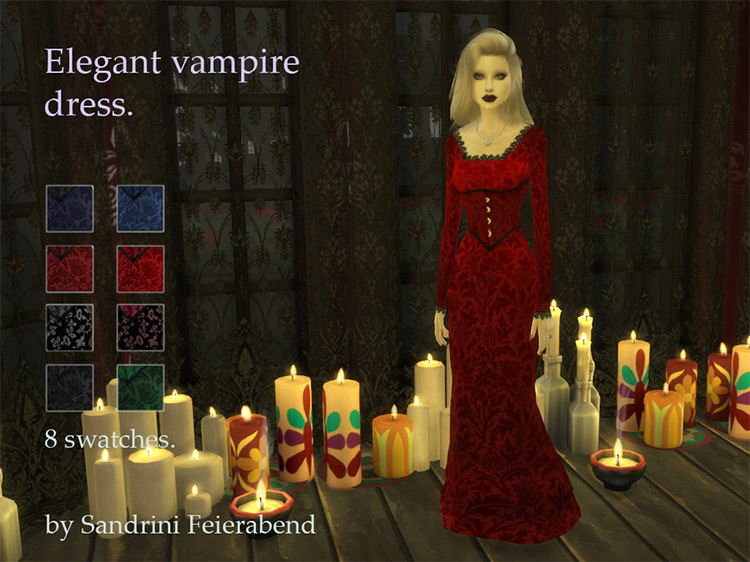 It's just not as cool if it's not implied that your vampire has been dead for hundreds of years.
Sandrini Feierabend's bold gown seems Victorian inspired. That automatically makes it even classier, it's a fact!
The lace trim, corset, and stunning patterns really bring the whole look together.
7.

Vampire Bites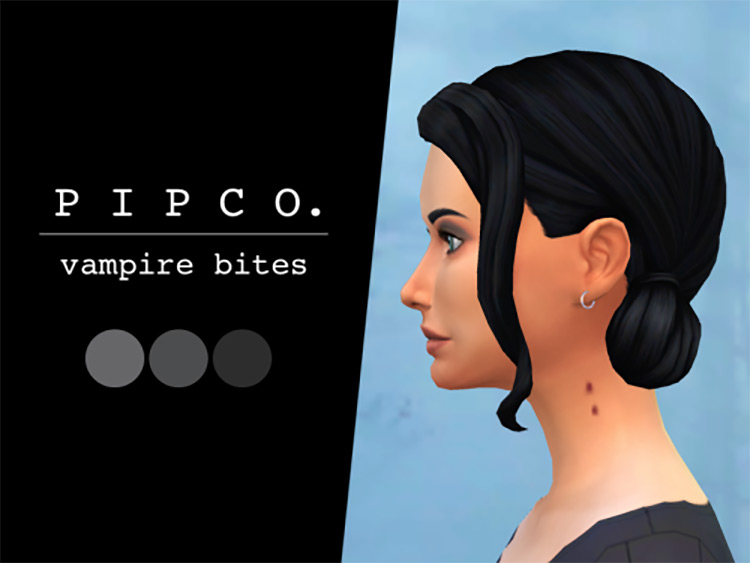 Whether they're about to turn or they're freshly undead, a bite mark on the neck says it all.
Pipco has kept this simple. Literally it's just two tiny holes, with swatches to suit any skin color.
And that's all it takes for the vampirism to take over.
8.

Vampire Duchess Makeup
Just because a girl is technically deceased doesn't mean she can't still be pretty.
Here's some eyeshadow and eyeliner that's fit for royalty, no matter their lifestate.
The 6 swatches of purple, red, black, and blue are just gorgeously vivid.
Tip: We have another list dedicated to vampire makeup CC, so be sure to check that out too.
9.

Gentleman's Fortune Male Shirt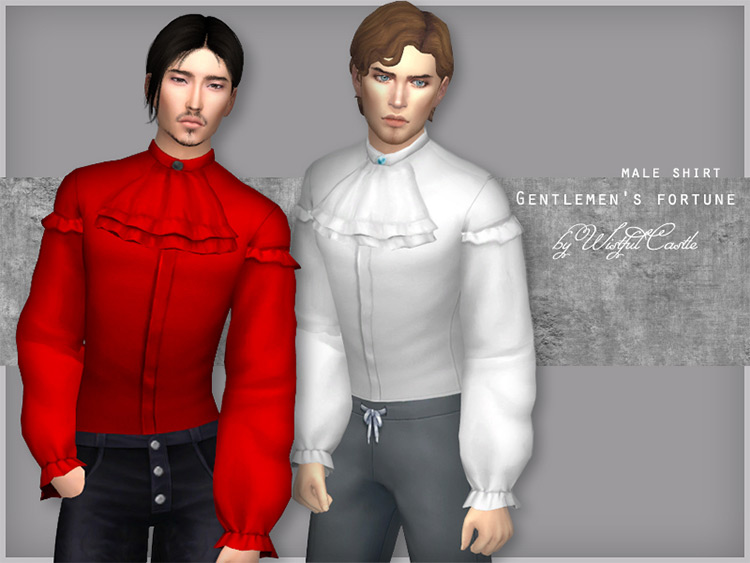 WistfulCastle didn't specifically say this is for vampires. But it's so dapper, it'll work just fine.
These puffy sleeves and ruffles have a fantastic texture, and the little gemstone on the collar makes it an even more spectacular top.
Even the swatches of red, white, and black are perfect.
10.

Vampire Hunter Dress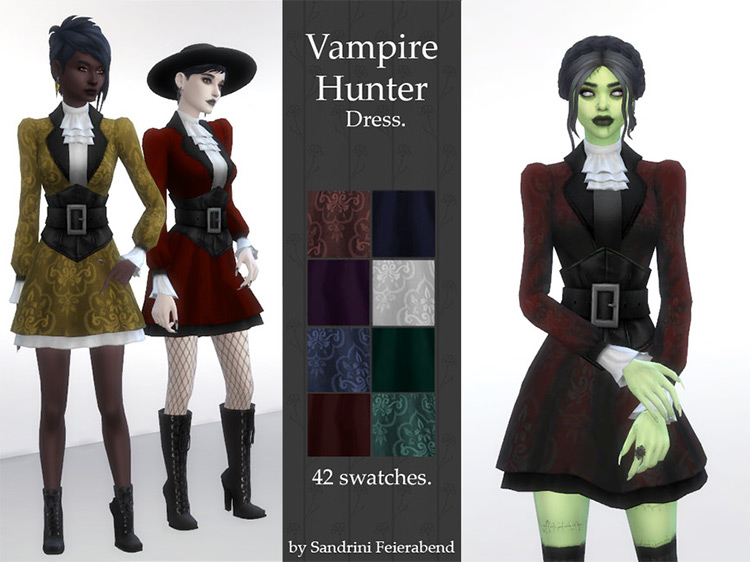 Here's a dress with everything a lady vampire could want.
A corset and belt combo, lots of ruffles, bold patterns and rich colors… that's all in the fashion handbook, if they have one!
The short length will allow you to add tights or tall boots if you want to as well.
11.

Natural Ombre Claws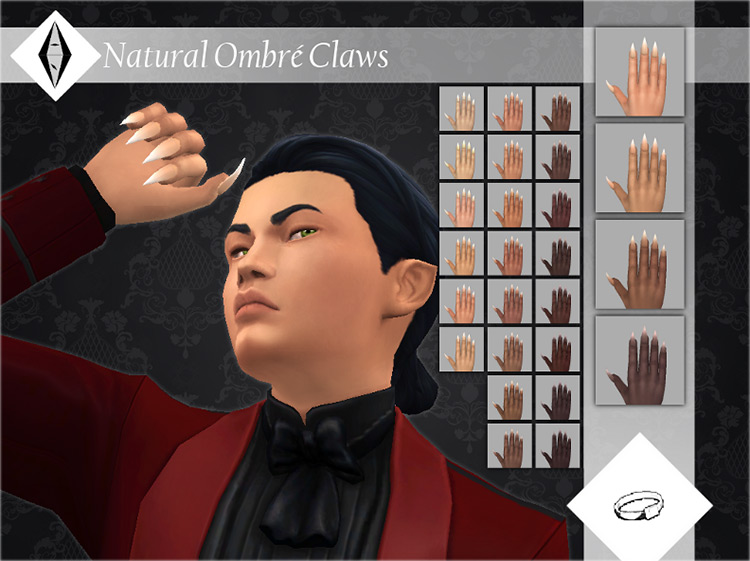 Vampire aesthetics vary wildly.
But here's some claws so pointy they're basically weapons that look pretty dangerous, if that's what you're after.
AleNikSimmer intended for these to look natural – and they definitely do. They've been sharpened to fine points, presumably to deal maximum damage.
12.

Gothic Lace Blouse Edit (Vampires Game Pack Required)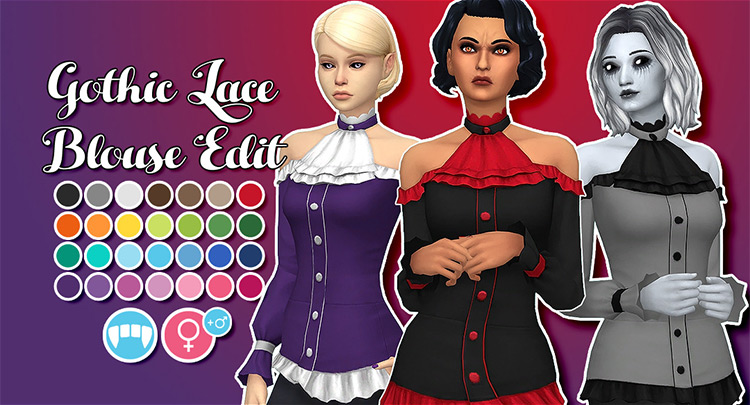 Official content is amazing. But sometimes, a few tweaks go a long way.
Now that this Simmer has removed the mesh bits, this blouse looks even more chic.
Some more colors have been added too. Most of them are sufficiently goth, same as before!
13.

Monarch Fang Set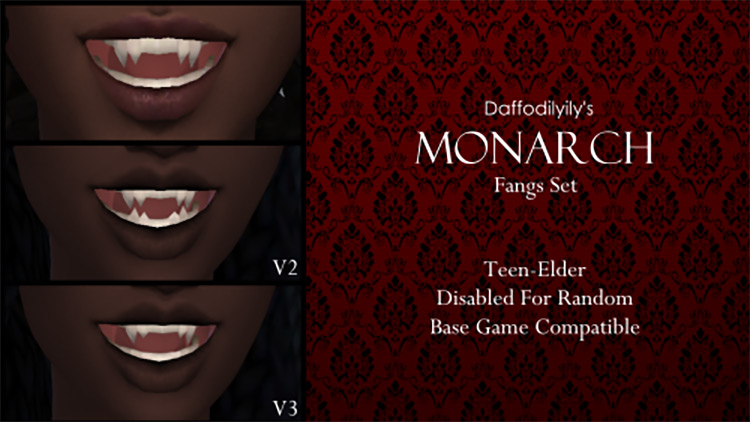 Three more sharp, menacing teeth options are added with this set.
In two versions, there are only fangs up top while the bottom teeth are normal. In the final version, both top and bottom are pointy. That would be one heck of a bite!
14.

Bright Eyes For Vampires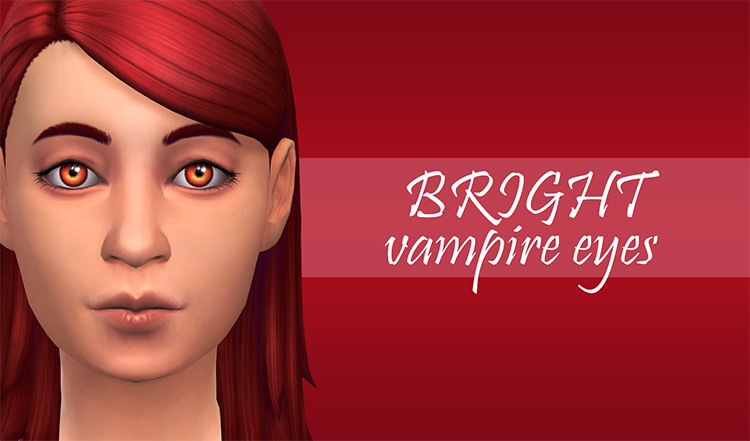 Every basegame eye color has been given a brighter makeover thanks to PatoTFP.
Besides the standard shades of brown and blue that have been made significantly more vivid, there are 20 brand new ones added.
In some, the white of the eyes are black.
That's particularly unnerving.
15.

Mavis Dracula Hair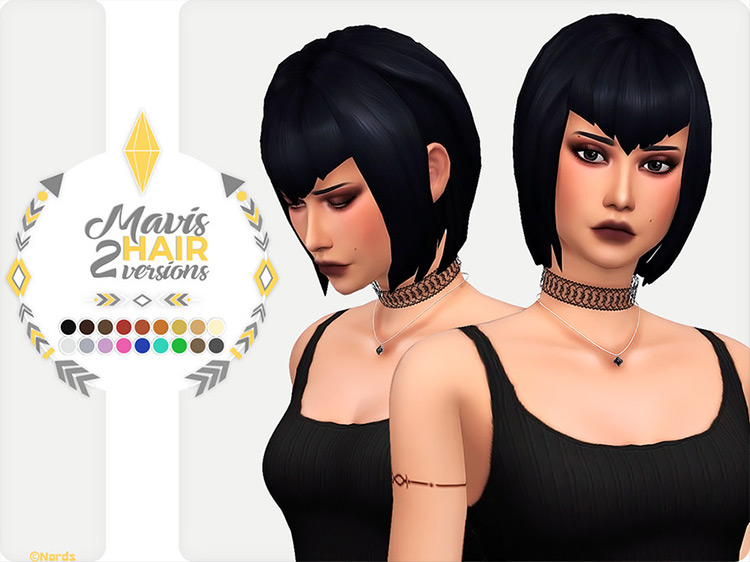 Nords' unique bob will help your Sim look like a vampire from head to toe.
It's smooth, straight, and the bangs have a cool, tapered cut.
Black seems like the go-to swatch, of course, but all of the other EA colors look awesome, too.
16.

Feral Poodles' Bat Wings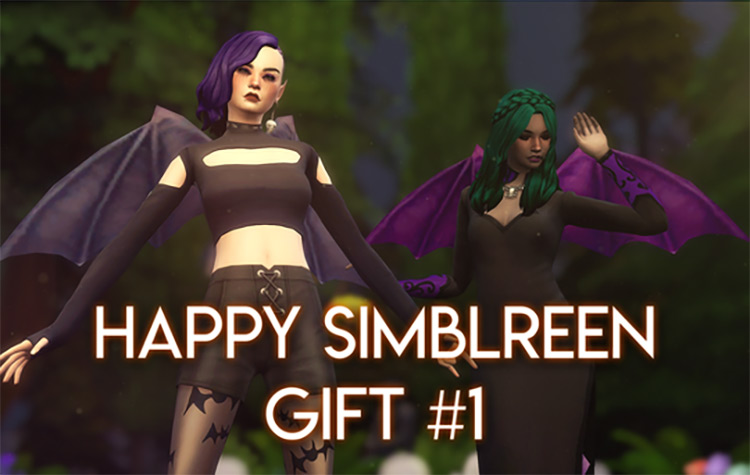 We're back to the bat theme, because a vampire who can fly must be the most dangerous of them all.
These are considerably larger than the other version. One pair moves with your Sim's arms, and the other will remain fixed.
Either way… a Sim with wings will always be spooky.
17.

Vampiress Set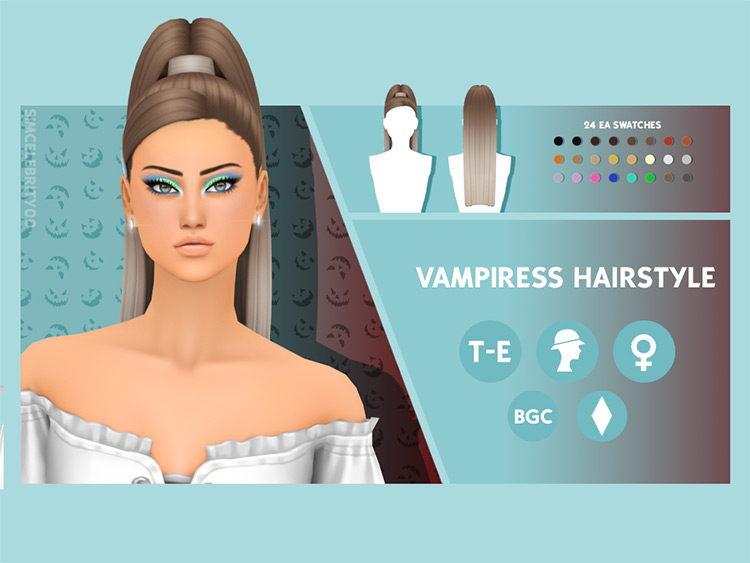 Victorian corsets and poofy blouses are awesome, but it's time we saw some modern takes on the vampire look.
In this set, you'll find a high ponytail, cropped corset top, and a miniskirt.
The old-timey inspirations are definitely still clear, but this trendy remake is actually fantastic.
18.

Batsy Dress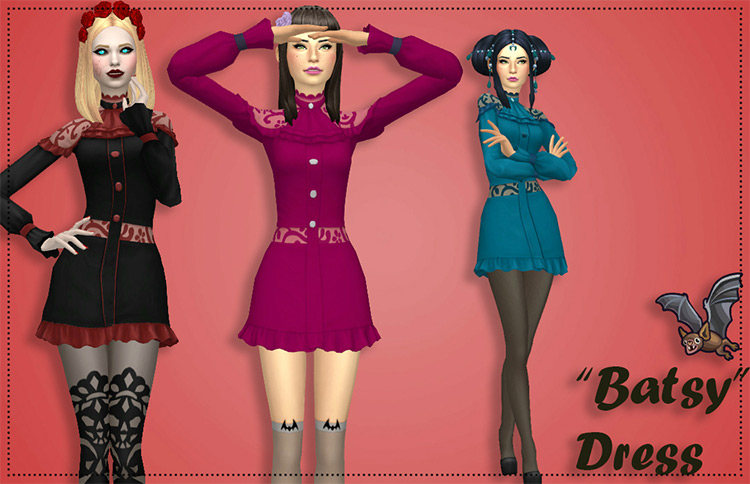 The blouse from Vampires has been edited again here.
But this time, it's been turned into a base game compatible dress.
Ruffles and sheer patches add an even more unique twist. And with or without tights, the Batsy Dress is downright stunning.
19.

Vampire Eyeliner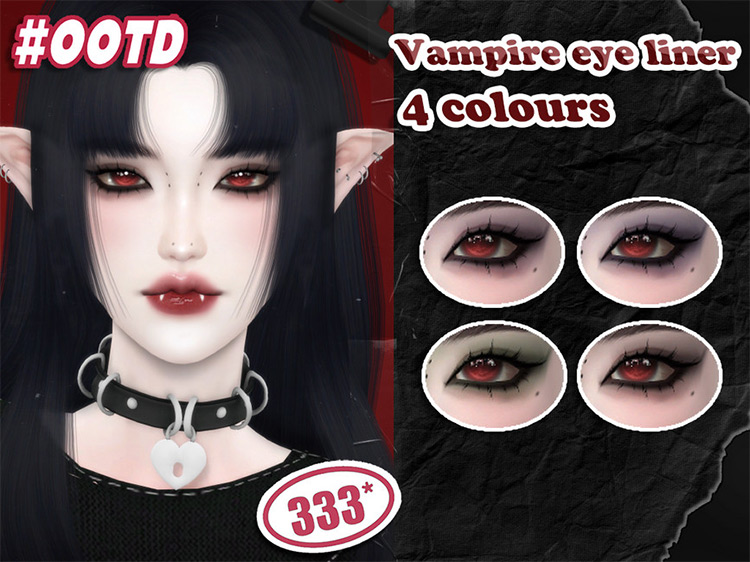 Here's some dramatic, winged eyeliner to make your Sim's eyes really pop… whatever color they may be.
Sims will appear to have even thicker lashes, and since all of the swatches are dark, you'll have no problem with this makeup blending into the rest of their look.
20.

Vampire Outfit (TS3 Conversion)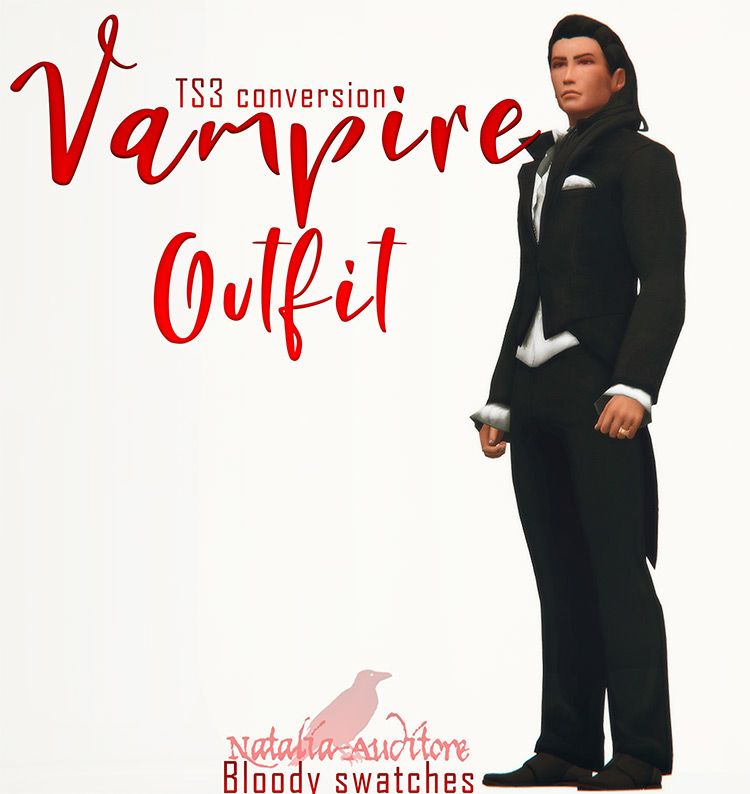 Natalia-Auditore's conversion brings some old school charm and a whole lot of sophistication.
This classic suit features a tailcoat with a ruffled shirt beneath.
Any Sim will really look dapper in these 16 swatches.
21.

Immortal Earrings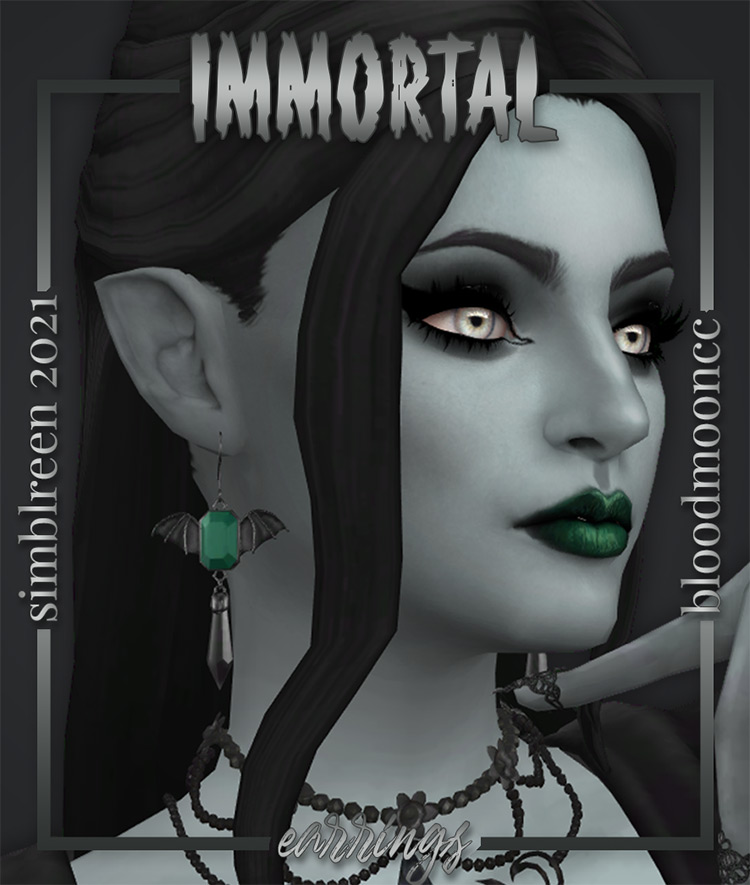 Jewelry is so fun, especially with the off-the-wall designs you can find through CC.
These earrings have a spooky flair thanks to the bold jewel and bat wings. The dark colors certainly don't hurt, either!
With three dozen options, you'll have nearly endless ways to accessorize.
22.

Vampire Diaries Bloodshot Eyes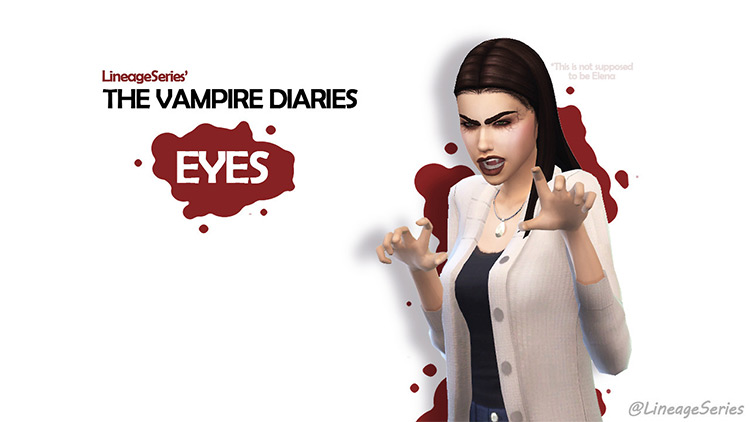 By definition, vampires shouldn't look but so healthy. They're not quite dead, not quite alive… they're somewhere in between.
This Maxis Match overlay will make a Sim's eyes darker, duller, and more bloodshot.
There's not much life left in them, which makes sense.
23.

Vampire Skin (MM)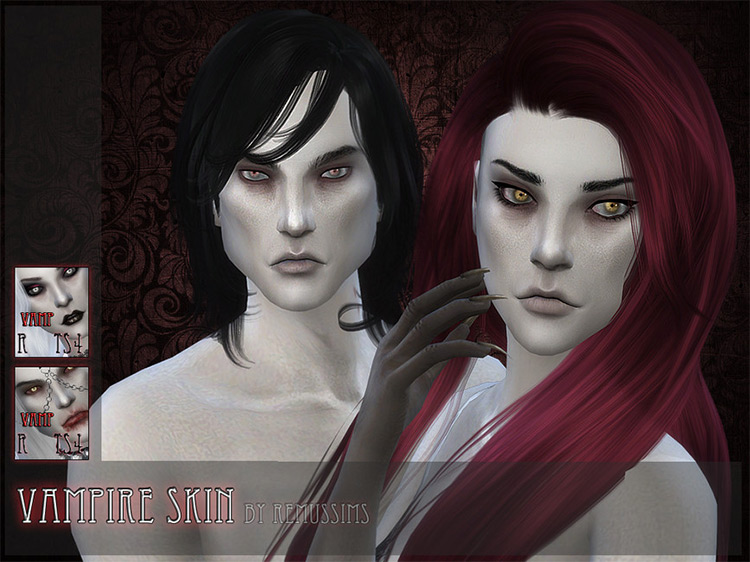 Vampires aren't exactly known for their good complexion.
They can't tan, and I assume the only blood circulation they've got is when they're drinking some… it's not a glamorous lifestyle, really.
But hey, aesthetics are aesthetics.
Here's a brand new pale, sickly skin tone to get the right look for your Sims.
24.

Medieval Vampire Outfit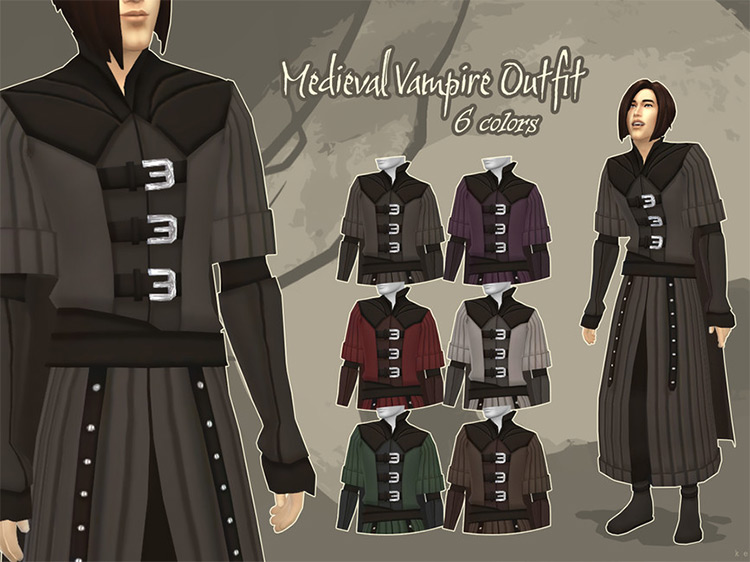 We've already seen that most vampire fashion is rather… extra.
Even the game pack focuses on elaborate, Victorian-inspired attire.
These bulky layers of coats, buckles, and shirts date back even farther, to the medieval days.
It's no doubt a very dashing outfit. And any Sim will look the part instantly while wearing this.
25.

Edea Dress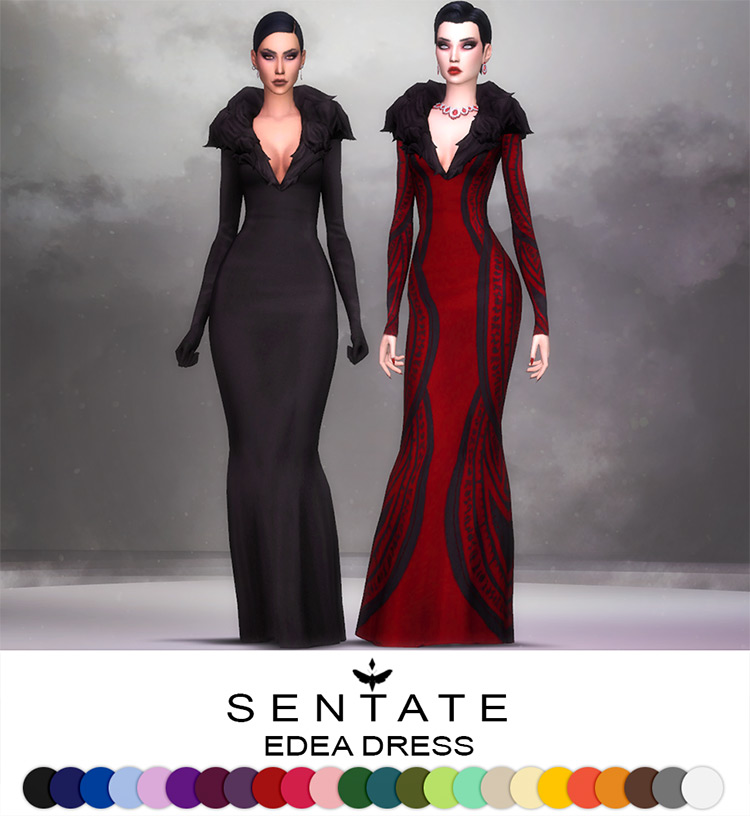 Sentate's Edea Dress is nothing short of incredible.
From the fur trim to the long, flowing fabric, everything is stunning.
You can always switch things up and opt for a yellow or green swatch, but the standard vampire palette of black, red, and purple are available as well.
26.

Dragula Eyeliner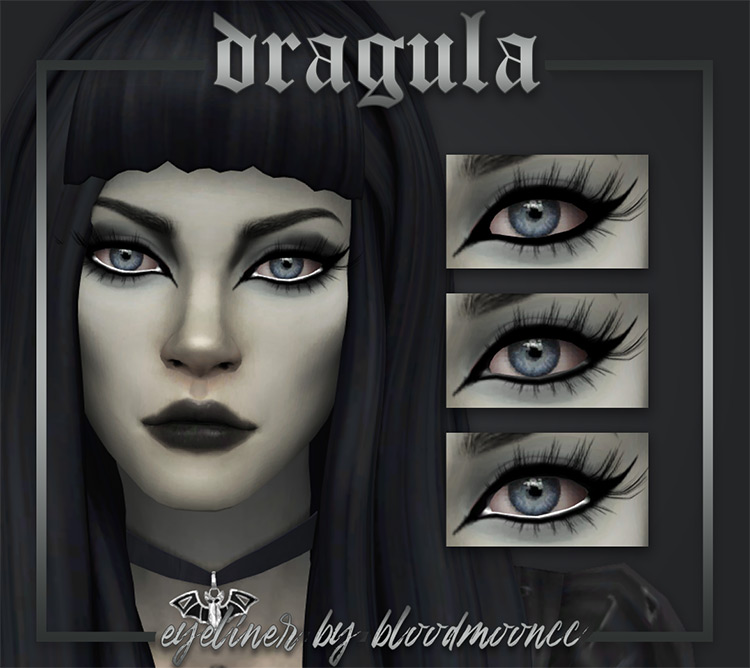 Since eyeliner is one of the quickest ways to define your Sim's eyes, it's a case of the more, the merrier!
Here we have more big bold wings… and I'm not talking about bats this time.
All 4 swatches are black so it's a great foundation for vampire makeup.
27.

Masquerade Dress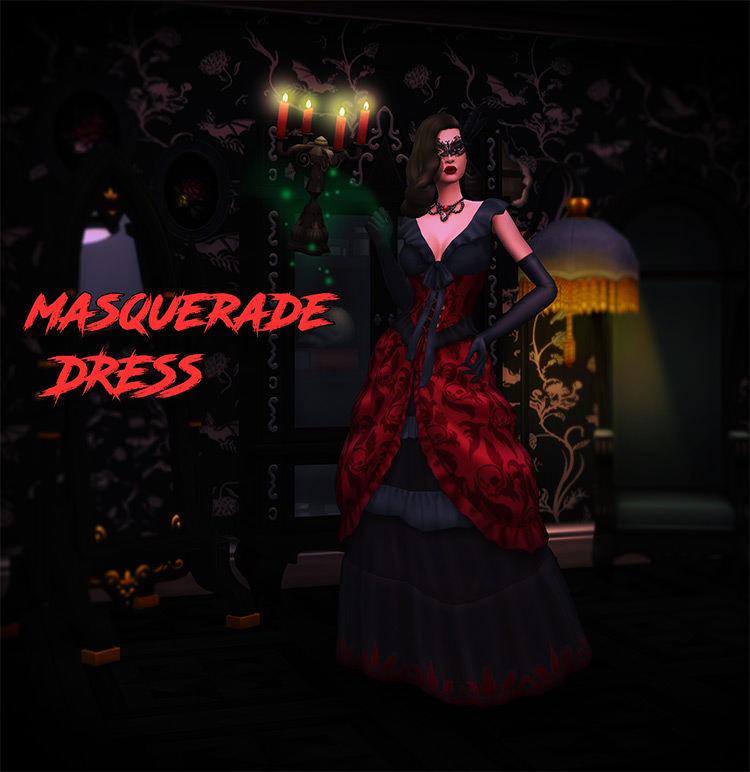 Cooper322's layered dress leaves nothing to be desired.
Every inch has so many unique aspects without any of them clashing.
We've got lots of ruffles, an accentuated waist, and a v-neck cut that provides a more modern touch. Plus it's all wrapped up with a pretty bow on the front!
28.

Dracula Set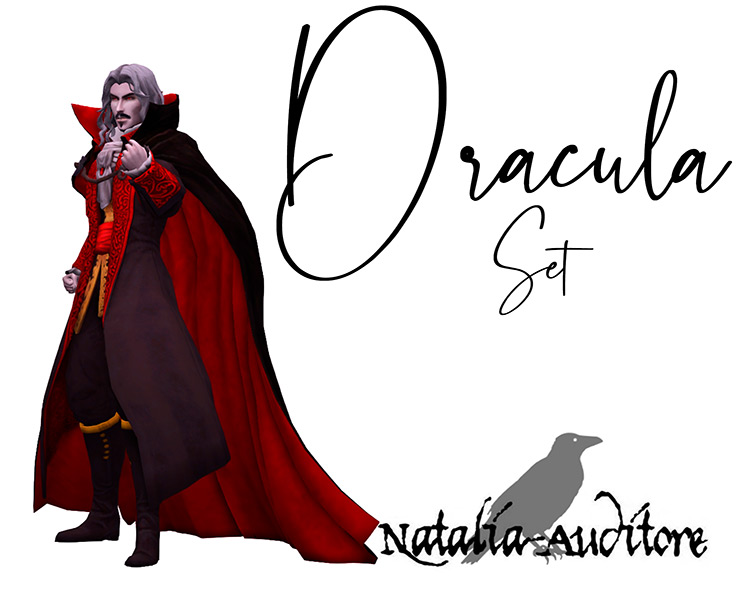 Omg, it's Dracula!
Actually, it's just his incredibly regal cloak and luxurious hair. But if these clothes are fit for the king of vampires, your Sims will no doubt seem a little more glorious, too.
Everything needed for one amazing outfit is here, with an abundance of swatches.
29.

Suzanne Robe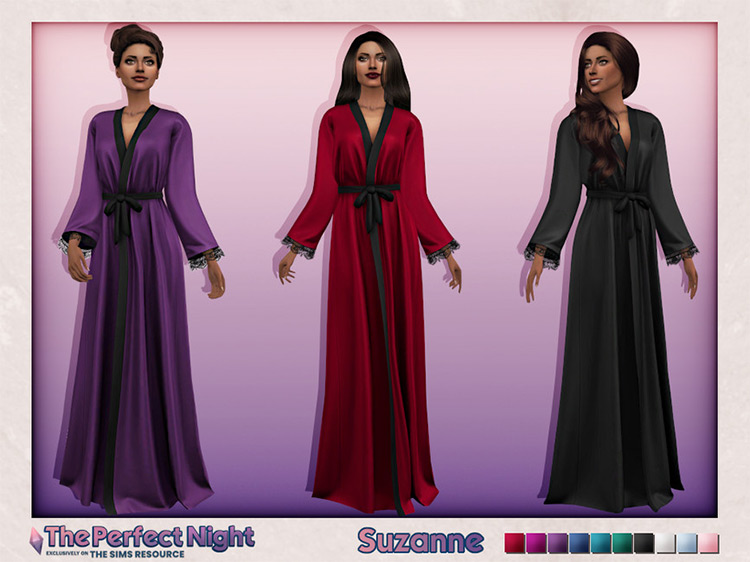 Even a bloodsucking fiend has got to sleep.
That might mean hanging upside down or chilling in a coffin, but who are we to judge?
The Suzanne Robe is luxurious and silky, plus it's got the perfect color palette. Now your vampires can be just as glamorous when it's bedtime.
30.

Vladislaus Male Clothes Pack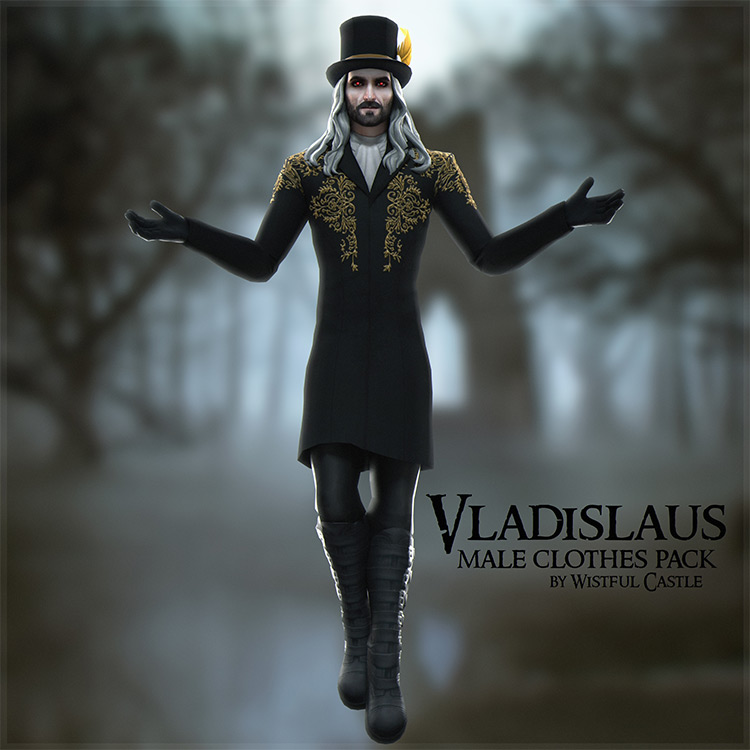 It's impossible not to love this stunning outfit.
Ornate gold detailing stands out on the coat. And for the hat, a large feather makes it quite the statement piece.
This is so impressive you might expect it to be from a pack, but everything here is base game compatible.
Browse:
Lists
Maxis Match
The Sims 4
Video Games