Sims 4 Maxis Match Victorian CC (Clothes, Hair & More)
This post may contain affiliate links. If you buy something we may get a small commission at no extra cost to you. (Learn more).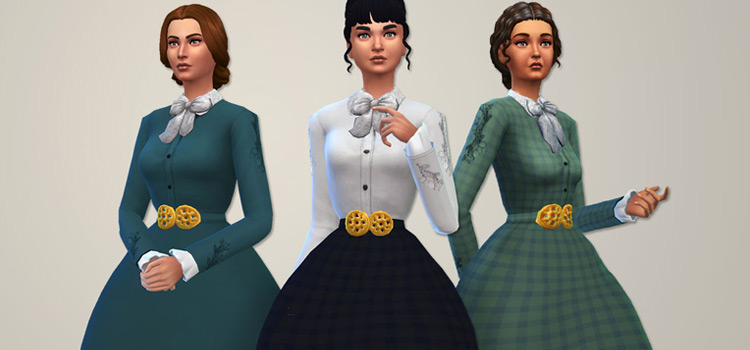 Do you ever get tired of modern, simulated life?
Are you giving the Decades Challenge a try?
Or are you just someone with an affinity for past styles?
If any of the above describes you, you're in luck. Custom additions to CAS will easily allow you to have a whole family of Sims that just stepped out of 1872 in no time.
1.

Alice Mutton Sleeve Dress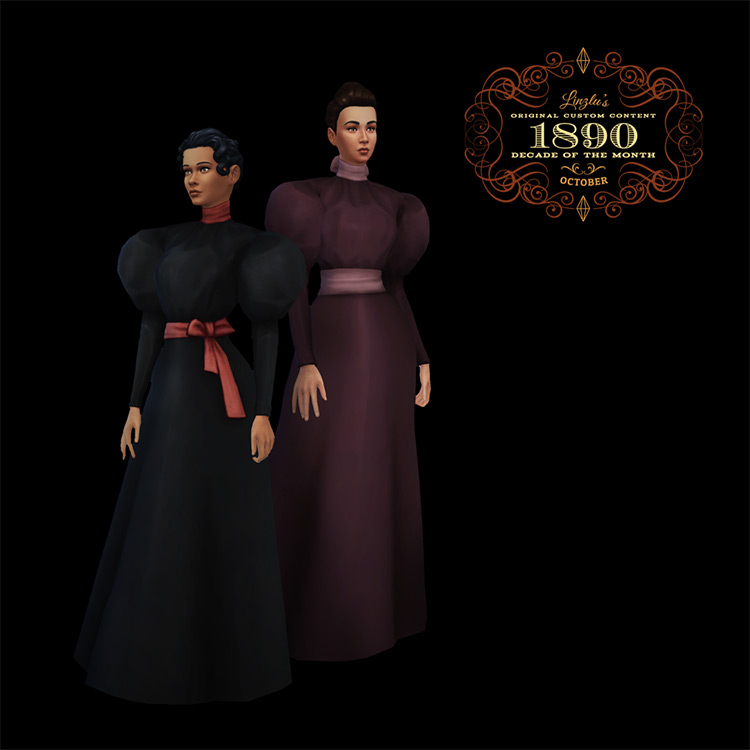 Dramatic dresses are basically the backbone of Victorian fashion.
You know it when you see it. Modest designs, big sleeves, and high collars can only mean one thing.
Linzlu's late 1800s dress captures the style of this time nicely, and you get a good variety of swatches.
2.

Elisabeth Winter Set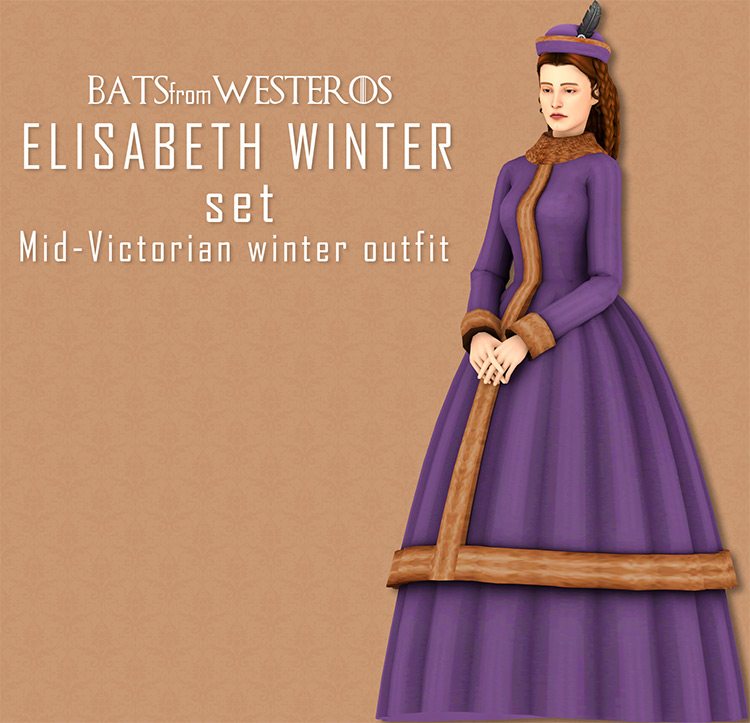 Period-appropriate winter attire is one thing that's pretty hard to find, which can pose quite the problem if you play with Seasons.
Thankfully, BatsFromWesteros has got a very elegant set right here to suit all your Sim's needs.
This matching hat and dress fit right in.
3.

The Seasons of Innocence Collection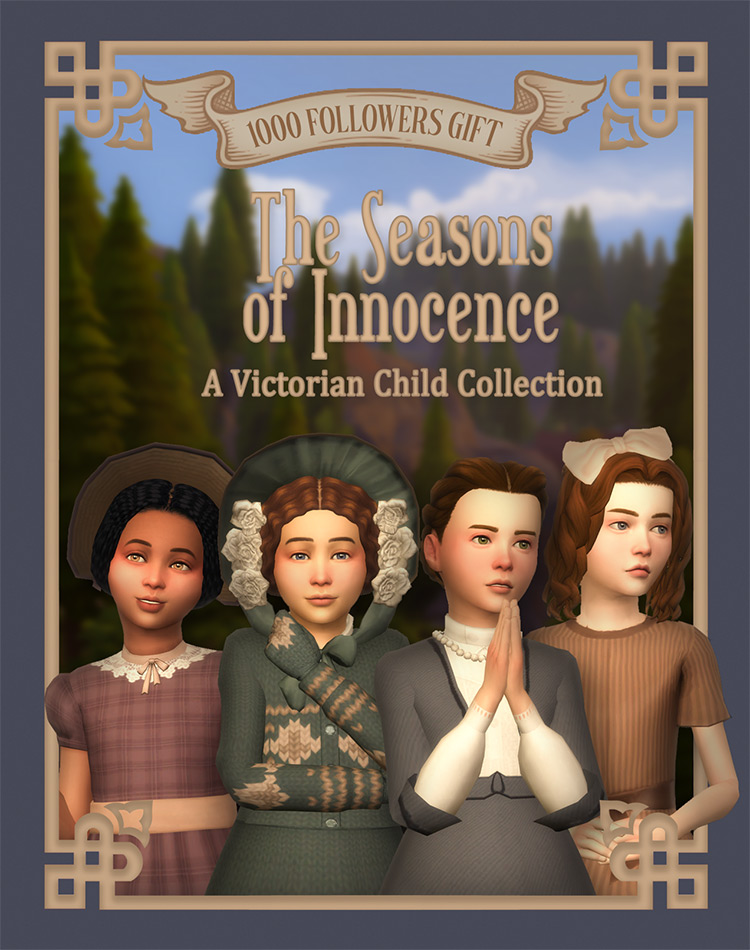 You'll need something for Sims of every age to have the full Victorian experience – and this CC collection is a good start for girls.
Several hairstyles, bonnets, dresses, and accessories are included, in an array of fitting muted colors.
There is something that will work for each season, and most weather.
4.

Robert 1853 Boys' Outfit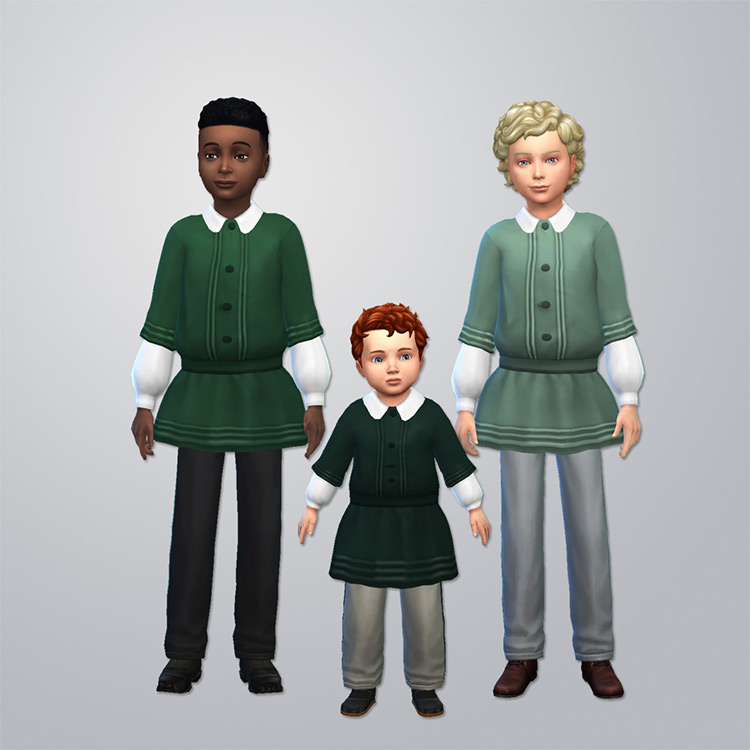 Here's something for toddlers and children both, and there are dozens of swatches.
Remember, it wasn't all black and white!
This is a good everyday outfit, consisting of a long smock shirt and pants. Part of the sleeves are poofy too, and you just don't see that much beyond 1899.
5.

Basic Nightgown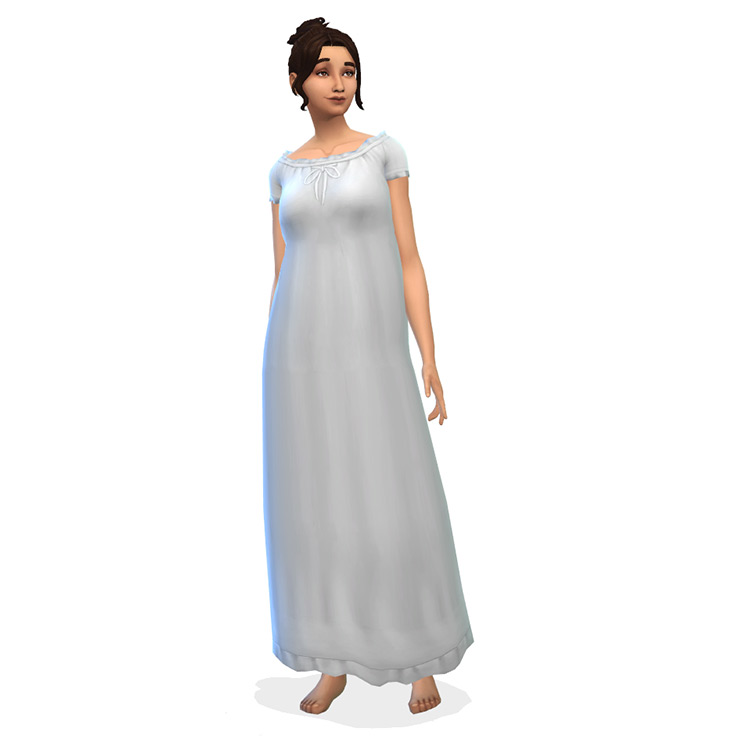 As elaborate as Victorian fashion can get, not everyone can afford all of the frills.
Sleepwear is one category that doesn't have to get too fancy.
A nightgown can take many forms but this one is super simple. It's literally just an ankle-length gown. From teens to elders, it'll work just fine.
6.

Sensitive Victorian Girls Dress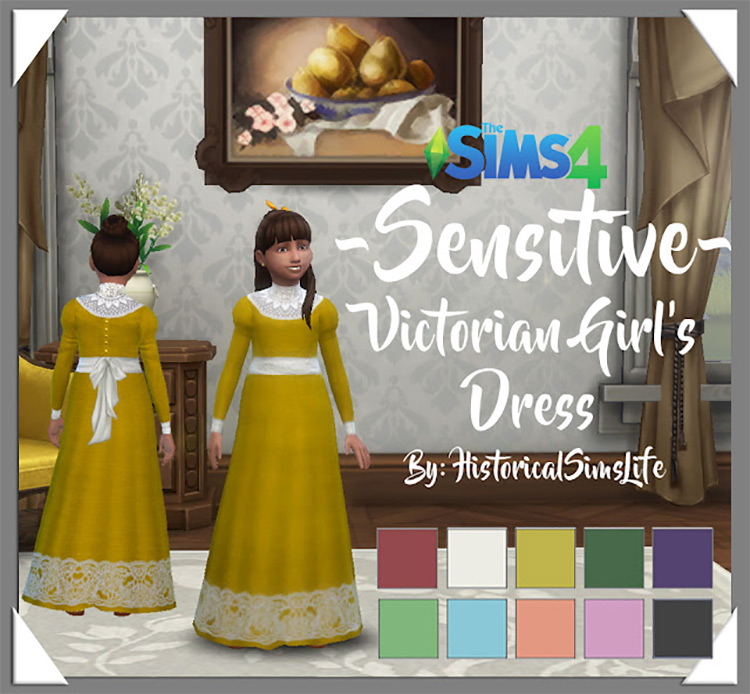 Even if traditional feminine fashion isn't your thing, you've got to admire the details of these dresses.
The lace trim and ribbon are just beautiful. Combined with the bright, fun colors, this is a must-have.
There's a black swatch too if you're more into that standard dreary feel, though.
7.

Eliza Dress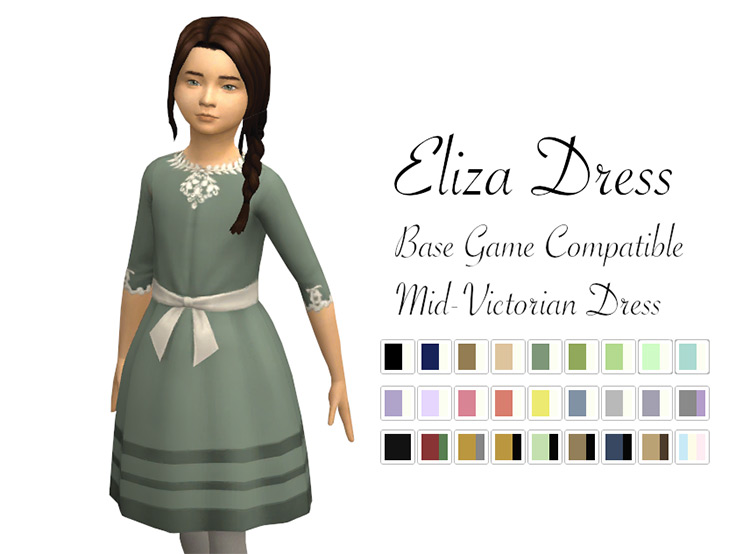 The Eliza Dress is another simple option, and ribbon is again a key element.
Fashion has always depended on class, and goodness knows Simoleons really dictate a Sim's whole life. So if that's something you like to consider, this is actually a perfect contender for lower income families.
8.

The Mini Millinery Set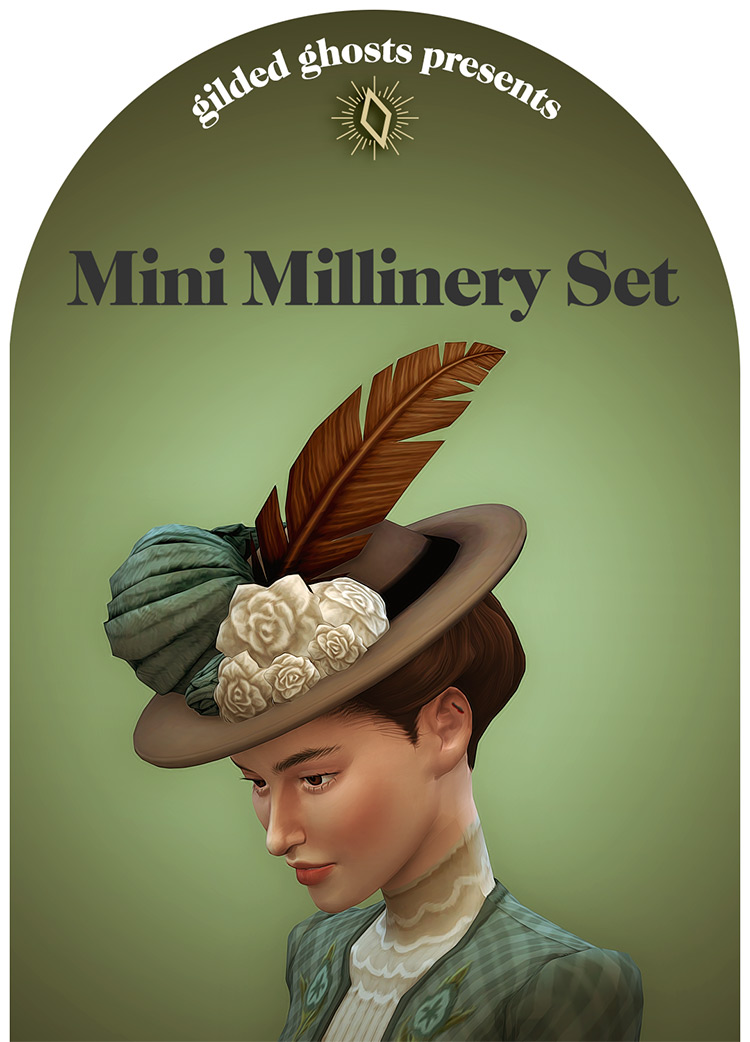 If you're going Victorian, you've got to have some hats.
This blend of earth tones, beautiful feathers, and flowers is honestly stunning.
But of course, these are quite different from most existing hats so hair compatibility can be an issue. The included thick bun is one that will work great.
9.

1880 Dress Set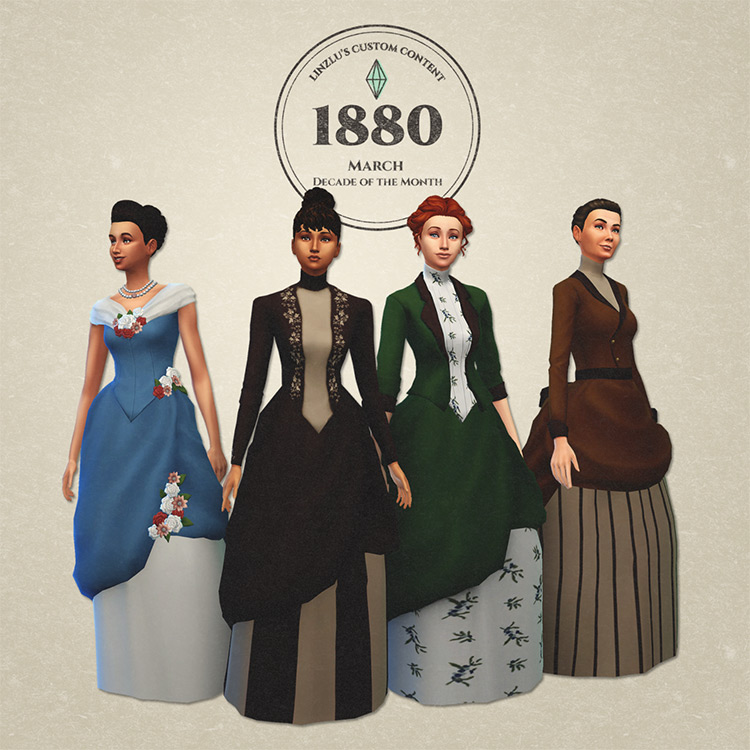 Linzlu's four dresses are enough to significantly expand your Sim's wardrobe.
Each one is distinctly different and unique, yet still firmly Victorian. All of them except for one feature lots of layers and a typical bulky look.
The accuracy of this set is right on the money!
10.

1890s Wedding Gowns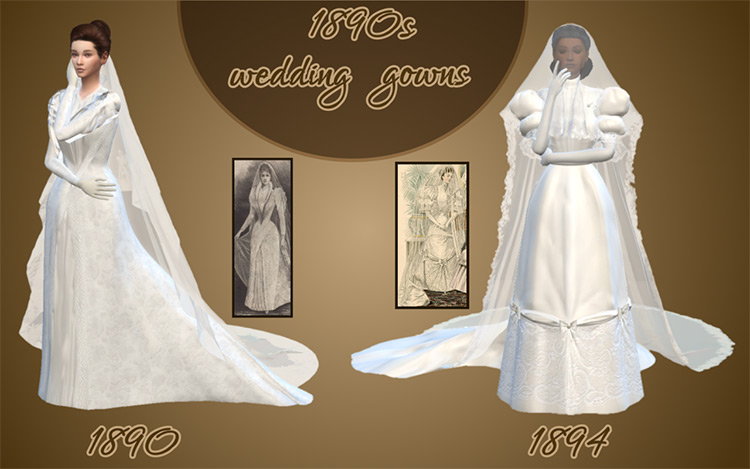 No matter the century, weddings are a big deal.
But for a Victorian bride's special day, you can't stick her in one of the base game dresses.
She'll be much better off with any of these three big, elegant styles. You'll even have multiple options when it comes to the veil and train.
11.

1898 Morning Robe For Men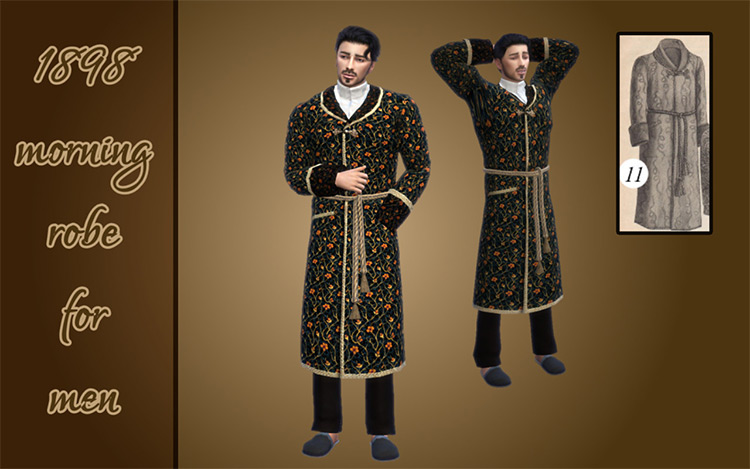 I mean, just look at this robe. How can you not adore it!?
We've got gorgeous floral prints, what appears to be a rope for a belt, and a rather dapper collar. This thing is packed with charm.
And thanks to the many swatches, you can easily reuse this for multiple Sims.
12.

Sissi's Dress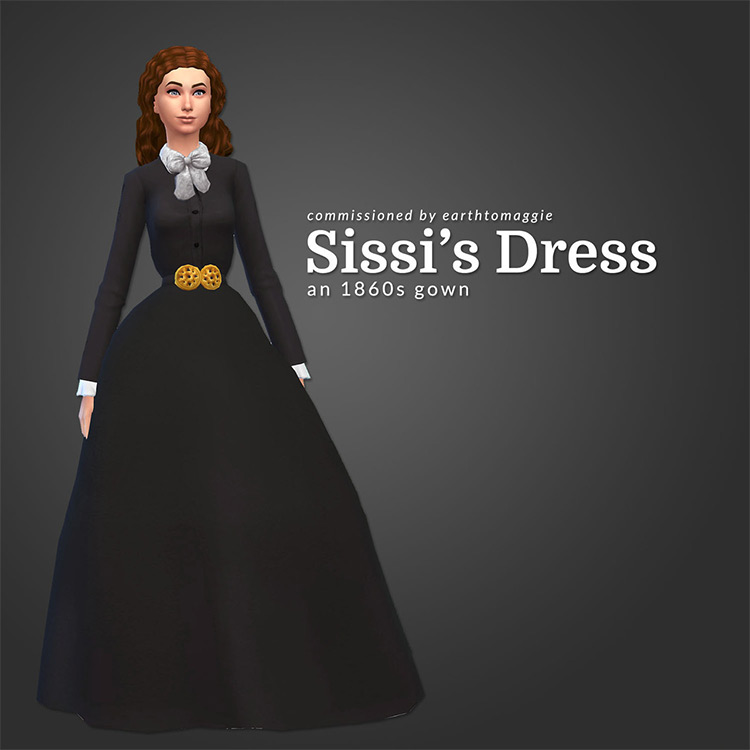 We can't forget that this was the time of corsets and all sorts of barbic methods to keep a gal looking thin. Linzlu's Sissi Dress simulates that effect accurately with the belt-cinched waist.
It's insanely versatile too, with 40 swatches that cover everything you could want. Solids, checkers, florals, and more!
13.

Ankle Boots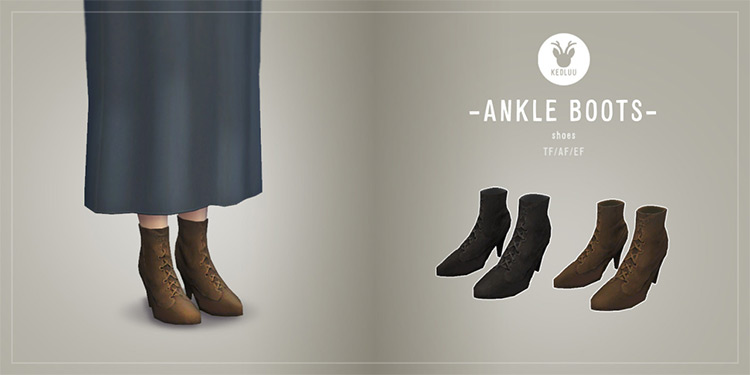 One good thing about the limited Victorian footwear for Sims is that since so many of the dresses conceal their feet, you can kind of work around it.
But these boots are just perfect, and even more special since they're one of the only options available.
14.

Meet Kirsten Mini Set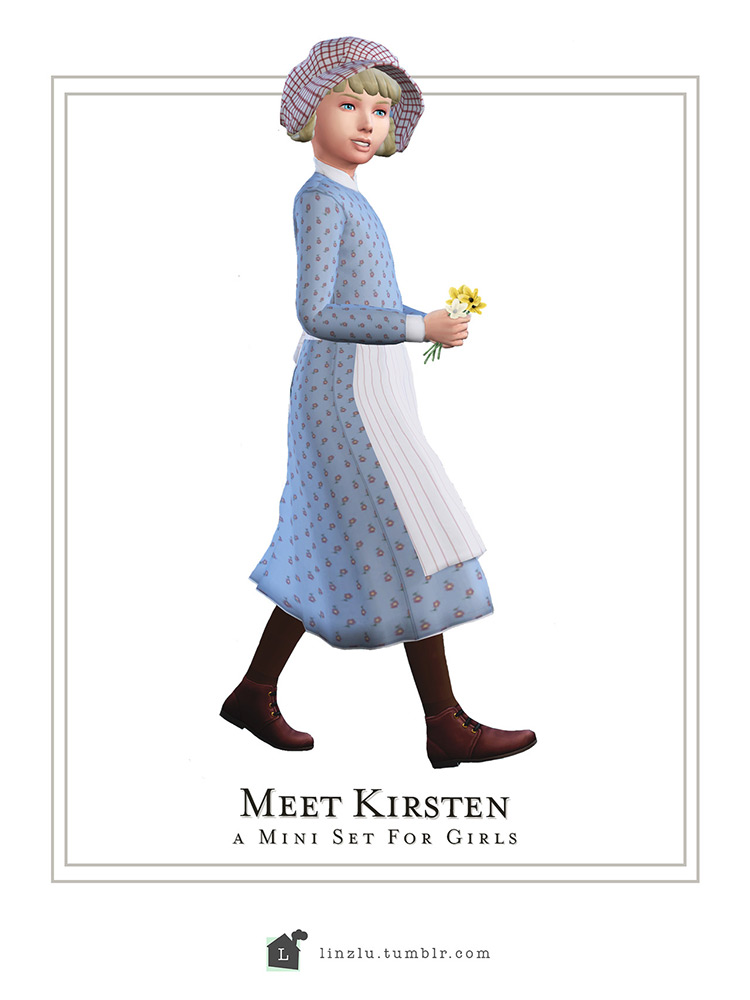 Bonnets, braids, and beautiful dresses.
That's the trifecta of Victorian girl's style right there.
Everything about this set is just so darling, and you'll have some great stuff to choose from when working on your Sim's daughters in CAS. This stuff is very traditional, and just as gorgeous.
15.

Meet Addy Mini Set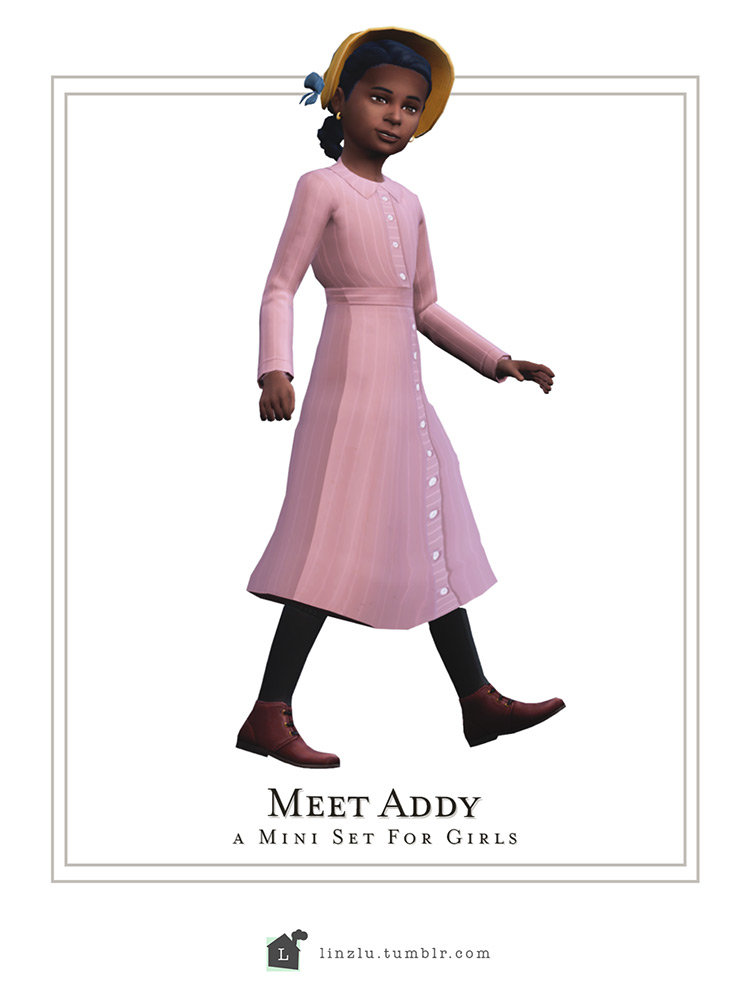 Although it's similar to the Kirsten set, this one focuses on a slightly later time.
Linzlu has blessed us with another perfect dress that has 20 swatches, plus a straw bonnet. And just so we don't have to worry about hat compatibility, Addy's adorable twisted braid is made to go with it.
16.

Margaret Hair Set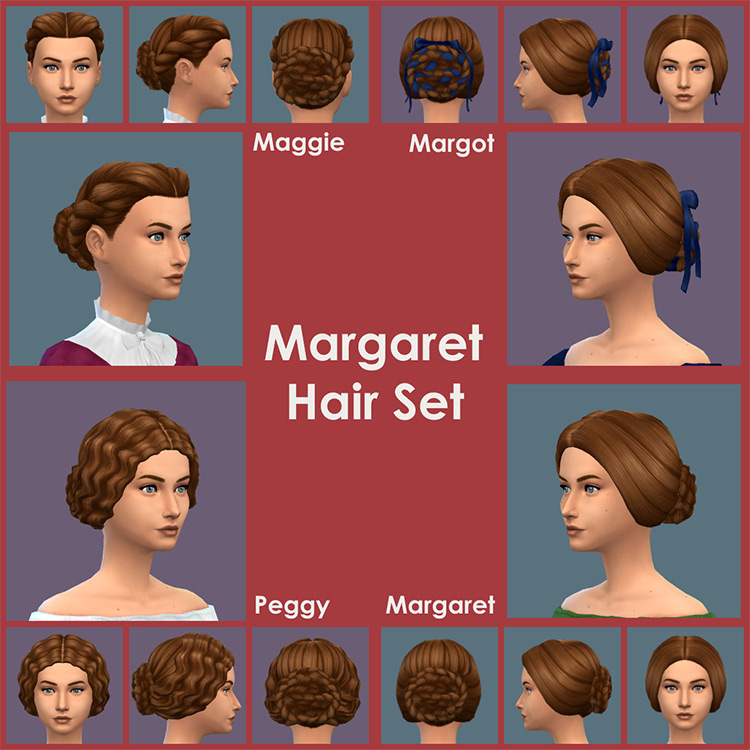 Here's an entire set of hair for the latter half of the Victorian era.
An awesome variety of buns are included, with both straight and wavy options. Some have braids, some have ribbons worked in… all four are gorgeous, though.
It's another example of how this time blended practical styles with personal touches.
17.

Calico Dresses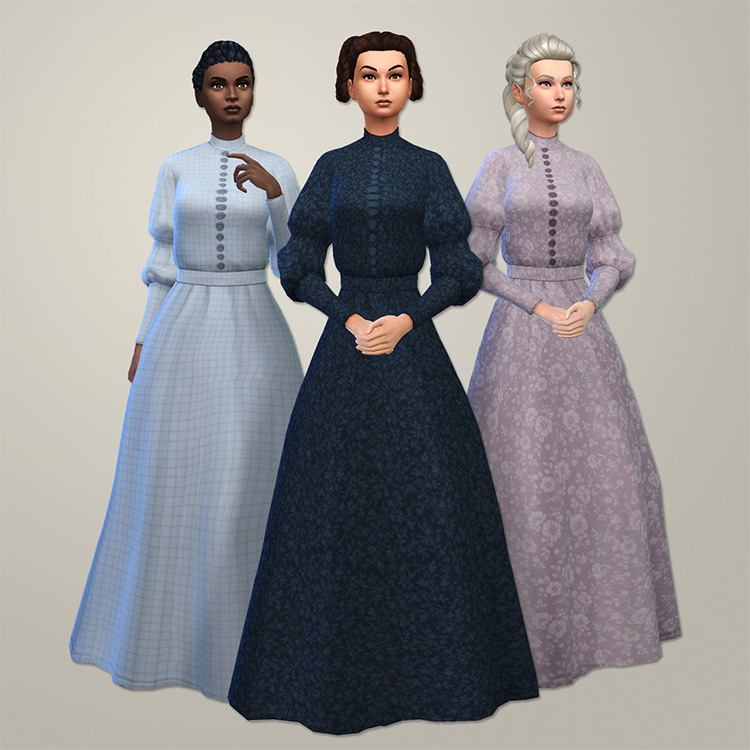 A Victorian woman's idea of casual is basically the exact opposite of ours, but it was still very pretty.
This basic dress is the epitome of 1800s fashion in many ways, and the swatches play a huge role. All of the versatility you could want is here with multiple patterns and colors.
18.

Boldness Beckons Victorian Men's Suit
For centuries, dudes just wore suits.
It's only the style of suit that differs.
This one is undeniably Victorian with the puffy chest, brocade pattern, and bold sleeves. Everything to fit this period is here, from the dark swatches to the finer details like buttons.
19.

Vintage Men's Exercise Outfit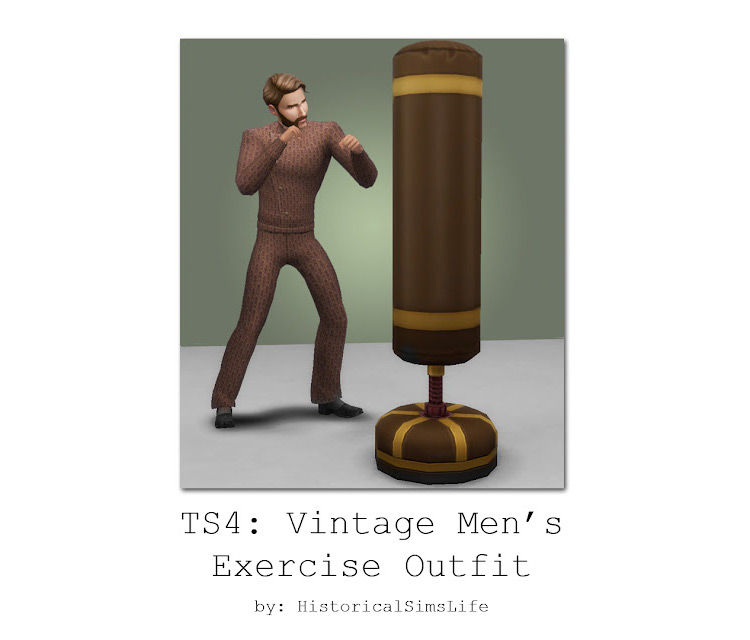 It goes without saying basketball shorts won't cut it for this era, right?
All attire back then seems rather bulky from a modern perspective and a whole suit just to workout is interesting, to say the least. But that's the way it was.
This one is fairly simple, with 5 patterns.
20.

Victorian Conservative Couture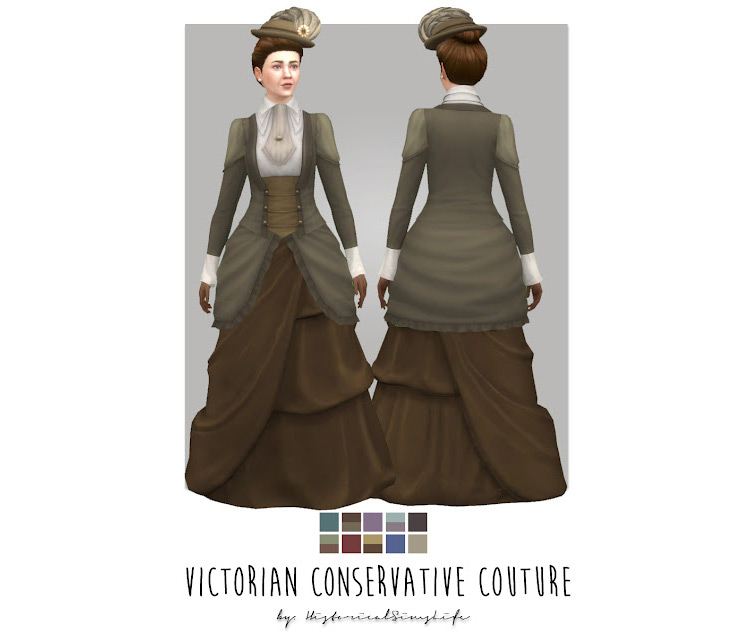 Every aspect of this time period seems conservative to us now, but there was a spectrum even then.
Layers are the name of the game for modesty's sake and there's an abundance of them on this complex dress.
For something that's actually a combination of a TS3 top and a TS4 top, it's incredibly flawless.
21.

Ester Wedding Dress & Flower Girl's Dress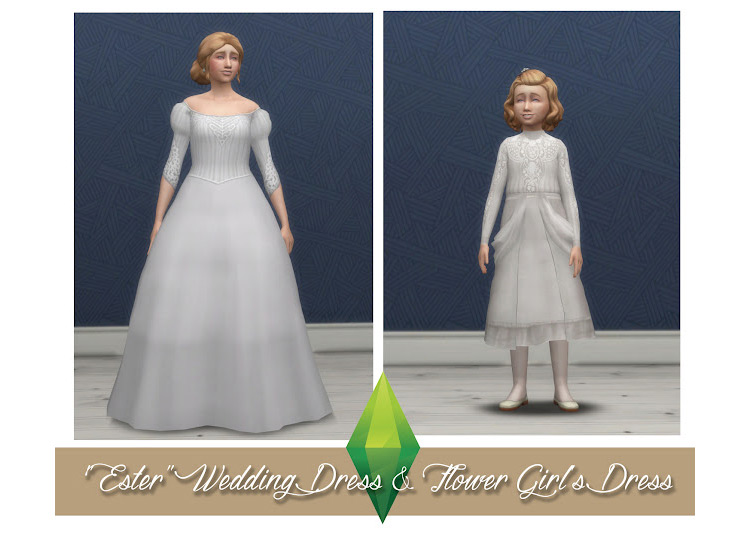 Most Simmers agree you can never have too much wedding attire.
And specific time periods make it even more niche.
Dresses for both adults and children are included here. And honestly, your Sims will be set for most formal occasions.
Kids especially could get away with a white dress for most parties and events.
22.

Boys' Bicycle Outfit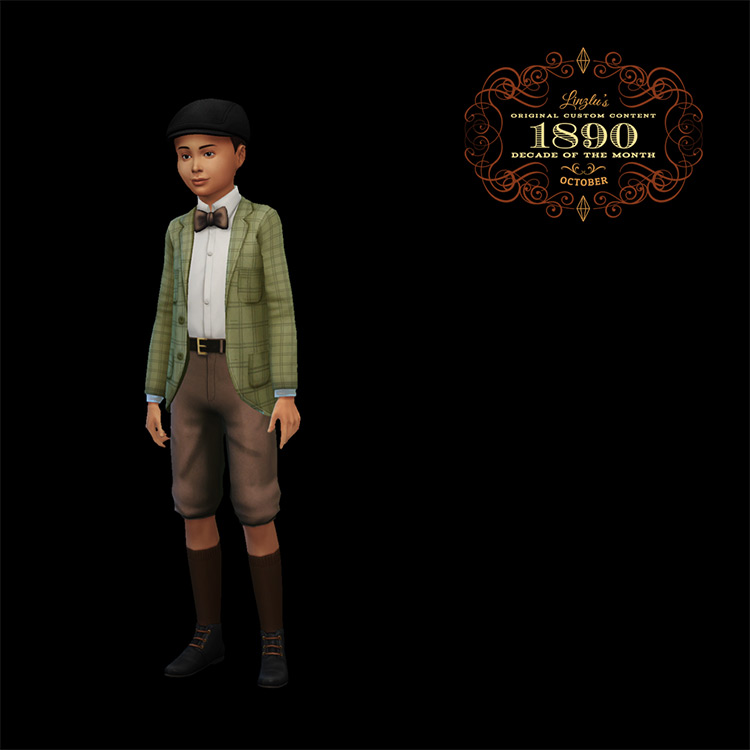 Short pants and socks are a defining late Victorian look. Pants are for men, and men only!
Any boy will simply look dashing with this suit jacket, bowtie, and short pant ensemble. Once again, Linzlu is killing it with the swatches since you can even mix and match them this time.
23.

Short Neat Hair
Victorian boys didn't have a whole lot going on with clothes and hair, so keeping things simple is totally fine.
This timeless combed hairstyle fits right into this period.
You may recognize it since it's actually just a converted adult hair, but it actually looks better on kids.
24.

Victorian Tweed Dresses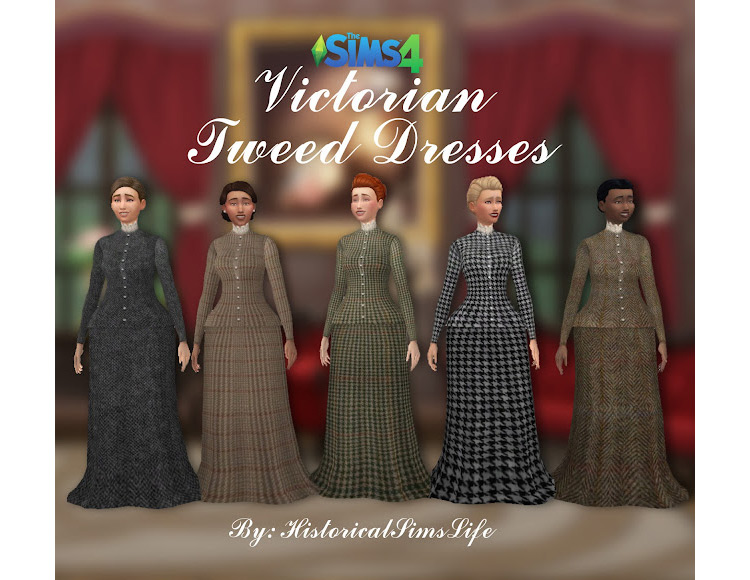 Man, you can practically feel the texture of these dresses.
Tweed is known for being rough and durable, which seems like a plus for any lady in these days.
Any of the 5 swatches will look great on your Sims. There's a classic houndstooth design, and some checker patterns.
25.

Valen Hair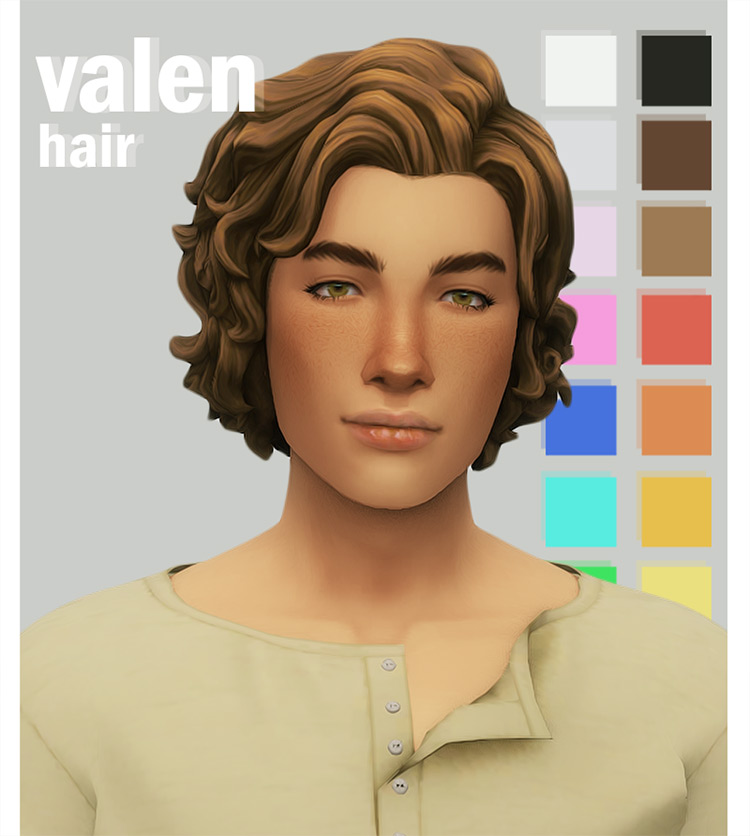 Okay, so this wasn't specifically made with the Victorian era in mind, but men's hairstyles were generally much less complicated than the ladies' anyhow.
Basically anything at least semi-neat and styled will do the job, and this is a versatile idea for guys both young and old.
26.

Josephine Updo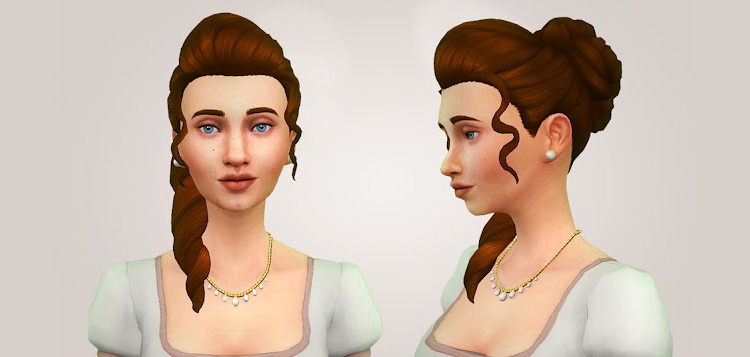 This updo is really the whole package.
Gorgeous, elegant, and youthful… hopefully, just like your sim herself!
It's very unique and the kind of thing only custom content can bring us. Such a style is definitely dated, but that's a good thing in this case.
27.

Antique Necklace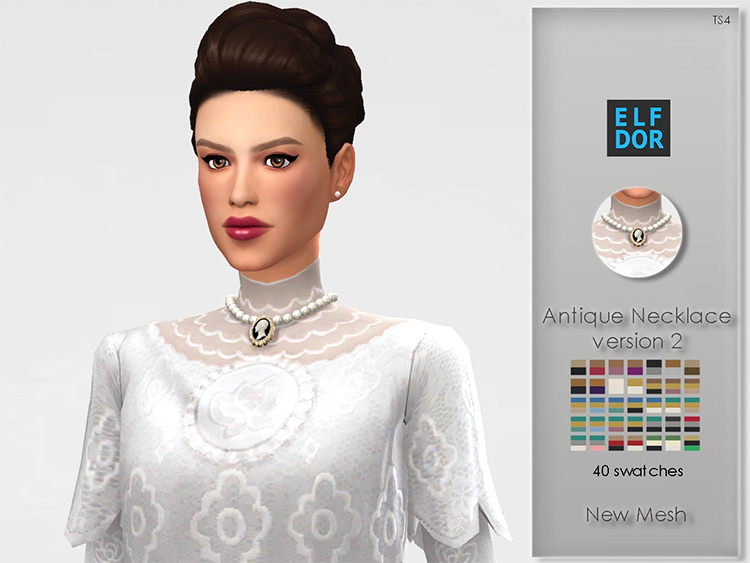 Cameo necklaces are a classic from the 19th century that's been going in and out of fashion ever since.
Paired with pearls, it's even more sophisticated.
This is actually close to a choker so you should be able to use it with most dresses, even if they have a tall collar.
28.

Old West Dress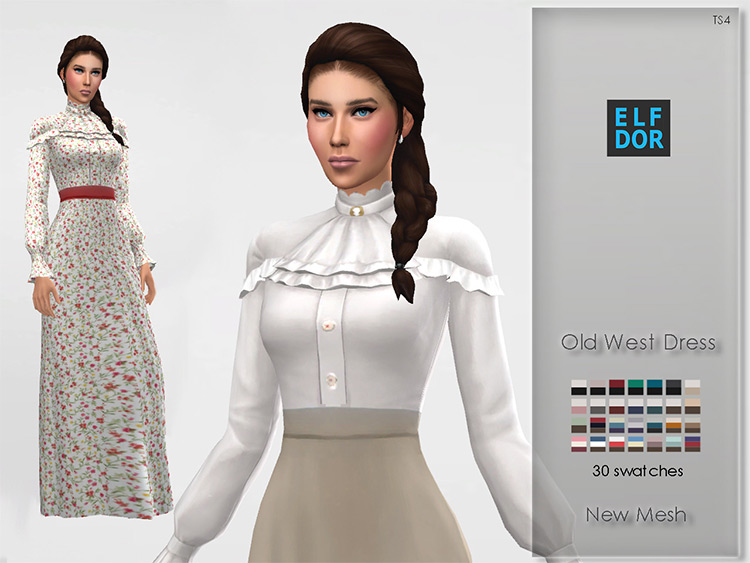 Urban and country fashion has always been different, regardless of the year.
The Old West basically had its own culture, and dresses like this were part of it. Focusing on practical cuts, this simple straight skirt and ruffled blouse are standard.
Even the plaid and country floral designs are delightful.
29.

1880s Hairs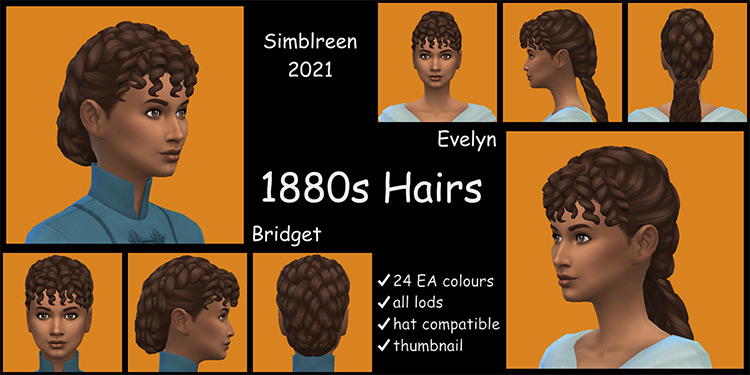 Bangs are a funny thing.
These curly ones are chic and stylish when used with modern styles, but when paired with the Bridget and Evelyn updos, they definitely give Victorian vibes.
Both are really great, though.
The curly texture keeps going and the finer details leave nothing to be desired.
30.

Friendly Mutton Chops

Well… this era wasn't all beauty. Some styles have been left in the past for good reason, but lots of Simmers like realism.
This distinct facial hair was popular throughout the 19th century. Just give your Sim these mutton chops and a suit, then there will be no question what time they're from.
Browse:
Lists
Maxis Match
The Sims 4
Video Games